A delicious and chewy, white chocolate cookie packed full of raspberry preserves, white chocolate chips and milk chocolate chips. My version of the Raspberry White Chocolate Chip Cookies available at Disneyland.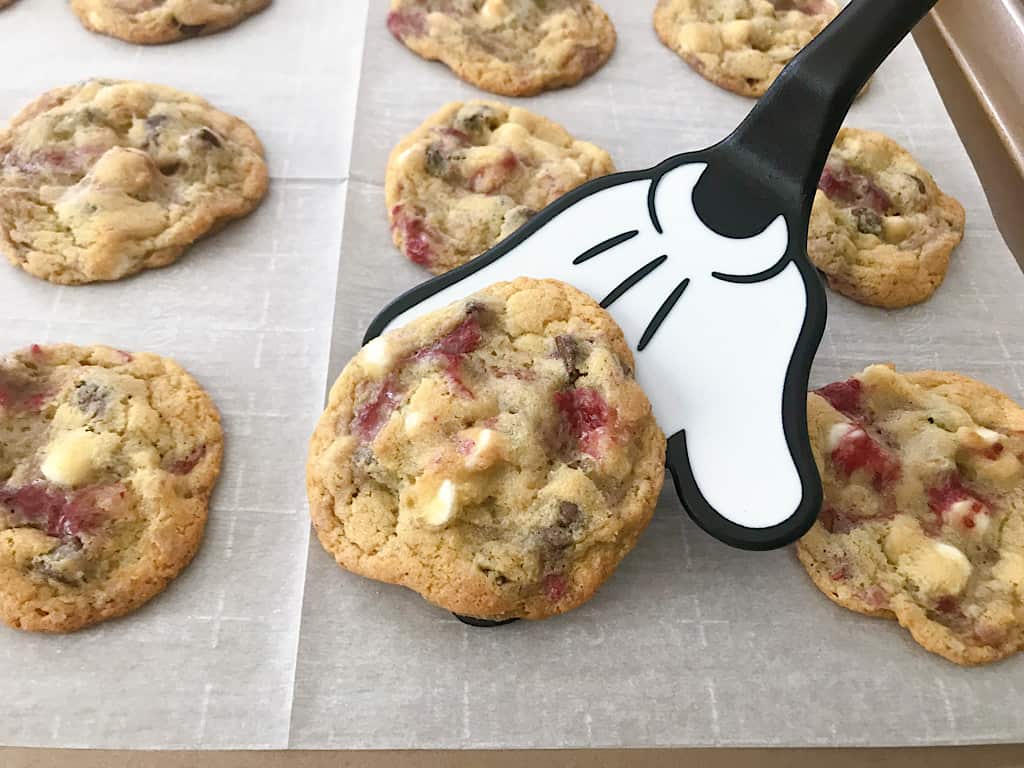 This post may contain affiliate links. When you click on these links, I get a small percentage back at no cost to you! For more information see my disclosure policy.
I've been a little obsessed with Disney recipes lately. I'm heading to Disneyland next month and I'm pretty excited! I've been researching all of the yummy snacks, treats and goodies that I want to try when I'm there.
A few days ago, I was talking to my sister on the phone about Disneyland treats. We began talking about the giant, delicious, soft, chewy decadent cookie that was available at Pooh's Corner in Critter Country. Disneyland's Raspberry White Chocolate Chip Cookies.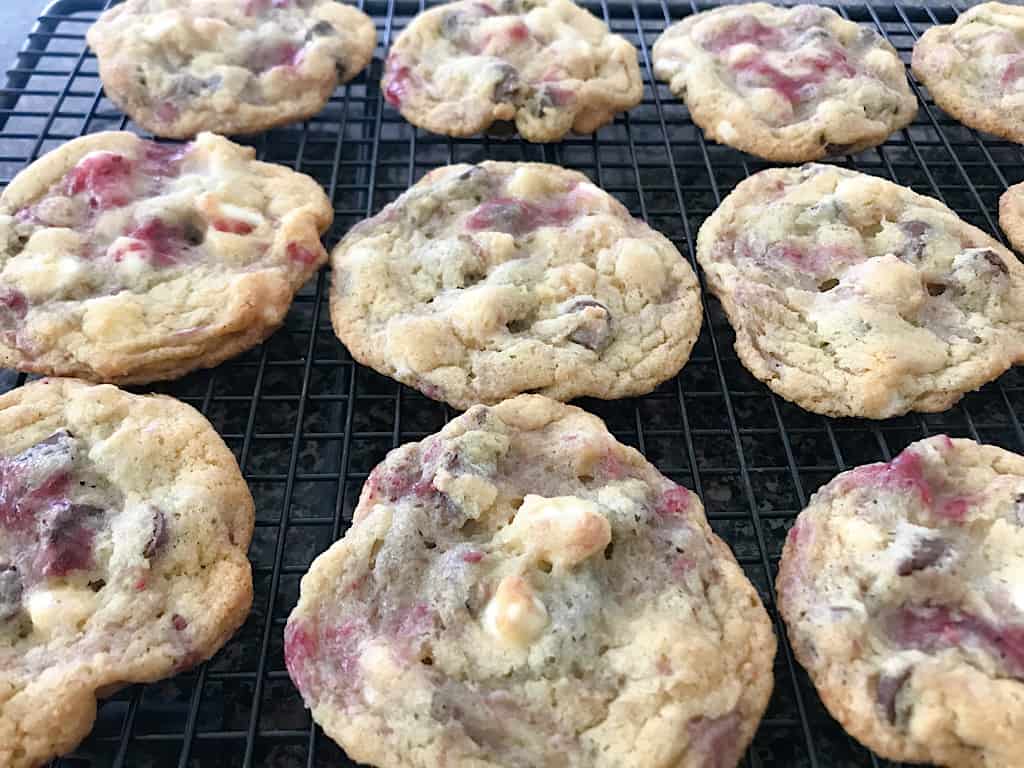 This wonderful cookie is a sweet dough stuffed full of raspberry preserves, white chocolate chips and milk chocolate chips.
After our discussion on how AWESOME this cookie is, I knew that I needed to have this cookie ASAP.
I immediately went to work on my own recipe for Disneyland's Raspberry White Chocolate Chip Cookies.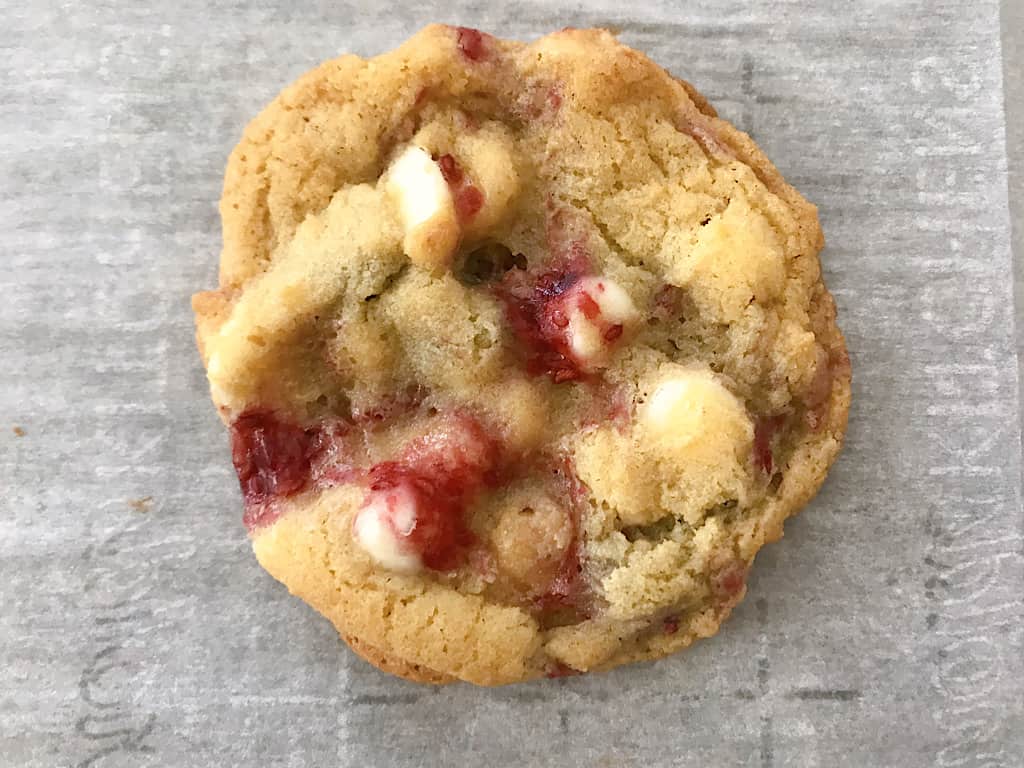 The beauty of this recipe is that now, whenever you are craving these delicious cookies, you don't have to be at Disneyland to get them!
Also, because of the pink color the raspberry preserves adds to these cookies, they would be a fun treat to make for your Sweetheart or your kids for Valentine's Day!
Check out How to Make Mickey Beignets HERE
My secret weapon for these cookies, that makes them so flavorful and moist, is a box of Hershey's White Chocolate Instant Pudding.
I have used this pudding in so many recipes and it is heavenly. That's why I knew that it had to be part of my version of Disneyland's Raspberry White Chocolate Chip Cookies recipe.
More Disney Cookie Recipes: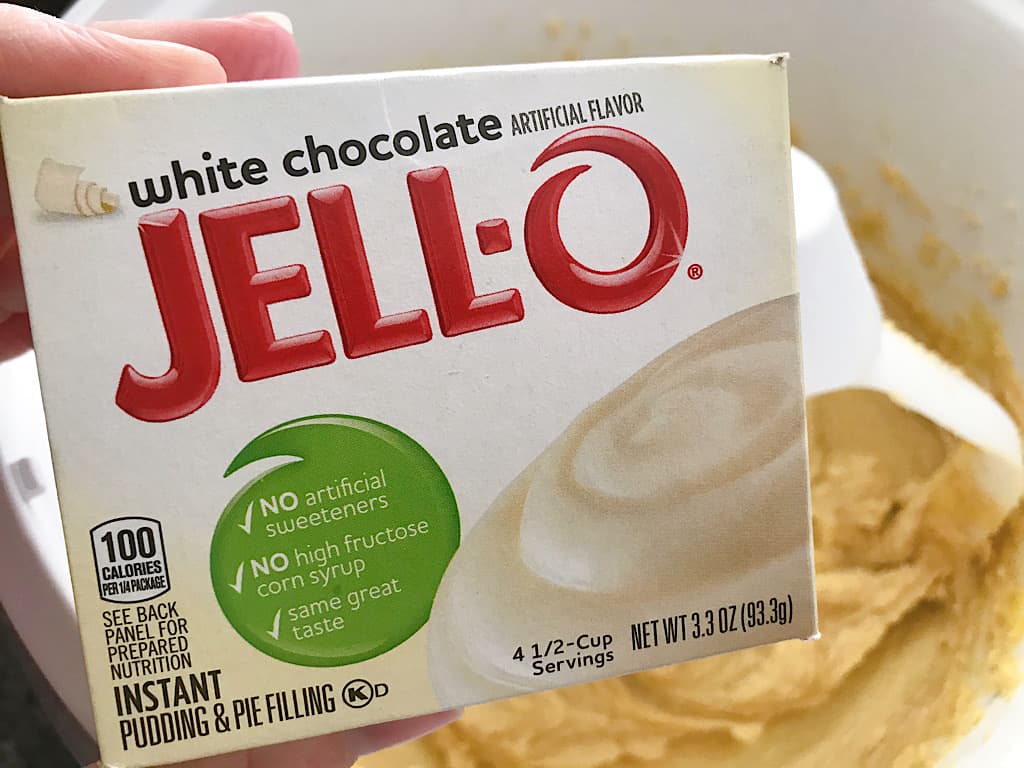 Ingredients for Disneyland's Raspberry White Chocolate Chip Cookies
1/2 Cup Butter

1/2 Cup Brown Sugar

1/4 Cup White Sugar

1 Teaspoon Vanilla Extract

1 Egg + 1 Egg Yolk

1 Small Box White Chocolate Instant Pudding

1/2 Teaspoon Baking Soda

1/4 Teaspoon Salt

1 1/4 Cups All-Purpose Flour

3/4 Cup White Chocolate Chips

3/4 Cup Milk or Semi-Sweet Chocolate Chips

3-4 Tablespoons Seedless Raspberry Preserves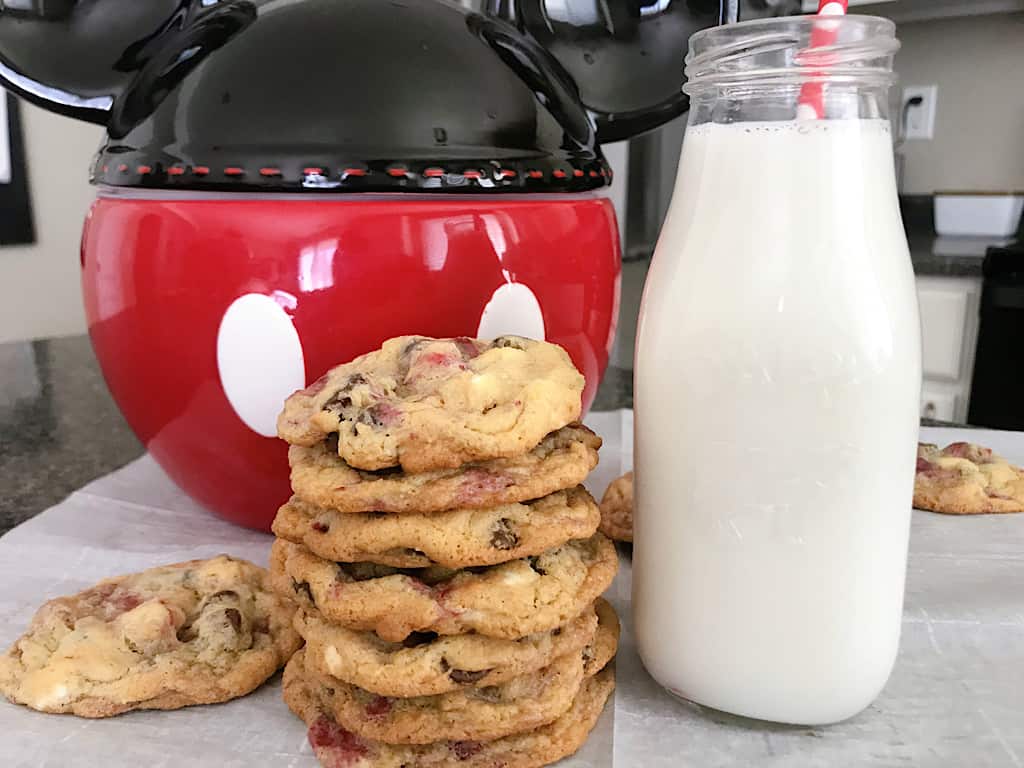 Helpful Kitchen Tools
How to Make Disneyland's Raspberry White Chocolate Chip Cookies
Begin by creaming the butter and sugars in a stand mixer until they are light and fluffy.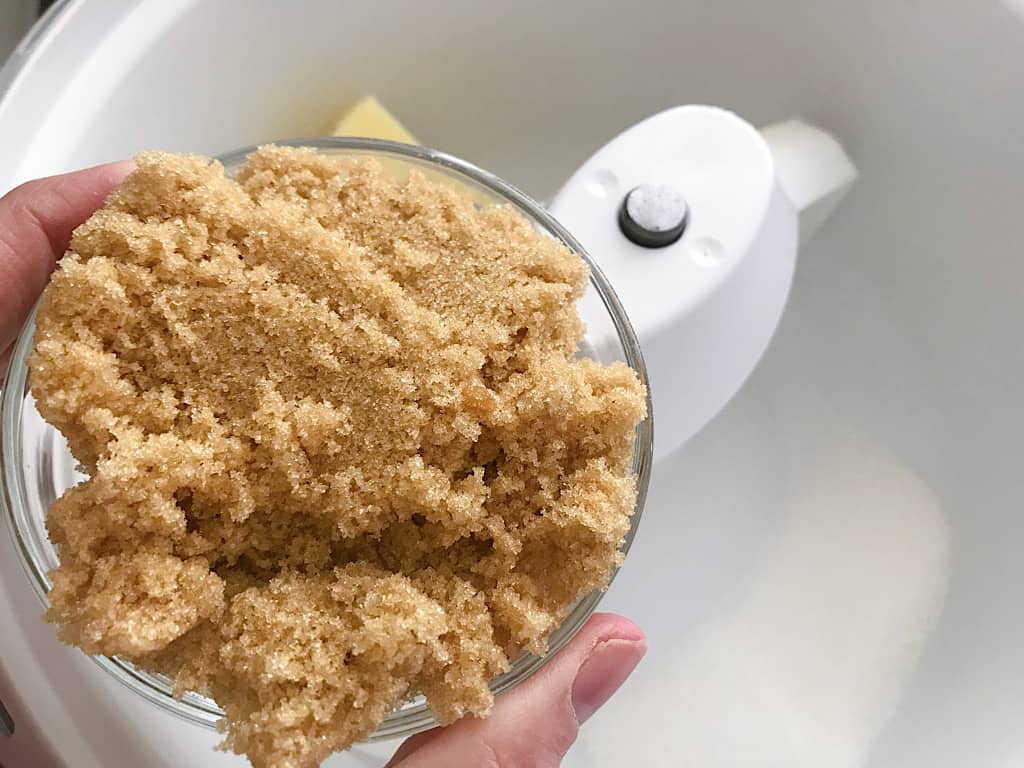 Add the vanilla and mix. Place one whole egg + one egg yolk in the bowl and mix until combined.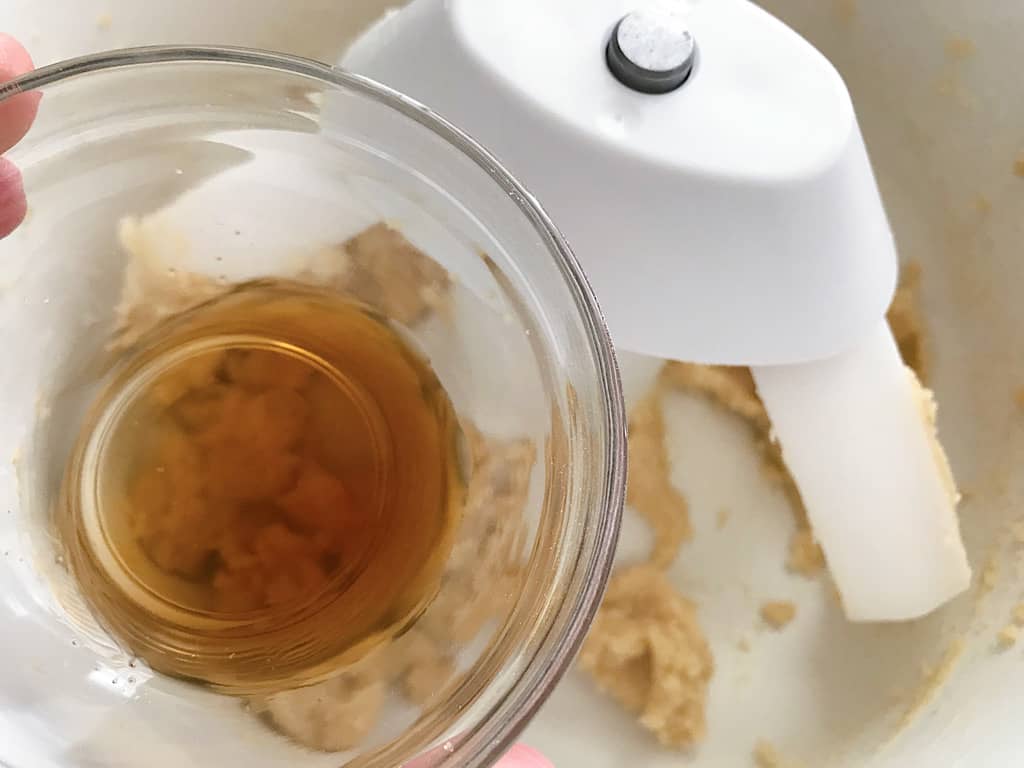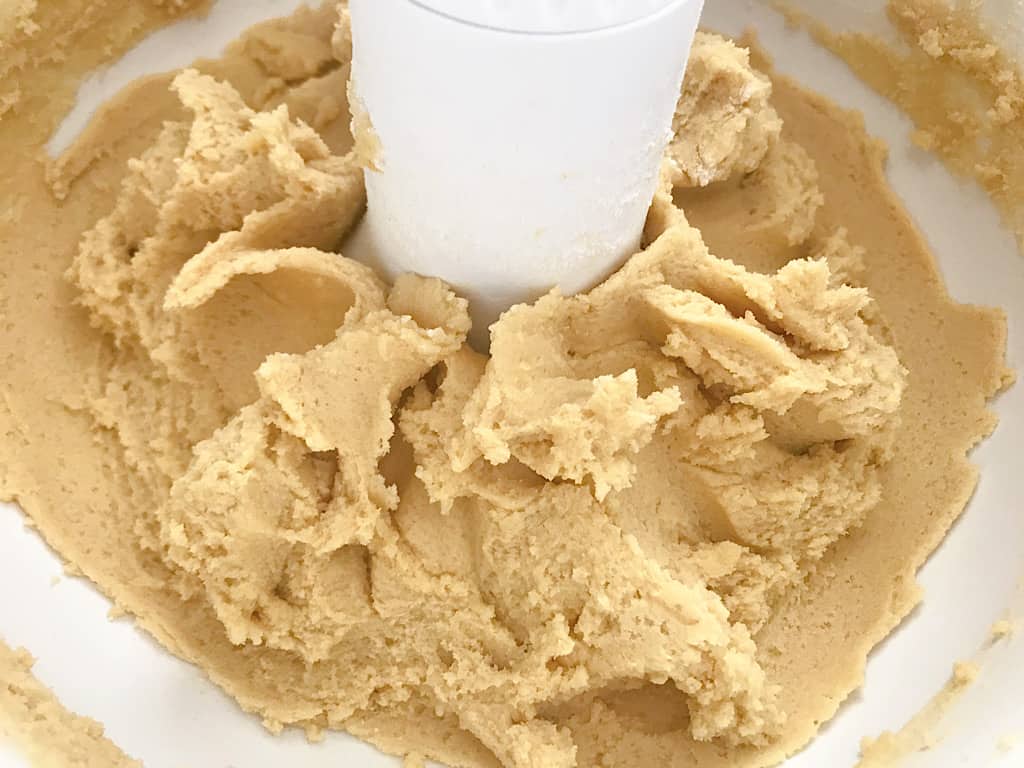 Stir in both the milk chocolate chips and white chocolate chips.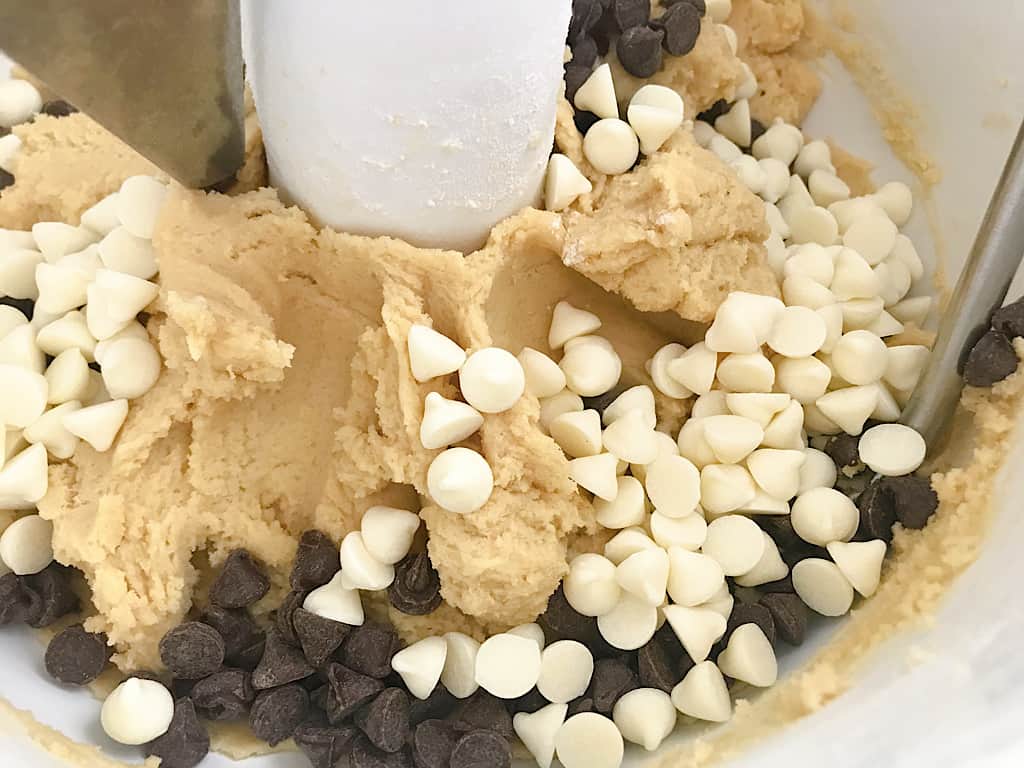 Take half of the cookie dough and press it down flat and

place small spoonfuls of raspberry preserves all over the top of the dough.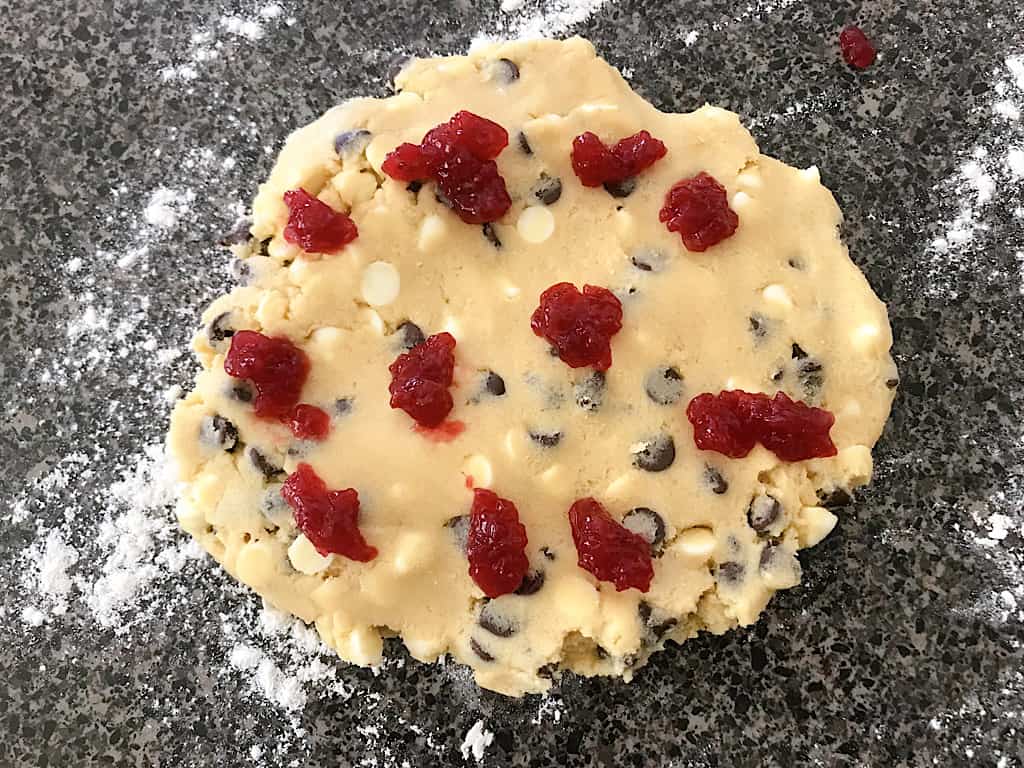 Use a butter knife to spread the preserves over the dough.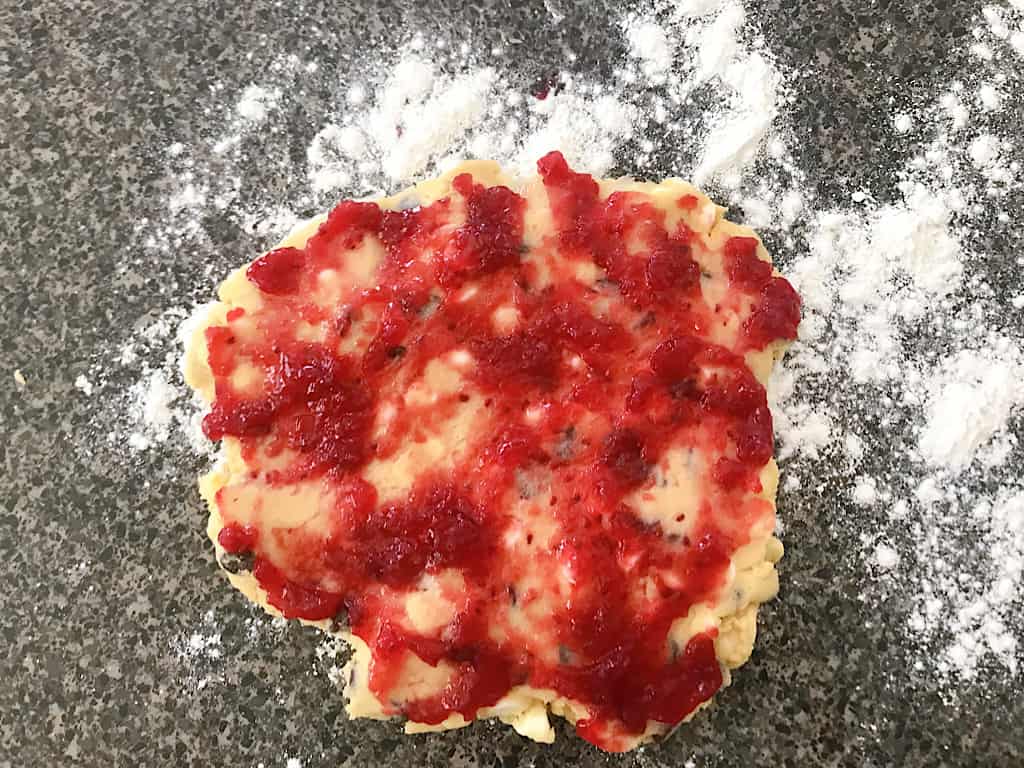 Next, use a cookie scoop to shape the cookies. To make them Disneyland size, use 1/2 cup of dough. For half of my cookies, I used a 1/4 cup scoop and was able to get about 6, good sized cookies. For the other half, I used a two tablespoon scoop and got 12 cookies, that were the perfect size for my kid's little hands.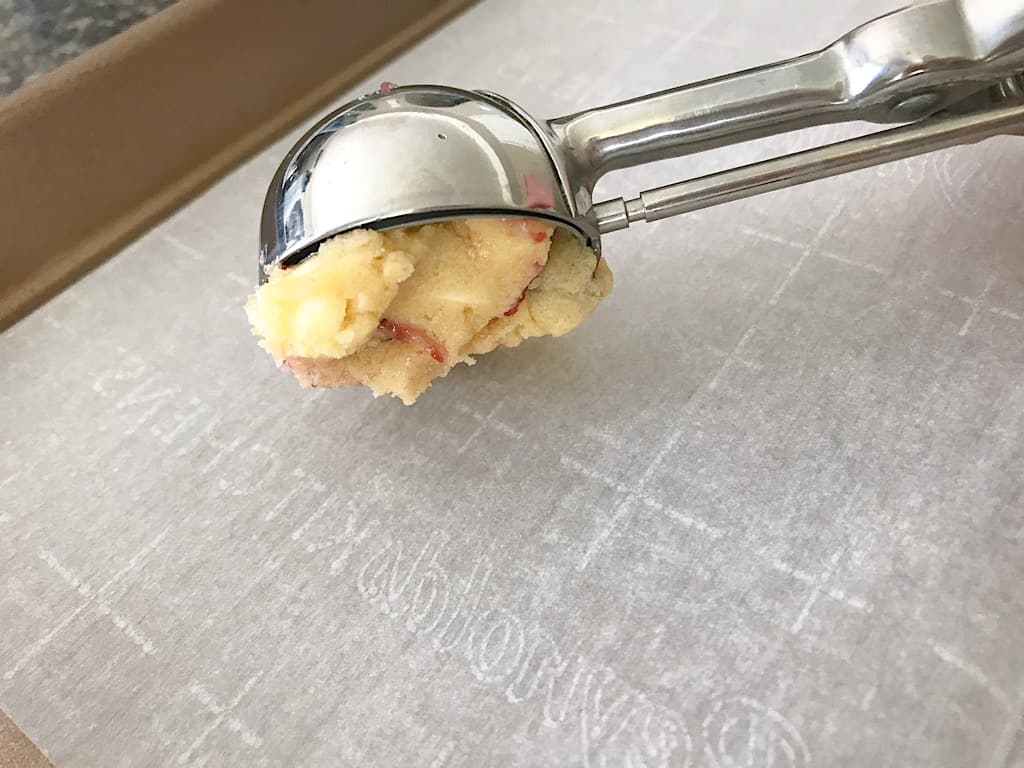 Place the dough on a baking sheet lined with parchment paper and press down on the center of the dough ball. Just enough that the cookie isn't totally round.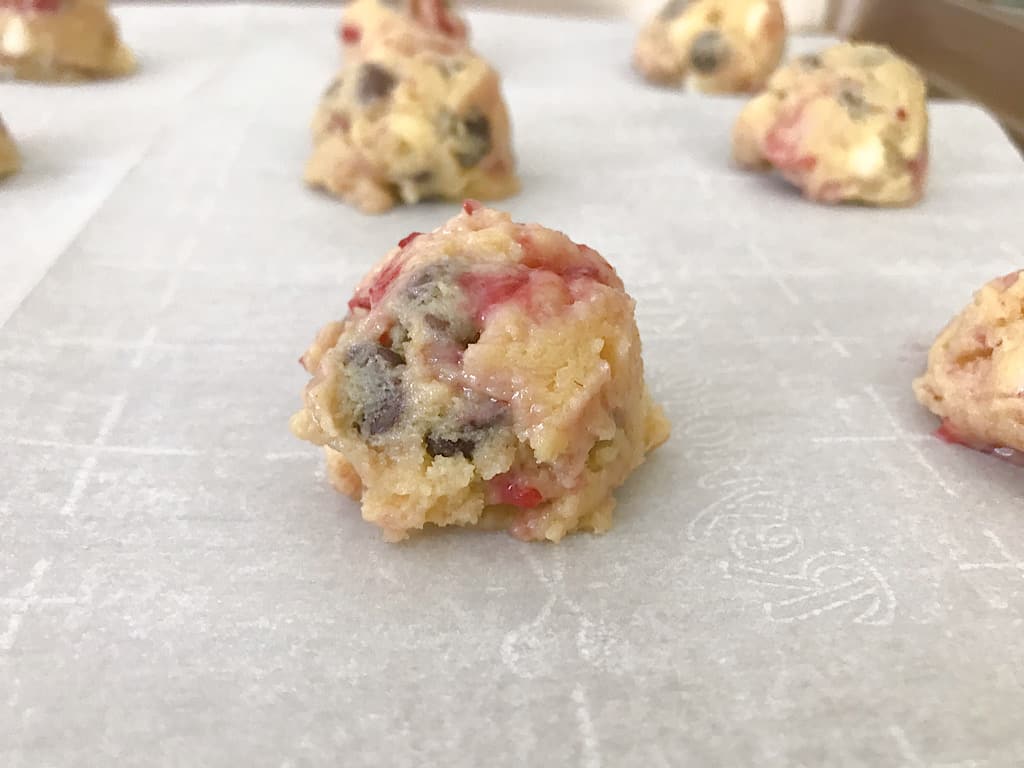 Put the dough in the refrigerator for about 30 minutes to chill.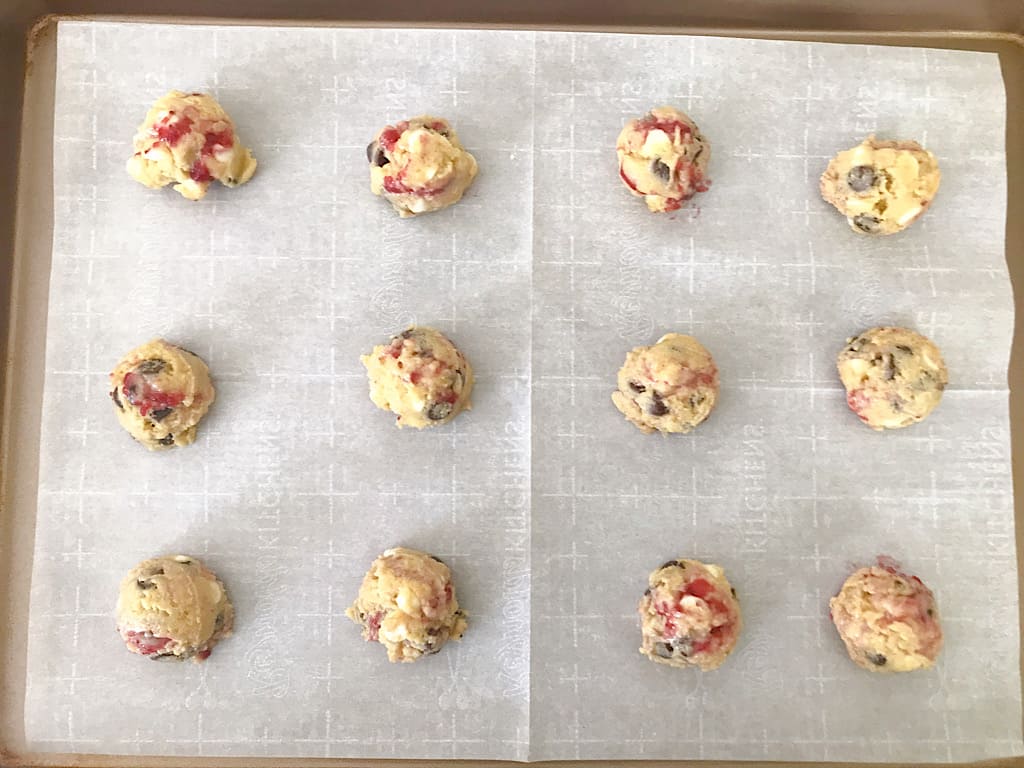 Bake the cookies at 350 degrees for 9-11 minutes, until the edges begin to brown. The actual baking time will depend on your oven and the size of cookie you choose to make.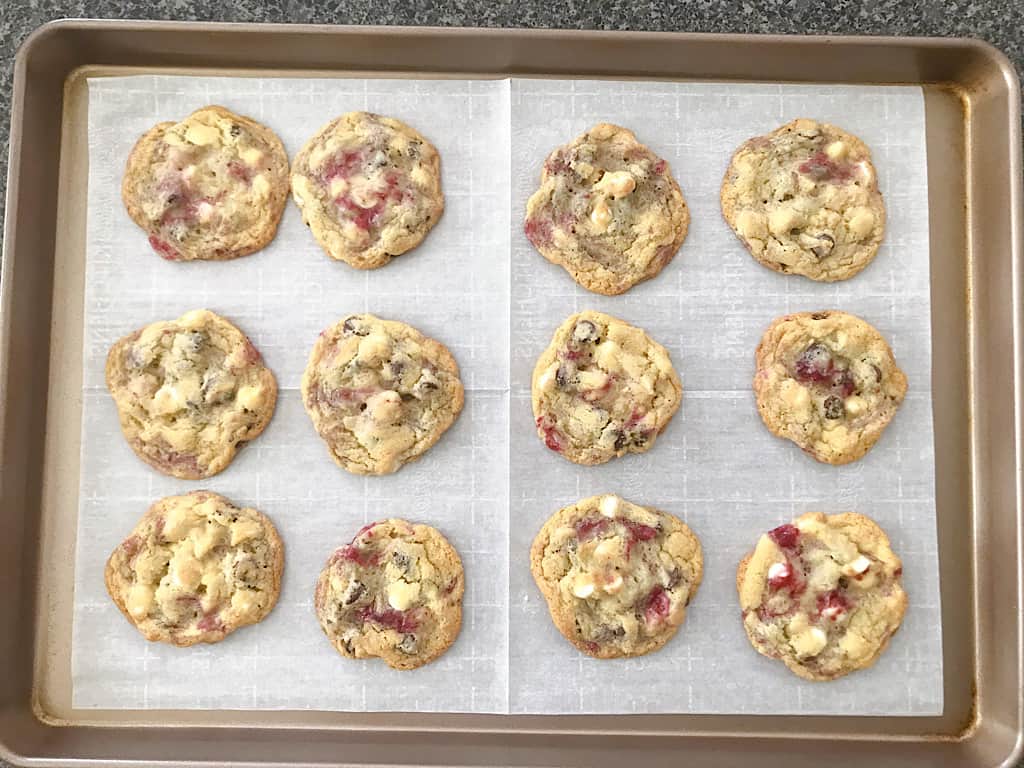 Let the cookies rest on the cookie sheet for 4-5 minutes after being removed from the oven, then transfer them to a cooling rack.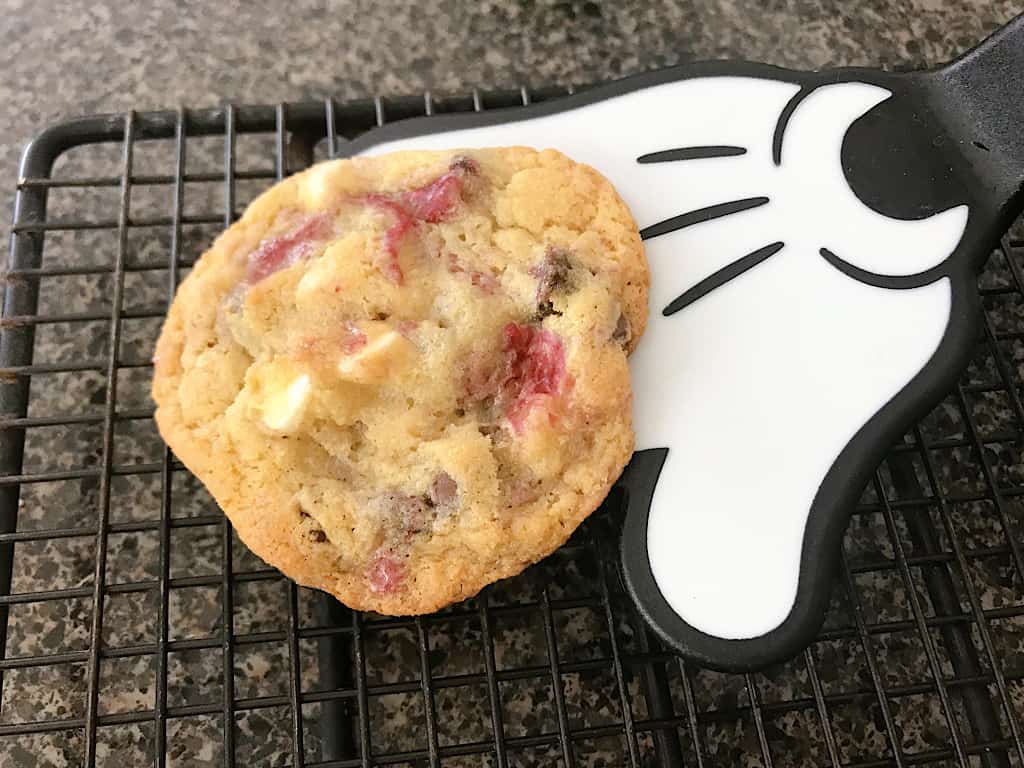 Enjoy the deliciousness of Disneyland's Raspberry White Chocolate Cookies from your own kitchen!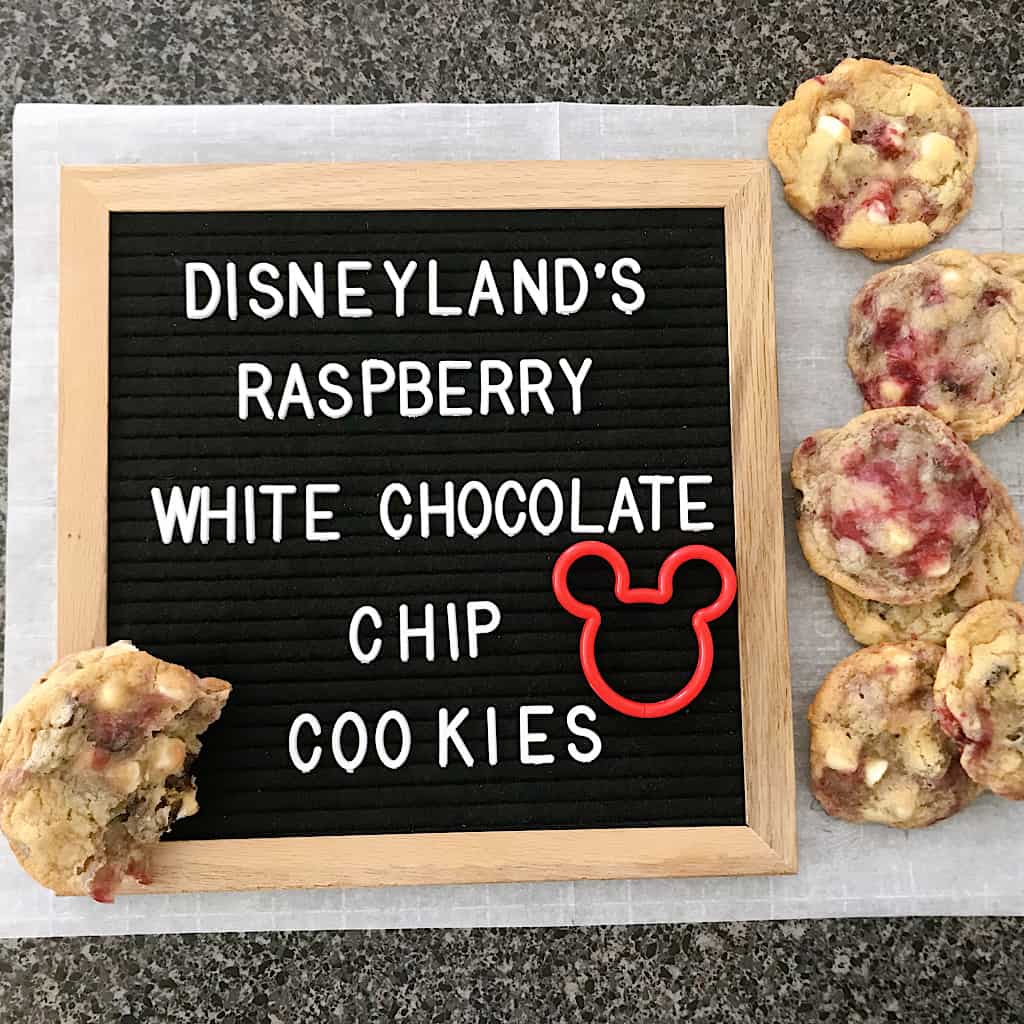 Disneyland Ticket Savings
There aren't a lot of Disneyland ticket discounts out there, but they can be found if you know where to look.
Get Discount Disneyland Tickets Here 
Make sure that if you buy Disney tickets from a third party, that they an authorized ticket seller.
I buy my tickets from Get Away Today. Their ticket prices are always a few dollars cheaper than Disneyland's gate prices and you can  now purchase tickets from them that include Disney MaxPass!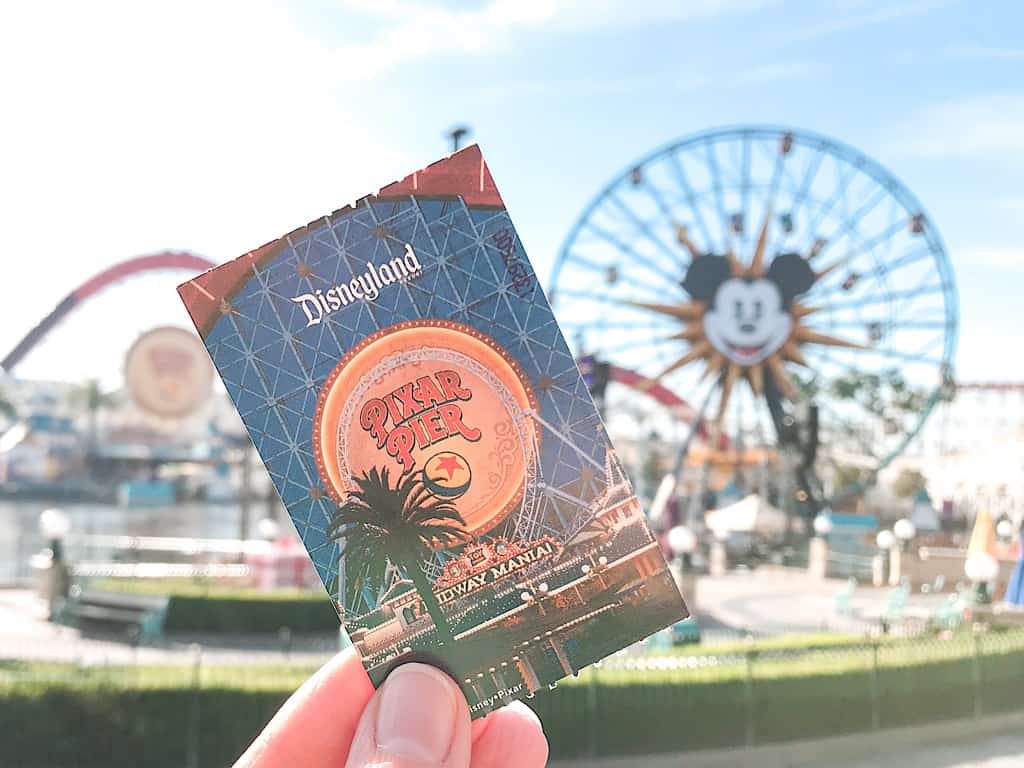 Get Away Today is almost always offering some kind of special on tickets and/or hotel vacation packages.
Use the promo code: MommyMouse to get an extra $10 off any 2-night or longer Southern California vacation package. (Hotel and 2 ticket minimum purchase to qualify for the discount.)

Other Disney Recipes you might like:
You can find all of my Disney Recipes HERE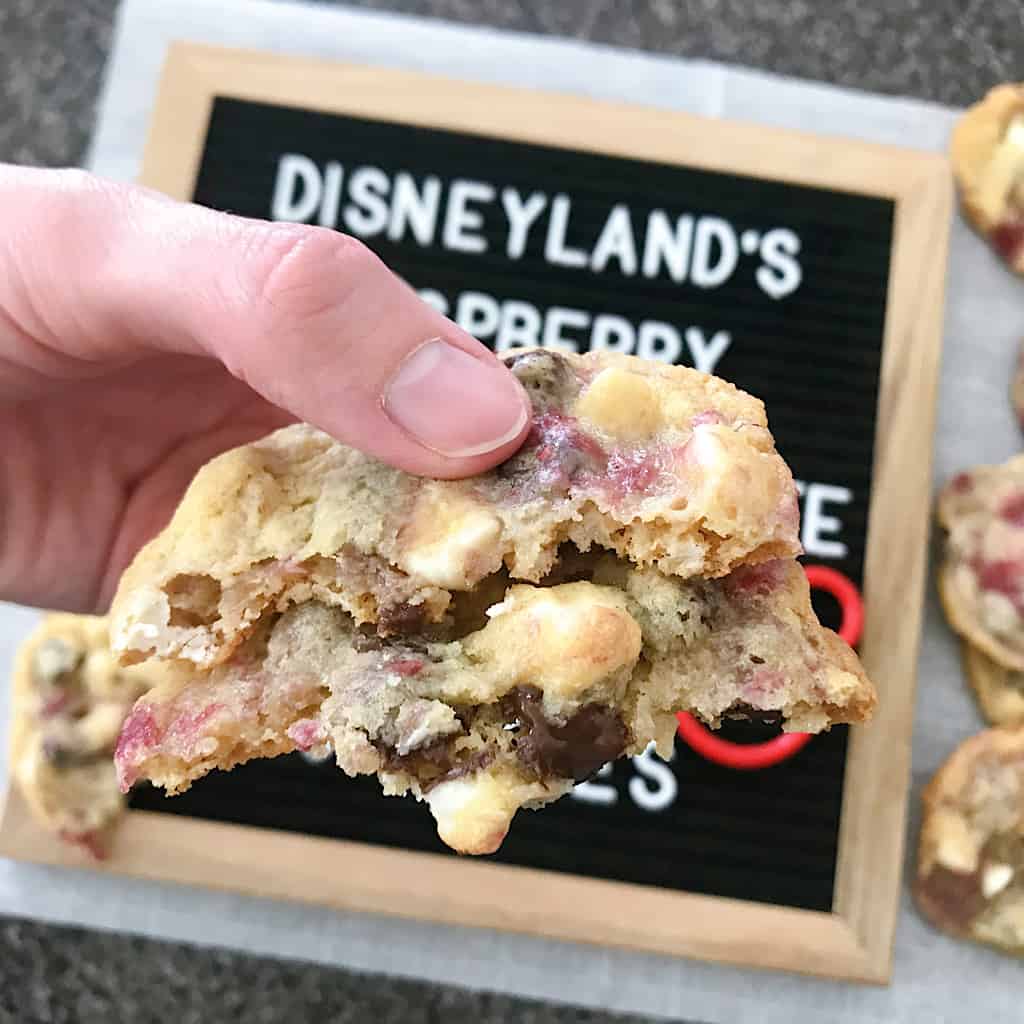 Make sure you PIN Disneyland's Raspberry White Chocolate Chip Cookies so you can make these cookies whenever you're missing Disneyland!