A delicious and chewy, white chocolate cookie packed full of raspberry preserves, white chocolate chips and milk chocolate chips. My version of the Raspberry White Chocolate Chip Cookies available at Disneyland.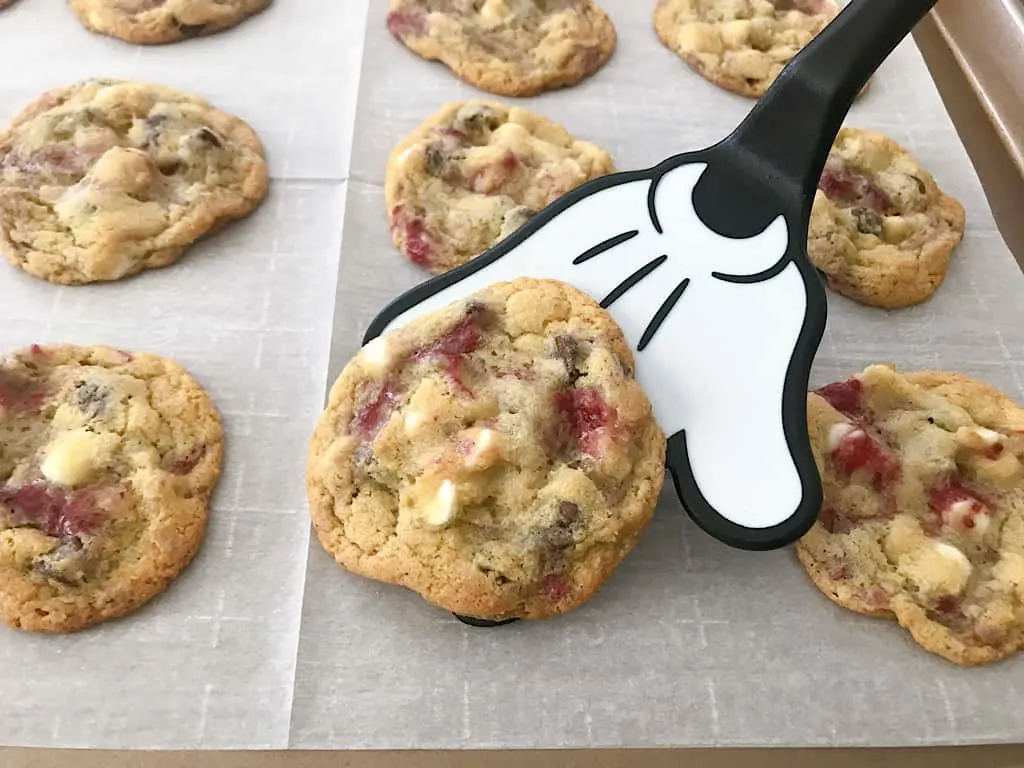 This post may contain affiliate links. When you click on these links, I get a small percentage back at no cost to you! For more information see my disclosure policy.
Below you will find tips, tricks and helpful hints for making this recipe including step by step instructions with pictures. If you would like to go directly to the recipe, scroll down to the recipe card or tap "Jump to Recipe" at the top of the page.
Why You'll Love This Recipe
I love these cookies because they're so delicious! The combination of the white chocolate, raspberry, and two kinds of chocolate chips make for a unique flavor. Plus, the cookie itself is chewy and soft – it's hard to resist! These are perfect for packing in lunchboxes or taking on picnics.
The beauty of this recipe is that now, whenever you are craving these delicious cookies, you don't have to be at Disneyland to get them!
Also, because of the pink color the raspberry preserves add to these cookies, they would be a fun treat to make for your Sweetheart or your kids for Valentine's Day! If you're a raspberry fan, you might also like these Raspberry Thumbprint Cookies.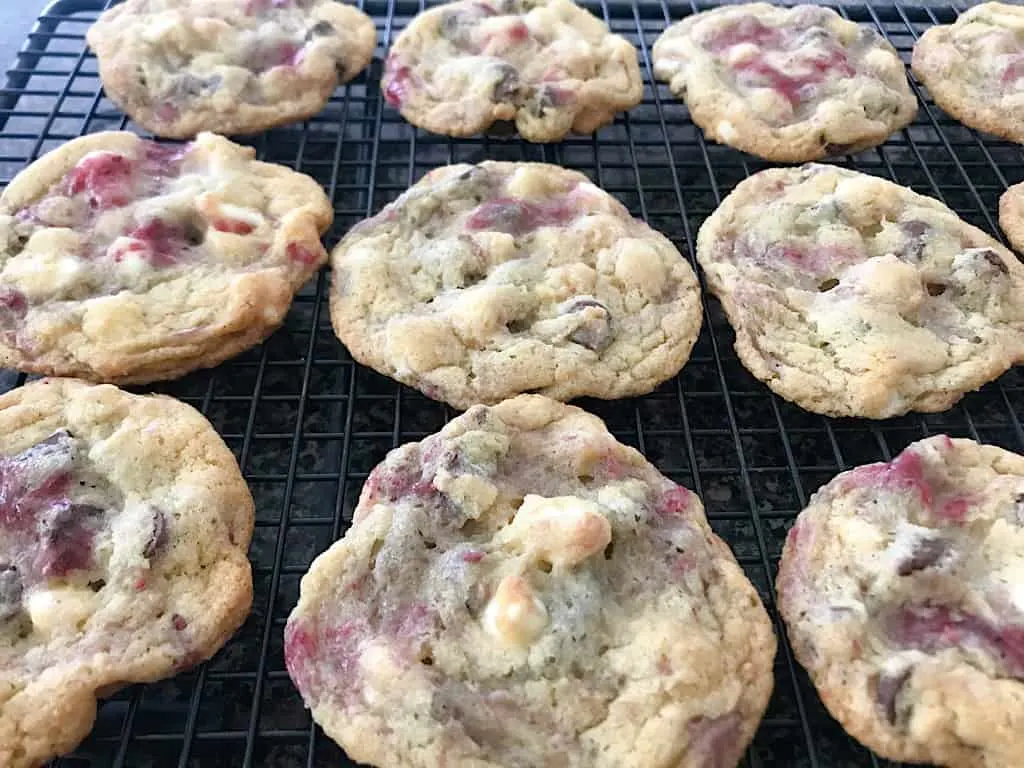 Where to Find Raspberry White Chocolate Chip Cookies at Disneyland
These Raspberry White Chocolate Chip Cookies can be found in multiple locations at the Disneyland Resort. At Disneyland Park, check Pooh's Corner in Critter Country and Candy Palace on Main Street.
At Disney California Adventure, you will find White Chocolate Chip Cookies at Trolley Treats on Buena Vista Street and Bing Bong's Sweet Stuff in Pixar Pier.
In Downtown Disney, check Marceline's Confectionery.
These locations can sell out though, so if it's important for you to get one of these cookies, get one early in the day!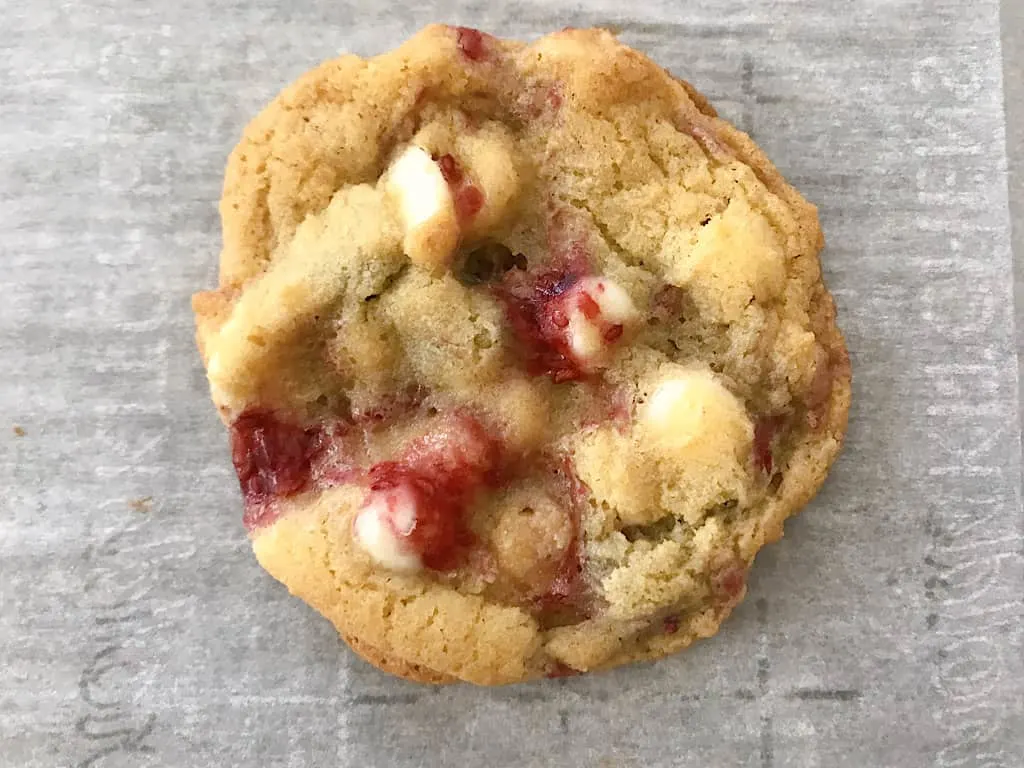 Secret Ingredients
My secret weapon for these cookies, which makes them so flavorful and moist, is a box of Hershey's White Chocolate Instant Pudding. This can be found in the baking aisle of most grocery stores.
I have used this pudding in so many recipes and it is heavenly. That's why I knew that it had to be part of my version of Disneyland's Raspberry White Chocolate Chip Cookies recipe.
More Disney Cookie Recipes: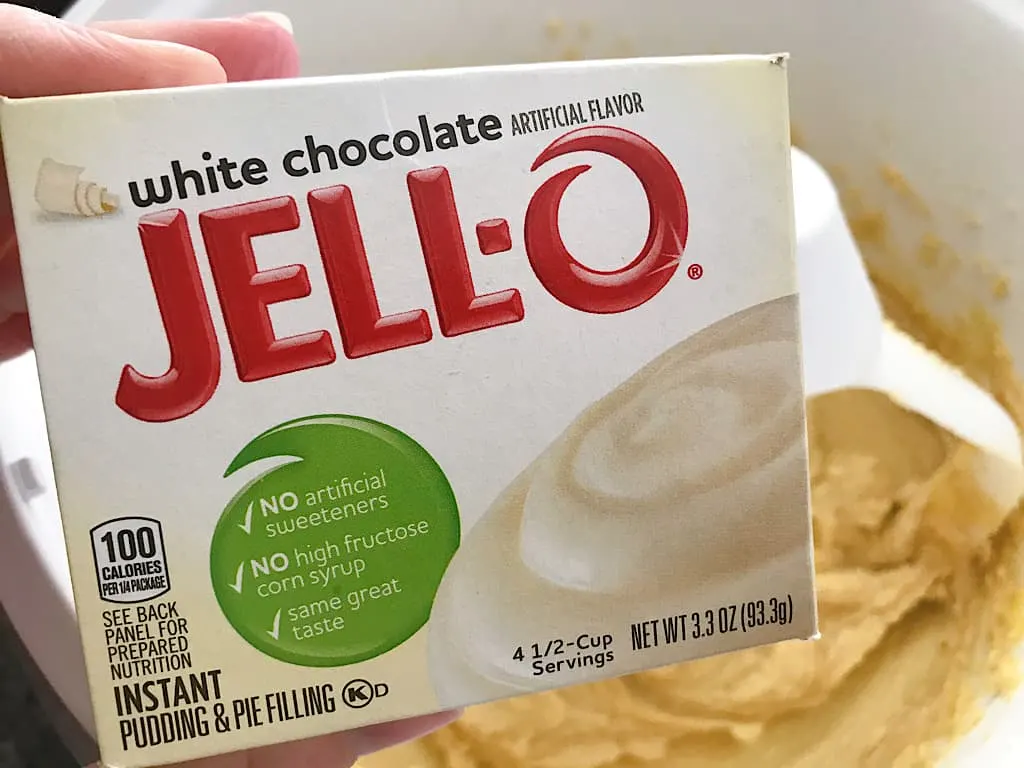 Ingredients for Disneyland's Raspberry White Chocolate Chip Cookies
*Ingredient amounts are located in the recipe card at the end of this post.
Butter: You will need salted or unsalted butter for this cookie recipe that has been softened to room temperature.
Brown Sugar & White Granulated Sugar: Both key ingredients in cookies. Brown sugar helps bring a depth of flavor due to the molasses content.
Vanilla Extract: Use a high quality pure vanilla extract if possible, but imitation vanilla will work as well.
Egg & Egg Yolk: Room temperature large eggs help create that perfect, chewy texture.
White Chocolate Instant Pudding: This pudding mix helps make the cookies extra moist and gives a subtle hint of white chocolate flavor.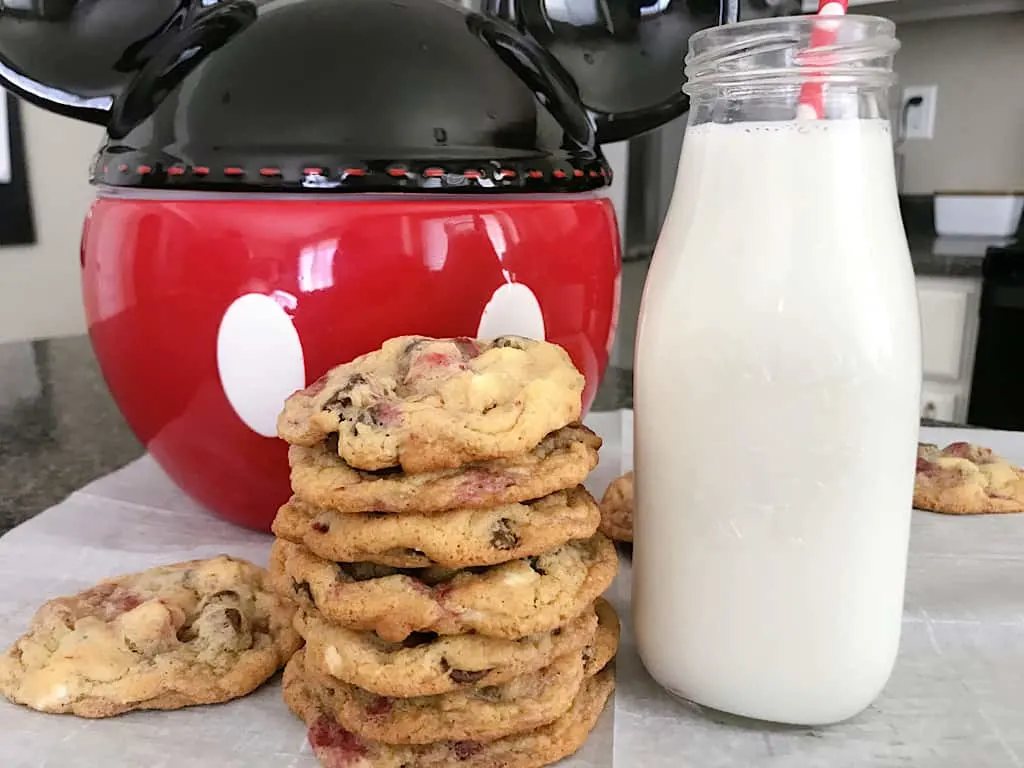 Baking Soda & Salt: Both are necessary ingredients to get that nice rise in your cookies as they bake.
All-Purpose Flour: All-purpose flour creates that chewy cookie texture.
White Chocolate Chips & Milk Chocolate Chips: The combination of both types of chocolate chips is part of what makes these cookies special. Dark chocolate chips may be substituted.
Seedless Raspberry Jam: This is the secret ingredient that gives these cookies a burst of raspberry flavor as they bake. Be sure to use seedless preserves.
How to Make Disneyland's Raspberry White Chocolate Chip Cookies
[1] Begin by creaming the butter and sugars in a stand mixer until they are light and fluffy.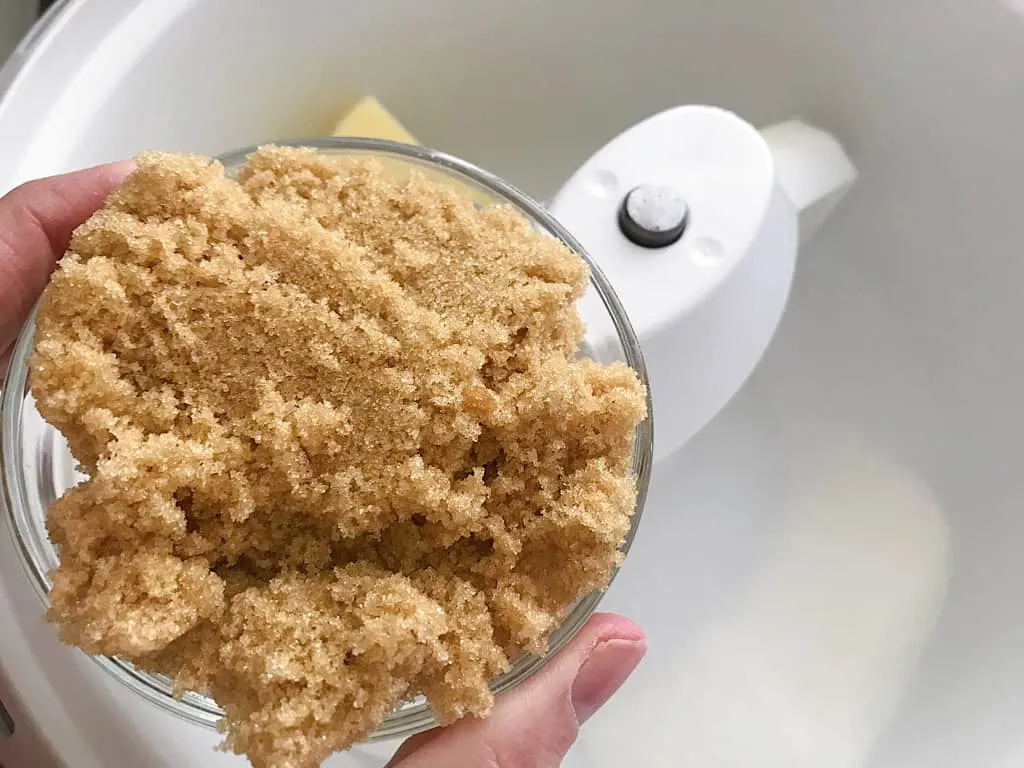 [2] Add the vanilla and mix. Place one whole egg + one egg yolk in the bowl and mix until combined.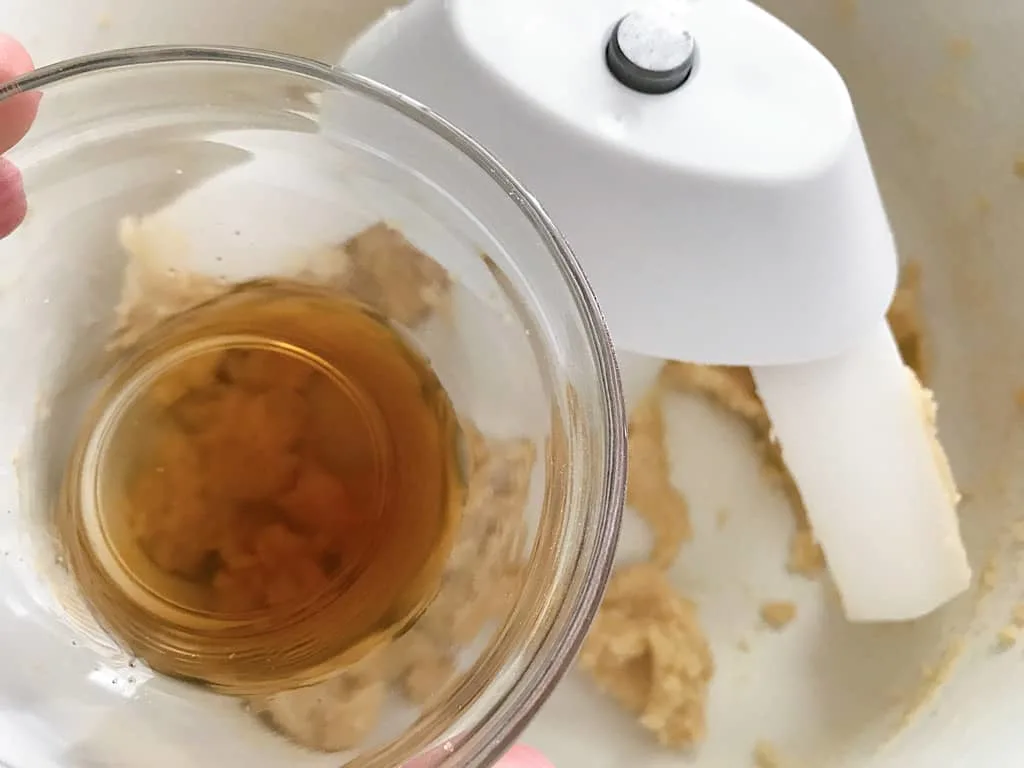 [3] Pour one box of delicious White Chocolate Instant Pudding as well as the rest of the dry ingredients: baking soda, salt and flour.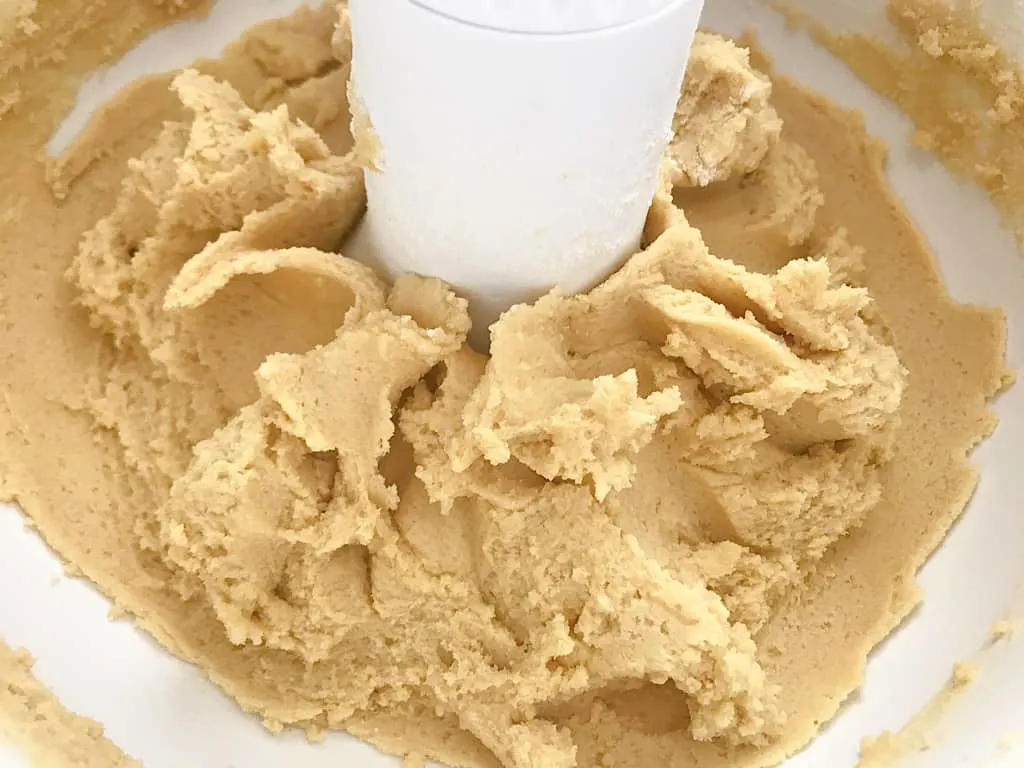 [4] Stir in both the milk chocolate chips and white chocolate chips.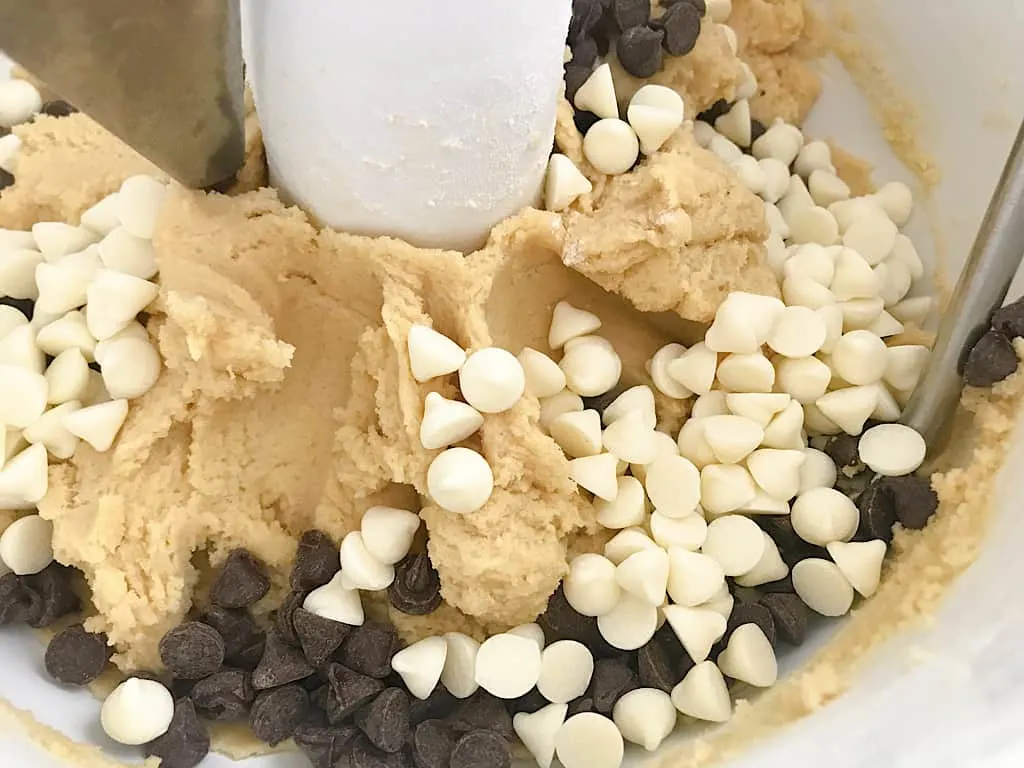 [5] Take half of the cookie dough and press it down flat and place small spoonfuls of raspberry preserves all over the top of the dough.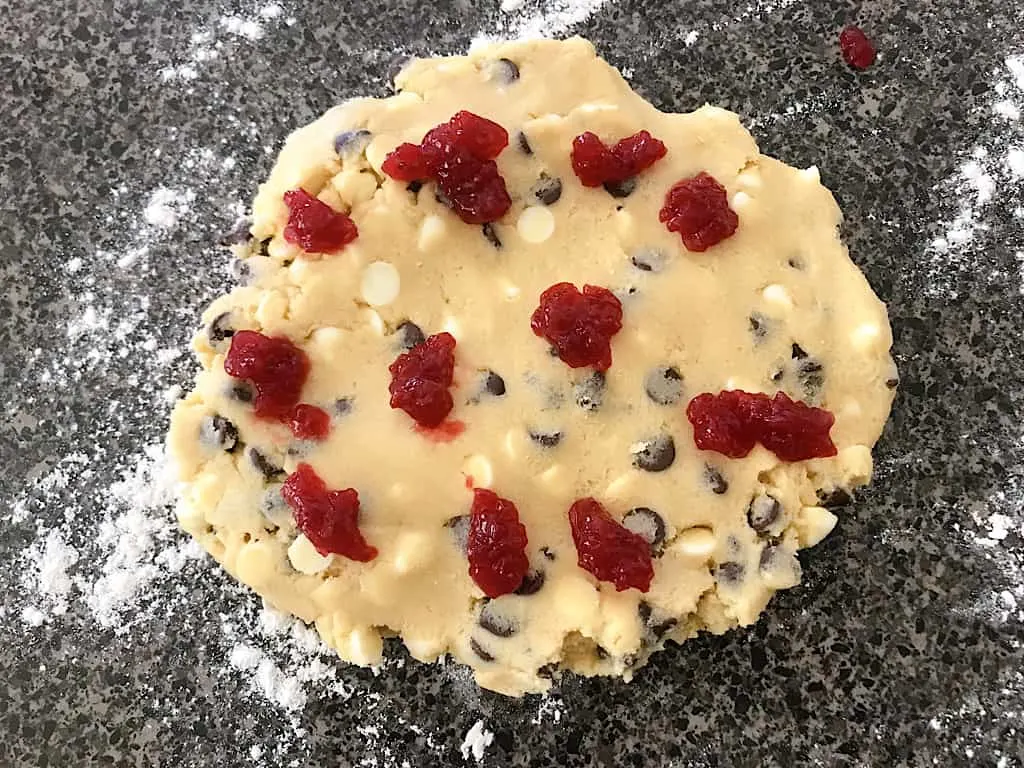 [6] Use a butter knife to spread the preserves over the dough.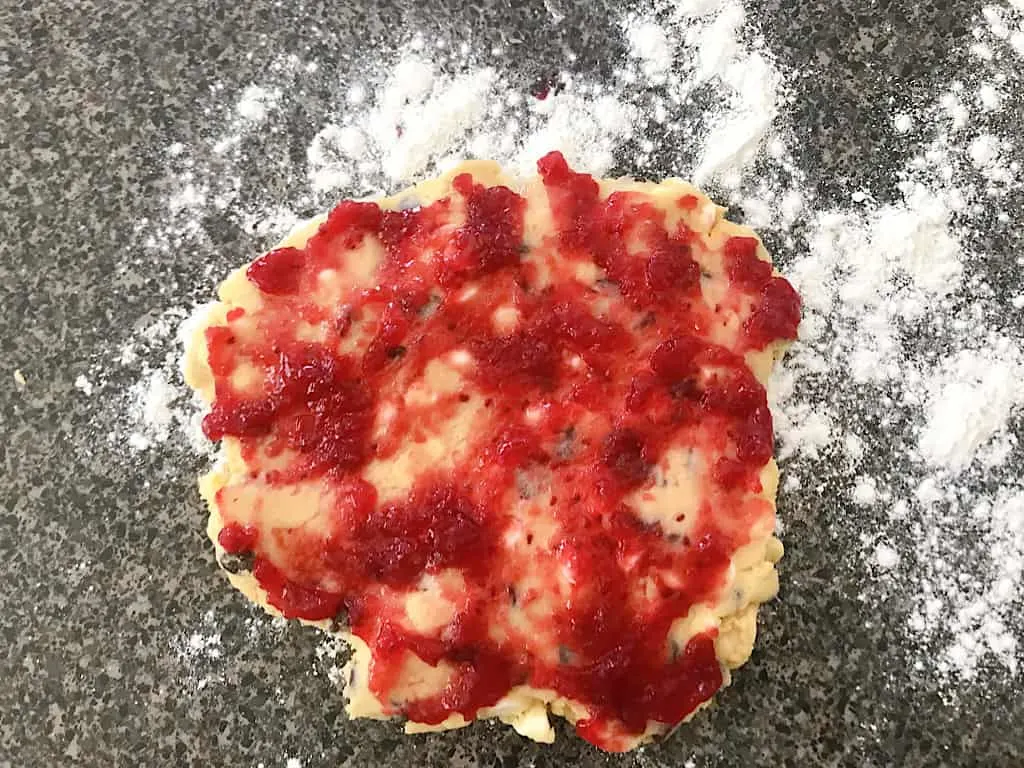 [7] Next, use a cookie scoop to shape the cookies. To make them Disneyland size, use 1/2 cup of dough. For half of my cookies, I used a 1/4 cup scoop and was able to get about 6, good sized cookies. For the other half, I used a two tablespoon scoop and got 12 cookies, that were the perfect size for my kid's little hands.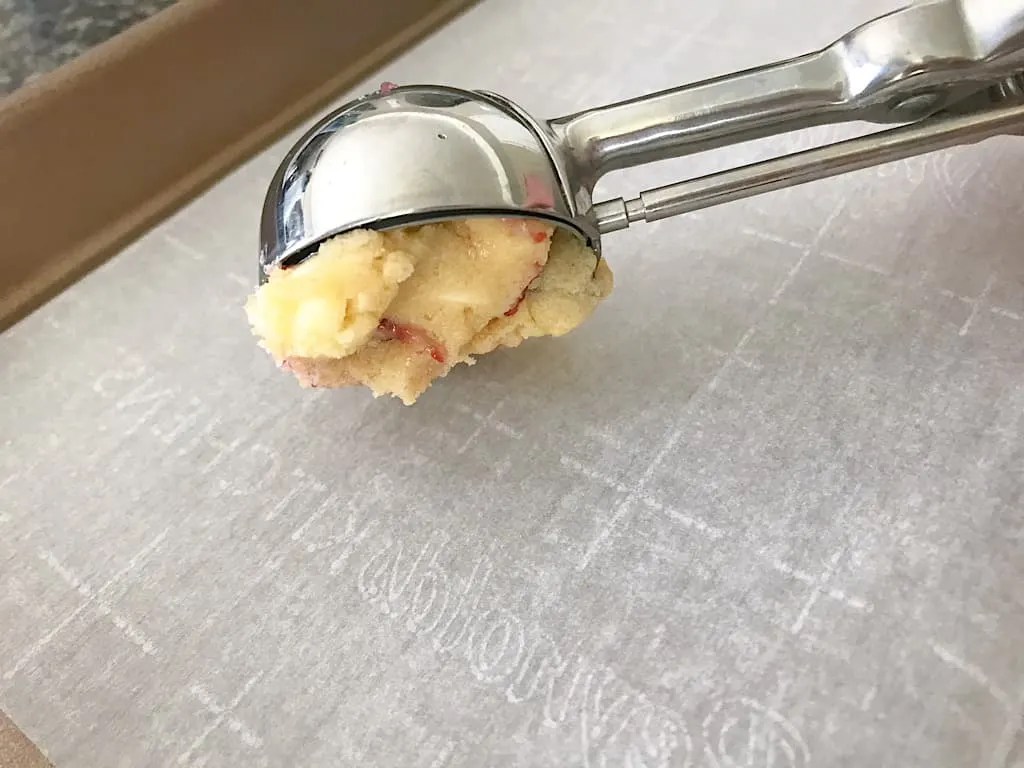 [8] Place the dough on a baking sheet lined with parchment paper and press down on the center of the dough ball. Just enough that the cookie isn't totally round.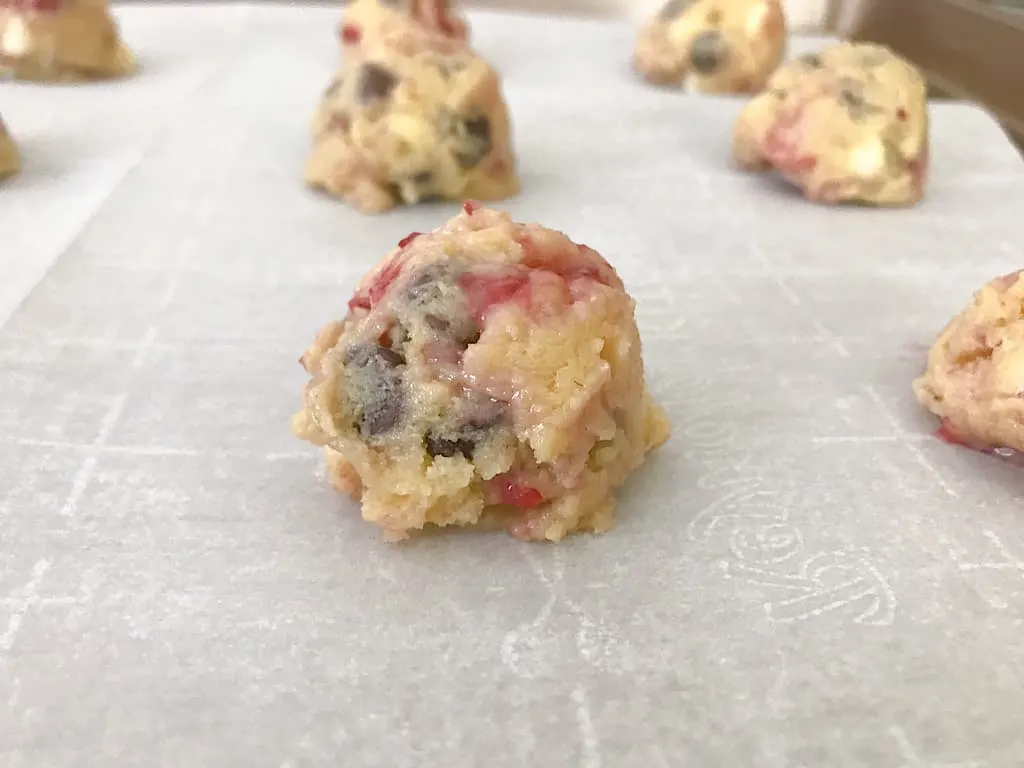 [9] Put the dough in the refrigerator for about 30 minutes to chill.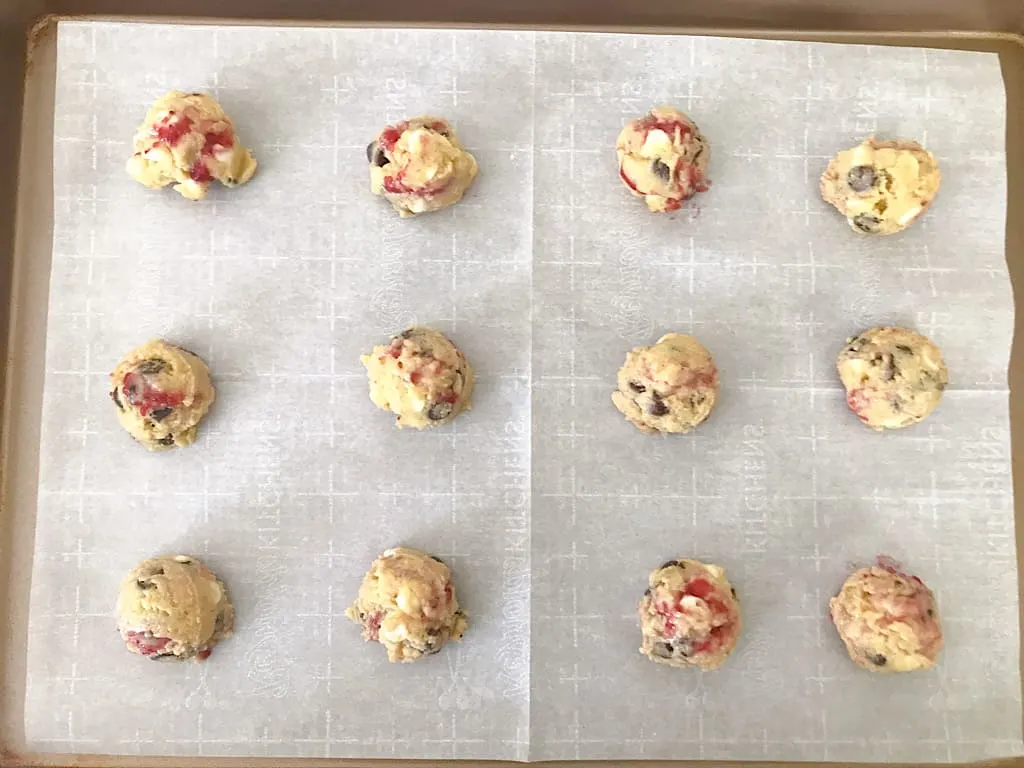 [10] Bake the cookies at 350 degrees for 9-11 minutes, until the edges begin to turn golden brown. The actual baking time will depend on your oven and the size of cookie you choose to make.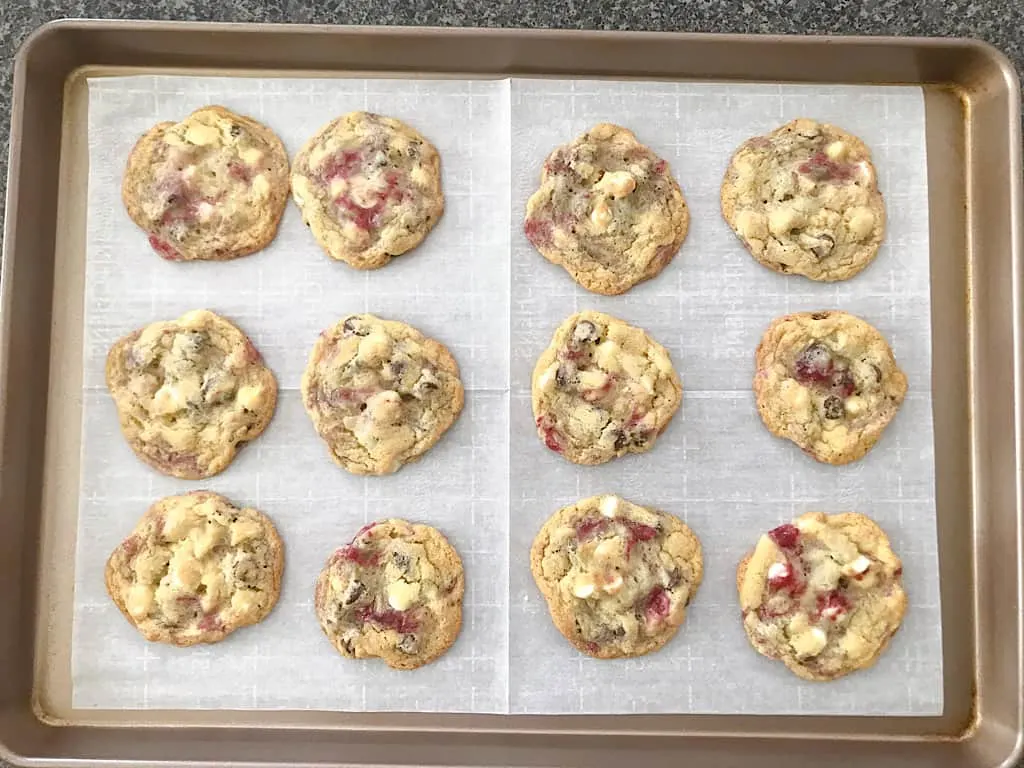 [11] Let the cookies rest on the cookie sheet for 2-3 minutes after being removed from the oven, then transfer them to a wire rack.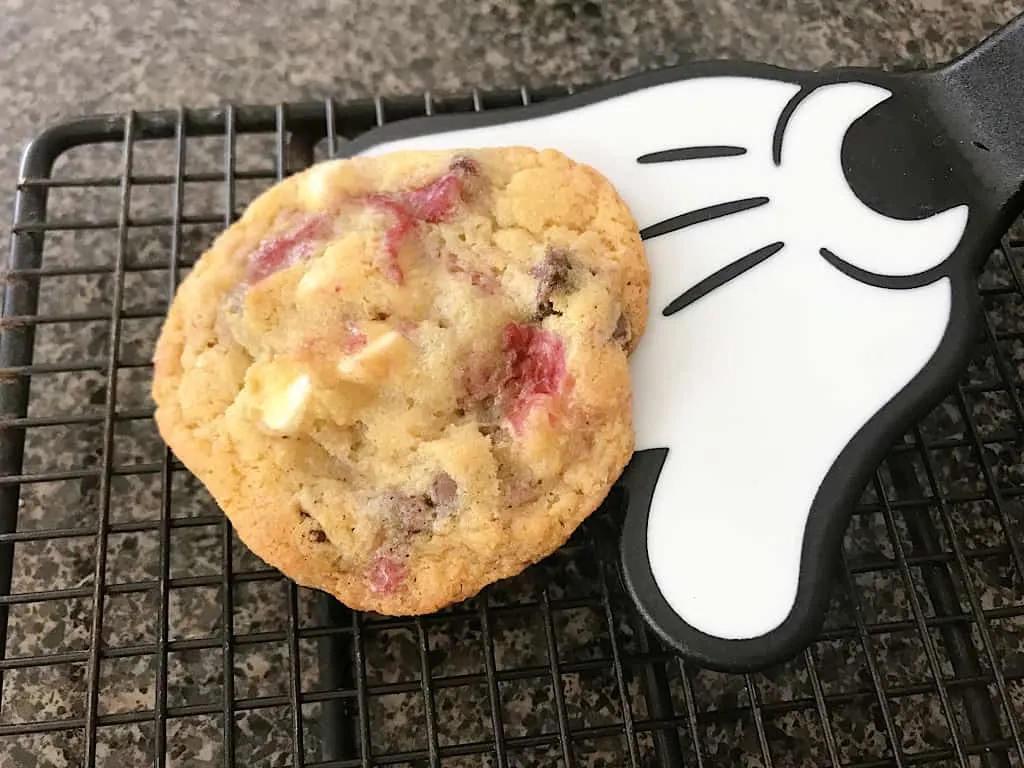 Helpful Kitchen Tools
How to Store & Freeze Raspberry Chocolate Chip Cookies
These chewy cookies will keep for up to 5 days in an airtight container or a large ziplock bag, at room temperature.
To freeze before baking, follow the directions above. Use a cookie scoop to measure the dough and form into a ball. Place the cookie dough balls on a baking sheet and then into the freezer for about 2 hours Tranfer to a large ziplock bag. Bake as usual, no need to thaw the dough.
To freeze after baking, allow the cookies to cool and place. Place the baked cookies in a ziplock freezer bag and freeze for up to 3 months. Allow to thaw to room temperature before eating.
Tips & Tricks
Use high quality ingredients for maximum flavor.
Be sure to use seedless raspberry preserves for this recipe.
Chill the dough before baking for perfectly shaped cookies.
Don't overbake the cookies, or they will be too dry.
For a fun twist, you can add different types of chips and nuts to the recipe.
You can also use different types of preserves, such as strawberry or blackberry.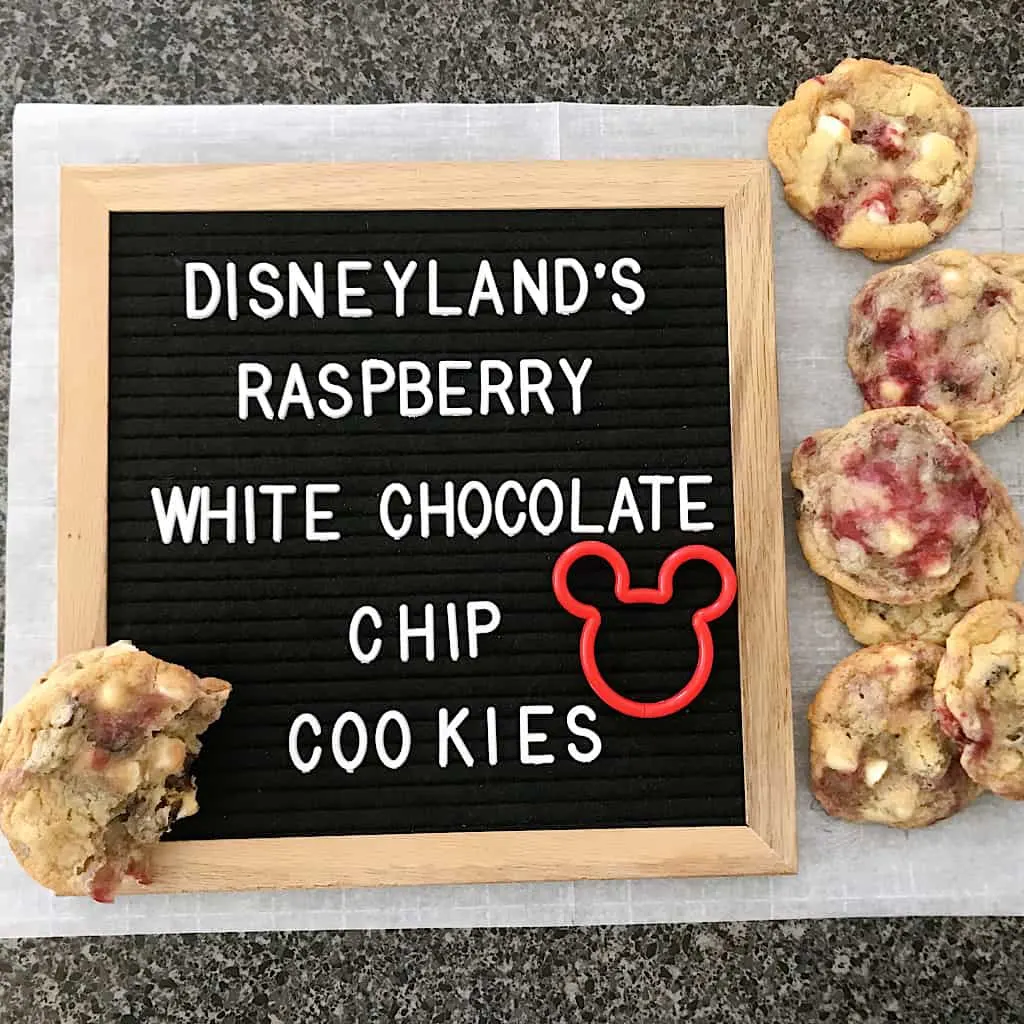 Frequently Asked Questions
Can I double the recipe?
Yes, you can easily double this recipe if needed.
Do I need to use parchment paper for baking?
Yes, parchment paper helps prevent sticking and makes clean up a breeze!
How long do the cookies last?
These cookies should keep for up to 5 days in an airtight container at room temperature.
Can I freeze the cookie dough?
Yes, you can freeze the cookie dough before baking. Be sure to measure out the dough and form into cookie balls before freezing for best results. Allow to thaw before baking as usual.
Do I Need to Refrigerate the Dough Before Baking?
Yes, refrigerating the dough before baking is highly recommended as it helps hold the shape of the cookies and prevents spreading. Allow to chill for about 30 minutes before baking.
Final Thoughts
Adding a little bit of Disney magic into your kitchen has never been easier with Disneyland's famous Raspberry White Chocolate Cookies. These delicious cookies are perfect for a sweet treat or a surprise dessert.
With just a few simple ingredients and steps, you too can make these scrumptious treats in the comfort of your own home. Enjoy!
Discount Disneyland Tickets & Vacation Packages
My travel partner, Get Away Today, offers park tickets that are always a few dollars less than what you can purchase directly from Disney. I have been buying my tickets for them for many years and their customer service can't be beat! You can check ticket prices here.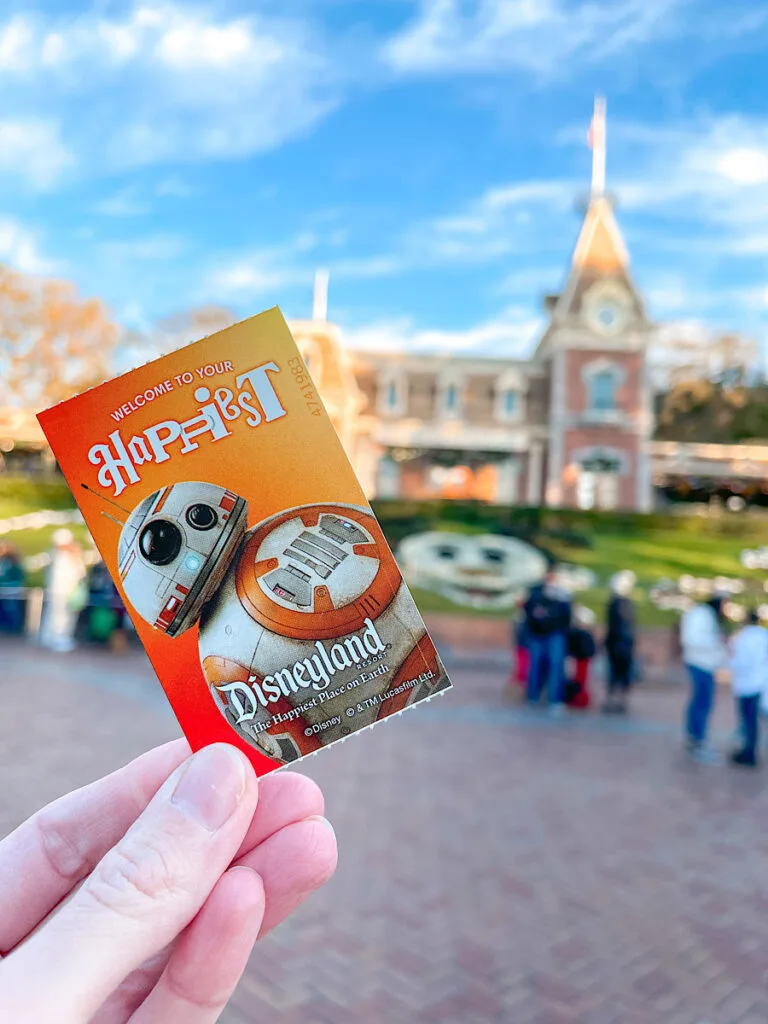 You can save even more when booking your tickets in a vacation package combined with a hotel stay. Get Away Today often offers deals through many Disneyland Good Neighbor hotels where you can get a 3rd or 4th night free! And they offer amazing layaway plans!

And, my readers can use the coupon code: Clubhouse10 to save even more on a 2-night or longer Southern California vacation package! You can check package prices for your next trip here or give them a call at 855-GET-AWAY and tell them Mommy Mouse Clubhouse sent you.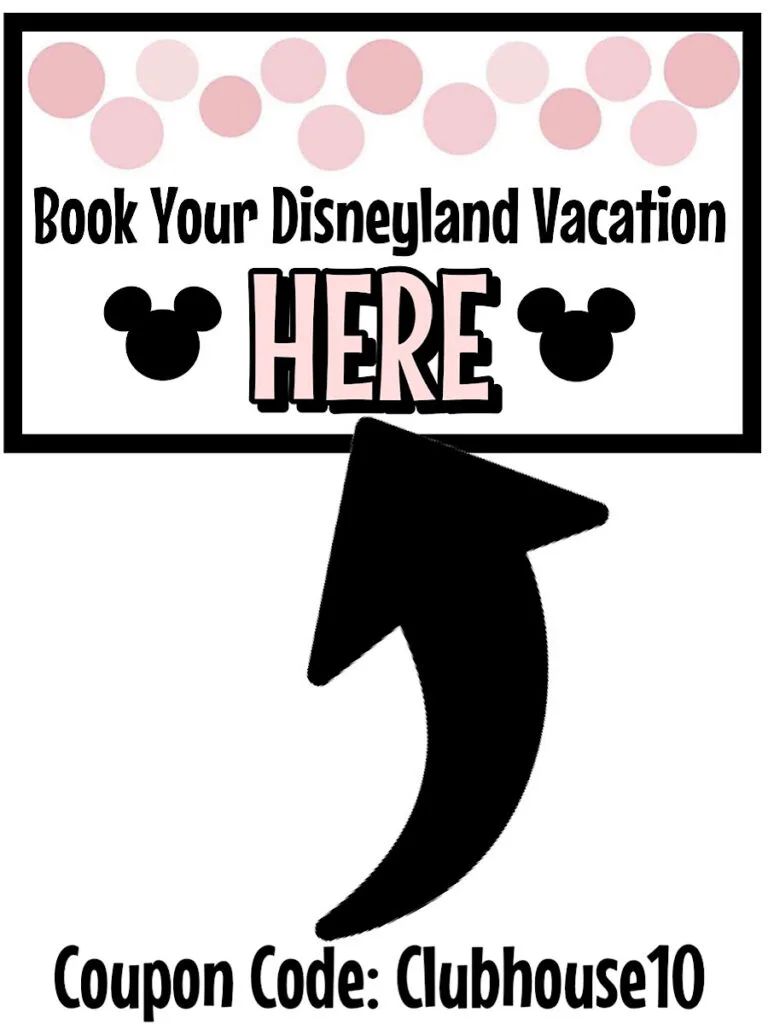 Other Disney Recipes you might like: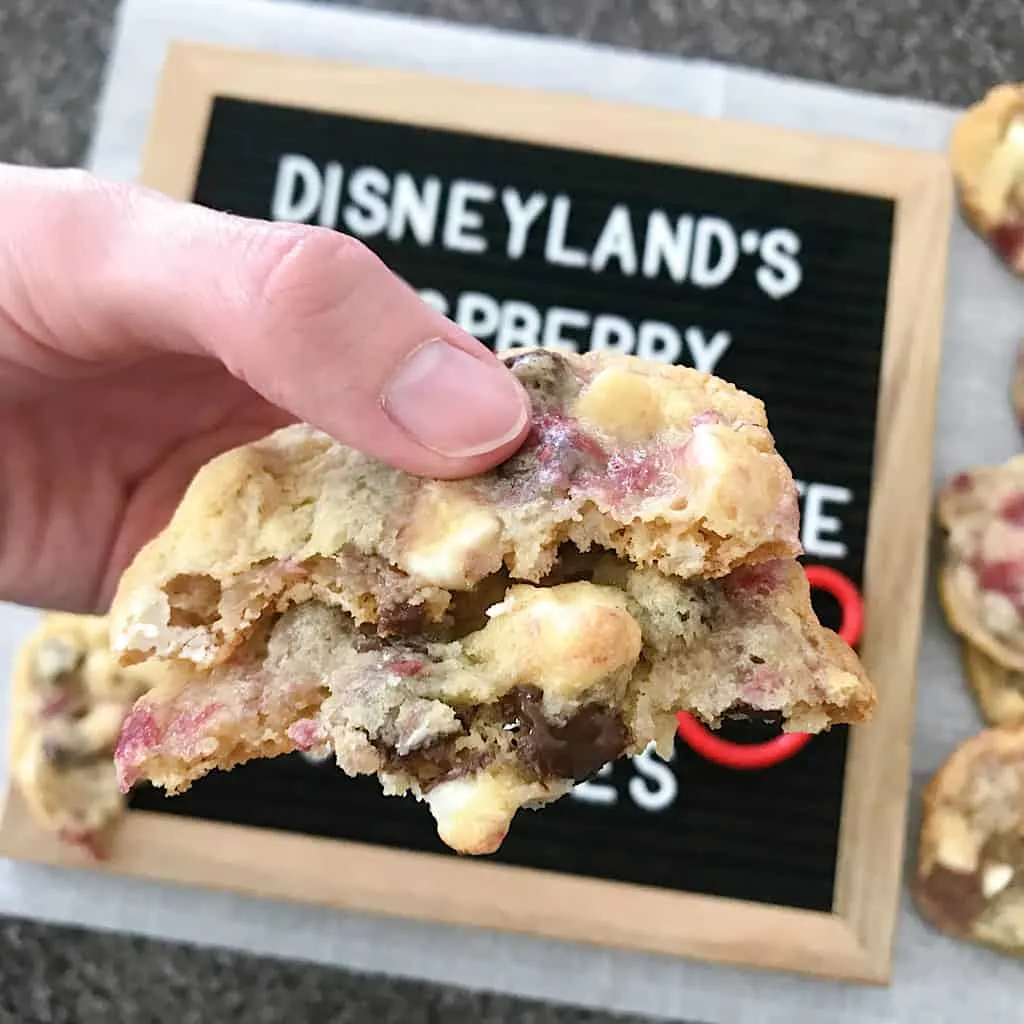 Make sure you PIN Disneyland's Raspberry White Chocolate Chip Cookies so you can make these cookies whenever you're missing Disneyland!
Raspberry White Chocolate Chip Cookies Video: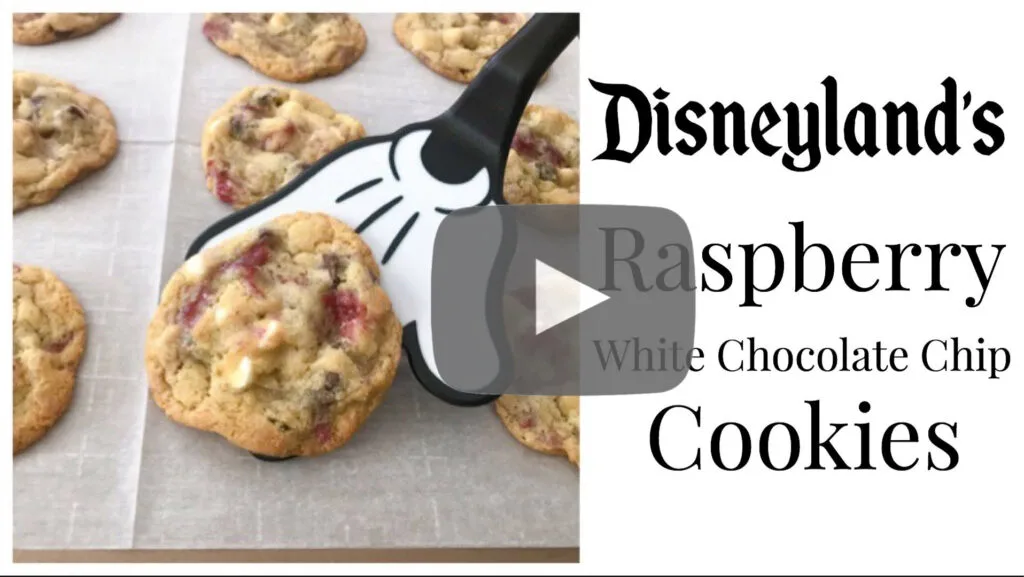 Pin for later: