Churro Toffee is a delightful treat that can be found at Disneyland. It's a cross between a cinnamon sugar churro and a toffee candy, and it's absolutely delicious. This toffee is made with butter, sugar, and vanilla, and it's topped with melted white chocolate and sprinkled with cinnamon sugar. It's the perfect sweet treat for any churro lover and makes a great gift for the holiday season. And if you're lucky enough to find Churro Toffee at Disneyland, be sure to try it! You won't be disappointed.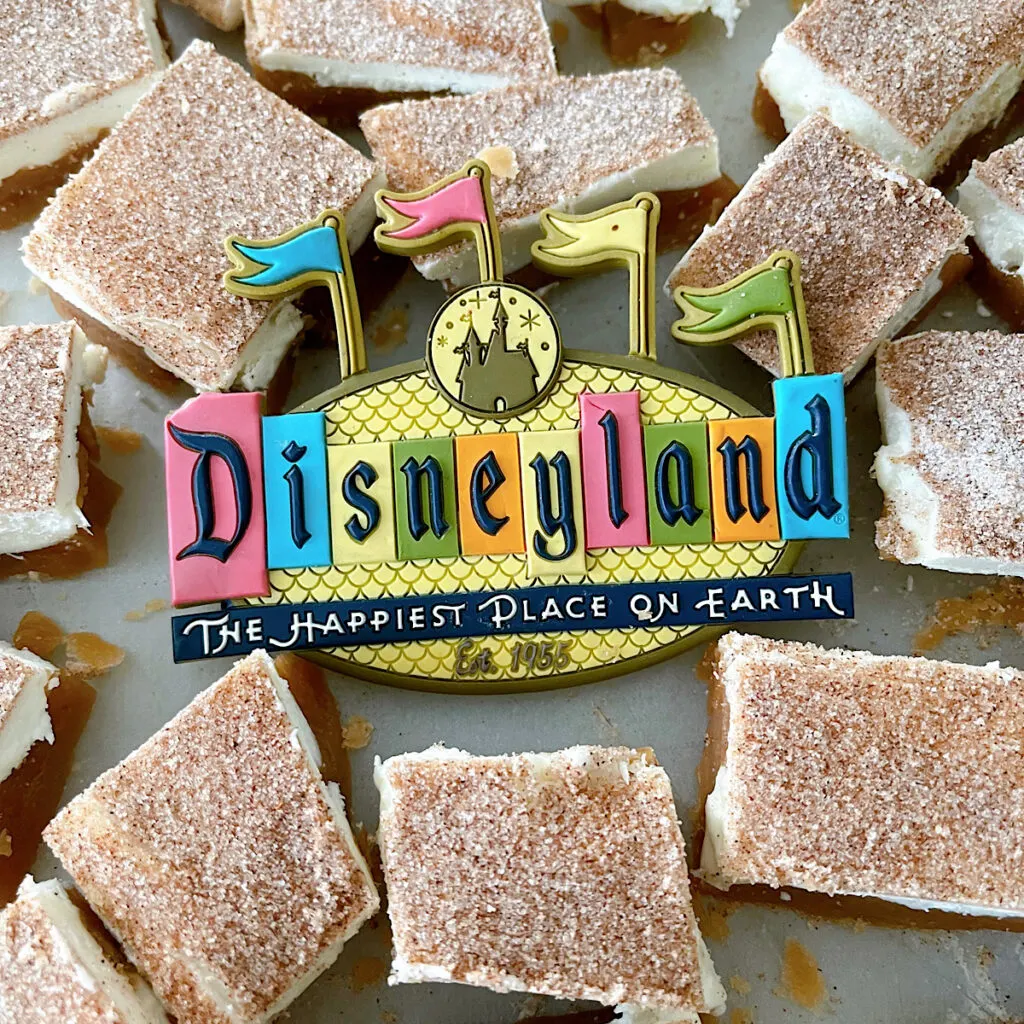 This post may contain affiliate links. When you click on these links, I get a small percentage back at no cost to you! For more information see my disclosure policy.
Below you will find tips, tricks and helpful hints for making this recipe including step by step instructions with pictures. If you would like to go directly to the recipe, scroll down to the recipe card or tap "Jump to Recipe" at the top of the page.
Why I Love Disneyland's Churro Toffee
Every single time I go to Disneyland I get a piece of Churro Toffee. It's a tradition. The first time I tried it, I knew Disneyland's Churro Toffee was the best toffee ever because it's a delicious combination of two of my favorite treats – churros and toffee.
The buttery, sugary, and vanilla flavor is absolutely amazing, and the melted white chocolate on top makes it even better. And the best part is that it's topped with cinnamon sugar, which gives it a delicious cinnamon flavor.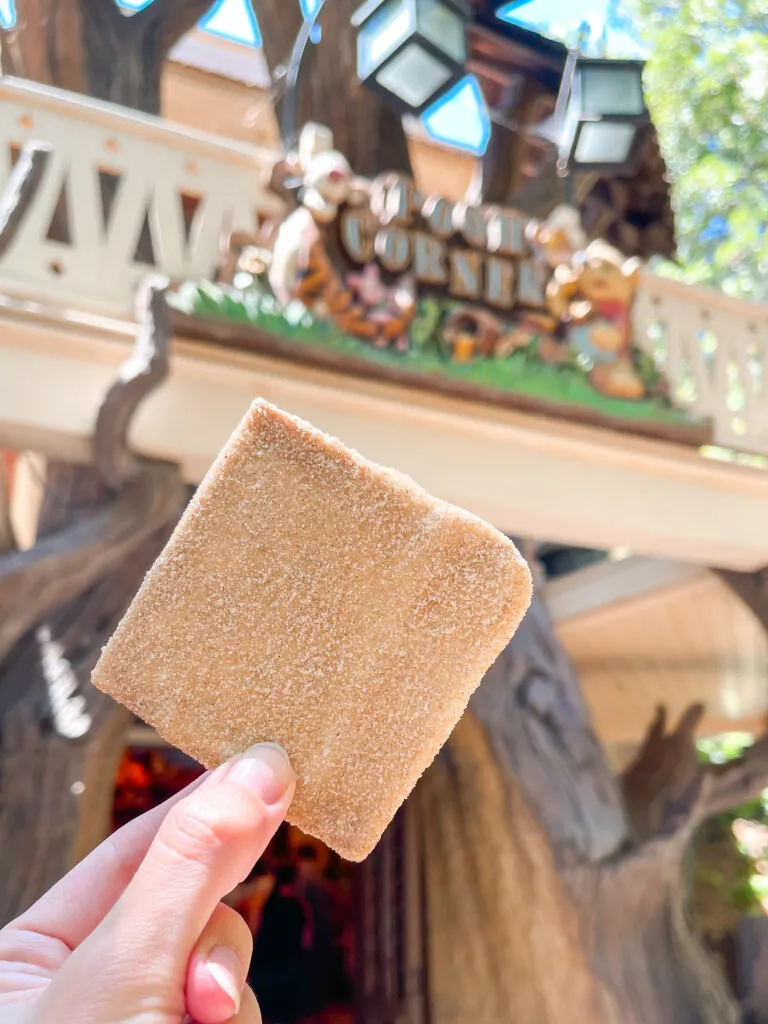 There is something about taking a bite of this toffee that transports my senses right to Disneyland, and I am here for it! That's why I love to make this treat at home with just a few simple ingredients. Get more Disney recipes here.
So, if you're looking for a delicious and sweet treat, be sure to try Disneyland's Churro Toffee. You won't regret it!
If you want to know my other Disneyland treat recommendations, check out the Best Snacks and Treats at Disneyland here!
Where to Get Churro Toffee at Disneyland
If you are lucky enough to be at Disneyland, you need to head to one of these locations to pick up some Churro Toffee ASAP: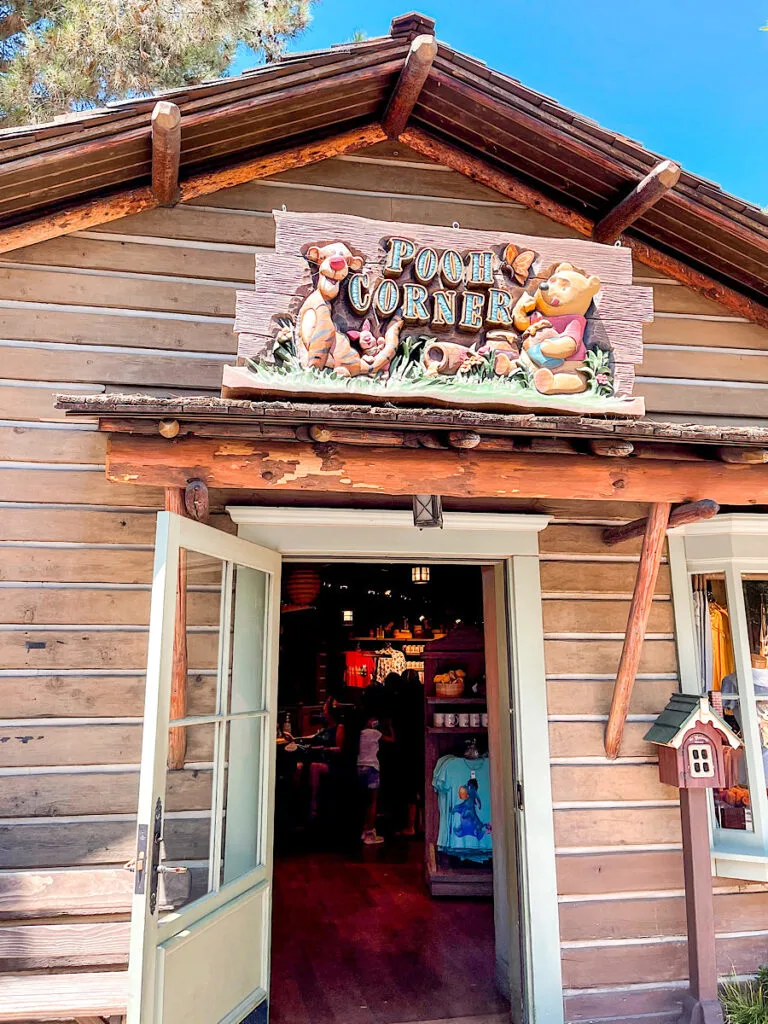 Candy Palace, Main Street USA, Disneyland Park
Pooh's Corner, Critter Country, Disneyland Park
Trolley Treats, Buena Vista Street, Disney's California Adventure Park
Marceline's Confectionary, Downtown Disney District
If you need a great deal on a Disneyland vacation, including discount Disneyland tickets, check prices with my friends at Get Away Today and use the coupon code: Clubhouse10!
What Is Toffee?
If you aren't familiar with toffee, it's a confection made from butter and sugar that is boiled until it becomes a hard, brittle candy. It can also be made with nuts, such as almonds or cashews, added in for flavor and texture.
It's important to use high-quality ingredients when making toffee because it can easily burn.
Toffee vs. Caramel
Toffee and caramel are often confused, but they are actually quite different. Caramel is often made with brown sugar, while toffee is made with white sugar. Caramel also has cream added in, giving it a creamy texture. Toffee is hardened and brittle.
But both toffee and caramel can be used in a variety of desserts, such as topping ice cream or added to cookies.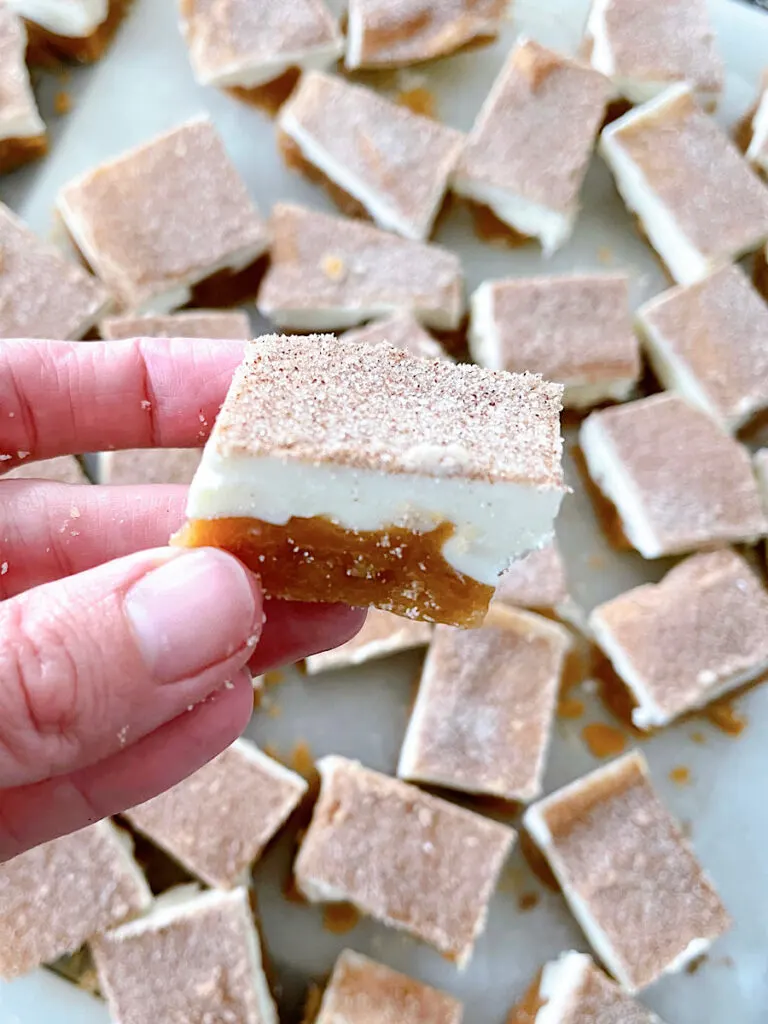 What Is Homemade English Toffee Made Of?
Toffee is made with butter and sugar, usually white sugar. It can also have flavorings added, such as vanilla extract or nuts.
When to Make Churro Toffee
I recommend making this easy toffee any time of the year or if you are missing Disneyland.
But, it also makes a great Christmas toffee gift for your friends and neighbors! Use this simple recipe to whip up a delicious holiday treat!
More Favorite Christmas Desserts
Churro Toffee Ingredients
Butter: You will need 4 sticks or 2 cups of butter. I like to use salted butter because I like the flavor, but unsalted butter can be used as well. If using unsalted butter, add 1/2 teaspoon of salt to the toffee after removing from the heat.
Sugar: Two cups of white sugar is needed for this recipe. I prefer to use cane sugar, but any white granulated sugar will work.
White Chocolate: Four cups of white chocolate chips or chopped white chocolate is needed for the topping. I like to use 2 bags of Ghirardelli Melting Wafers because they melt smoothly and have great flavor. You can also use milk chocolate chips if preferred.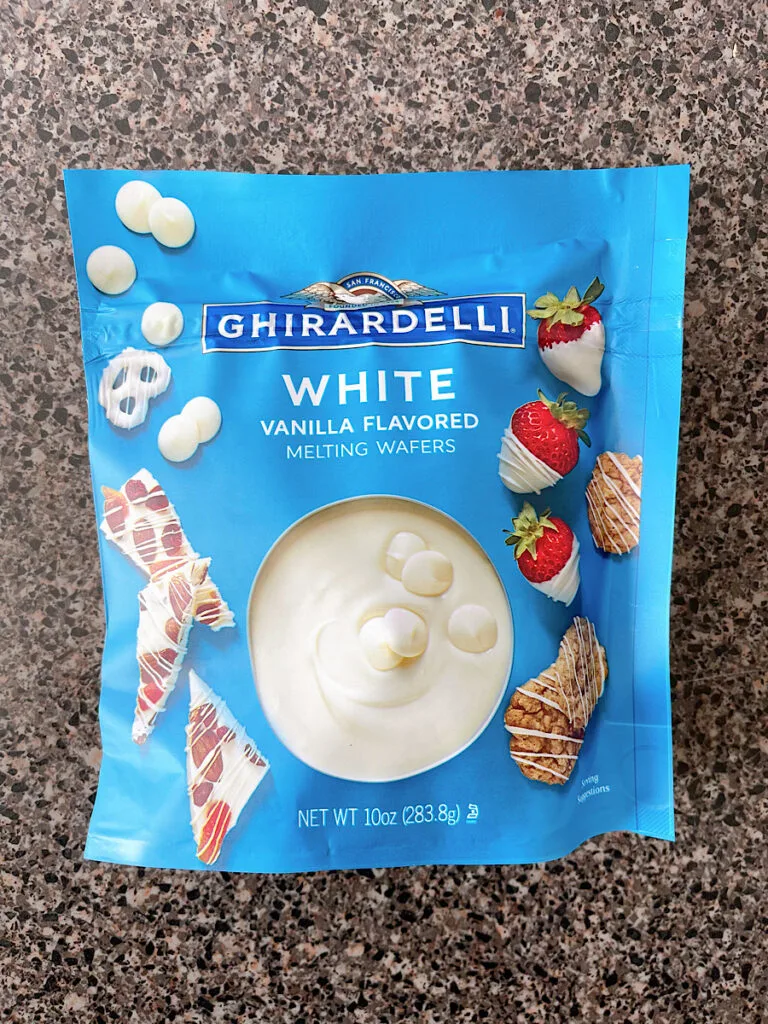 Vanilla Extract: Two teaspoons of vanilla extract adds a delicious flavor to the toffee.
Cinnamon Sugar: One tablespoon of cinnamon and 1/2 cup of sugar are needed for sprinkling over the white chocolate on top of the toffee. You can also use store-bought cinnamon sugar if desired.
Christmas Sprinkles (Optional): For a festive holiday treat, add some Christmas sprinkles to the top of the toffee!
How to Make Churro Toffee (Step-By-Step Instructions)
[1] Spray a 9×13 baking dish with nonstick cooking spray and line the dish with a sheet of parchment paper, letting it hang over the sides of the dish for easy removal.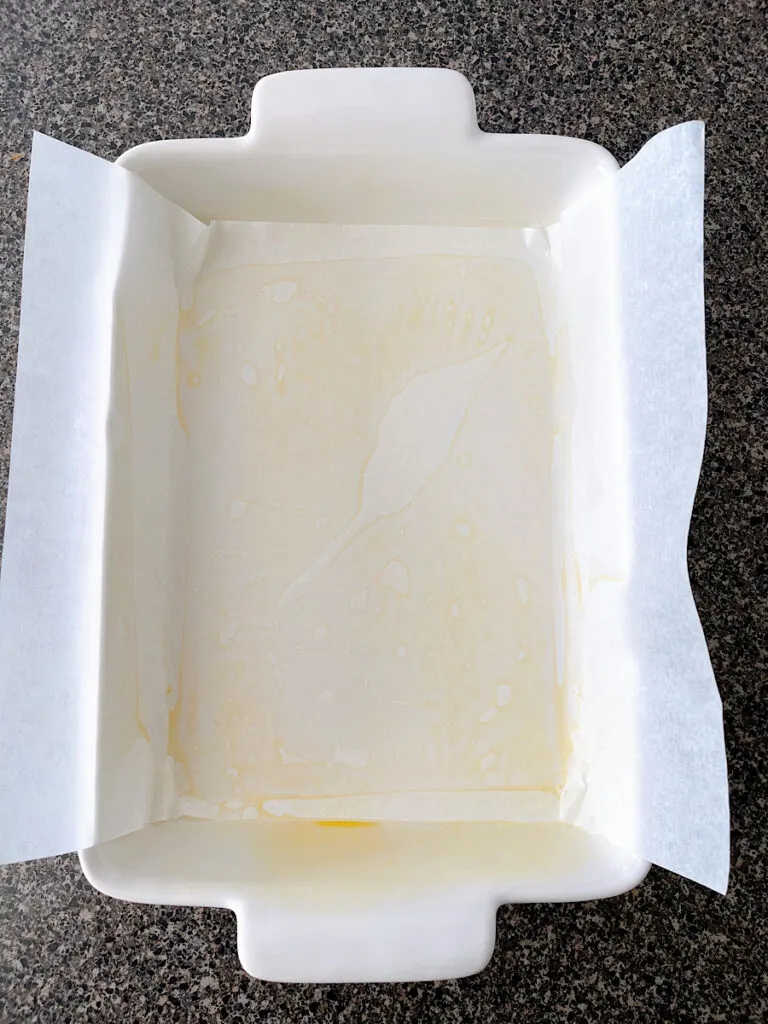 [2] Add the butter and sugar to a large, heavy-bottomed saucepan and cook over medium-high heat. Stir constantly, for about 5 minutes, until the butter is melted.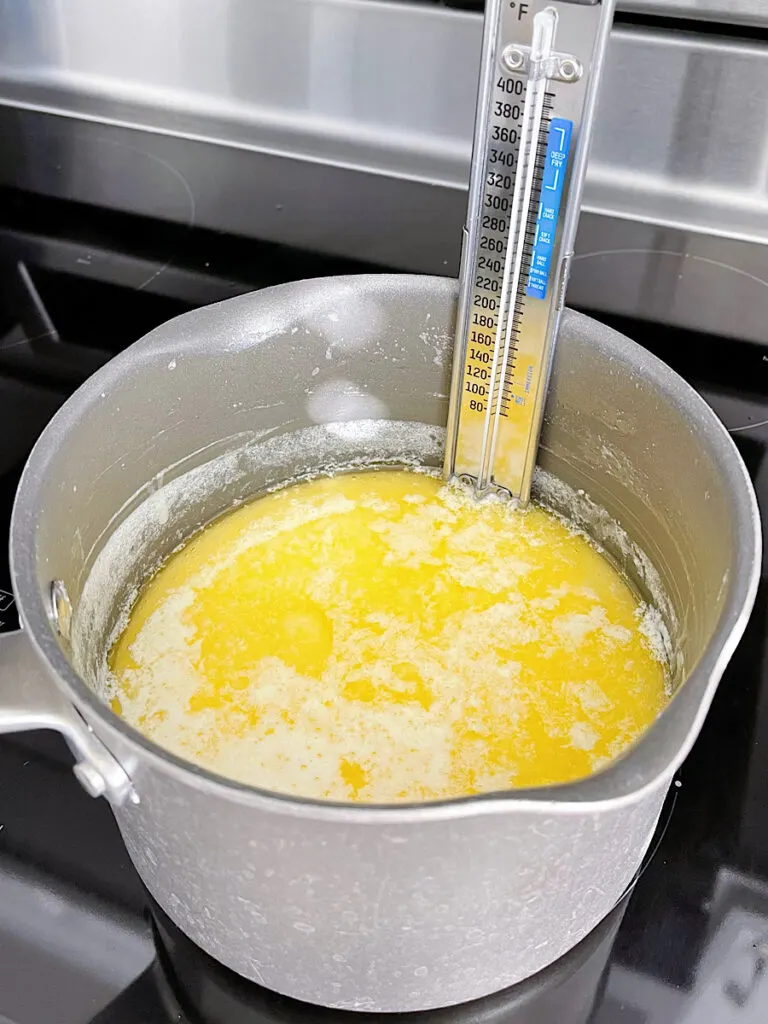 [3] When the butter has completely melted, bring the sugar mixture to a boil. Allow the toffee mixture to boil until a candy thermometer reaches 285 degrees F. Be patient, as this process may take up to 30 minutes.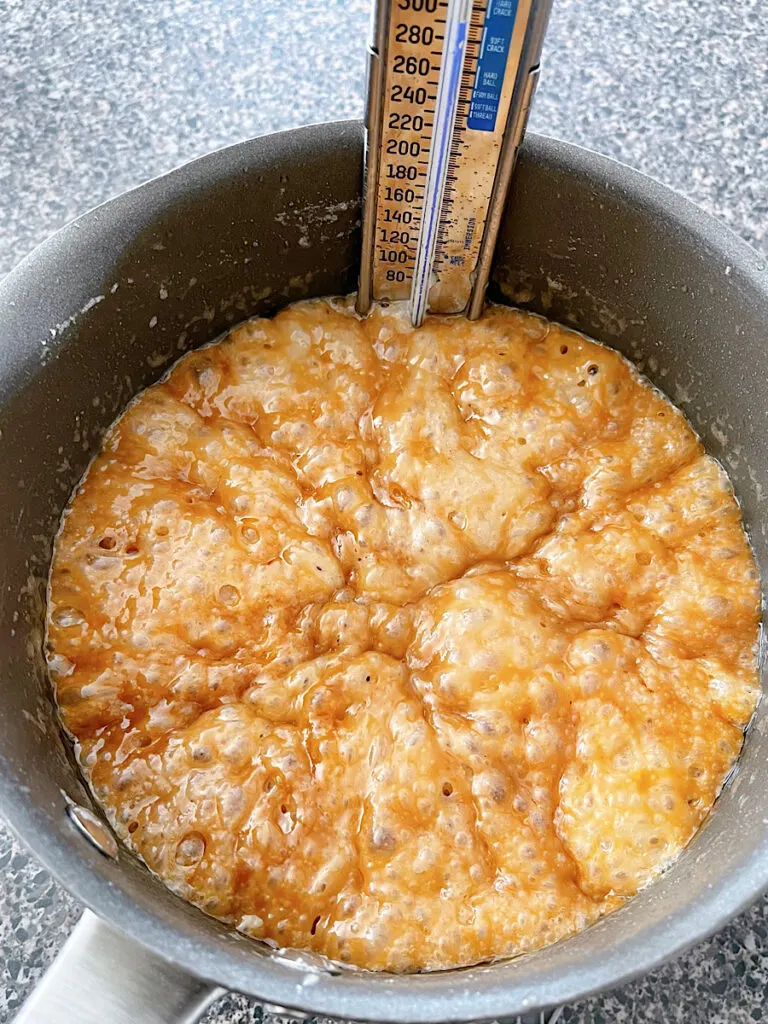 [4] Remove the pan from the heat and stir in the vanilla extract. Pour mixture into the prepared baking dish, making sure to scrape the sides of the pan to get all of the mixture out.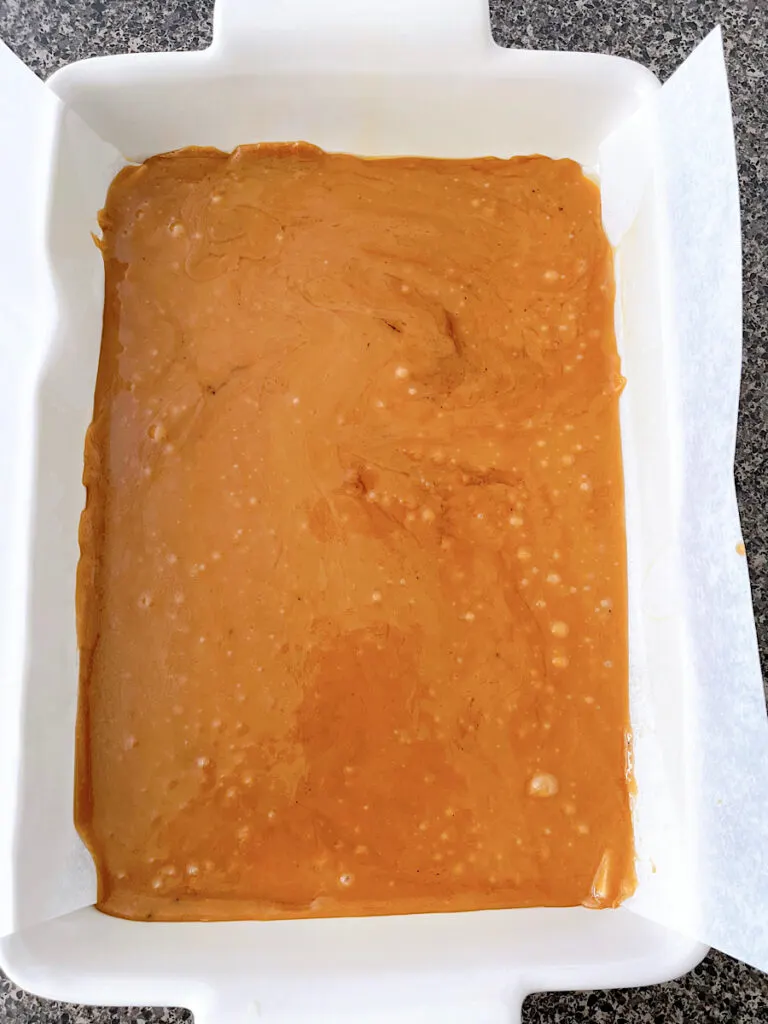 [5] Allow the candy mixture to sit for 2-3 minutes, then sprinkle the white chocolate over the top. Cover with nonstick aluminum foil for 5 minutes, then remove and use a spatula to spread the white melted chocolate chips over the toffee in a thin, even layer.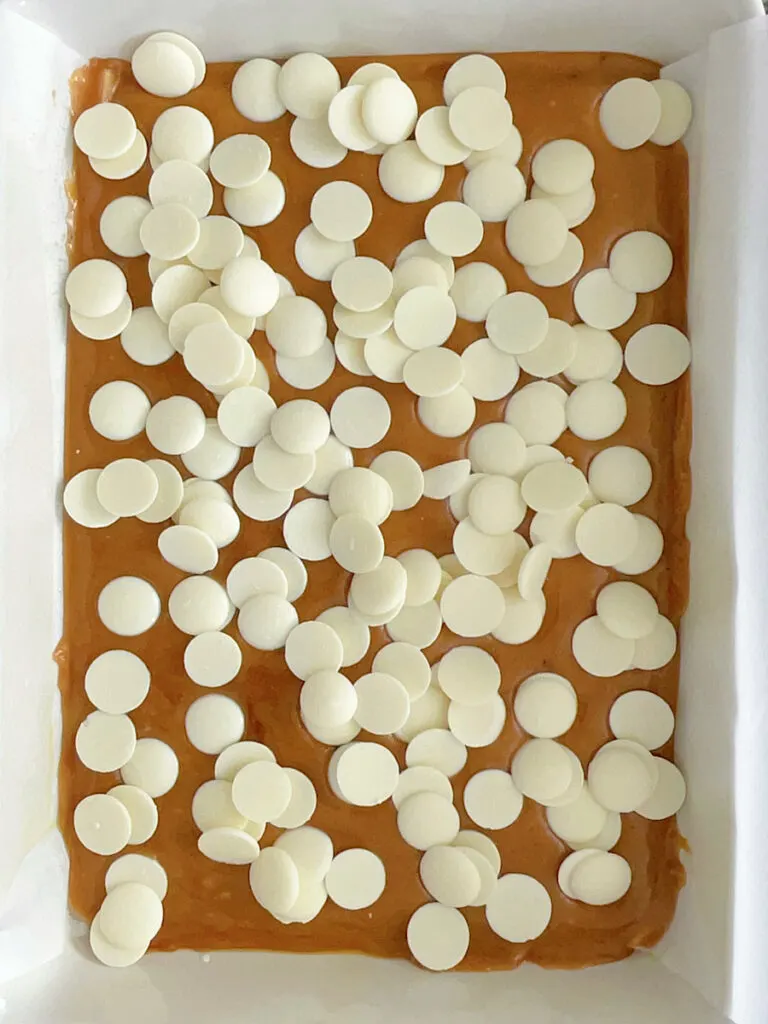 [6] Combine the remaining 1/2 cup of sugar and 1 Tablespoon of cinnamon then sprinkle over the top of the white chocolate.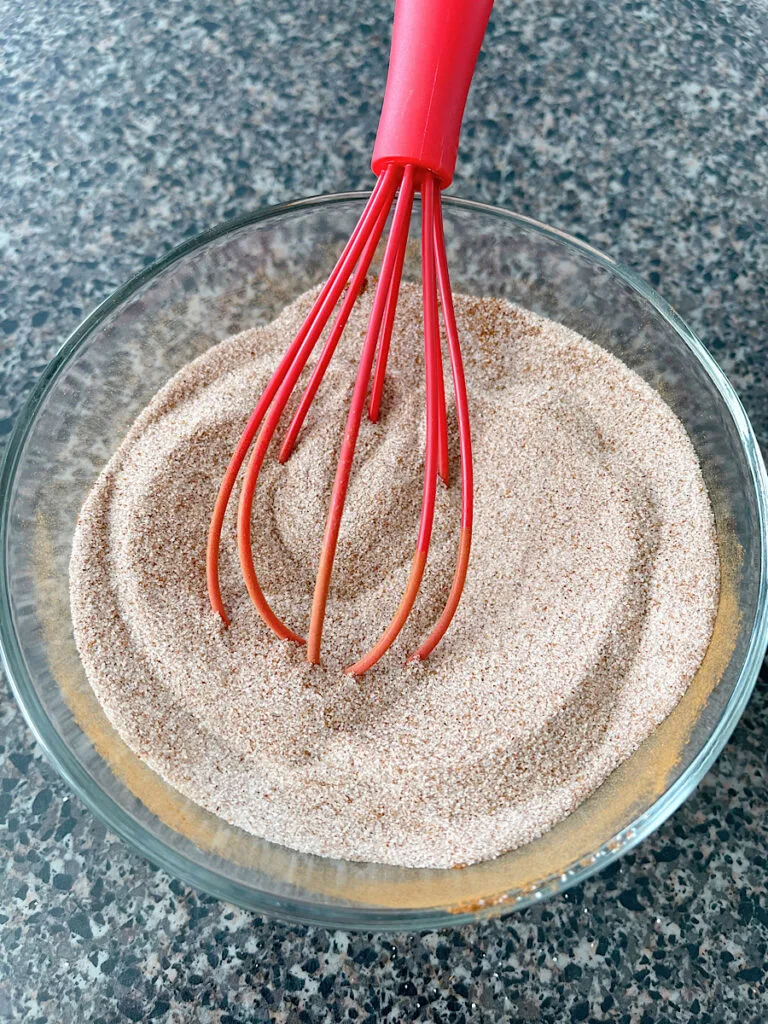 [7] Place toffee in the refrigerator until set, about 1-2 hours.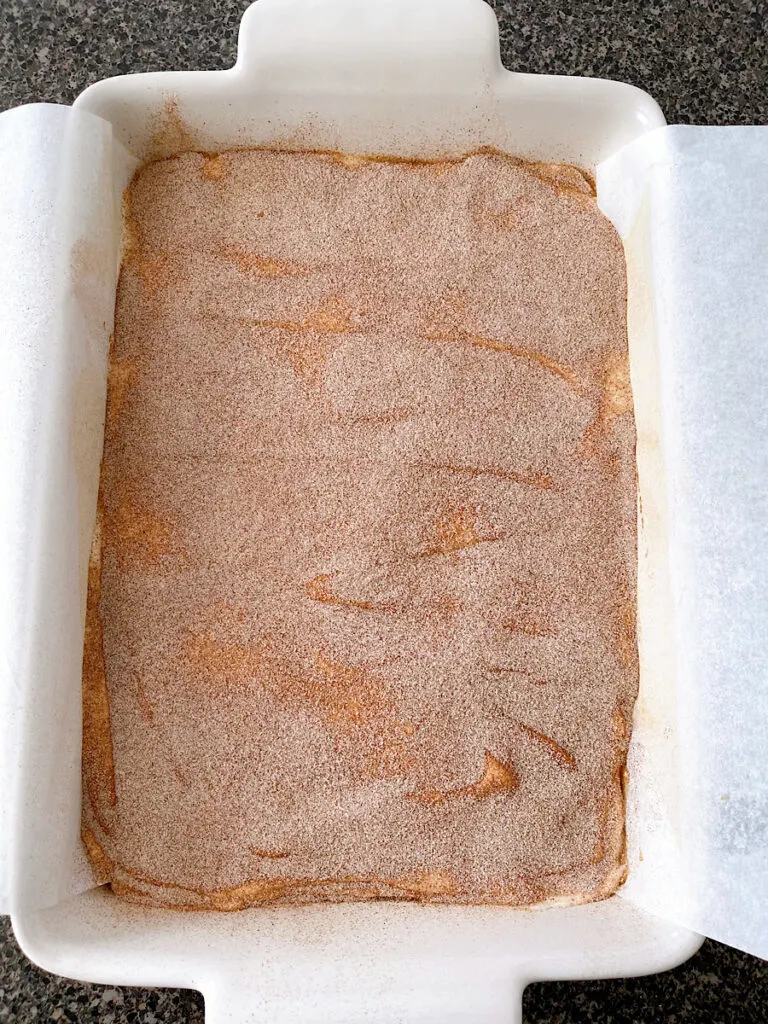 [8] Use the parchment paper to lift the hardened toffee out of the baking dish. Break into bite-sized pieces and serve or store in an airtight container.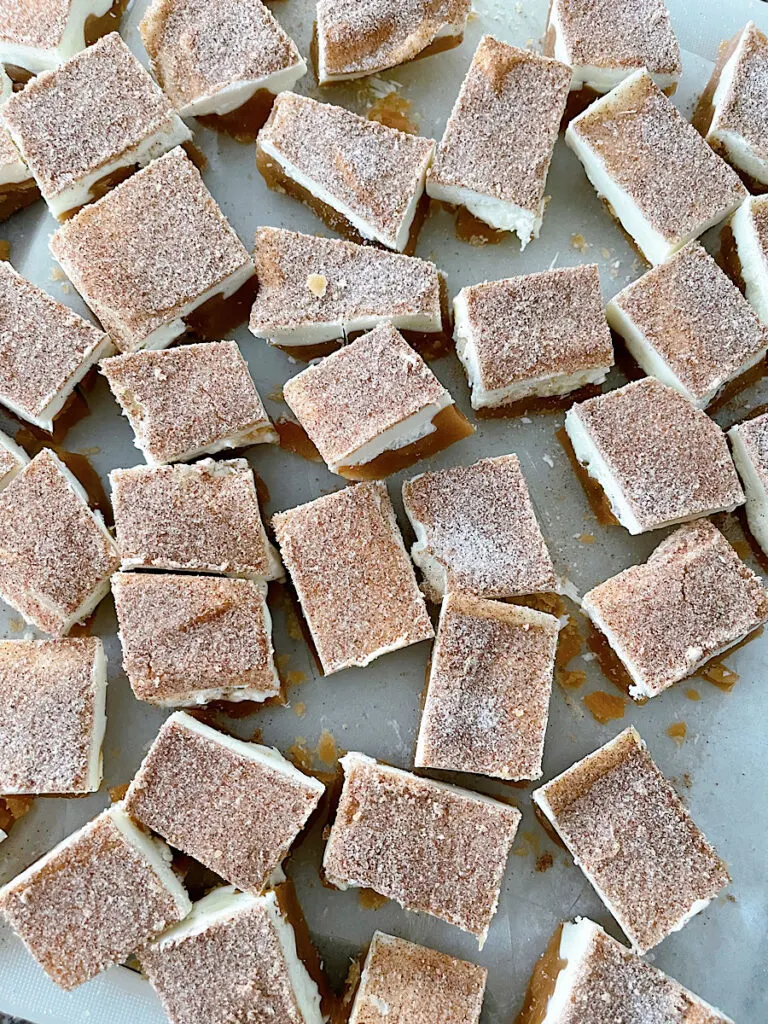 How to Store Churro Toffee
This toffee can be stored in an airtight container at room temperature for up to 1 week. Or, it can be frozen for up to 3 months. Thaw overnight in the refrigerator before serving. Enjoy!
Helpful Kitchen Tools
Frequently Asked Questions
Can I use different flavorings in this toffee?
Yes, feel free to experiment with different flavorings. Some ideas may include adding crushed nuts or using almond extract instead of vanilla extract. You can even sprinkle the toffee with a little bit of sea salt. The great thing about this treat is that it can be enjoyed in so many different ways.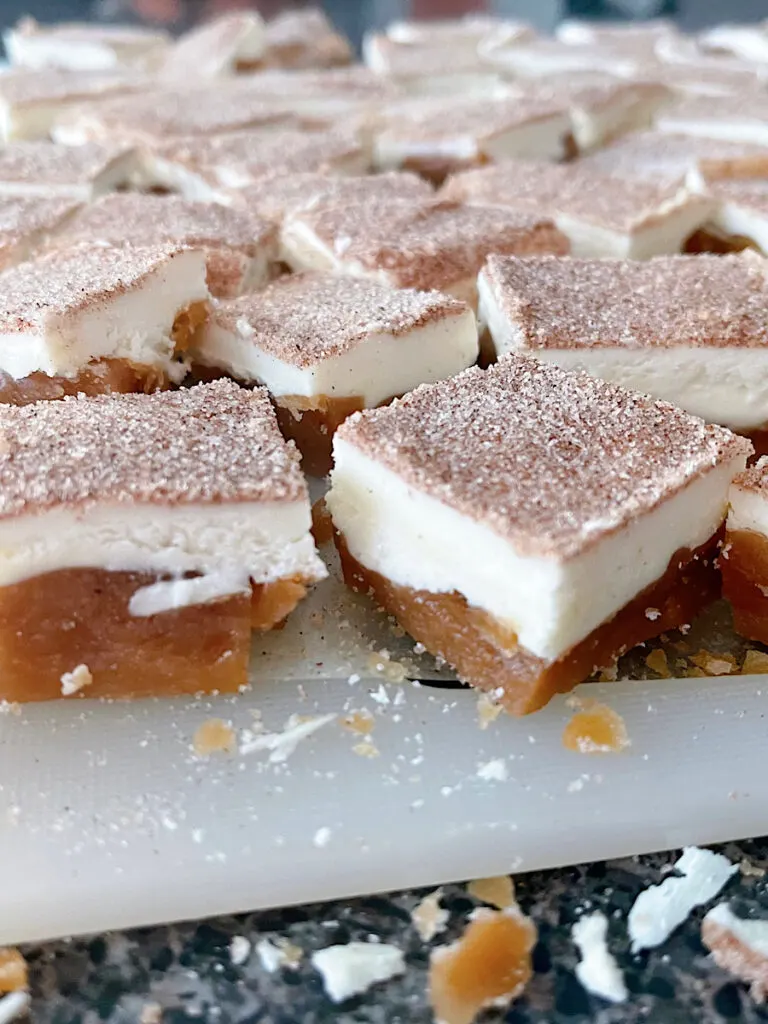 Can I use dark or milk chocolate for the topping instead of white chocolate?
Sure, feel free to substitute milk or dark chocolate for the white chocolate. Or, try using a combination of different types of chocolate for an even more delicious treat. You really can customize toffee with any type of chocolate you want!
Can the toffee be made in advance?
Yes, this toffee can easily be made in advance and stored until ready to serve or give as gifts. Just make sure to store it in an airtight container at room temperature or frozen until ready to enjoy.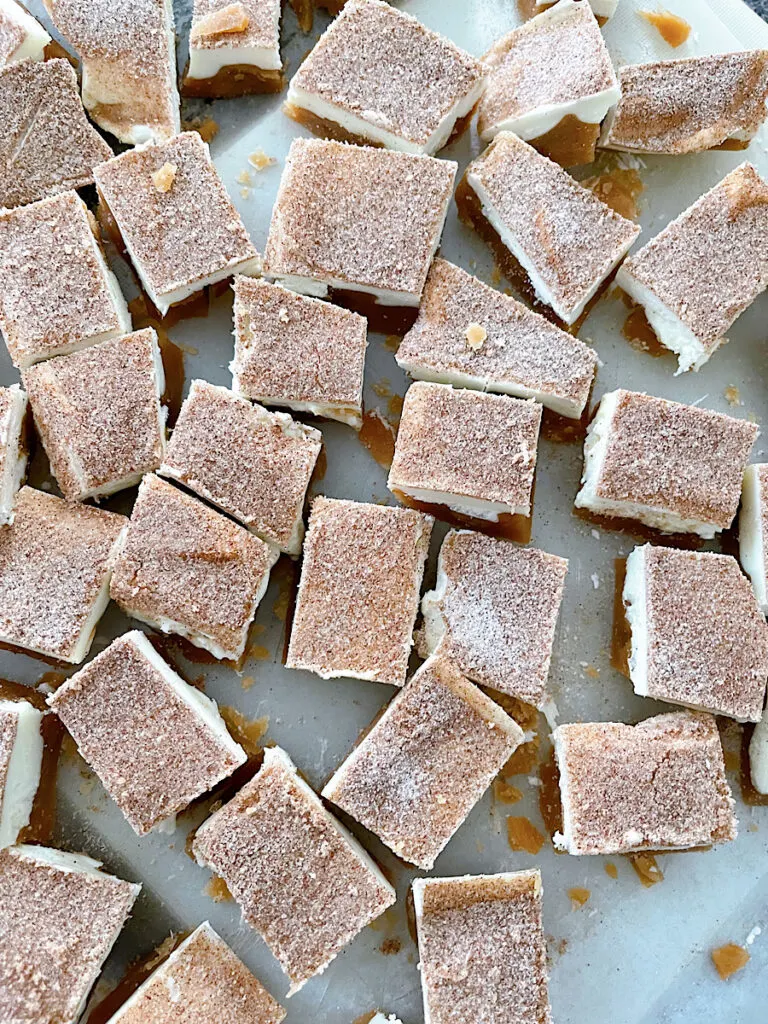 Final Thoughts
I hope you have enjoyed this recipe for Disneyland's Churro Toffee! It really makes a delicious Christmas treat! If you make it, please leave a review and comment below. I love hearing from my readers.
And be sure to tag me on social media @mommymouseclubhouse and use the hashtag #mommymouseclubhouserecipes. Happy cooking!
Churr Toffee Video: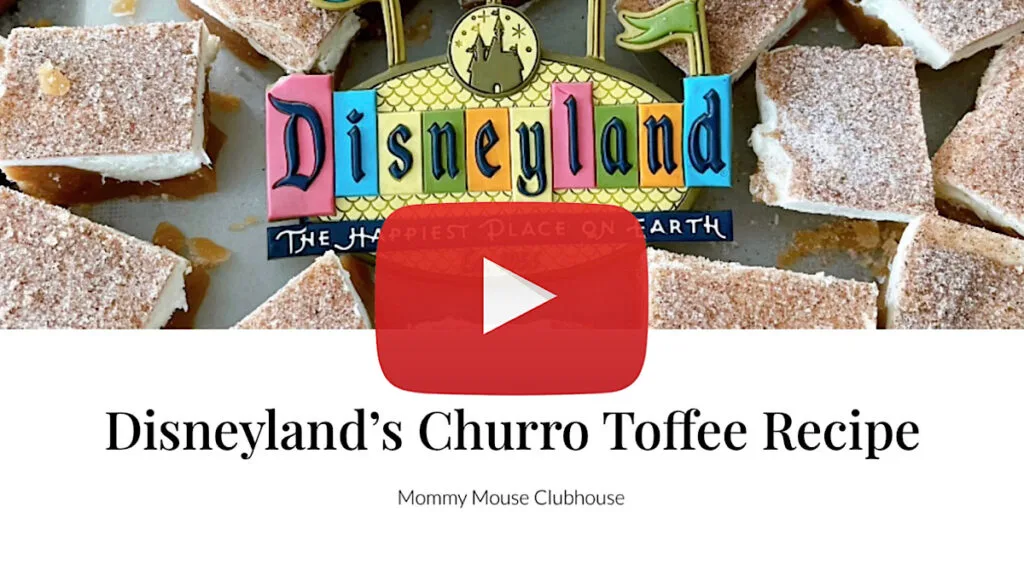 Pin for later: