This delicious and easy Christmas Crack Chex Mix is made with Golden Grahams, your favorite variety of Chex cereal, slivered almonds, and sweetened coconut flakes all mixed together and coated with a sweet buttery glazy with just a hint of vanilla. It is a great snack for Holiday Parties or can be given as a Christmas gift!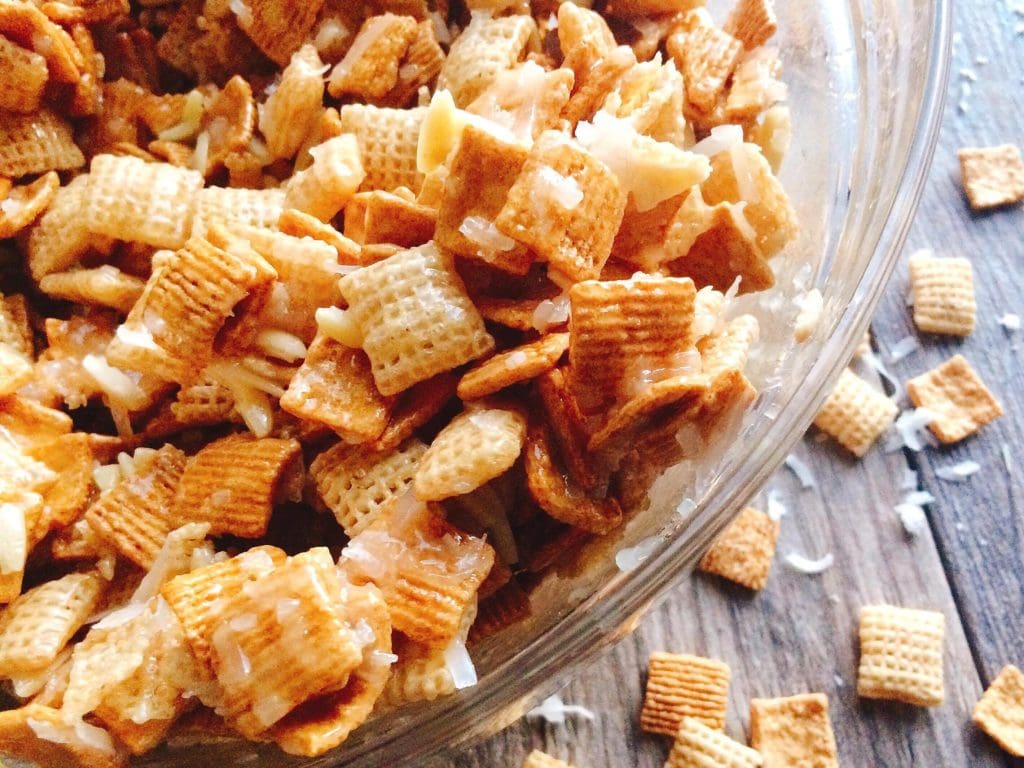 This post may contain affiliate links. When you click on these links, I get a small percentage back at no cost to you! For more information see my disclosure policy.
Below you will find tips, tricks and helpful hints for making this recipe including step by step instructions with pictures. If you would like to go directly to the recipe, scroll down to the recipe card.
Why You'll Love Christmas Crack Chex Mix
This Chex Mix is great because it is super quick and easy to make! I have not met anyone who doesn't like this ooey-gooey creation!
You'll love this snack because it is totally customizable. If you don't like coconut, feel free to leave it out. Want to add some chocolate? Try mixing in some M&M's. You can even add Holiday-themed M&M's for a special treat!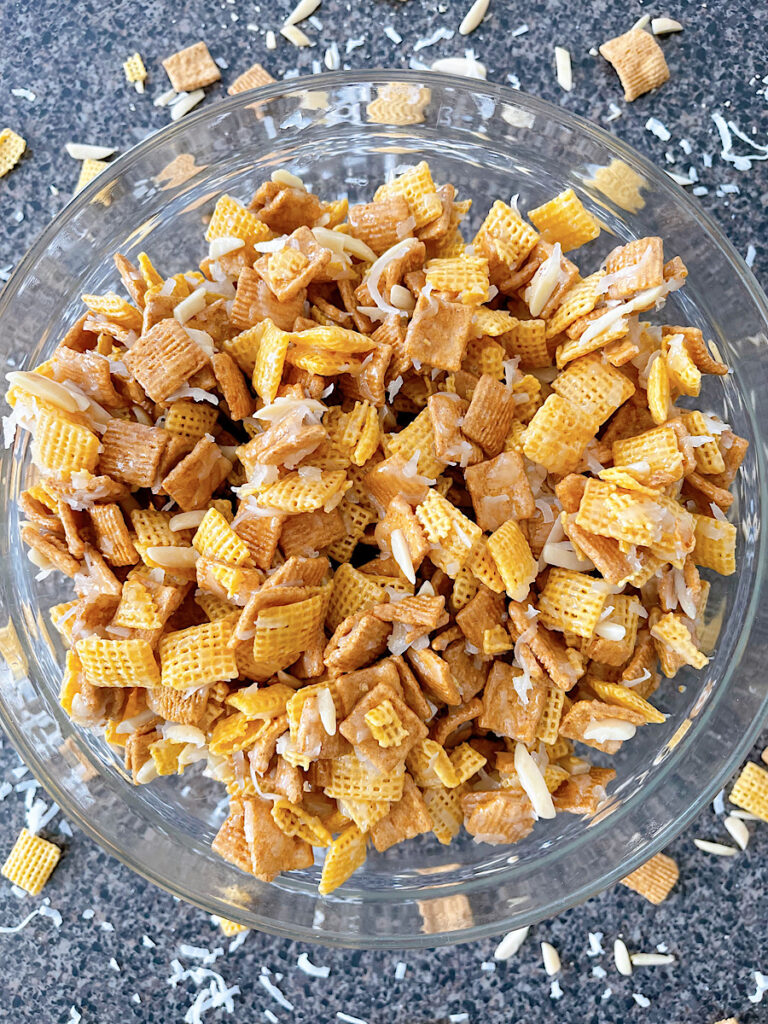 What is Christmas Chex Mix?
Christmas Crack Chex Mix is a super addictive and delicious snack that can be enjoyed at Holiday Parties or given as a special Christmas gift.
This tasty recipe incorporates Golden Grahams, your favorite variety of Chex cereal, slivered almonds, and sweetened coconut flakes all mixed and coated with a sweet buttery glaze with just a hint of vanilla.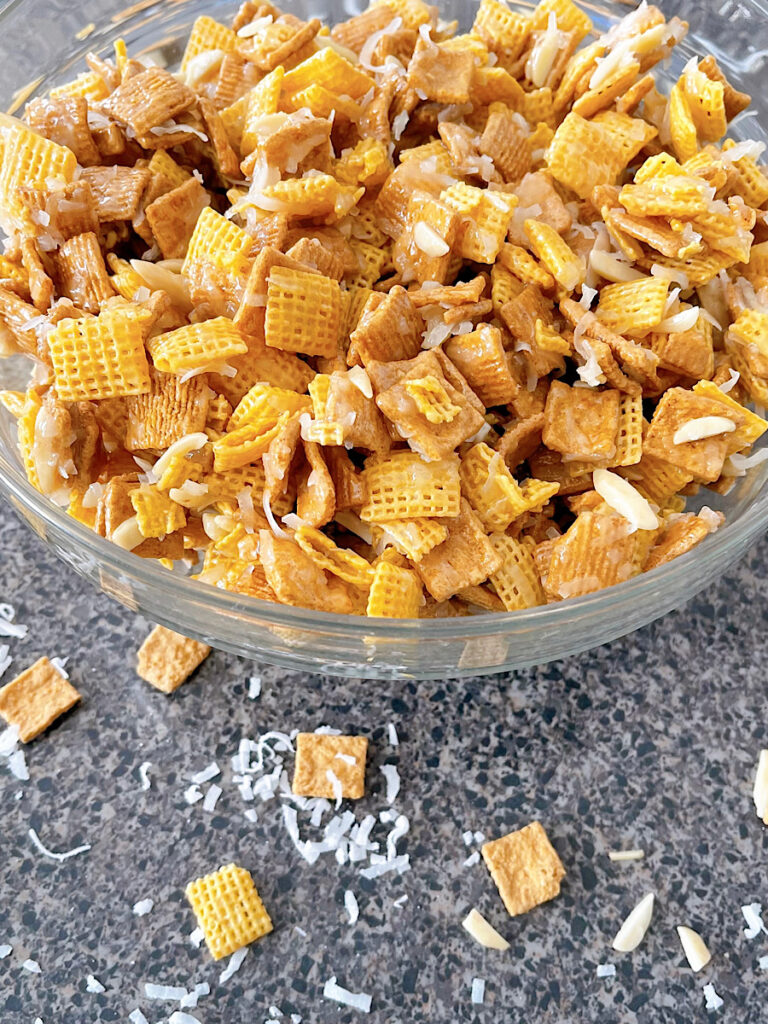 Christmas Gift for your Neighbors
Another reason I like this mix is that it makes a great Christmas gift for your neighbors or your children's teachers.
Make a large batch and put it in a cute little container and BAM! You can check those gifts off your list.
You can definitely use this recipe to get your kids involved in the kitchen with you. As with any homemade Chex Mix, it's simple to make. It only has a few ingredients and can be put together quickly.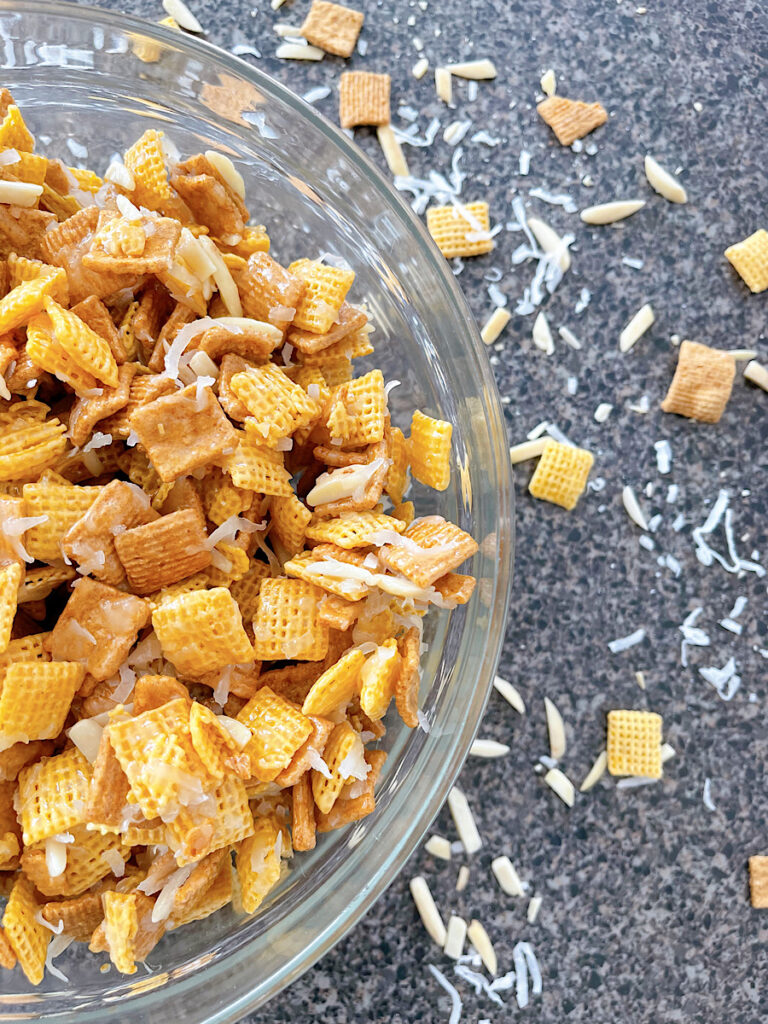 Not Just for Christmas
Don't let the name fool you! I make this Chex Mix all year long! It's great to enjoy when you are watching your kids play sports, on a road trip, or sitting around a campfire in the summer. The possibilities are endless!
Christmas Crack Chex Mix Ingredients
*Ingredient amounts are located in the recipe card at the end of this post.
Golden Grahams: This is a cold cereal that is made of little graham cracker squares. The flavor pairs nicely with all of the other ingredients. It is made by General Mills and can be found on the breakfast aisle at the grocery store.
Chex Cereal: For Christmas Crack, I like to use Rice or Corn Chex. This time I used Honey-Nut Chex.
Coconut Flakes: This adds a nice sweetness and texture to the mix.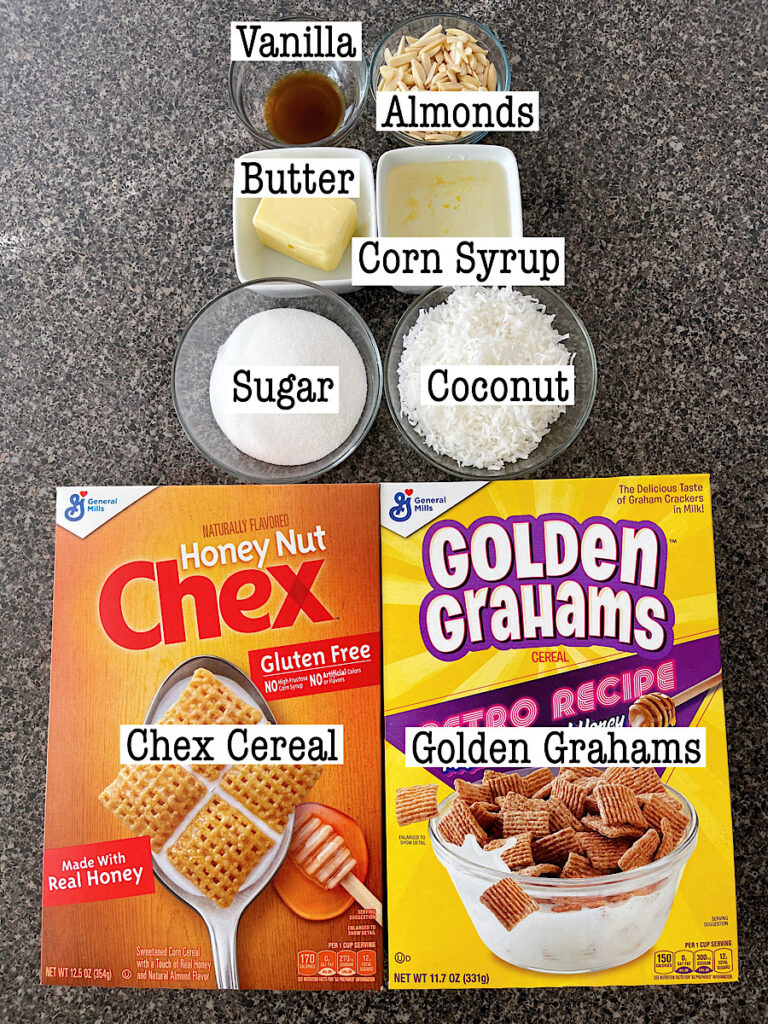 Slivered Almonds: These add some crunch and nutty flavor to this delicious snack.
Butter: This is used to create a buttery glaze that coats the Chex Mix.
Corn Syrup: This sweet syrup helps to bind everything together nicely.
Sugar: The sugar is used to help sweeten and caramelize the glaze that coats this delicious mix.
Vanilla Extract: This provides a nice hint of vanilla flavor to balance out the sweetness from the other ingredients.
How to Make Christmas Crack Chex Mix
[1] Begin by adding the Golden Grahams, Rice Chex cereal, coconut, and slivered almonds to a large bowl. Mix it up.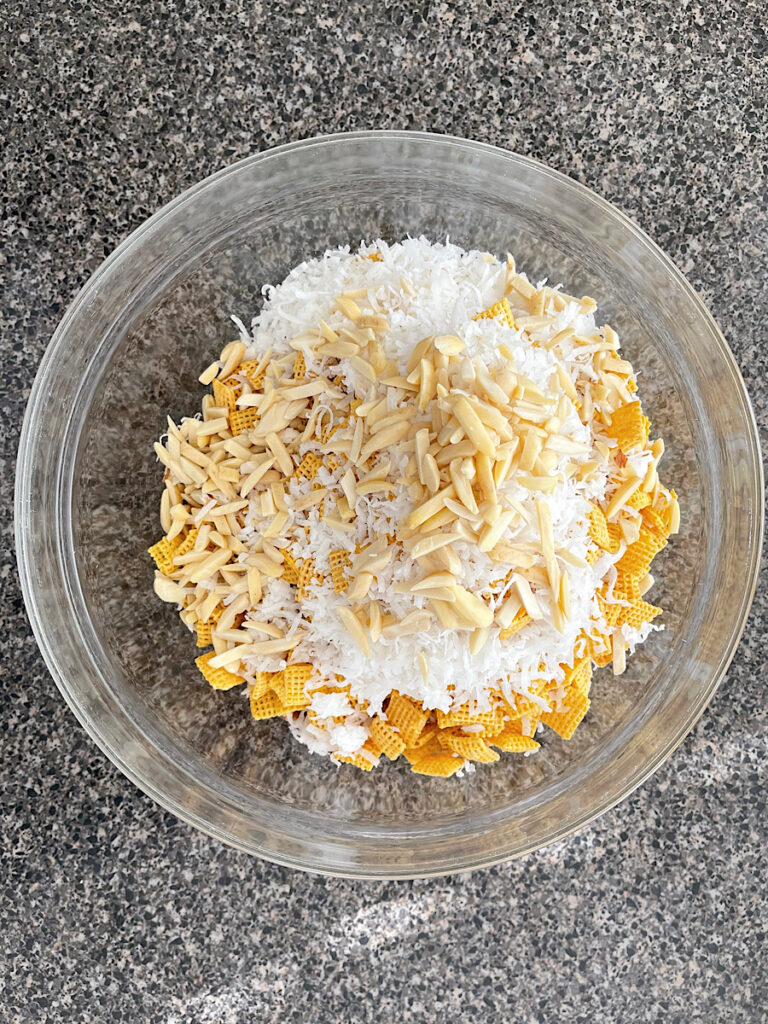 [2] Next, add the butter, corn syrup, sugar, and vanilla to a medium sized sauce pan.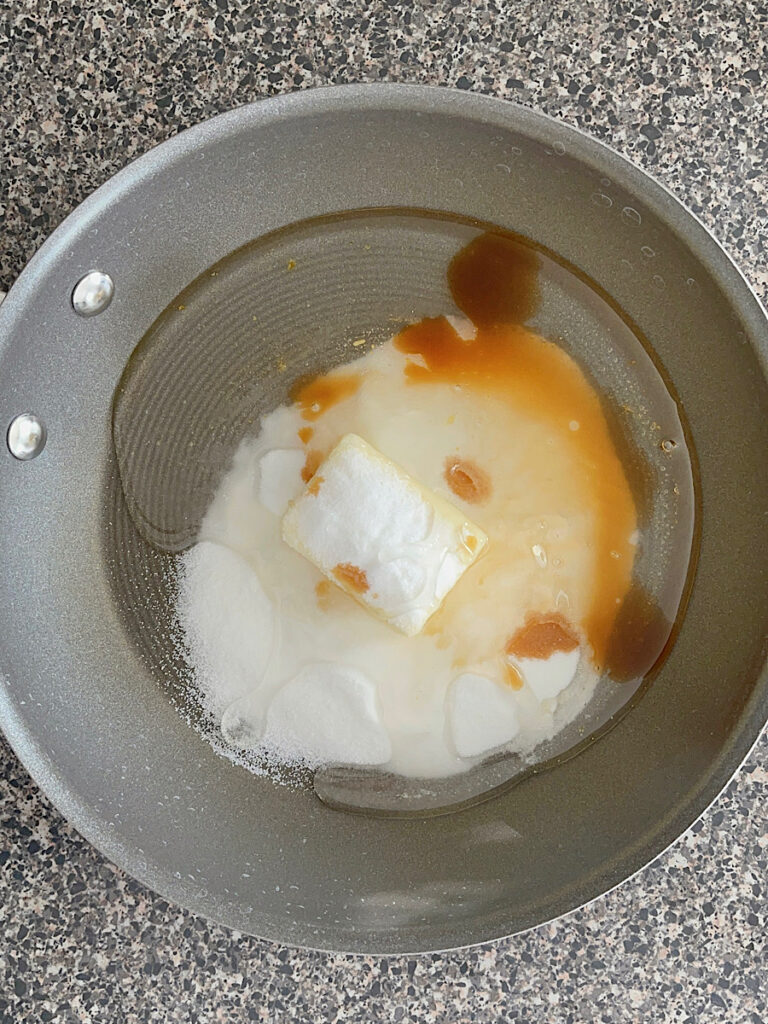 [3] Heat the mixture over medium heat on the stovetop until the sugar has dissolved and it begins to boil.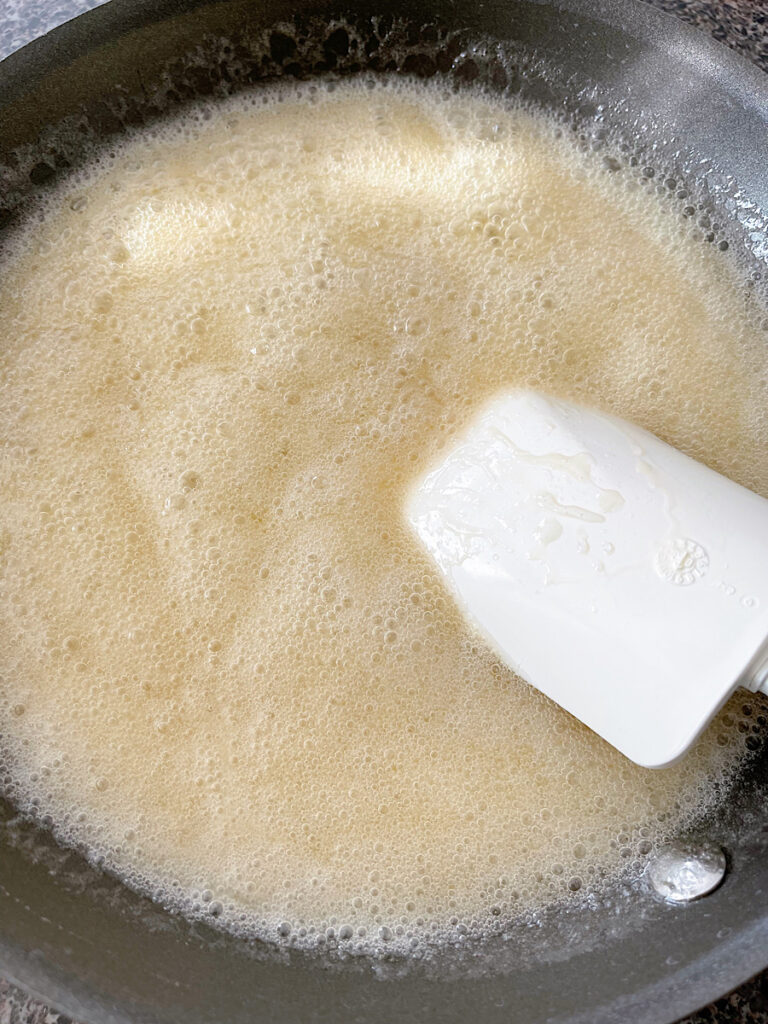 [4] Pour the liquid mixture over the cereal mixture.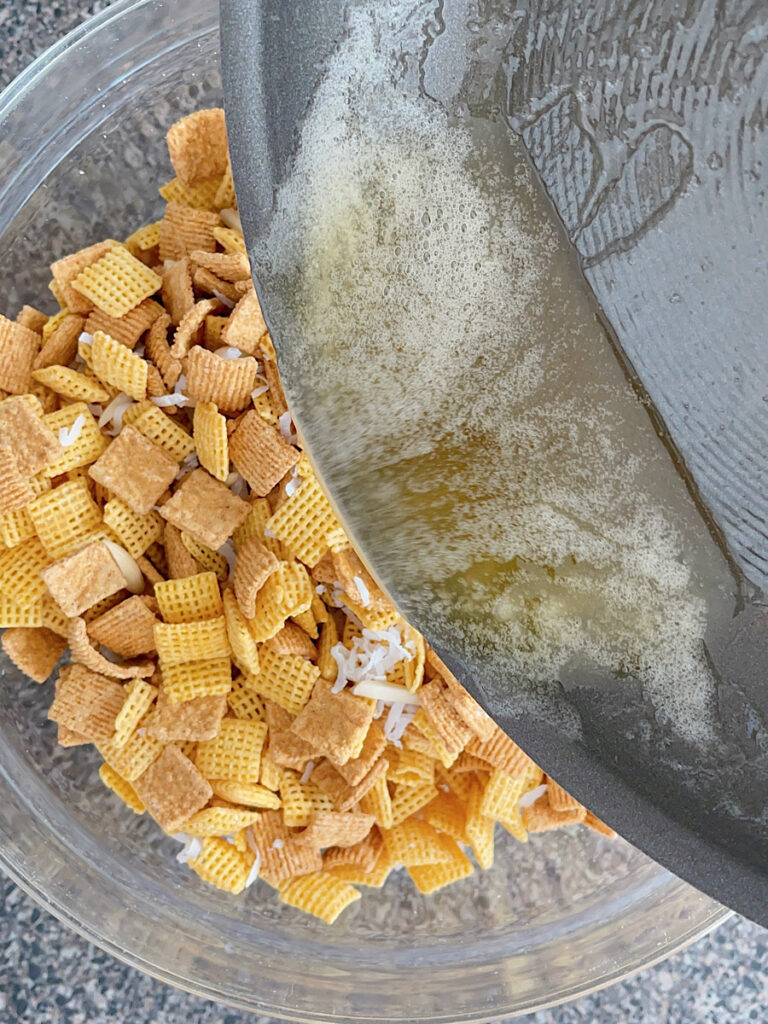 [5] Use a spoon to stir the mixture until all of the cereal is coated. Let it cool and eat!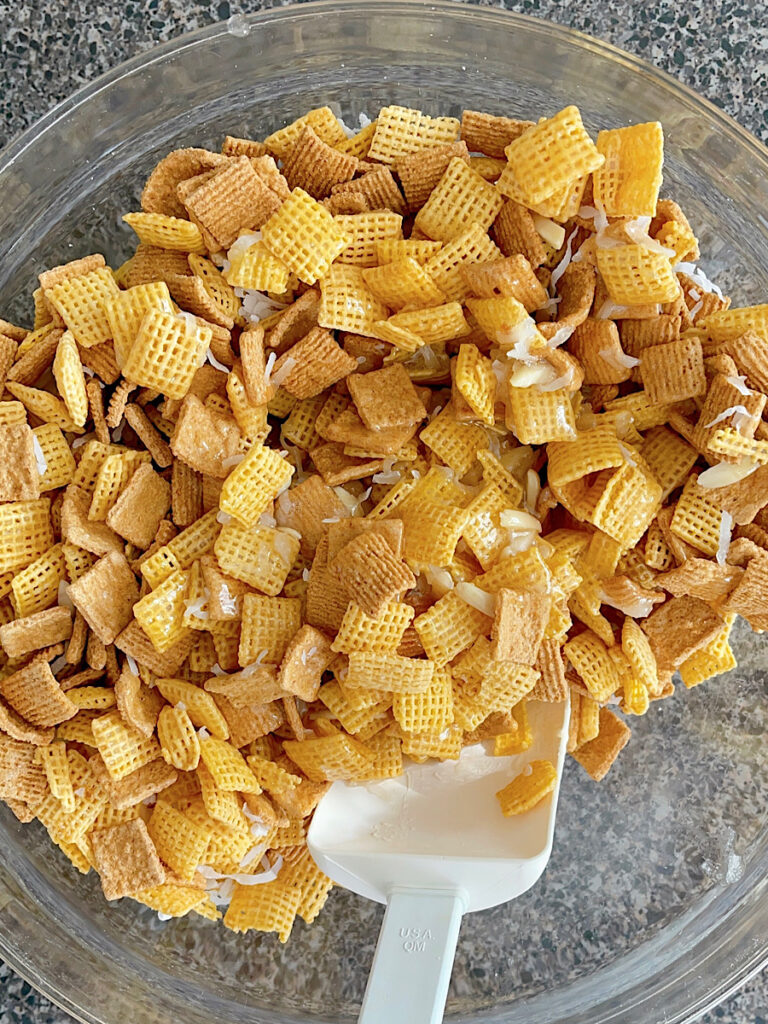 *Note: You can easily double this recipe to serve at a party or to put in a cute container to give as a gift. There are so many things you can do, but I promise, you won't be able to stop eating it!
Helpful Kitchen Tools:
How to Store and Freeze:
Store this mix in an airtight container at room temperature or in the refrigerator. It will keep for up to 2 weeks.
This Chex Mix can be stored in the freezer for up to 3 months. Just make sure you let it come to room temperature before serving.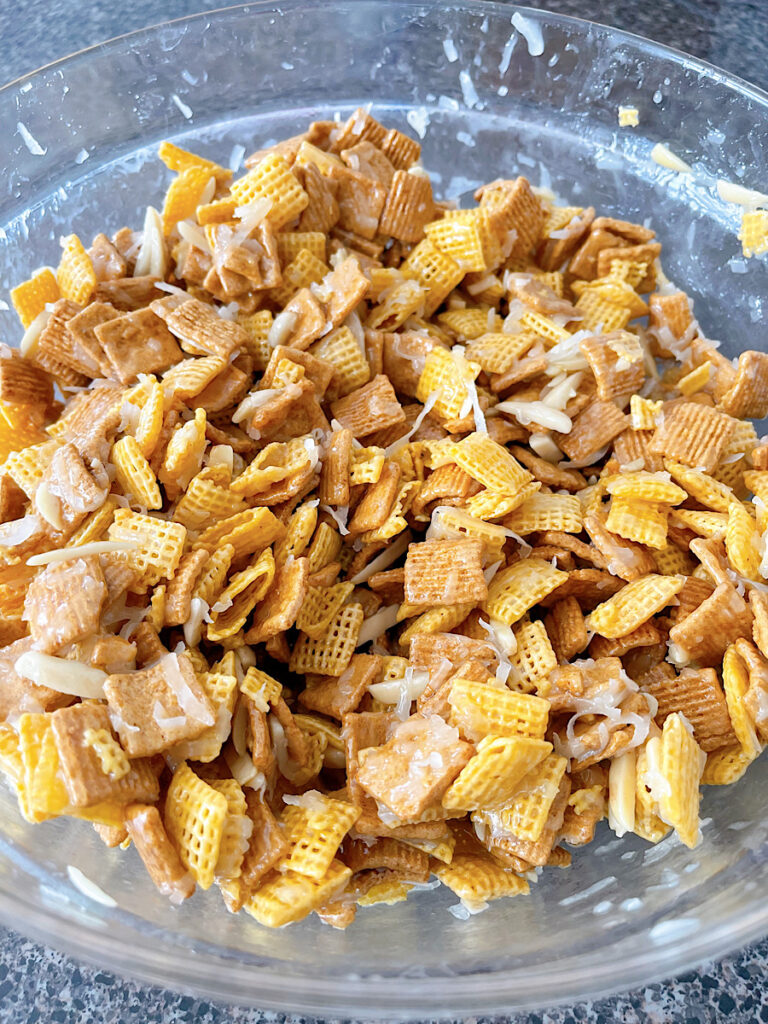 How long does Chex Christmas Mix last?
This Chex Christmas Mix can be stored at room temperature for up to 2 weeks, or it can be frozen and stored for up to 3 months. It is best enjoyed within the first week of making it.
Depending on how much you make and whether or not you store it in an airtight container, you will likely have leftovers.
This delicious snack tends to be very popular and is often gone quickly, so it's best to make a large batch if you plan on sharing it with others. However, you can always freeze any leftovers and enjoy them later on!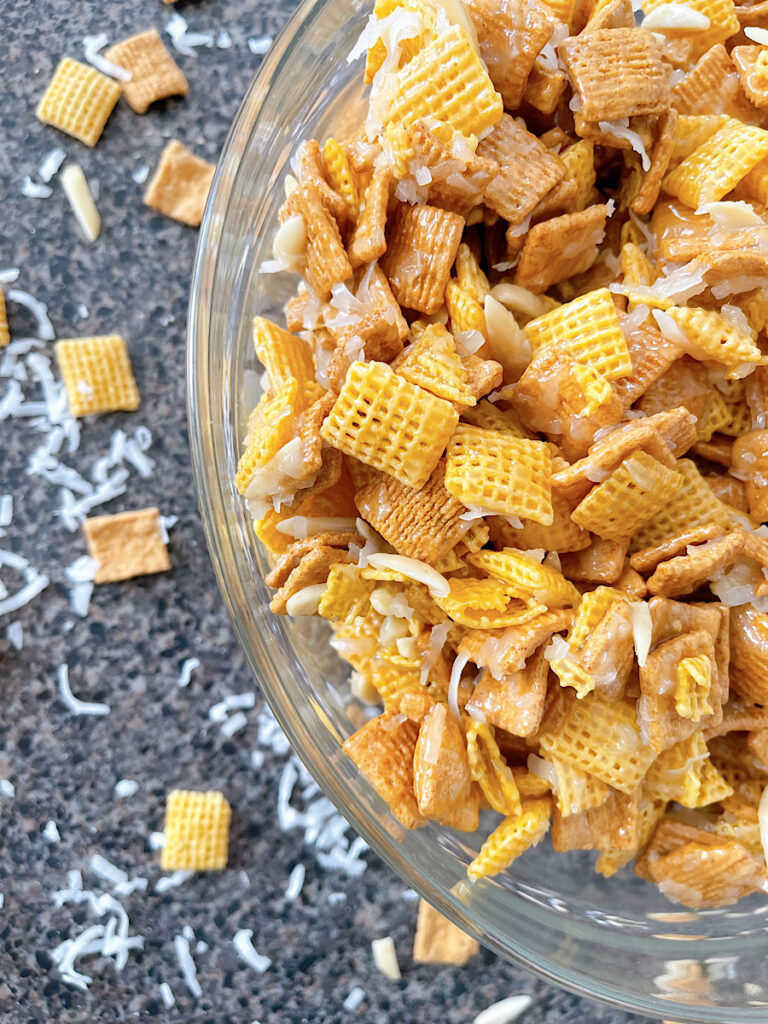 Can you substitute a different type of cereal?
Yes, you can substitute a different type of Chex cereal in this mix. Some good options include Corn Chex, Rice Chex, or Honey-Nut Chex.
You can also experiment by using different types of cereals that have a similar texture and flavor to the Golden Grahams.
Just make sure not to use any overly flavored Chex like Chocolate Chex, Cinnamon Chex, or Blueberry Chex, as these will change the flavor of the mix.
More Chex Mix Recipes: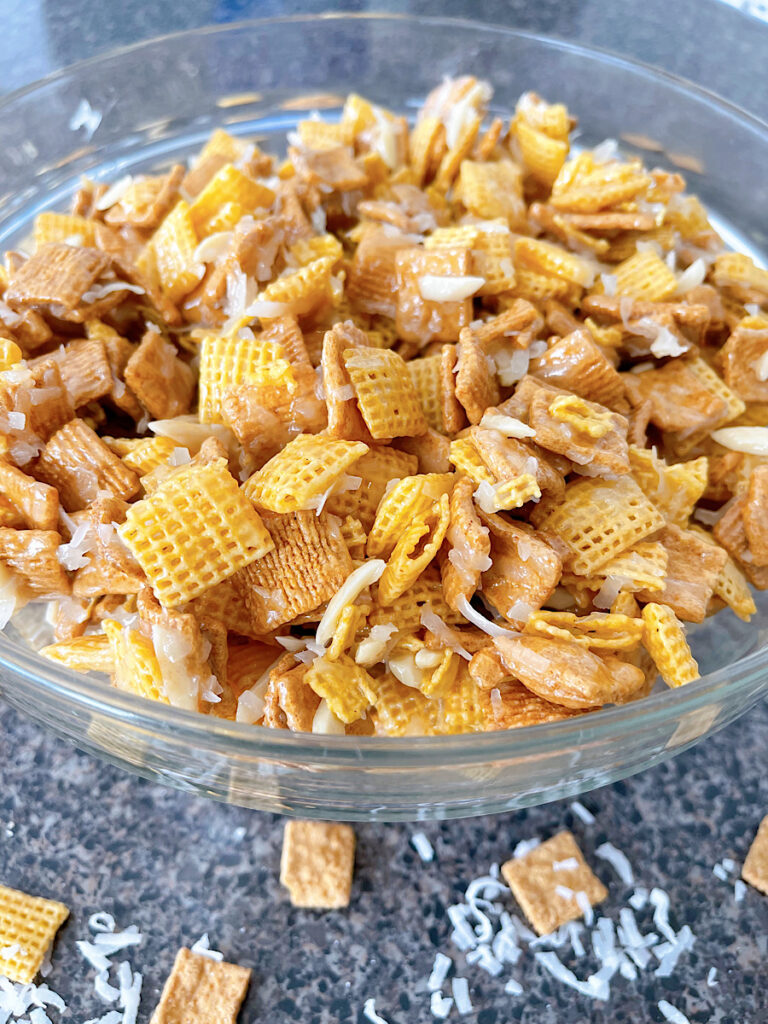 More Christmas Recipes:
Christmas Crack Chex Mix Video: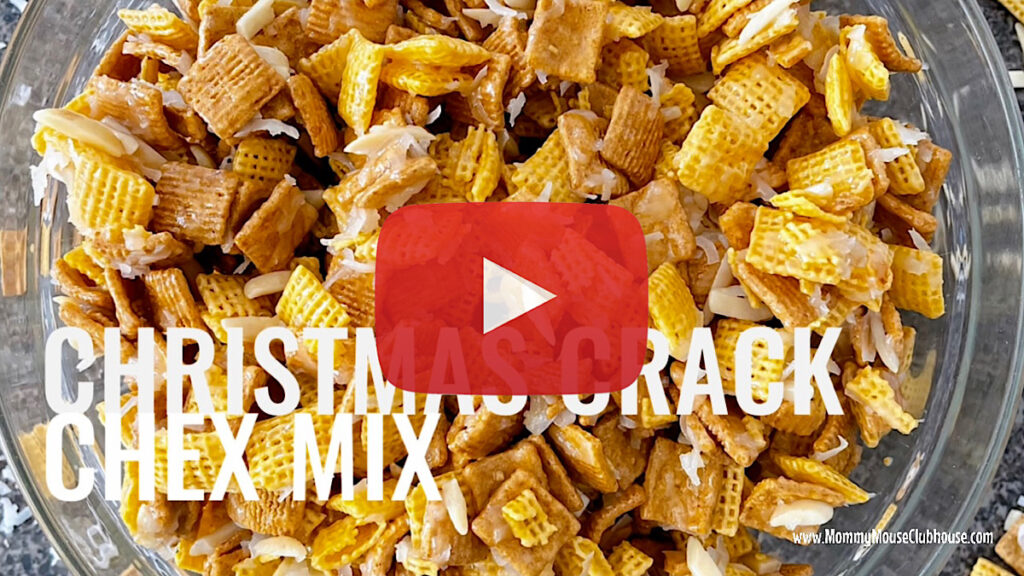 Pin for later: