Mix up your breakfast routine by combining two breakfast classics into one, French Toast Waffles! Dip a big piece of Texas Toast in the best French Toast batter and then cook it in a waffle iron. It may be one of the best breakfast recipes ever and perfect for a busy morning!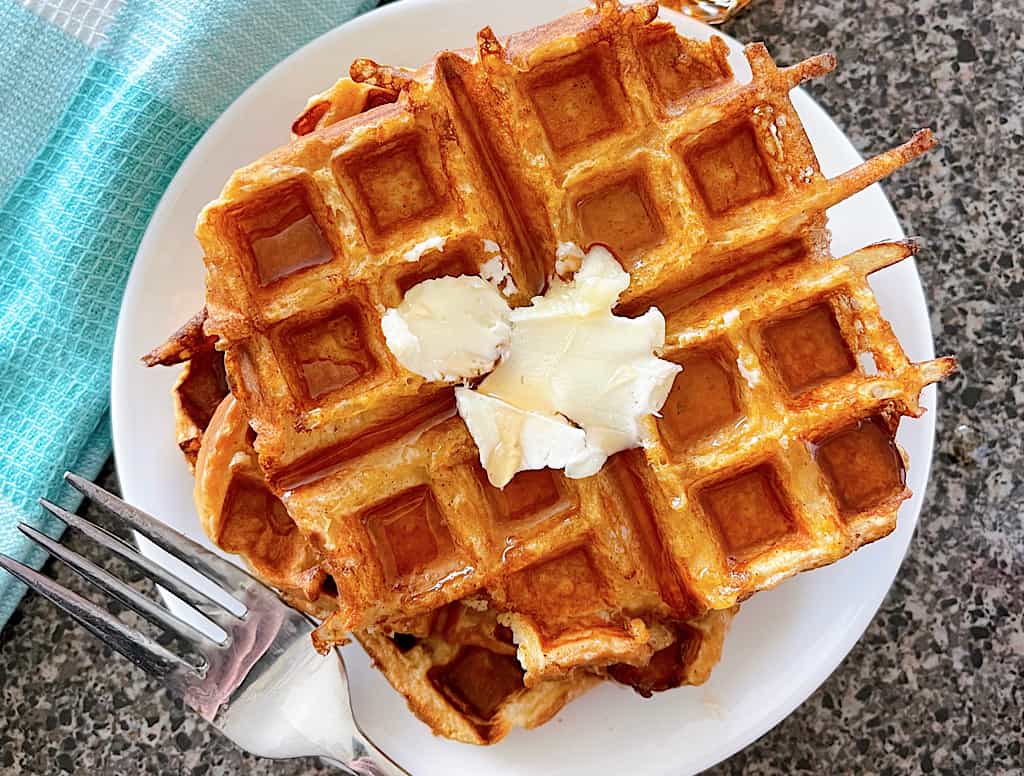 This post may contain affiliate links. When you click on these links, I get a small percentage back at no cost to you! For more information see my disclosure policy.
Below you will find tips, tricks and helpful hints for making this recipe including step by step instructions with pictures. If you would like to go directly to the recipe, scroll down to the recipe card or tap "Jump to Recipe" at the top of the page.
Why You'll Love this Recipe
I am always looking for ways to mix up our morning routine with quick breakfast ideas.
My family loves almost all breakfast foods including pancakes, French Toast and waffles.
In fact, the most popular recipe on my website is for Amazingly Perfect French Toast, and it really is amazing!
My kids and I were experimenting in the kitchen one day, and we wondered what would happen if we cooked a slice of French Toast in a waffle iron. And guess what? It was so good!
Trust me, once you have French Toast that has little pockets to hold syrup, just like a waffle, you might never want to go back to the old way again.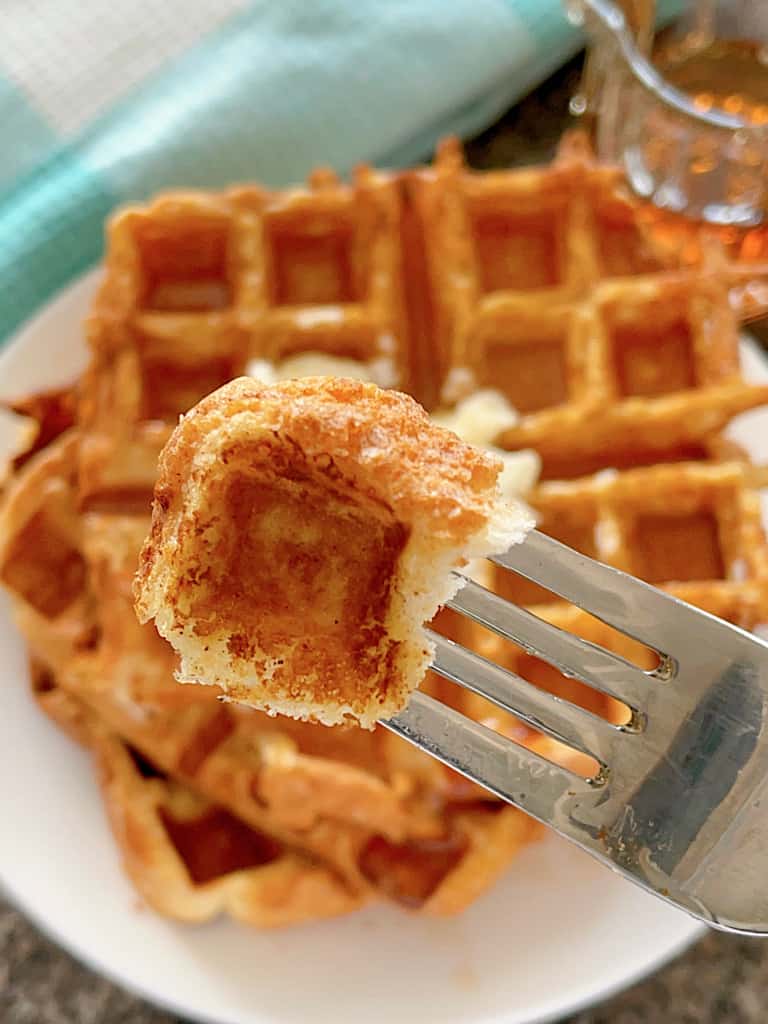 More French Toast Recipes: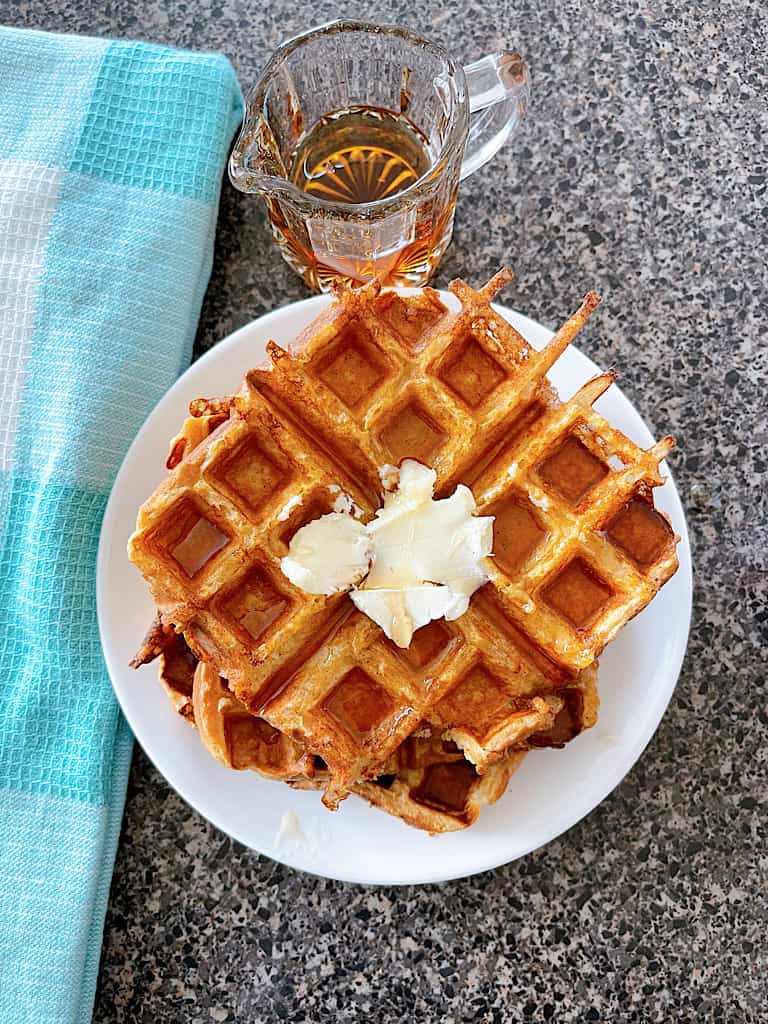 What kind of bread is best for French toast?
The best bread for a classic French toast recipe is a thick slice of bread like Texas Toast or thick slices of brioche or French bread.
But, for this French toast waffle recipe, you will want to use a thinner slice of bread like standard sandwich bread. Cinnamon bread would also be good!
Toppings for French Toast Waffles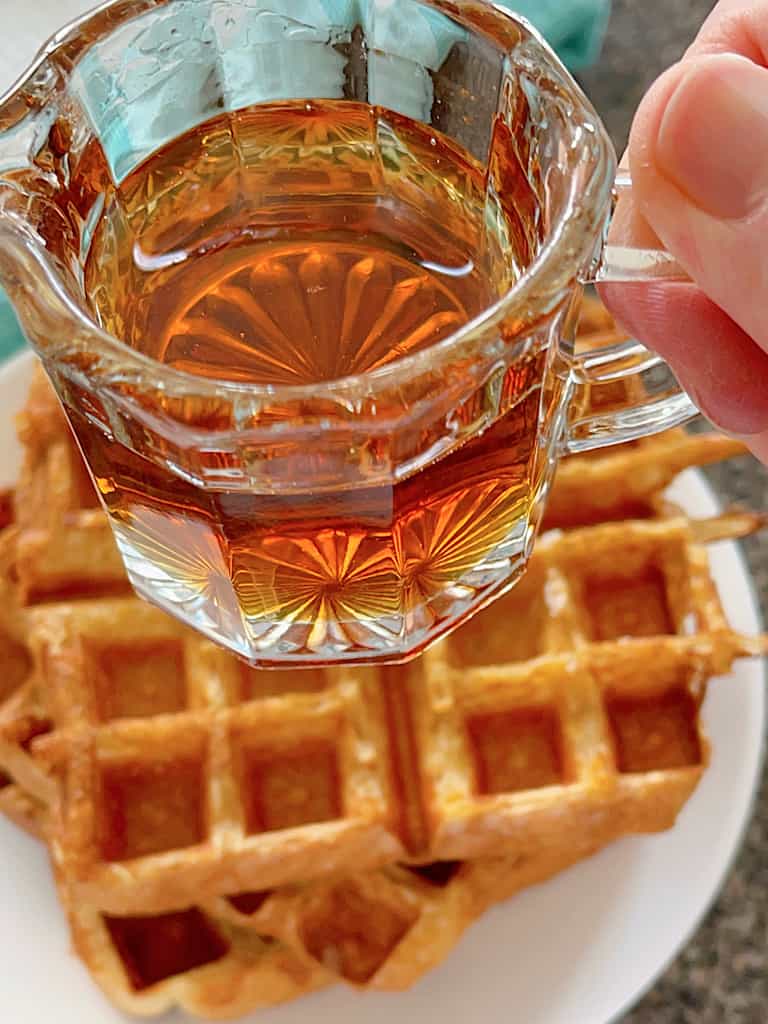 Ingredients
*Ingredient amounts are located in the recipe card at the end of this post.
Eggs-For this recipe, you will need 4 large eggs. Eggs are the main ingredient in French Toast Batter.
Milk-Using milk in the batter, gives it creaminess and helps to keep the outside of the French Toast from tasting like scrambled eggs. Any type of milk will work including skim milk, low-fat milk, or heavy cream.
All-Purpose Flour-Flour helps give substance to the batter.
Sugar-Feel free to adjust the amount of sugar in your batter. My kids like it sweet, but if that does not appeal to you, the amount of sugar can definitely be adjusted. Brown sugar can also be used.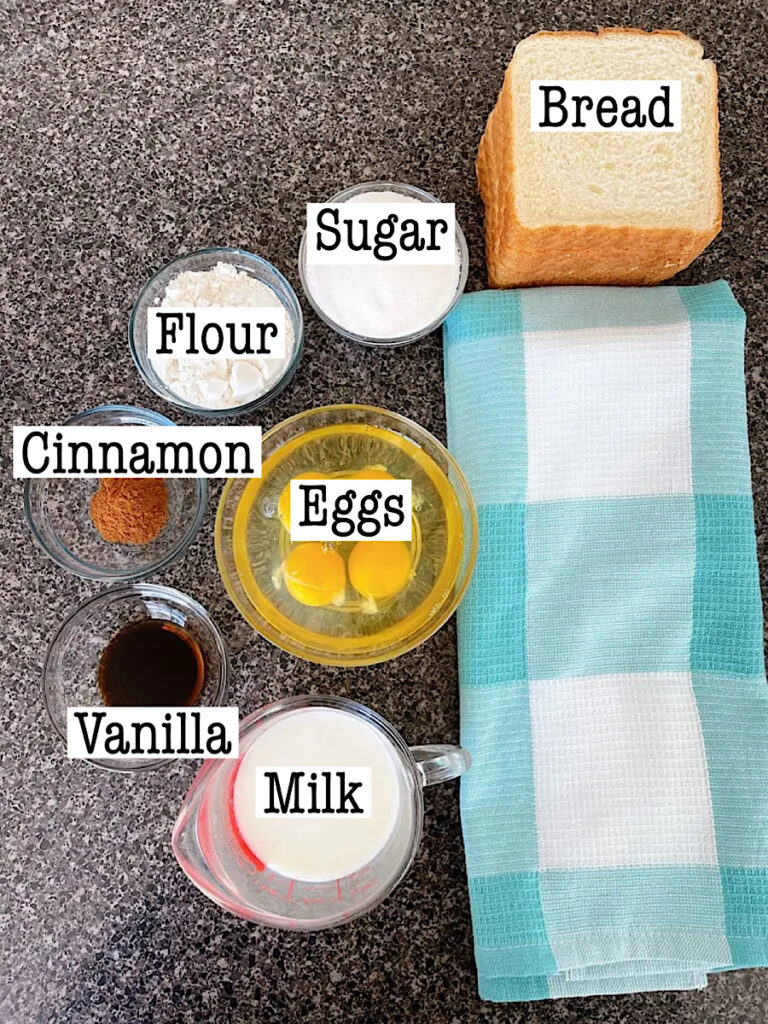 Vanilla Extract-I like to put more than the usual amount of vanilla that is called for in other French Toast Recipes. It enhances the flavor in such a great way.
Slices of Bread: I like to use Texas Toast when I make French Toast but because you will be cooking it in a waffle iron, you may want to use standard sandwich bread.
How to Make French Toast Waffles
[1] Add the eggs, milk, flour, sugar, vanilla and cinnamon to a blender or food processor. Mix together to make French Toast batter.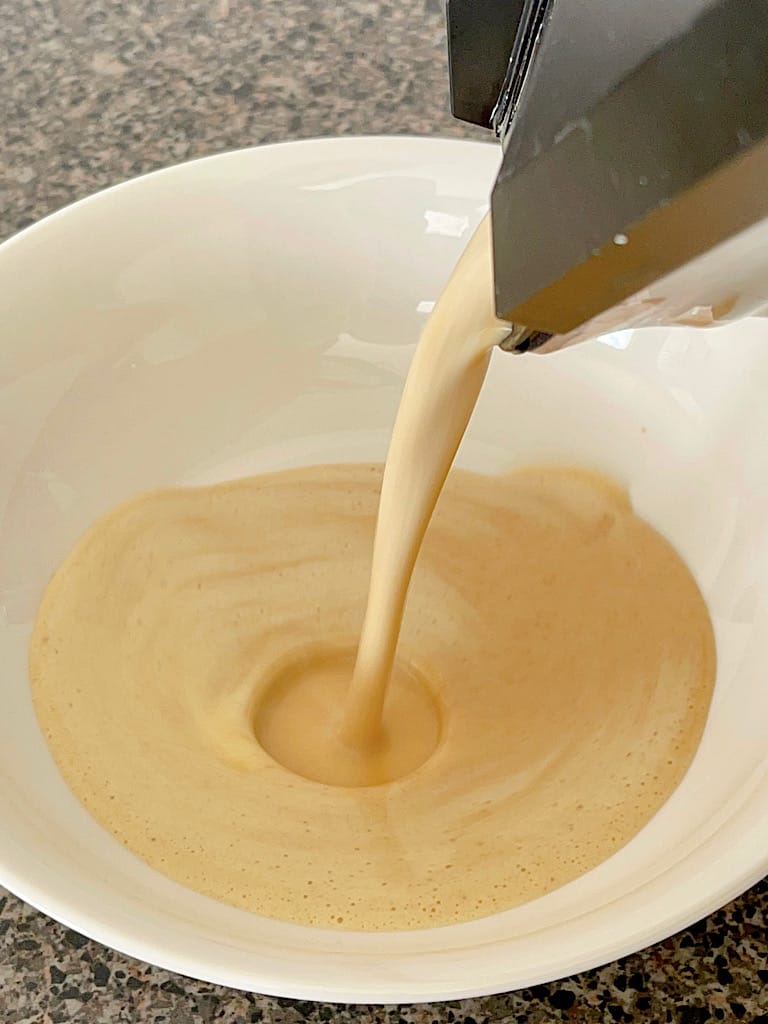 [2] Pour the egg mixture into a shallow dish.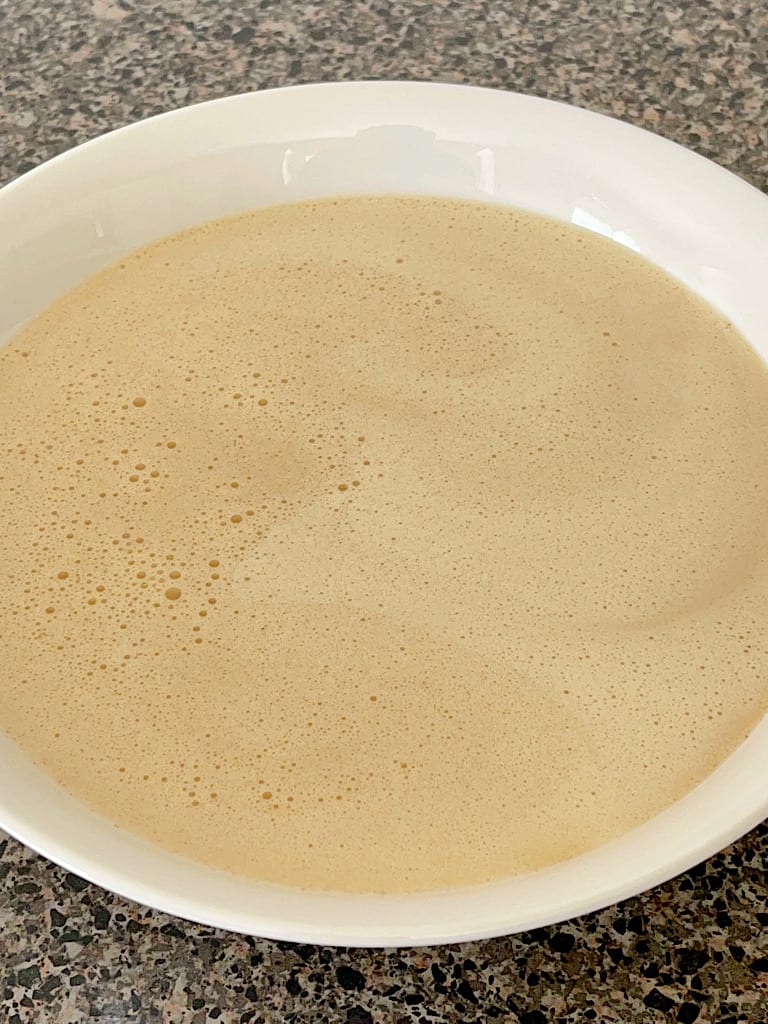 [3] Heat waffle maker. Use any waffle iron that will fit a slice of bread. Once the waffle iron is ready, spray it with nonstick cooking spray. Dip bread slices in the batter then place bread on the hot waffle iron, and close the lid to cook.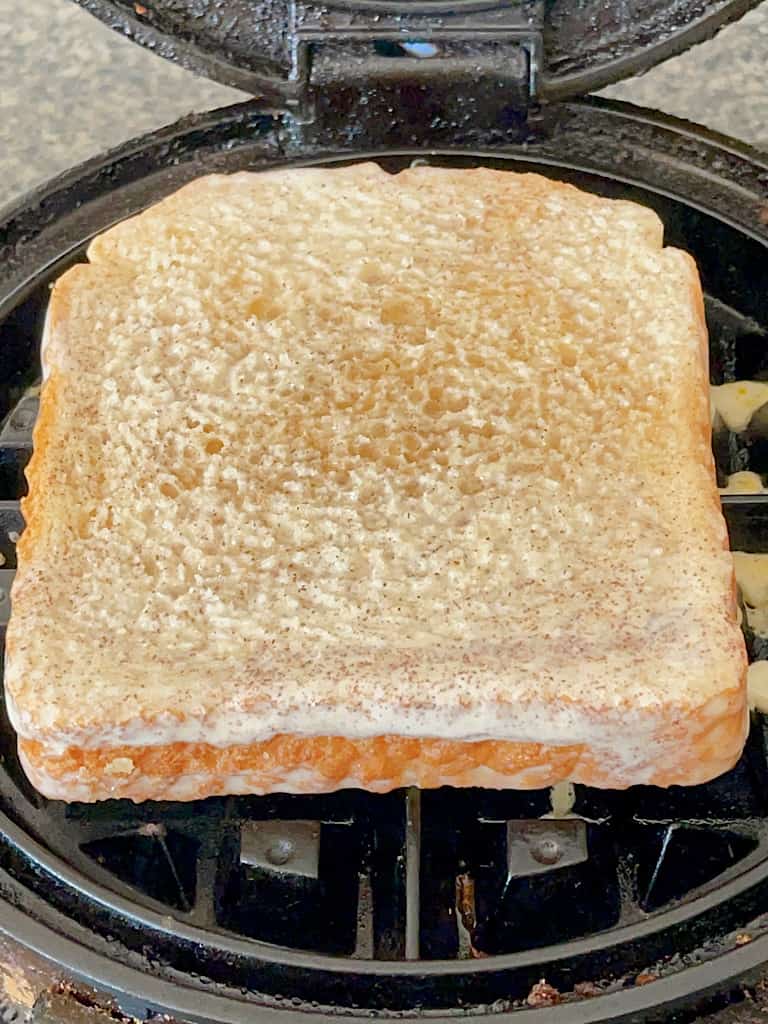 [4] When the French Toast Waffle has finished cooking, remove it from the waffle iron and enjoy with your favorite toppings.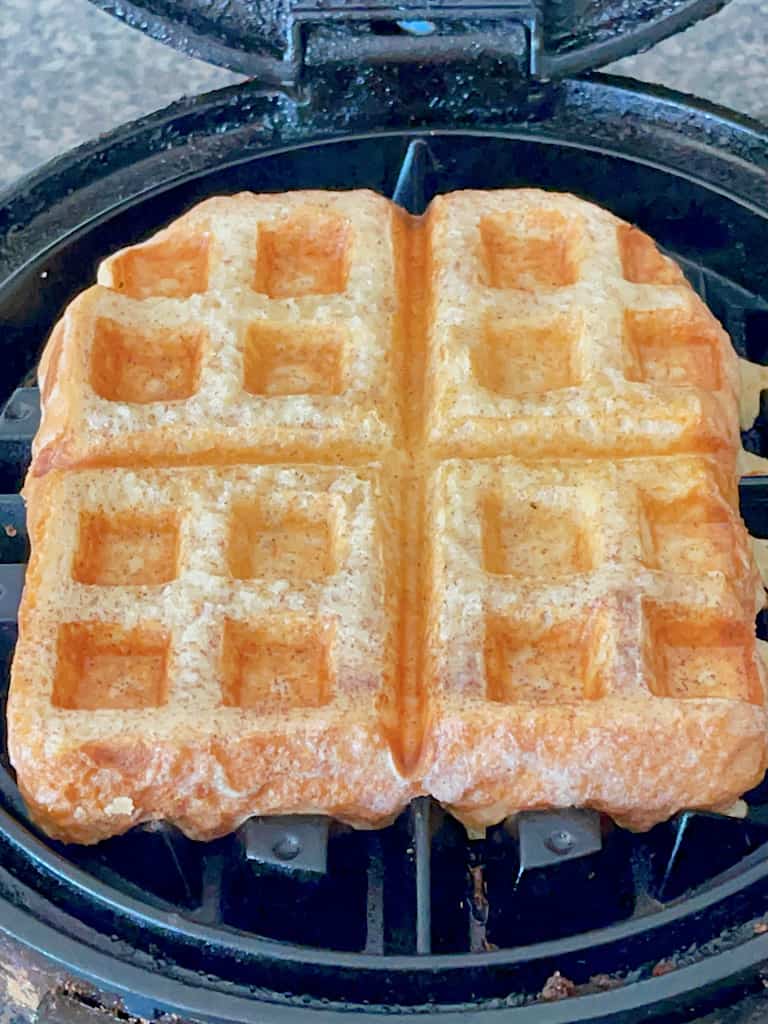 [5] You can keep the toast warm by placing it on a rimmed baking sheet in an oven set on the warming function or 200 degrees until you are ready to serve.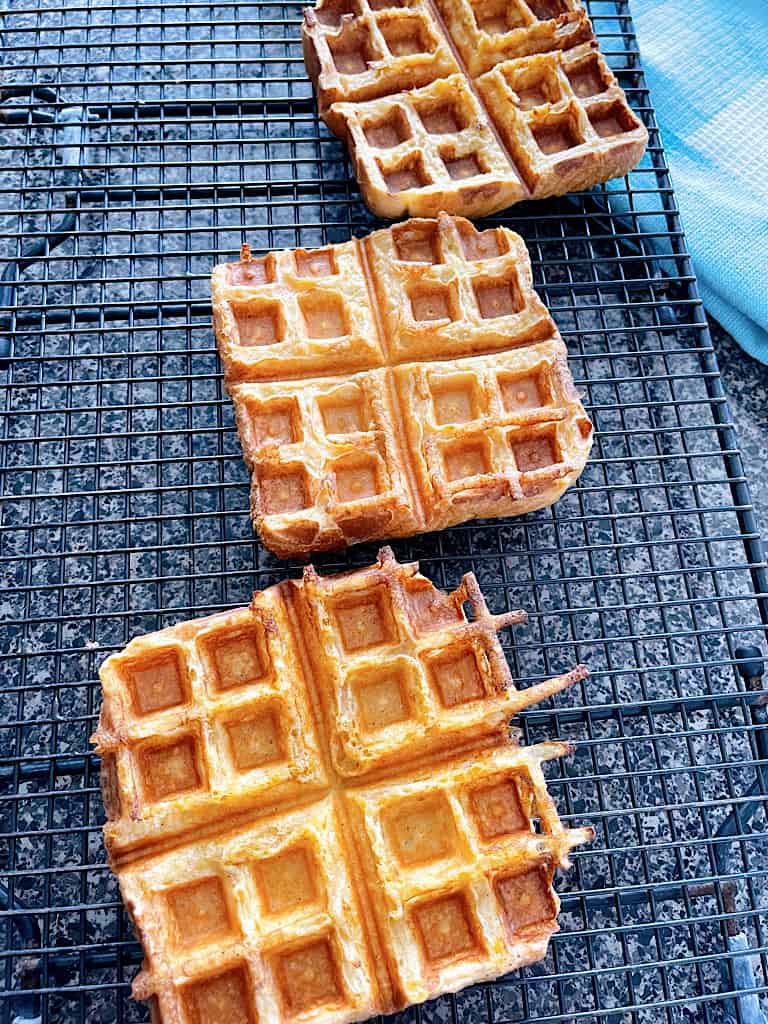 More Waffle Recipes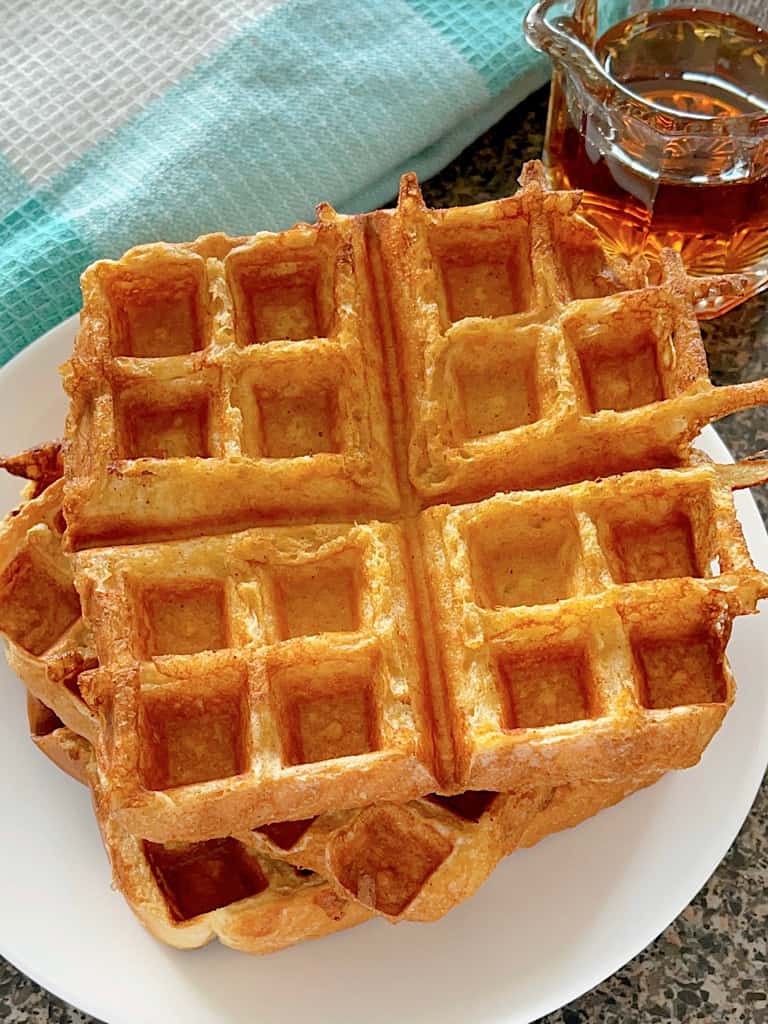 Frequently Asked Questions
How long do waffles need to cook?
Waffles need to cook until they are golden brown. Depending on your waffle iron and the thickness of your bread, this could take anywhere from 2-5 minutes.
Can I freeze French Toast Waffles?
Yes! You can absolutely freeze French Toast Waffles. Just place them in a freezer-safe airtight container or freezer bag and store for up to 3 months. When you are ready to eat them, place them in the toaster or pop them in the microwave for a quick reheat.
Can I make these ahead of time?
You can make the batter for Waffle French Toast ahead of time and store it in the fridge for up to 24 hours. When you are ready to make the waffles, preheat the waffle iron and cook as directed.
What to Serve with French Toast Waffles for Breakfast
This easy recipe for French Toast Waffles is a must-try! The perfect mix of two breakfast classics, it's fun twist, delicious and sure to please everyone. Be sure to review and leave a comment below if you give it a try!
Watch the Video Below: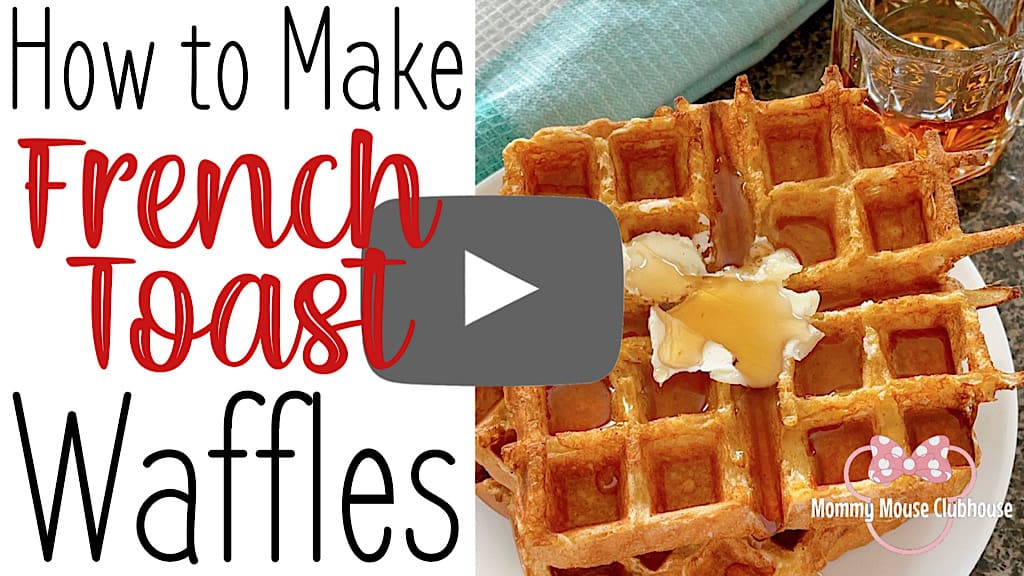 Pin for later: