Sink your teeth into a heavenly breakfast experience with this perfectly spiced pumpkin waffles recipe. Made with pantry staple ingredients and a generous dash of aromatic pumpkin spice, these waffles are a delicious fusion of fluffy texture and autumnal flavors. Each bite offers a delightful burst of pumpkin goodness, complemented by the warm notes of cinnamon, nutmeg, and cloves. Whether topped with a dollop of whipped cream or drizzled with pure maple syrup, these pumpkin waffles are the ultimate indulgence that will transport you to a cozy fall morning.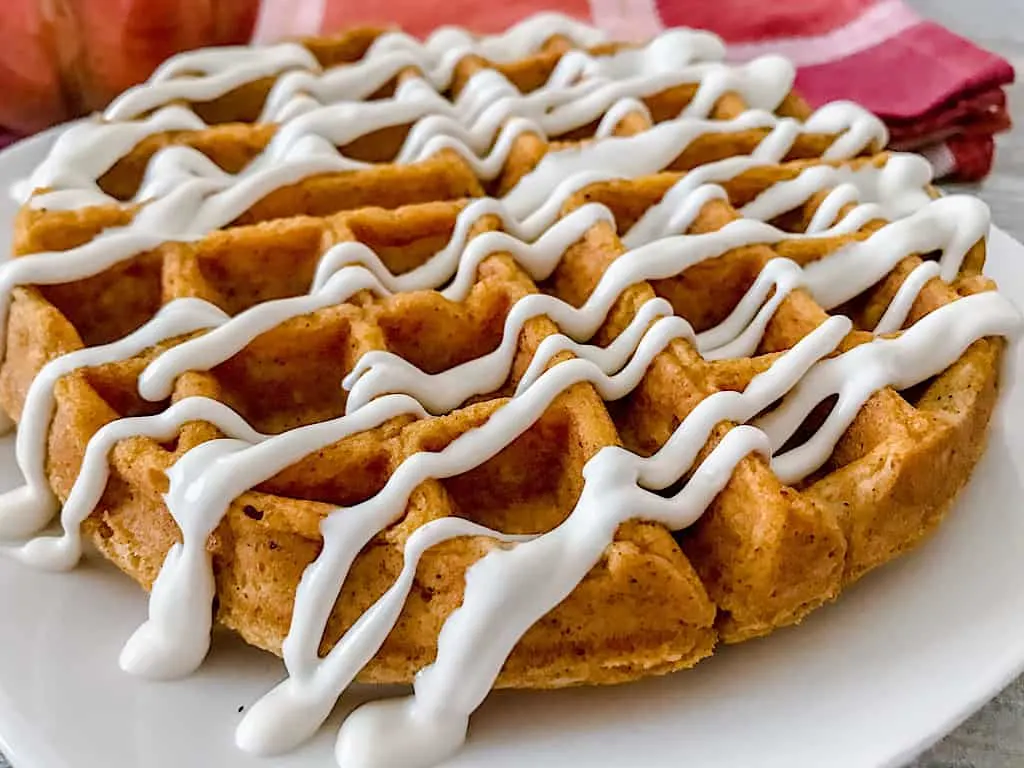 This post may contain affiliate links. When you click on these links, I get a small percentage back at no cost to you! For more information see my disclosure policy.
Below you will find tips, tricks and helpful hints for making this recipe including step by step instructions with pictures. If you would like to go directly to the recipe, scroll down to the recipe card or tap "Jump to Recipe" at the top of the page.
Why You'll Love This Pumpkin Waffle Recipe
Easy to make with simple ingredients
Perfect for a cozy weekend breakfast or brunch during pumpkin season
Can be customized with your favorite toppings and add-ins
Great way to use up leftover pumpkin purée
Pumpkin Waffle Ingredients
*Ingredient amounts are located in the recipe card at the end of this post.
All-Purpose Flour: The base of these waffles, all-purpose flour gives them structure and a tender texture.
Baking Powder and Baking Soda: These leavening agents are essential for making the waffles rise and become light and fluffy.
Cinnamon, Nutmeg, Ginger, and Cloves: This mixture of warm spices is what gives these waffles their signature pumpkin spice flavor. Feel free to adjust the amounts based on your personal preference.
Eggs: Large eggs add structure and moisture to the waffles, making them light and fluffy.
Brown Sugar: The molasses in brown sugar adds a rich, caramel-like flavor to the waffles.
Pumpkin Purée: Canned pumpkin purée is used in this recipe for both flavor and moisture. Make sure to use pure pumpkin puree, not pumpkin pie filling.
Milk: Milk adds liquid and helps to thin out the batter.
Butter: Melted butter adds richness and flavor to the waffles.
Vanilla Extract: A splash of vanilla extract enhances the flavors in these waffles.
How to Make Pumpkin Spice Waffles
[Step 1] Whisk together the flour, baking powder, baking soda, cinnamon, nutmeg, ginger, and salt in a large bowl.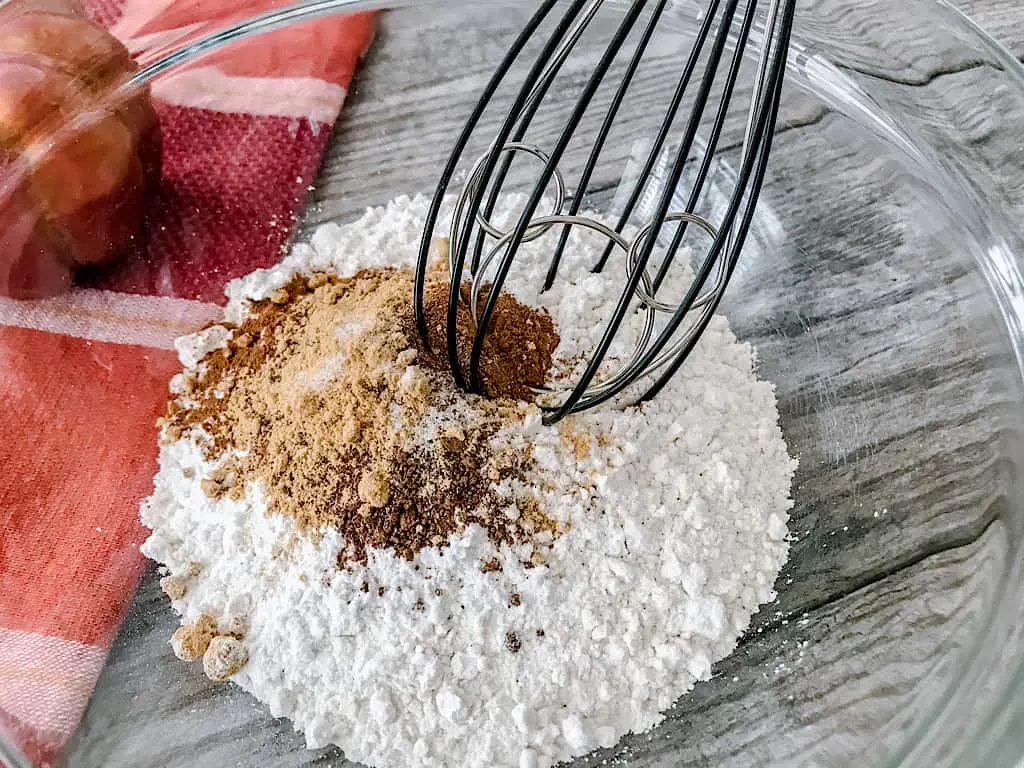 [Step 2] In a separate bowl, whisk together the eggs, brown sugar, pumpkin puree, milk, melted butter, and vanilla extract.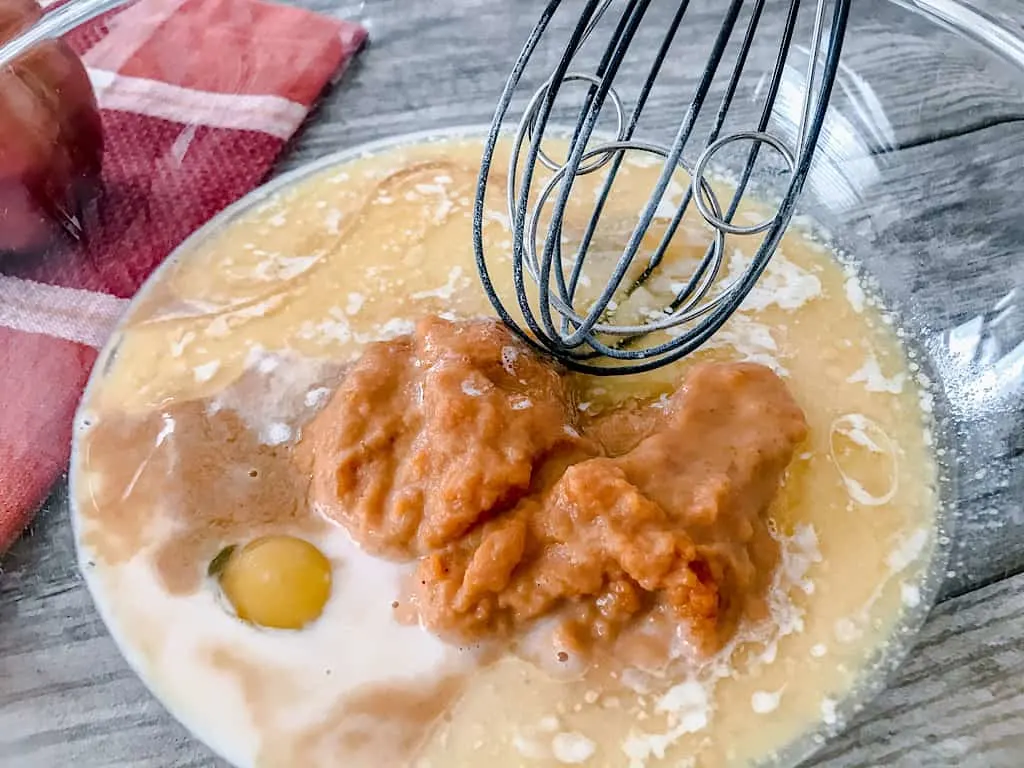 [Step 3] Add the pumpkin mixture to the flour mixture and stir to mix, just until moistened.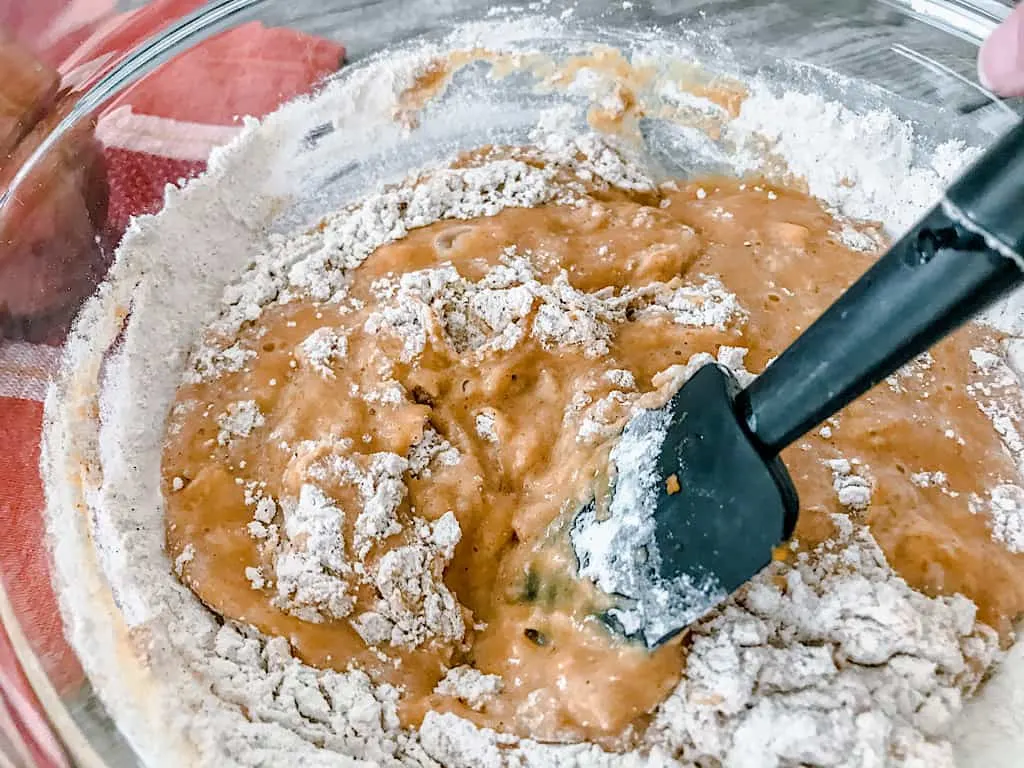 [Step 4] Scoop the waffle batter onto a preheated Belgian waffle maker sprayed with cooking spray and bake until golden.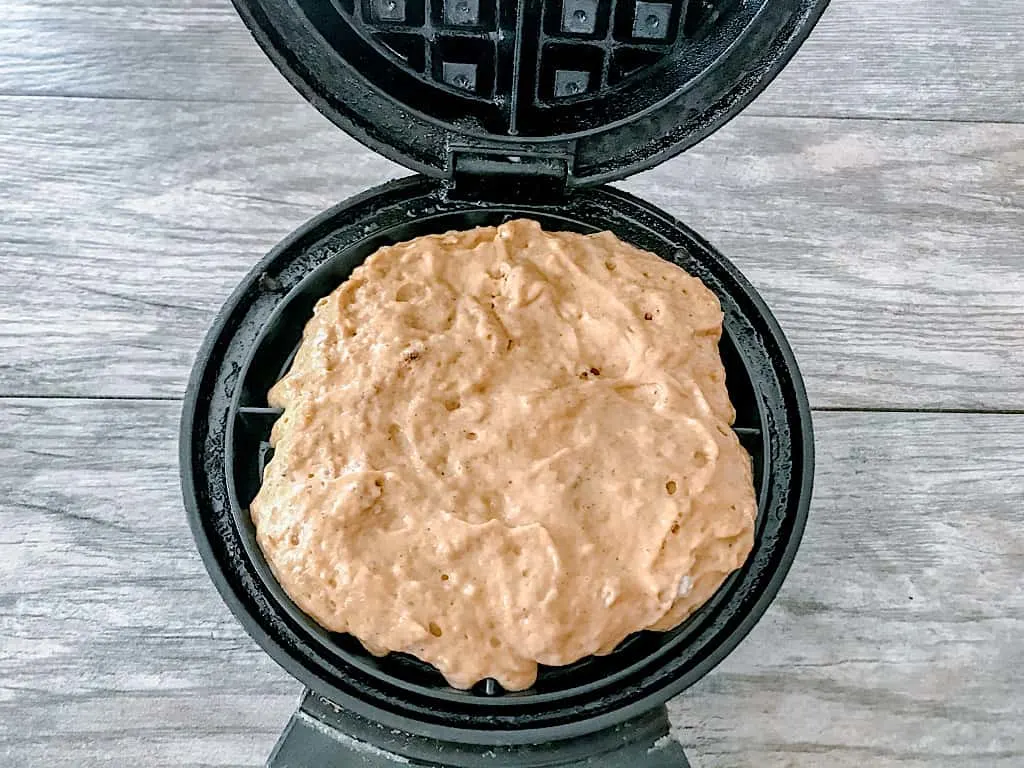 [Step 5] Remove the waffle from the hot iron and serve, topped with homemade Sweet Cream Cheese Syrup.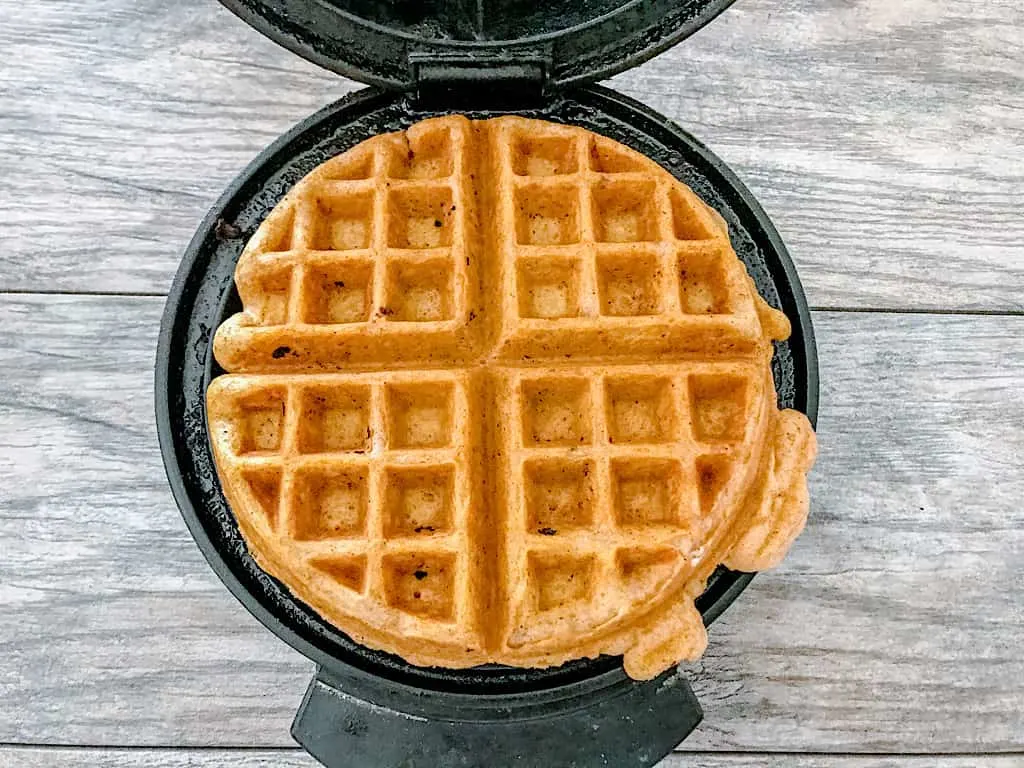 Helpful Kitchen Tools
How to Keep Homemade Pumpkin Waffles Warm
To keep your fluffy pumpkin waffles warm and crispy while you cook the rest, preheat your oven to 200 degrees F. As each waffle comes off the iron, place it on a wire rack set over a baking sheet in the oven. This will prevent them from getting soggy.
How to Store Leftovers
Leftover waffles can be stored in an airtight container in the refrigerator for up to 3 days. To reheat, place them in a toaster or toaster oven until warm and crisp.
More Pumpkin Recipes To Try:
Customization Ideas
Add chocolate chips or chopped nuts to the batter for added texture and flavor.
Serve with a scoop of vanilla ice cream for a decadent dessert waffle.
Top with whipped cream, caramel sauce, or chopped apples for a festive fall twist.
Serve with sweet cream cheese syrup and chopped pecans.
Top with rich caramel breakfast syrup and a dollop of whipped cream.
Final Thoughts
These easy pumpkin waffles are a must-try for any pumpkin spice lover. They are easy to make, customizable, and perfect for a warm fall breakfast. Whether you're enjoying them with friends and family or indulging in a cozy breakfast for one, these waffles will bring warmth and comfort to your day. So go ahead and whip up a batch of these delicious pumpkin spice waffles, and savor every bite of the autumn season.
More Breakfast Recipes To Try: