Pumpkin Rice Krispie Treats are the perfect easy Fall treat! Taking a classic Rice Krispie treats recipe and adding vanilla and pumpkin spice flavor, really takes this snack to the next level! So head to the store to pick up the ingredients and make them today!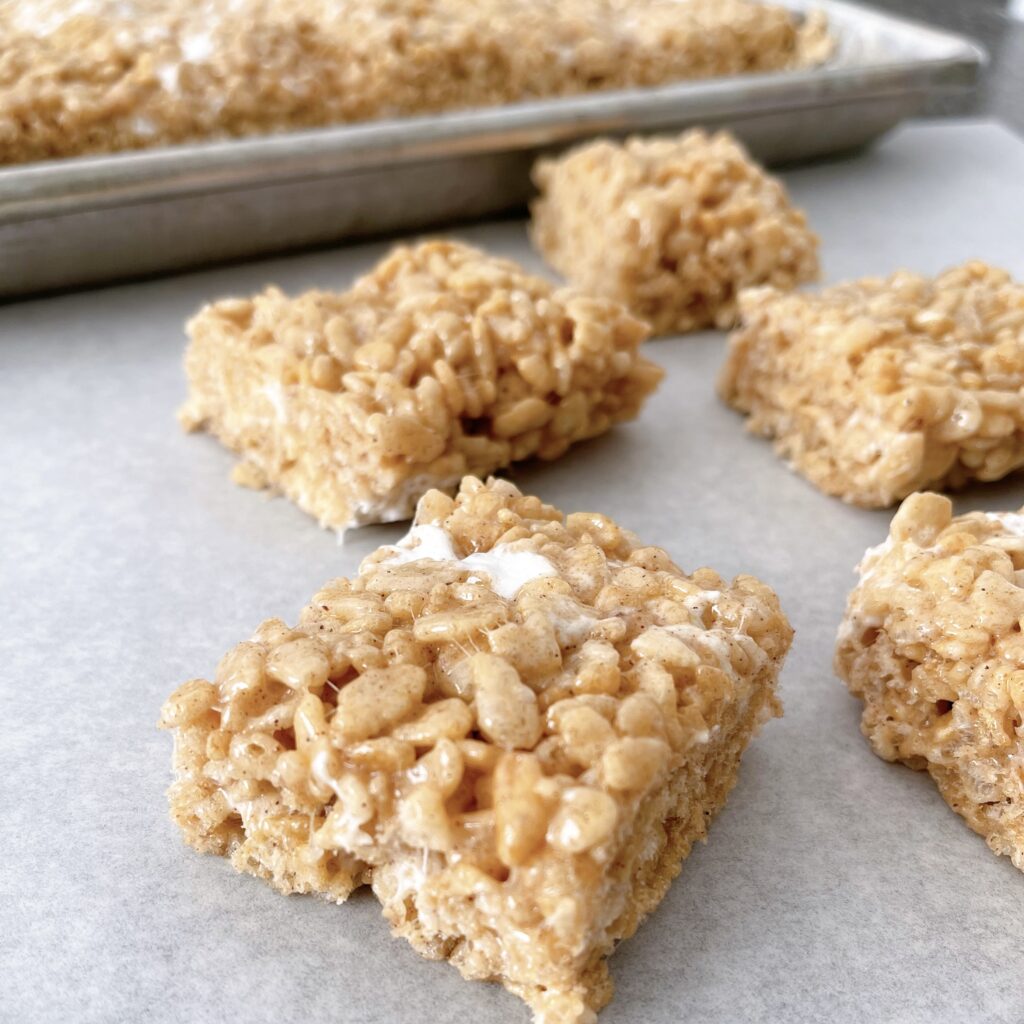 This post may contain affiliate links. When you click on these links, I get a small percentage back at no cost to you! For more information see my disclosure policy.
Below you will find tips, tricks and helpful hints for making this recipe including step by step instructions with pictures. If you would like to go directly to the recipe, scroll down to the recipe card or tap "Jump to Recipe" at the top of the page.
Why You'll Love This Recipe
It's Fall, which means all things pumpkin spice, but you don't want to spend hours in the kitchen baking.
Pumpkin-flavored treats are all over the place this time of year, but they can be a lot of work. Who has time for that?
This Pumpkin Rice Krispie Treats recipe take just minutes to make and only require 5 ingredients!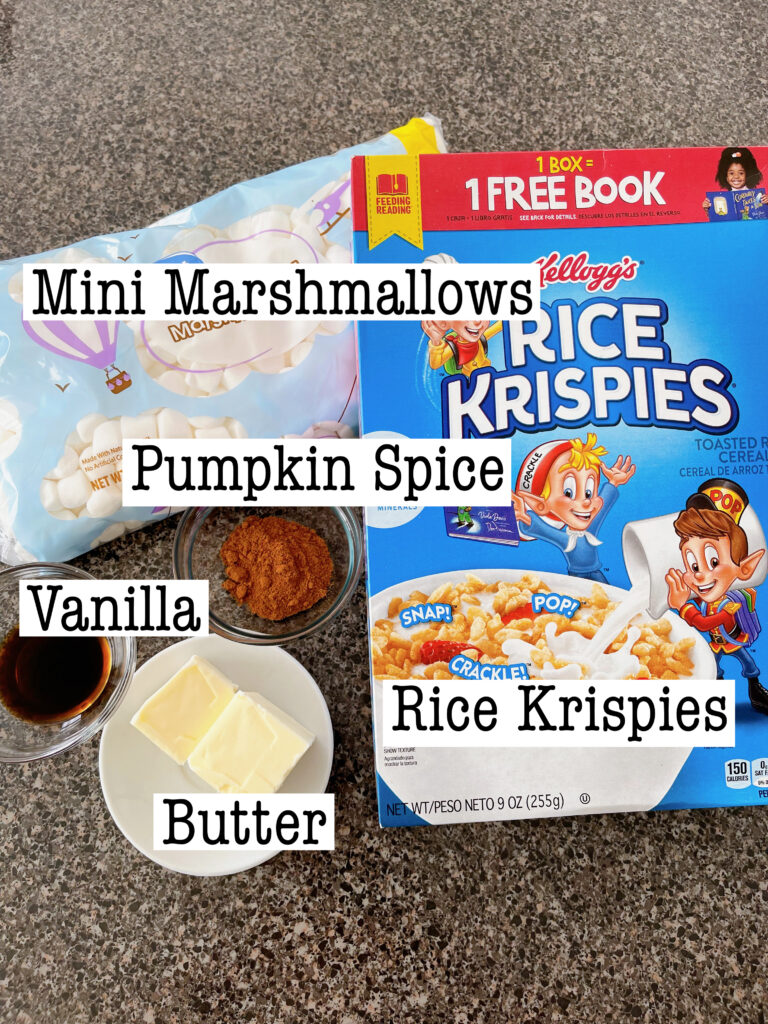 What You Need to Make Pumpkin Rice Krispies Treats
*Ingredient amounts are located in the recipe card at the end of this post.
Butter: I used salted butter, but unsalted butter will work just as well.
Mini Marshmallows: For these pumpkin spice treats, you will need a large 16 ounce bag of mini marshmallows. One cup of marshmallows will be removed from the bag and added in later.
Pumpkin Pie Spice: This is what gives these treats their delicious pumpkin flavor. You can find pumpkin spice in the baking aisle at your local grocery store or make your own using this recipe.
Vanilla Extract: A teaspoon of vanilla extract is added for extra flavor.
Rice Krispies Cereal: 6 cups of Rice Krispies cereal are needed for this recipe. I prefer the name brand cereal to the store brand.
How to Make Pumpkin Spice Rice Krispie Treats: Step-by-Step Instructions
[1] In a large saucepan melt butter over medium low heat.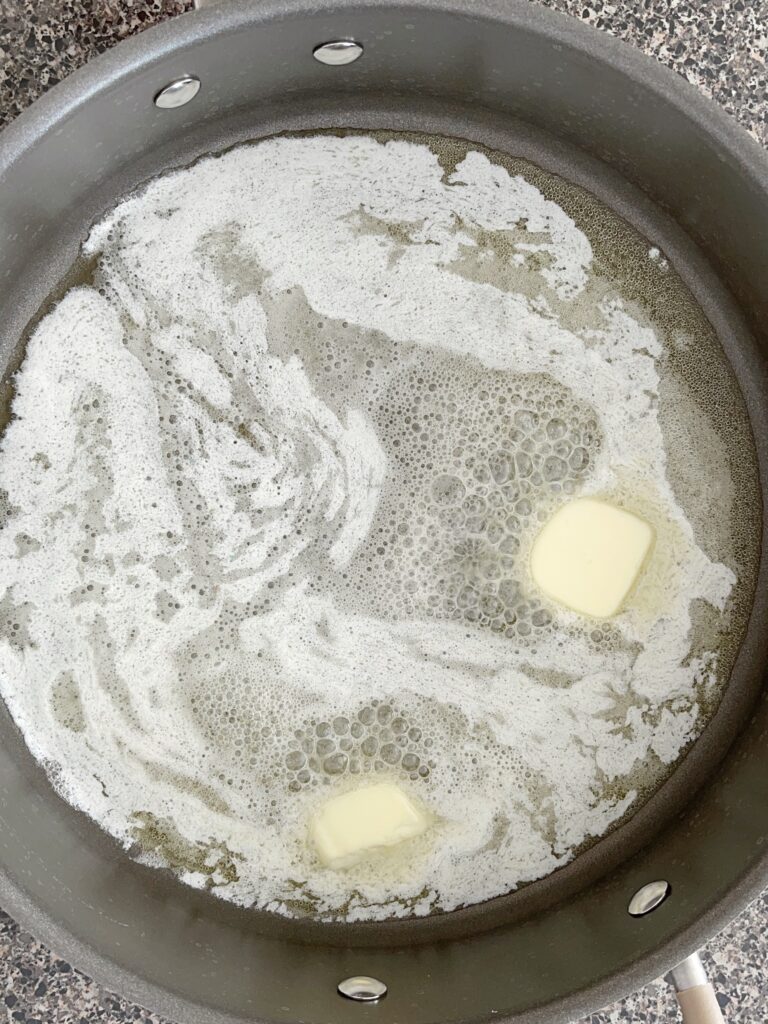 [2] Remove one cup of mini marshmallows and set aside, then add the remaining marshmallows to the butter mixture and continue to stir until the marshmallows have melted.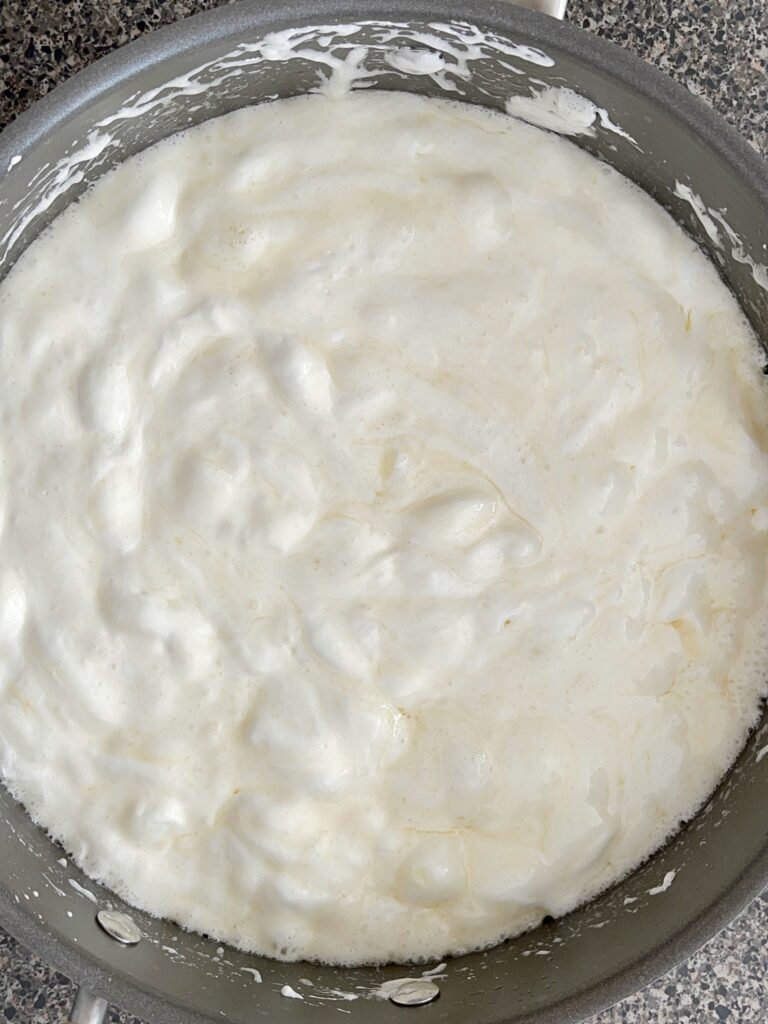 [3] Remove the melted marshmallows from the heat and stir in the vanilla and pumpkin spice.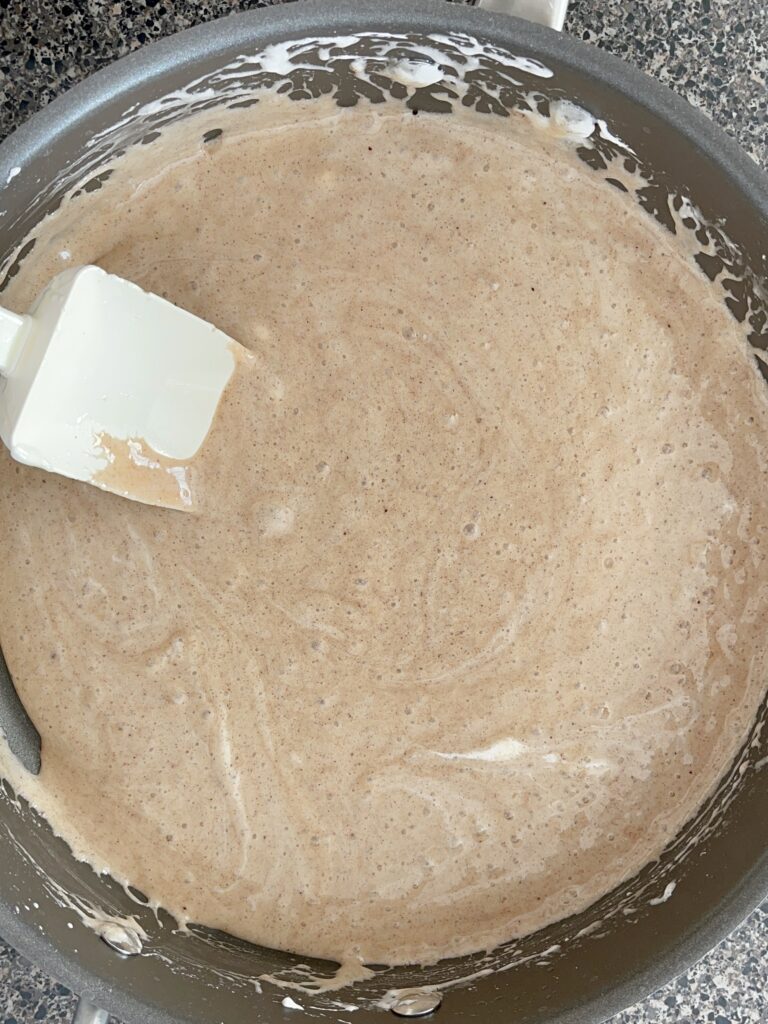 [4] Add the cereal stir to coat with the marshmallow mixture.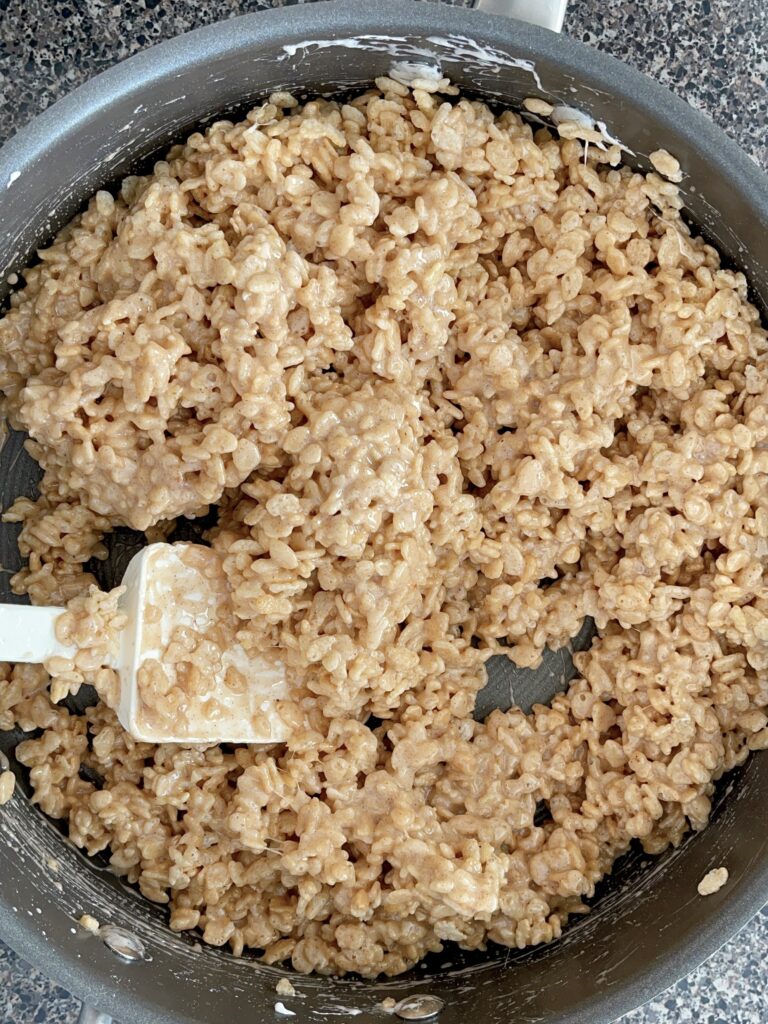 [5] Gently fold in the cup of marshmallows, so that they don't totally melt.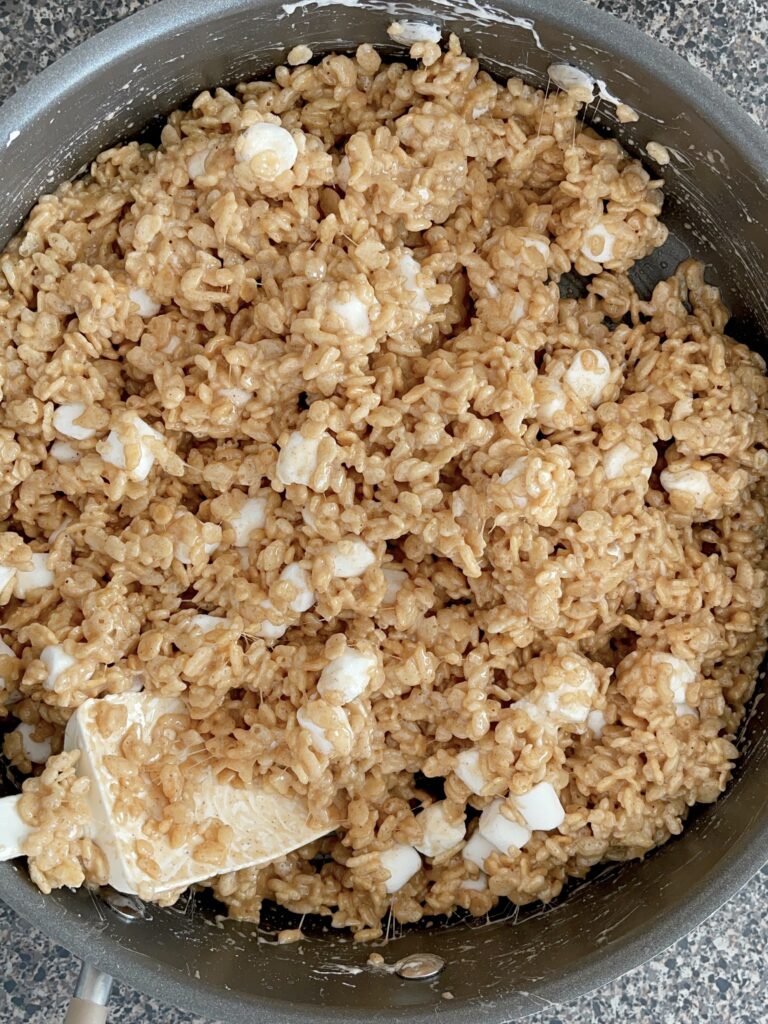 [6] Grease a jelly roll pan or 9×13 pan or line with parchment paper and press the cereal mixture to cover the bottom. Allow to cool.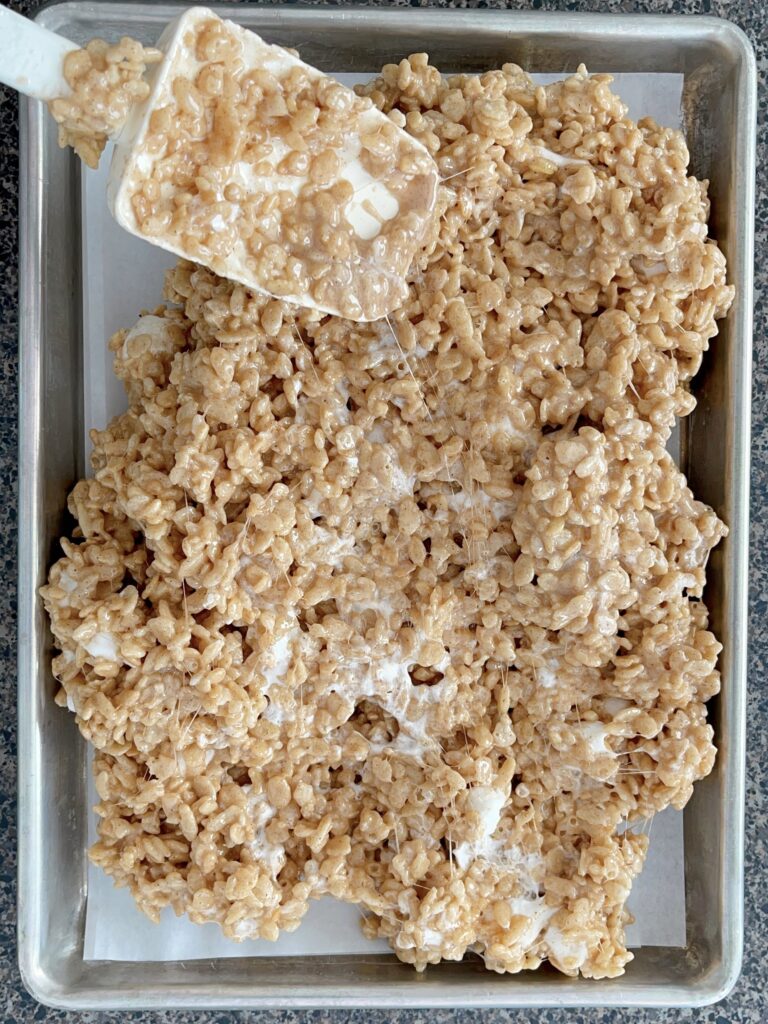 Helpful Kitchen Tools:
Variations
For a festive and fun treat, you could turn these treats into cute Rice Krispie Treat Pumpkins! Just pick up one of these pumpkin molds and you will have cute little Rice Krispies pumpkins the whole family will love.
Another idea would be to add a few drops of orange food coloring and a white chocolate drizzle to create a cute Halloween or Thanksgiving treat.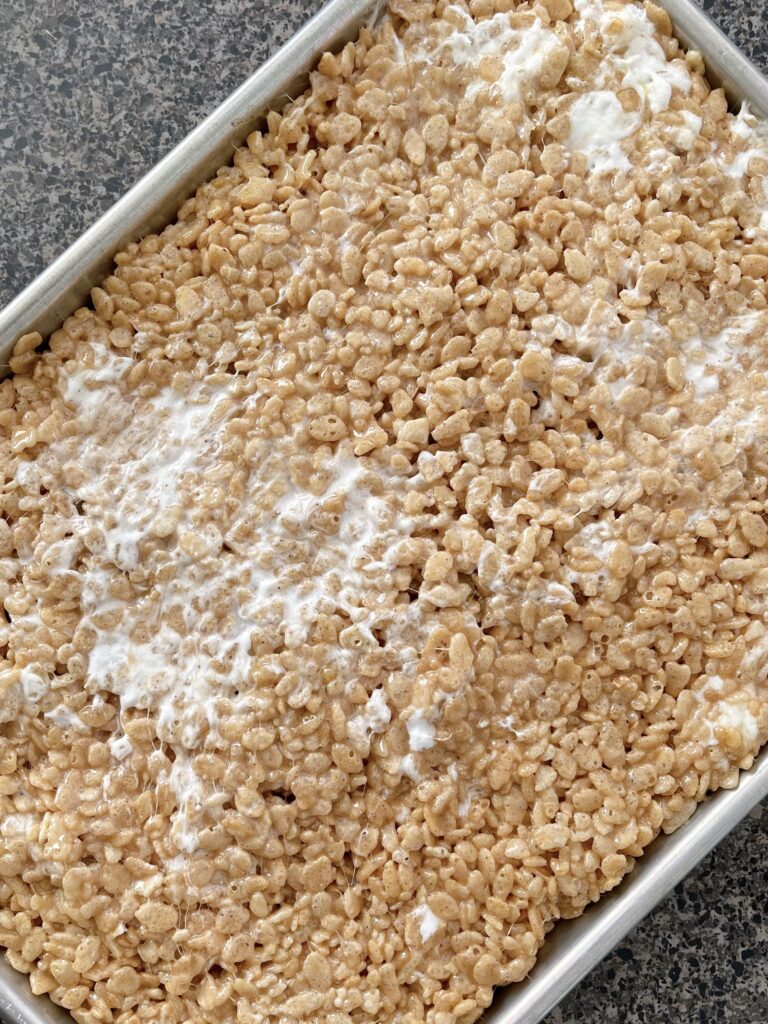 More Pumpkin Treats:
How to Store Rice Krispie Treats
Pumpkin Rice Krispie Treats can be stored in an airtight container at room temperature for up to 4 days.
Can I Freeze Pumpkin Rice Krispie Treats?
Yes, you can freeze these treats! Place them in a freezer bag and they will last for 2-3 months.
When you are ready to eat them, let them thaw on the counter for a couple of hours or place them in the microwave for 30 seconds.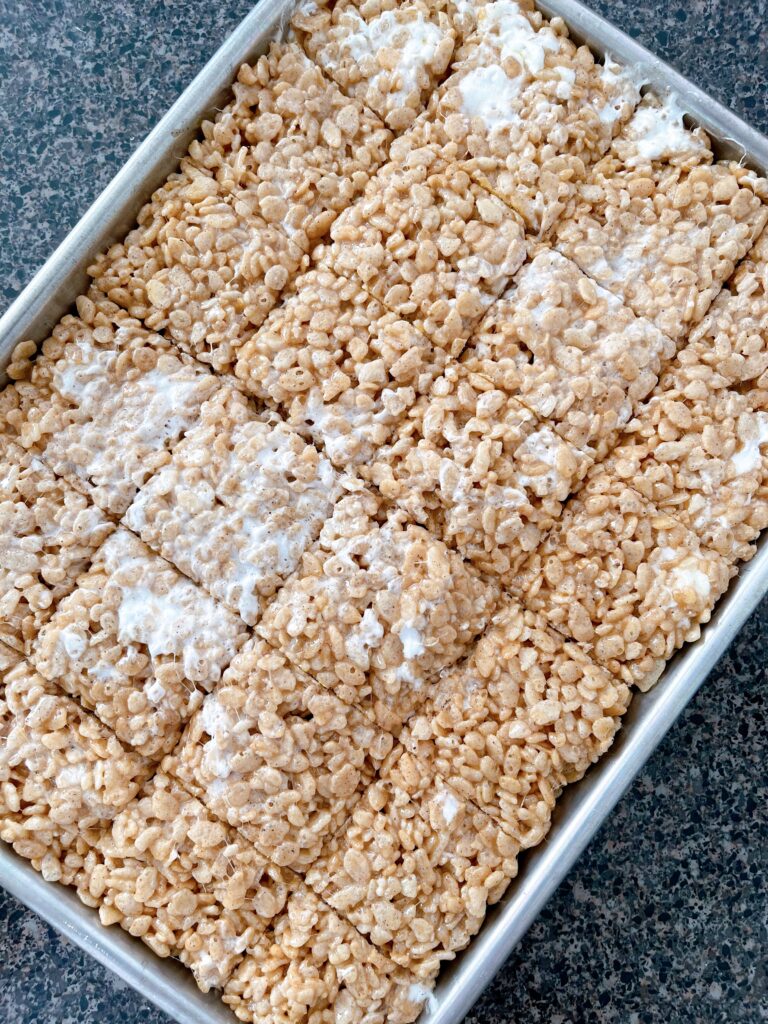 Reheating Pumpkin Rice Krispie Treats
Pumpkin Rice Krispie Treats can be reheated in the microwave for 30 seconds or placed in a 350 degree oven for 5-7 minutes.
How to Keep Rice Krispie Treats Soft
Rice Krispie Cereal Treats can sometimes get hard and crunchy, but there are a few things you can do to keep them soft.
First, make sure you store them in an airtight container.
Second, reheat them before serving. This will help soften them up a bit.
Finally, add a slice of bread to the container. This will help keep the Rice Krispie Treats soft and fresh.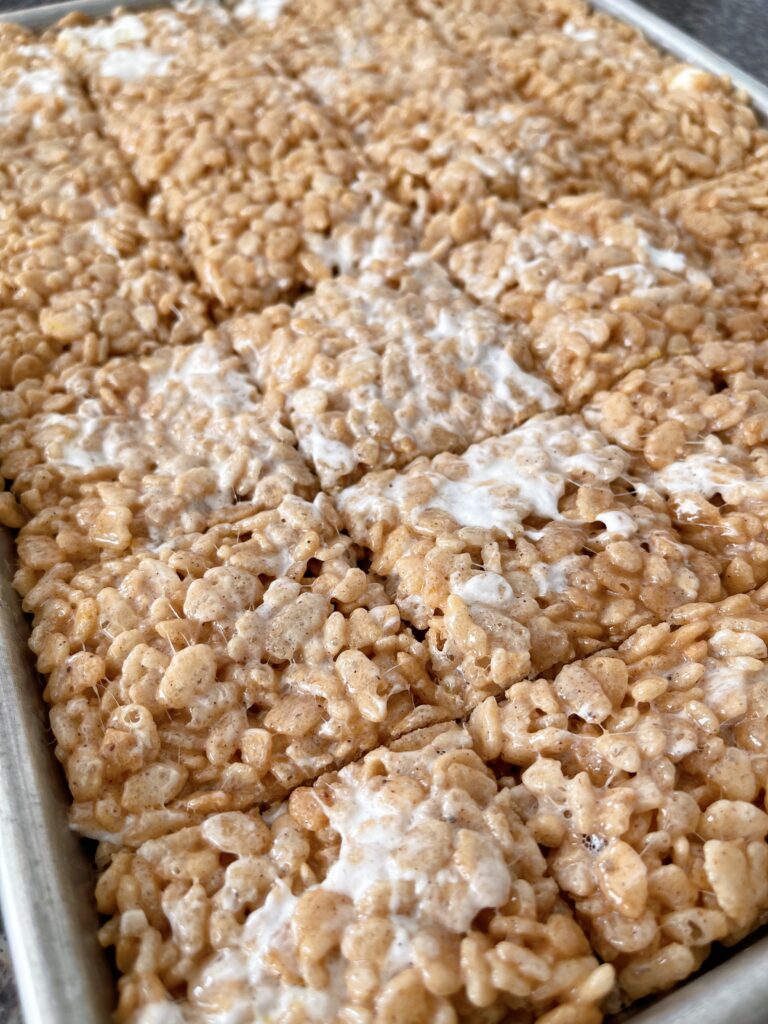 When to Serve Pumpkin Spice Rice Krispie Treats
These Fall-themed cereal treats are perfect for an after school snack, Halloween Party, a fun Thanksgiving Dessert, or any fall festivities.
Final Thoughts
Thank you for reading! I hope you will make these Pumpkin Rice Krispie Treats soon – they are so delicious and perfect for Fall! Please leave a review and comment below letting me know how you liked these tasty treats!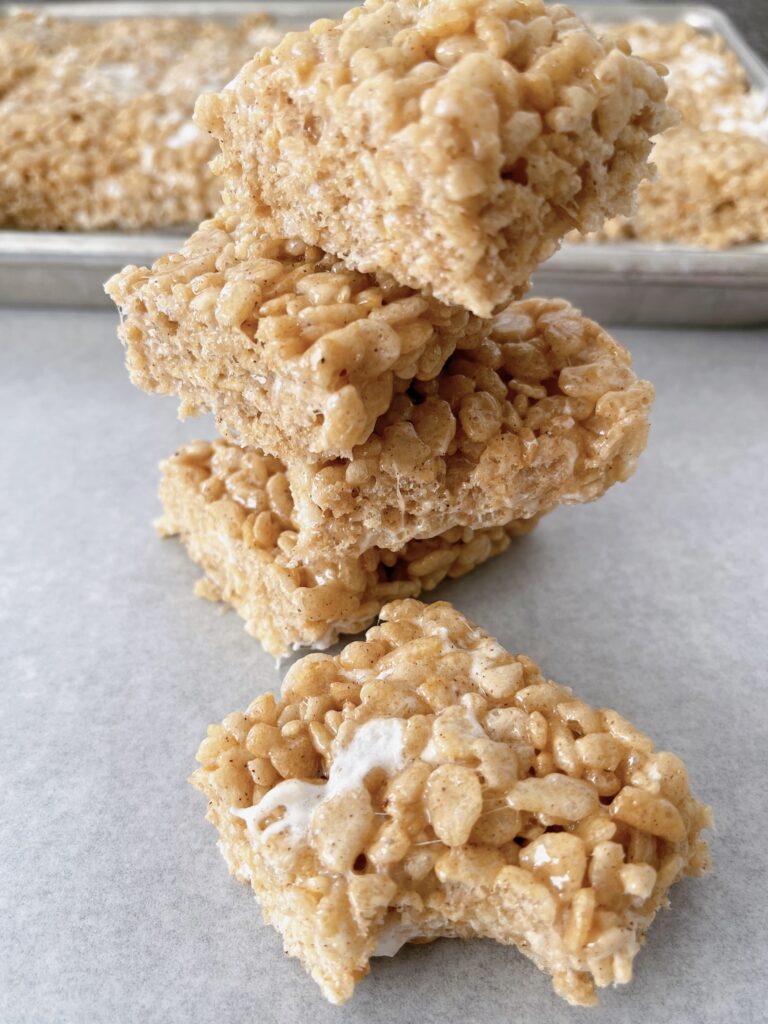 More Rice Krispie Treat Recipes
Pin for later: