Halloween is a great time to get into the kitchen and have some fun making Halloween-themed treats. One of my favorites is Halloween Rice Krispie Treats. The great thing about this Rice Krispie treat recipe is that it's quick and easy to make, and it only requires a few basic ingredients, including cute Halloween marshmallow Peeps! Plus, these fun treats are perfect for a Halloween party or any other Halloween celebrations.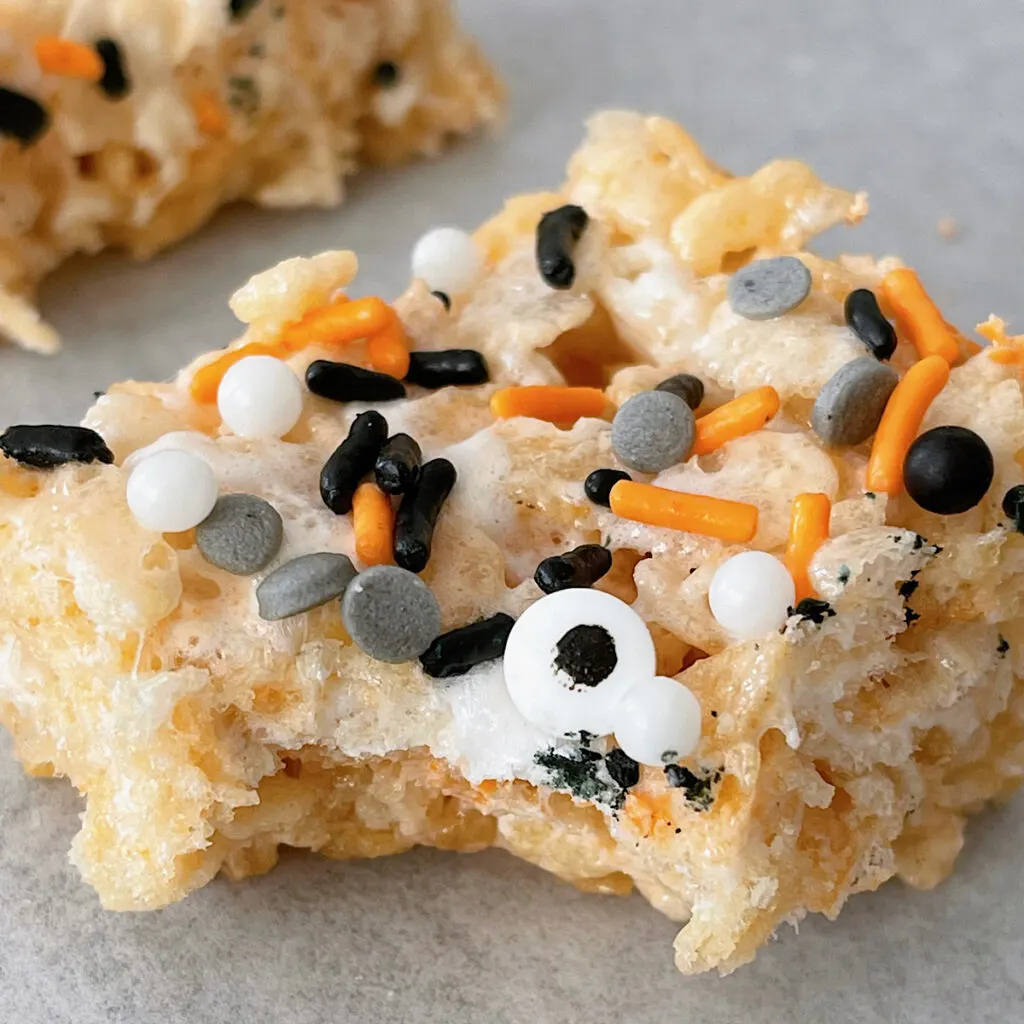 This post may contain affiliate links. When you click on these links, I get a small percentage back at no cost to you! For more information see my disclosure policy.
Below you will find tips, tricks and helpful hints for making this recipe including step by step instructions with pictures. If you would like to go directly to the recipe, scroll down to the recipe card or tap "Jump to Recipe" at the top of the page.
Why You'll Love this Recipe
If you need quick and easy festive treats for Halloween this year, these Halloween rice crispy treats made with Peeps are perfect!
These delicious treats come together in just a few minutes, and they're always a huge hit with kids and adults alike.
They're even great to get the kids into the kitchen to help you make them. They have so much fun mixing the melted Halloween-shaped Peeps with the cereal.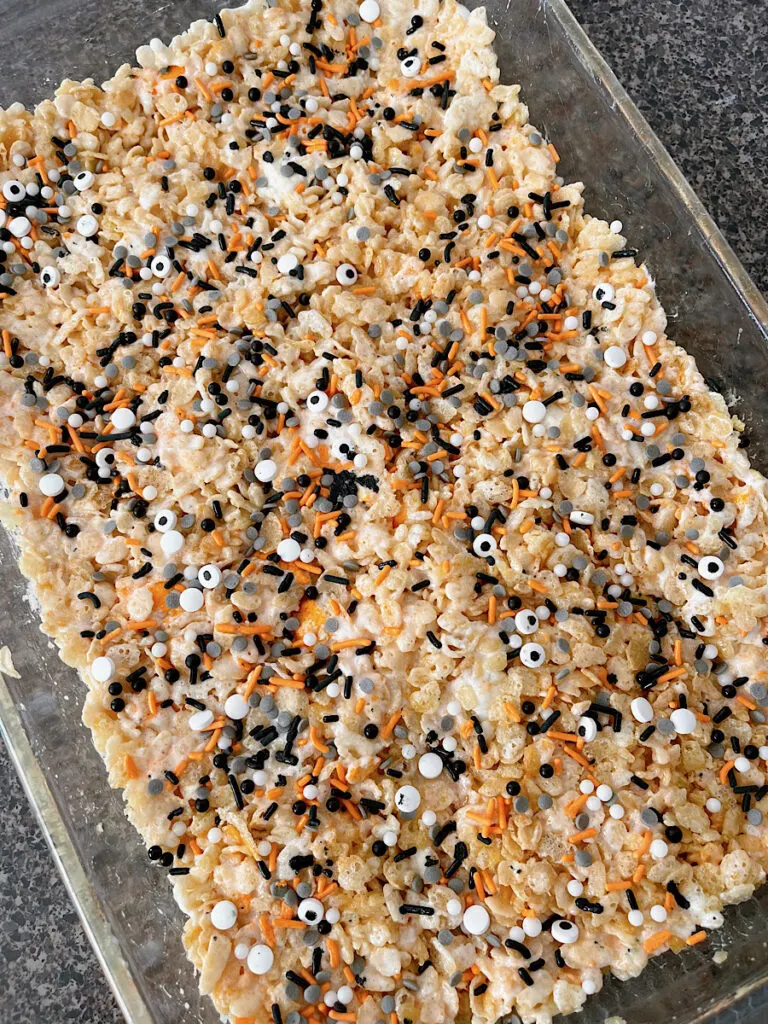 What are Halloween Peeps?
Peeps are a marshmallow treat that have been a staple during Easter time and are usually shaped like chicks or bunnies, but have recently started to make an appearance at other holidays including Halloween.
They come in a variety of Halloween shapes including pumpkins, ghosts, skeletons, and Frankenstein.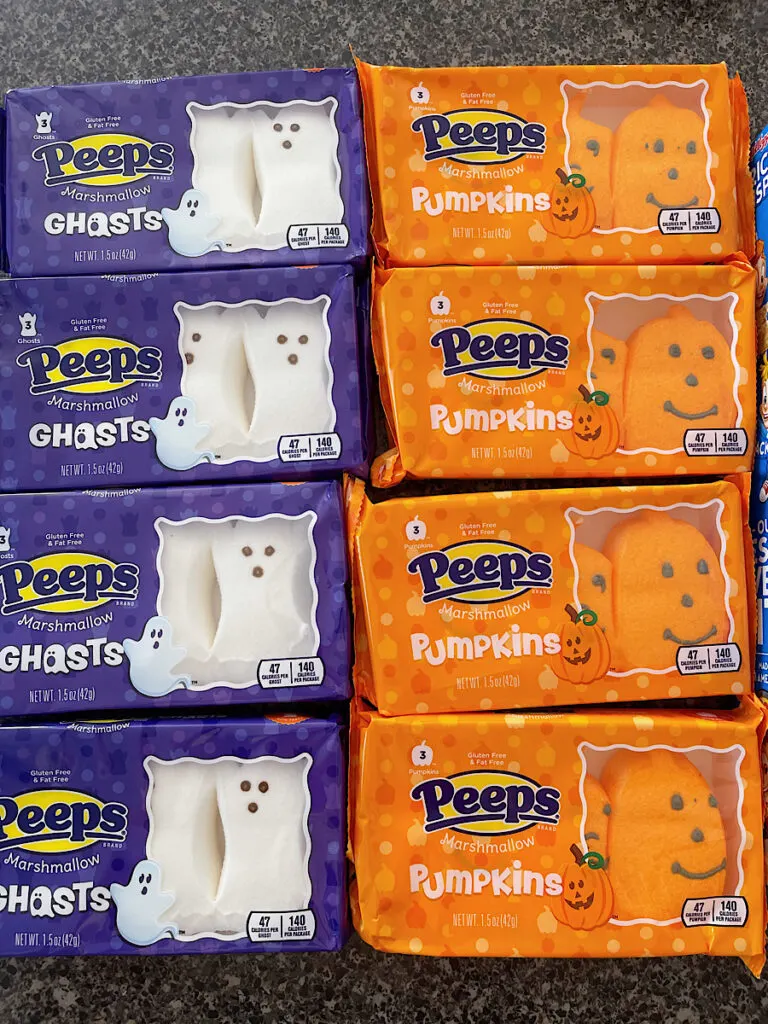 Where Can I Buy Halloween Peeps?
I found my Halloween Peeps at my local grocery store, but if you don't see them near you, you can always find them on Amazon. Shop for them now!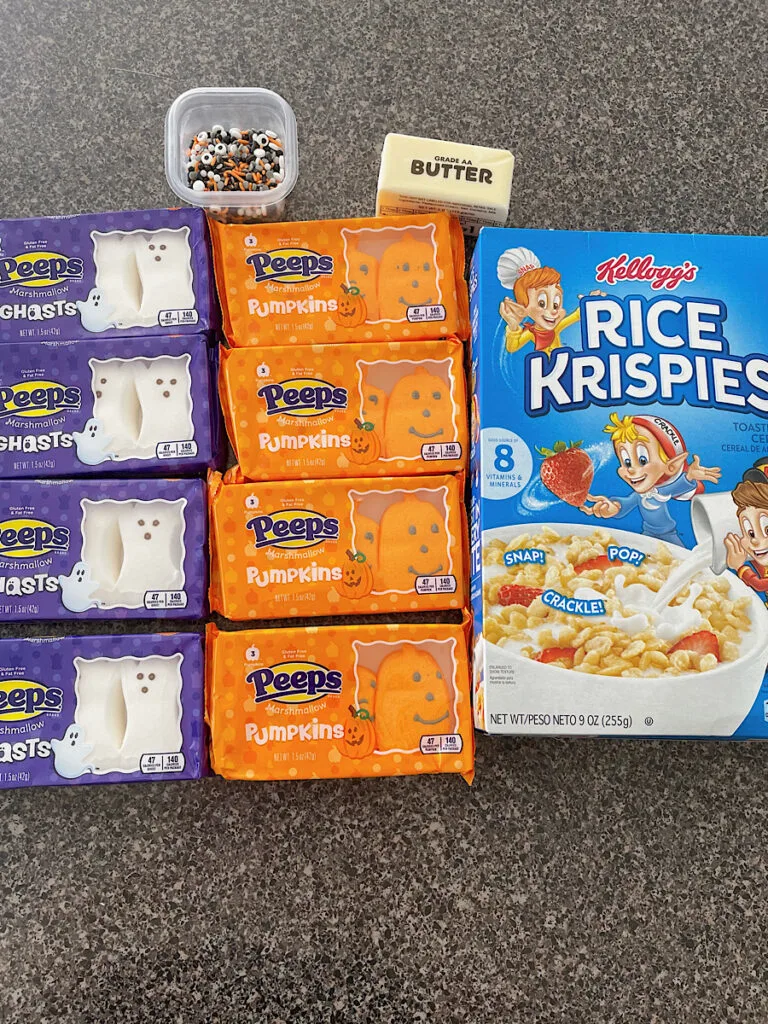 Halloween Rice Krispie Treat Ingredients
*Ingredient amounts are located in the recipe card at the end of this post.
Halloween Peeps: I used a combination of pumpkin Peeps and Ghost Peeps because I liked the mixture of orange and white for these treats.
Rice Krispie Cereal: I recommend using the name brand Kellogg's Rice Krispie cereal and not the store brand puffed rice cereal. The texture was totally different with store bought because the puffed rice was more flat than the name brand. Use regular Rice Krispies for the best flavor.
Butter: You can use either salted or unsalted butter.
Halloween Sprinkles: These festive sprinkles are totally optional, but I think they add a nice touch and make the treats look even more festive. I found some cute sprinkles that had candy eyes!
More Fun Halloween Treats
How to Make This Halloween Rice Krispie Treats Recipe
[1] Spray a 9×13 baking dish with non-stick spray.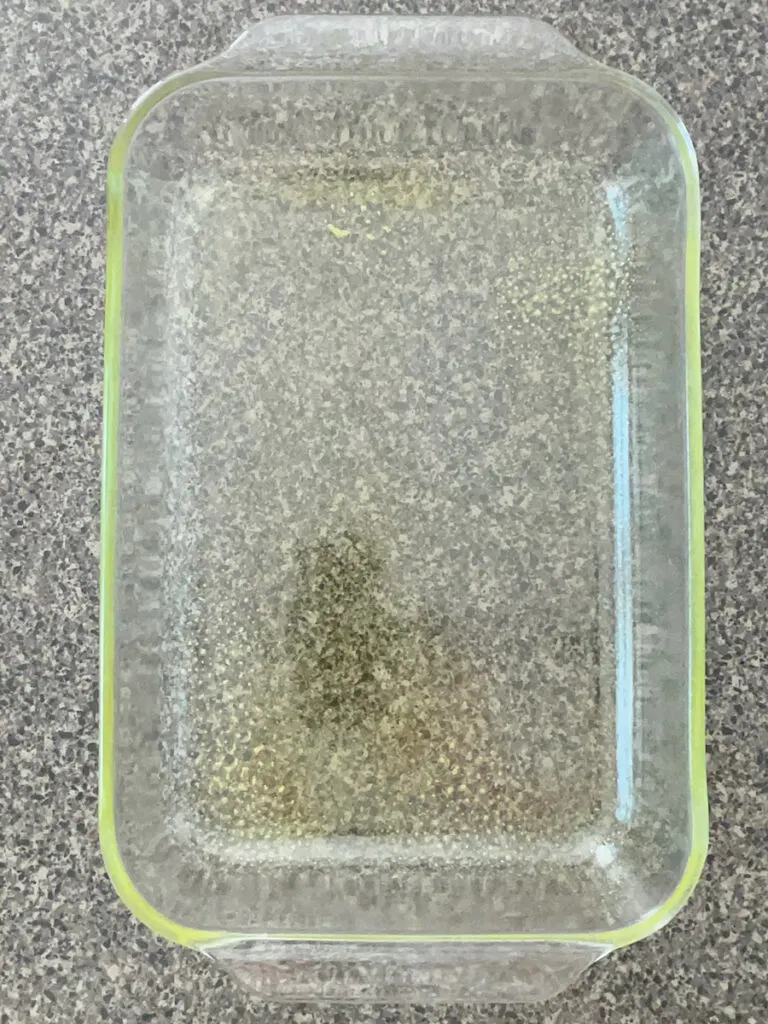 [2] Lay 12 Halloween Peeps along the bottom of the dish in any pattern you would like.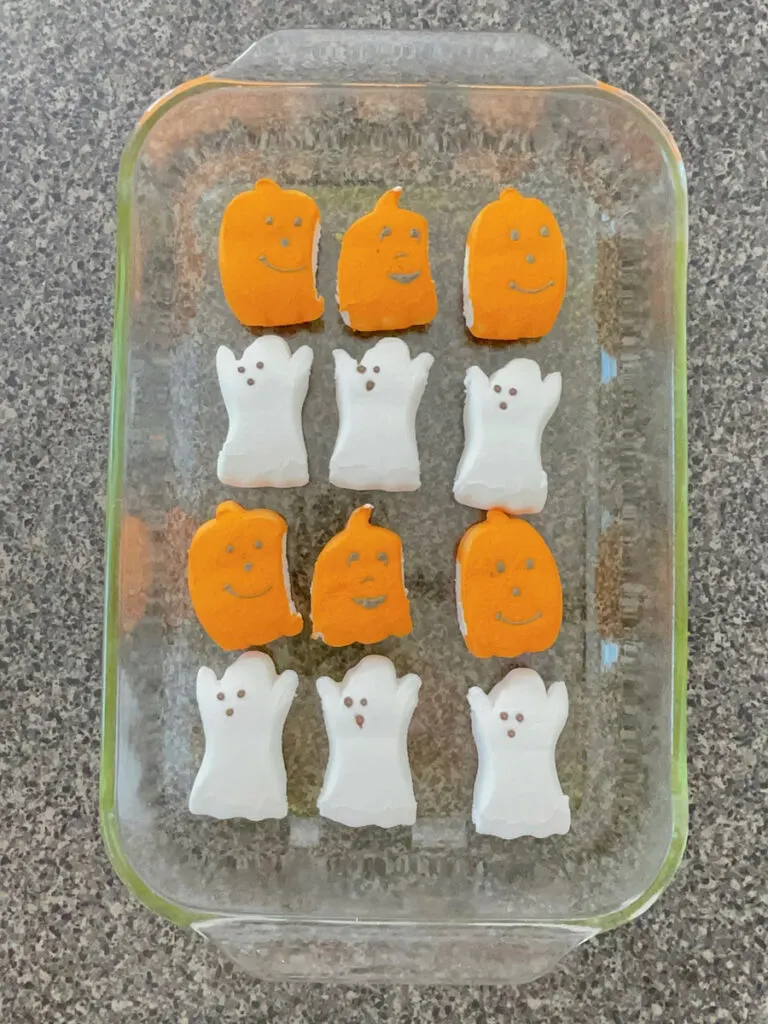 [3] Pour 3 cups of Rice Krispies cereal over the marshmallow Peeps.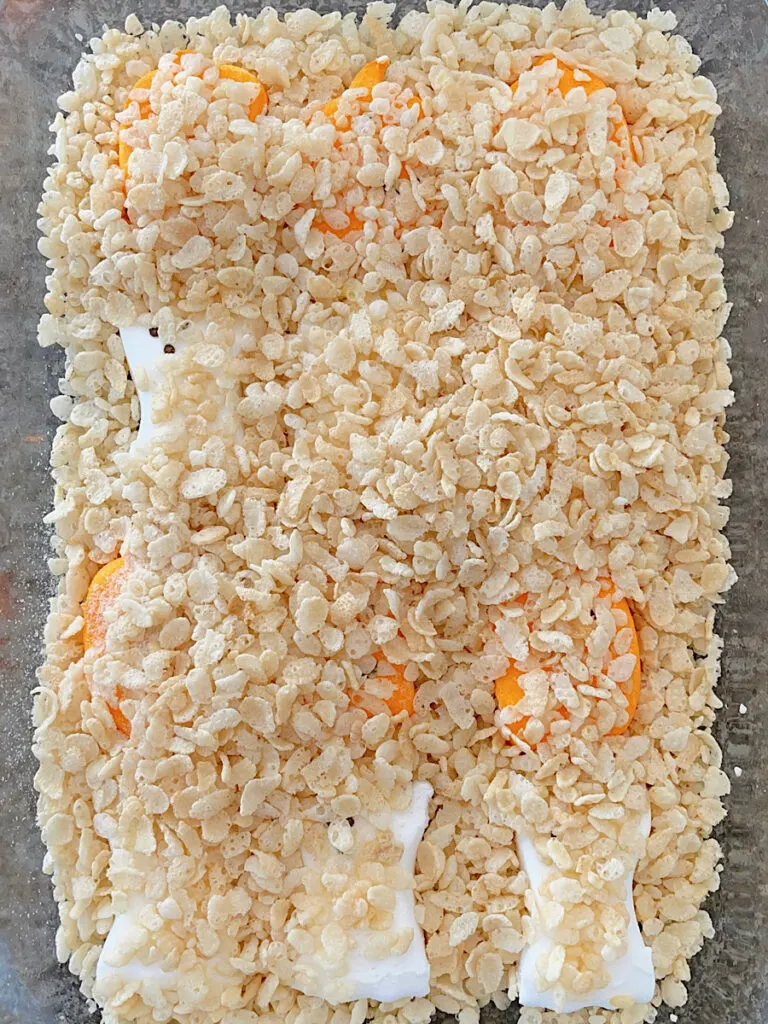 [4] Add another layer of 12 Peeps over the cereal.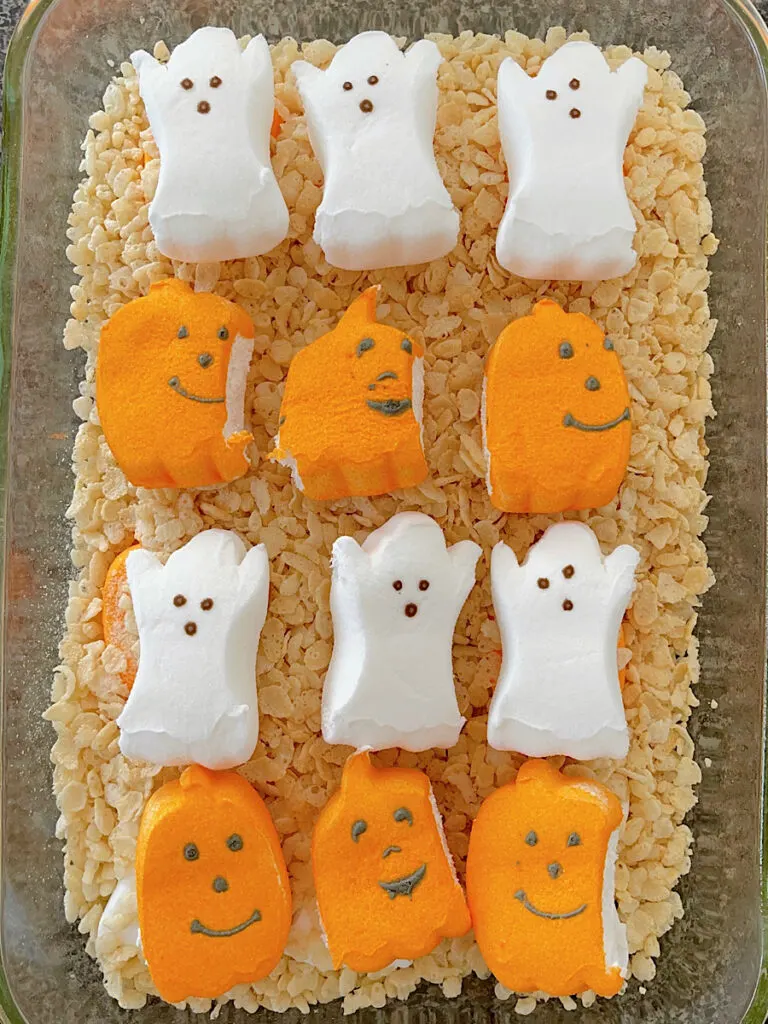 [5] Pour the remaining 3 cups of cereal over the Peeps.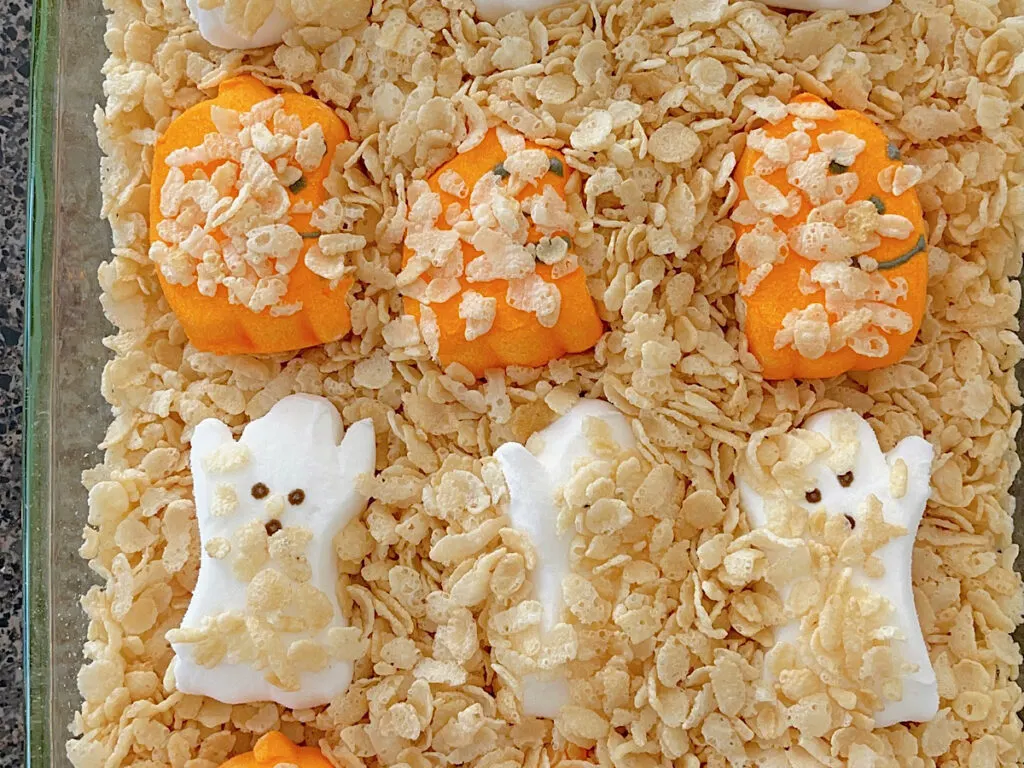 [6] Slice the butter and place on top of the cereal.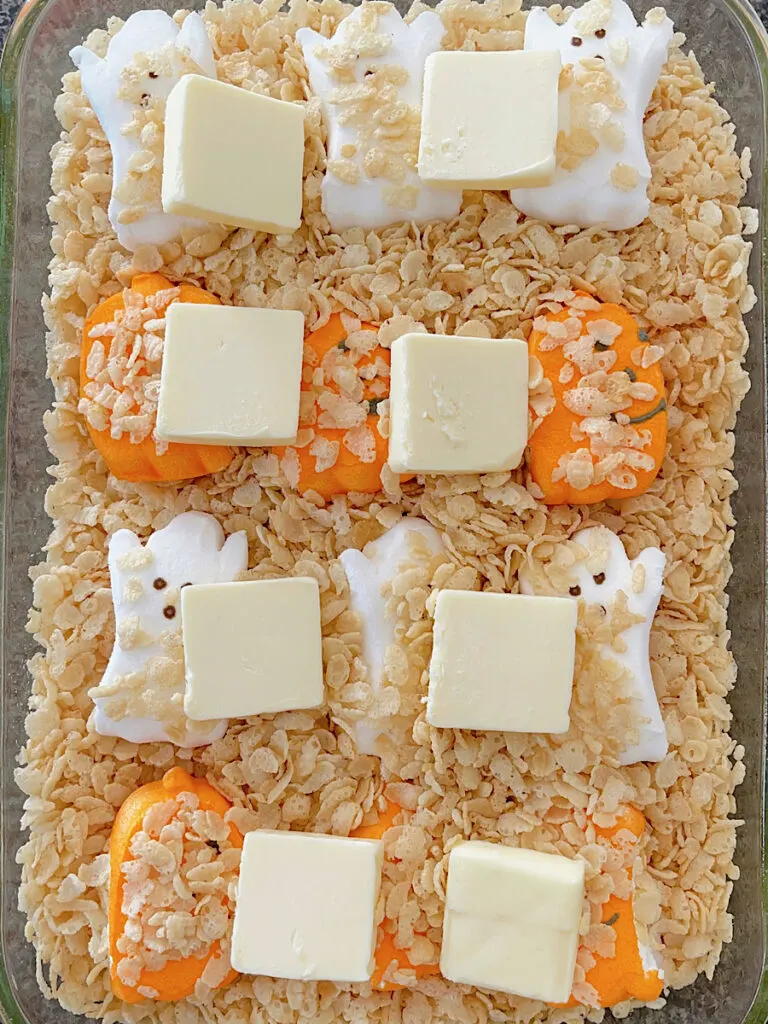 [7] Bake the treats at 350 degrees for 15 minutes to allow the marshmallows to melt.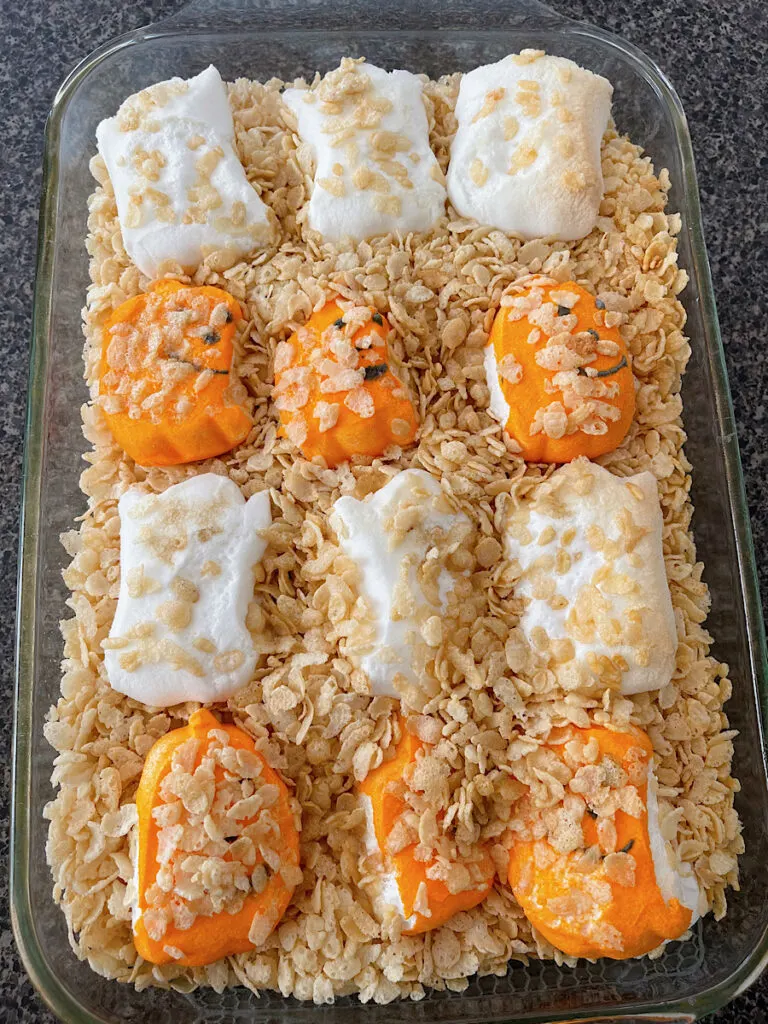 [8] Remove the dish from the oven and stir the contents until the cereal is covered with melted marshmallow mixture then press into the bottom of the pan.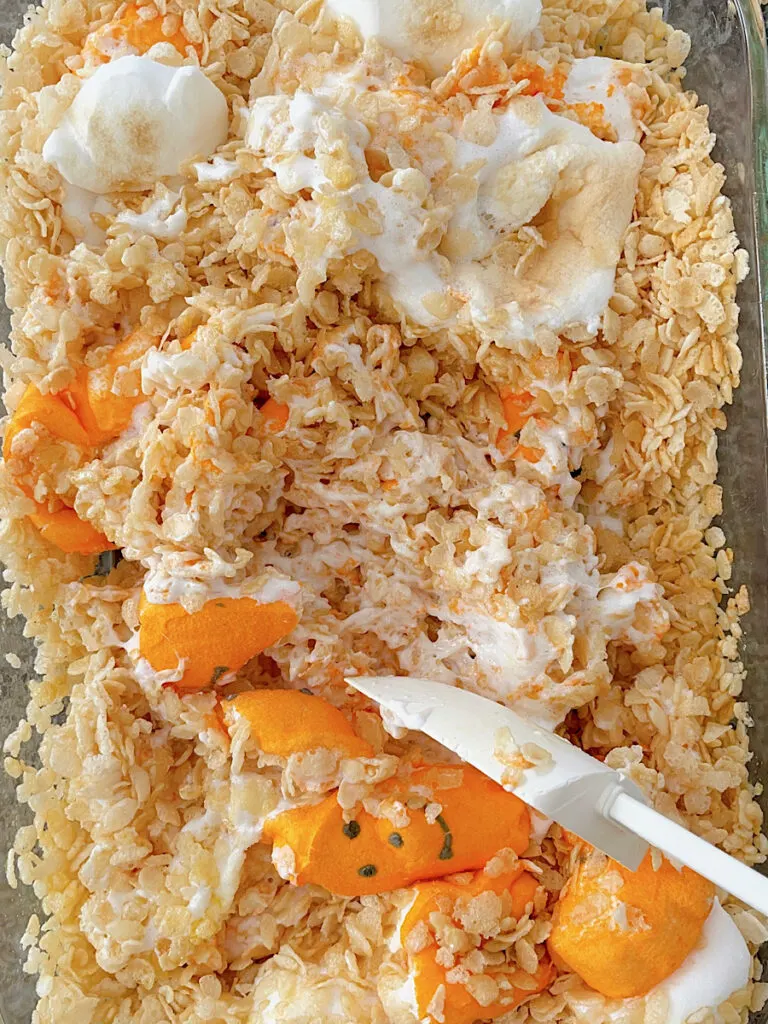 [9] Top the Rice Krispy treats with Halloween Sprinkles and allow the treats to cool for 1-2 hours before cutting into squares.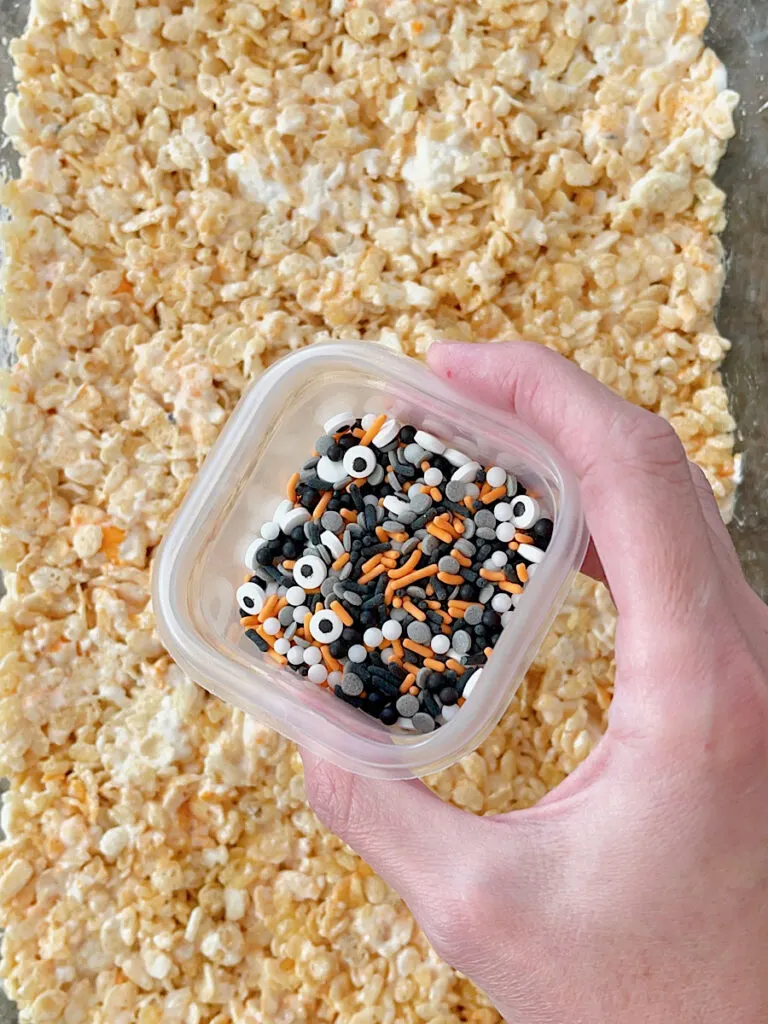 Helpful Kitchen Tools
How to Store Halloween Rice Krispies Treats
These Halloween homemade rice krispie treats can be stored in an airtight container at room temperature for up to 1 week.
If you want to make them ahead of time, you can freeze them for up to 3 months. Just be sure to wrap them tightly in plastic wrap or aluminum foil before freezing.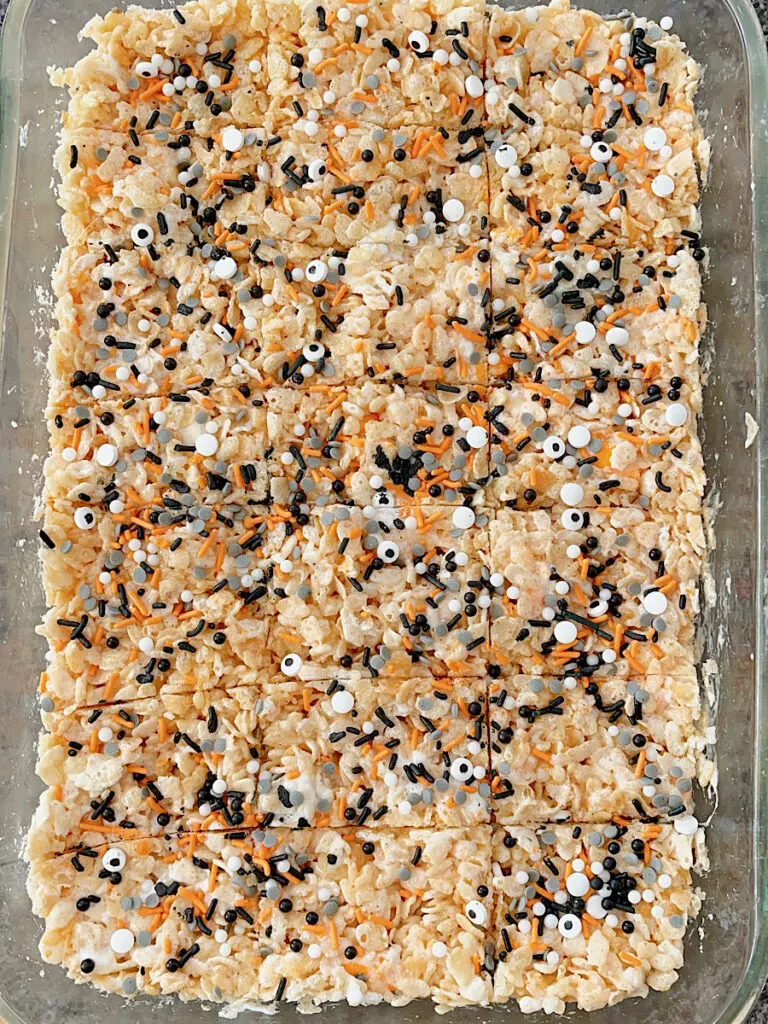 Halloween Treat Variation
A fun variation for these festive Halloween Rice Krispie Treats would be to dip one side of each square in melted white chocolate, melted chocolate chips, orange candy melts, or black candy melts, then top with sprinkles or crushed Halloween candy.
Frequently Asked Questions
Can I use regular marshmallows instead of Peeps?
Yes, you can! If you don't have Halloween Peeps or can't find them, you can use regular or mini marshmallows. The treats will still be delicious.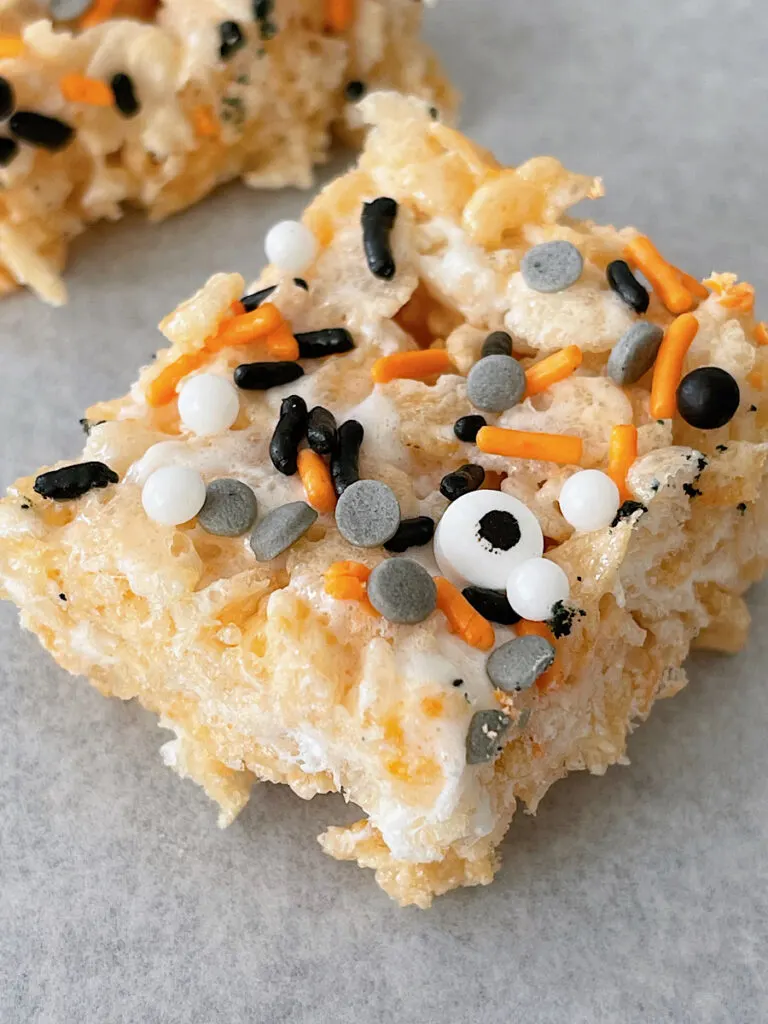 Can I make these with other holidays Peeps?
Yes! These would also be really cute made with Christmas Peeps or Easter Peeps.
Can I use a different kind of cereal?
I think these fun Halloween Rice Krispie Treats are best made with Rice Krispies cereal, but you could try using another type of puff cereal like Cheerios.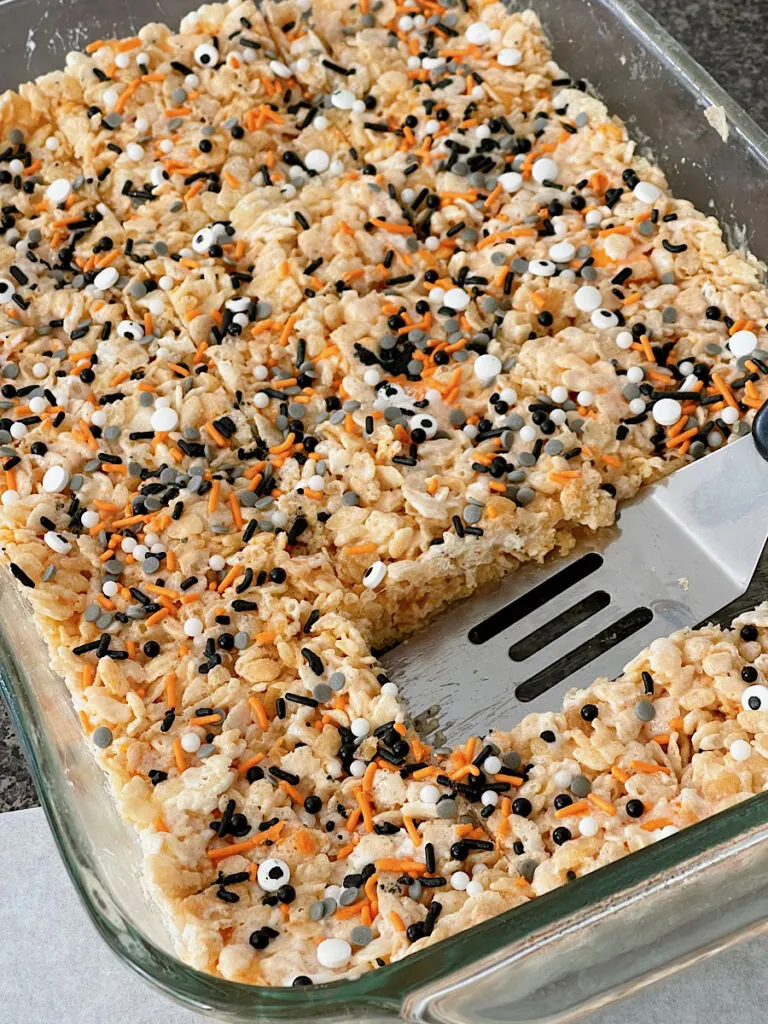 More Cereal Treats:
Pumpkin Rice Krispie Treats
Pin for later: