Want to know how to make Rice Crispy Treats from scratch? This recipe for The BEST Rice Krispie Treats takes the original recipe and raises the bar on this classic sweet treat! With the addition of extra butter and some vanilla extract, you'll love how soft and chewy this classic treat can be. This is the only Rice Krispie Treat recipe you will ever need!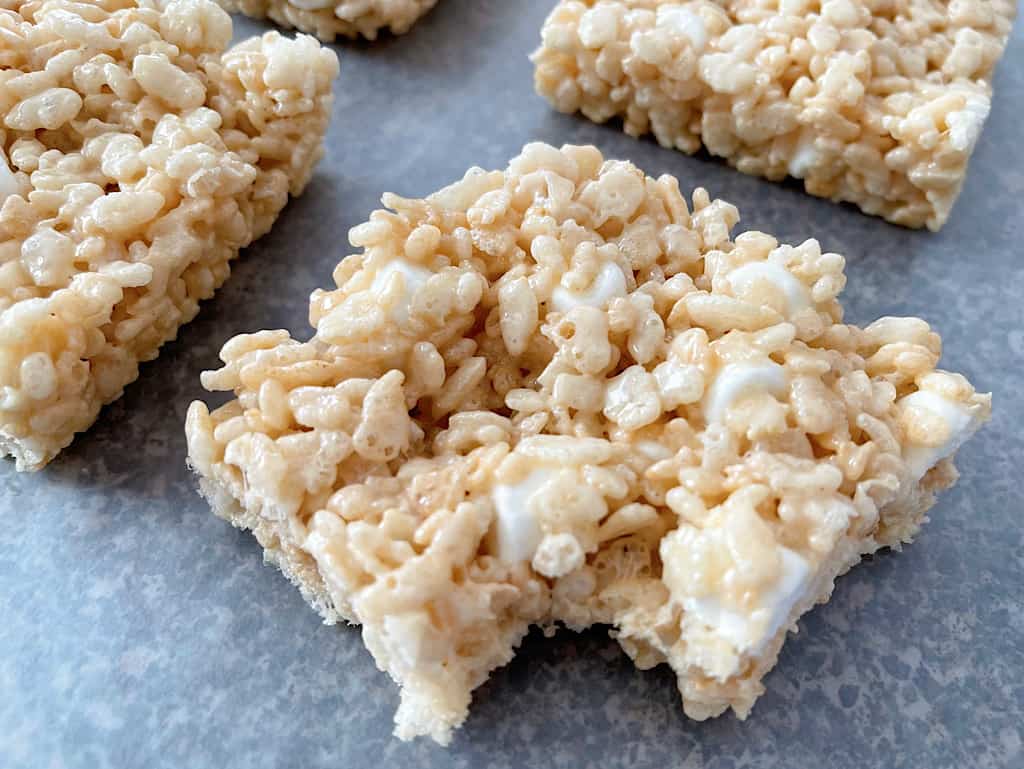 This post may contain affiliate links. When you click on these links, I get a small percentage back at no cost to you! For more information see my disclosure policy.
Below you will find tips, tricks and helpful hints for making this recipe including step by step instructions with pictures. If you would like to go directly to the recipe, scroll down to the recipe card or tap "Jump to Recipe" at the top of the page.
My family has an extreme love for Rice Krispie Treats. Whenever Grandma comes over to visit, she ALWAYS brings a box of Rice Krispie Treats for my boys and they LOVE it!
They love the store-bought, pre-made Rice Krispies Treats, but they can't get enough of homemade treats!
Tips for Making the Best Rice Krispie Treats
I have had some really good homemade Rice Krispie Treats, but I've also had some that were just, meh.
But, if you follow this recipe and use the tips below, your treats will turn out soft, chewy, and amazing!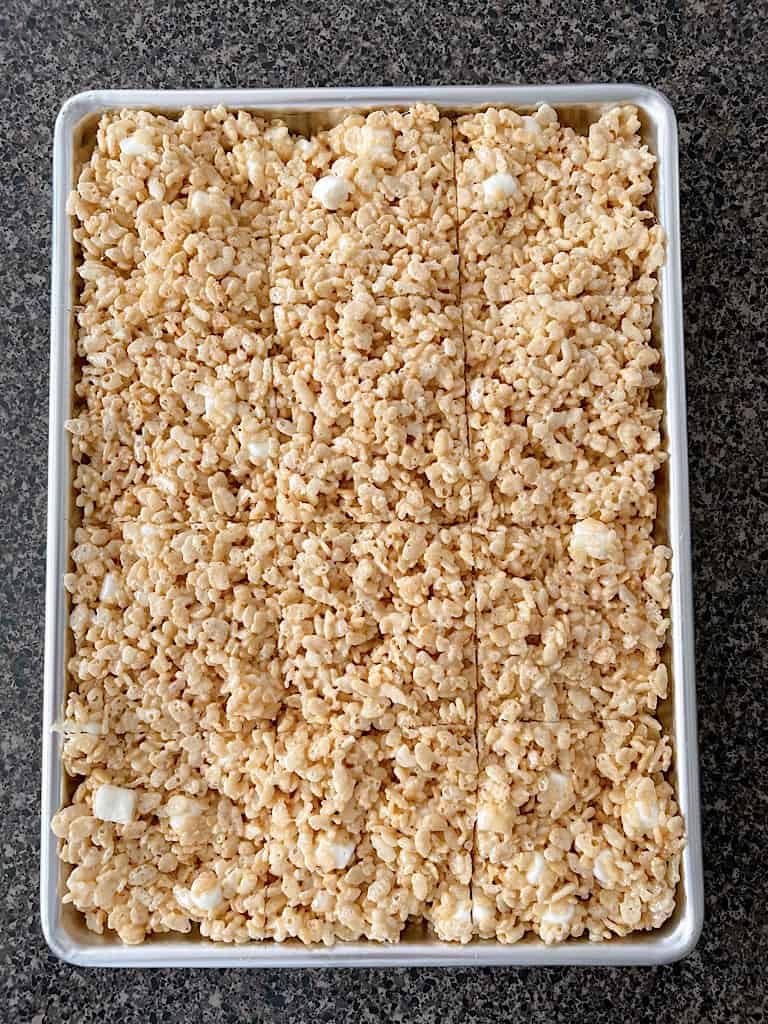 How to Get Soft Rice Krispie Treats
I've seen a lot of people ask, "Why do Rice Crispy Treats get hard?" It is a very common problem when making Rice Krispie Treats from Scratch.
One reason they get hard is because of high heat. The key to getting soft treats is to use low heat!. Use low heat when melting the butter and keep it on low when mixing in the marshmallows.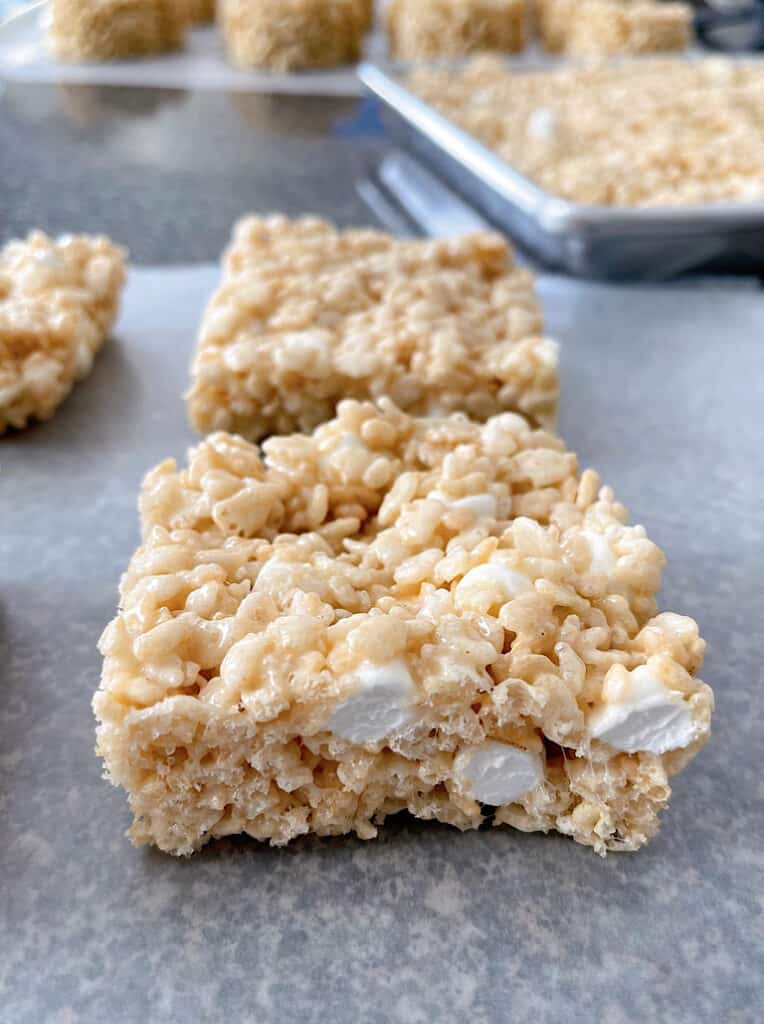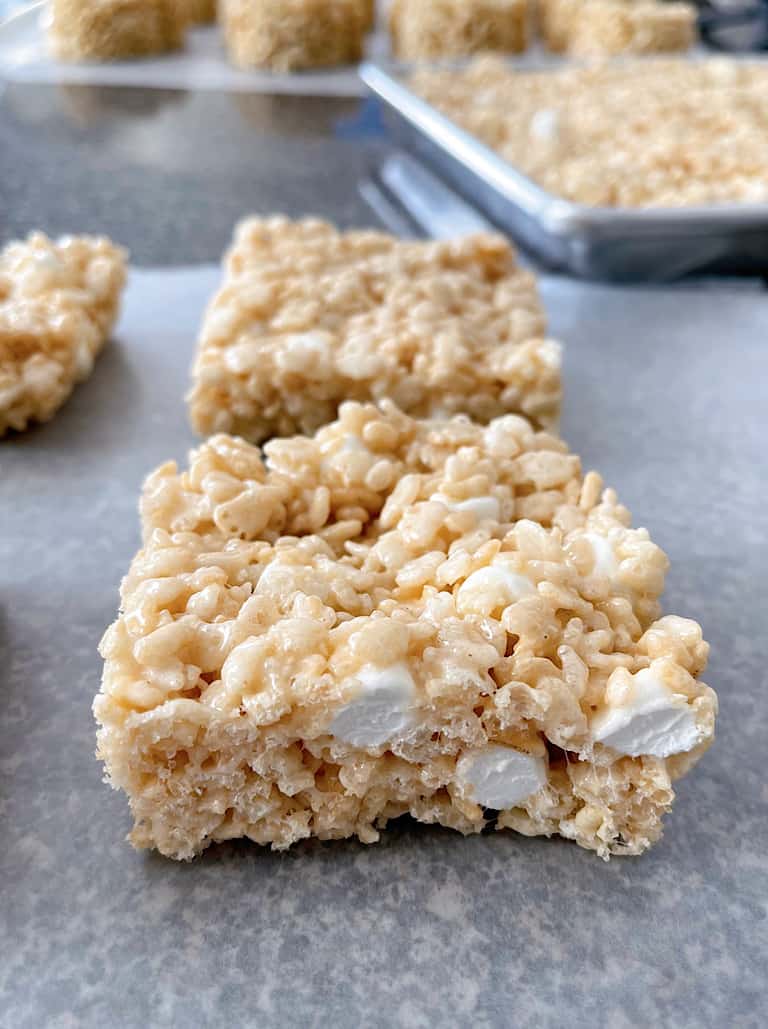 Another reason Rice Krispie Treats get hard is because they were pressed too hard when being formed. When you press the warm Rice Krispie/marshmallow mixture into your pan, do it gently and don't press too hard.
How to Store Rice Krispie Treats
If you want your Rice Krispie Treats to last for a couple of days, you will want to store them in an airtight container.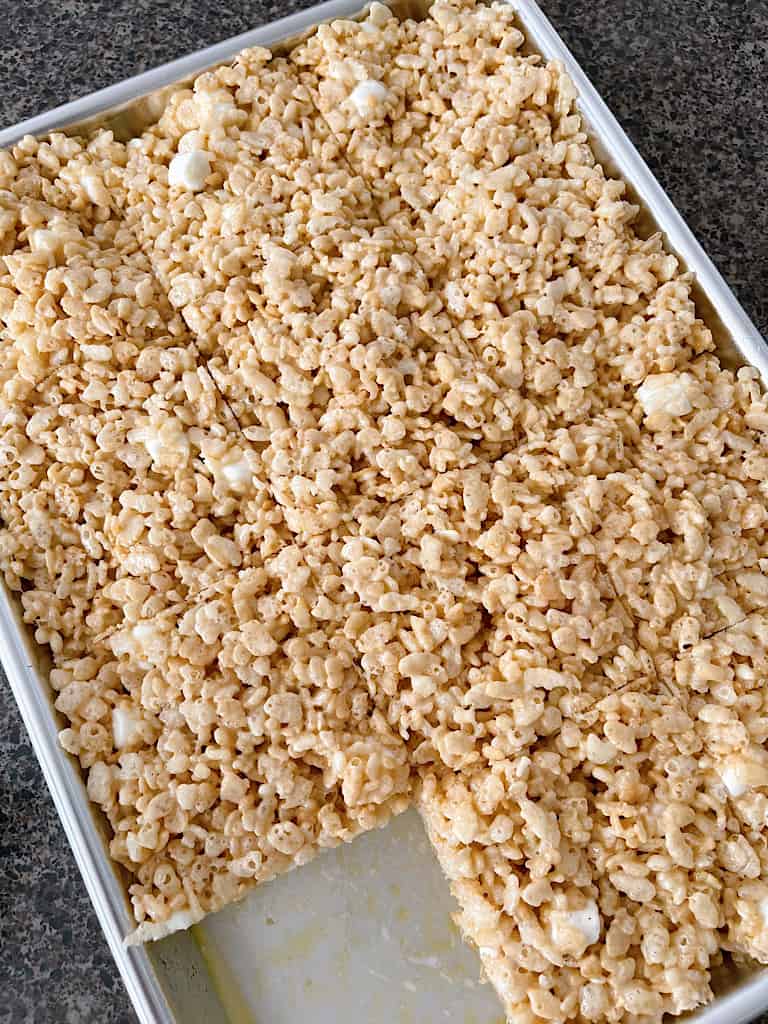 Doing this they should stay soft and fresh for two days, maybe three, but they are always gone on the first day at my house, so this isn't a problem.
If you want to keep them fresh longer than two days, you can definitely freeze them for up to six weeks.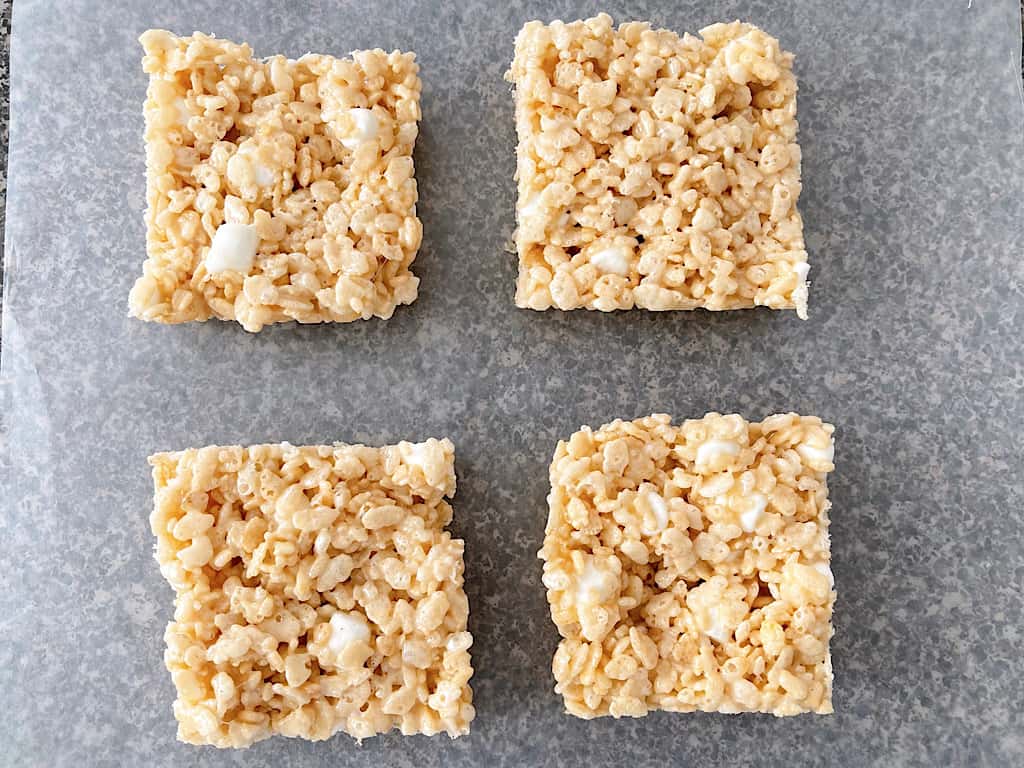 To do this, cut the treats into individual servings, wrap them in plastic wrap, then keep them in the freezer in an airtight container.
What to Do if Rice Krispie Treats Are Hard
If your Rice Krispie Treats become hard after removing them from the freezer, or if they have been exposed to air for too long, don't worry, there is a solution.
Just place a treat in the microwave for 5-10 seconds and it will be soft and chewy again in no time!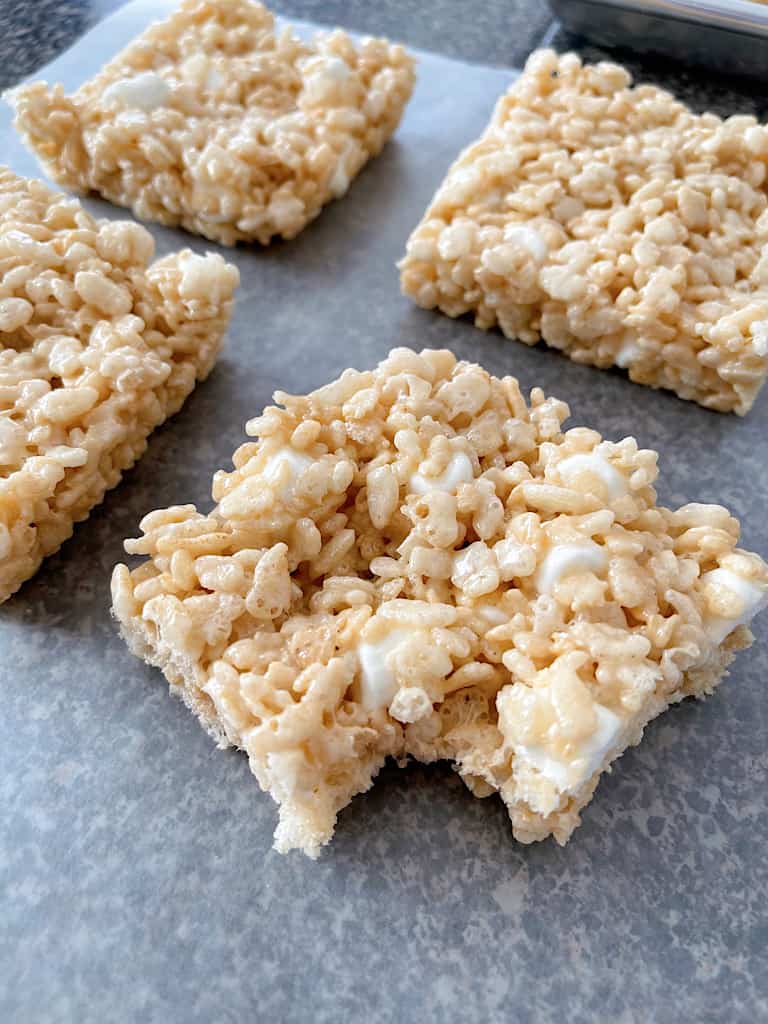 How to Keep Rice Krispie Treats from Sticking to Your Hands
One of my pet peeves when making Rice Krispie Treats is getting them stuck all over my hands. I have found a few methods that will help prevent this.
On way to keep Rice Krispie Treats from sticking to your hands when making them is to rub your hands with butter or margarine.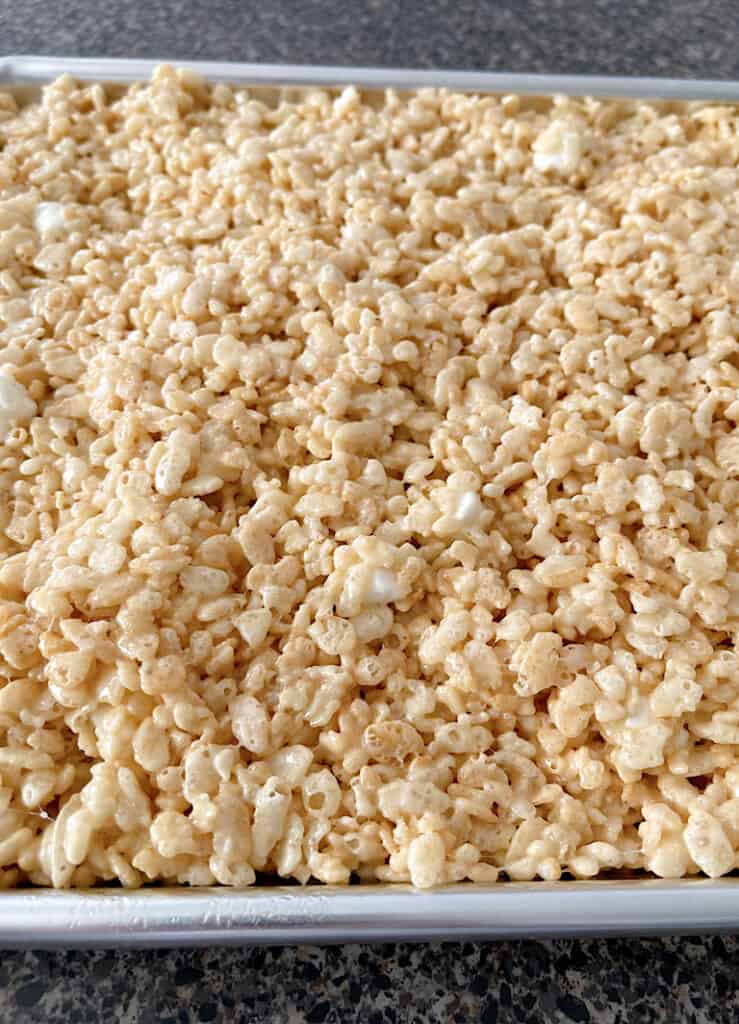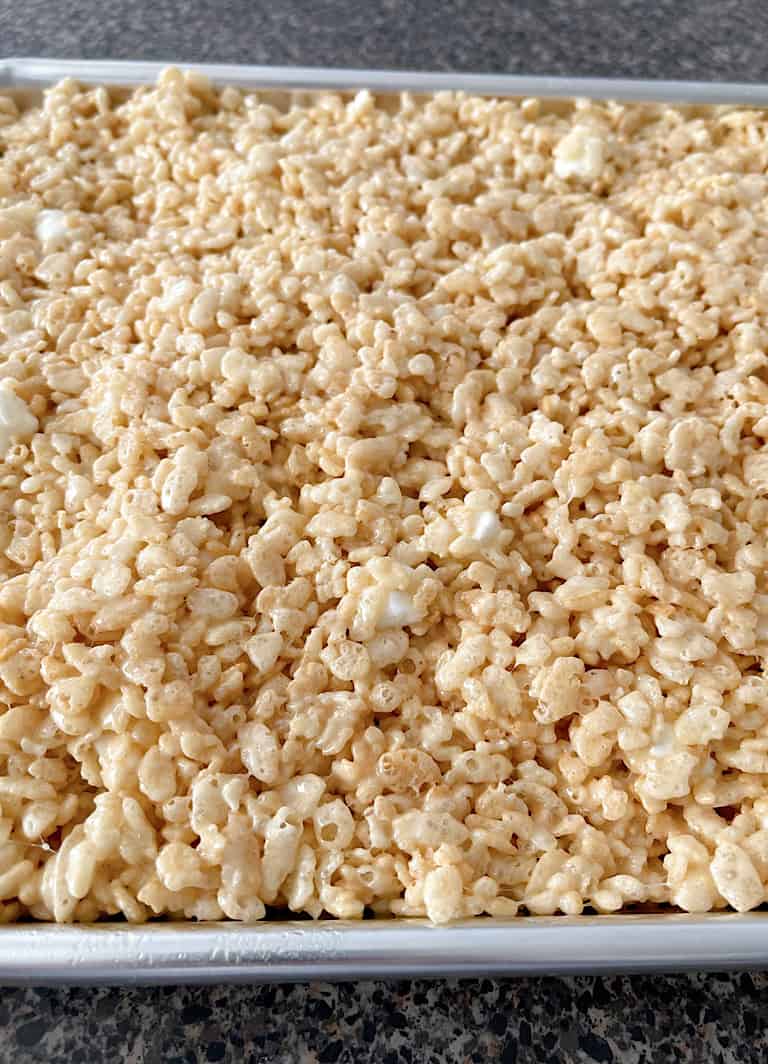 You can also spray your hands with a little bit of cooking spray. But, my favorite method is to wet my hands with a little bit of cold water. It works like a champ, every time!
Can You Substitute Marshmallow Cream for Marshmallows
Yes! Although I prefer to use mini marshmallows, I have actually used a 7-ounce jar of marshmallow creme in place of a bag of marshmallow when making Rice Krispies Treats.
For this recipe though, you will mix in one cup of unmelted marshmallows for extra chewiness, so using marshmallow creme will work, the treats will just be slightly less chewy.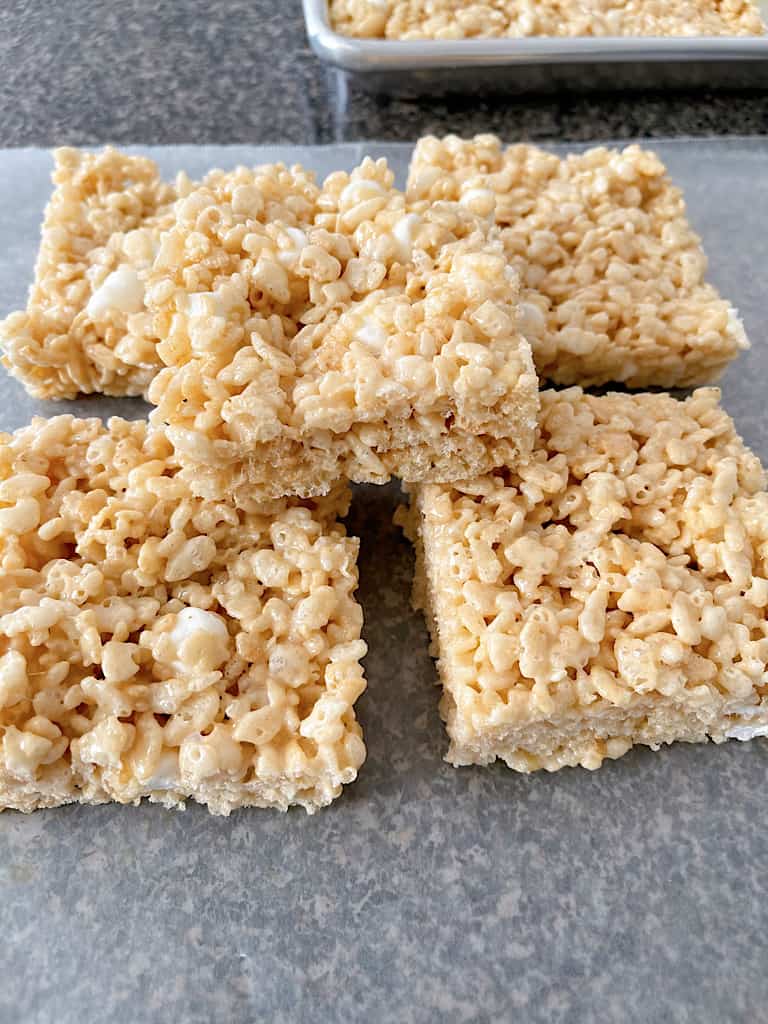 What Makes This The BEST Rice Krispie Treats Recipe?
Well, I have taken the original Rice Krispies Treats recipe that is found on the side of the Rice Krispies box, and made it better. I'll tell you how.
First, butter. The original recipe calls for 3 Tablespoons of butter. You will see that this recipe uses 6 Tablespoons. Why? Because butter is delicious. Also, it gives the Rice Krispie treats a rich, buttery flavor.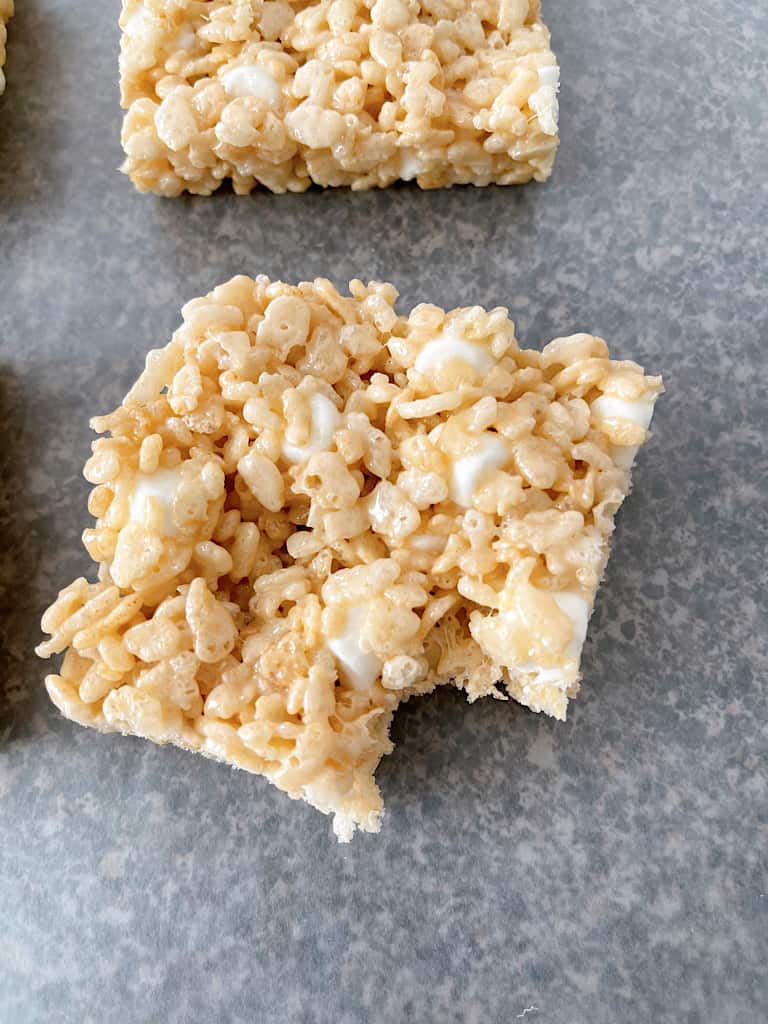 Second, vanilla extract. I've learned over the years that vanilla extract enhances the flavor of almost every sweet treat. If you click around my website and check out some of my Disney recipes, you will see that most of them use a little bit extra vanilla.
Third, unmelted marshmallows. When making this recipe, you will reserve one cup of mini marshmallows to mix in, just before letting the treats cool. Doing this, keeps these marshmallows from melting and adds extra chewiness. It is so good.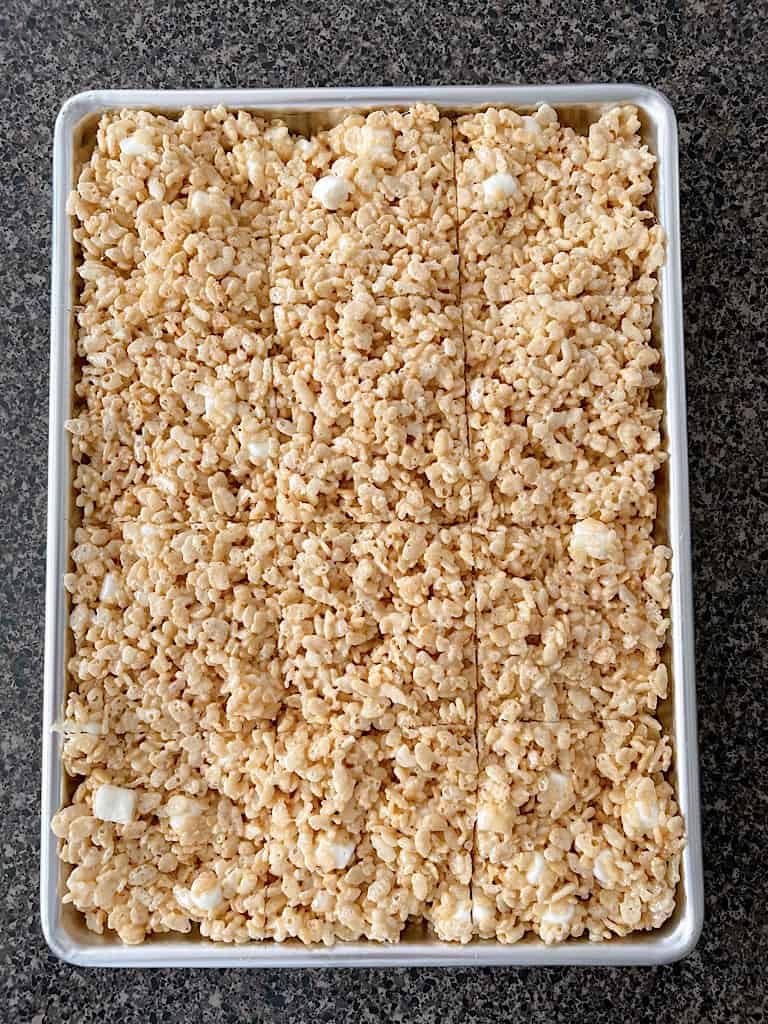 Rice Krispie Treat Ingredients
*Ingredient amounts are located in the recipe card at the end of this post.
Butter: Use salted or unsalted butter. If using unsalted, add a pinch of salt to the marshmallow mixture.
Marshmallows: Make sure to use fresh marshmallows to get the best results.
Vanilla Extract: I like to use pure vanilla extract, but imitation vanilla will work as well.
Rice Krispies Cereal: I prefer the name brand but you can use your favorite brand of crispy rice cereal.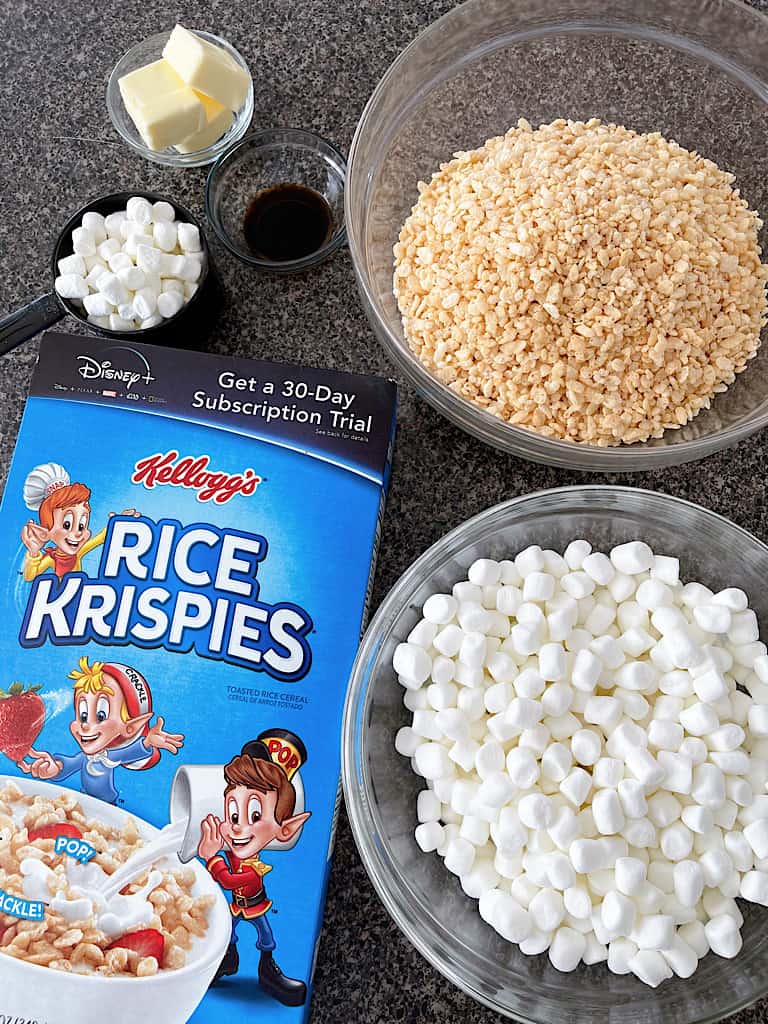 How to Make Perfect Rice Krispie Treats From Scratch
[1] Melt the butter in a saucepan over medium heat.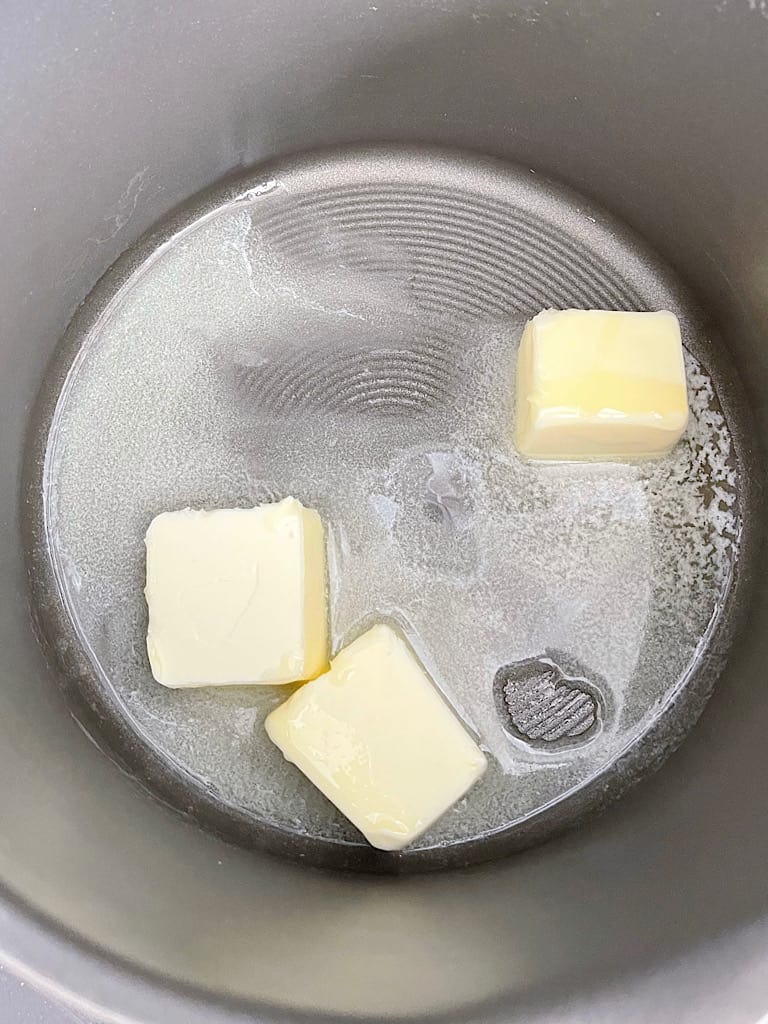 [2] Remove 1 cup of marshmallows from the bag and set aside. Add the remaining marshmallows to the melted butter and stir over low heat until the marshmallows have melted and there are no lumps.
[3] Remove the marshmallow mixture from the heat and stir in the vanilla extract.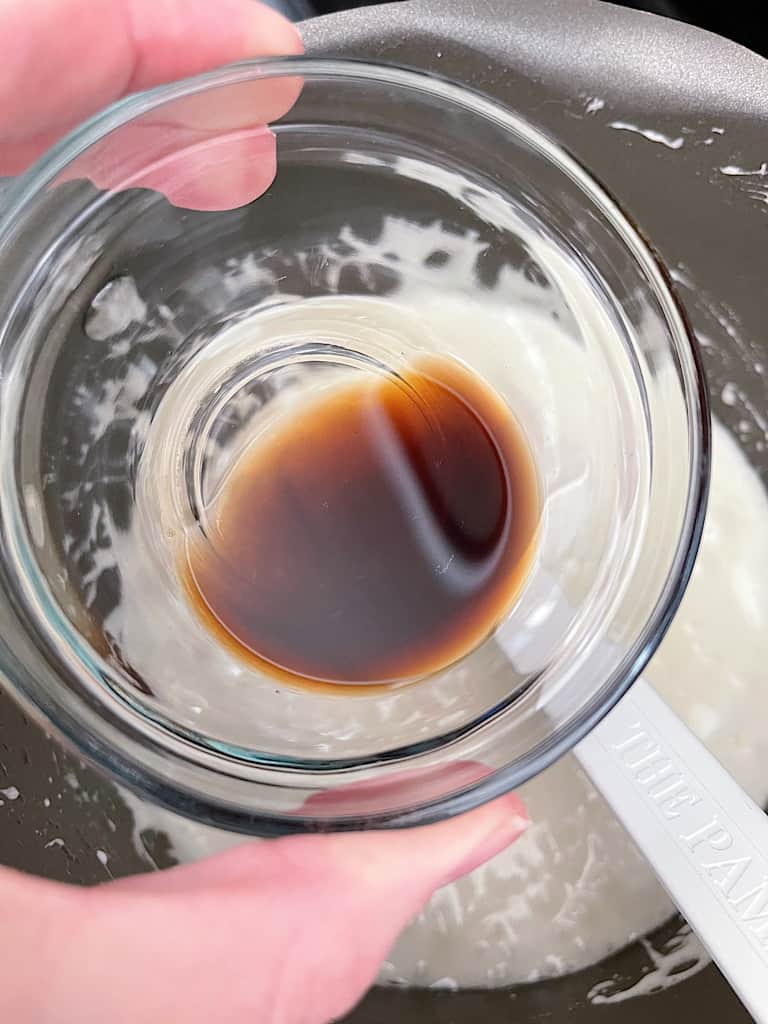 [4] Place the Rice Krispies cereal in a large bowl. Pour the marshmallow mixture over the Rice Krispies and stir until fully incorporated.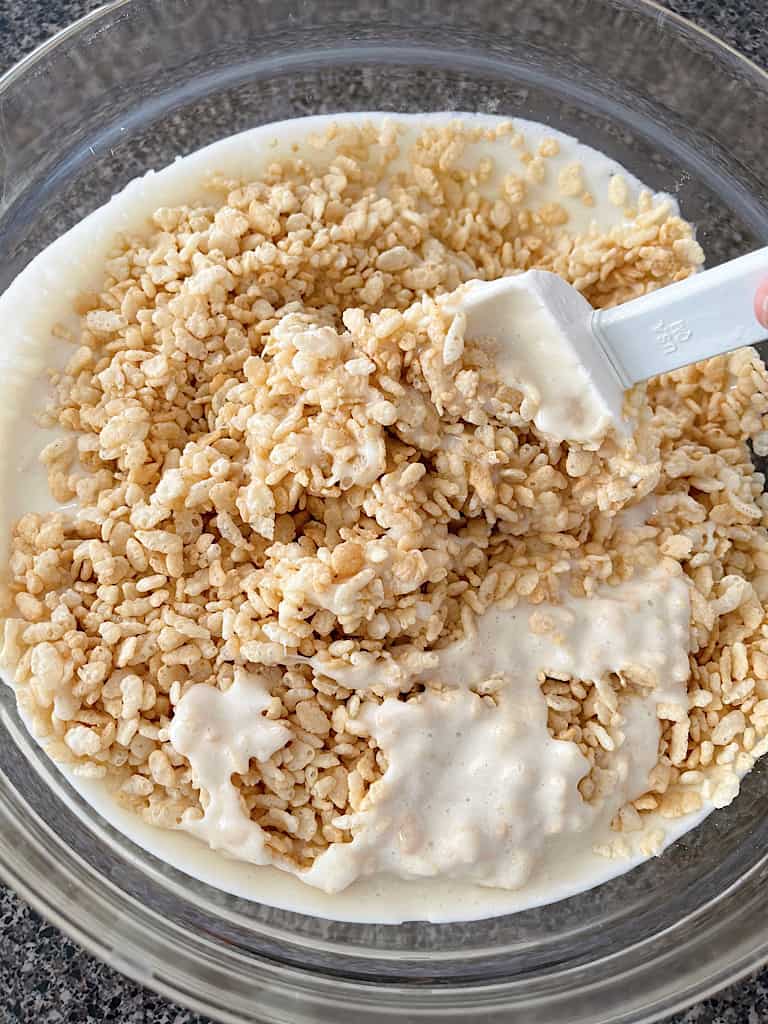 [5] Mix in the extra marshmallows.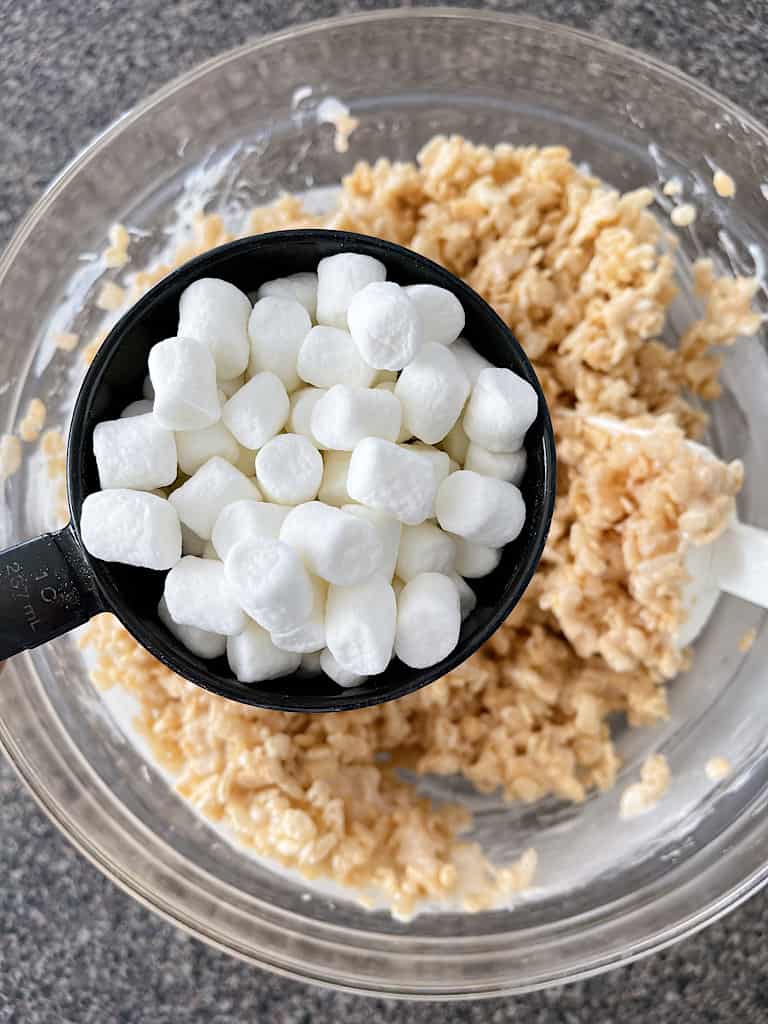 [6] Grease a 9×13 pan or baking sheet with nonstick cooking spray, or add parchment paper.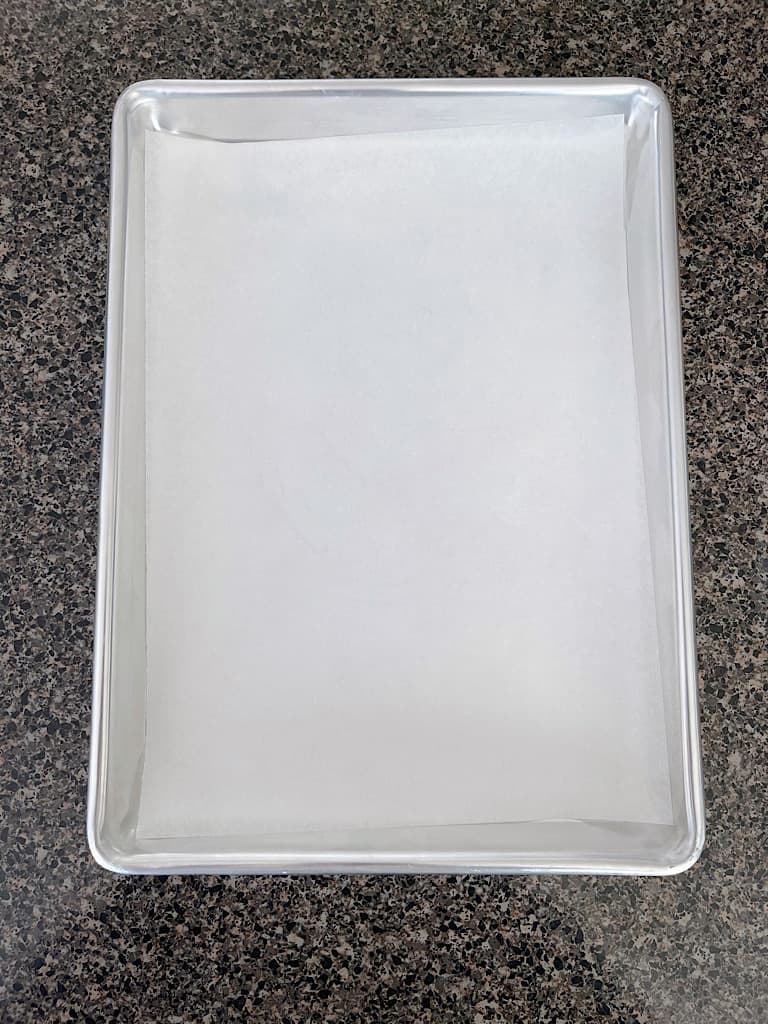 [7] Pour the Rice Krispies mixture onto the pan and gently press to spread it out. Don't press too much, or the treats will become hard later.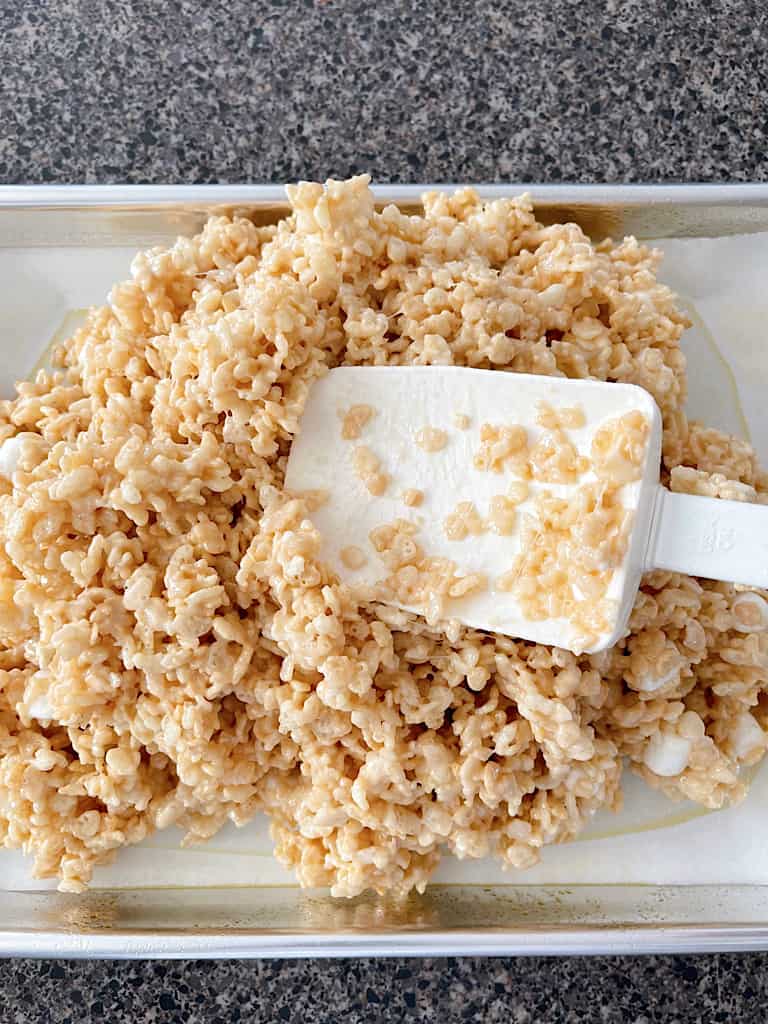 [8] Allow the Rice Krispies Treats to cool to room temperature and then cut into squares. Keep them covered in an airtight container and they should taste good for 2-3 days.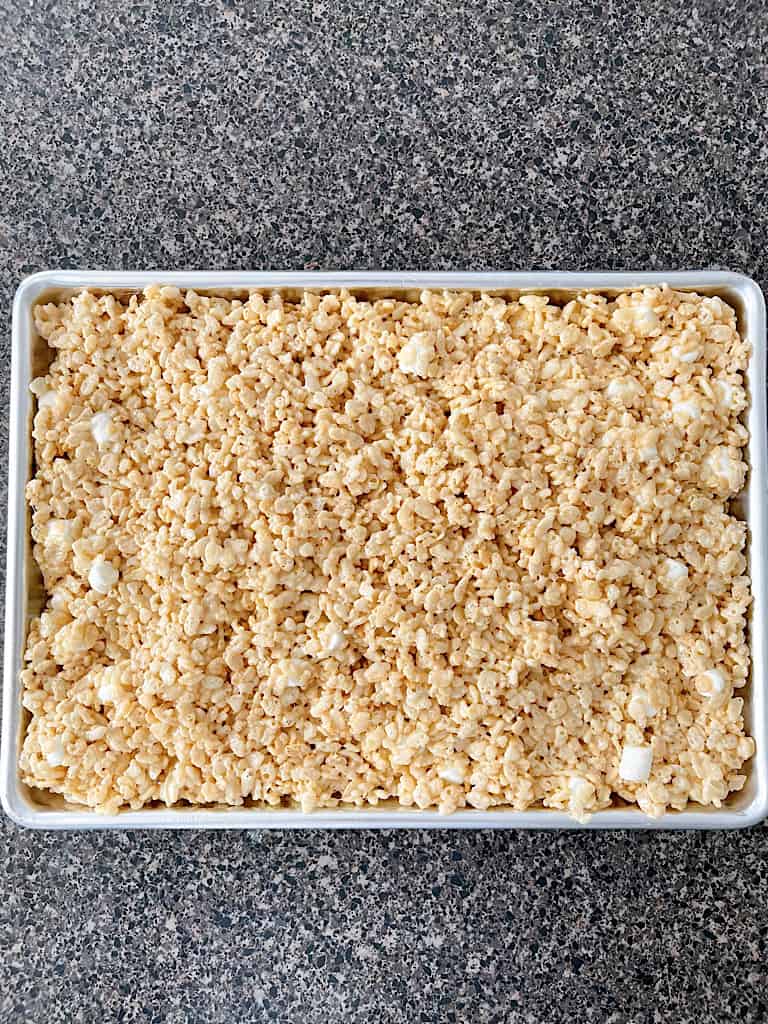 Helpful Kitchen Items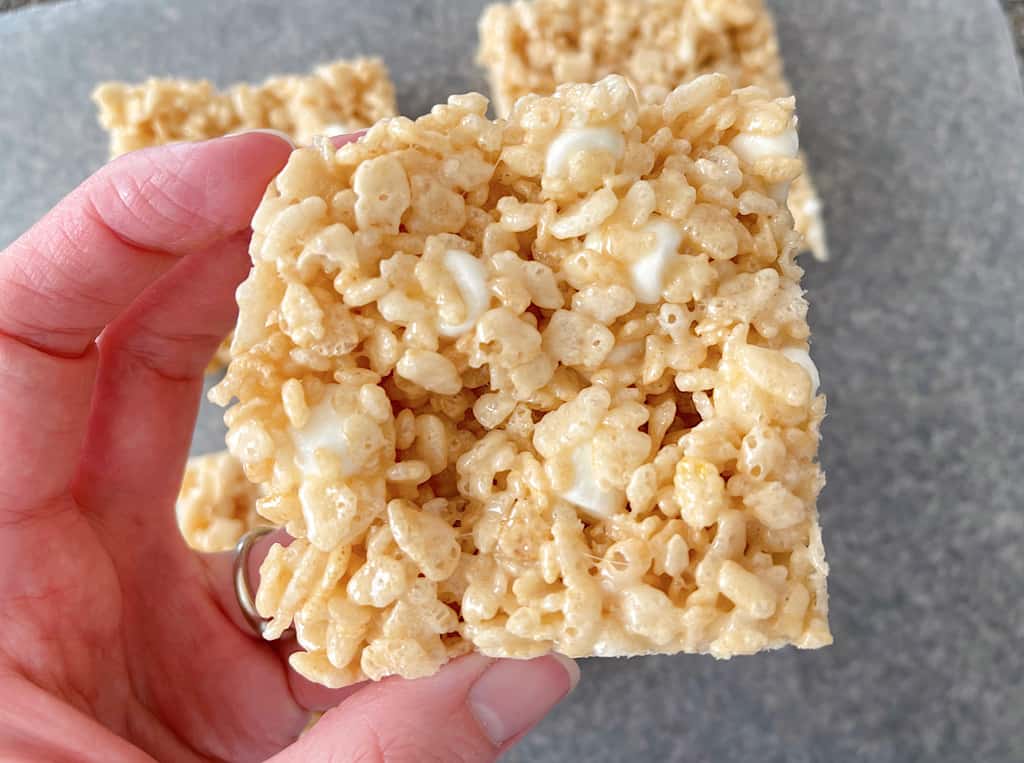 More Cereal Treat Recipes (No Bake Dessert):
Watch the Video Here: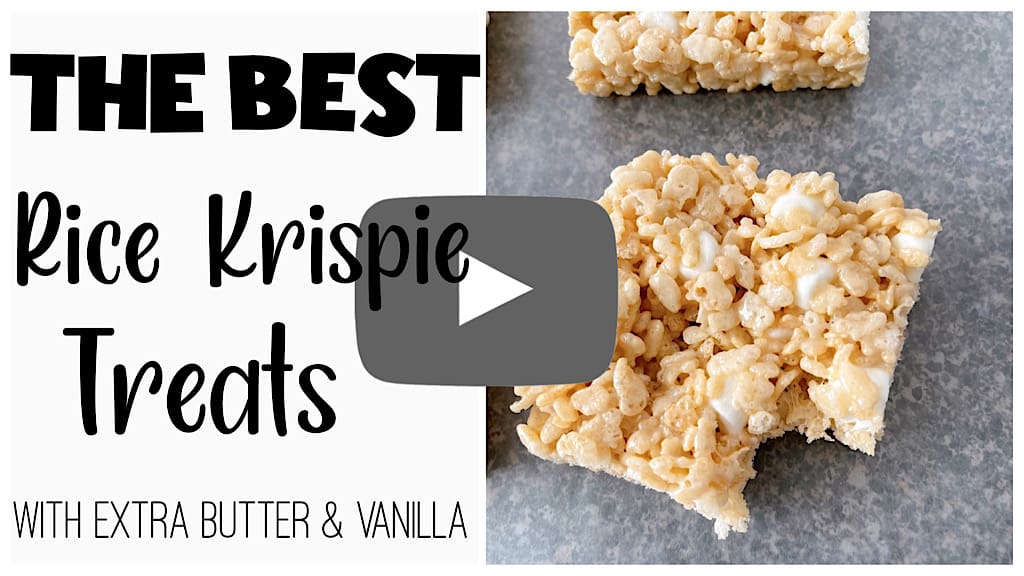 Pin for later: