Spending the Holidays at the Disneyland Resort is such a magical time of year to visit and there's so much to see and do. I'll give you a little tour of what we did on all three days of our visit and share some of my favorite attractions, activities, and Genie+ tips. So come along with me and let's explore Disneyland during Christmas together!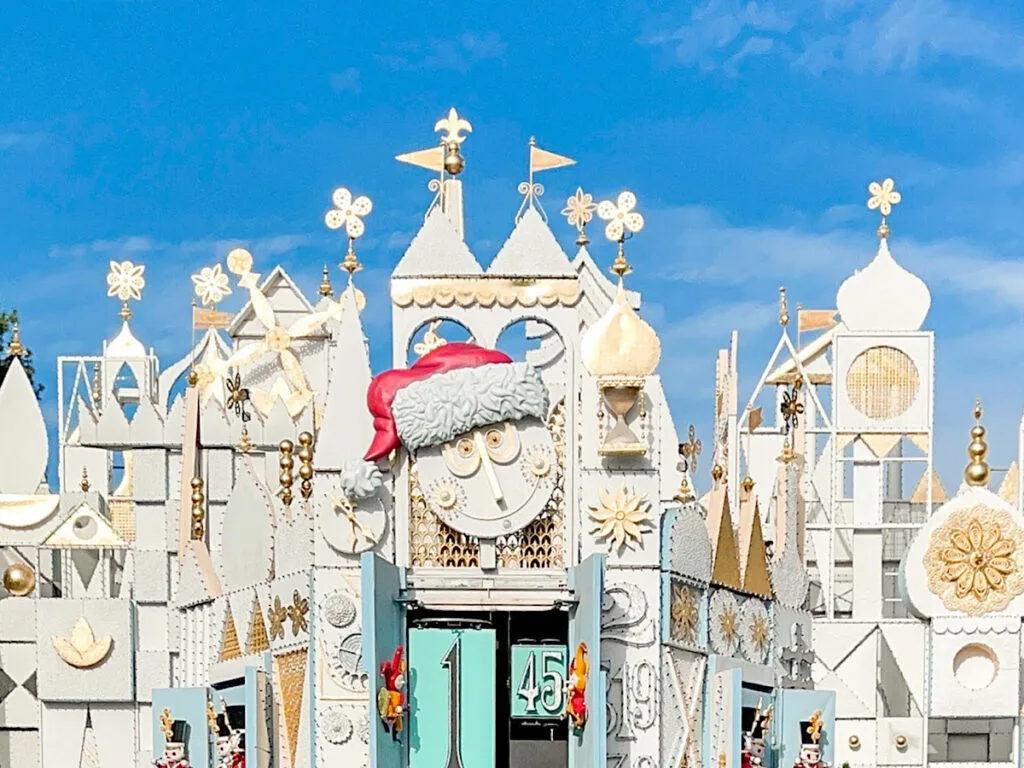 This post may contain affiliate links. When you click on these links, I get a small percentage back at no cost to you! For more information see my disclosure policy.
Discount Disneyland Tickets
My travel partner, Get Away Today, offers park tickets that are always a few dollars less than what you can purchase directly from Disney. I have been buying my tickets for them for many years and their customer service can't be beat! You can check ticket prices here.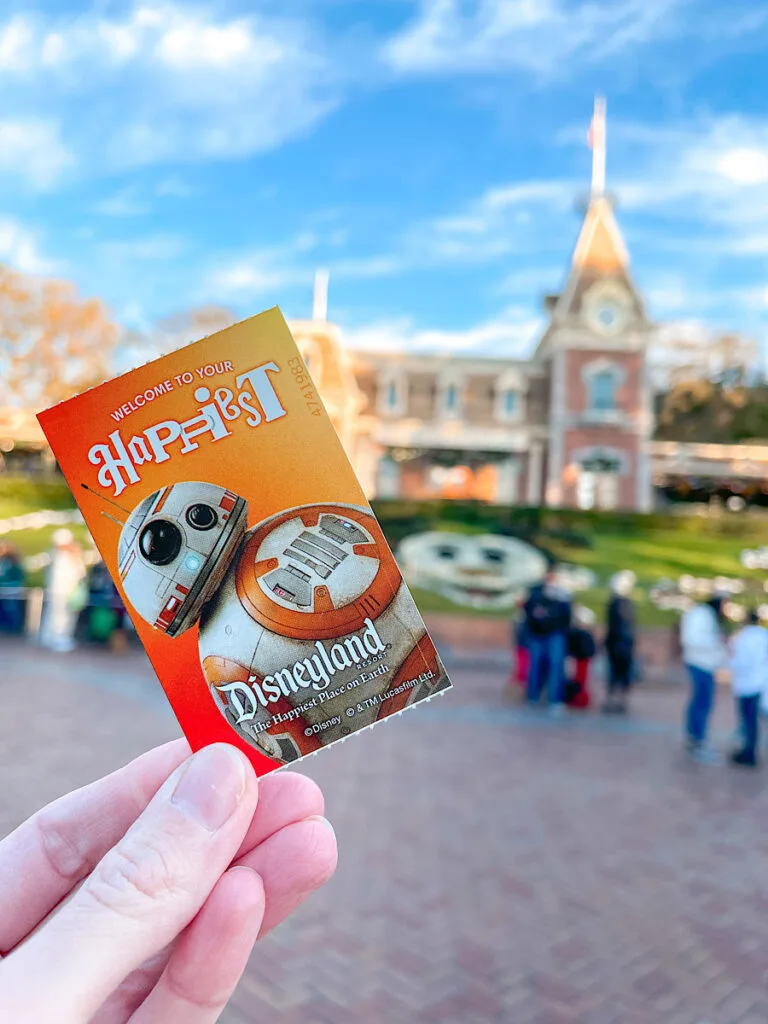 You can save even more when booking your tickets in a vacation package combined with a hotel stay. Get Away Today often offers deals through many Disneyland Good Neighbor hotels where you can get a 3rd or 4th night free! And they offer amazing layaway plans!

And, my readers can use the coupon code: Clubhouse10 to save even more on a 2-night or longer Southern California vacation package! You can check package prices for your next trip here or give them a call at 855-GET-AWAY and tell them Mommy Mouse Clubhouse sent you.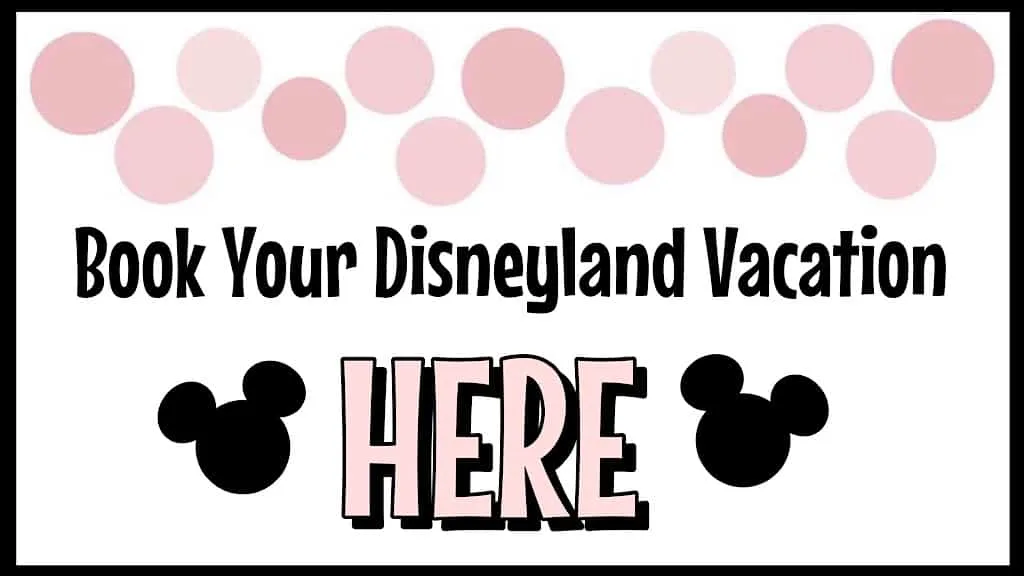 Christmas at Disneyland Review
Get ready to experience the magic of Disneyland like never before! This holiday season, why not make a trip to the happiest place on Earth and spend three days taking in all that it has to offer?
From classic attractions, seasonal entertainment, festive dining experiences and more – there's something for everyone. We'll share all our tips and tricks on how to make the most out of your three-day visit so that you can create lasting memories and take home an unforgettable experience.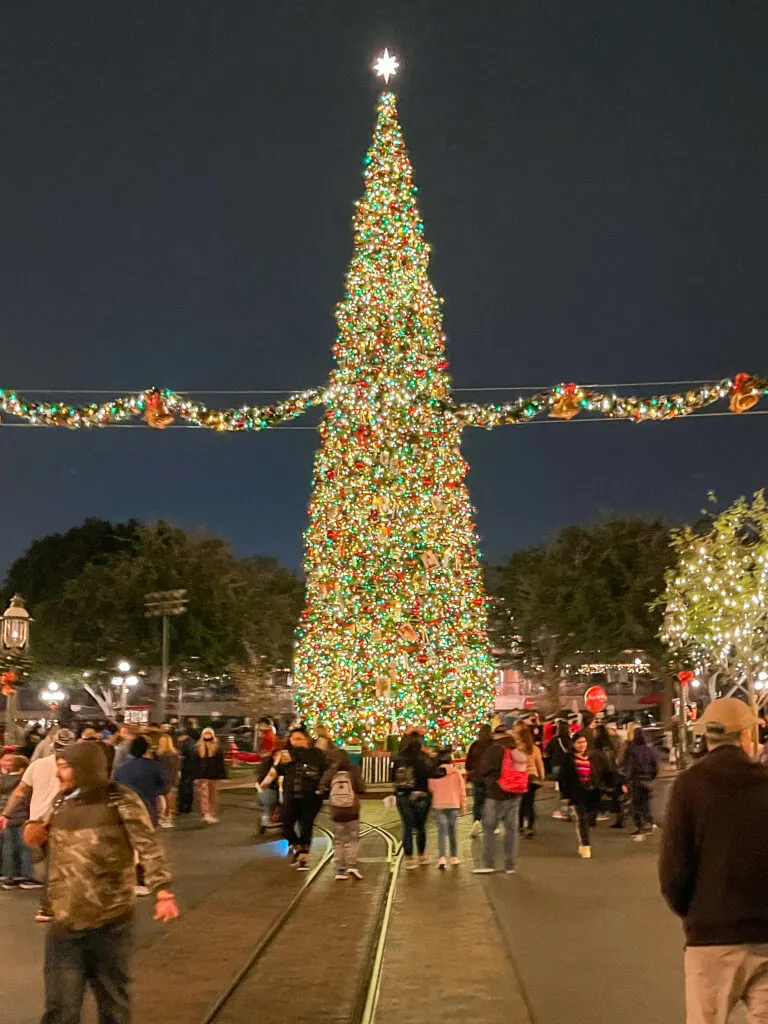 Early Entry 7:30 AM
For this Disneyland trip, we decided to go all out and stay at the Disneyland Hotel. One of the perks of staying at a Disneyland resort hotel, is early entry. Early entry allows you to enter either Disneyland or Disney California Adventure 30 minutes before the park opens to everyone else.
At Disneyland, only Fantasyland and Tomorrowland are open for early entry so We chose to head straight to Space Mountain to take advantage of the super short wait time.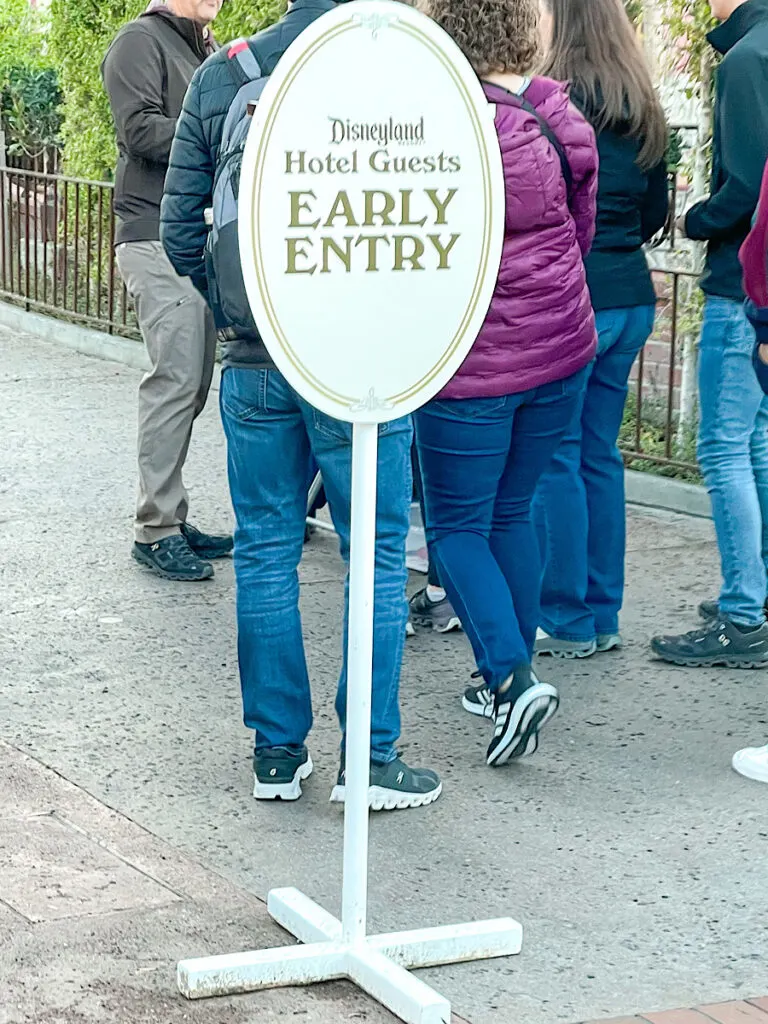 Space Mountain
While waiting to board, I made our first Genie+ Lightning Lane Selection for Haunted Mansion Holiday between 8:05 and 9:05.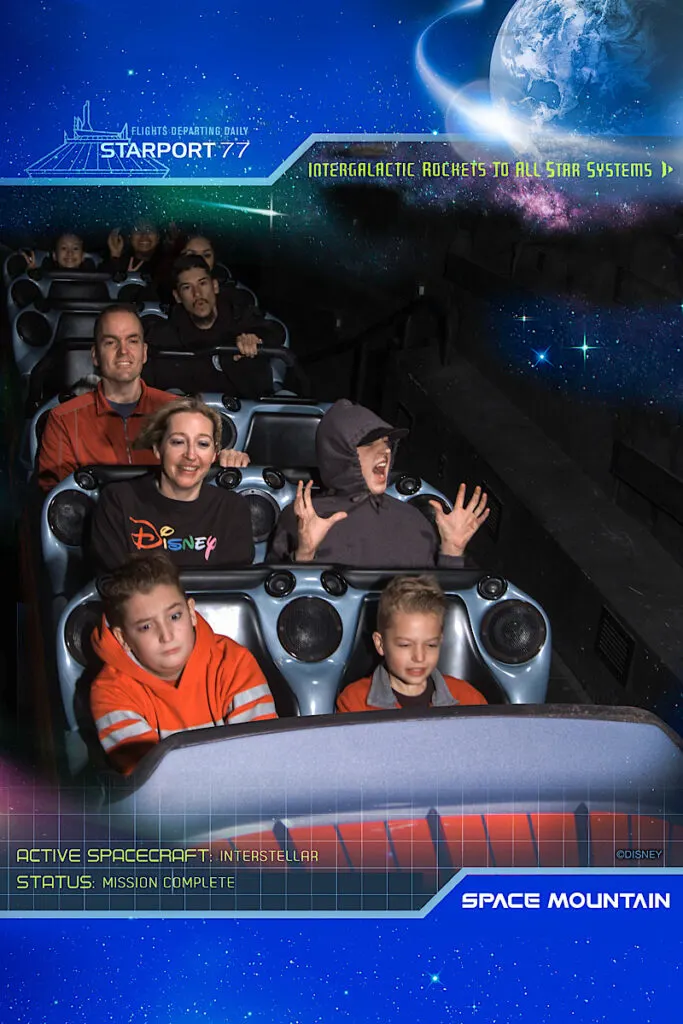 After riding Space Mountain, it was about 7:45 so we had 15 minutes before rope drop and thought it would be a good idea to ride Space Mountain one more time. If you have any issues with roller coasters or motion sickness, I do not recommend riding back to back. I found this out the hard way.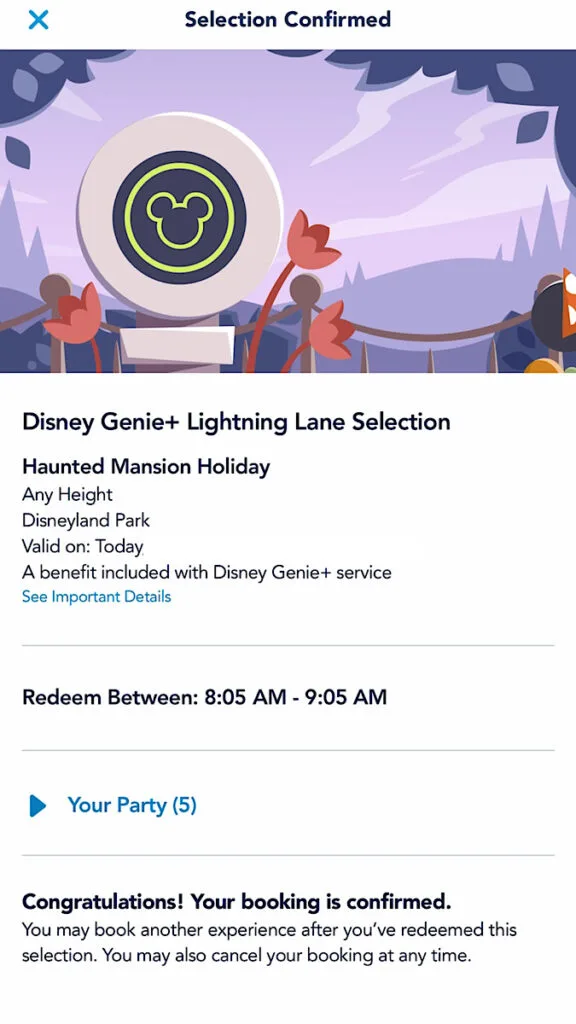 Matterhorn Bobsleds 7:59 AM
Our next stop was Matterhorn Bobsleds. We got there right at 8:00 when the rope drop crowd started to come in.
After the Matterhorn, we headed over to Haunted Mansion Holiday, but found out that the ride was not working for the moment.
Our Lightning Lane selection had changed into a "multiple experiences" pass where you can choose to ride something else. So I held onto that one for later, because the multiple experience passes do not have a return time or expire until the end of the day.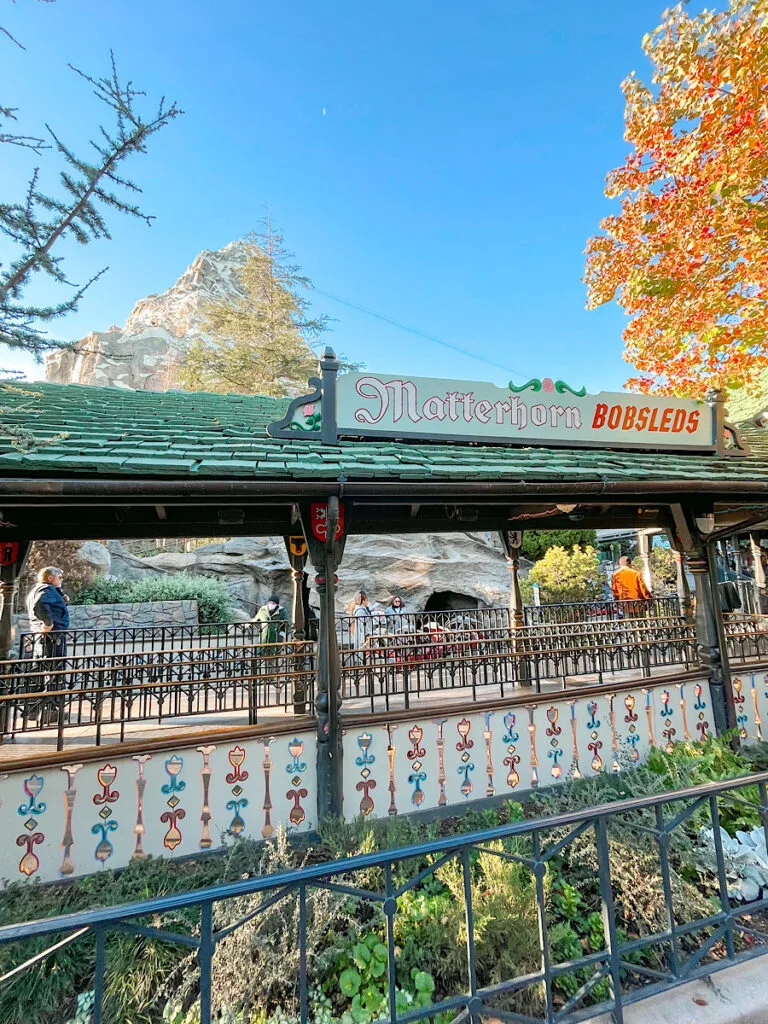 Pirates of the Caribbean 8:30
I made our next Lightning Lane selection for Autopia and then we rode Pirates of the Caribbean because the line was still a short 15 minute wait.
When Pirates was over, I was able to schedule our next Lightning Lane for Indiana Jones as we headed over to Autopia.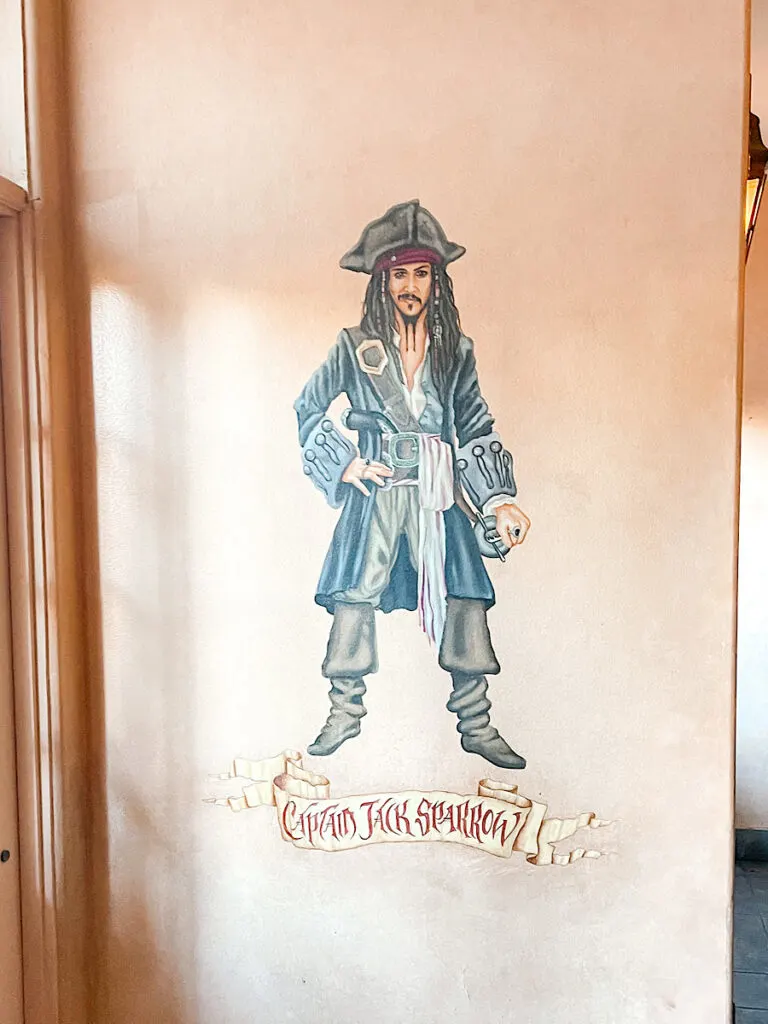 Autopia 9:30
The ride broke down shortly after we got in line which delayed us getting on by about 10 minutes.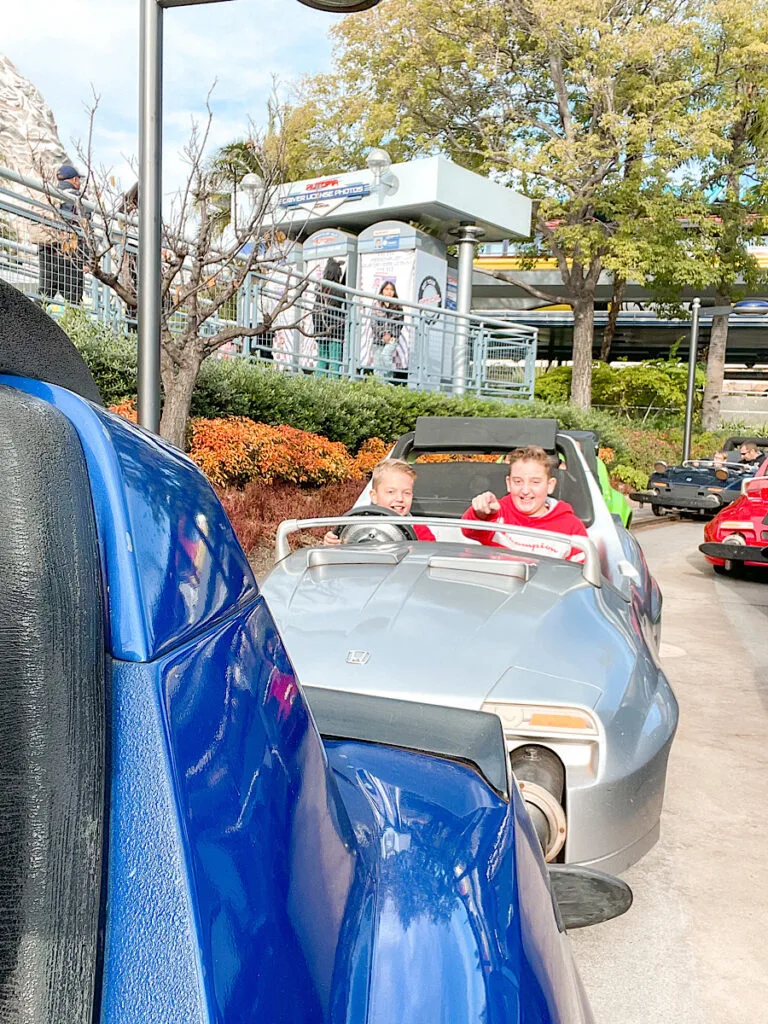 After Autopia, we got a Mickey pretzel and a cream cheese filled Toffee Pretzel, which I highly recommend.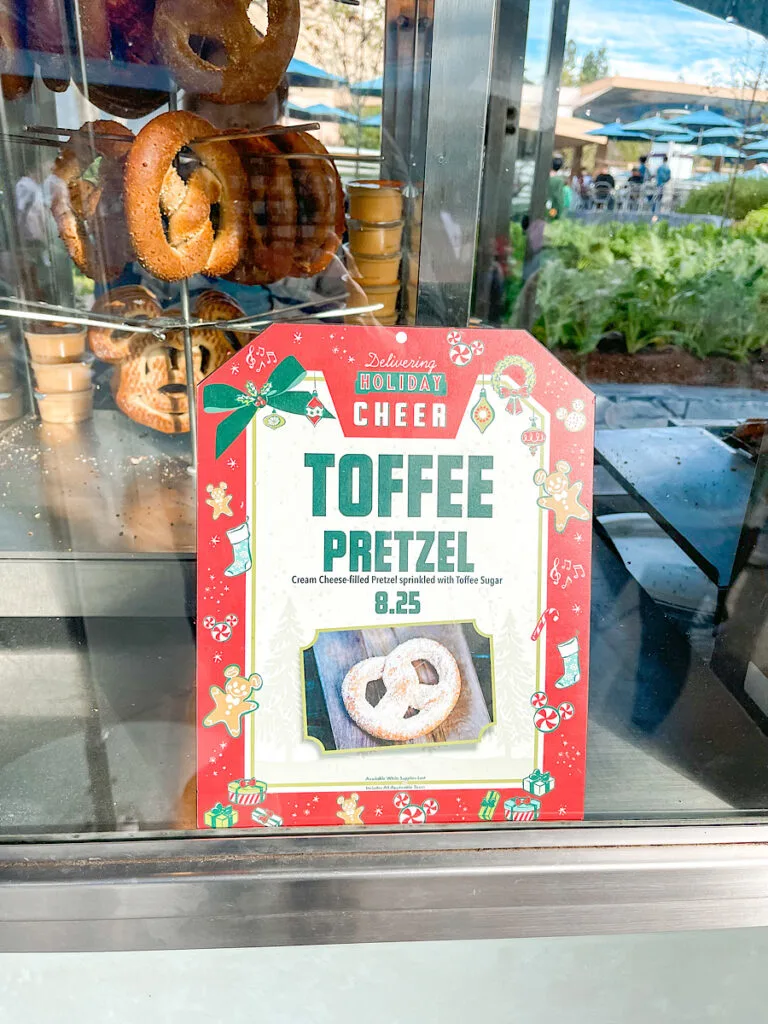 Next, we wanted to head back over to Haunted Mansion Holiday, so we hopped on the Disneyland Railroad at the Tomorrowland Train Station.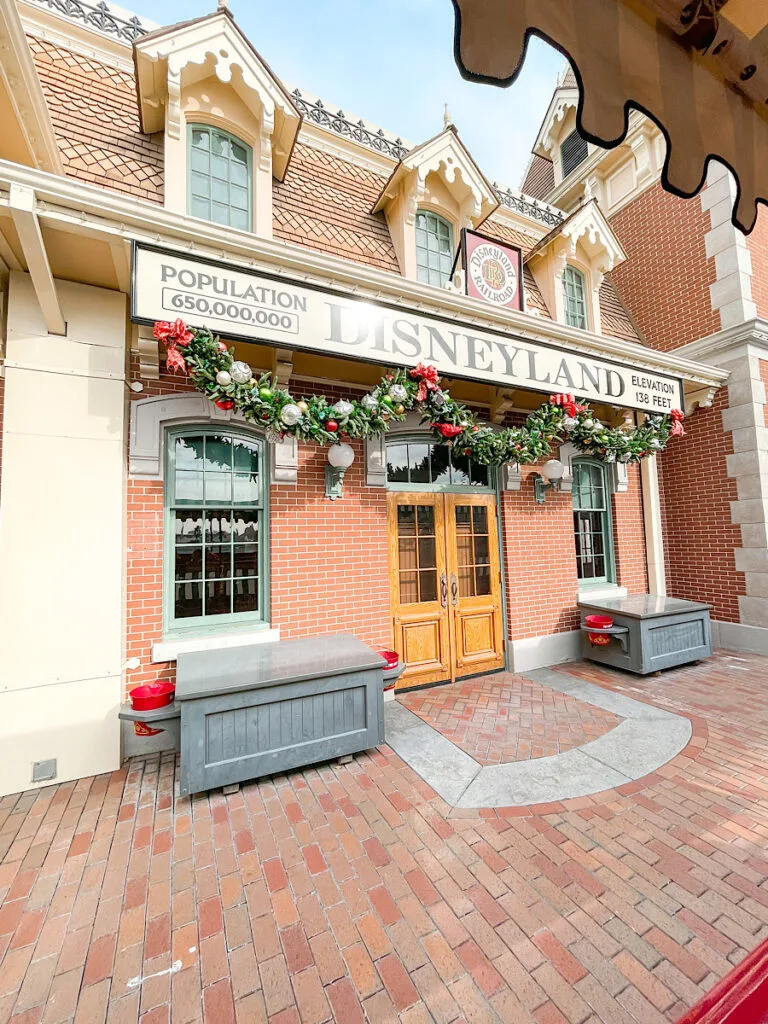 Haunted Mansion Holiday 10:40 AM
Haunted Mansion Holiday was up and working again, and we were able to use our multiple experiences Lightning Lane pass to ride.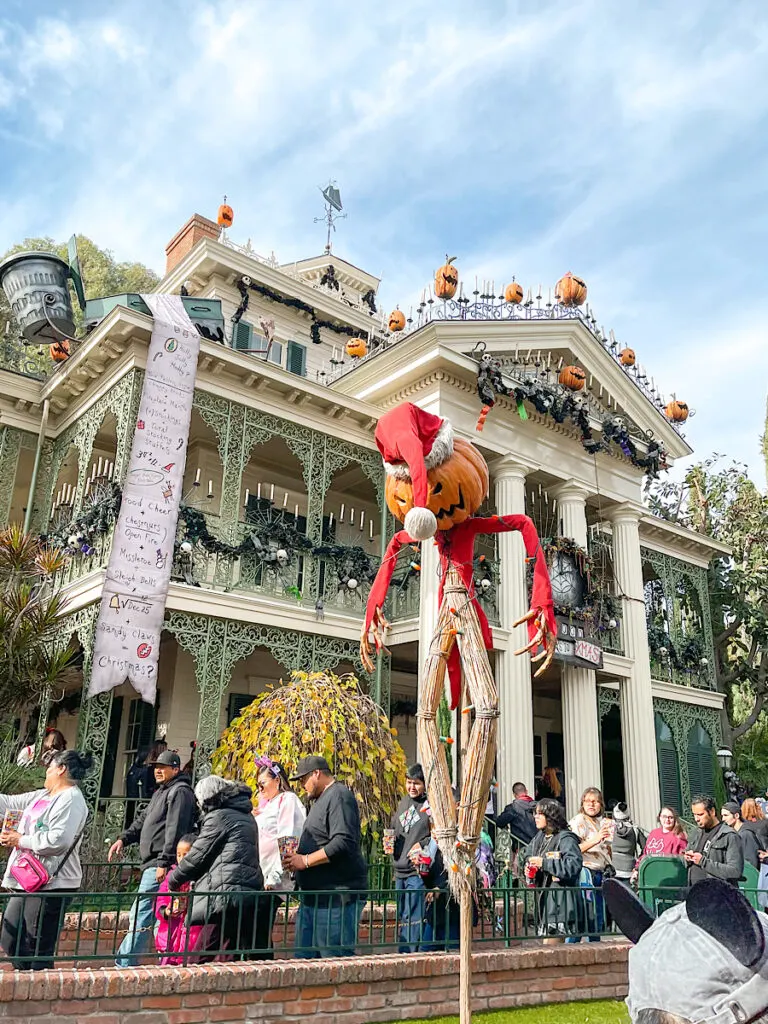 Splash Mountain 11:00 AM
Then, my crazy kids decided to ride Splash Mountain with only a 5 minute wait.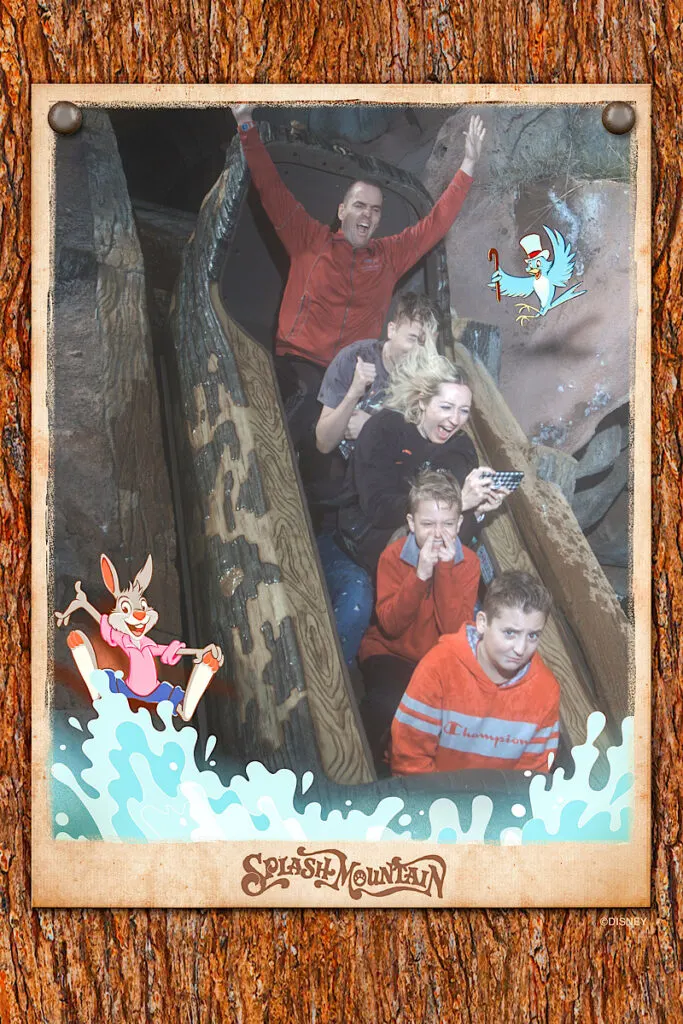 Tale of the Lion King 12:00 PM
When we were done, it was almost time for the Tale of the Lion King show that we wanted to see, but we had a Lightning Lane scheduled for Indiana Jones at the same time.
Luckily, I was able to get into the Disneyland app and modify the time of our pass. I changed it to a time later in the afternoon.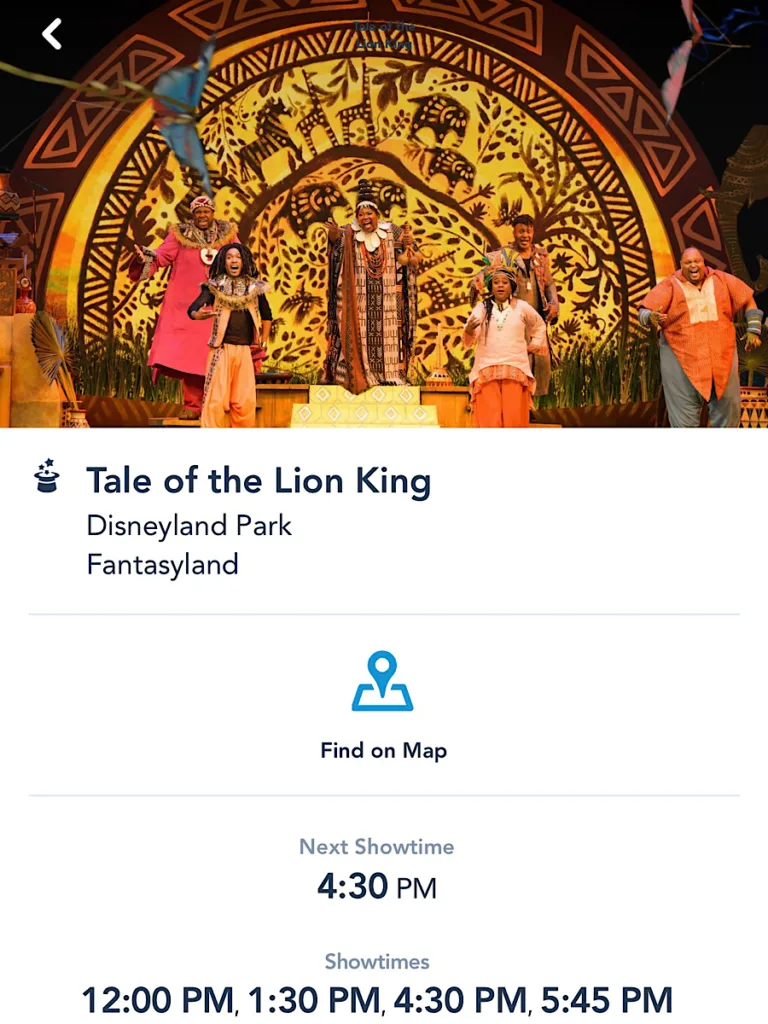 Mid-Day Disneyland Hotel Break 12:30 PM
After the show, everyone wanted to head back to the hotel to take a break, so we hopped on the monorail. It was time to schedule another Lightning Lane, so I chose Millennium Falcon: Smuggler's Run.
The return time was soon, but with the modify plans feature, I could keep changing the time so that it would work with when we wanted to return later in the evening.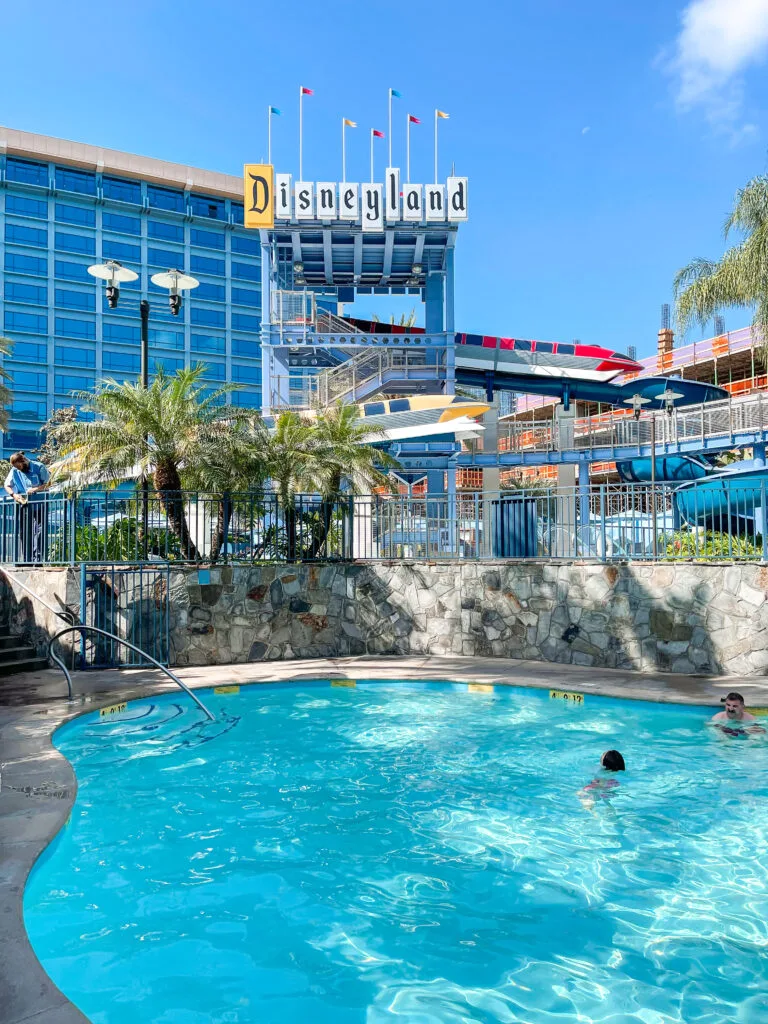 Millennium Falcon: Smugglers Run 4:40 PM
After a nap and some swimming, we got back on the monorail to ride Millennium Falcon. On our way, I booked our next Lightning Lane for Matterhorn Bobsleds after dinner. Because of our mid-day break, we were able to stack 4 Lightning Lane passes in a row.
We arrived just in time for our Millennium Falcon Lightning Lane return time.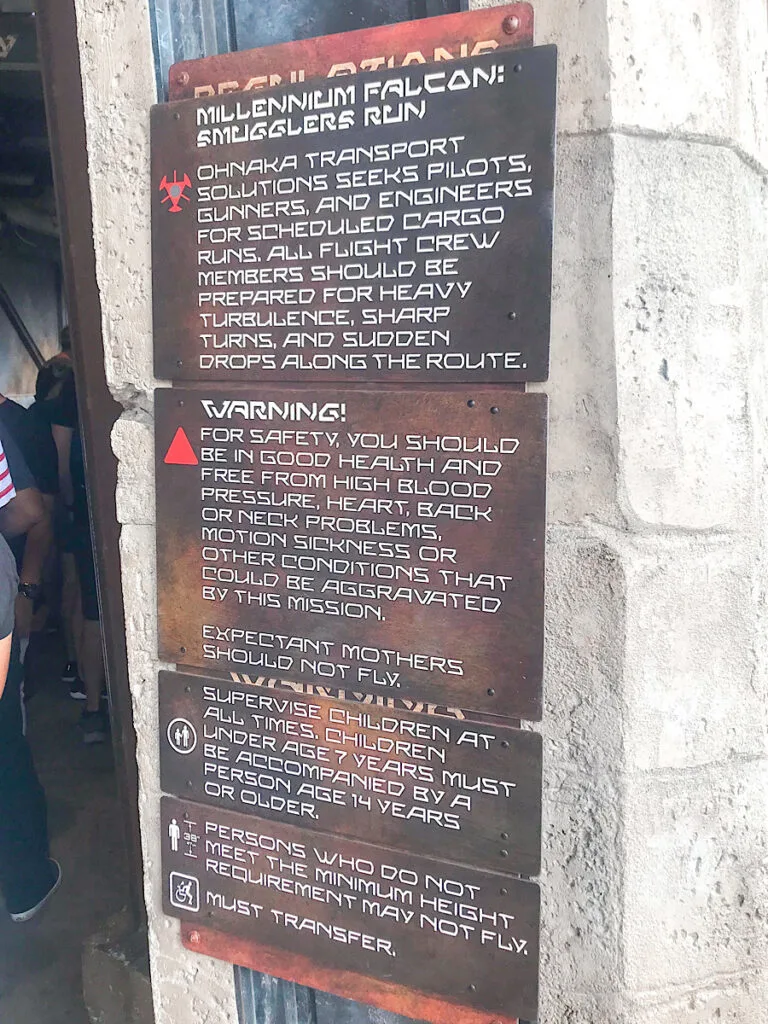 Hungry Bear Fantasmic! Dining Package 5:00 PM
At 5:00 we had a reservation for the Hungry Bear Restaurant Fantasmic! Dining Package. If you purchase this package, you choose your dinner from this menu, then receive a pass for a reserved area to view Fantasmic! later in the evening.
The dinner choices for adults were $35 and kids are $25. My family ordered the chicken, ribs, and mac & cheese and we liked all of it. Read my full review of the Hungry Bear Fantasmic Dining Package here.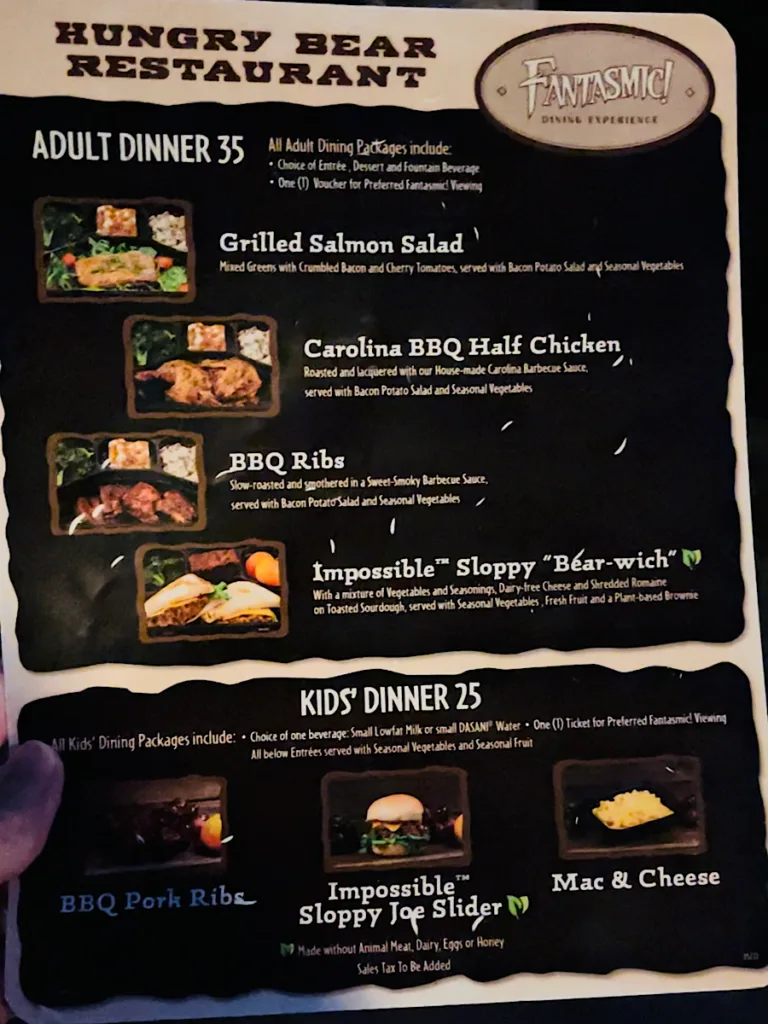 Big Thunder Mountain & Indiana Jones Adventure 6:00 & 6:30 PM
After dinner, we had lightning lanes for Big Thunder Mountain, Indiana Jones, and Matterhorn Bobsleds before Fantasmic. It was getting cold, so my husband took my boys to go on the rides while I took the monorail back to the hotel to grab our coats and gloves.
Fantasmic! 9:00
Our viewing area for Fantasmic was right across from the cabin on Tom Sawyer Island and a little to the left. If you purchase this dining package, just be aware that you will be sitting on the ground.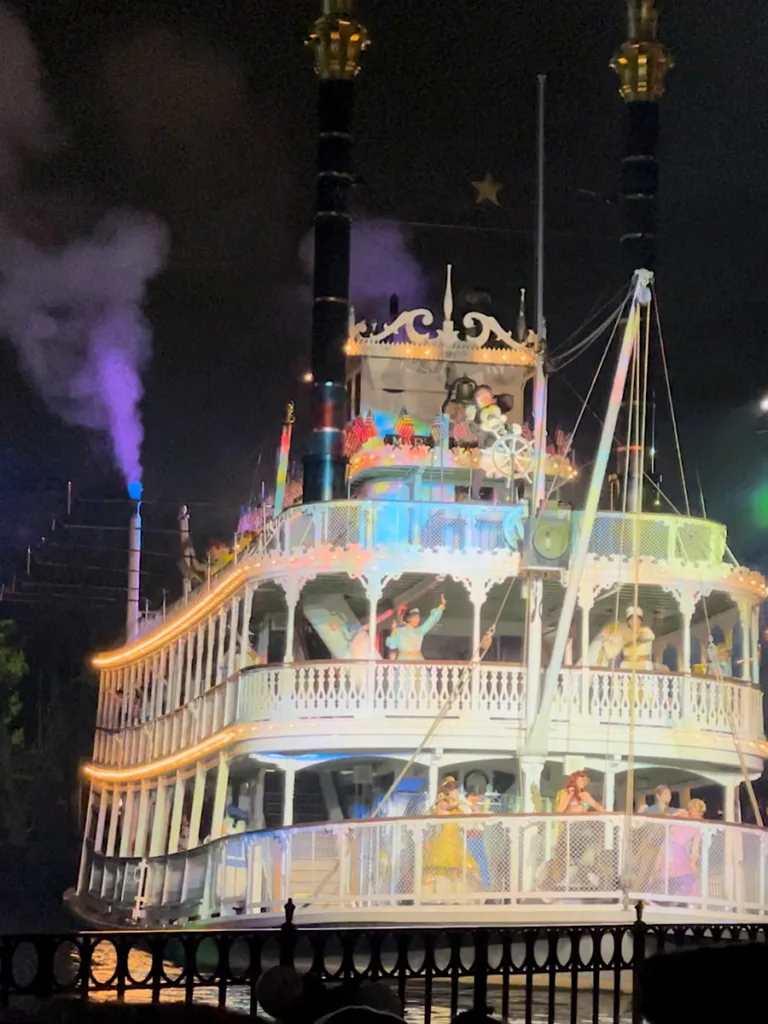 After the show we were able to stay in our spots to and watch the fireworks over the castle. And the projections that they do on the castle, they also do on the water in front of Tom Sawyer Island. Then at the end of the show, it began to snow at Disneyland!
Christmas at Disneyland Day 1 Video: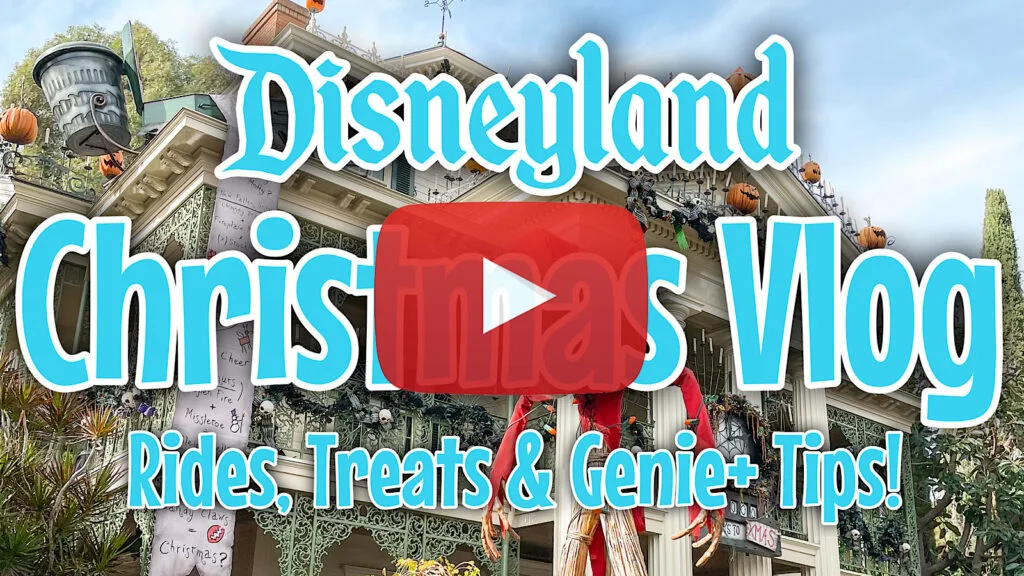 Disney California Adventure Day 2
We decided not to use early entry this day, because it was too hard to wake up my teenagers, so we arrived at the park and immediately made our first Genie+ selection for Guardians of the Galaxy. Then we headed toward Radiator Springs Racers to join the Single Rider line.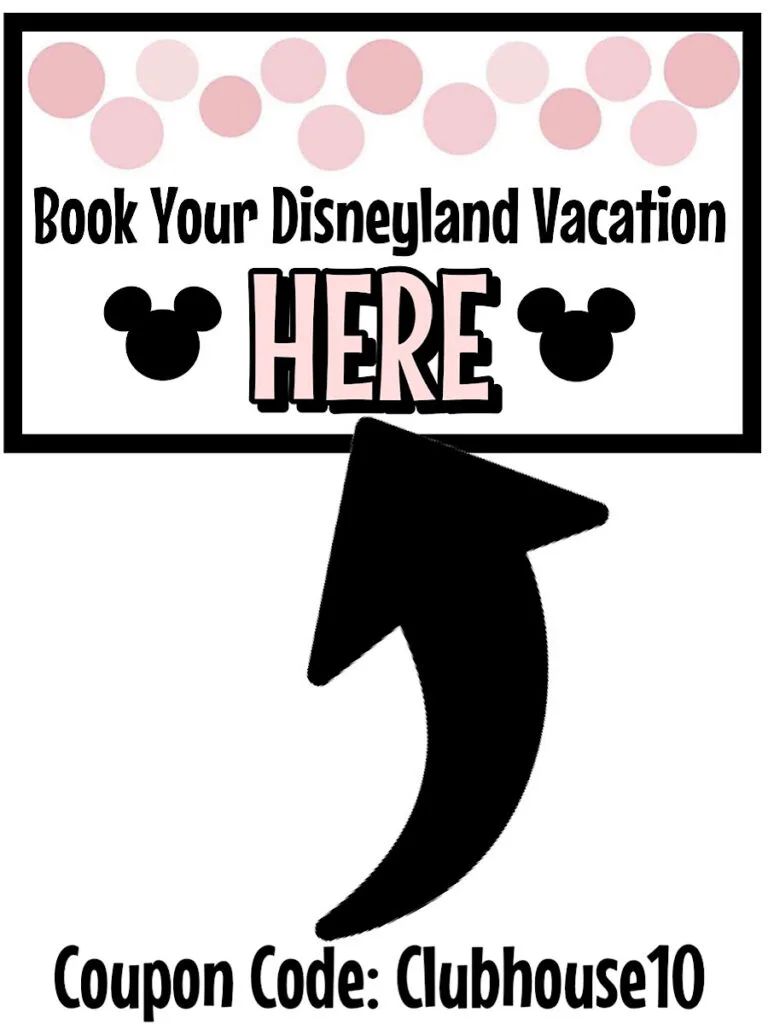 Cars Land & Radiator Springs Racers 9:55 AM
The standby line had a posted wait time of 90 minutes and the single rider line was only 10, so that was an easy choice for us.
The single rider line can definitely save you time if everyone in your group is over the age of 7 and doesn't mind possibly riding with another family.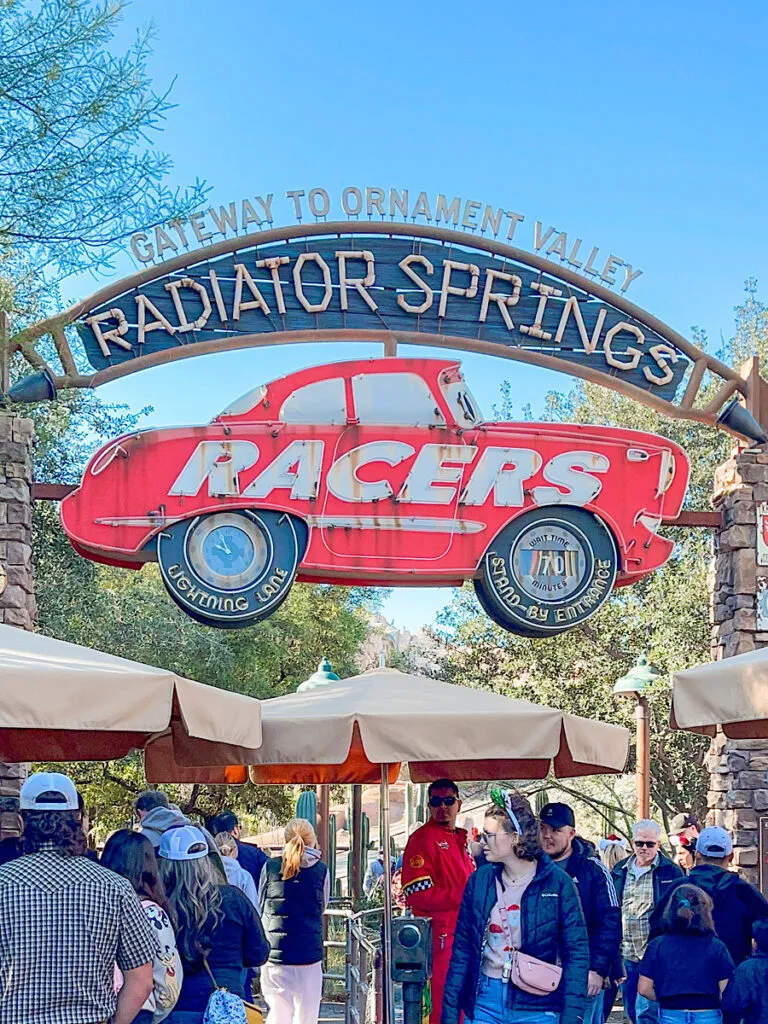 Ariel's Undersea Adventure 10:45 AM
With only a 5 minute wait, we decided to ride Ariel's Undersea Adventure next. Although it's not my boys favorite ride, I think it's pretty cute.
Grizzly River Run 11:00 AM
It was a little too cold for me to ride Grizzly River Run, but that didn't stop my boys! I got out a dollar store poncho for each of them to help keep them dry.
Redwood Creek Challenge Trail 11:20 AM
The Redwood Creek Challenge Trail is really fun during the holidays because it is decorated for Christmas, and this is also where you can meet Santa Clause at California Adventure.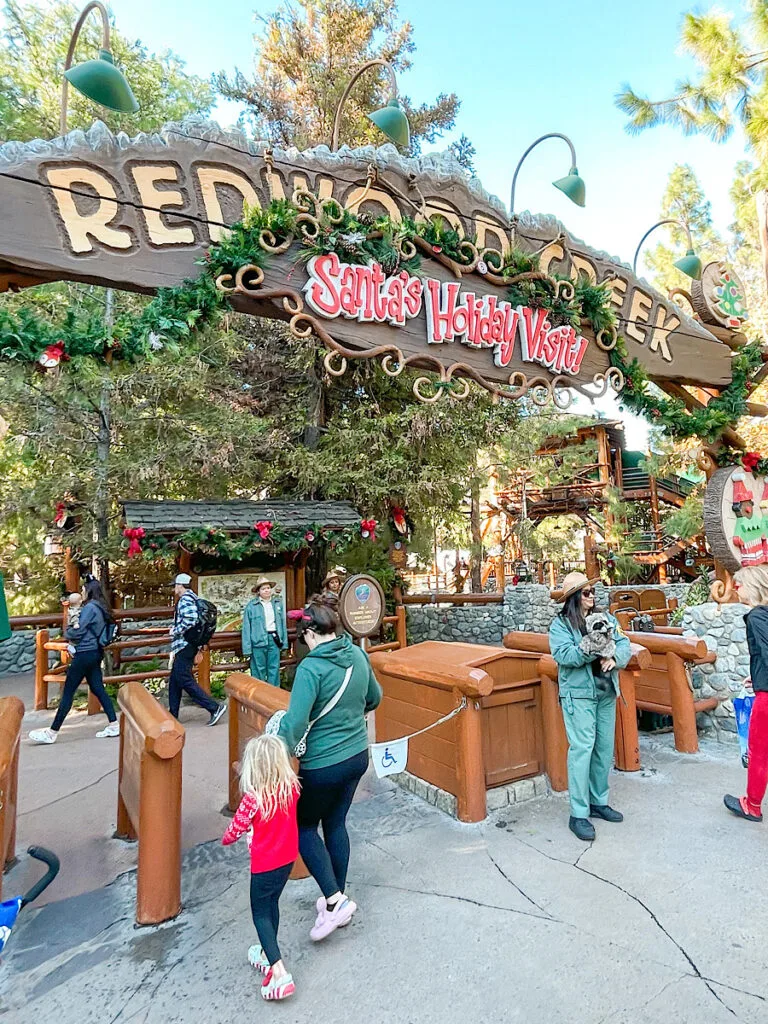 Incredicoaster 11:45 AM
Our next stop was the single rider line for Incredicoaster. There were Genie+ reservations available for this ride, but it wasn't quite time for us to make our next ride selection.
Kayla's Cakes 12:10 PM
After riding Incredicoaster it was time for our first treat from the Kayla's Cakes kiosk near the entrance to Pacific Wharf. Kayla's Cakes was nice enough to give us a box of their delicious holiday macarons for us to try.
While we were enjoying our treats, a parade happened to pass by.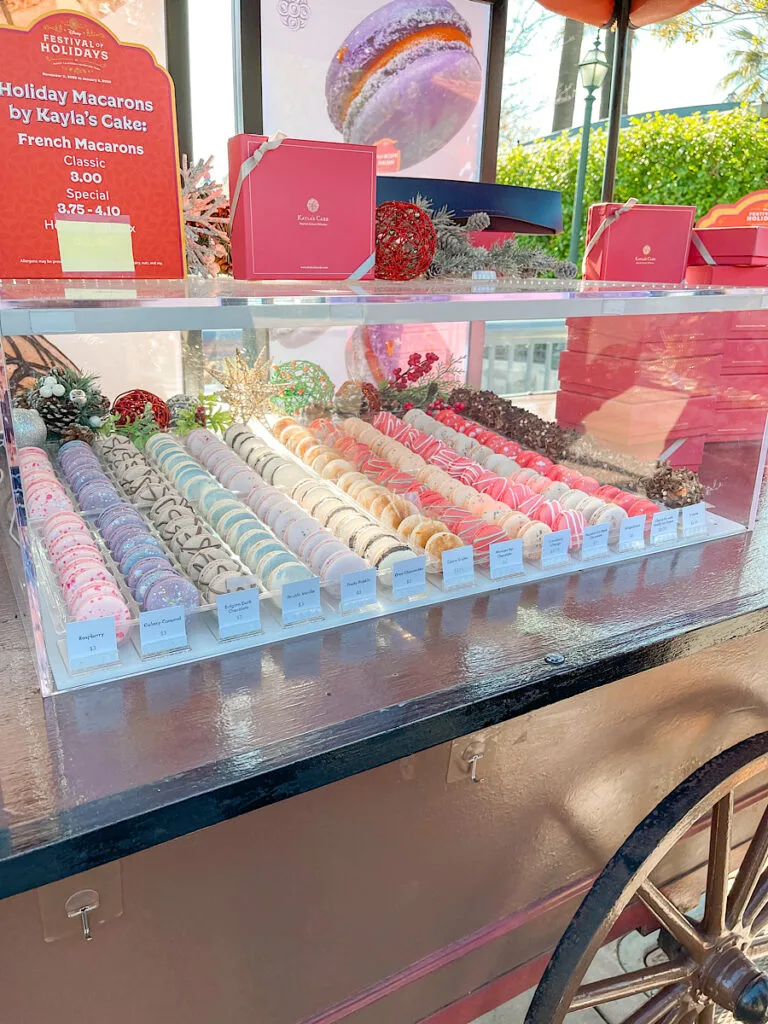 Boudin Bakery Tour 12:30 PM
The Boudin Bakery tour is something that my kids request to do every time we go to California Adventure. Its fun to see how they make and bake the sourdough bread right there at Disneyland and you also get a free sample of bread too!
If you want to see a tour of the Boudin Bakery in San Francisco, check out my video of things to do with kids in San Francisco you can find here.
Guardians of the Galaxy 12:45 PM
After the bakery tour, it was finally time to head over to Avengers Campus to ride Guardians of the Galaxy, which is one of our favorite rides!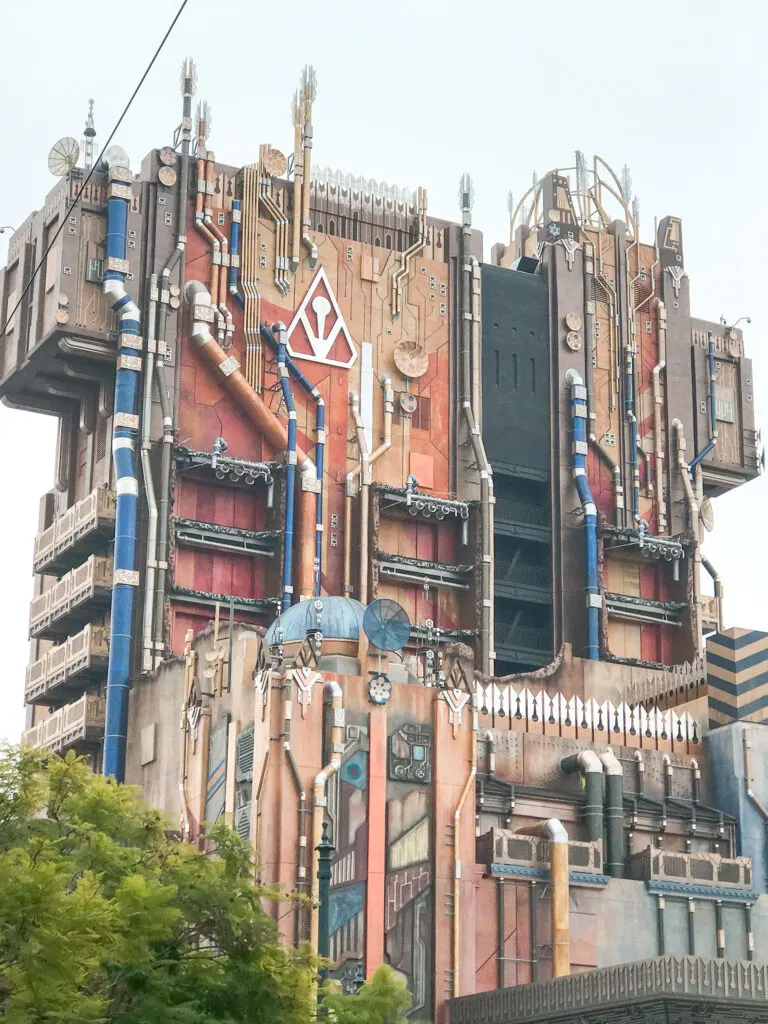 Turtle Talk With Crush 1:30 PM
Our next lightning lane was scheduled for Soarin at 2:05 so we decided to go see Turtle Talk with Crush. This show was especially fun for us, because Crush talked to my son Lucas and also had a funny interaction with him at the end.
Soarin' 2:05 PM
After Turtle Talk, it was time for us to head over to Soarin over the World, a ride where you glide over iconic places in the world.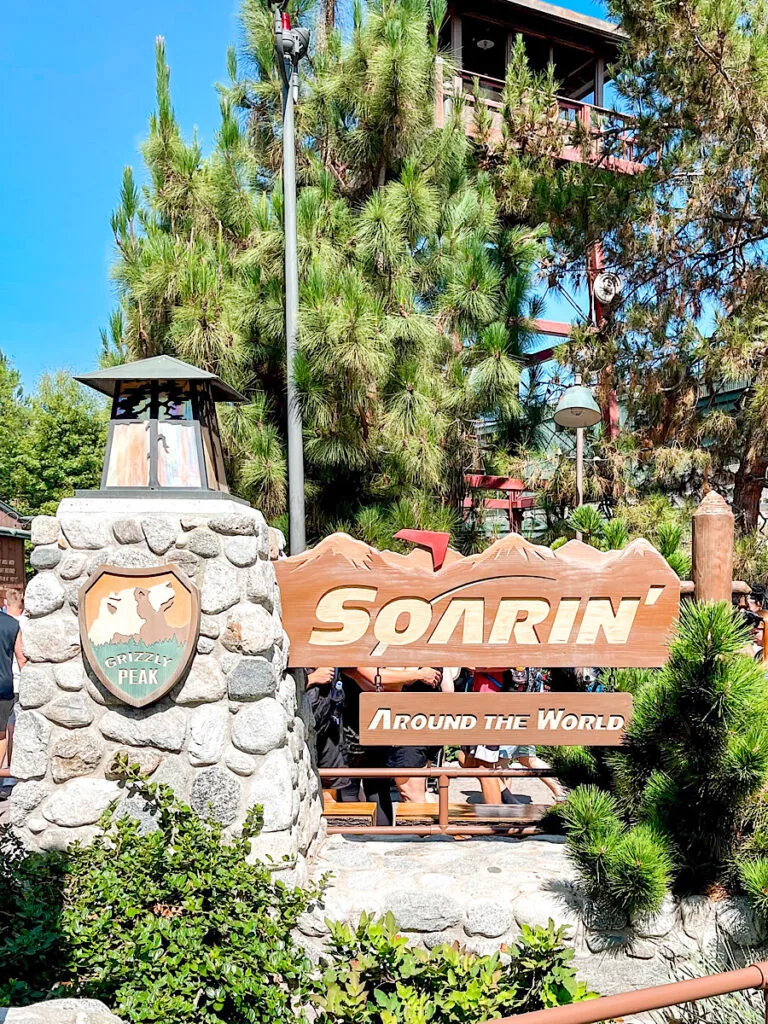 Snack & Mid-Day Break 2:30 PM
By this time, everyone was ready for a mid-day break, so we headed back to Cars Land to get at Ice Cream Cone from the Cozy Cone Motel first.
All three of my kids got the Christmas Tree Cone which was peppermint ice cream with sprinkles.
We have had this flavor before, and loved it, but this time it wasn't good. The peppermint flavor was way too strong. I wonder if there was a problem with the machine because the twist cone I had was great.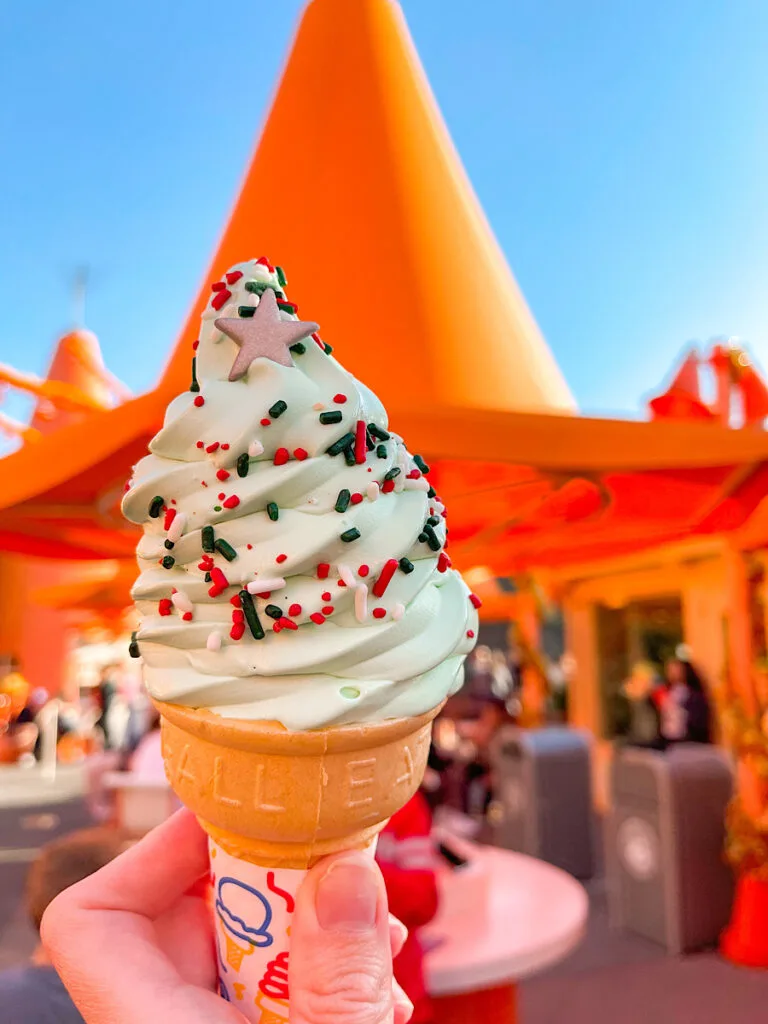 Then it was back to the Disneyland hotel for some swimming and a nap. I also used that time to schedule a lightning lane for Toy Story Mania and Web Slingers for later in the day.
Dinner at Pacific Wharf Cafe 7:00 PM
After some much needed rest, we headed back to the park, using the Grand Californian entrance, and went to Pacific Wharf Cafe for dinner, which I had mobile ordered when we were at the hotel.
My husband and I had the Tortilla soup in a bread bowl, two of my boys had the Mac & Cheese in a bread bowl, and my 13-year-old just had a bread bowl. We all thought it was delicious!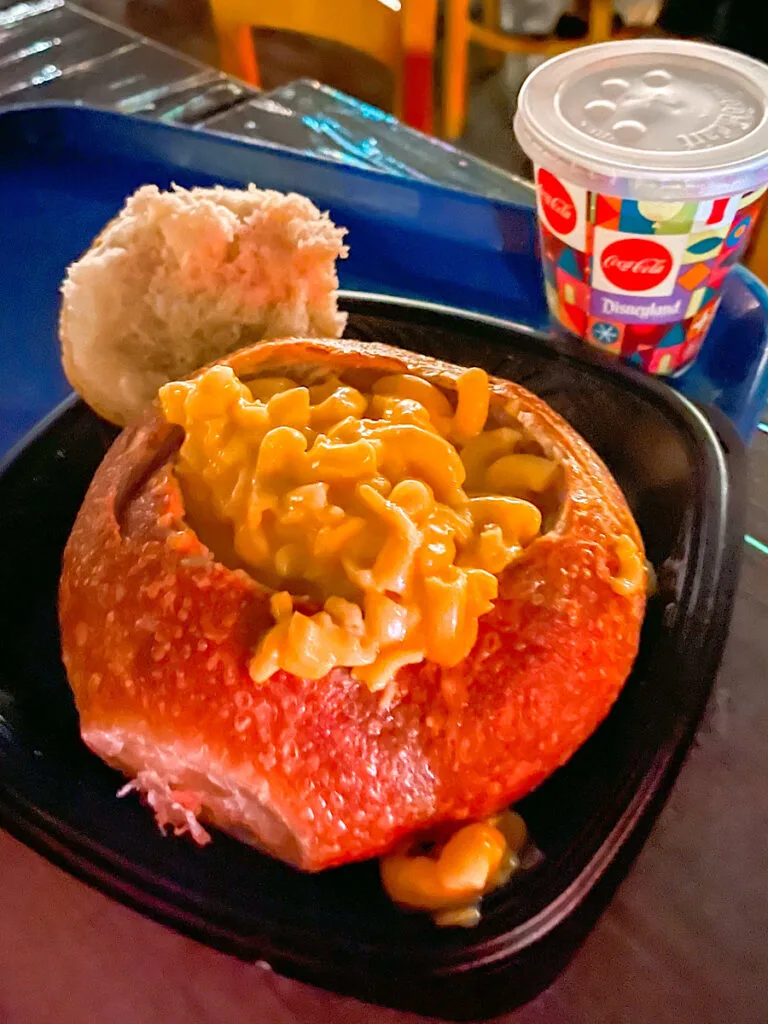 Toy Story Mania 7:30 PM
After dinner it was our Lightning Lane return time for Toy Story Mania. My kids always have a great time on this ride, but I always seem to have the lowest score!
We then rode Incredicoaster for the second time. This time the line was so short, there was no need for the single rider line!
World of Color Dessert Party 8:00 PM
For this trip, we opted to purchase tickets for the World of Color Dessert Party. We checked in for the party at 8:00 and were then led to our table where we were served a delicious plate of desserts, unlimited soda, and unlimited hot chocolate. Adults over 21 also get 2 alcoholic drinks.
While enjoying your dessert, you get an amazing view of the World of Color Show from the comfort of your table.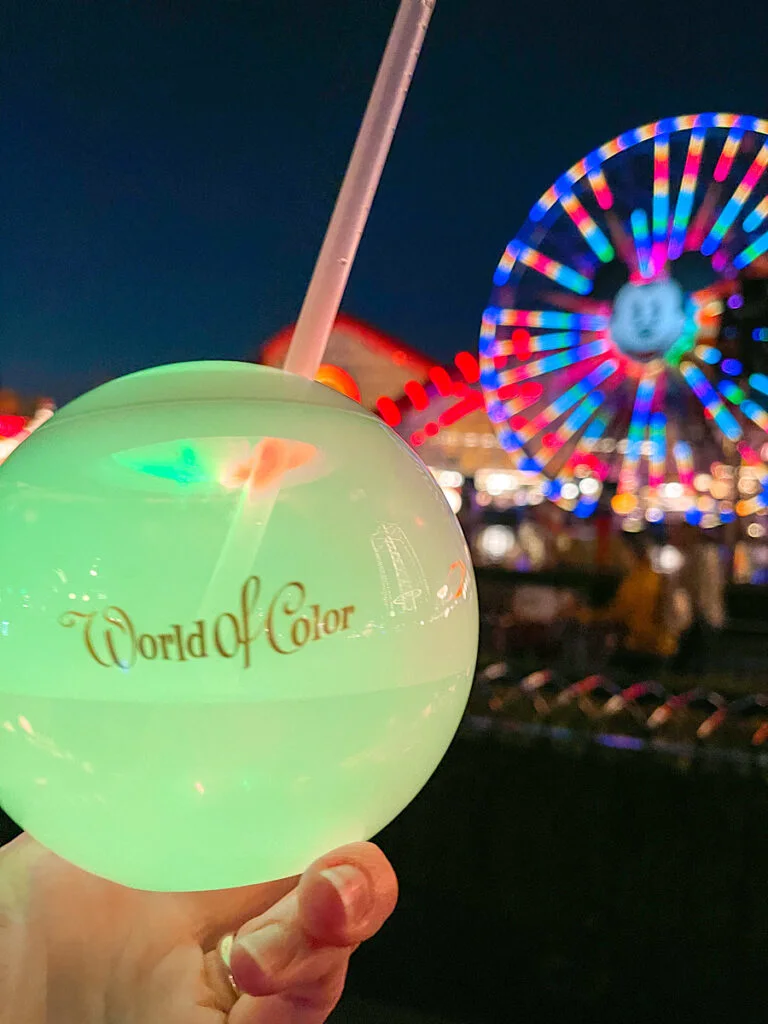 Web Slingers 8:45 PM
We had one last lightning lane for Web Slingers right after World of Color, so we headed back to Avengers Campus. Of course, I had the lowest score again.
Christmas at Disney California Adventure Day 2 Video: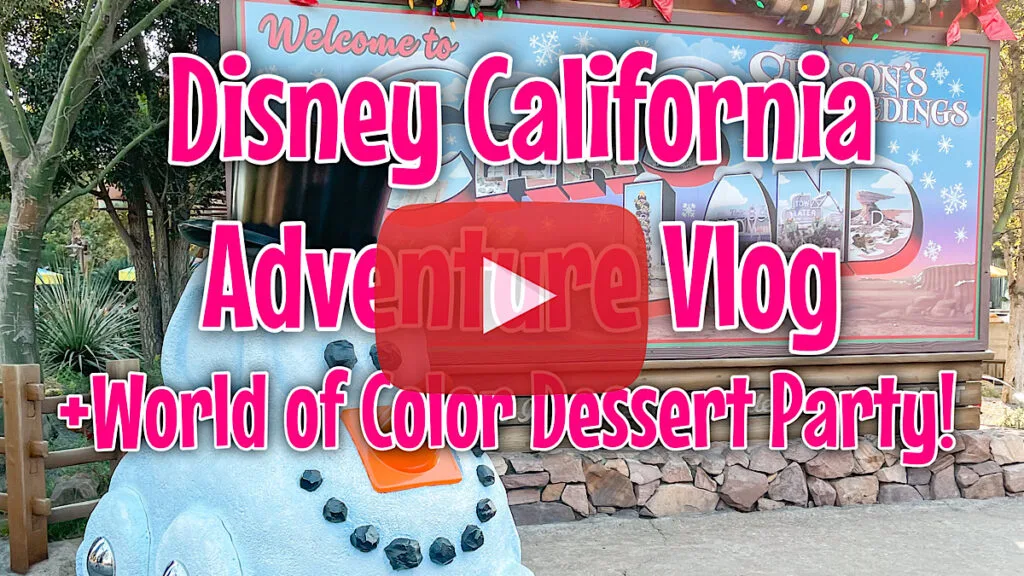 Disneyland Day 3
Find out what our last day of our Disneyland Christmas trip including how your kids can build their own light saber and the Plaza Inn Parade Dining Package.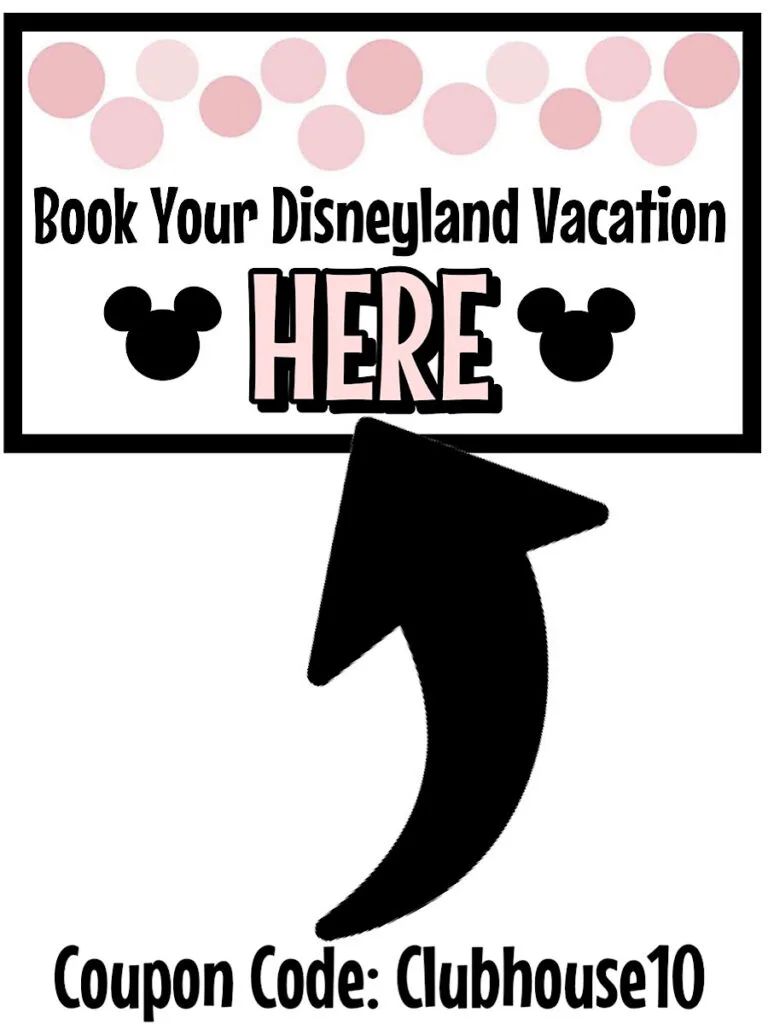 Monorail 10:00 AM
We started our day by taking the Monorail from Downtown Disney to Tomorrowland. You can see that we pass some of the hotels on Harbor Boulevard. I recently had a chance to tour 8 hotels within walking distance of Disneyland. Check out my reviews here.
Star Tours 10:20 AM
On our way into the park, I made our first Genie+ selection for Star Tours. When we arrived at Star Tours, the wait time for the stand by line was only 20 minutes.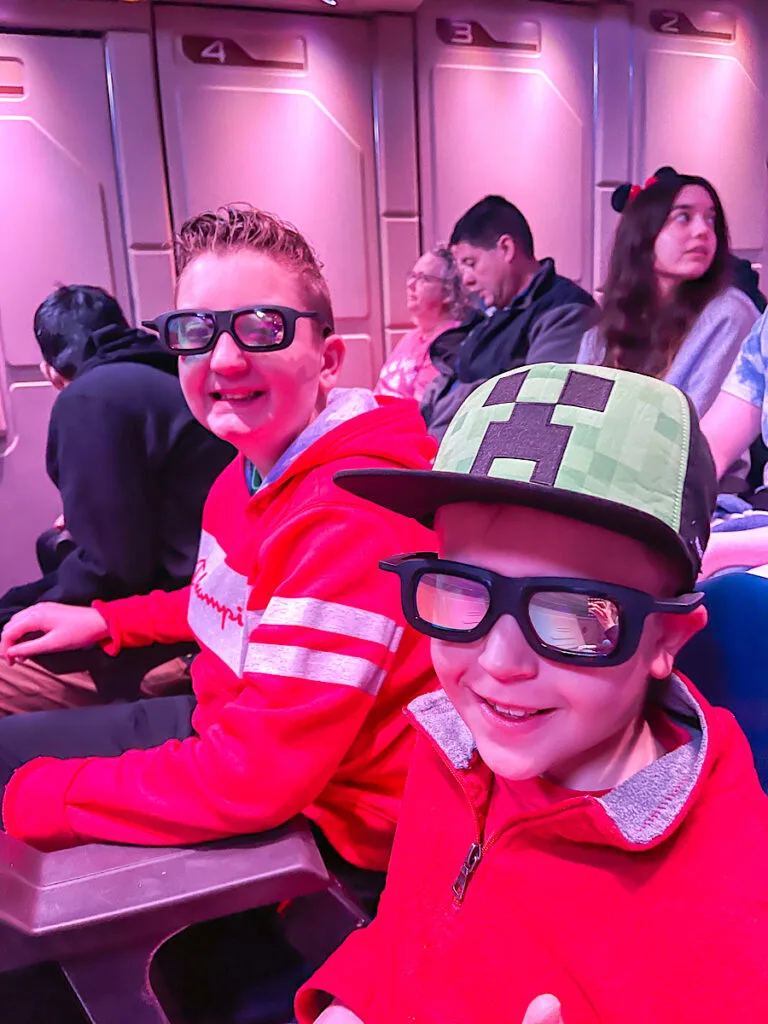 Build a Lightsaber 10:35 AM
Star Tours exits into the Star Traders gift shop where my son decided he wanted to customize and build his own lightsaber.
Right outside the gift shop, we grabbed another Cream Cheese Toffee Pretzel from the pretzel cart. It was delicious.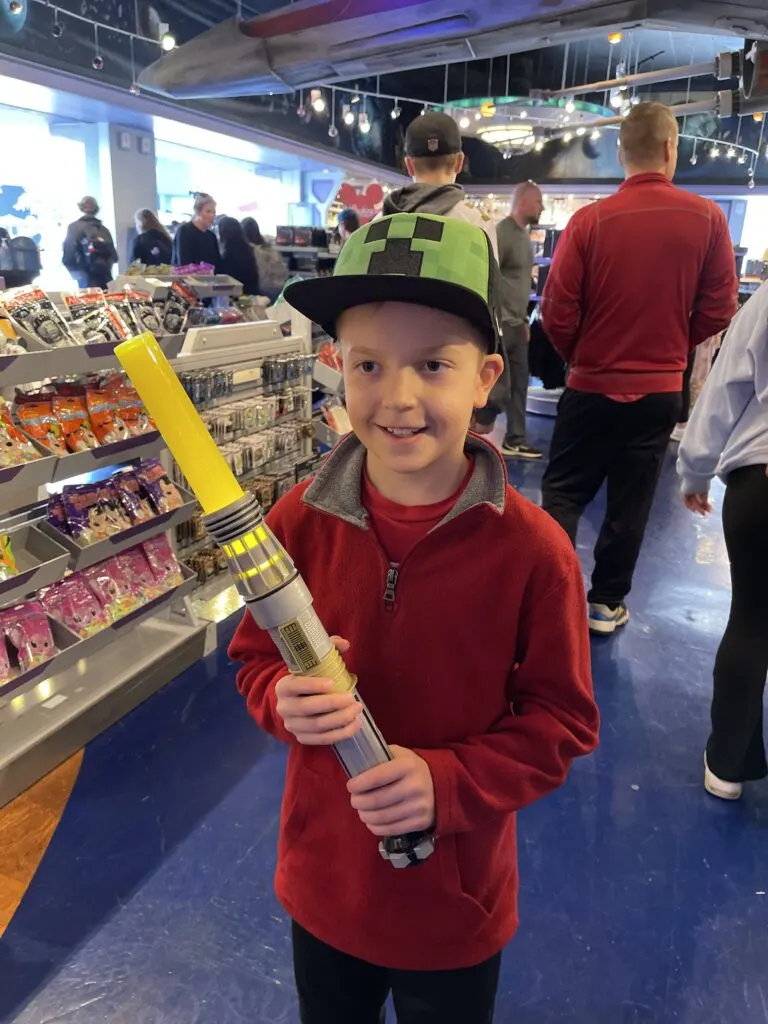 Christmas Decorations on Main Street USA 11:00 AM
We had some time before our next Genie+ selection, so we checked out the Christmas decorations on Main Street as we headed to my husband's favorite attraction, Great Moments with Mr. Lincoln.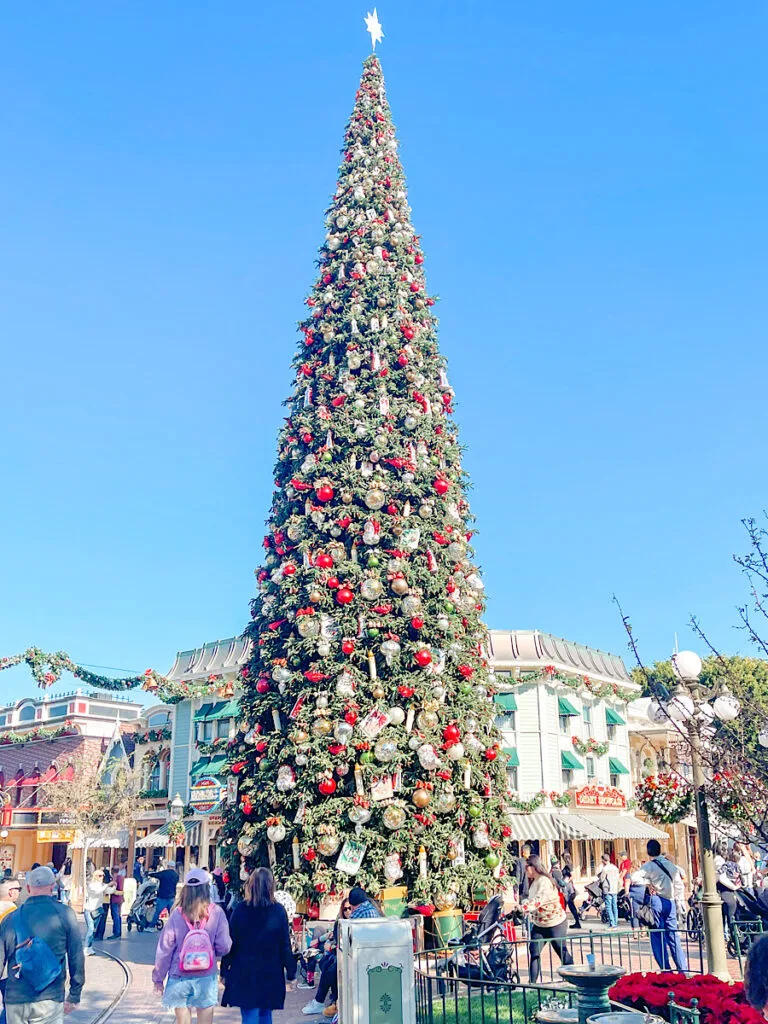 Great Moments with Mr. Lincoln 11:15 AM
Great Moments with Mr. Lincoln is located near the train station on Main Street. It is a show featuring a story from the civil war, followed by a speech given by an animatronic Abraham Lincoln. It is a great place to take a break from the busy park day, especially when it is hot outside.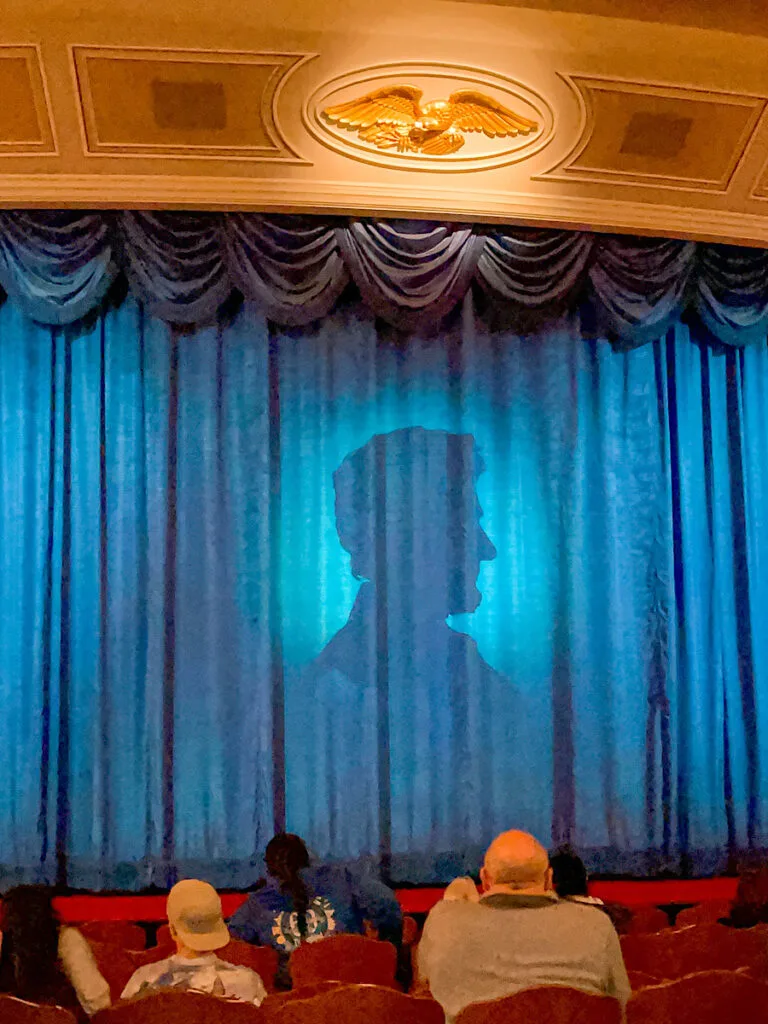 Disneyland Railroad 11:35 AM
Another fun thing to do at Disneyland is to ride the train all the way around the park. We got on the train at the Main Street Station. From here, you'll travel through the jungles of the Jungle Cruise on your way to New Orleans Square.
From New Orleans Square, you will pass by the Haunted Mansion, through Splash Mountain and have a scenic view of Tom Sawyer Island and the Rivers of America.
The next stop is Toon Town Station where you can get a fun view of it's a small world.
The final stop is Tomorrowland station right next to Autopia. It's fun to catch the train here because you get to go through a long tunnel and see the Grand Canyon and maybe even some dinosaurs!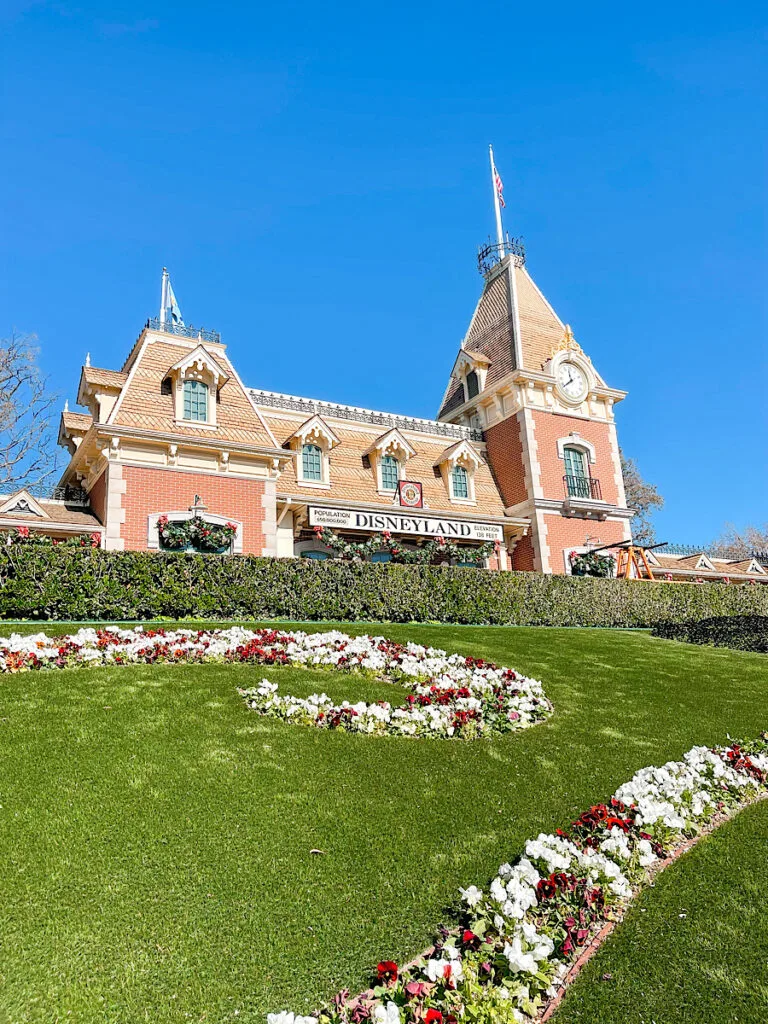 Enchanted Tiki Room 12:30 PM
Another fun and relaxing attraction at Disneyland is the Enchanted Tiki Room. My bird-obsessed kids, love this show! Its fun to grab a Dole Whip to enjoy while the birds sing to you!
Big Thunder Mountain 1:00 PM
Our next Lightning Lane was for Big Thunder Mountain, the wildest ride in the wilderness!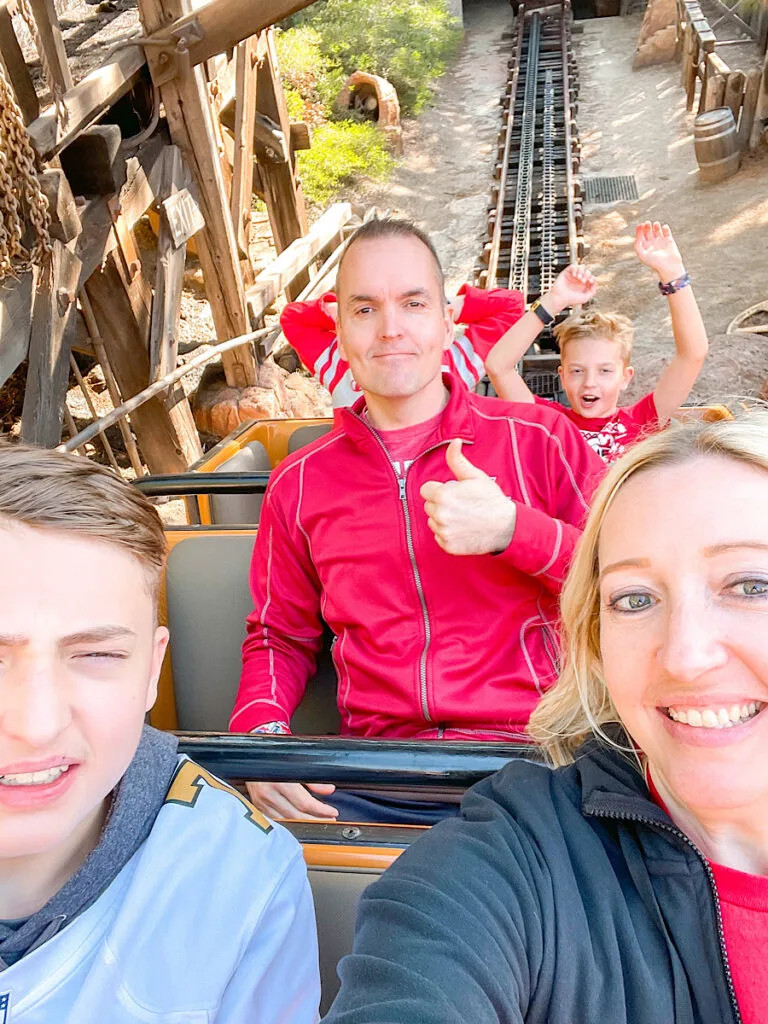 Plaza Inn 1:20 PM
Next it was time to get lunch at Plaza Inn as part of the parade dining package we purchased. With the parade package, you choose your meal for adults and kids based off of a pre-set menu.
Adults were $45 each and kids were $25. My husband and I chose the beef and my kids chose the chicken tenders and mashed potatoes. Each meal came with dessert and a drink as well.
If you purchase this package, you will get a ticket for the reserved seating area for the parade later that day. You will also get a souvenir lanyard.
Hotel Break 2:00 PM
By this time, everyone was ready to head back to the hotel to go swimming and get some rest. My family loves to take a break like this in the middle of the day to recharge before heading back in the evening.
For this trip, we stayed at the Disneyland Hotel in the Frontier tower, which was super convenient. It was nice to be so close, have early entry into the parks each day, and be able to use the monorail entrance to quickly get into Disneyland. Read my review of the Disneyland Hotel here.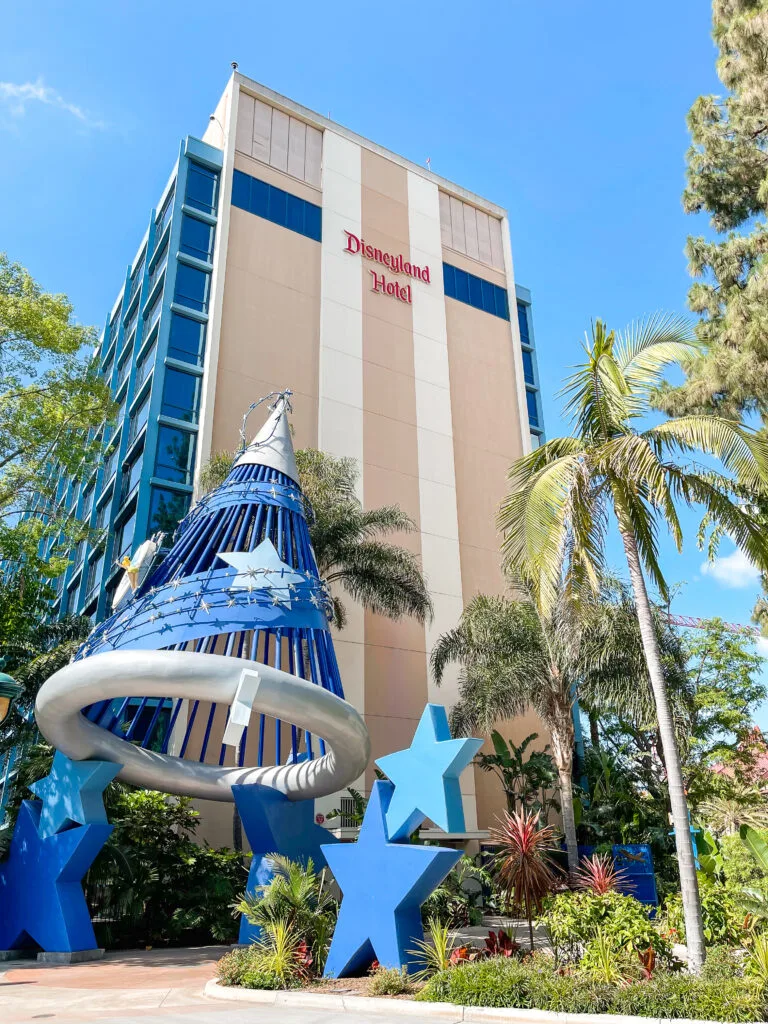 Christmas Fantasy Parade 4:30 PM
When we returned to Disneyland, it was time to head to our reserved seating location for the parade. We were located near the flag pole, right across from the train station on Main Street.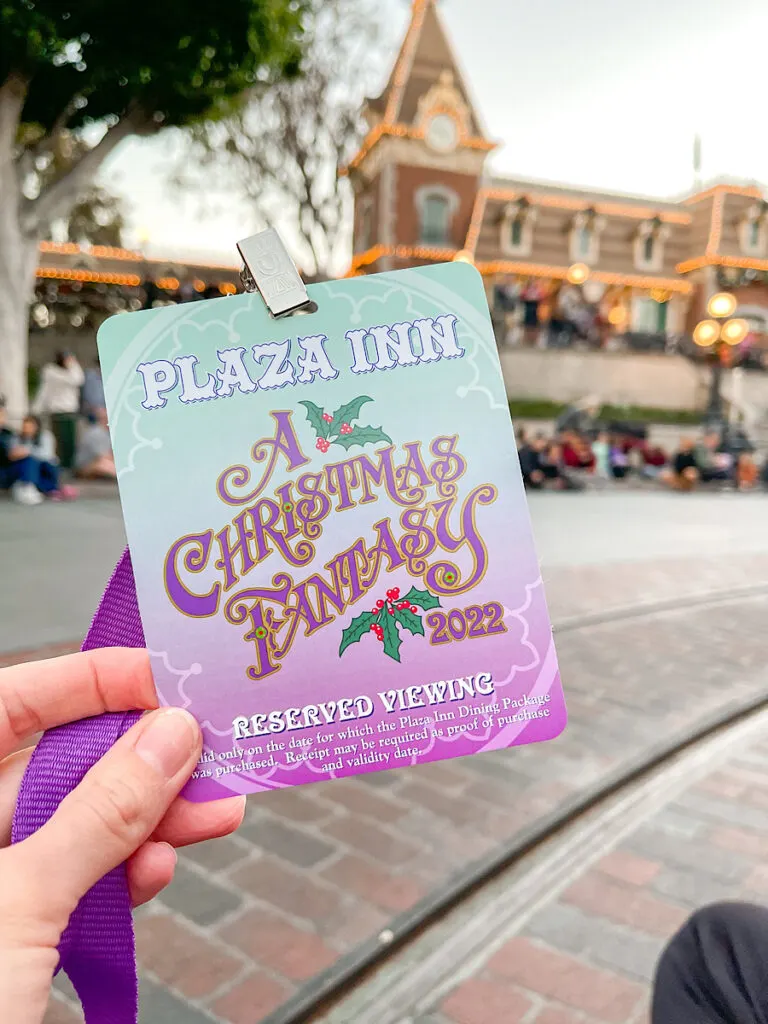 Our seats were amazing and I think I will purchase this package again because I hate the stress of trying to find a spot to watch the parade.
While we waited for the parade to start, my son used his money to buy himself a churro.
After the parade, we enjoyed the beautiful decorations on our way to Fantasyland.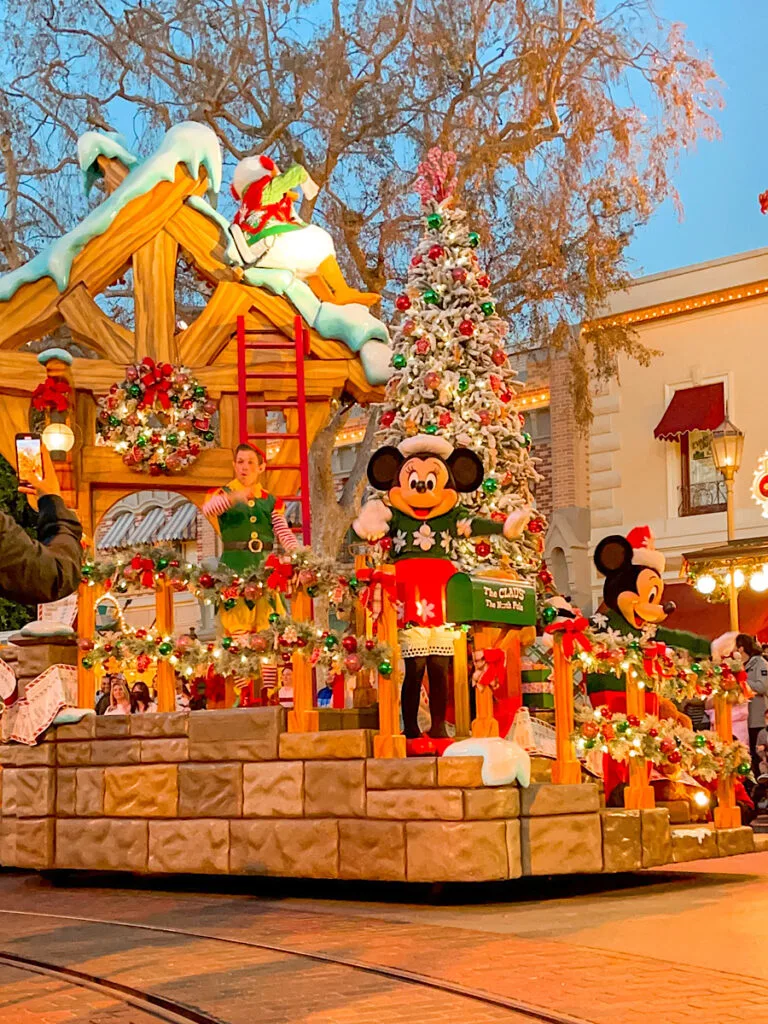 Matterhorn Bobsleds & Turkey Legs 6:15 PM
My kids really wanted a Turkey Leg, so we headed to Edelweiss Snacks near the Matterhorn. The line was super long, so I looked at the Disneyland app to see what the return time for mobile ordering was.
To my surprise, it said my order could be picked up immediately. We were able to bypass the line, walk right up, and pick up our BBQ turkey leg!
When they were done, it was our Genie+ return time to ride the Matterhorn.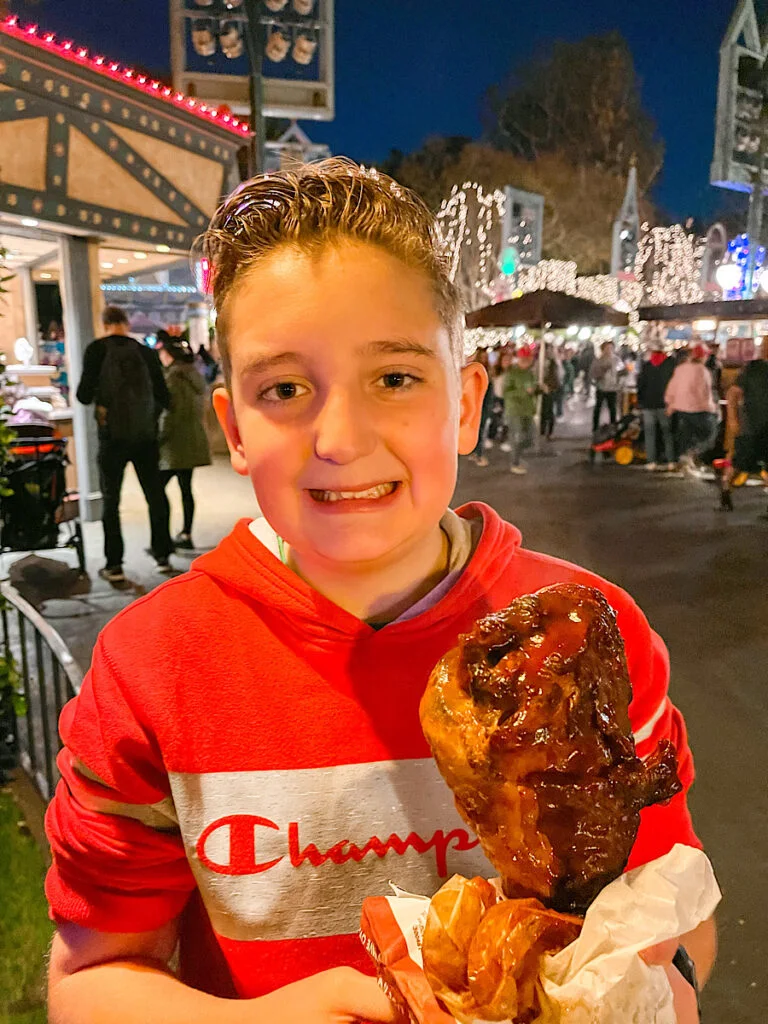 it's a small world holiday 6:50 PM
After the roller coaster, we were able to catch the end of the projection show on it's a small world.
Then it was our return time to ride it's a small world holiday. Christmas time is a fun time to ride it's a small world because there are holiday themes throughout the ride and they combine the famous its a small world song with Jingle Bells.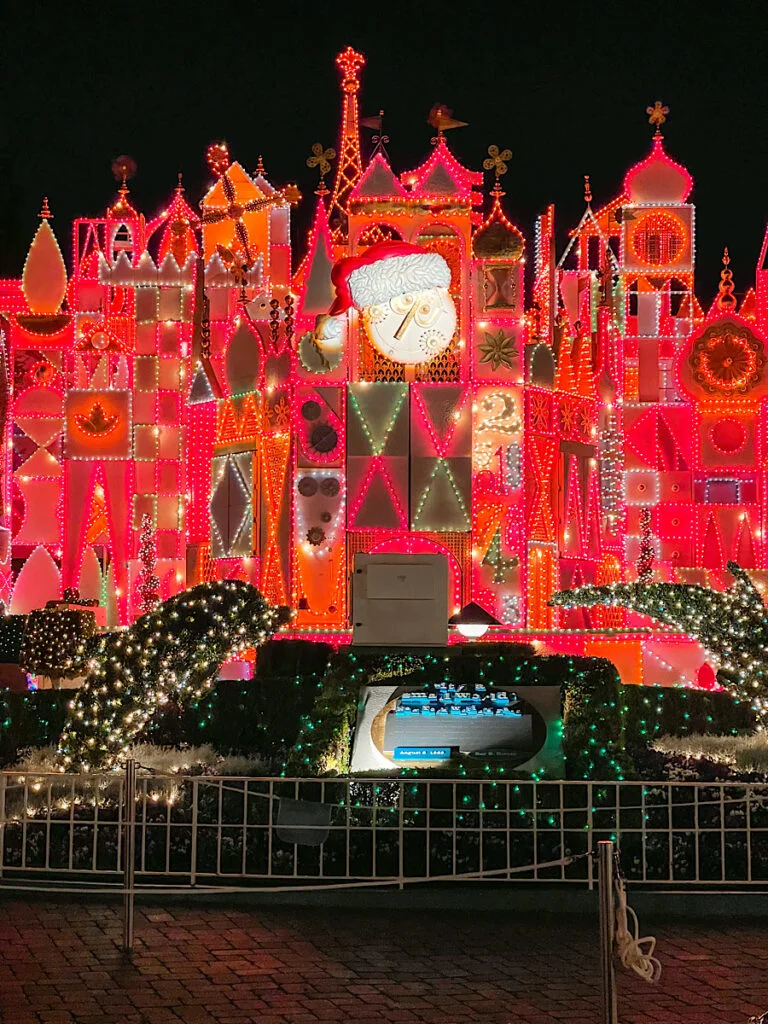 We decided that it's a small world would be the finale to our Christmas Disneyland trip and headed back to the hotel for the night.
I hope you enjoyed finding out about our visit to Disneyland during the holidays and hope that you will watch the videos to see what it is like for yourself!
Day 3 Christmas Disneyland Video: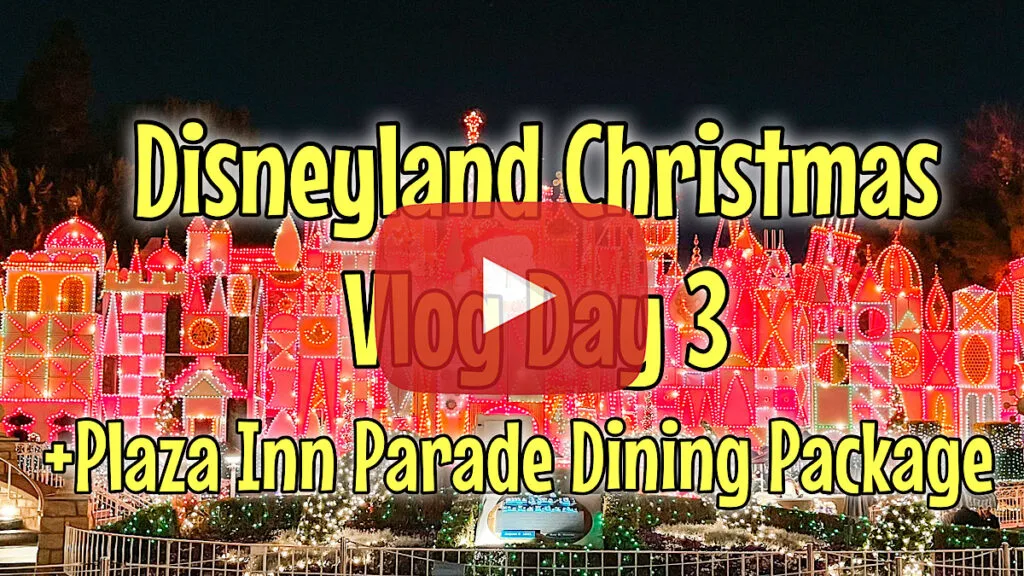 Book a Disneyland Vacation
As I mentioned above, I highly recommend booking your Disneyland vacation through Get Away Today to get the best prices and customer service! Check prices at www.getawaytoday.com or call 855-GET-AWAY and tell them Mommy Mouse Clubhouse sent you!