Visiting Disneyland for Disneyland Christmas 2022? Here is my ultimate guide to Disneyland at Christmas and everything you need to know about rides, food, parades, fireworks, and how to beat the crowds to have a magical time!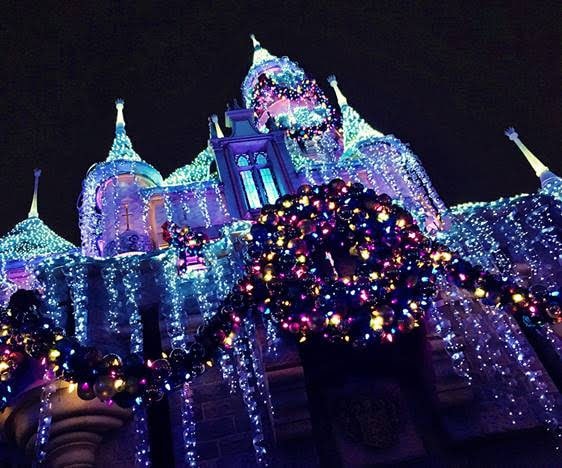 This post may contain affiliate links. When you click on these links, I get a small percentage back at no cost to you! For more information see my disclosure policy.
Ultimate Guide to the Holidays at the Disneyland Resort
It's hard to believe how fast this year has already gone by, however, it means that the Holidays at the Disneyland Resort are just around the corner! Starting in early November, you can experience festive fun in both Disneyland Park and Disney California Adventure Park.
With so much to see and do, you'll want to make sure to experience all of the festivities that this celebration has to offer. Because of this, I've teamed up with my friends at Get Away Today to give you the ultimate guide to the Holidays at the Disneyland Resort so that you can have an amazing Christmas at Disneyland!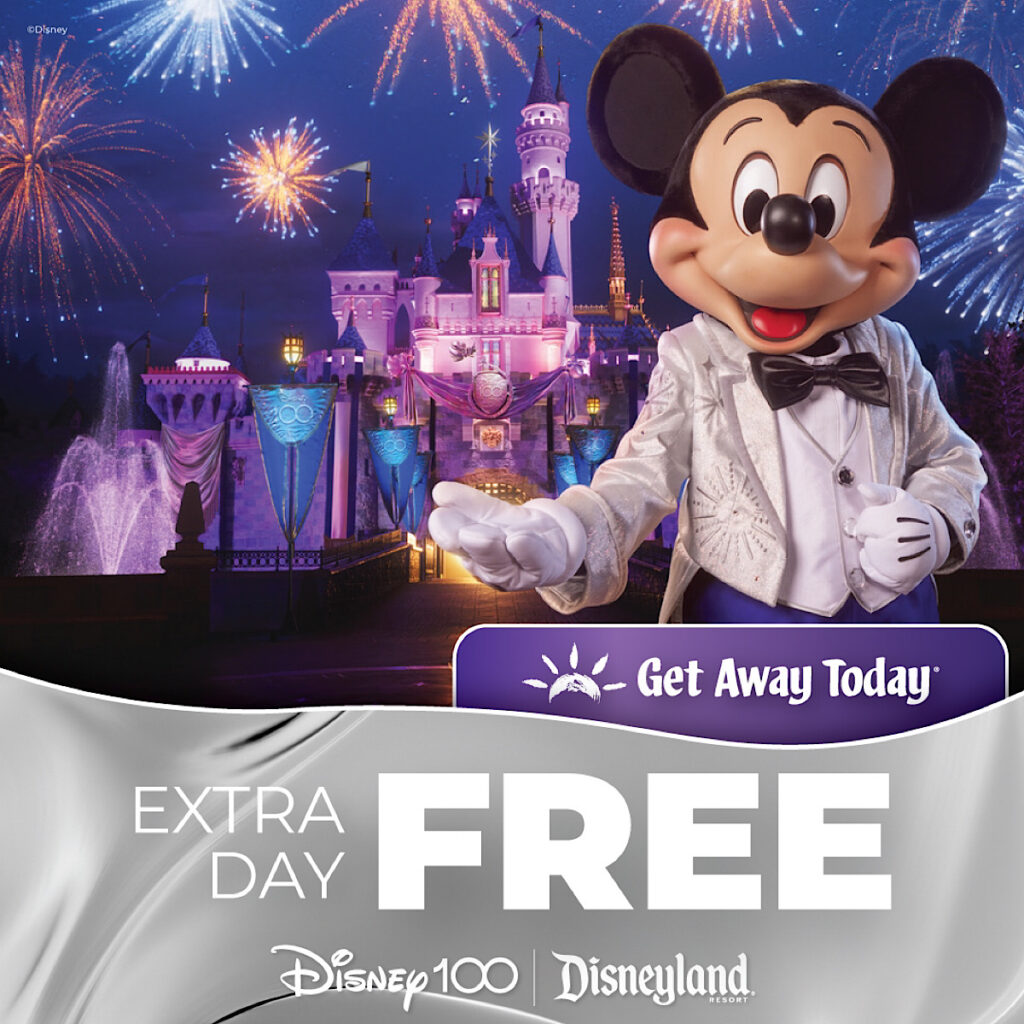 To celebrate Disney100, you can get an EXTRA DAY FREE when you purchase tickets from Get Away Today!
Discount Disneyland Tickets
Before we get started, I want to let you know where I get my Disneyland tickets. I am not a fan of paying "full price" for anything, and that goes for Disneyland tickets as well.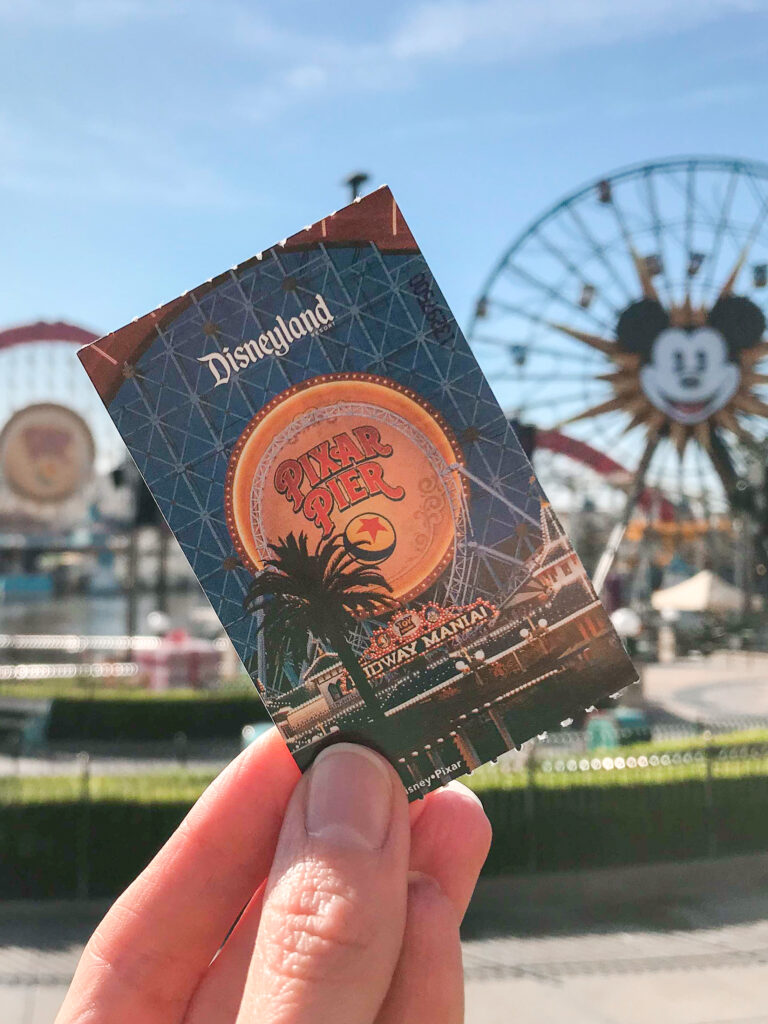 Get Away Today is an authorized seller of Disneyland tickets and are able to offer them a few dollars cheaper than if you purchase directly from Disney.
You can save even more, when you book tickets along with a hotel stay through Get Away Today. They have partnered with many hotels in Anaheim like Howard Johnson Anaheim and even the Disneyland Hotel!
Head to their website to check out a customizable package price and get your trip to Disneyland for the Christmas booked ASAP! Use the Get Away Today coupon code: MommyMouse to save even more!
When does Christmas at Disneyland 2022 Start?
The official dates for Disneyland Christmas 2022 have not yet been released, we can expect it to begin around November 11th and end in early January around the 8th based on past years. Although, Christmas decorations begin to go up at Disneyland as early as Novmeber 1st!
Christmas Time at Disneyland Park
Of course, Disneyland never disappoints with their décor and the holidays are no exception. Take advantage of of the amazing photo opportunities below!
Main Street USA
On Main Street, U.S.A., you'll be able to see holiday bunting and festive wreaths around every corner. Plus, you'll want to take a family photo in front of the giant Christmas Tree filled with joyful ornaments and bright lights. Make sure to get a picture with Mickey Mouse in his holiday sweater!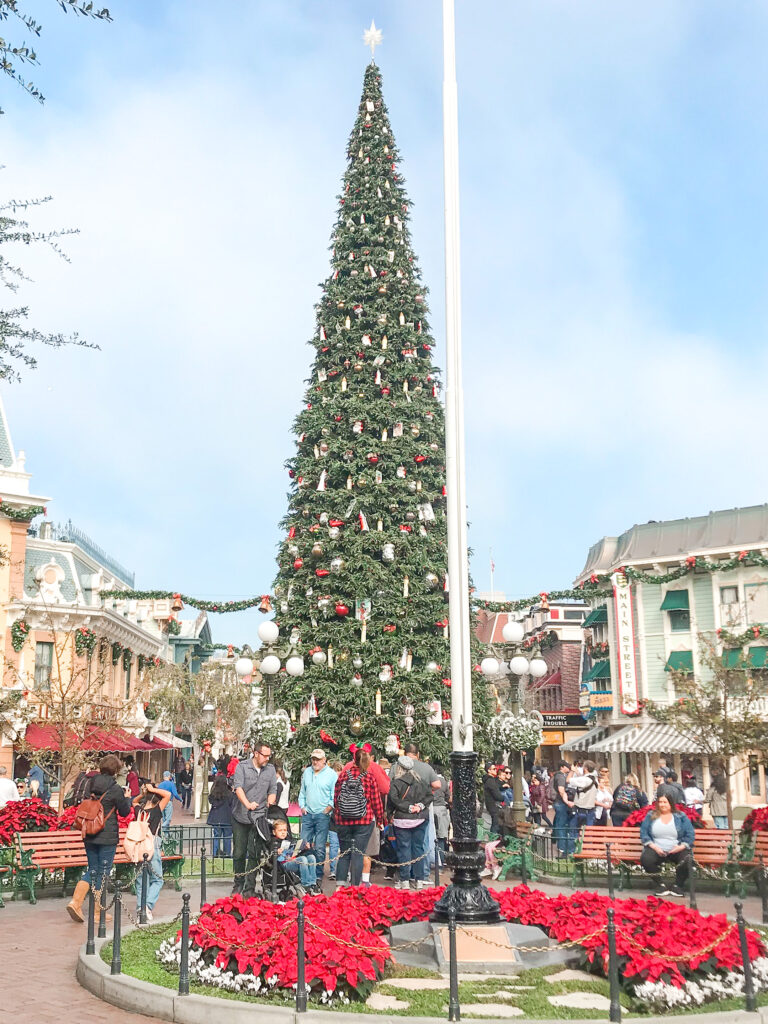 New Orleans Square
In addition to this, you'll want to head over to New Orleans Square and view the traditional Mardi Gras themed Christmas garlands.
Sleeping Beauty Castle
Don't forget to stop by the snow-capped castle to take a festive photo!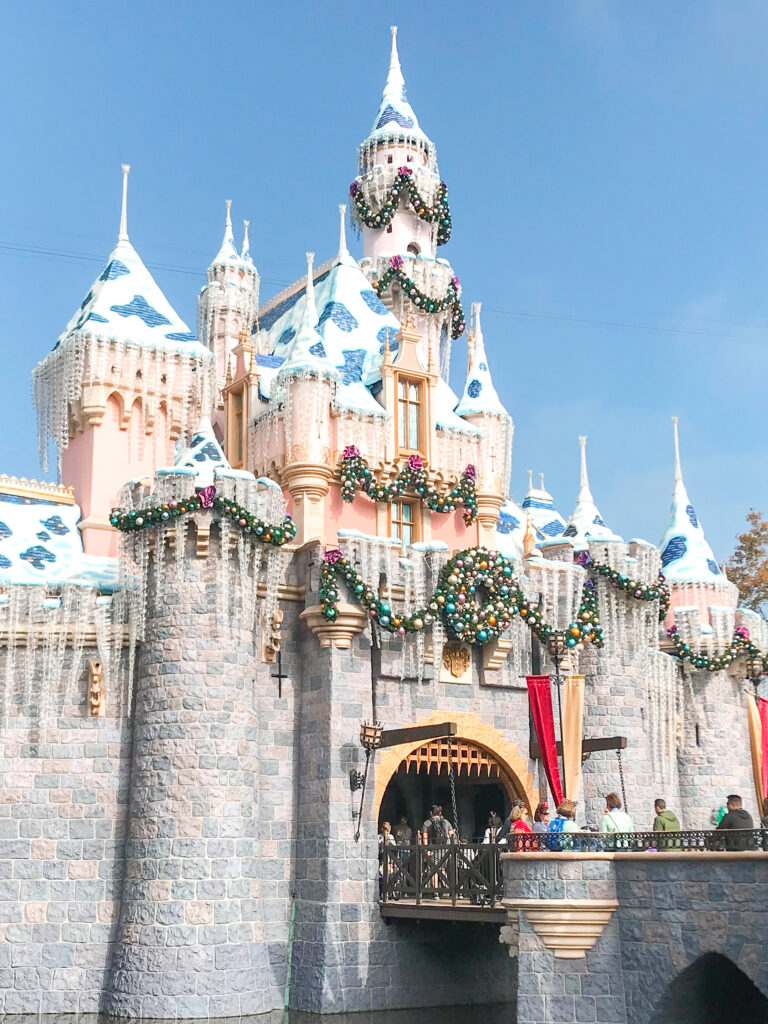 Haunted Mansion Holiday
When spending Christmas at Disneyland, guests can enjoy an eerie makeover at Haunted Mansion Holiday. Inspired by the beloved movie, The Nightmare Before Christmas from Tim Burton, you'll be able to meet Jack Skellington and his Halloween Town crew on this ride overlay.
While this ride overlay might seem a little spooky, it's still filled with festive décor to put you in the holiday spirit.
Since this attraction is immensely popular around the holiday season, I would suggest adding Disney Genie+ to your tickets, to save you time in line. Haunted Mansion Holiday is usually available from early September to the first week of January.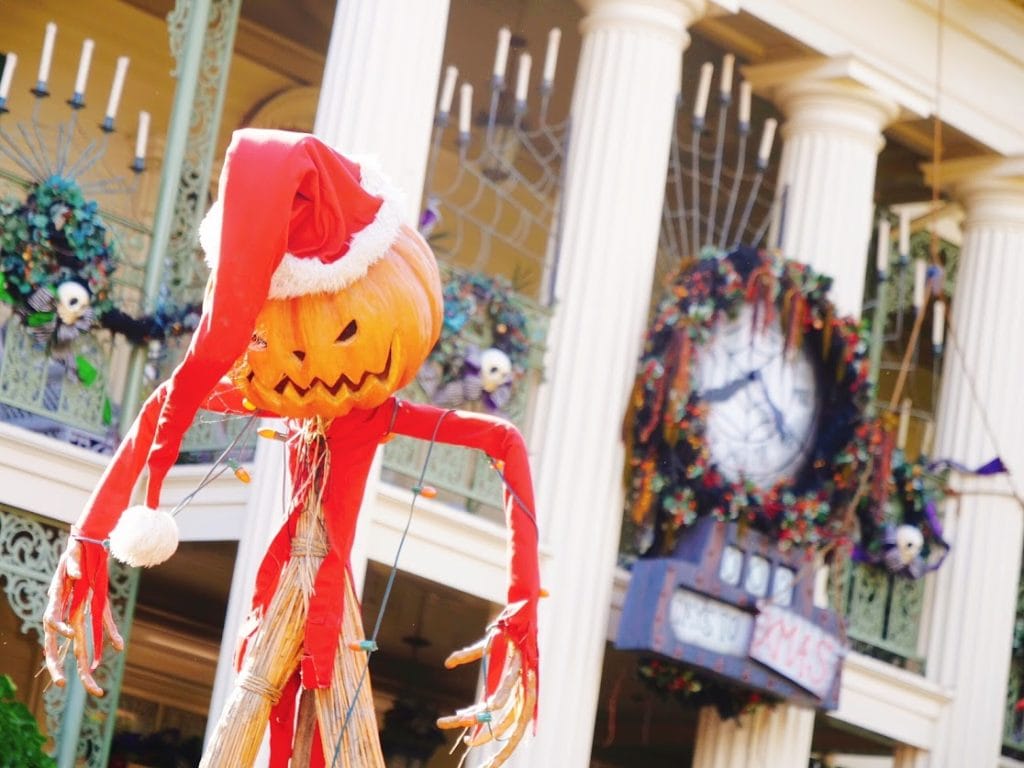 "it's a small world" Holiday
While small may be in the name, it's a small world Holiday celebrates the Christmas season in a big way. Here, you can enjoy twinkling lights and sing along to seasonal music from all around the world. Instead of hearing the song "it's a small world" you will listen to a special version of "Jingle Bells".
Truthfully, I might even like this version better than the classic attraction! "it's a small world" Holiday is the perfect way to get everyone in your family excited for holiday celebrations.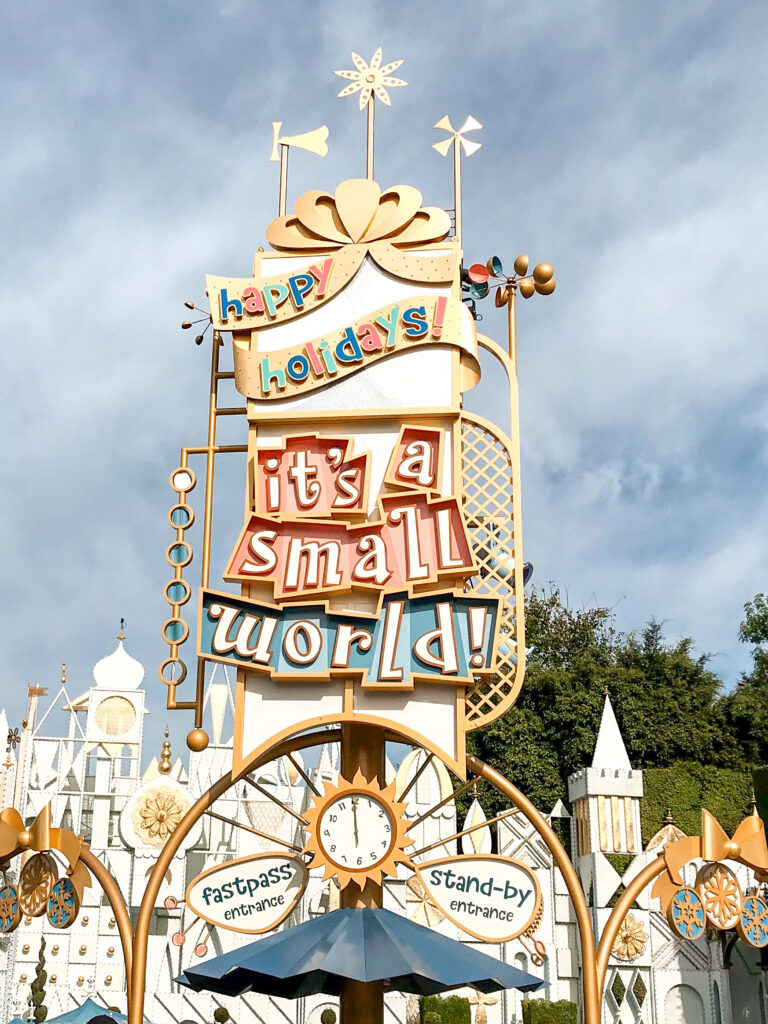 A Christmas Fantasy Parade
Disneyland's Christmas parade 2022 is called, A Christmas Fantasy Parade and has become a cherished classic, and it's no surprise as to why. During this parade, you and your family can enjoy appearances from Mickey, Minnie, Goofy, Pluto and more as they dance and sing along to traditional holiday tunes.
In addition to this, you can also watch frolicking reindeer, twirling gingerbread cookies and drumming toy soldiers as they come down Main Street, U.S.A.. Plus, you might even be able to see Santa Claus himself, as he sends holiday greetings to everyone in Disneyland Park.
If you want to get a good spot for this parade, I would suggest finding a place at least 30 minutes beforehand. This is also a great opportunity to grab lunch or dinner, so you can multitask while you wait for the fun.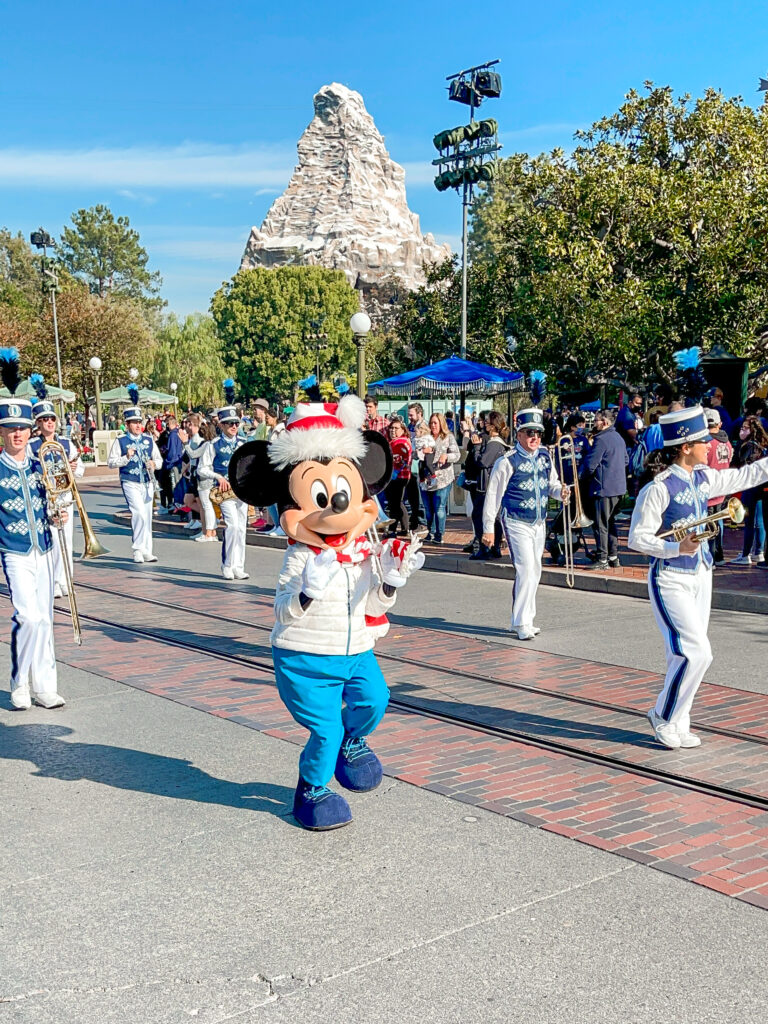 Believe… In Holiday Magic Fireworks
To end your magical Christmas at Disneyland day, you'll want to be sure to catch the "Believe… In Holiday Magic Fireworks" show. This Disneyland Christmas fireworks nighttime spectacular celebrates the holiday season with all of your favorite Disney and Pixar pals.
With dazzling lights, catchy music and even snowfall on Main Street U.S.A., you won't want to miss out on this joyful show.
Wintertime Enchantment at Sleeping Beauty's Winter Castle
Sleeping Beauty Castle is definitely a sight to behold during the day, but at night it is taken to a whole new level. The icicle decorations sparkle and light up as soon as the sun goes down. You definitely won't want to miss it!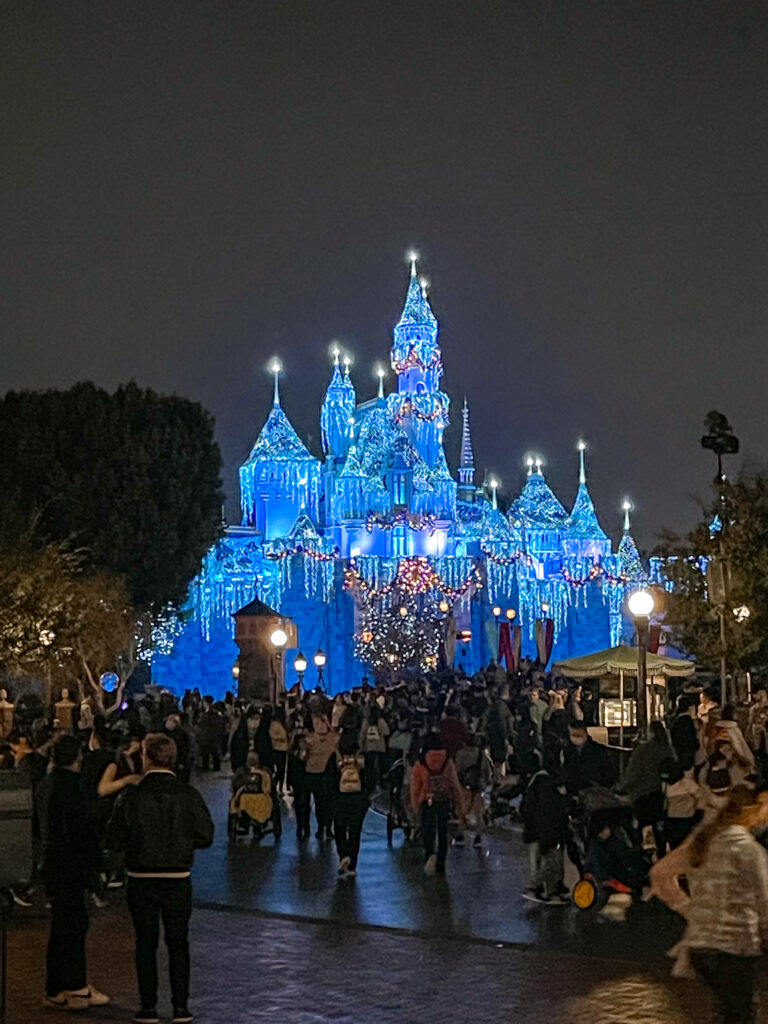 "it's a small world" Holiday Lighting
I mentioned above how fun "it's a small world" is during the day, but at night the attraction is even more special. The holiday lights around the exterior of the building are bright and cheerful.
Plus, the inside of the attraction is illuminated with even more sparkling lights. It's definitely a must-see during your visit!
Candlelight Processional
The Candlelight Processional is a holiday tradition at Disneyland Park. This special event can be seen select nights in early December and features a celebrity narrator reading the story of Christmas, while a live orchestra and choir performs holiday classics. It's the perfect way to get into the Christmas spirit!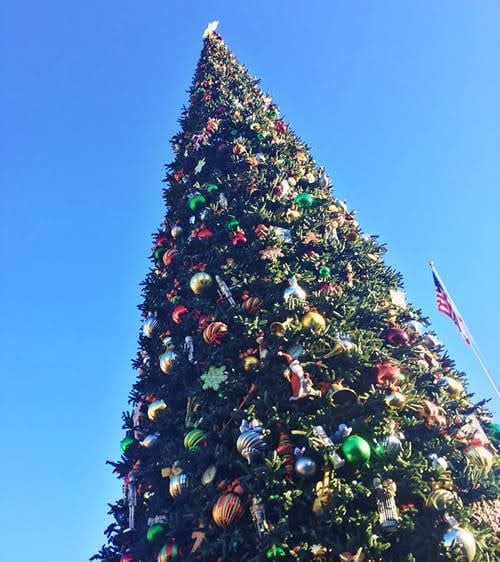 Christmas at Disney California Adventure Park
While Disneyland Park is absolutely beautiful at Christmas, so is Disney California Adventure Park. Here are some of the best things to see and do during the holidays at this park.
Festive Foods Marketplace
If you're a fan of holiday food, then you're going to absolutely love the Festive Foods Marketplace. During select dates, guests can try foods, treats and beverages from all around the world.
Below you can see some of the items on the 2022 menu. Last year you could choose between twelve different kiosks that vary from Grandma's Favorites to Spicy Celebrations. Indulge in a Bavarian Pretzel, Horchata Fudge, Nashville Hot Fried Turkey and so much more. I can't wait to see what they come up with this year!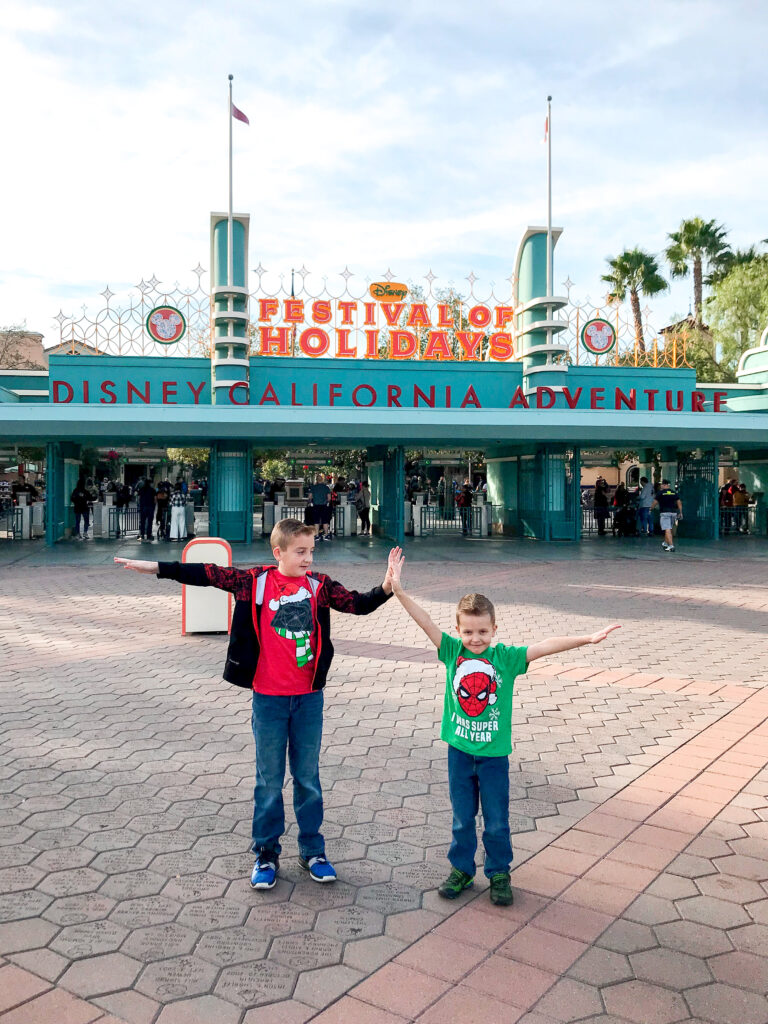 Disney Festival of Holidays
While you're enjoying Christmas at Disneyland, be sure to check out the Festival of Holidays in Disney California Adventure Park. This festival celebrates various holiday traditions from different cultures around the globe.
During this celebration, you can enjoy the ¡Disney Viva Navidad! Street Party parade, brightly colored décor and arts and crafts for the entire family.
Holiday Toy Drummers
If you want to enjoy holiday live entertainment, but don't want to take a chunk of time out of your day, make sure to catch the Holiday Toy Drummers.
Next to Paradise Bay, you can watch as Toy Drummers come to life and play some of your favorite holiday songs. Not only is this impressive to watch, but it's also a delight for the entire family. The best part? This show is only about 10-15 minutes long, so you can continue enjoying your magical day once it's done.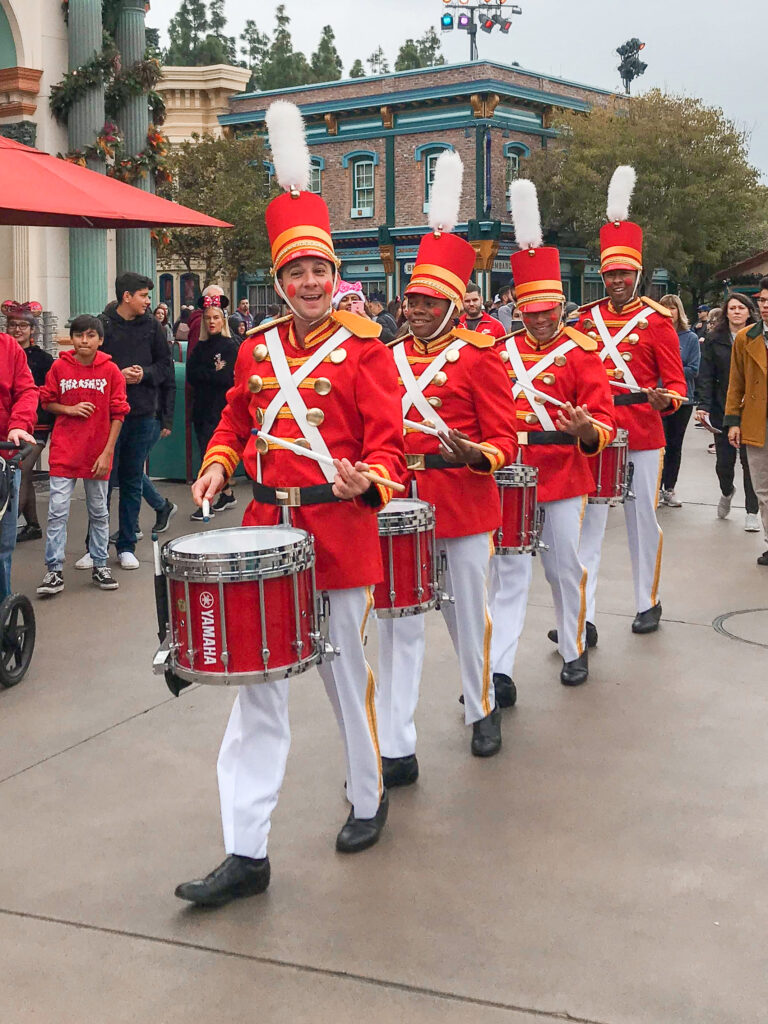 Cars Land Décor
At Radiator Springs, U.S.A., you'll be granted "Seasons Speedings" during the holiday season. This land gets a festive makeover, just in time for Christmas. In addition to the joyous décor, you'll also be able to get pictures with an adorable snowman car and even Mater in a Santa hat.
As you can see, Christmas at Disneyland has something for everyone to enjoy.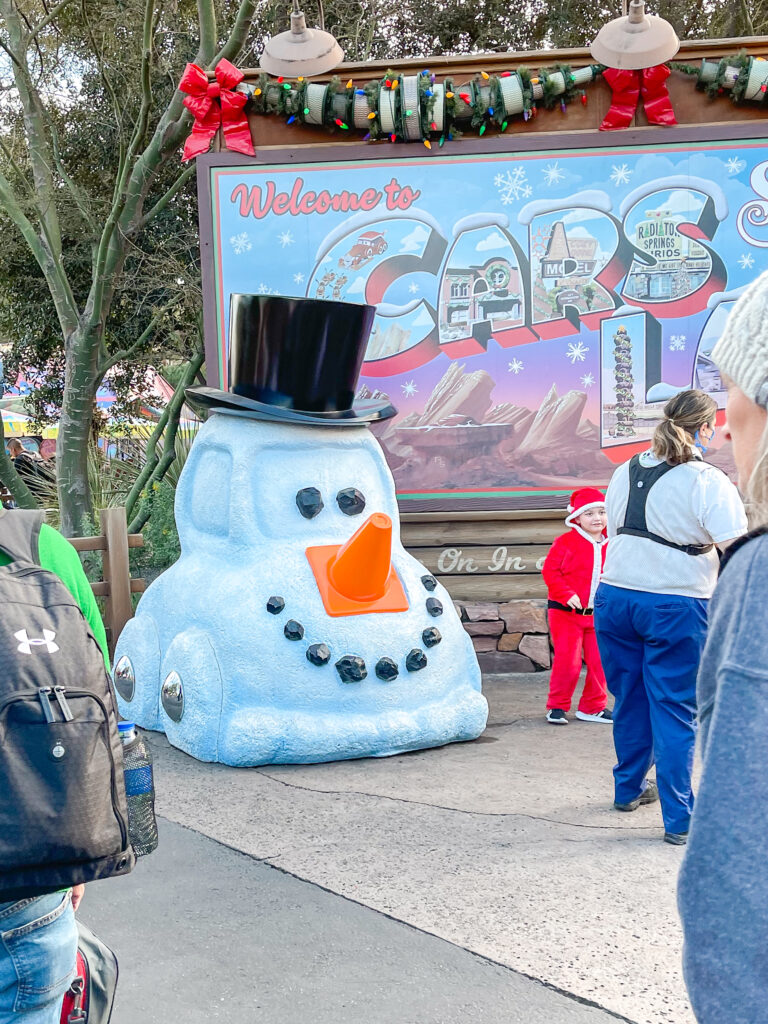 Luigi's Joy to the Whirl
During the holiday season, Luigi's Rollickin Roadsters is transformed into Luigi's Joy to the Whirl. It is such a fun overlay to this attraction where you sit in your car and dance to festive holiday music!
Mater's Jingle Jamboree
Head down the street from Luigi's to experience Mater's Jingle Jamboree decorated for the holidays. You'll enjoy classic Christmas music with Mater's own original lyrics.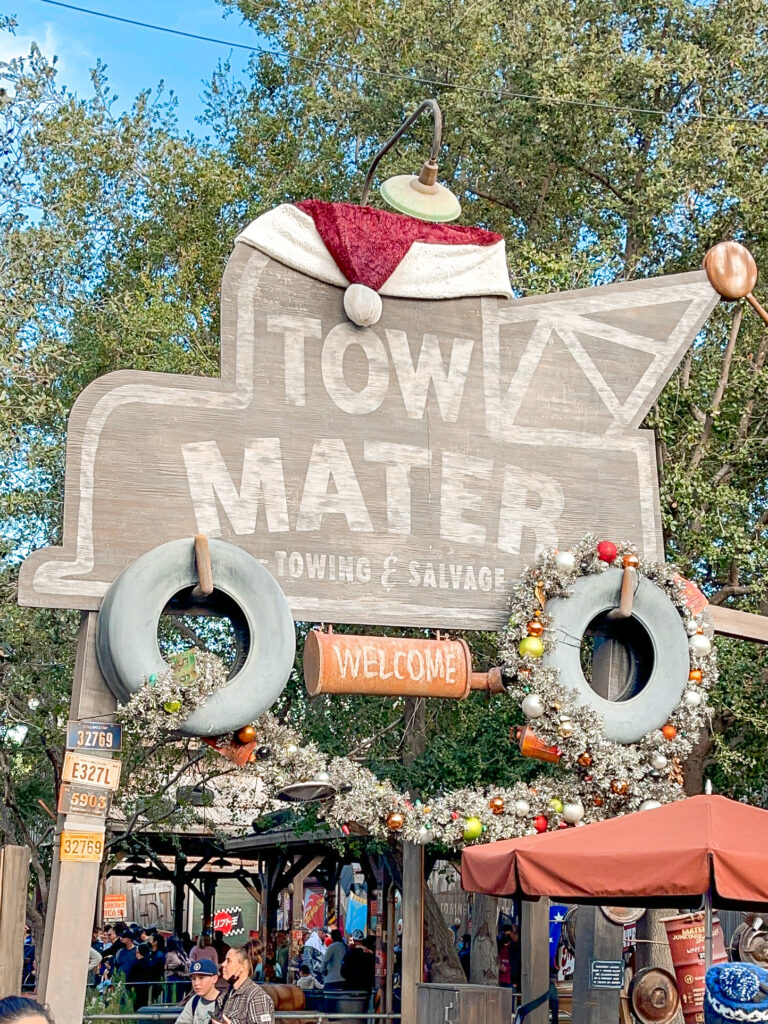 Disney ¡Viva Navidad!
Experience holiday traditions from Mexico and Brazil through cultural performers.
Where to Meet Santa at Disneyland Christmas
In the parks, you can meet Santa Claus inside Redwood Creek Challenge Trail at Disney California Adventure Park.
You can also meet Santa at the near the Christmas trees Disneyland Hotel, Disney's Grand Californian Hotel, and Disney's Paradise Pier Hotel.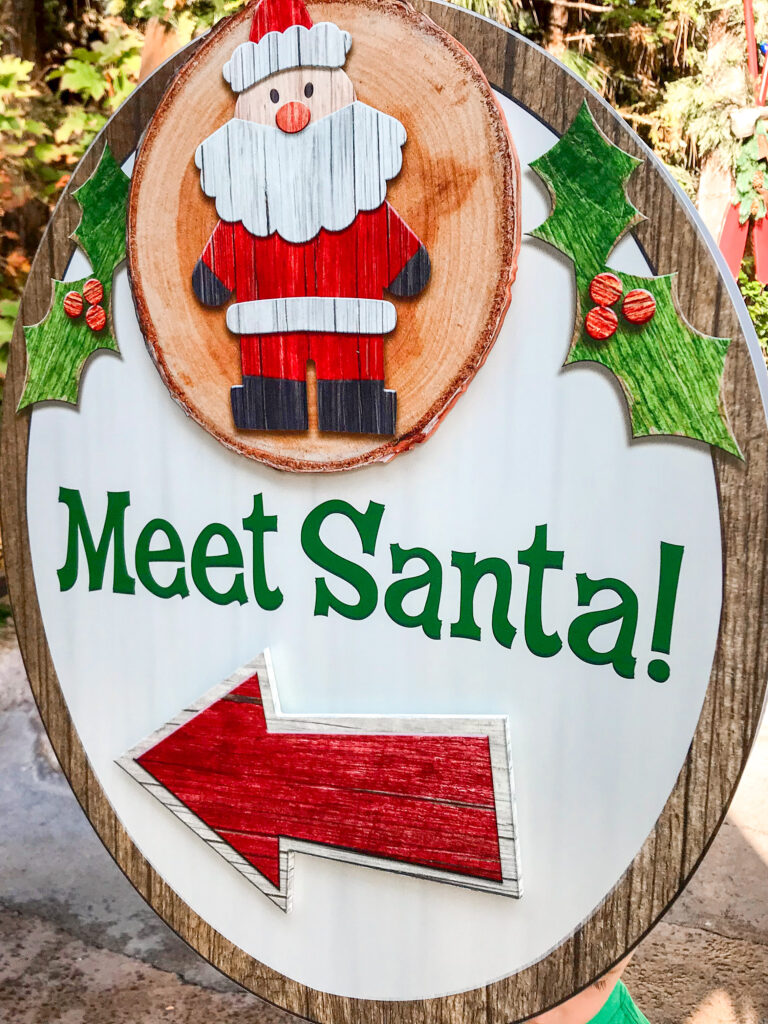 Disneyland Candy Canes 2022
Getting your hands on a coveted hand pulled candy cane at Disneyland is always a treat. The Disneyland candy canes are available on select dates at Candy Palace in Disneyland Park and Trolley Treats at Disney California Adventure Park.
Official dates for candy cane availablility are usually released around Thanksgiving.
Disneyland Christmas Food Guide 2022
I'm not going to lie, part of the reason I go to Disneyland is for the food. I have an entire post and video dedicated to the Best Snacks & Treats at Disneyland. Christmas is a great time to get specialty treats that are only available during the holiday season. Here are some of the delicious goodies that will be available in 2022.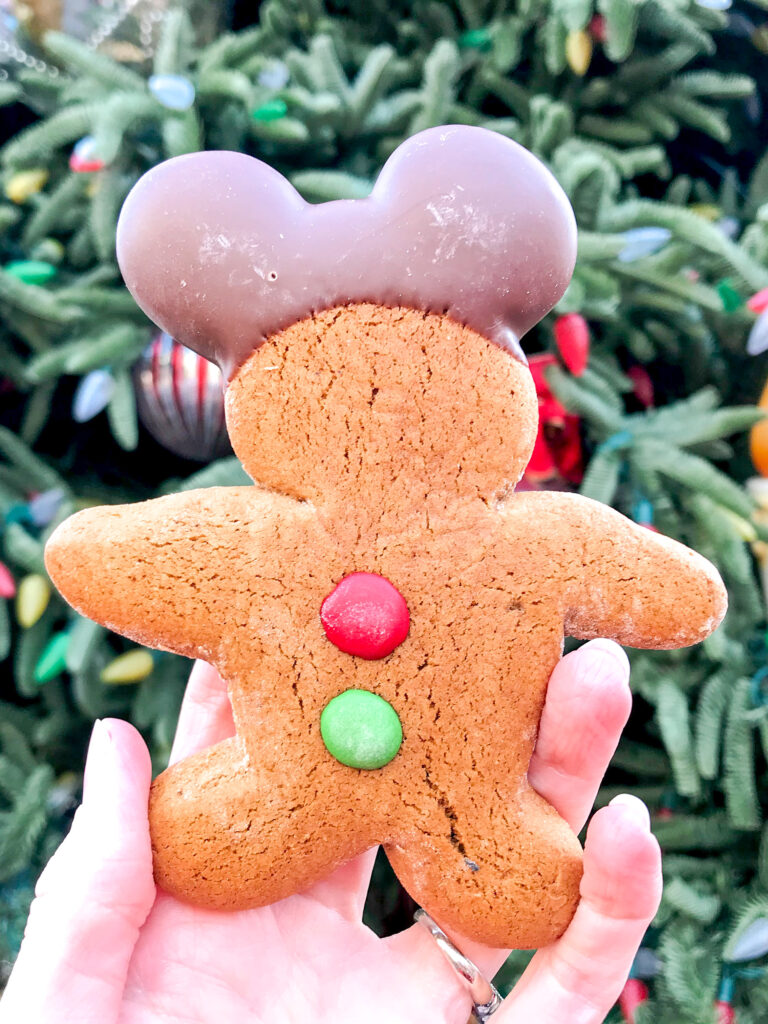 Disneyland Park Christmas Food
Churros: Chocolate-Cinnamon Churro (Churro Cart – Castle Hub), Groom Churro (Churro Cart – Critter Country), Bride Churro (Churro Cart – New Orleans Square), Pink Coconut Churro (Churro Cart – Tomorrowland), Holiday Cookie Churro (Churro Cart – Town Square)
Alien Pizza Planet: Chicken Parmesan Pizza, Tomato Cream Pasta, Green Alien Holiday Macaron
Blue Bayou Restaurant: 31 Royal Street Signature Julep, Cookie Butter Crème Brûlée with cookie crumbles and chocolate brownie
Café Orleans: Hot Cocoa Crème Brûlée topped with marshmallow chantilly and served with sugar cookies
Carnation Café: Herb-roasted Pork Sandwich
French Market: Smothered Beef with mashed potatoes, seasonal vegetables, caramelized onions and roasted garlic au jus, Haunted Mansion Holiday Wreath Cookie, Wedding Cake
Galactic Grill: Specialty Burger, Peppermint-Mocha Frappé, Caramel Pecan Brownie Parfait
Gibson Girl Ice Cream Parlor: Peppermint Holiday Sundae
Refreshment Corner: Spicy Meatball Sandwich
Golden Horseshoe: Churro Funnel Cake à la Mode
Harbour Galley: Seafood Boil for Two
Hungry Bear Restaurant: Spicy BBQ Bacon Cheeseburger, Honey Cream Cold Brew, Pumpkin Cheesecake Funnel Cake
Ice Cream and Vending Carts: Cinnamon Cotton Candy
Jolly Holiday Bakery Café: Turkey Noodle Soup, Holiday Brownie with white chocolate mousse, holiday sprinkles, and decorations, Chocolate-Mint Macaron with white peppermint cream filling and rich chocolate ganache, Holiday Sandwich, Maple Walnut Cheesecake, Mickey Gingerbread
Market House: Mickey Gingerbread
Mint Julep Bar: Peppermint Beignets
Plaza Inn: Chocolate Chip-Red Velvet Bundt Cake, Holiday Cake A Christmas Fantasy Parade Dining Package
Rancho del Zocolo: Pork Pozole, Mexican Hot Chocolate, Cinnamon Crisps with Dipping Sauce, Dessert Nachos – Cinnamon crisps topped with berry compote, whipped cream, and honey crème anglaise, Horchata
Pretzel Carts: Toffee Pretzel
Red Rose Taverne: Eggnog Cold Brew, Holiday Grey Stuff, Mickey-shaped Gingerbread Cookie
River Belle Terrace: Hummingbird Cake, Country Ham Cubano, Seasonal Monkey Bread
Royal Street Veranda: Pumpkin Fritters with cream cheese dipping sauce
Stage Door Café: Spicy Corn Dog, Churro Funnel Cake, Classic Funnel Cake with powdered sugar, whipped cream, and snowflake sprinkles
Tropical Hideaway: Holiday DOLE Whip Sundae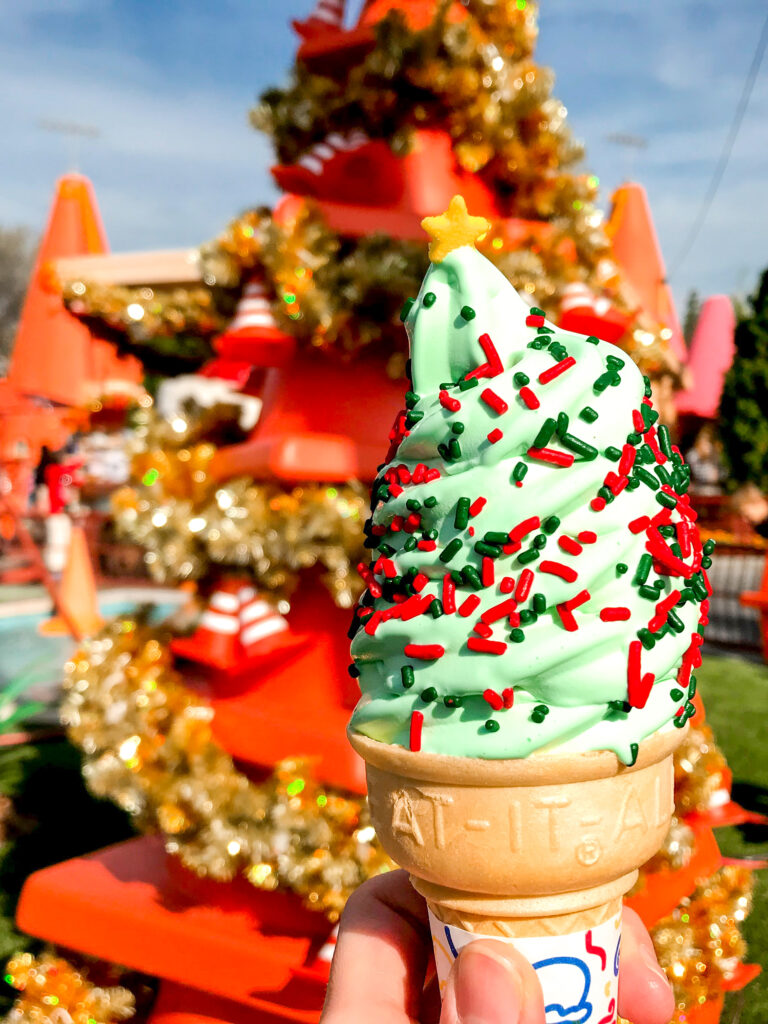 Disney California Adventure Park Christmas Food
Holiday Duets Marketplace: Braised Pork Belly Adobo with Garlic Fried Rice, Shrimp & Grits with Andouille Sausage, Pabana Cachaça Colada, Calamansi Melon Lemonade
Brews & Bites Marketplace: Impossible Chorizo Queso Fundido with House-made Tortilla Chips
Winter Sliderland Marketplace: Nashville Hot Turkey Slider with dill pickle, Bourbon Cranberry Cocktail, Prickly Pear Tea Lemonade
Grandma's Recipes Marketplace: Impossible Arepa Encantada, Gingerbread Mickey, Berries 'n' Crema
A Twist on Tradition Marketplace: Reimagined Beef Brisket Wellington, Reuben Potato Bites, Churro Toffee Cold Brew Latte, Red Sangria, Sauvignon Blanc
Making Spirits Bright Marketplace: Cinnamon & Sugar Holiday Tart, "Hot Cocoa" Marshmallow Macaron, Maple Hazelnut Hot Buttered Rum, White Wine Flight, Red Wine Flight
Favorite Things Marketplace: Holiday Stuffing Mac & Cheese, Chana Masala with Grilled Garlic Naan, Hibiscus Ginger Mezcal Mule, Selection of Pale Ales and Stouts
Merry Mashups Marketplace: Esquites Carnitas Mac & Cheese, Holiday Spiced Wings, Holiday Mix, Honey Guava Pisco Punch
Treats for Santa Marketplace: Mickey Snowman Cookie Decorating Kit, Holiday Mix, Maple Hazelnut Hot Buttered Rum
Viva Navidad at Paradise Garden Grill: Chile Relleno Plate, House-made Pozole, Torta al Pastor, Street-Style Tacos, Pineapple Tres Leches Roulade, Kids' Street-Style Tacos, Kids' Cheese Quesadilla
Paradise Garden Carts: Beef Tamale with Red Sauce, Guava and Cheese Pan Dulce, Maple-Hazelnut Hot Buttered Rum
Willie's Churro Cart: Chocolate-Pecan Churro
Grizzly Peak Churro Cart: Peppermint Churro
Hollywood Churro Cart: Chocolate-Hazelnut-Strawberry Churro
Lucky Fortune Cookery: Bao Bun with Seasonal Fruit
Pacific Wharf Café: Apple Fritter Bread Pudding
Smokejumpers Grill: Holiday Shake, Loaded Latke
Sonoma Terrace: Avocado Cheese Steak, Peppermint Cold Brew Cocktail, Cranberry Mule
Studio Catering Truck: Deconstructed Carnitas Tamal
Pym Tasting Lab Holiday Snack Molecules
Terran Treats: Pineapple-Coconut Ration
Award Wieners: Pastrami Reuben, Chocolate-Marshmallow Funnel Cake Friesy
Boudin Bread Cart: Candy Cane-shaped Sourdough, Christmas Tree Pull-Apart, Snowman-shaped Sourdough
Churro Cart (Goofy's): Dusted Gingerbread Churro with sweet gingerbread crumbles drizzled with vanilla frosting and finished with Christmas chocolates
Clarabelle's Hand-Scooped Ice Cream: Tres Leches Hard Float, Chocolate Peppermint Ice Cream Sundae, Chocolate-Peppermint Bar, Mickey Gingerbread
Cozy Cone Motel: Cherry-Chocolate Churro, Peppermint Ice Cream (cone or cup) decorated with holiday sprinkles and topped with a sugar star, Creamy Pesto Alfredo Cone, Peppermint Stout
Fiddler, Fifer & Practical: Mickey Gingerbread
Hollywood Lounge: Holiday Lemonade, Peach-Citrus Cocktail, Holiday Mule, Holiday Limeade, Blue Lemonade Fizz, Tropical Holiday Margarita
Lamplight Lounge: Holiday Hot Chocolate, Holiday Martini, Stout-braised Winter Short Ribs, Holiday Hot Chocolate, Holiday Martini, Peppermint-Hot Cocoa Donuts
Mortimer's Market: Christmas Tree Pull-Apart Sourdough, Snowman-shaped Sourdough
Outdoor Ventures: Blue and White Swirl Cotton Candy in Snowflake Bag
Pacific Wharf Café: Candy Cane-shaped Sourdough, Christmas Tree Pull-Apart Sourdough, Snowman-shaped Sourdough, Mickey-shaped Gingerbread
Pacific Wharf Cappuccino Cart: Mickey-shaped Gingerbread
Schmoozies! Peppermint Shake, Holiday Affogato, Mocha Almond Affogato, Mocha Almond Fudge Shake
Smokejumpers Grill: Cranberry Turkey Burger, Apple Whiskey Cocktail
Wine Country Trattoria: Chocolate Peppermint Martini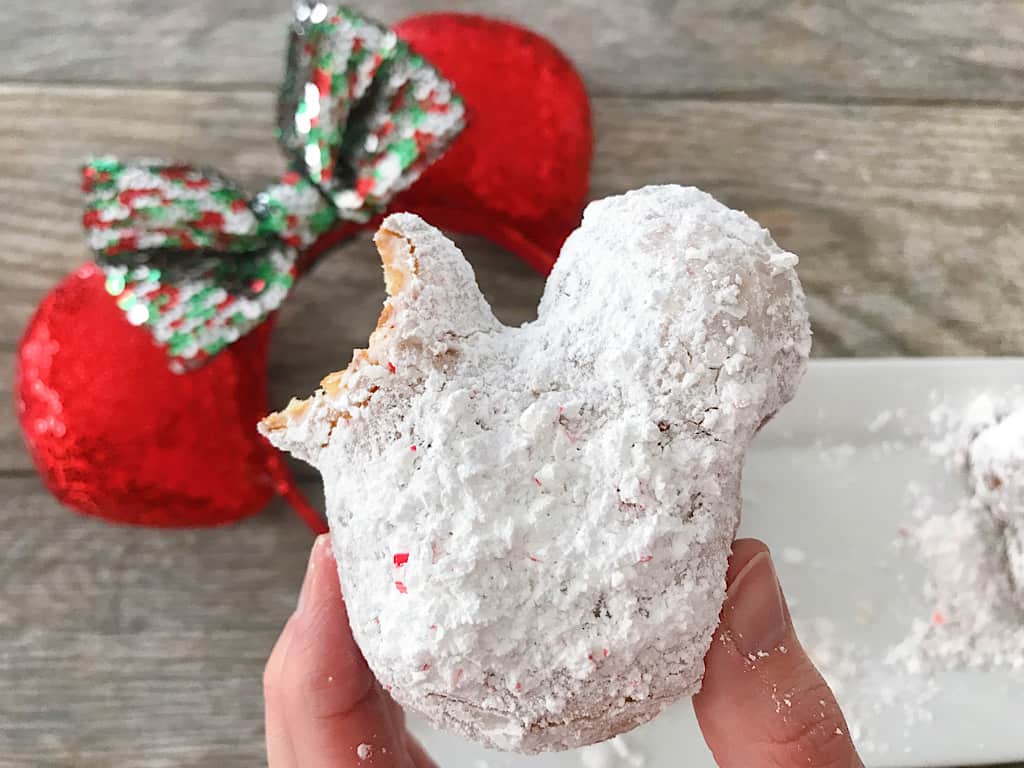 Disneyland Christmas Treats you can Make at Home:
When is the best time to visit Disneyland for Christmas?
If you want to avoid the Disneyland Christmas Crowds, I recommend visiting the week before Thanksgiving (not the week of) and the first two weeks of December.
If you go on Christmas Eve, Christmas Day, New Years Eve, or New Years Day, plan on spending the day with the largest crowds of the year! But, if you go with realistic expectations (like dealing with tons of people and long lines) you can still have fun.
When I go on days like this, I plan to enjoy the Disneyland Christmas decorations, food, and atmosphere.
Tips for Visiting Disneyland at Christmas
1. Arrive early to get a head start on the crowds. The parks tend to be most crowded in the afternoon, so if you can, aim to arrive when they open.
2. Consider buying a park hopper ticket. This will allow you to visit both Disneyland and California Adventure in one day, and can help you make the most of your time.
3. Be sure to check out the holiday decorations. Both parks are decked out for Christmas, and it's definitely worth taking some time to see the lights and other festive touches.
4. Make sure to try some of the seasonal food offerings. There are plenty of special treats available during Christmastime, so be sure to sample a few!
5. If you're traveling with kids, consider staying at one of the Disneyland Resort hotels. This can make your trip more convenient and enjoyable, and will give you access to extra perks like early park admission.
6. Purchase Disney Genie+ to lessen wait times for popular rides on busy dasy.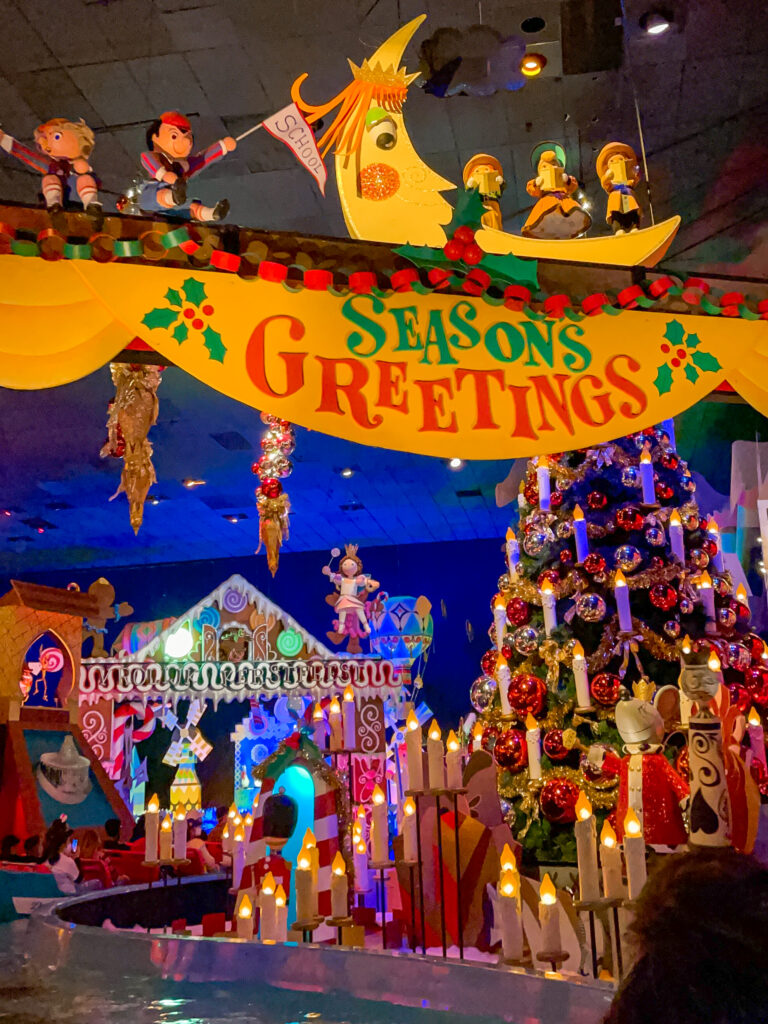 Disneyland Savings
If you haven't booked your vacation yet, make sure to call Get Away Today. Not only do they guarantee the best price on your next vacation, but they'll provide you with the best service as well.
Plus, they offer an interest free Layaway Plan. For just $175 down, you can book your holiday trip as soon as you think of it.

To book, visit getawaytoday.com or call 855-GET-AWAY to speak to a travel expert directly. Don't forget to mention promo code MommyMouse for an additional $10 off your vacation package. Let them know that Mommy Mouse Clubhouse sent you!
Looking for Cute Chrismtas Disney Apparel?
I've had really good luck lately finding adorable and affordable Disney vacation t-shirts on the boutique deal website Jane.com! There have been quite a few options for men, women, and children for $13.99! I've even seen cute little Princess dresses for little girls.
Just head to Jane and scroll through all of the deals, but be aware that their deals change daily. Make sure to check back often or follow me on Instagram to keep up on all of the amazing Disney-themed merchandise!
I have also had really good luck finding cute Christmas Disney tshirts right on Amazon! Head here and search for "Disney Christmas Shirts" or check out my Amazon shop here!