All of the things you'll want to see when you spend Christmas at Disneyland!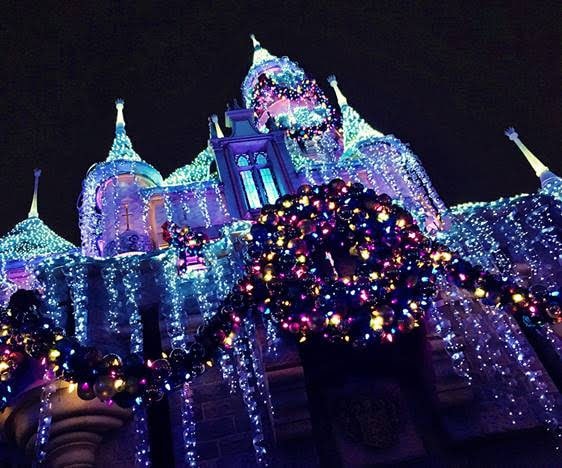 This post may contain affiliate links. When you click on these links, I get a small percentage back that helps me run my blog at no cost to you! For more information see my disclosure policy.
Ultimate Guide to the Holidays at the Disneyland Resort
It's hard to believe how fast this year has already gone by, however, it means that the Holidays at the Disneyland Resort are just around the corner! Starting in November, you can experience festive fun in both Disneyland and Disney California Adventure Park. With so much to see and do, you'll want to make sure to experience all of the festivities that this celebration has to offer. Because of this, I've teamed up with my friends at Get Away Today to give you the ultimate guide to the Holidays at the Disneyland Resort so that you can have an amazing Christas at Disneyland!
Christmas at Disneyland Park
Holiday Décor
Of course, Disneyland never disappoints with their décor and the holidays are no exception. On Main Street, U.S.A., you'll be able to see holiday bunting and festive wreaths around every corner. Plus, you'll want to take a family photo in front of the giant Christmas Tree filled with joyful ornaments and bright lights. In addition to this, you'll want to head over to New Orleans Square and view the traditional Mardi Gras themed Christmas garlands. Don't forget to stop by the snow-capped castle to take a festive photo!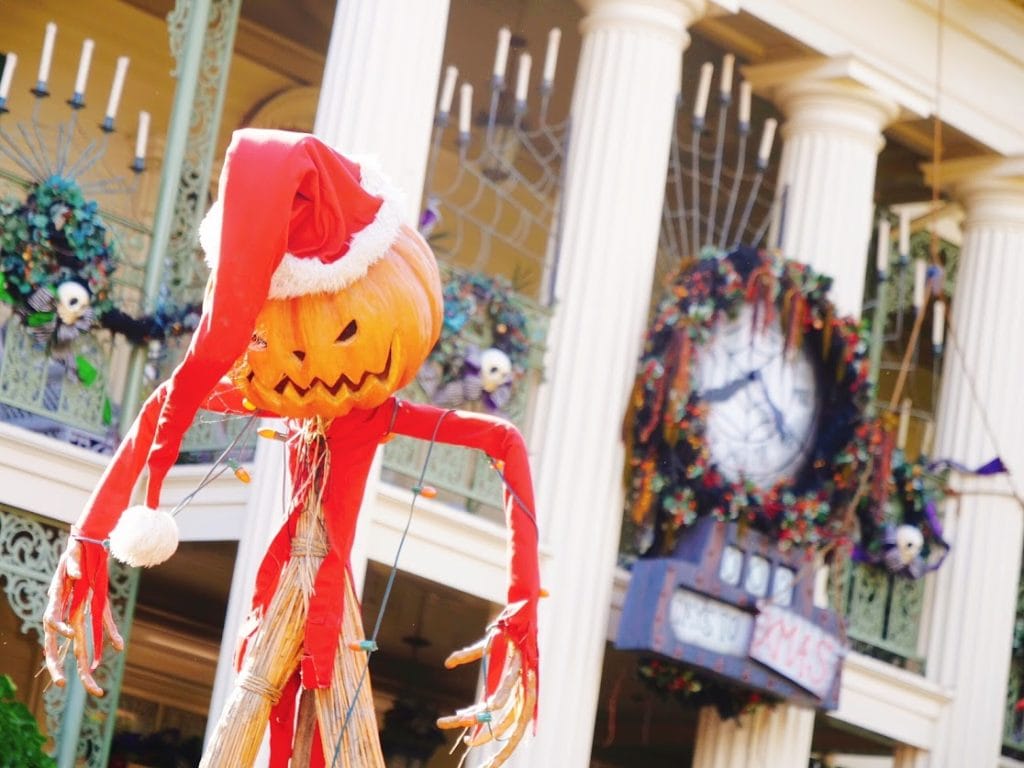 Haunted Mansion Holiday
When spending Christmas at Disneyland, guests can enjoy an eerie makeover at Haunted Mansion Holiday. Inspired by the beloved movie, The Nightmare Before Christmas, you'll be able to meet Jack Skellington and his Halloween Town crew on this ride overlay. While this ride overlay might seem a little spooky, it's still filled with festive décor to put you in the holiday spirit. Since this attraction is immensely popular around the holiday season, I would suggest getting a FastPass or MaxPass to save you time in line.
"it's a small world" Holiday
While small may be in the name, "it's a small world" Holiday celebrates the Christmas season in a big way. Here, you can enjoy twinkling lights and sing along to seasonal music from all around the world. Truthfully, I might even like this version better than the classic attraction! "it's a small world" Holiday is the perfect way to get everyone in your family excited for holiday celebrations. Plus, this ride now offers FastPasses, so you don't have to worry about having a long wait.
A Christmas Fantasy Parade
A Christmas Fantasy Parade has become a cherished classic, and it's no surprise as to why. During this parade, you and your family can enjoy appearances from Mickey, Minnie, Goofy, Pluto and more as they dance and sing along to traditional holiday tunes. In addition to this, you can also watch frolicking reindeer, twirling gingerbread cookies and drumming toy soldiers as they come down Main Street, U.S.A.. Plus, you might even be able to see Santa Claus himself, as he sends holiday greetings to everyone in Disneyland Park.
If you want to get a good spot for this parade, I would suggest finding a place around 30 minutes beforehand. This is also a great opportunity to grab lunch or dinner, so you can multitask while you wait for the fun.
Believe… In Holiday Magic Fireworks
To end your magical Christmas at Disneyland day, you'll want to be sure to catch the "Believe… In Holiday Magic Fireworks" show. This nighttime spectacular celebrates the holiday season with all of your favorite Disney and Pixar pals. With dazzling lights, catchy music and even snowfall on Main Street U.S.A., you won't want to miss out on this joyful show.
Christmas at Disney California Adventure Park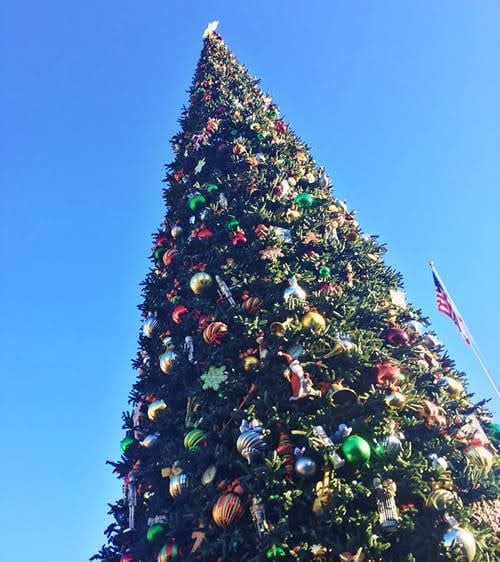 Festive Foods Marketplace
If you're a fan of holiday food, then you're going to absolutely love the Festive Foods Marketplace. During select dates, guests can try foods, treats and beverages from all around the world. Although they don't have the 2018 menu out yet, last year you could choose between twelve different kiosks that vary from Grandma's Favorites to Spicy Celebrations. Indulge in a Bavarian Pretzel, Horchata Fudge, Nashville Hot Fried Turkey and so much more. I can't wait to see what they come up with this year!
Festival of Holidays
While you're enjoying Christmas at Disneyland, be sure to check out the Festival of Holidays in Disney California Adventure Park. This festival celebrates various holiday traditions from different cultures around the globe. During this celebration, you can enjoy the ¡Disney Viva Navidad! Street Party parade, brightly colored décor and arts and crafts for the entire family.
Holiday Toy Drummers
If you want to enjoy holiday entertainment, but don't want to take a chunk of time out of your day, make sure to catch the Holiday Toy Drummers. Next to Paradise Bay, you can watch as Toy Drummers come to life and play some of your favorite holiday songs. Not only is this impressive to watch, but it's also a delight for the entire family. The best part? This show is only about 10-15 minutes long, so you can continue enjoying your magical day once it's done.
Cars Land Décor
At Radiator Springs, U.S.A., you'll be granted "Seasons Speedings" during the holiday season. This land gets a festive makeover, just in time for Christmas. In addition to the joyous décor, you'll also be able to get pictures with an adorable snowman car and even Mater in a Santa hat.
As you can see, Christmas at Disneyland has something for everyone to enjoy. If you haven't booked your vacation yet, make sure to call Get Away Today. Not only do they guarantee the best price on your next vacation, but they'll provide you with the best service as well. Plus, they offer an interest free Layaway Plan. For just $125 down, you can book your holiday trip as soon as you think of it.

To book, visit getawaytoday.com or call 855-GET-AWAY to speak to a travel expert directly. Don't forget to mention promo code MommyMouse for an additional $10 off your vacation package. Let them know that Mommy Mouse Clubhouse sent you!
Looking for Cute Disney Apparel?
I've had really good luck lately finding adorable and affordable Disney vacation t-shirts on the boutique deal website Jane.com! There have been quite a few options for men, women, and children for $13.99! I've even seen cute little Princess dresses for little girls. Just head to Jane and scroll through all of the deals, but be aware that their deals change daily. Make sure to check back often or follow me on Instagram to keep up on all of the amazing Disney-themed merchandise! Also, check out my Amazon shop for all things Disney, including holiday apparel!