This delicious Caramel Pecan Silk Pie tastes like a combination of pecan pie and silk pie. A dessert that is sure to wow your holiday guests!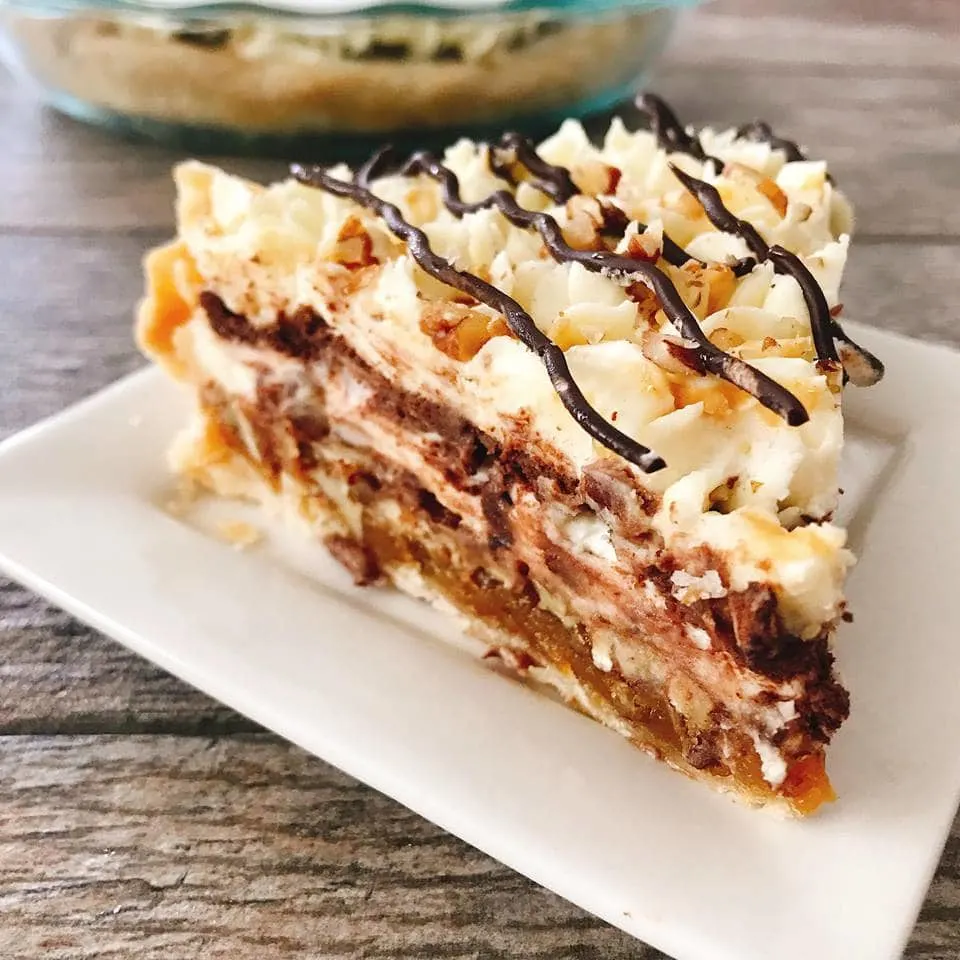 This post may contain affiliate links. When you click on these links, I get a small percentage back at no cost to you! For more information see my disclosure policy.
Below you will find tips, tricks and helpful hints for making this recipe including step by step instructions with pictures. If you would like to go directly to the recipe, scroll down to the recipe card or tap "Jump to Recipe" at the top of the page.
Why I Love these Biscuits
So, this pie is seriously the Best. Pie. Ever. I'm not even kidding or exaggerating. If you want to wow your family and friends this holiday season, this pie will do it.
There are 4 creamy layers and each one complements the others to send the deliciousness level over the top!
Try my Copycat Costco Pumpkin Pie!
This pie is inspired by the "Caramel Pecan Silk Supreme Pie" from Village Inn (also known as Bakers Square).
Once I tasted that pie a few years ago, I was hooked. My husband and I would visit the restaurant every week for "Free Pie Wednesday". We were even on a first name basis with our server!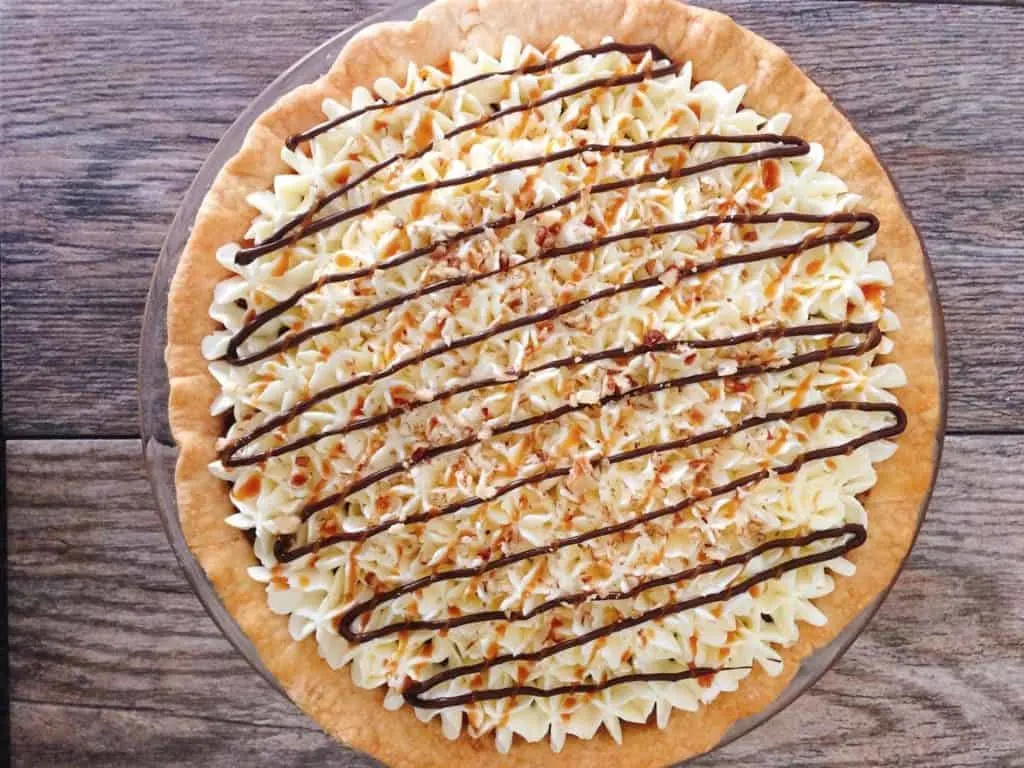 I've been wanting to recreate this pie at home for a long time, and have finally done it!
My husband, who is a firefighter, eats a lot of pie at the fire station.
He took one bite of this pie and immediately said, "Honey, this is the best pie I've ever had!" Let me tell you about each pie layer!
Pie Crust
My personal favorite crust for this pie is my homemade Flaky All-Butter Crust. Pie crust used to intimidate me, but it is actually pretty easy to make. You just need to make sure your ingredients stay cold!
If a homemade pie crust does not fit into your time frame, go ahead and use a refrigerated store-bought crust.
Caramel Pecan Pie Layer
This recipe is enough to make two pies. Trust me, you'll want two pies. For the caramel pecan layer,
I used the filling of my Dark Chocolate Pecan Pie recipe and replaced the corn syrup with caramel ice cream topping. It turned out amazing!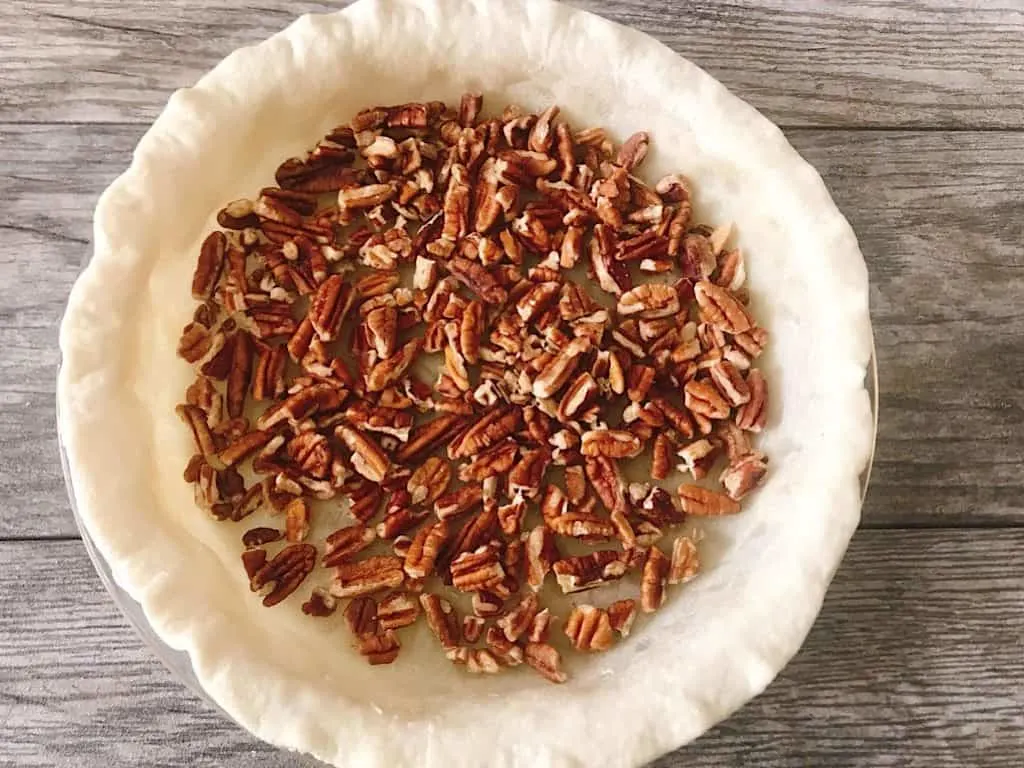 Cream Cheese Layer
This layer is a little tangy, and definitely contrasts the sweetness of the rest of the pie! Its so creamy and delicious, almost like a layer of cheesecake!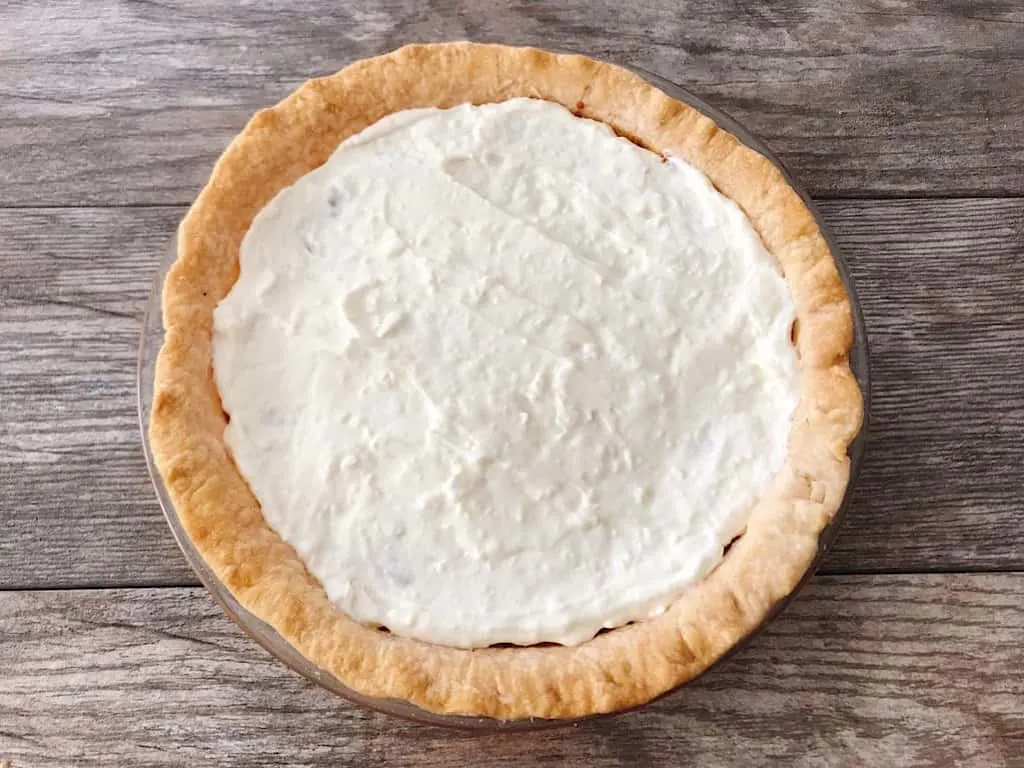 Chocolate Ganache Layer
I thought about doing a chocolate pudding for this layer, but I knew I needed to take it up a notch.
This layer is actually made of whipped chocolate ganache! All you'll need are some chocolate chips and heavy cream. It is so rich and dreamy!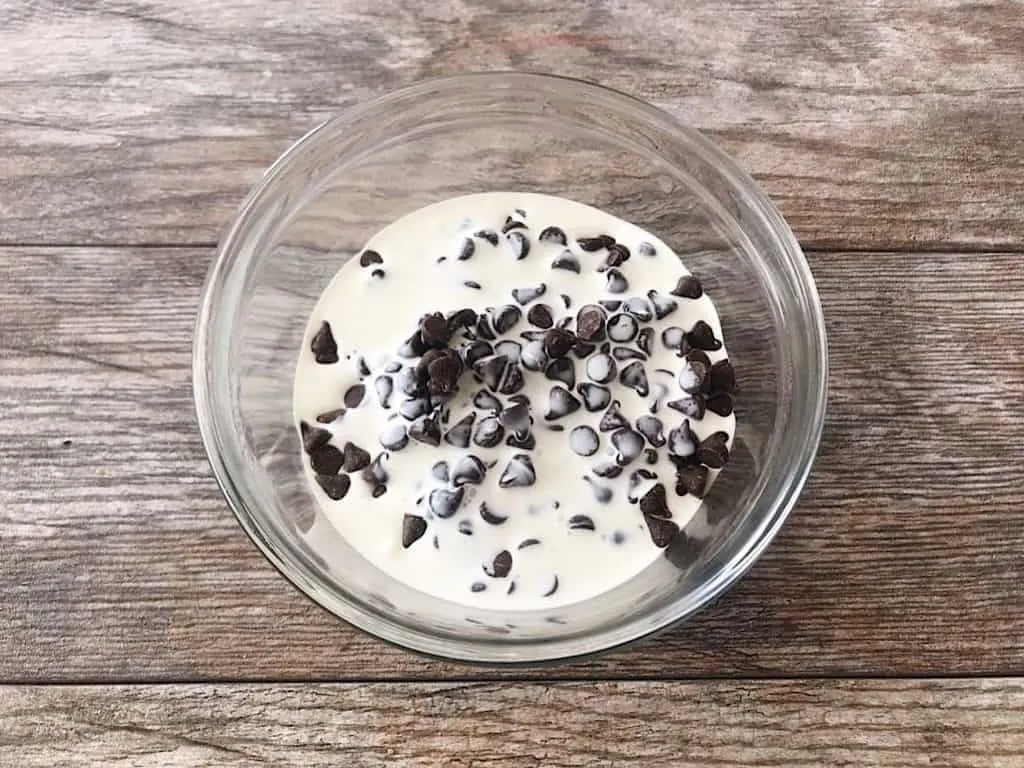 Whipped Cream Layer
For this layer, I used a star tip to pipe on the whipped cream.
In order for the whipped cream to keep its shape, I added a couple of tablespoons of white chocolate instant pudding.
Not only does it help firm up the cream, it definitely adds an amazing flavor!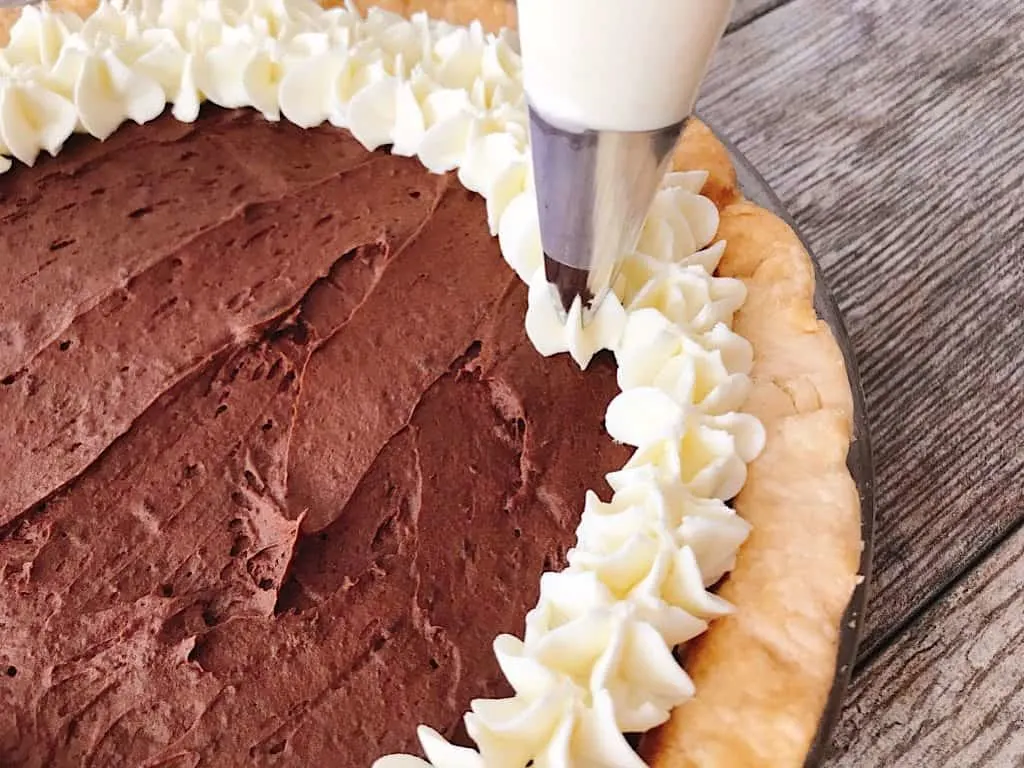 Caramel Pecan Silk Pie Toppings
To finish off the look of this pie, I drizzled some left over caramel ice cream topping, melted some chocolate chips to drizzle, and sprinkle a few chopped pecans.
The little touches like these are definitely add to the awesomeness of this pie and will definitely impress your guests!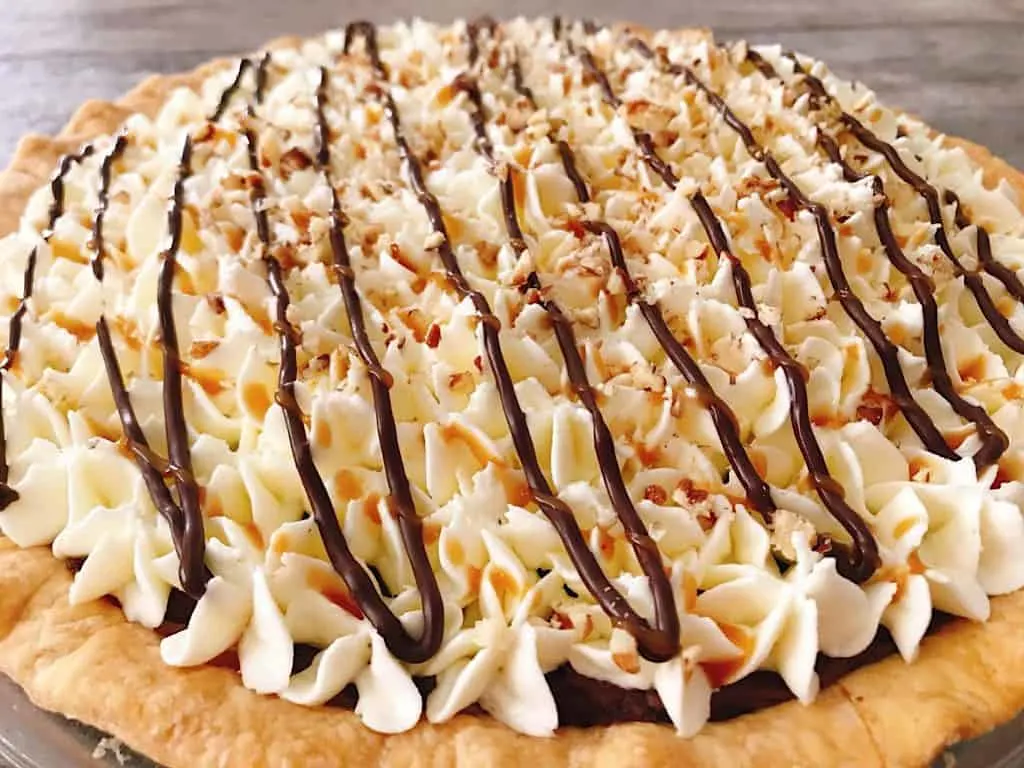 Ingredients for Caramel Pecan Silk Pie
Crust
Caramel Pecan Filling
Cream Cheese Layer
Chocolate Ganache Layer
Whipped Cream Layer
Topping
Helpful Kitchen Tools
How to Make Caramel Pecan Silk Pie
Caramel Pecan Layer
Spray the pie pans with nonstick cooking spray.

Poke the crust with a fork.

Place pie weights or dried beans inside each pie crust. You don't want to skip this step or your pie crusts will bubble and the sides will shrink down. I found this out the hard way.

Bake at 350 for 10 minutes.

While the crusts are cooling, heat the butter in a saucepan over medium heat and slowly add sugar until incorporated.

Remove the pan from the heat and slowly whisk in the caramel ice cream topping, then the eggs, then the salt.

Sprinkle one cup of chopped pecans over the bottom of each crust.

Pour half of the caramel mixture over each pie.

Bake at 375 for 30-40 minutes. Cool completely.

While the pecan layer is cooling, I like to prepare the rest of the layers so they are all ready to assemble.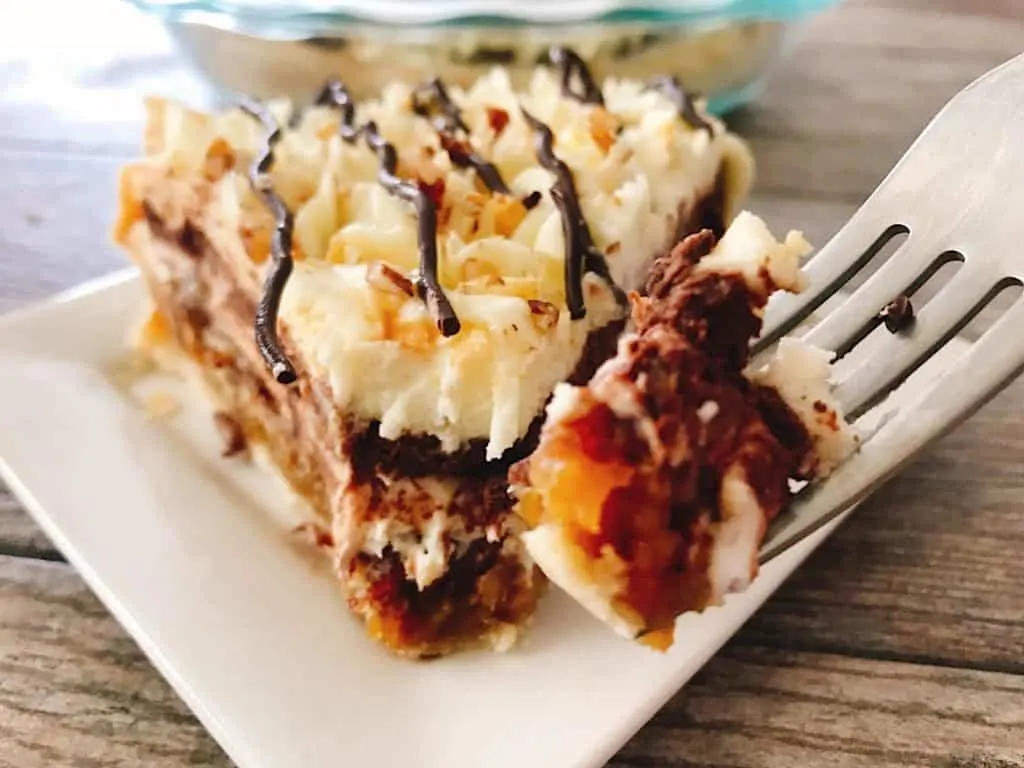 Cream Cheese Layer
Beat the softened cream cheese in a stand mixer or with a hand mixer.

Add powdered sugar and mix until combined.

Whip the cream and sugar together.
Fold the whipped cream in to the cream cheese mixture.
Spread half of the mixture over each pie with a spatula and place in the freezer for 10-15 minutes to set.
Chocolate Layer
Place the chocolate chips in a microwave-safe bowl.
Pour the heavy cream over the chocolate chips.

Heat on 50% power in the

microwave

for 30 second intervals, stirring in between.

When the ganache is completely melted, place the bowl in the refrigerator to thicken. You'll know its ready when it is the consistency of cookie dough.

Using a stand mixer or hand mixer, whip the ganache until light and fluffy. Spread half over each pie.
Whipped Cream Layer
Place the heavy whipping cream and pudding mix in the bowl of a stand mixer or blender.

Beat until soft peaks form.

Use a piping bag and star tip to pipe stars on to the top of the pie.

Place the remaining caramel sauce in a ziplock bag. Snip off one of the corners and drizzle the caramel over the top of the pie.

Do the same with 1/4 cup melted chocolate chips. Sprinkle 2-4 tablespoons of chopped pecans over the chocolate and caramel.
I hope you enjoy this Caramel Pecan Silk Pie as much as we did. I'll be making this pie for Thanksgiving along with my Rustic Apple Pie.
If you make this, make sure to tag @mommymouseclubhouse on Instagram. I want to see your creation!
Also check out my Amazon shop for all of my favorite baking supplies!