Decadent chocolate cookie crumb crust, classic cheesecake swirled with chocolate and caramel cheesecake. Topped with caramel sauce, pecans and whipped ganache. It makes the perfect dessert for your Thanksgiving feast this Holiday Season! A copycat recipe of The Cheesecake Factory's Caramel Pecan Turtle Cheesecake inspired by turtle candies!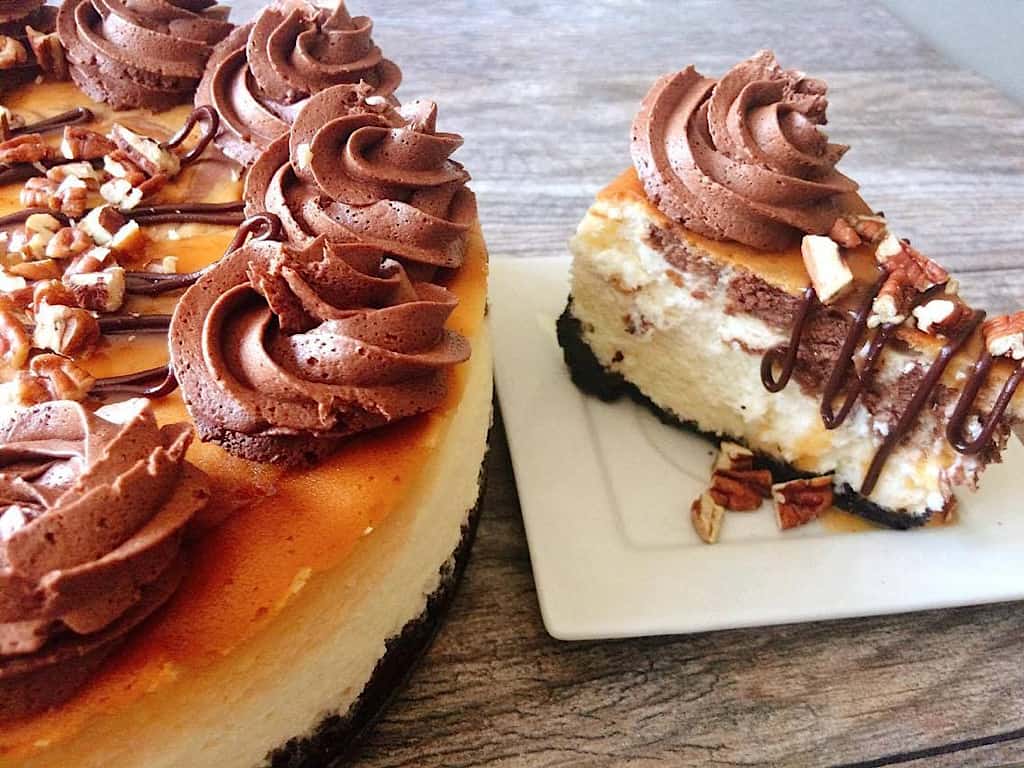 This post may contain affiliate links. When you click on these links, I get a small percentage back at no cost to you! For more information see my disclosure policy.
Below you will find tips, tricks and helpful hints for making this recipe including step by step instructions with pictures. If you would like to go directly to the recipe, scroll down to the recipe card.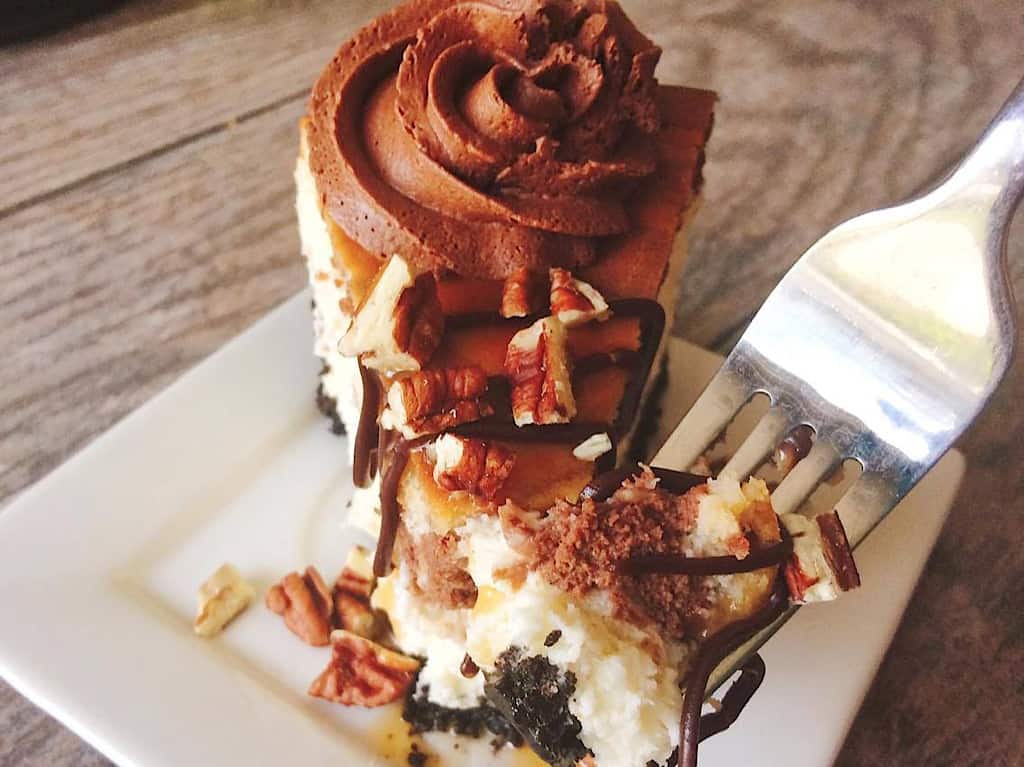 Why I Love This Cheesecake
My grandmother was an amazing cheesecake baker and I grew up eating her amazing desserts that she would make for our family.
Her cheesecakes were always perfect and never cracked on top, they were tall, creamy and delicious. (Get her recipe HERE)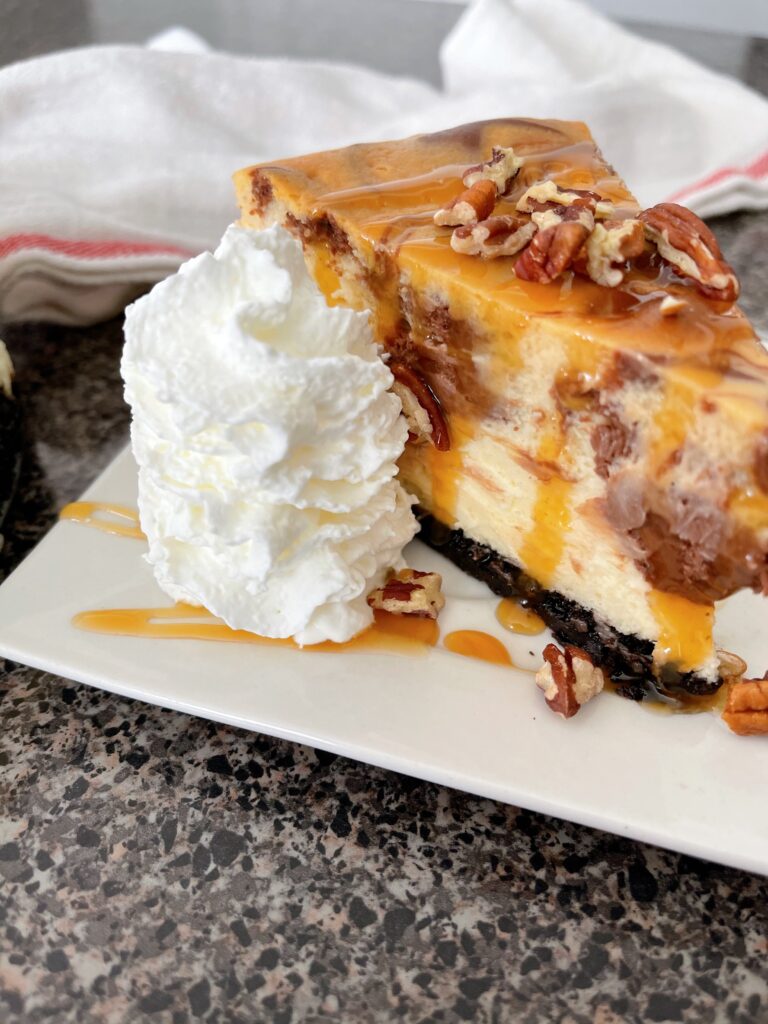 My husband suggested making a Caramel Pecan Turtle Cheesecake recipe just like the one from The Cheesecake Factory as an impressive dessert. Challenge accepted.
I took my grandmother's perfect cheesecake recipe and adapted it to become this heavenly Caramel Pecan Turtle Cheesecake.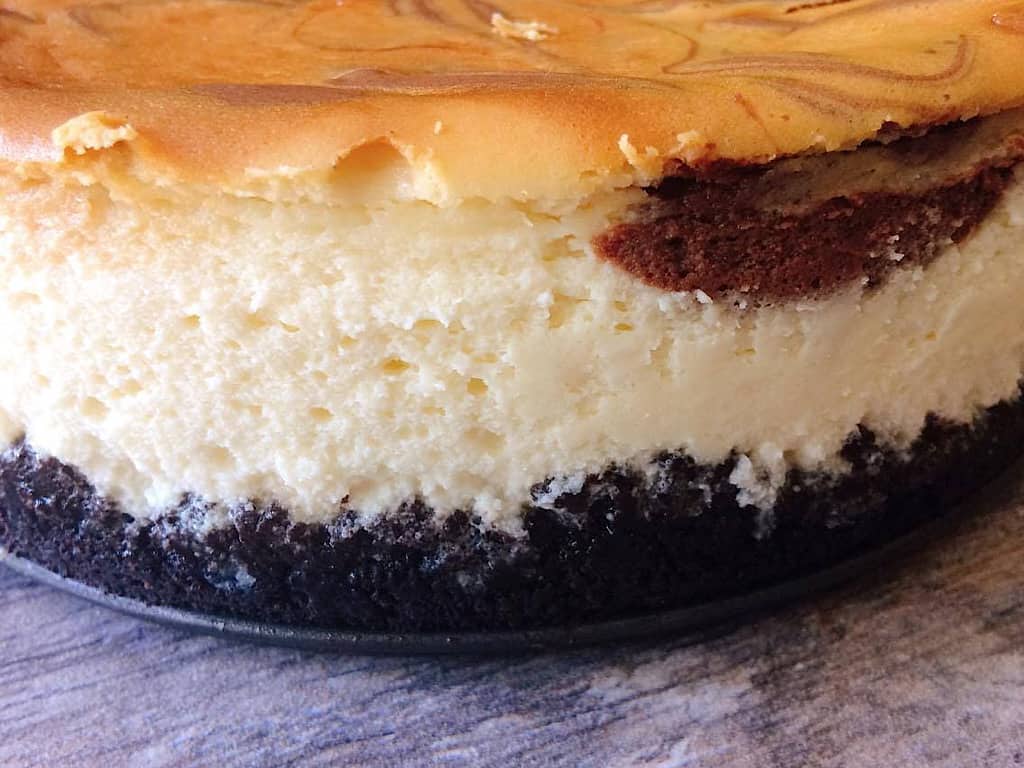 You will be amazed at how creamy and dreamy this cheesecake is. Try my Cheesecake Factory Pumpkin Cheesecake too!
How to Make a Perfect Cheesecake
Making a delicious cheesecake can be a little intimidating if you're not familiar with all of the items needed to make it perfect.
But, it is really not very difficult and the result is totally worth it! If you slow down and do one step at a time, you'll be a cheesecake pro in no time!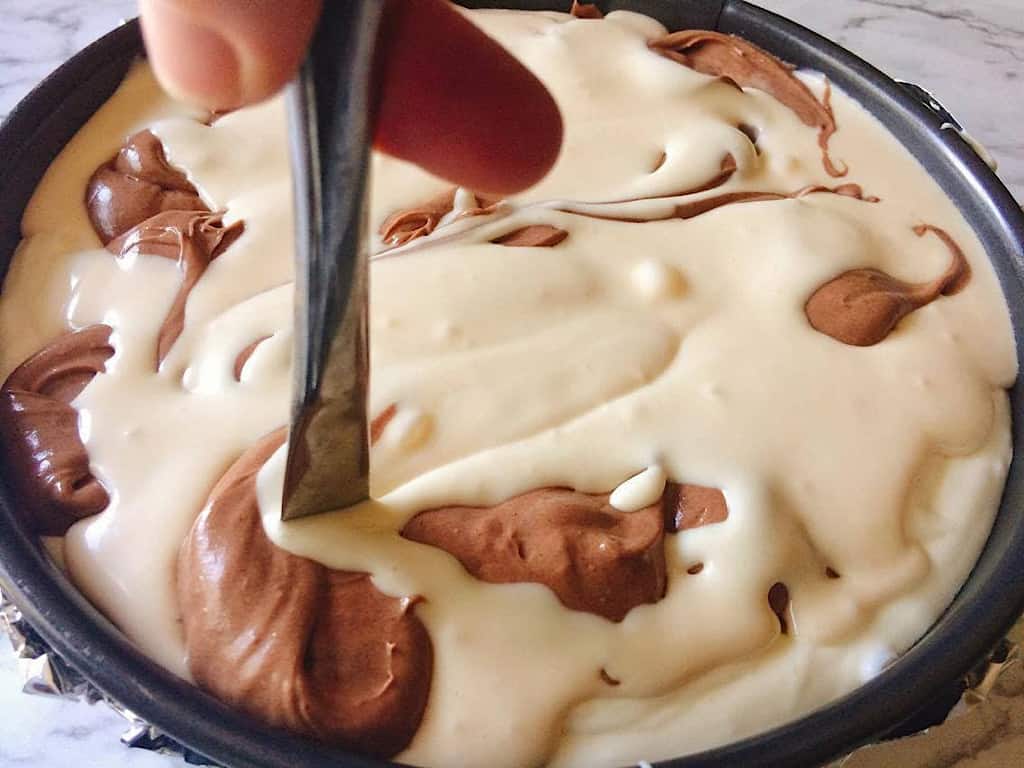 There are some tools that will definitely help you make your cheesecake perfect.
You will definitely need a 10-inch Spring Form Pan for baking the cheesecake, a Roasting Pan for the water bath and foil to wrap around the spring form pan.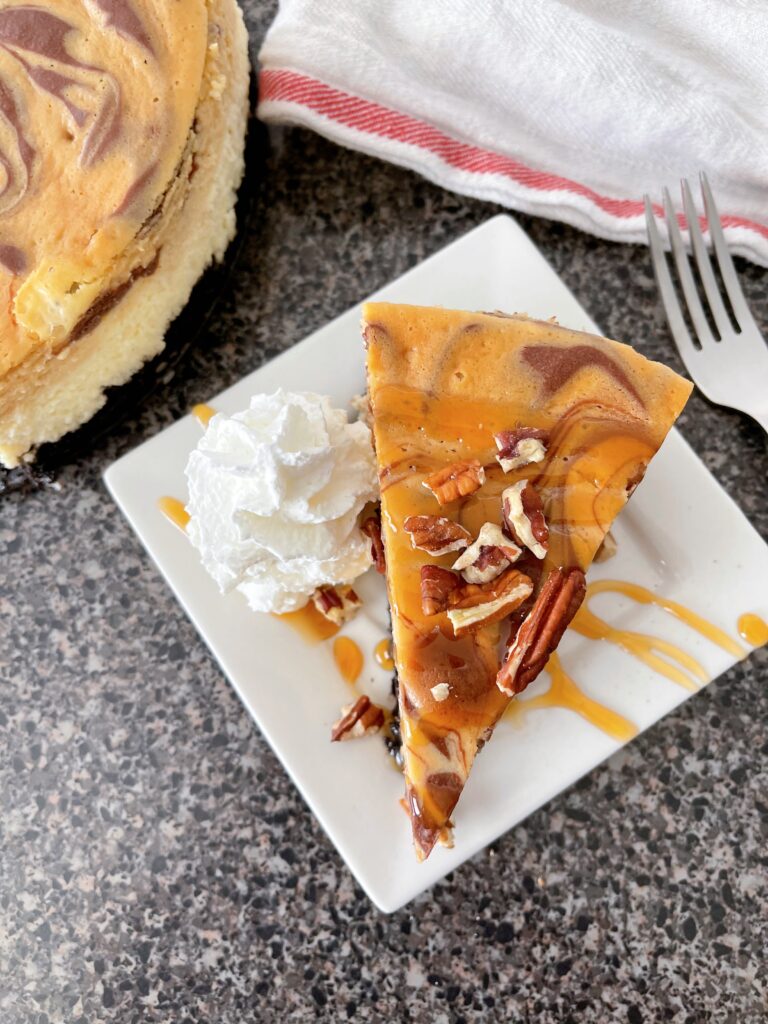 Cheesecake Factory Copycat Caramel Pecan Turtle Cheesecake
I wanted my Caramel Pecan Cheesecake to look like the one from The Cheesecake Factory, so I divided the cheesecake batter and added some chocolate and caramel.
I then swirled it in to create the marbled effect.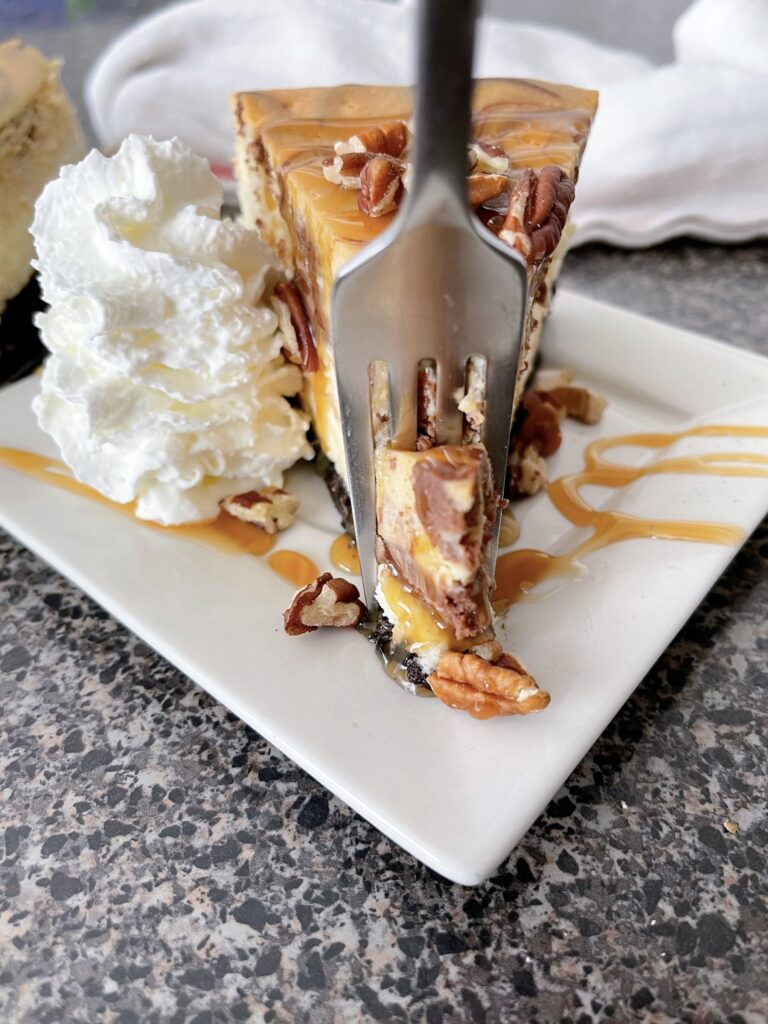 The cheesecake has a chocolate cookie crust and is topped with caramel ice cream topping, chopped pecans and chocolate ganache.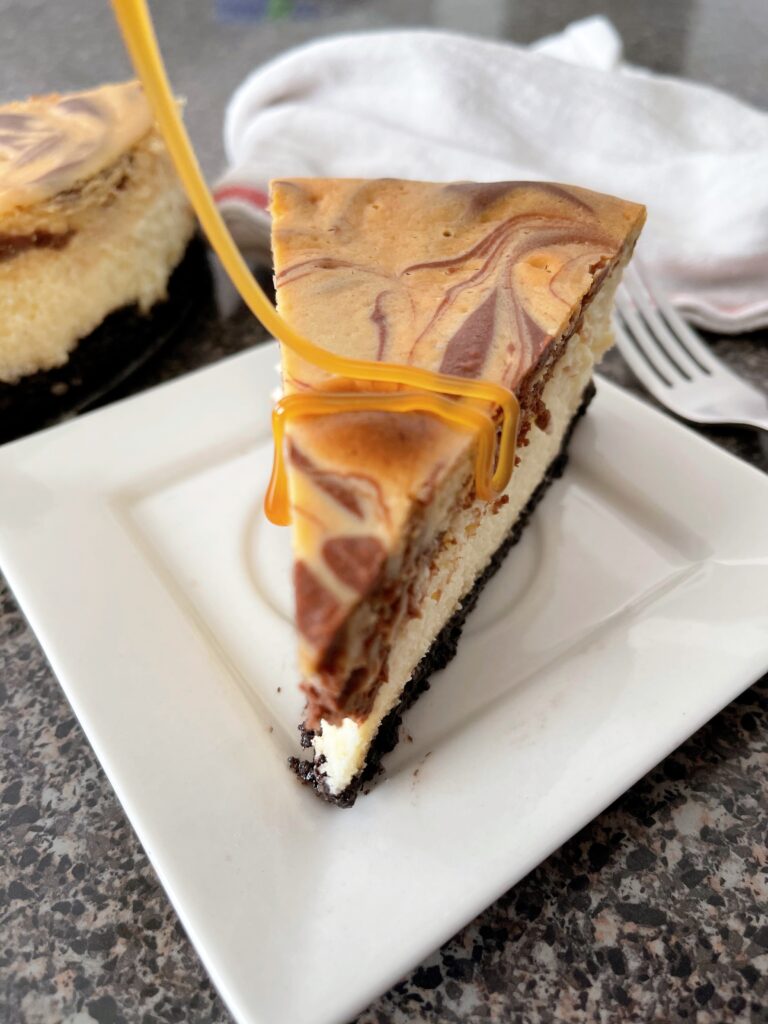 I also whipped some chocolate ganache to create the chocolate swirl on top, which isn't necessary, but gave the cheesecake the Cheesecake Factory look I was going for.
Caramel Pecan Turtle Cheesecake Ingredients
*Ingredient amounts are located in the recipe card at the end of this post.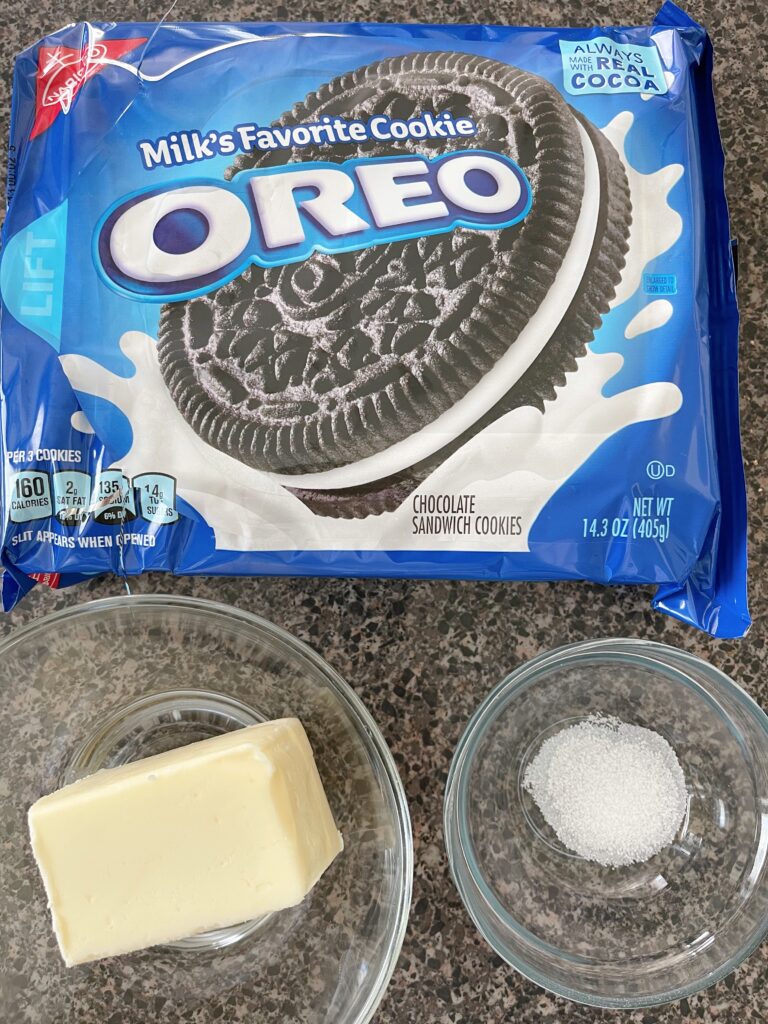 Chocolate Cookie Crust Ingredients
OREO Cookies: You can use any chocolate sandwich cookies, but my favorite brand happens to be OREO. If you are not an OREO fan, you can substitute graham crackers to make a graham cracker crust and follow the same directions for the OREO crust.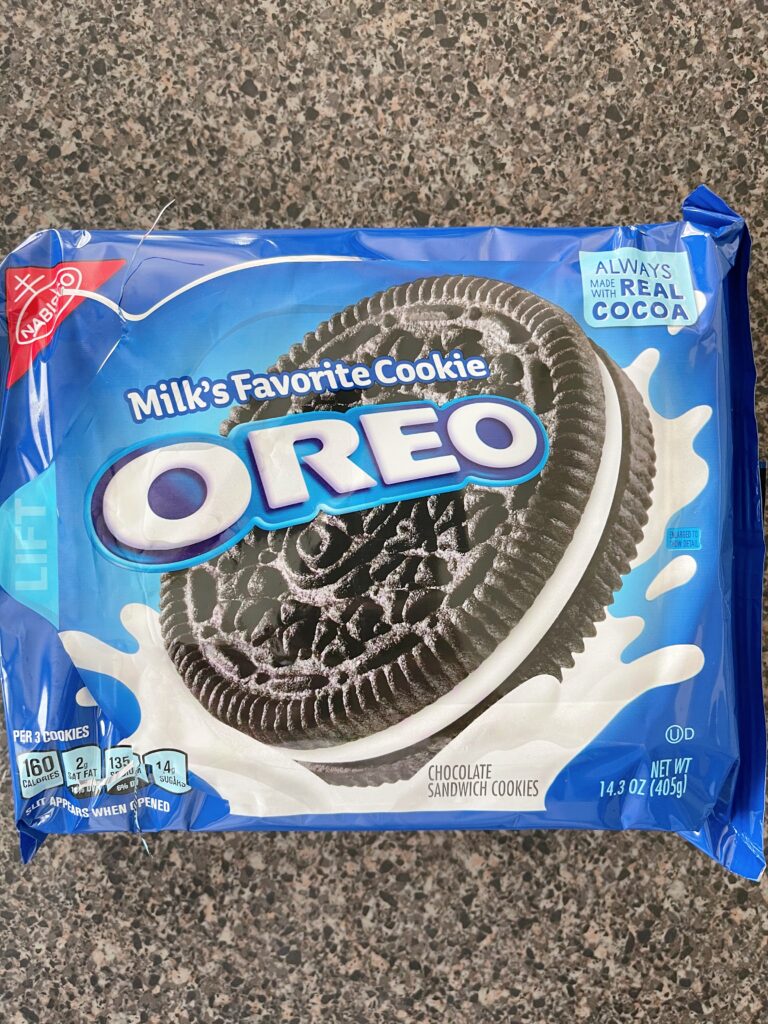 Butter: To make the chocolate cookie crust, you can use either salted or unsalted butter. Either will work just fine.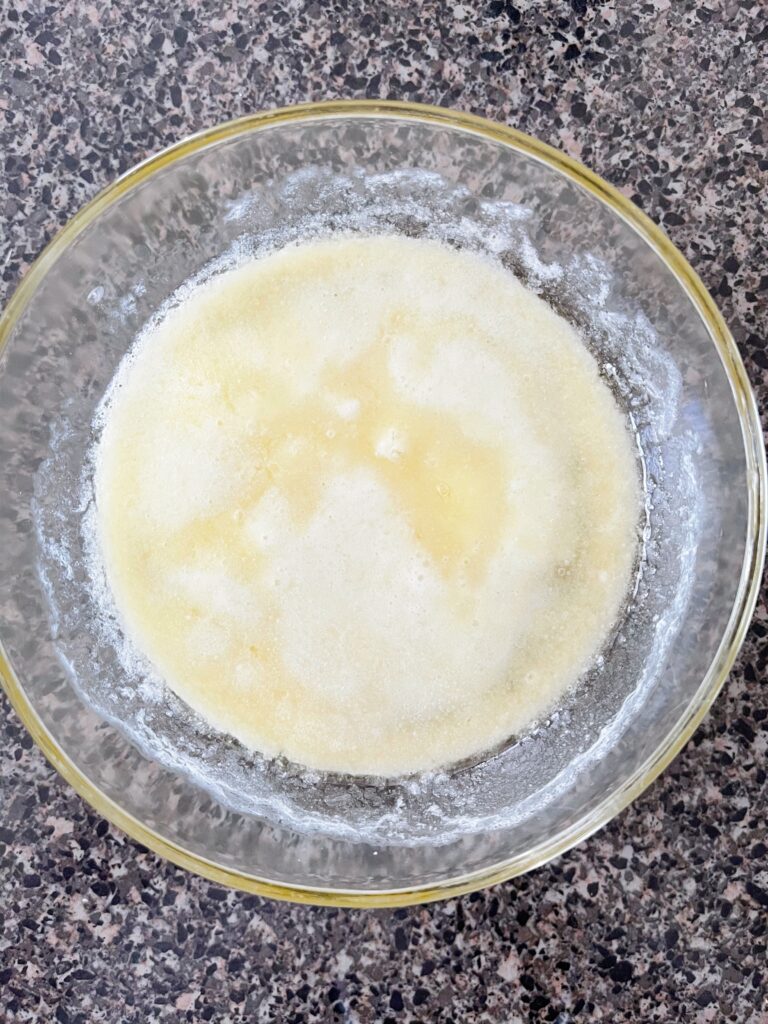 Salt: There is only a pinch of salt called for to make this crust and is used to help enhance the flavor.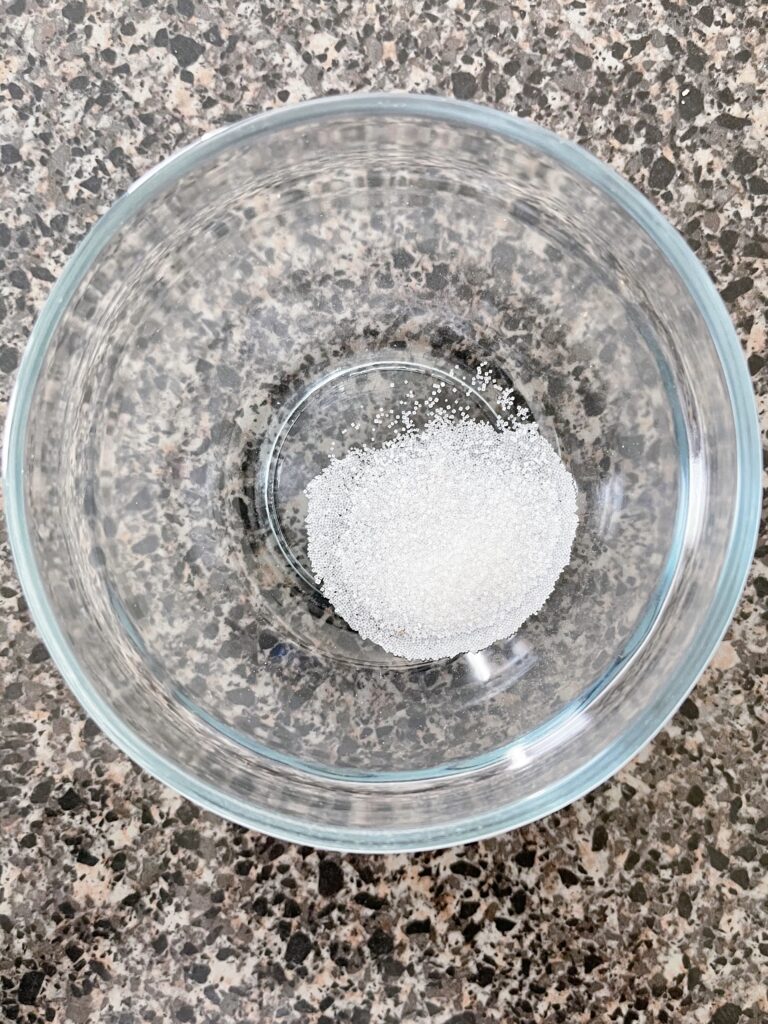 Cheesecake Ingredients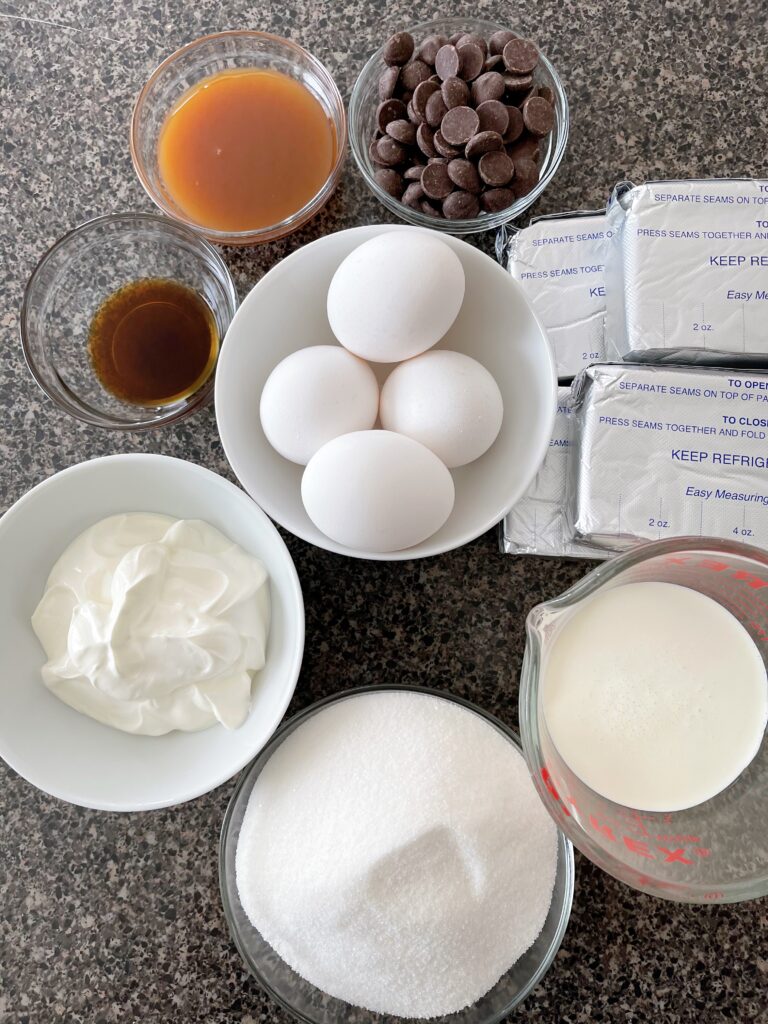 Cream Cheese: Whenever I make cheesecake, I always use full fat cream cheese. It definitely has more flavor and if I am going to the trouble to make a homemade cheesecake, I'm not going to skimp on ingredients.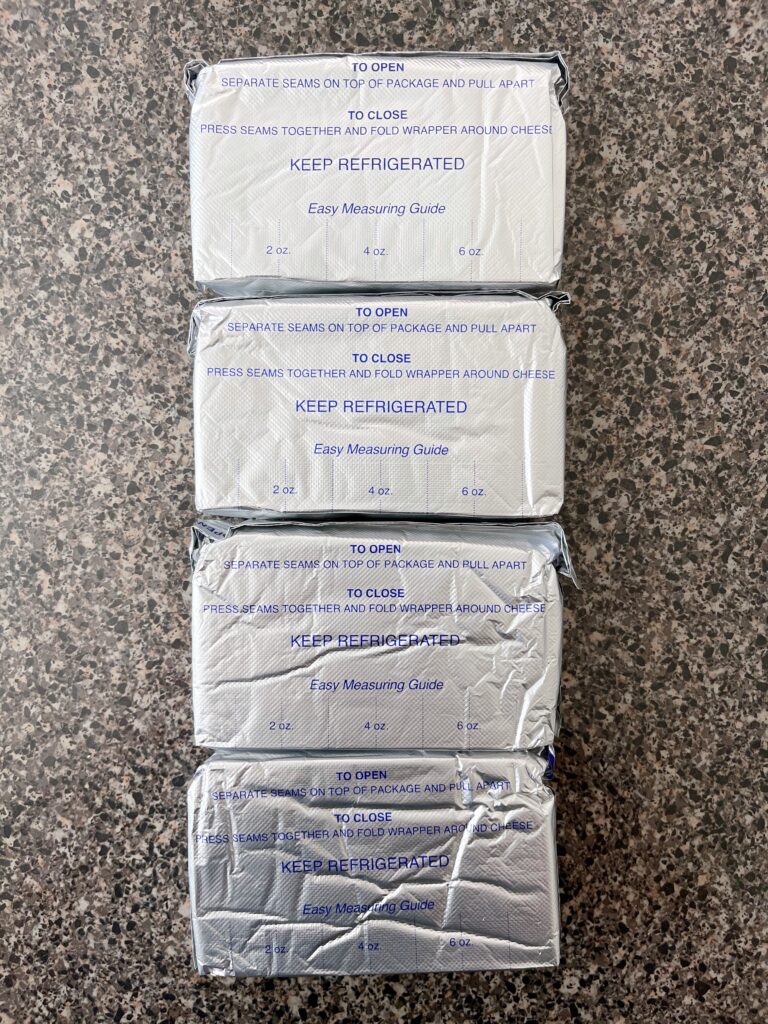 Sugar: Use standard white granulated sugar for this recipe.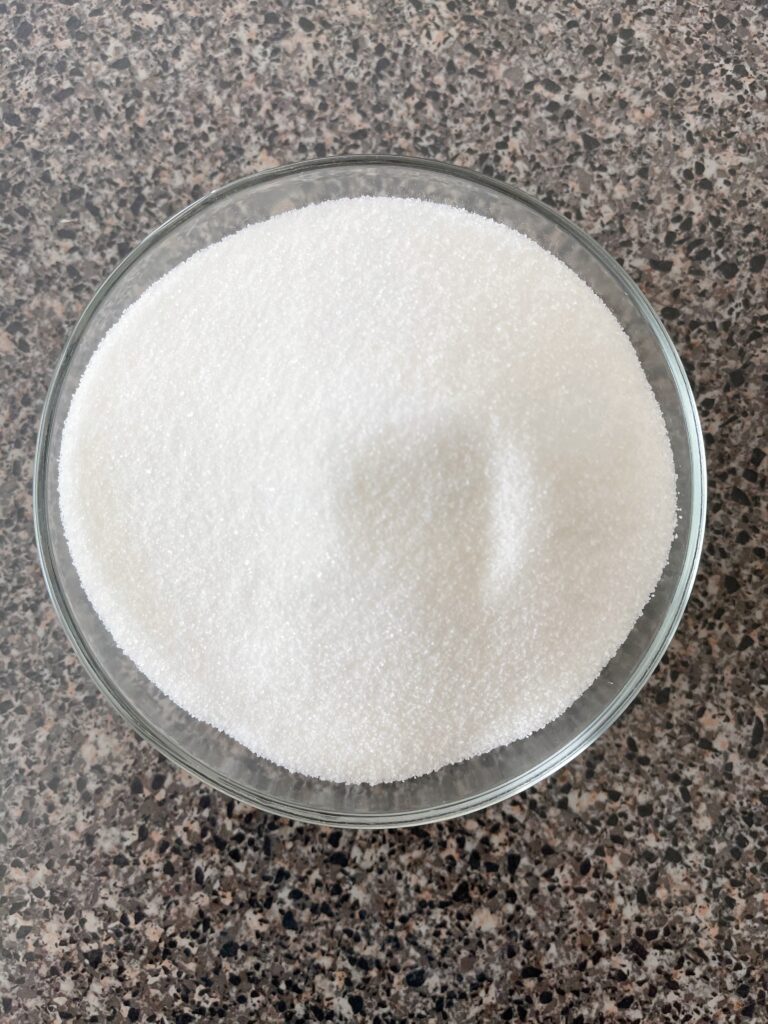 Vanilla Extract: You can use either pure vanilla extract of imitation, but for flavor, I highly recommend pure. The best price I have seen for pure vanilla extract is at Costco, but you can also find it on Amazon.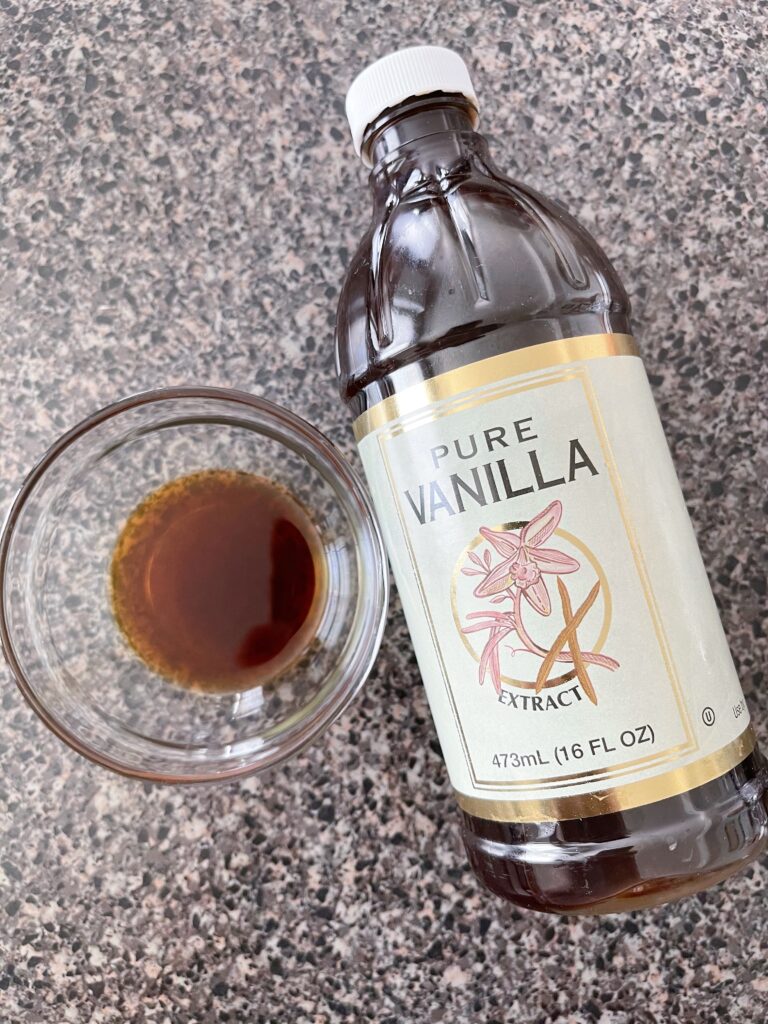 Eggs: Use large eggs for this cheesecake recipe.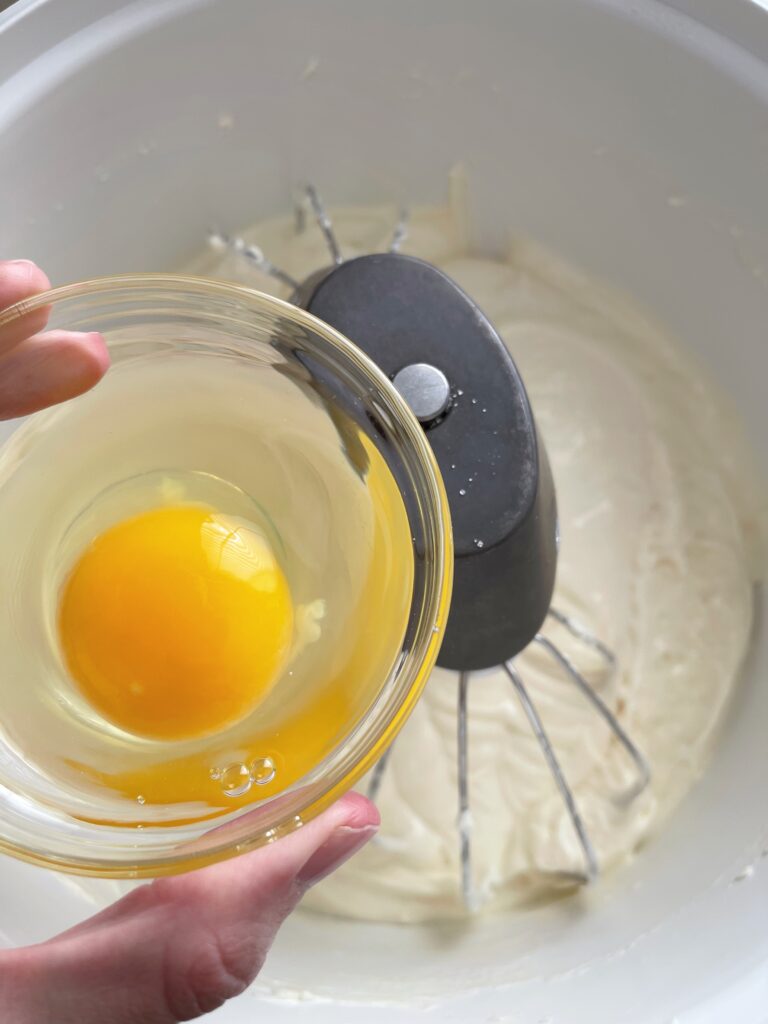 Sour Cream: Just like the cream cheese, I recommend using full fat sour cream to make the best homemade cheesecake.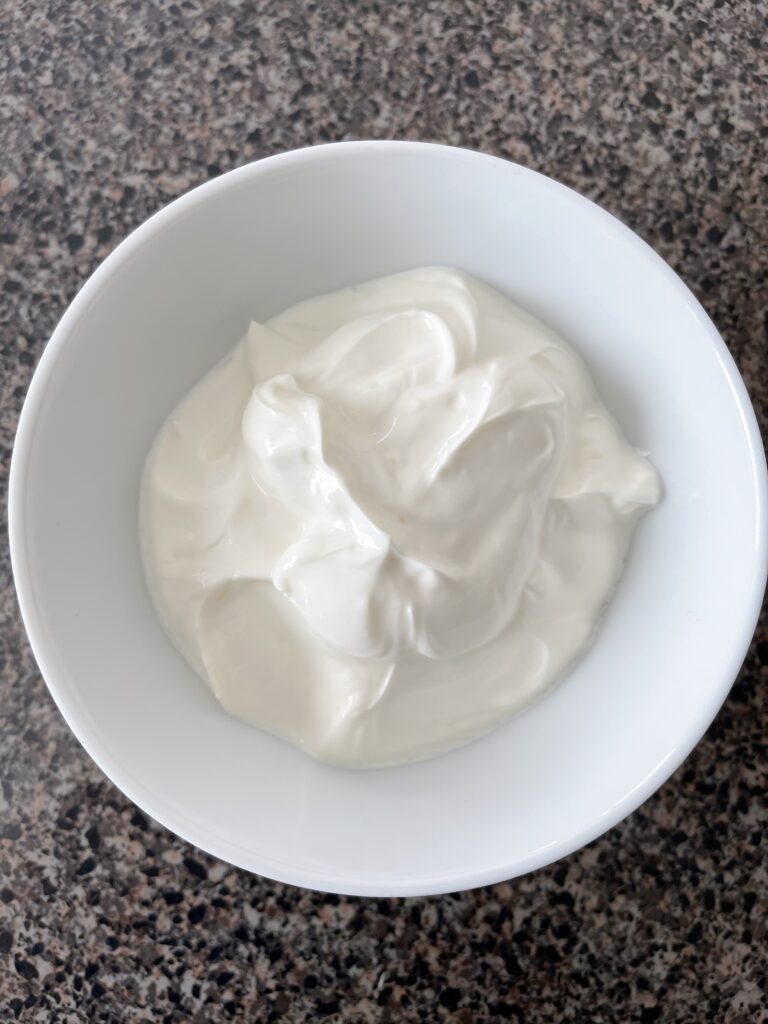 Heavy Cream: Use high quality heavy whipping cream for the best results.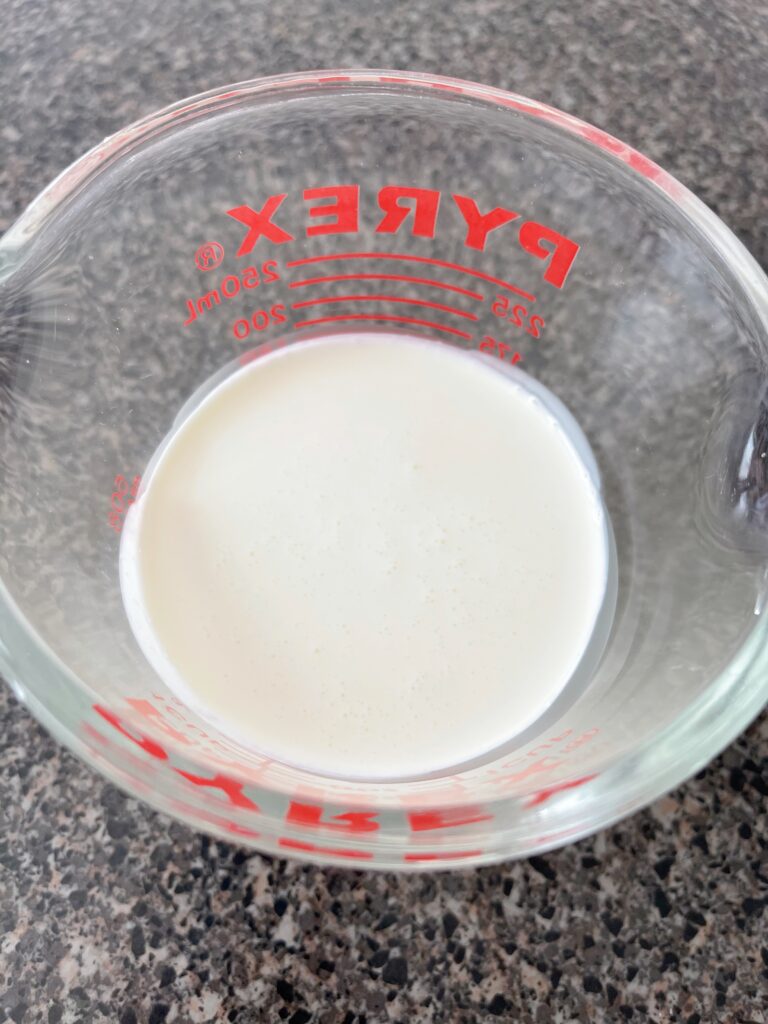 Caramel Ice Cream Topping: You will be using caramel ice cream topping to flavor part of the cheesecake batter. I have used Hershey's and Ghirardelli. You could also make your own homemade caramel sauce.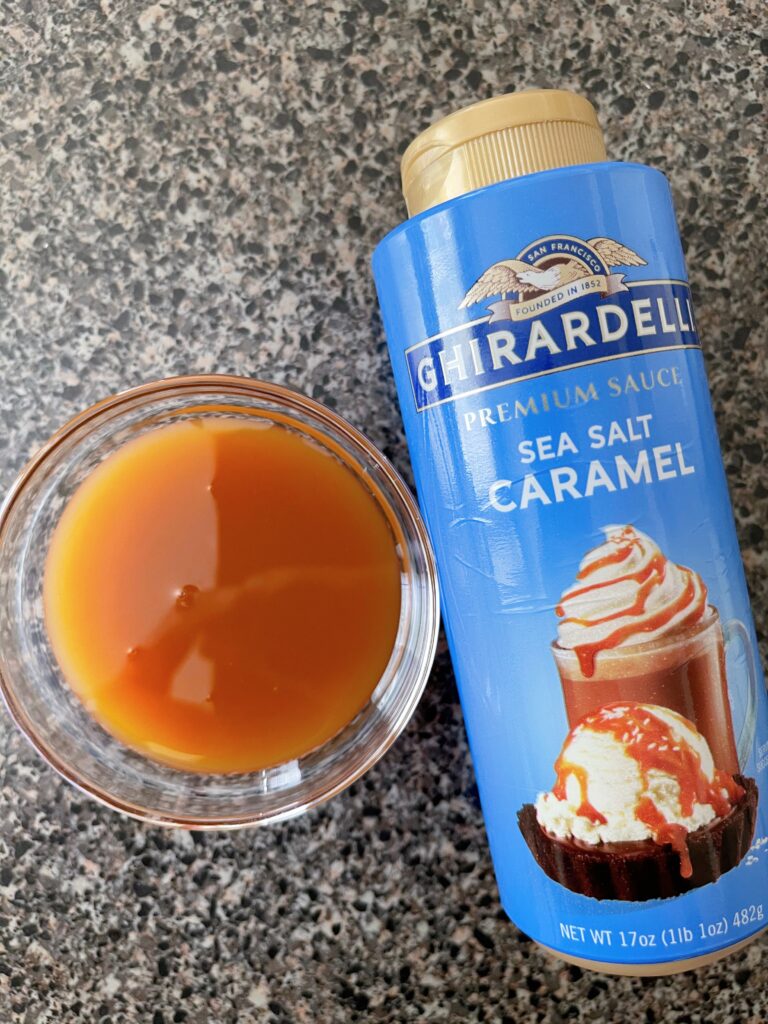 Chocolate Chips: My favorite brand of chocolate chips are Ghirardelli. They always have the best chocolate flavor! Make this Ghirardelli Sea Salt Hot Cocoa and I'm sure you will fall in love with it too.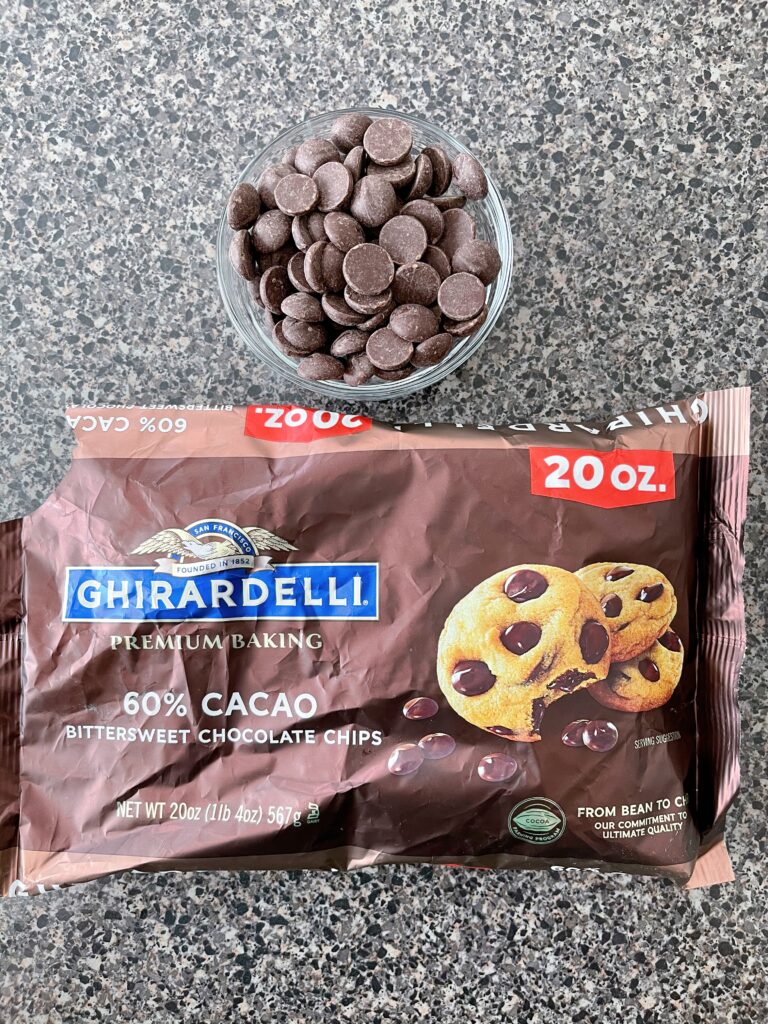 Optional Toppings
Chopped Pecans, add the perfect balance of sweetness
Caramel Ice Cream Topping
Chocolate Chips Melted
Hot Fudge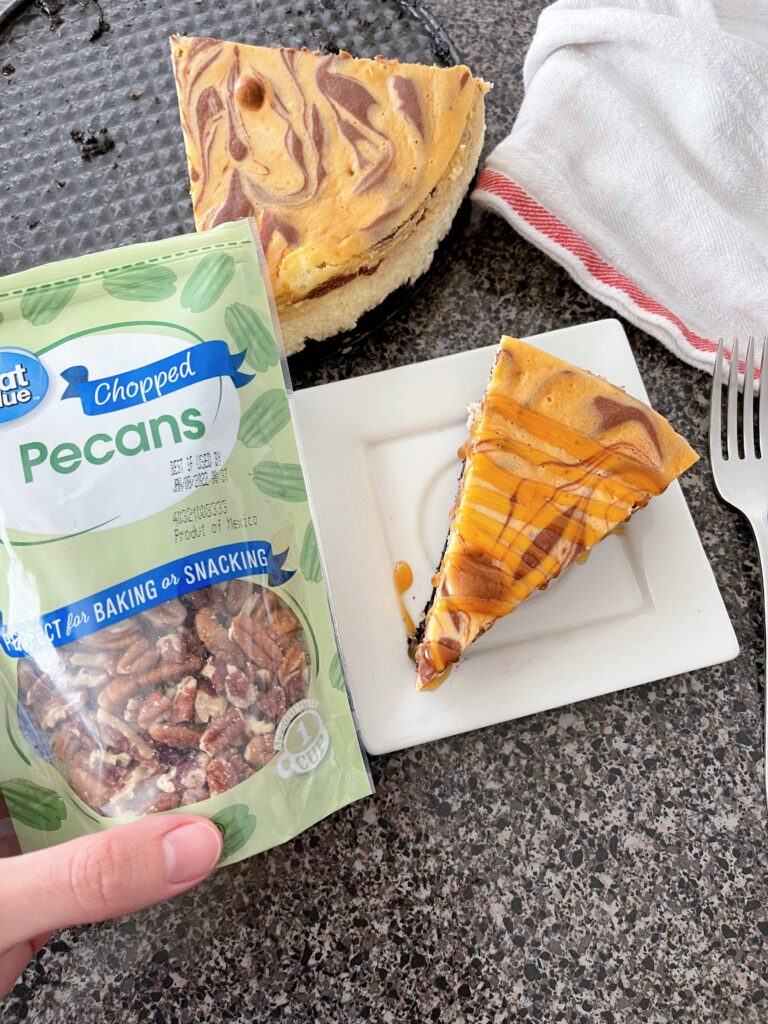 Whipped Chocolate Ganache, Optional
Chocolate Chips
Heavy Cream
How to Make Caramel Pecan Turtle Cheesecake
OREO Cookie Crust
[1] Crush the cookies into fine crumbs by placing the cookies in a food processor or blender.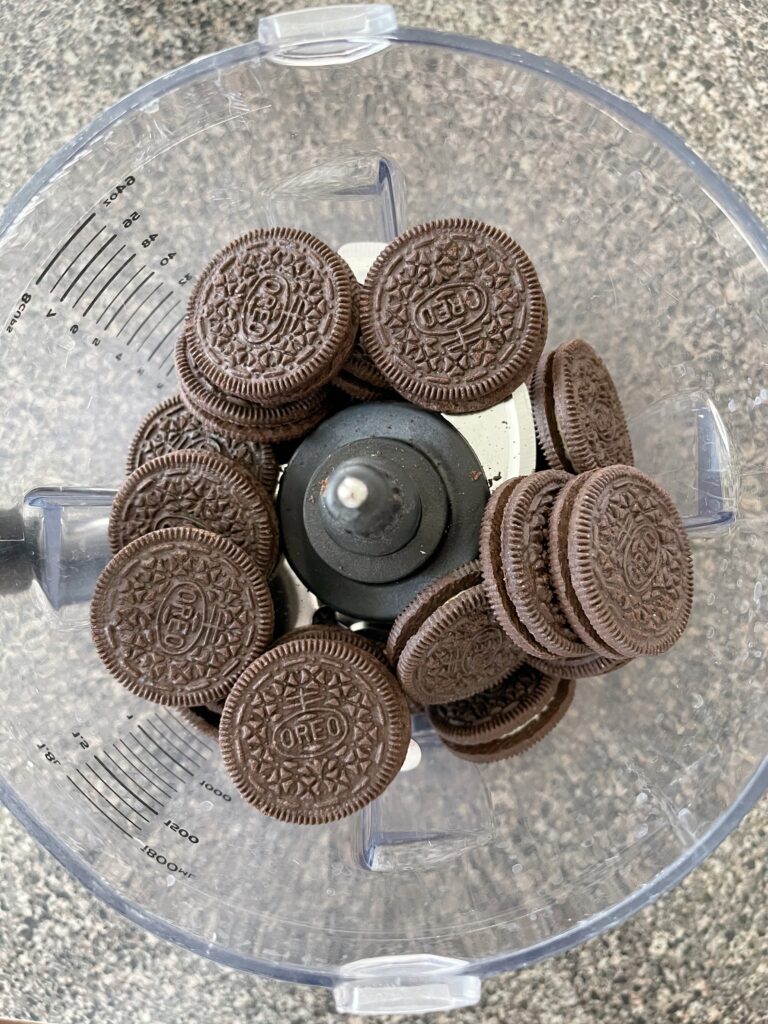 [2] Mix the cookie crumbs with the melted butter and salt.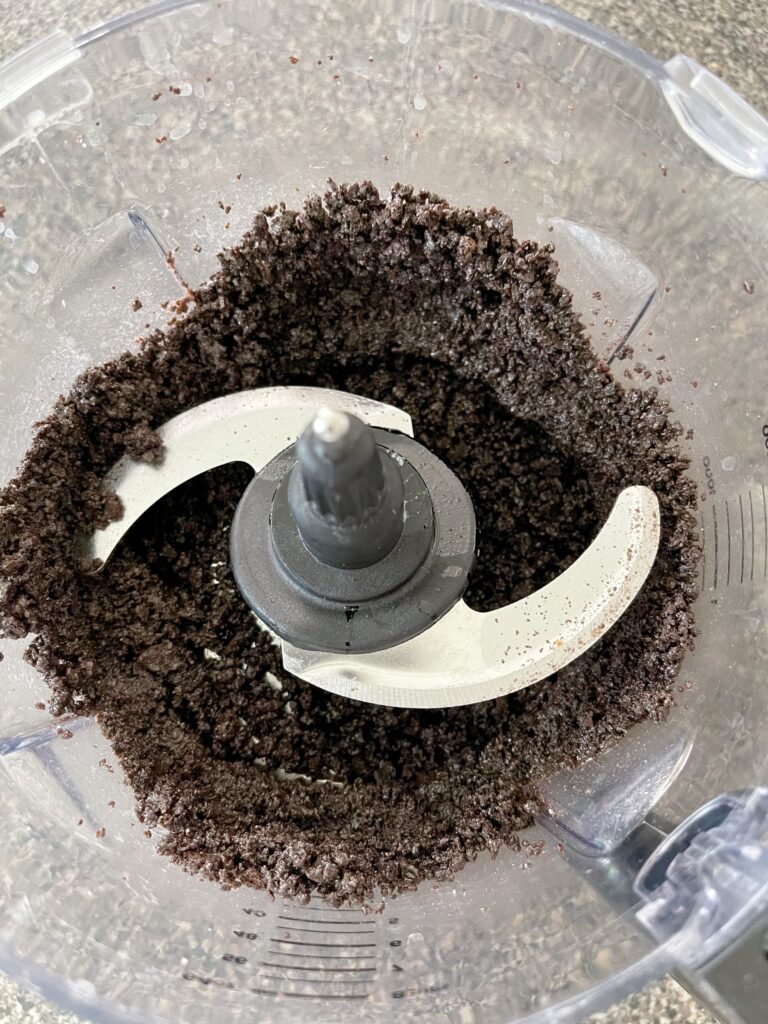 [3] Press onto the bottom and part way up the sides of a 10 inch springform pan.
[4] Bake at 350 degrees for 5-10 minutes.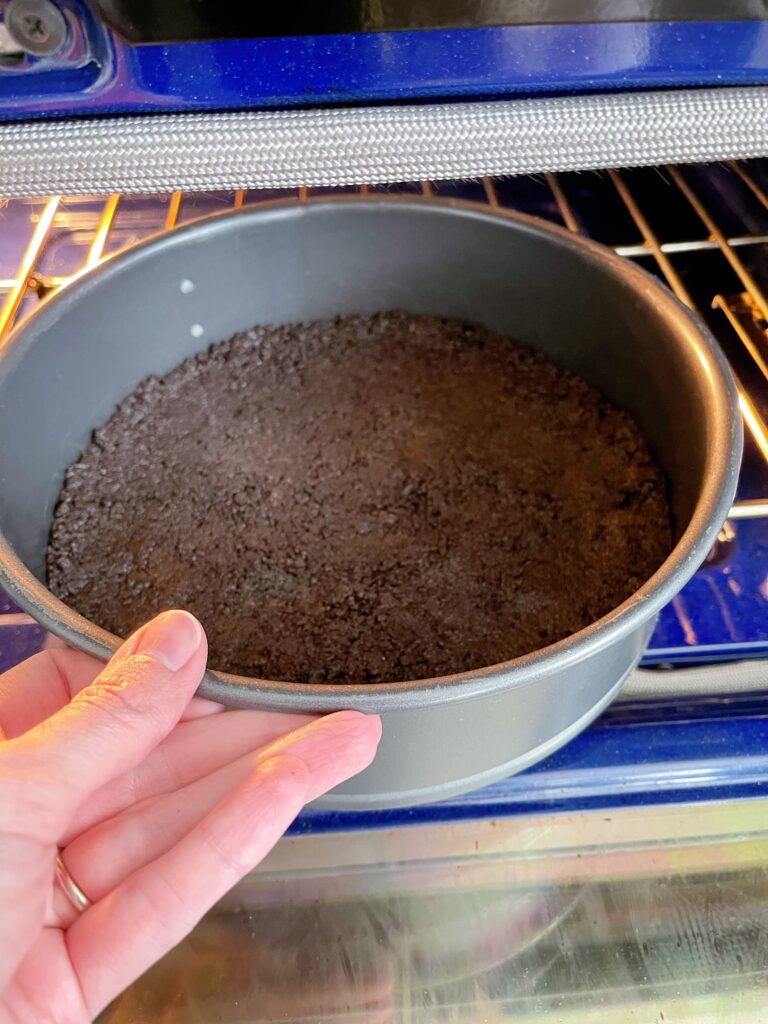 [5] Allow the crust to cool at room temperature.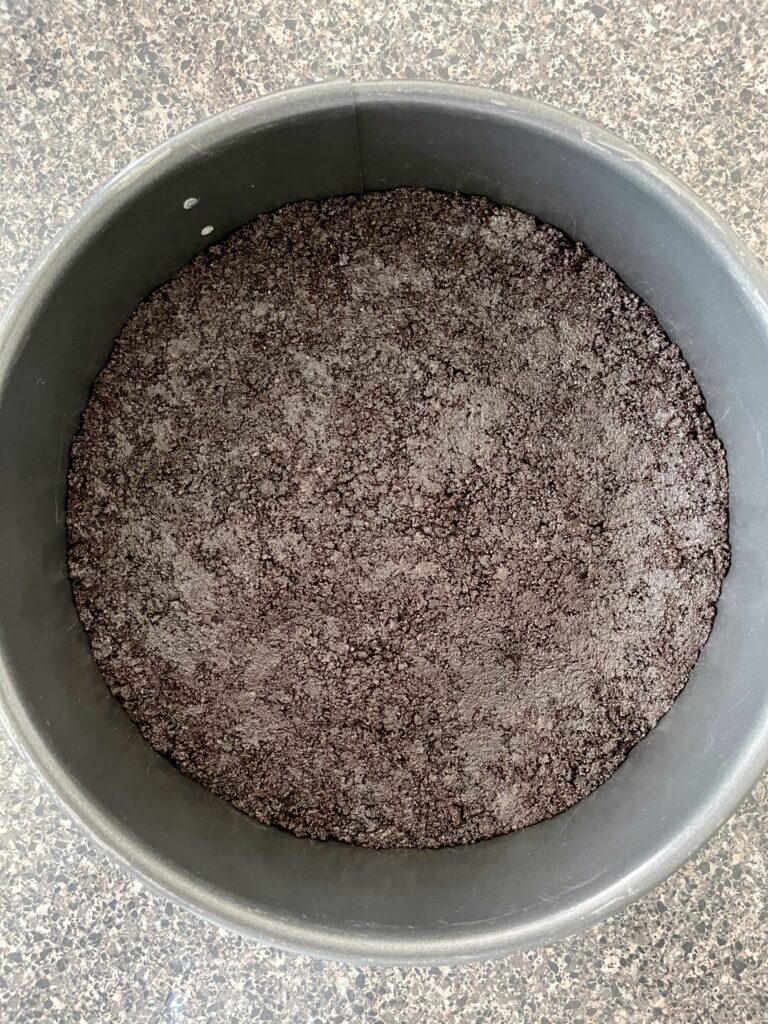 Cheesecake Instructions
[1] Prepare the pan by laying out three large rectangles of foil. Place the spring form pan on top and fold the first piece around the pan.
[2] Repeat this with the other two pieces of foil so that the bottom and sides of the pan are completely covered.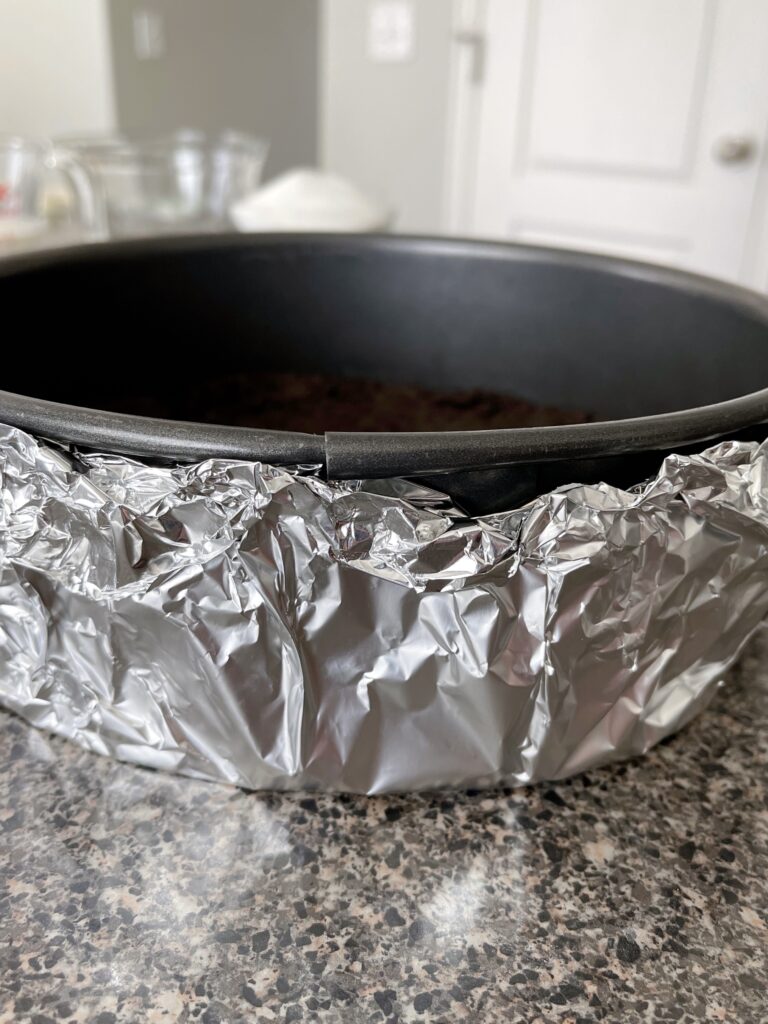 [3] Beat the cream cheese in a stand mixer with a whisk attachment for about 4 minutes until it is smooth and creamy scraping side of bowl as necessary.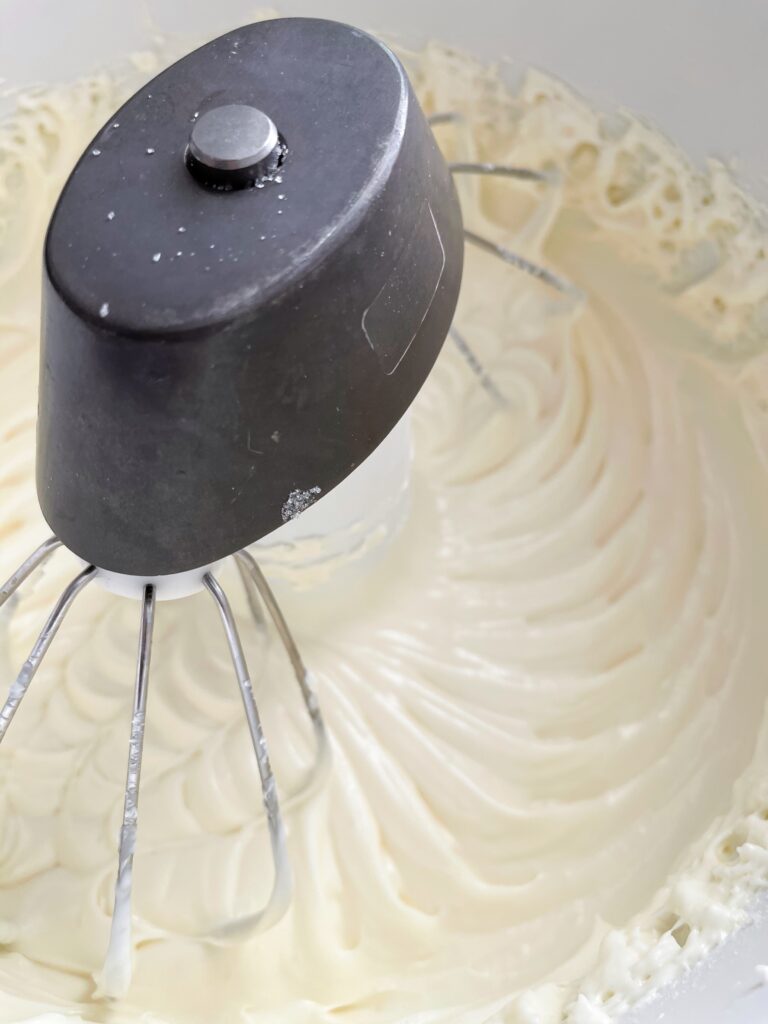 [4] Mix cream cheese with the sugar and beat for an additional 3-4 minutes.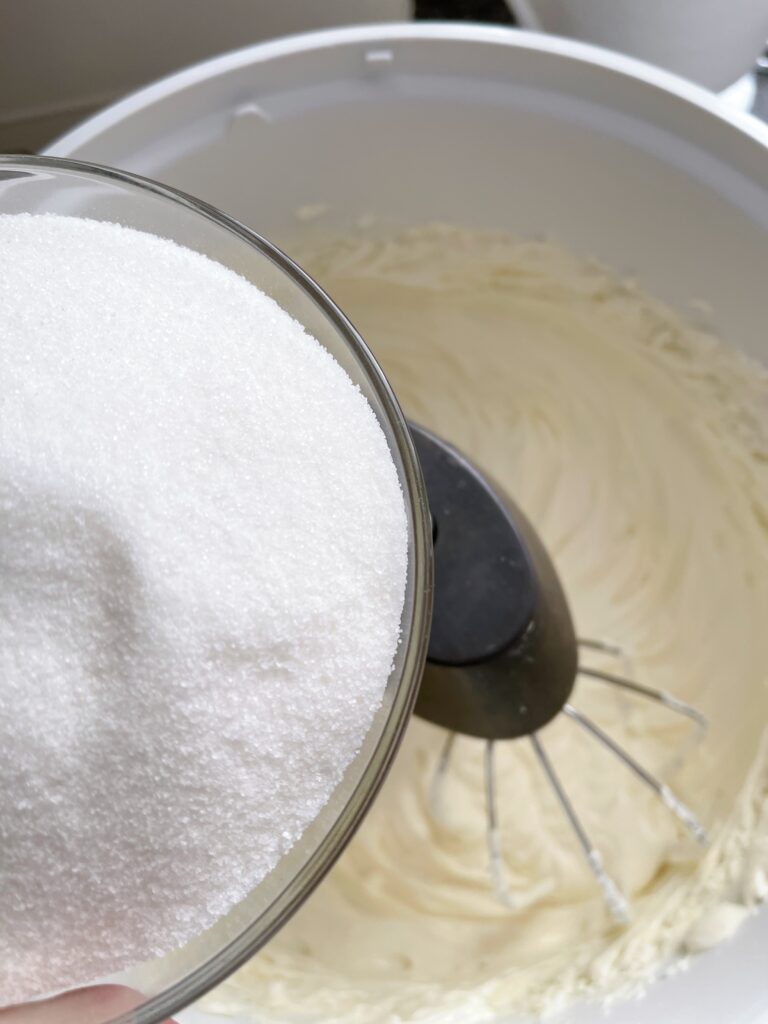 [5] Pour in the vanilla and mix. Then add the eggs, one at a time, and beat for about 1 minute on low speed after each.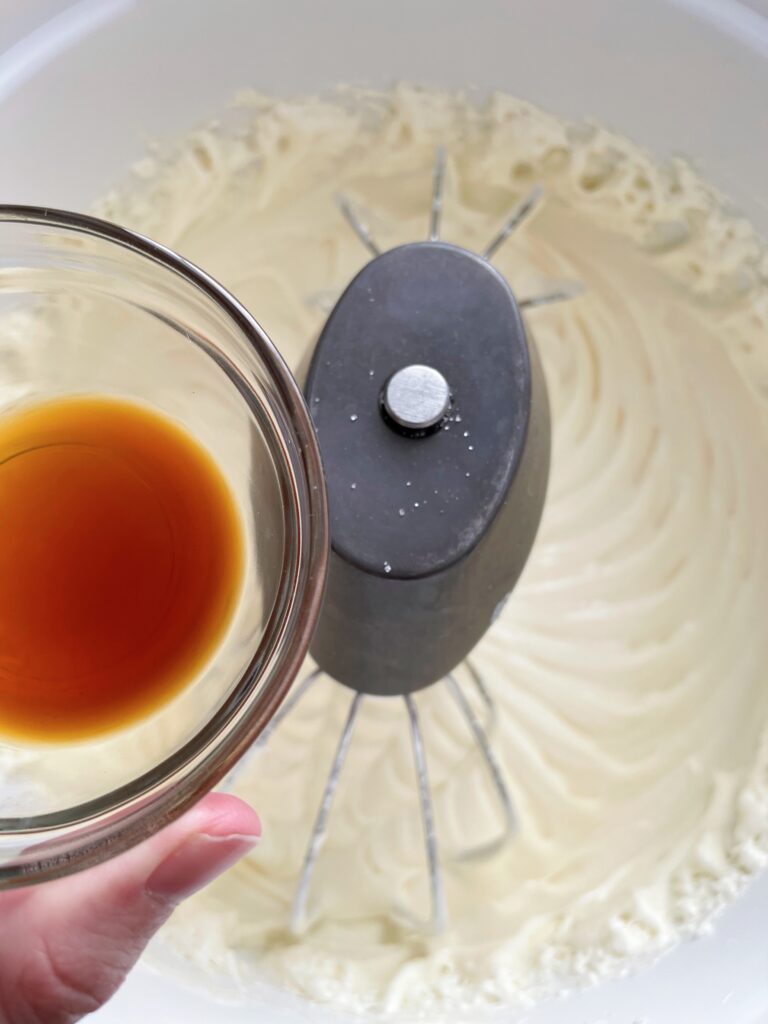 [6] Mix in the sour cream, followed by the heavy cream. Make sure you scrape the sides and bottom of the bowl to get the cream cheese that the paddle attachment missed.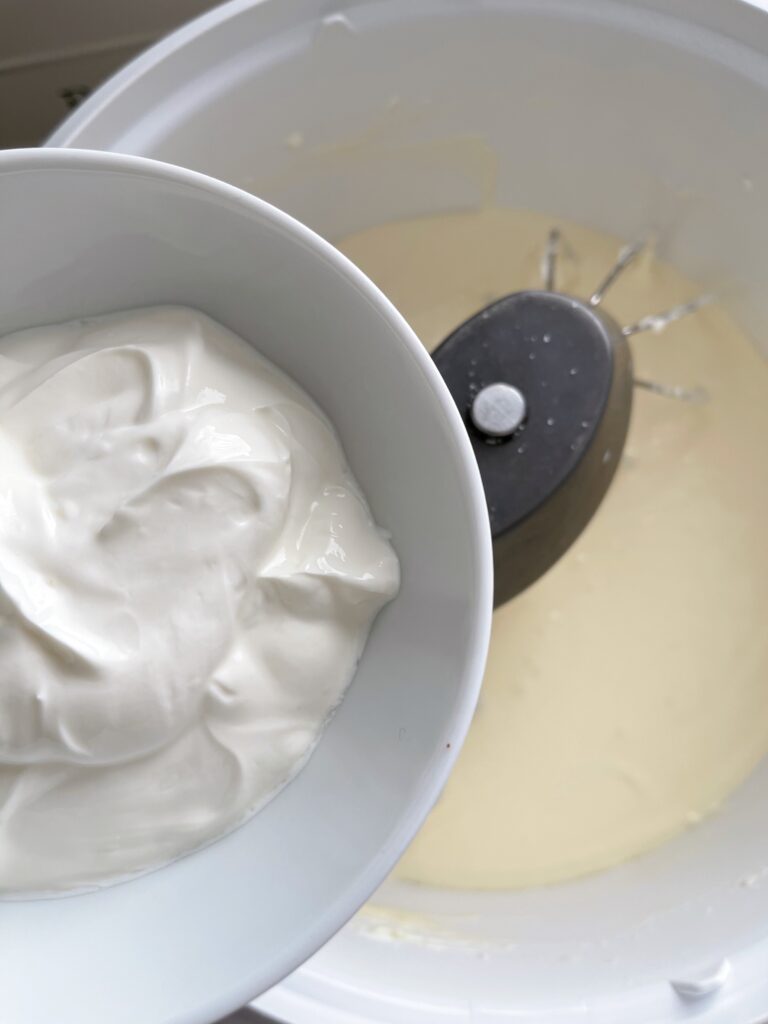 How to Swirl the Caramel Pecan Turtle Cheesecake
[1] Pour 2/3 of the cheesecake filling into the spring form pan over the top of the crust.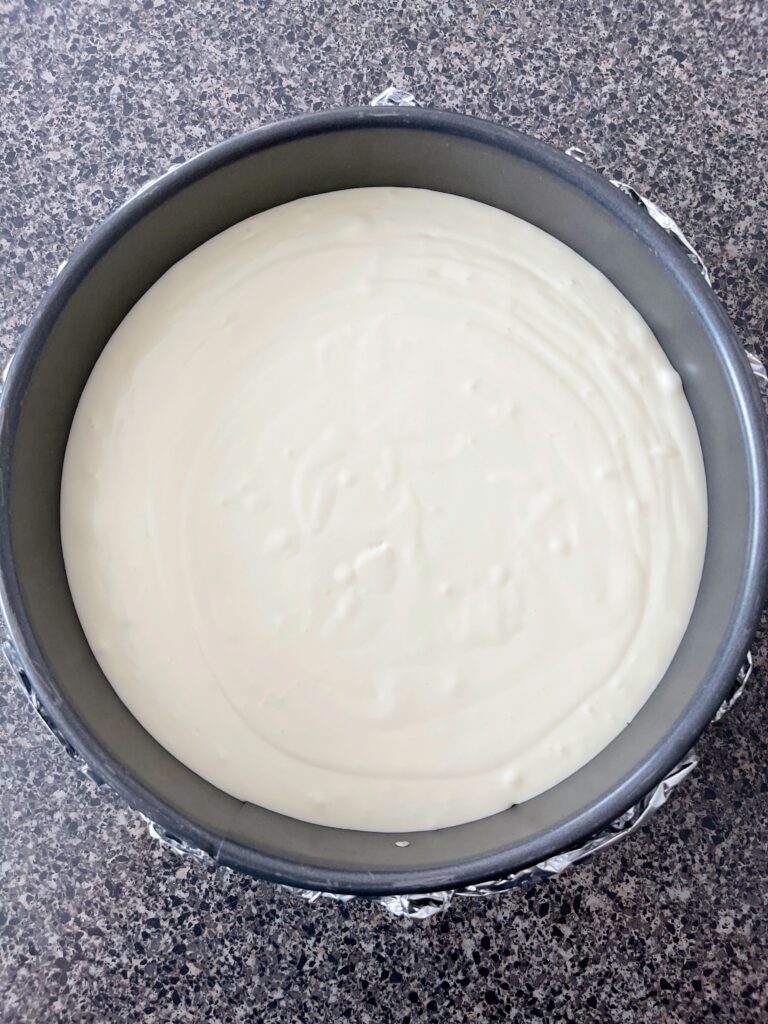 [2] Divide the remaining 1/3 cream cheese filling in half and place in two bowls.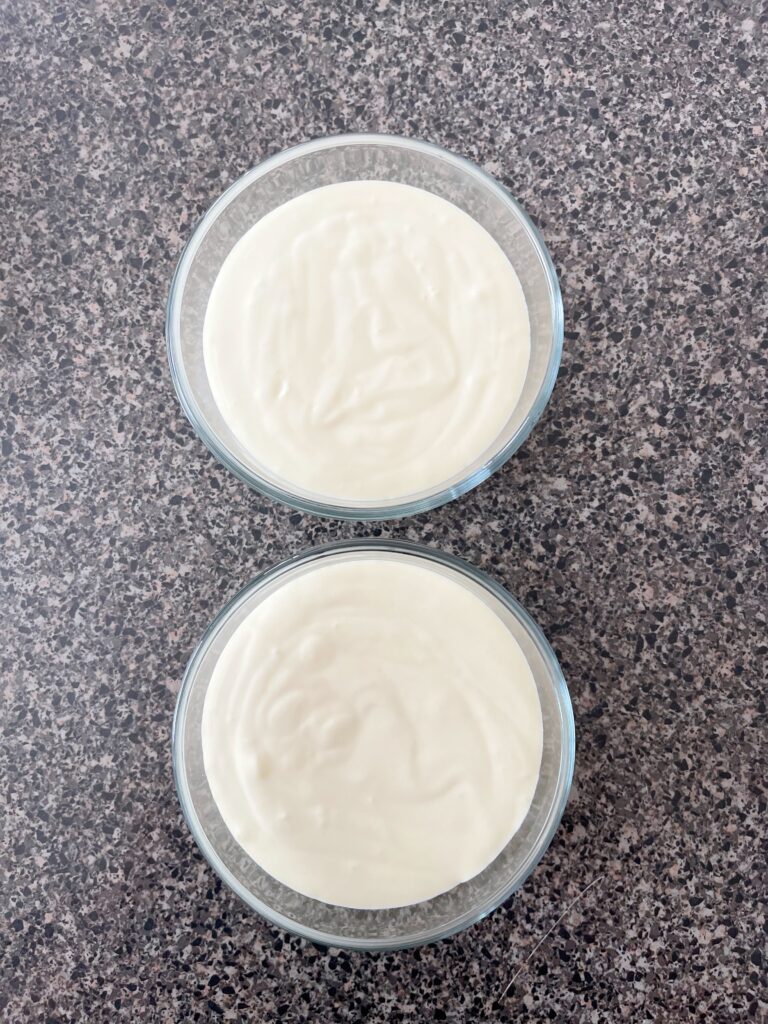 [3] Mix the melted chocolate chips in with the batter in one medium bowl.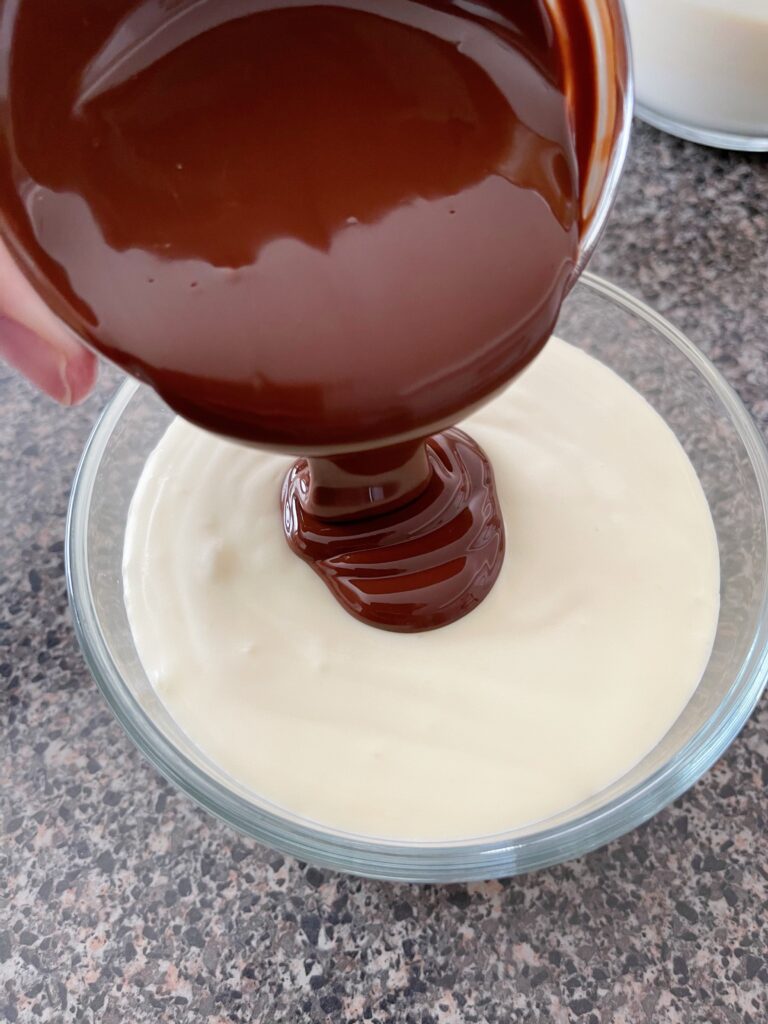 [4] Add the caramel sauce to the second bowl of batter and mix together.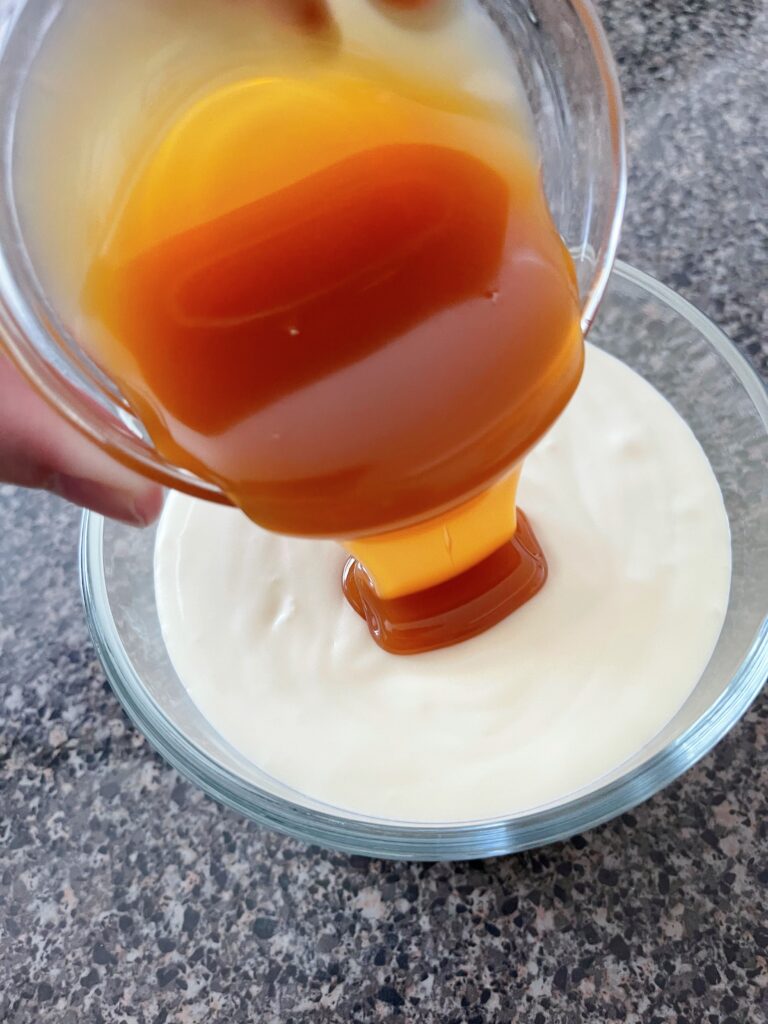 [5] Drop the chocolate and caramel cheesecake batter by alternating spoonfuls into the pan.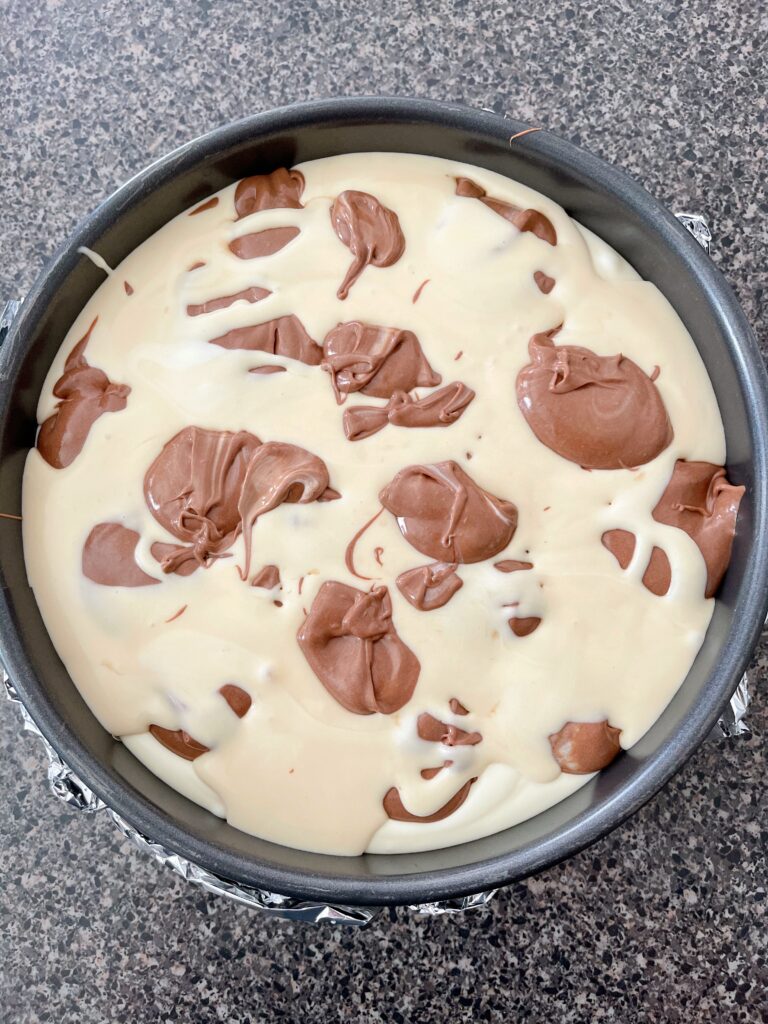 [6] Swirl them in with a knife to create the marbled look.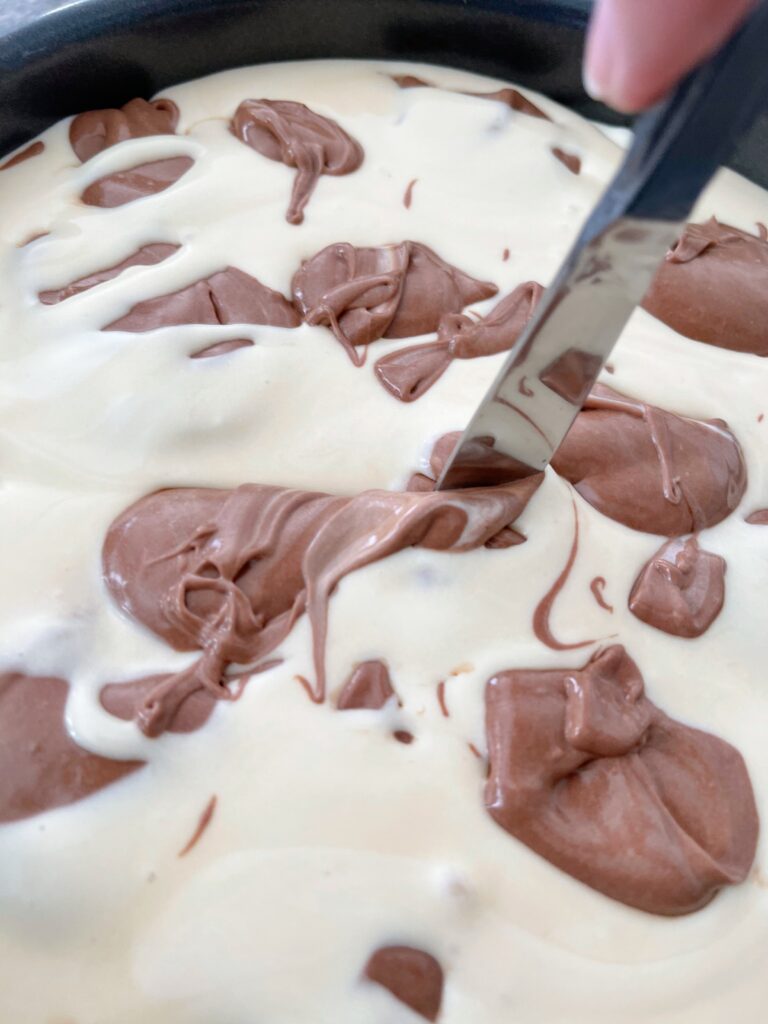 How to Bake the Cheesecake
[1] Fill the pan with enough hot water to go half way up the spring form pan.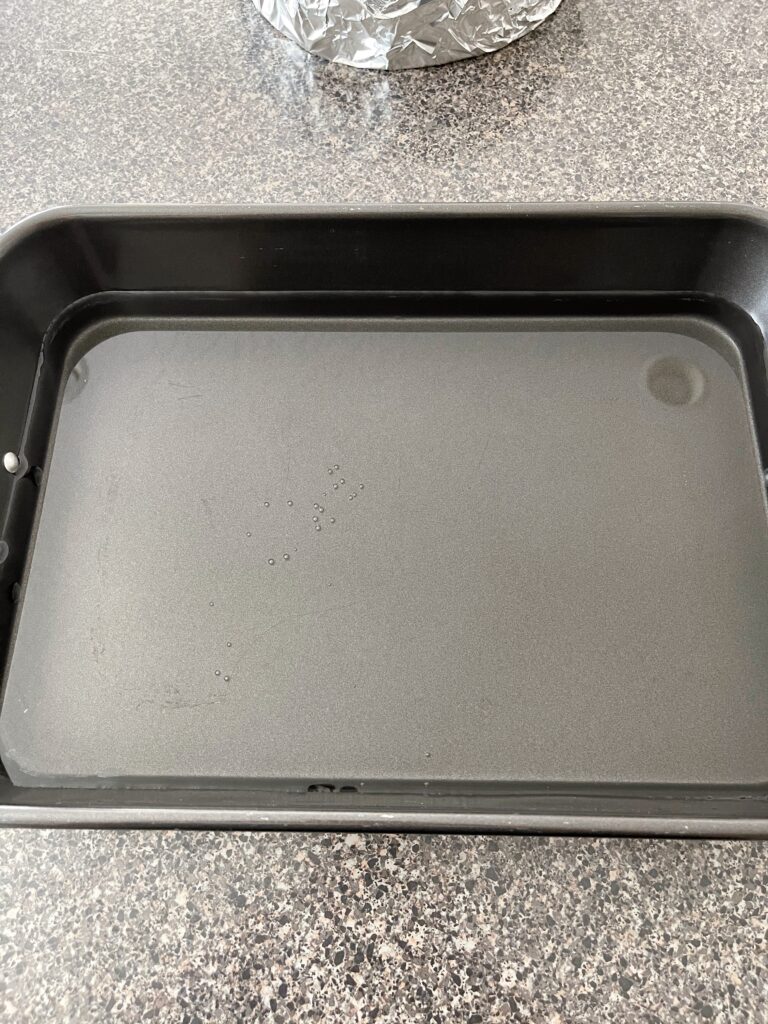 [2] Place the foil wrapped pan into a large roasting pan.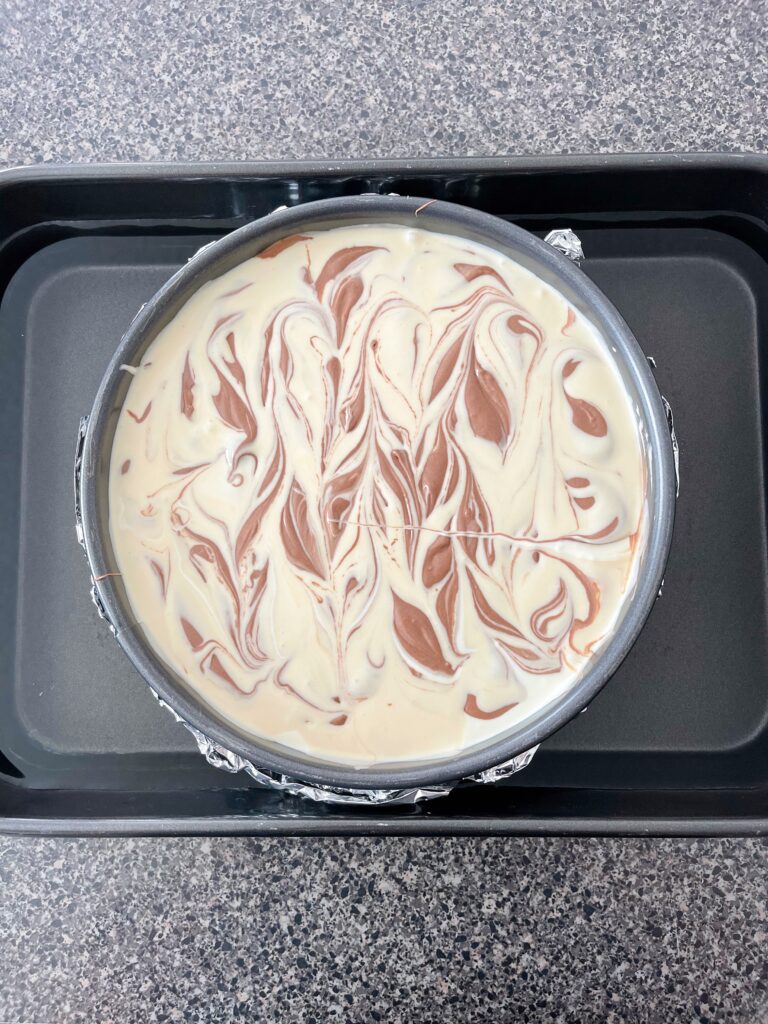 [3] Place the roasting pan in the oven and bake at 325 degrees for 90 minutes.
[4] After 90 minutes, leave the cheesecake in the oven, but prop open the door about one inch.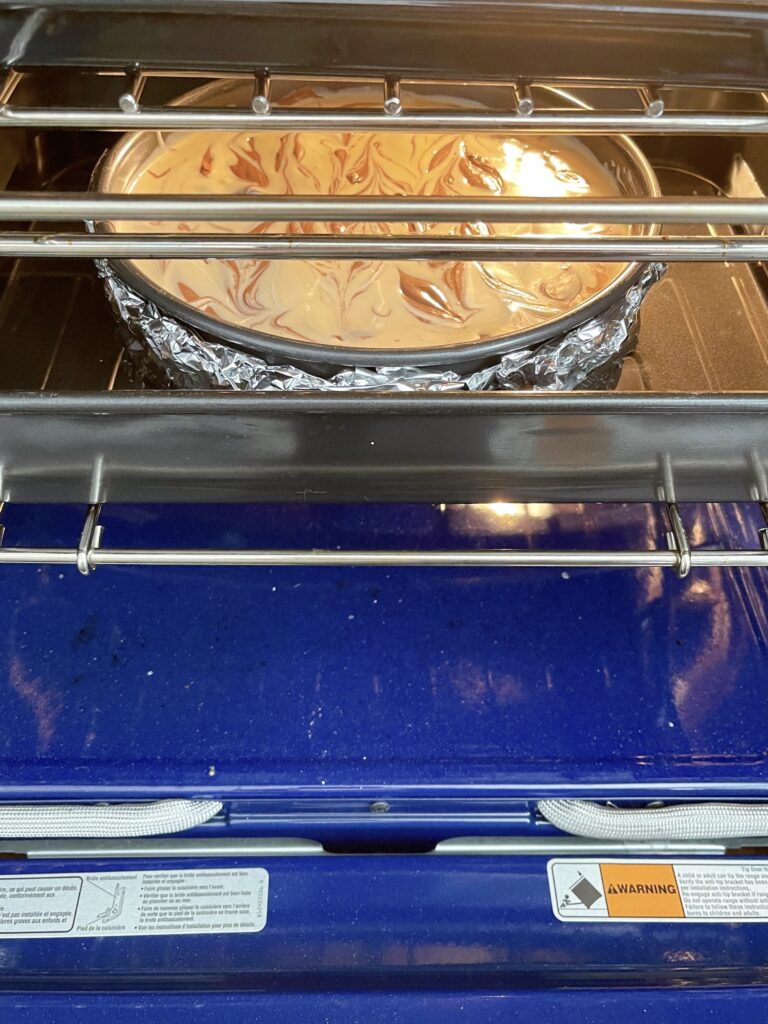 [5] Let the cheesecake cool in the oven for about an hour. Cooling the cheesecake this way, helps prevent cracking.
[6] Remove the cheesecake from the oven and cover loosely with foil.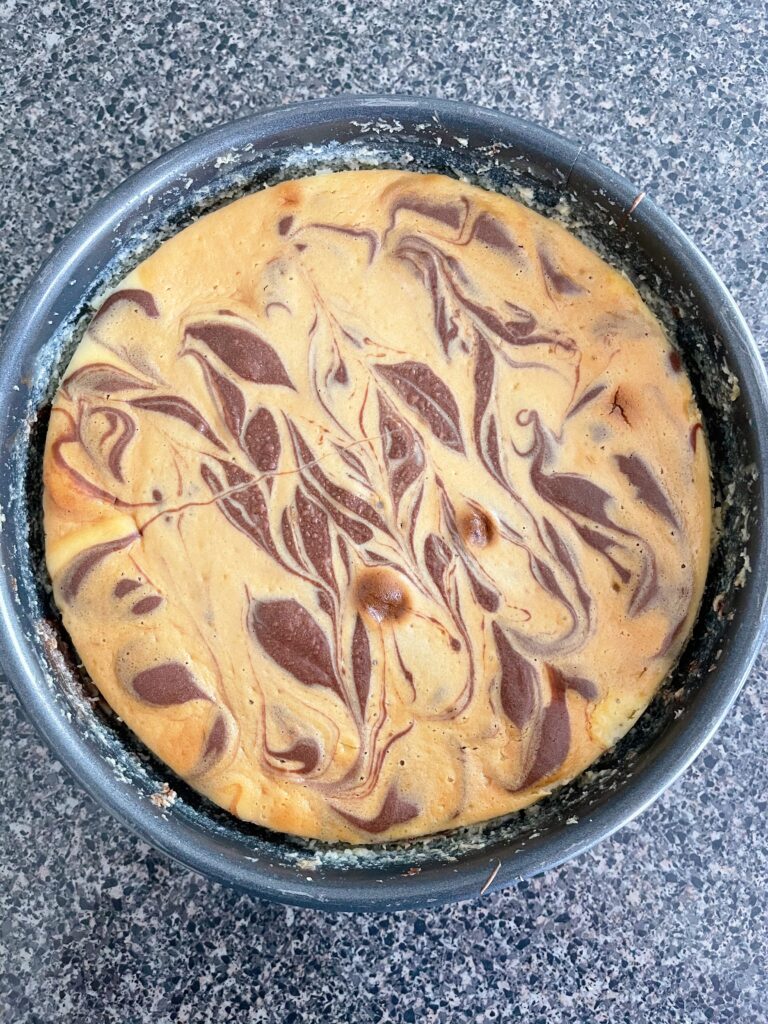 [7] Refrigerate for at least 4 hours but ideally over night.
How to Make Whipped Chocolate Ganache
Place the chocolate chips and heavy cream in a microwave safe bowl.
Heat at 50% power in 30 second increments, stirring after each, until the chocolate is melted.
Refrigerate the ganache until it is firm.
Place the ganache in the bowl of a stand mixer and use the whisk attachment to whip it until it is fluffy.
Place the ganache in a piping bag with a large star tip.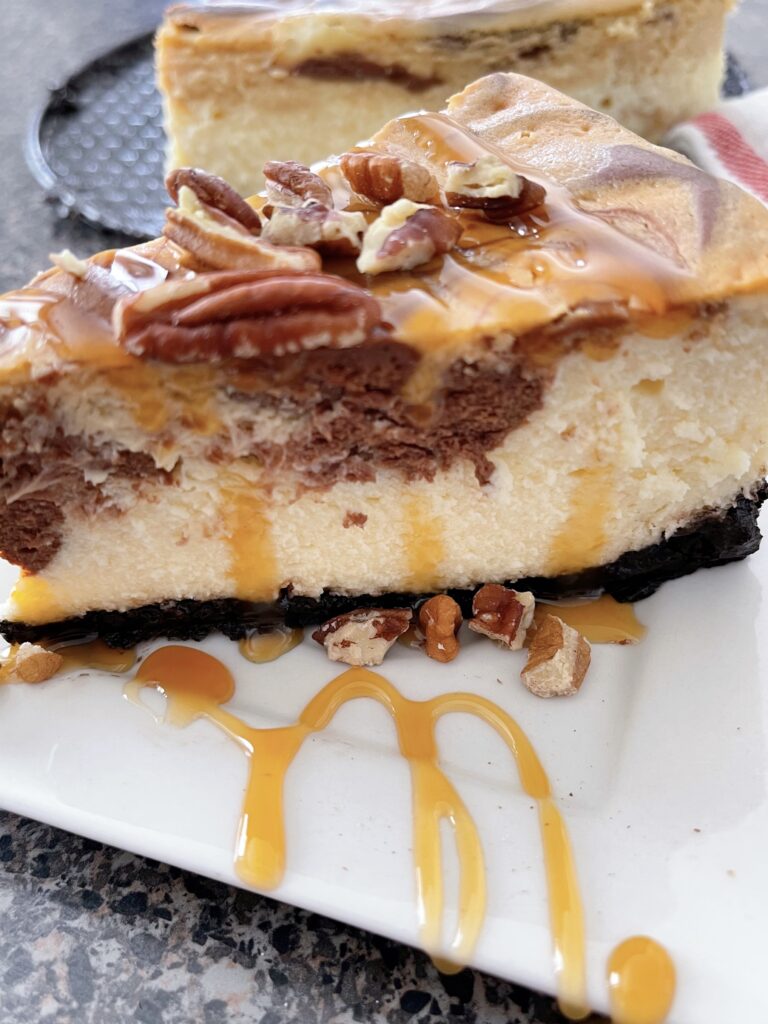 How to Top the Caramel Pecan Turtle Cheesecake
Use the piping bag filled with the whipped ganache to pipe 12 swirls around the outside edge of cheesecake, one for each slice.
Drizzle the caramel ice cream topping and melted chocolate chips over the top of the cheesecake.
Sprinkle with chopped pecans and serve!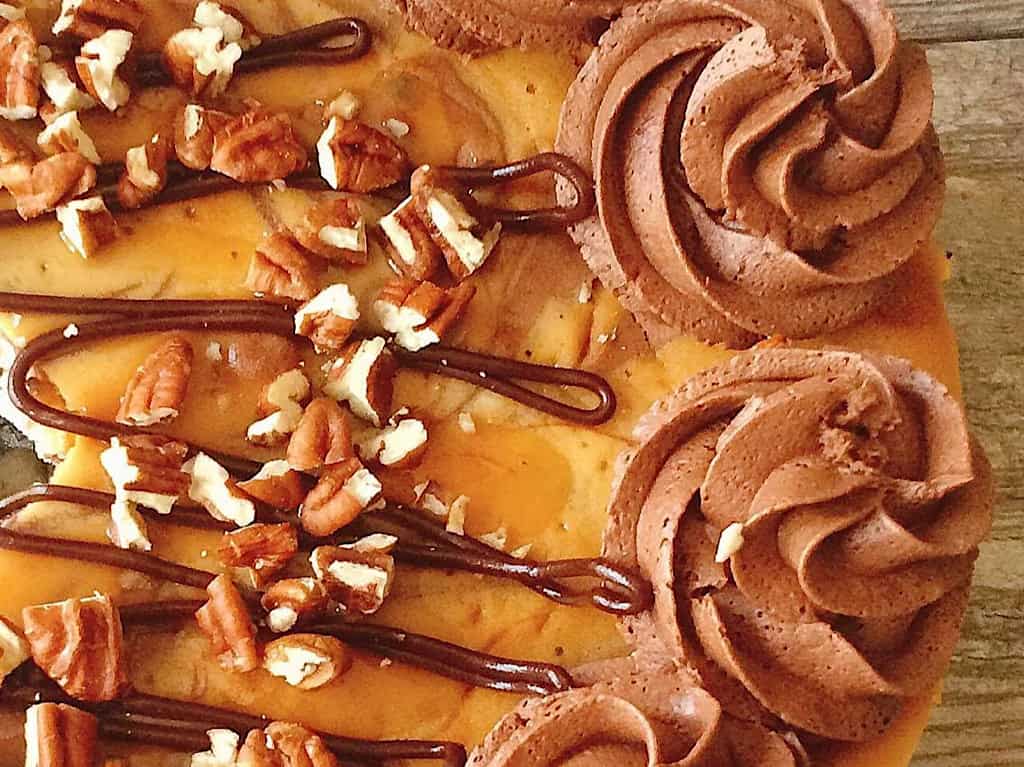 Helpful Kitchen Tools
How to Store Cheesecake
Cheesecake should be stored in an airtight container, or covered with plastic wrap or aluminum foil in the refrigerator. It will last 3-4 days. The cheesecake cake can also be frozen for up to 2 months.
When to Serve Pecan Turtle Cheesecake
This creamy cheesecake is great option for any Thanksgiving dinner. The combination of pecans, caramel, chocolate make this easy fall recipe the perfect Thanksgiving dessert. This Fall desert is always a top choice with my picky kids and they say it is one of the best Thanksgiving desserts!
If you're looking for a more classic Thanksgiving dessert, check out some of my Thanksgiving pies recipes including Traditional Pumpkin Pie, Chocolate Pecan Pie, Dutch Apple Pie, Caramel Apple Pie and Caramel Pecan Silk Pie.
You might also want to try one of these pumpkin desserts to serve to your Holiday guests.
Final Thoughts
I know that you are going to love this delicious Caramel Pecan Cheesecake! It is amazing and definitely one of the best cheesecakes I've ever had.
Don't forget to pin this recipe so that you can make it whenever your cheesecake craving strikes!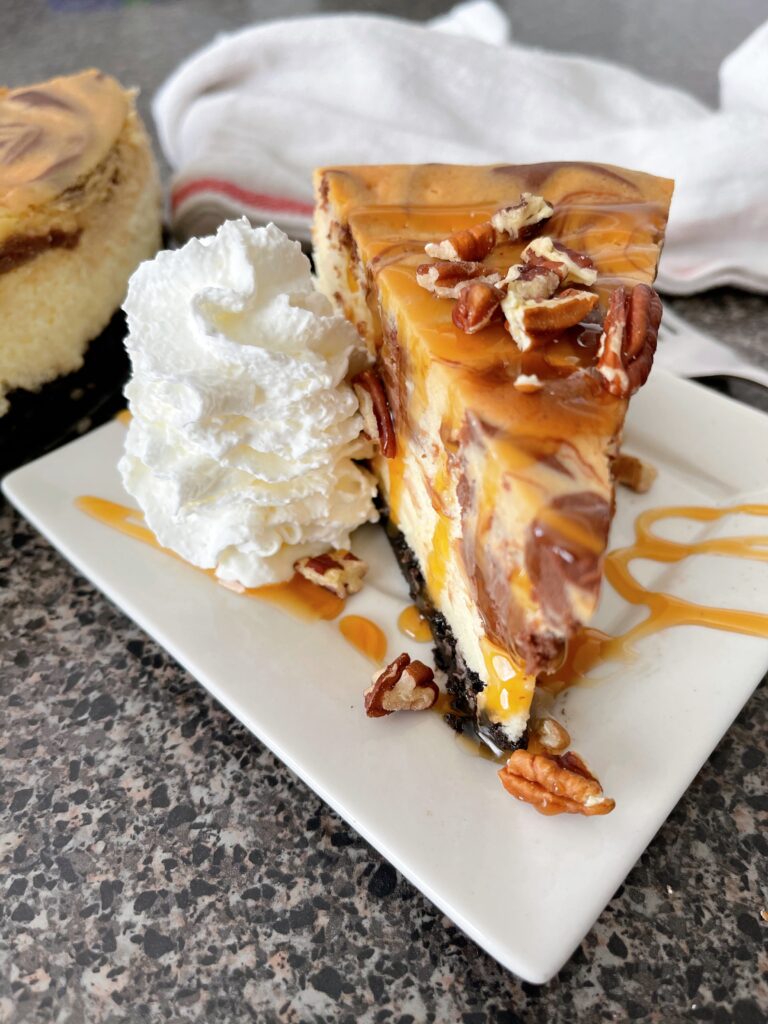 If you want to make it a full Cheesecake Factory meal, check out my recipe for Cheesecake Factory's Louisiana Chicken Pasta!
More Delicious Dessert Recipes to Try:
Watch the video here: