This Costco Pumpkin Pie recipe is a rich and creamy copycat version of the original that is available during the holidays. Make this with a homemade butter pie crust and you'll have the best pumpkin pie ever that is perfect to feed a large crowd!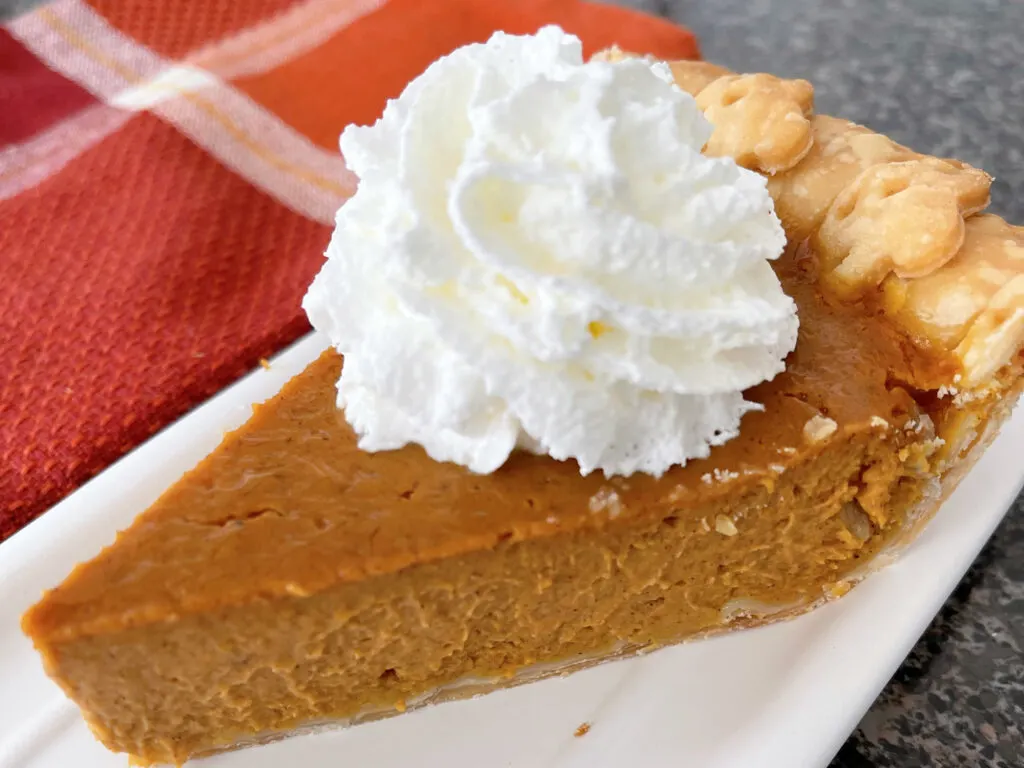 This post may contain affiliate links. When you click on these links, I get a small percentage back at no cost to you! For more information see my disclosure policy.
Below you will find tips, tricks and helpful hints for making this recipe including step by step instructions with pictures. If you would like to go directly to the recipe, scroll down to the recipe card or tap "Jump to Recipe" at the top of the page.
Why I Love Costco's Pumpkin Pie
I love the Fall! This time of year means Thanksgiving and Thanksgiving means that Costco Pumpkin Pie makes its glorious appearance once again!
I have always been in love with the pumpkin pie from Costco available during the holiday season since the first time I tasted it. It is always the right consistency and perfectly spiced.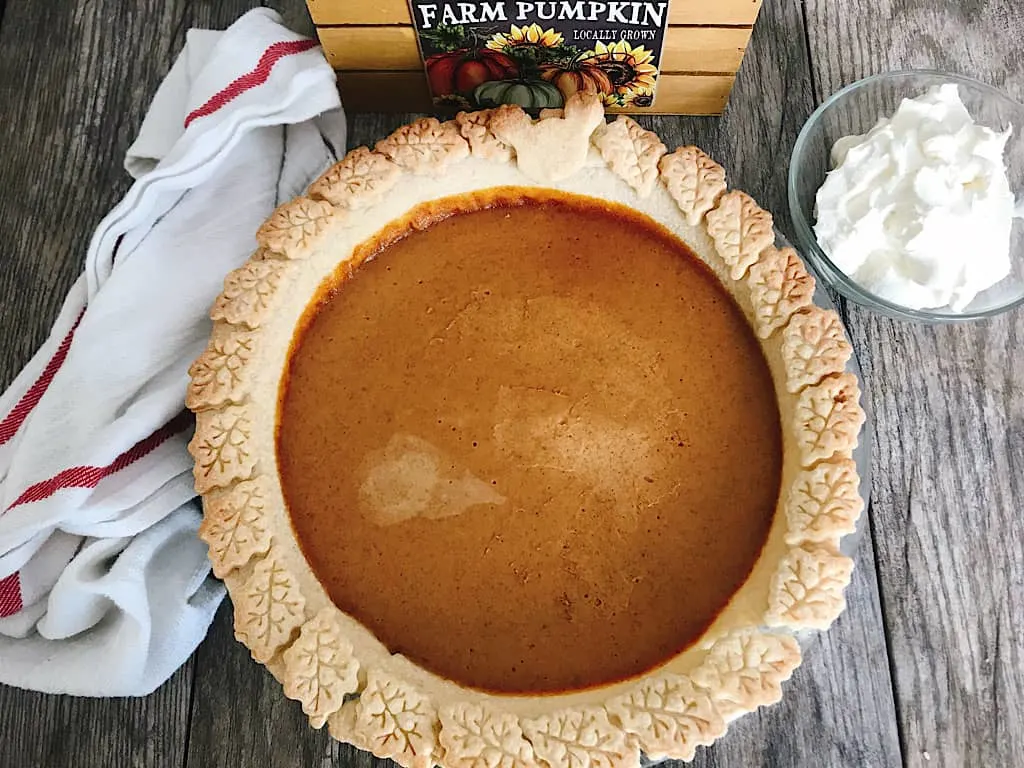 And for the $5.99 affordable price tag, it really can't be beat…except for maybe this pie.
My husband and I did a little taste test comparison last night of Costco's pumpkin pie and my version of their pumpkin pie, and I have to admit that this one was better.
I didn't think that could ever happen. The funny thing is, this pie is that good.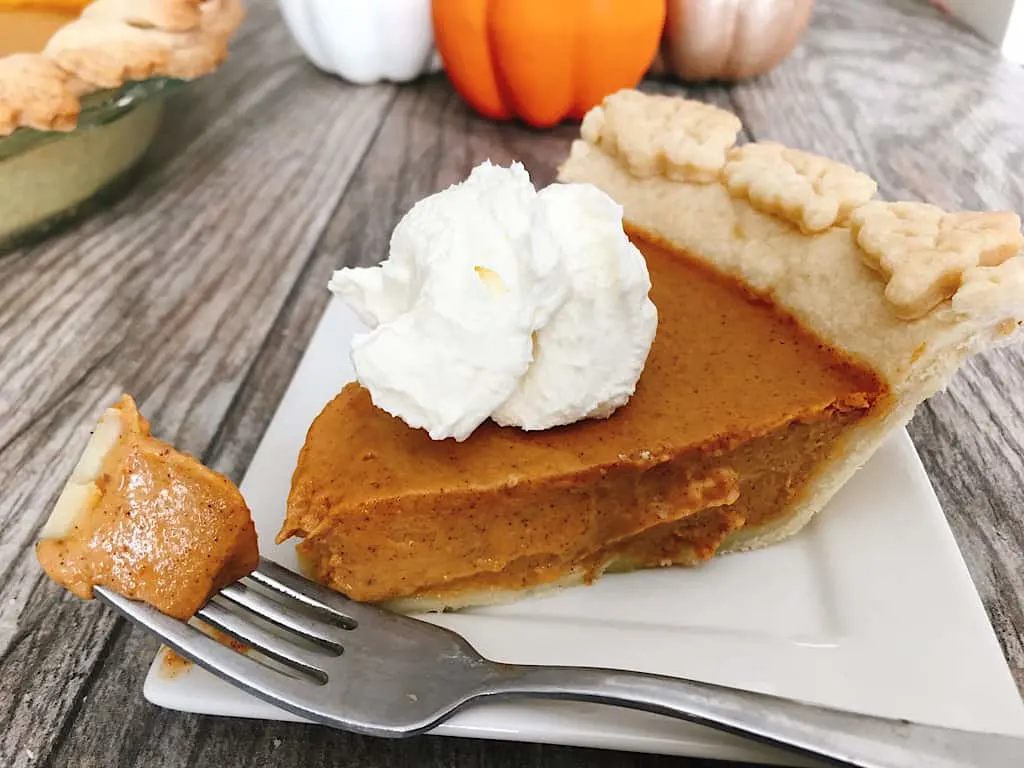 What makes Costco Pumpkin Pie so Good?
Costco's pumpkin pie is not your regular grocery store pie. What makes Costco pumpkin pie so good is it's creamy texture. Pumpkin pie filling is actually a custard so the extra egg yolks and the heavy cream add to the richness and creaminess of the Costco pie. That's why it is my favorite pumpkin pie!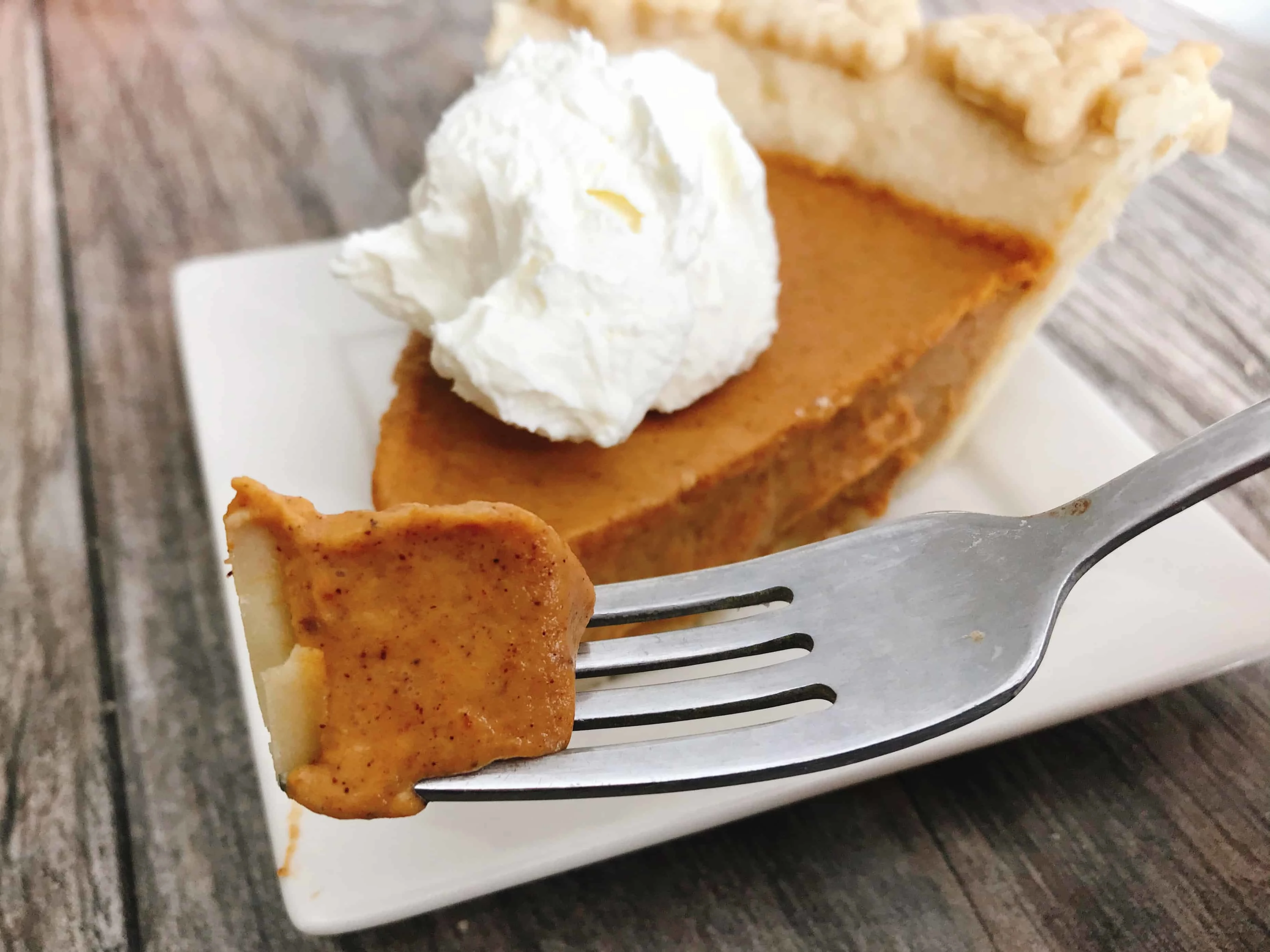 When Can You Buy Costco Pumpkin Pie?
Costco pumpkin pie is usually available at Costco's bakery section in early November for serving at Thanksgiving dinner, but I have even seen it as early as late September.
What makes this Pumpkin Pie Recipe Better than Costco's?
The pie crust. Plain and simple. The pumpkin pie filling is amazing, but making this pie with a homemade all-butter pie crust takes it to the next level!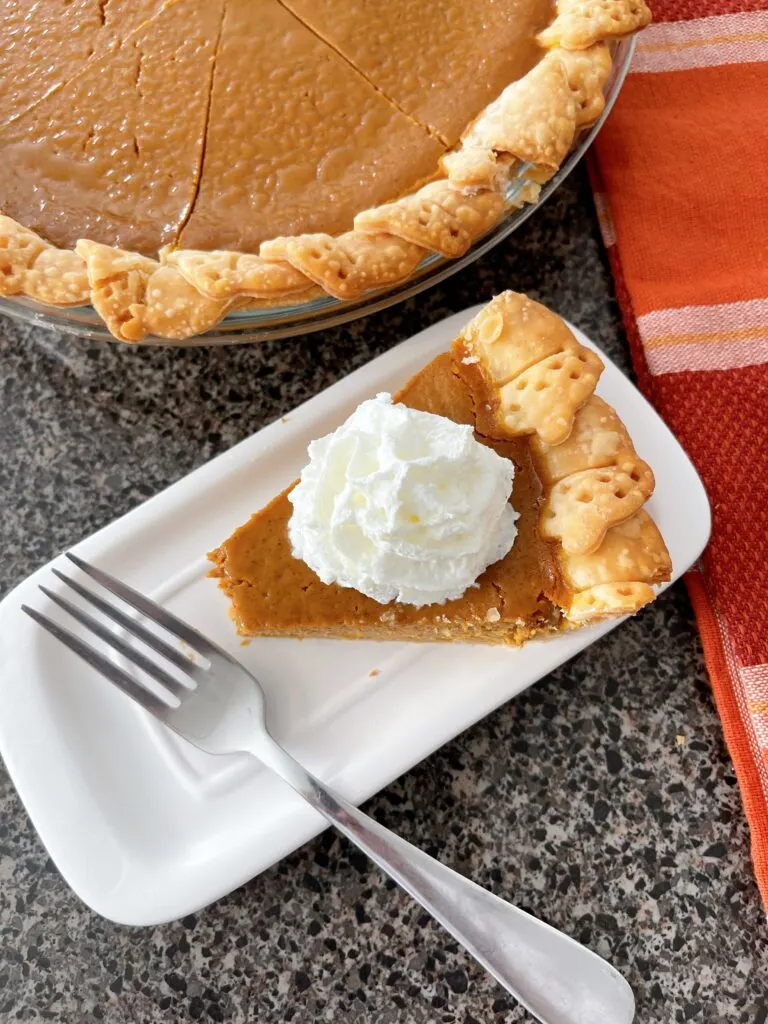 Using butter in the crust instead of shortening, enhances the flavor and increases the flakiness. It's absolutely perfect if you ask me.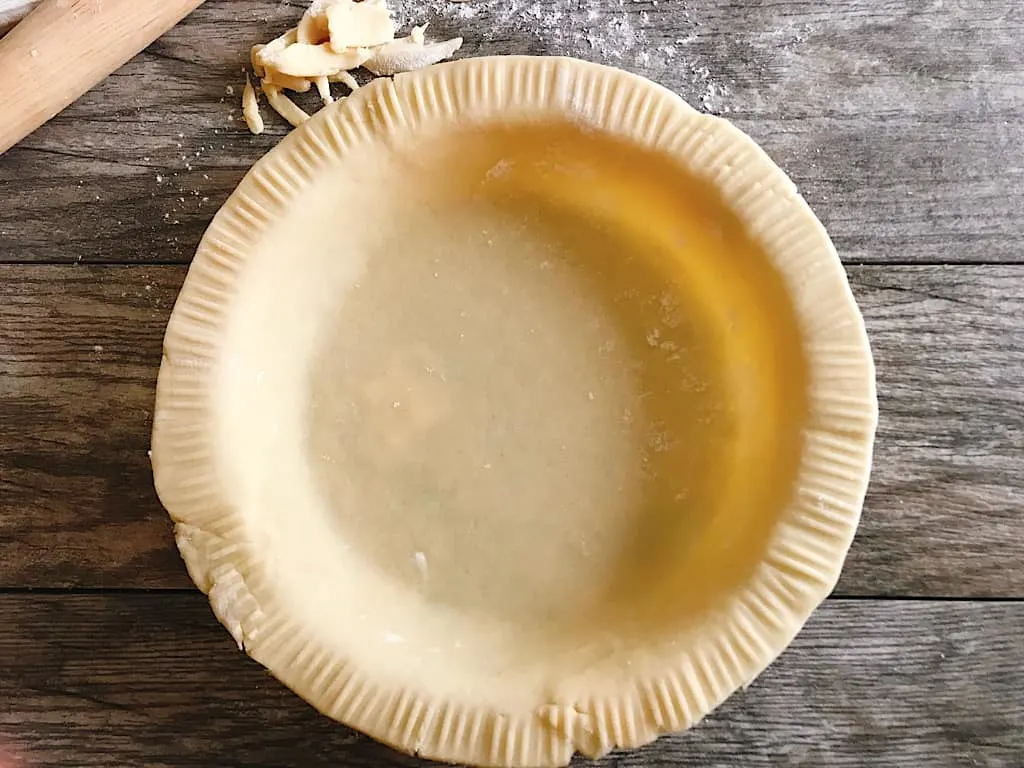 When I made this pie, I doubled the pie crust recipe and used small leaf cookie cutters the to cut out leaf shapes with the extra crust. I put them on the edge of the pie for decoration and it was adorable!
Can You Freeze Costco Pumpkin Pie?
The answer is yes! You can absolutely freeze this pie. The crust has a high fat content from the butter and custard fillings are great for freezing.
Just make sure to double wrap the pie in plastic wrap and add an extra layer of foil to protect from freezer burn.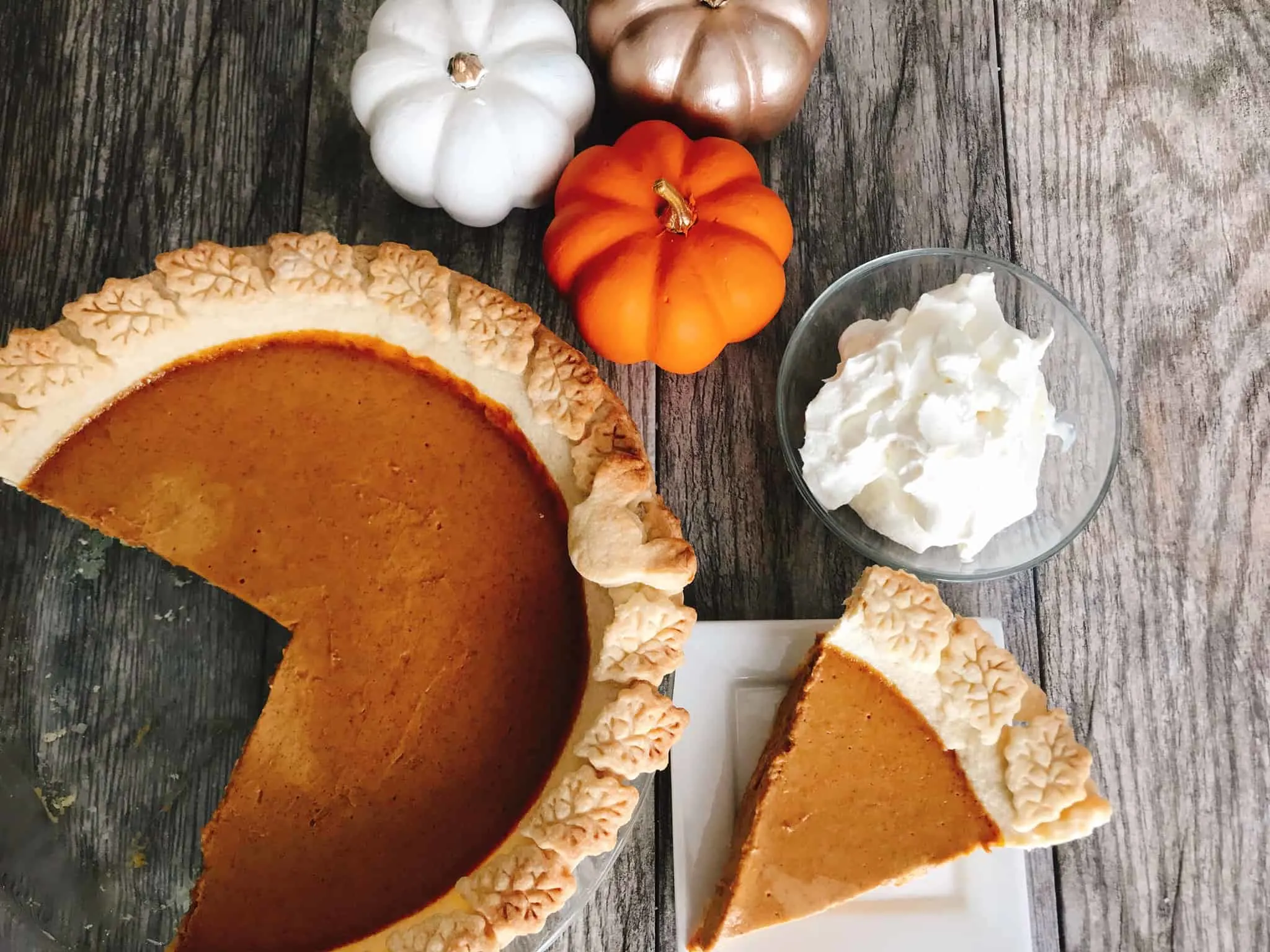 How long will Costco Pumpkin Pie last?
If you do not plan to freeze this pie, it will last in the refrigerator for 2-4 days.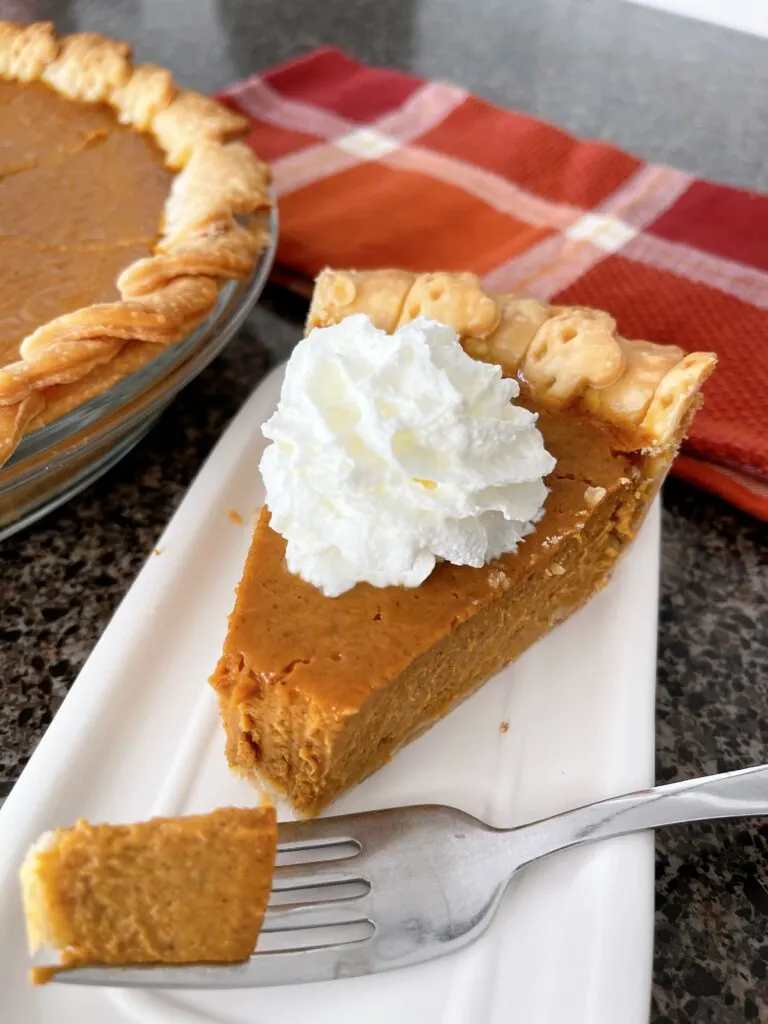 Is this pie easy to make?
Yes, it is super easy to make. The instructions below will show you that you don't need to be an experienced baker to make this incredible pie!
Helpful Kitchen Tools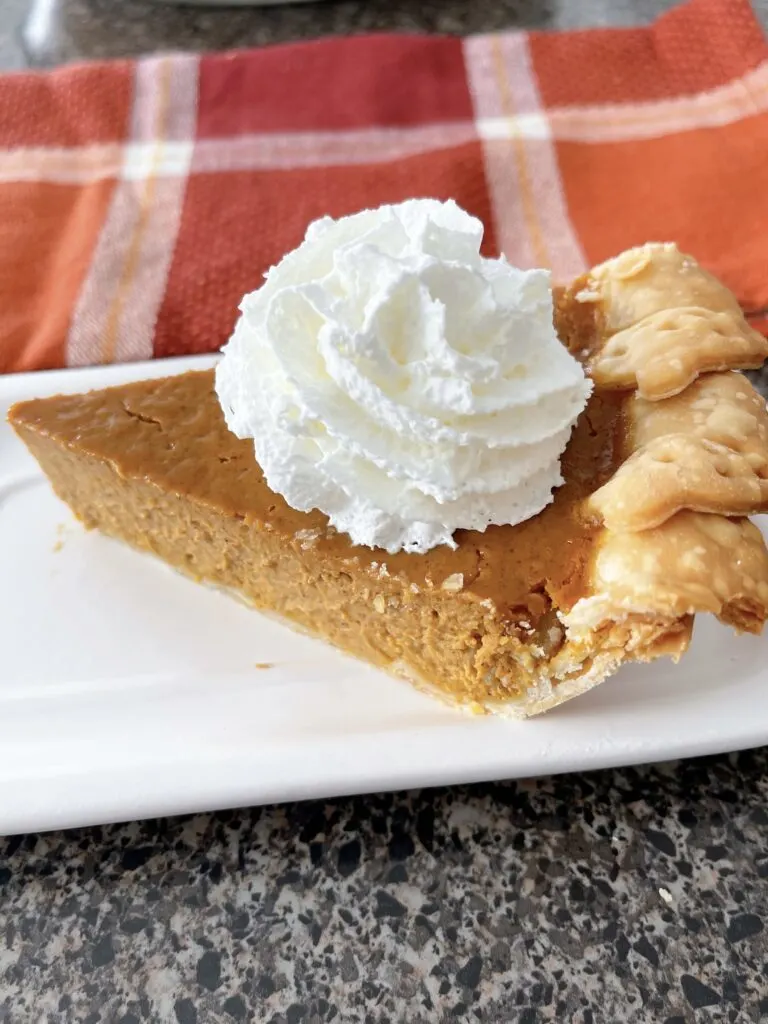 Pumpkin Pie Ingredients
*Ingredient amounts are located in the recipe card at the end of this post.
Egg Yolks: A common ingredient in custard-based pie fillings. You will need to separate the yolks from the whole eggs to make the pumpkin custard filling.
Egg: Helps bind the ingredients together when baked.
Heavy Cream: Contributes to the rich, thick, and creamy texture of this pumpkin pie filling.
Half & Half: Half cream and half milk gives this custard a thicker texture.
Sugar: Sweetens the pie filling, enhances the flavor of spices, and provides caramelization during baking.
Pumpkin Puree: Be sure to purchase canned pumpkin puree and not pumpkin pie filling.
Vanilla Extract: Adds flavor to the custard. I like to use pure vanilla extract.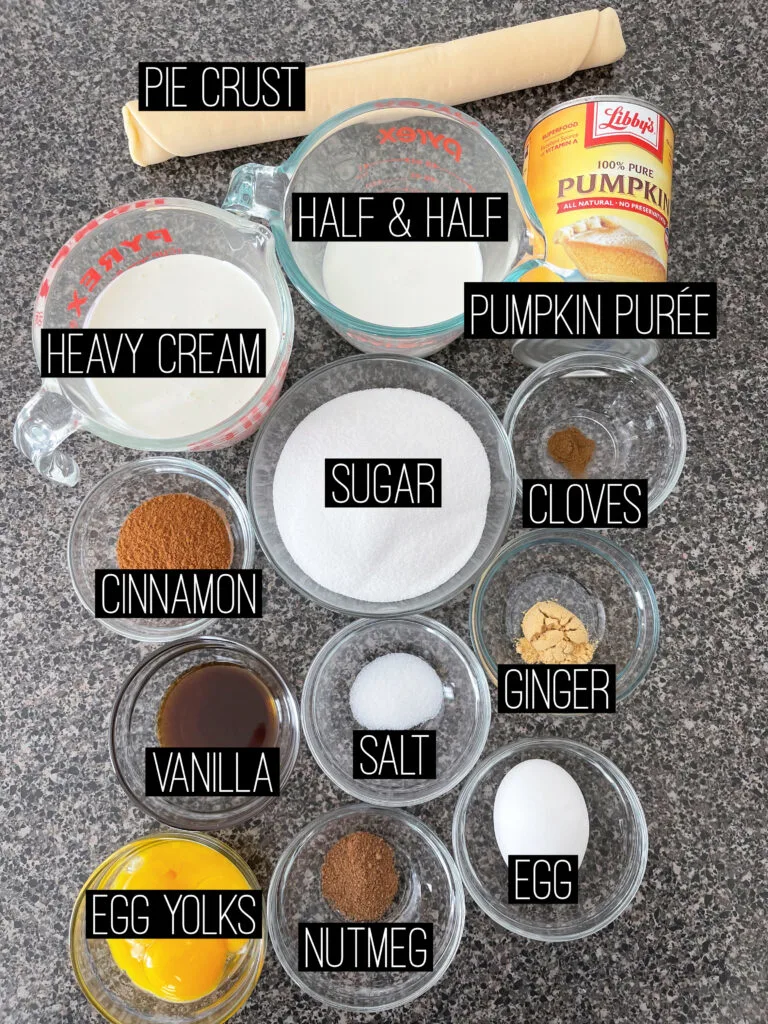 Cinnamon: A common pumpkin pie spice that enhances sweetness and spices up the overall flavor of the filling.
Ground Ginger: Pumpkin pie spice ingredient that adds a spicy warmth to the custard.
Nutmeg: Another common pumpkin pie spice that adds another dimension of sweet spices like cinnamon.
Ground Cloves: A component that adds a little spicy warmth.
Salt: Enhances the flavors of all ingredients and helps with baking.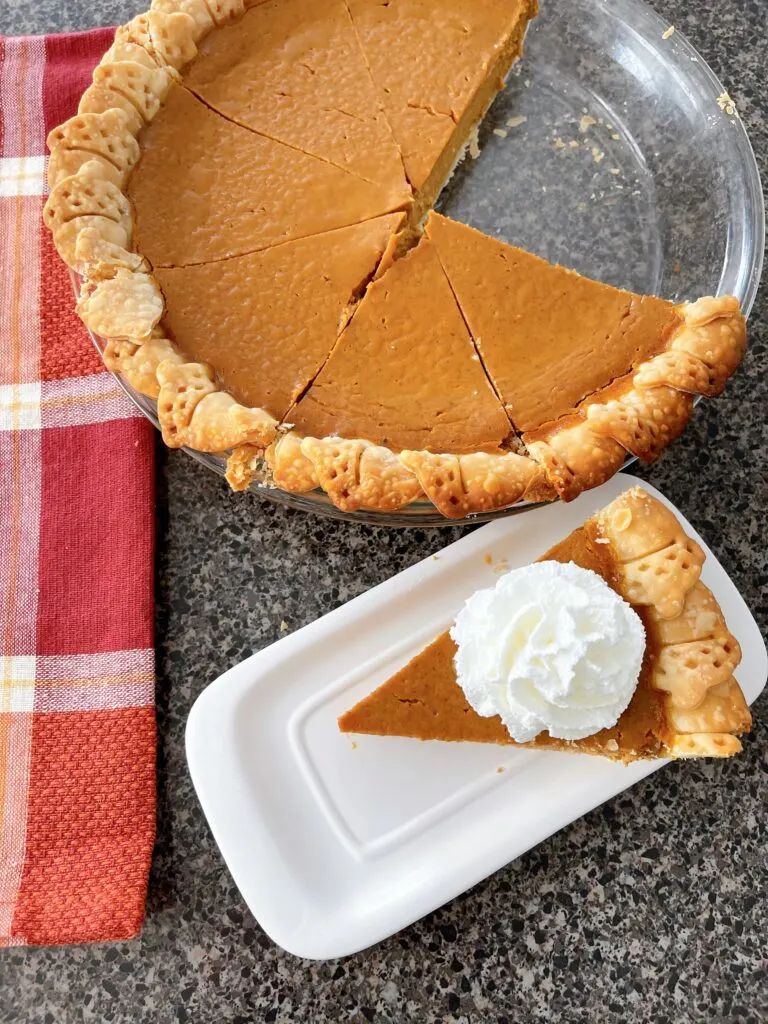 More Pumpkin Recipes:
How to Make Costco Pumpkin Pie Crust
[1] Use a pre-made pie crust or use this amazing all-butter homemade pie crust recipe.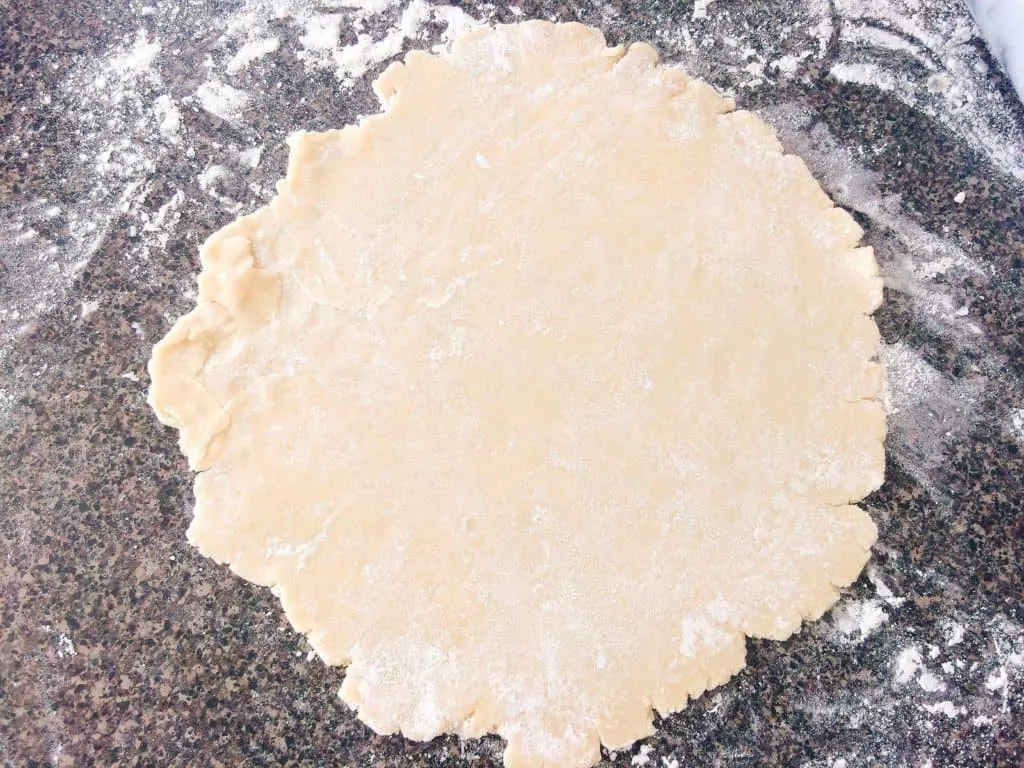 [2] Lay the rolled out pie dough over a lightly greased 9 inch pie pan.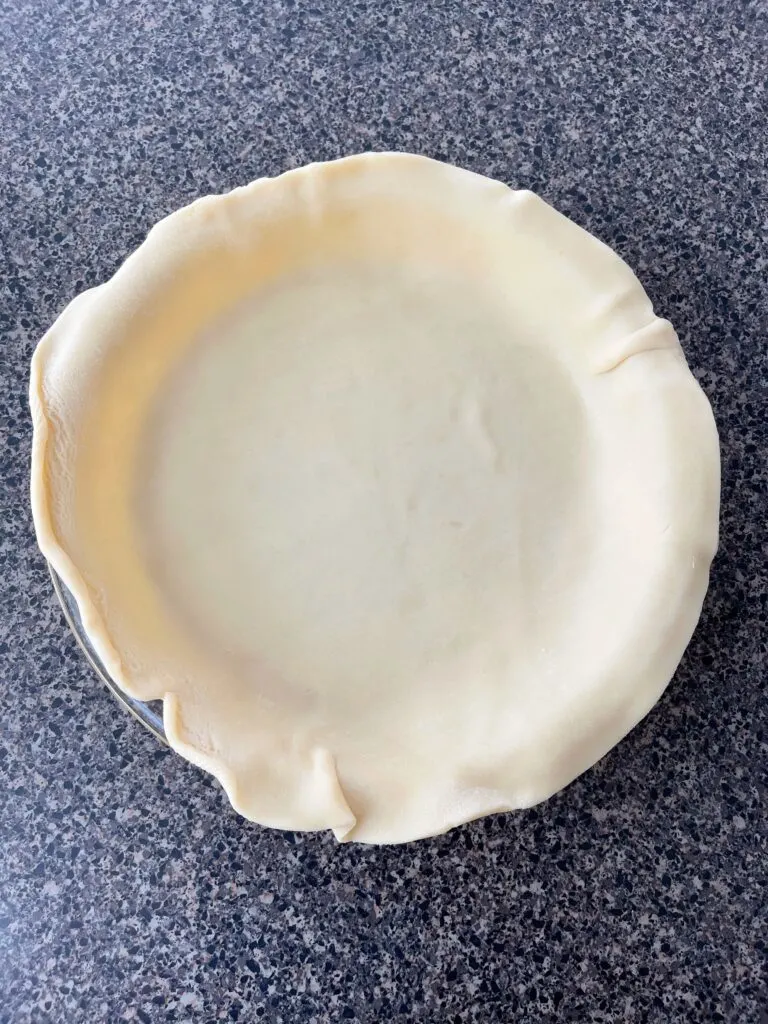 [3] Trim the edges of the crust around the pan.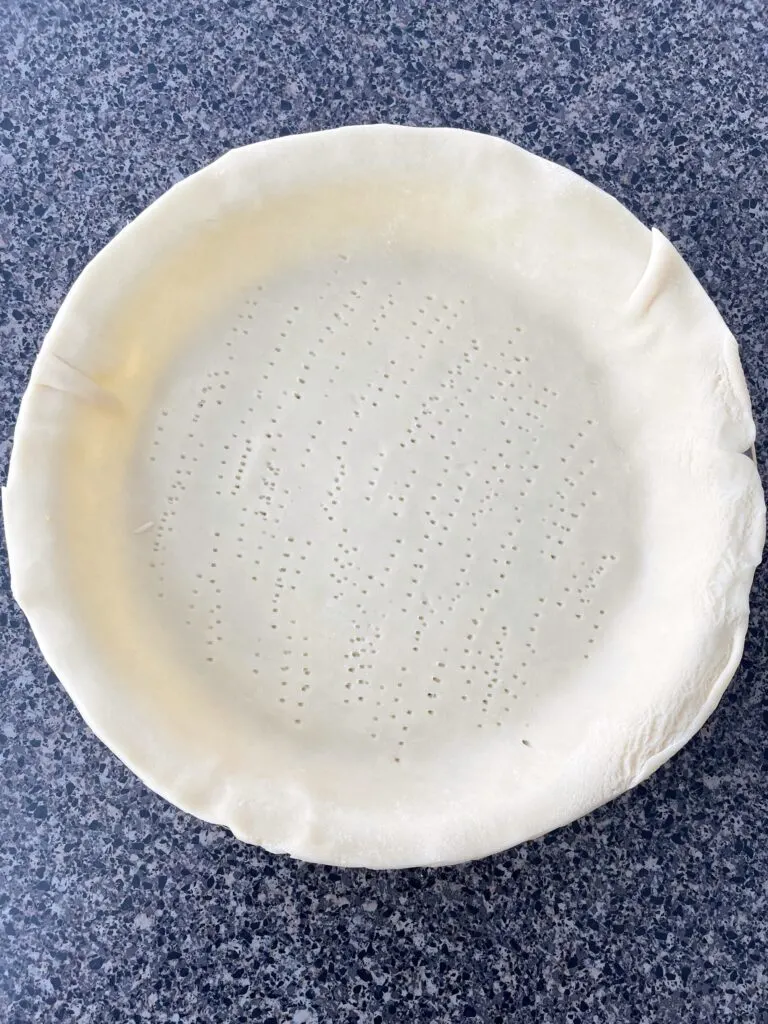 [4] Use your fingers or a fork to decorate the edges. You could also cut out shapes from extra pie crust with small leaf cookie cutters to decorate like I did here.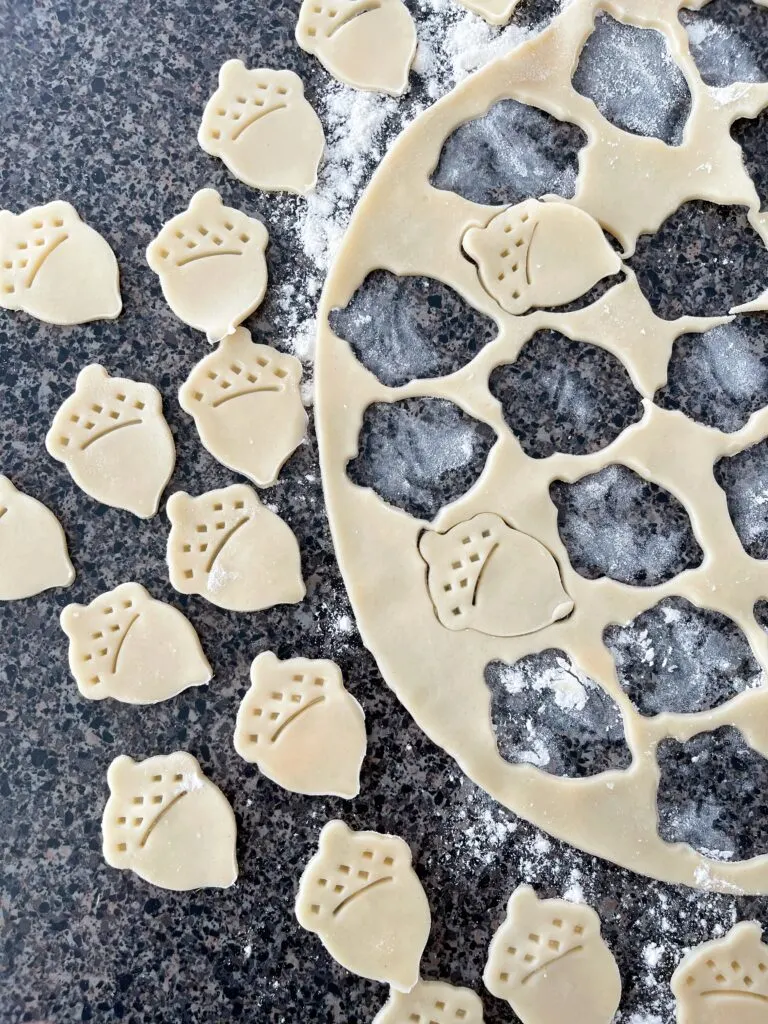 [5] Use a fork to perforate the bottom of the crust. Doing this keeps the crust from bubbling.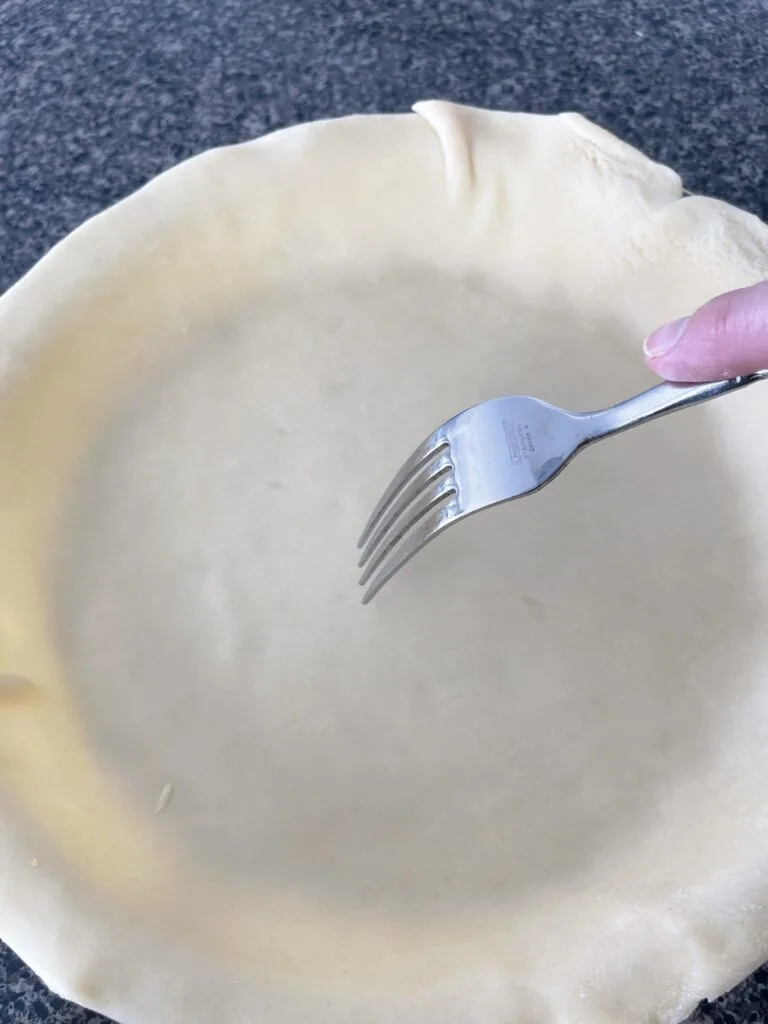 [6] Line the bottom of the pie with parchment paper and place pie weights (or dried beans) inside. Pie weights ensure that the crust does not shrink when baking.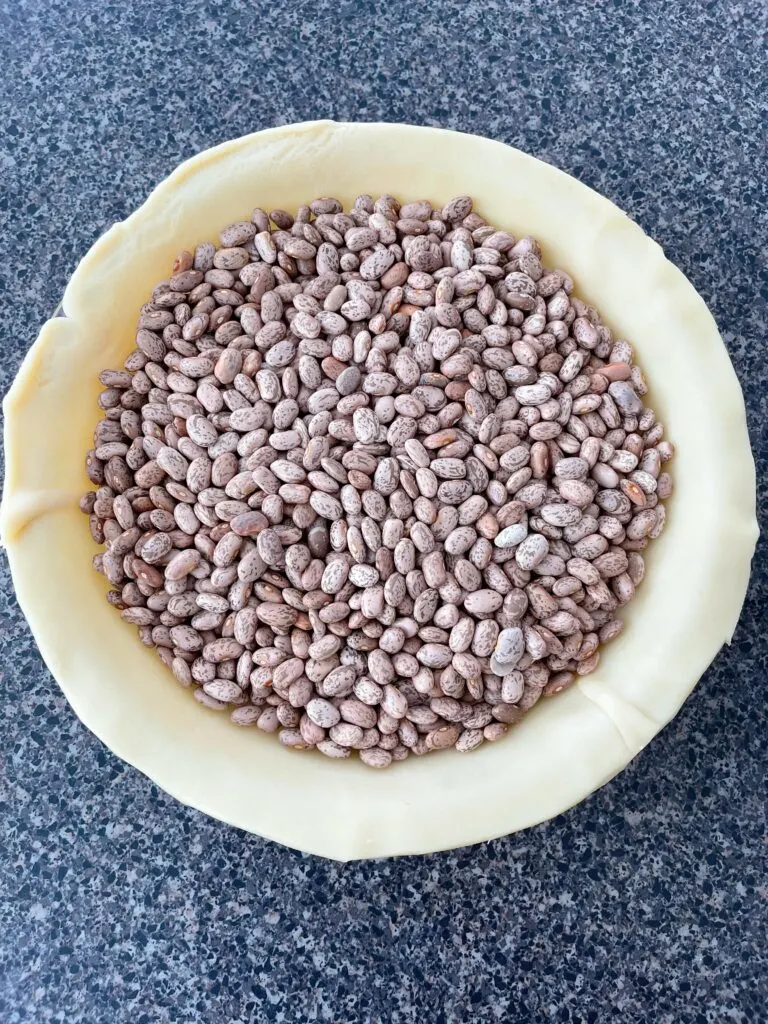 [7] Bake at 375 degrees for 10 minutes, then remove the weights. Bake an additional 5 minutes.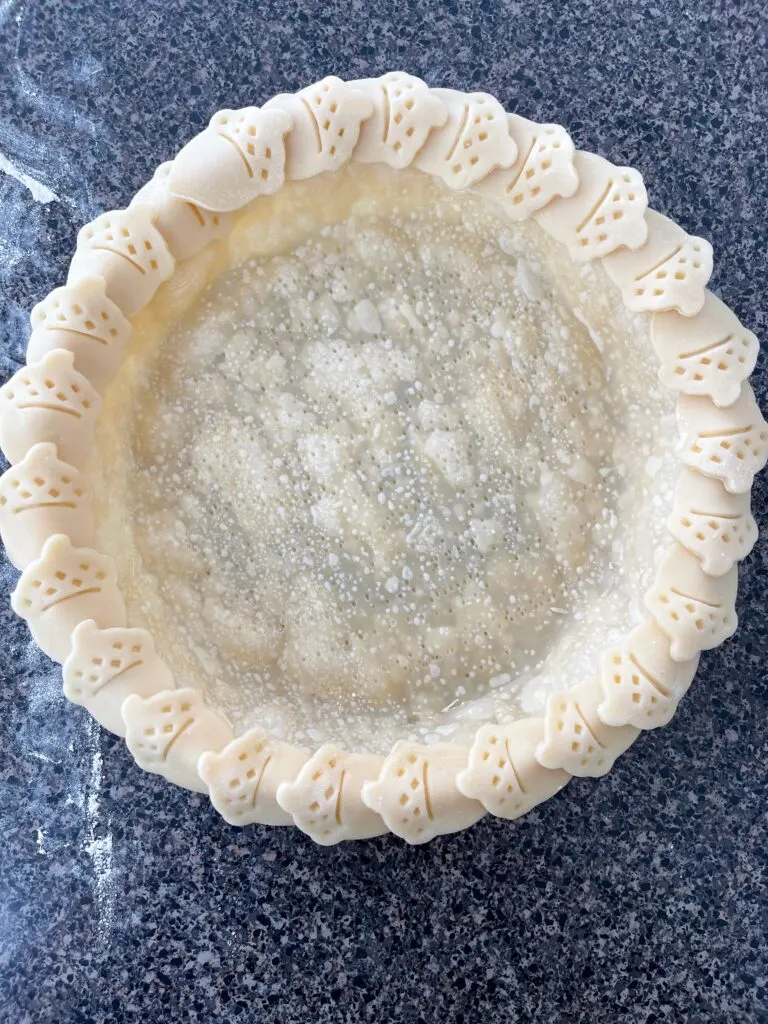 [8] Add the crust decorations (leaves) at this time, if desired.
Pumpkin Pie Filling
[1] Place the pumpkin puree and all of the spices (vanilla, cinnamon, ginger, nutmeg, cloves, and salt) into a sauce pan. Heat over medium-low heat, until heated through. This helps meld the flavors together and brings out the flavor of the pumpkin.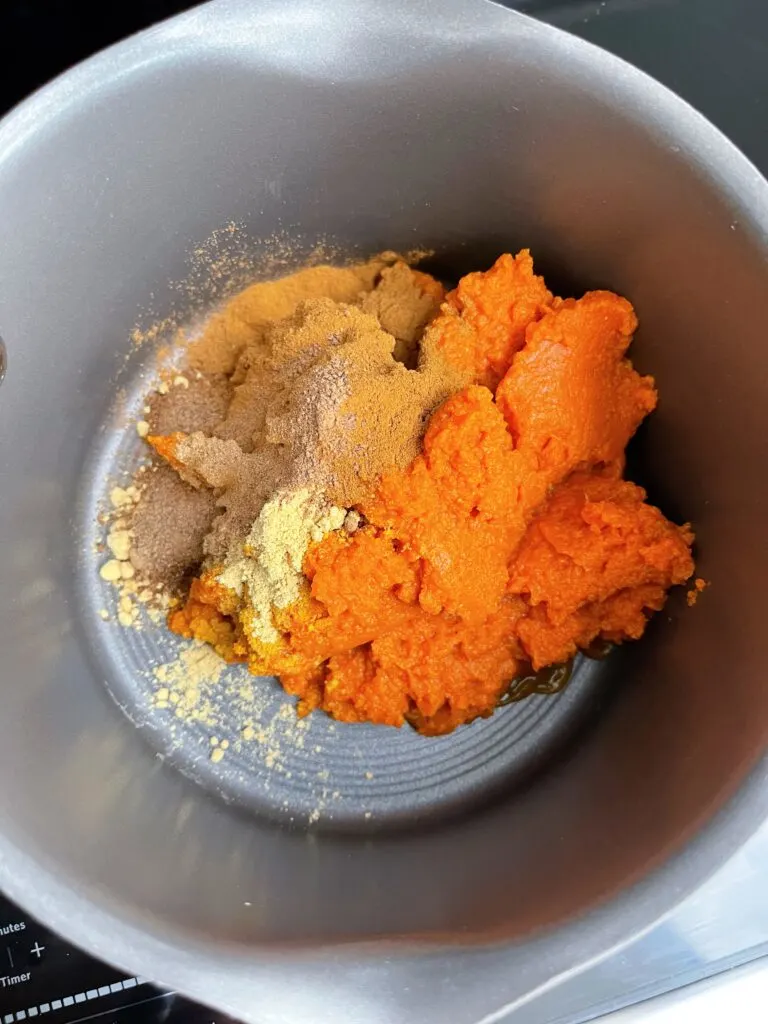 [2] Remove the pumpkin mixture from the heat and allow to cool.
[3] Whisk the egg and egg yolks with the cream and half and half in a mixing bowl.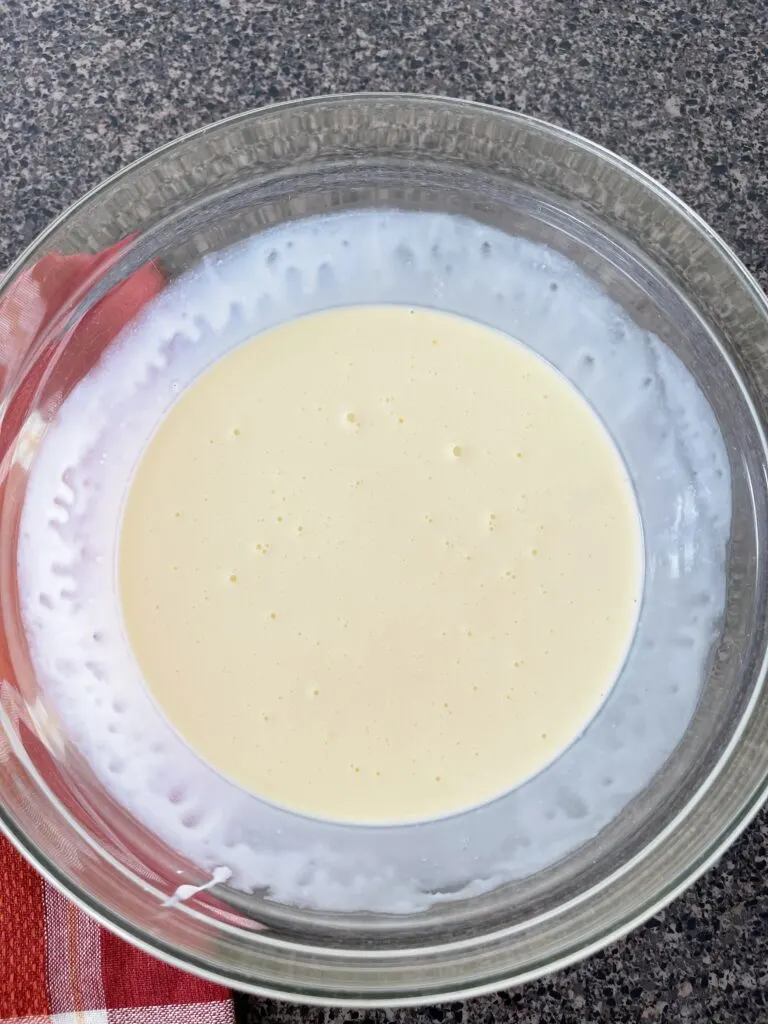 [4] Next, add the sugar and cooled pumpkin mixture.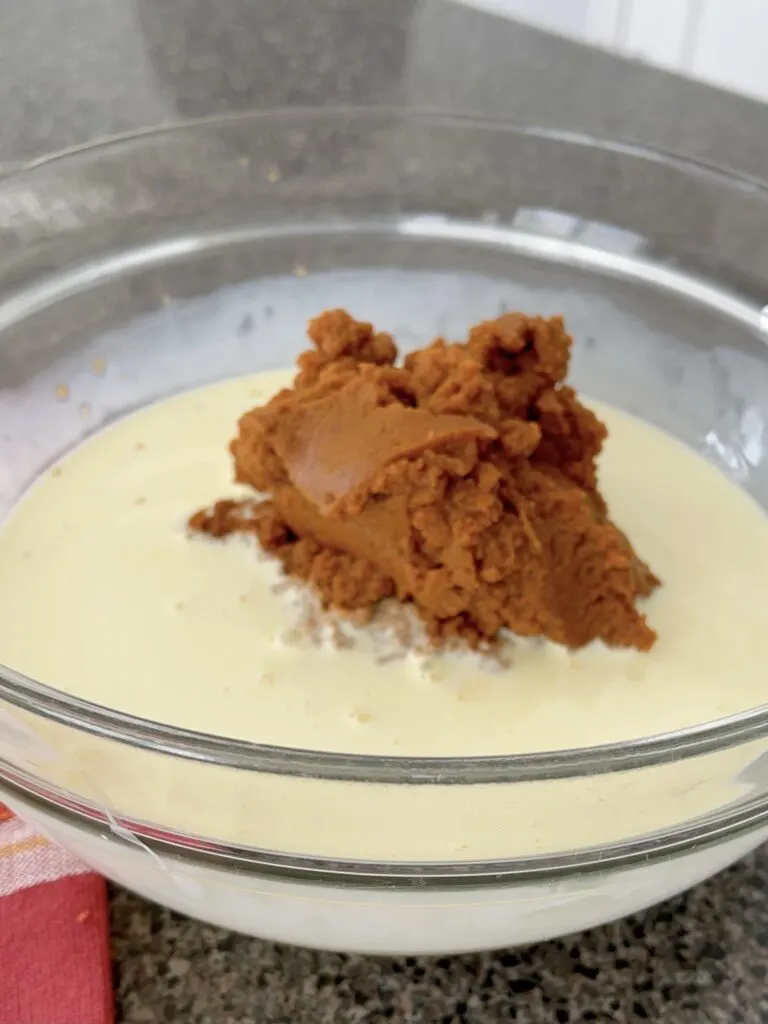 [5] When the mixture is blended together, pour the pumpkin filling it into the pre-baked pie crust.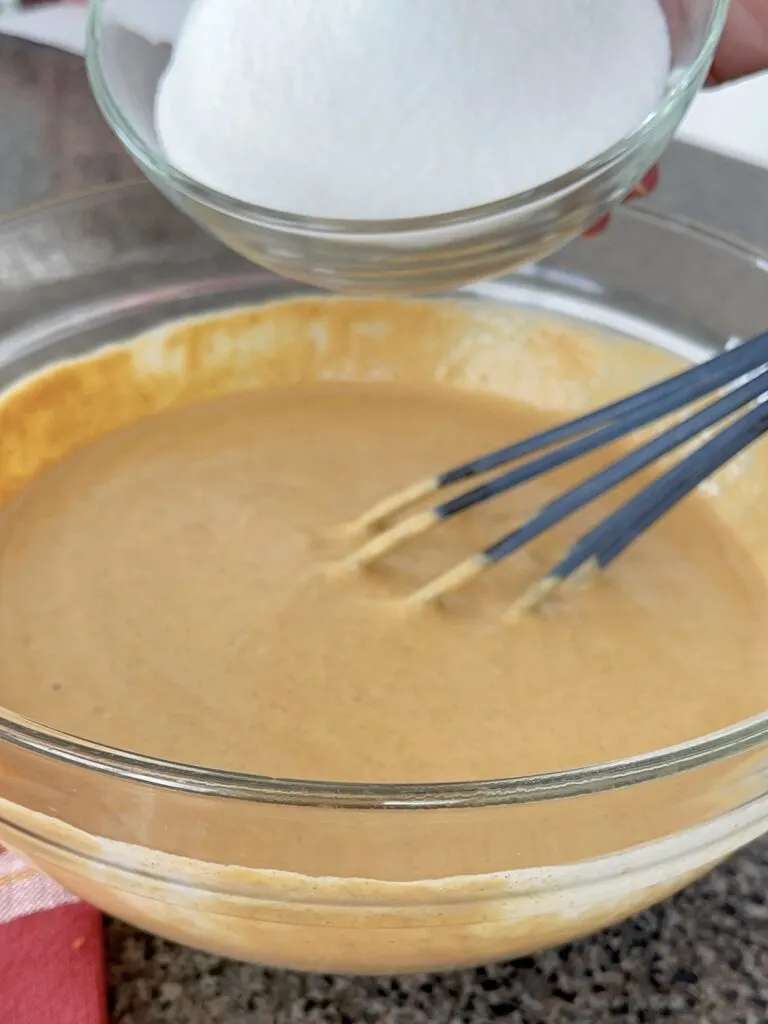 [6] Bake the pie at 325 degrees for 50 minutes. The pie should still jiggle a little when you remove it. (If the crust is browning too much, place aluminum foil over the edges or use a pie shield.)
[7] Allow the pie to cool for an hour or two on a cooling rack.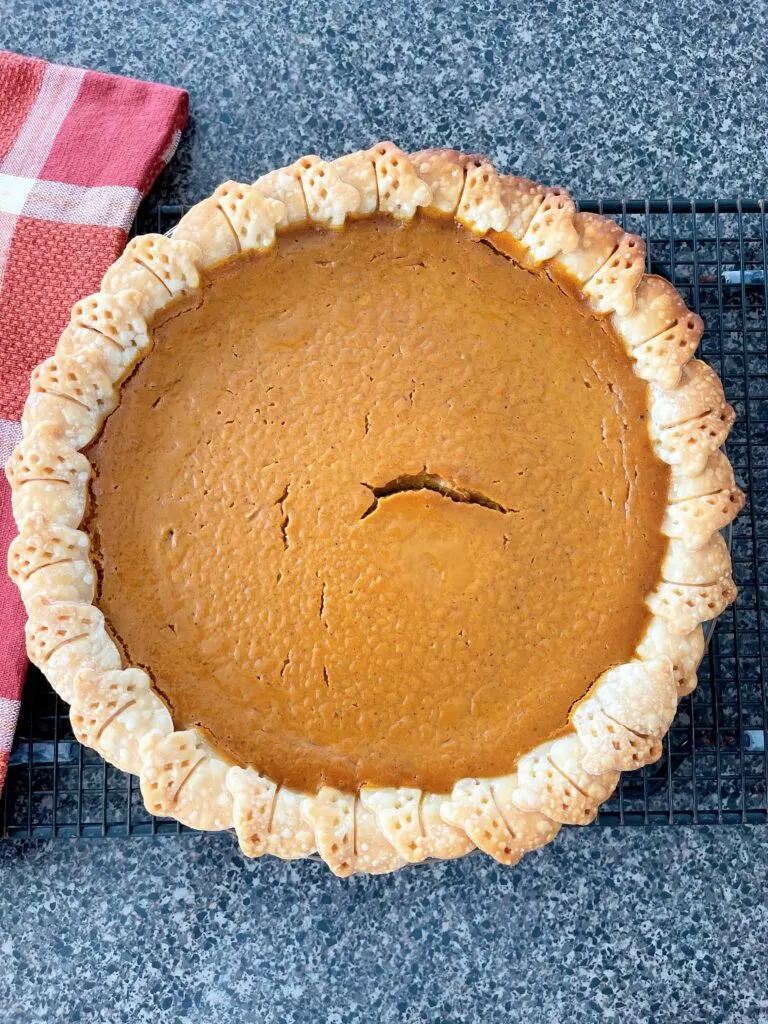 [8] Cover with foil and refrigerate the pie until ready to serve.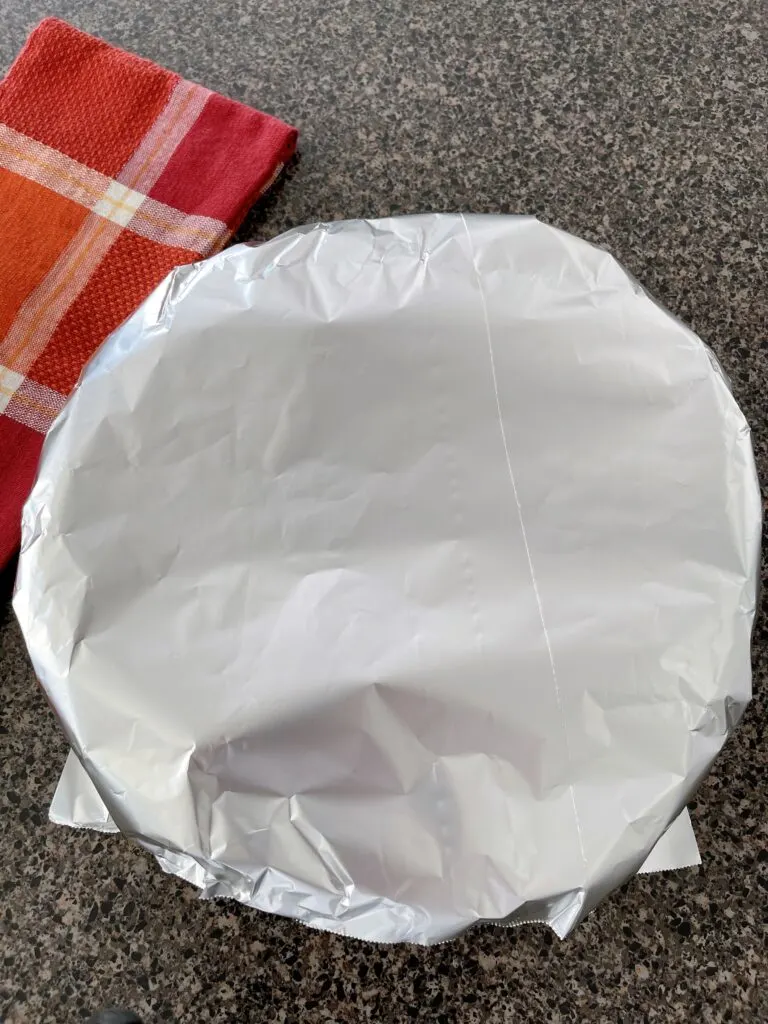 How to Serve Costco Pumpkin Pie
To me, there is only one way to serve a slice of pumpkin pie. With a large, heaping scoop of whipped cream!
More Pie Recipes:
Watch the Video: