Introducing the ultimate hack for lasagna lovers: Ravioli Lasagna, also known as Lazy Lasagna! This delightful ravioli lasagna recipe is made with just three simple ingredients, making it a quick and easy alternative to traditional lasagna. So say goodbye to long ingredient lists, complicated layering techniques, and hours spent in the kitchen. With this easy lasagna recipe, you can enjoy the flavors of homemade lasagna in no time!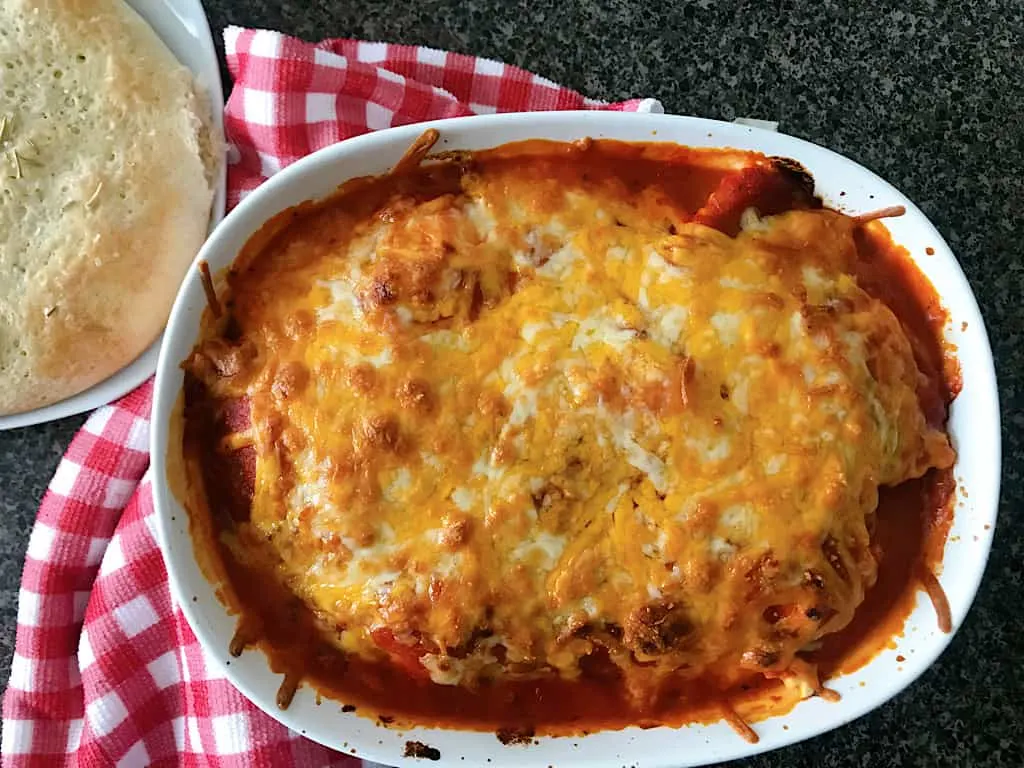 This post may contain affiliate links. When you click on these links, I get a small percentage back at no cost to you! For more information see my disclosure policy.
Below you will find tips, tricks and helpful hints for making this recipe including step by step instructions with pictures. If you would like to go directly to the recipe, scroll down to the recipe card or tap "Jump to Recipe" at the top of the page.
Why You'll Love This Lazy Lasagna Recipe
Saves time and effort: By using pre-made fresh or frozen ravioli, you eliminate the need for boiling lasagna noodles. This cuts down on prep time and makes the recipe much easier to assemble.
Minimal ingredients: As mentioned before, this lasagna recipe only calls for three main ingredients – frozen ravioli, pasta sauce, and shredded cheese. It's perfect for those days when you don't have much in your pantry or fridge. No need to run to the grocery store!
Versatile: You can customize this simple recipe by using your favorite type of ravioli and pasta sauce. You can also add other ingredients such as ground beef, sausage, vegetables, or herbs for added flavor and texture.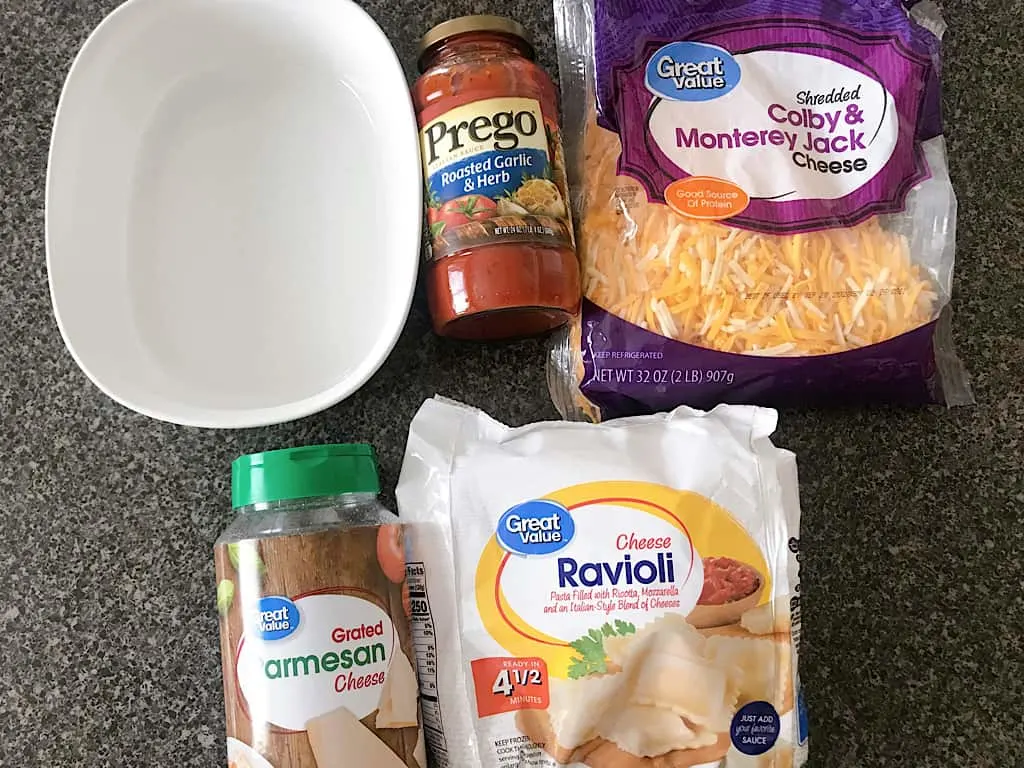 Ravioli Lasagna Ingredients
*Ingredient amounts are located in the recipe card at the end of this post.
Pre-Made Ravioli: You will need a package of fresh or frozen ravioli (about 24 ounces) for this recipe. No need to boil, the ravioli will cook during baking. Use any type of ravioli. I used sausage ravioli.
Pasta Sauce: Choose your favorite pasta sauce, whether it's a traditional tomato sauce or a spicy marinara. I used a jar of Rao's Spicy Marinara. You can make your own homemade spaghetti sauce if desired.
Shredded Cheese: You can use any type of shredded cheese for this recipe, such as mozzarella, cheddar, or a blend. Pre-shredded cheese will save you even more time! I used shredded mozzarella cheese.
Optional: Add a pound of ground beef or Italian sausage. I use Hot Italian Sausage to add even more flavor.
How to Make this Easy Ravioli Lasagna Recipe
[Step 1] If using ground beef or sausage, cook in a large skillet until no longer pink, then mix with the pasta sauce. Spray the bottom of a 9×13 baking dish or other 2 quart casserole dish and pour enough pasta sauce to cover the bottom of the dish.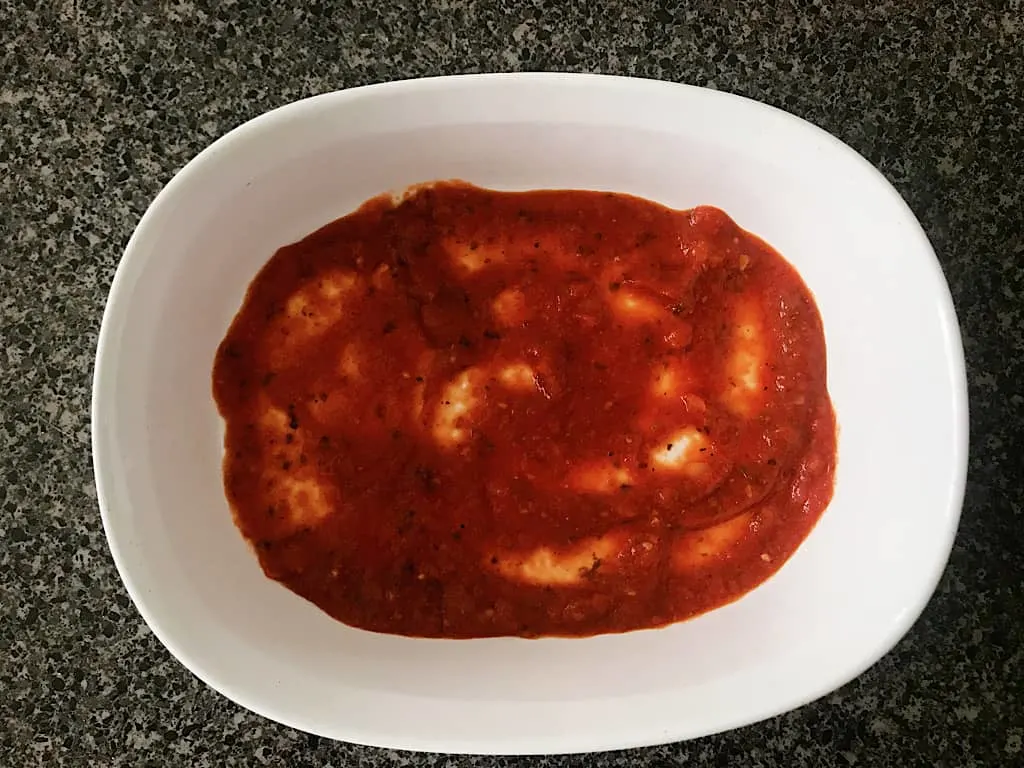 [Step 2] Add a single layer of ravioli pasta to cover the a layer of sauce, then add a layer of cheese.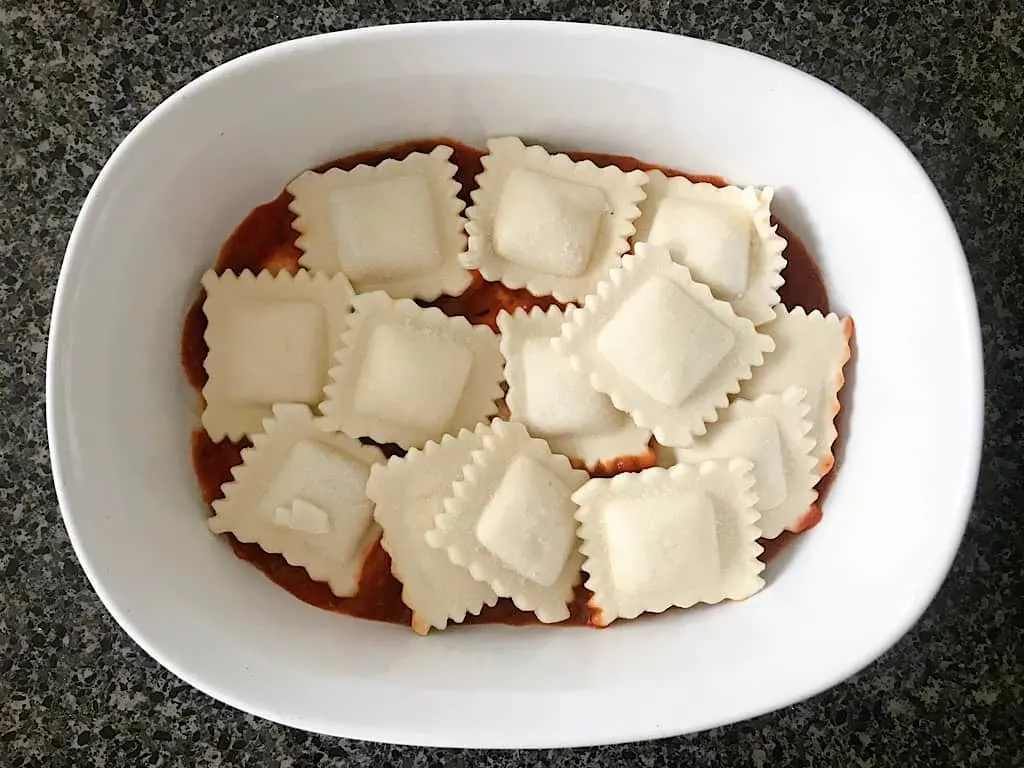 [Step 3] Place two more layers of ravioli, sauce, and cheese in the dish, making sure to top with cheese.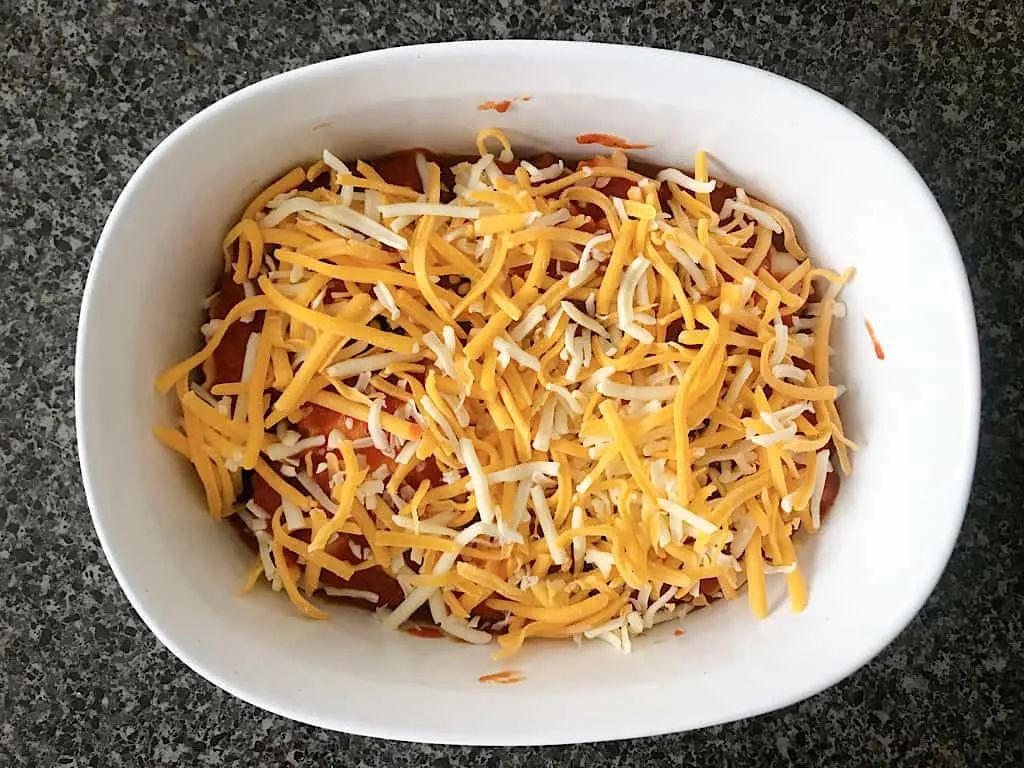 [Step 4] Cover with aluminum foil and bake at 400 degrees for 45 minutes. Remove the foil and bake for an additional 5-10 minutes to make sure the cheese has melted.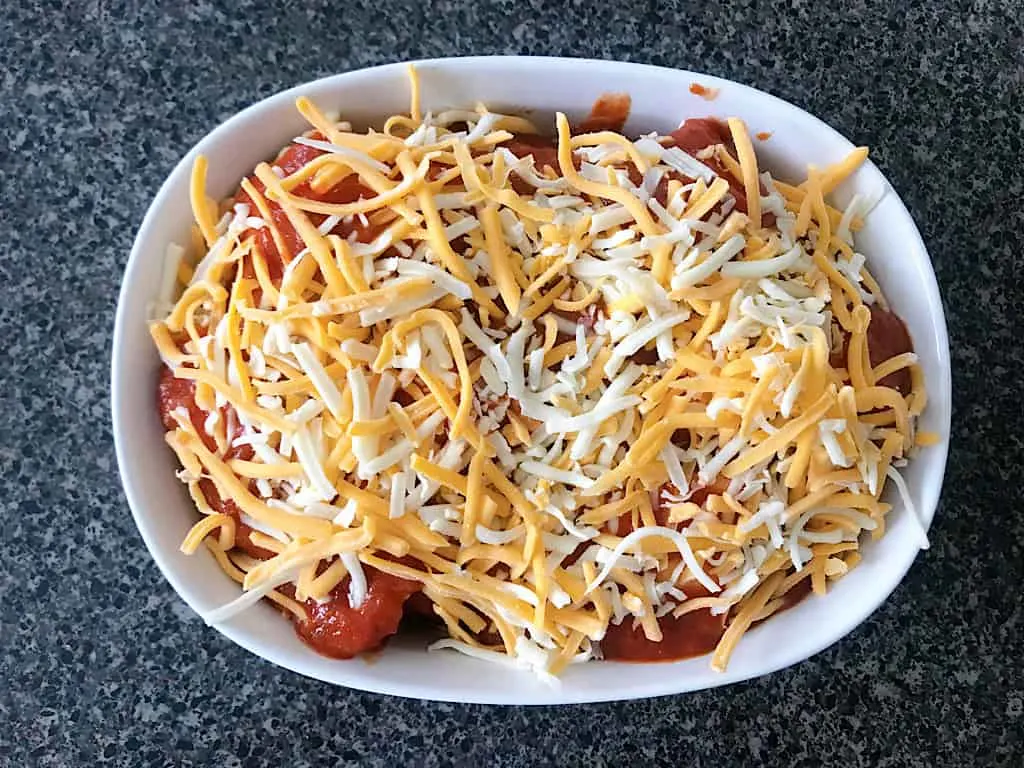 [Step 5] Remove from the oven and let the lazy lasagna sit for 10 minutes, then serve topped with parmesan cheese and a side of garlic bread and a simple green salad.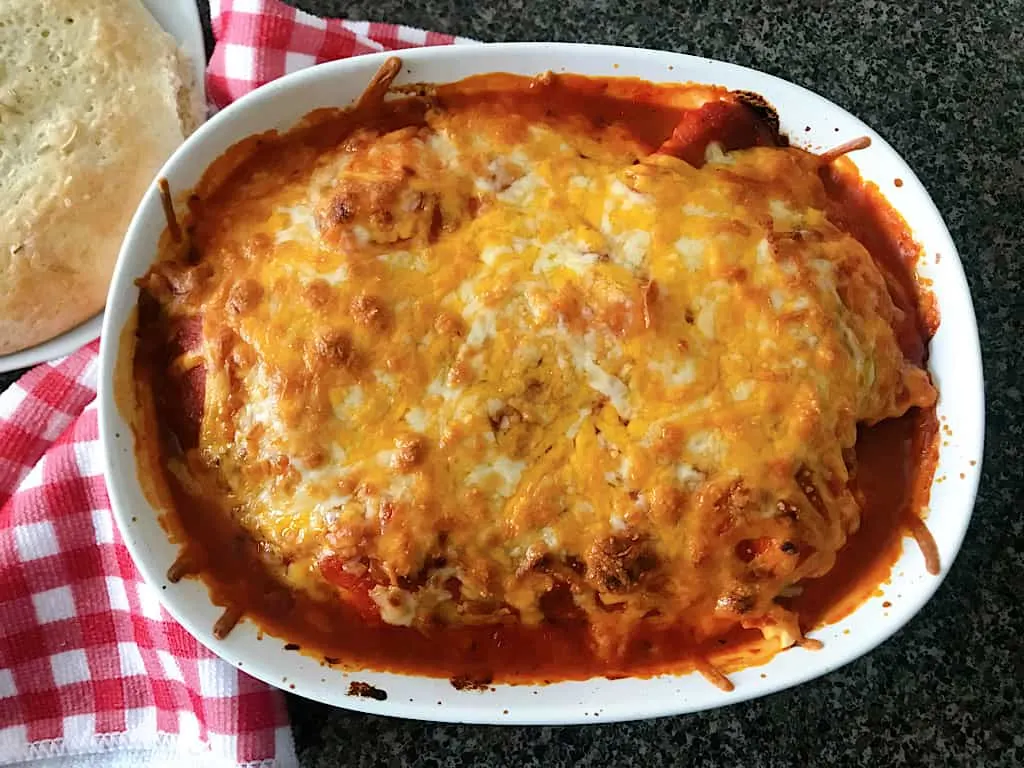 Helpful Kitchen Tools
Baking Dish
Aluminum Foil
Oven Mitts
How to Store Leftover Ravioli Casserole
If you have any leftovers (which is rare with this delicious dish!), simply store them in an airtight container and refrigerate for up to 3 days. You can also freeze the leftovers for up to 2 months. To reheat, thaw in the fridge overnight and bake at 350 degrees for about 20 minutes. If you're a lasagna lover, try this easy skillet lasagna!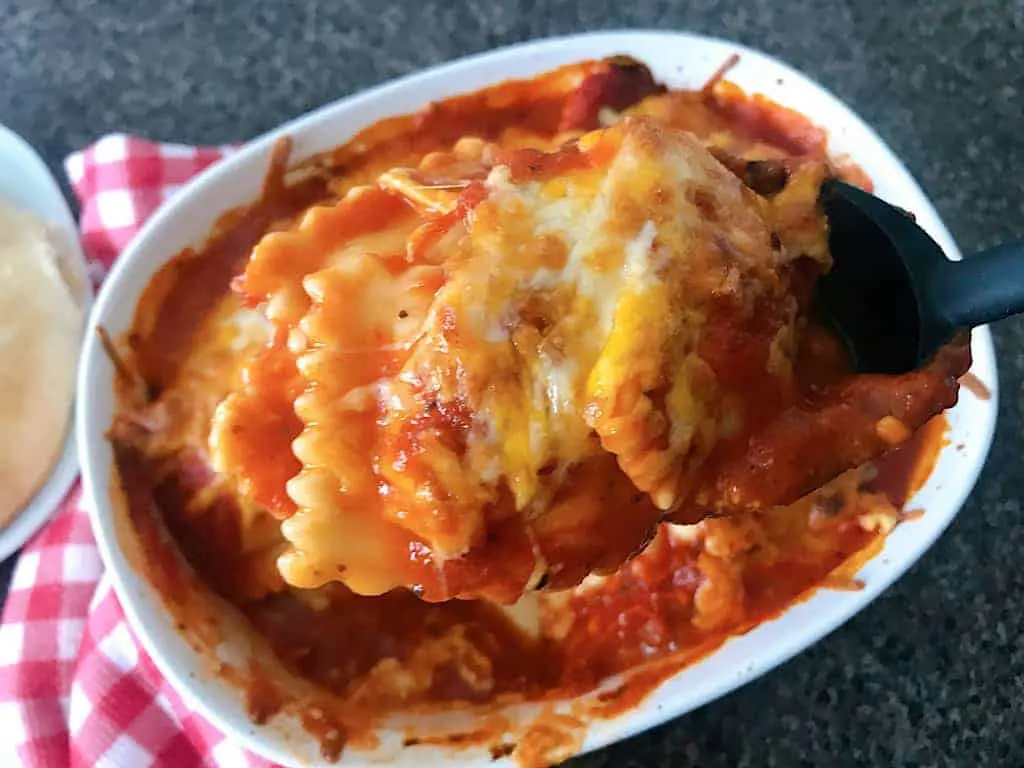 Frequently Asked Questions
Can I use fresh ravioli instead of frozen?
Yes, you can use fresh ravioli for this recipe. Just make sure to adjust the baking time accordingly.
Can I add other ingredients to this recipe?
Absolutely! This recipe is very versatile and you can add any additional ingredients you like such as ground beef, sausage, vegetables, or herbs.
Can I make this recipe ahead of time?
Yes, you can assemble the lazy lasagna a day in advance and refrigerate until ready to bake. Just make sure to cover it tightly with aluminum foil before placing it in the fridge.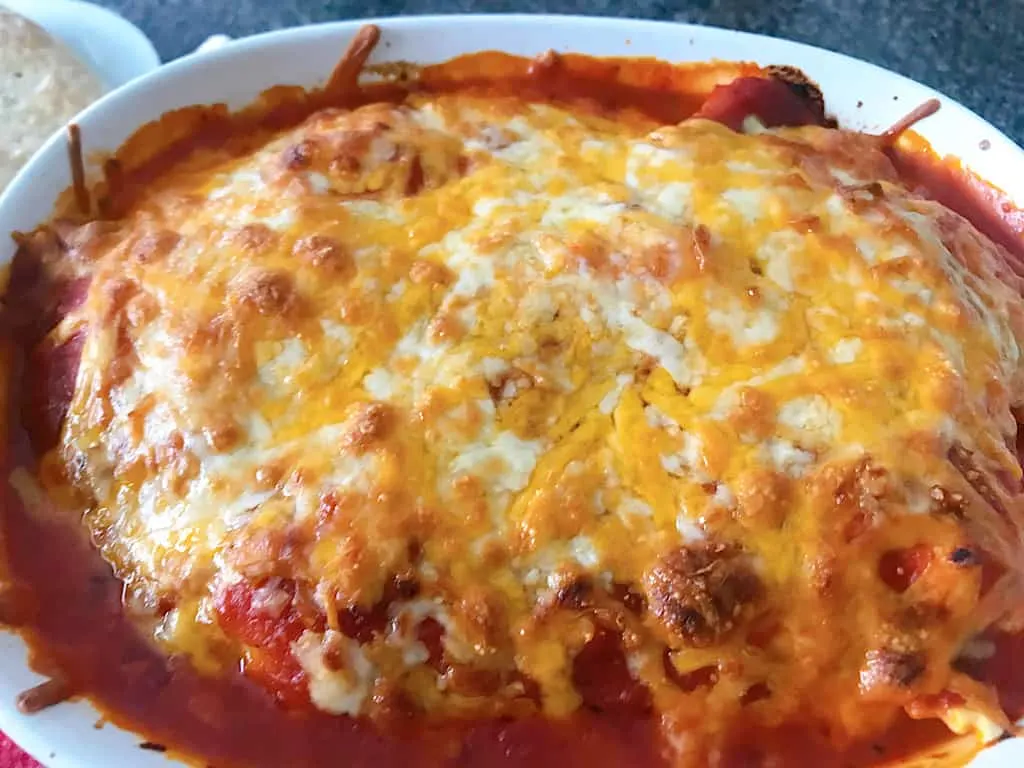 What to Serve with Baked Ravioli Lasagna
Chopped Italian Salad: This salad would make the perfect side dish to ravioli lasagna. Just follow this recipe and omit the chicken.
Macaroni Grill Rosemary Bread: This delicious bread is perfect for dipping in the extra sauce from your ravioli lasagna. Get the recipe here.
Classic New York Cheesecake: After a savory meal, it's always nice to enjoy a sweet dessert. This cheesecake recipe is easy and delicious!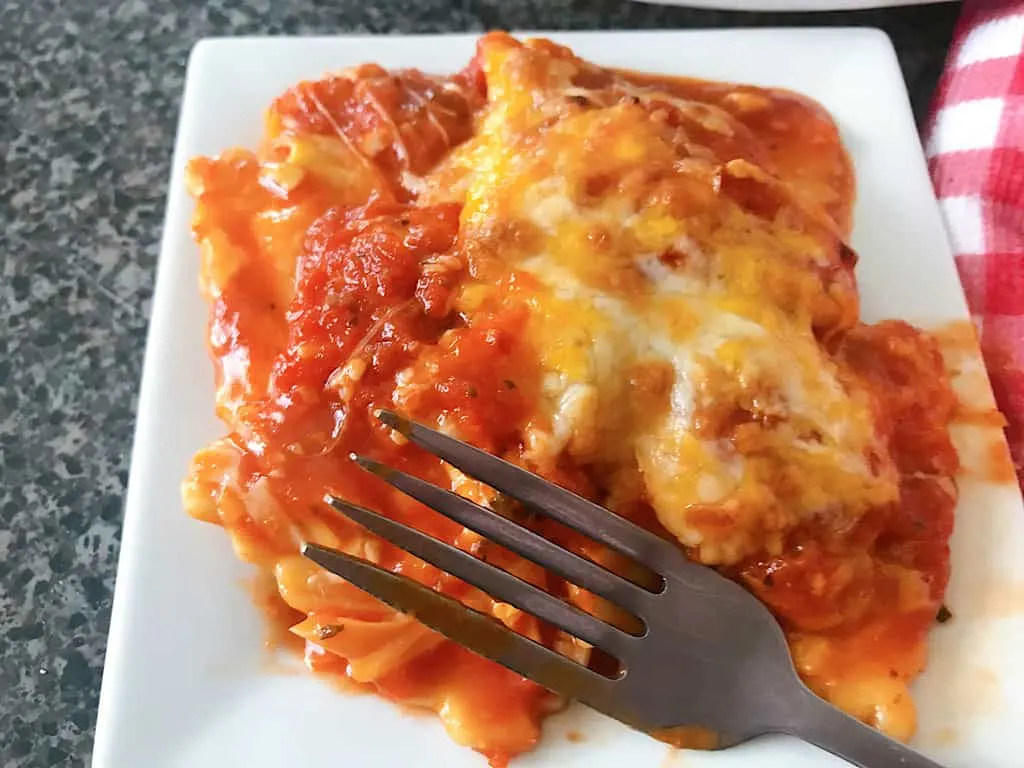 Final Thoughts
This Ravioli Lasagna bake is a simple yet delicious dinner dish that will quickly become a go-to for busy nights or lazy weekends. It's a perfect option for those who love the flavors of lasagna but don't have the time or energy to make it from scratch.
With its minimal ingredients and customizable options, this easy meal is sure to become a family favorite! So next time you're craving some hearty Italian comfort food, give this Lazy Lasagna a try – your taste buds will thank you!
More Easy Dinner Recipe: