When it comes to cheesecake, New York style is the best! It's creamy, rich, and has a buttery graham cracker crust that melts in your mouth. So, if you're looking for the best New York-style cheesecake recipe, look no further. This recipe is easy to follow and yields a delicious cheesecake that will have your friends and family begging for more!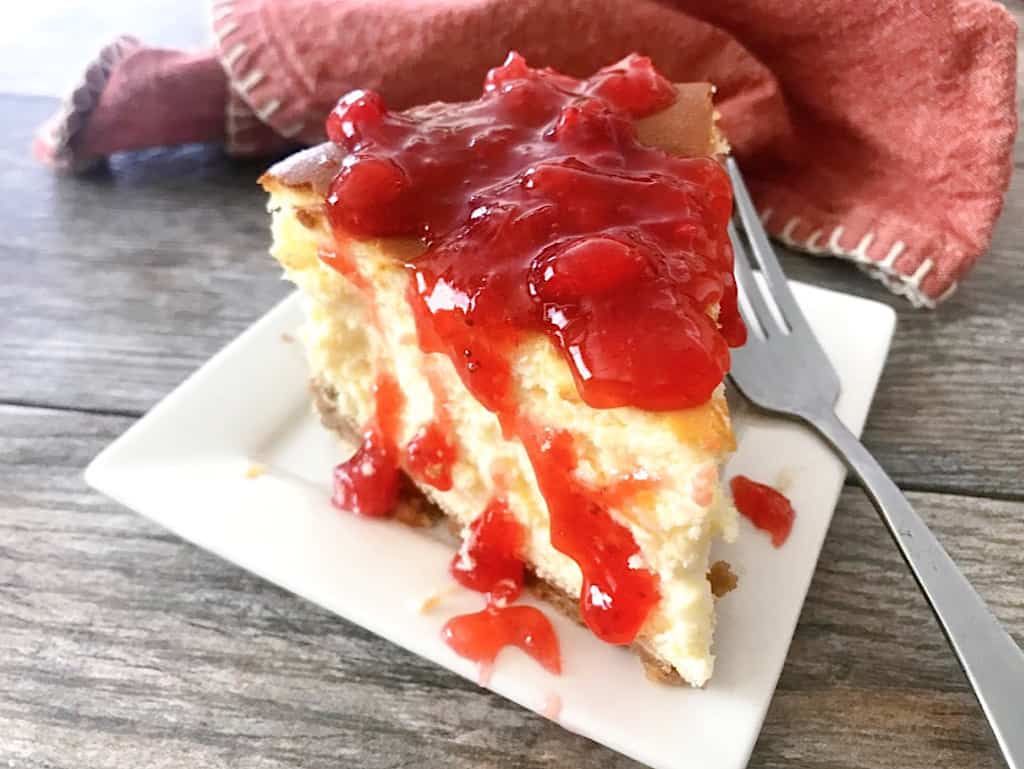 This post may contain affiliate links. When you click on these links, I get a small percentage back at no cost to you! For more information see my disclosure policy.
Below you will find tips, tricks and helpful hints for making this recipe including step by step instructions with pictures. If you would like to go directly to the recipe, scroll down to the recipe card or tap "Jump to Recipe" at the top of the page.
Why You'll Love this New York Cheesecake
There are many reasons why you'll love this recipe and why I believe it is the best New York-style cheesecake! This is a recipe that my grandmother made for years and it was always creamy and perfect every time she made it.
Cheesecake can be kind of intimidating to make, but if you follow the tips and tricks below, you will have a delicious dessert in no time!
As far as cheesecakes go, this one is pretty easy to make and you only need a handful of ingredients and a few simple steps.
The cheesecake is incredibly rich and creamy – the perfect balance of tanginess from the cream cheese, sweetness from the sugar, and buttery flavor from the graham cracker crust.
The texture of this classic New York-style cheesecake is soft and smooth, with just the right amount of melt-in-your-mouth fluffiness.
And finally, this New York cheesecake has a golden brown crust that adds an extra layer of deliciousness to every bite.
So if you're looking for a delicious dessert that will please everyone at your next dinner party or family gathering, look no further than this classic New York cheesecake recipe!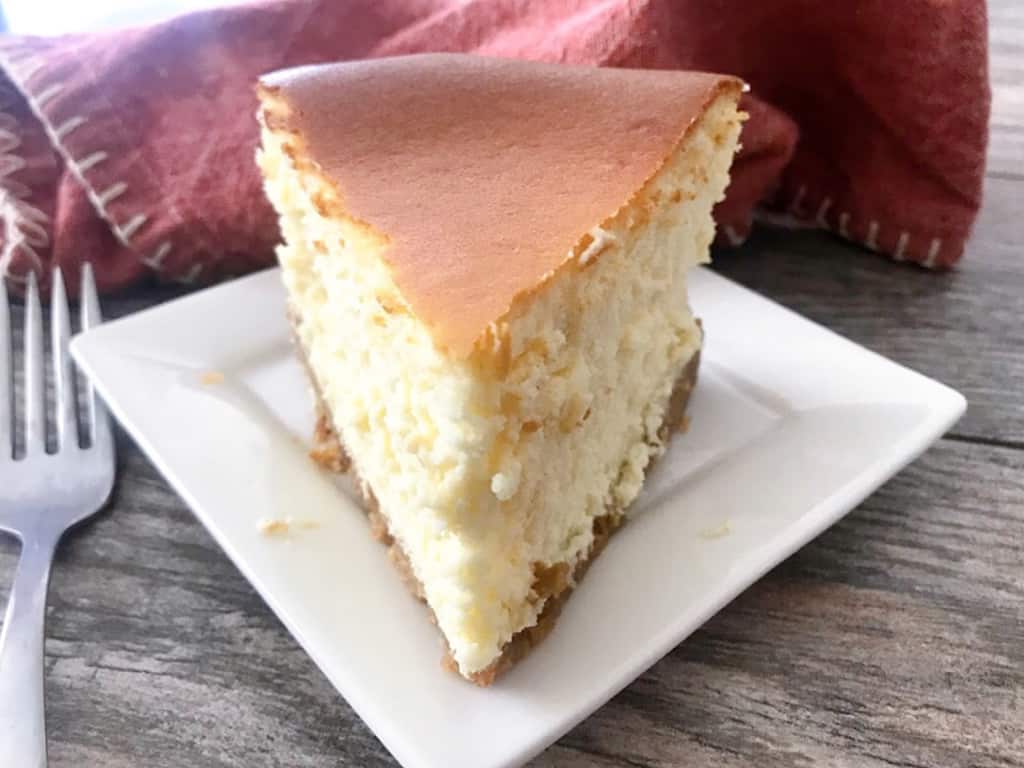 More Cheesecake Recipes to Try:
What is New York Cheesecake?
What makes New York Cheesecake different from other cheesecakes is that it uses heavy cream and sour cream. It is very rich, dense, and has a creamy consistency.
New York-Style Cheesecake Ingredients
Below, you will find the ingredients that you will need in order to make this delicious cheesecake.
Graham Cracker Crust Ingredients
*Ingredient amounts are located in the recipe card at the end of this post.
Graham Cracker Crumbs: I used high-quality graham crackers that were ground into crumbs in a food processor.
Sugar: Adds a bit of sweetness to the crust.
Butter: Gives the crust a rich, buttery flavor.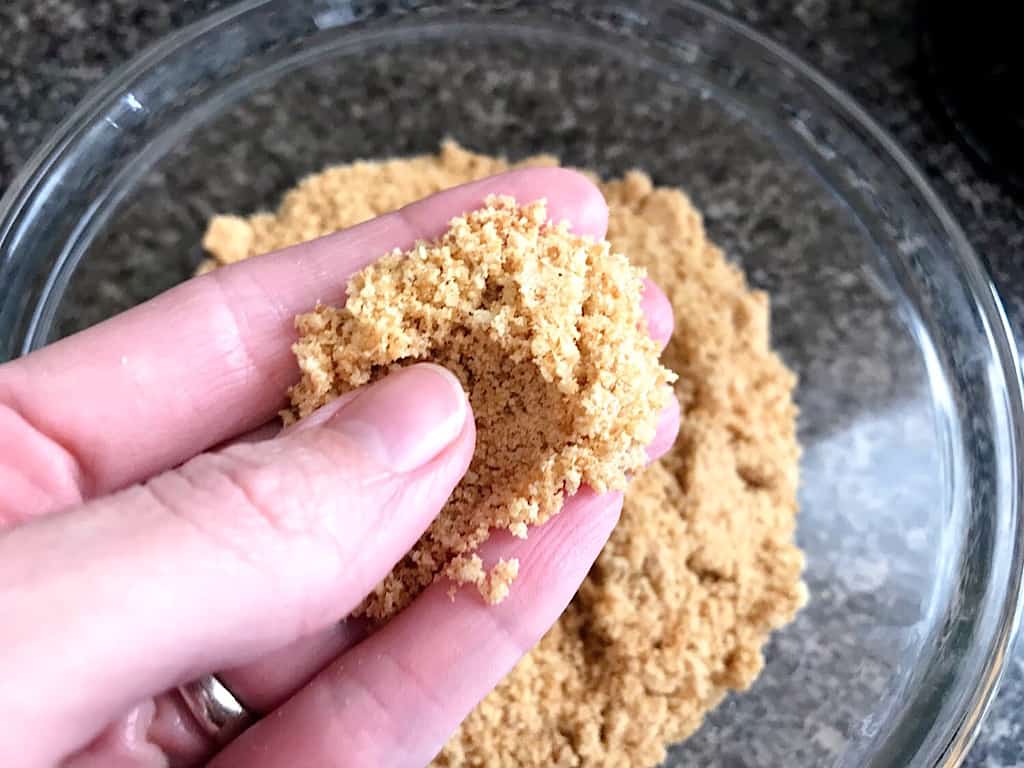 Cheesecake Ingredients
Cream Cheese: This is what gives the cheesecake its distinct tanginess and creamy texture. I like to use full fat cream cheese for best results.
Sugar: The main sweetener used in this recipe.
Vanilla Extract: Adds extra flavor to the cheesecake filling. Feel free to use pure vanilla extract or imitation vanilla extract.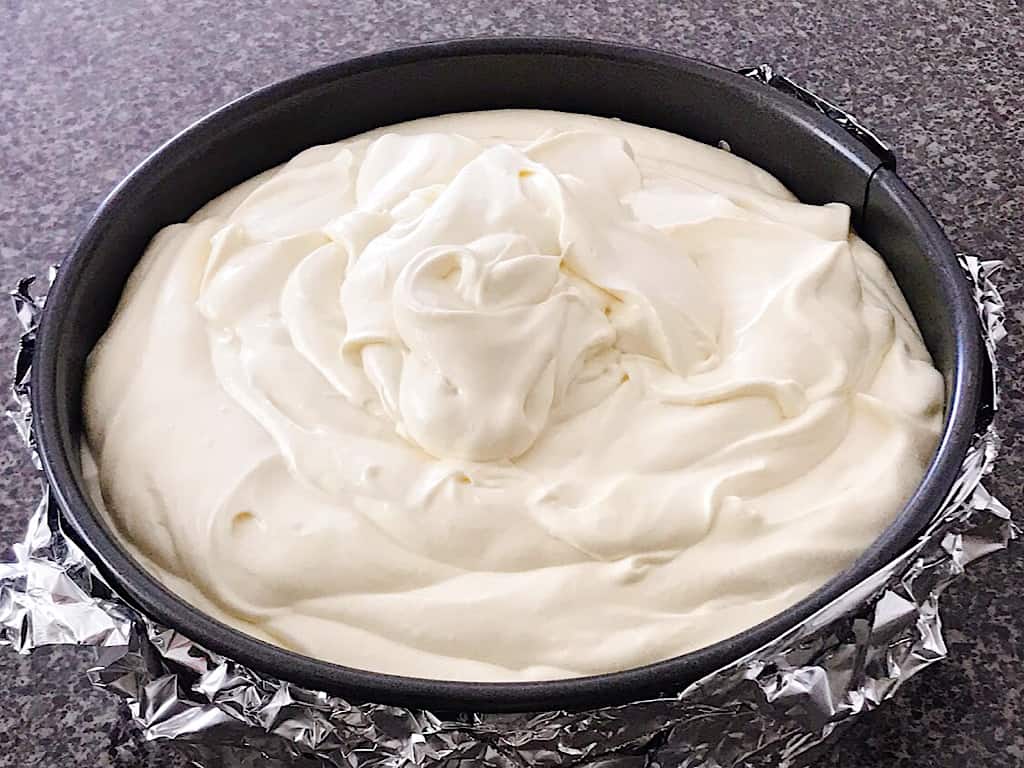 Eggs: These help give the cheesecake its soft and fluffy texture.
Sour Cream: This adds a tangy, creamy flavor to the cheesecake filling.
Heavy Cream: Adds richness and a smooth, velvety mouthfeel to the cheesecake.
How To Make Classic New York Cheesecake
Here are the step-by-step instructions to make the best New York-style cheesecake!
Graham Cracker Crust
[1] Begin by crushing the graham crackers or cookies using a food processor.
[2] In a bowl, mix together the crumbs, sugar and melted butter.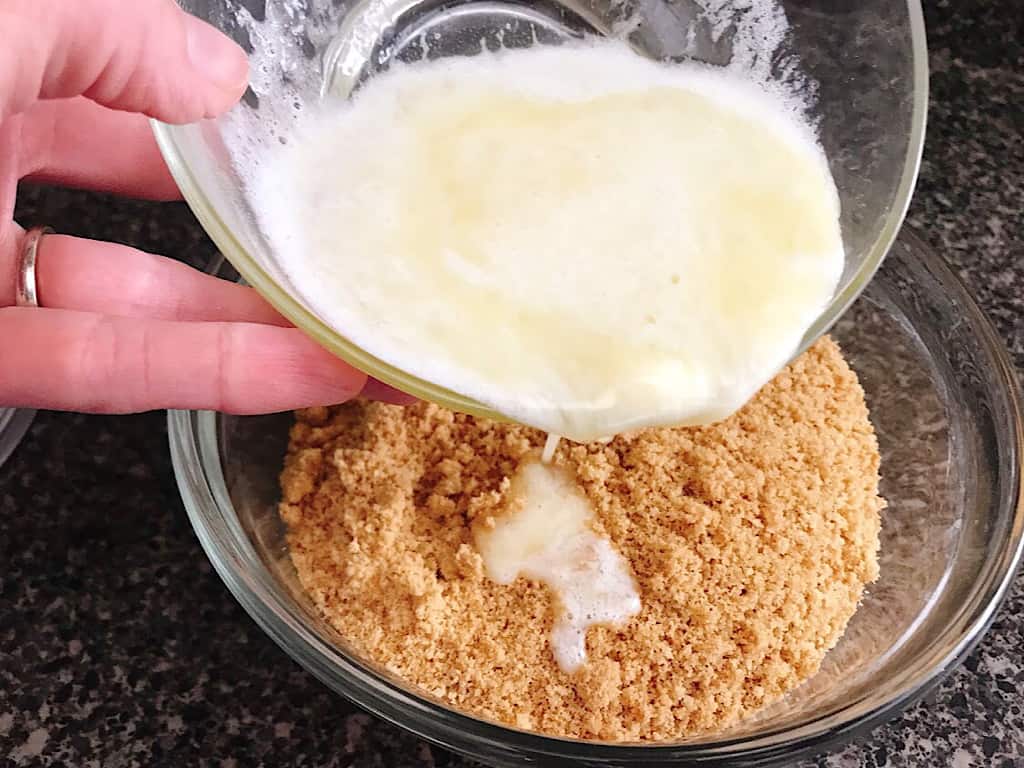 [3] Press the mixture onto the bottom and part way up the sides of the springform pan.
[3] Bake at 350° for 5-10 minutes.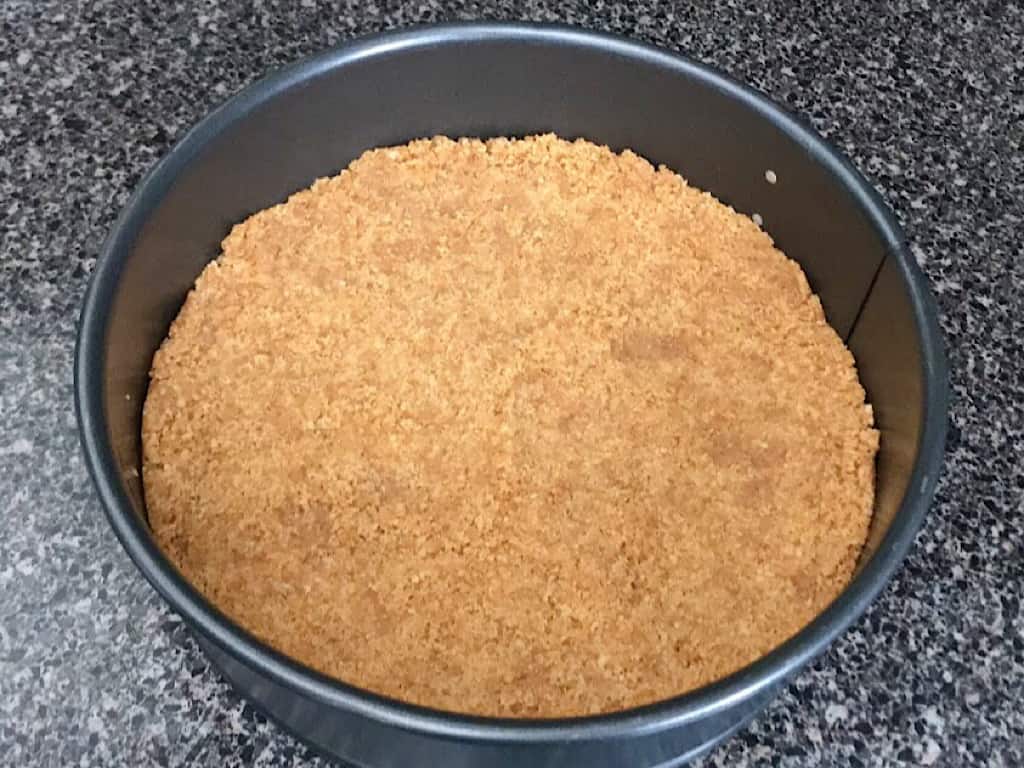 [4] Remove from the oven and allow to cool to room temperature.
How to Prepare the Springform Pan
[1] To prepare your springform pan to bake in the water bath, lay three rectangles of foil on the counter.
[2] Place the springform pan on top of the foil layers.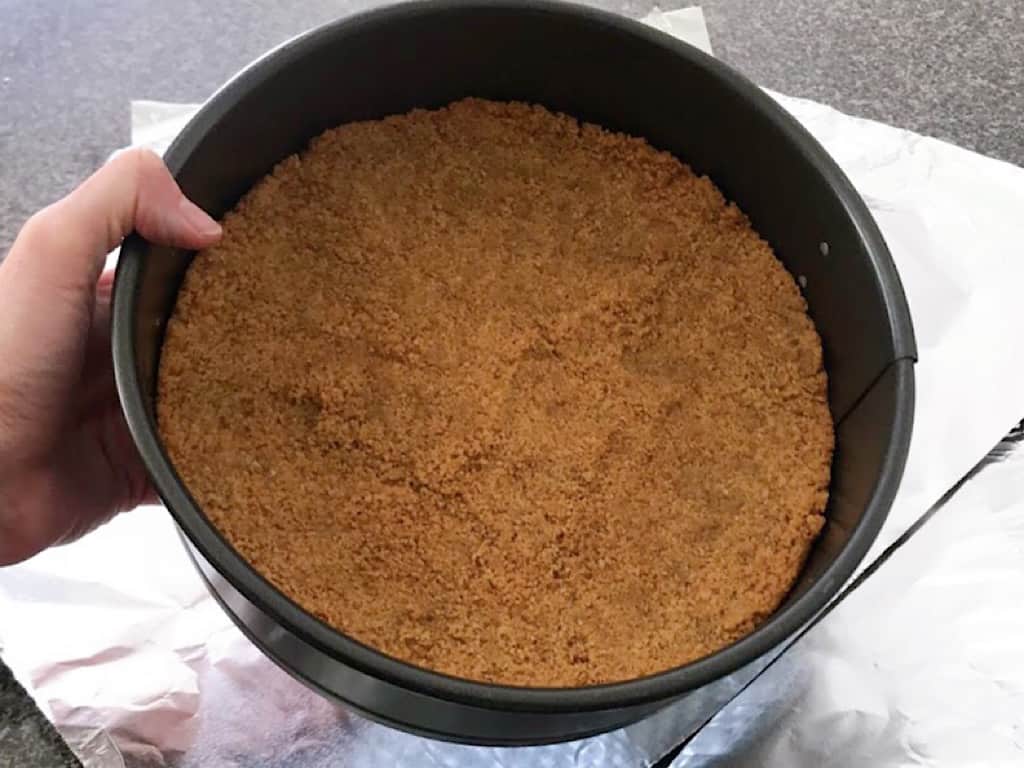 [3] Fold the first piece of foil around the pan.
[4] Repeat with the other two pieces of foil so that the bottom and sides of the pan are completely covered.
How to Make Cheesecake Filling
[1] Add the softened cream cheese to the bowl of a stand mixer. I have used a Bosch Mixer for a few years and highly recommend it. You can check it out here or on Amazon.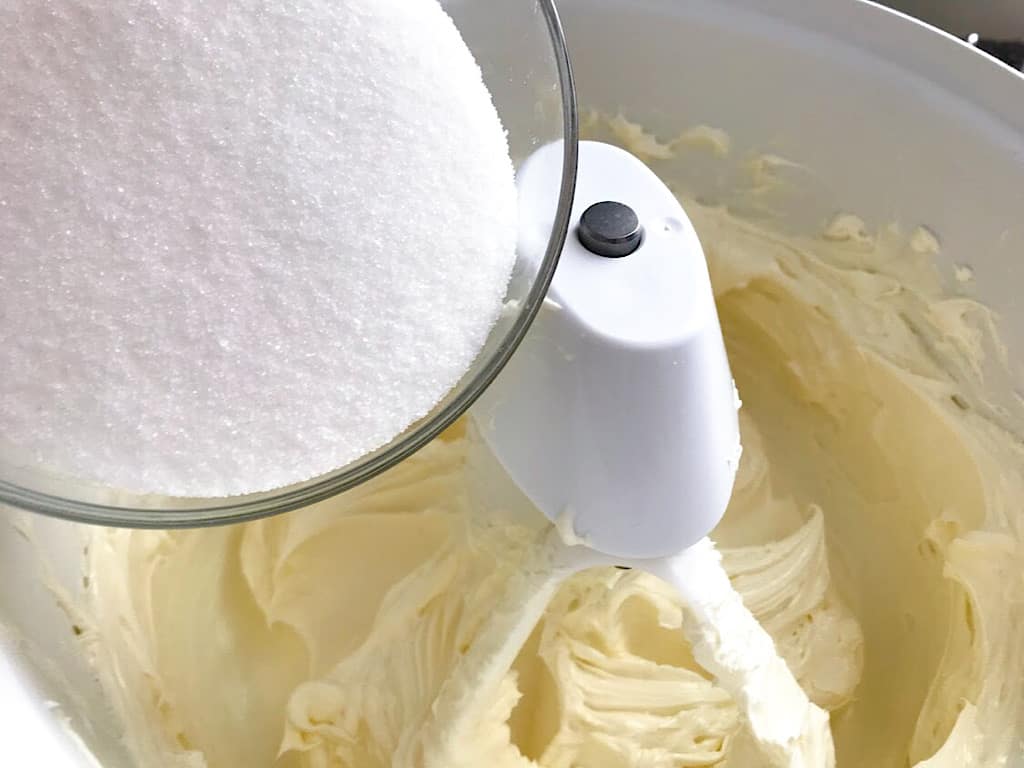 [2] Beat the cream cheese at medium speed for about 4 minutes with a paddle attachment until it is smooth and creamy.
[3] Add the sugar and beat for an additional 3-4 minutes. Scrape the sides of the bowl if necessary.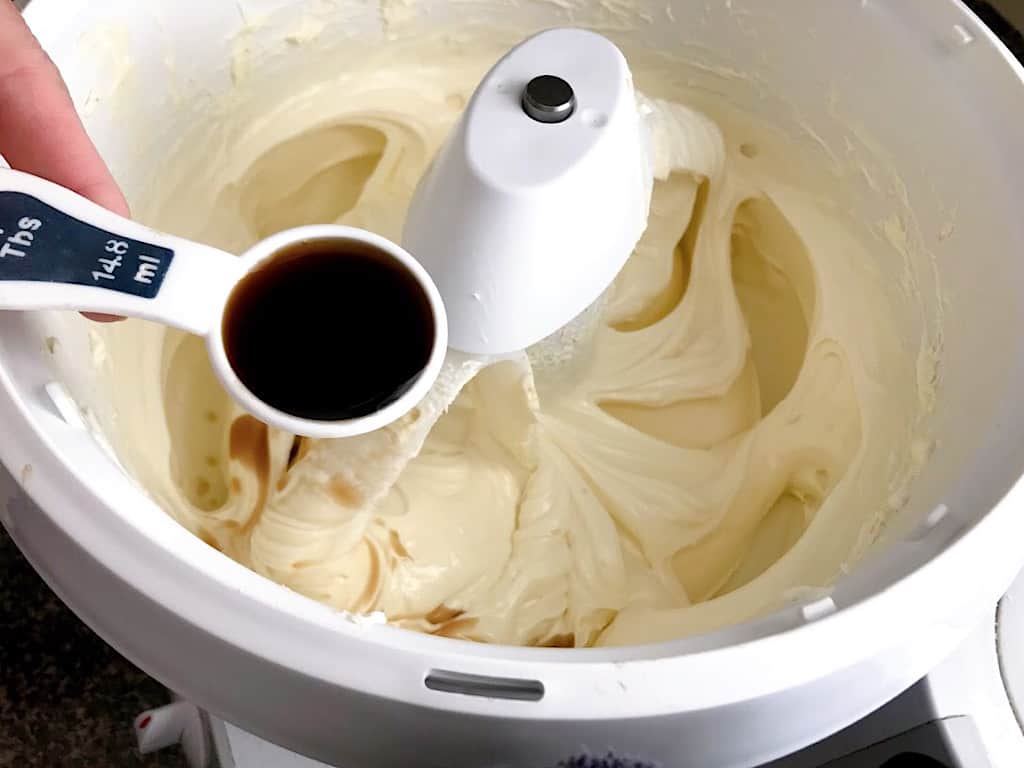 [4] Pour in the vanilla extract and mix.
[5] Add the eggs, one at a time, and beat the mixture on low speed for about 1 minute after each.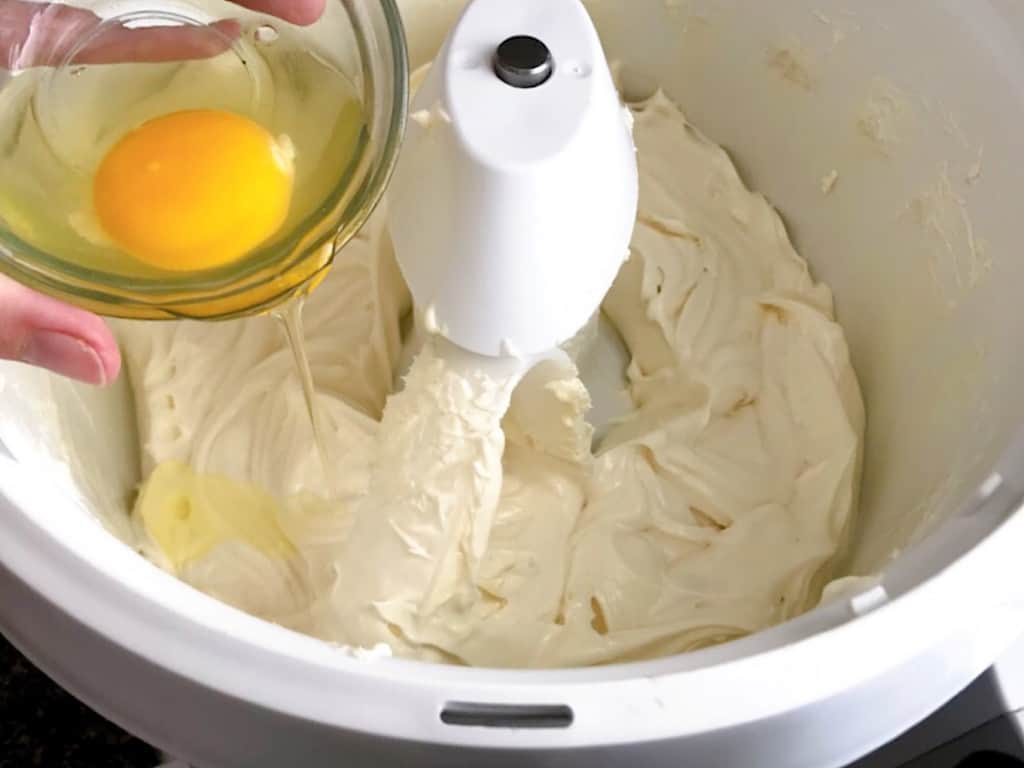 [6] Mix in the sour cream followed by the heavy cream. Make sure to scrape the sides and bottom of the bowl to get the cream cheese the mixer missed.
[7] Pour the cream cheese mixture into the foil-lined pan.
[8] Place the springform pan into a large roasting pan. Fill the roasting pan with enough hot water to go halfway up the springform pan.
[9] Put the cheesecake and water-filled roasting pan in the oven to bake at 325° for 90 minutes.
[10] After 90 minutes, leave the cheesecake in the oven, but prop open the oven door about one inch.
[11] Let the cheesecake cool in the oven for about an hour. (Cooling the cheesecake this way helps prevent cracking.)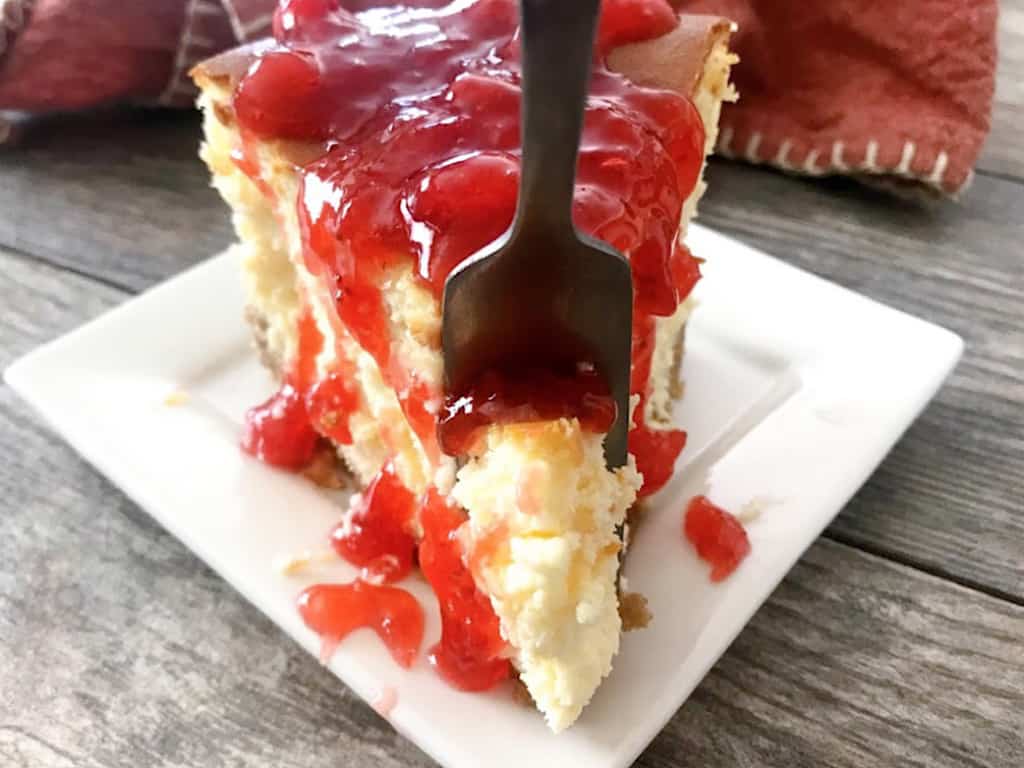 [12] Remove the cheesecake from the oven and cover loosely with foil.
[13] Refrigerate for at least 4 hours but ideally over night.
[14] Serve the cheesecake plain or with your favorite topping!
Helpful Kitchen Tools
How to Store Cheesecake
To store your cheesecake, simply keep it in the refrigerator. I recommend storing the cake in an airtight container or covered with a large piece of plastic wrap or aluminum foil to prevent it from drying out.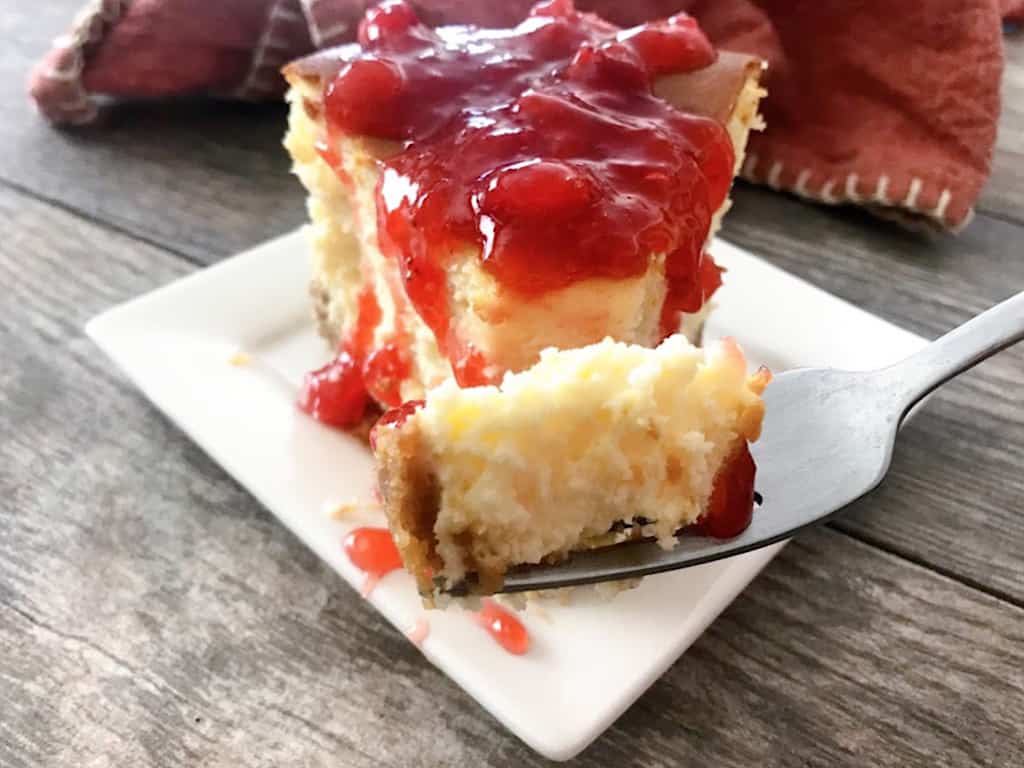 Perfect Cheesecake Topping Ideas
Fresh Fruit
Strawberry Sauce
Frequently Asked Questions
How long does cheesecake last?
Cheesecake will keep in the refrigerator for up to 1 week.
Can I freeze cheesecake?
Yes, you can freeze your cheesecake for up to 3 months. The sour cream used in New York-style cheesecake makes it more resilient to freezing, so this recipe is perfect if you want to make your dessert ahead of time!
To do so, simply wrap the cheesecake tightly in plastic wrap and then place it in a freezer-safe container. When ready to eat, defrost the cheesecake in the refrigerator for about 4 hours.
Do you need to bake cheesecake in a water bath?
The answer to this question is both yes and no.
While it is not essential to bake your cheesecake in a water bath, it is definitely the method that I prefer to use and produces the most consistent results.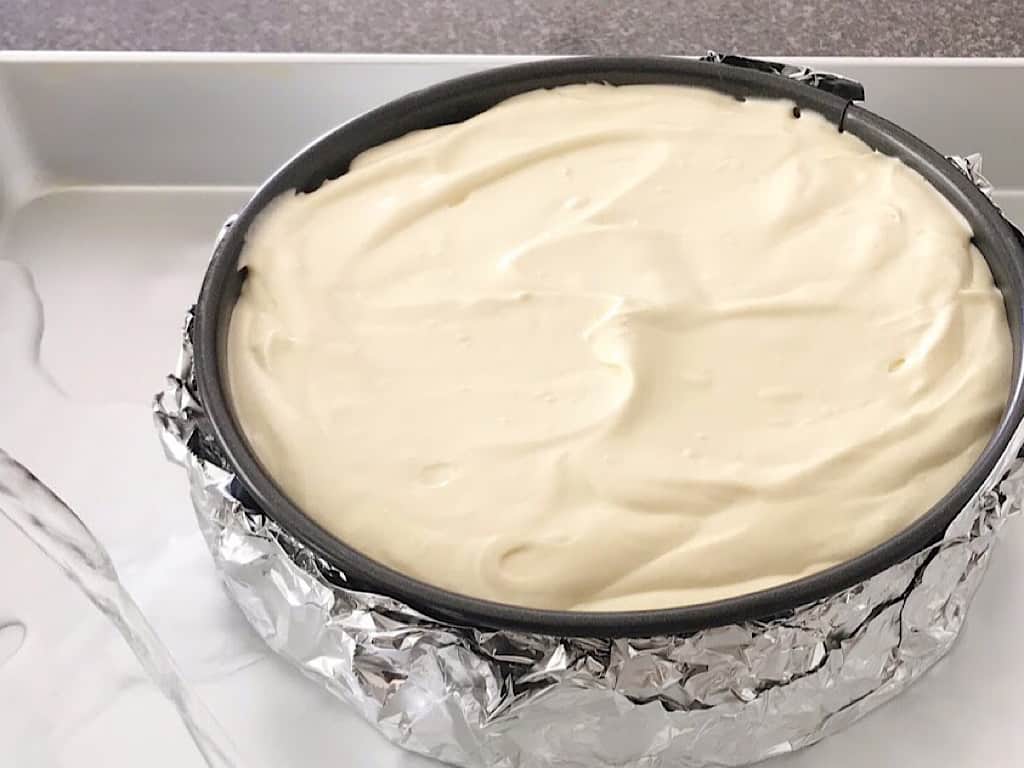 What is a water bath?
It is basically a pan of water in the oven that provides moisture and even baking of your cheesecake.
What is a springfom pan?
A springform pan, like the one used in this recipe, is a round cake tin with a band of metal or plastic around the side that allows you to remove your cheesecake from the pan. You can also often find them referred to as simply a "cheesecake pan."
Final Thoughts
If you are looking for an easy, delicious New York cheesecake recipe that is perfect every time, you're in the right place! This perfect dessert can be topped with your favorite toppings or eaten plain.
Whether you're serving it at a special occasion or just want to treat yourself after a long day, this cheesecake is sure to become your new go-to recipe! So what are you waiting for? Get baking!​
New York Style Cheesecake Video: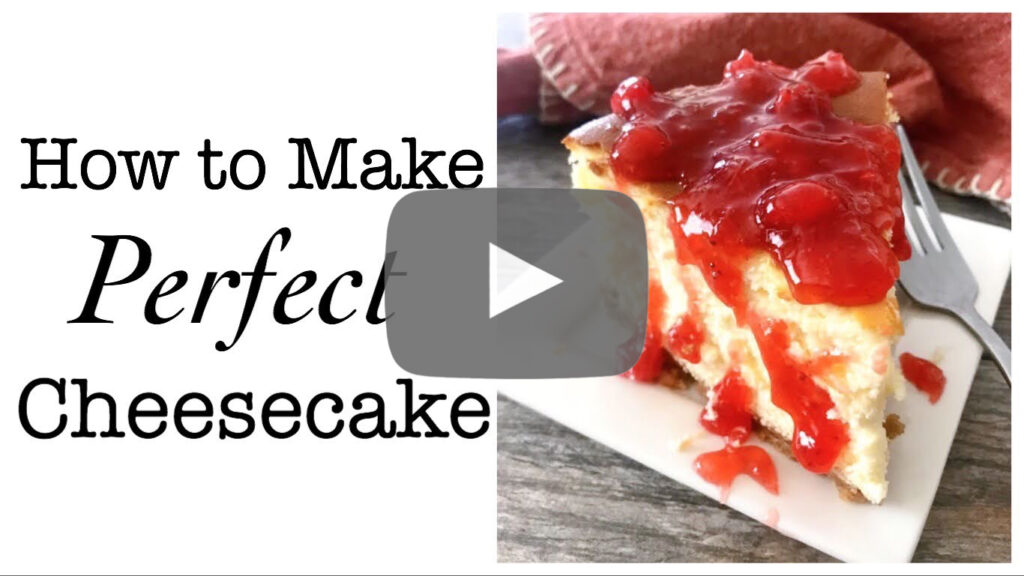 Pin for later: