Indulge in this delicious, no-bake cheesecake! With a creamy filling of cream cheese, and a homemade graham cracker crust, you can top this delicious treat with your favorite fruits, chocolate, or whipped cream, it's the perfect dessert for any occasion. Plus, with no baking required, you can have this treat ready to serve up quickly with no oven needed! Enjoy Philadelphia No Bake Cheesecake that's light and fluffy every time with this easy-to-follow recipe.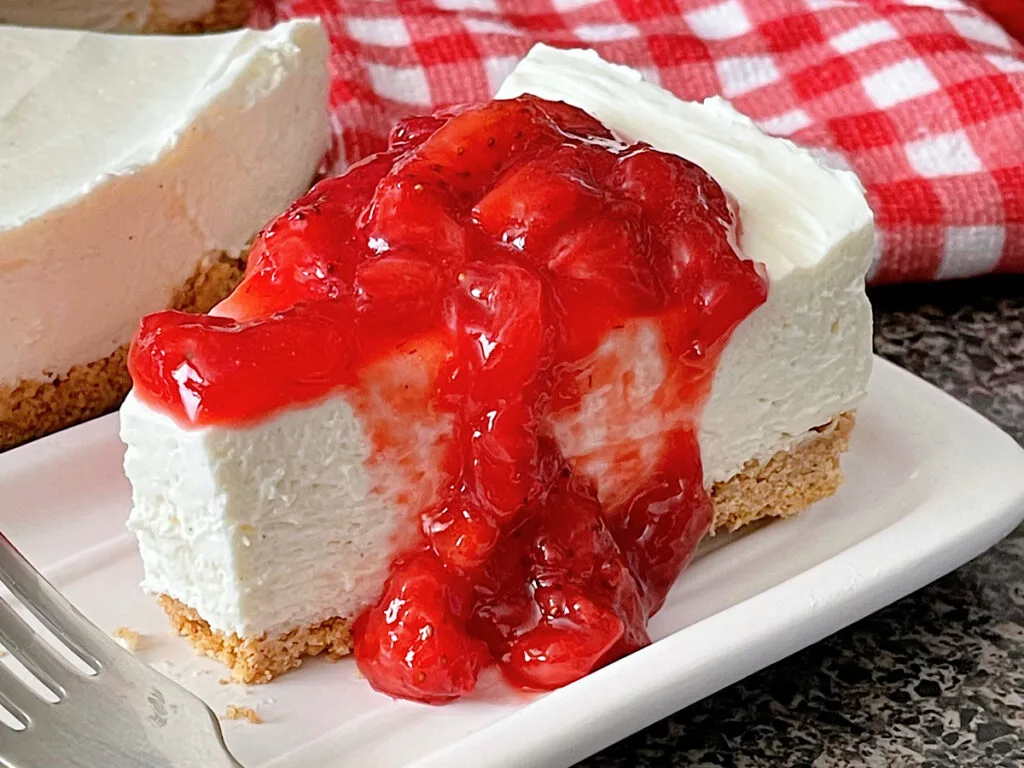 This post may contain affiliate links. When you click on these links, I get a small percentage back at no cost to you! For more information see my disclosure policy.
Below you will find tips, tricks and helpful hints for making this recipe including step by step instructions with pictures. If you would like to go directly to the recipe, scroll down to the recipe card or tap "Jump to Recipe" at the top of the page.
Why You'll Love This Recipe
No oven needed – this cheesecake is perfect for when you don't feel like turning on the oven.
Can be customized with your favorite fruits or chocolate.
Easier to make than traditional cheesecake with the same classic taste.
It is a great recipe to serve at parties or get-togethers.
What is a No-Bake Cheesecake?
No-bake cheesecake is a type of dessert that doesn't require time in the oven. Instead, you combine cream cheese and other ingredients to create a light and fluffy filling which is poured into a pre-made graham cracker crust. The mixture will set as it chills in the refrigerator.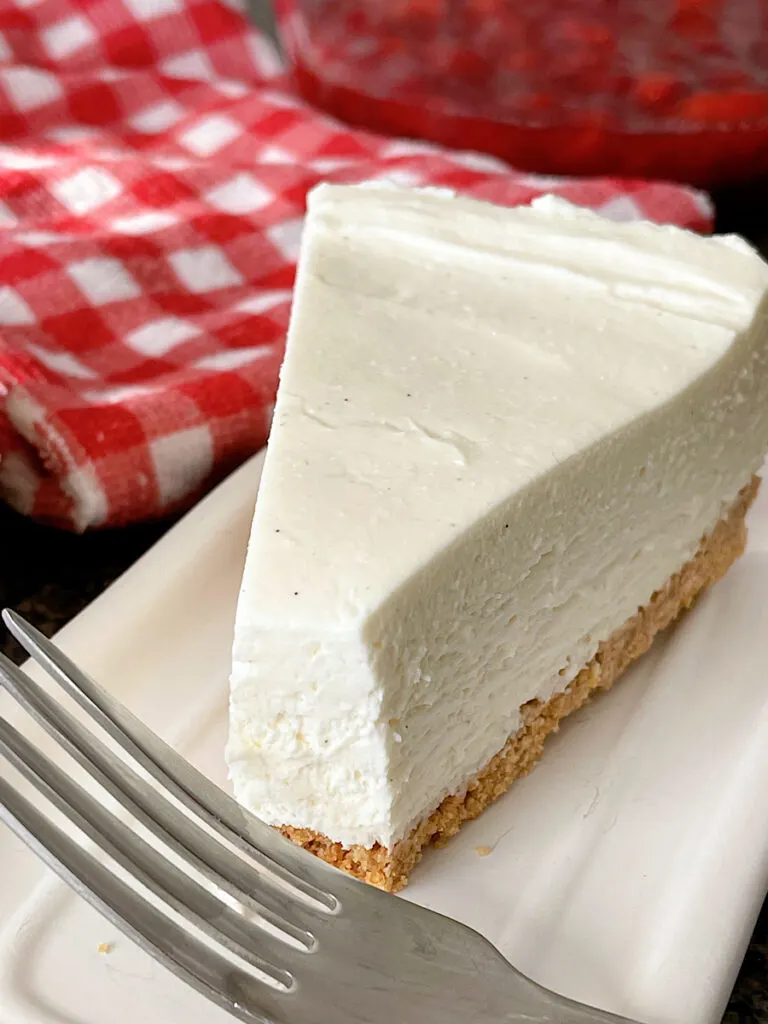 Do You Have to Use Philadelphia Cream Cheese?
This easy cheesecake recipe calls for Philadelphia cream cheese, but you can use any brand of cream cheese that is similar in texture and flavor. Make sure to soften the cream cheese before using so it will mix properly with the other ingredients.
Topping Ideas
Cherry Pie Filling
Chocolate Sauce
Strawberry Pie Filling
Fresh Fruit
Strawberry Syrup
Blueberry Pie Filling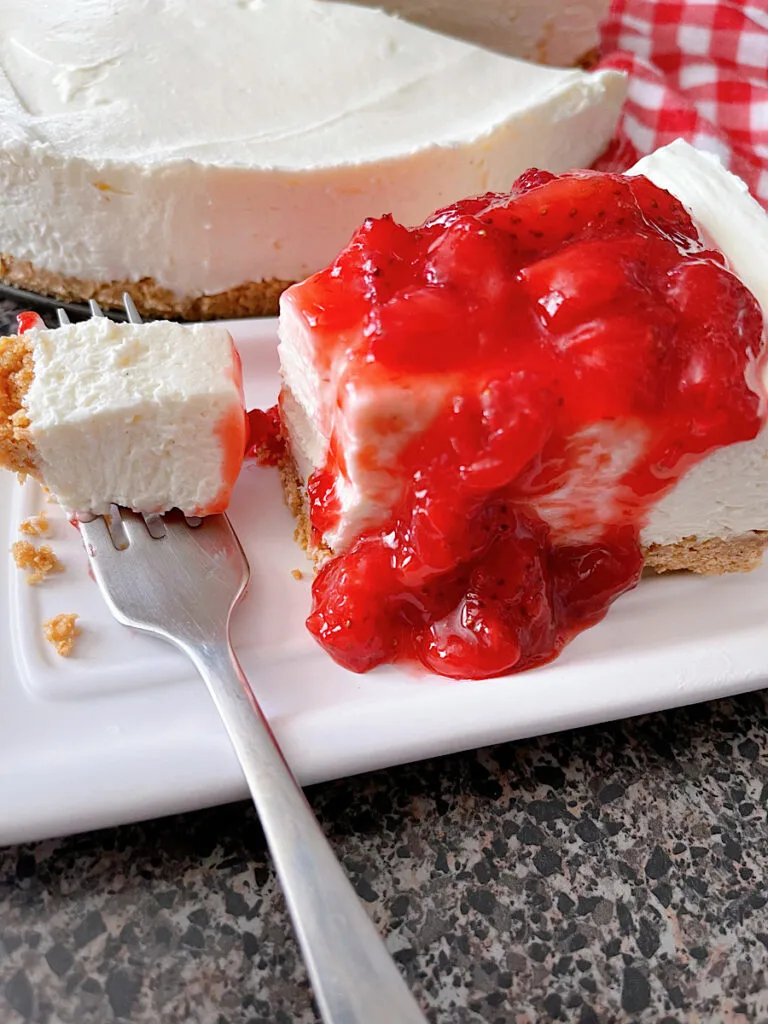 Tips for Getting the Best No Bake Philadelphia Cheesecake
Make sure your cream cheese is softened before using. This helps ensure a smooth and creamy filling.
Be careful not to over-mix the ingredients when making the filling. Over-mixing can cause air pockets in the cheesecake which will affect its texture.
Chill the cheesecake for at least 4 hours before serving, this will help set the filling and make it easier to slice.
If using a pre-made graham cracker crust, press down firmly into the pan before pouring in your filling. This will help create an even layer of cheesecake without any air pockets or gaps.
Feel free to get creative with your favorite toppings!
Philadelphia No-Bake Cheesecake Ingredients
*Ingredient amounts are located in the recipe card at the end of this post.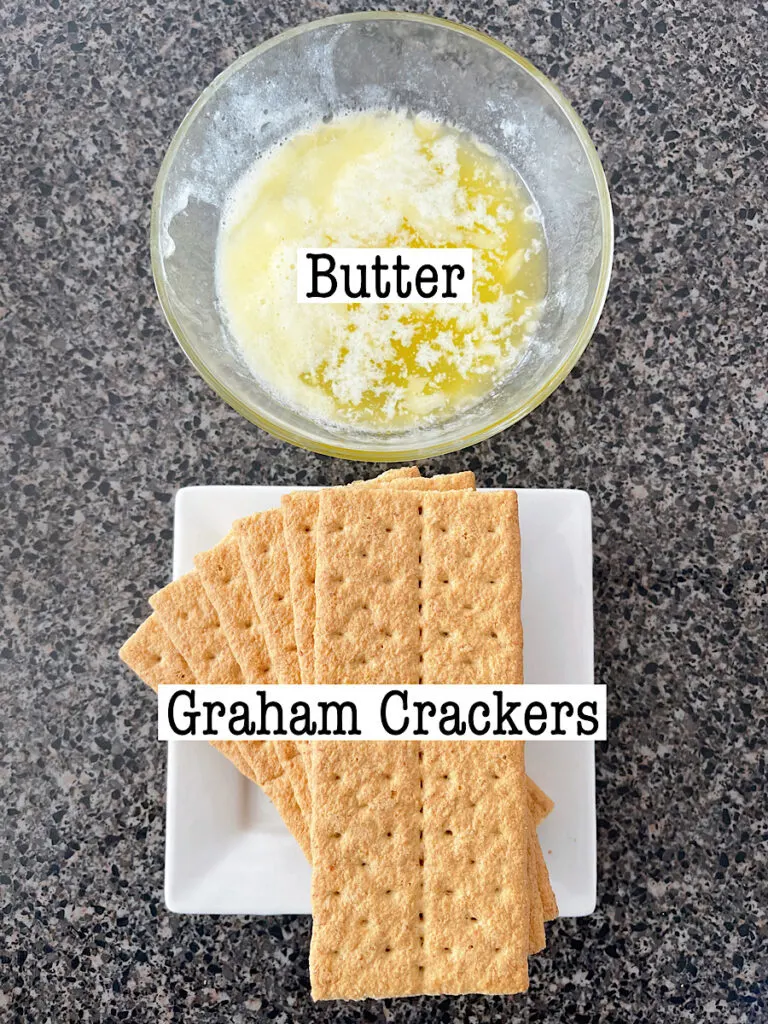 Graham Cracker Crust
Graham Crackers- To make this recipe easy, I used 14 graham cracker sheets to make about 1 1/2 cups of graham cracker crumbs.
Butter- Salted or Unsalted butter can be used for the crust.
No Bake Cheesecake Filling
Philadelphia Cream Cheese- I have had the best results using Philadelphia Cream Cheese to make this no bake cheesecake, but any brand of real cream cheese will also work. Make sure it has softened to room temperature.
Powdered Sugar- This recipe uses sugar to help sweeten the cheesecake filling.
Vanilla Extract- Add two teaspoons for extra flavor. I like to use pure vanilla extract, but imitation extract will also work.
Heavy Cream- This will be used to make homemade whipped cream and will be folded into the the no-bake cheesecake batter.
Optional Toppings- Choose one of the topping ideas above, or get creative and choose your own! There are many different options.
How to Make Philadelphia No Bake Cheesecake
Graham Cracker Crust
[1] Use a food processor or rolling pin to smash the graham crackers into fine crumbs.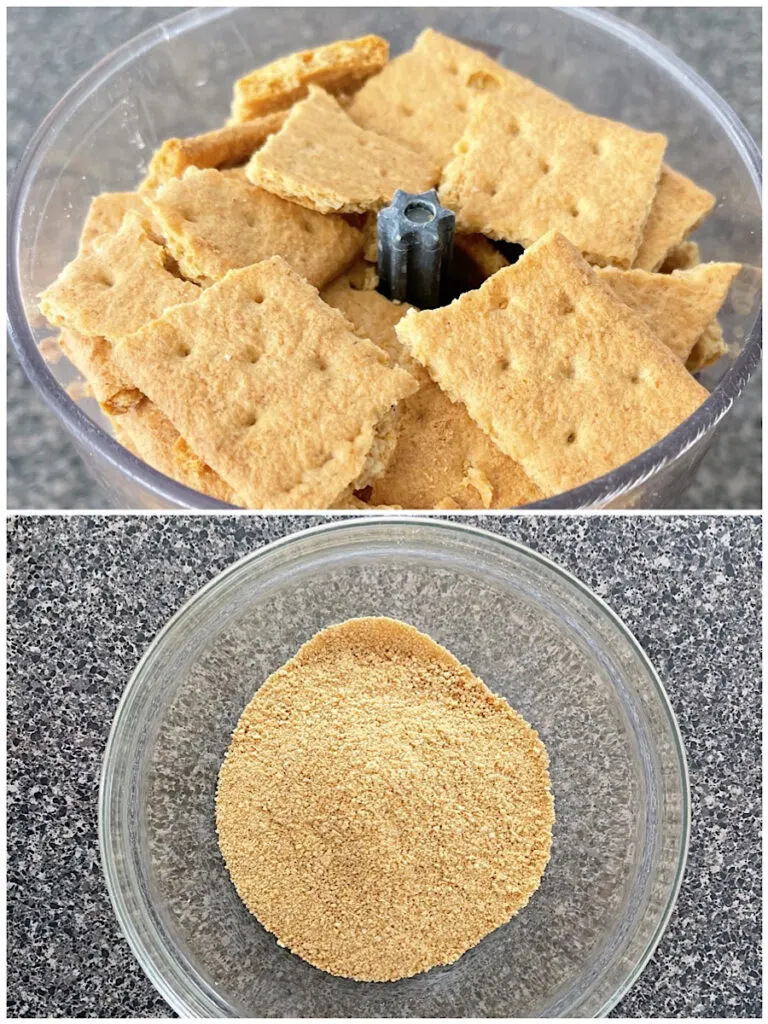 [2] Mix the crumbs and melted butter together in a medium bowl.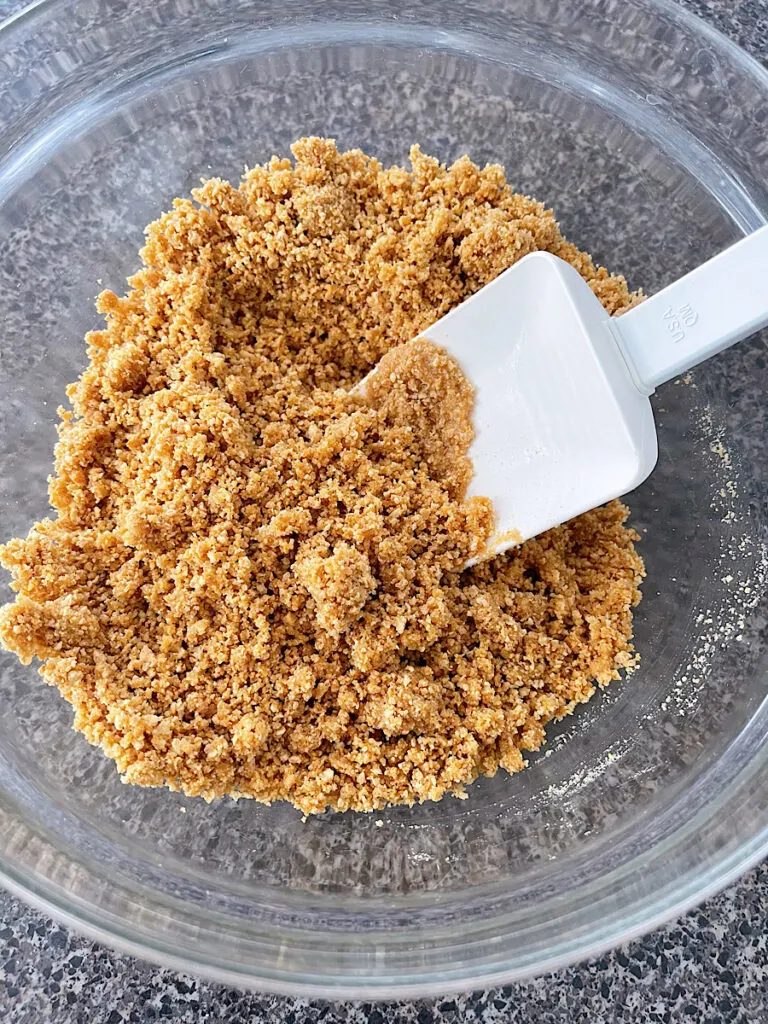 [3] Press the crumbs into the bottom and partially up the sides of a 9-inch springform pan.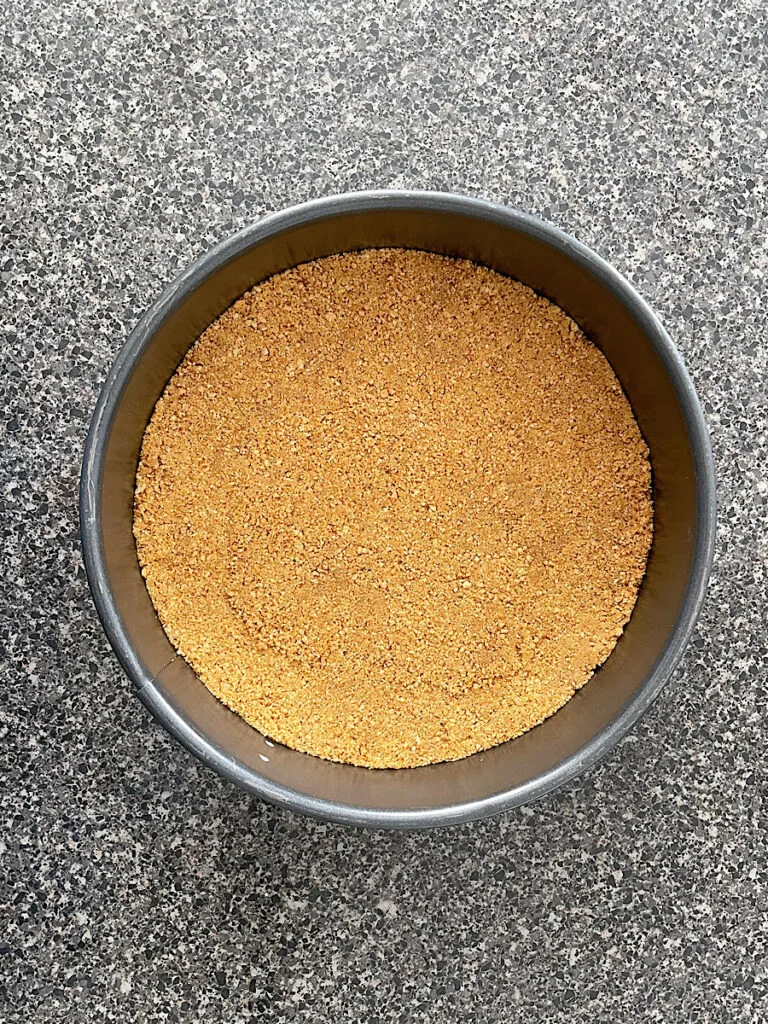 [4] Refrigerate the crust for 30 minutes, while preparing the filling.
No-Bake Cheesecake Filling
[1] Beat the softened cream cheese in a medium bowl with a mixer until there are no lumps.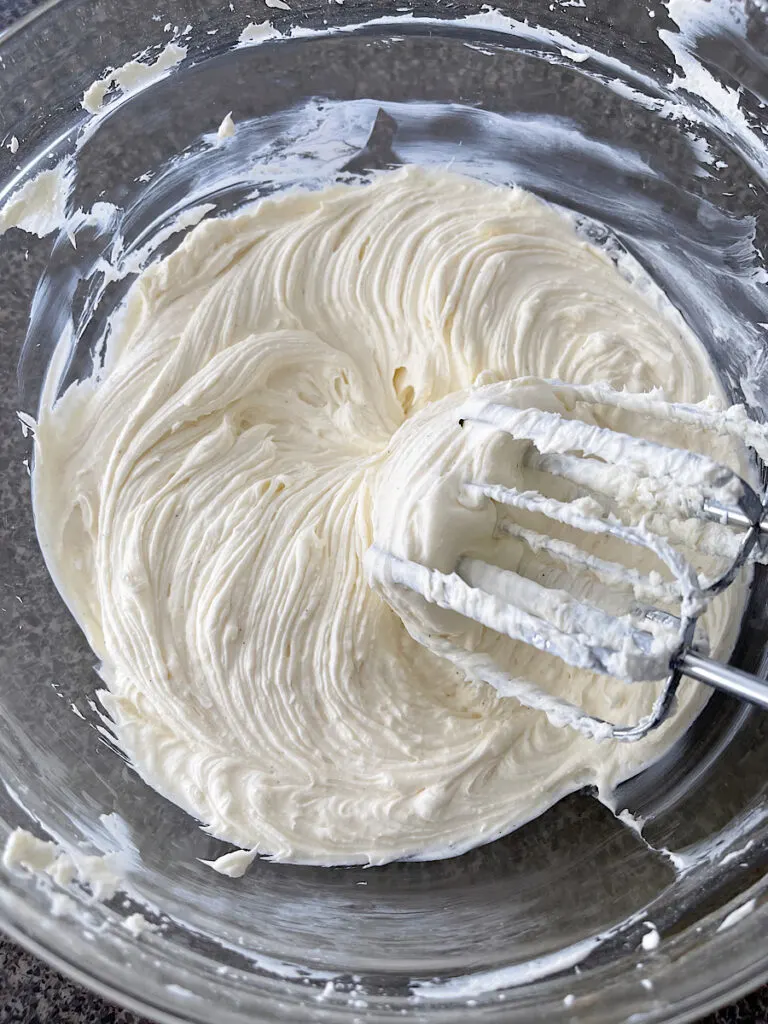 [2] Mix in the powdered sugar and vanilla extract, scraping the sides of the bowl as necessary.
[3] In a separate bowl, use a stand mixer or hand mixer to whip the heavy cream until it thickens and stiff peaks begin to form.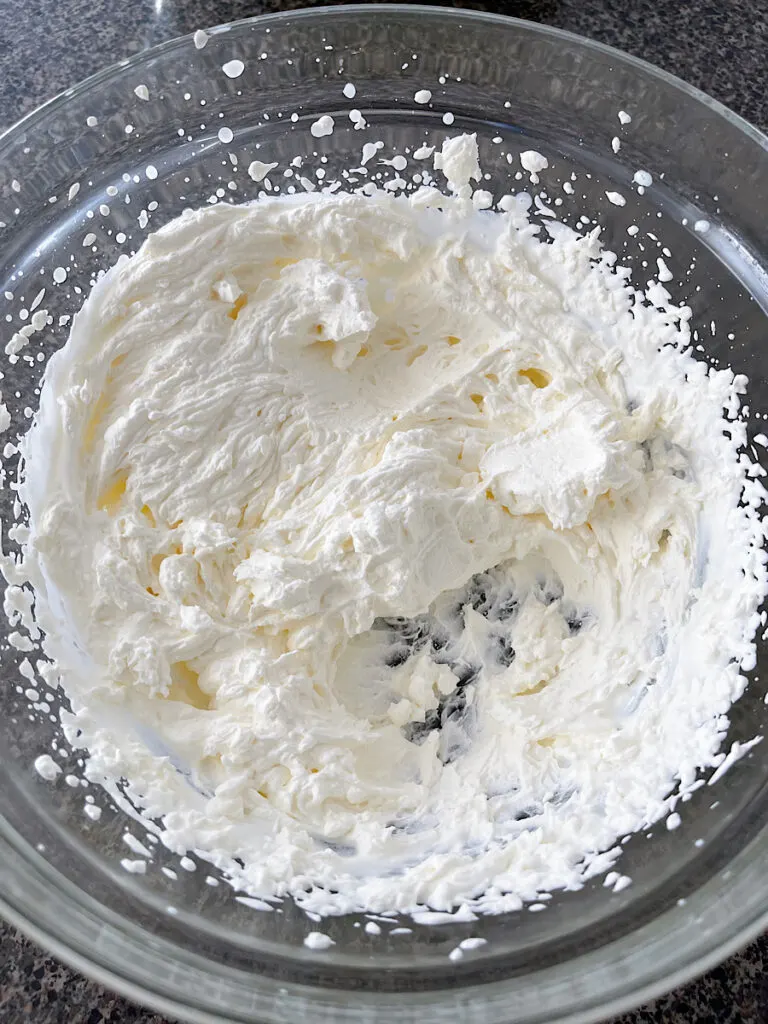 [4] Use a spatula to gently fold the whipped cream into the cream cheese mixture.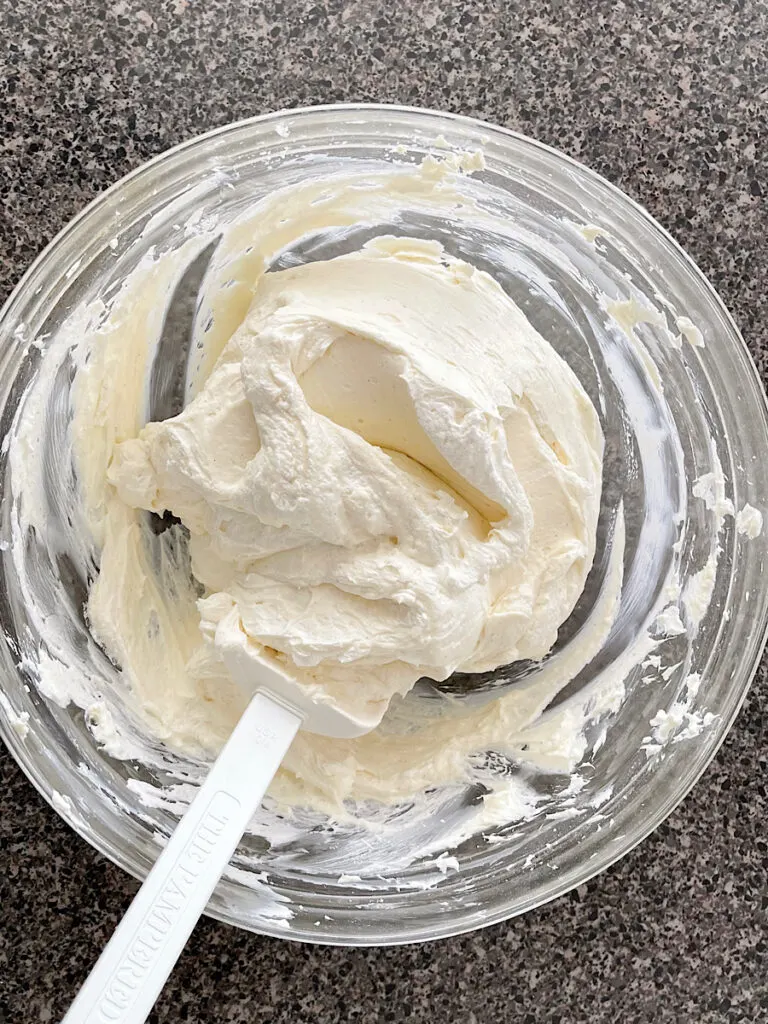 [5] Add the Philadelphia cheesecake filling to the prepared crust and smooth with the back of a spoon or an angled spatula.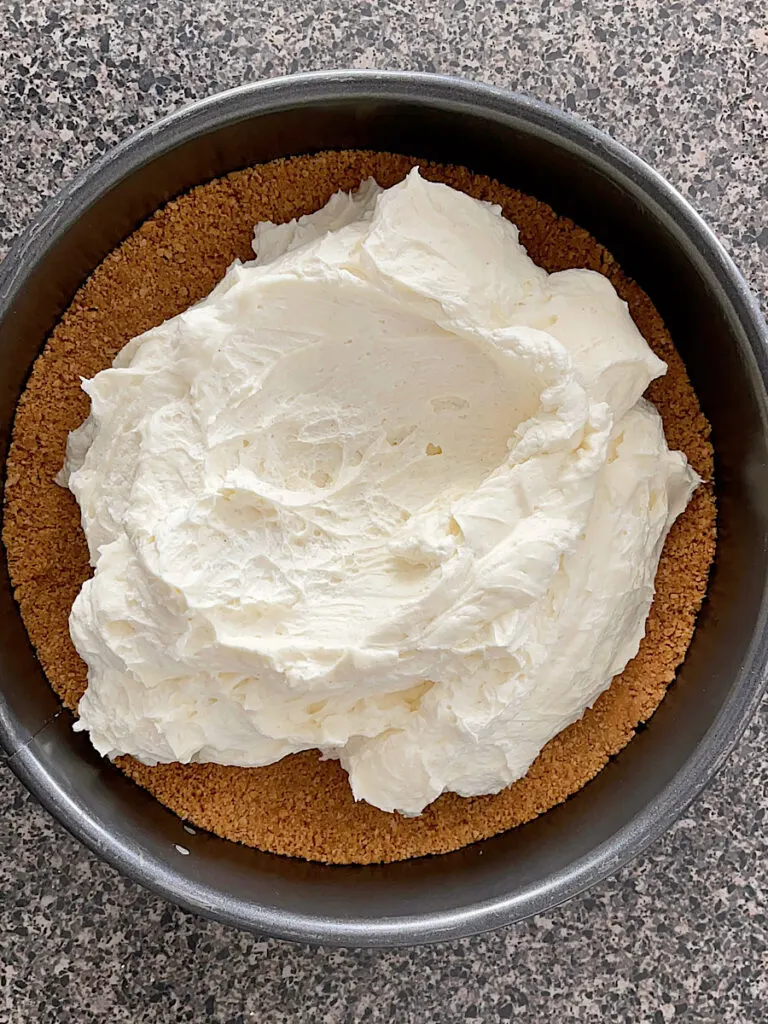 [6] Chill the no-bake cheesecake for at least four hours before cutting into slices and serving with your favorite topping.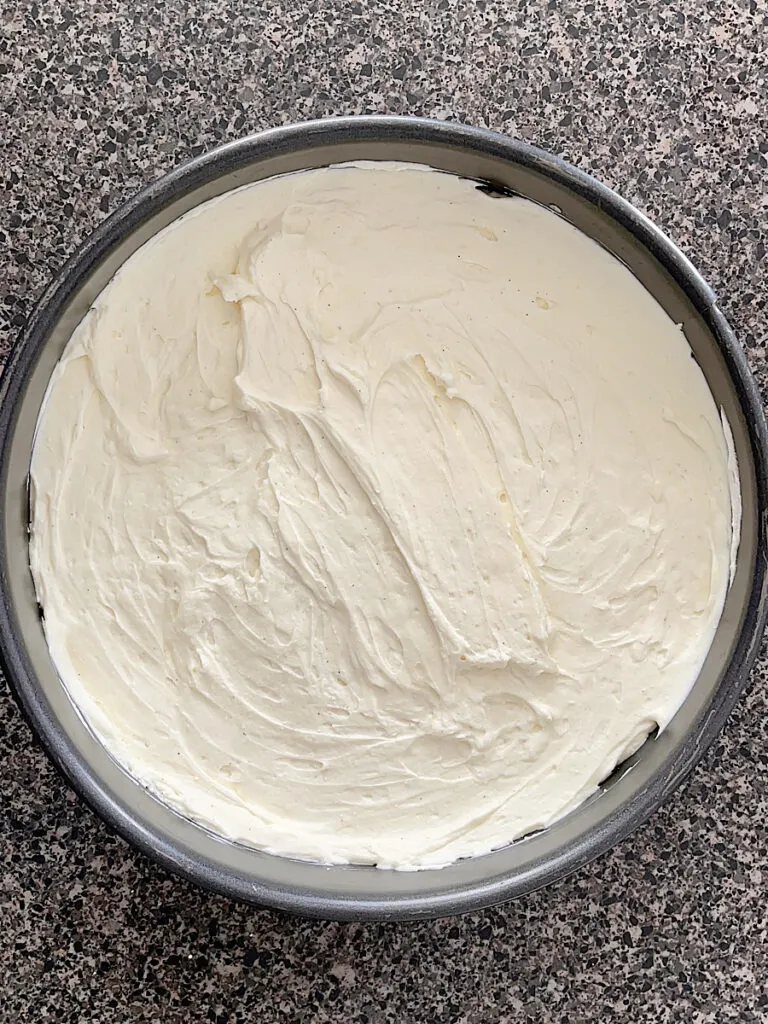 Helpful Kitchen Tools
How to Store No-Bake Cheesecake
This no bake cheesecake should be stored in the refrigerator for up to 5 days. If you are not serving immediately, cover with plastic wrap or place in an airtight container.
How to Freeze No-Bake Cheesecake
The cheesecake can also be frozen for up to 1 month (without toppings). Make sure to wrap the cheesecake tightly with plastic wrap, then one or two layers of aluminum foil.
How to Thaw Frozen Cheesecake
Thaw the frozen no-bake cheesecake overnight in the refrigerator before serving.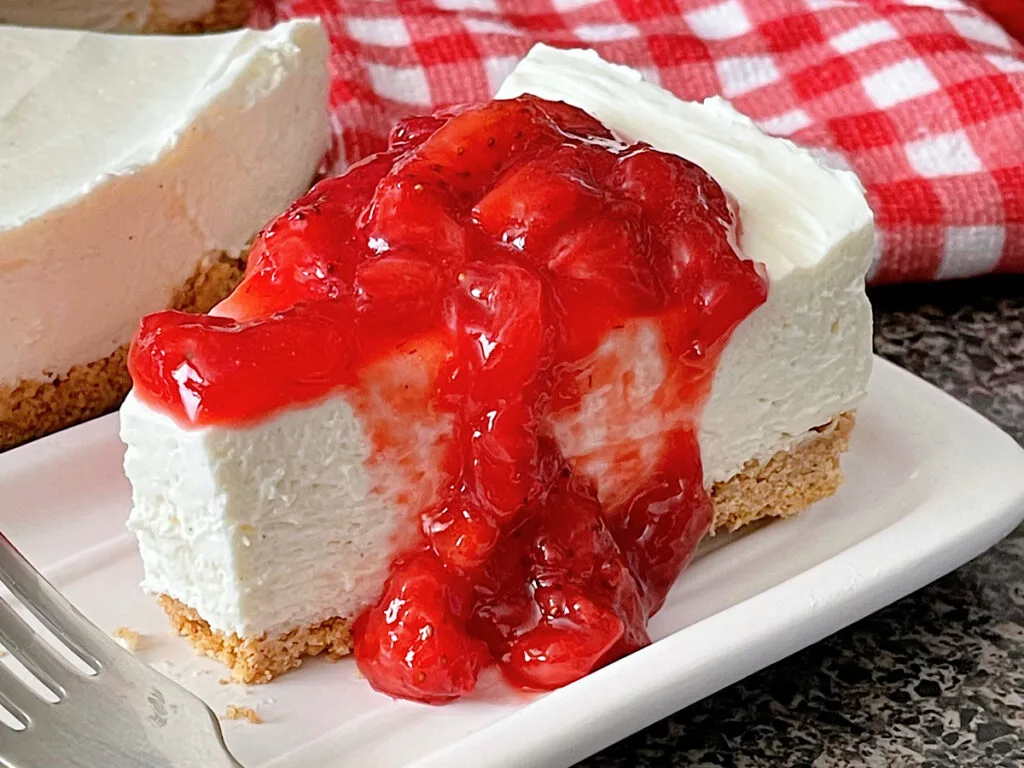 Frequently Asked Questions
Are no-bake cheesecakes any good?
Yes! No-bake cheesecakes are light, fluffy and packed with delicious flavor. The ease of making one with a pre-made graham cracker crust saves time and the end result is still a very delicious dessert.
Can I use any type of cream cheese?
Yes, you can use any brand of cream cheese that is similar in texture and flavor. Make sure to soften the cream cheese before using so it will mix properly with the other ingredients.
Is there a way to make this recipe healthier?
Yes! You can always swap out the pre-made graham cracker crust for a homemade crust made with healthier options like nuts, oats or dates. You can also try using a low-fat cream cheese or replacing some of the sugar with a natural sweetener like honey or maple syrup. Lastly, you can opt for healthier toppings such as fresh fruit and Greek yogurt instead of syrups and ganache.
What is no-bake cheesecake filling made of?
No-bake cheesecake filling is usually made from softened cream cheese, sugar, vanilla extract and whipped topping. The ingredients are mixed together before being added to the pre-made crust. It's important not to over mix the filling or else it can create air pockets in the cheesecake.
Can I make no-bake cheesecake without Cool Whip?
Yes, you can make no-bake cheesecake without Cool Whip. You can use a homemade whipped cream or even Greek yogurt instead of the pre-made topping. You may need to adjust the sugar content depending on what type of topping you use on this decadent dessert.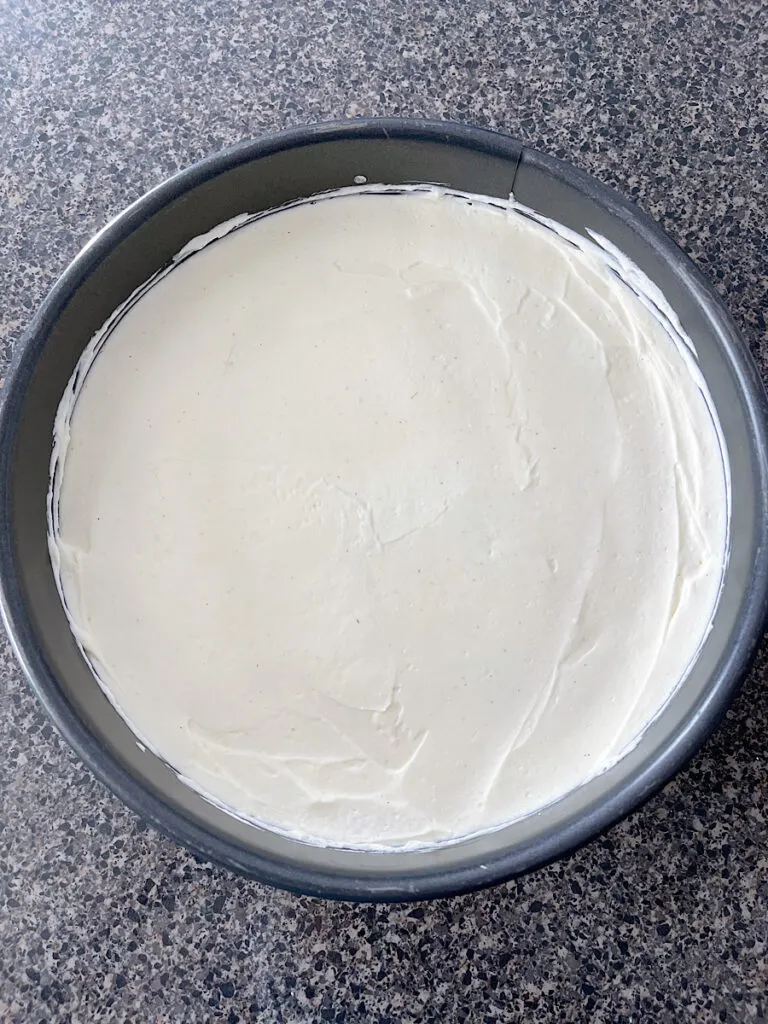 Final Thoughts
No-bake cheesecake is a delicious and easy dessert that can be enjoyed all year round. This easy recipe requires just a few simple ingredients and you can make this decadent cheesecake in no time at all.
Whether you are looking for a healthier option or an indulgent treat, this recipe will satisfy any craving!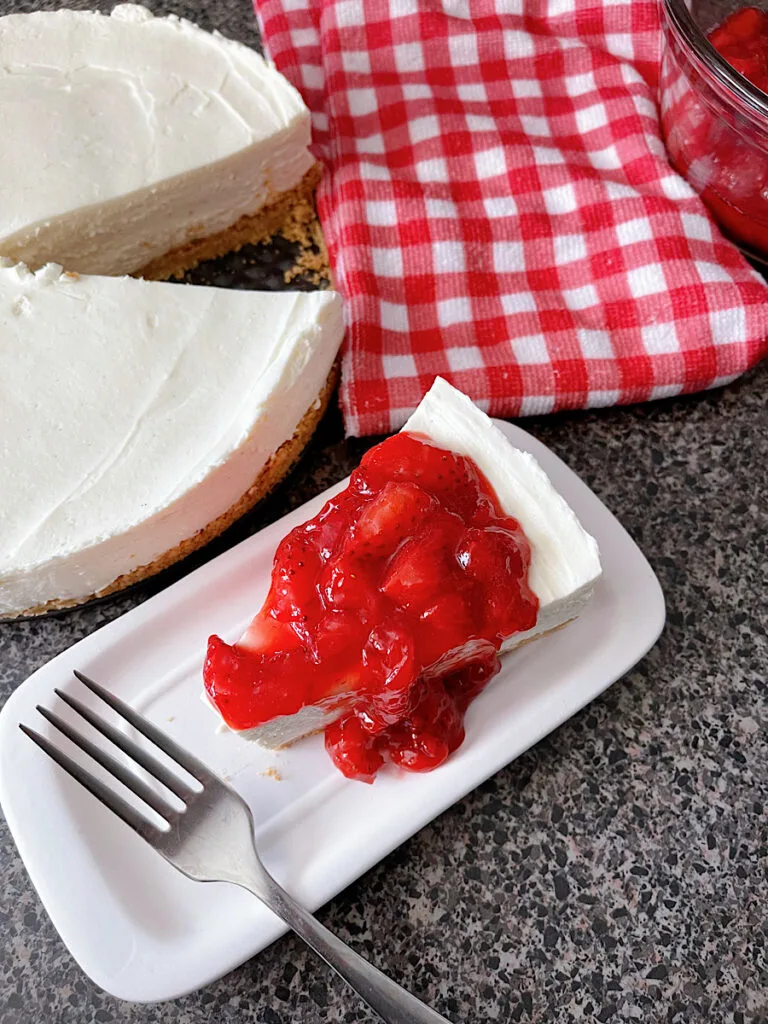 More Cheesecake Recipes
No Bake Cheesecake Video: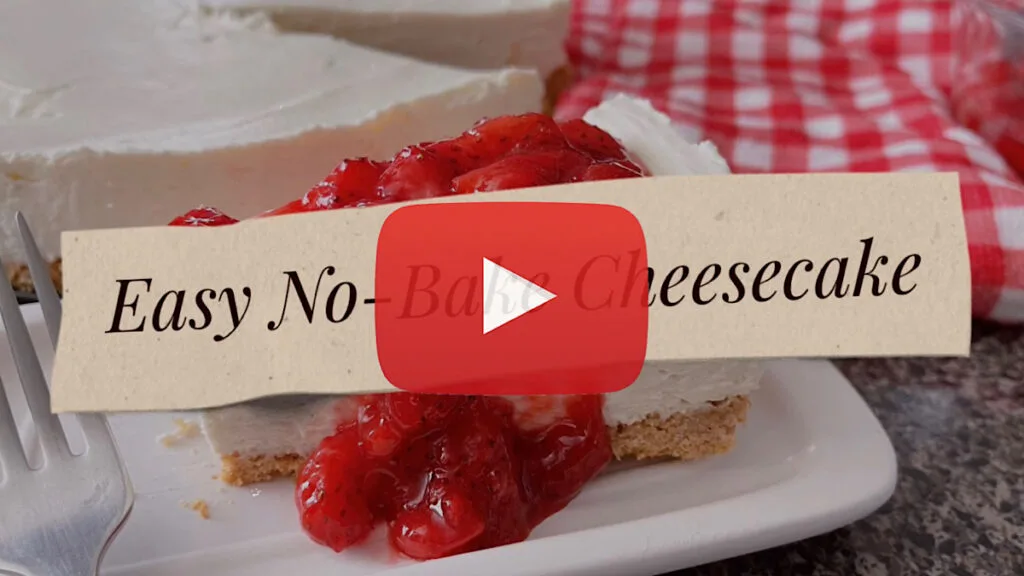 Pin for Later: