The best homemade spaghetti sauce recipe ever! All you need is ground beef, onion, garlic, crushed tomatoes, herbs and spices for this delicious meat sauce. It tastes just like Grandma used to make. And the best part? You can simmer on low heat all day long so that the flavors blend together perfectly. Get your favorite pasta ready because you'll want to eat every single bite of this yummy dish!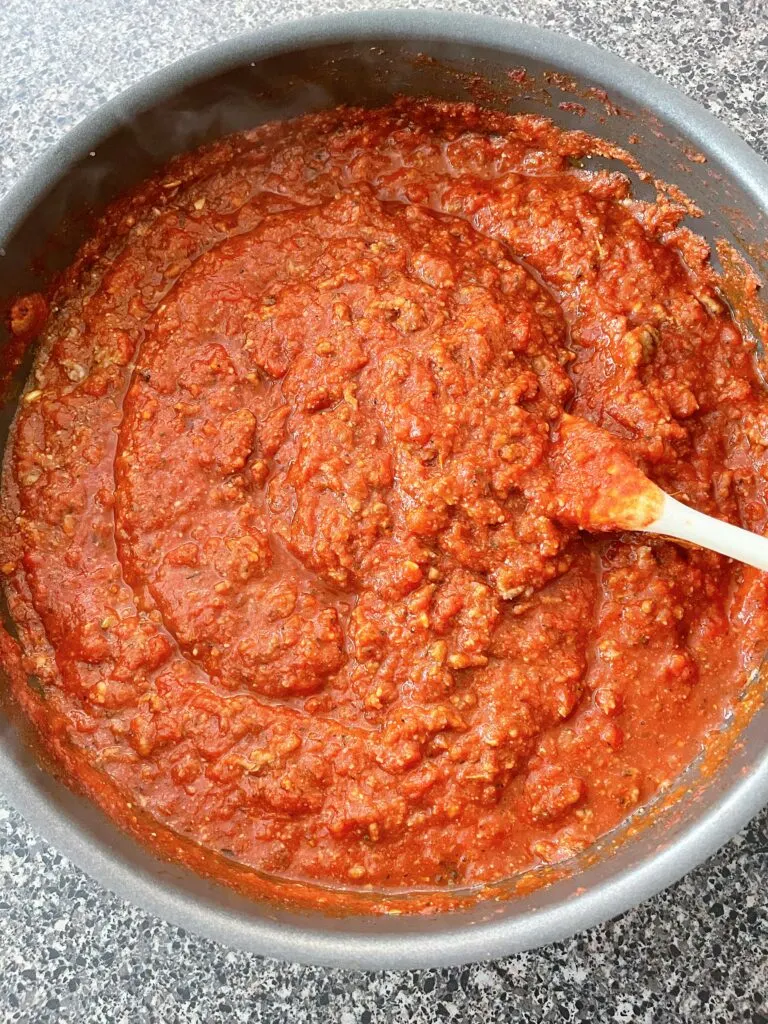 This post may contain affiliate links. When you click on these links, I get a small percentage back at no cost to you! For more information see my disclosure policy.
Below you will find tips, tricks and helpful hints for making this recipe including step by step instructions with pictures. If you would like to go directly to the recipe, scroll down to the recipe card or tap "Jump to Recipe" at the top of the page.
Spaghetti is a delicious, comforting food that everyone loves. However, most of the time, I skip making homemade sauce and jump right to using a store-bought jar because of convenience.
However, I love that when I make this recipe, my family can't stop commenting on how amazing the sauce tastes and they can't wait to eat it!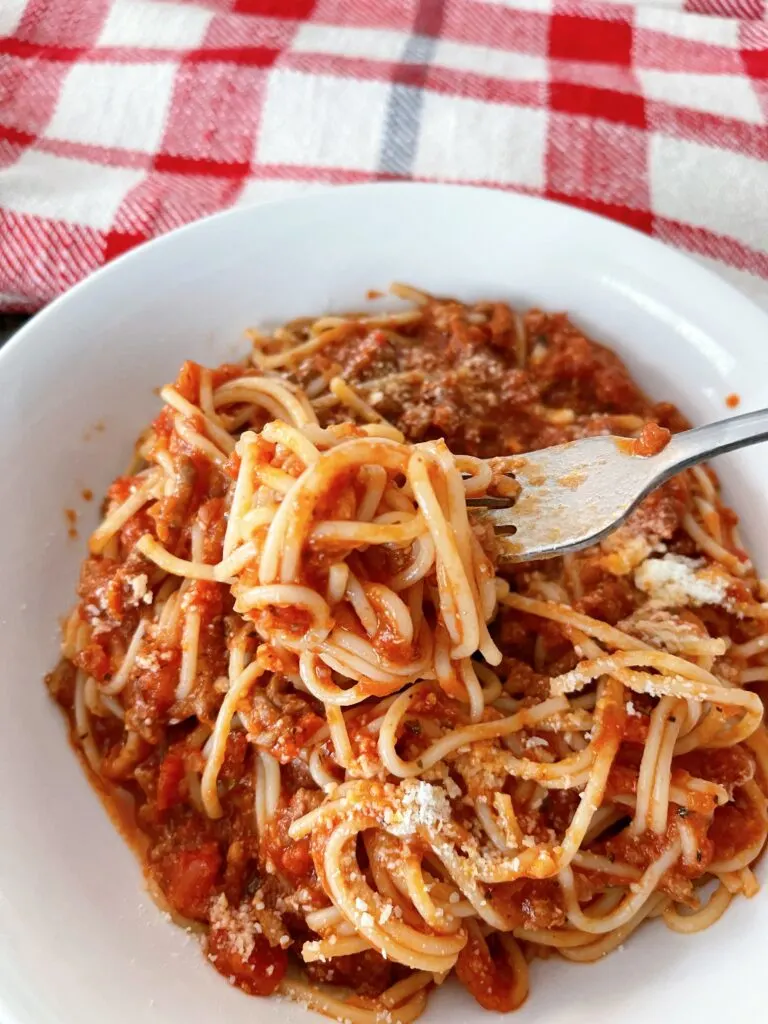 About This Spaghetti Sauce Recipe
I am sharing this easy recipe for homemade spaghetti sauce, right from my grandmother's recipe card! This sauce can be simmered on the stovetop all day, made in a slow cooker, InstantPot, or quickly on the stove.
This recipe will help you to make spaghetti sauce that tastes just like grandma's and will wow your friends and family!
Using this easy method, you'll be sure to impress everyone at dinner tonight. Plus, having it simmer on the stove all day will bring everyone to the kitchen with the amazing aroma of a home cooked meal! I love to double this recipe and use the extra to make lasagna!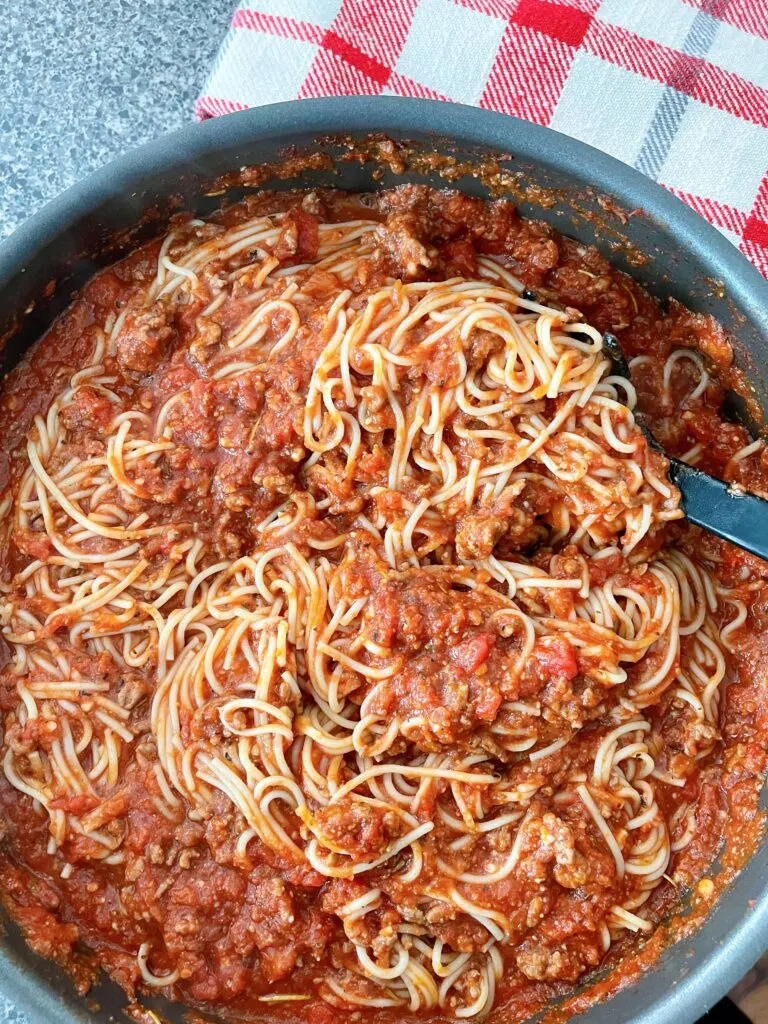 Is Spaghetti Sauce different than Marinara Sauce?
Spaghetti Sauce is basically a version of marinara sauce. The difference between spaghetti sauce and marinara is the addition of meat in spaghetti sauce. This makes it richer while still having that bright tomato taste like marinara does.
Can You Freeze Spaghetti Sauce?
Yes, you can freeze spaghetti sauce. In fact, it will likely taste even better once it has frozen and thawed because the flavors have had time to blend. To freeze, simply add the sauce to a freezer-safe airtight container, or a gallon-sized ziplock bag and freeze. It can last up to 3 months in the freezer.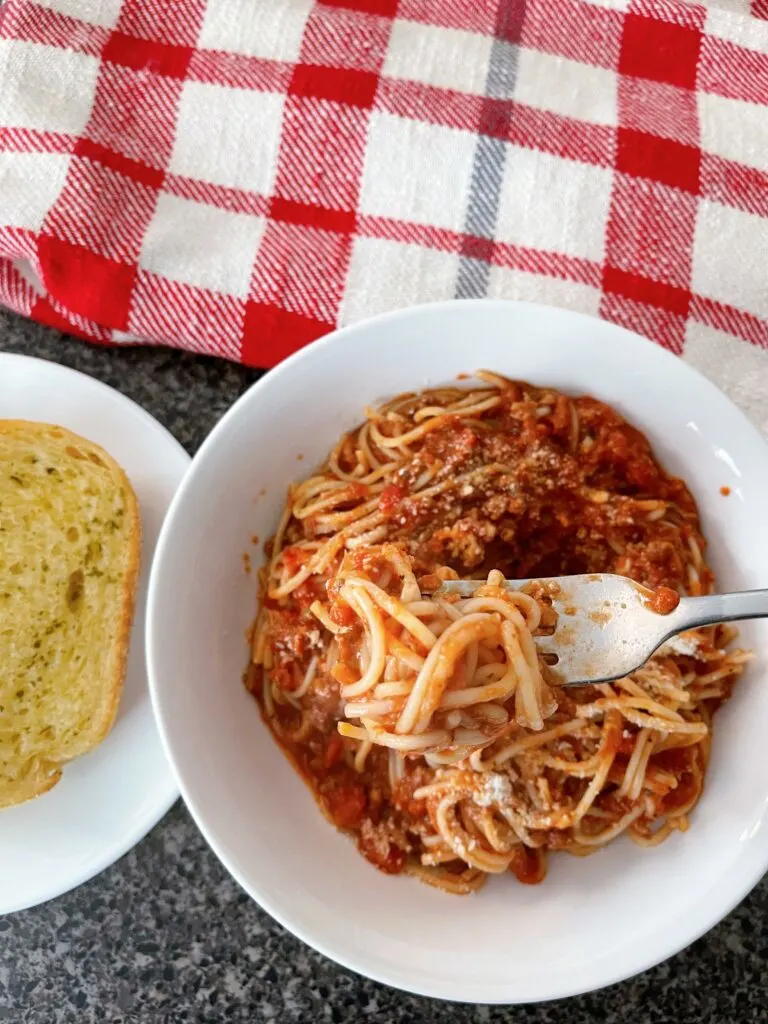 What Goes With Homemade Spaghetti Sauce?
Here are a few recipes that would go well with this homemade spaghetti sauce: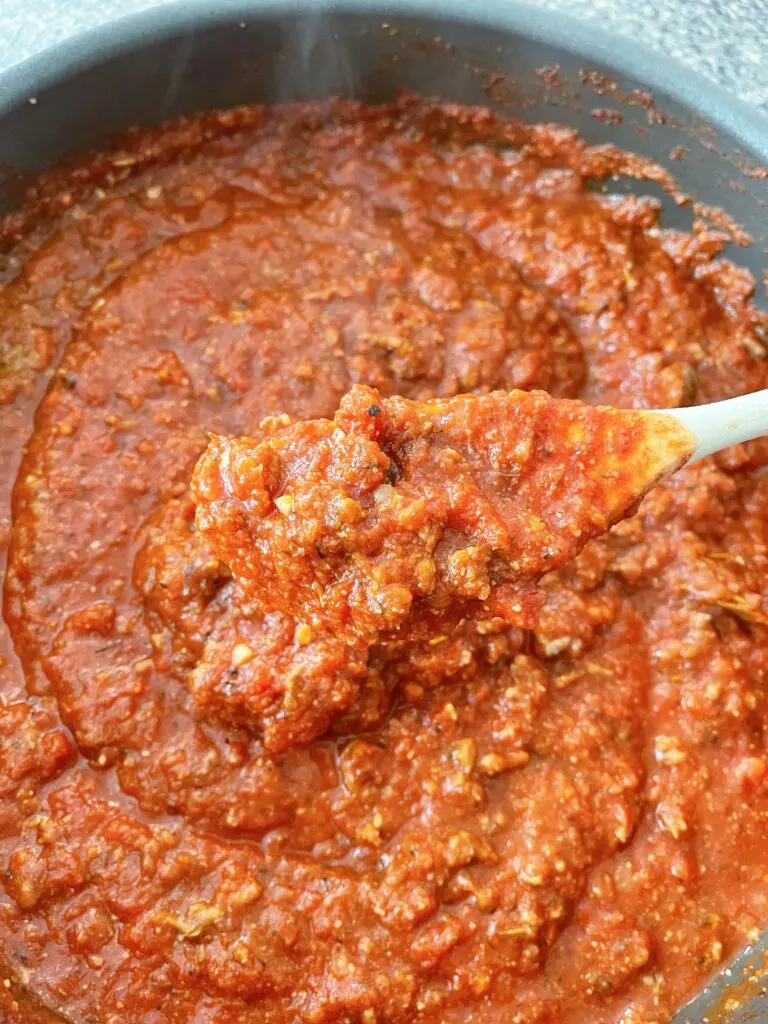 How to Store Homemade Spaghetti Sauce
If you need to store leftover spaghetti sauce or have made the sauce in advance, you can store it in an airtight container, in the refrigerator, for up to 5 days.
You can also freeze it in either a freezer-safe ziplock bag or an airtight container. It will last up to 3 months.
To reheat, simply place on the stovetop and stir over medium heat until heated through. Or thaw and heat it in the microwave.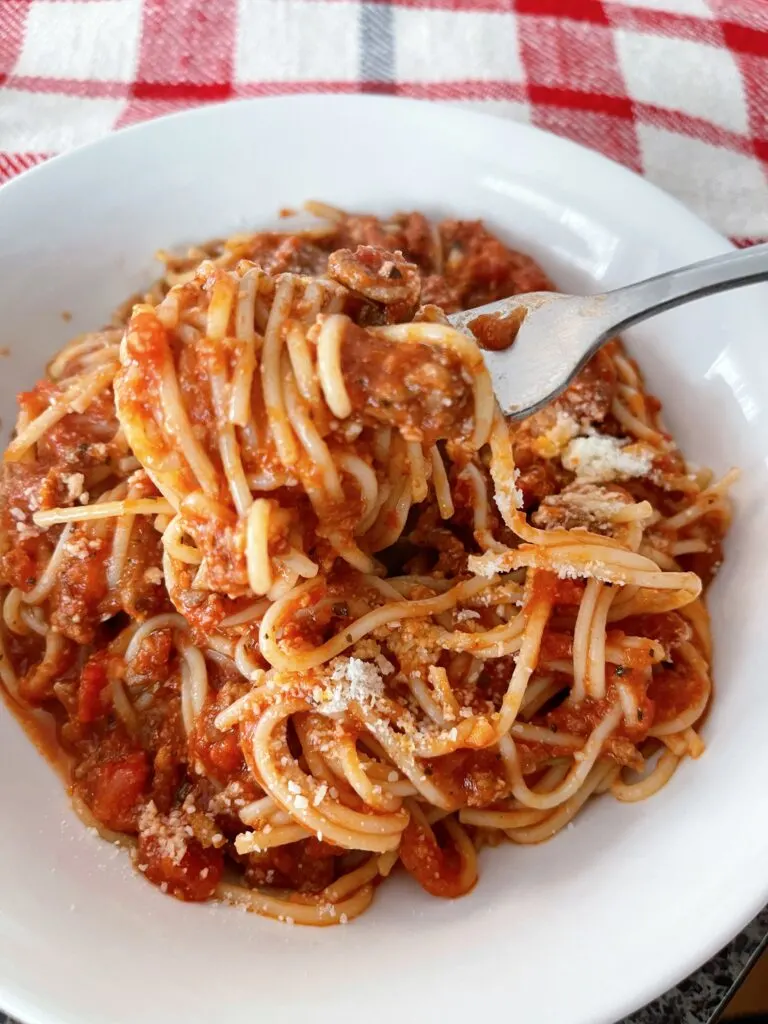 Why Use Sugar in Spaghetti Sauce?
Some recipes will call for sugar which may make you wonder why? Sugar is added to most tomato-based sauces as a flavor enhancer and it also helps balance the acidity in the tomatoes. If using a can of tomatoes that are just slightly too acidic, adding a small amount of sugar at the beginning of cooking will help round out the flavors.
Ingredients Needed
1 Pound Ground Beef
1 Tablespoon Olive Oil
1 Onion, chopped
1 Can (28 ounce) Crushed Tomatoes
1 Can (8 ounce) Tomato Sauce
1 Can (12 ounce) Tomato Paste
1 Cup Water
2 Teaspoons Minced Garlic
2 Tablespoons Oregano
2 Tablespoons Basil
1 Teaspoon Rosemary
1/2 Teaspoon Sage
1/2 Teaspoon Thyme
1/4 Teaspoon Red Pepper Flakes
1 Tablespoon Sugar
1 Tablespoon Beef Bouillon
3/4 Cup Grated Romano or Parmesan Cheese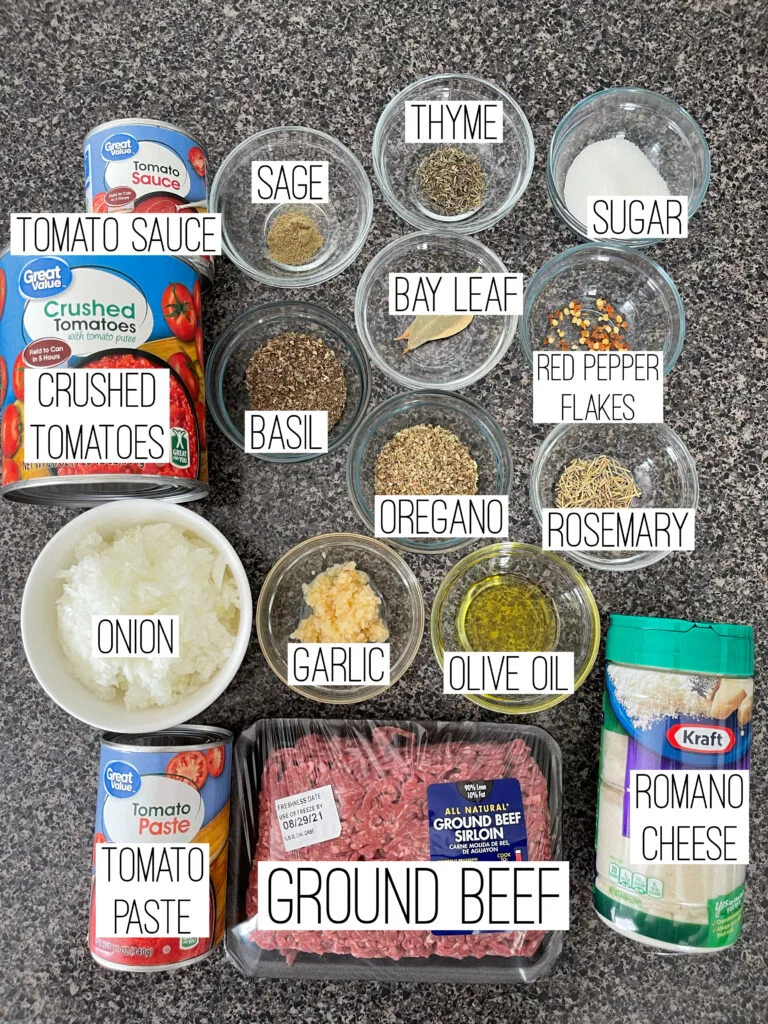 Helpful Kitchen Items
How to Make Easy Homemade Spaghetti Sauce
[1] Heat the olive oil in a large skillet or sauce pan over medium heat. Add the chopped onions and ground beef. Heat and stir the onions and beef until no longer pink. Drain if necessary.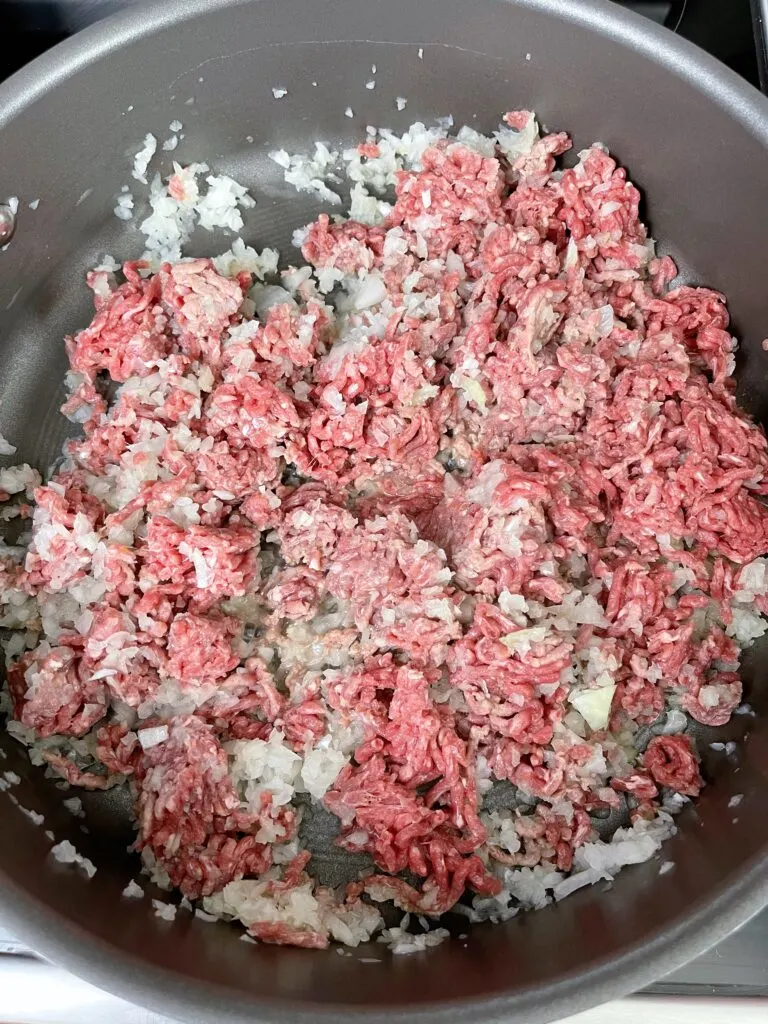 [2] Pour in the crushed tomatoes, tomato sauce, tomato paste, and water to the meat and onions. Stir to combine.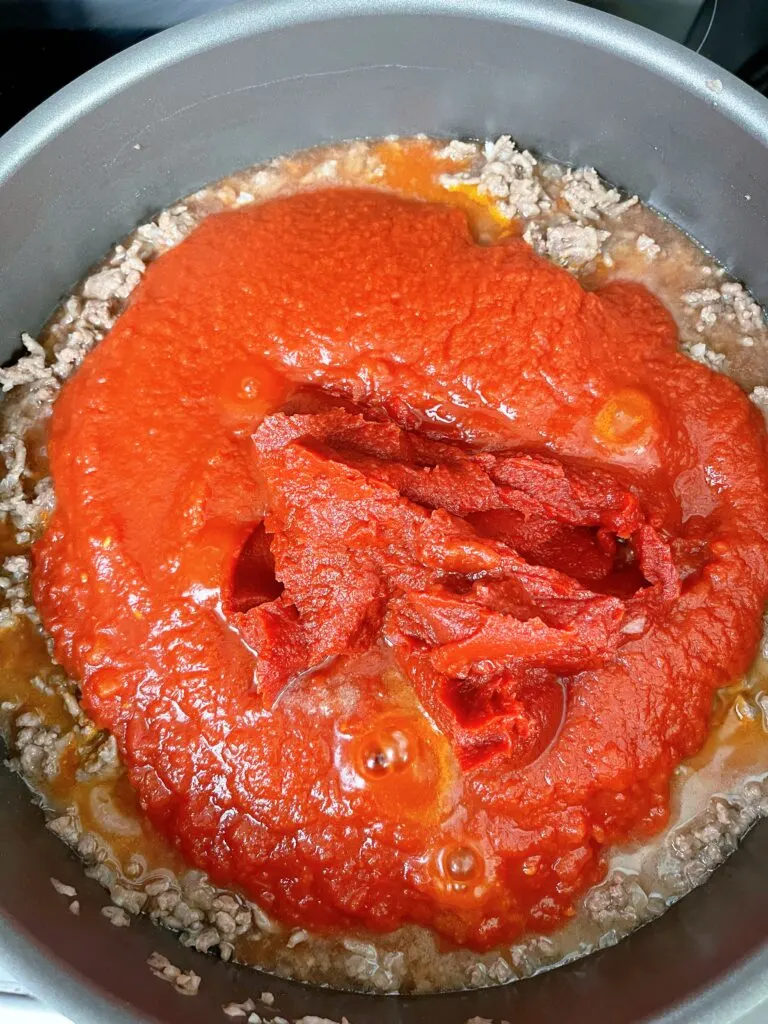 [3] Add the oregano, basil, rosemary, sage, thyme, red pepper flakes, sugar, and beef bouillon to the tomato sauce and stir to mix.
[4] Add the Romano or Parmesan cheese to the sauce.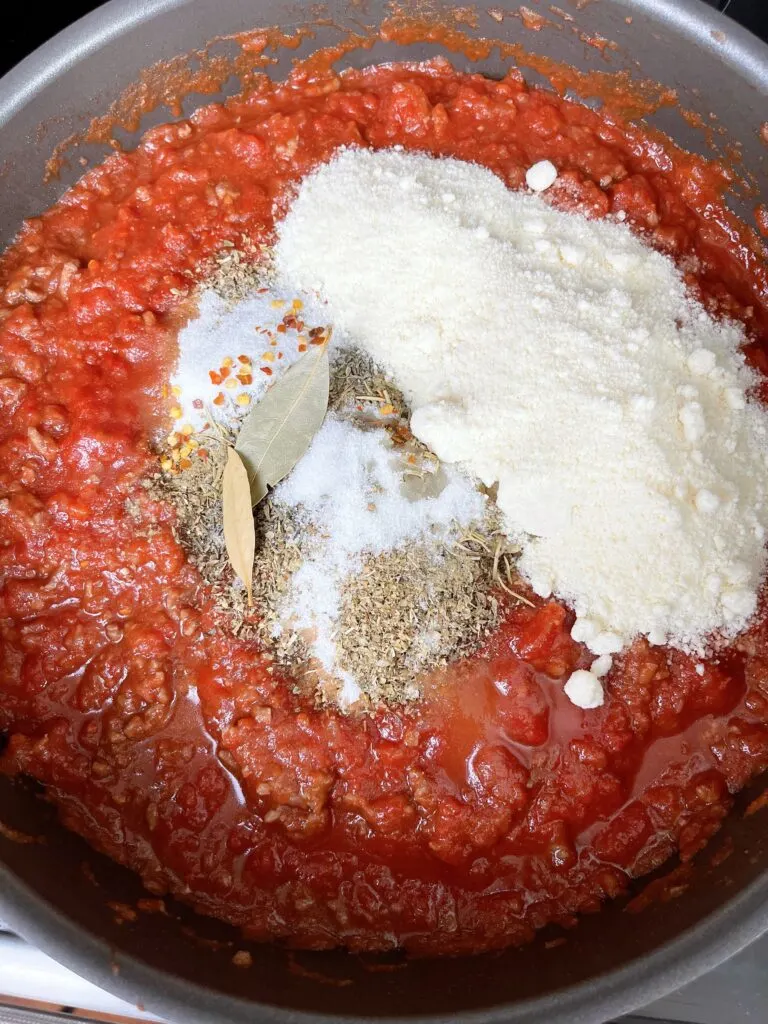 [5] Bring the sauce to a boil, then reduce heat to a simmer. Allow the sauce to simmer for at least 30 minutes.
[6] Serve the sauce over spaghetti or your favorite pasta.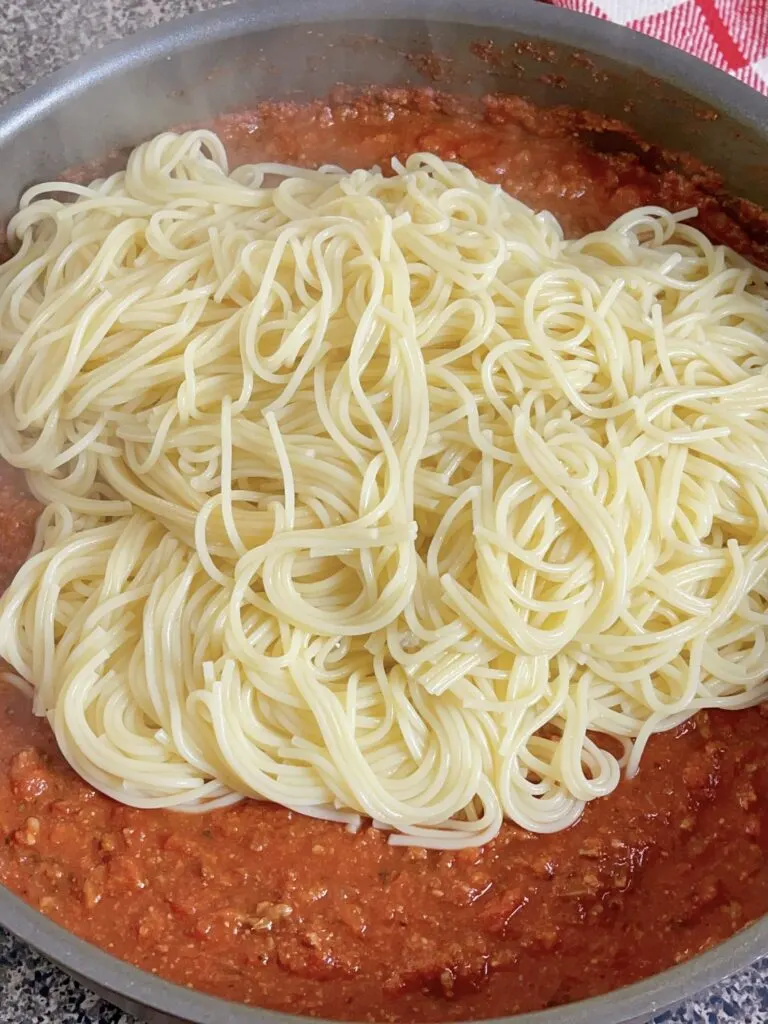 Other Pasta Recipes:
Thank you for checking out my recipe for delicious homemade spaghetti sauce. I hope it has been helpful to give you some ideas of how to make your own pasta sauce at home. If you have any questions, please let me know in the comments below and I will get back with an answer as soon as possible!
Watch the video here: