A creamy copycat recipe of Buffalo Wild Wings Garlic Parmesan Sauce. This mayo-based sauce has herbs and spices that are already in your pantry and comes together quickly for any meal or on game day. Enjoy this sauce with chicken wings, chicken strips, veggies, bread, crackers, and much more!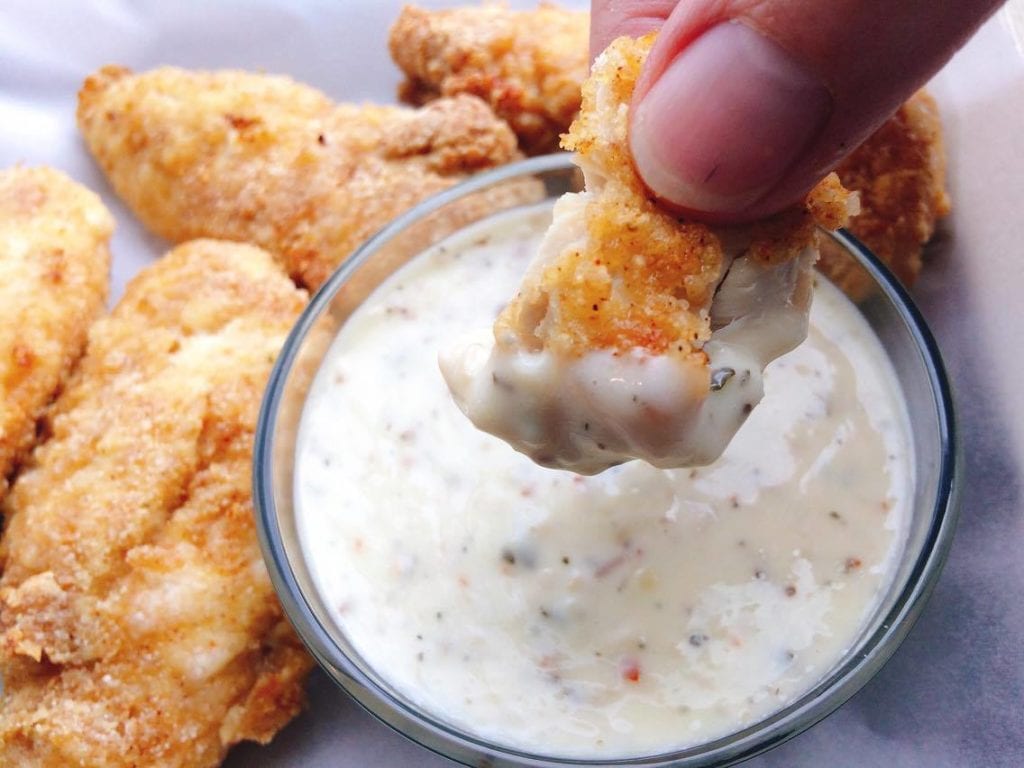 This post may contain affiliate links. When you click on these links, I get a small percentage back at no cost to you! For more information see my disclosure policy.
Below you will find tips, tricks and helpful hints for making this recipe including step by step instructions with pictures. If you would like to go directly to the recipe, scroll down to the recipe card.
Why I Love this Sauce
A few years ago, my family visited Buffalo Wild Wings for dinner.
Although I wasn't too impressed with our experience dining in the restaurant, I found that I couldn't get enough of their Garlic Parmesan Wing Sauce.
It was so creamy and flavorful. It quickly became my favorite Buffalo Wild Wings sauce!
The great thing about dipping sauces is that they can spice up a plain old piece of chicken and take it to the next level.
After tasting their delicious Garlic Parmesan Dipping Sauce, I began a quest to find a recipe that mimics the Buffalo Wild Wings sauce and I think I have found one.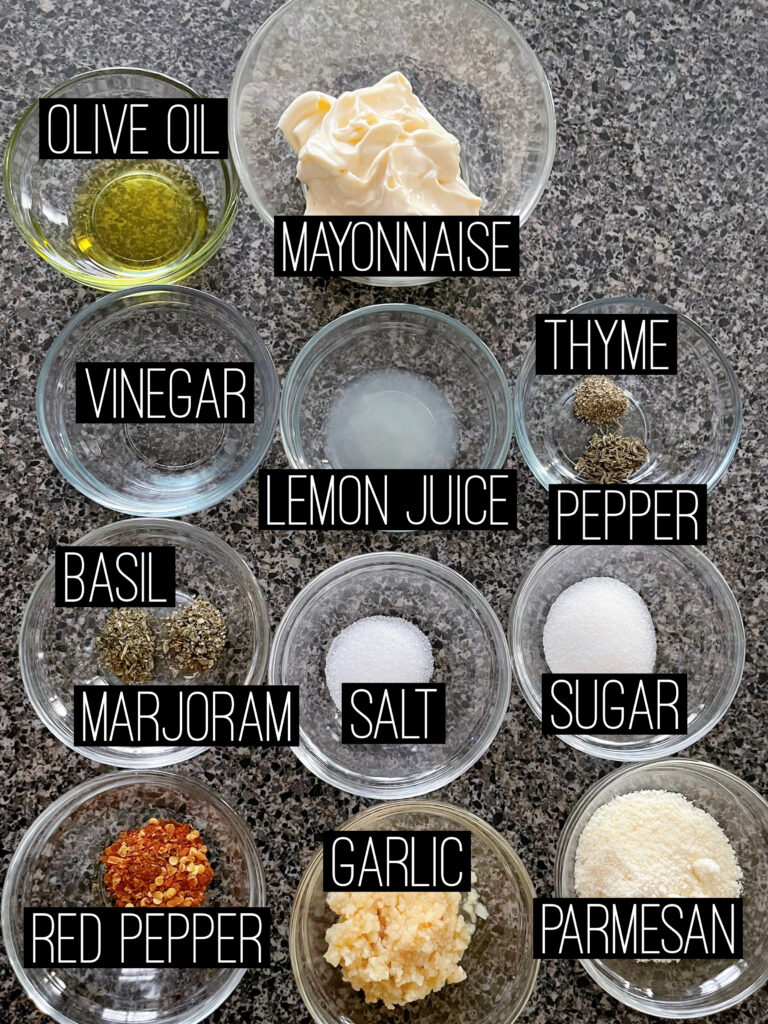 Buffalo Wild Wings Garlic Parmesan Sauce
This creamy Buffalo Wild Wings Garlic Parmesan garlic sauce recipe reminds me a lot of a creamy Italian Dressing but with a little kick from the red pepper flakes.
If you don't like it spicy, you can definitely leave the red pepper flakes out.
This sauce could also be thinned with some milk to make an awesome salad dressing! It's so yummy you could dip almost anything in it. From chicken to veggies!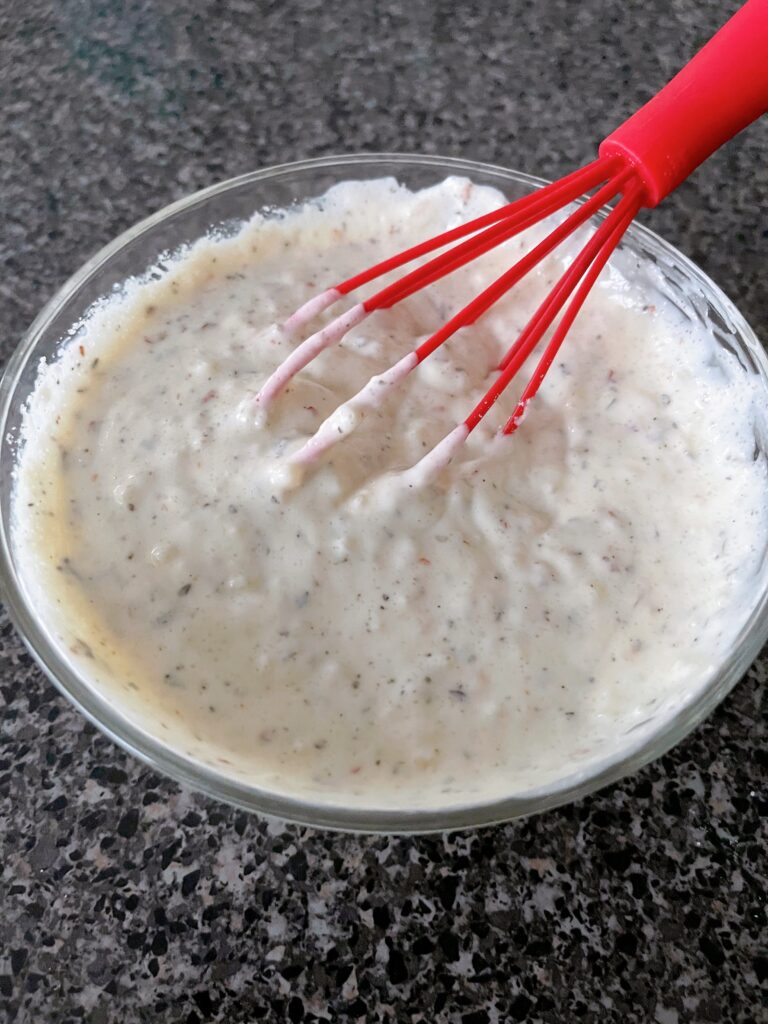 Helpful Kitchen Tools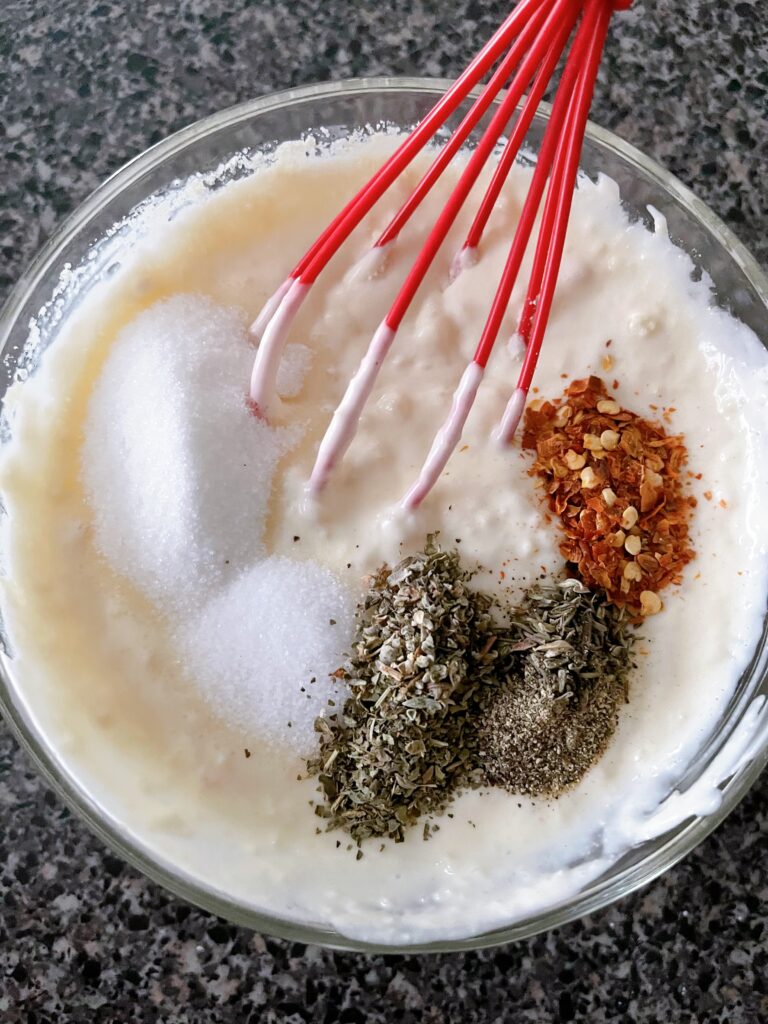 Garlic Parmesan Sauce Ingredients
*Ingredient amounts are located in the recipe card at the end of this post.
Garlic- To make this sauce, you can use fresh minced garlic cloves or use minced garlic from a jar. You can also substitute 1 1/2 teaspoons of garlic powder.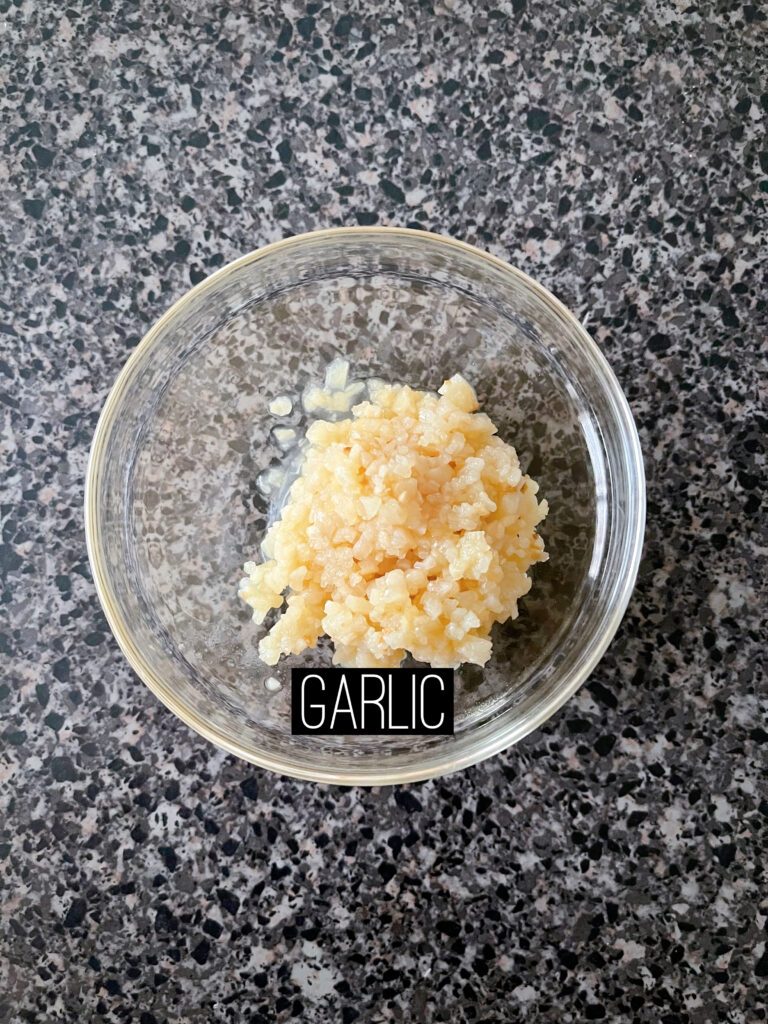 Olive Oil- You can use any kind of cooking oil you want when making this recipe. I used Olive Oil though because it tastes really good in the sauce. If you don't have olive oil, you can skip it or use another type of oil in its place.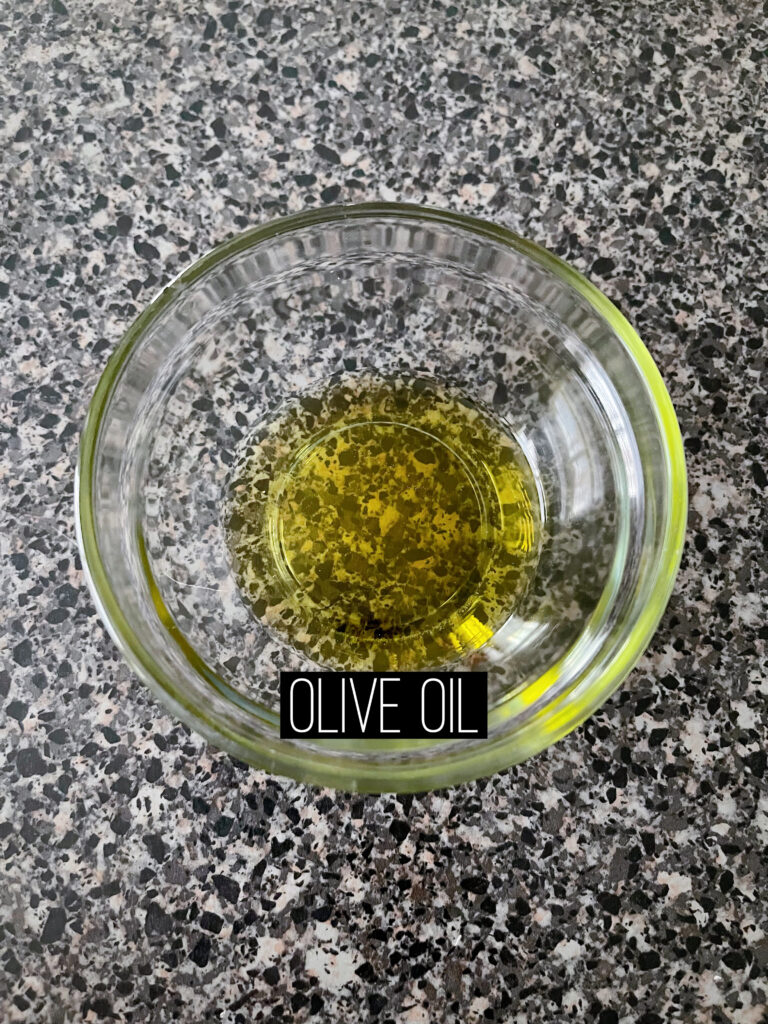 Mayonnaise- You will need 1/2 cup for this recipe so go ahead and add a cup to your shopping list. You can also use Miracle Whip or another type of mayonnaise instead if you prefer it, but it will change the flavor a bit.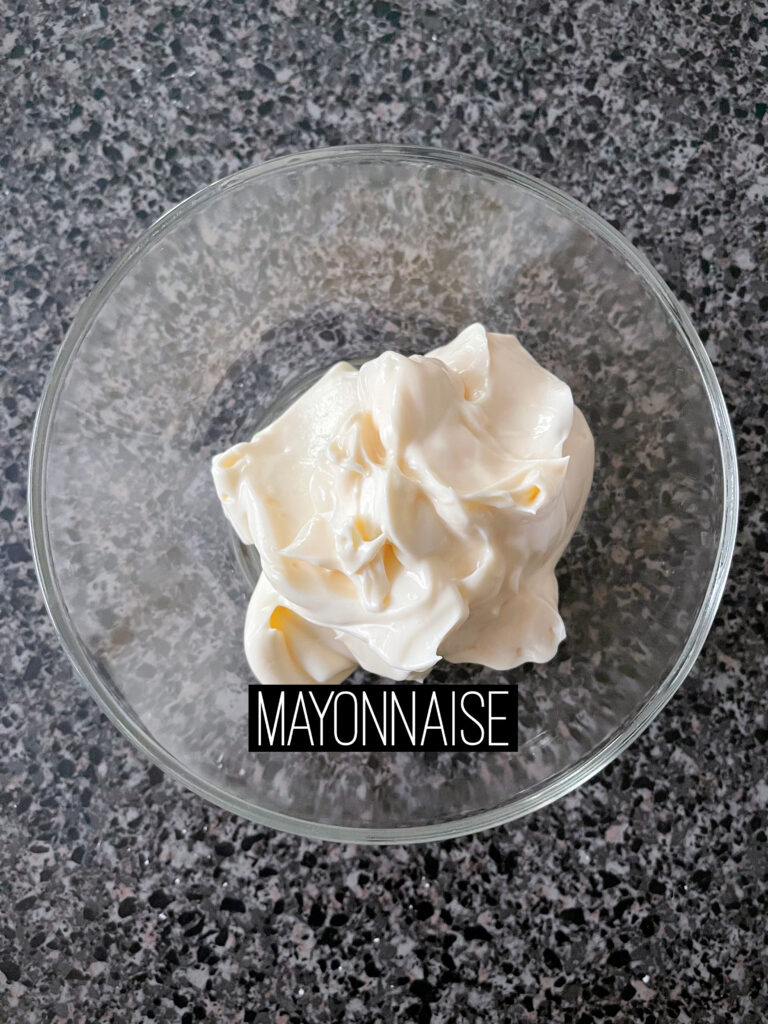 Sugar- Granulated sugar will work in this recipe. If you don't have sugar, that's okay too because you could add something else like maple syrup or honey in it's place.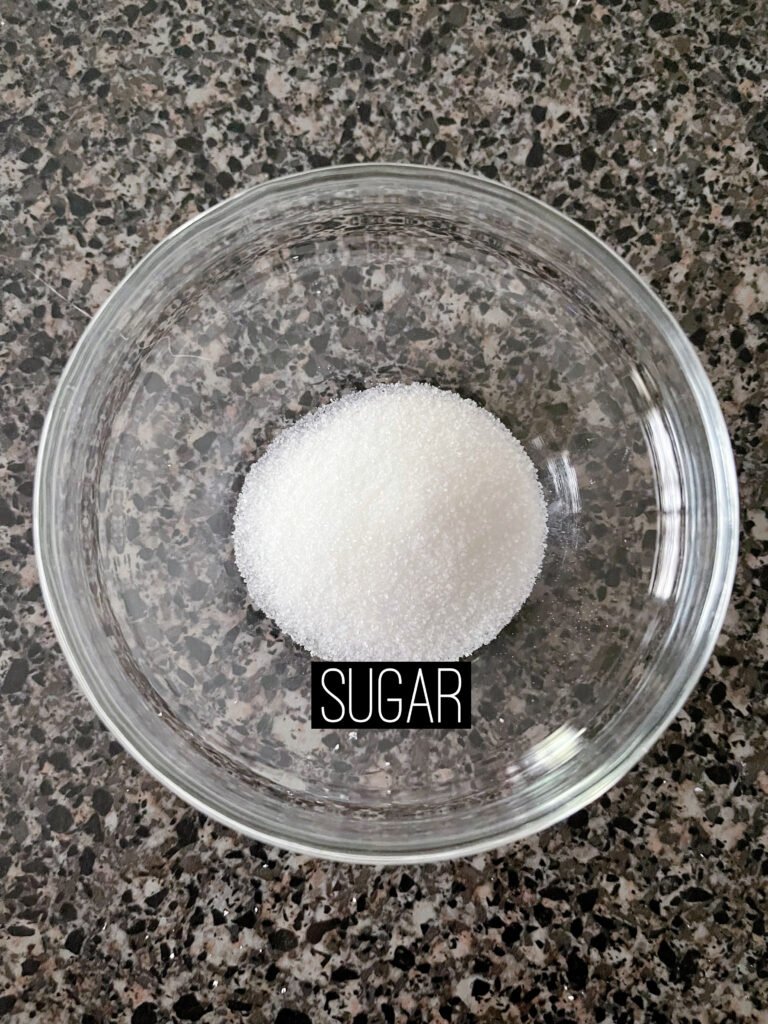 Parmesan Cheese- Grated Parmesan cheese will add a lot of good flavor to this recipe. I prefer to use the parmesan cheese in the green bottle like this, to keep the correct texture of this sauce.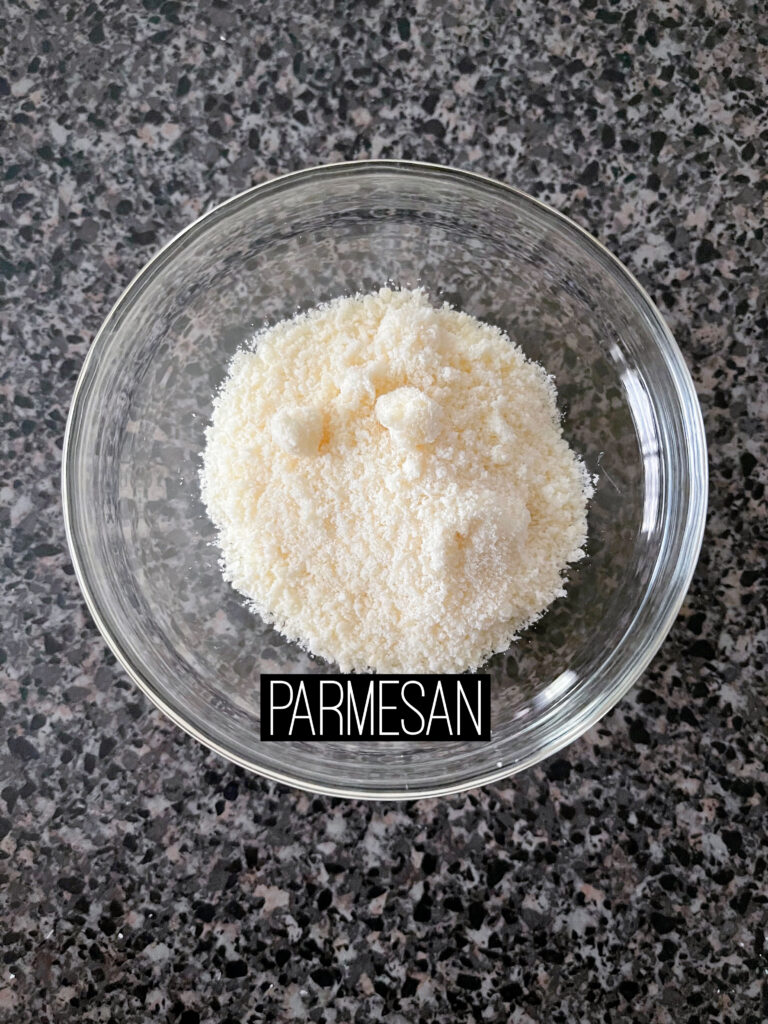 Vinegar- White vinegar is all you need for this recipe.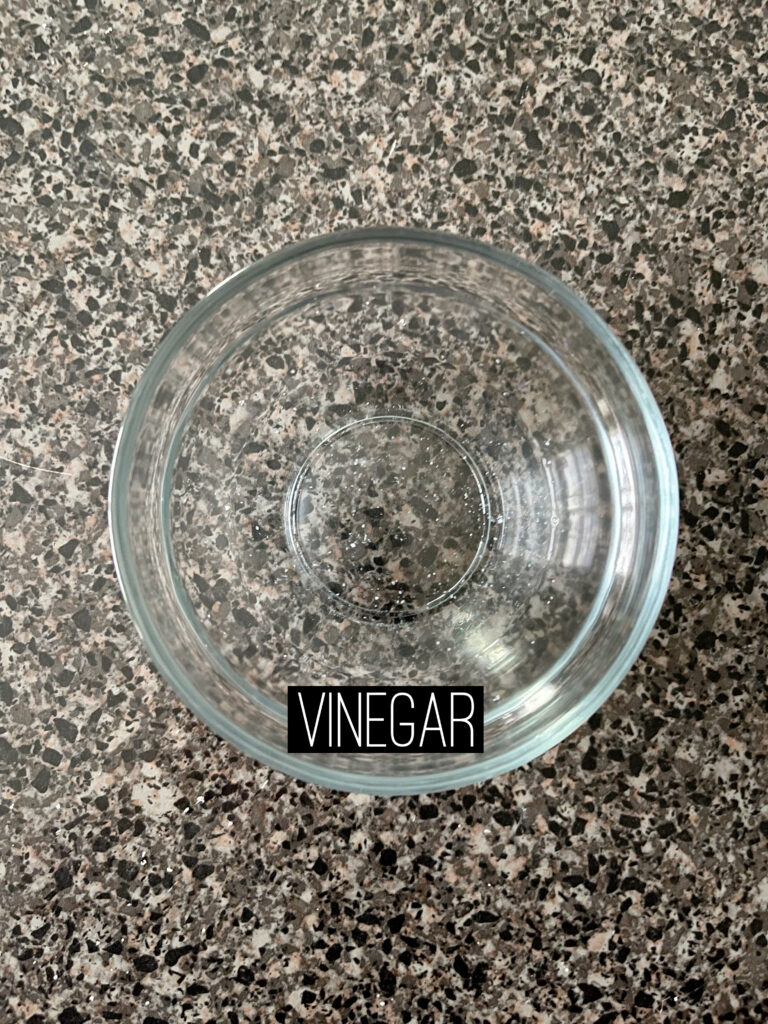 Lemon Juice– Fresh lemon juice will work really great in this sauce.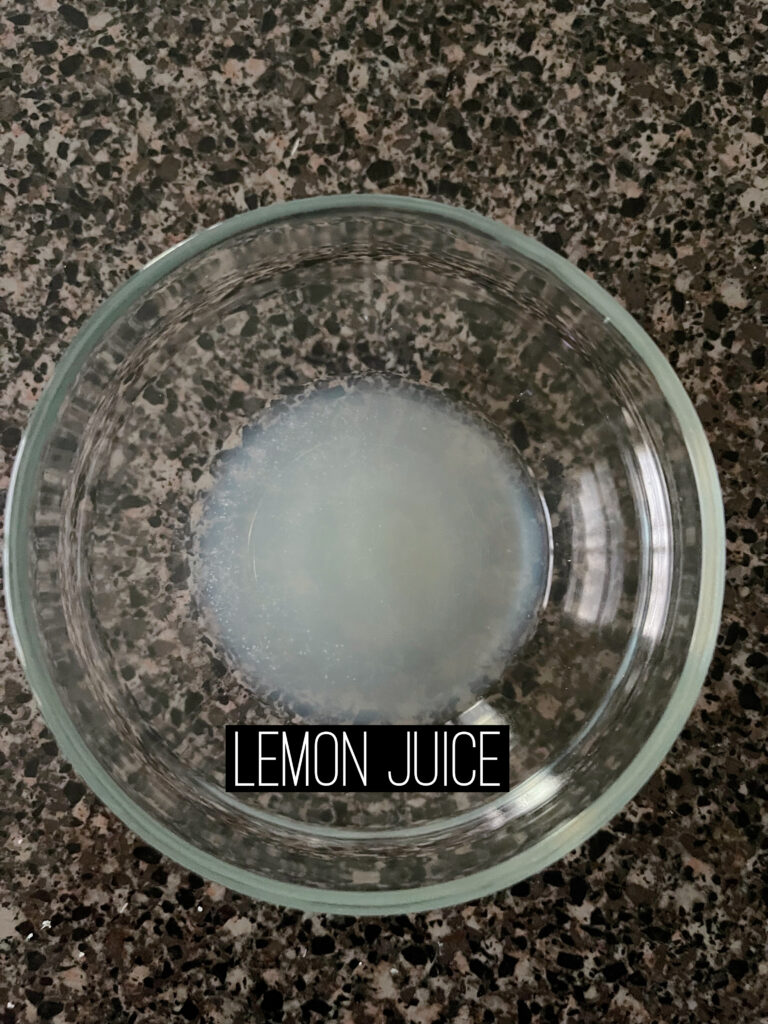 Salt- You only need regular table salt, not kosher or sea salt.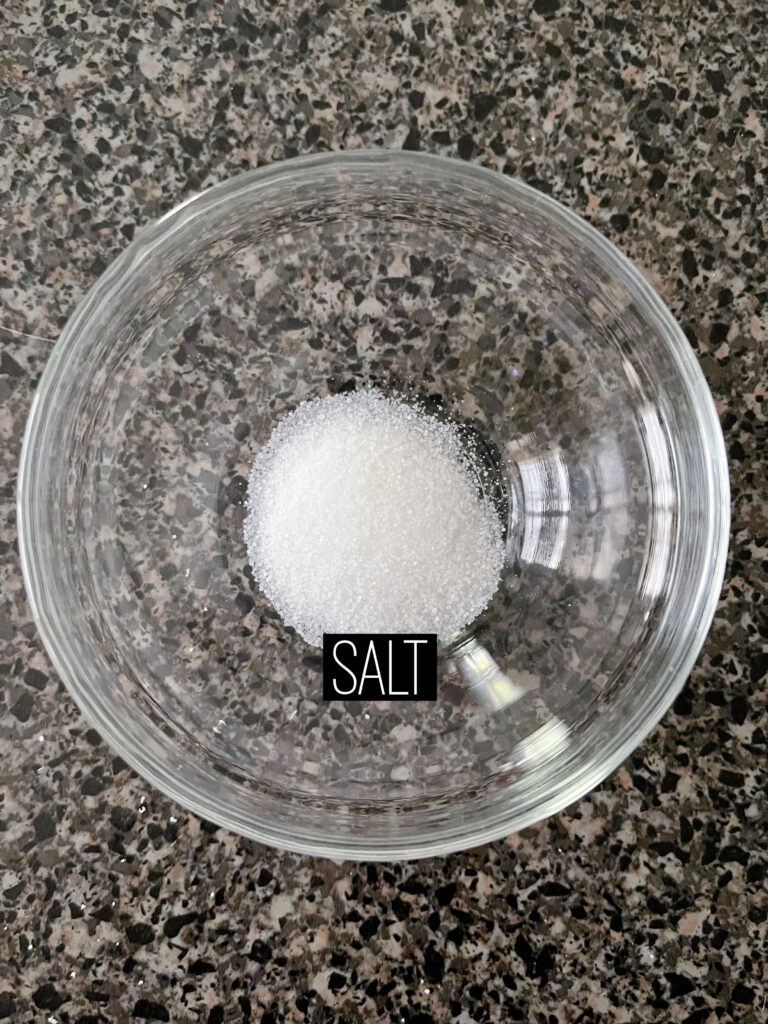 Red Pepper Flakes- I like to add a little red pepper flake for some spice and it gives the sauce a little kick. If you don't like it spicy, you can definitely leave the red pepper flakes out or add less than I used in my recipe.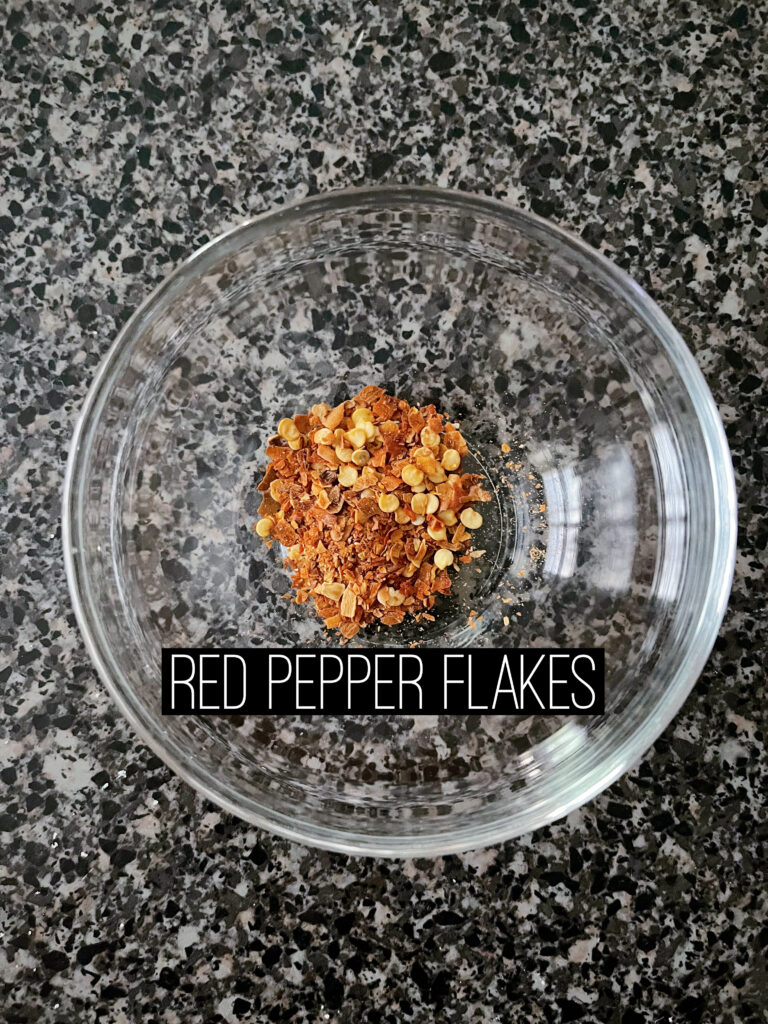 Basil- I used dried basil leaves.
Marjoram- Dried marjoram leaves were used for this recipe.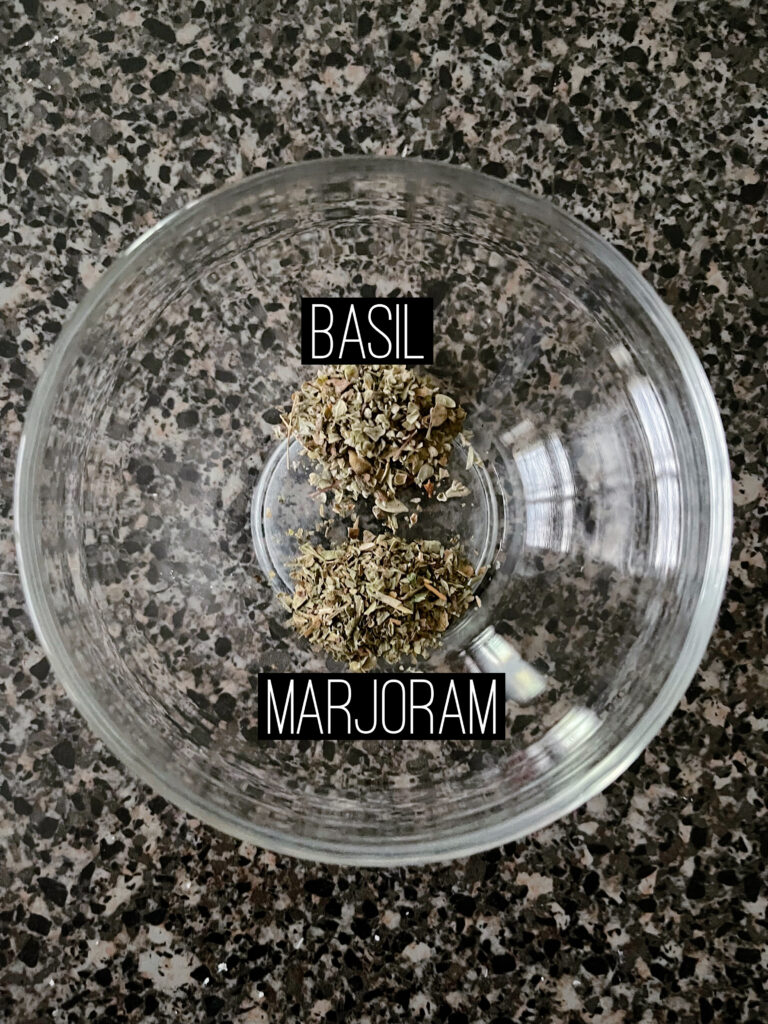 Thyme- Fresh or dried thyme will work great in the sauce.
Black Pepper- For a little spice, I like to add some fresh ground black pepper, but regular ground black pepper from a jar is good too.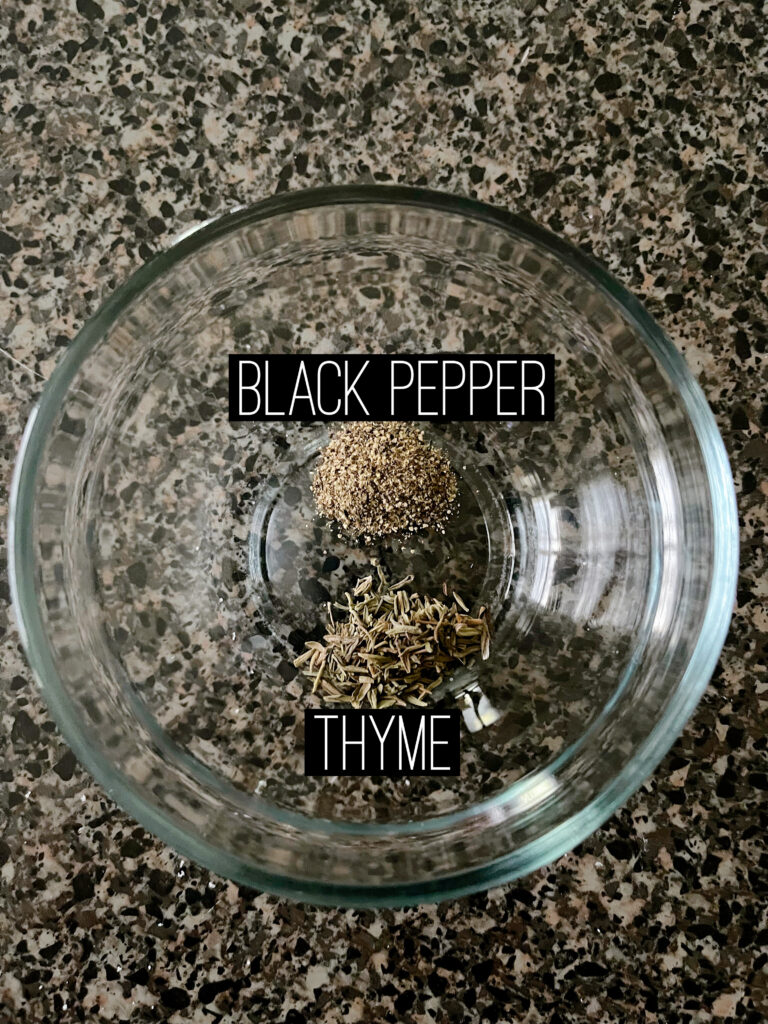 How to Make Garlic Parmesan Sauce
[1] Begin by measuring out the mayonnaise into a mixing bowl.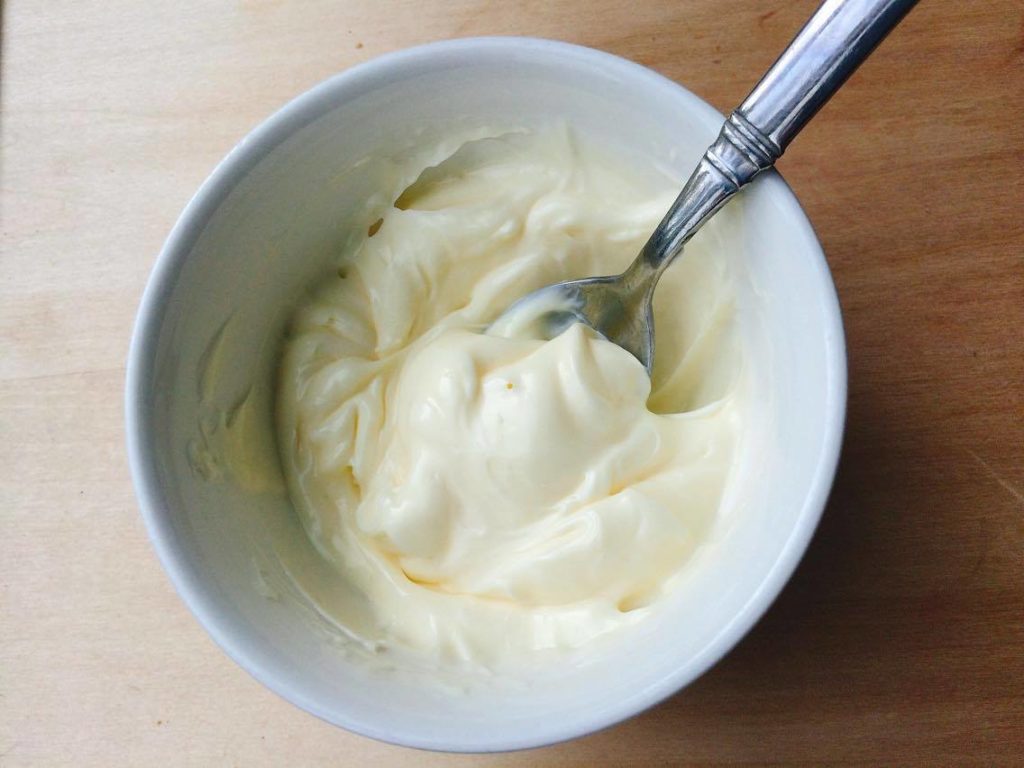 [2] Beat the mayonnaise with a whisk until it is extra creamy before adding any other ingredients.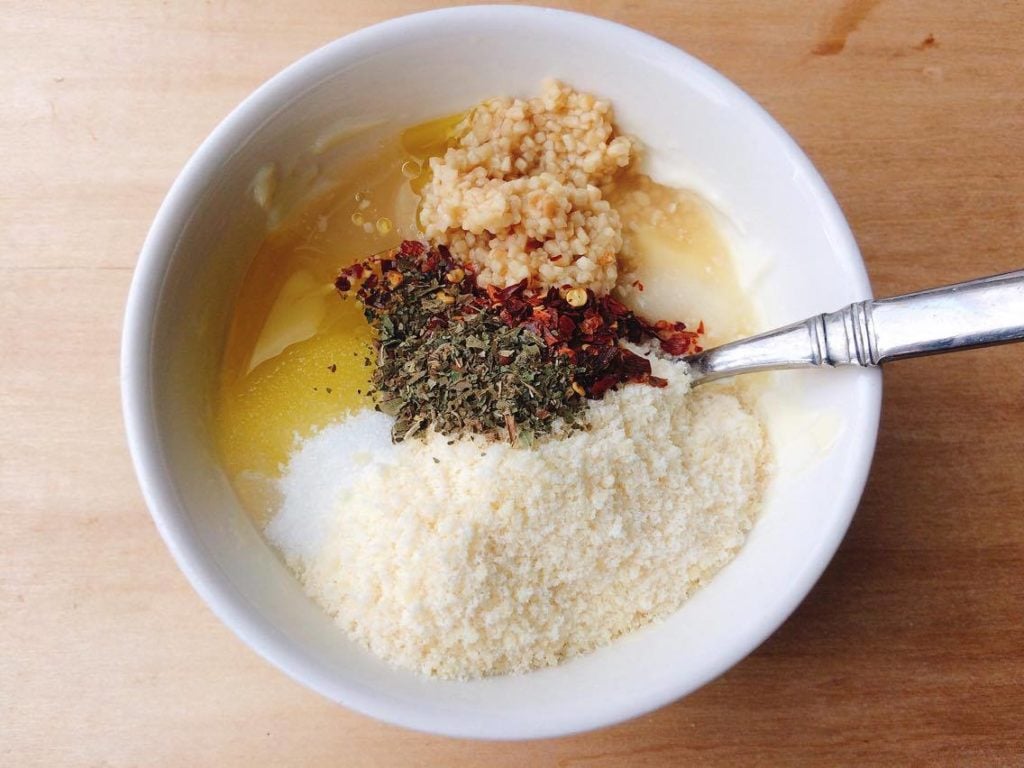 [3] Add all of the other ingredients to the small bowl and mix until combined.
Don't let the list of ingredients scare you away, most of them are things you already have in your pantry. Then you're done. That's it!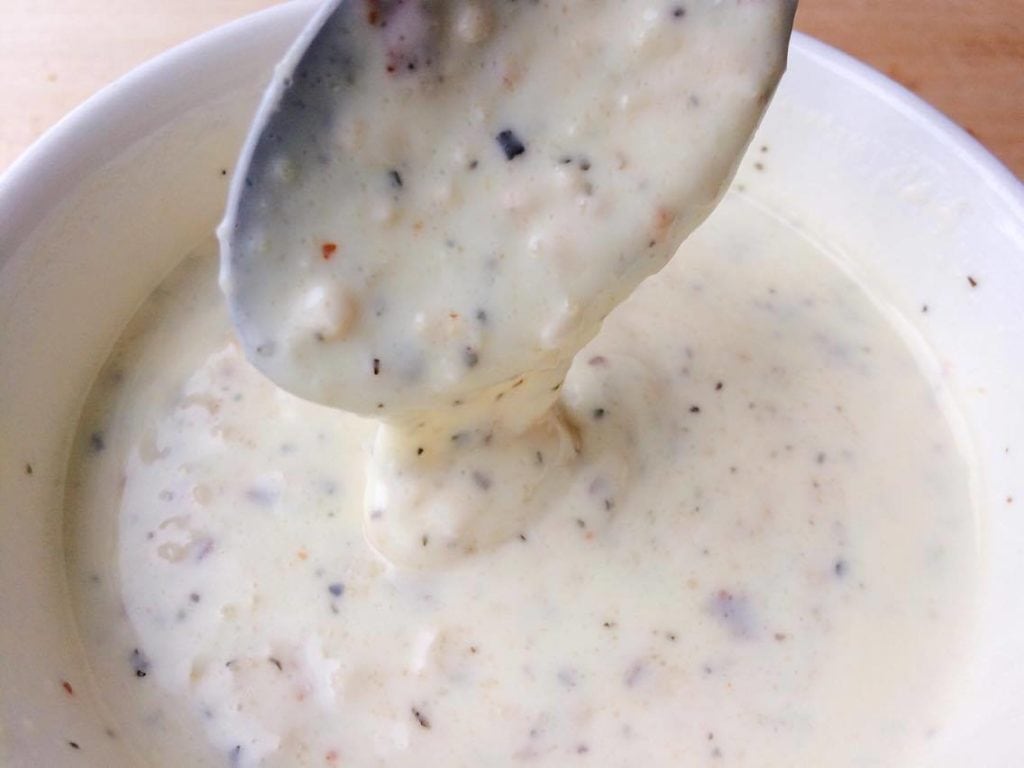 It comes together really quickly too. This delicious sauce goes great with Oven Fried KFC Popcorn Chicken and a few Honey Buttermilk Biscuits!
You could make this sauce while your chicken is baking in the oven. Give it a try!
What to Serve with Parmesan Garlic Wing Sauce
How to Store Leftover Parmesan Garlic Sauce
Store leftover sauce in an airtight container in the refrigerator for up to 3 days. If you want to store it long-term, pour the sauce into a freezer-safe container and freeze for up to 6 months.
When you are ready to use your frozen garlic parmesan dipping sauce, simply thaw it out in the refrigerator overnight.
Frequently Asked Questions
How long does it take to make this sauce?
You will need to follow the recipe closely and allow about 5-10 minutes total time to prepare this sauce.
Can I use Miracle Whip instead of mayonnaise?
Yes, you can definitely substitute mayo with miracle whip in this recipe if you prefer. The taste and texture will be slightly different though.
How spicy is this garlic parmesan sauce?
The amount of red pepper flakes used can definitely be adjusted to suit your preferred level of heat. If you don't like spicy foods, start with a smaller amount and add more as needed until you reach the desired spice level.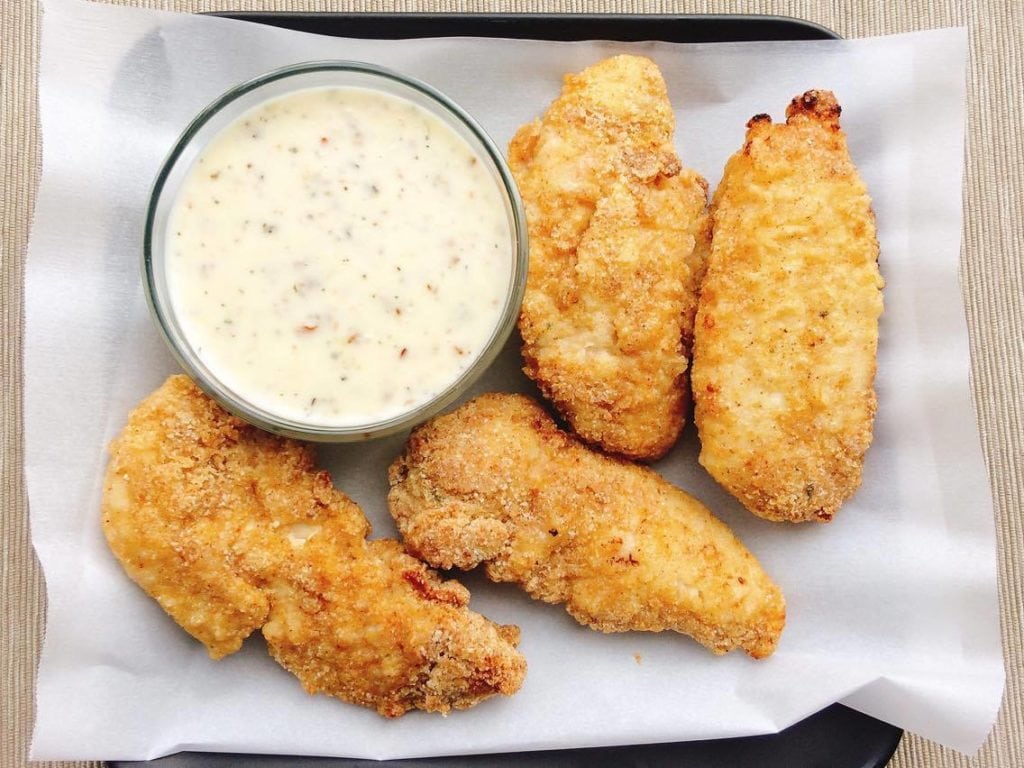 What does Buffalo Wild Wings Parmesan garlic sauce taste like?
If you have tried the Garlic Parmesan Sauce from Buffalo Wild Wings, then you will love this creamy copycat version. It is slightly spicier than their sauce and has a lot more flavor. It tastes amazing with pretty much everything!
What is Buffalo Wild Wings garlic parmesan sauce made of?
Buffalo Wild Wings Garlic Parmesan Dipping Sauce is made of mayonnaise, sugar, vinegar, lemon juice, salt, red pepper flakes, basil leaves, marjoram leaves, thyme leaves and black pepper. Any of these ingredients can be adjusted or substituted to suit your preferences.
How long does this garlic parmesan sauce last in the fridge?
This garlic parmesan dipping sauce will stay fresh in the refrigerator for up to 3 days when stored in an airtight container.
Does Buffalo Wild Wings have parmesan garlic wings?
Yes, Buffalo Wild Wings does have garlic parmesan wings. You can enjoy the Garlic Parmesan Dipping Sauce with any of their chicken wings, as well as other foods like chicken tenders or fries.
How do I make a thicker sauce?
If you want to make your garlic parmesan sauce thicker, you can add more mayonnaise or less vinegar.
More Favorite Sauces to Try:
Pin for later: