These air fryer nuggets are a quick, easy, and healthier way to enjoy everyone's favorite childhood food! Made with lean chicken breast from your local grocery store and air fried to perfection, these crispy chicken nuggets are a delicious quick dinner that the whole family will love, and they taste just like Chick-fil-a!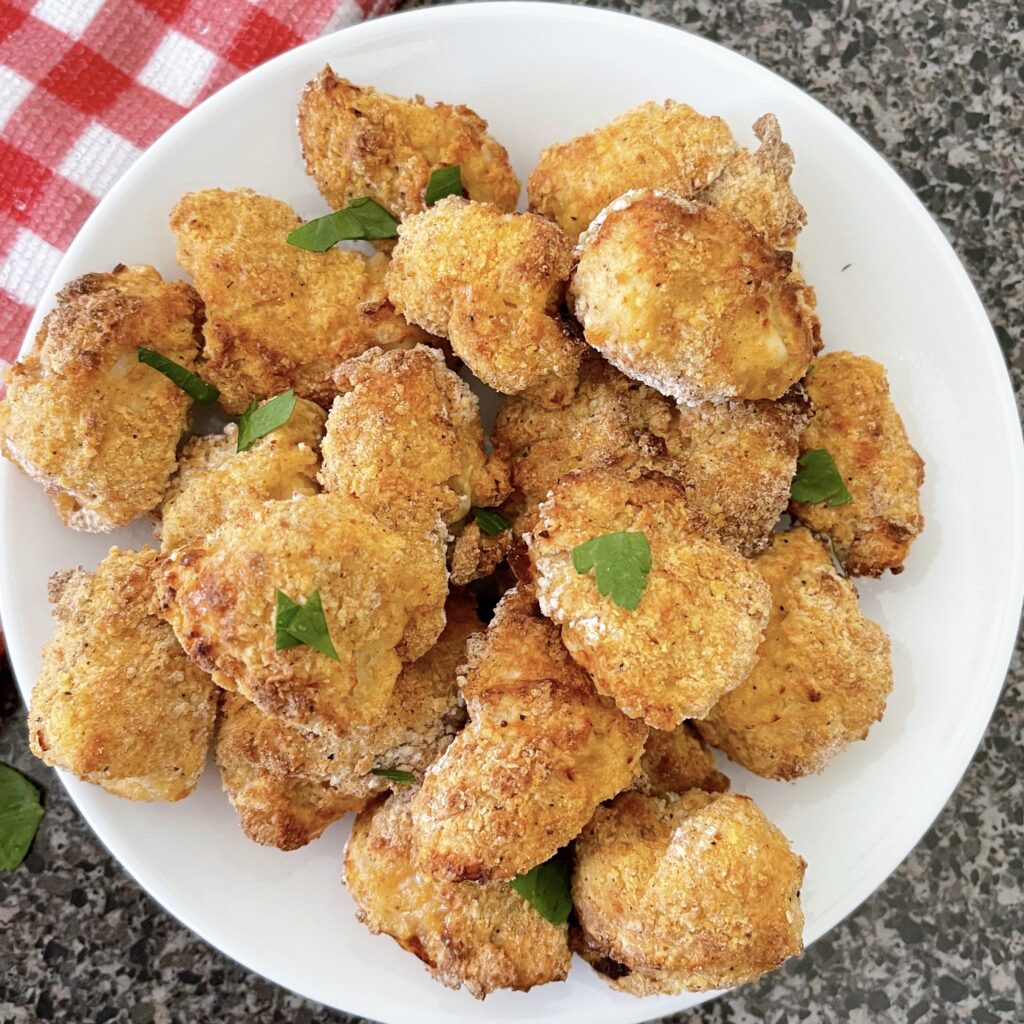 This post may contain affiliate links. When you click on these links, I get a small percentage back at no cost to you! For more information see my disclosure policy.
Below you will find tips, tricks and helpful hints for making this recipe including step by step instructions with pictures. If you would like to go directly to the recipe, scroll down to the recipe card or tap "Jump to Recipe" at the top of the page.
What you'll love about this recipe:-
This recipe is perfect for a busy weeknight! The air fryer does all the work for you, so all you have to do is enjoy your delicious homemade chicken crispy nuggets.
Can I bake them instead?
If you prefer, you can bake the chicken nuggets instead of air frying them. Just preheat your oven to 400 degrees F and bake for 15-20 minutes, or until cooked through.
How to serve?
Serve air fryer chicken nuggets with your favorite dipping sauce and a side of French fries, vegetables or salad.
Storage
Air fryer chicken nuggets can be stored in an airtight container in the fridge for up to 3 days.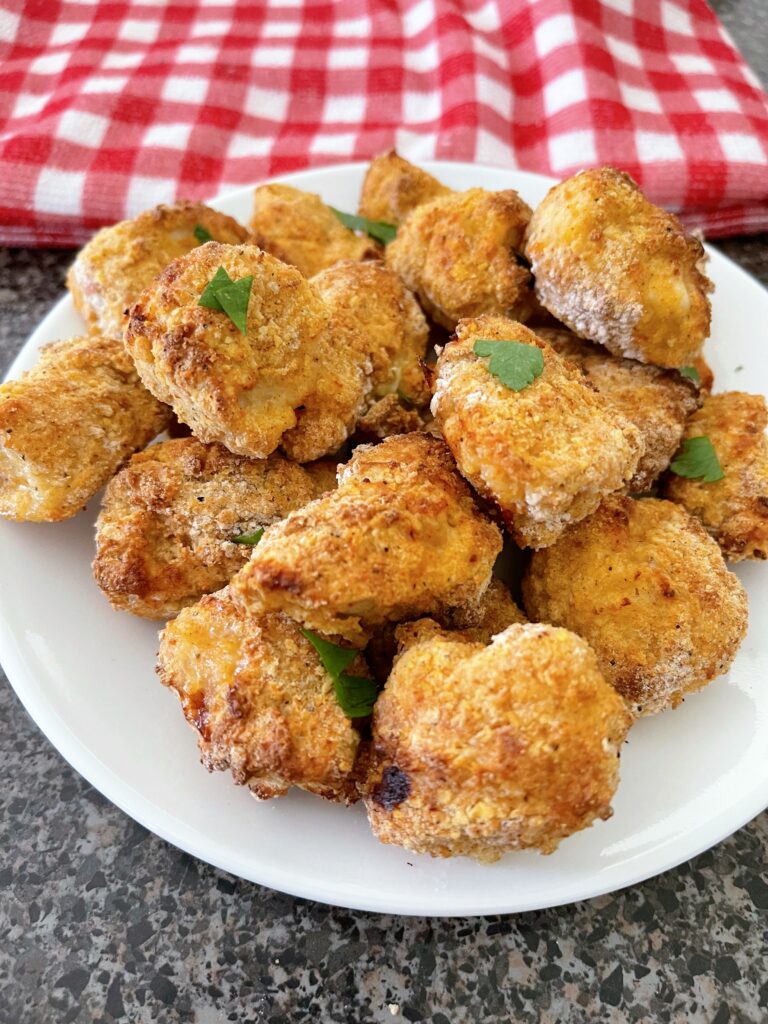 Reheating
To reheat, air fry at 400 degrees F for 5-7 minutes or until heated through. You can also reheat in the oven at 400 degrees F for 10-15 minutes.
Ingredients
*Ingredient amounts are located in the recipe card at the end of this post.
Dill Pickle Juice: Used in the marinade to flavor and tenderize the chicken nuggets.
Milk: I used 2% in the marinade and egg mixture.
Chicken: Use boneless skinless chicken breasts cut into 1-2 inch pieces.\
Eggs: Eggs are used as a binding agent for the chicken coating.
All-Purpose Flour: A staple ingredient in most breading mixtures. It helps the egg to adhere to the chicken.
Breadcrumbs: I used plain breadcrumbs, but you can use any type of breadcrumb or even crushed cereal flakes.
Powdered Sugar: This is what gives Chick-fil-a nuggets their distinct flavor. You can omit it if you'd like, but it really does make a difference.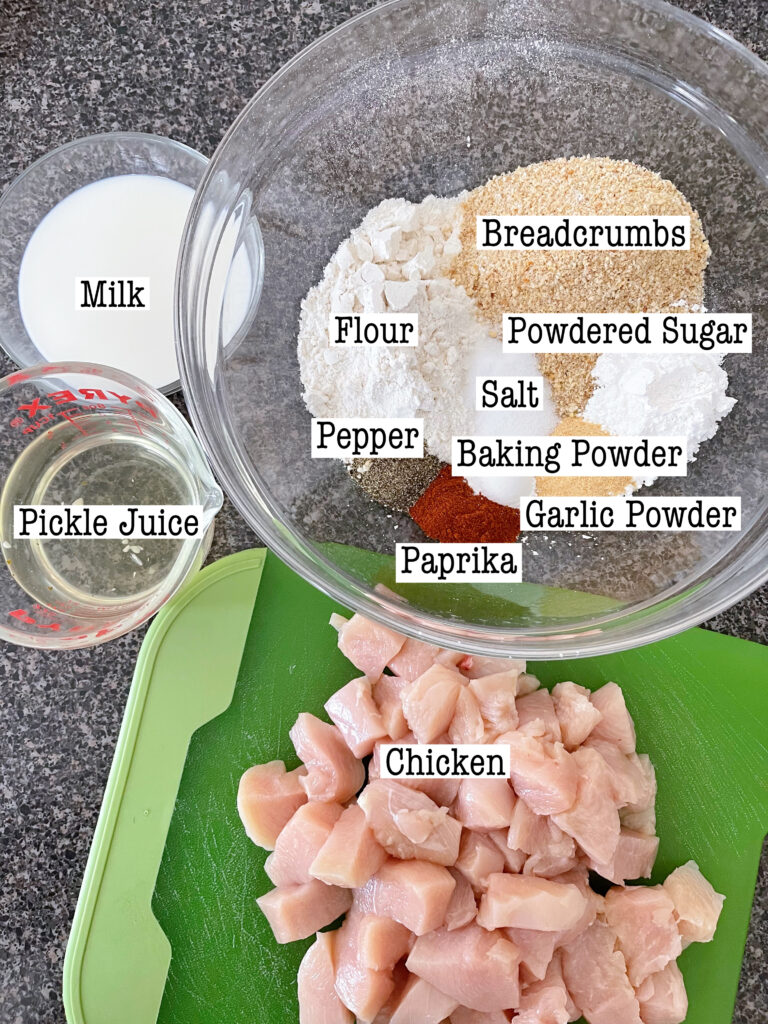 Garlic Powder: Another flavor enhancer.
Paprika: I love the flavor that paprika adds to breaded chicken, but feel free to omit if you're not a fan.
Baking Powder: This helps the flour coating to be nice and crispy.
Salt: Season to taste.
Pepper: Season to taste.
Cooking Spray: Used to coat the air fryer basket. This helps to prevent sticking and promotes even cooking.
Instructions:
[1] Place the chicken in a ziplock bag and add 1/2 cup of milk and 1 cup pickle juice. Marinate for at least 30 minutes.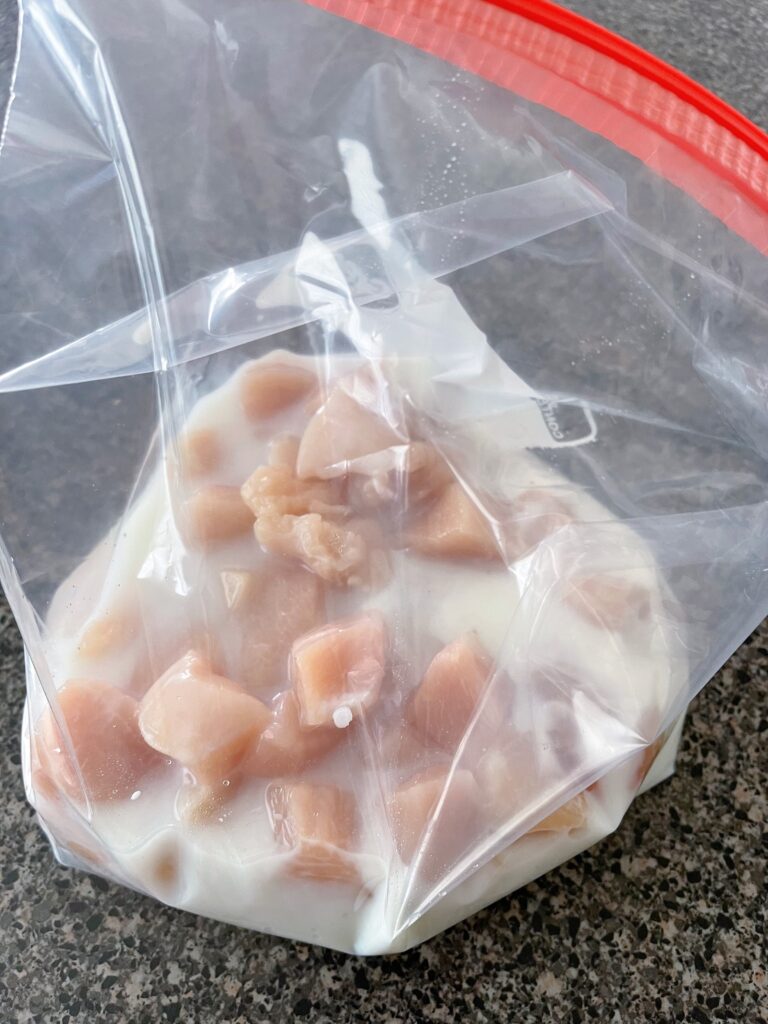 [2] In a medium bowl, combine flour, breadcrumbs, powdered sugar, garlic powder, paprika, salt and pepper. Beat the eggs and 1/4 cup of milk in separate medium bowl.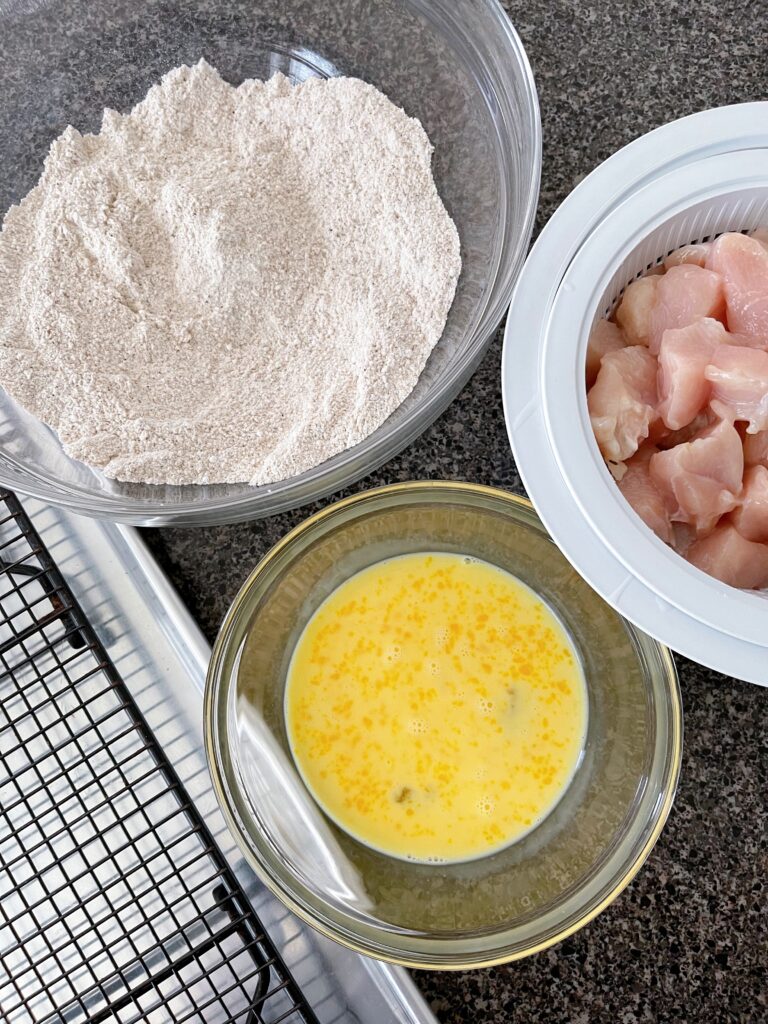 [3] Drain the chicken marinade use tongs to dip the chicken pieces in the flour mixture and coat evenly. Then dip in the egg mixture, followed by a second coating of flour.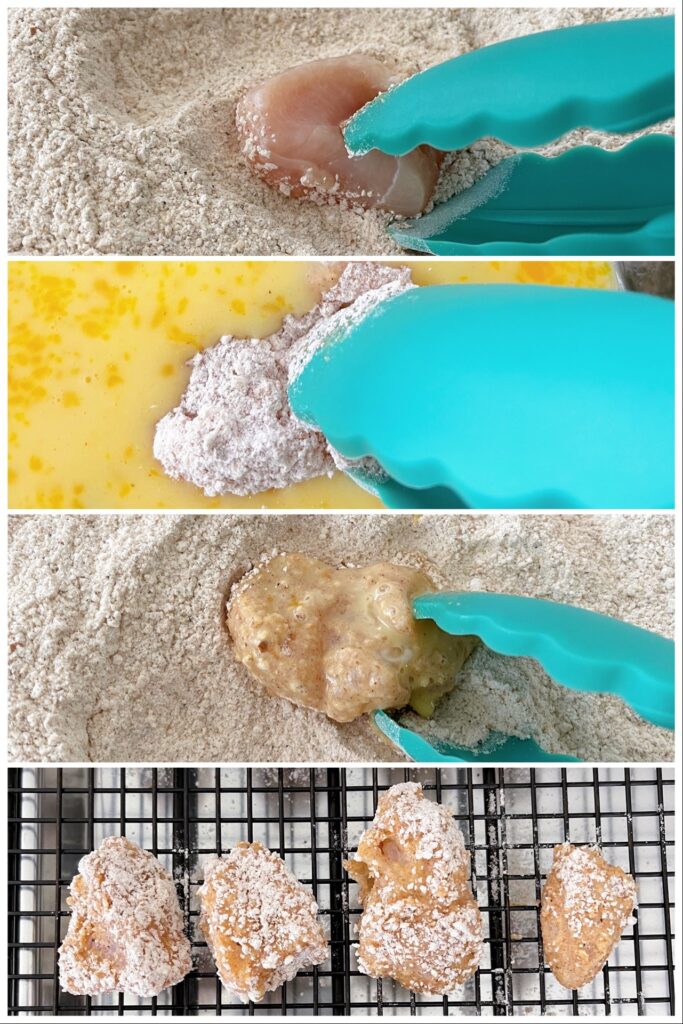 [4] Arrange the chicken nuggets in a single layer in the air fryer basket. Fry at 400 degrees for 7-8 minutes, flipping half way.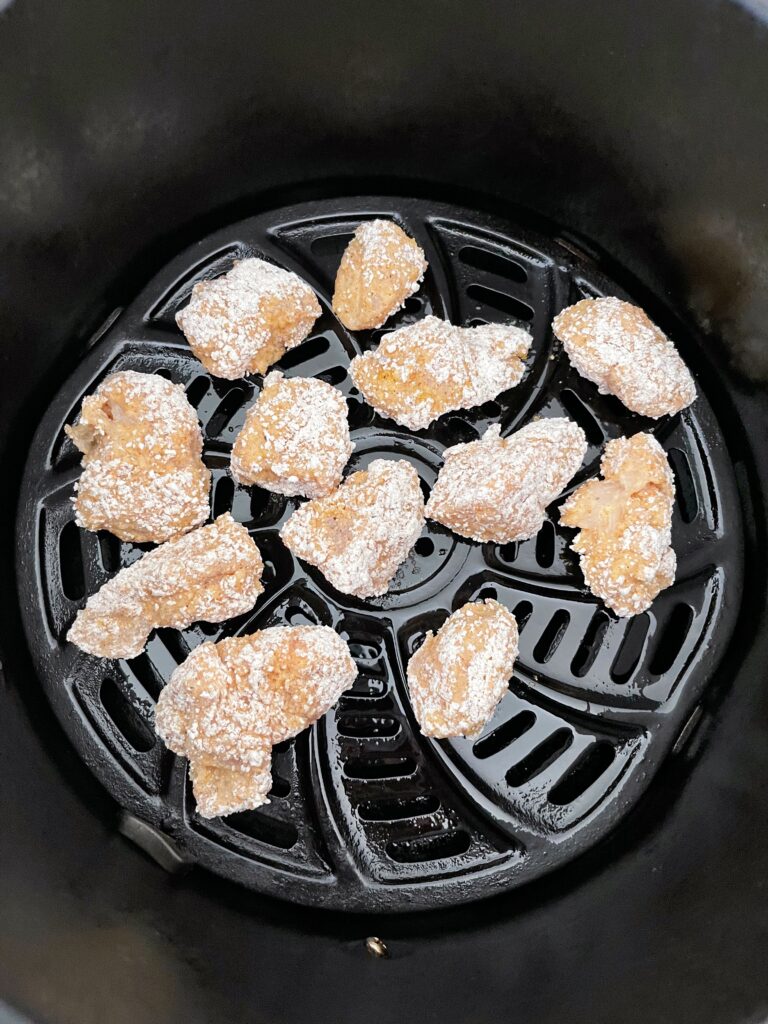 [5] Serve with your favorite dipping sauce!
Equipment:
What Sauces Go Best with Homemade Air Fryer Chicken Nuggets?
Homemade BBQ sauce
Honey mustard sauce
Buffalo sauce
Handy tip!
If you're short on time, you can use store-bought chicken nuggets. Just cook according to air fryer instructions.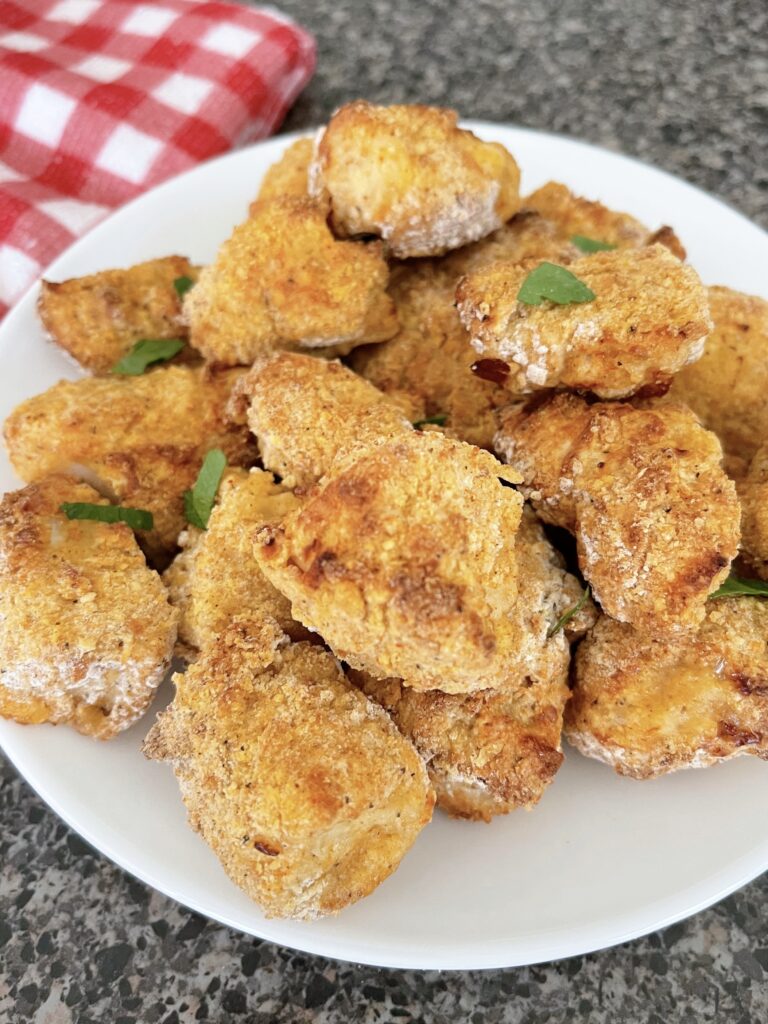 Frequently Asked Questions:
Do I have to cut the chicken into nuggets?
No, you can leave the chicken whole or cut it into whatever shape you like. Just keep in mind that cooking times may vary.
Can I use a different kind of flour?
Yes, you can use any type of flour that you like. I prefer all-purpose, but you can use whole wheat or gluten-free flour if you prefer.
Can I add other seasonings to the flour mixture?
Absolutely! Get creative and add whatever seasonings you like. Some other great options are Italian seasoning, cumin, or chili powder.
Can I make this recipe with frozen chicken?
Yes, you can use frozen chicken. Just make sure that it is fully cooked before air frying. Cooking times may vary depending on the size and type of chicken you use.
How do I know when the chicken is done?
The best way to tell if chicken is cooked through is to use a meat thermometer. Chicken should be cooked to an internal temperature of 165 degrees F.
Can I make this recipe ahead of time?
Yes, you can make the chicken nuggets ahead of time and reheat in the air fryer when you're ready to eat. Just keep in mind that they may not be as crispy.
What kinds of dipping sauces go well with homemade chicken nuggets in the air fryer?
There are so many great options! Some of our favorites are honey mustard, barbecue sauce, and ranch dressing. Experiment and find your favorite!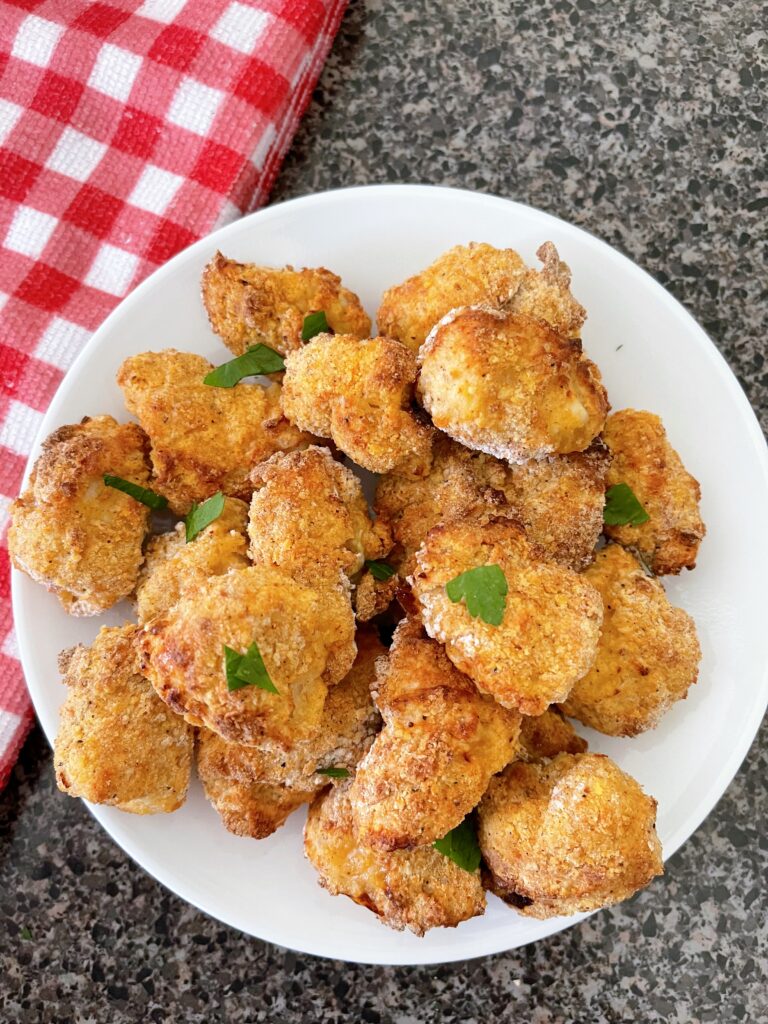 Are air fryer chicken nuggets healthy?
Yes, air fryer chicken nuggets are a healthier option than deep-fried chicken nuggets because they are cooked in less oil. They are still a treat and should be enjoyed in moderation.
Are chicken nuggets in the air fryer easy to make?
Yes, air fryer chicken nuggets are very easy to make! Just coat them in a flour mixture and air fry them until they are cooked through. You'll have a delicious and healthy dinner in no time!
How many air fryer chicken breast pieces should I cut?
This will depend on the size of your air fryer and the size of the chicken breast pieces. You should cut them into nugget-sized pieces so that they cook evenly and fit in the air fryer basket.
Can I make gluten-free chicken nuggets?
Yes, you can make gluten-free air fryer chicken nuggets by using a gluten-free flour and breadcrumbs. I prefer all-purpose, but you can use any type of gluten-free flour that you like.
How long does it take to air fry chicken nuggets?
It usually takes 10-12 minutes to air fry chicken nuggets. Cooking times may vary depending on the size of the nuggets and the air fryer.
Do these chicken nuggets reheat well?
Yes, air fryer chicken nuggets reheat very well! Just pop them back in the air fryer for a few minutes until they are heated through. They may not be as crispy as when they were first cooked, but they will still be delicious!
More Healthy and Delicious Air Fryer Chicken Recipes
Pin Here: