Get ready to tantalize your taste buds with this delicious Cafe Rio dressing recipe! Packed with the flavor of garlic, jalapeños, and cilantro, this creamy Southwestern-style dressing is easy to make at home and perfect for topping off salads, tacos, burritos, and more.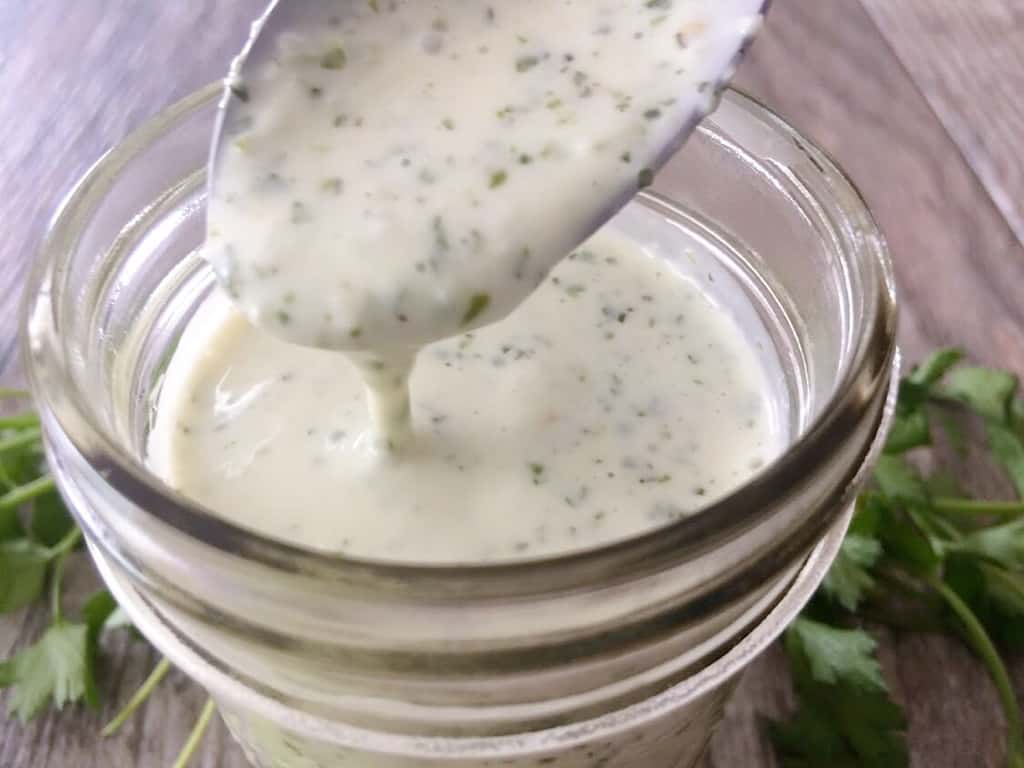 This post may contain affiliate links. When you click on these links, I get a small percentage back at no cost to you! For more information see my disclosure policy.
Below you will find tips, tricks and helpful hints for making this recipe including step by step instructions with pictures. If you would like to go directly to the recipe, scroll down to the recipe card.
If you're looking for an easy, flavorful way to upgrade your home cooking – look no further! This delicious Cafe Rio dressing recipe combines the traditional Southwestern flavors of garlic, jalapeños, and cilantro with creamy tomatillo ranch for a delightful twist on classic taco night. Ready in just 5 minutes, this will quickly become a family favorite!
What is Cafe Rio Dressing
Cafe Rio dressing is a creamy, Southwestern-style dressing that combines the traditional flavors of garlic, jalapeños, and cilantro with creamy tomatillo ranch. This dressing is the house dressing served in the popular restaurant, Café Rio all across the country as a side to the famous Cafe Rio salad and tostadas. This Cafe Rio copycat recipe tastes just like the real thing!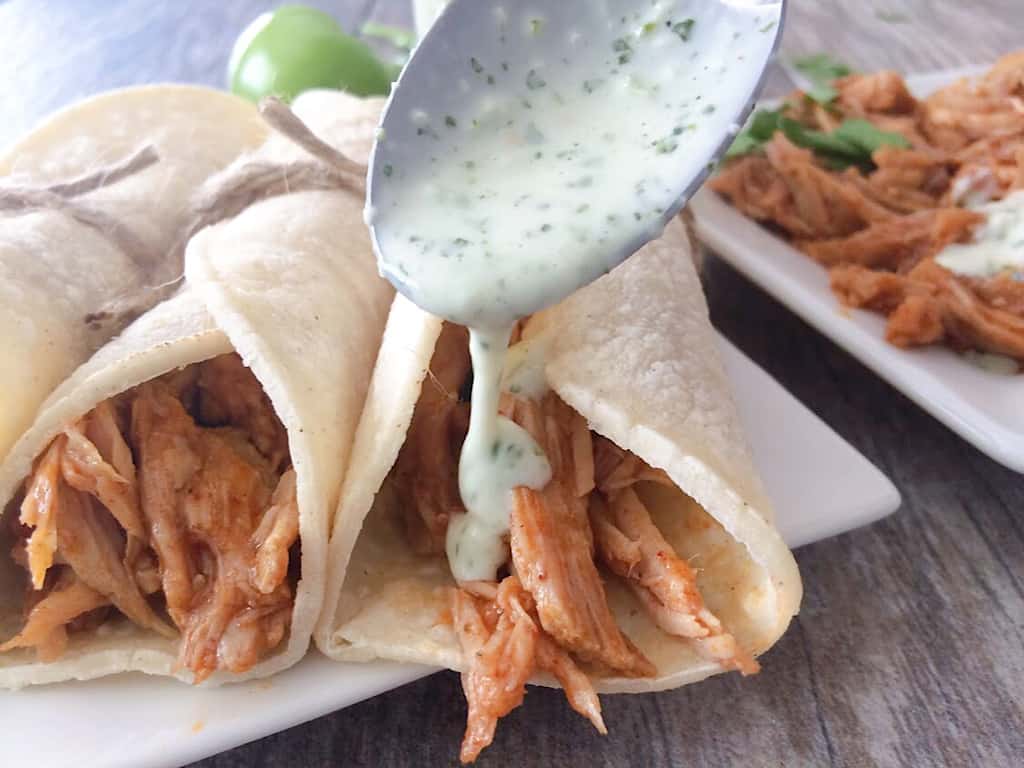 What are Tomatillos?
Tomatillos are small green tomatoes that have a paper-like husk covering them. They are native to Mexico and Central America and are an important ingredient in many Mexican dishes. Tomatillos have a tart flavor and can be used both raw or cooked in salsa verde, chili verde, and other Mexican sauces.
Where Can I Buy Tomatillos?
Tomatillos can be found in most grocery stores, either in the produce section or canned. Fresh tomatillos are typically available from late summer to early fall. If you're looking for a less-expensive option, canned tomatillos are also readily available year-round.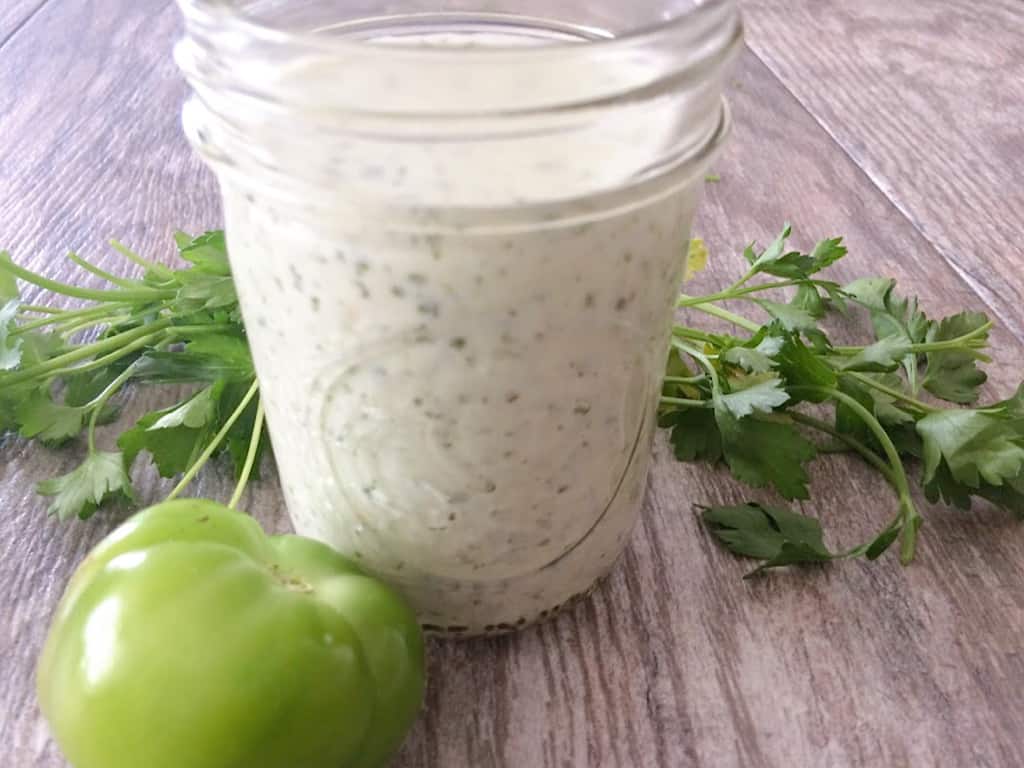 Ingredients for Cafe Rio Creamy Tomatillo Dressing
*Ingredient amounts are located in the recipe card at the end of this post.
Buttermilk Ranch Packet: I prefer to use Hidden Valley Ranch Brand for this recipe, but feel free to use your favorite. This packet can be found on the salad dressing and condiment aisle at most grocery stores.
Buttermilk: Buttermilk gives this dressing a rich and tangy taste. Greek Yogurt can be substituted plus the addition of milk to thin the dressing.
Tomatillos: As mentioned above, you can purchase fresh or canned tomatillos for this recipe.
Garlic: Fresh garlic is best for this dressing, but you can also use pre-minced garlic or garlic powder in a pinch.
Jalapeños: Fresh jalapeños are preferred provide the best flavor for this recipe, but you can substitute canned if needed.
Cilantro: Fresh cilantro is best for this recipe, but dried cilantro works as well. You will need 1/2 bunch but can use the other half to make your own cilantro lime rice.
Lime Juice: A squeeze of fresh lime juice adds a nice citrus flavor to the dressing.
Salt and Pepper: Just a pinch of each will bring out the natural flavors of the other ingredients.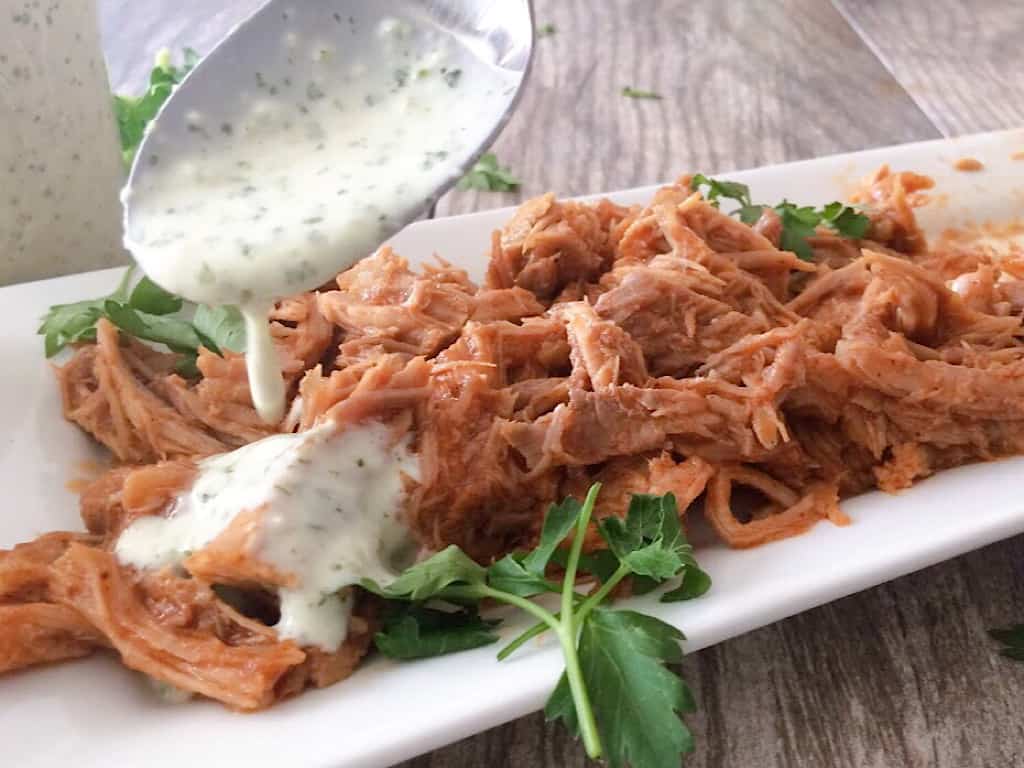 Helpful Kitchen Tools:
Cafe Rio Dressing Recipe
[1] Remove the husks from the tomatillos and cut them into fourths. Add to a blender or food processor.
[2] Dice the jalapeño and remove the seeds. Place in the blender or food processor.
[3] Next, measure the buttermilk and add it to the blender/food processor. If you happen to be out of buttermilk, a good substitute is to add 1 tablespoon of white vinegar or lemon juice to 1 cup of milk. I have done this many times and it works like a champ!
[4] Add the cilantro, Hidden Valley Ranch Dressing Packet, mayonnaise, garlic, and lime juice to the blender. Blend all of the ingredients together until completely combined.
[5] Store the dressing in the refrigerator for at least 30 minutes to allow the flavors to come together. Shake before serving.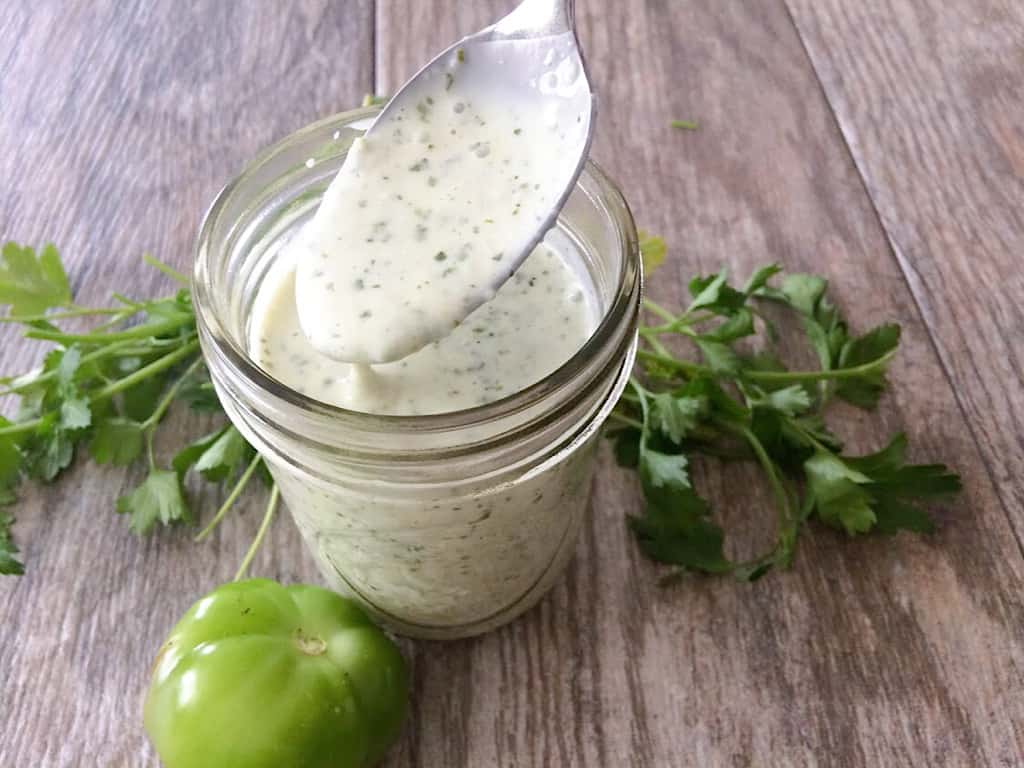 What to Serve with Cafe Rio Dressing
Taco Salad
Tostadas
Tacos
Quesadillas
Black Beans
Chicken Salad
Sweet Pork Salad
Frequently Asked Questions
How long does Cafe Rio Dressing last?
Cafe Rio dressing should be stored in the refrigerator in an airtight container and will keep for up to one week.
Can I freeze Cafe Rio Dressing?
Yes, you can freeze this dressing. Simply place it in a freezer-safe container or bag and store it in the freezer for up to 3 months.
What other ingredients can I add to Cafe Rio Dressing?
You can customize this dressing by adding different herbs and spices. Some ideas include chili powder, smoked paprika, cumin, oregano, coriander, onion powder, or garlic powder.
Final Thoughts
This version of Cafe Rio's Creamy Tomatillo Ranch Dressing is fabulous on a salad or any Mexican food dish. I hope that you love it as much as I do! Make sure to pin this recipe so you'll have it when your Cafe Rio craving hits!
Don't forget to make some Fully Loaded Chunky Guacamole with baked tortilla chips as an appetizer followed by Churro Bites for dessert!
Pin for later: