An amazingly easy homemade copycat recipe of Cafe Rio Creamy Tomatillo Ranch Dressing. Throw all of the ingredients in a blender and enjoy you dressing over salad or any other Mexican dish!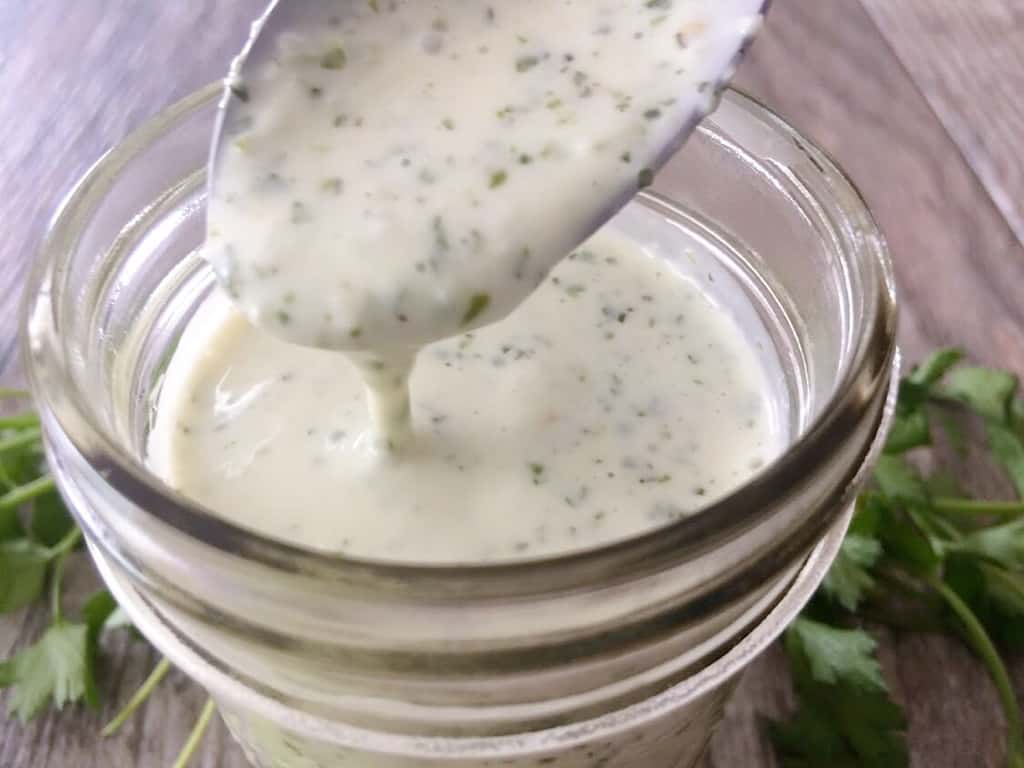 This post may contain affiliate links. When you click on these links, I get a small percentage back at no cost to you! For more information see my disclosure policy.
Below you will find tips, tricks and helpful hints for making this recipe including step by step instructions with pictures. If you would like to go directly to the recipe, scroll down to the recipe card.
When my husband introduced me to Cafe Rio 15 years ago, I was hooked! We began to go there at least once a week.
My favorite item on their menu was the smothered Sweet Pork Barbacoa burrito. I loved it so much, I refused to try anything else.
One day, I finally decided that since the burrito was so delicious, they must have other delicious items on their menu as well.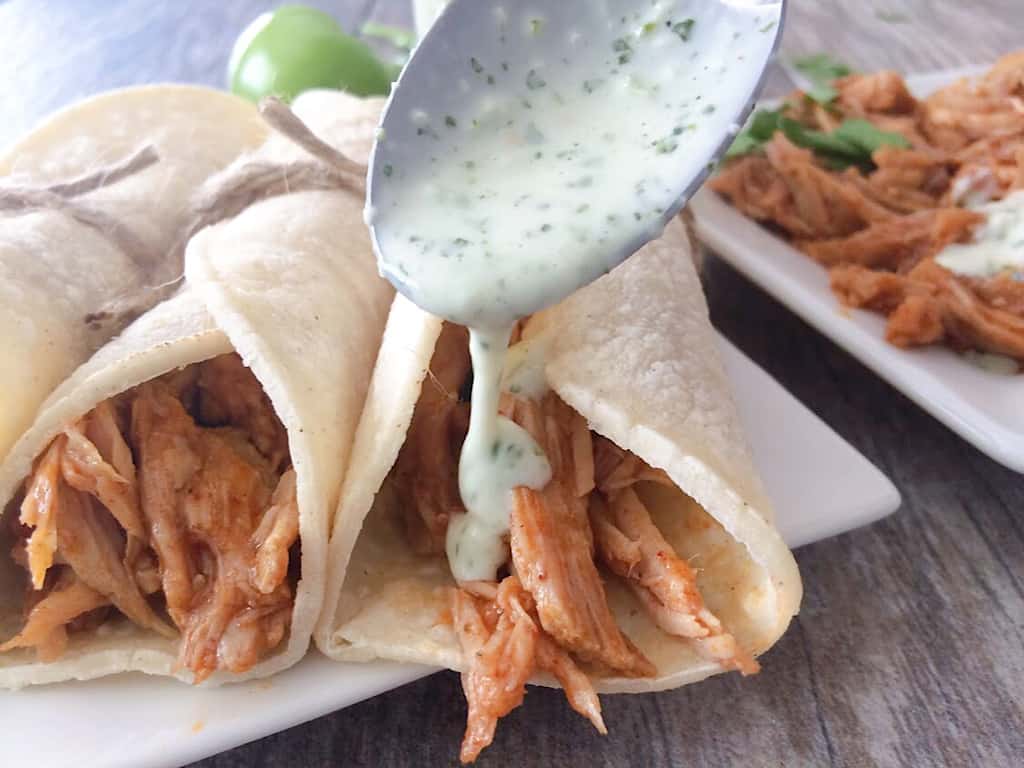 So I tried the Sweet Pork Salad. Game Changer. The salad has most of the same ingredients as the burrito, just presented in a different way.
The thing that sent the salad over the top was the Creamy Tomatillo Ranch Dressing.
Cafe Rio Dressing
Holy cow! Once you taste this dressing, you will want to put it on EVERYTHING. Sometimes I make this dressing and do just that. It's so amazing!
Since discovering Cafe Rio Creamy Tomatillo Ranch Dressing, I have ventured out and tried other Cafe Rio menu items, but I always order a container of dressing on the side.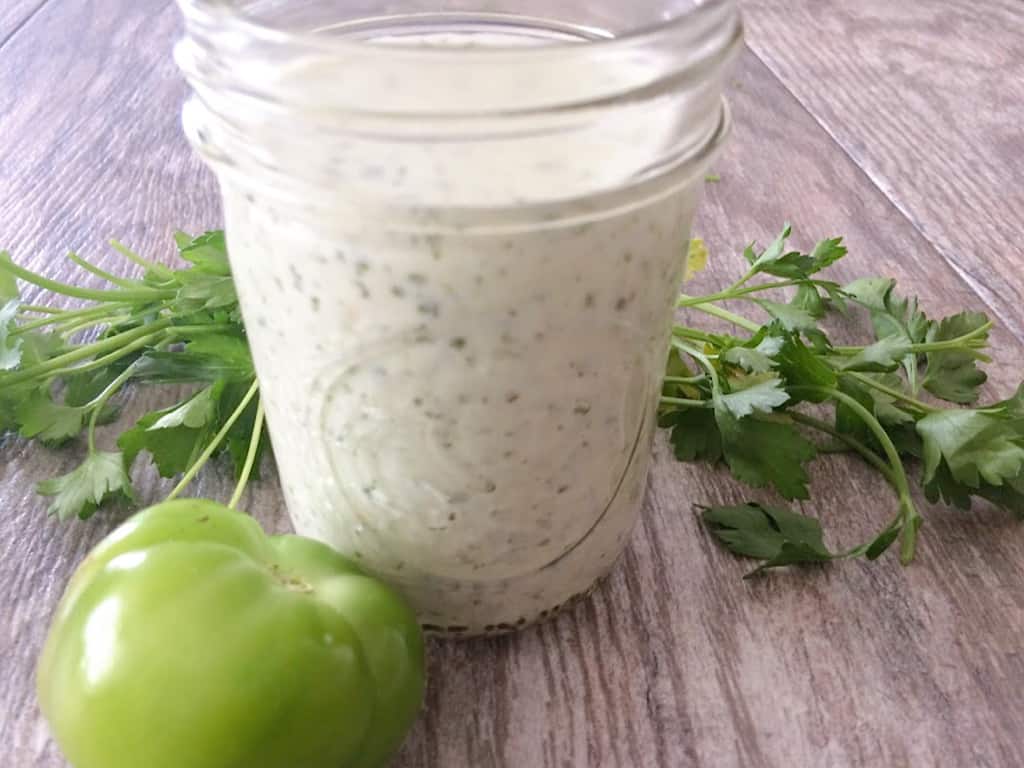 It takes tacos, quesadillas, enchiladas, burritos, salads, Mexican pizzas, you name it, to the next level!
And this copycat version, couldn't be easier to make!
Ingredients for Creamy Tomatillo Ranch Dressing
There are only a few ingredients needed to make Cafe Rio Creamy Tomatillo Ranch dressing and they can most likely be found at your local grocery store.
Tomatillos might be the only tricky ingredient, but I have never had a problem finding them.
Here is what you'll need:
1 Packet Buttermilk Ranch, Hidden Valley

1 Cup Buttermilk

1 Cup Mayonnaise

2 Tomatillos, husks removed

1/2 Bunch Cilantro

1 Clove Garlic, minced

1 Lime, juiced

1 Jalapeno, seeded and diced
Kitchen Gadgets you'll need: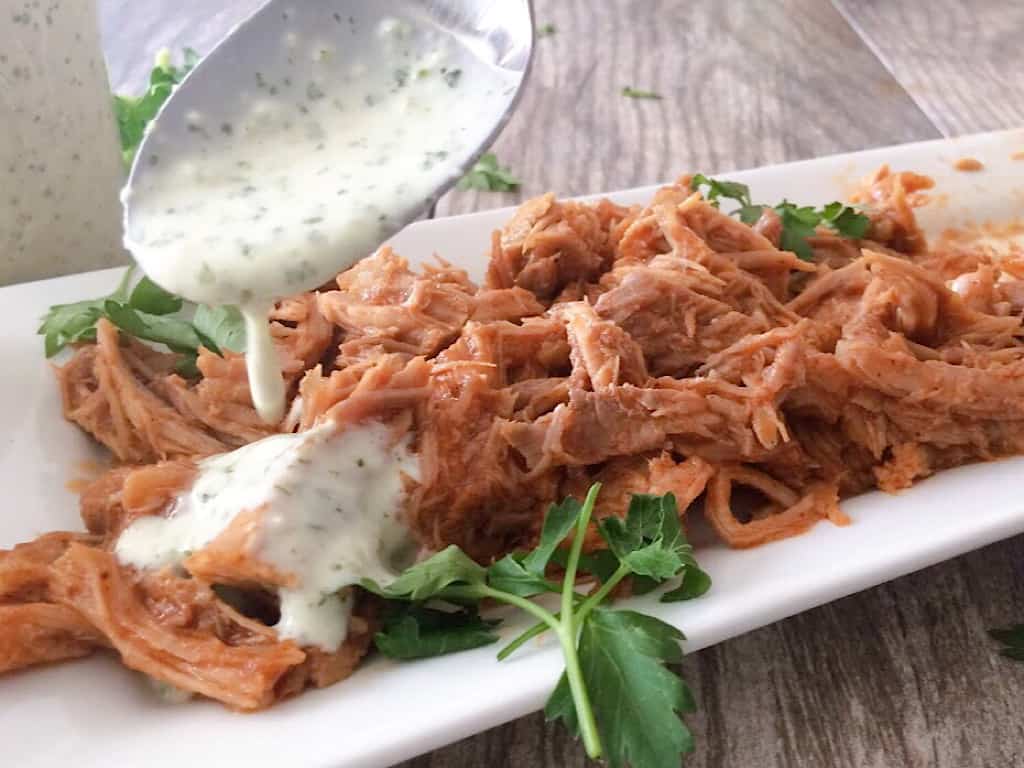 How to Make Creamy Tomatillo Ranch Dressing
The first thing you'll need to do is remove the husks from the tomatillos. Before making this dressing, I had never seen a tomatillo before. It basically looks like a small green tomato, covered by a piece of dried lettuce. When you remove the husks, the tomatillo will actually be a little sticky. I was definitely surprised by that!
Dice the jalapeño and remove the seeds. Place in the blender or food processor.
Next, measure the buttermilk and add it to the blender/food processor. If you happen to be out of buttermilk, a good substitute is to add 1 tablespoon of white vinegar or lemon juice to 1 cup of milk. I have done this many times and it works like a champ!
Store the dressing in the refrigerator for at least 30 minutes to allow the flavors to come together. Shake before serving.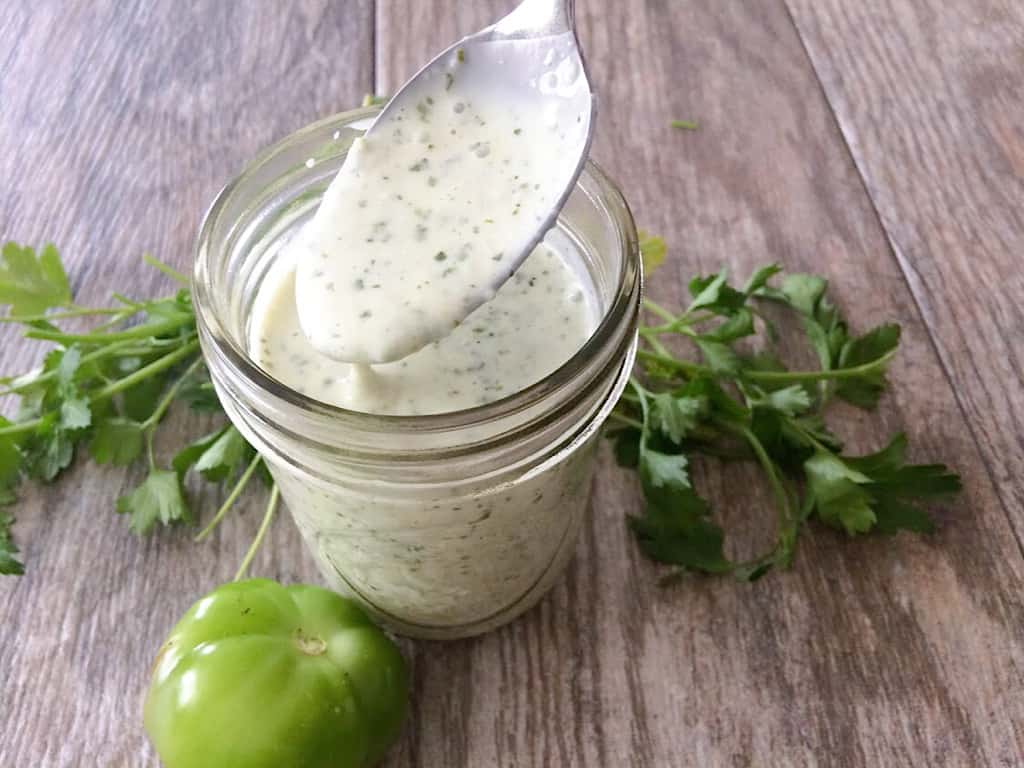 This Creamy Tomatillo Ranch Dressing is fabulous on a salad or any Mexican food dish. I hope that you love it as much as I do!
Make sure to pin this recipe so you'll have it when your Cafe Rio craving hits!
Don't forget to make some Fully Loaded Chunky Guacamole with tortilla chips as an appetizer followed by Churro Bites for dessert!
Follow me on Instagram for more yummy recipes. Tag @mommymouseclubhouse when you make this recipe, I want to see your creation!
Pin for later: