Looking to add a burst of flavor to your spread this holiday season? Look no further than this easy and delicious recipe for fresh cranberry sauce with orange juice. With just three simple ingredients, you can create a tangy and vibrant sauce that will elevate any dish. Whether you're serving it with turkey or spreading it on toast, this homemade cranberry sauce is sure to impress.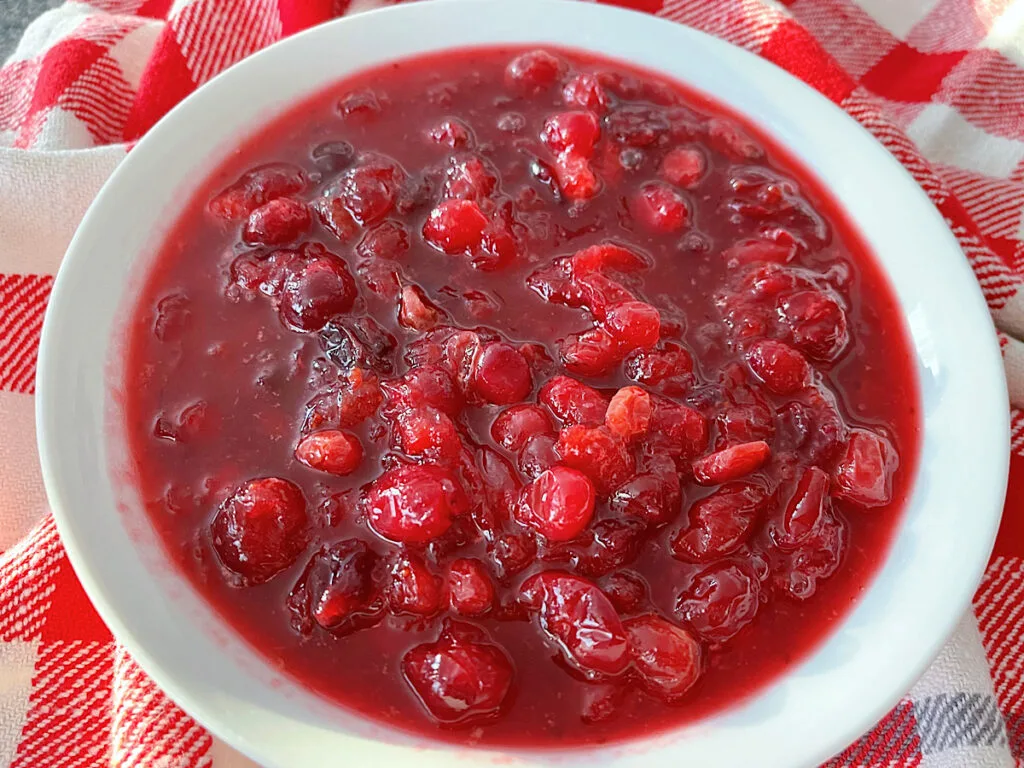 This post may contain affiliate links. When you click on these links, I get a small percentage back at no cost to you! For more information see my disclosure policy.
Below you will find tips, tricks and helpful hints for making this recipe including step by step instructions with pictures. If you would like to go directly to the recipe, scroll down to the recipe card or tap "Jump to Recipe" at the top of the page.
Why You'll Love This Easy Cranberry Sauce Recipe
Not only is this orange cranberry sauce incredibly easy to make, but it also tastes much better than the store-bought alternatives. Plus, by using fresh cranberries and real orange juice, you're getting that fresh taste from using high-quality ingredients.
Making homemade cranberry sauce can seem intimidating, but with this recipe, you'll see how simple and rewarding it can be. Plus, you can customize the amount of sugar and orange juice to your liking, giving you control over the sweetness and tanginess of the sauce. This recipe is perfect for your Thanksgiving table or Christmas dinner!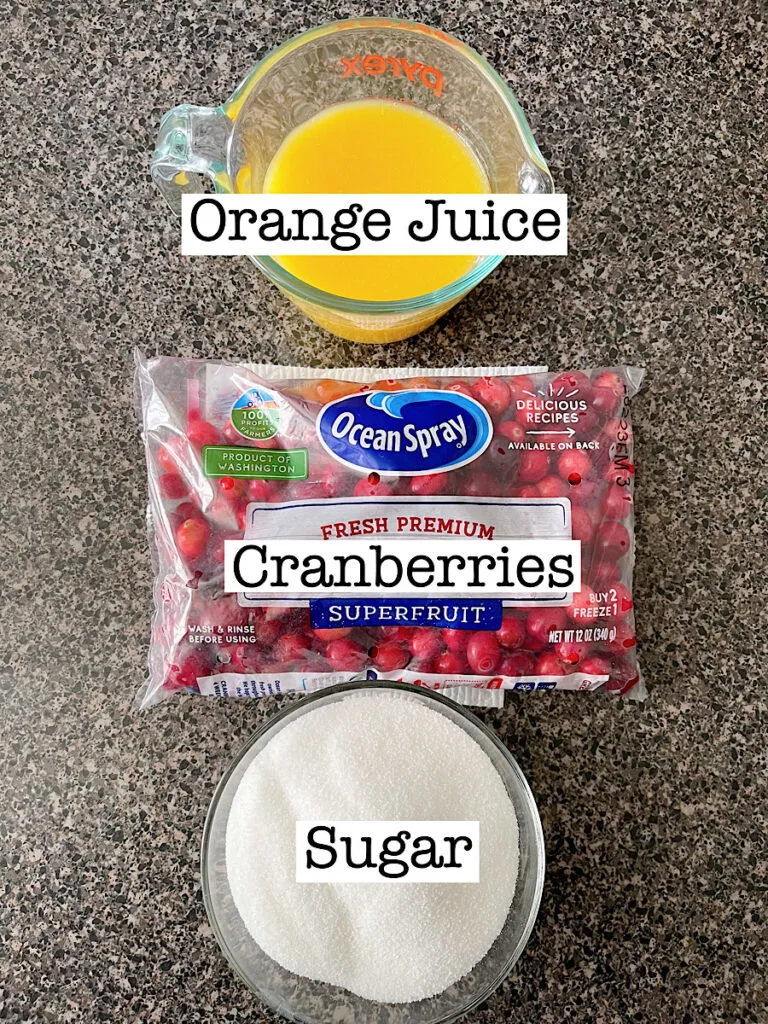 Fresh Cranberry Sauce Ingredients
*Ingredient amounts are located in the recipe card at the end of this post.
Fresh Cranberries: Cranberries are readily available throughout November at most grocery stores and are generally sold in 12 ounce bags.
Sugar: Use granulated white sugar for best results. This is used to sweeten the sauce and balance out the tart flavor of the sauce. Feel free to adjust the amount according to your taste.
Orange Juice: Fresh orange juice is key to this recipe. It adds a burst of citrus flavor and balances out the tartness of the cranberries. You will need one cup of orange juice. Feel free to top with a little orange zest if you want.
How to Make Homemade Cranberry Sauce
[Step 1] Add the sugar and orange juice to a medium saucepan and cook over medium heat until the sugar is dissolved.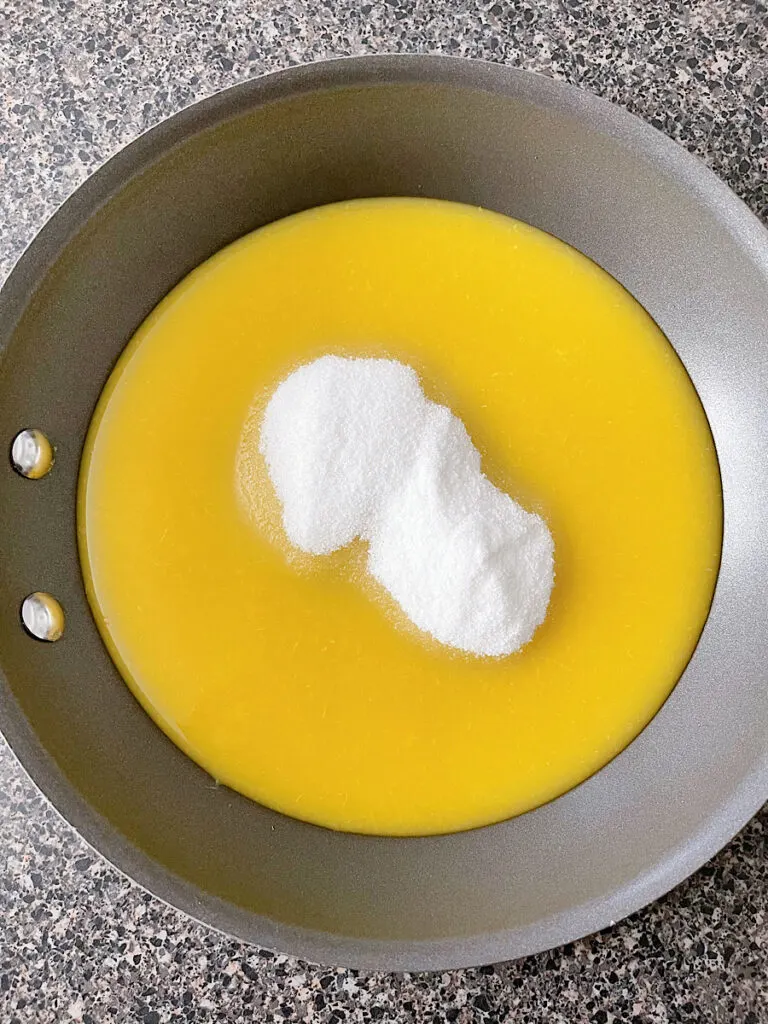 [Step 2] Pour in the bag of cranberries and continue to cook for about 10 minutes until the cranberries begin to pop.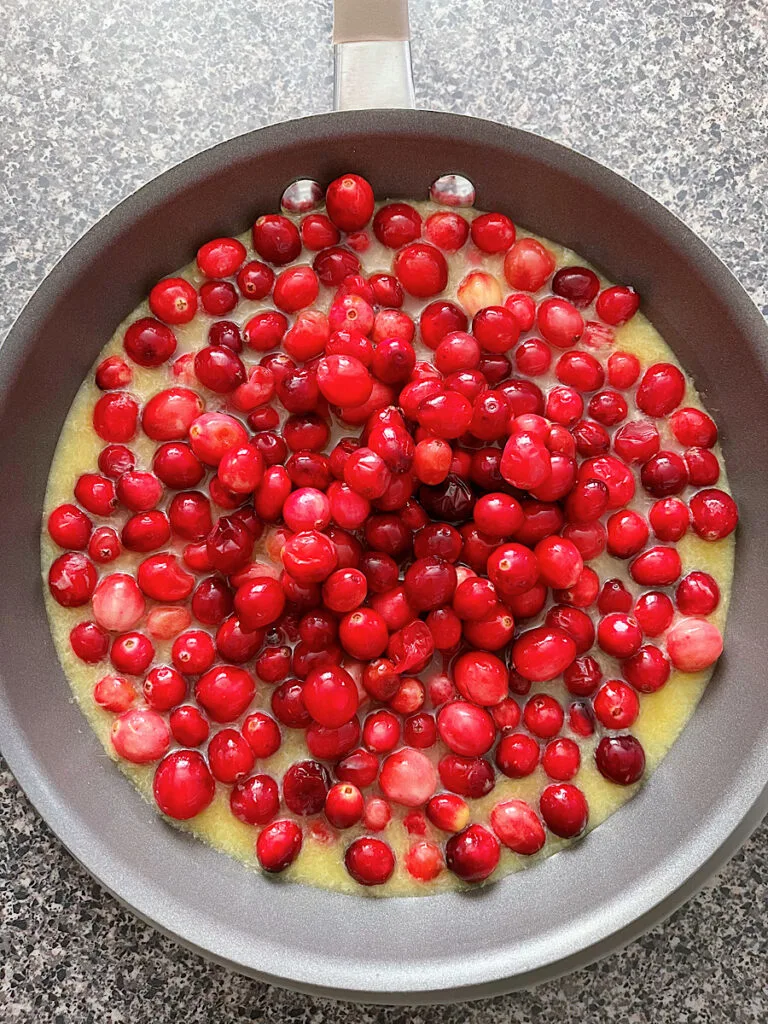 [Step 3] Remove the sauce from the heat and allow it too cool to room temperature, before transferring to an airtight container and placing in the refrigerator. The sauce will thicken as it cools.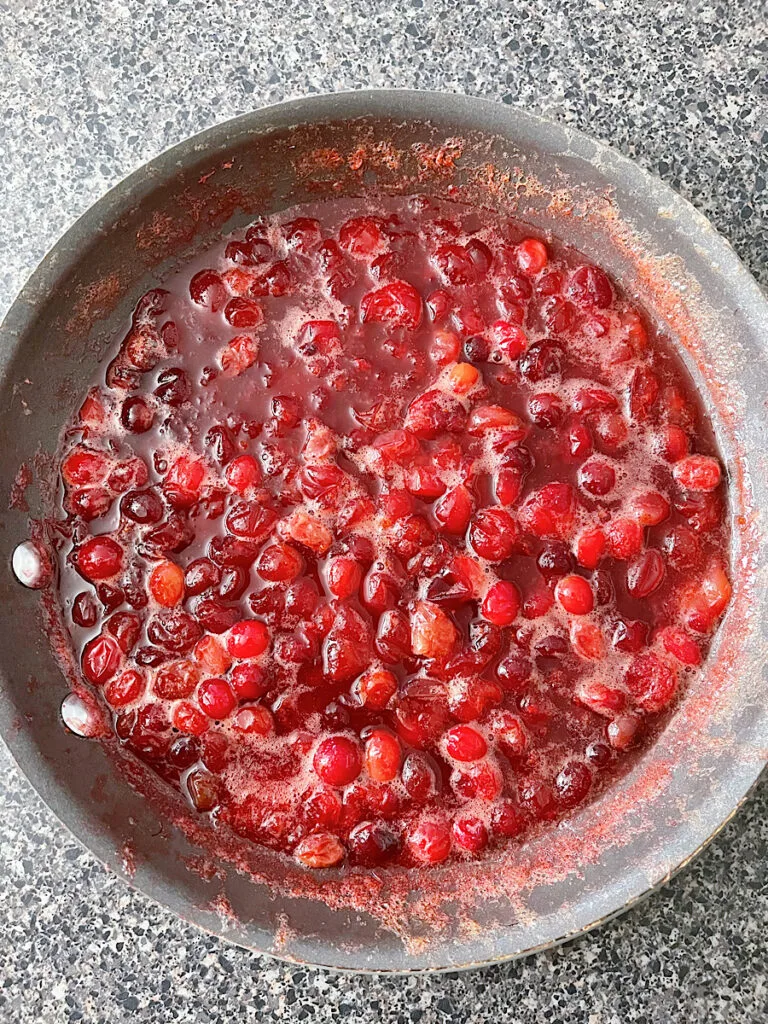 Helpful Kitchen Tools
How to Store Cranberry Sauce
Homemade cranberry sauce can be stored in an airtight container in the refrigerator for up to one week. If you have any leftovers, it can also be frozen for up to one month.
Ways to Use Leftover Cranberry Sauce
If you have leftover fresh cranberry sauce from your Thanksgiving dinner, there are so many ways to incorporate this delicious homemade cranberry sauce into your meals. Here are just a few ideas:
Spread it on toast or muffins for a tasty breakfast treat.
Use it as a topping for ice cream or yogurt.
Add it to leftover turkey sandwiches or wraps for a flavorful twist.
Mix it into oatmeal or overnight oats for added sweetness and texture.
Use it as a glaze for roasted meat, such as chicken or pork.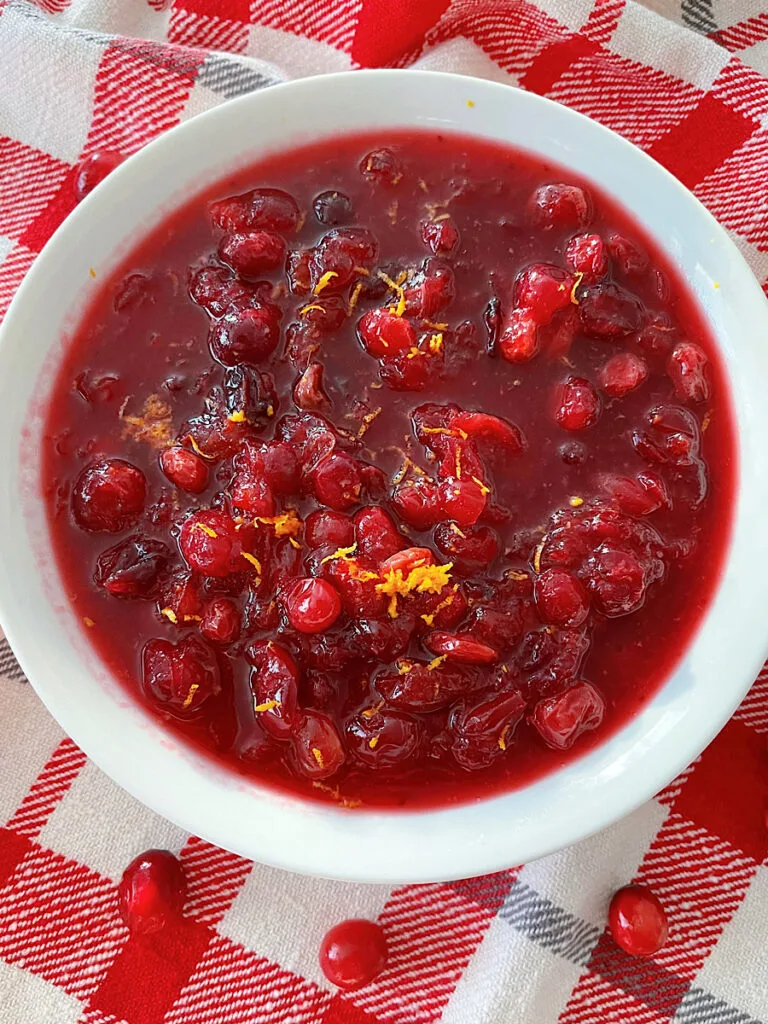 Frequently Asked Questions
Can I use frozen cranberries instead of fresh?
Yes, you can substitute frozen cranberries for fresh in this recipe. Just be sure to thaw them before cooking.
Can I add other ingredients to the sauce?
Absolutely! Feel free to get creative and add in spices like cinnamon or ginger, or even chopped nuts for crunch.
How long does homemade cranberry sauce last?
Fresh cranberry sauce will keep in the refrigerator for up to one week, and in the freezer for up to one month.
Final Thoughts
Homemade fresh cranberry sauce with orange juice is a delicious and versatile addition to any holiday table spread. With just three simple ingredients and minimal prep time, you can elevate your dishes with this tangy and flavorful easy recipe for classic cranberry sauce.
So why buy store-bought canned stuff when you can make it yourself? Enjoy the fresh taste and added zing of this homemade cranberry sauce. Happy Thanksgiving!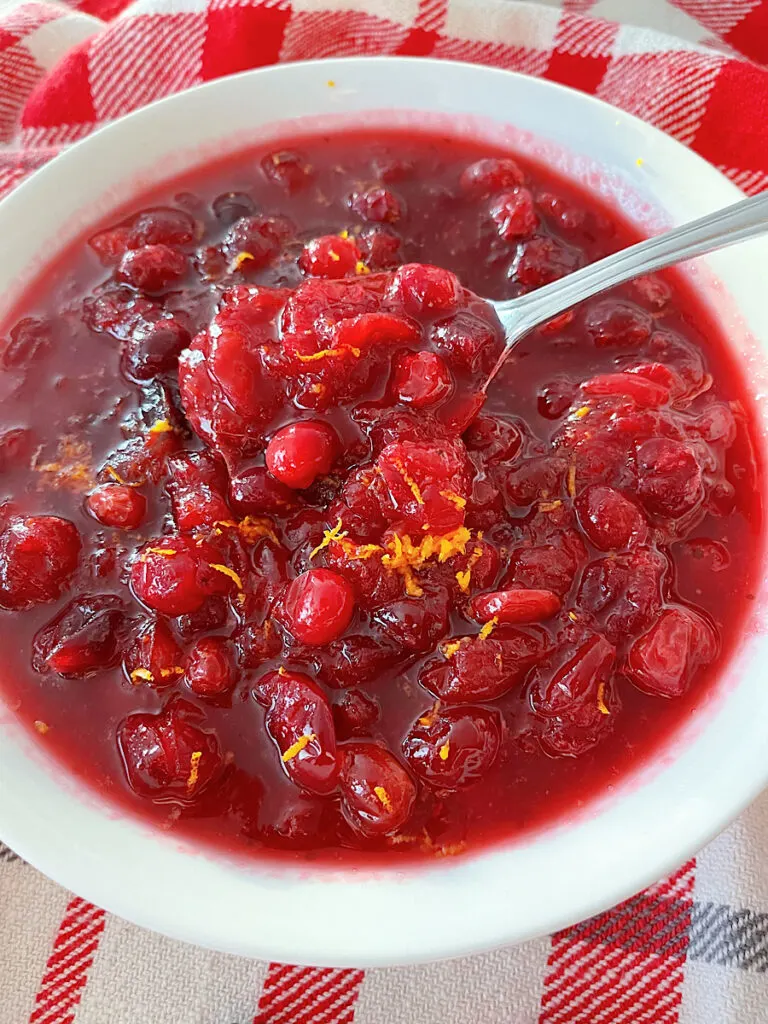 More Thanksgiving Recipes