Texas Roadhouse Rolls are a beloved staple at the popular restaurant chain known for its delicious bread. These soft and buttery rolls have become a favorite for many, and luckily, with this recipe, you can recreate them at home! With just a few simple ingredients and a little bit of time, you can enjoy these warm and fluffy rolls right in your own kitchen. Making copycat Texas Roadhouse Rolls is a wonderful addition to any dinner or holiday gathering, adding a homemade touch to special occasions like Thanksgiving. So why not try your hand at making these mouthwatering rolls and impress your family and friends with your baking skills?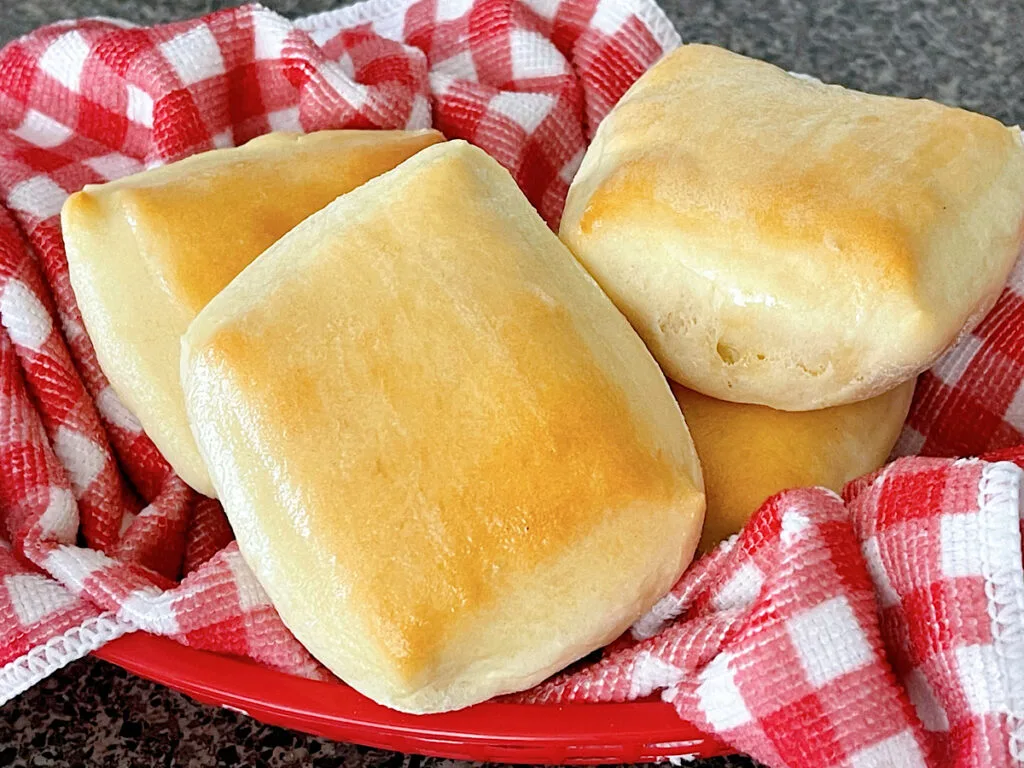 This post may contain affiliate links. When you click on these links, I get a small percentage back at no cost to you! For more information see my disclosure policy.
Below you will find tips, tricks and helpful hints for making this recipe including step by step instructions with pictures. If you would like to go directly to the recipe, scroll down to the recipe card or tap "Jump to Recipe" at the top of the page.
Why You'll Love These Rolls
These copycat rolls are every bit as delicious as the famous Texas Roadhouse rolls. Every bite is packed with a buttery, soft texture and just the right amount of sweetness.
Not only are these rolls super easy to make, but they also require very few ingredients! Serve them alongside your favorite dinner or keep them for later. Either way will be sure to delight your whole family.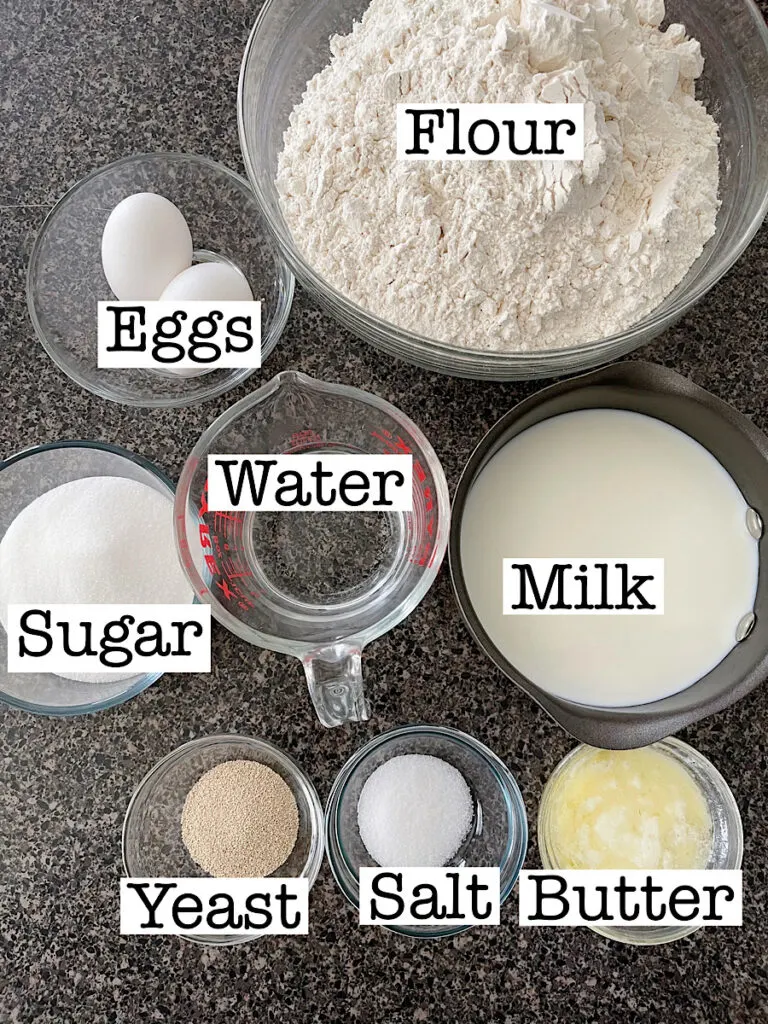 Texas Roadhouse Rolls Ingredients
*Ingredient amounts are located in the recipe card at the end of this post.
Active Dry Yeast: This will be used to help the rolls rise and become fluffy. You can find them on the baking aisle at your local grocery store.
Warm Water: This is used to activate the yeast.
Milk: Adding milk to the rolls will give them a soft and creamy texture. You will want to slightly scald the milk by heating it up over medium high heat in a small saucepan, stirring often, until small bubbles begin to form around the edges.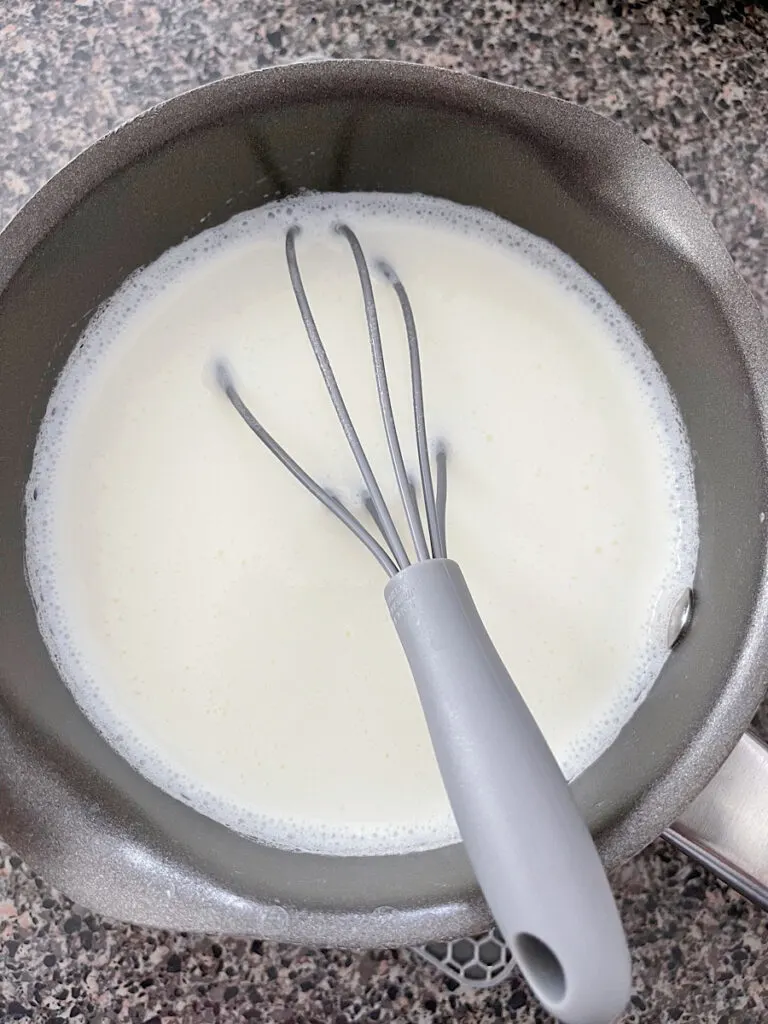 Butter: The melted butter helps create that signature buttery flavor and tenderness. Use salted or unsalted butter.
Sugar: A small amount of sugar gives these rolls just the right amount of sweetness.
Flour: You'll need all-purpose flour for this recipe. This will help the rolls to thicken and bind together.
Eggs: These are necessary for binding the ingredients, as well as adding richness and texture to the rolls.
Salt: Adding a bit of salt helps bring out all of the flavors in these rolls!
How to Make Copycat Texas Roadhouse Rolls Recipe
[Step 1] Add the yeast and one teaspoon of sugar to the warm water and give a gentle stir. Allow the mixture to proof for about 5 minutes.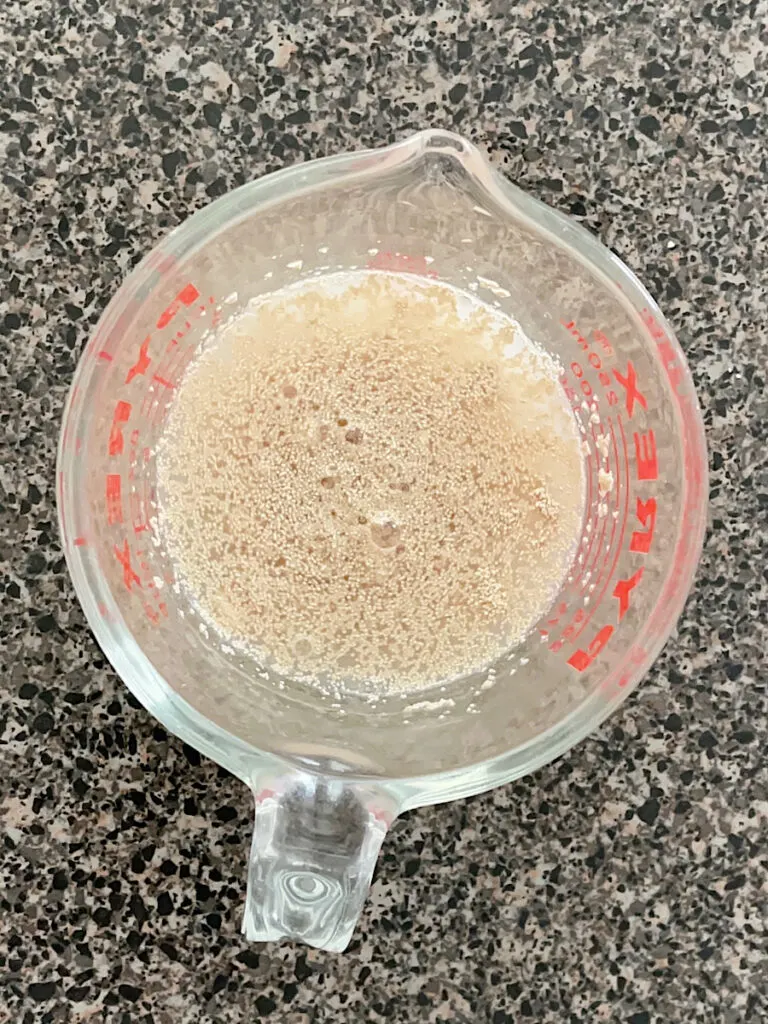 [Step 2] In the bowl of a stand mixer with a paddle attachment, combine the yeast mixture, scalded milk, remaining sugar and 4 cups of flour at medium speed. Add the melted butter, eggs, and salt, then mix well.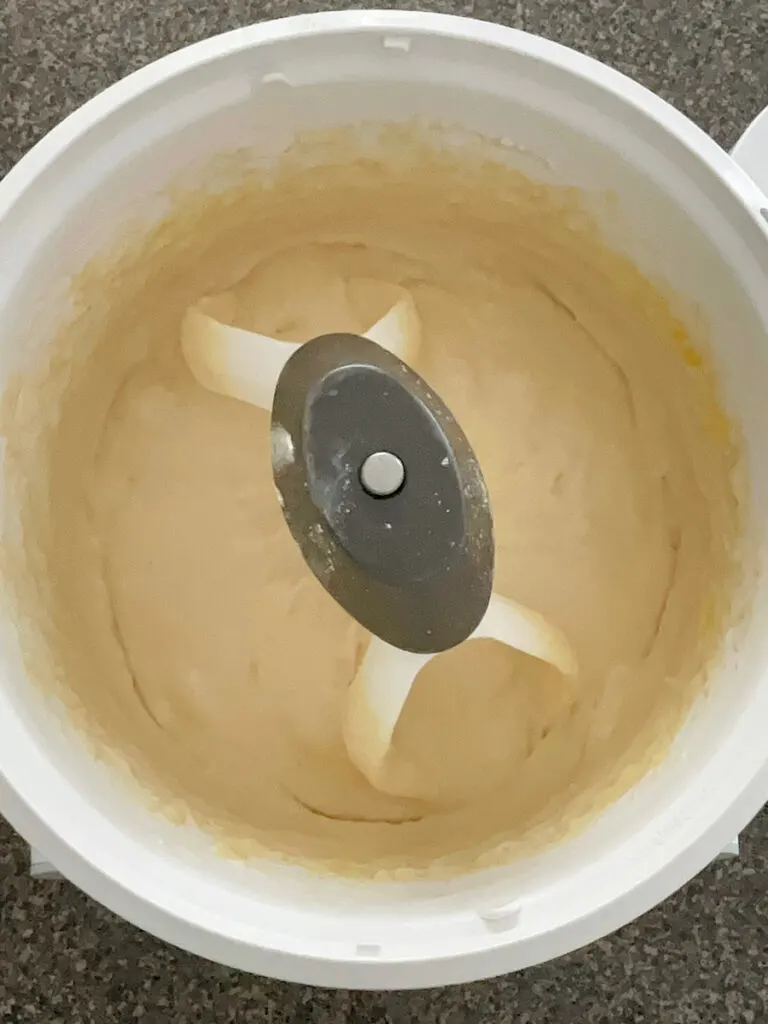 [Step 3] Add the dough hook attachment to the stand mixer and add more flour, 1/2 cup at a time, to form a soft dough. It is not necessary to add all of the flour.
[Step 4] Transfer the dough to a large bowl that has been coated in oil. Turn the dough over to grease the top. Cover the bowl with greased plastic wrap and let the dough rise in a warm place until double in size.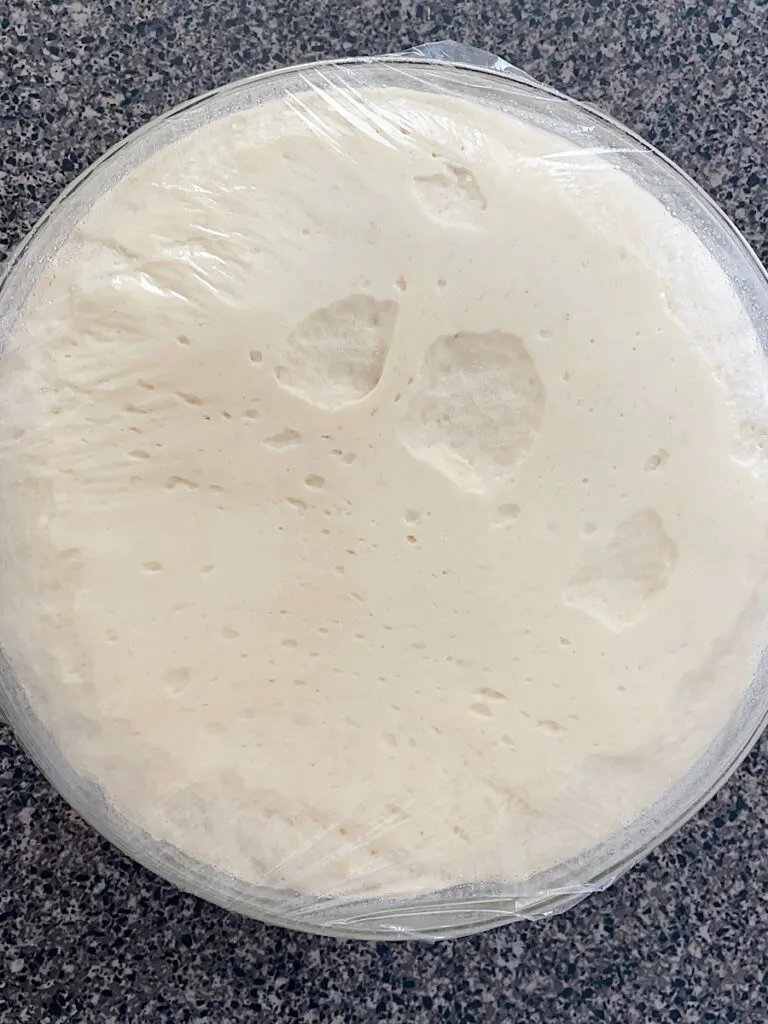 [Step 5] Punch down the dough and place on a lightly floured surface. Roll the dough into a rectangle and cut into fourths with a pizza cutter, for easier shaping. Allow to rest for 10 minutes.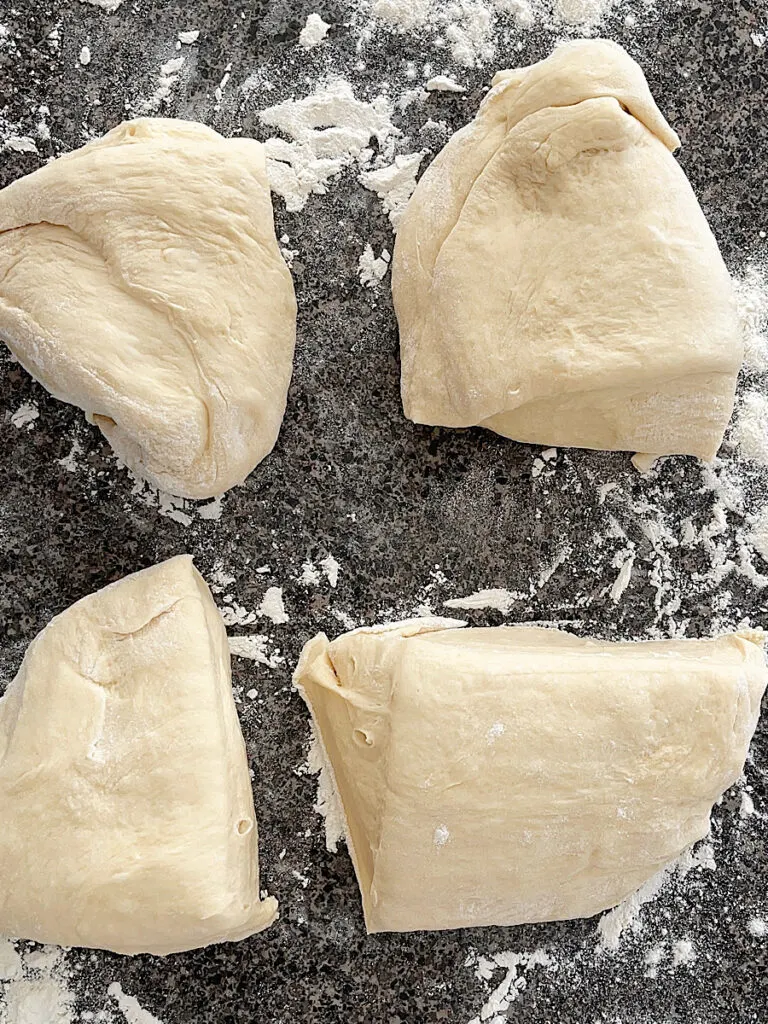 [Step 6] Cut the dough into square rolls and place them on prepared baking sheets lined with parchment paper. Let the dough rise for another 20 minutes.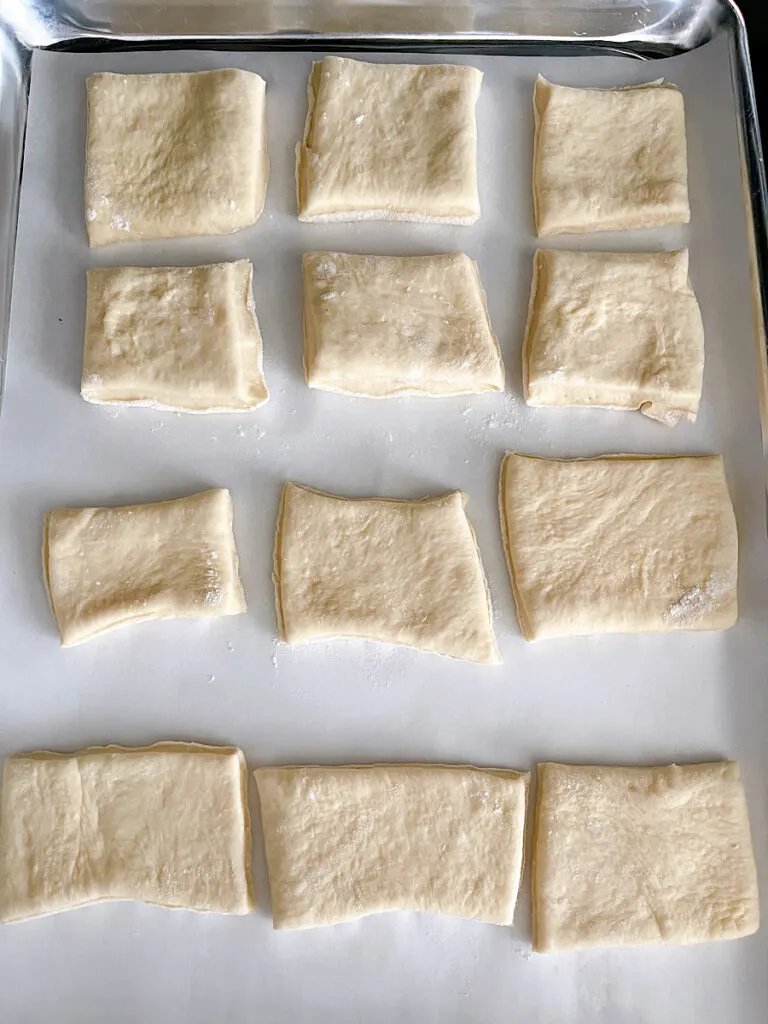 [Step 7] Bake the rolls at 350 degrees for 15-20 minutes until golden brown. Brush the warm rolls with melted butter.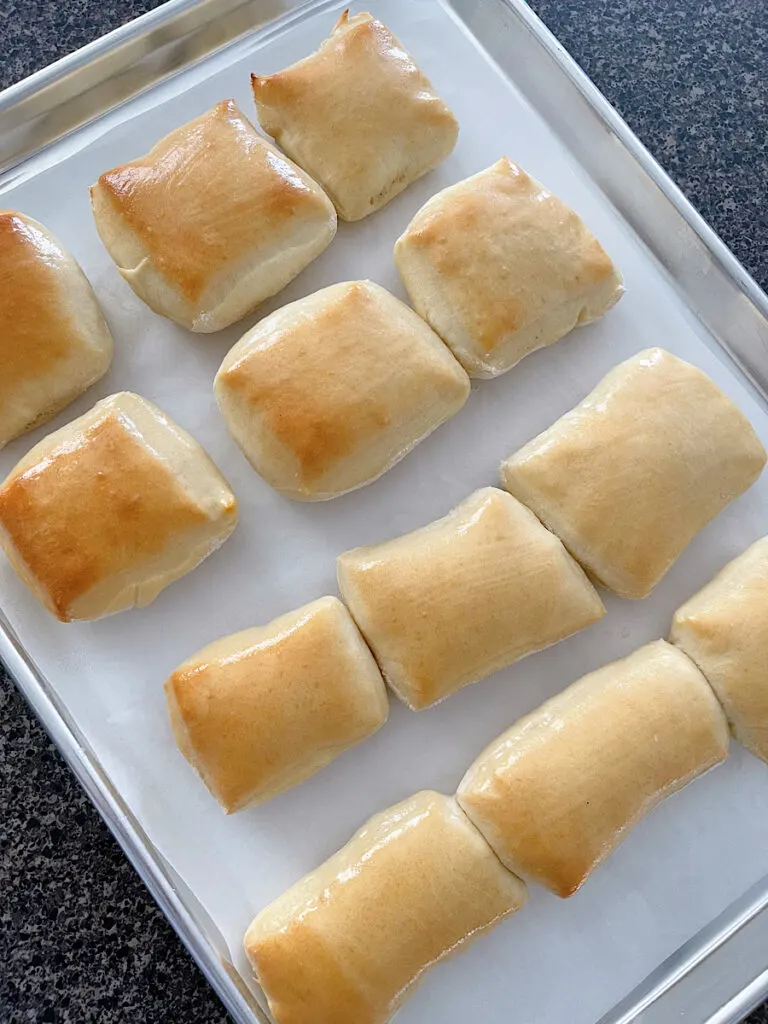 Helpful Kitchen Tools
How to Store Leftovers
Leftover Texas Roadhouse yeast rolls can be stored in an airtight container for up to 2 days. If you need to store the rolls longer, wrap them individually in foil and freeze. Reheat frozen rolls by thawing overnight in the refrigerator or heating directly from the freezer for 15 minutes at 350 degrees.
How to Freeze Roll Dough
To freeze the dough for baking later, place the shaped dough in the freezer for about 2 hours. Then transfer to a freezer bag. To bake, allow the rolls to thaw on a cookie sheet, then bake at 350 for 15-20 minutes.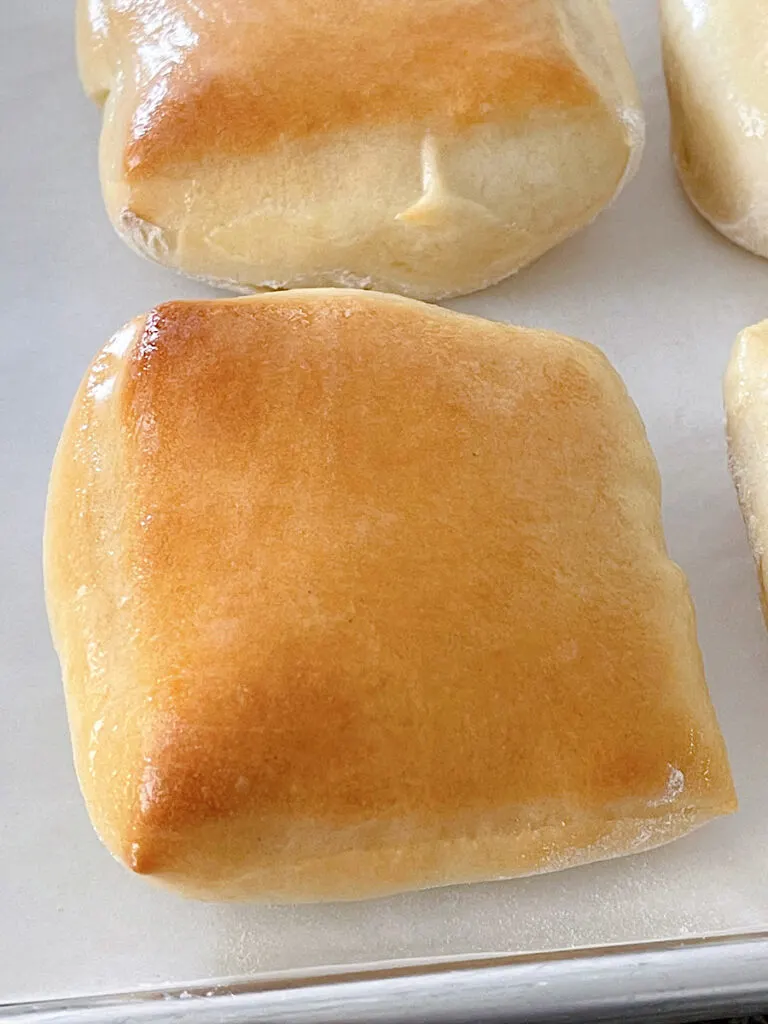 Baking Tips & Tricks
For a softer roll, let the dough rise an extra 10 minutes before punching it down.
To make sure your rolls are evenly shaped and sized, use a ruler or other measuring device when cutting them out.
For fluffier rolls, brush on some melted butter before baking.
If you want to get creative with your Texas Roadhouse rolls, try adding in some dried herbs or cheese before shaping them.
To achieve a golden crust on your rolls, lightly brush the tops with egg wash (an equal mixture of water and beaten egg). This will help trap the heat and create steam which gives you a nice crackling texture.
If desired, sprinkle some sea salt on top of the rolls before baking for an extra touch of flavor.
For added texture and crunch, add some chopped nuts or seeds to the dough after the first rise. This will give your rolls a unique nutty flavor.
Make sure you preheat your oven before baking so that the rolls cook evenly.
Top your homemade rolls with Texas Roadhouse signature Honey Cinnamon Butter or Homemade Whipped Honey Butter.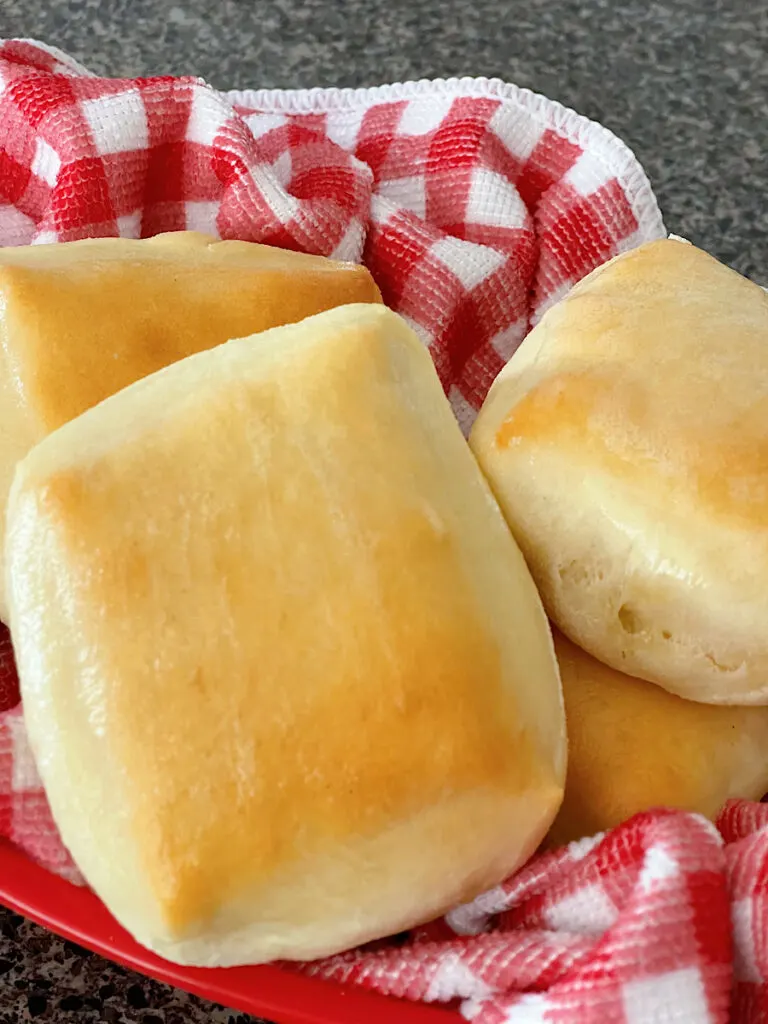 Frequently Asked Questions
How do I make sure my Texas Roadhouse rolls are soft and fluffy?
Make sure you let the dough rise for at least an hour before punching it down. Also, brushing the tops of your rolls with melted butter before baking will help give you fluffy and soft rolls.
Can I freeze Texas Roadhouse rolls?
Yes, these rolls can be frozen. Wrap them individually in foil and freeze for up to 3 months. Reheat frozen rolls by thawing overnight in the refrigerator or heating directly from the freezer for 15 minutes at 350 degrees.
How long will Texas Roadhouse rolls last?
Store leftover rolls in an airtight container for up to 2 days. For longer storage, wrap them individually in foil and freeze for up to 3 months.
Can I make Texas Roadhouse rolls without yeast?
Unfortunately, this recipe requires the use of active dry yeast so it's not possible to make these rolls without it. You can find active dry yeast in most grocery stores.
Can I substitute the all-purpose flour for something else?
Yes, you can substitute the all-purpose flour for bread flour or whole wheat flour if desired. However, keep in mind that the texture and flavor of your rolls may change slightly depending on which type of flour you use.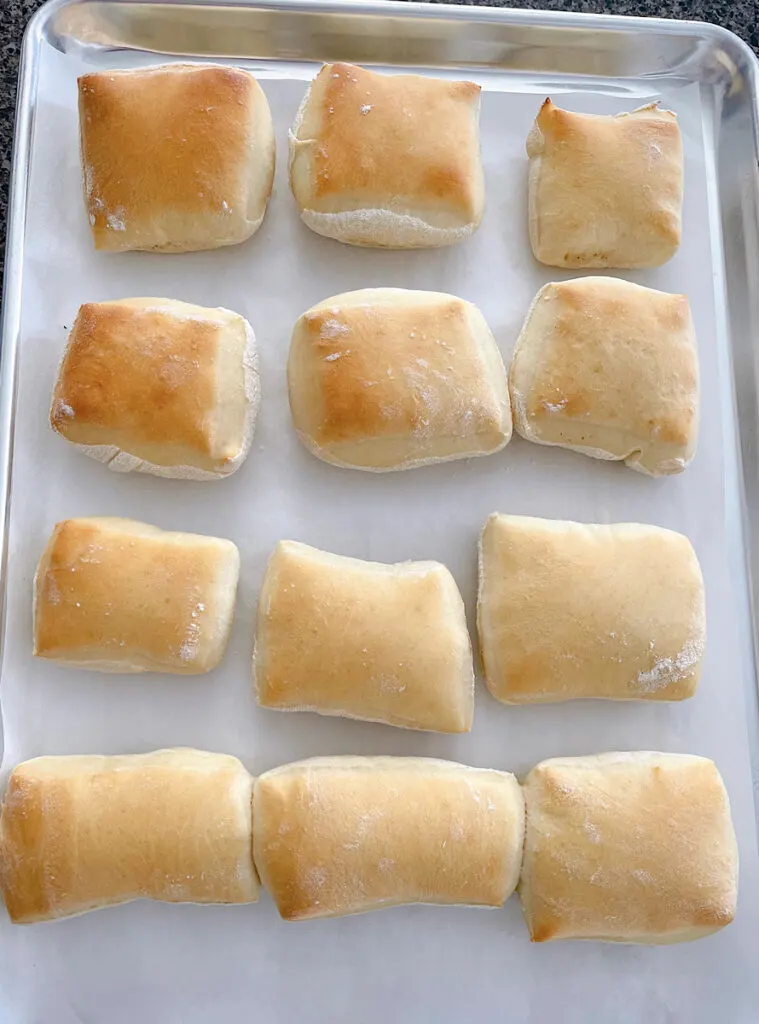 Final Thoughts
Texas Roadhouse rolls are a classic, crowd-pleasing dish that is sure to make an impression. The combination of fluffy, buttery bread and just the right amount of sweetness makes these rolls irresistible!
With a few simple ingredients and some basic kitchen tools, you can easily recreate this restaurant favorite at home. Don't forget to make a batch of Texas Roadhouse Butter as well!
More Bread Recipes: