Texas Roadhouse Butter is a light and fluffy butter that is the perfect topping for homemade rolls, biscuits, and waffles. The recipe is easy and only requires four simple ingredients: butter, honey, cinnamon, and powdered sugar. Whether you're serving up a big breakfast or hosting a brunch party, this delicious butter will be sure to please everyone.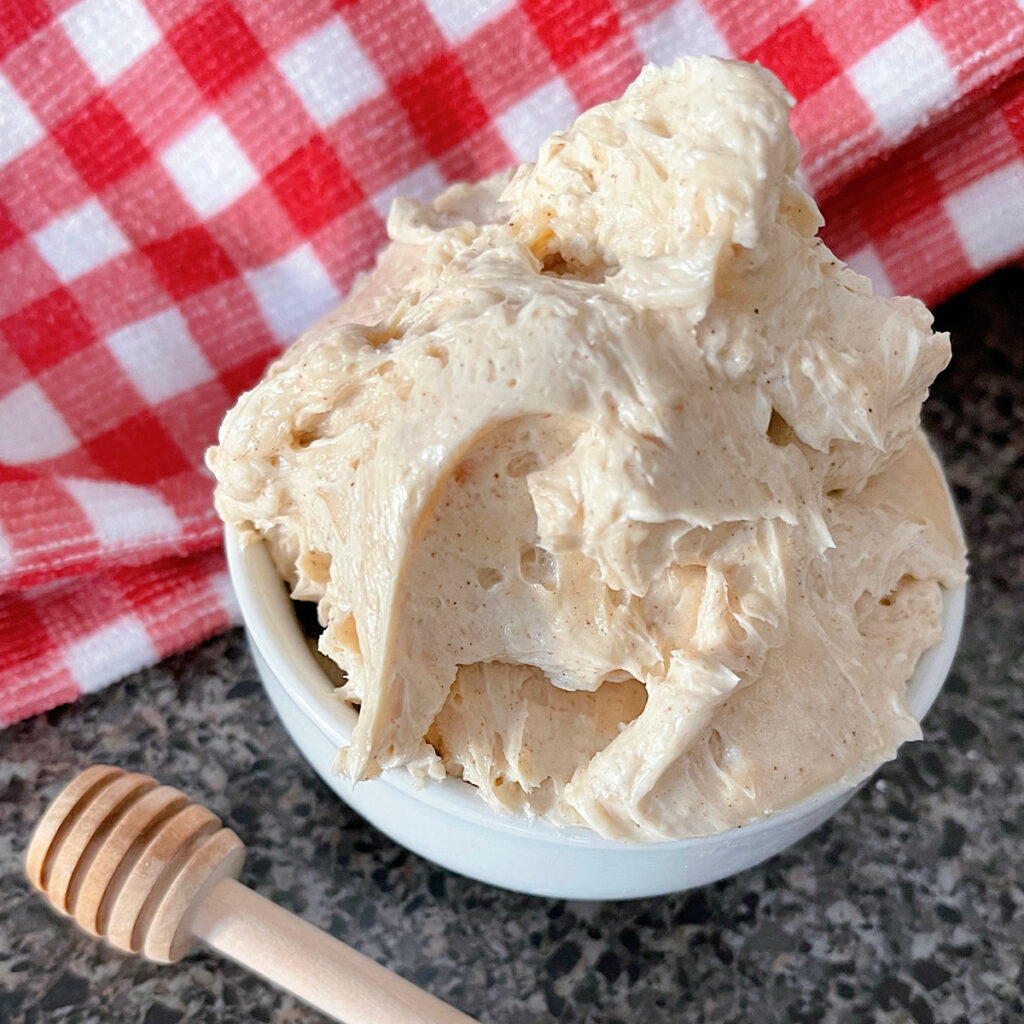 This post may contain affiliate links. When you click on these links, I get a small percentage back at no cost to you! For more information see my disclosure policy.
Below you will find tips, tricks and helpful hints for making this recipe including step by step instructions with pictures. If you would like to go directly to the recipe, scroll down to the recipe card.
Why You'll Love This Cinnamon Honey Butter
Texas Roadhouse is known for its delicious food, but the delicious cinnamon honey butter that comes with the famous Texas Roadhouse Rolls is one of the things people love most.
This copycat Texas Roadhouse butter recipe gives you all of that same homemade goodness right in your own kitchen!
The honey adds a subtle sweetness to the butter while still keeping it light and fluffy. The cinnamon gives it a touch of spice that really brings out the flavor. And, of course, the powdered sugar adds just a touch of sweetness to kick your butter up another notch.
Whether you're serving this butter as a topping on some fresh baked biscuits or using it in a breakfast casserole recipe, you are sure to love everything about the copycat version of this easy recipe. It is even amazing topped on sweet potatoes!
Be sure to also try my recipe for whipped homemade honey butter!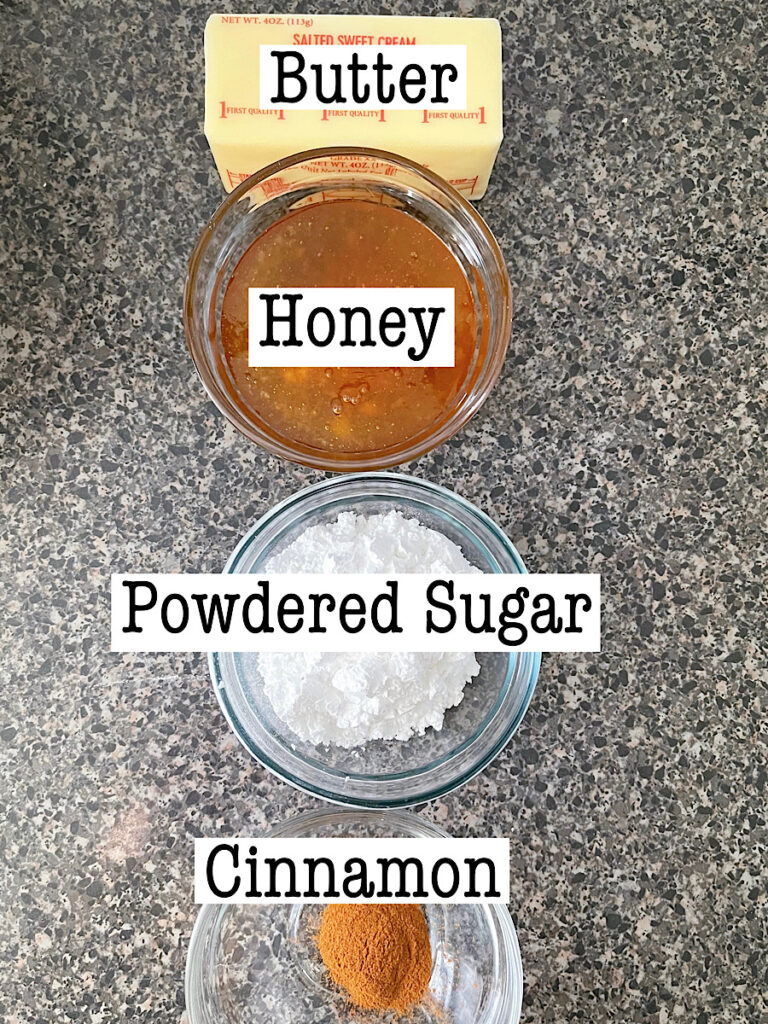 Cinnamon Honey Butter Ingredients
Butter: For this recipe, you will need 1/2 cup of butter or 1 stick of salted or unsalted butter, depending on your preference. It will whip best if you have room temperature butter.
Honey: You will also need 1/4 cup of honey for this recipe.
Sugar: To make the butter light and fluffy, you'll need about 1/4 cup of powdered sugar.
Ground Cinnamon: A pinch or two of cinnamon is all you need to add just a touch of spice to your sweet butter.
Vanilla Extract: If you want to add some extra flavor, a touch of vanilla extract is the perfect way to do it.
How To Make this Texas Roadhouse Cinnamon Honey Butter Recipe
[1] Beat the softened butter in a mixing bowl with an electric mixer, or a stand mixer with a whisk attachment, for one minute.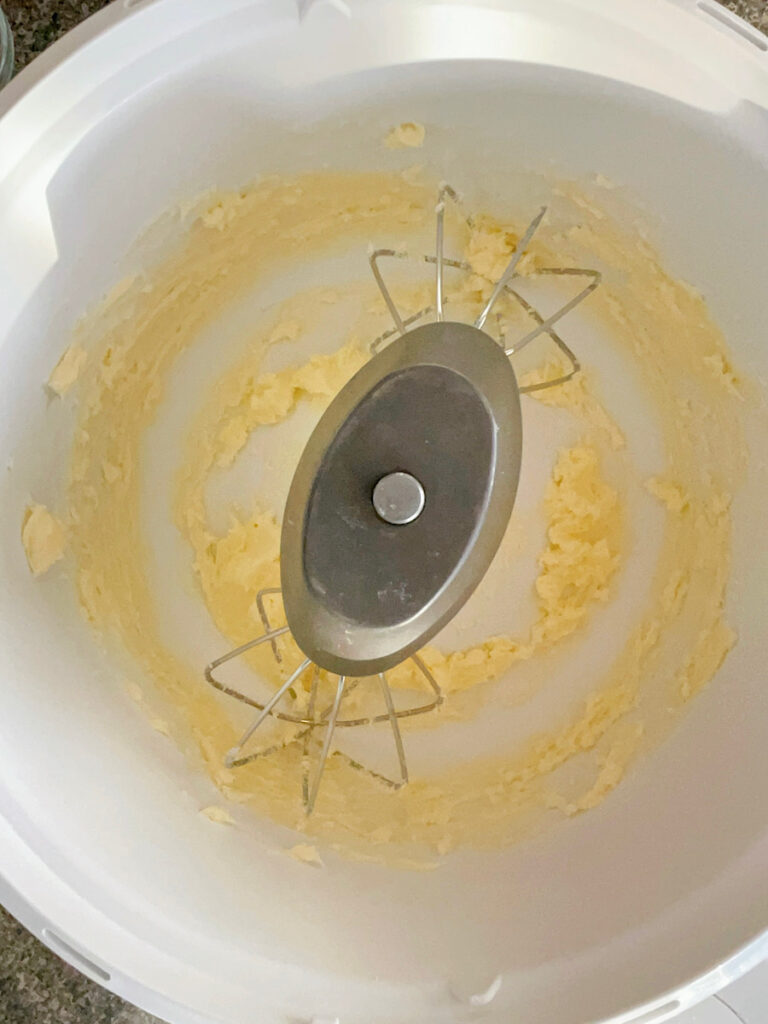 [2] Add the honey, powdered sugar, cinnamon, and vanilla extract. Whip the honey butter until it has a fluffy consistency.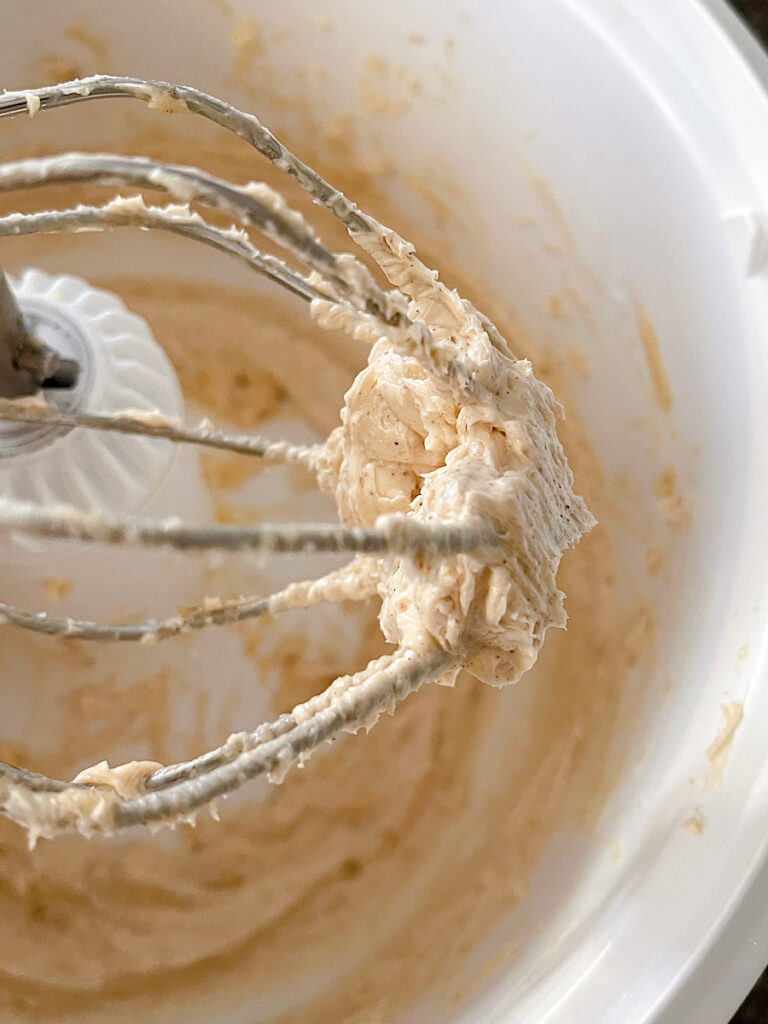 [3] Serve this butter with your favorite warm rolls, biscuits, pancakes, quick breads, or waffles!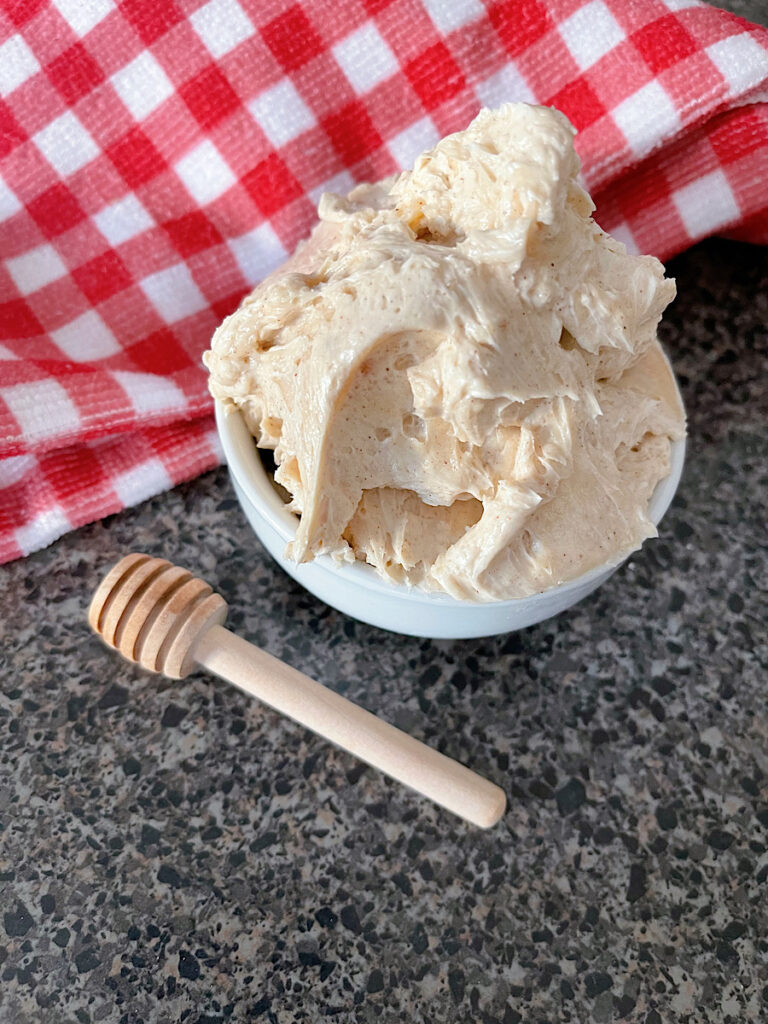 Helpful Kitchen Tools
How to Store Cinnamon Honey Butter
To keep your butter fresh, store it in an airtight container or a plastic bag in the fridge for up to 1 week.
If you are planning on freezing this honey butter, let it cool to room temperature first and then store it in an airtight container or freezer bag for up to 3 months.
How to Serve Texas Roadhouse Cinnamon Butter Recipe
For best results, serve this butter the day you prepare it. If you make it ahead of time, keep it in the refrigerator, then bring it to room temperature before serving.
If needed, you can whip the honey butter again, before serving, to help with the whipped texture.
Frequently Asked Questions
How long does it take for cinnamon honey butter to reach room temperature?
It should take about 20-30 minutes for the butter to reach room temperature before serving.
Can this butter be served over pancakes, waffles, and French toast?
Yes! This delicious honey butter is an excellent addition to anything you might typically serve with maple syrup or regular butter.
What type of honey should I use?
You can use whatever type of honey you prefer for this recipe. Many people enjoy a darker or wildflower honey, but feel free to choose your favorite!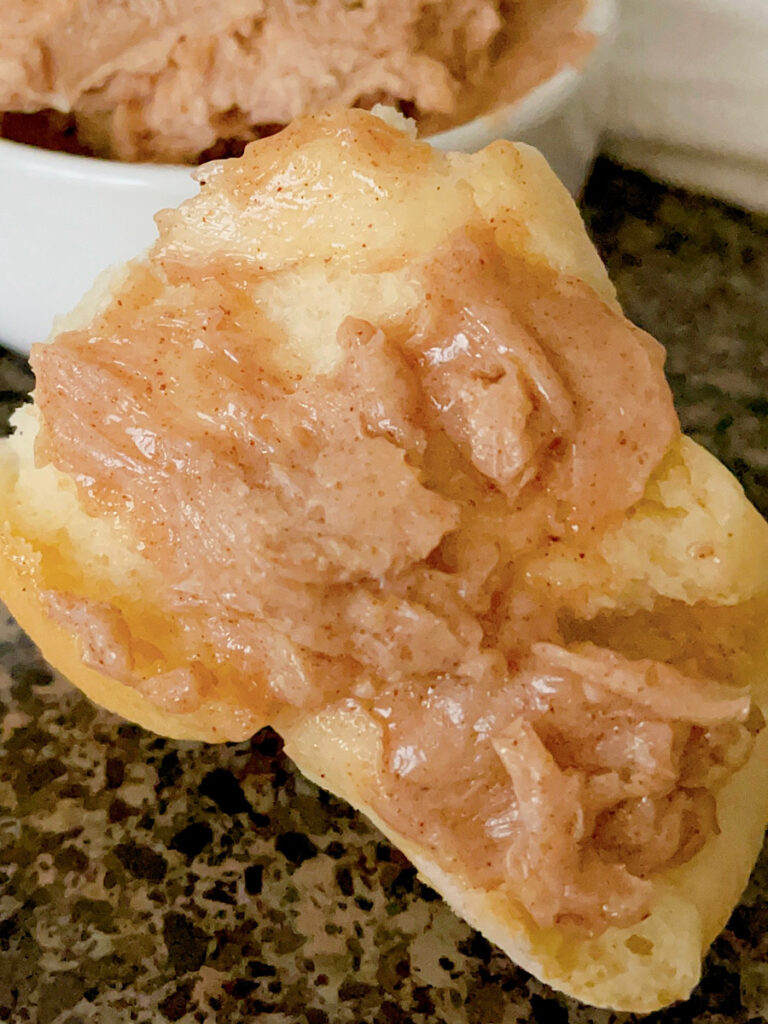 What are some great variations of this recipe?
One delicious variation is to use lime juice instead of vanilla extract. This gives the butter a fresh and citrusy flavor that pairs perfectly with waffles or pancakes.
Another great variation is to use brown sugar instead of powdered sugar, for a more caramel-like flavor and texture.
What to Serve with Texas Roadhouse Cinnamon Honey Butter
Final Thoughts
If you're looking for an easy way to amp up your breakfast or brunch menu, this Texas Roadhouse honey butter is a perfect choice.
With four simple ingredients and a little bit of time, you can create an irresistible topping that will have everyone coming back for more! So what are you waiting for? Get cooking!
More Copycat Recipes:
Pin for later: