This Pumpkin Pie Dip is the perfect Fall treat! It's made with cream cheese, pumpkin puree, and pumpkin pie spice, so it's nice and creamy with just the right amount of sweetness. Plus, it's super easy to make – you just mix everything together and serve it with some graham crackers or pretzels. So if you're looking for a delicious and easy Fall treat, give this Pumpkin Pie Dip a try!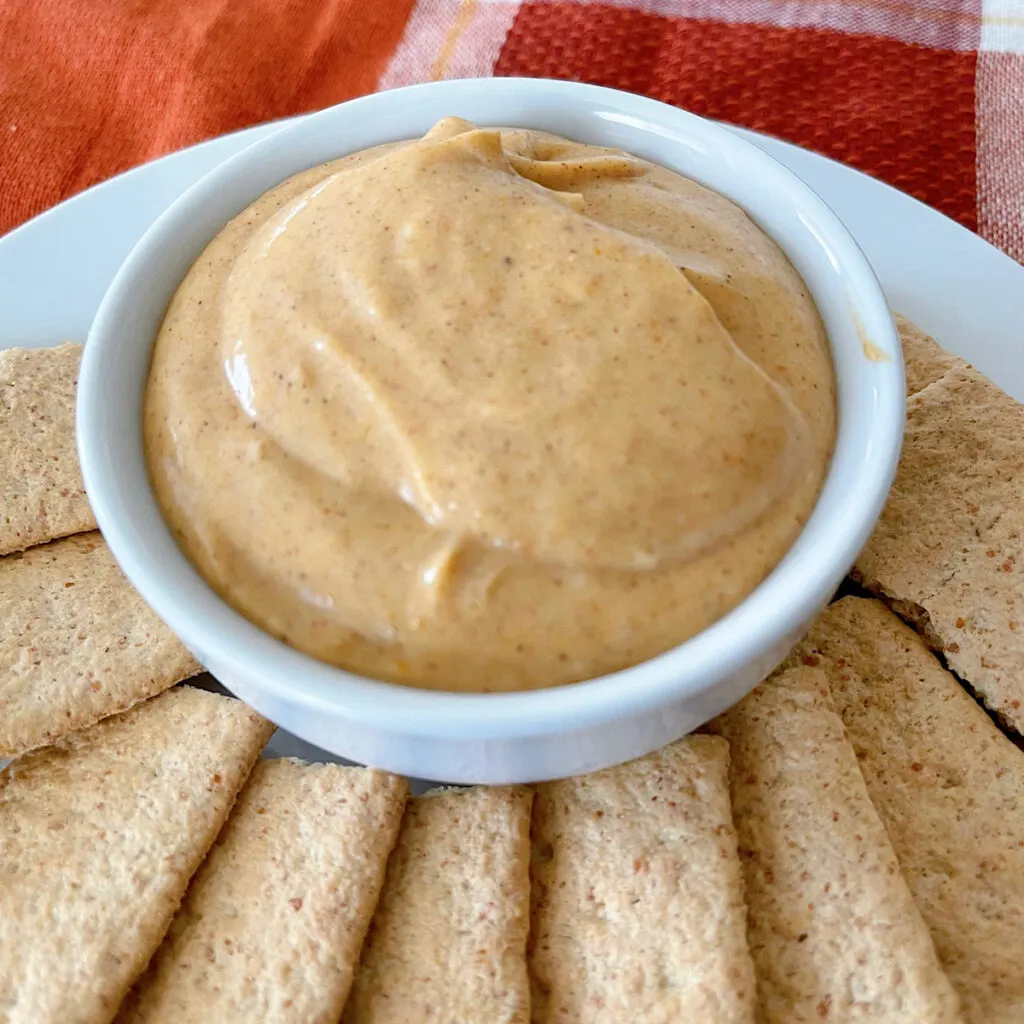 This post may contain affiliate links. When you click on these links, I get a small percentage back at no cost to you! For more information see my disclosure policy.
Below you will find tips, tricks and helpful hints for making this recipe including step by step instructions with pictures. If you would like to go directly to the recipe, scroll down to the recipe card or tap "Jump to Recipe" at the top of the page.
Why You'll Love This Recipe
Pumpkin pie is a delicious and festive treat, but it can be a bit of a hassle to make. Pumpkin pie dip is the perfect solution for anyone who wants to enjoy the taste of pumpkin pie without all the work.
This easy-to-make dip combines cream cheese, pumpkin puree, and pumpkin pie spice for a rich and flavorful treat.
Simply spread the dip on a plate or bowl and serve with graham crackers, ginger snaps, or apple slices. Whether you're hosting a holiday party or just looking for a simple dessert, this Pumpkin Pie Dip is sure to please.
What To Serve with Pumpkin Pie Dip
Gingersnap Cookies
Vanilla Wafers
Pretzels
Apple Slices
Pumpkin Pie Dip Ingredients
Cream Cheese: For this dip, you can use full-fat, reduced-fat, or fat-free cream cheese. Just make sure the cream cheese is softened to room temperature.
Pumpkin Puree: You can find pumpkin puree in the canned goods section at your local grocery store. Just make sure to buy 100% pure pumpkin without any added ingredients.
Powdered Sugar: You can use regular powdered sugar or confectioner's sugar, but make sure it is sifted before using so that there are no lumps.
Greek Yogurt: Greek yogurt is thicker and creamier than regular yogurt, which gives this dip a rich texture. You can use any kind of plain or vanilla-flavored Greek yogurt or sour cream for this recipe.
Cinnamon and Pumpkin Pie Spice: This ingredient can be found in the spice aisle at your local grocery store. If you don't have pumpkin pie spice on hand, you can just use cinnamon or a combination of ground nutmeg, ginger, and cloves. Find the recipe for homemade pumpkin spice here.
How to Make Pumpkin Pie Dip
[1] In a large bowl, mix together the cream cheese and pumpkin puree until well combined.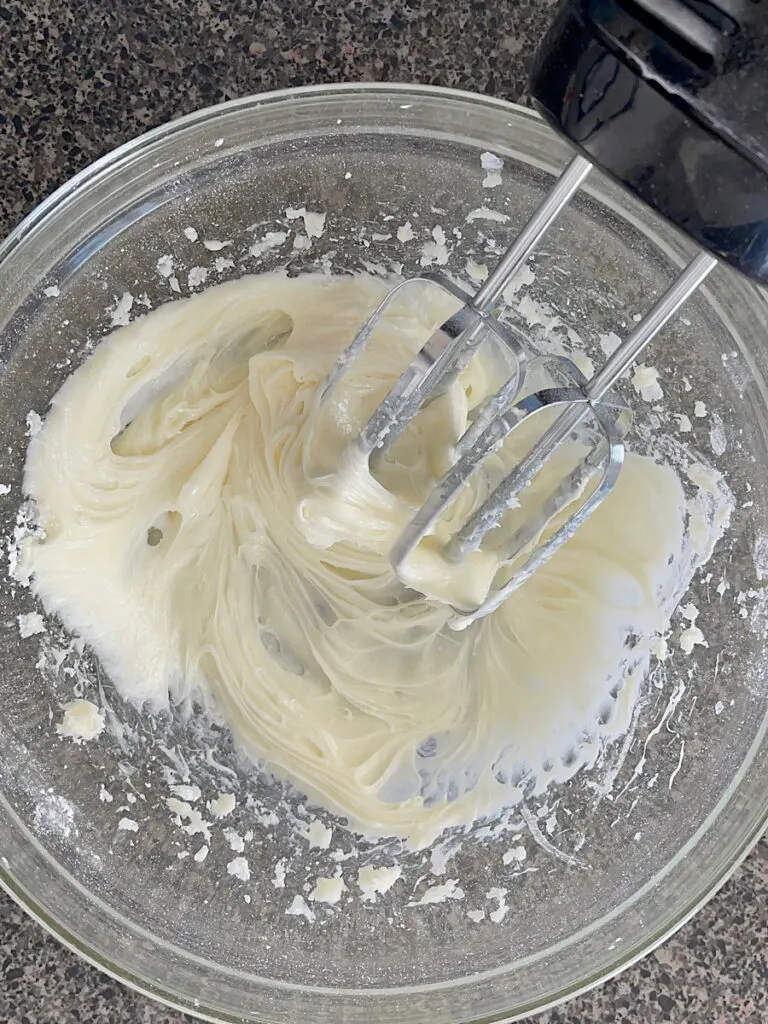 [2] Add in the powdered sugar, Greek yogurt, cinnamon, and pumpkin pie spice, and stir until everything is well combined and smooth.
[3] Transfer the dip to a serving plate or bowl, and then serve with graham crackers, gingersnap cookies, vanilla wafers, pretzels, or apple slices.
[4] Enjoy your delicious Pumpkin Pie Dip!
More Pumpkin Recipes You Might Enjoy:
Frequently Asked Questions
What can I do with leftover canned pumpkin?
This recipe for pumpkin pie dip is a great way to use up leftover canned pumpkin because you can easily double or cut the amounts of ingredients in half.
How do you make pumpkin purée taste good?
There are a few simple tricks you can use to make canned pumpkin purée taste great. One trick is to mix in some spices, such as cinnamon and pumpkin pie spice, which will enhance the flavor of the pumpkin.
Another option is to roast the pumpkin yourself until it's soft and tender, then puree it into a smooth consistency.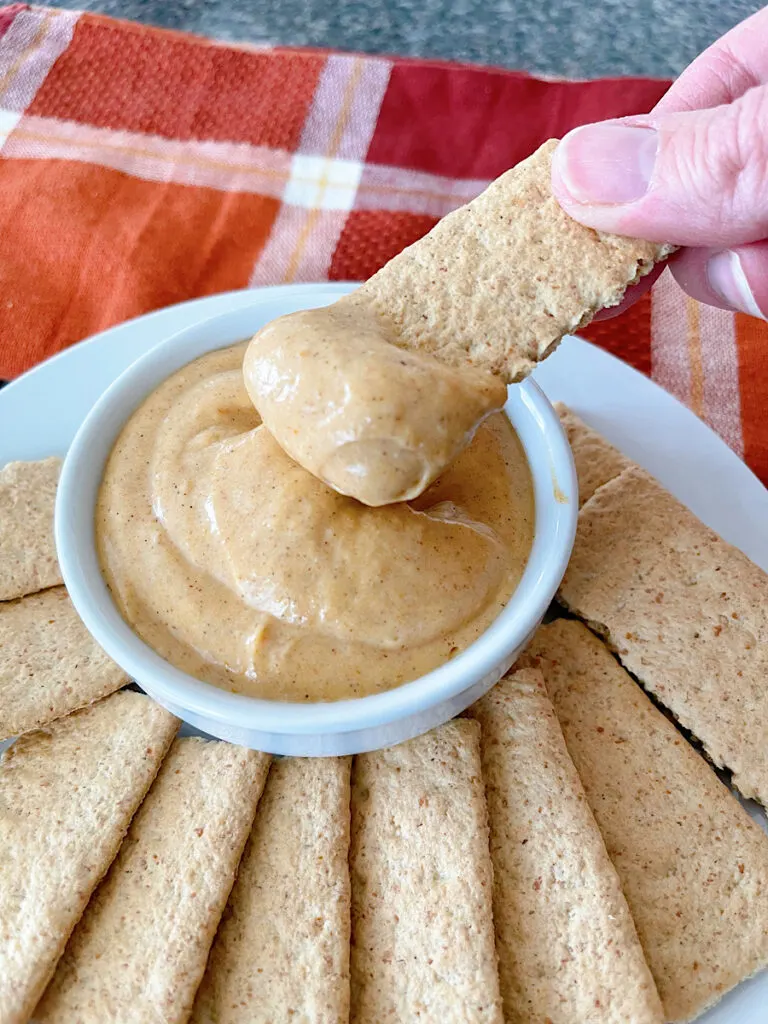 How long does pumpkin pie dip last?
Pumpkin pie dip will keep in an airtight container for about 1 week in the fridge. However, it's best enjoyed within 3 to 4 days for optimal freshness and flavor.
If you have any leftovers, you can also freeze it for up to 3 months. Just thaw in the fridge overnight before serving again.
Final Thoughts
If you love pumpkin pie and are looking for an easy way to enjoy it without all of the work, then this recipe is just for you!
Pin for later: