Whether you're looking for a quick and easy pumpkin cobbler or an amazing dessert to impress your guests, this pumpkin cobbler recipe with yellow cake mix is the perfect solution! All you have to do is combine a few simple ingredients in a bowl, pour into a 9×13 inch baking dish, top with a buttered cake mix, and bake for an hour. The result is an irresistible pumpkin cobbler with a moist and fluffy cake top sure to become a family favorite. For an extra special touch, top with whipped cream or ice cream!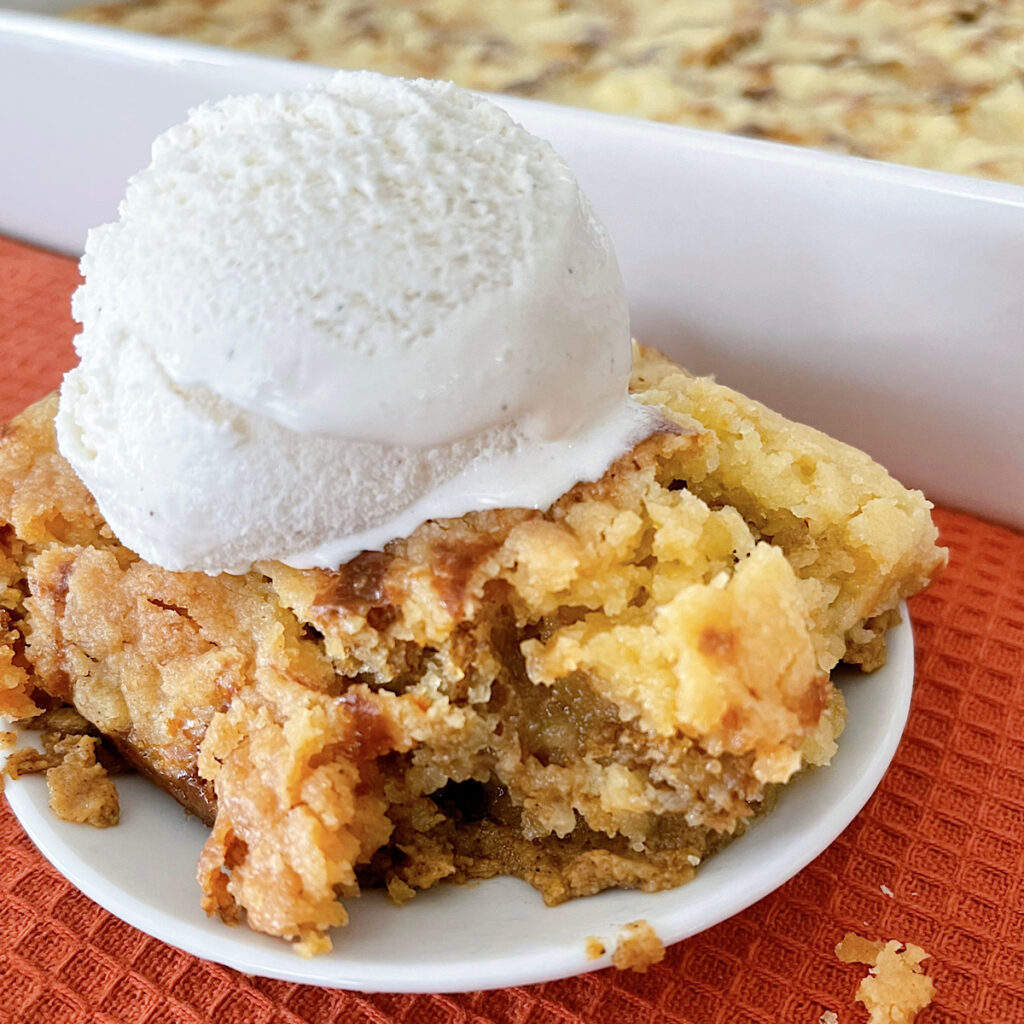 This post may contain affiliate links. When you click on these links, I get a small percentage back at no cost to you! For more information see my disclosure policy.
Below you will find tips, tricks and helpful hints for making this recipe including step by step instructions with pictures. If you would like to go directly to the recipe, scroll down to the recipe card or tap "Jump to Recipe" at the top of the page.
Why You'll Love This Pumpkin Dessert
This pumpkin cobbler is easy to make and the yellow cake mix adds a delicious twist on traditional cobbler. Plus, it's perfect for fall gatherings or holiday parties.
The great thing about this dessert is that it comes together so quickly! With minimal prep time, you can wow your family in friends with this beloved fall flavor!
Pumpkin Cobbler vs. Pumpkin Dump Cake
This dessert is a little bit of both. It is basically a "dump and go" recipe! In traditional dump cakes, the dry boxed cake mix is sprinkled over the pumpkin followed by slices of butter or drizzled with melted butter.
To avoid dry patches in the cake in this easy recipe, I recommend mixing the cake mix with the melted butter before adding it to the baking dish.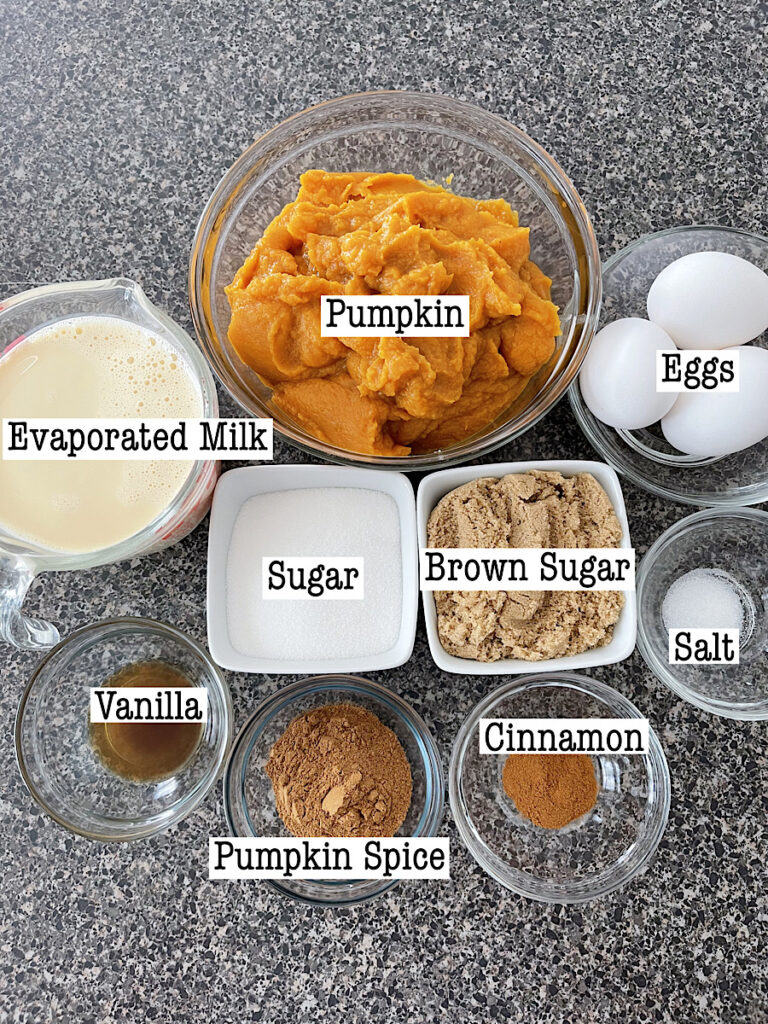 Pumpkin Cobbler Ingredients
*Ingredient amounts are located in the recipe card at the end of this post.
Pumpkin Puree: You will need a large 29 ounce can of pumpkin puree. Make sure that the can says "Pumpkin Puree" and not "Pumpkin Pie Filling Mix". These are two different products and will give you very different results.
Eggs: Large eggs are used in this dessert to bind everything together.
Evaporated Milk: This is used to help create the pumpkin batter. Half and Half can be substituted for the evaporated milk.
White Sugar and Brown Sugar: These are both used to sweeten the pumpkin batter.
Pumpkin Pie Spice: I like to have a good amount of pumpkin spice in this dessert, but feel free to adjust the amount based on your preference. You could also substitute with cinnamon and nutmeg if you do not have pumpkin spice on hand. Get my homemade pumpkin spice recipe here.
Salt: This is used to balance out the sweetness of the pumpkin layer and cake topping.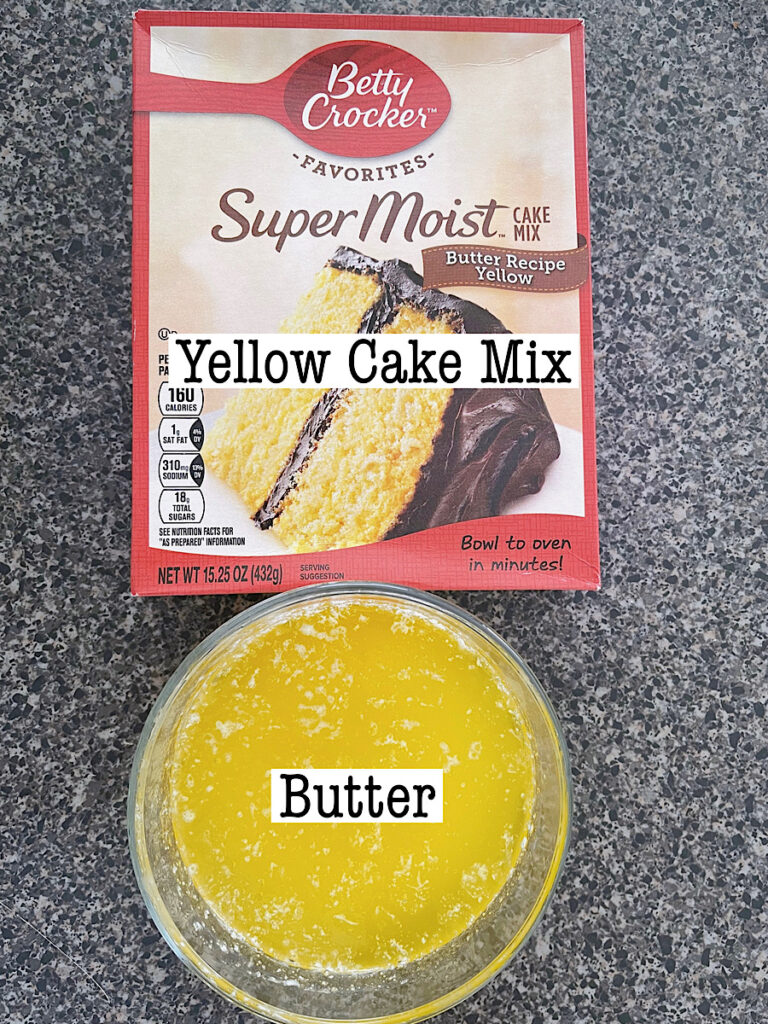 Topping Ingredients
Box of Yellow Cake Mix: This adds that delicious cake-like topping to the cobbler. A spice cake mix can also be used. You will want to adjust the amount of pumpkin spice in the batter if you use a spice cake mix.
Butter: The butter is mixed with the yellow cake mix before sprinkling it on top of the pumpkin batter. This helps to create a moist and fluffy cake topping!
Whipped Cream or Vanilla Ice Cream (optional): These make for the perfect decadent toppings to this cobbler.
How to Make Pumpkin Cobbler
[1] In a mixing bowl, combine the pumpkin puree, eggs, evaporated milk, sugar, brown sugar, and pumpkin spice.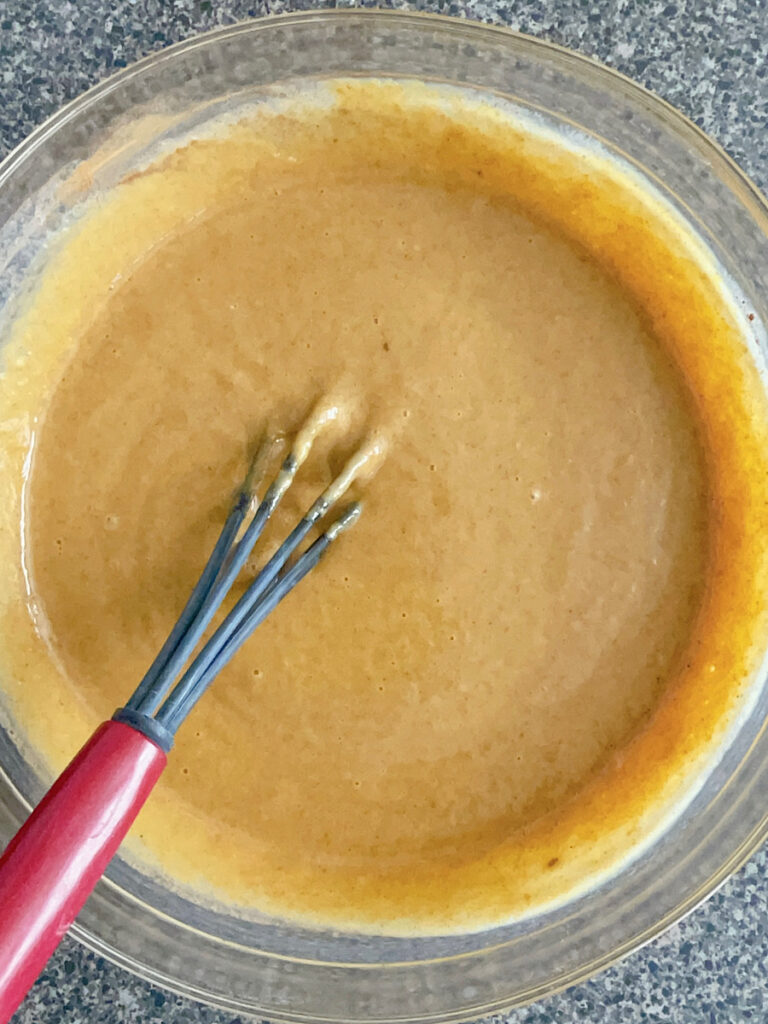 [2] Spray a 9×13 baking dish with cooking spray and pour in the pumpkin mixture.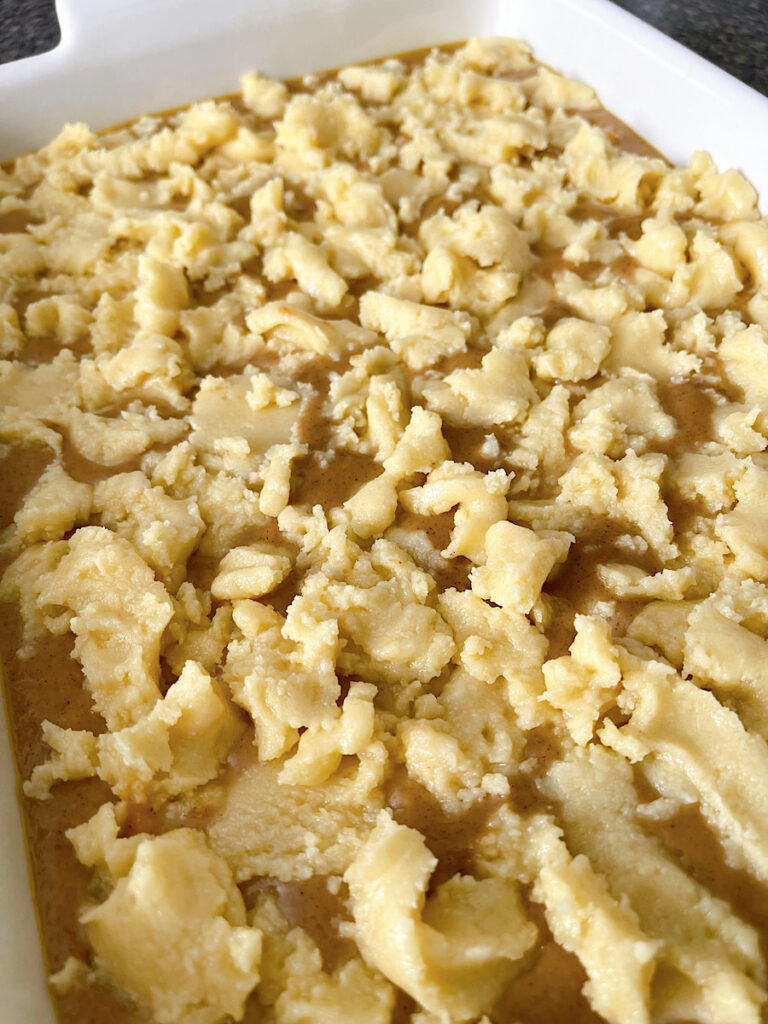 [3] In another bowl, mix the cake mix with melted butter. Sprinkle over the pumpkin.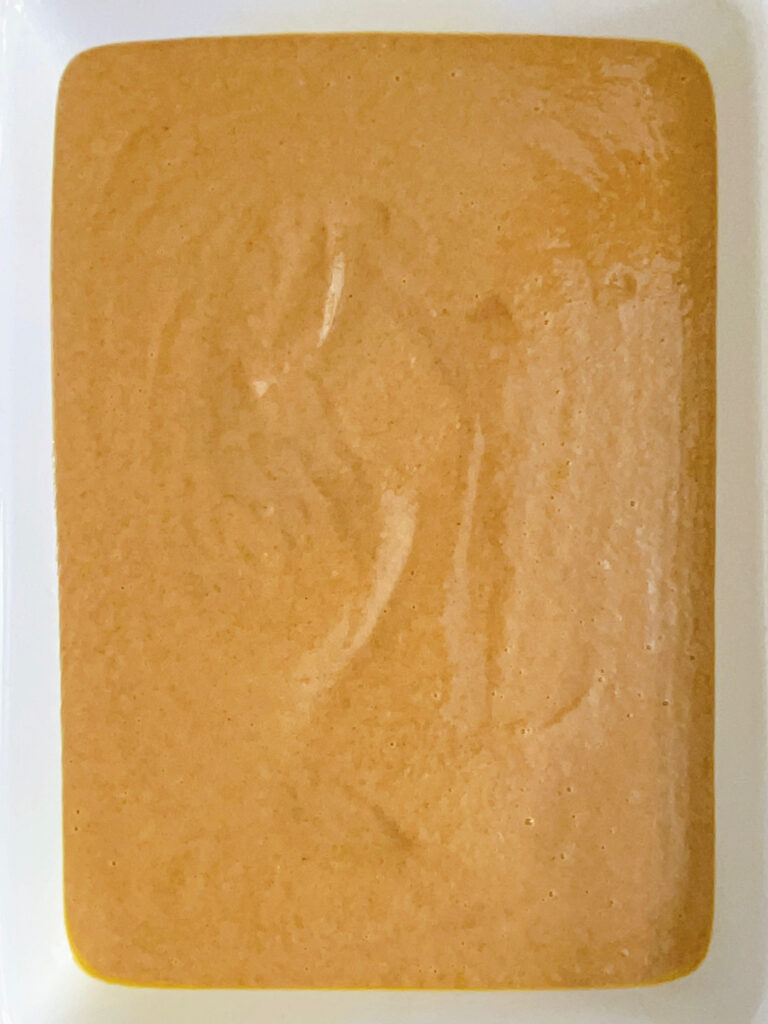 [4] Bake the cobbler at 350 degrees for 60 minutes, or until a knife inserted comes out clean.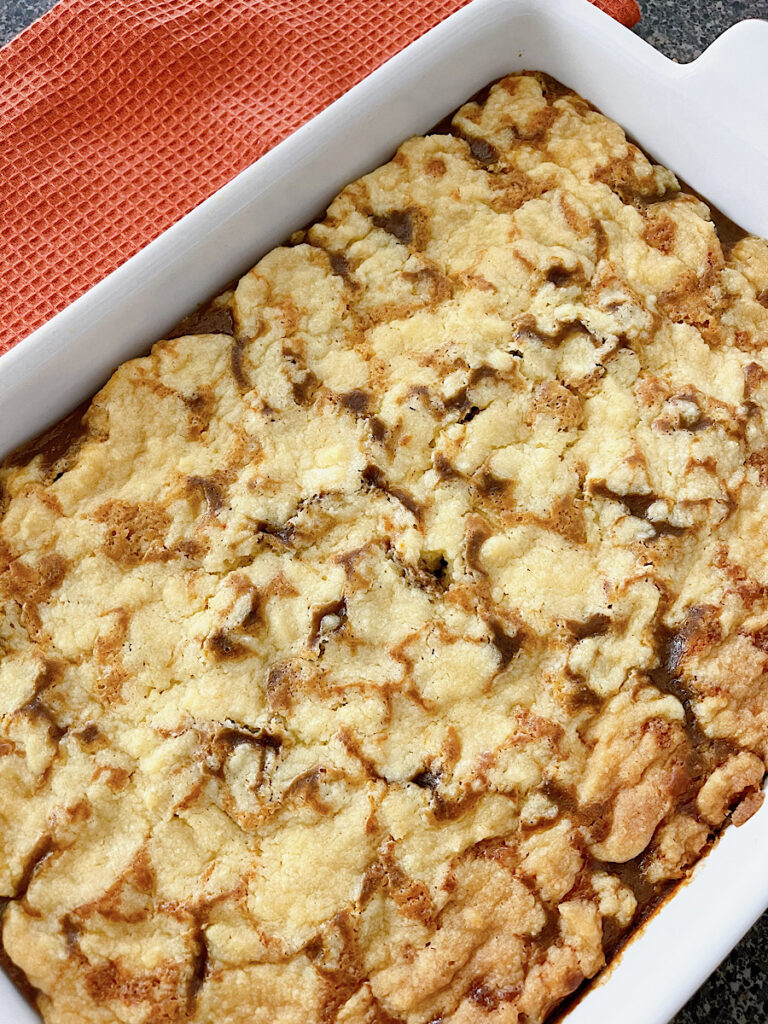 [5] Allow to cool on a wire rack, then slice and serve with a whipped cream or a scoop of vanilla ice cream.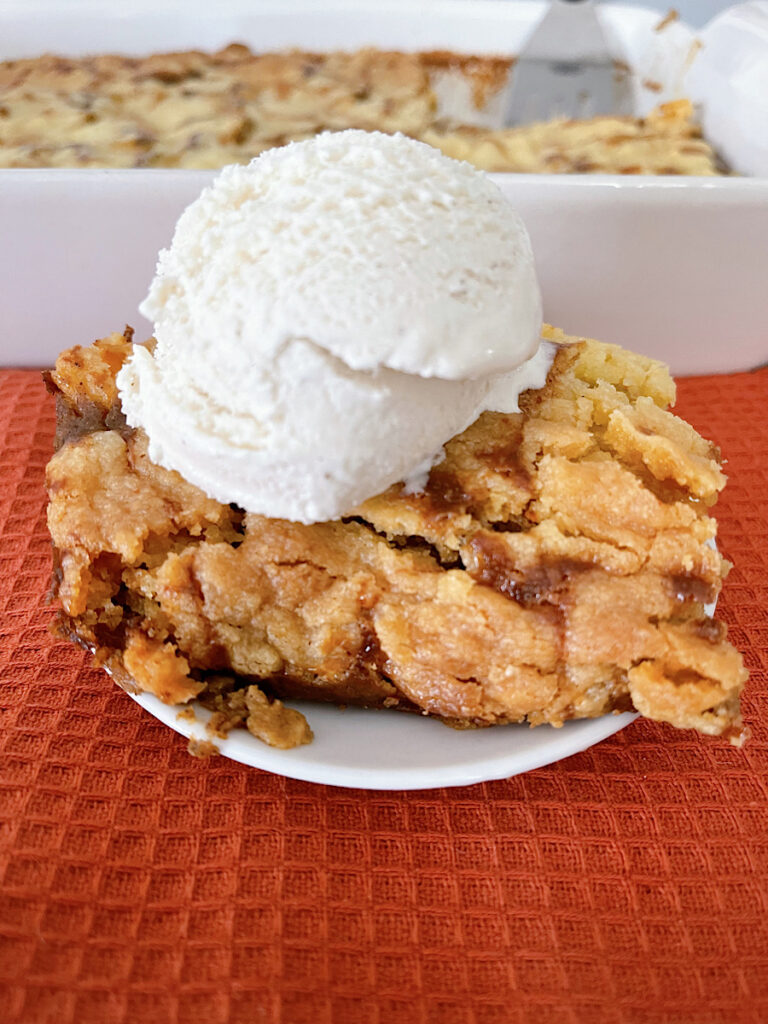 Helpful Kitchen Tools
How to Serve Pumpkin Cobbler
This pumpkin cobbler is delicious on its own, but adding a dollop of whipped cream or a scoop of ice cream takes it to the next level! You can also serve this cobbler warm with a side of vanilla ice cream for an irresistible fall dessert.
It's also great for breakfast with a dollop of yogurt and a sprinkle of cinnamon. it is sure to become your go-to recipe for Fall flavors.
How to Store Leftovers
Leftovers can be stored in an airtight container or covered with plastic wrap in the fridge for up to 4 days, or frozen for up to 3 months. Reheat before serving or serve cold.
Variations on the Recipe
For a different twist, try using a spice cake mix for the topping or adding in some chopped pecans or walnuts.
You can also switch up the types of milk used in the pumpkin mixture, such as using almond milk for a dairy-free option.
Top with a sprinkle of cinnamon sugar before baking for an extra touch of sweetness.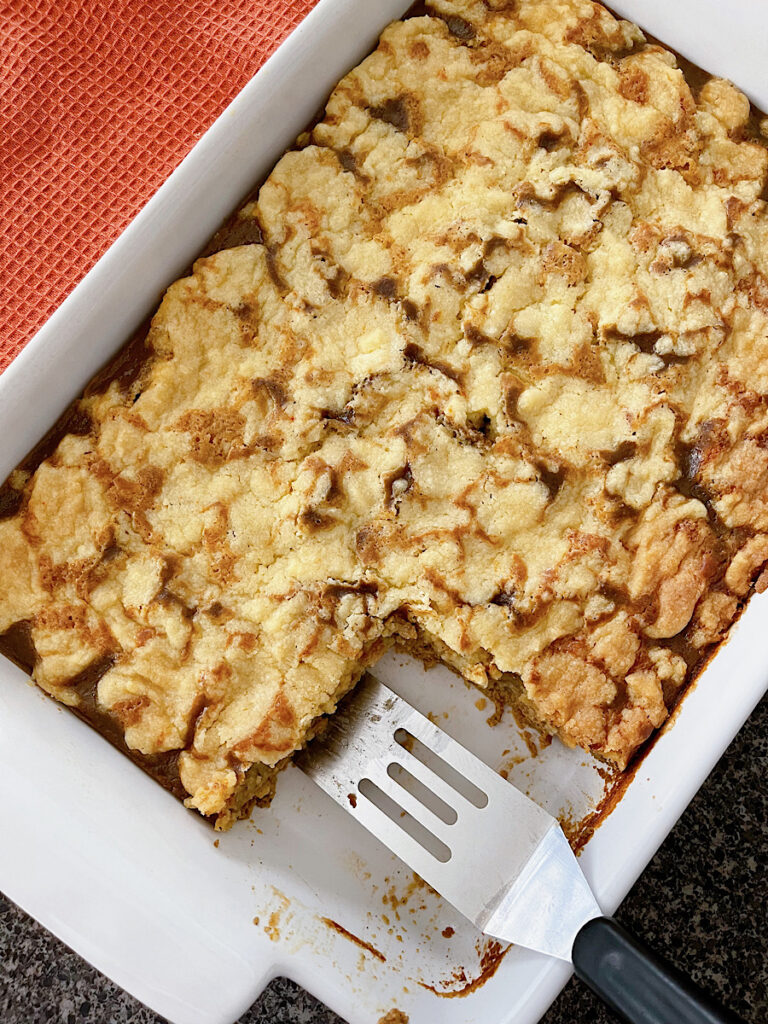 Frequently Asked Questions
Can I use canned pumpkin pie mix instead of pumpkin puree?
I do not recommend using canned pumpkin pie mix as it contains added spices and sweeteners that will change the flavor and texture of the cobbler. Stick to using just plain pumpkin puree for this recipe.
Can I use a different type of cake mix for the topping?
Yes, feel free to use a different flavor of cake mix for the topping. Adjust the amount of pumpkin spice in the batter accordingly if using a spice cake mix.
Can I make this recipe gluten-free?
To make this recipe gluten-free, use a gluten-free yellow cake mix and ensure all other ingredients are also labeled as gluten-free. Alternatively, try using a gluten-free cookie crumb topping instead of cake mix.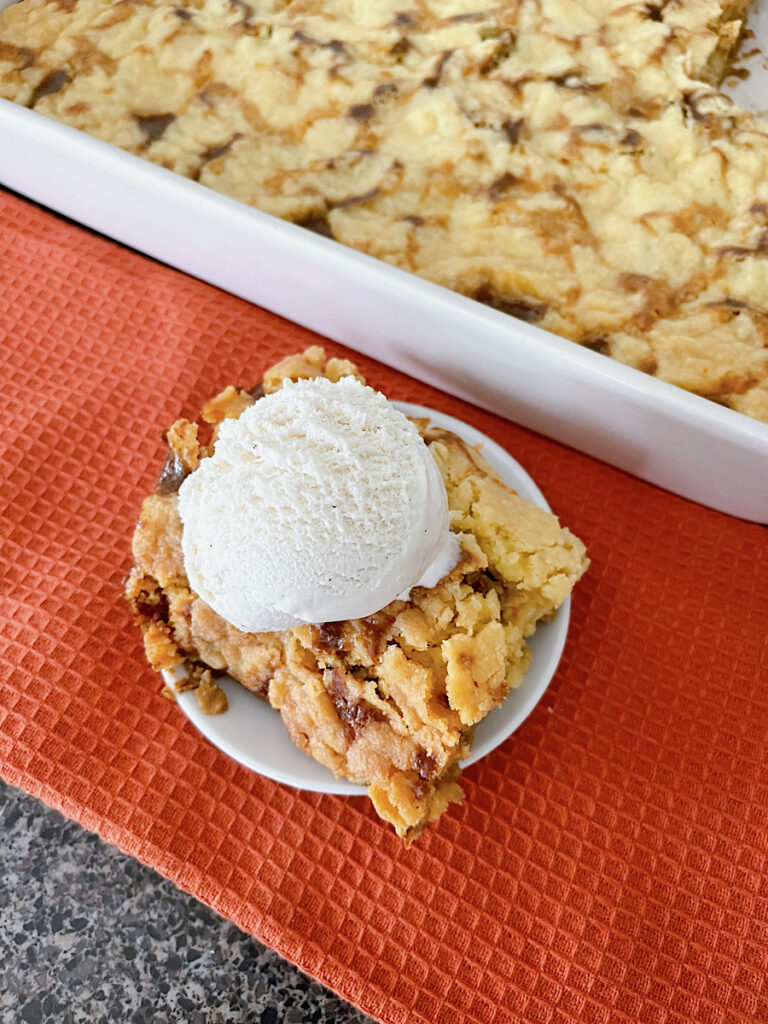 Can I make this recipe in individual servings?
Yes, simply divide the pumpkin mixture into greased ramekins or small baking dishes and top with the cake mix before baking as directed. Reduce the baking time to about 30 minutes, or until a knife inserted comes out clean.
Serve in the ramekins or carefully invert onto plates. Enjoy as individual servings!
Should a dump cake be refrigerated?
While it is not necessary, feel free to refrigerate leftovers for up to 4 days. Serve cold or warm before serving.
Why do they call it dump cake?
The name "dump cake" comes from the fact that you simply dump all of the ingredients into a dish and bake it without any mixing or layering. It's a quick and easy dessert option!
Why don't you mix dump cakes?
Mixing the ingredients before baking can result in a more evenly combined and denser texture, rather than layers of each component. However, feel free to mix and experiment to see what you prefer! Whatever way you make it, it will still be tasty.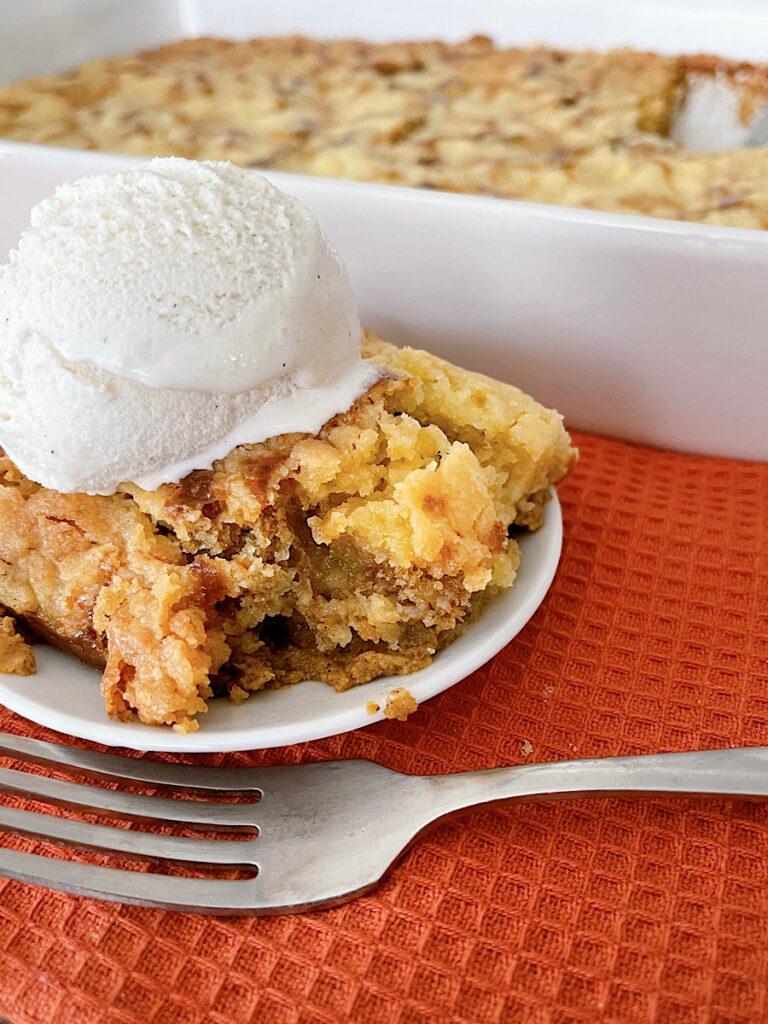 Final Thoughts
This pumpkin cobbler is a crowd-pleaser, is easy to customize to your taste preferences, and is the perfect fall dessert! Enjoy it as a cozy fall treat or for a special holiday dessert! Happy baking!
More Pumpkin Recipes
Watch the video: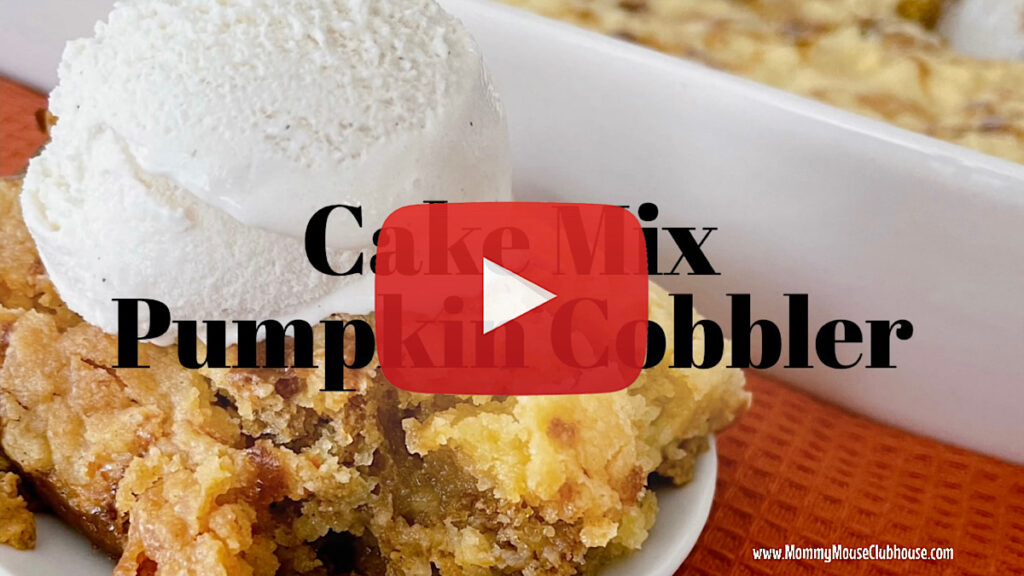 Pin for later: