Looking for a delicious pumpkin treat? This easy pumpkin bars recipe with a rich cream cheese frosting is sure to hit the spot! The recipe is easy to follow and only takes a few minutes to prepare. Plus, the pumpkin flavor pairs perfectly with the sweet, creamy frosting. So, what are you waiting for? Give this recipe a try today!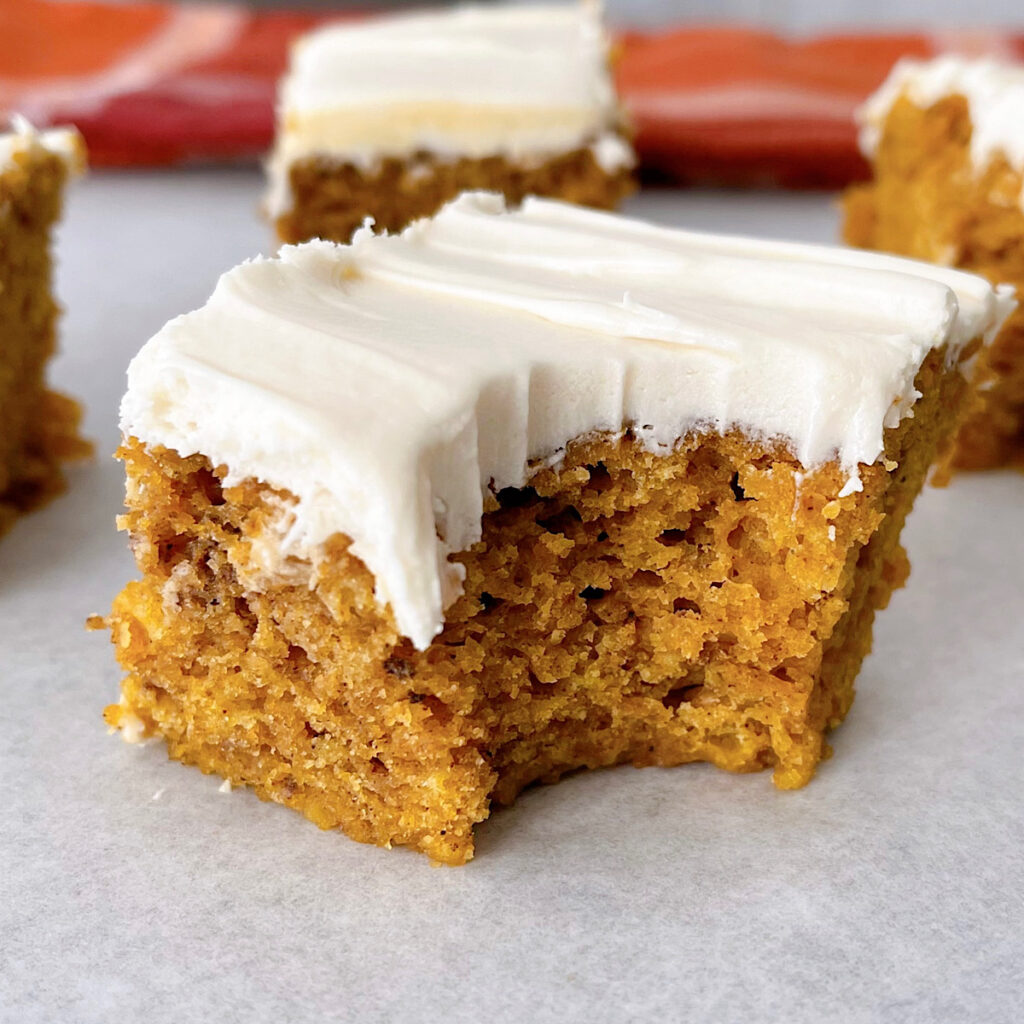 This post may contain affiliate links. When you click on these links, I get a small percentage back at no cost to you! For more information see my disclosure policy.
Below you will find tips, tricks and helpful hints for making this recipe including step by step instructions with pictures. If you would like to go directly to the recipe, scroll down to the recipe card.
Why You'll Love This Recipe
Fall is always full of pumpkin spice flavor, but desserts like pumpkin pie and pumpkin cheesecake can take hours to make. If you're looking for something that you can enjoy in less time, these pumpkin bars are the perfect solution and are one of my favorite pumpkin recipes!
The recipe only requires a few minutes of prep time, and the bars can be baked in about 30 minutes. Plus, they're easy to transport, so they're perfect for taking to potlucks and parties.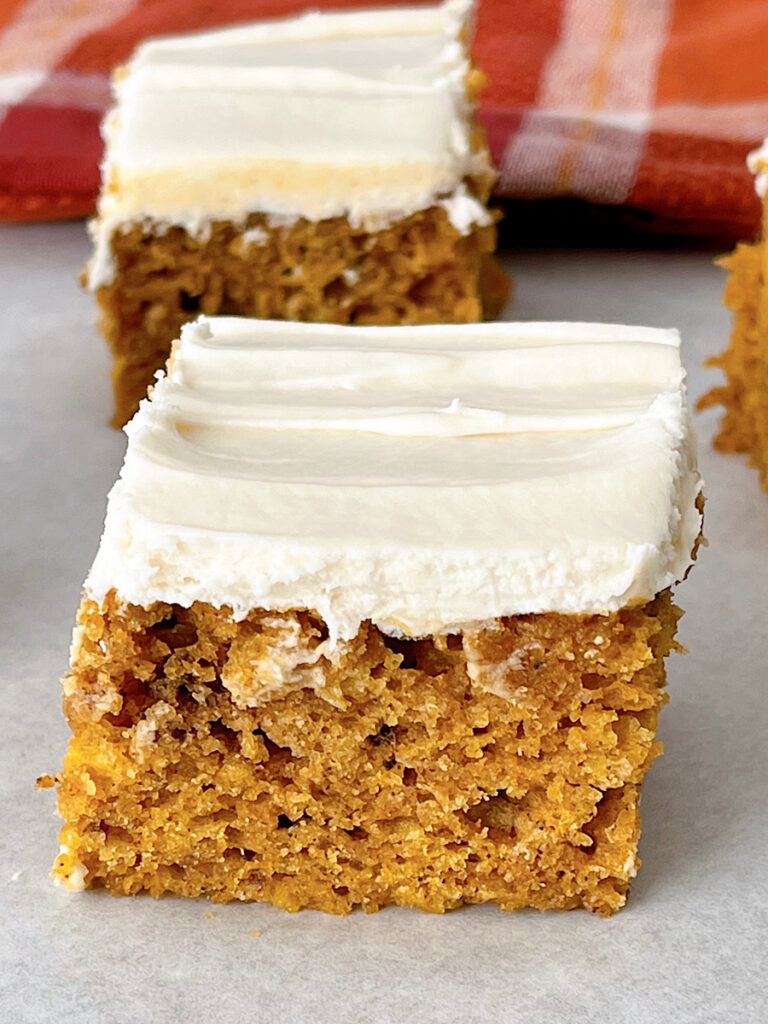 Pumpkin Bar Ingredients
*Ingredient amounts are located in the recipe card at the end of this post.
Eggs: You will need large eggs to for this pumpkin bar recipe.
Sugar: Use granulated white sugar found in the baking aisle.
Butter: I like to use melted butter instead of vegetable oil when making pumpkin bars. The butter adds more flavor.
Pumpkin Puree: You can find canned pure pumpkin puree in the baking aisle. Do not use pumpkin pie mix.
Vanilla Extract: I prefer to use pure vanilla extract, but imitation vanilla flavoring will work as well.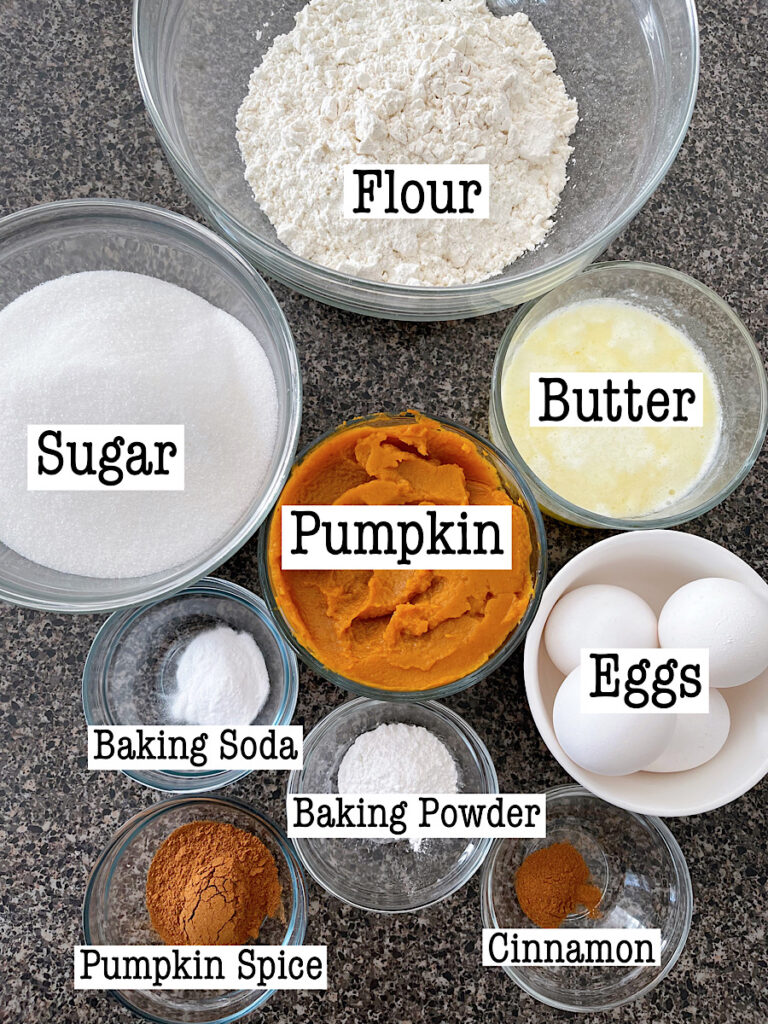 All-Purpose Flour: You can use either bleached or unbleached flour for this recipe.
Baking Powder: Be sure your baking powder is fresh. Baking powder that's been sitting on the shelf for a while may not work as well.
Baking Soda: This ingredient helps the bars to rise.
Pumpkin Pie Spice: You can find this spice blend in the baking aisle. If you can't find it, you can make your own using this homemade pumpkin spice recipe here.
Cinnamon: I like to add a little extra cinnamon to my pumpkin bars for flavor.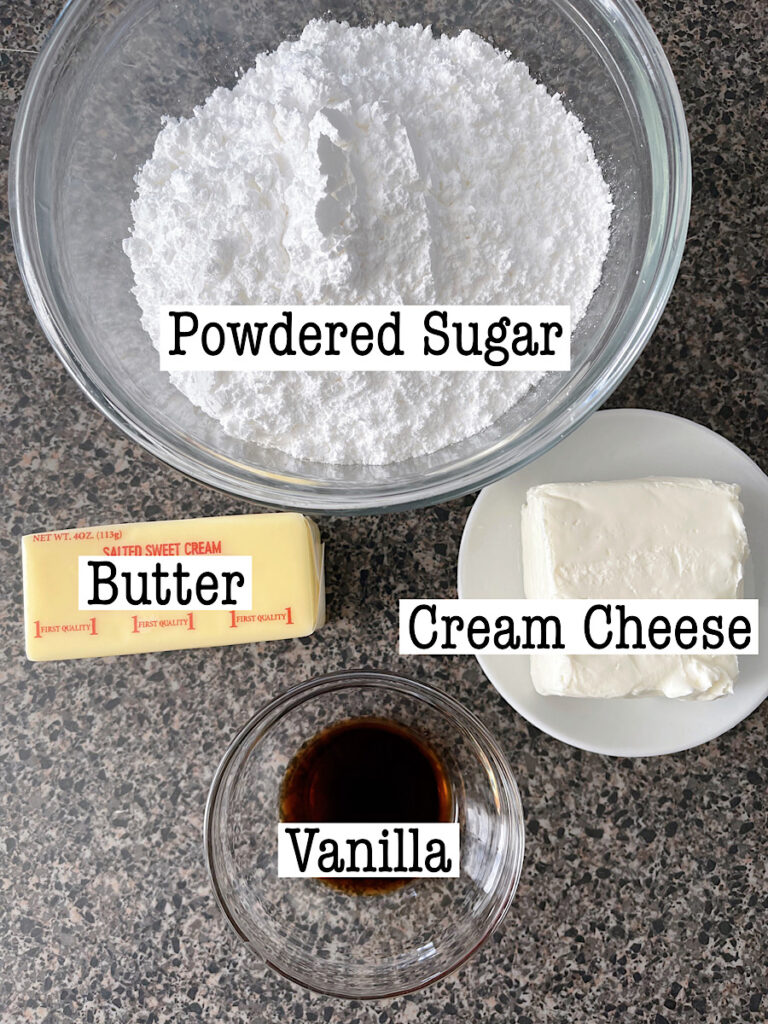 Cream Cheese Frosting Ingredients
Cream Cheese: Be sure to use full-fat cream cheese for the best results.
Butter: The butter needs to be softened to room temperature.
Vanilla Extract: Use either pure or imitation vanilla extract.
Powdered Sugar: Also known as confectioners' sugar, this ingredient is used to sweeten and thicken the frosting and can be found at the grocery store.
Milk: If needed, you can add a little milk to thin out the frosting.
How to Make Pumpkin Bars (Step-by-Step Recipe)
[1] Whisk together the eggs, sugar, melted butter, pumpkin puree, and vanilla extract in a large mixing bowl. Set aside.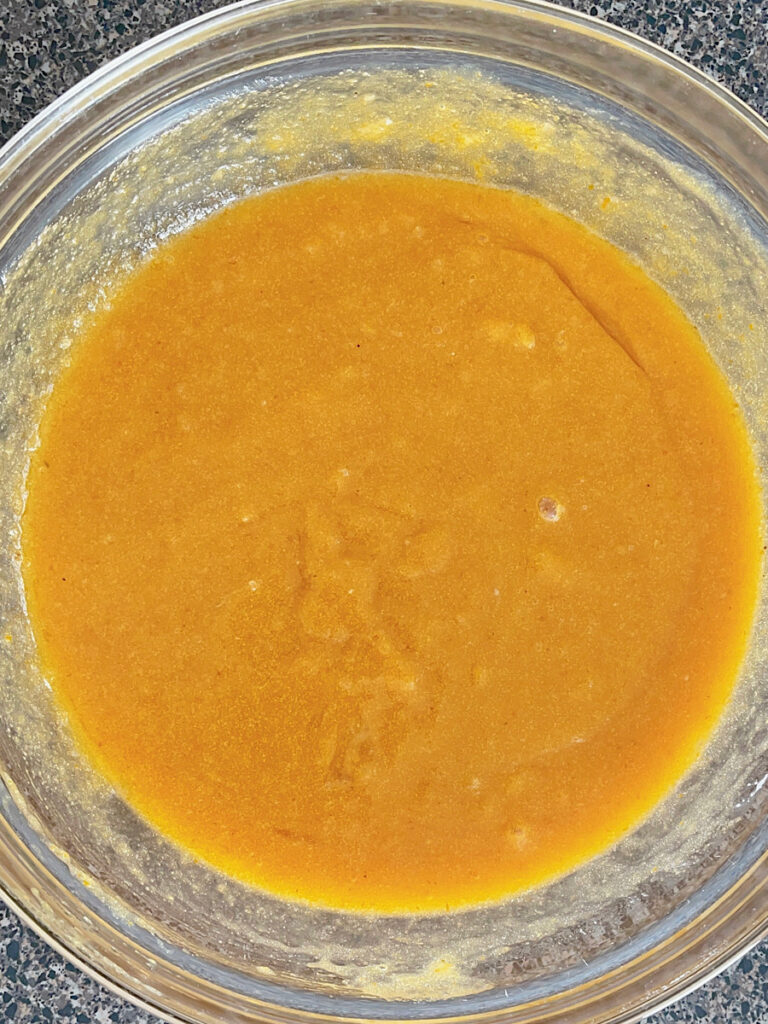 [2] In a separate bowl, whisk the flour, baking powder, baking soda, pumpkin spice, and cinnamon together.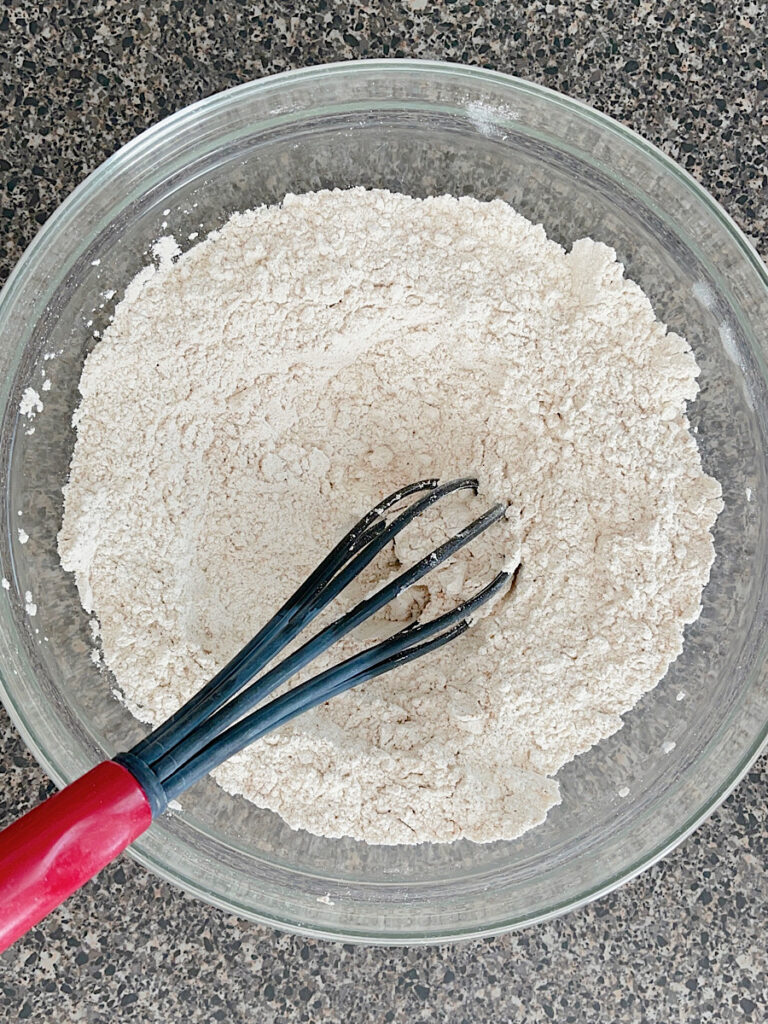 [3] Add the wet ingredients to the dry ingredients and stir until combined.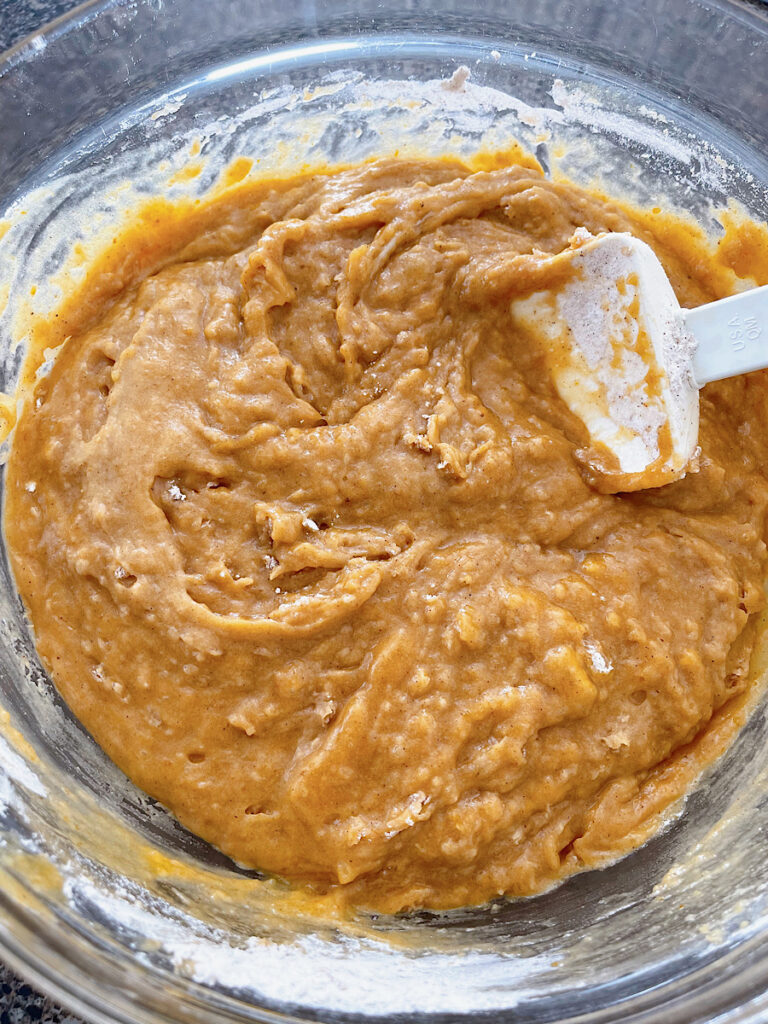 [4] Lightly grease a 10×15 inch jelly roll pan and fill it with the pumpkin mixture.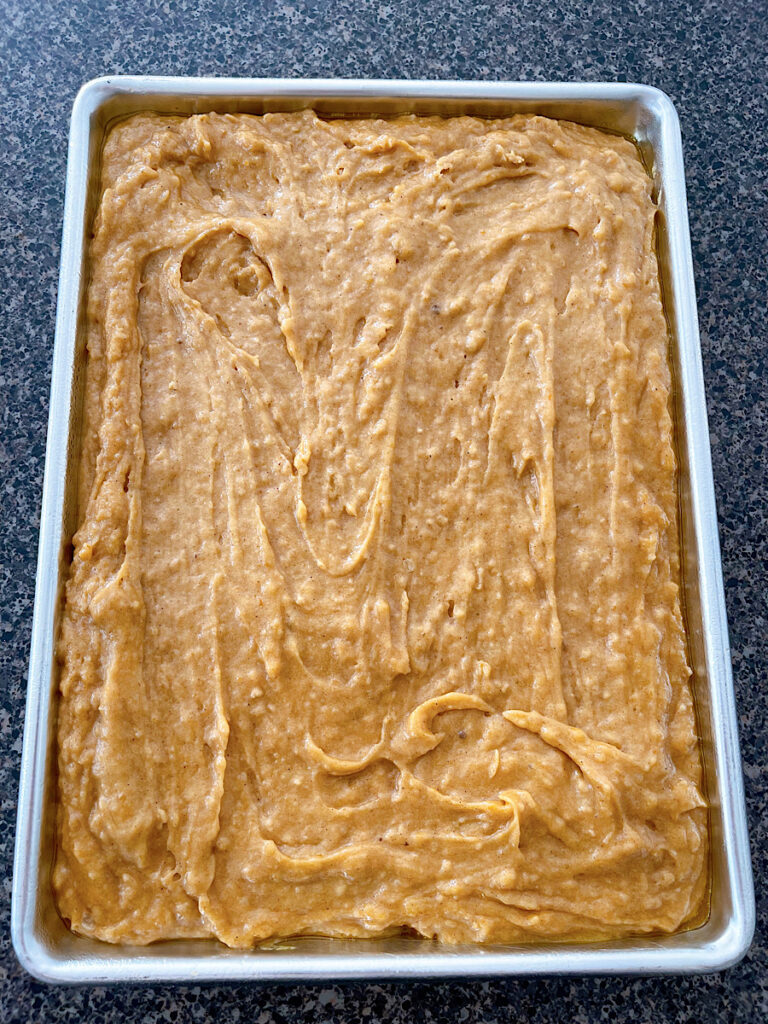 [5] Bake at 350 degrees for 30-35 minutes or until a toothpick inserted comes out clean. (Note: the batter will rise to the top of the pan, so consider placing the jelly roll pan on a larger baking pan to catch any excess batter)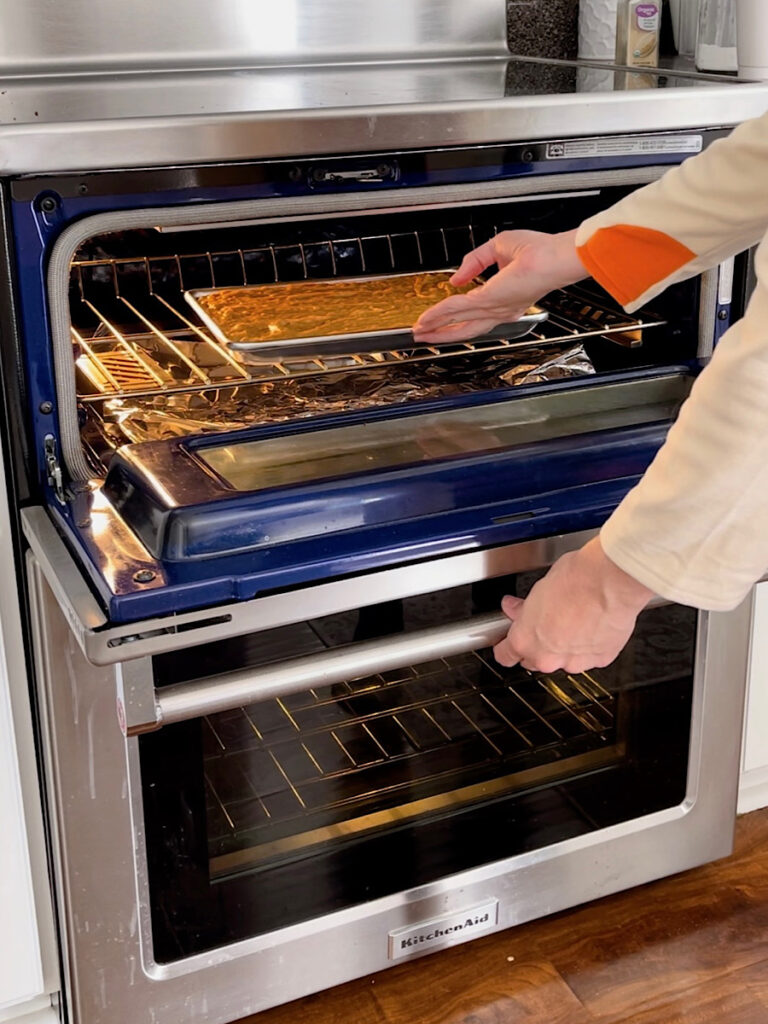 [6] Remove and cool completely on a wire rack.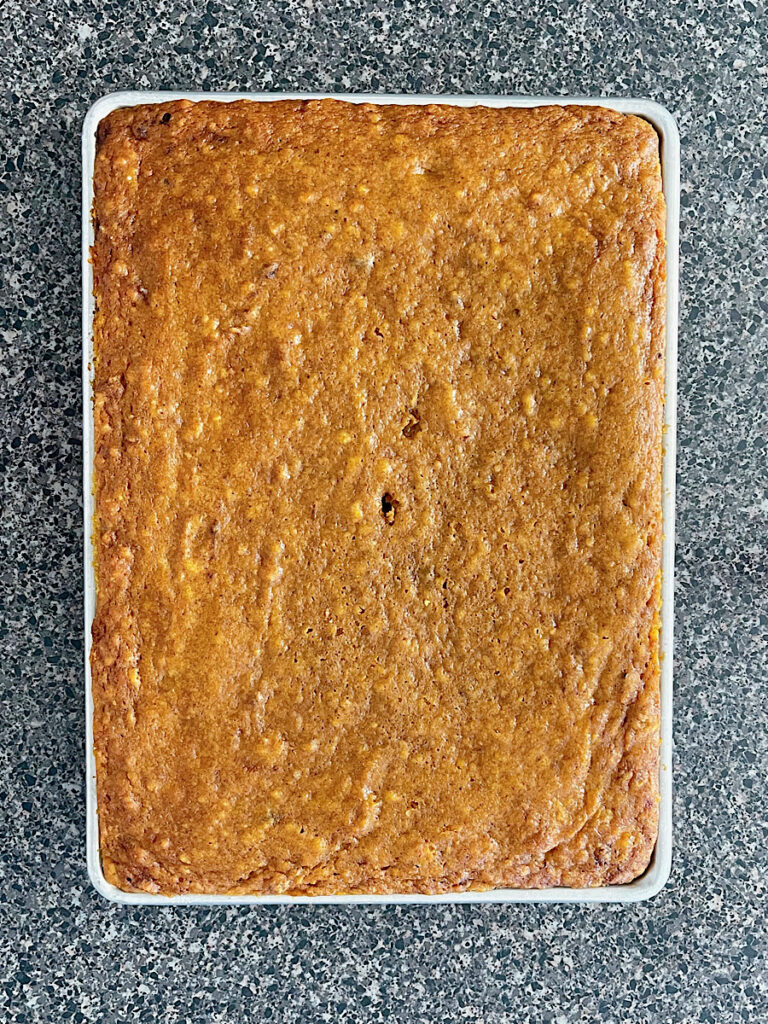 How to Make Cream Cheese Frosting
[1] Beat the cream cheese and butter in a stand mixer or with a hand mixer for 1-2 minutes.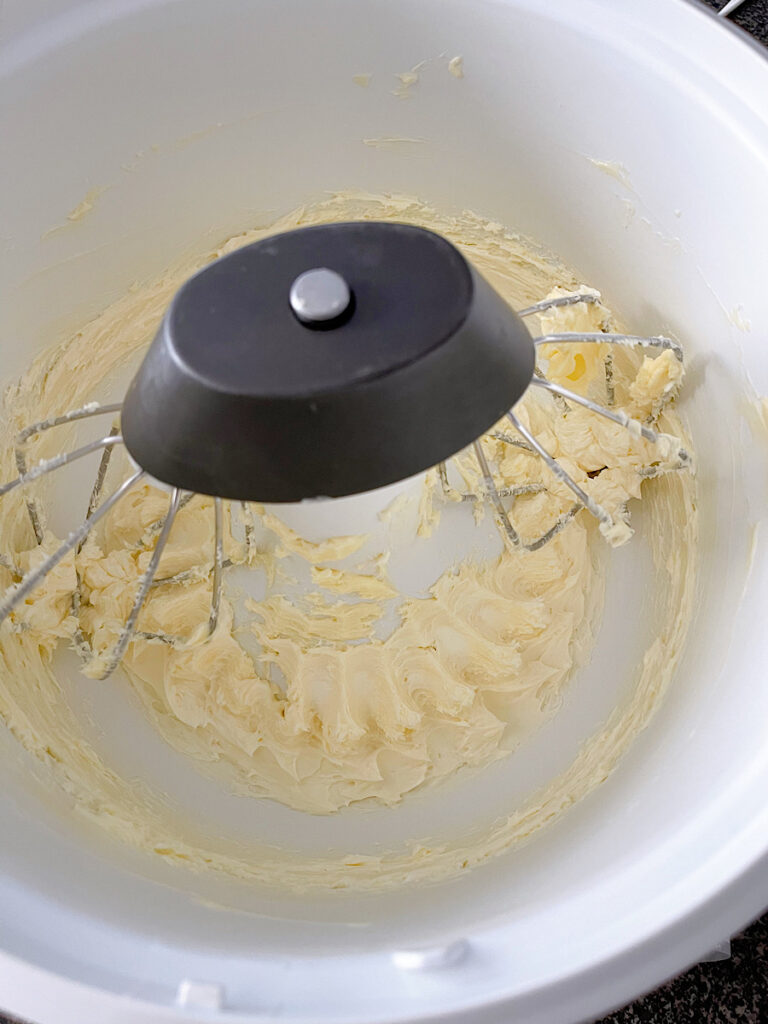 [2] Add the powdered sugar and vanilla and beat for another 1-2 minutes, until smooth.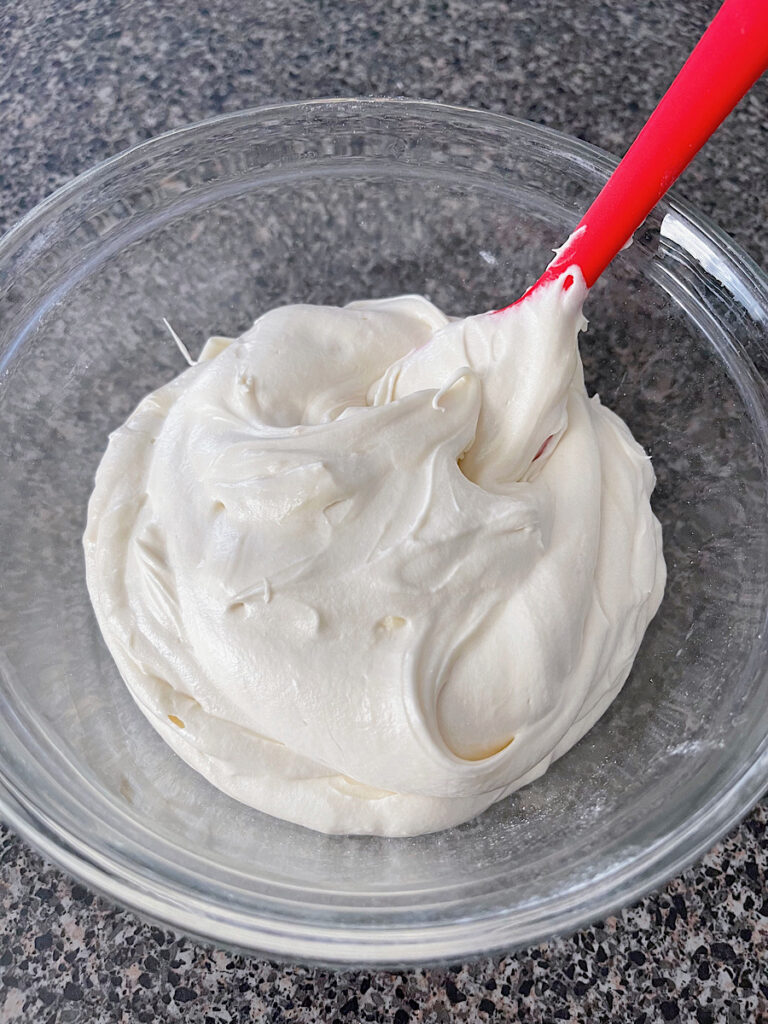 [3] Spread the frosting over the cooled bars, then refrigerate for 15-20 minutes before cutting into squares.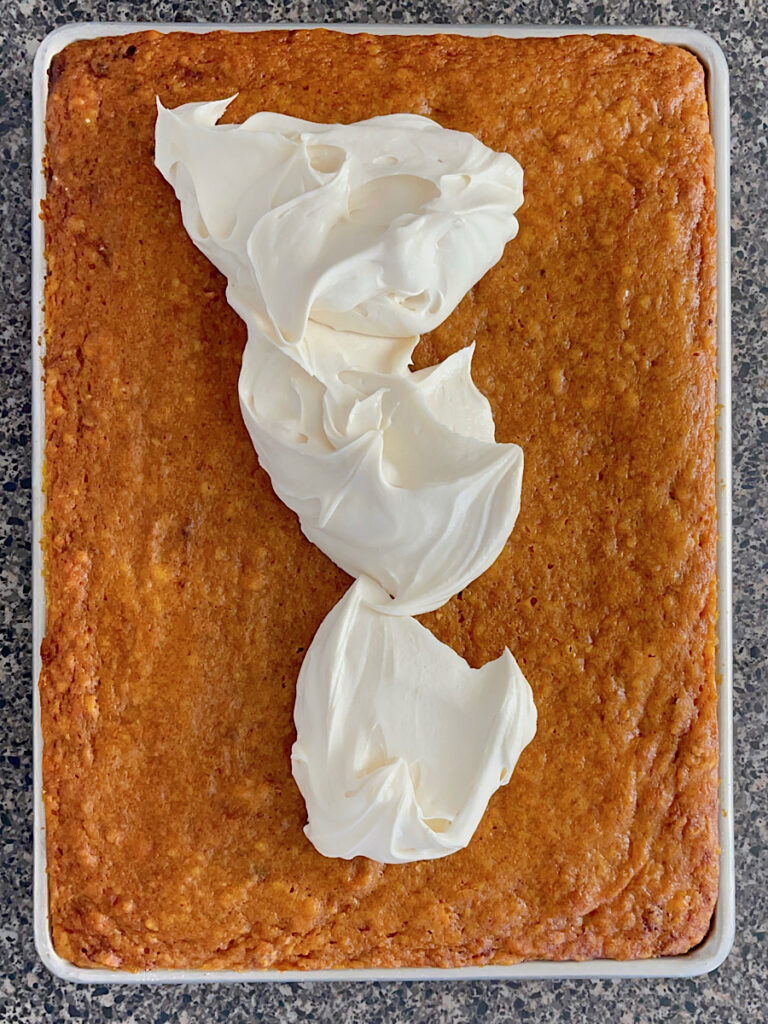 Helpful Kitchen Tools:
Frequently Asked Questions
Can Pumpkin Bars Be Made Ahead Of Time?
Yes, these pumpkin spice bars can be made ahead of time and stored in the fridge for up to 3 days. The frosting may soften slightly after being refrigerated,
How to Store Pumpkin Bars
Pumpkin bars can be stored in an airtight container at room temperature for up to 3 days.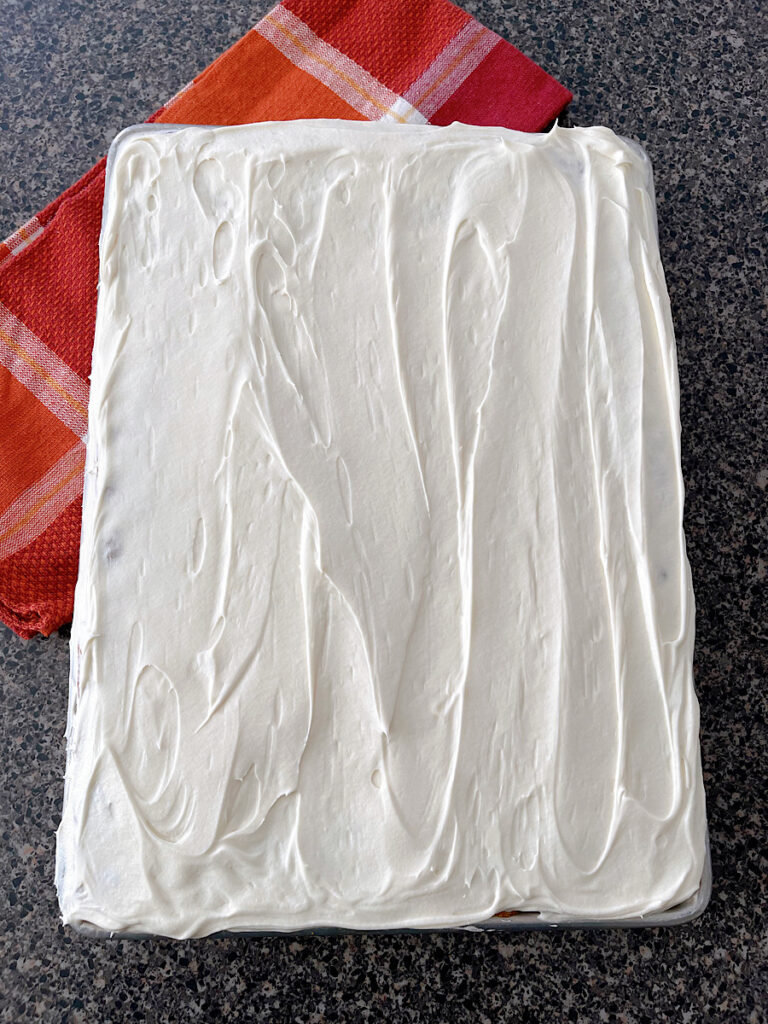 Can I Freeze Pumpkin Bars?
Yes, you can freeze these classic pumpkin bars for up to 2 months. Be sure to wrap them tightly in plastic wrap or aluminum foil before freezing. When you're ready to enjoy, thaw overnight in the fridge.
When to Serve Pumpkin Bars
Pumpkin bars are great for an every day treat or served to a crowd at a Halloween party or as a Thanksgiving dessert! Thea warm spices mixed with pumpkin make these bars the perfect fall treat!
Final Thoughts
I hope you enjoy this soft pumpkin bars recipe with tangy cream cheese frosting! If you do, please be sure to leave a review and comment below. I would love to hear your thoughts!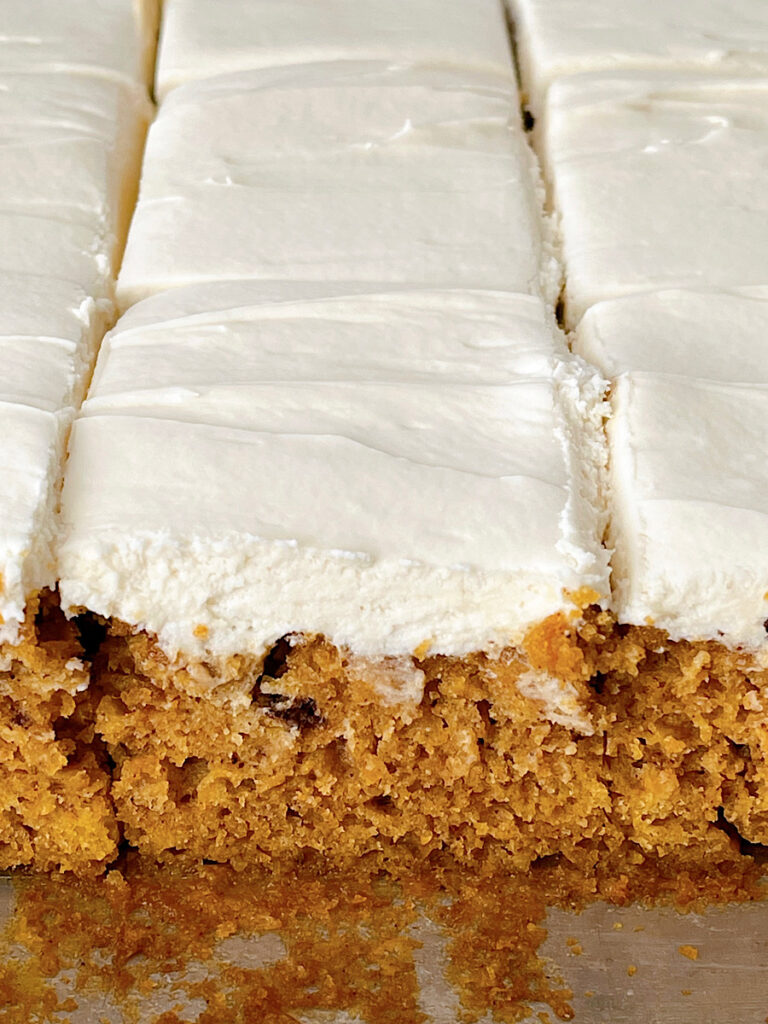 More Pumpkin Recipes
Pumpkin Spice Rice Krispie Treats
Pin for later: