These Cinnamon Banana Muffins are moist and full of bananas and cinnamon. Easily made with items that are already in your pantry, this is the perfect banana muffin recipe!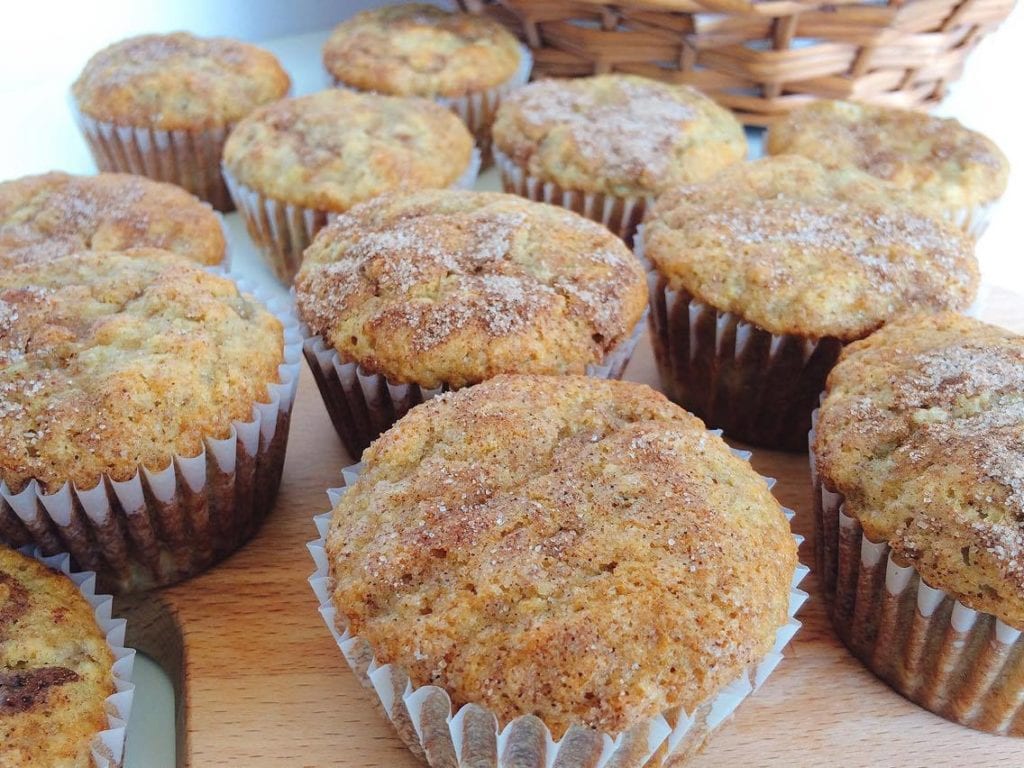 This post may contain affiliate links. When you click on these links, I get a small percentage back at no cost to you! For more information see my disclosure policy.
Being the wife of a firefighter means that my boys and I eat dinner alone 2 or 3 nights a week. Since I am just making dinner for 3 little guys, I want to make something that I know they will eat.
At our house, that's muffins. Yes, sometimes we eat muffins for dinner! My boys will not eat just any old muffin though.
These boys could almost be considered muffin connoisseurs, with the amount of muffins and number of different recipes they've tasted.
After all that trial and error, there is only one muffin that I know they will eat EVERY TIME. Easy Cinnamon Swirl Banana Bread Muffins.
In fact, I usually buy extra bananas each week and wait for them to become super ripe, just to make these muffins!
The great thing about these muffins is that they are easy to make with only a few ingredients, and they come together so quickly.
You can have soft, warm muffins on your table in 30 minutes!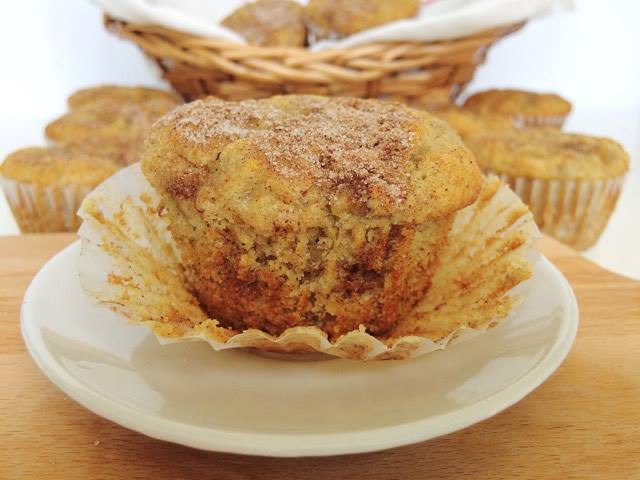 How to Make Banana Muffins More Fluffy
One way to make fluffier banana muffins is to use room temperature ingredients. Having your butter, eggs, and milk at room temperature helps the mixture to be smoother which yields a more fluffy banana muffin.
A great tip when making banana muffins is to add the ripe bananas into a bowl and mash them with a fork until they are smooth. This will help keep your banana muffins from having clumps in them, producing a more even moistness throughout the dough.
I also like to use a small food processor or blender to achieve the most smooth banana puree to add to the muffins.
Cinnamon Banana Muffins Ingredients
All-Purpose Flour- Standard all-purpose flour is what I use to make cinnamon banana muffins.
Baking Powder- When it comes to baking powder, do not substitute. Baking powder is a leavening agent that produces carbon dioxide in the presence of heat and moisture. If you use a different type of leavener in your recipe, it will alter how the muffins rise in the oven.
Baking Soda- is another leavener that is used in addition to baking powder. Baking soda is a base and when mixed with an acid like buttermilk or lemon juice (or even vinegar), it produces carbon dioxide and makes your muffins rise.
Cinnamon- adds flavor to these cinnamon banana muffins!
Salt- Salt is used to enhance the sweetness of the muffins
Mashed Bananas- adds the sweetness and banana flavor to these banana muffins
Vanilla Extract- adds flavor to these cinnamon banana muffins
Eggs- Eggs add moisture, richness, and tenderness to your baked goods. They also bind the ingredients together when they are baked.
Sugar- This recipe calls for granulated white sugar.
Melted Butter- gives the muffins moisture and a dense texture.
Cinnamon/Sugar Topping- adds depth and flavor to these banana muffins and tastes great!
More Muffin Recipes
Helpful Kitchen Items
How to Make Easy Cinnamon Swirl Banana Bread Muffins
[1] In a medium sized mixing bowl, stir together the flour, baking powder, baking soda, salt and cinnamon.
[2] In a separate bowl, stir together the mashed bananas, sugar, egg, vanilla and melted butter. Then combine the wet and dry ingredients together until full incorporated, being careful not to over mix.

[3] Spray a muffin pan with cooking spray or line with paper baking cups. For this batch, I used these paper liners for half of the muffins (that we were going to give away) and these colorful silicon cupcake liners for the muffins were going to keep. I like that the silicon liners are reusable and they also make great snack cups in lunch boxes!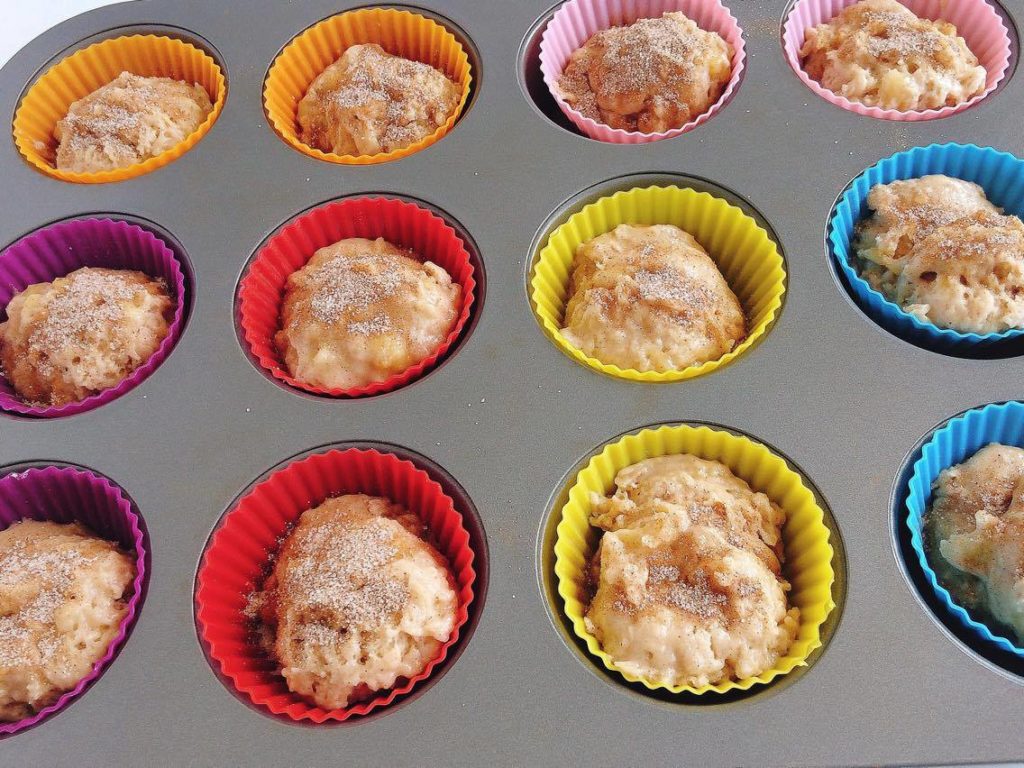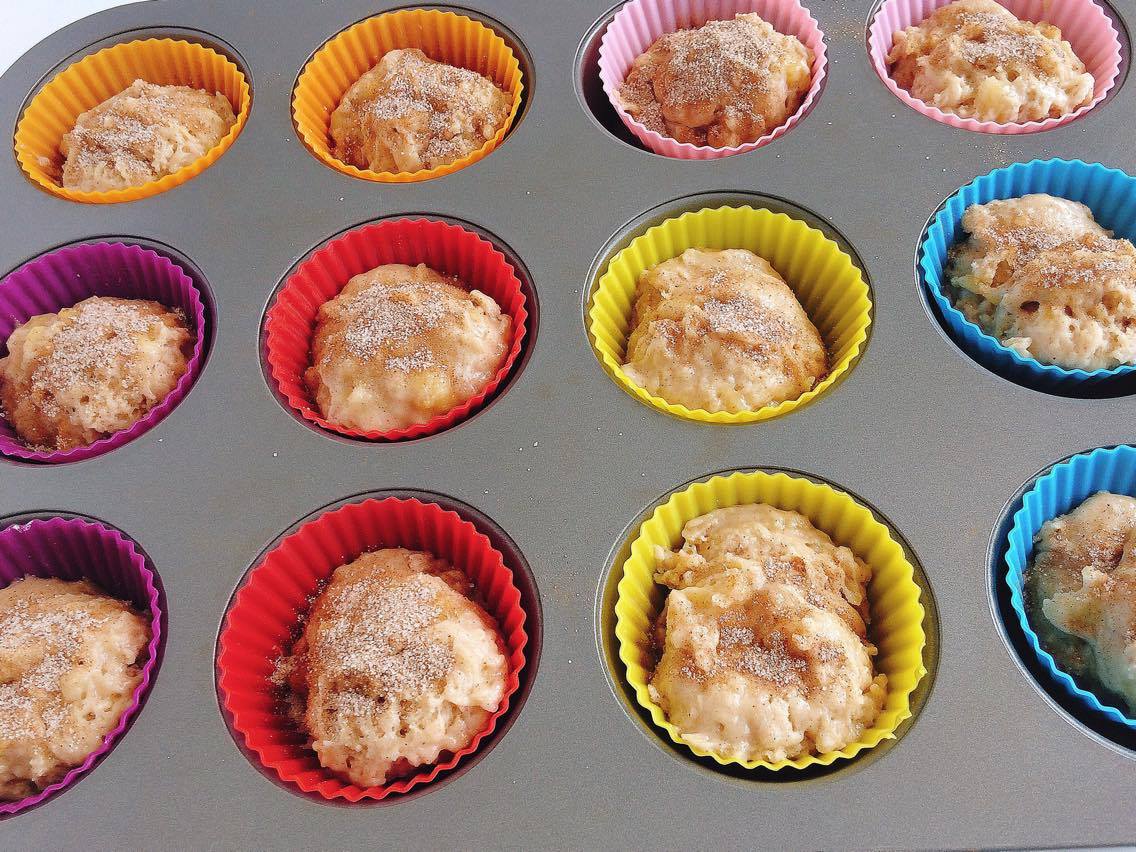 [4] Fill each muffin cup with about 1/4 cup of batter. To measure out the batter, I use a Medium Cookie Scoop that holds about 2 Tablespoons. I put two scoops of batter per cup, which equals about 1/4 cup. It helps to make the muffins a consistent size.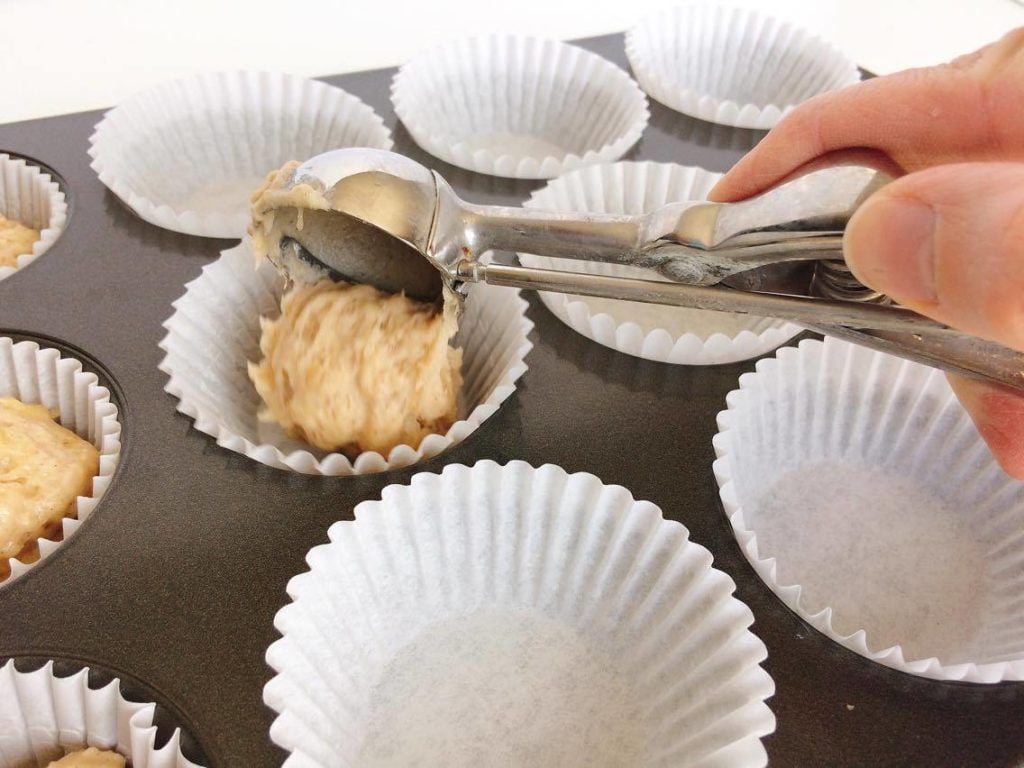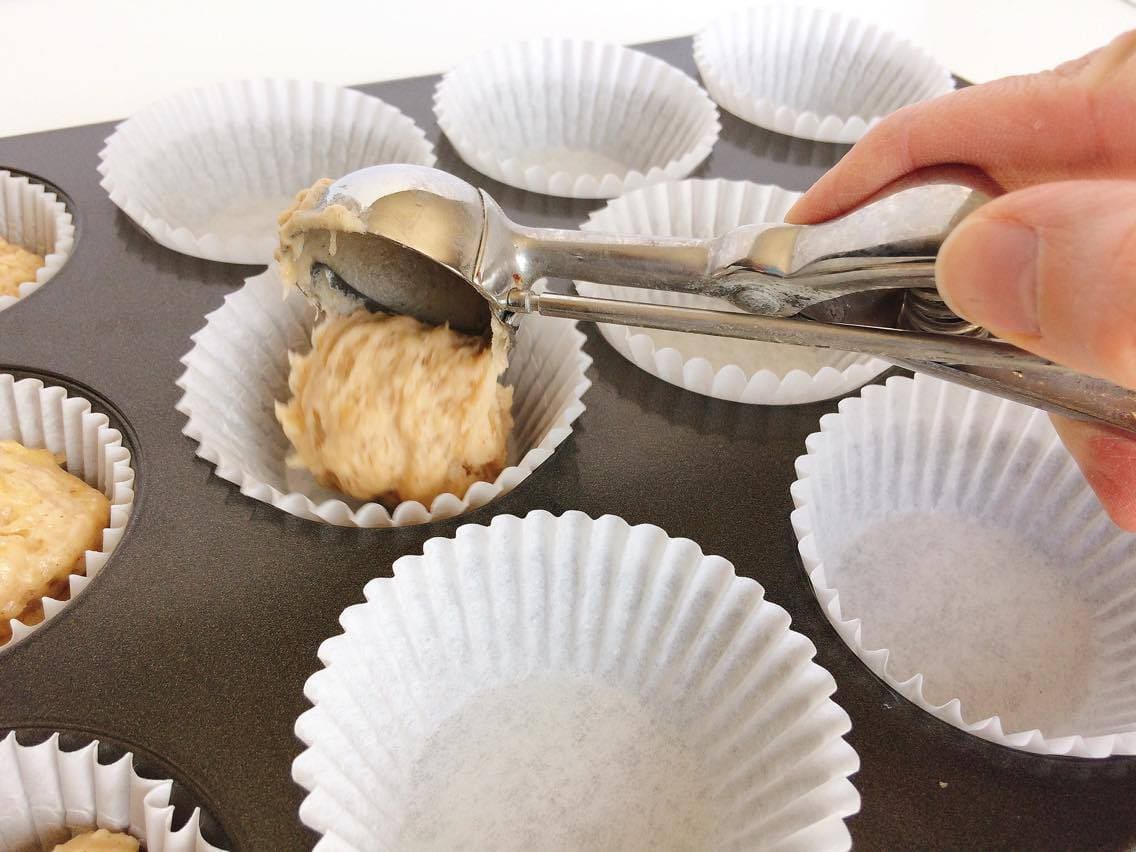 [5] Here comes the fun part! Mix the remaining 1 1/2 teaspoon cinnamon with the remaining 1/4 cup of sugar.
[6] Sprinkle the cinnamon-sugar mixture over the top of each muffin and, if you feel like it, swirl the mixture into the batter with a toothpick. This part is totally optional though.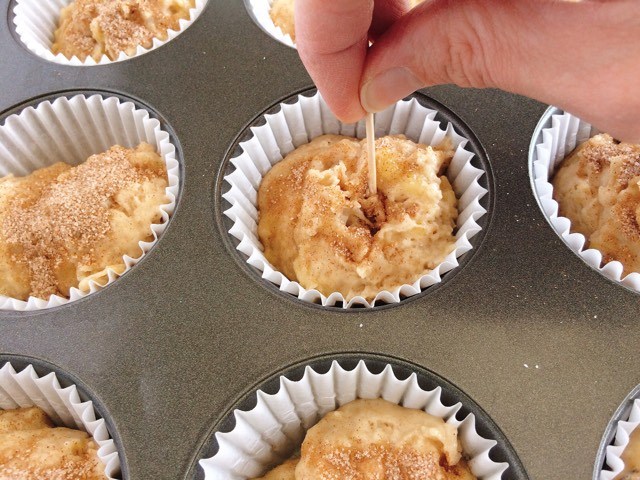 [7] Bake the muffins for 15-20 minutes at 350 degrees until a toothpick inserted in the center, comes out clean.
[8] Transfer the muffins to a cooling rack and allow them to cool completely.
[9] Then enjoy your delicious, Easy Cinnamon Swirl Banana Bread Muffins.
Check out more yummy breakfast recipes here.