The best way to start your morning is with these moist, flavorful cinnamon banana muffins. They're made easily using items that you probably already have in the house and they taste so good!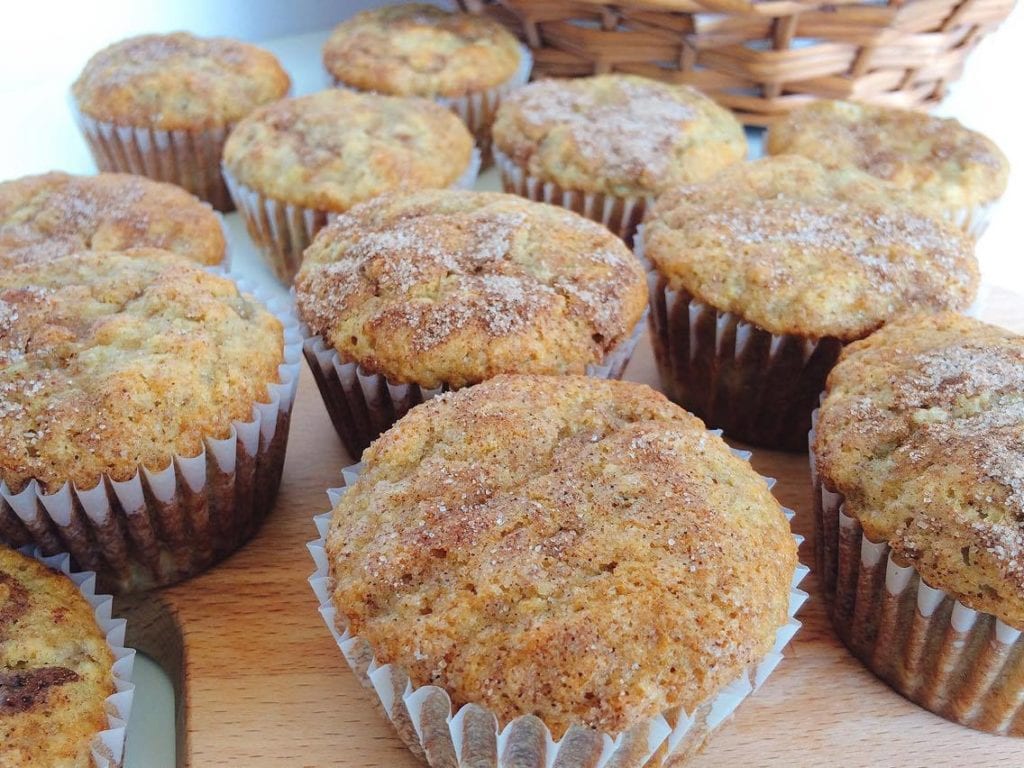 This post may contain affiliate links. When you click on these links, I get a small percentage back at no cost to you! For more information see my disclosure policy.
Below you will find tips, tricks and helpful hints for making this recipe including step by step instructions with pictures. If you would like to go directly to the recipe, scroll down to the recipe card or tap "Jump to Recipe" at the top of the page.
Why You'll Love These Cinnamon Banana Muffins
Cinnamon banana muffins are the perfect way to start your day. They are packed with flavor and you have to agree that bananas and cinnamon flavor go so well together!
The best part about this simple recipe is that it is so easy to make. You can have these delicious muffins ready in just a few minutes.
These banana cinnamon muffins are also a great snack or dessert. They are perfect for when you need a little something sweet but don't want to overdo it.
Most of the ingredients needed for these cinnamon sugar muffins are probably in your pantry or can easily be purchased from your local grocery store.
These muffins are light and fluffy and have the perfect amount of sweetness. I'm sure you'll love this cinnamon banana muffins recipe as much as I do!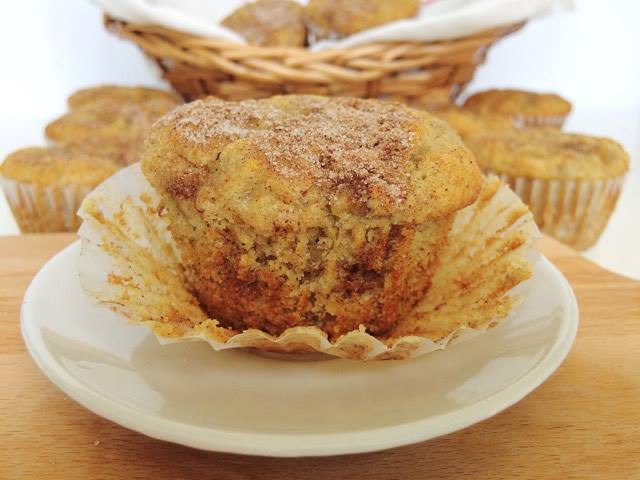 How to Know if Bananas are Ripe Enough for Baking
One thing that is important when baking with bananas is to make sure that the bananas are ripe enough. This can sometimes be tricky, but here are a few tips for knowing if you have perfectly ripe bananas or overly ripe bananas:
Look for bananas that have dark spots on them and look slightly soft when you squeeze them.
If your bananas aren't quite ripe enough, you can speed up the ripening process by putting them in a paper bag with an apple or two. You should check on your bananas every day or so to see if they have gotten softer and sweeter.
Another way to tell if your bananas are ripe enough for baking is to taste a tiny bit of the peel. If the banana tastes sweet and flavorful, then it will probably work well in your recipe.
No matter how you choose to test for ripeness, just make sure to keep an eye on your bananas so that you can bake with them when they are at their peak of sweetness and flavor!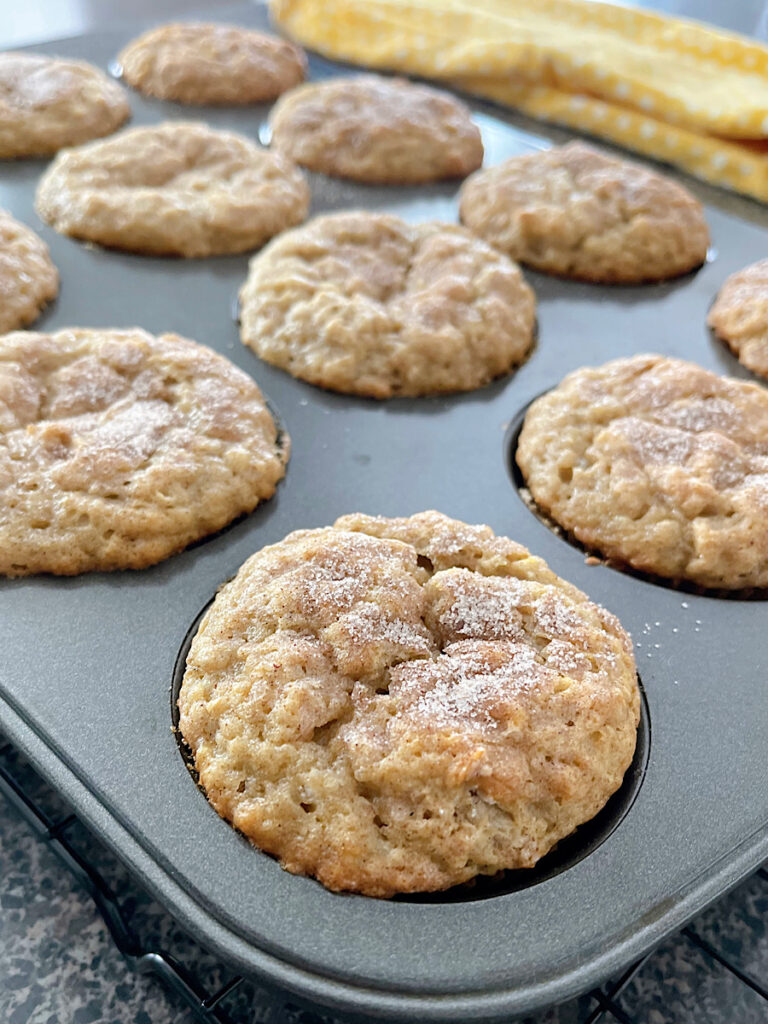 How to Make Banana Muffins More Fluffy
One way to make fluffier banana muffins is to use room temperature ingredients. Having your butter, eggs, and milk at room temperature helps the mixture to be smoother which yields more fluffy muffins.
A great tip when making banana muffins is to add the ripe bananas into a bowl and mash them with a fork until they are smooth. This will help keep your banana muffins from having clumps in them, producing a more even moistness throughout the dough.
I also like to use a small food processor or blender to achieve the most smooth banana puree to add to the muffins.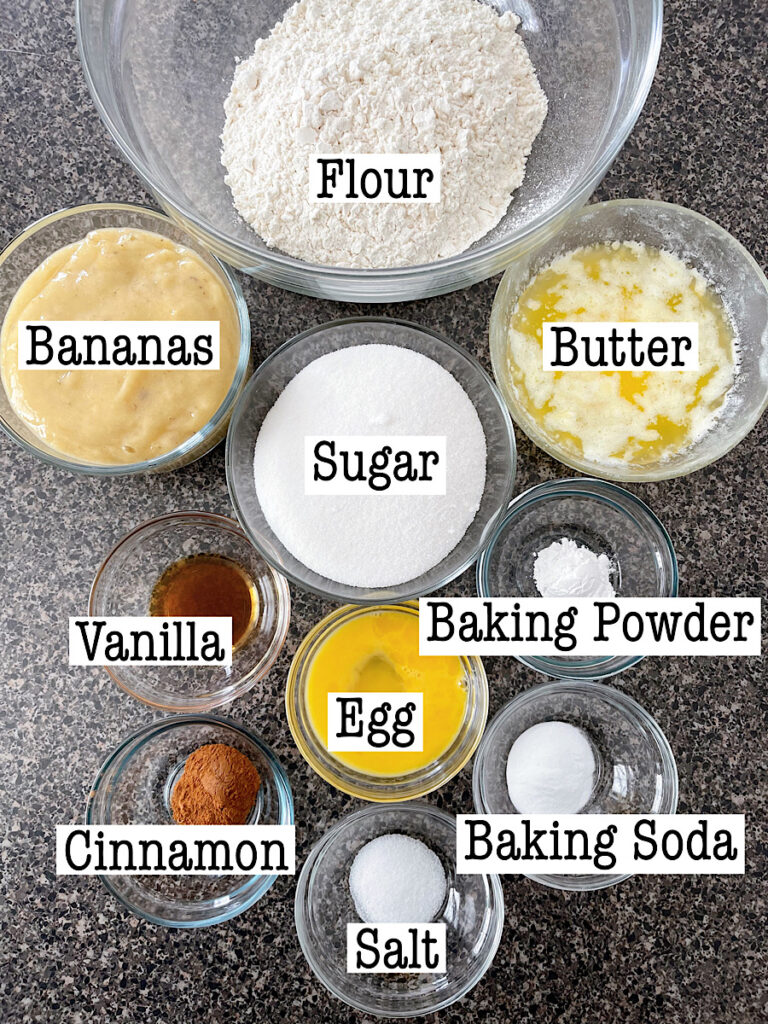 Cinnamon Banana Muffins Ingredients
*Ingredient amounts are located in the recipe card at the end of this post.
All-Purpose Flour- Standard all-purpose flour is what I use to make cinnamon banana muffins.
Baking Powder- When it comes to baking powder, do not substitute. Baking powder is a leavening agent that produces carbon dioxide in the presence of heat and moisture. If you use a different type of leavener in your recipe, it will alter how the muffins rise in the oven.
Baking Soda- is another leavener that is used in addition to baking powder. Baking soda is a base and when mixed with an acid like buttermilk or lemon juice (or even vinegar), it produces carbon dioxide and makes your muffins rise.
Cinnamon- adds flavor to these cinnamon banana muffins!
Salt- Salt is used to enhance the sweetness of the muffins
Mashed Bananas- adds the sweetness and banana flavor to these banana muffins
Vanilla Extract- adds flavor to these cinnamon banana muffins
Eggs- Eggs add moisture, richness, and tenderness to your baked goods. They also bind the ingredients together when they are baked.
Sugar- This recipe calls for granulated white sugar.
Melted Butter- gives the muffins moisture and a dense texture. Use salted or unsalted butter.
Cinnamon/Sugar Topping- adds depth and flavor to these banana muffins and tastes great!
How to Make Easy Cinnamon Muffins with Banana
[1] In a medium bowl, stir together the flour, baking powder, baking soda, salt and cinnamon.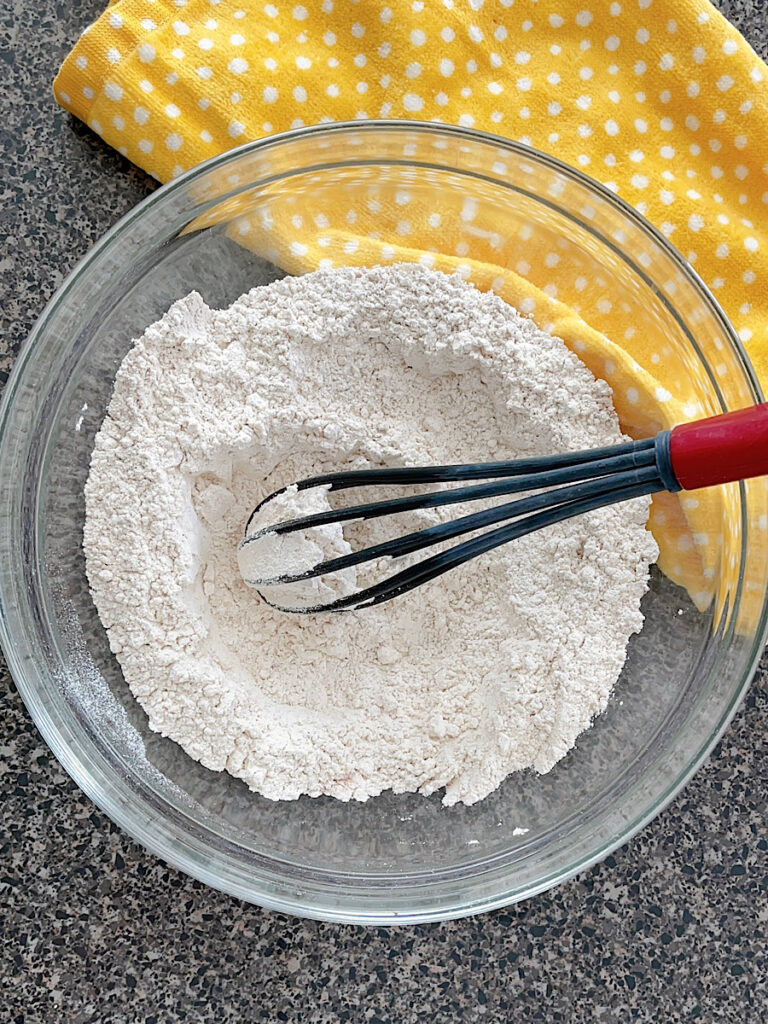 [2] In a separate large bowl, stir together the mashed bananas, sugar, egg, vanilla and melted butter. Then combine the wet ingredients with the dry ingredients until fully incorporated, being careful not to over mix.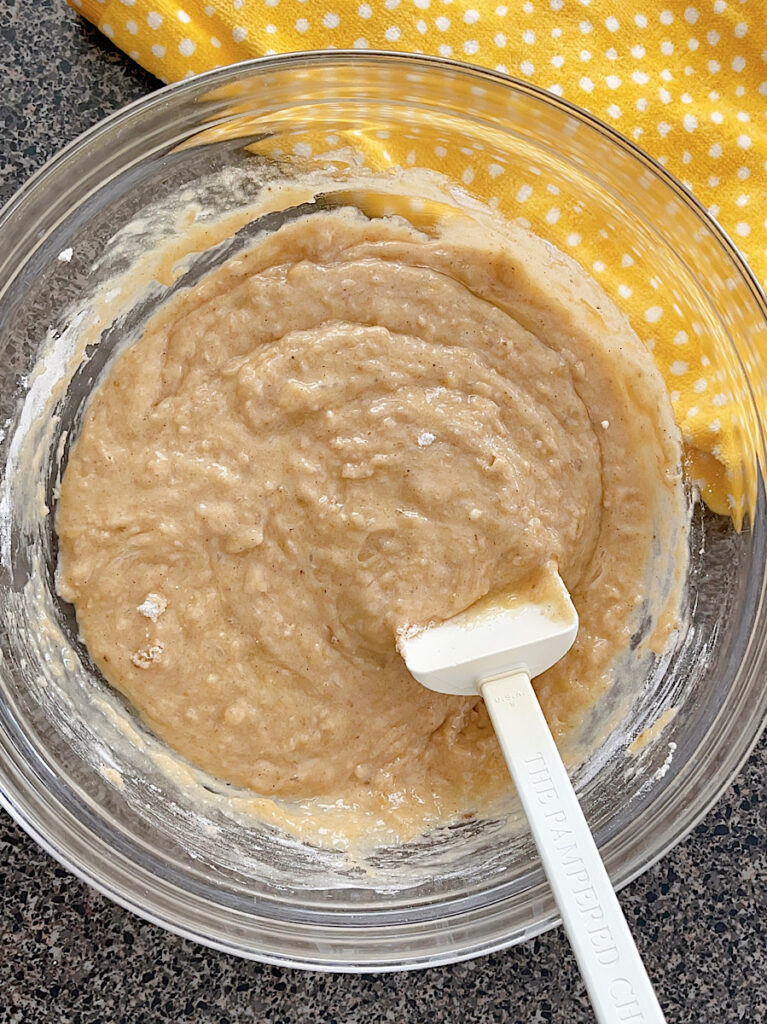 [3] Spray a muffin pan with cooking spray or line with paper baking cups. For this batch, I used these paper liners for half of the muffins (that we were going to give away) and these colorful silicon cupcake liners for the muffins were going to keep. I like that the silicon liners are reusable and they also make great snack cups in lunch boxes!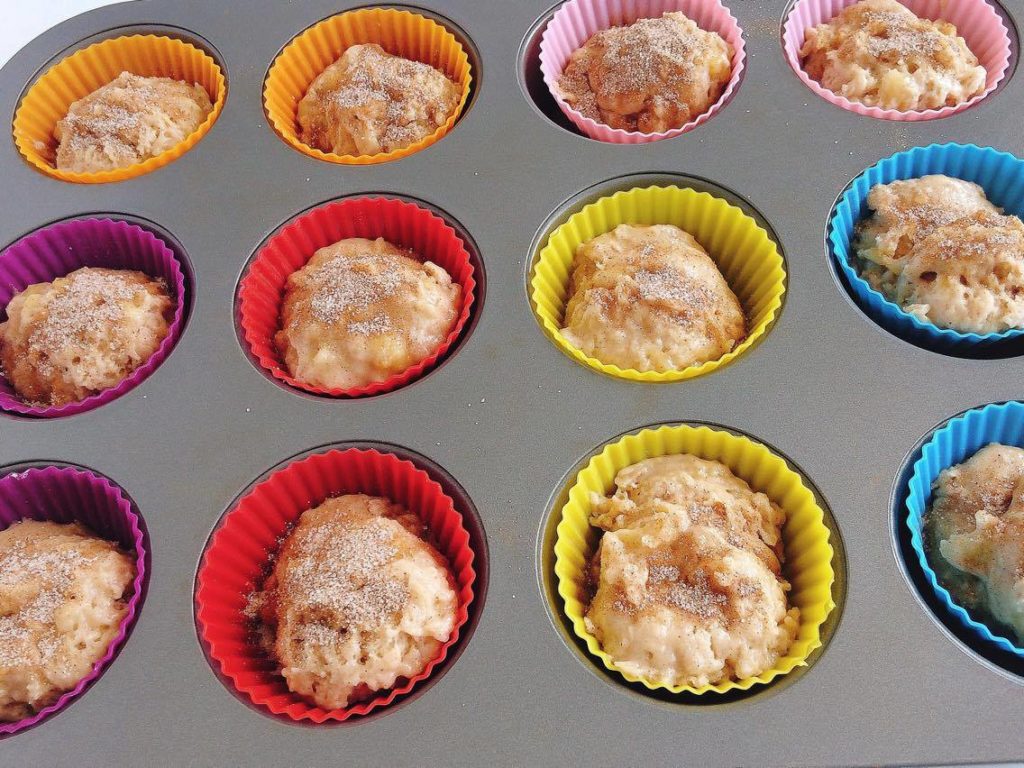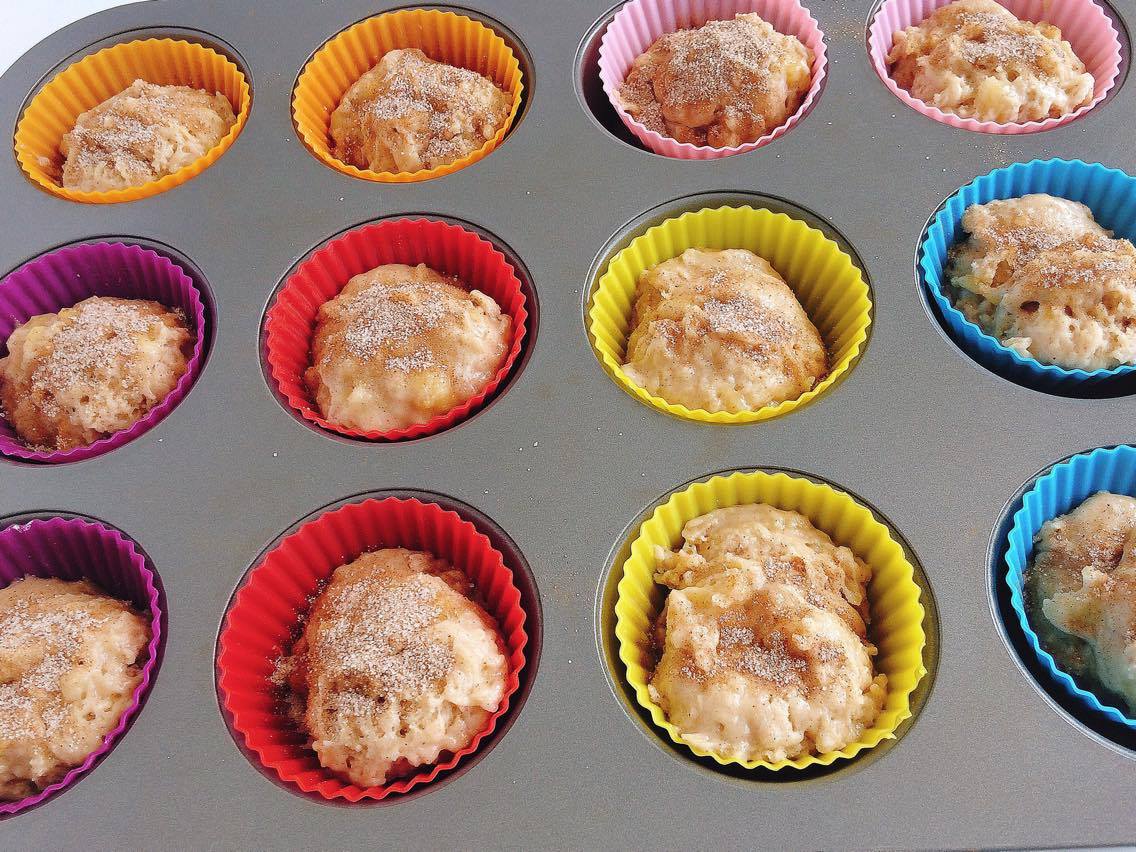 [4] Fill each of the prepared muffin cups with about 1/4 cup of batter. To measure out the batter, I use a Medium Cookie Scoop that holds about 2 Tablespoons. I put two scoops of batter per cup, which equals about 1/4 cup. It helps to make the muffins a consistent size.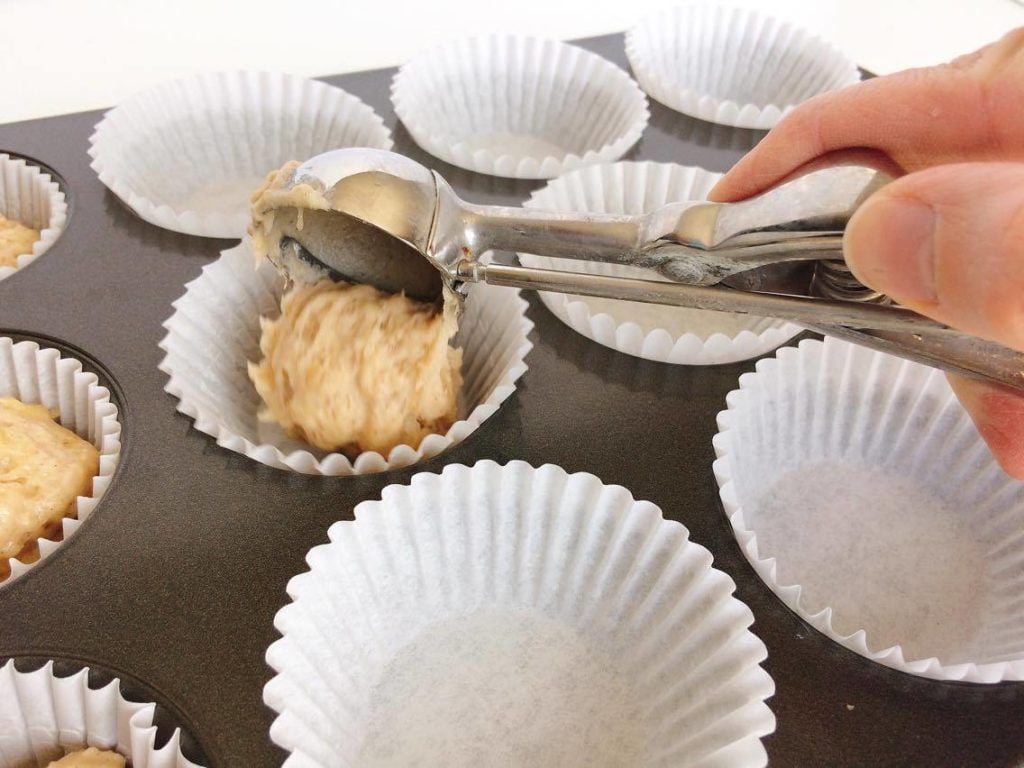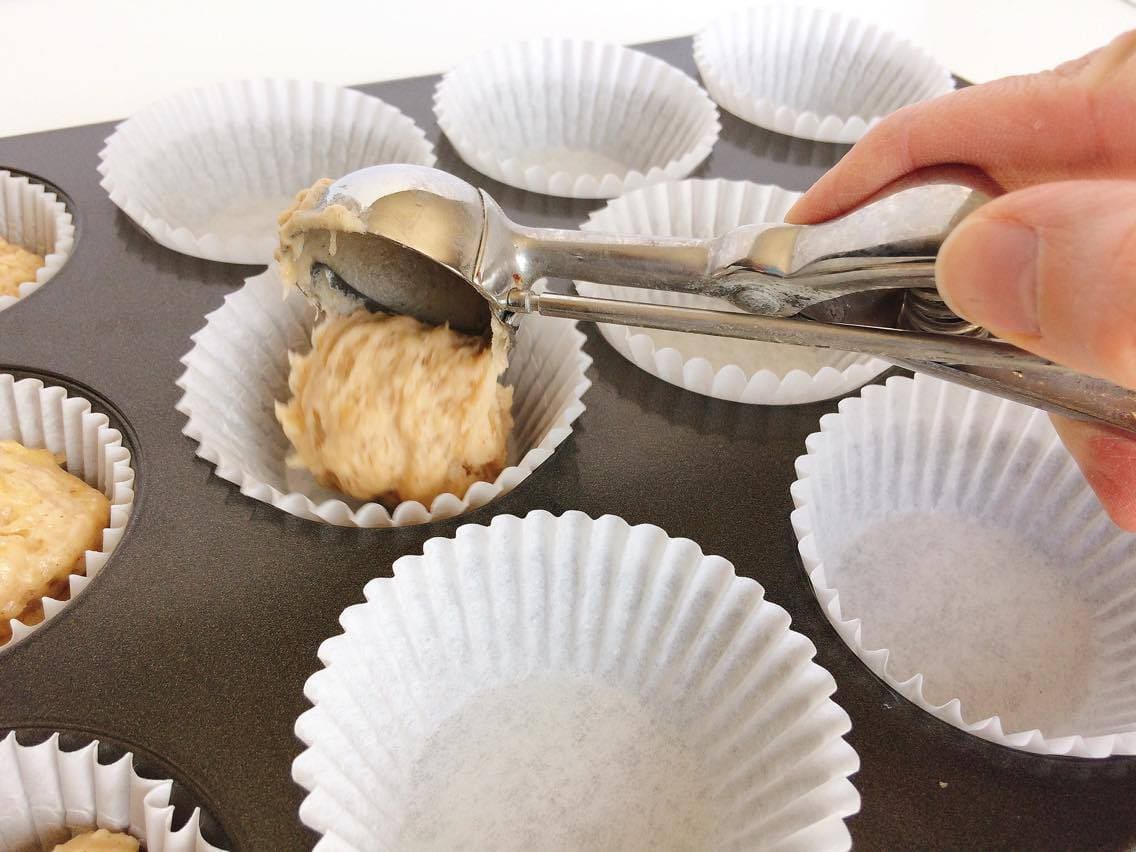 [5] Here comes the fun part! Mix the remaining 1 1/2 teaspoon cinnamon with the remaining 1/4 cup sugar in a small bowl.
[6] Sprinkle the cinnamon sugar mixture over the top of the muffin batter and, if you feel like it, swirl the mixture into the batter with a toothpick. This part is totally optional though.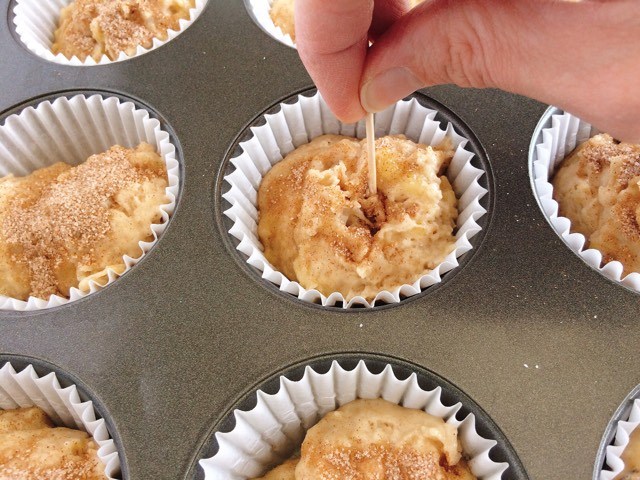 [7] Heat oven to 350 degrees and bake the muffins for 15-20 minutes until a toothpick inserted in the center of the muffin, comes out clean.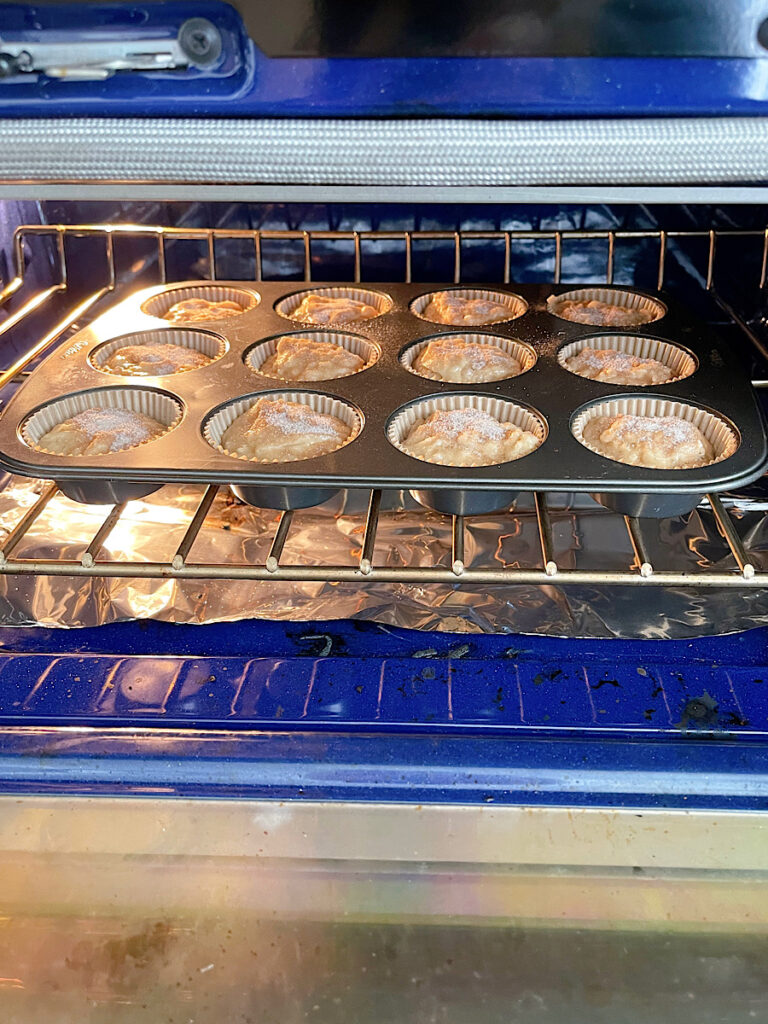 [8] Transfer the muffins to a cooling rack and allow them to cool completely.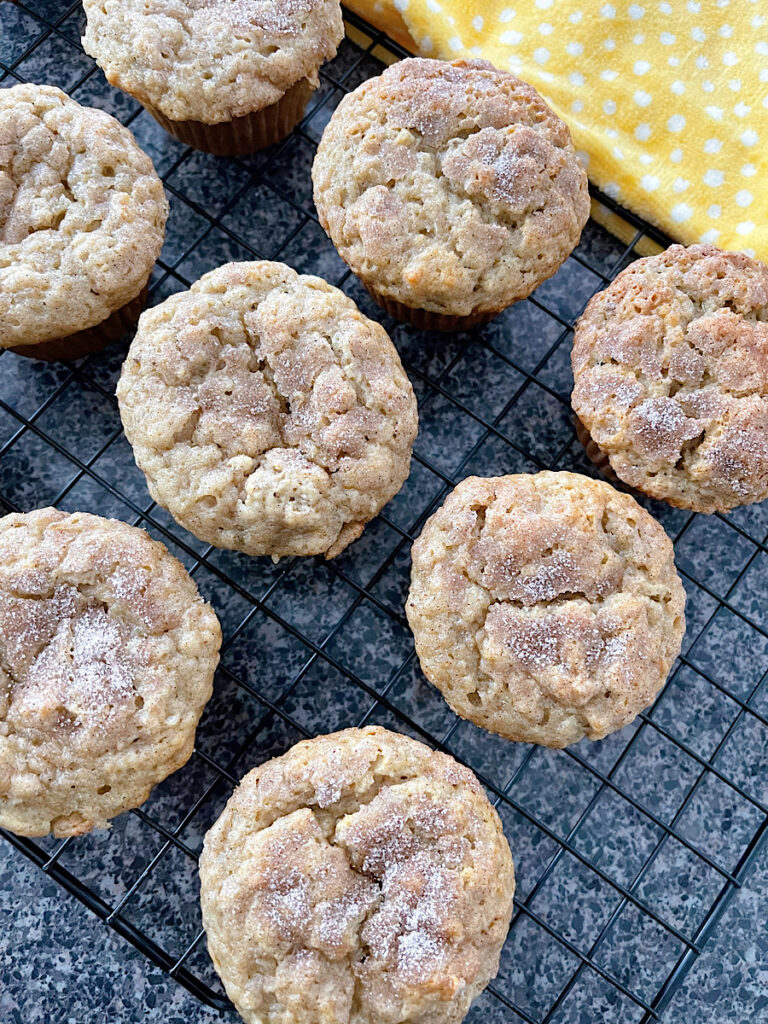 [9] Enjoy your cooled muffins with a glass of milk or with your morning cup of coffee!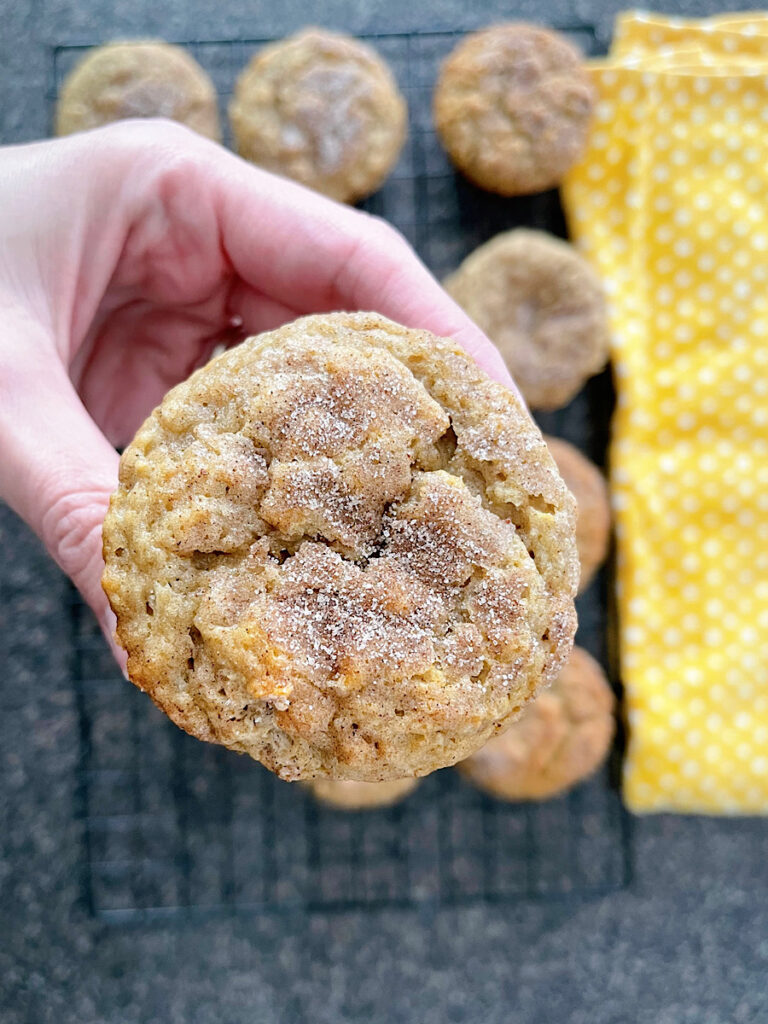 Check out more yummy breakfast recipes here.
Helpful Kitchen Items
How to Store Leftover Muffins
To keep moist muffins, store store them in an airtight container and keep at room temperature for up to 3 days.
You can also freeze the muffins for up to 2 months. Just allow the muffins to cool completely before freezing.
To thaw frozen muffins, simply place on the counter overnight or into a microwave-safe dish and heat them in the microwave for about 30 seconds.
Frequently Asked Questions
Can I make these cinnamon banana muffins with gluten-free flour instead of regular flour?
Yes, you can! Just substitute an equal amount of all-purpose gluten-free flour in place of the regular flour in this recipe. Additionally, be sure to check that your other ingredients (such as baking powder and baking soda) are also gluten-free. Some brands may contain trace amounts of gluten, so it's important to read the labels carefully and select those that are certified gluten-free.
Can I use a different type of sugar (such as brown sugar or coconut sugar) in these banana muffins?
Yes, you can! Feel free to experiment with different sugars in this recipe, as each type will yield a slightly different flavor and texture. Just keep in mind that the amount of sugar you use may need to be adjusted based on your preferred sweetness level.
Can I make these muffins vegan?
Yes, you can! In place of the butter, you can use a vegan butter or coconut oil. Additionally, you can replace the egg with a flax egg (simply mix 1 tablespoon ground flaxseed with 2.5 tablespoons water and allow to sit for 5-10 minutes until it thickens). If your vegan milk is sweetened, be sure to reduce the amount of sugar called for in the recipe, as it will add some sweetness to these muffins.
Can I use a different type of oil in this recipe?
Yes, you can! Feel free to experiment with other types of cooking oils (such as olive oil, avocado oil, or vegetable oil) in this recipe. Just keep in mind that if you choose a more mild-flavored oil, it may result in muffins that are slightly less sweet and flavorful than those made with butter. Additionally, some oils (like coconut oil or olive oil) may solidify when chilled, so make sure to store your cinnamon banana muffins in a cool, dry place if you use these types of oils in the recipe.
Can I add other flavors or mix-ins to these banana muffins?
Yes, you can! Feel free to experiment with different spices (such as nutmeg or allspice) and mix-ins (such as nuts or chocolate chips) in this recipe. Just keep in mind that these additions may alter the texture, flavor, and/or baking time of your muffins, so you may need to adjust the other ingredients accordingly.
More Mix-In Ideas
Chopped pecans and a pinch of ground cinnamon
Diced dried fruit and a pinch of cinnamon
Chocolate chips and a dash of ground espresso powder
Diced apple or pear and a pinch of ground ginger
Chopped dried apricots and a sprinkle of nutmeg
Crushed graham cracker pieces and a pinch of ground cardamom
Ground cinnamon and a drizzle of honey or maple syrup.​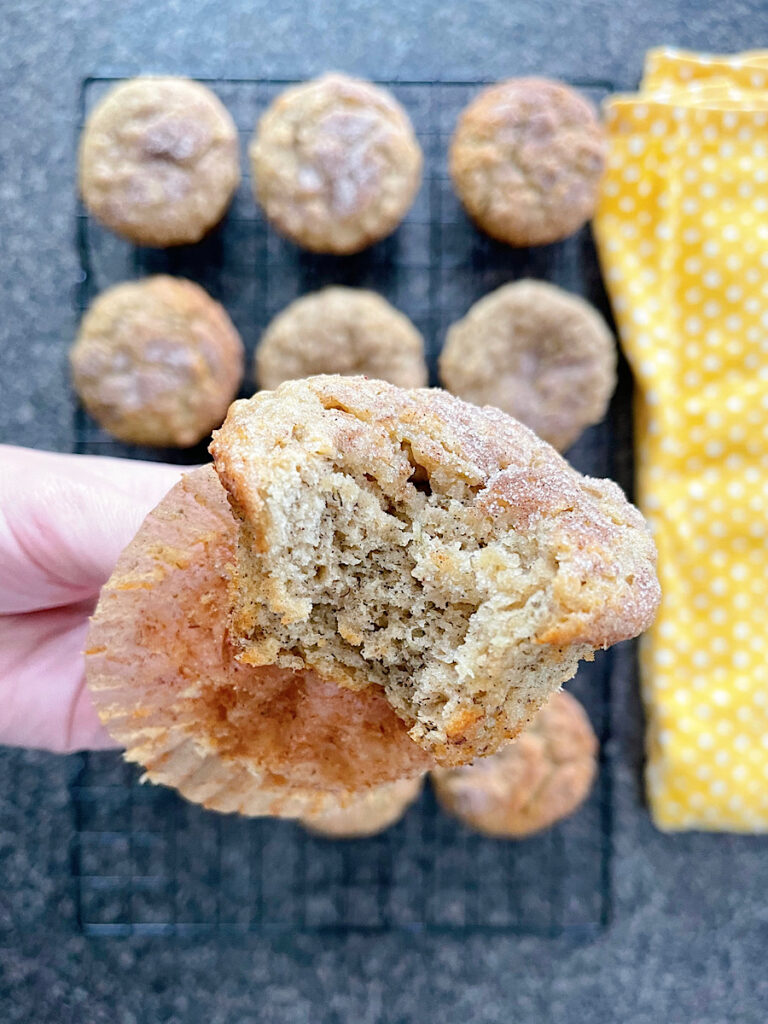 Final Thoughts
If you love the bold flavors and comforting aroma of cinnamon, then this easy cinnamon muffin recipe with bananas is sure to be a hit with your family and friends.
They are easy to make and perfect for breakfast, snack time, or dessert. So why wait? Try making these tasty muffins today and enjoy their warm, gooey goodness any time
More Easy Muffin Recipes
Cinnamon Banana Muffin Video: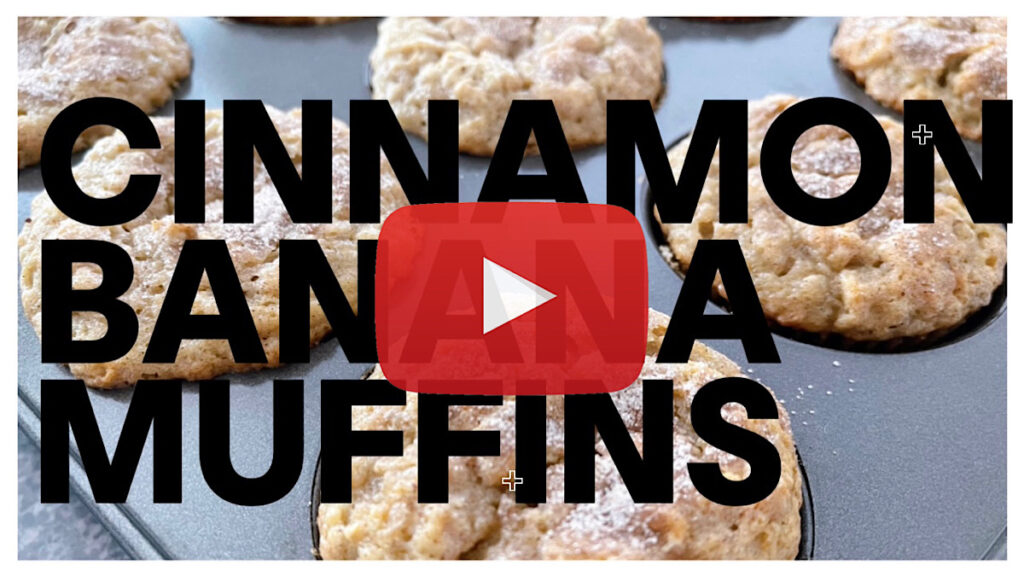 Pin for later: