Banana Cream Muffins are moist and packed with banana flavor with a creamy cinnamon center. One of the best banana muffin recipes ever and you can make these muffins with only 2 bananas!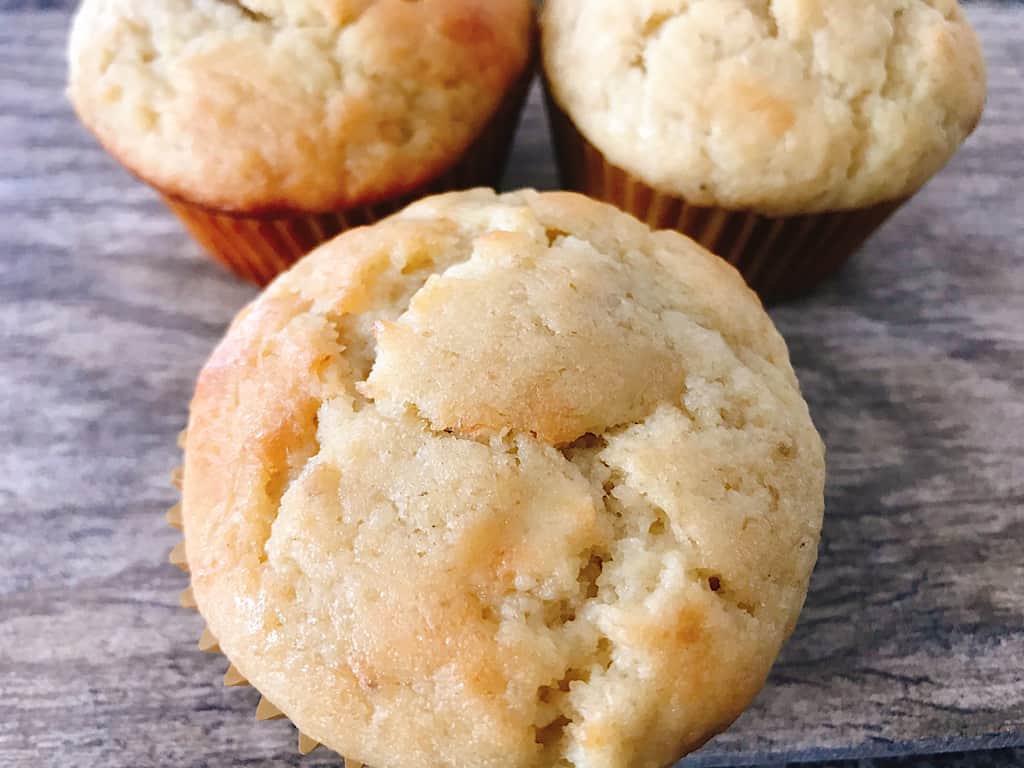 This post may contain affiliate links. When you click on these links, I get a small percentage back at no cost to you! For more information see my disclosure policy.
Below you will find tips, tricks and helpful hints for making this recipe including step by step instructions with pictures. If you would like to go directly to the recipe, scroll down to the recipe card or tap "Jump to Recipe" at the top of the page.
Banana Muffins with only 2 Bananas!
Most banana muffin recipes call for 3-4 bananas, but sometimes you only have 2 bananas. What can you do?
Make these moist Banana Muffins with just 2 bananas! They're moist and packed with banana flavor, with a creamy cinnamon center.
Banana Cream Muffins
This Banana Cream Muffins recipe is one that they love! I love them too, mostly because of the delicious, creamy, cinnamon cream cheese filling.
Use Ripe Bananas
To make banana muffins, you're going to want to make sure that they are ripe. You can tell they are ripe when they are starting to get brown spots on them and they are soft to the touch.
Ripe bananas are going to give your muffins the best flavor.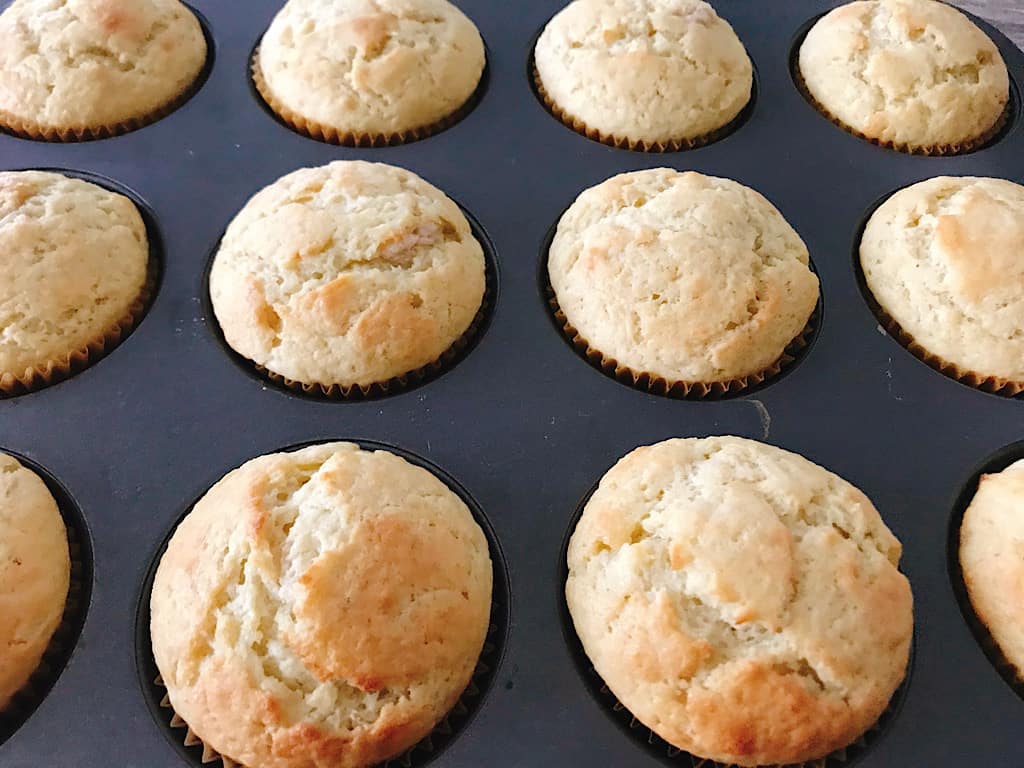 How to Ripen Bananas for Banana Muffins
If you don't have ripe bananas, there are a few ways that you can ripen them quickly.
The first way is to place the bananas on a baking sheet and bake them at 300 degrees for about 15-20 minutes.
Another way is to place the bananas in a brown paper bag with an apple or tomato. The ethylene gas that the apple or tomato emits will help to ripen the bananas.
The last way is to place the bananas in a bowl and microwave them for about 30 seconds.
Once your bananas are ripe, you're ready to make these delicious Banana Cream Muffins!
What Can Be Added to Banana Muffins?
There are many things you can add to these banana muffins for a delicious variety. Some ideas are: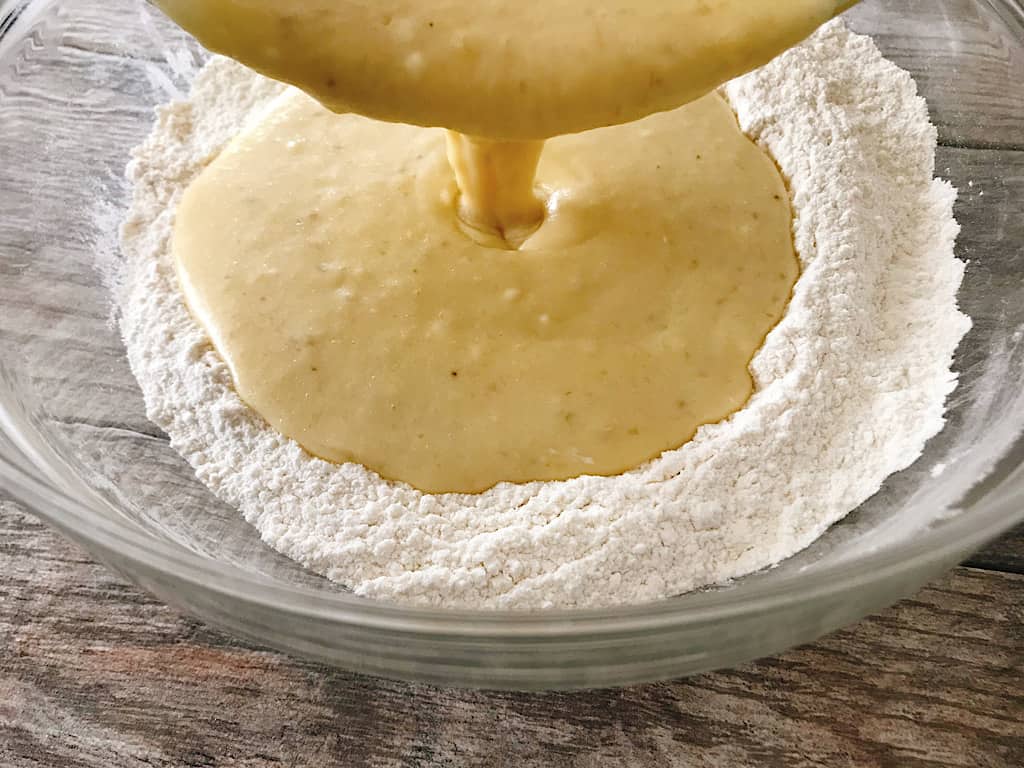 Can Banana Cream Muffins be made into Banana Bread?
Yes! This recipe will make a delicious banana bread. To make banana cream bread:
[1] Pour half of the batter into a 9.5 inch x 5 inch loaf pan
[2] Place dollops of cream cheese filling over the batter and use a knife to swirl
[3] Cover with the remaining batter and bake at 350 degrees for 60-65 minutes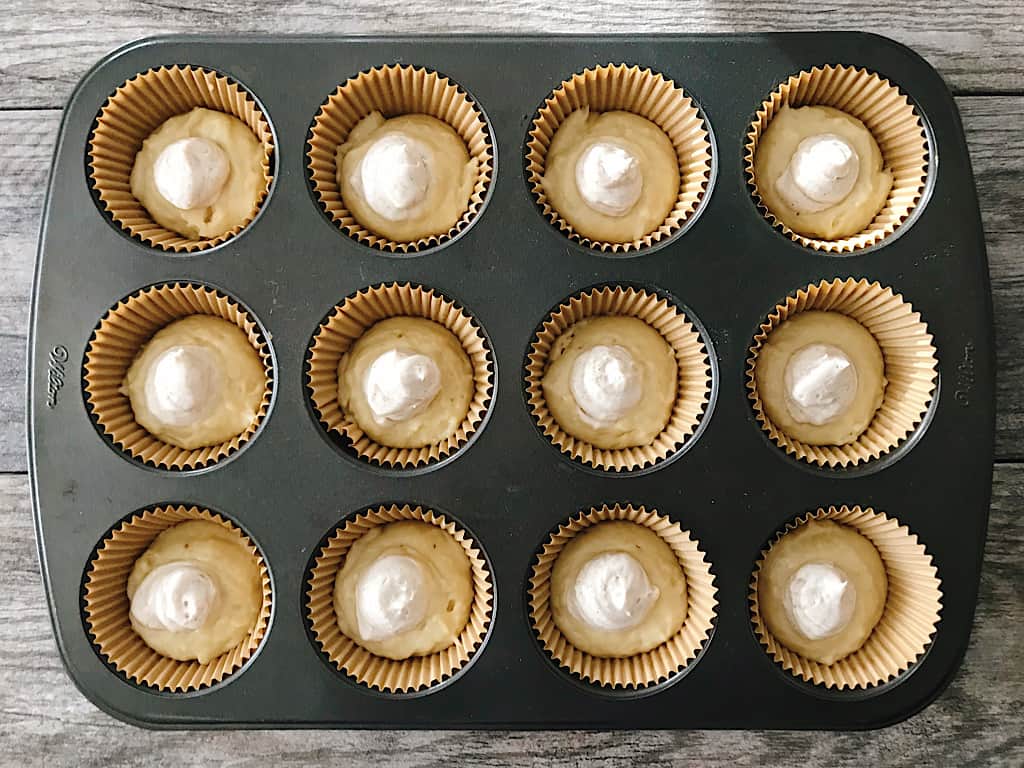 Can Oil Be Used Instead of Butter?
You can definitely use oil instead of butter. Good substitutes would be vegetable oil, canola oil, or corn oil.
Can Almond Milk Be Used Instead of Milk
Yes! I use almond milk in this recipe all of the time and they come out delicious every time!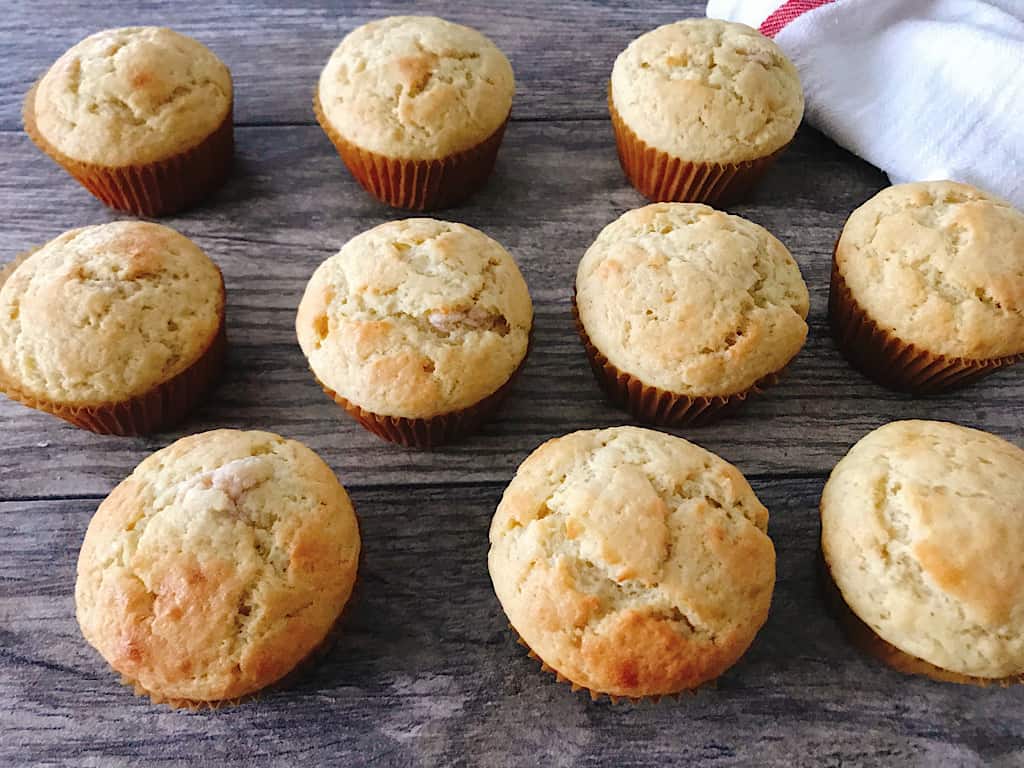 Banana Cream Muffins Ingredients
*Ingredient amounts are located in the recipe card at the end of this post.
Muffin Batter
All-Purpose Flour: The best flour to use in this recipe is all-purpose flour. You can use whole wheat flour, but the muffins will be dense.
Sugar: I like to use granulated white sugar in this recipe, but you could also use brown sugar.
Baking Powder: This is what is going to make your muffins nice and fluffy.
Eggs: The eggs help to bind everything together and make the muffins nice and moist.
Mashed Bananas: You're going to want to use 2 ripe bananas for this recipe. If they're not ripe, see the tips above on how to ripen them quickly.
Melted Butter: I like to use unsalted butter, but you can use whatever you have on hand.
Milk: I use whole milk in this recipe, but you can use any type of milk.
Sour Cream: The sour cream helps to make the muffins nice and moist.
Vanilla Extract: This is for flavor. I like to buy pure vanilla extract from Costco, but you can also get it at your local grocery store.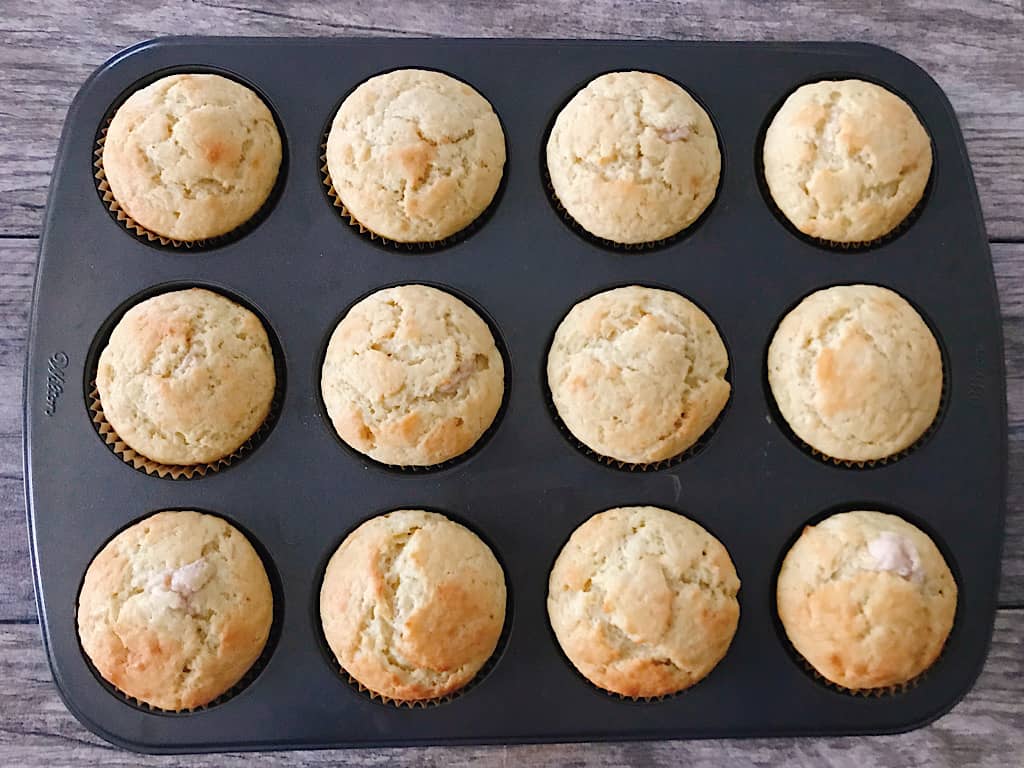 Cream Cheese Filling
Softened Cream Cheese: You're going to want to use full-fat cream cheese for this recipe.
Sugar: This sweetens the filling.
Cinnamon: This is for flavor. You could also add a little nutmeg or cloves if you'd like.
Helpful Kitchen Tools
How to Make Banana Cream Muffins
Muffin Batter
[1] Add the flour, sugar, and baking powder to a large bowl.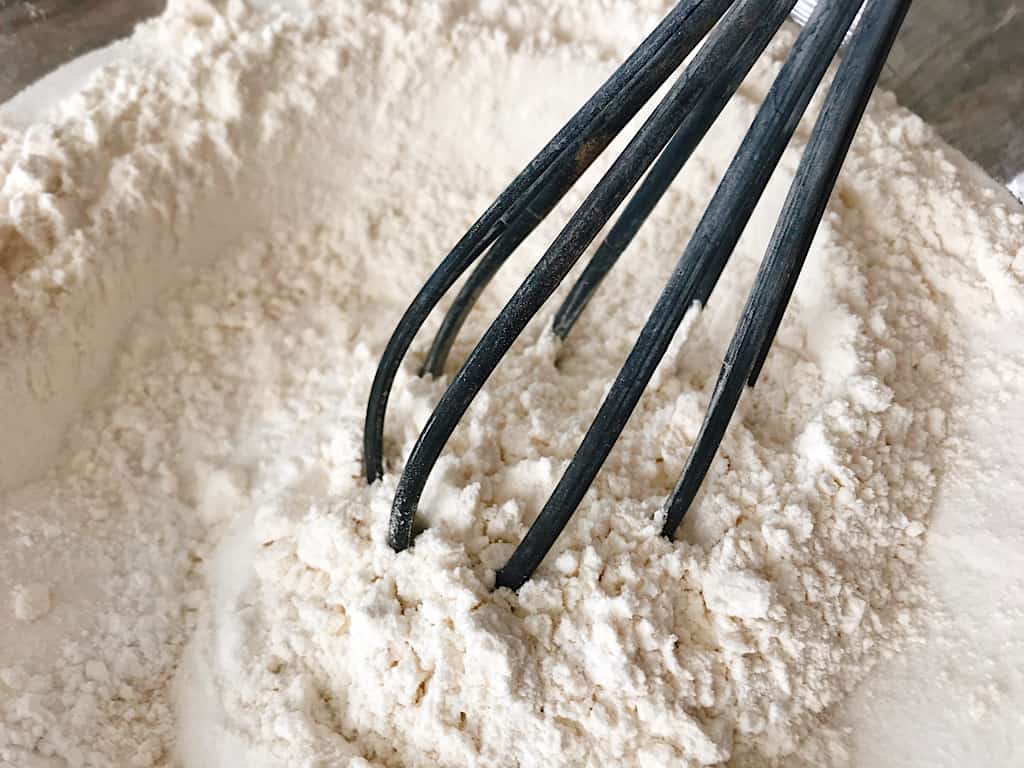 [2] In a separate mixing bowl, combine the eggs, mashed bananas, melted butter, milk, sour cream, and vanilla extract.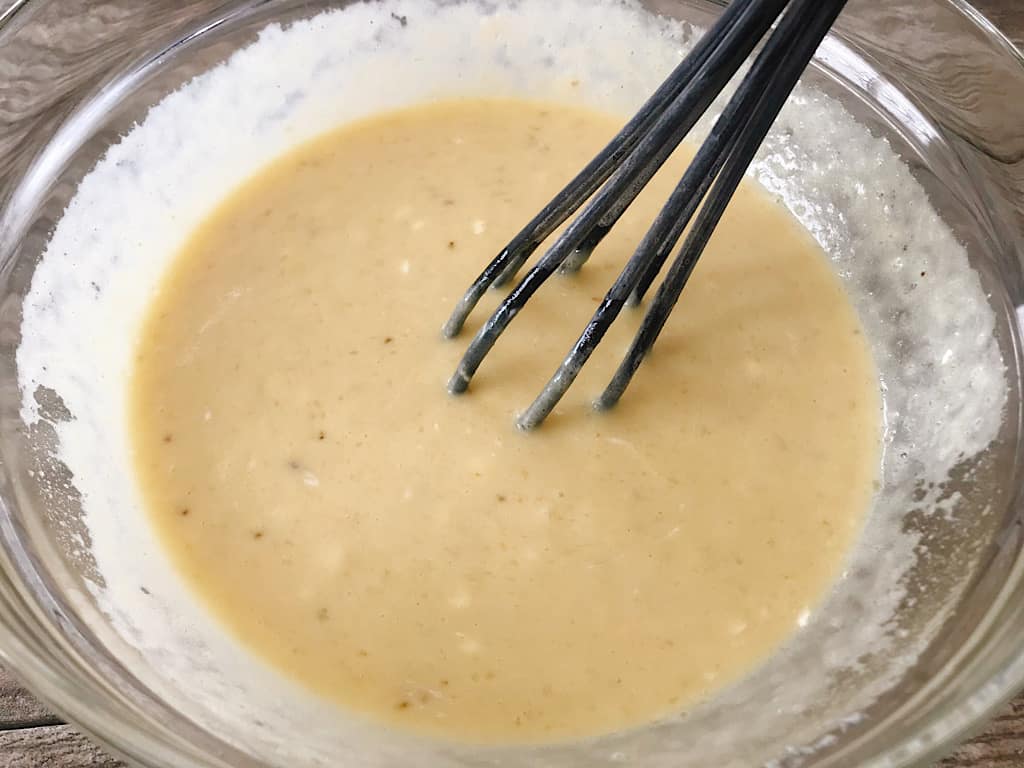 [3] Stir the wet ingredients into the dry ingredients until moistened. Do not over mix.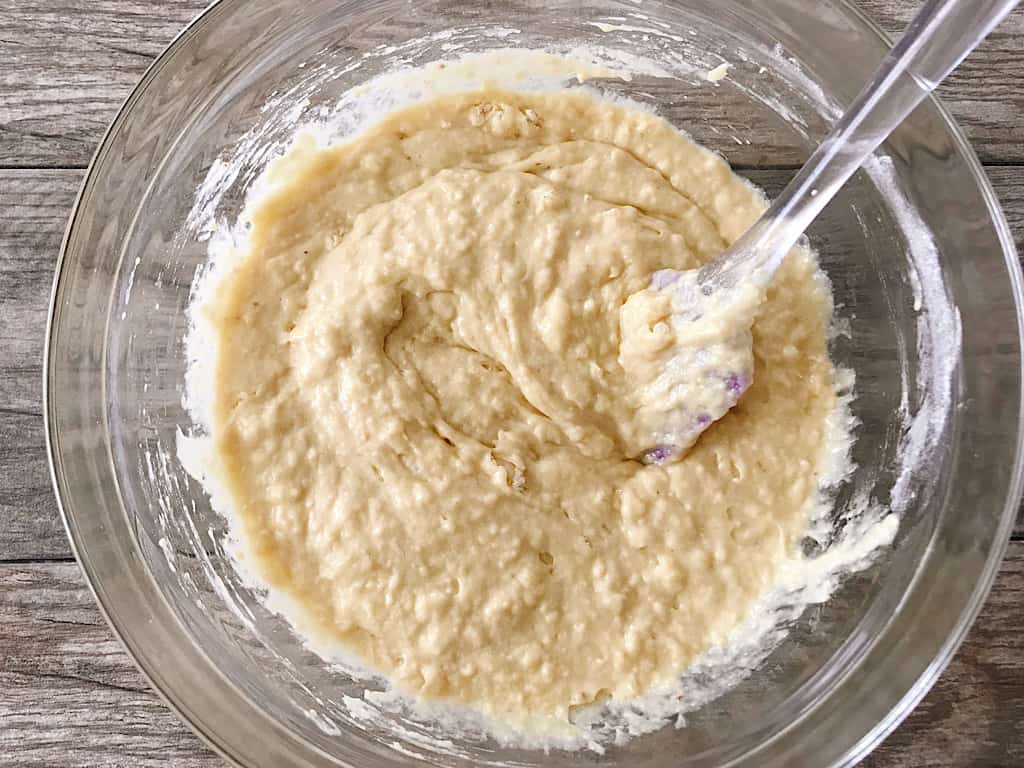 Cream Cheese Filling
[1] In a medium bowl or food processor, combine the softened cream cheese, sugar, and cinnamon with a hand mixer or with a spoon.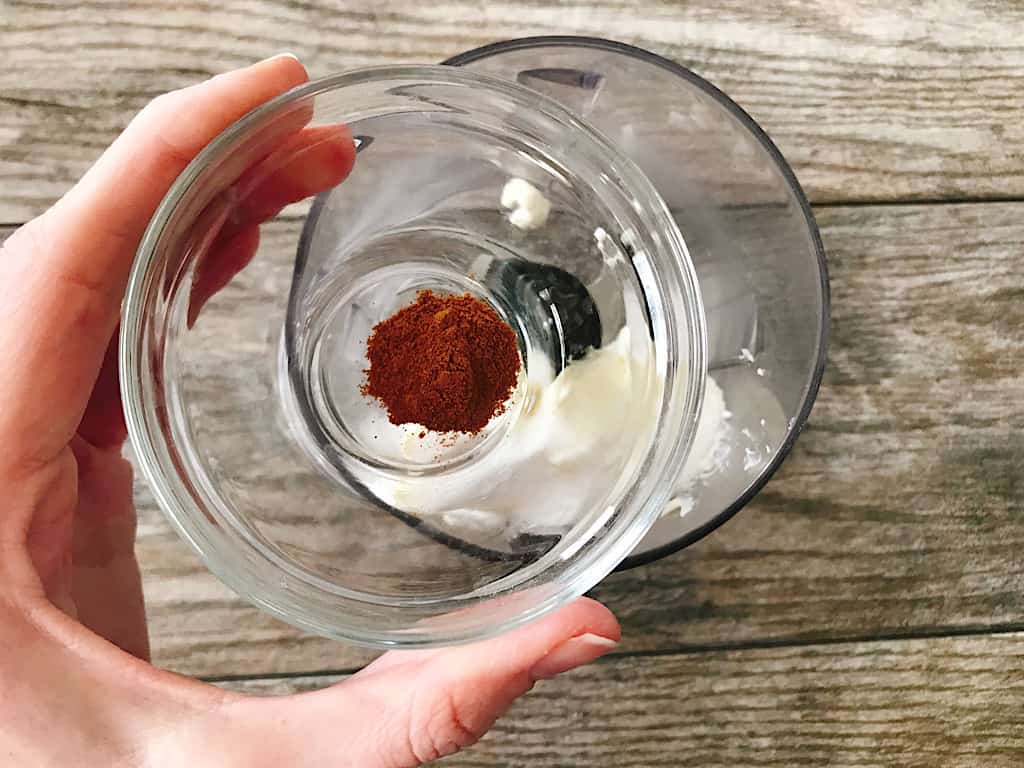 [2] Add the cream cheese mixture to a sandwich size ziplock bag and set aside.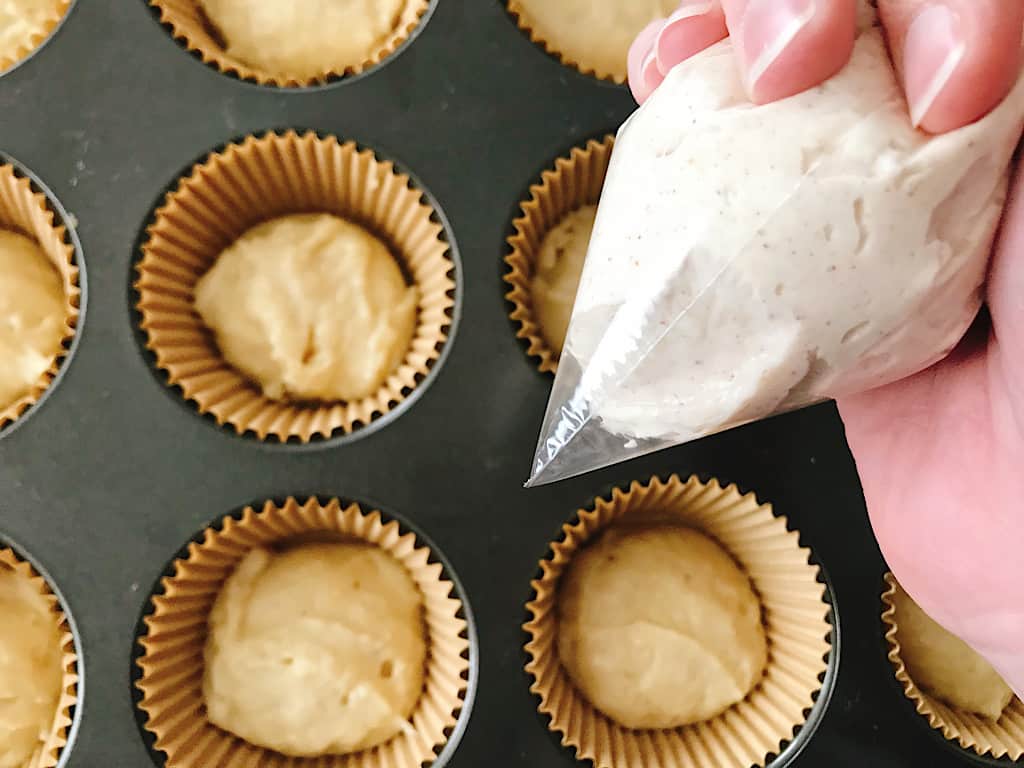 Muffin Assembly
[1] Place paper liners in a muffin pan and add 2 tablespoons of batter to each cup. (I use a 2 tablespoon cookie scoop)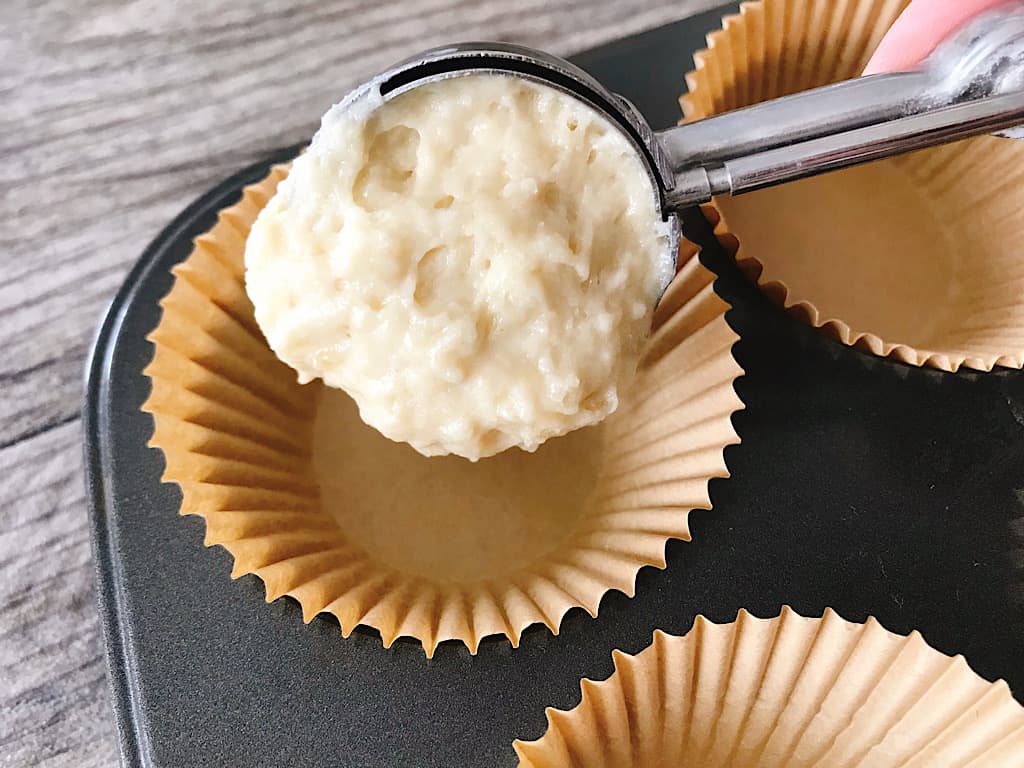 [2] Snip off the corner of the ziplock bag and squeeze approximately 1 tablespoon of the cream cheese mixture into the center of each muffin.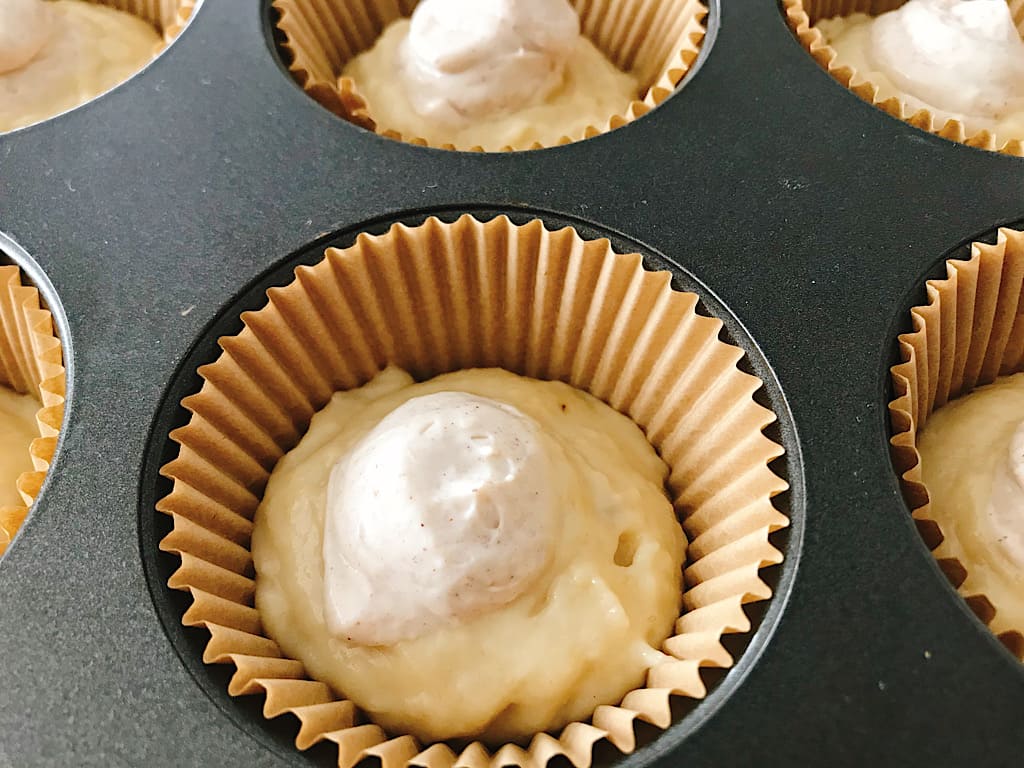 [3] Add 2 more tablespoons of batter to the top of the muffin.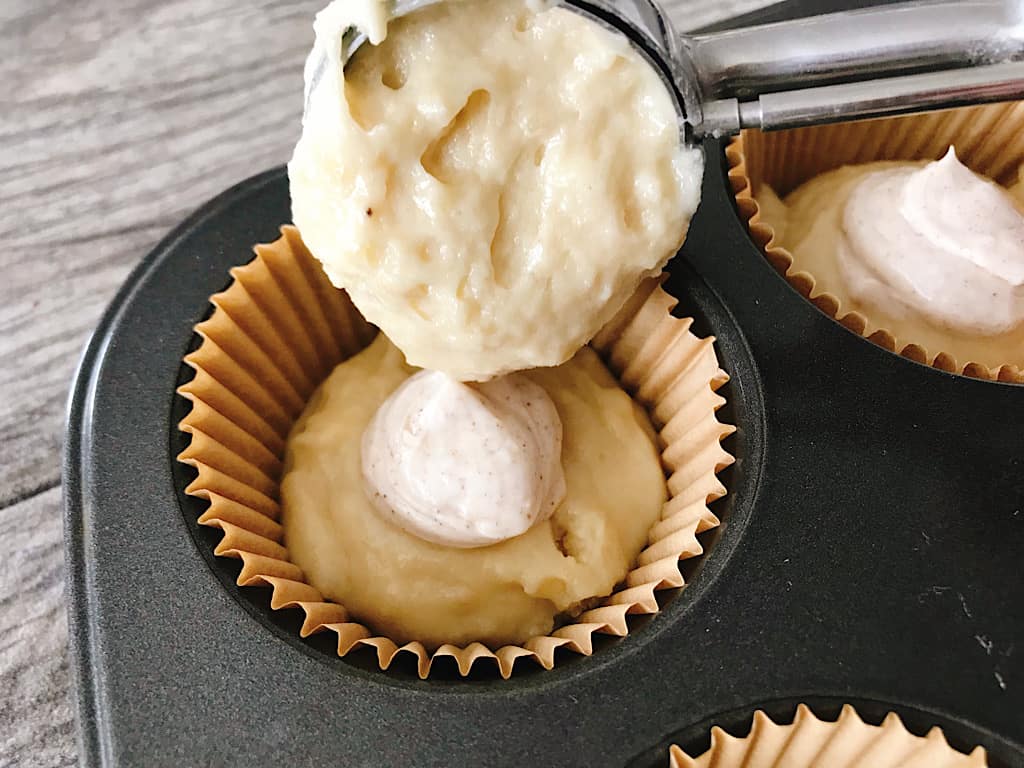 [4] Bake muffins at 400 degrees for 18-22 minutes or until a toothpick comes out clean.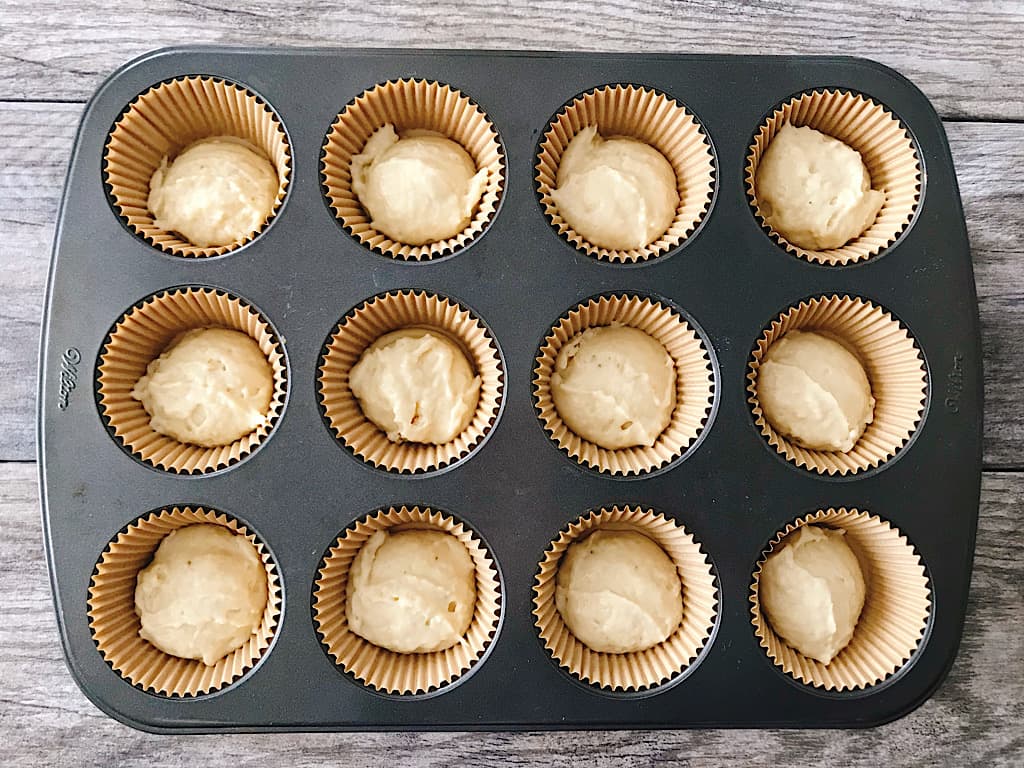 [5] Let the muffins cool in the pan on a wire rack for 5 minutes before serving.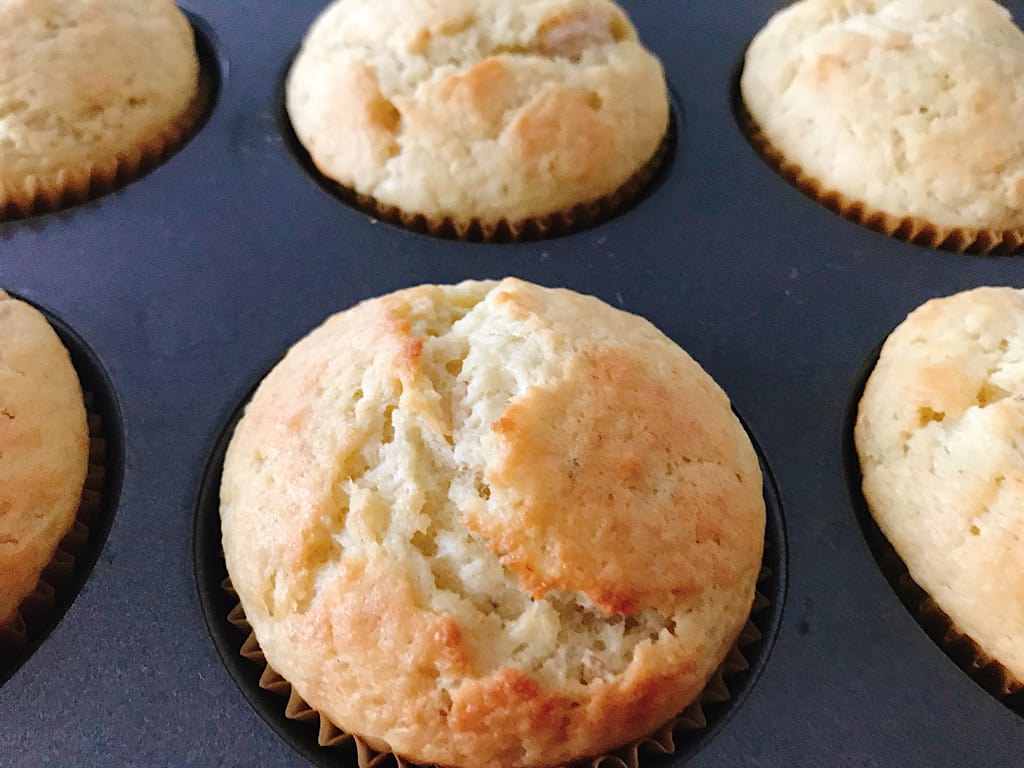 More Banana Recipes:
Frequently Asked Questions
How many muffins will this recipe make?
This easy recipe will make 12 standard size muffins.
How many bananas make a cup?
There are 3 medium bananas in 1 cup.
How should I store these banana cream muffins?
To keep your muffins fresh, store them in an airtight container at room temperature for up to 5 days. You can also freeze them for up to 3 months.
More Breakfast Recipes To Try:
Watch the video here: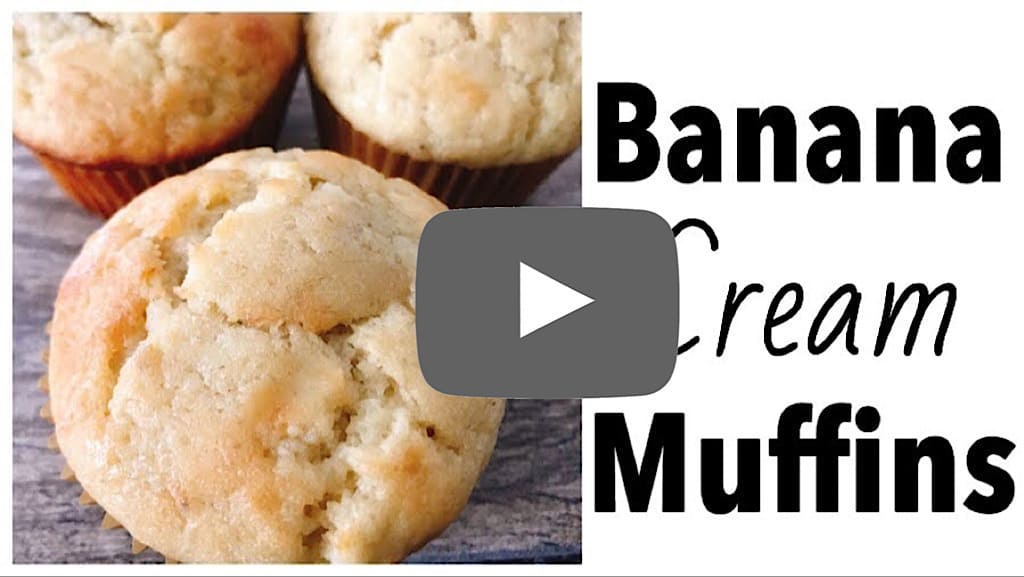 Pin for later: