Find out how to make your own delicious Red Robin Onion Ring Sauce at home with just 2 ingredients! Just like the Red Robin signature sauce, Campfire Sauce, that is served with a tower of onion rings at the restaurant. Also makes a great fry sauce.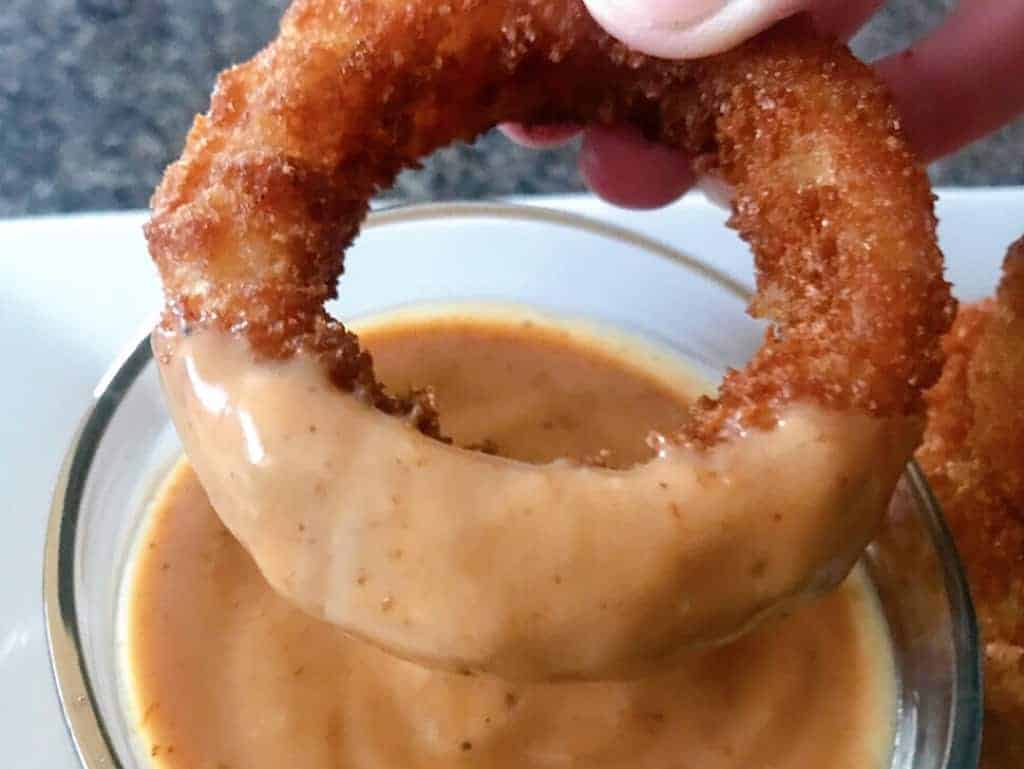 This post may contain affiliate links. When you click on these links, I get a small percentage back at no cost to you! For more information see my disclosure policy.
Below you will find tips, tricks and helpful hints for making this recipe including step by step instructions with pictures. If you would like to go directly to the recipe, scroll down to the recipe card.
Red Robin Campfire Sauce Recipe
Fry sauce is kind of a big deal at my house. We are definitely all about dipping sauces for almost everything!
Apparently a recipe for it (equal parts mayonnaise and ketchup) appeared in a New Orlean's cookbook in 1900, but became popular when served in a Salt Lake City restaurant called Arctic Circle in the 1950s.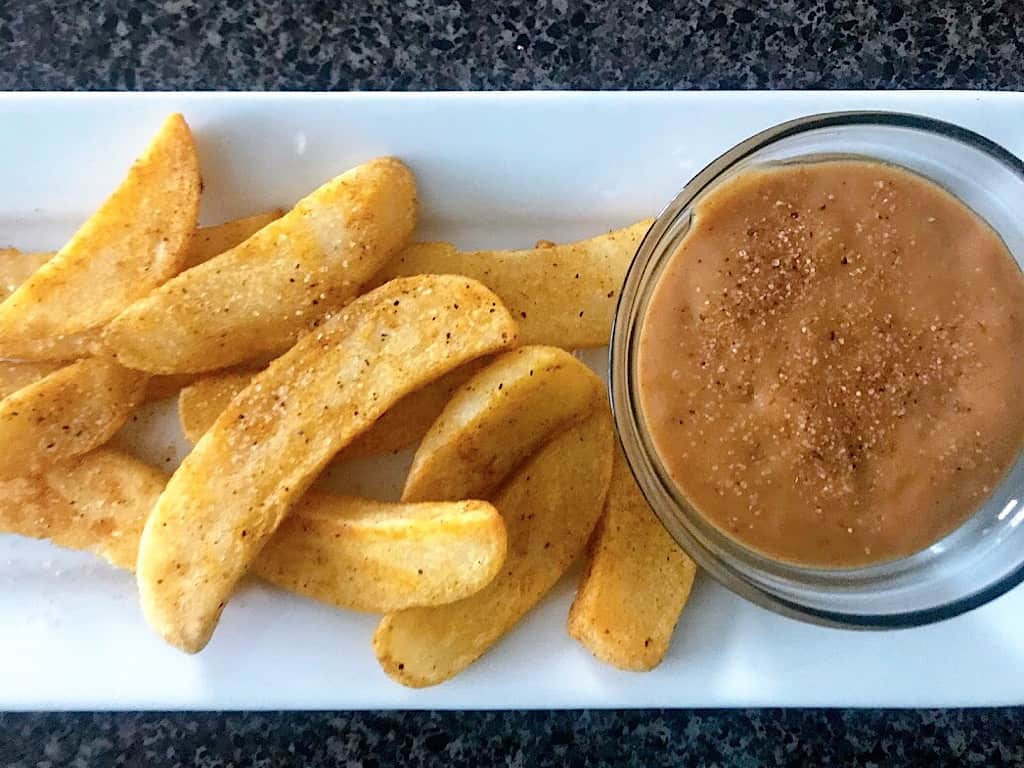 When visiting a Red Robin location near Disneyland, we happened to order the Towering Onion Rings.
The sauce that was served along side our appetizer looked and tasted a lot like the fry sauce we knew, but taken to the next level!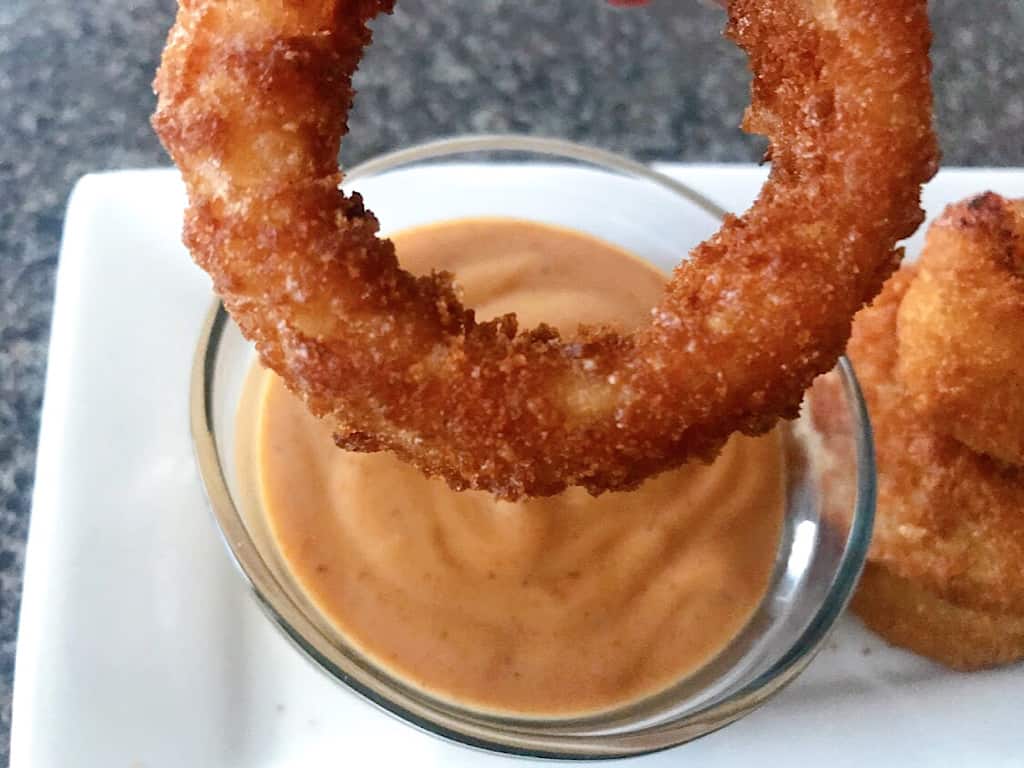 I decided to take a chance and ask our server what was in the Campfire mayo sauce. I was surprised that it was just two ingredients. Whiskey River bbq sauce and ranch dressing!
Red Robin Onion Ring Sauce Ingredients
*Ingredient amounts are located in the recipe card at the end of this post.
Barbecue Sauce: To make this campfire onion ring sauce taste like the real thing, I recommend using a Hickory or smokey bbq sauce. Use your favorite brand.
Ranch Salad Dressing: I used my favorite Hidden Valley Ranch, but any brand from your local grocery store will work for this recipe.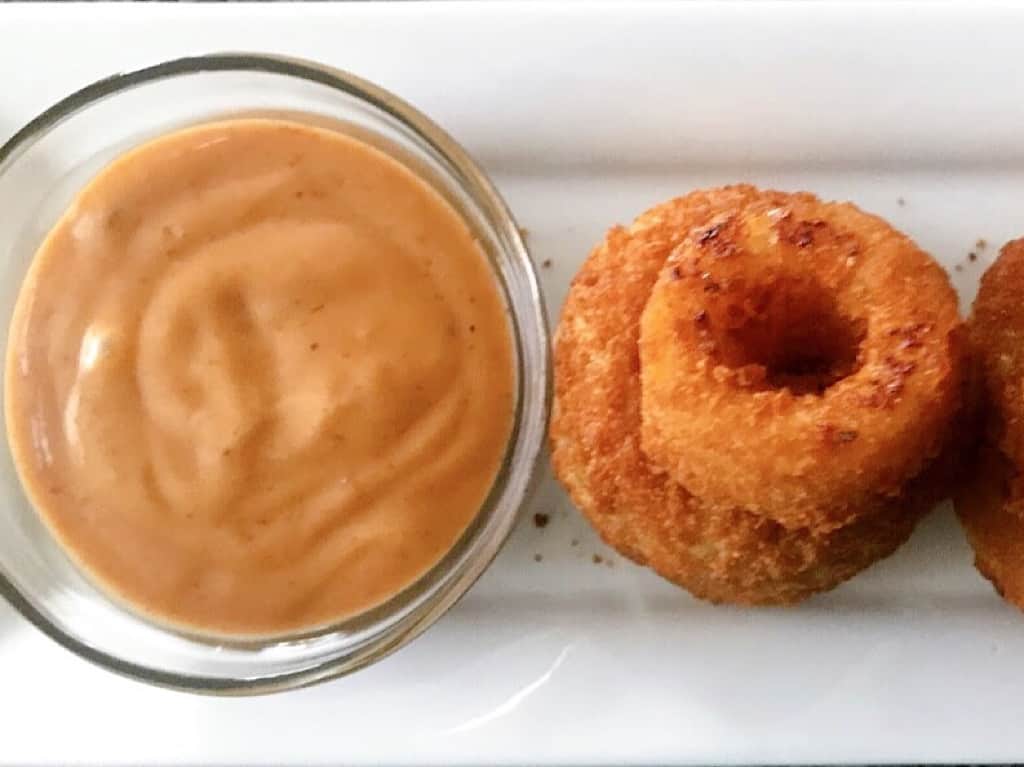 How to Make Red Robins Campfire Sauce
[1] Add both ingredients to a medium bowl.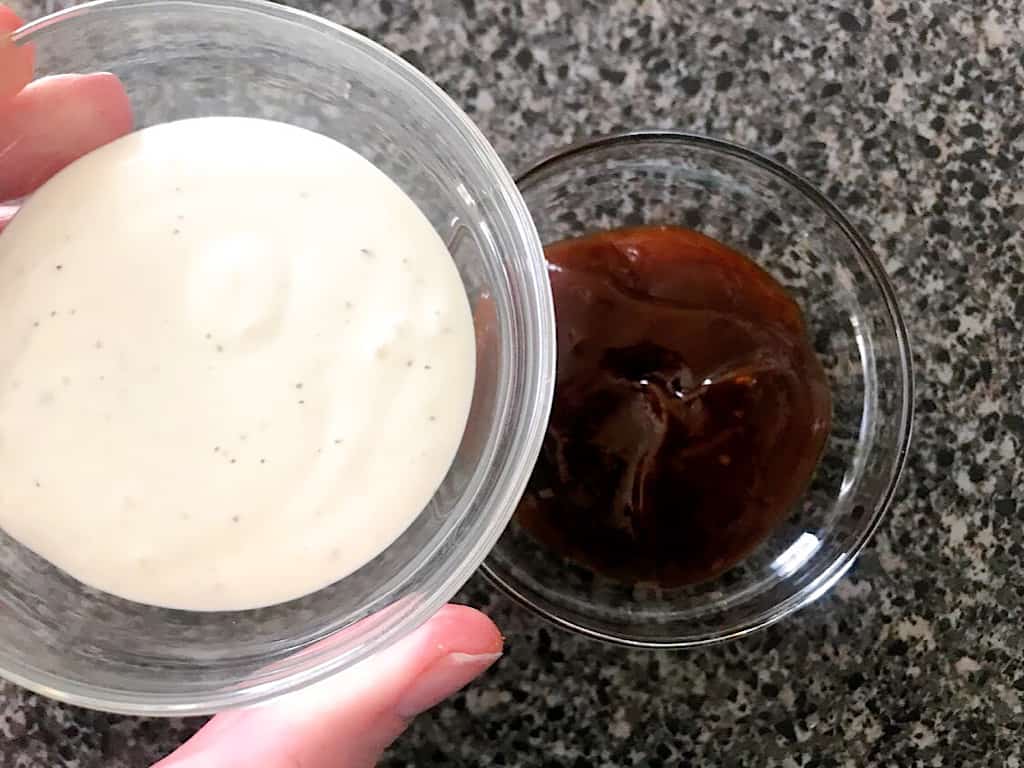 [2] Use a whisk to combine them completely into a creamy texture.
[3] Pour the sauce into individual serving dishes.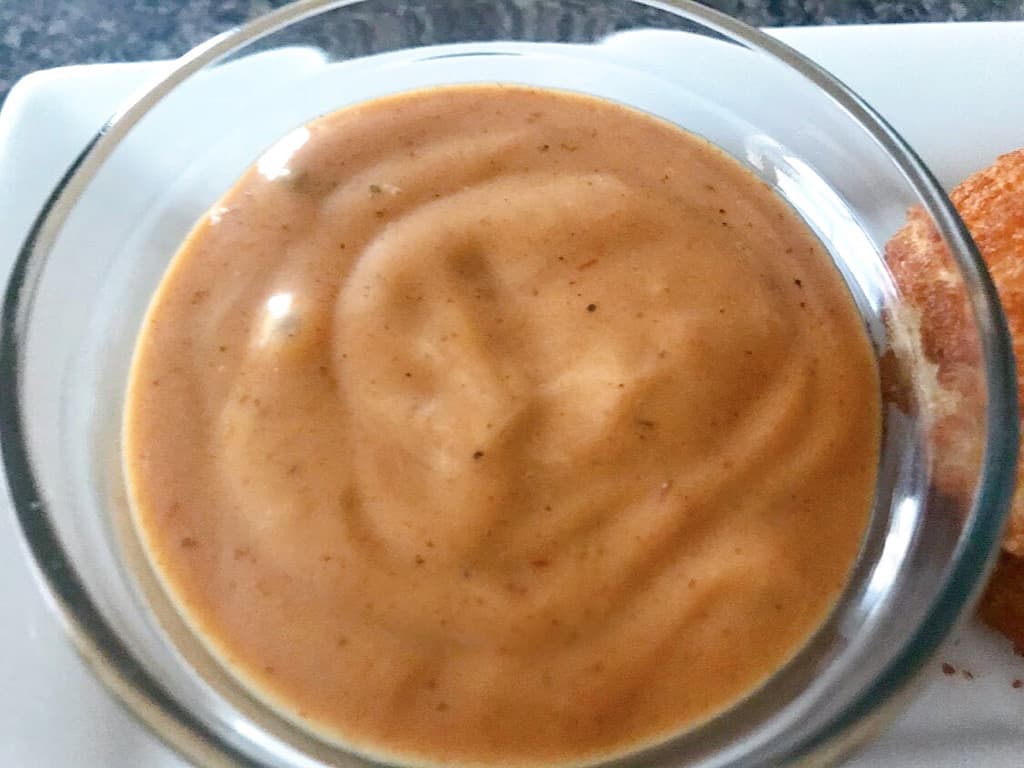 [4] Serve with your favorite onion rings, fries, or on a burger!
Helpful Kitchen Tools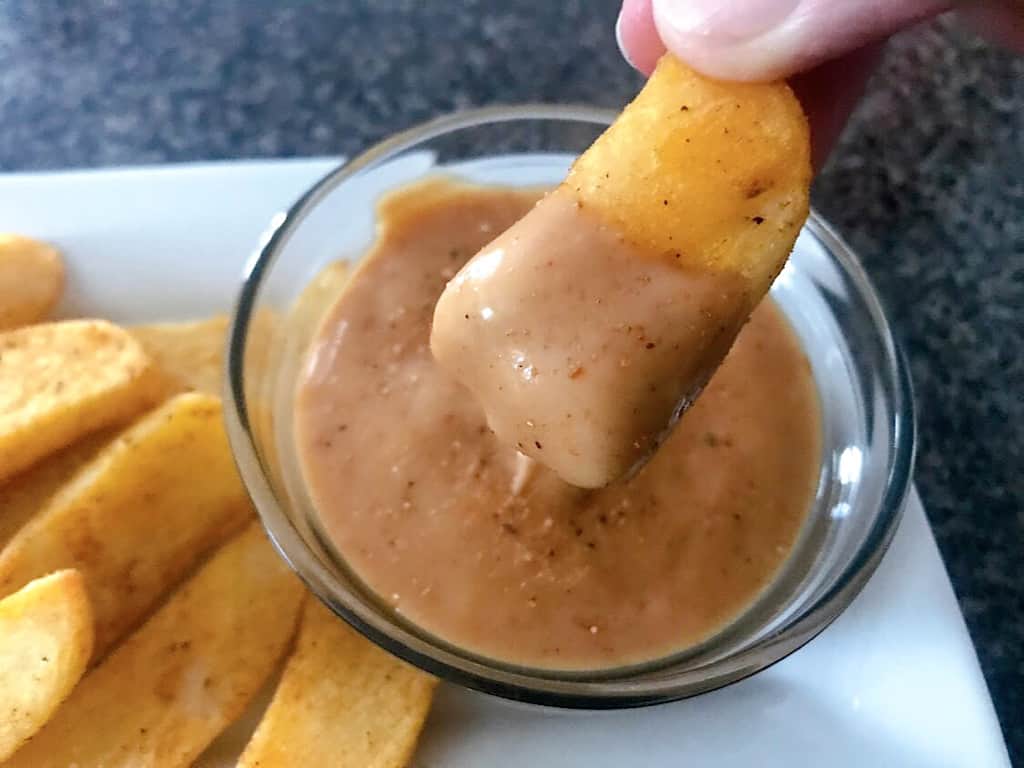 How To Store Campfire Sauce
This sauce will keep in an airtight container in the refrigerator for up to 3 days. You can also freeze it in a freezer-safe container or bag for up to 2 months.
What to Serve with Red Robin Onion Ring Sauce
Frequently Asked Questions
Is this sauce gluten-free?
Yes, the Red Robin Onion Ring Sauce is gluten-free. It contains only two ingredients (barbecue sauce and ranch dressing) that are free of any gluten sources or derivatives. As long as you use a brand of barbecue sauce and ranch dressing that is known to be gluten-free, this sauce can be enjoyed by anyone following a gluten-free diet.
What is Red Robin campfire sauce made of?
The Red Robin onion ring sauce is made of two simple ingredients: barbecue sauce and ranch dressing. These are combined together in a small mixing bowl using a whisk, then served with your favorite onion rings or other fried foods. You can also use this campfire sauce as a dip for french fries, chicken nuggets, tater tots, and more!

What is campfire sauce Red Robin?
Campfire sauce Red Robin is a special sauce that is served with Red Robin's signature Towering Onion Rings. It is a combination of barbecue sauce and ranch dressing, and has become quite popular as a dip for other fried foods due to its delicious flavor and easy preparation. If you love Red Robin onion rings or are simply looking for the perfect dipping sauce for your favorite fried foods, you should definitely try making this campfire sauce at home!
What does Campfire sauce taste like?
Campfire sauce has a rich, smoky flavor, similar to barbecue sauce but with a slightly tangier and creamier taste. This smoky sauce tastes like a mixture of mayo, tomato paste, chipotle powder, garlic powder, spicy ketchup, smoked paprika, worcestershire sauce, liquid smoke, and black pepper.
Other Sauces to Try:
Final Thoughts
If you love fried foods and are looking for a delicious dipping sauce to serve alongside your favorite onion rings, fries, or other tasty treats, then you should definitely try making this Red Robin Campfire sauce copycat recipe at home.
This simple two-ingredient recipe is quick and easy to prepare, and is sure to become a crowd favorite in no time