Do you want to learn how to make amazing Red Robin Onion Rings in your air fryer? With this easy recipe, you will be able to make perfectly cooked frozen onion rings that are crispy and delicious every time! Plus I'm including a recipe for Red Robin Campfire Sauce and Red Robin's Spicy Ketchup, the perfect dipping sauces for onion rings!
This post may contain affiliate links. When you click on these links, I get a small percentage back at no cost to you! For more information see my disclosure policy.
Below you will find tips, tricks and helpful hints for making this recipe including step by step instructions with pictures. If you would like to go directly to the recipe, scroll down to the recipe card or tap "Jump to Recipe" at the top of the page.
Why You'll Love This Recipe
I'll admit that I'm a sucker for Red Robin's tower of onion rings, which happens to be a great appetizer, and now that you can buy a bag of frozen onion rings at most grocery stores, I can make them at home, any time I want!
But, I was not completely happy with how they are cooked in a conventional oven. They were not quite the same as the perfectly crispy onion ring you can get at the restaurant.
That's where the air fryer enters to save the day! Using an air fryer on frozen foods like fish sticks, French fries, tater tots, and onion rings, gives them a crunch that rivals their fried version.
You'll love this recipe because you can enjoy the same great texture of perfect golden onion rings every single time, without the extra calories that come with using a deep fryer!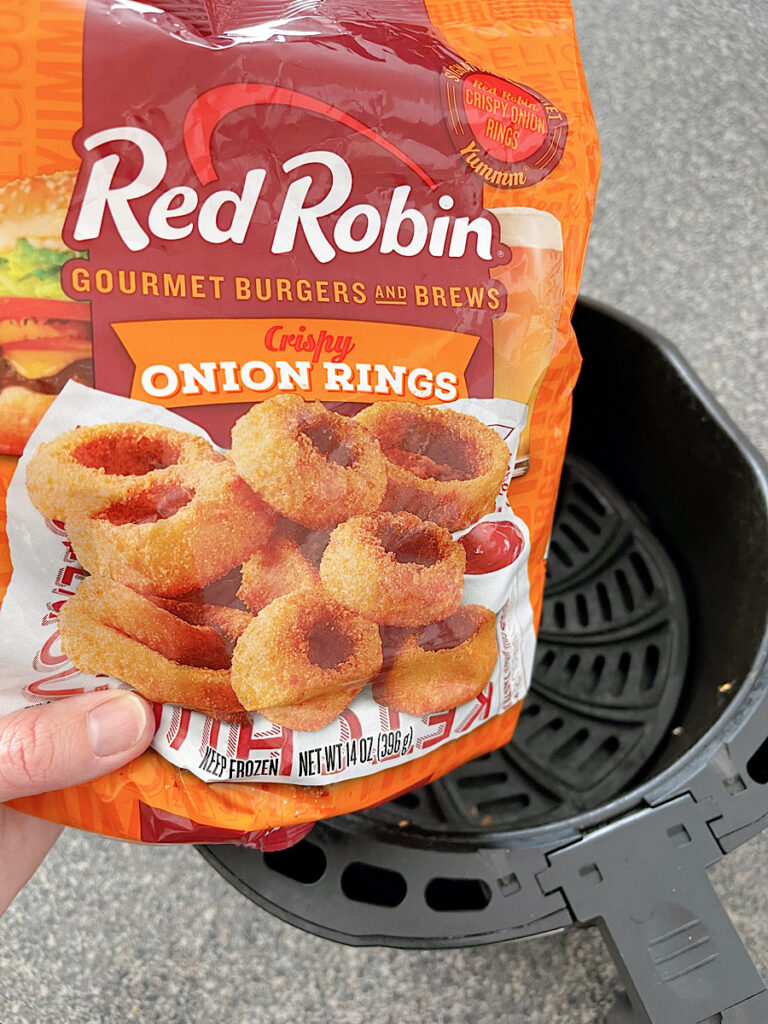 Best Frozen Onion Rings Brand
I have tried many different brands of frozen onion rings, but my all-time favorite is Red Robin Onion Rings. To me, they have the best flavor, size, and crunch!
Especially when you pair them with Red Robin Campfire Sauce, Spicy Ketchup, and Red Robin Seasoning!
Best Air Fryer Temperature to Cook Frozen Onion Rings
I have found that 350 degrees is the perfect temperature to cook frozen onion rings. If you cook them at a higher temperature, the outside tends to cook to quickly, while the inside stays cold. In this case, the lower temperature gives better results.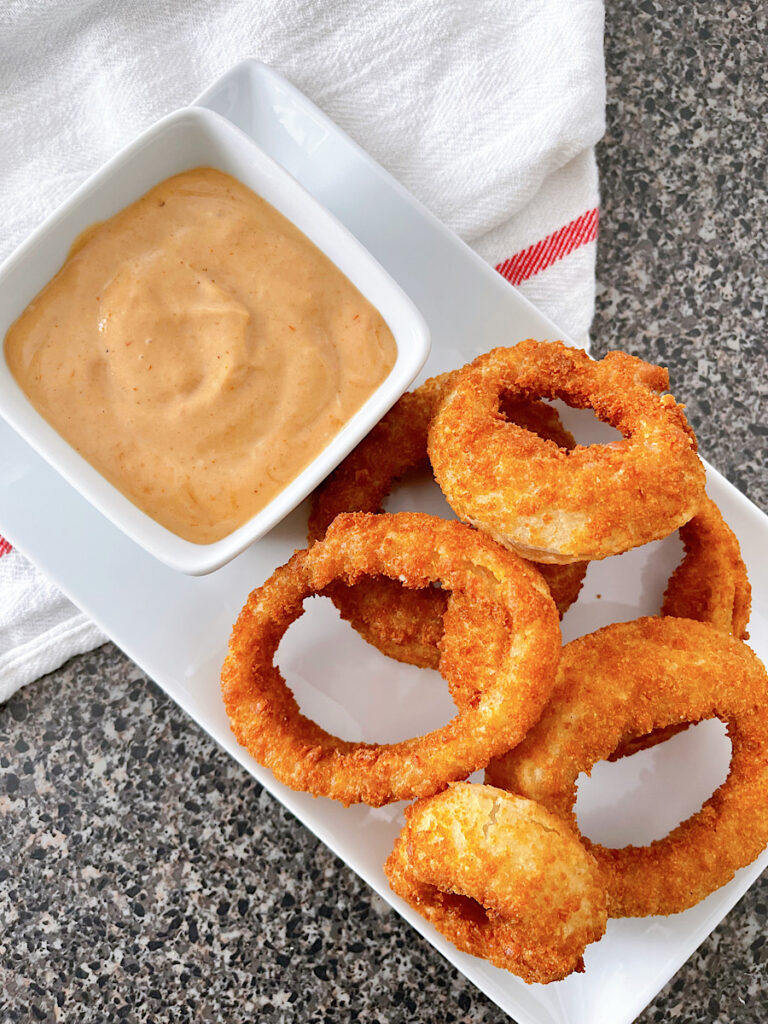 Air Fryer Frozen Onion Rings Ingredients
Frozen Onion Rings: Use your favorite brand, however I think the best brand is Red Robin. Alexia Onion Rings and even Great Value Onion Rings work great as well.
How to Make Air Fryer Onion Rings
[1] Preheat the air fryer to 350 degrees.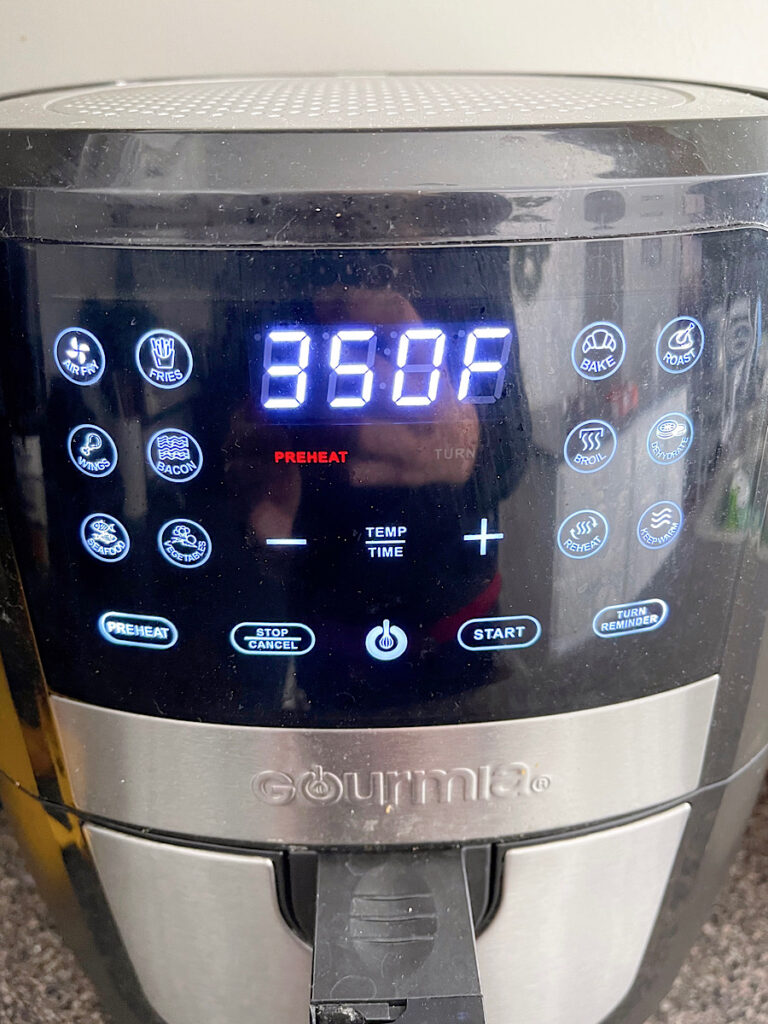 [2] Add half a bag of onion rings in a single layer to the bottom of the basket.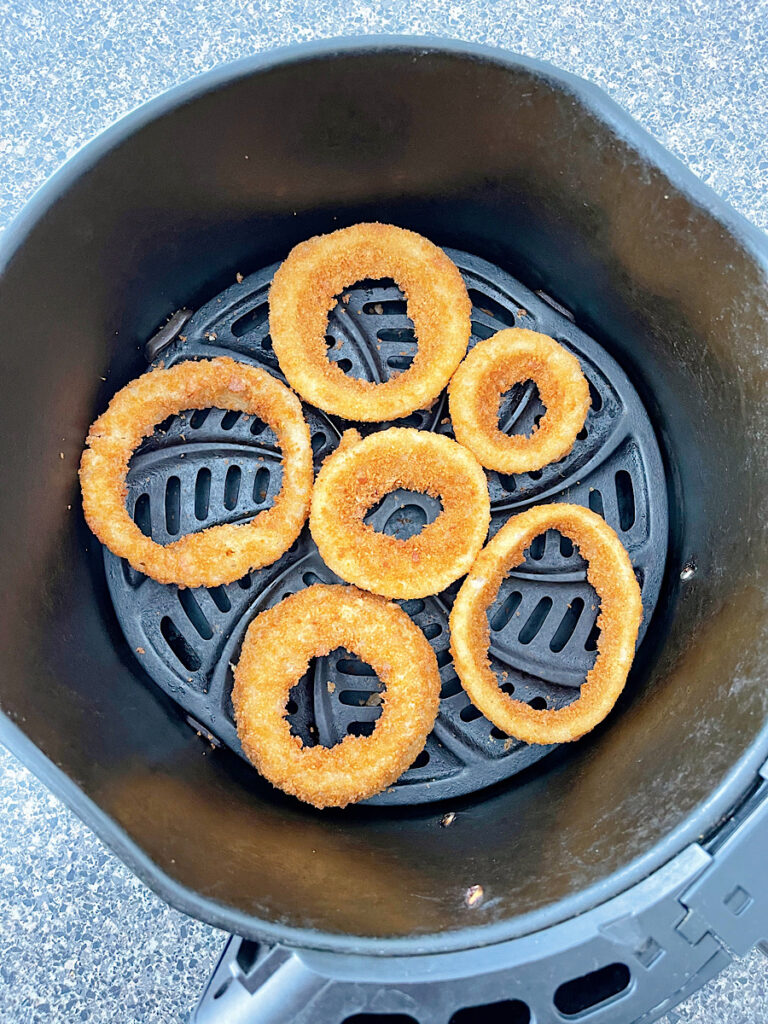 [3] Cook for 3 minutes, then toss or flip the onion rings over in the air fryer basket.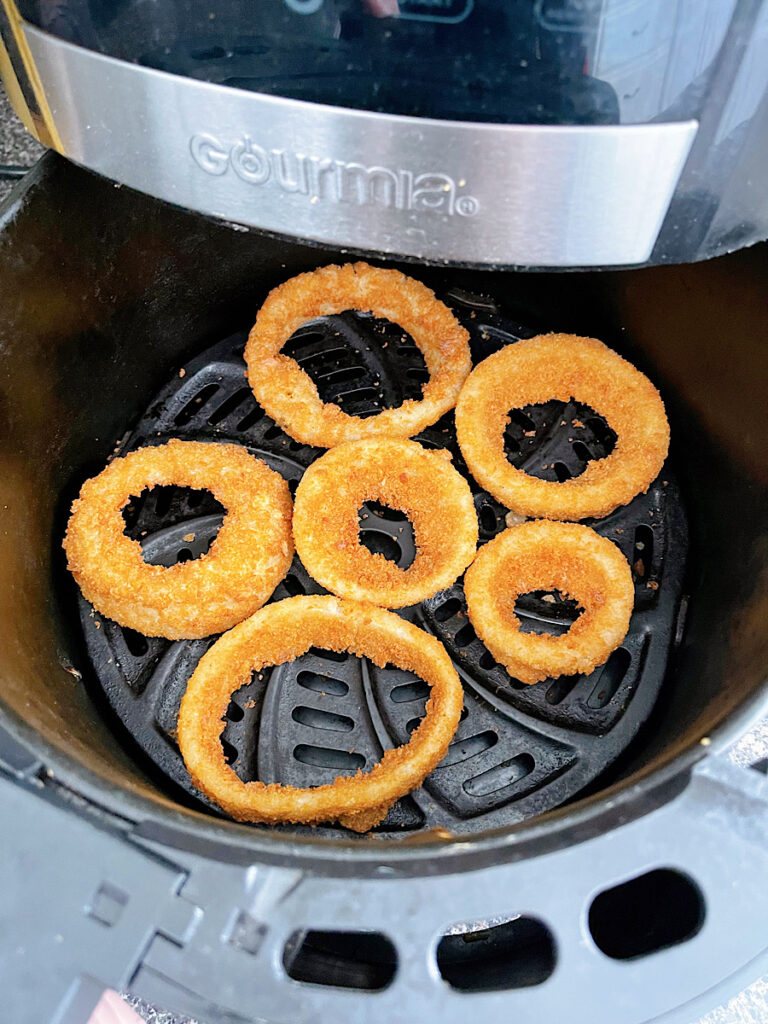 [4] Cook for an additional 3 minutes.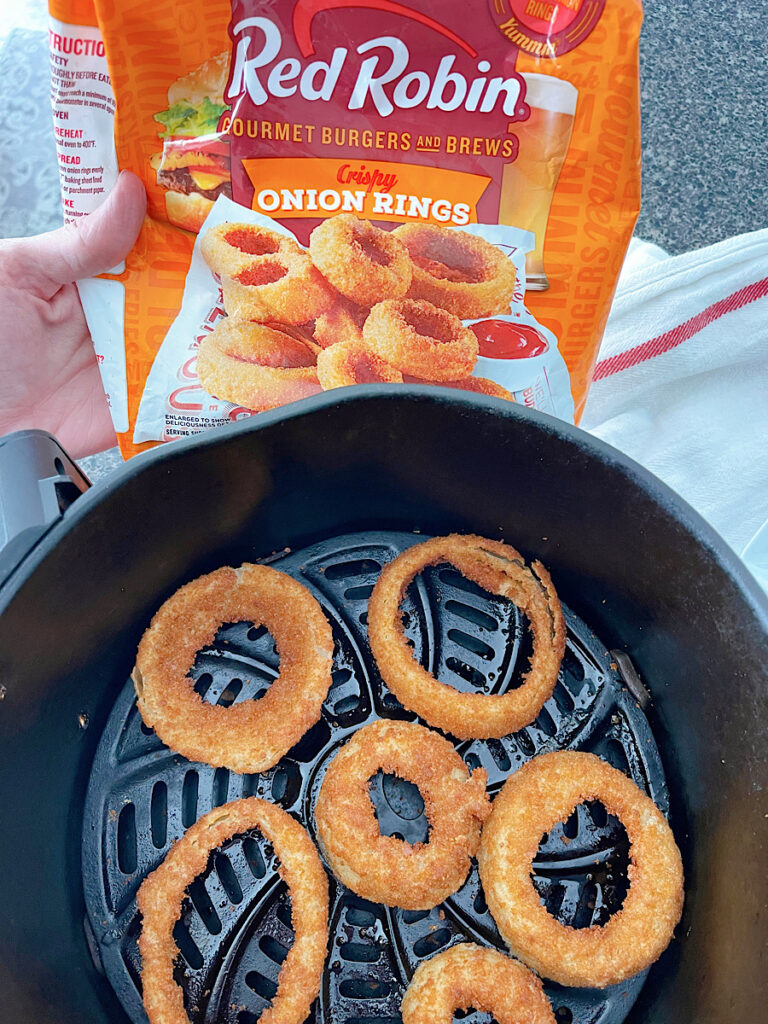 [5] Serve the onion rings with your favorite dipping sauce.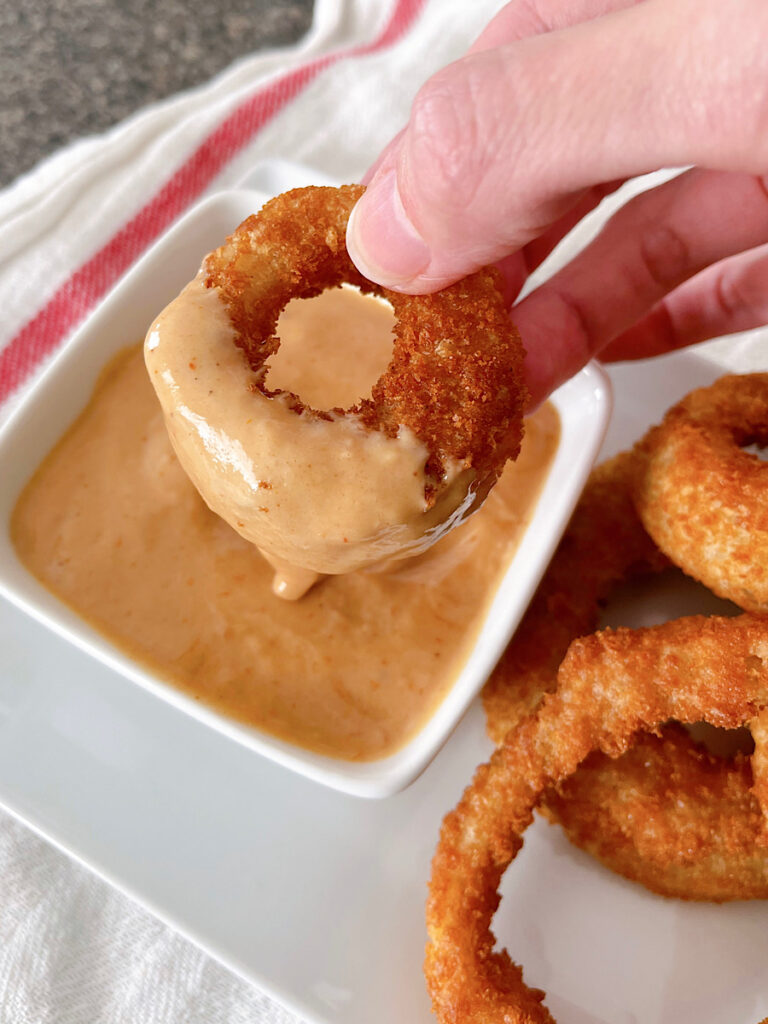 Helpful Kitchen Tools
How to Store & Reheat Leftovers
Store any leftover onion rings in an airtight container or ziplock bag. They will stay fresh for up to 3 days.
When you are ready to reheat, preheat your air fryer to 350 degrees and cook for 2-3 minutes, until the onion rings are heated through and crispy.
Red Robin Campfire Sauce
This is the sauce that is typically served with Red Robin's Onion Ring Tower at the restaurant and their Bottomless Steak Fries, and it's the perfect dipping sauce for the air fryer version as well!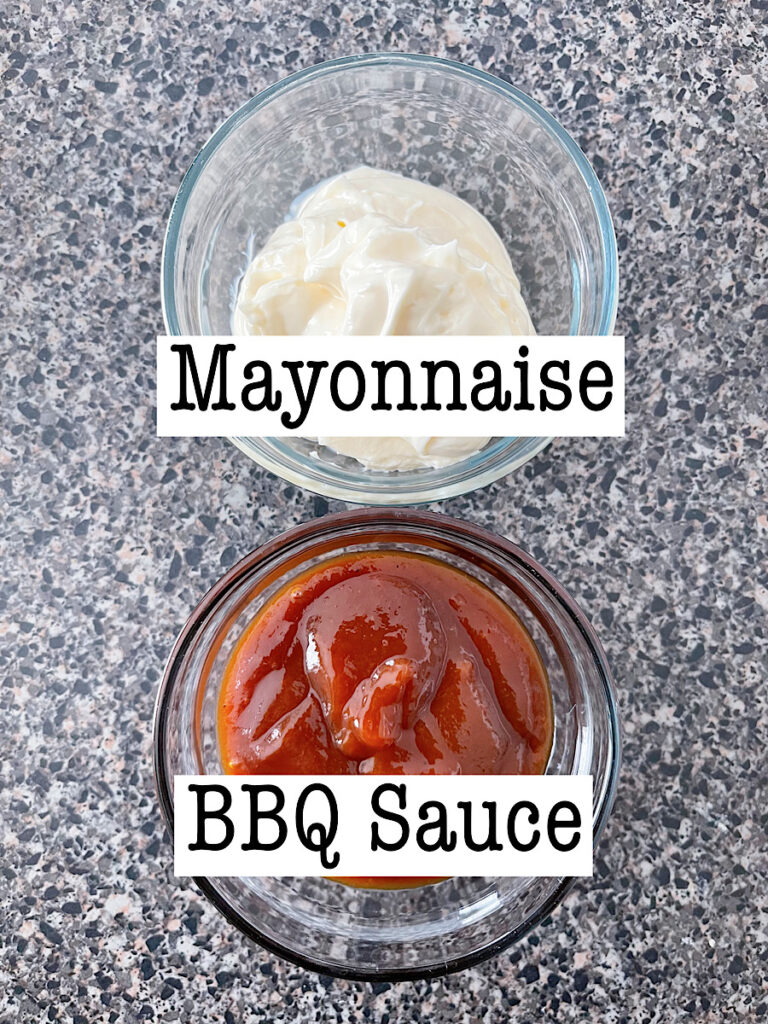 Campfire Sauce Ingredients:
1/4 Cup Mayonnaise
1/4 Cup Barbecue Sauce
Mix the mayo and BBQ sauce together in a bowl and it's ready to go!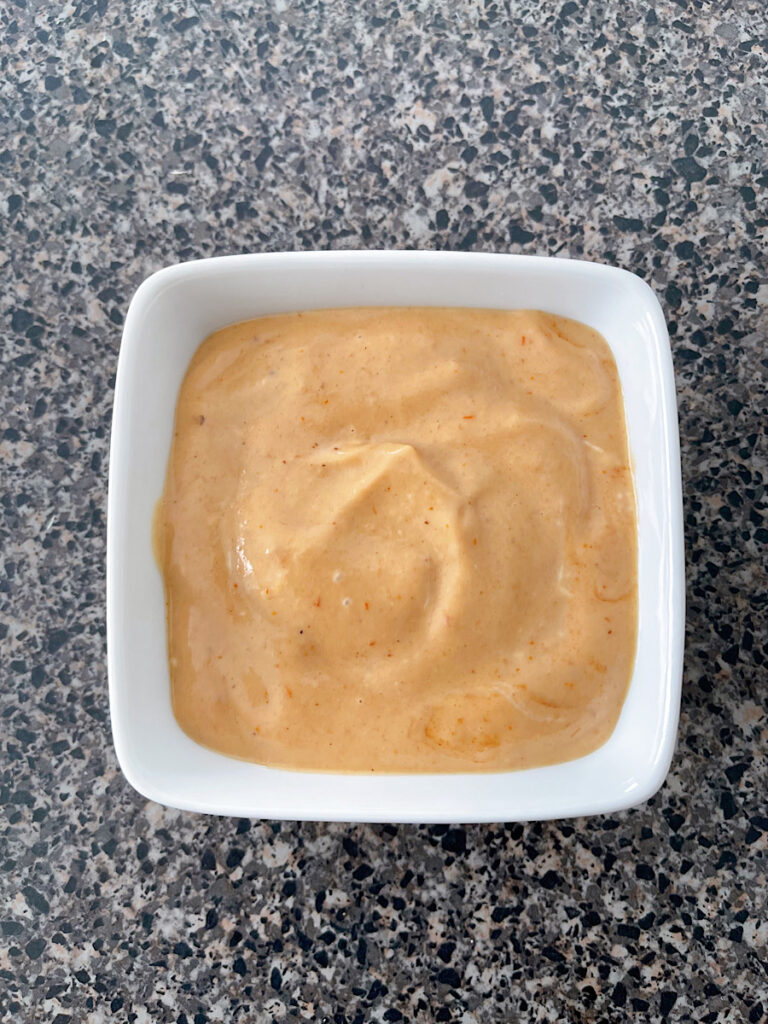 Red Robin Spicy Ketchup
This spicy ketchup is another sauce that is served at the restaurant and is the perfect addition to these air fryer onion rings.
Spicy Ketchup Ingredients
1/2 Cup Ketchup
1/4 Cup Thai Sweet Chili Sauce
Mix the ketchup and Thai Sweet Chili Sauce in a bowl and serve with Red Robin Frozen Onion Rings!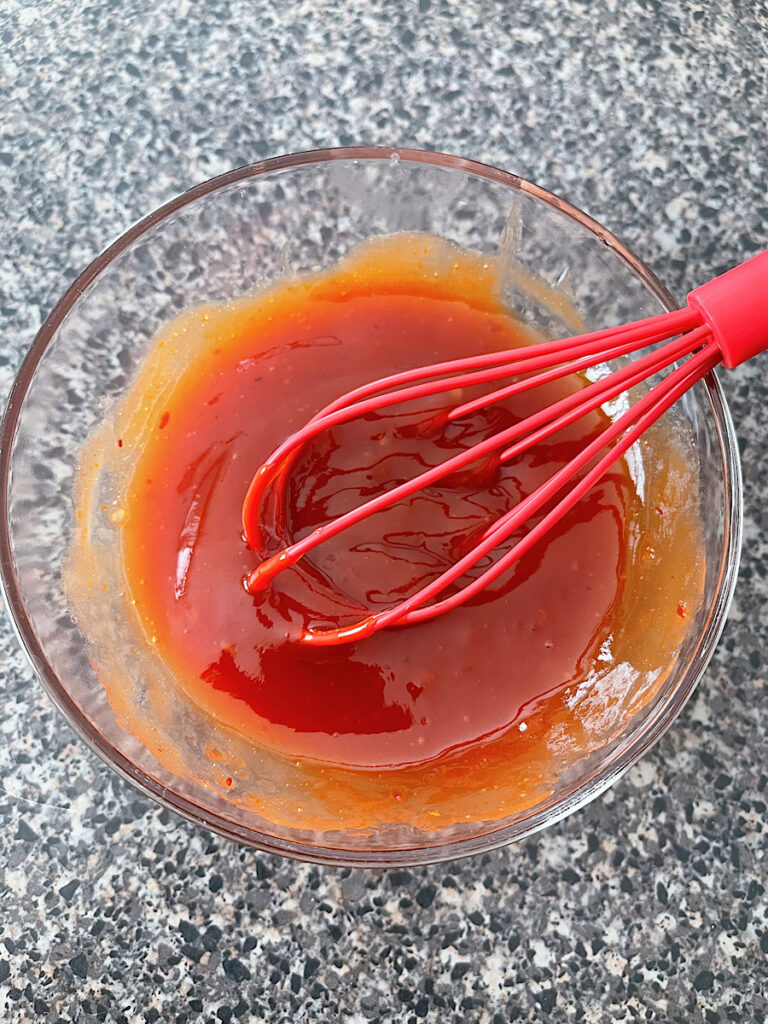 More Dipping Sauce Ideas:
Frequently asked questions
How long does it take to air fry onion rings?
It usually takes about 6 minutes to cook frozen onion rings in the air fryer. Cooking time may vary depending on the size and brand of onion rings.
How long to cook frozen onion rings in air fryer?
To get crispy onion rings, cook the frozen onion rings for about 6 minutes in an air fryer at 350 degrees.
Do I need olive oil to cook frozen onion rings in the air fryer?
You can spray the frozen onion rings with a little bit of oil before cooking, but it is not necessary.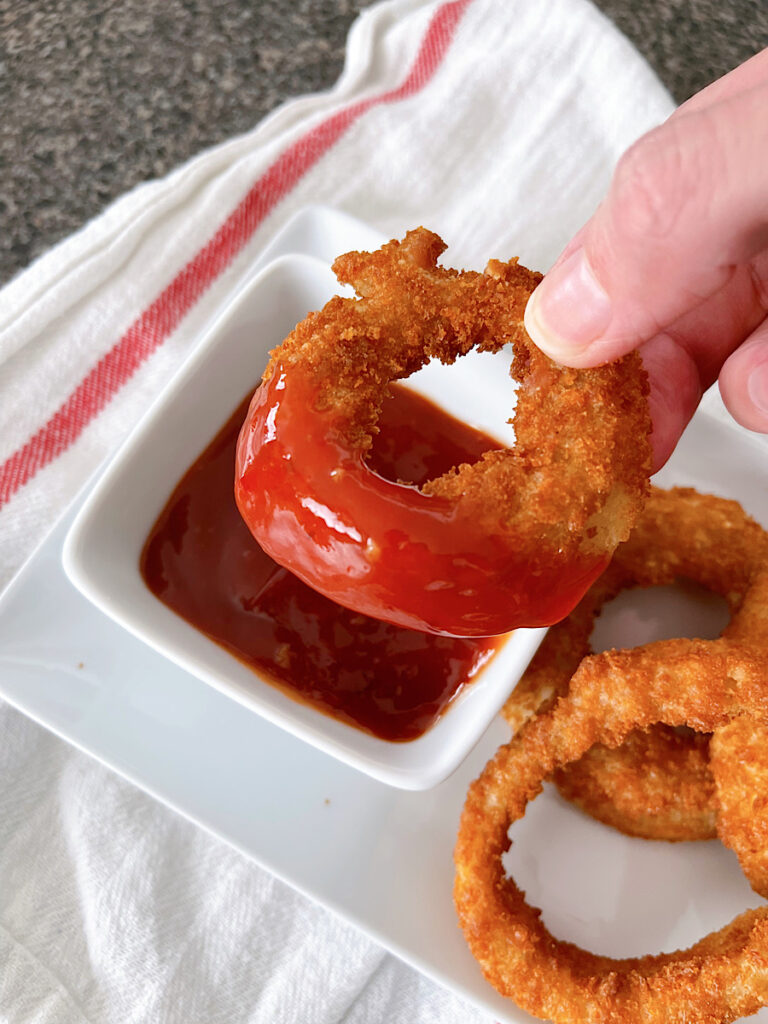 Final Thoughts
Making Red Robin Onion Rings in the air fryer is a great way to get that crispy, crunchy texture without all of the extra calories! Plus you can customize theses delicious onion rings with your favorite dipping sauces. Give this recipe a try and let us know how it turns out!
More air fryer recipes