If you're looking for a quick after-school snack for your kids or just a quick and easy pizza night, this TikTok Garlic Bread Pizza recipe is for you! This dish has become a viral sensation, and it's easy to see why. Who doesn't love garlic bread? And when you use it as a pizza base and add your favorite pizza toppings to it, it becomes even more delicious! So give TikTok Garlic Bread Pizza a try. You won't be disappointed!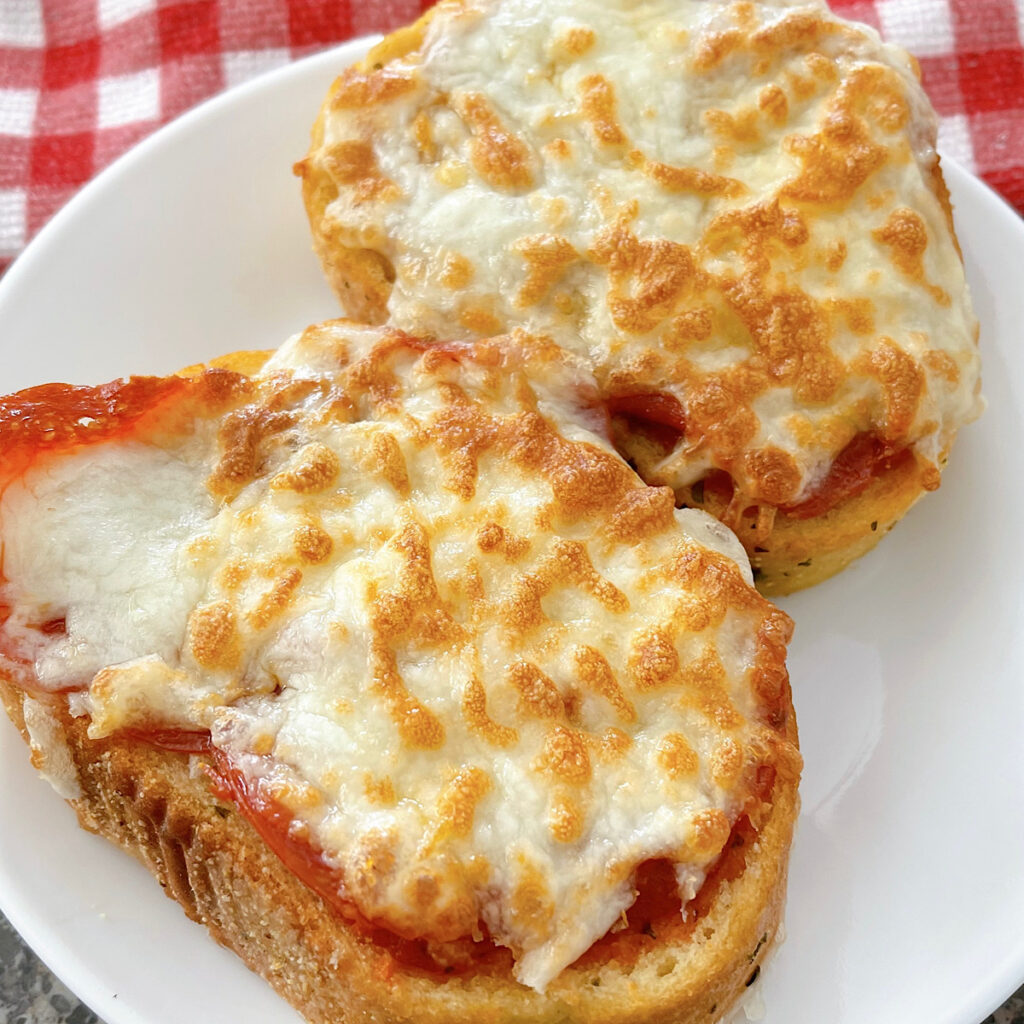 This post may contain affiliate links. When you click on these links, I get a small percentage back at no cost to you! For more information see my disclosure policy.
Below you will find tips, tricks and helpful hints for making this recipe including step by step instructions with pictures. If you would like to go directly to the recipe, scroll down to the recipe card or tap "Jump to Recipe" at the top of the page.
Why You'll Love This Air Fryer Recipe
If you're anything like me, you've been obsessively watching TikTok videos for the past few months. And if you're also like me, you've been drooling over all of the amazing food content on there!
I recently came across one of the new recipes for garlic bread pizza that looked so good, I just had to try it. And let me tell you, it did not disappoint!
This great recipe is something the whole family will love, and it's sure to become a new favorite in your household when a pizza craving strikes. So without further ado, here's how to make TikTok's infamous garlic toast pizzas!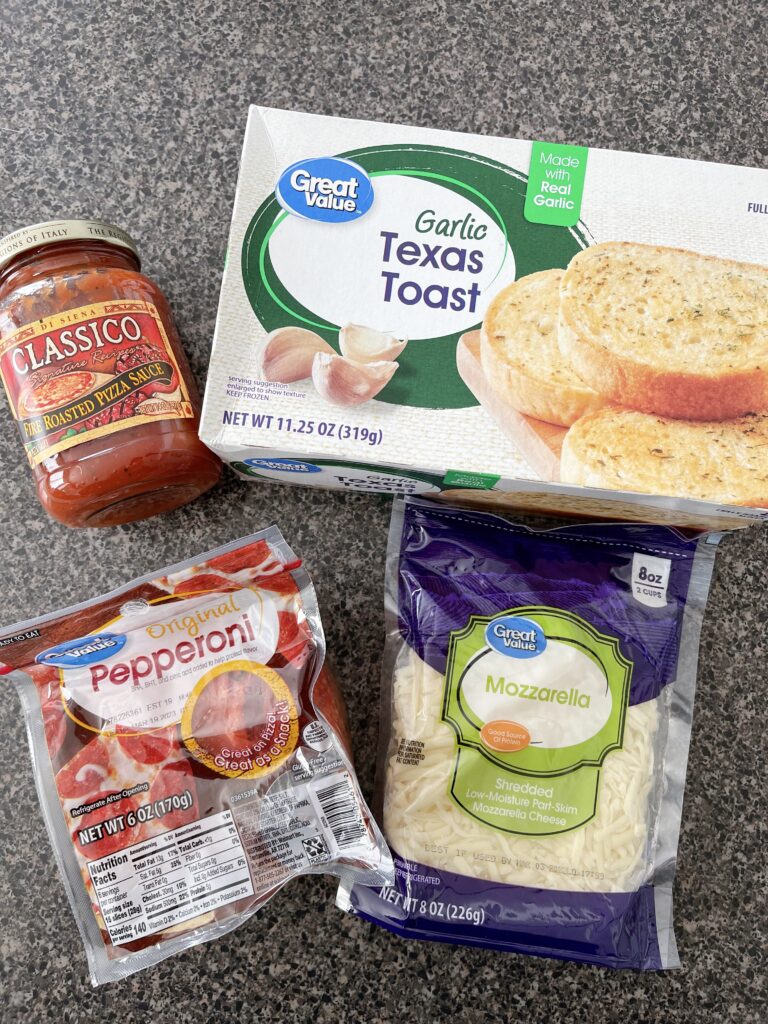 Ingredients for Garlic Pizza Bread
Frozen Garlic Bread: This can be found in the freezer section of most grocery stores. The box will typically come with 8 slices of garlic Texas toast. Any brand will do.
Pizza Sauce: This item will be located near the international foods or pasta aisle at the grocery store. The jar is usually around 14 ounces.
Pepperoni Slices: This is an optional topping. Use as much or as little as you desire.
Mozzarella Cheese: For convenience, use pre-shredded mozzarella cheese.
How to Make TikTok Air Fryer Garlic Bread Pizza Toast
[1] Preheat your air fryer to 400 degrees Fahrenheit.
[2] Place 4 slices of garlic bread on a layer of tin foil in the basket of an air fryer (you can use more or less depending on how many servings you want).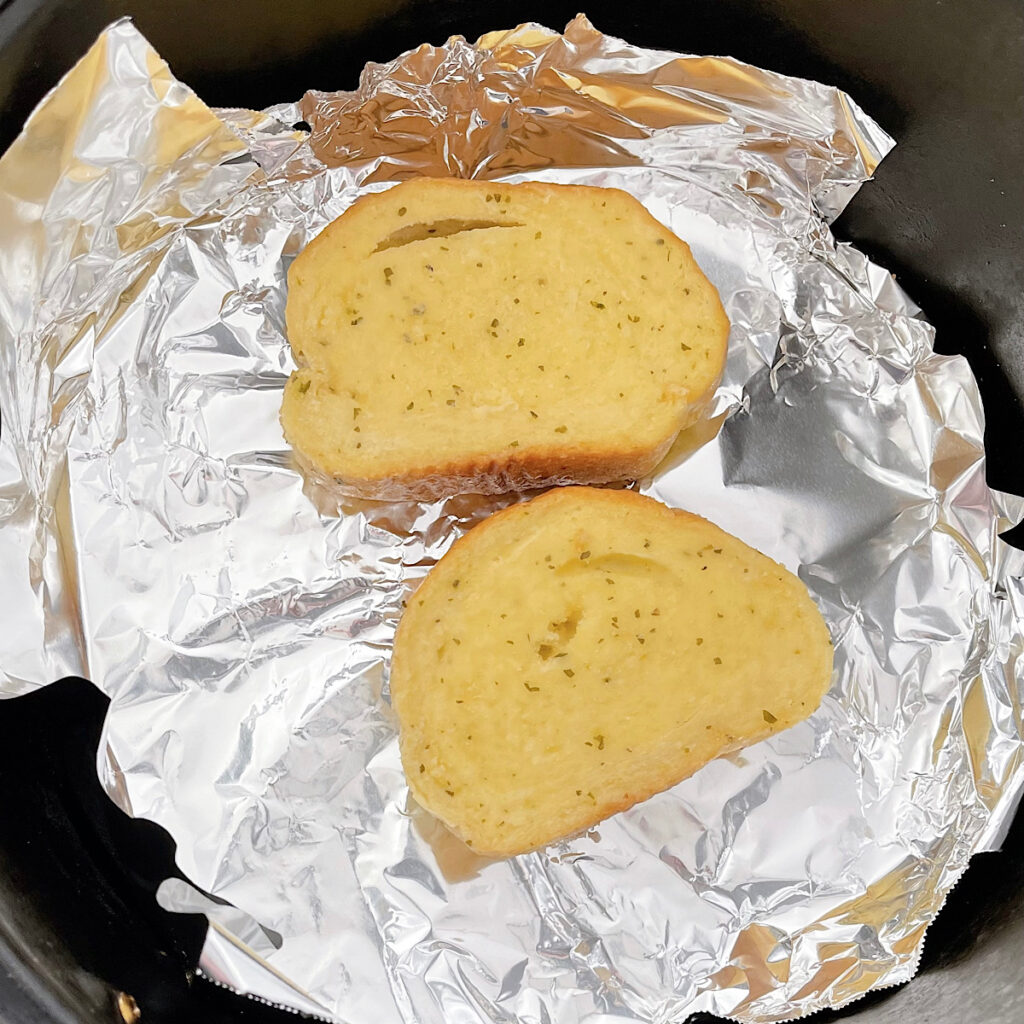 [3] Air fry the toast for 3 minutes, then remove the basket.
[4] Top each slice with a little bit of pizza sauce, pepperoni slices, and mozzarella cheese.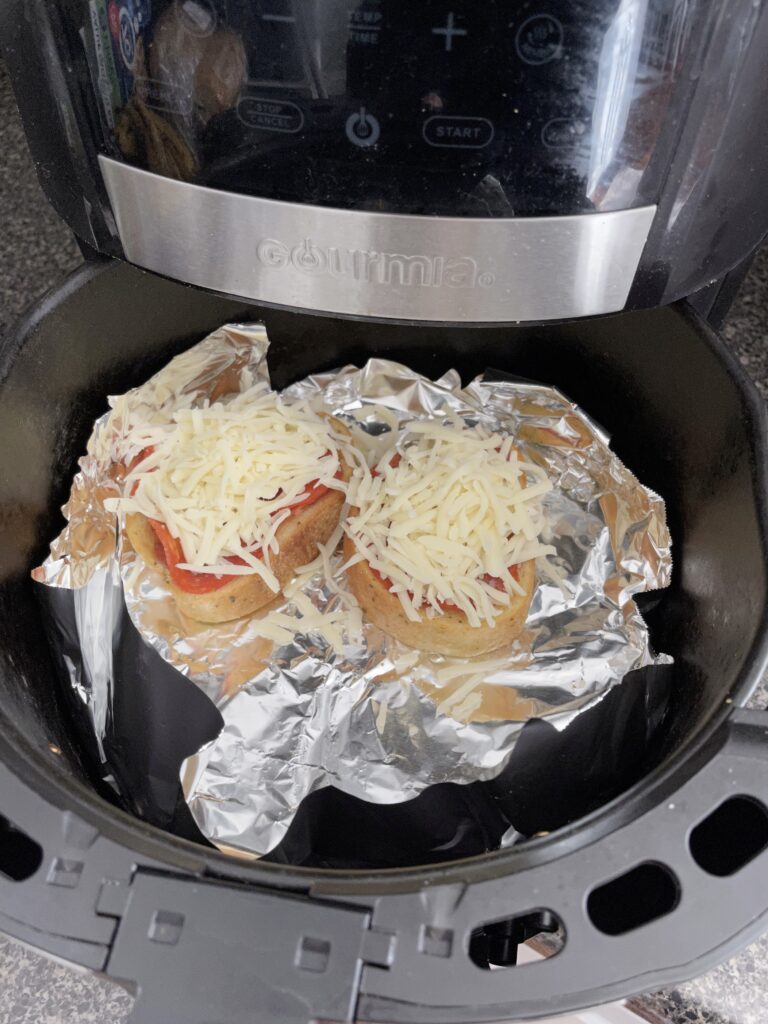 [5] Place the basket back into the air fryer and cook for an additional 2-3 minutes, or until the cheese is melted and beginning to turn golden brown. Keep an eye on the pizzas during the last minute to make sure it doesn't brown too much.
[6] Serve hot and enjoy!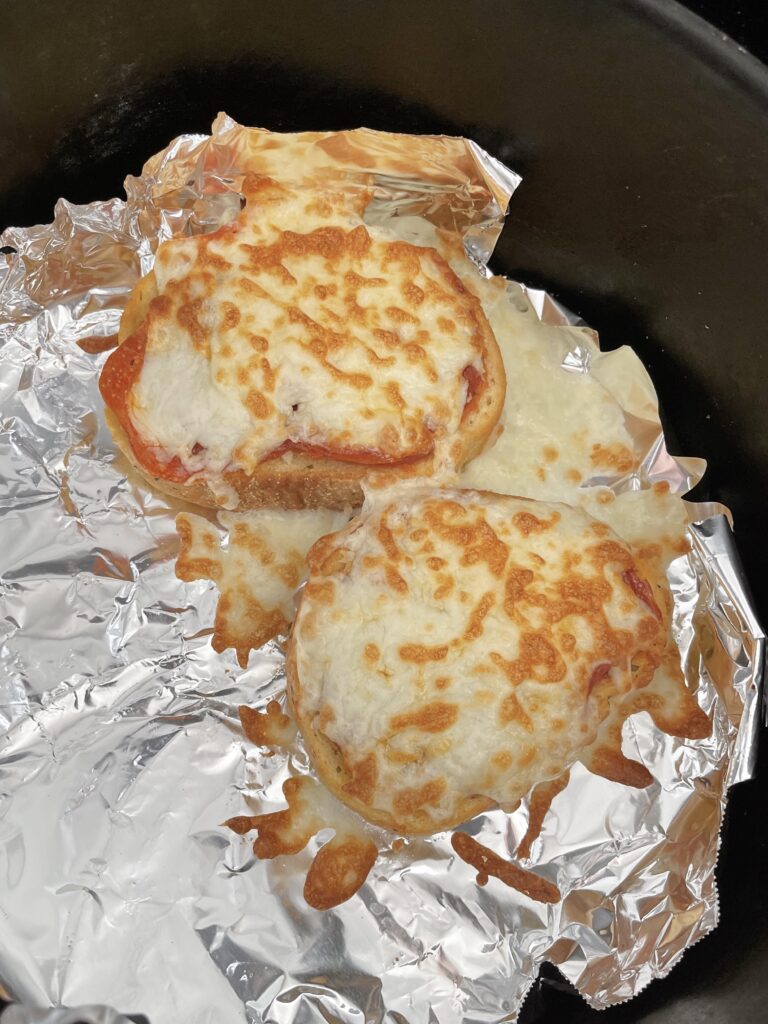 Garlic Bread Pizza Oven Instructions
If you don't have an air fryer, you can also make this dish in the oven.
[1] Preheat your oven to 425 degrees.
[2] Place garlic bread slices on a baking sheet and bake for 3 minutes.
[3] Remove from the oven and top the bread with pizza sauce, pepperoni slices, and mozzarella cheese.
[4] Bake the toast for an additional 2-3 minutes until the cheese has melted.
Helpful Kitchen Tools:
How to Store and Reheat TikTok Garlic Bread Pizza
Leftovers can be stored in an airtight container or wrapped in plastic wrap in the fridge for up to 3 days.
To reheat, place slices back in the air fryer at 350 degrees for about 2 minutes or place on a baking sheet and bake at 400 degrees for 2-3 minutes until heated through.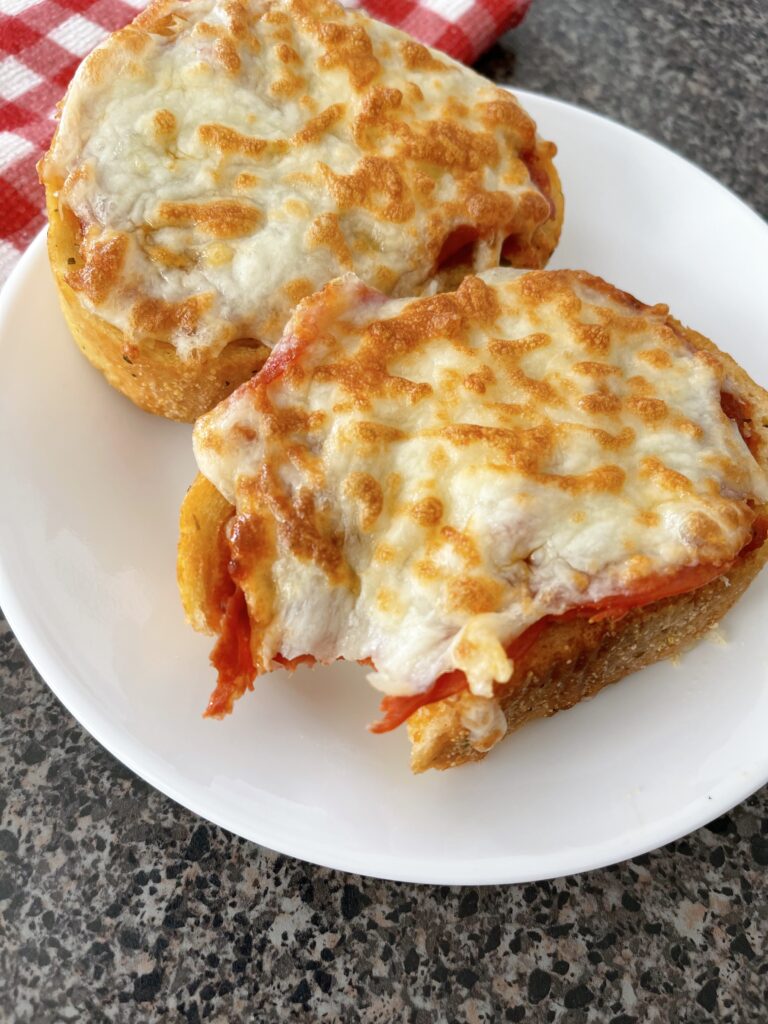 Frequently Asked Questions
What kind of bread can I use for Garlic Bread pizza?
Any kind of pre-made frozen garlic bread will work for this simple recipe. You can also use regular sliced bread and just top it with garlic butter before adding on the pizza toppings.
Can I make this pizza without pepperoni?
Yes, feel free to leave out the pepperoni or add your own favorite toppings such as mushrooms, bell peppers, or sliced sausage.
Can I use a different cheese than mozzarella?
Yes, feel free to use any type of shredded cheese such as cheddar or a pizza blend. Grated Parmesan cheese is also a great option to extra flavor.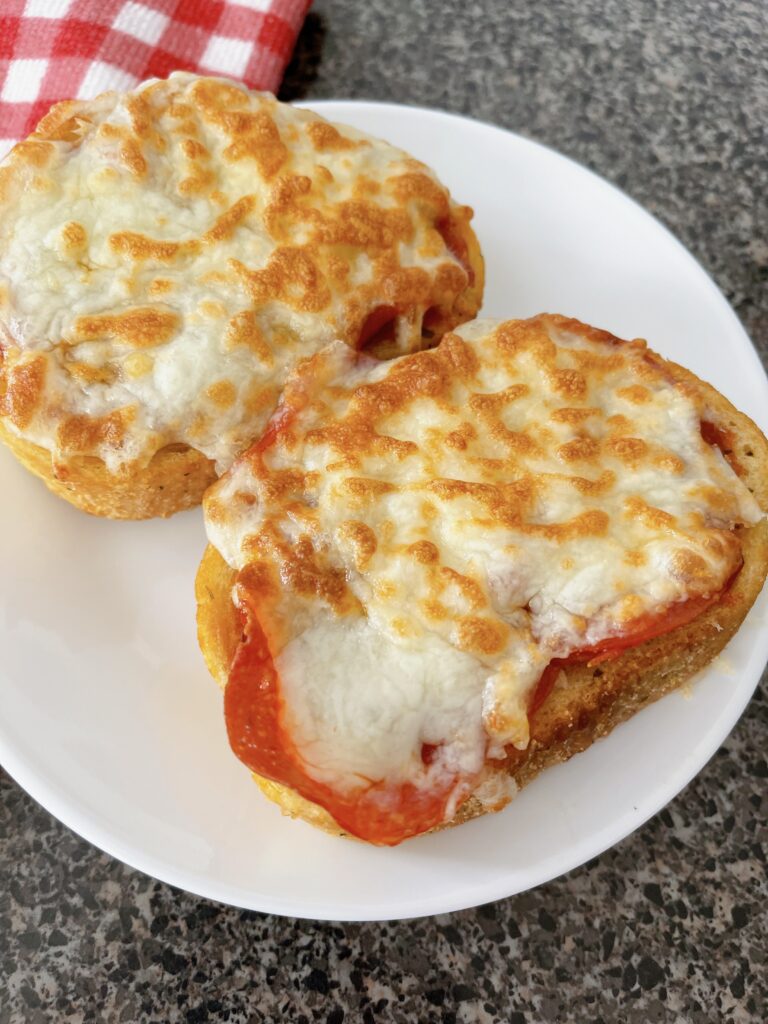 Final Thoughts
I hope you enjoy this delicious and fun way to make cheesy garlic bread pizza! It has definitely become a family favorite at my house. If you make it, be sure to tag me in your photos so I can see how it turned out! Happy cooking!
More TikTok Inspired Recipes
Cosmic Brownies
Grinder Sandwich
Baked Oatmeal
Pin for later: