TikTok has become the go-to place for delicious new recipes, and this Spaghetti Alfredo with spicy sausage is no exception! TikTok's latest contribution has it all: the perfect blend of sweetness from the tomato sauce, creaminess from the alfredo, and a little bit of spice from the sausage. Plus, it's super easy to make. No wonder this latest trend has become TikTok-famous! Whether you're looking for an impressive dish to make for a date night or a simple weeknight meal for the entire family, this TikTok spaghetti recipe is sure to hit the spot.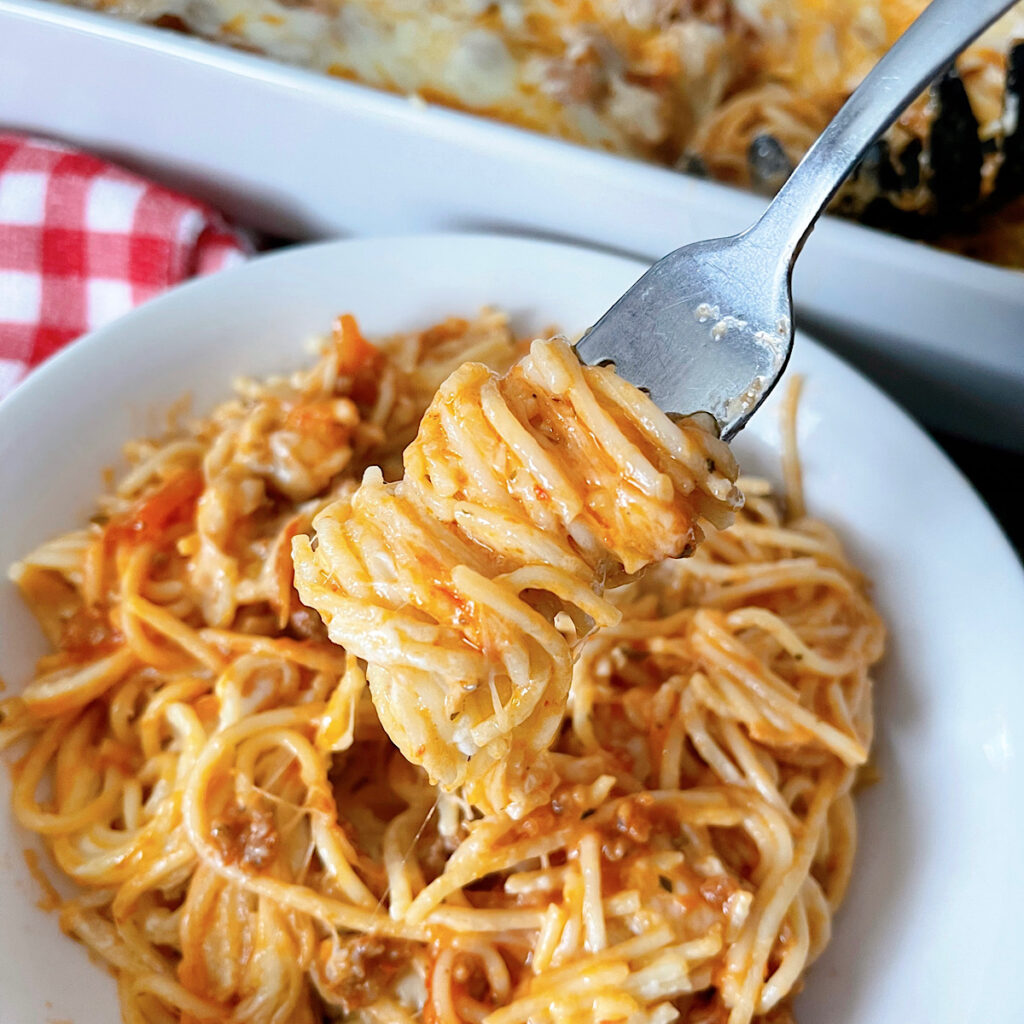 This post may contain affiliate links. When you click on these links, I get a small percentage back at no cost to you! For more information see my disclosure policy.
Below you will find tips, tricks and helpful hints for making this recipe including step by step instructions with pictures. If you would like to go directly to the recipe, scroll down to the recipe card or tap "Jump to Recipe" at the top of the page.
Why You'll Love this TikTok Spaghetti Recipe
TikTok has been responsible for a lot of things lately: making people laugh, helping them procrastinate, and even teaching them new skills. But who would have thought that the social media platform would also be responsible for making a delicious spaghetti dish famous?
This TikTok spaghetti recipe, which features tomato sauce, alfredo, and ground sausage, has become a viral sensation, with people all over the world sharing their own versions of the pasta dish.
And it's easy to see why this TikTok pasta recipe is so popular. First of all, it's incredibly easy to make, meaning that even those with limited cooking skills can whip up a batch of TikTok spaghetti with ease, and it's the perfect comfort food!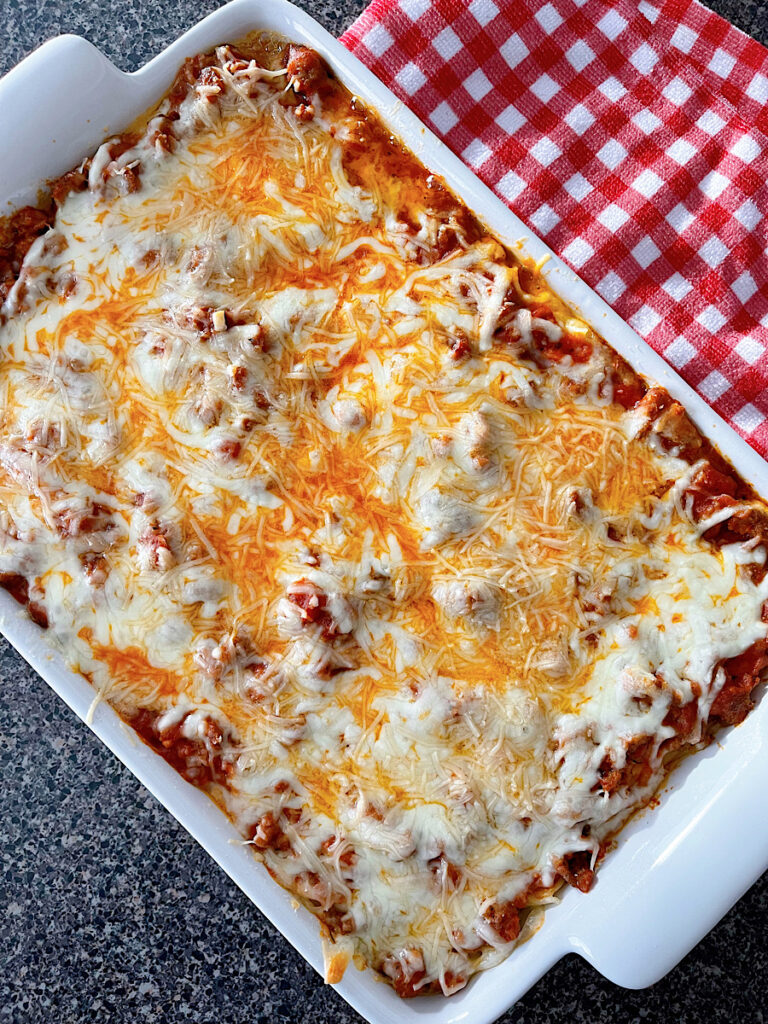 Secondly, it's incredibly versatile; you can use whatever type of pasta you like, as well as swap out the ground sausage for ground beef or turkey if you prefer.
Finally the best part, it's packed full of flavor, meaning that even the pickiest eaters will enjoy TikTok spaghetti. It is definitely one of the most drool-worthy recipes I have made from TikTok.
So if you're looking for a new recipe to try out, be sure to give TikTok spaghetti a go – you won't regret it!
What is TikTok Spaghetti Alfredo?
This viral recipe is spaghetti noodles mixed with alfredo sauce placed in a baking dish then topped with sausage tomato sauce, mozzarella, and parmesan cheese, then baked in the oven.
The best thing about it is that It's a simple, easy-to-make dish that is perfect for dinner with the family or a night in with friends. Whether you're an experienced cook or just starting out in the kitchen, TikTok spaghetti alfredo is sure to become one of your new favorite recipes! Be sure to check out more TikTok recipes below!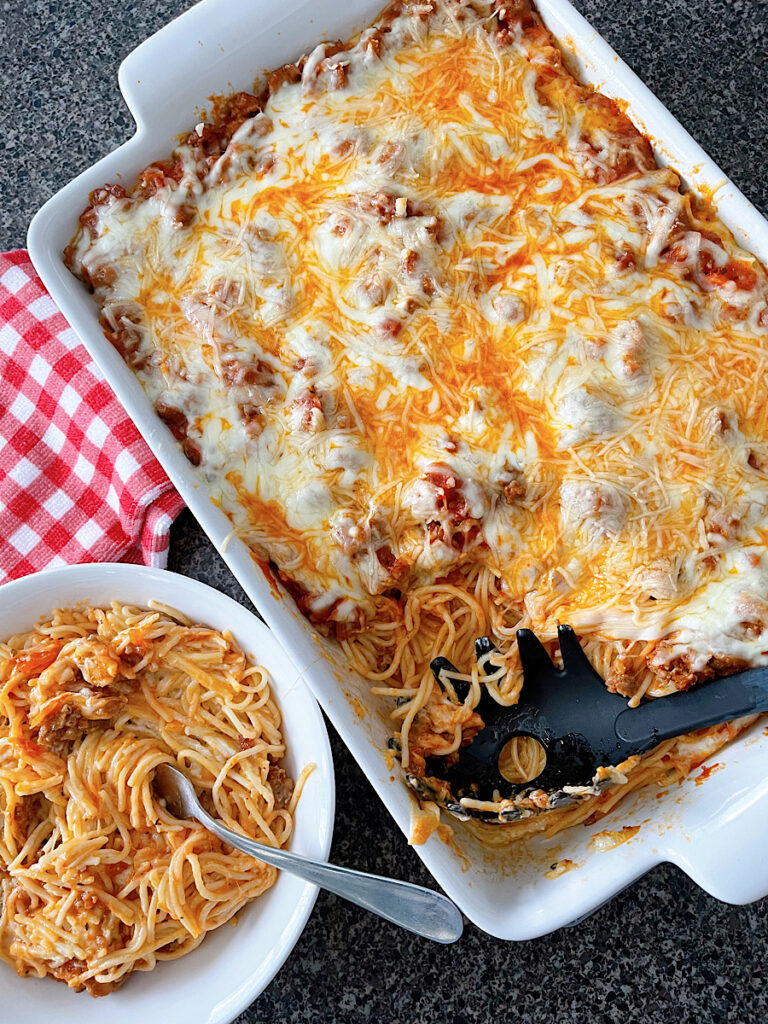 More Viral TikTok Food Trends
Ingredients for TikTok Spaghetti Alfredo
*Ingredient amounts are located in the recipe card at the end of this post.
Spaghetti Sauce: Any flavor or brand of spaghetti or marinara sauce will work in this recipe. I used a 24 ounce jar of Prego Roasted Garlic & Herb.
Ground Sausage or Ground Beef: Either will work with this spaghetti recipe, but I prefer sausage or Italian sausage because it adds more flavor. For even more flavor, you can take it up a notch by using Hot sausage as I did! If you can't find Hot sausage, you can add 1/4 teaspoon of red pepper flakes or a dash of cayenne pepper.
Butter: The butter will be used as a base for the Alfredo sauce that covers the spaghetti noodles. Salted or Unsalted butter can be used.
Flour: The flour will help thicken the Alfredo sauce.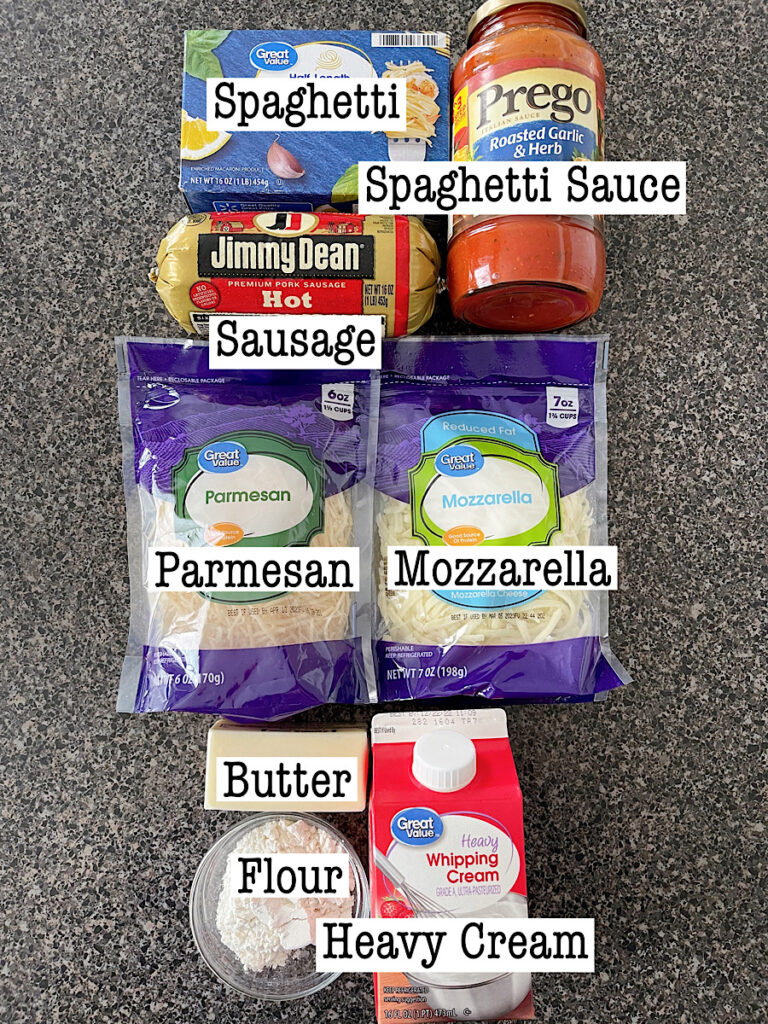 Heavy Cream: Heavy whipping cream is a key ingredient in the alfredo sauce.
Parmesan Cheese: For more flavor and added creaminess, I used shredded parmesan in addition to the heavy cream in the alfredo sauce. You can use freshly grated cheese or store bought pre-shredded cheese.
Mozzarella Cheese: Mozzarella cheese is a popular addition to this spaghetti recipe. It adds a nice cheesy flavor and texture. This will be sprinkled over the top of the spaghetti and melted in the oven. Cheddar Cheese can also be used.
Spaghetti Noodles: Any type of noodles will work with this recipe. I used half-length Angel Hair pasta. You can use any size or brand of pasta that you like.
How to Make TikTok Spaghetti Step-by-Step
Red Sauce
Begin by browning the sausage or ground beef in a large nonstick skillet over medium high heat with a wooden spoon with a teaspoon of extra virgin olive oil. When fully cooked, add the jar of spaghetti sauce and stir until heated through. Keep warm.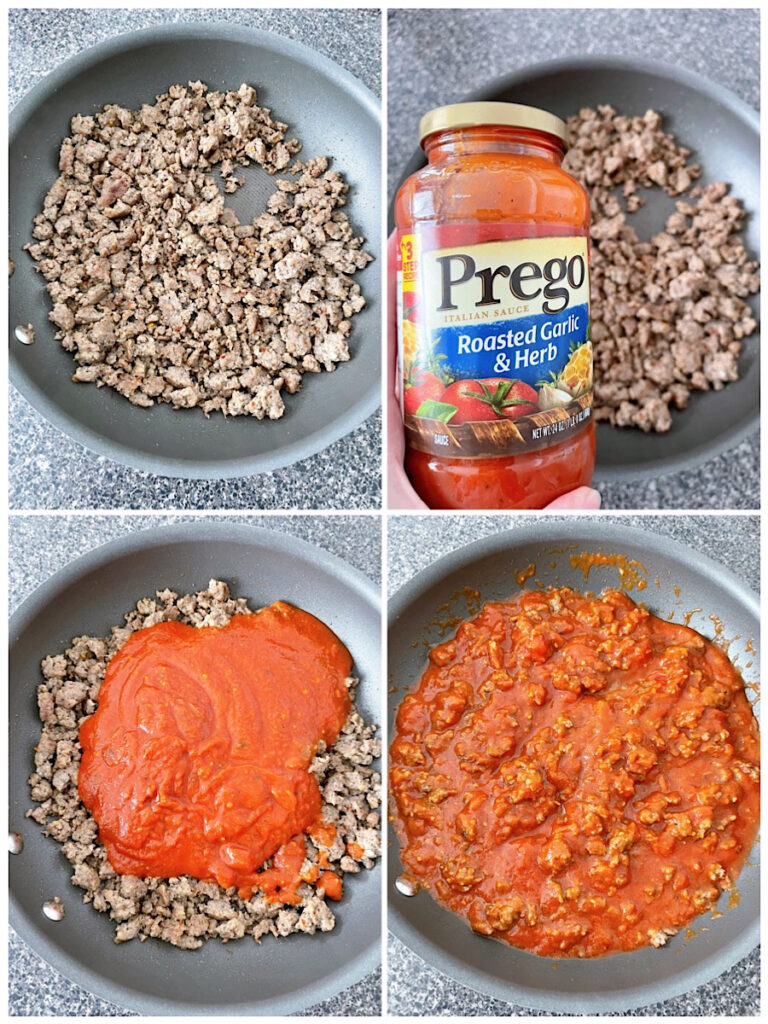 Spaghetti Noodles
Boil the package of spaghetti noodles al dente, according to the package directions. Drain and set aside.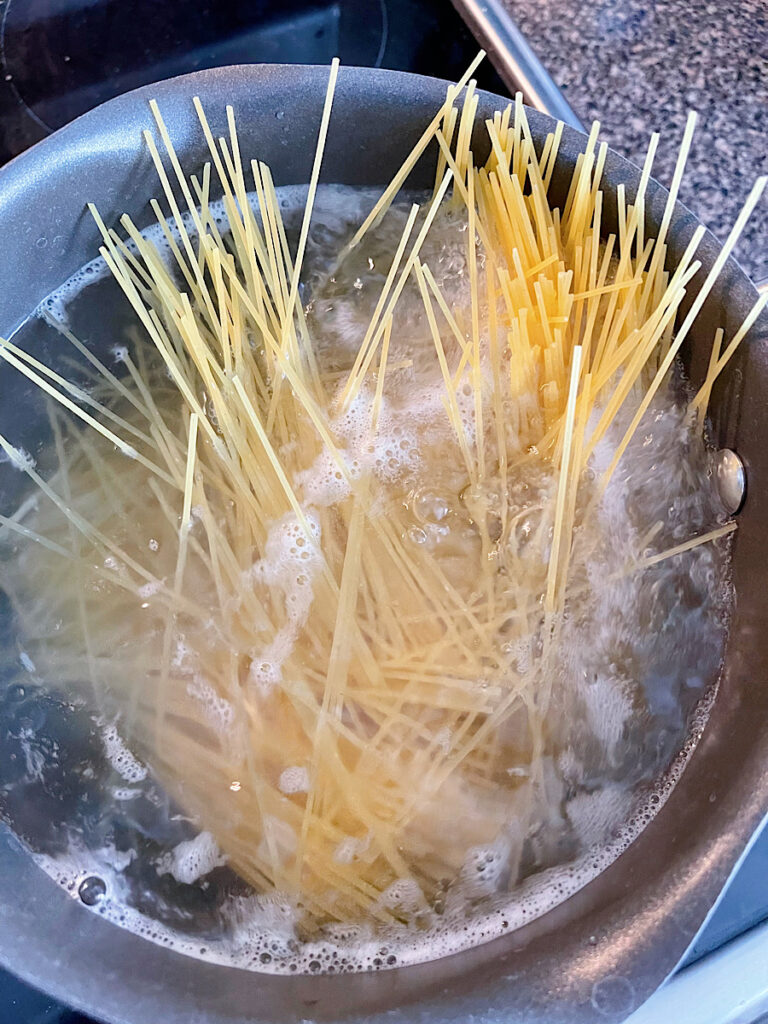 Alfredo Sauce
In a medium saucepan, melt the butter then sprinkle with flour. Cook for 1-2 minutes before slowly adding in the heavy cream and 1/4 cup of pasta water.
When the sauce has thickened, reduce the heat and stir 1 cup of parmesan cheese. When the cheese has melted, season the creamy sauce with salt and black pepper and give it a good stir.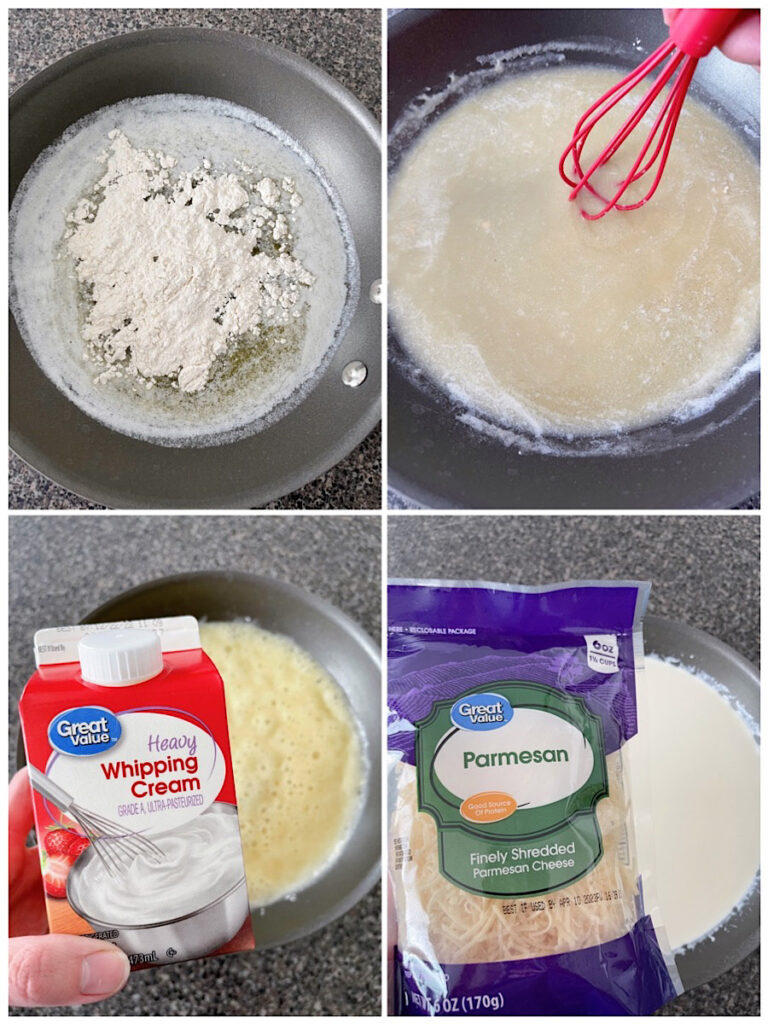 Spaghetti Assembly
Spray a 9×13 baking dish with nonstick spray. Combine the alfredo sauce with the cooked pasta and place in the baking dish. Pour the red sauce over the top of the spaghetti then top with shredded mozzarella cheese and the remaining parmesan cheese.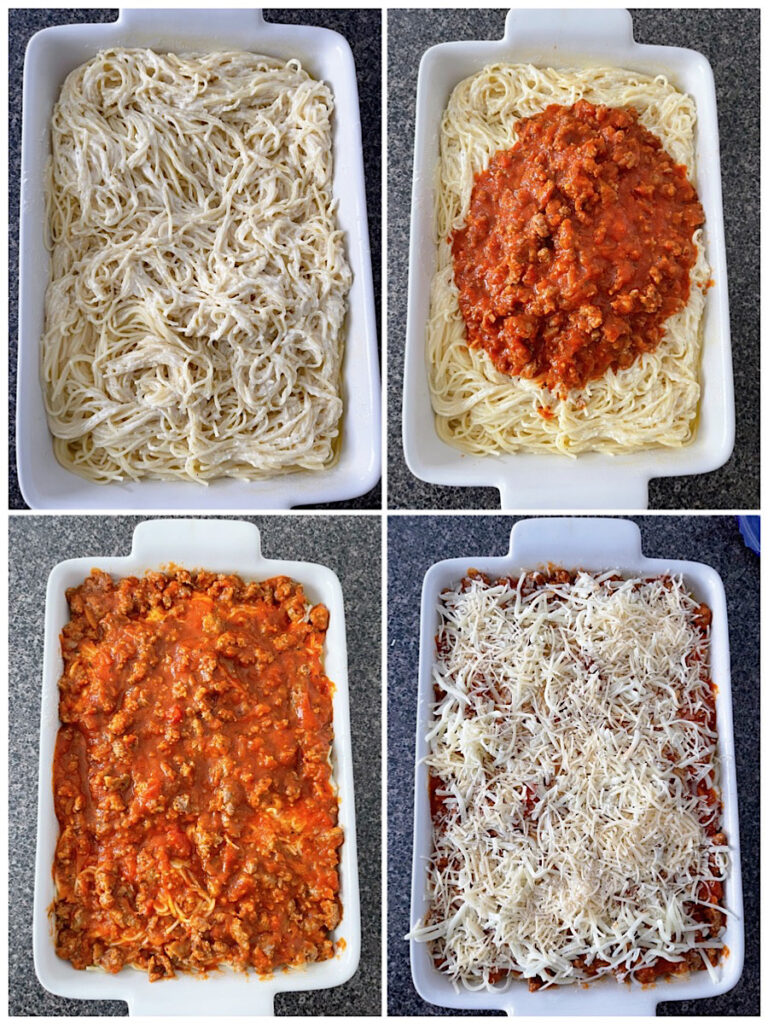 Bake the Spaghetti
Bake the Spaghetti Alfredo at 350 degrees for 20 minutes. Serve with a green salad and breadsticks!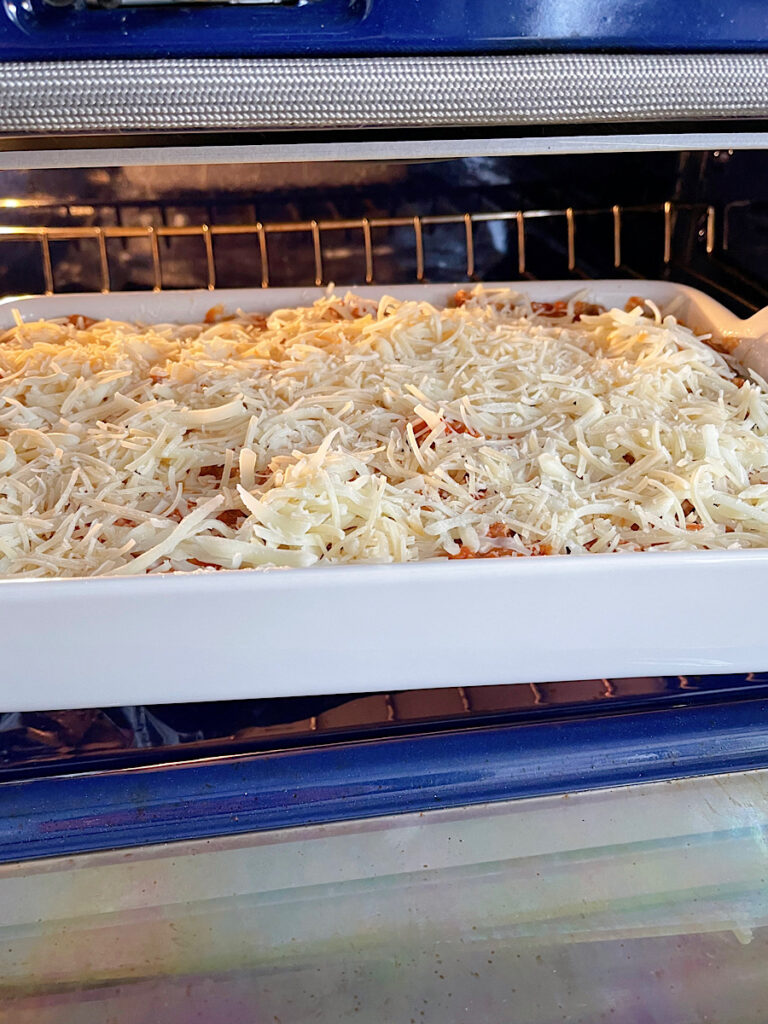 How to Store Leftover Spaghetti
Leftover TikTok Spaghetti can be stored in an airtight container in the fridge for up to 3 days. To reheat, simply microwave until heated through or place in a 350 degree oven until warmed through.
What Goes Well with Spaghetti Alfredo
Frequently Asked Questions
How many servings does this recipe make?
Because this is such a rich recipe, you should be able to easily serve 8-10 people. Depending on the size of your family or the number of guests you are cooking for, you may want to double this recipe.
What Can I Add to My TikTok Spaghetti Alfredo?
There are several different ingredients that you can add to this simple and delicious spaghetti alfredo: sliced mushrooms, chopped onions, fresh basil, feta cheese, minced garlic cloves, olives, green peas, ground beef or chicken, sausage, bacon bits and more. Add ingredients that you love to customize this recipe to your tastes!
Is Spaghetti Alfredo Healthy?
While alfredo sauce is not necessarily healthy, there are many ways that you can make it healthier. Choosing leaner cuts of meat and using whole wheat or gluten-free noodles are two great ways to make this recipe more nutritious.
How Do I Customize This TikTok Spaghetti Recipe?
You can customize your spaghetti by adding different types of cheese, pasta, meat, or vegetables. Try using fettuccine noodles in place of spaghetti noodles, use ground turkey instead of beef, and add fresh spinach to the alfredo sauce for more nutrients. There are endless possibilities with this recipe!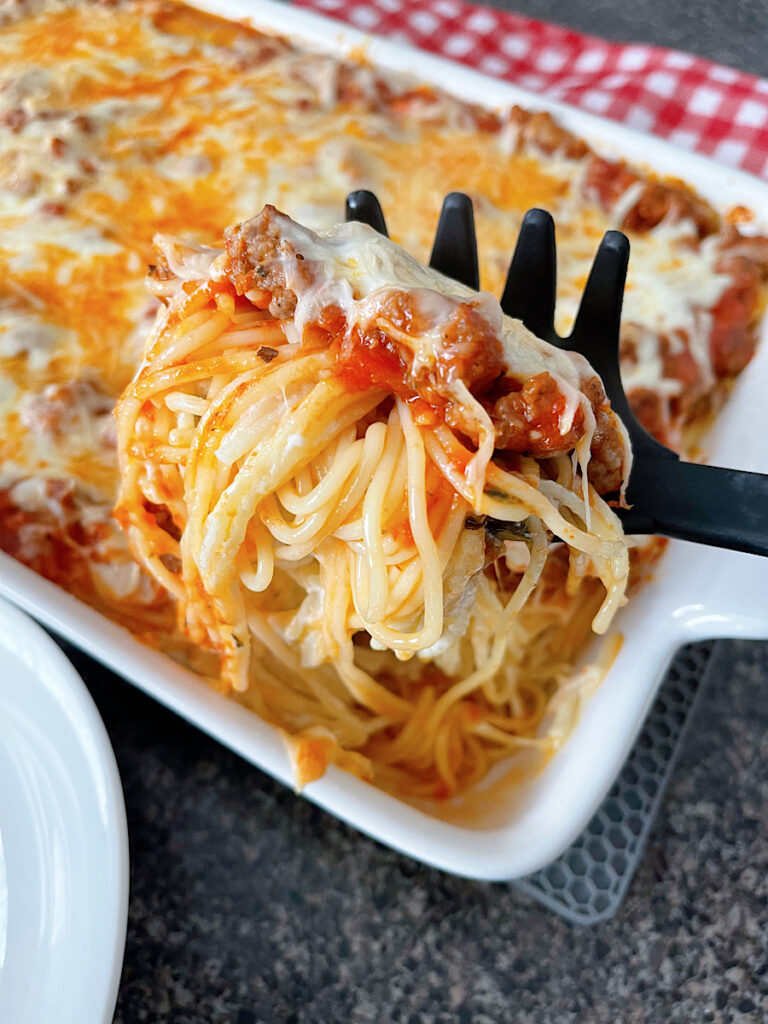 Final Thoughts
TikTok spaghetti alfredo is a flavorful and simple dish that is perfect for dinner or a night in with friends. Whether you're an experienced cook or just starting out, this recipe is easy to make and sure to become one of your favorite go-to recipes!
More Pasta Dishes to Try:
Pin for later: