Looking for an easy lunch or dinner that is packed with vegetables? This recipe for veggie gyros with tzatziki and red sauce will hit the spot! These gyros are totally customizable because you can choose whatever veggies you want or have on hand at the time. With the addition of creamy cucumber and dill tzatziki sauce and a homemade roasted red pepper red sauce, you and will family will be coming back for more!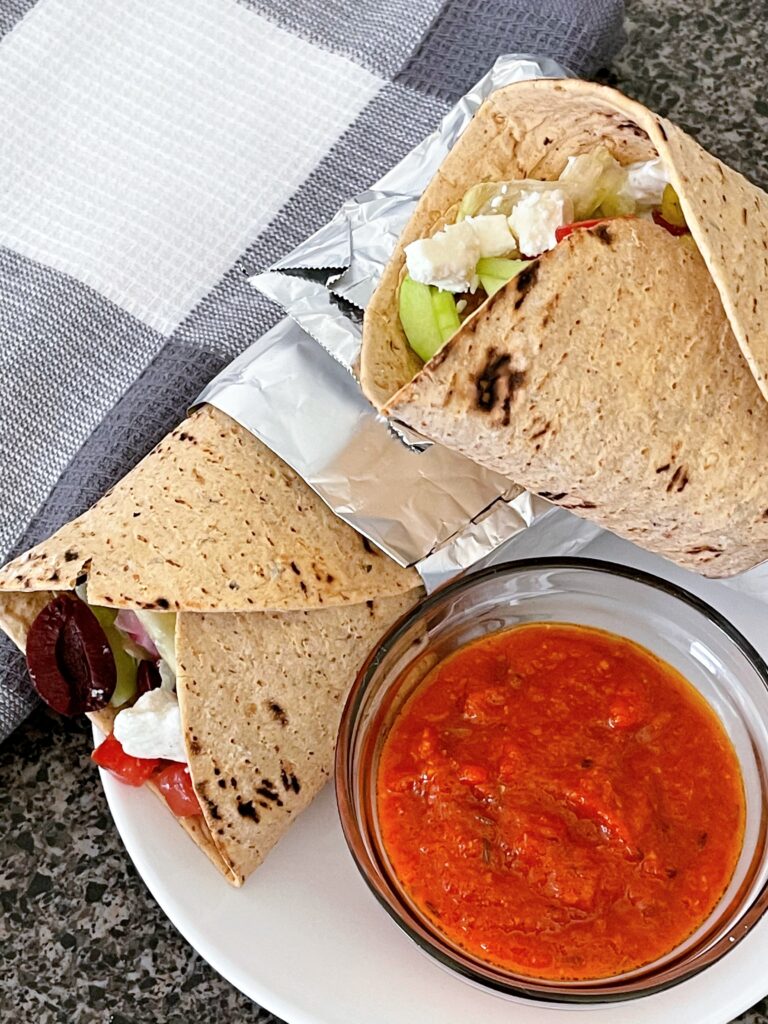 This post may contain affiliate links. When you click on these links, I get a small percentage back at no cost to you! For more information see my disclosure policy.
Below you will find tips, tricks and helpful hints for making this recipe including step by step instructions with pictures. If you would like to go directly to the recipe, scroll down to the recipe card.
Veggie Gyros have been one of my family's go-to recipes for dinner lately. They are the perfect light dinner to make on a hot summer night. If you want, you can even grill some veggies and chicken to add to your gyros.
Tzatziki Sauce
Tzatziki Sauce is a greek yogurt based condiment used frequently in gyros. I love this sauce not only on gyros, but as a dip for chips and cut vegetables as well.
The trick to making a good tzatziki sauce is to make sure that you remove as much liquid from the cucumbers as possible. I like to use a food processor to finely chop the cucumbers so that the sauce is not stringy.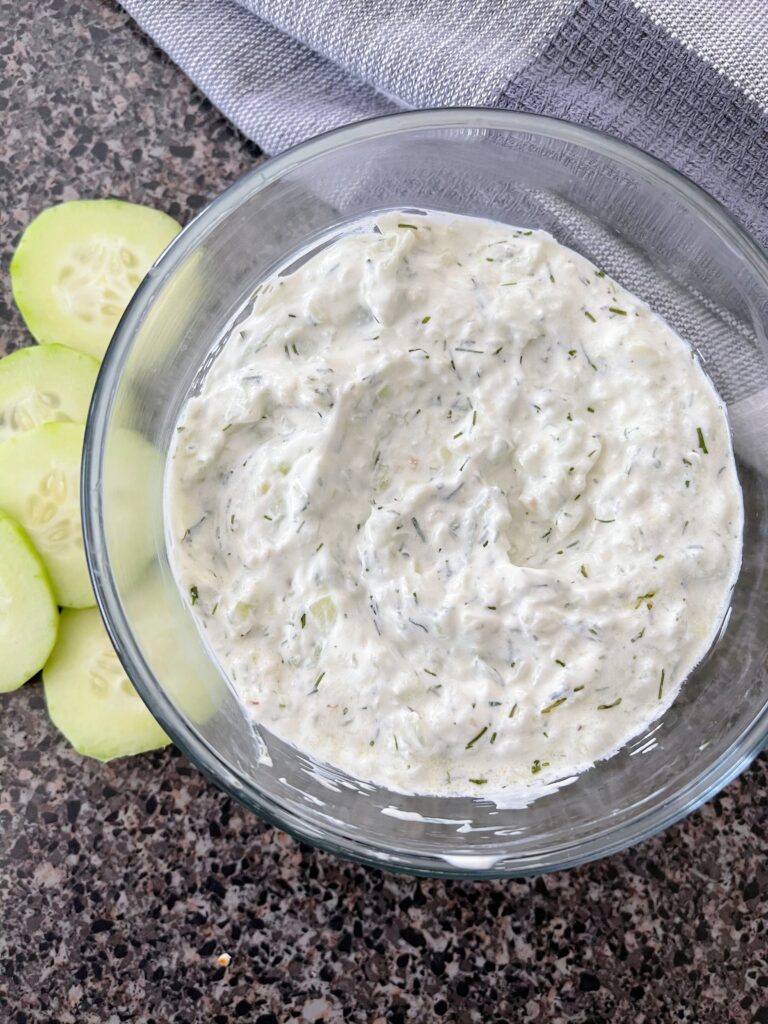 Tzatziki Sauce Ingredients
Cucumber– you can use an English cucumber or a regular slicing cucumber.
Salt– this will be used to help remove the liquid from the cucumbers.
Greek Yogurt– the base of tzatziki sauce. Sour cream can be substituted.
Salt and Pepper, to taste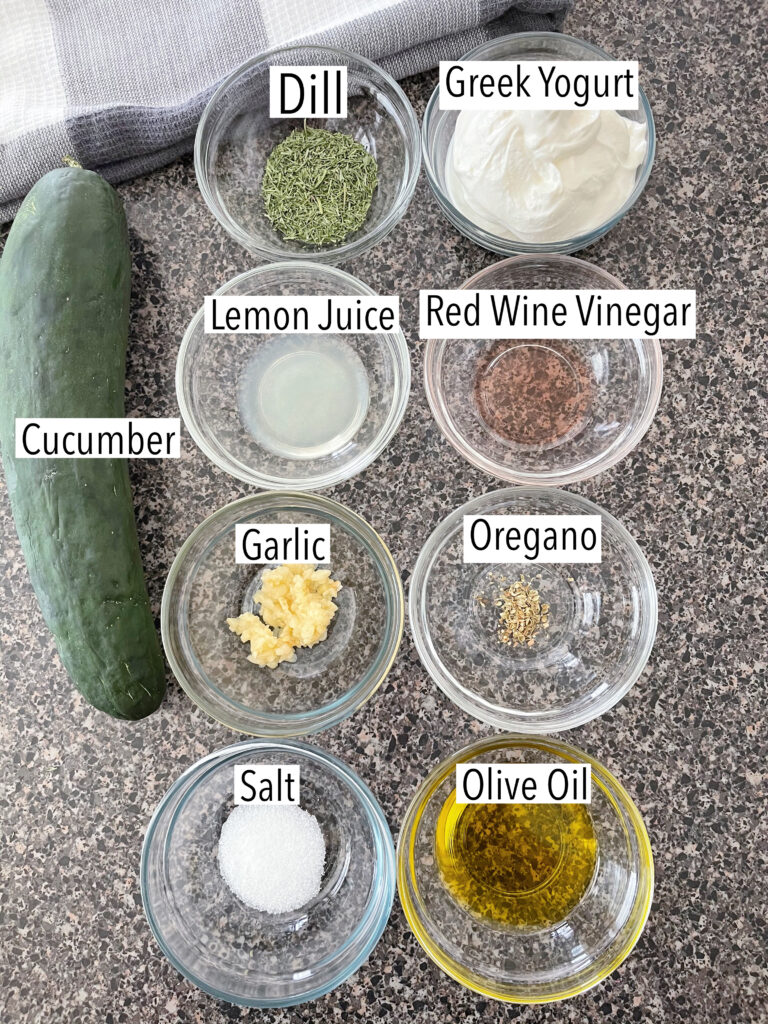 Tzatziki Instructions
Peel the cucumber and slice it in half length-wise. Use a spoon to remove the seeds.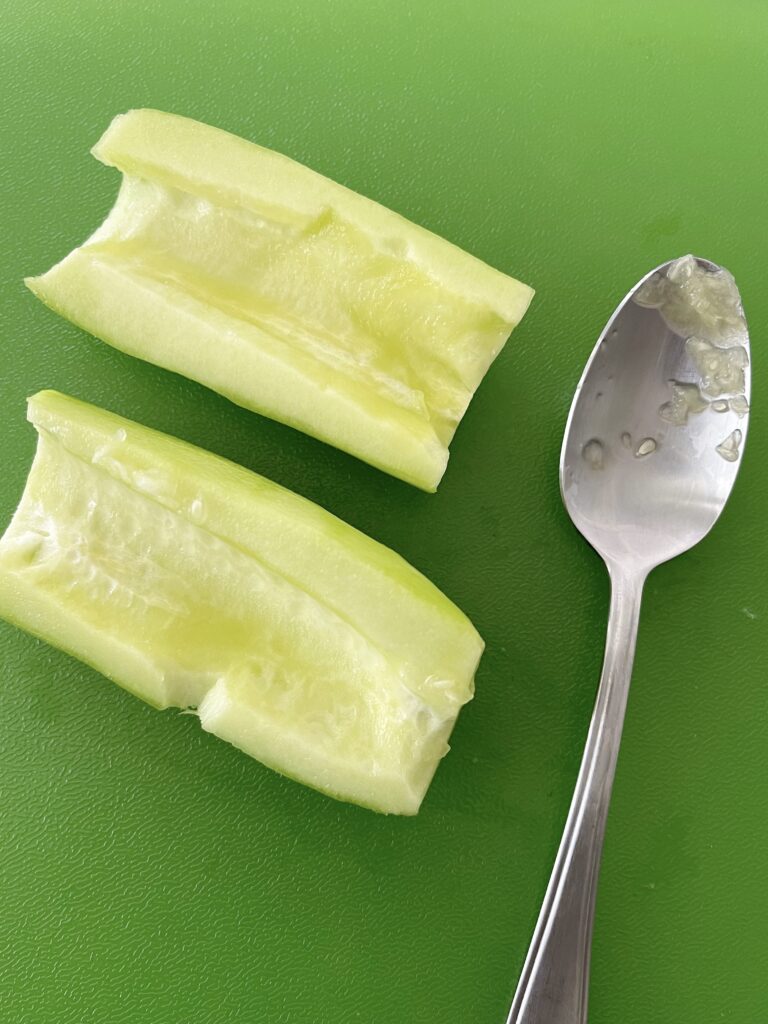 Add the cucumber to a food processor and chop it into small pieces.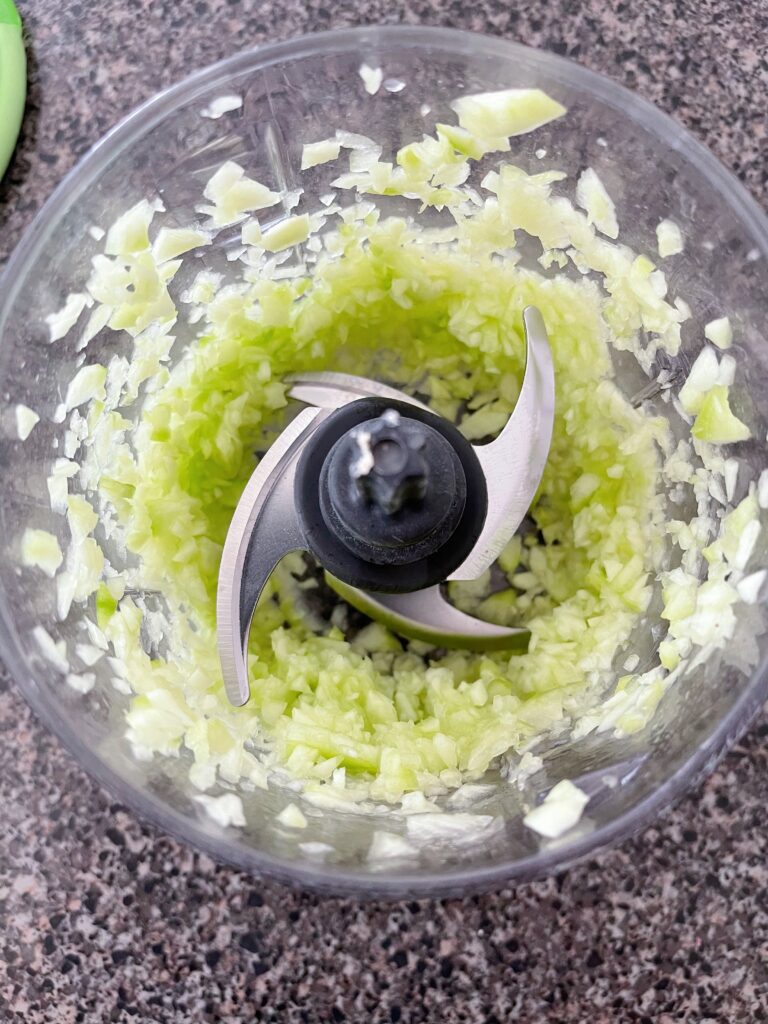 Mix in the salt and place the cucumbers in a mesh strainer over a bowl. After 15 minutes, Use a spatula or the back of a measuring cup to squeeze out as much liquid as possible.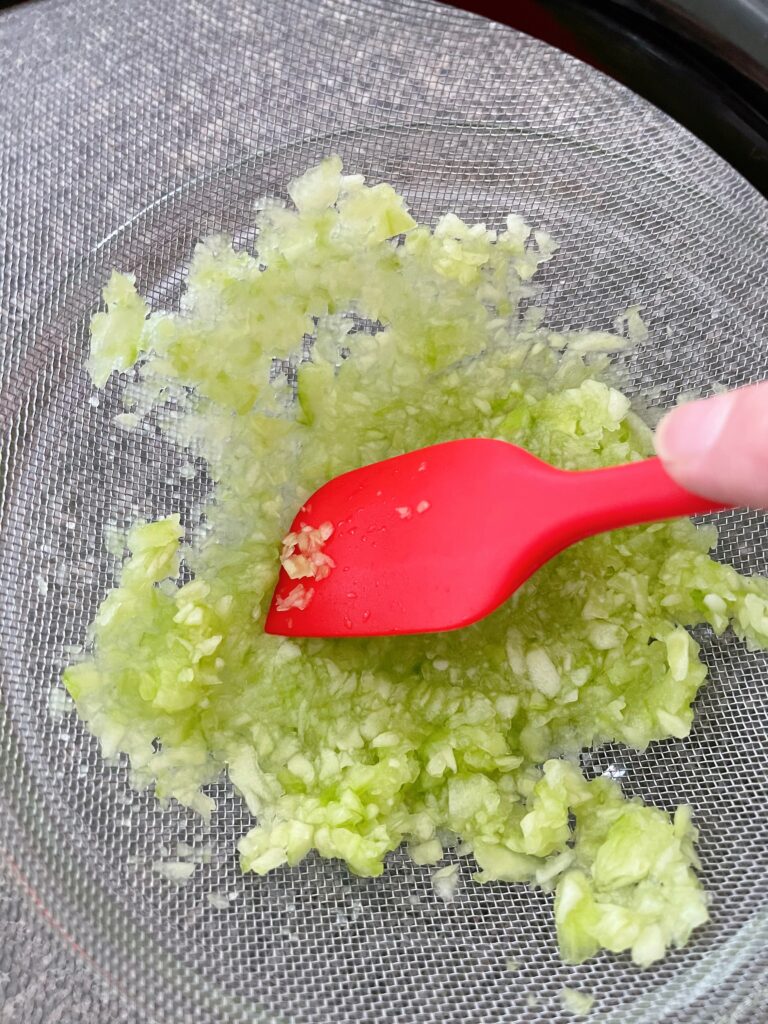 In a mixing bowl, combine the cucumbers, greek yogurt, olive oil, lemon juice, red wine vinegar, dill, minced garlic, oregano, and salt and pepper.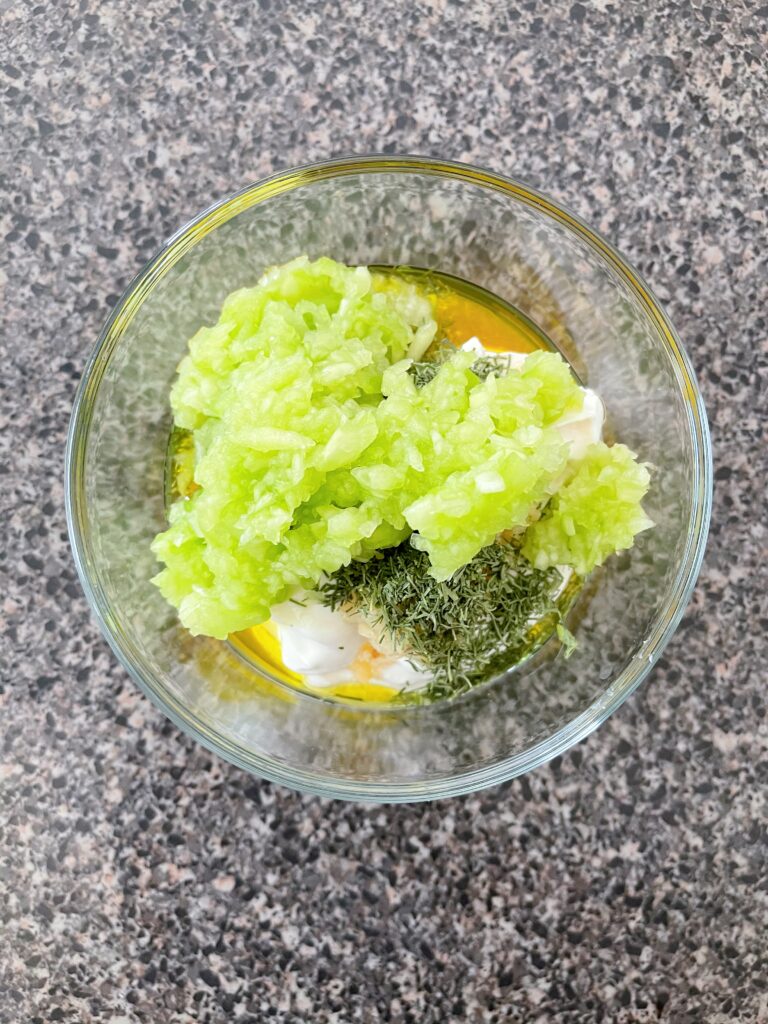 Cover and refrigerate the tzatziki until ready to use.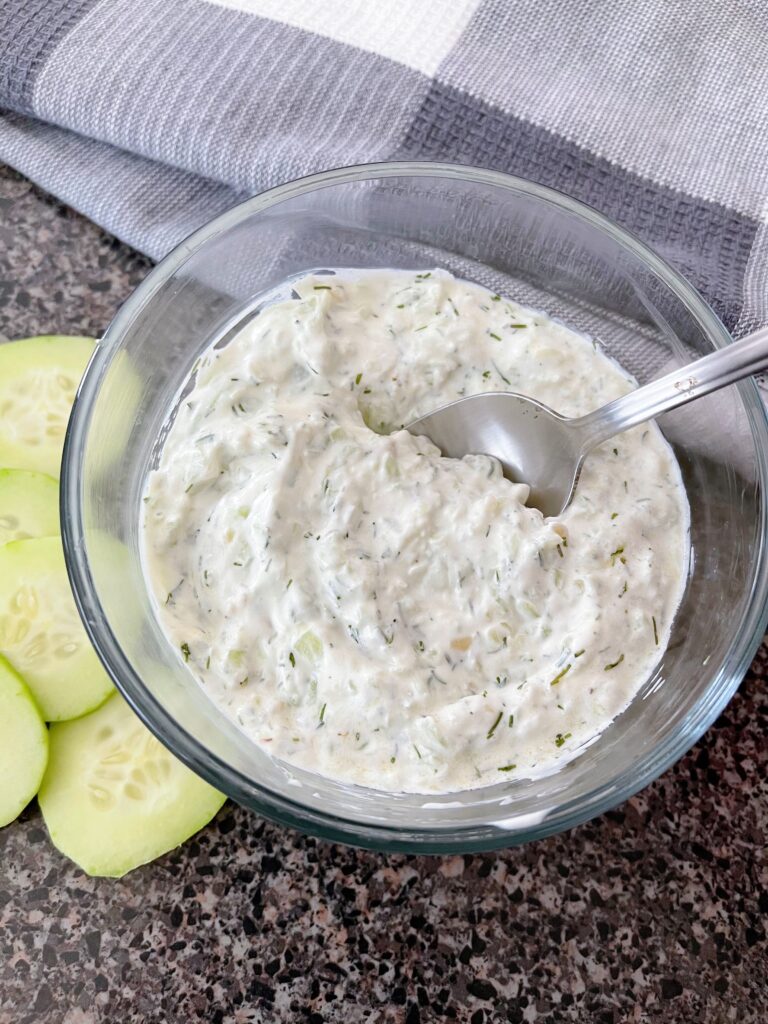 Red Gyro Sauce
There is a greek restaurant in Utah called Yanni's Greek Express, and it is my husband's favorite. He is obsessed with the red sauce they serve with their gyros.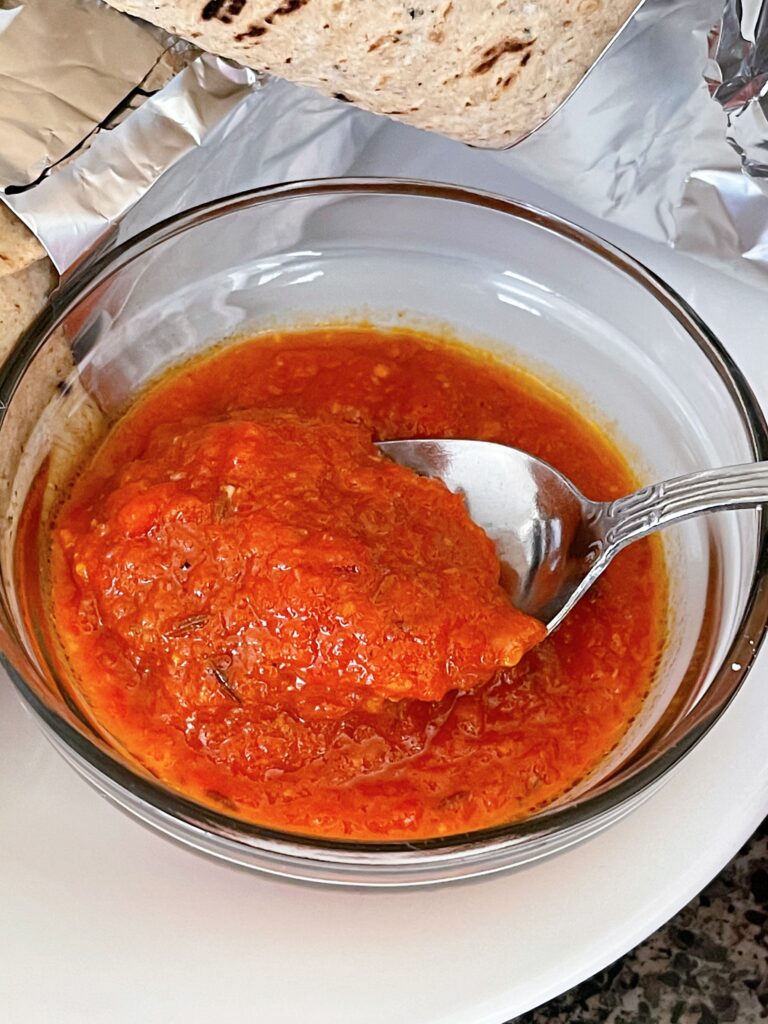 I wanted to find the recipe, so that I could make it at home and serve with our veggie gyros. I found this recipe from The Salt Lake Tribune and decided to try it.
Although it was close, I did make a few adjustments and came up with, what I think, is a pretty close duplicate that may even be better. At least in my opinion 😉
Gyro Red Sauce Ingredients
Roasted Red Peppers– You can roast your own red peppers, or you can purchase them in a jar from the grocery store.
Minced Garlic– You can also substitute garlic powder.
Sugar
Beef Bouillon– Adding beef bouillon to the sauce adds a depth of flavor.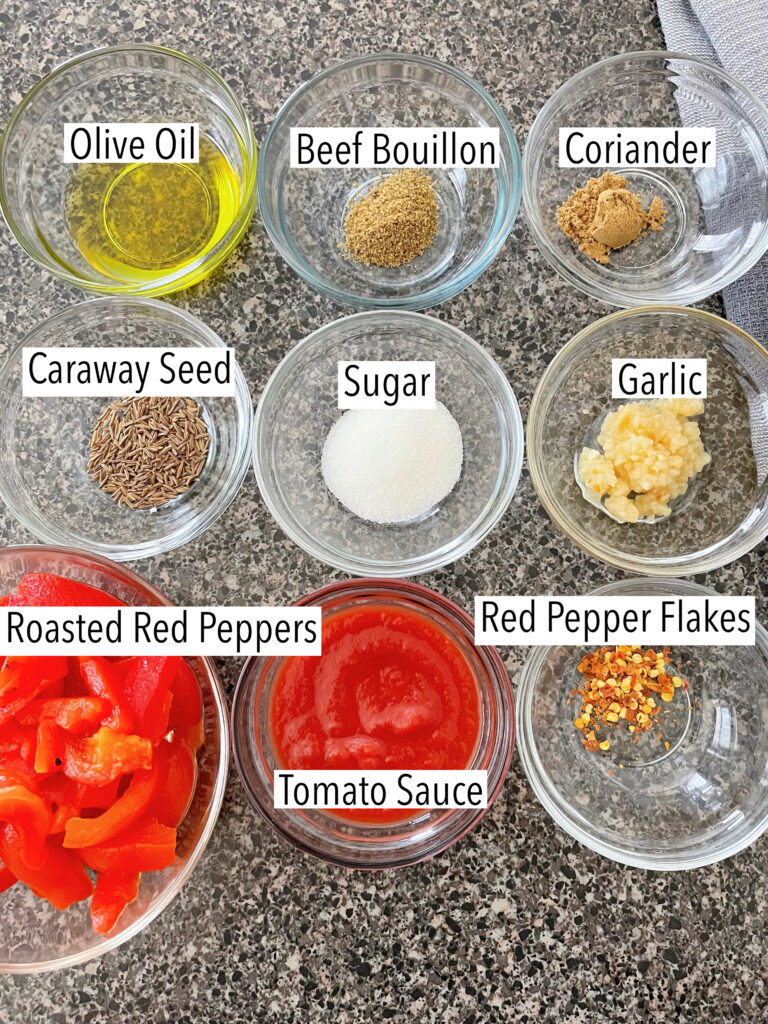 How to Make Red Sauce
Add all of the red sauce ingredients to a food processor or blender and combine until smooth.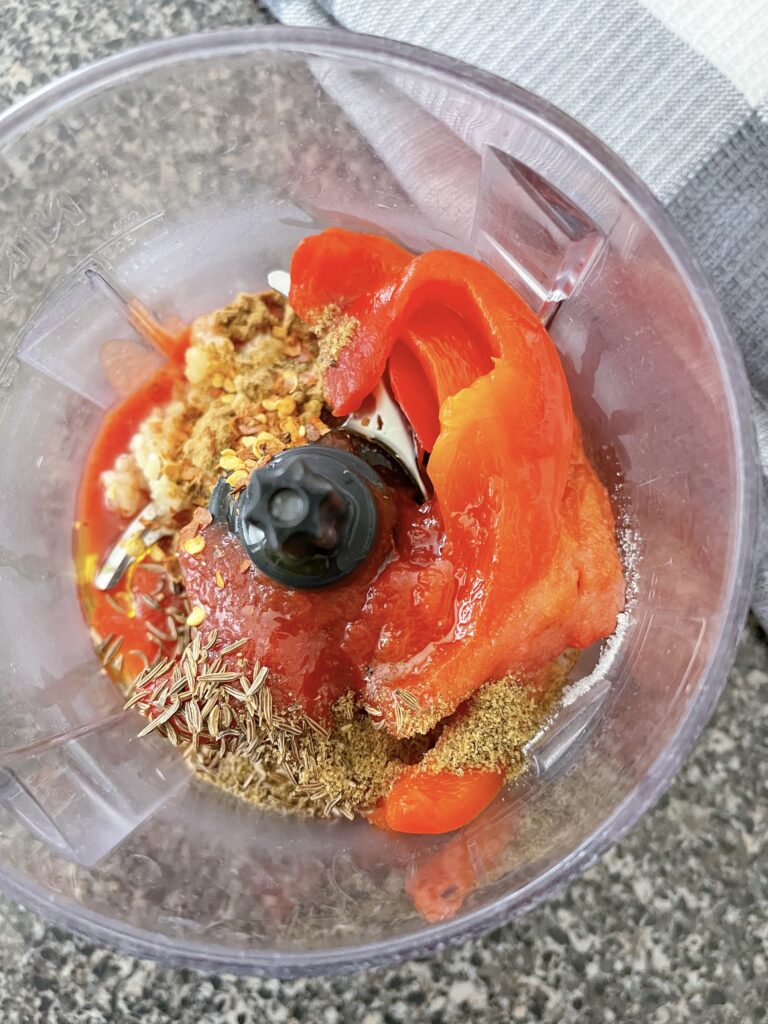 Pour the mixed ingredients into a sauce pan and bring to a boil. Lower the heat and simmer the sauce for 10-15 minutes.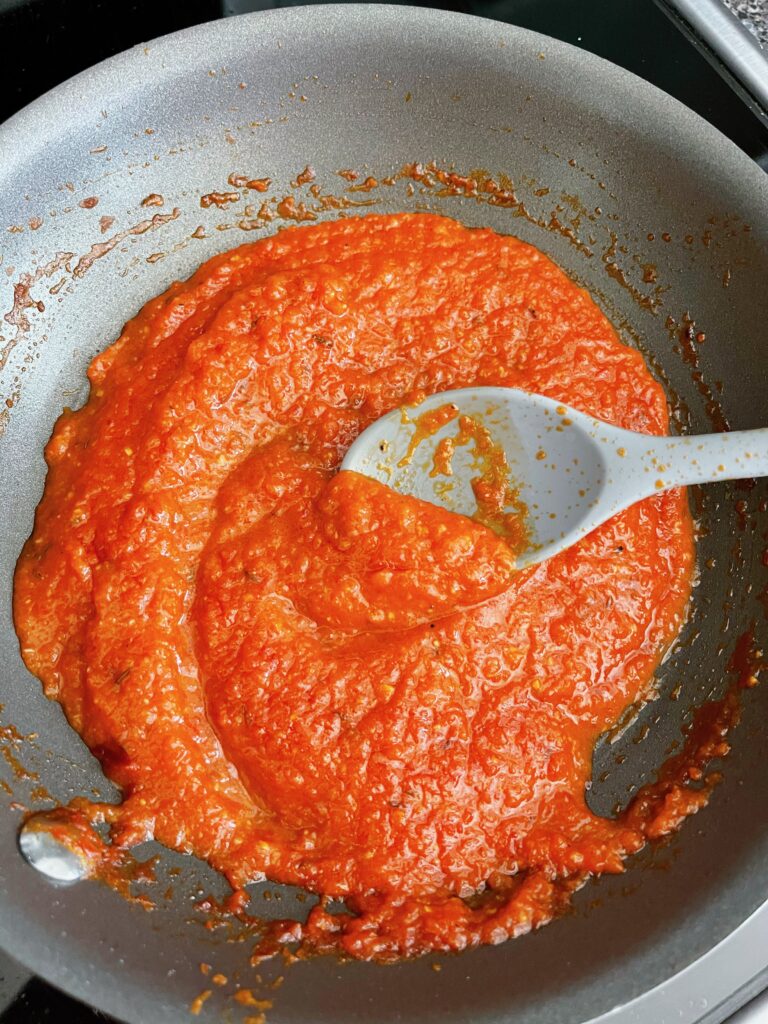 Veggie Gyros Ingredients
This is the fun part! You can totally customize your vegetarian gyros however you want! These are the veggies that I like to include:
Shredded Lettuce
Dice Cucumbers
Greek Pepperocinis
Feta Cheese
Diced Tomatoes
Kalamata Olives
Pickled Red Onions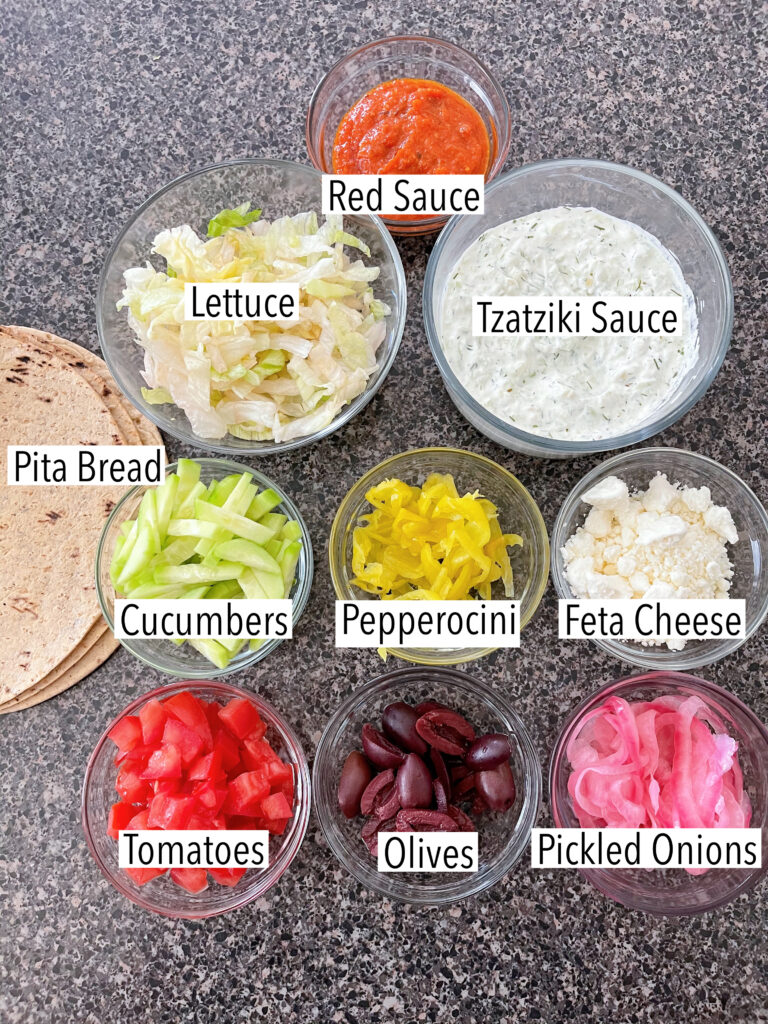 How to Assemble Veggie Gyros
When assembling these veggie gyros, I like to use a sheet of foil to help hold them together. Place your pita bread on the foil, then spread with Tzatziki Sauce.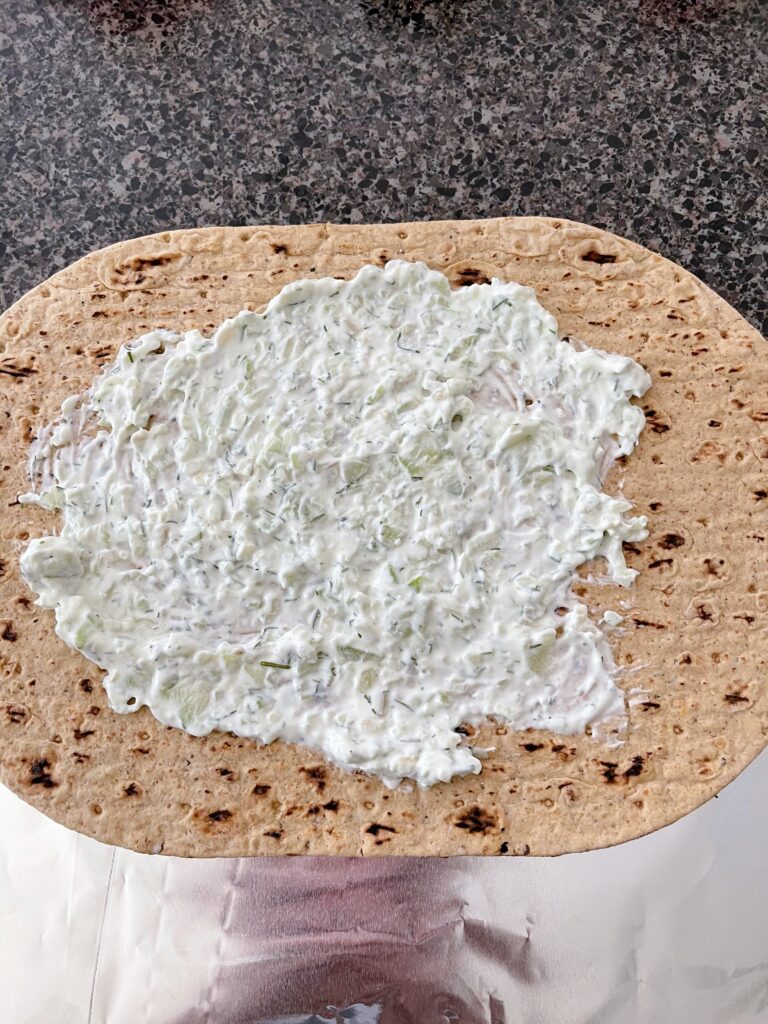 Top the tzatziki with all of your veggies and feta cheese.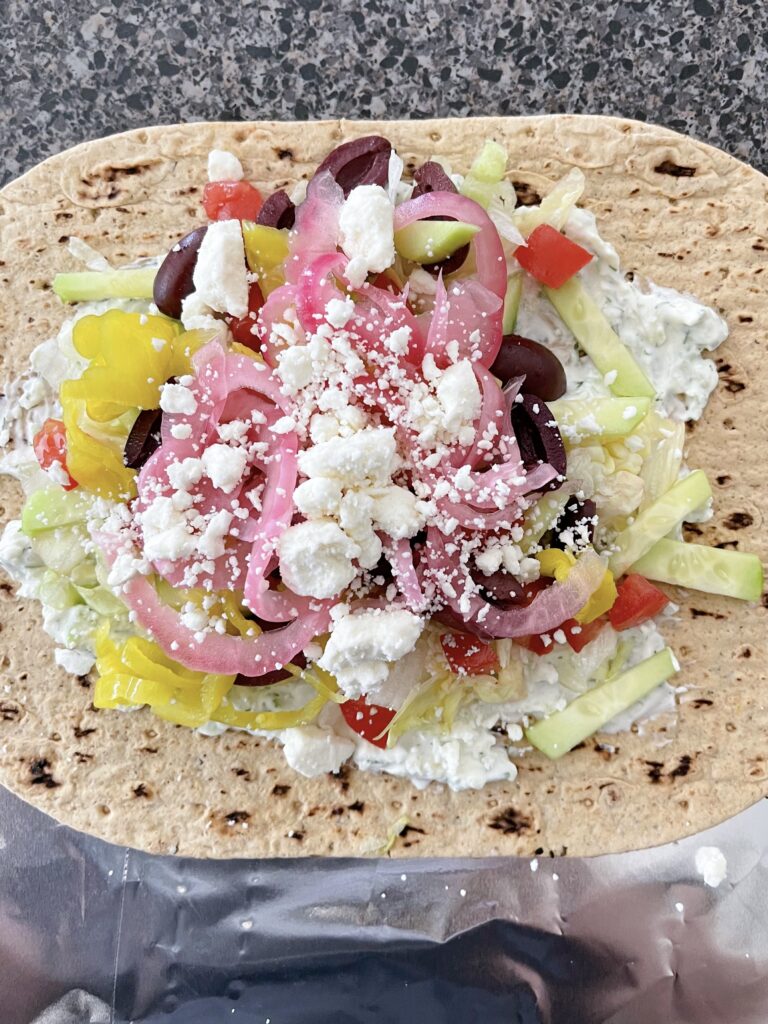 Roll up the pita, using the foil to hold it together and cover one end.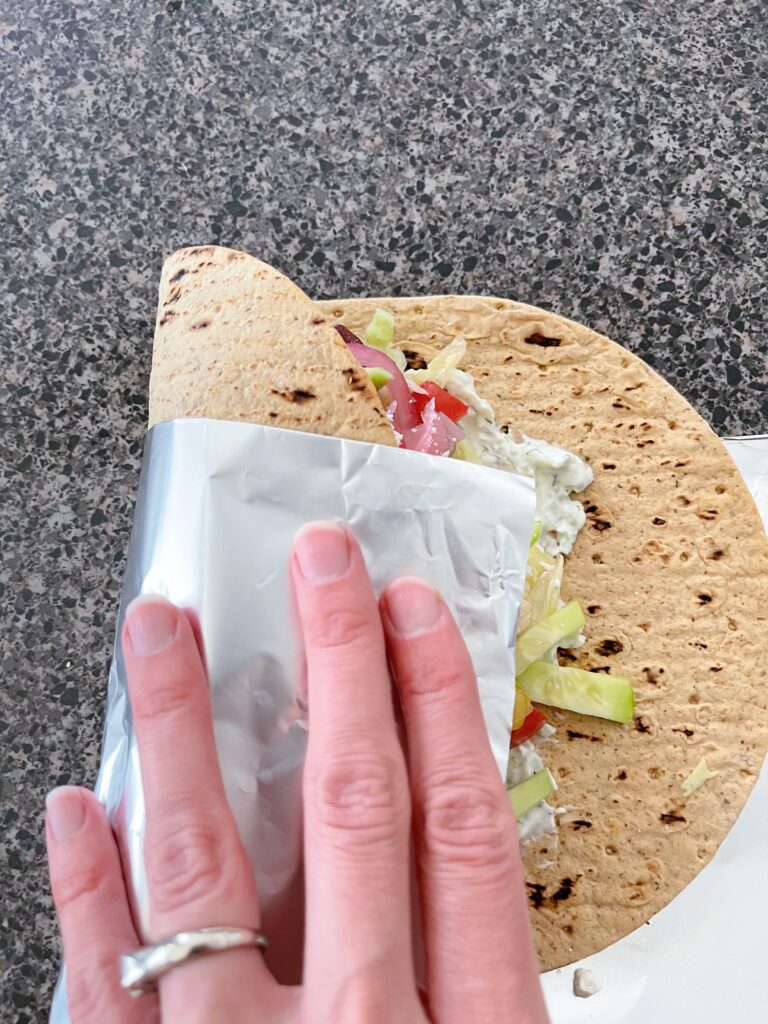 Enjoy your gyro topped with red gyro sauce!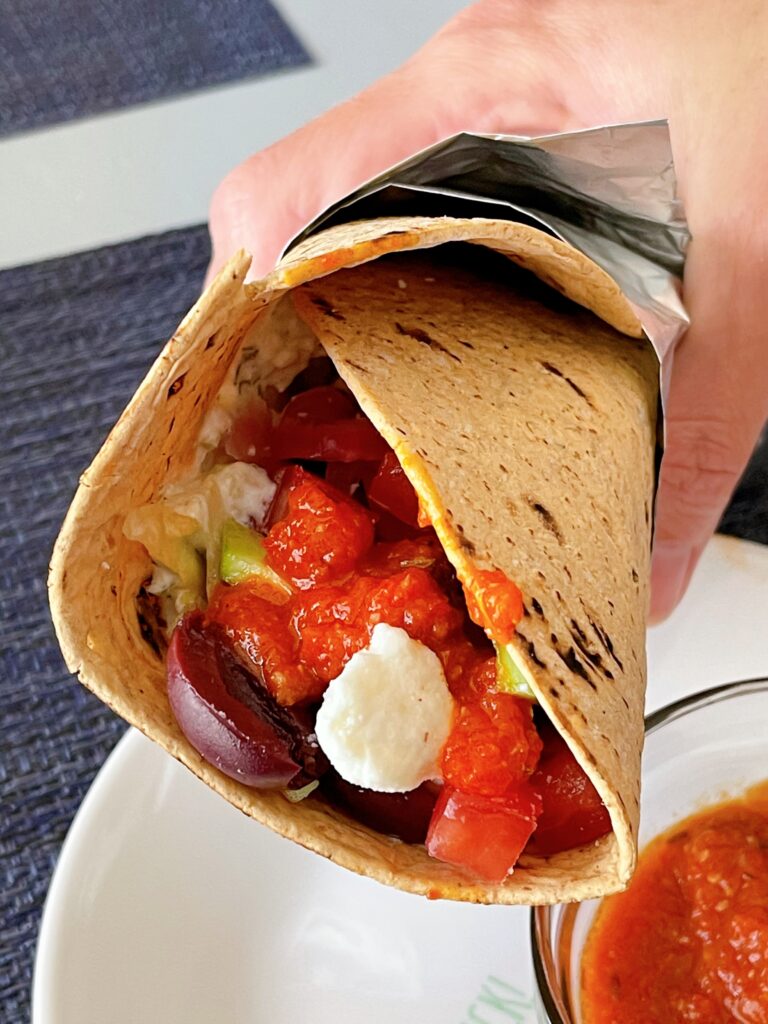 More Easy Dinner Recipes: