A lightened up version of a family favorite recipe. By swapping out a few ingredients, Cheeseburger Sloppy Joes are made better for you and your family.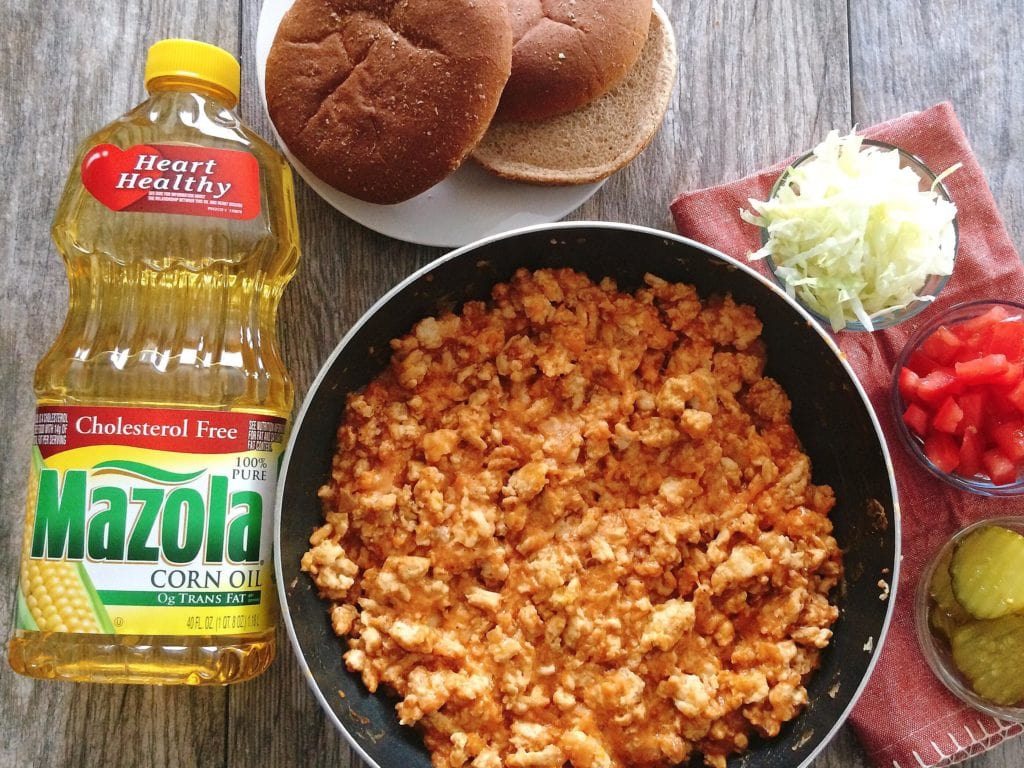 Recently my family has set a goal to choose to eat things that are better for us.
Living in a house full of boys, that is not always easy. Especially with my 10-year-old. He would eat fast food for breakfast, lunch, and dinner if I let him.
Cheeseburgers are his number one favorite thing to eat, so I am always looking for ways to make them different and better for us.
Not long ago, I read that a recent study has found that adding Mazola® Corn Oil to one's diet resulted in lower cholesterol levels than Coconut Oil.
A previous study found that corn oil can also help lower cholesterol more than extra virgin olive oil. To learn more about the study, see Mazola.com.
I decided swapping for heart-healthy corn oil was a good place to start!
Mazola is definitely an all-purpose cooking oil! It can be used in baking, grilling, sautéing, stir frying, and mixed in marinades or dressings.
Mazola is a smart heart-healthy choice for my family and I knew that I wanted to incorporate Mazola into my new, better-for-you, cheeseburger recipe.
Lightened-Up Cheeseburger Sloppy Joes
Sloppy Joes were always a staple in my house growing up, but I found that I don't make them very often as an adult.
When I came up with this recipe, I figured out why my mom included these in our weekly meal plan. They are super easy and super quick to make!
Combining my son's love of cheeseburgers with a Sloppy Joe recipe was pretty fun. I knew that to lighten this recipe up to fit in with our family goal, the butter used to sauté the onions and garlic needed to go.
Enter Mazola Corn Oil. I knew that that making the swap of butter for corn oil is the first change that I wanted to make.
Because corn oil has a neutral taste, it won't impact the taste of the other recipe ingredients, letting their natural flavors stand out.
Mazola also has a higher smoke point than most cooking oils. Most people don't know that once an oil hits it's smoke point, it can negatively affect the food's flavor and nutritional value.
Mazola Corn Oil's smoke point is 450 degrees, so it is definitely not an issue for this recipe.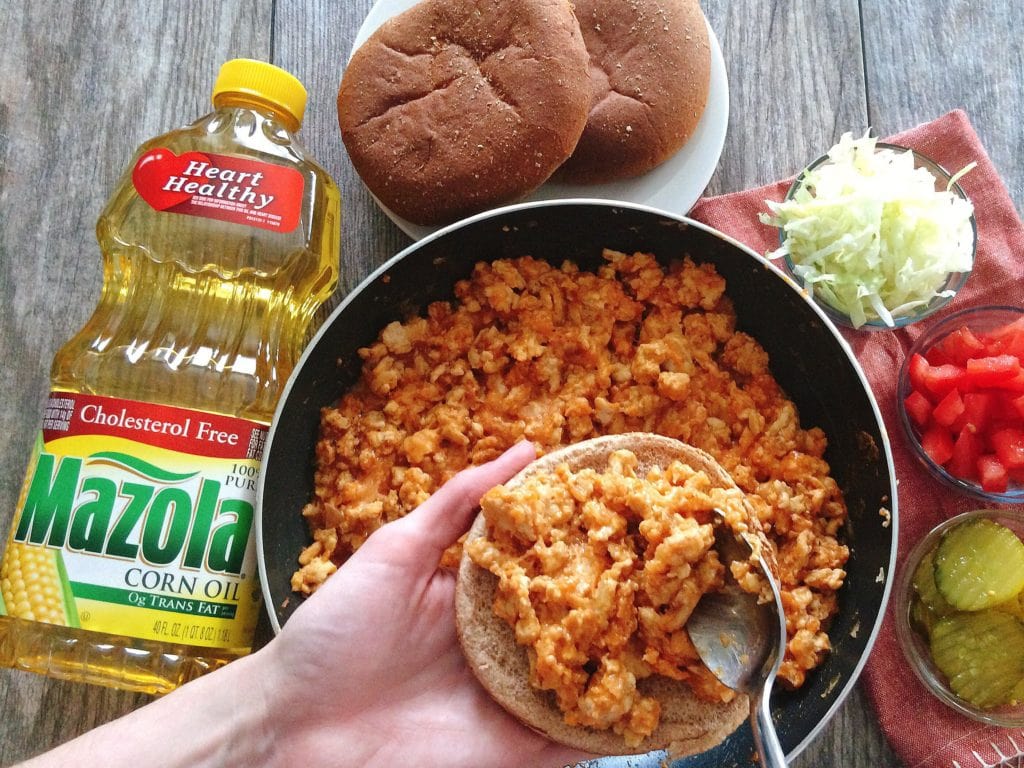 Another swap I made to "lighten-up" these Cheeseburger Sloppy Joes was to use lean ground turkey instead of ground beef.
Finally I swapped out white flour hamburger buns for 100% whole-wheat hamburger buns. So to recap, here are the three swaps that this recipe uses to make this meal better for you:
Swap #1: Mazola Corn Oil instead of butter

Swap #2: Lean ground turkey instead of ground beef

Swap #3: 100% Whole Wheat buns instead of white flour hamburger buns
Recipe Ingredients
1 Tablespoon Mazola® Corn Oil

1/2 Medium Yellow Onion, chopped

1 Teaspoon Garlic, minced

1 Pound Lean Ground Turkey

1/2 Cup Ketchup

1 Tablespoon Yellow Mustard

1 Tablespoon Brown Sugar

1 Tablespoon Worcestershire Sauce

1/2 Tablespoon Steak Seasoning

1 Cup Shredded Cheese

Salt and Pepper, to taste

Toppings: shredded lettuce, diced tomatoes, pickles
How to Make Lightened-Up Cheeseburger Sloppy Joes
Heat 1 Tablespoon of Mazola Corn Oil in a frying pan over medium-high heat. Mazola is great because it is made of 100% oil with no additives. It really lets the great flavor of this recipe shine.
Sauté the chopped onions in the oil until translucent. Add the garlic and ground turkey. Cook for about 3-5 minutes until the turkey is cooked through.
Turn the heat to low and stir in the ketchup, mustard, brown sugar, Worcestershire sauce, steak seasoning, salt, pepper and cheese. Mix until it is all combined and the cheese is melted.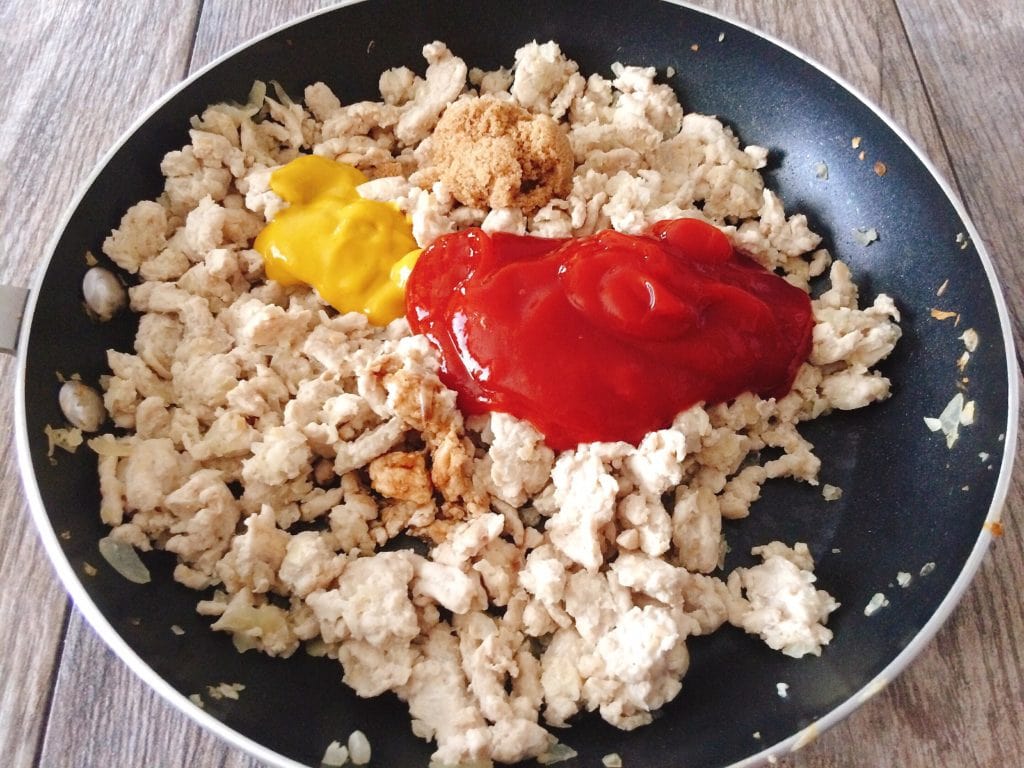 Serve the Cheeseburger Sloppy Joes on a whole-wheat bun and top with shredded lettuce, diced tomatoes, and pickles.
I hope that I have inspired you to make some lighter swaps in your diets including Mazola Corn Oil, America's #1 Selling Heart Healthy Cooking Oil! Be sure to PIN this recipe so you'll have it when you need it!