A lightened up version of a fast food favorite! This Big Mac Salad is packed full of low carb goodness and is sure to be a crowd pleaser!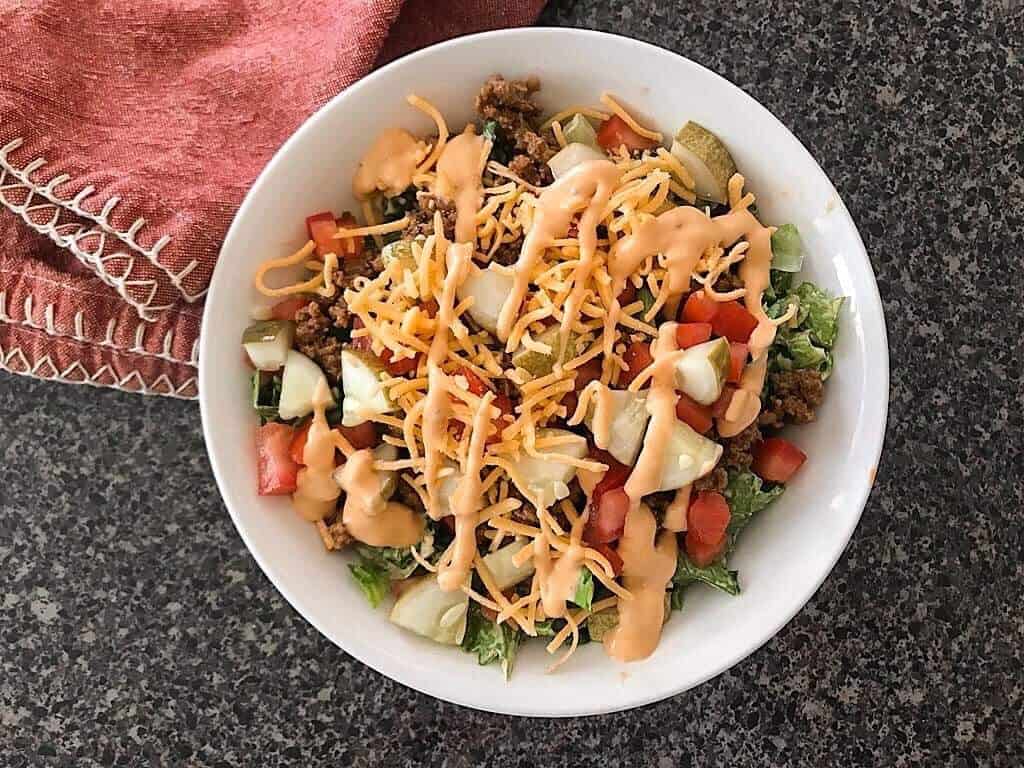 This post may contain affiliate links. When you click on these links, I get a small percentage back at no cost to you! For more information see my disclosure policy.
Below you will find tips, tricks and helpful hints for making this recipe including step by step instructions with pictures. If you would like to go directly to the recipe, scroll down to the recipe card.
Why You'll Love this Recipe
I have been trying to decrease the amount of carbs I eat every day, but I have a confession to make. I love McDonald's.
There's just something about that delicious Bic Mac hamburger that just gets to me.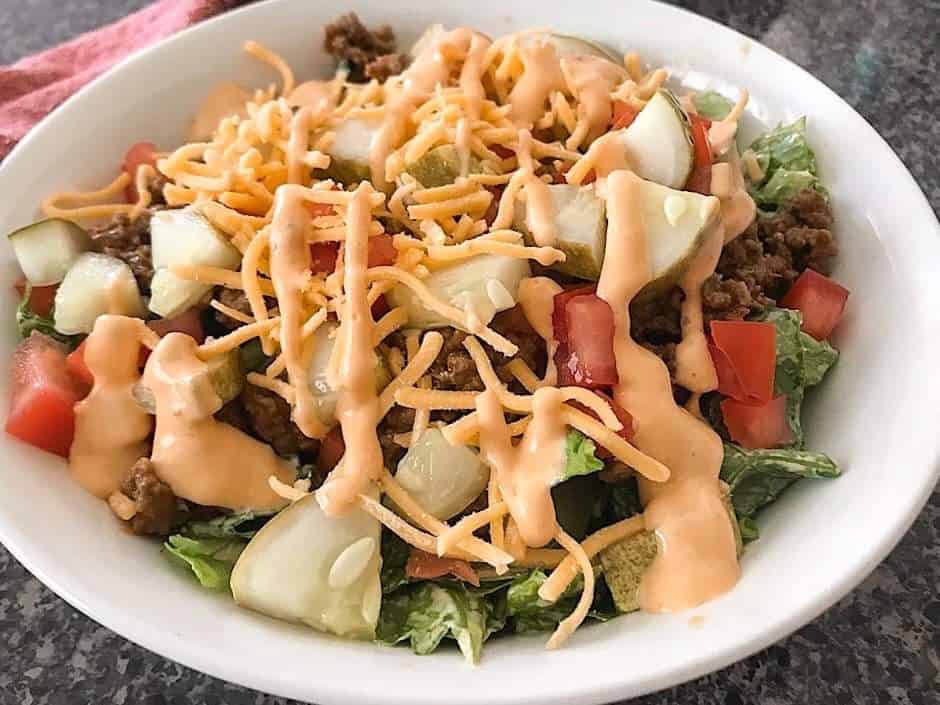 Although I love McDonald's I try not to eat out very often. I like to save money and I like be in control of what I put into my body.
How to Order a Low Carb Bic Mac at McDonald's
When I was following the Keto diet, I found out that you could order a Bic Mac without the bun.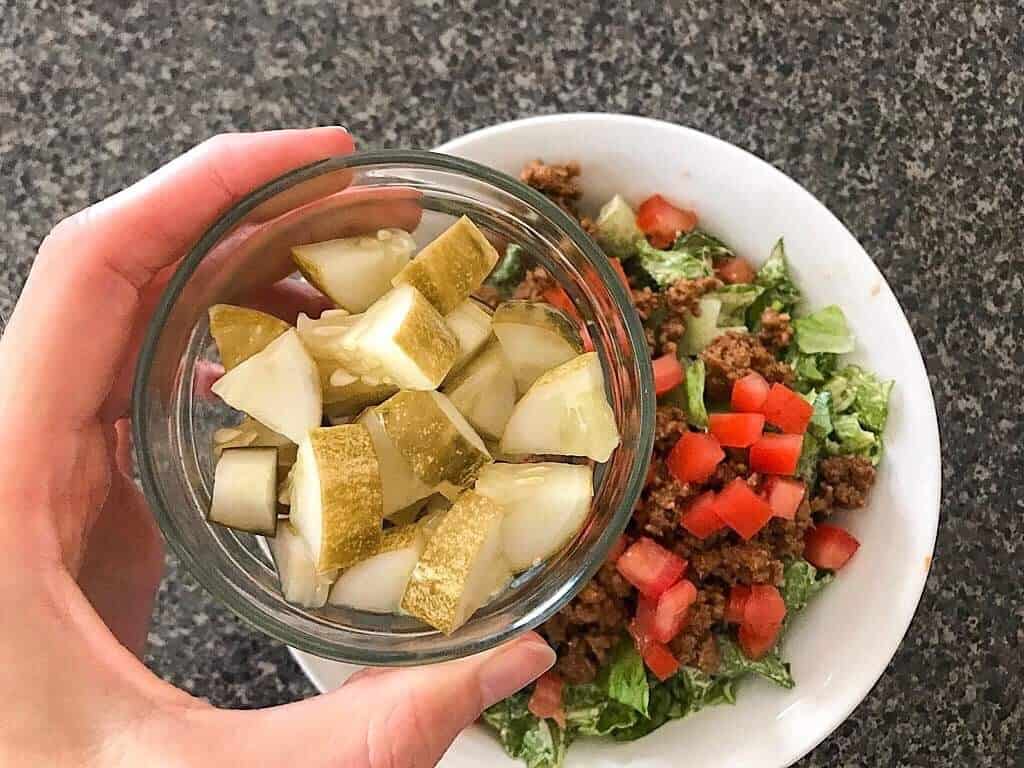 Basically, McDonald's will put your two hamburger patties in a container with the lettuce and special sauce.
That's when I decided that I wanted to make my own low carb Big Mac at home!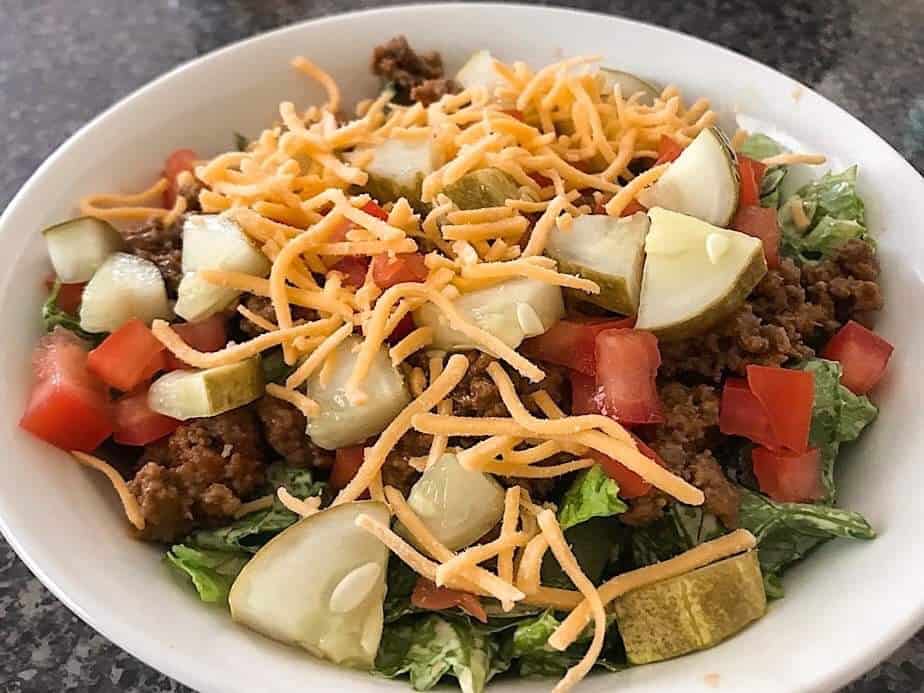 How to Make a Chopped Salad
I am not a big fan of eating salad with giant pieces of lettuce. There is really no way to eat it and look classy.
I guess you could use a knife and fork, but that seems like a lot of work for a salad.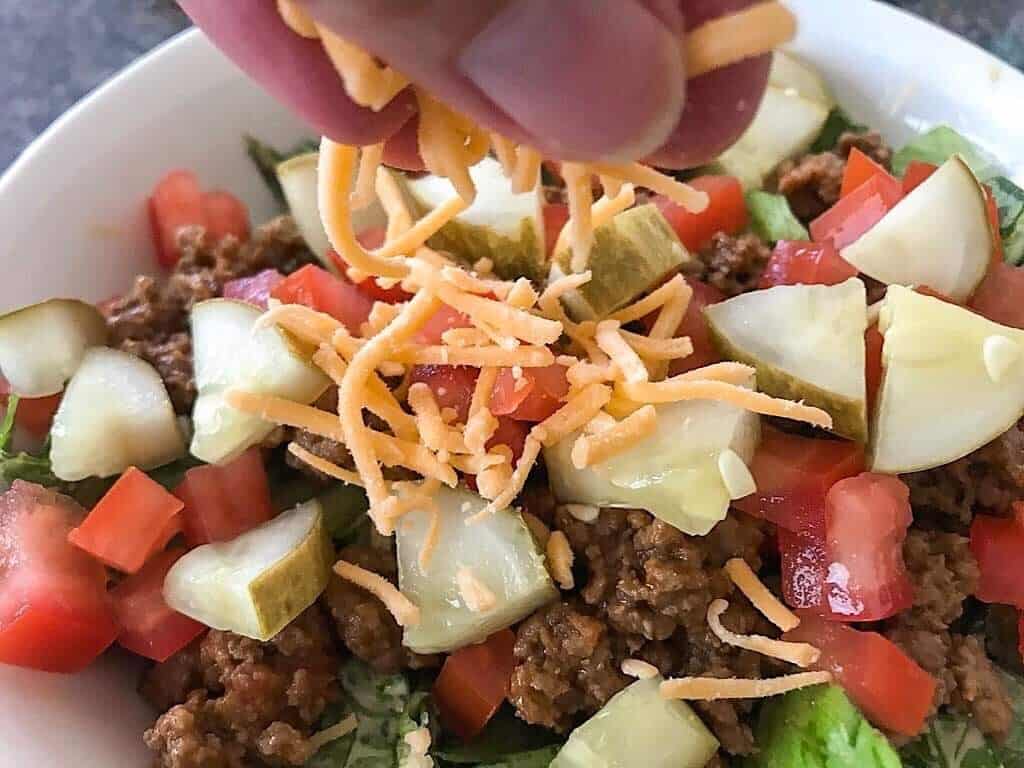 That is why I almost always chop up my salads. Making a chopped salad is really pretty simple. Just chop your ingredients up so that they are relatively the same size.
Another way to make a chopped salad great is to toss the ingredients with the dressing. That is what I did in this recipe and it makes a huge difference.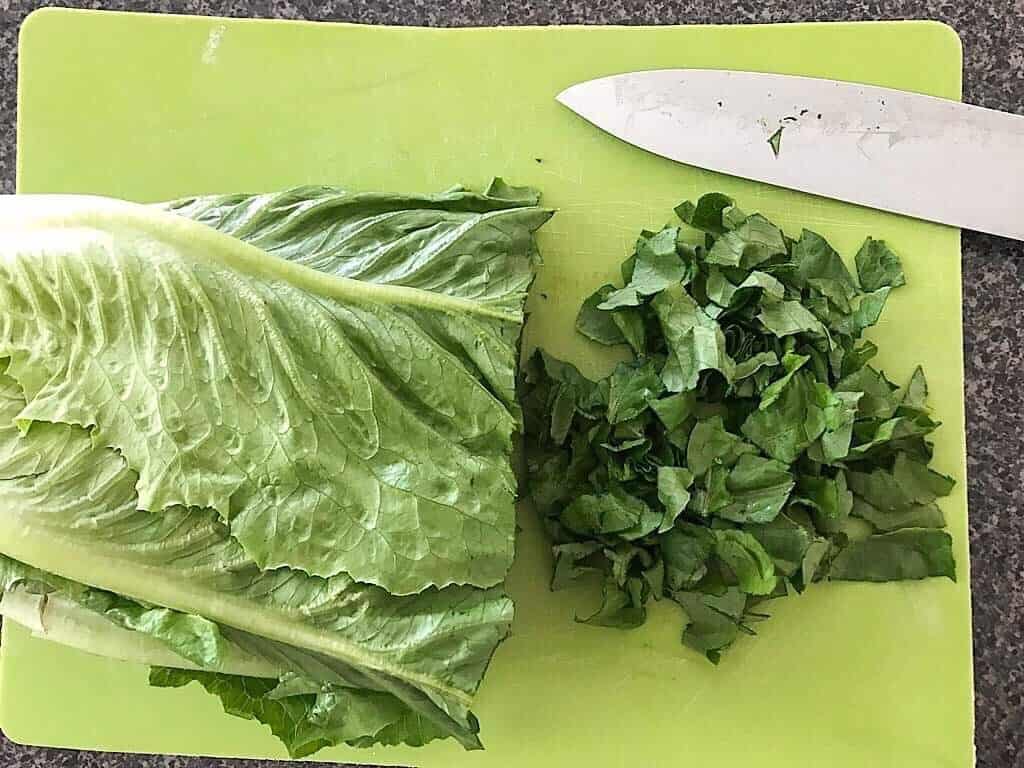 Ingredients
*Ingredient amounts are located in the recipe card at the end of this post.
Ground Beef

Season Salt

Garlic Powder

Onion Powder

Ketchup

Yellow Mustard

Romain Lettuce

Roma Tomatoes

Pickle Spears

Thousand Island Dressing
How to Make a Big Mac Salad
[1] Begin by spraying a frying pan with non-stick cooking spray. Add the ground beef to the pan and break it up with a spatula.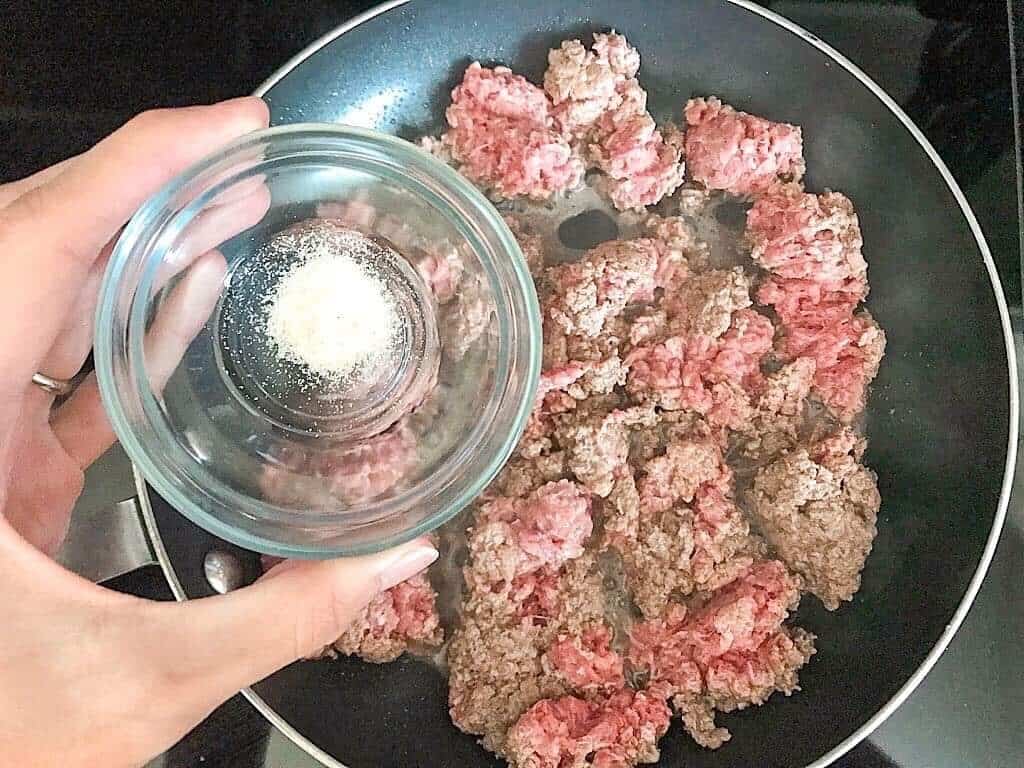 [2] As the meat is cooking, sprinkle it with garlic powder, onion powder, and seasoned salt.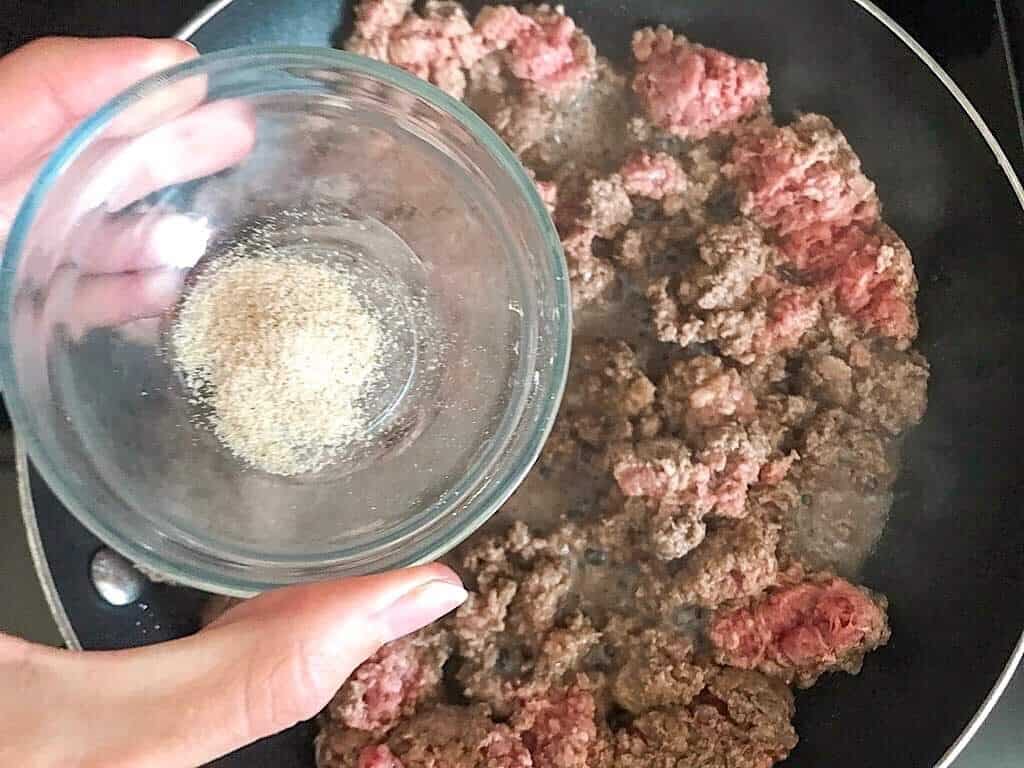 [3] When the ground beef is fully cooked, stir in the ketchup and mustard. Set the meat aside.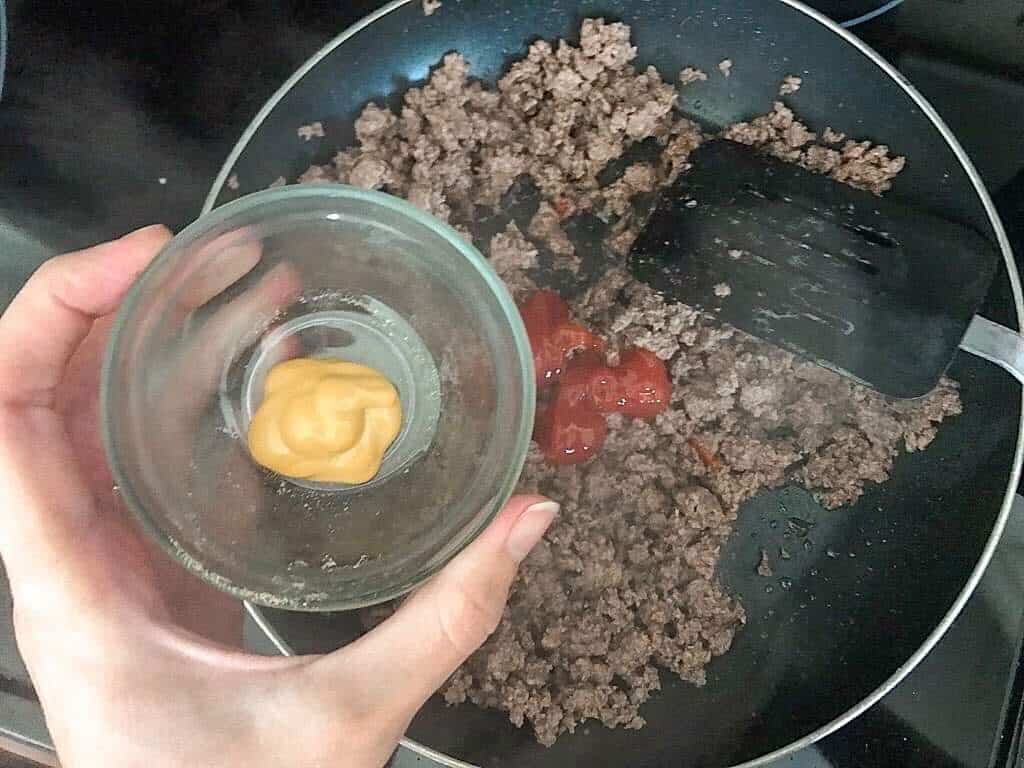 [4] Wash and chop the romaine lettuce, as well as the tomatoes and pickles.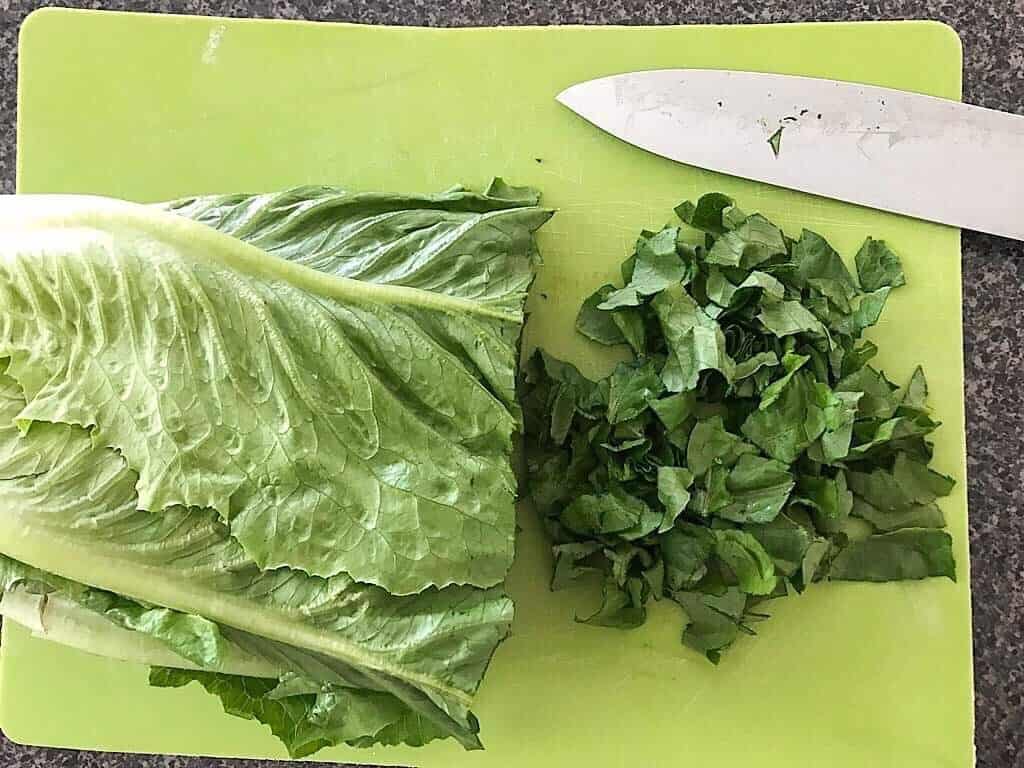 [5] Add the lettuce to a large bowl and pour the Thousand Island dressing over the top.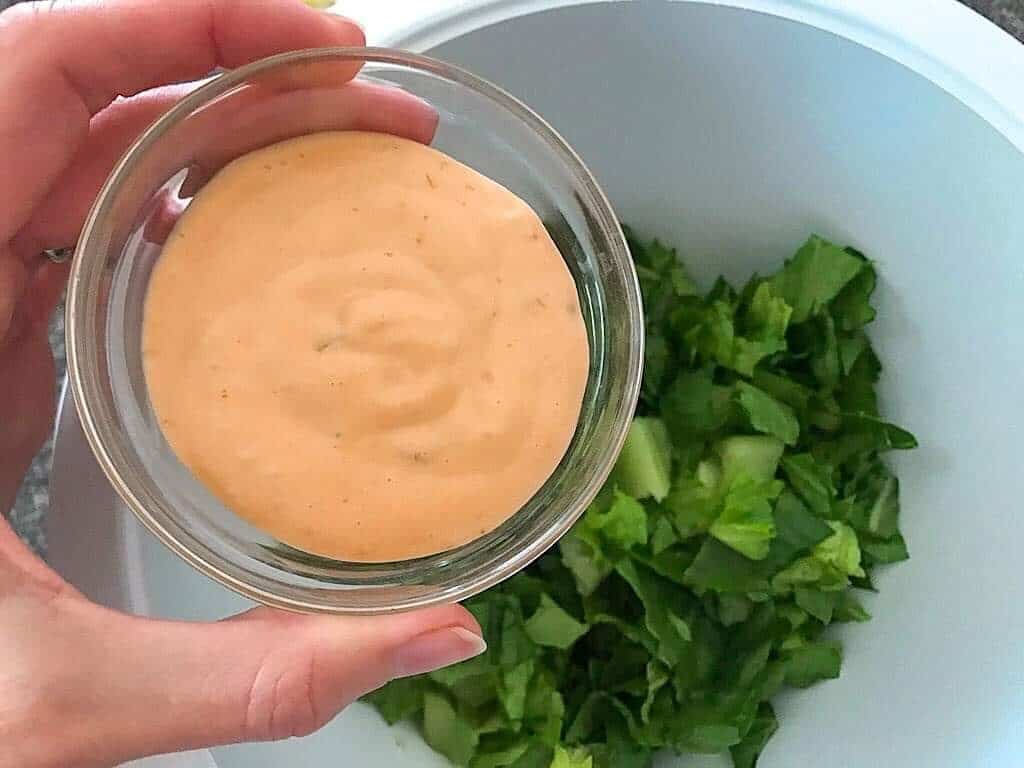 [6] Place a lid on the bowl and shake to coat the lettuce with the dressing.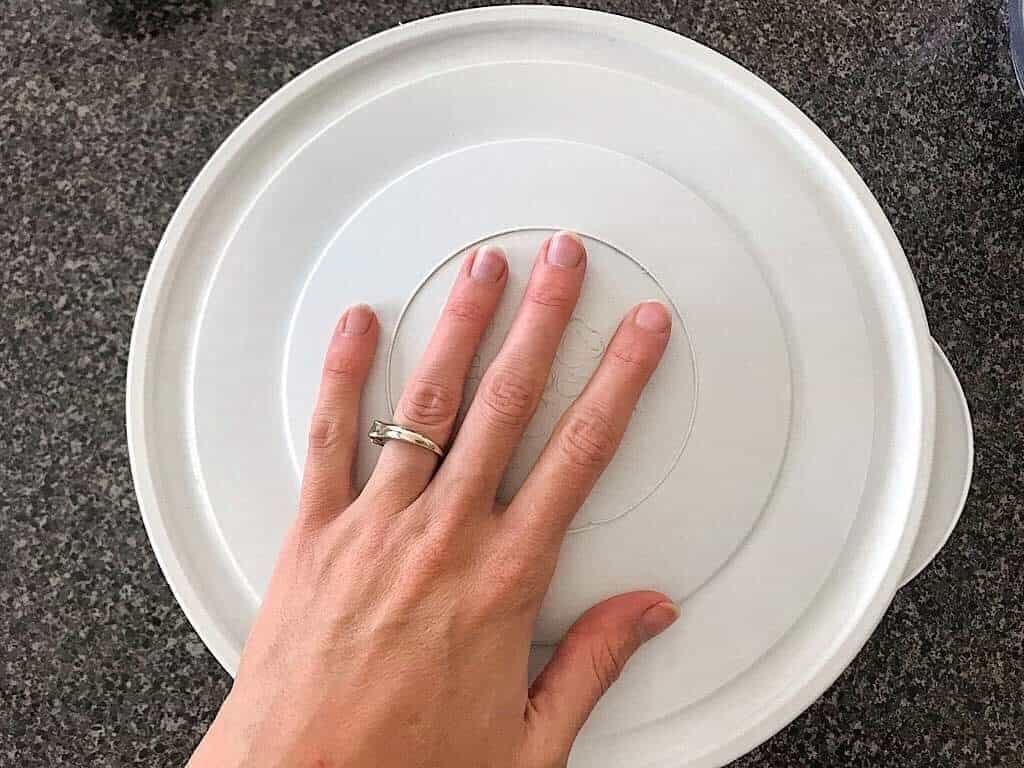 [7] Add the lettuce to the serving bowls and top with the ground beef mixture, chopped tomatoes, pickles, and shredded cheese.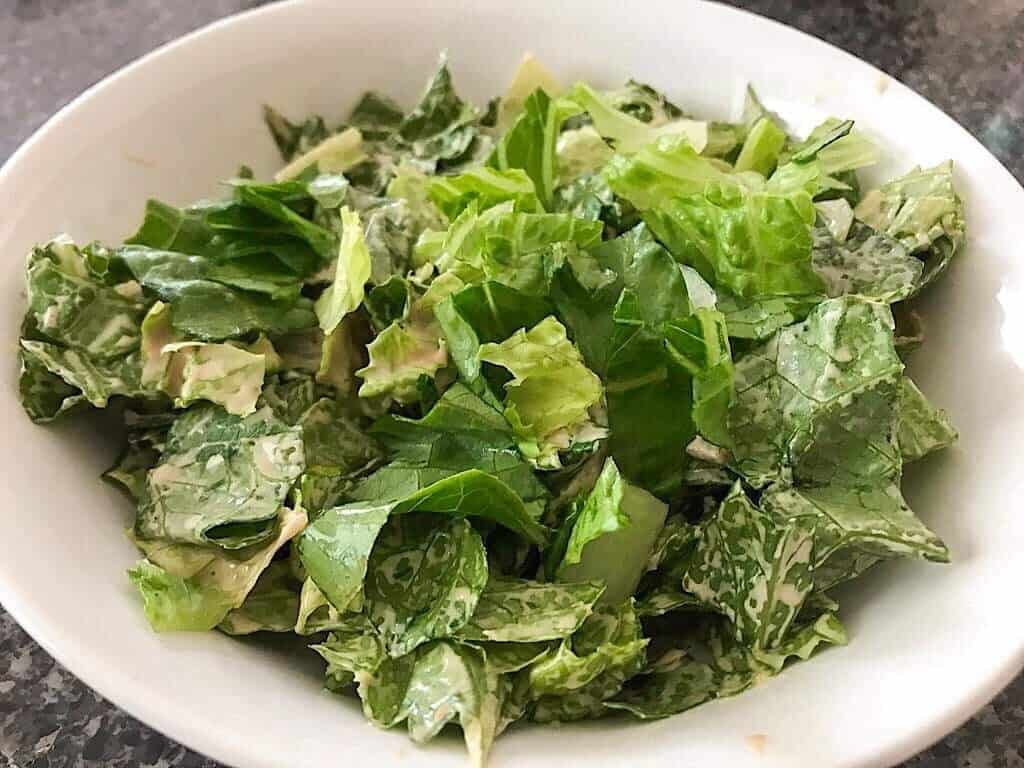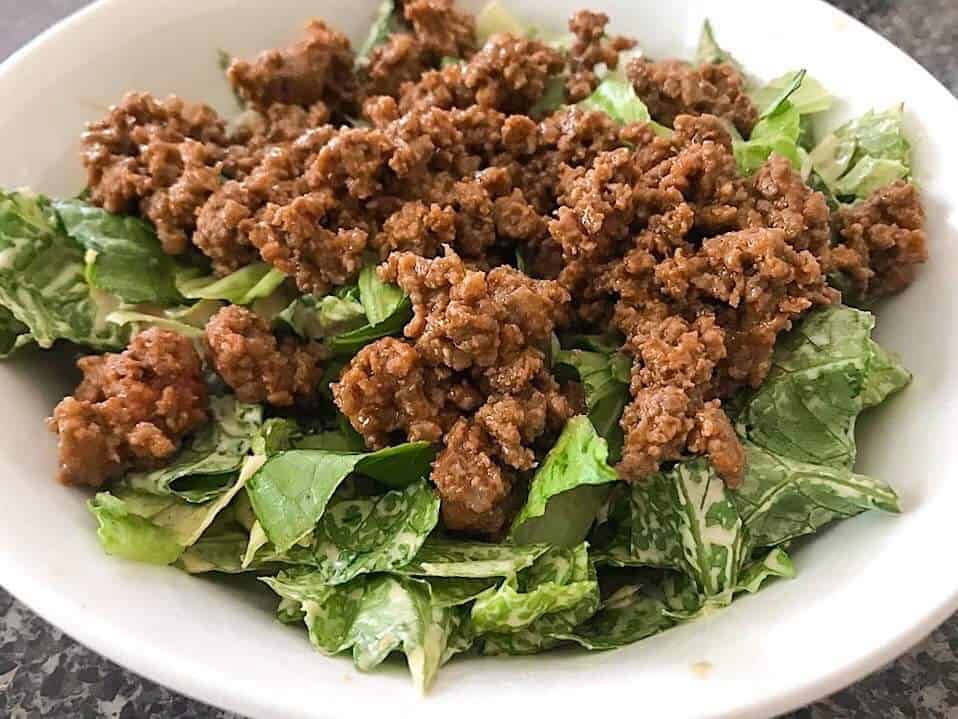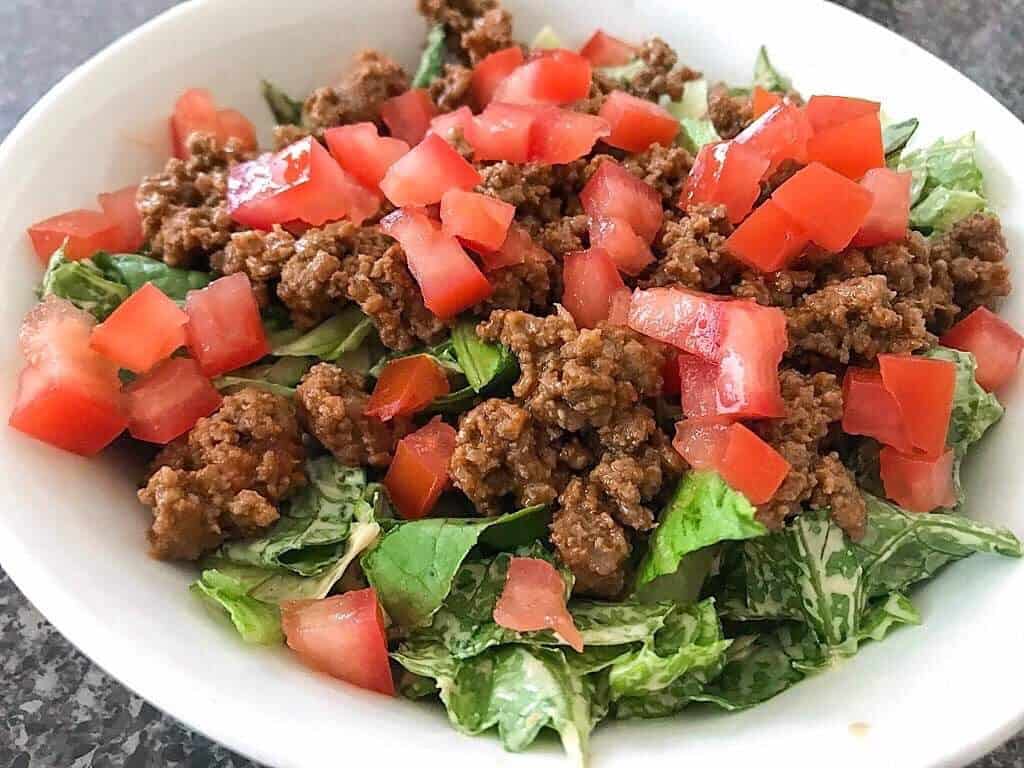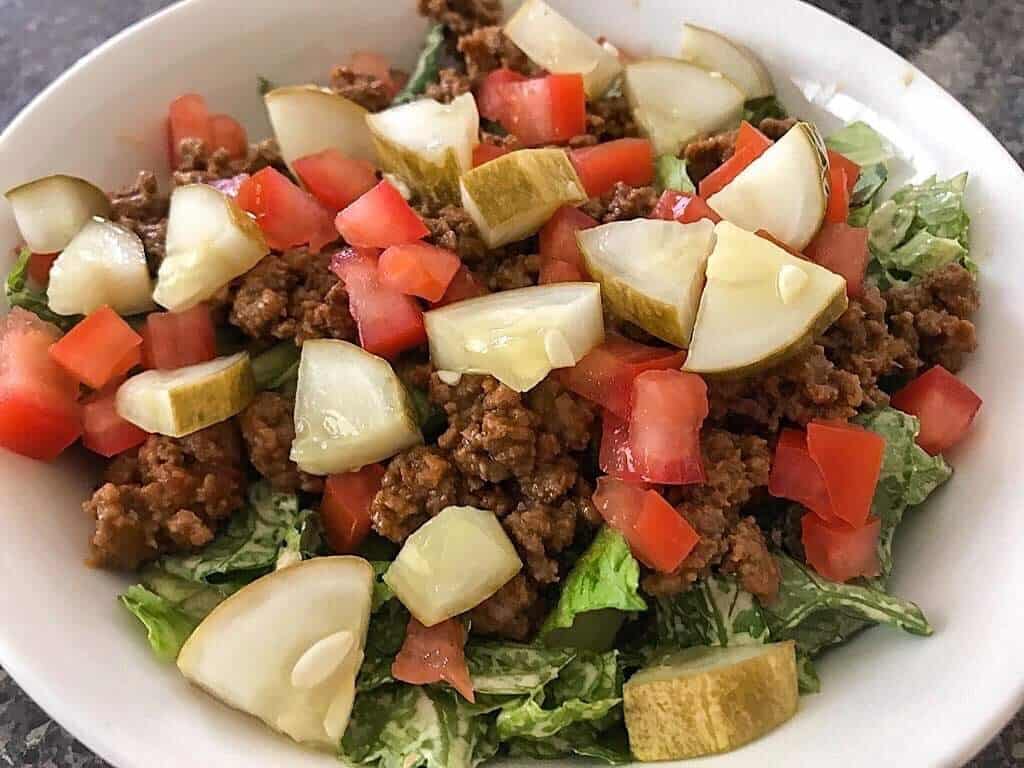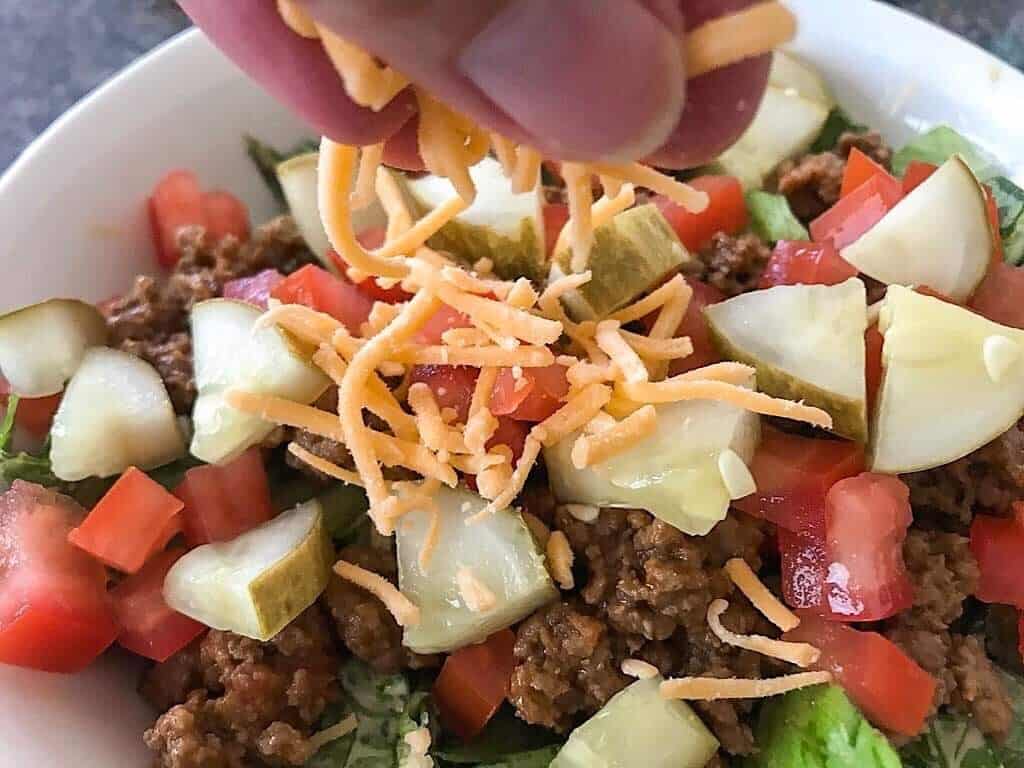 [8] Drizzle with more dressing, if desired.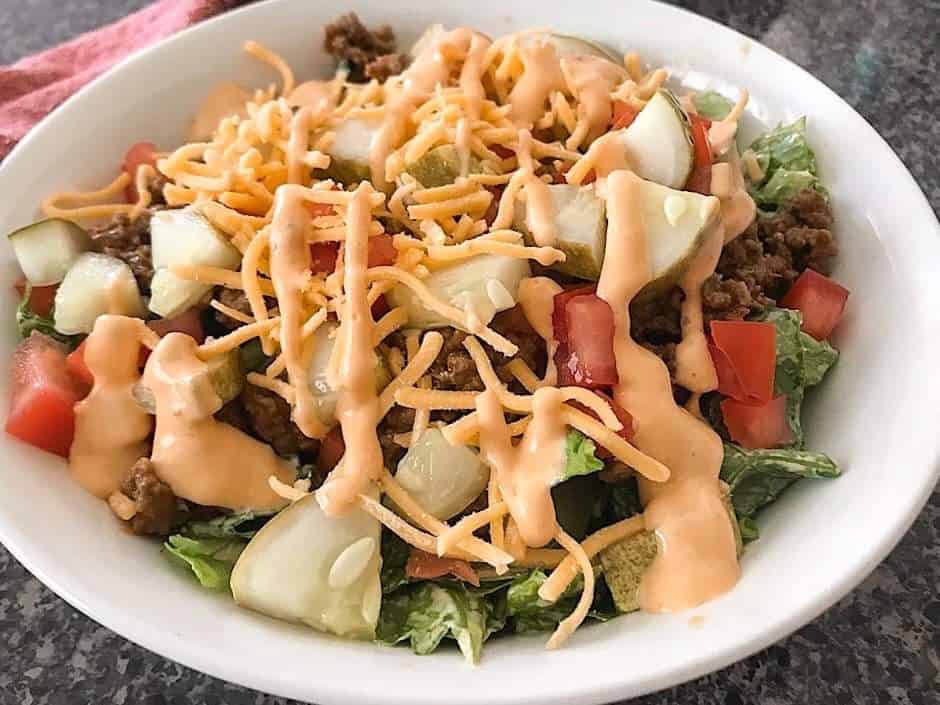 Helpful Kitchen Tools
Other Recipes You Will Love:
Pin this recipe: