Craving a delicious and satisfying meal on a busy night? Look no further than Spicy Thai Noodles with Chicken, the ultimate go-to dish that will tantalize your taste buds and save you precious time. In just about 30 minutes, you can whip up a culinary masterpiece that is bursting with incredible flavors for a busy weeknight dinner.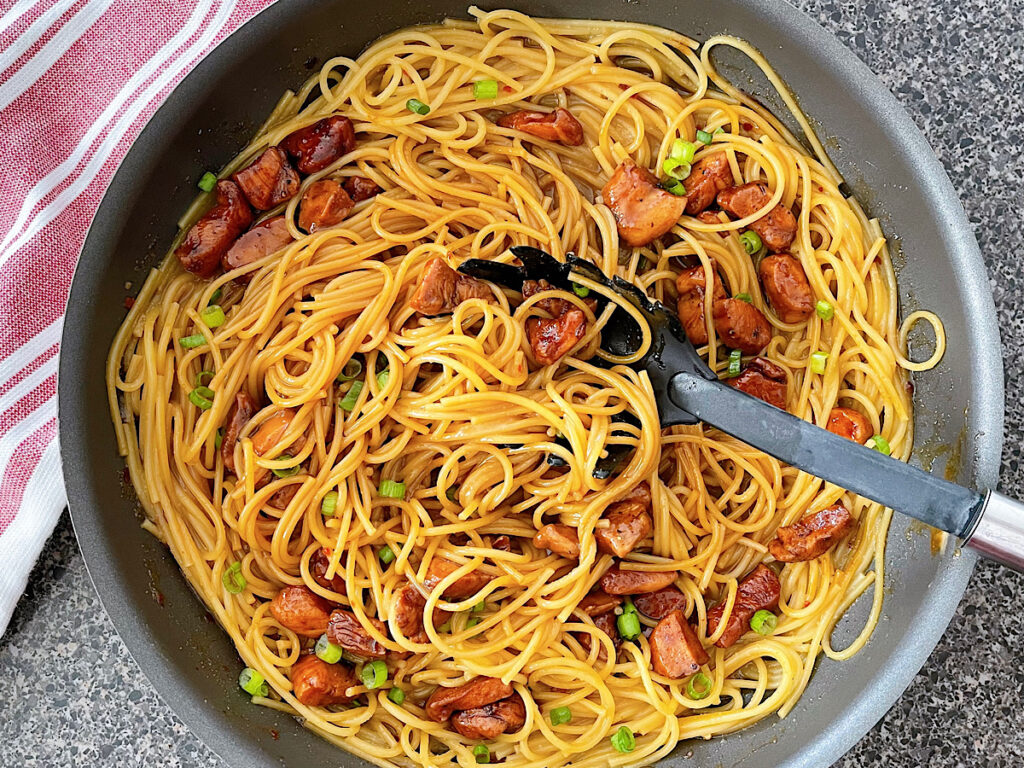 This post may contain affiliate links. When you click on these links, I get a small percentage back at no cost to you! For more information see my disclosure policy.
Below you will find tips, tricks and helpful hints for making this recipe including step by step instructions with pictures. If you would like to go directly to the recipe, scroll down to the recipe card or tap "Jump to Recipe" at the top of the page.
Why You'll Love This Spicy Thai Noodles with Chicken Recipe
The combination of tender chicken, vibrant vegetables, and aromatic spices creates a symphony of tastes that will transport you straight to the streets of Thailand. These Thai style noodles are perfectly cooked and coated in a spicy sauce that strikes the perfect balance between heat and flavor.
Whether you're a spice lover or prefer a milder kick, you can easily adjust the heat level to suit your palate. With its quick preparation time and mouthwatering flavors, Spicy Thai Noodles with Chicken is the ultimate recipe for a satisfying and convenient meal, even on the busiest of nights.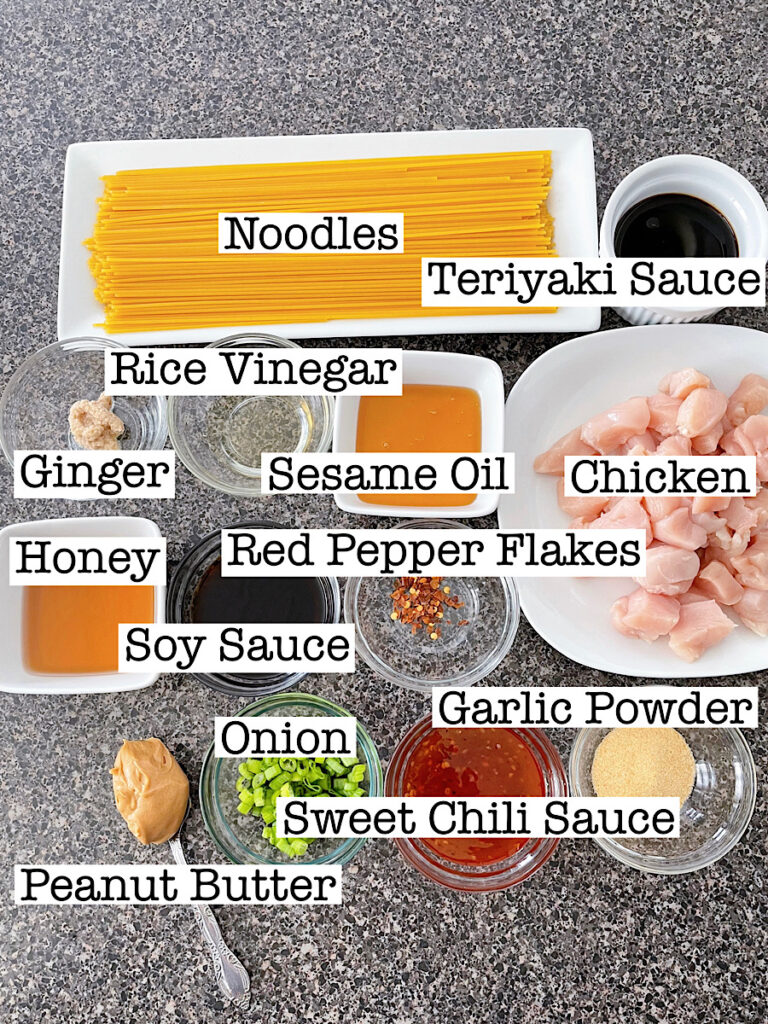 Ingredients for Spicy Chicken Noodles
*Ingredient amounts are located in the recipe card at the end of this post.
Chicken: For best results, use boneless skinless chicken breasts that have been diced into bite-sized pieces. You can also use a rotisserie chicken as well.
Teriyaki Sauce: This will be used to season the chicken that is served with the noodles. I used Yoshida brand Teriyaki sauce.
Noodles: Choose your favorite type of noodles including angel hair, spaghetti, ramen, zucchini noodles, or Shiritaki noodles.
Vegetable Oil & Sesame Oil: These are used to create the sauce.
Honey, Soy Sauce, Ginger, Peanut Butter, Rice Wine Vinegar, Sweet Chili Sauce: All of these ingredients come together to create the spicy Thai noodles sauce that is simply out of this world.
Garlic Powder & Red Pepper Flakes: These spices are used for added flavor and heat for the spicy noodles.
Green Onions & Sesame Seeds: For garnish and additional flavor
How to Make Spicy Thai Noodles with Chicken
[Step 1] Cook the noodles according to the package instructions in a large pot of water.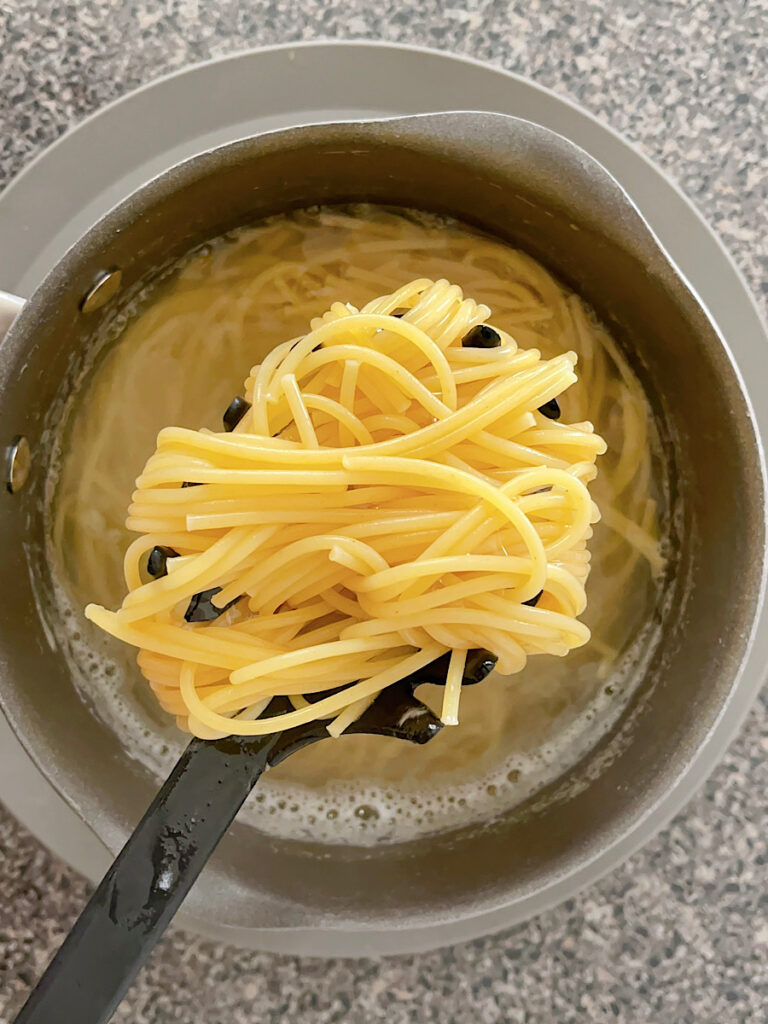 [Step 2] While the noodles are cooking, dice the chicken into bite-sized pieces and cook over medium-high heat in a little bit of olive oil until no pink remains and juices are clear. Pour the teriyaki sauce over the chicken and stir to coat. Keep warm and set aside.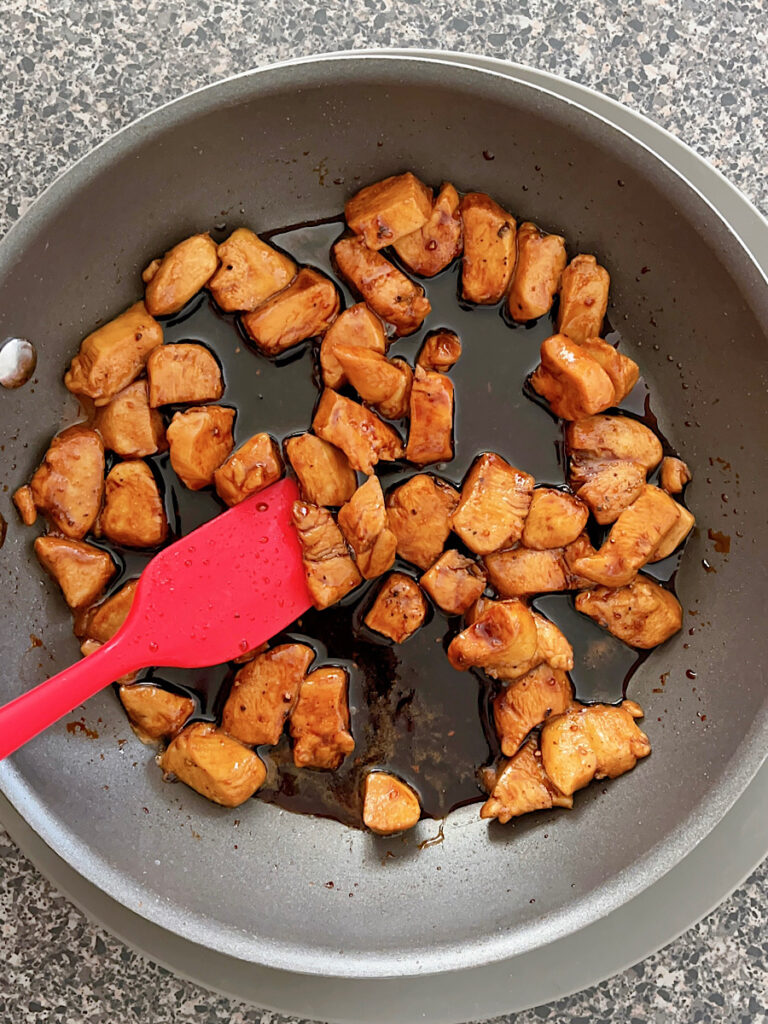 [Step 3] In a large skillet over medium heat, add the vegetable oil, sesame oil, honey, soy sauce, ginger, garlic, peanut butter, rice vinegar, sweet chili sauce, and red pepper flakes. Stir until all ingredients are combined.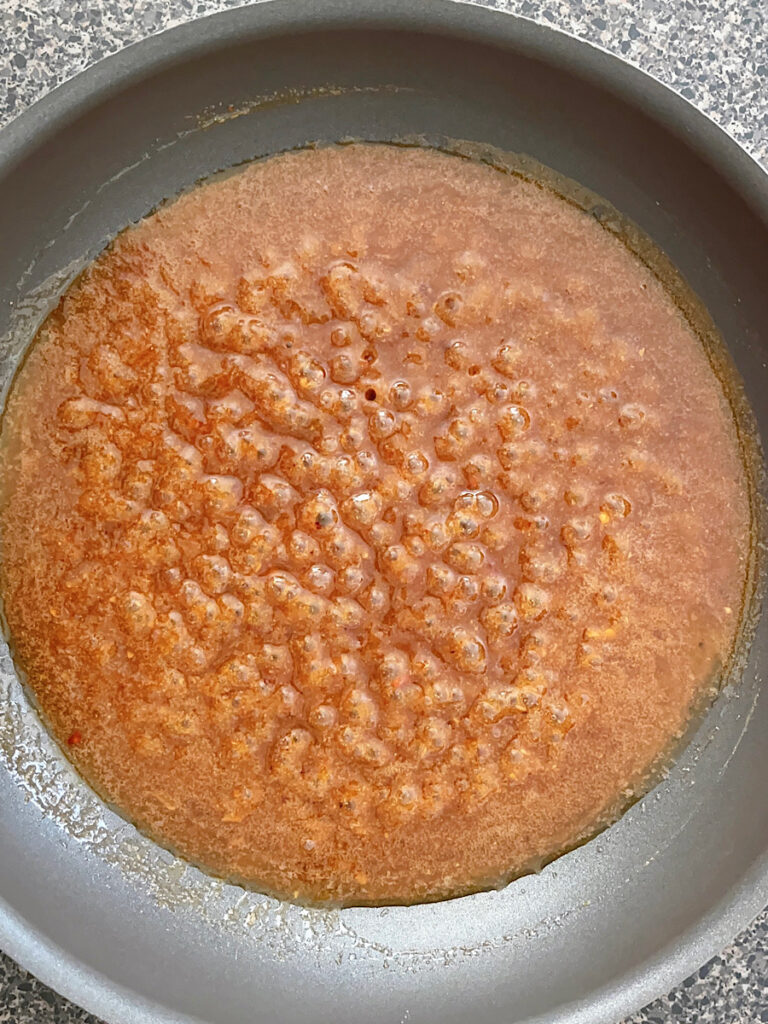 [Step 4] Pour the drained noodles into the pan with sauce and reduce the heat to low. Allow the noodles and sauce to cook until the sauce has reached your desired consistency, up to 10 minutes.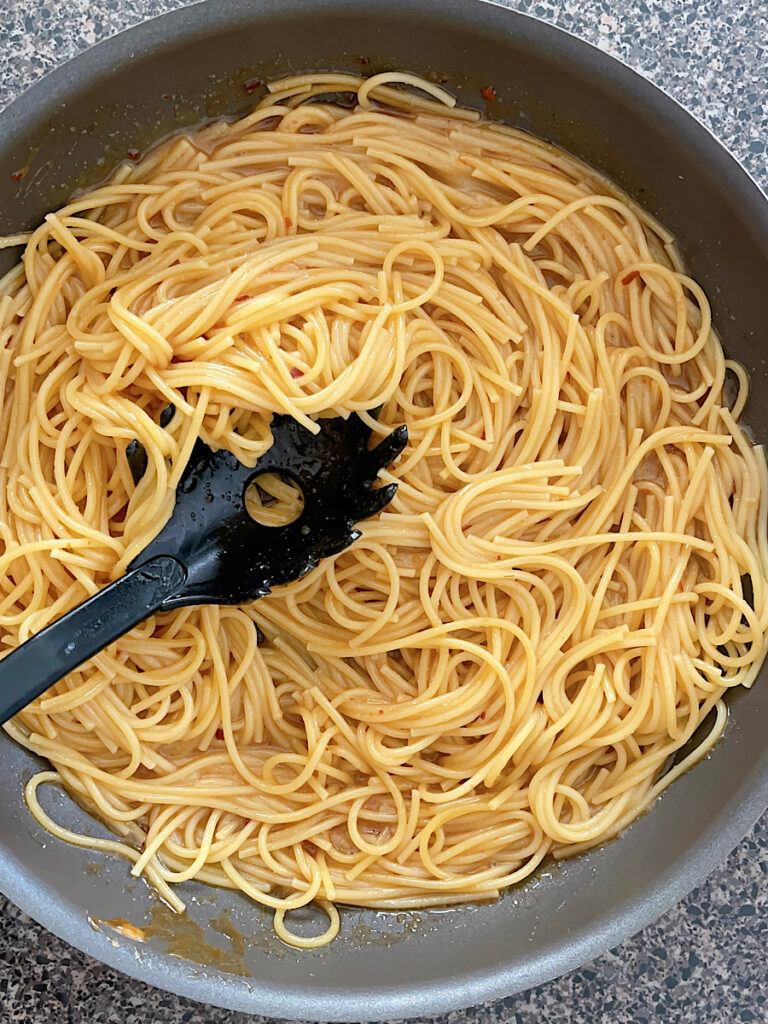 [Step 5] Mix the chicken into the noodles and garnish with chopped green onions.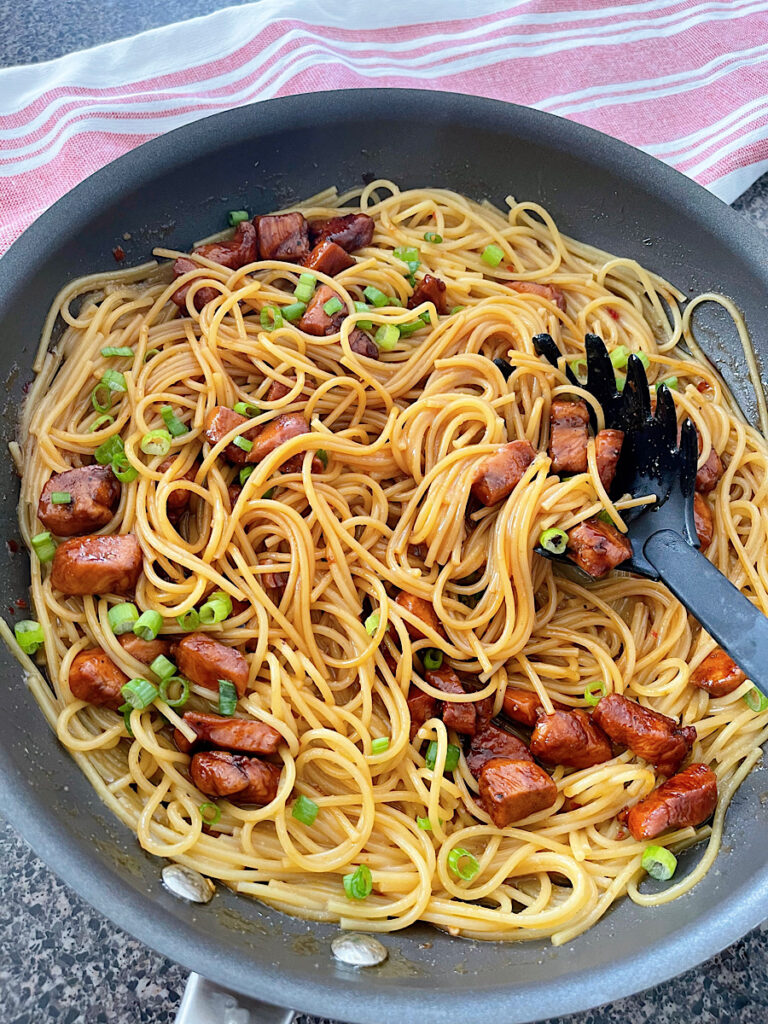 Helpful Kitchen Tools:
How to Store Leftovers
Store leftover Spicy Thai Noodles with Chicken in an airtight container and refrigerate for up to 3 days. Reheat over medium heat on the stovetop or in the microwave until heated through. Enjoy!
Variations & Substitutions
Feel free to use any type of noodles that you have on hand – angel hair, spaghetti, ramen, zucchini noodles or shirataki noodles.
For a vegan version of this dish, substitute the chicken with cubed tofu or your favorite plant-based protein.
If you'd like to add more veggies to the dish, mix in broccoli florets, bell peppers and/or mushrooms as well.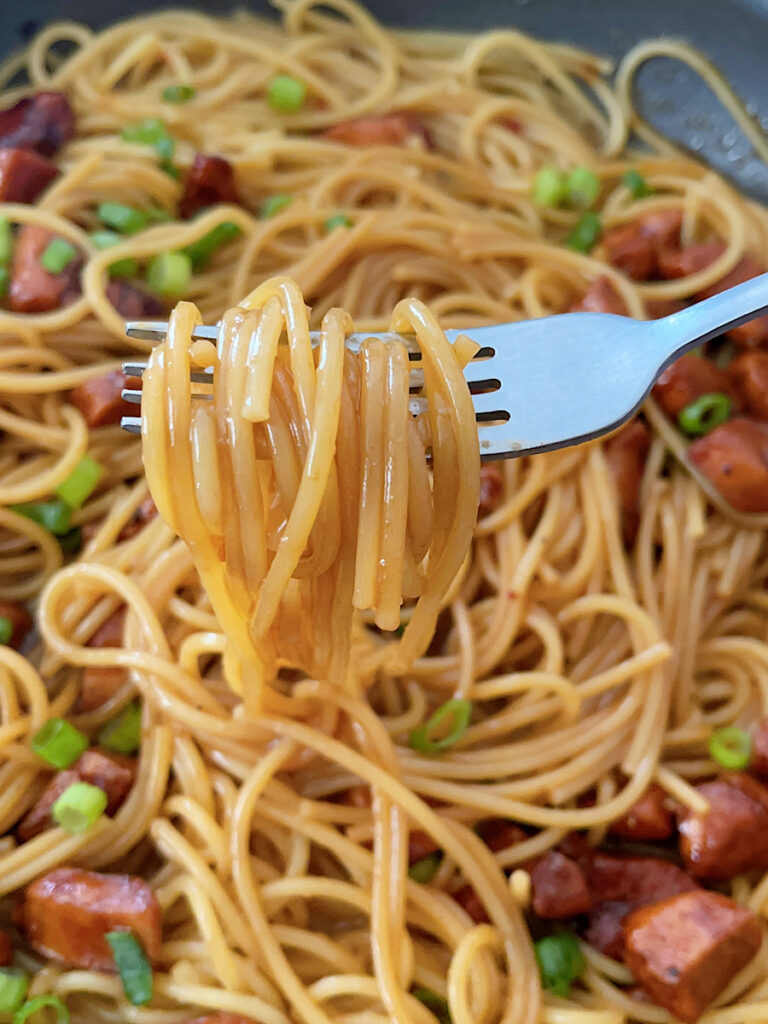 What Types of Noodles Should I Use for This Noodle Recipe
Ramen Noodles: I like to use Ramen noodles in this spicy Thai noodle bowl because the noodles are really quick to prepare. Just follow the directions on the back of the package. When the noodles are cooked, drain the water and don't use the included seasoning packet!
Angel Hair Pasta: Another type of noodles that works well in this recipe is Angel Hair pasta. I like it because the noodles are thin. To prepare Spicy Thai Noodles using Angel Hair, follow the directions on the package, cooking the pasta until al dente.
Zucchini Noodles (Zoodles): If you are looking for a low carb/low calorie option for this recipe, zucchini noodles are a great choice! Simply use a vegetable spiralizer to turn your zucchini into noodles, sauté them with a littl oil I've oil or butter, and add them to the prepared sauce.
Shiritaki Noodles: Another low carb/low calorie choice for this recipe. They have a neutral taste and are a great match for the spicy sauce. All you need to do to prepare Shiritaki noodles is to pour out the contents of the package into a collander, rinse with water, and add to the prepared sauce.
Dessert Ideas: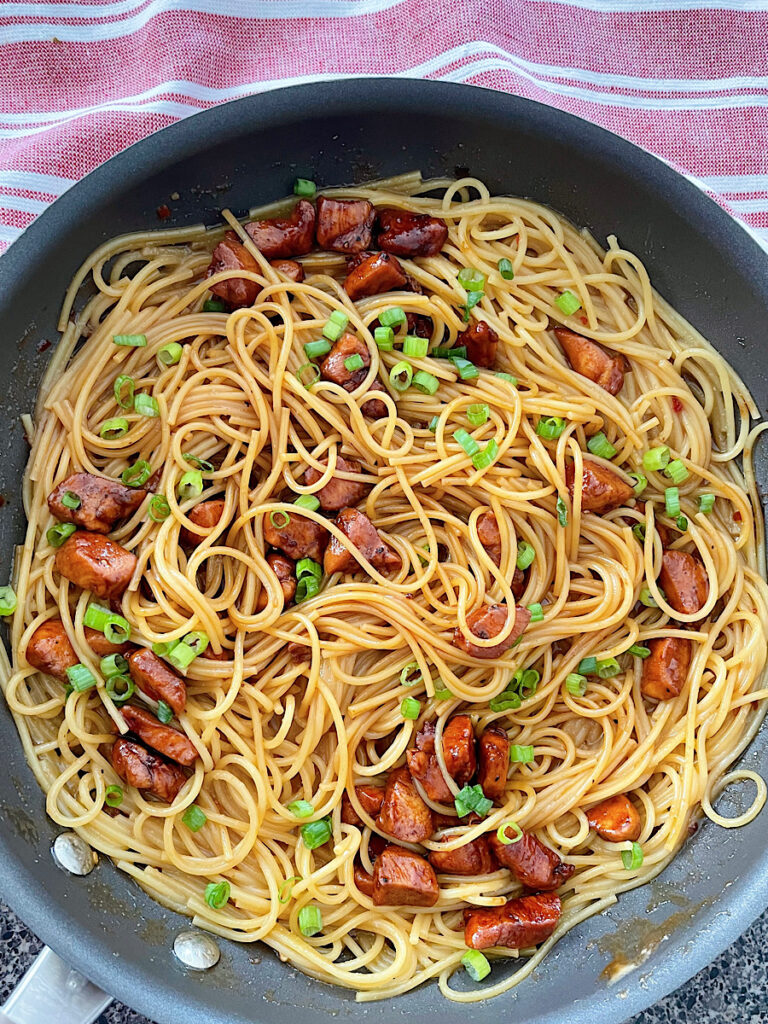 Final Thoughts
Spicy Thai Noodles with Chicken is the ultimate go-to meal for busy nights when you want a delicious and satisfying dinner without all of the fuss. The tender chicken, vibrant vegetables and spicy sauce combine to create a symphony of flavors that are sure to tantalize your taste buds. Plus, you can easily adjust the heat level to suit your palate.