Spicy Thai Noodles with Chicken is the perfect quick meal for a busy night! Ready in about 30 minutes and flavored to perfection.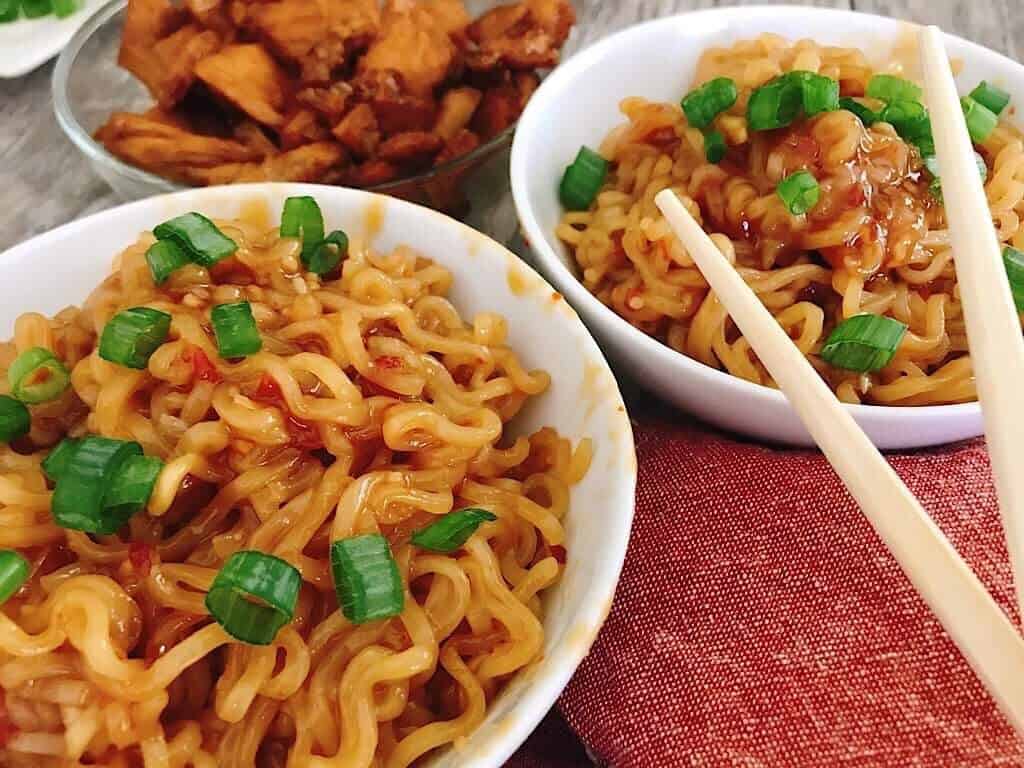 This post may contain affiliate links. When you click on these links, I get a small percentage back at no cost to you! For more information see my disclosure policy.
Looking for something delicious and super easy to make for dinner tonight? Look no further than this Spicy Thai Noodles with Chicken Recipe!
I've been making this recipe for my family for a few years now and even my picky-eaters love it!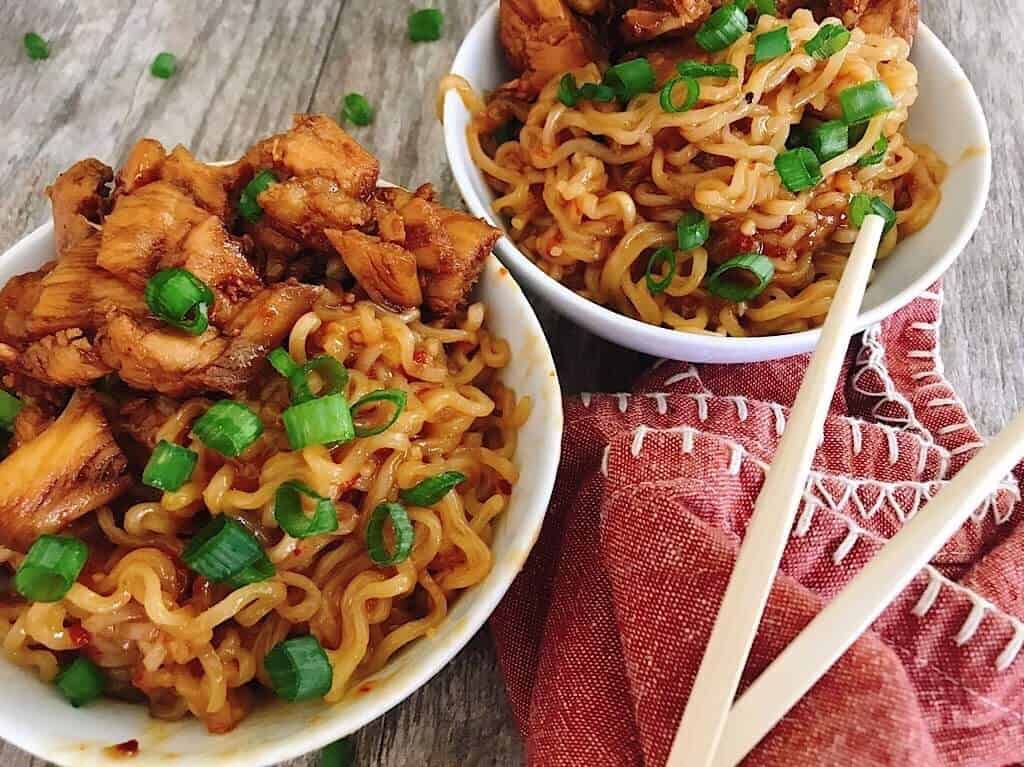 Spicy Thai Noodles with Chicken Recipe
These Asian-inspired noodles and Teryaki flavored chicken can be cooked and ready to eat on your dinner table in about 30 minutes!
What Type of Noodles Should I Use?
For this Recipe I have used three types of noodles. Ramen, angel hair, zucchini noodles (zoodles), and Shiritaki.
I really enjoyed all 4 of these types of noodles with this recipe for different reasons.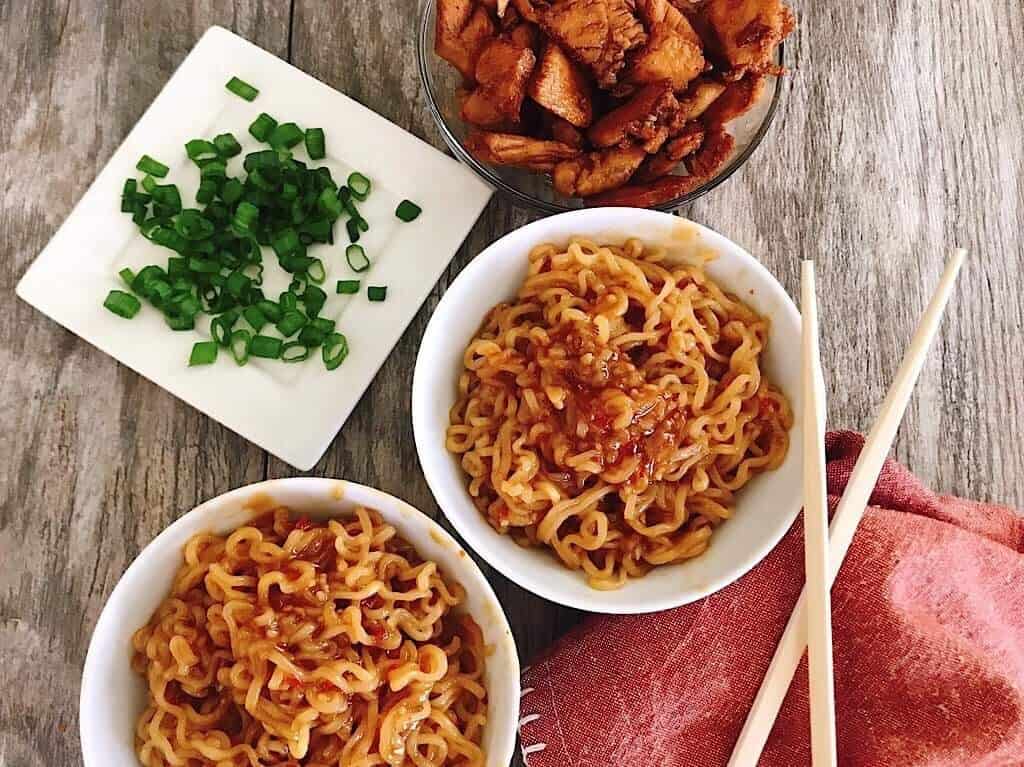 Ramen Noodles
When preparing the Spicy Thai Noodles for this post, I used Ramen Noodles as you can see in the pictures.
For some reason, my kids like this version the best. I like it because the noodles are really quick to prepare.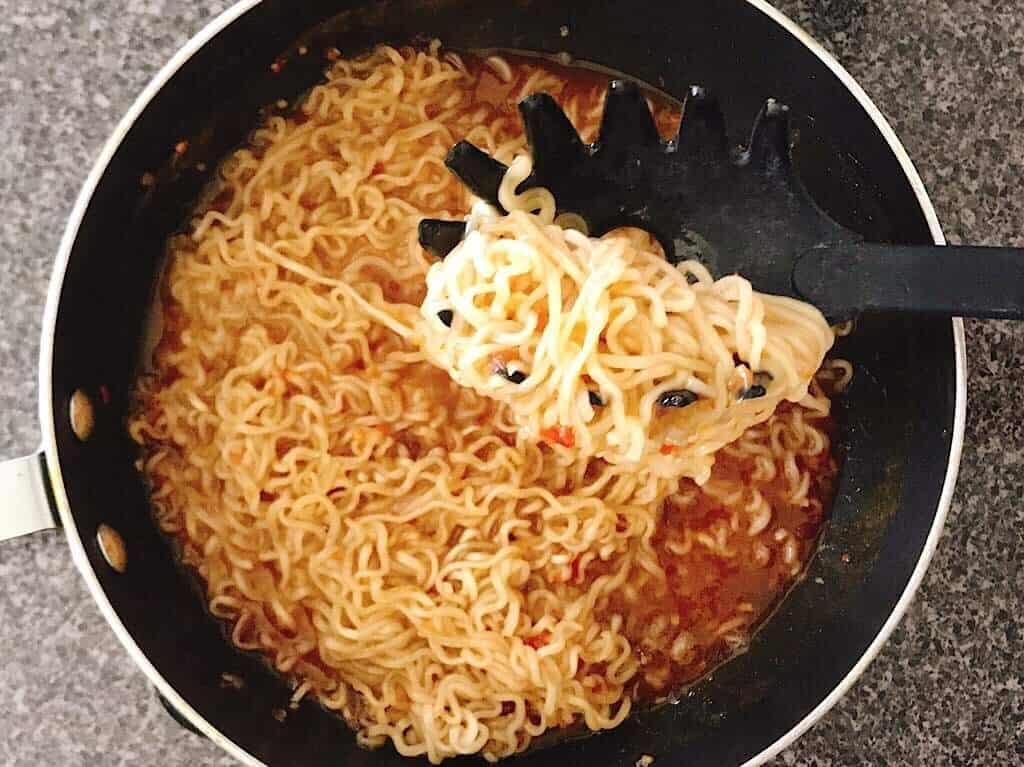 Just follow the directions on the back of the package. When the noodles are cooked, drain the water and don't use the included seasoning packet!
Angel Hair Pasta
Another type of noodles that works well in this recipe is Angel Hair pasta. I like it because the noodles are thin.
To prepare Spicy Thai Noodles using Angel Hair, follow the directions on the package, cooking the pasta until al dente.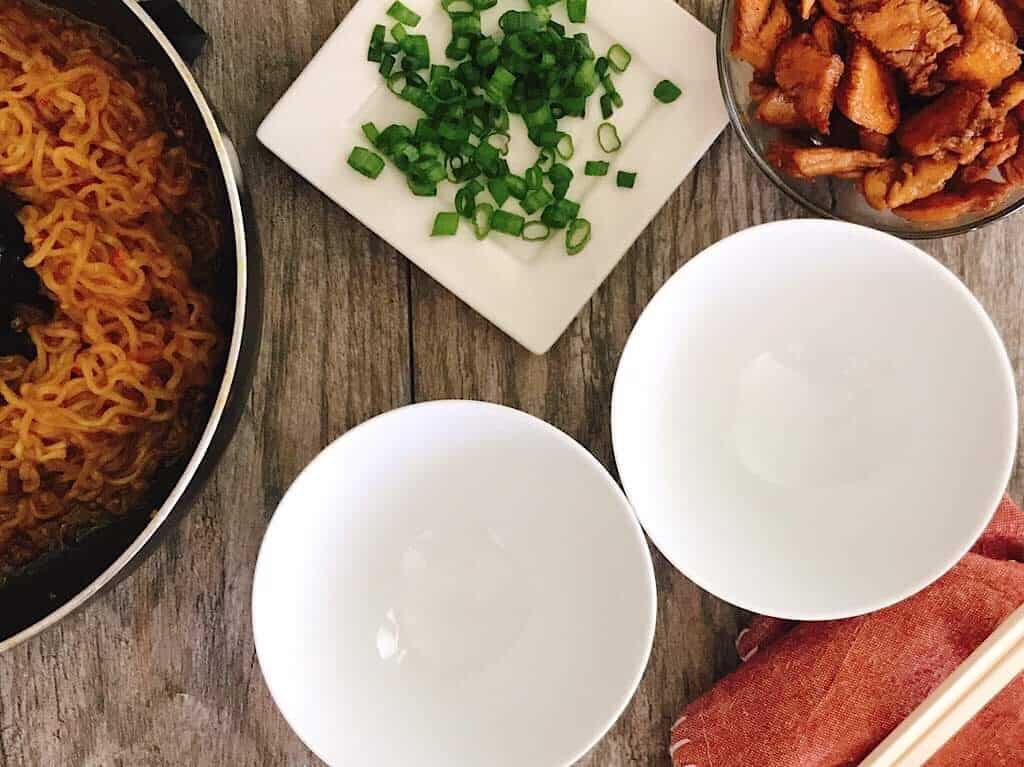 Zucchini Noodles (Zoodles)
If you are looking for a low carb/low calorie option for this recipe, zucchini noodles are a great choice!
Simply use a vegetable spiralizer to turn your zucchini into noodles, sauté them with a littl oil I've oil or butter, and add them to the prepared sauce.
Shiritaki Noodles
Shiritaki noodles are another low carb/low calorie choice for this recipe. They have a neutral taste and are a great match for the spicy sauce.
All you need to do to prepare Shiritaki noodles is to pour out the contents of the package into a collander, rinse with water, and add to the prepared sauce.
Ingredients:
Teriyaki Chicken
1 Pound Chicken Breast

1 Cup Teriyaki Sauce (I like Mr. Yoshida's)
Spicy Thai Noodles
6 Ounces Ramen Noodles

2 Tablespoons Vegetable Oil or Canola Oil

2 Tablespoons Sesame Oil

3 Tablespoons Honey

3 Tablespoons Soy Sauce

1 Teaspoon Minced Ginger

1 Tablespoon Peanut Butter

1 Tablespoon Rice Vinegar

3 Tablespoons Sweet Chili Sauce

2 Teaspoons Garlic, minced

1/4 Teaspoon Red Pepper Flakes

Green Onions, chopped (for garnish)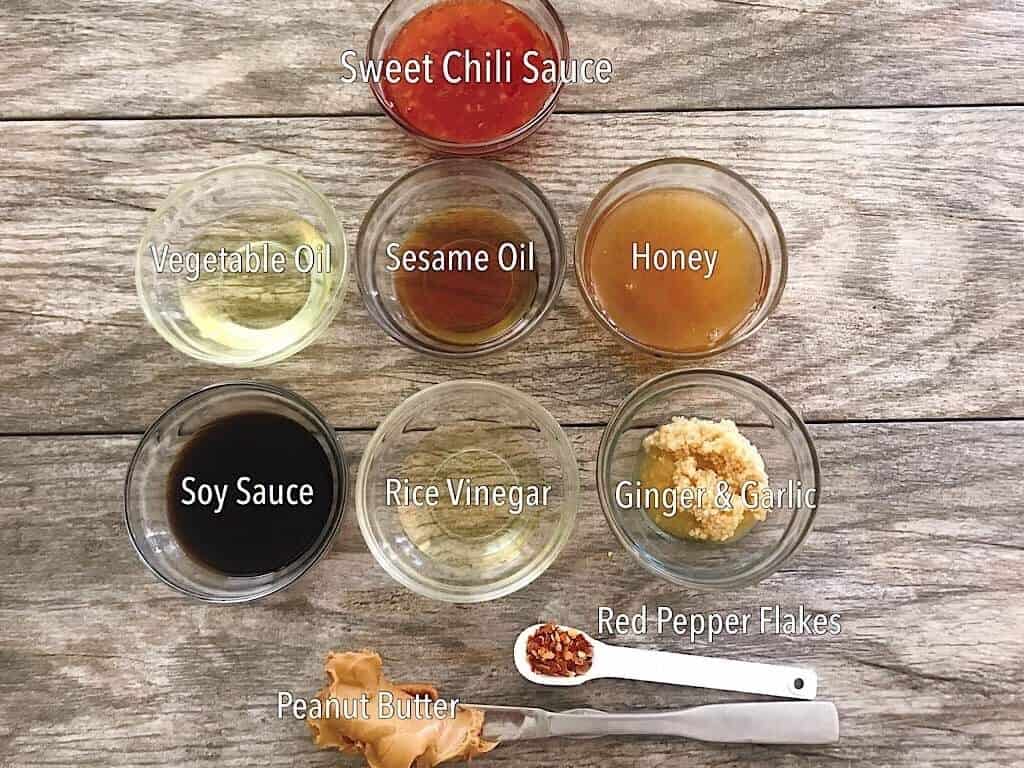 Helpful Kitchen Tools:
How to Make Spicy Thai Noodles with Chicken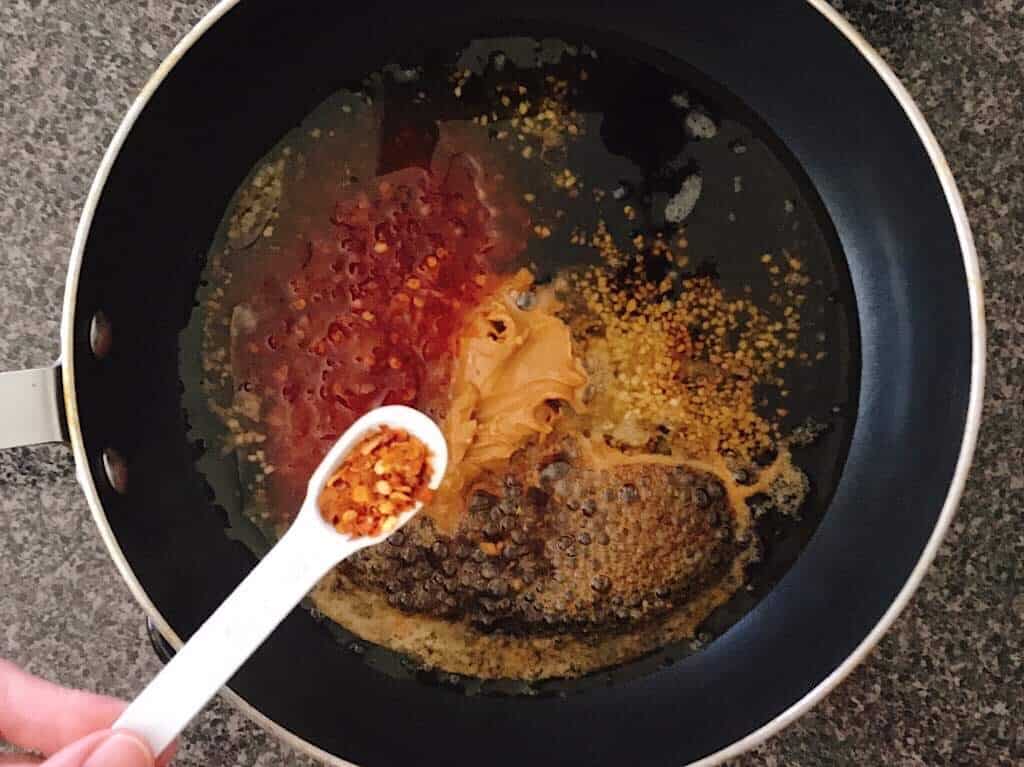 Cook the noodles according to the package directions.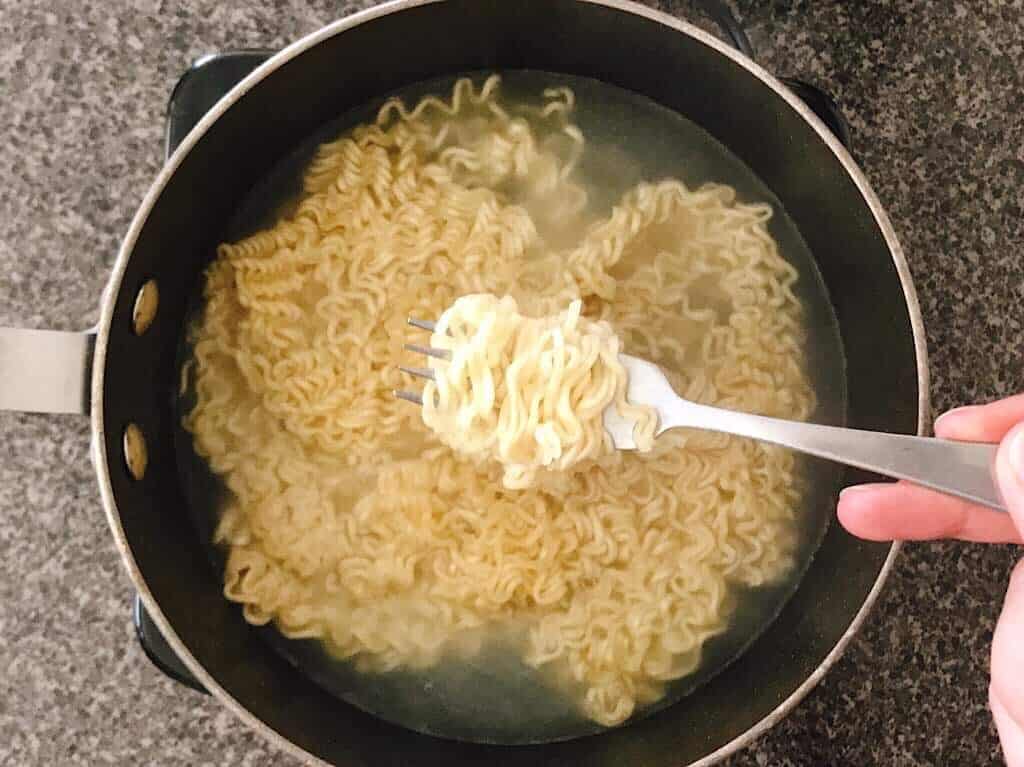 While the noodles are cooking, dice the chicken into bite-sized pieces.

Cook over medium-high heat until no pink remains and juices are clear.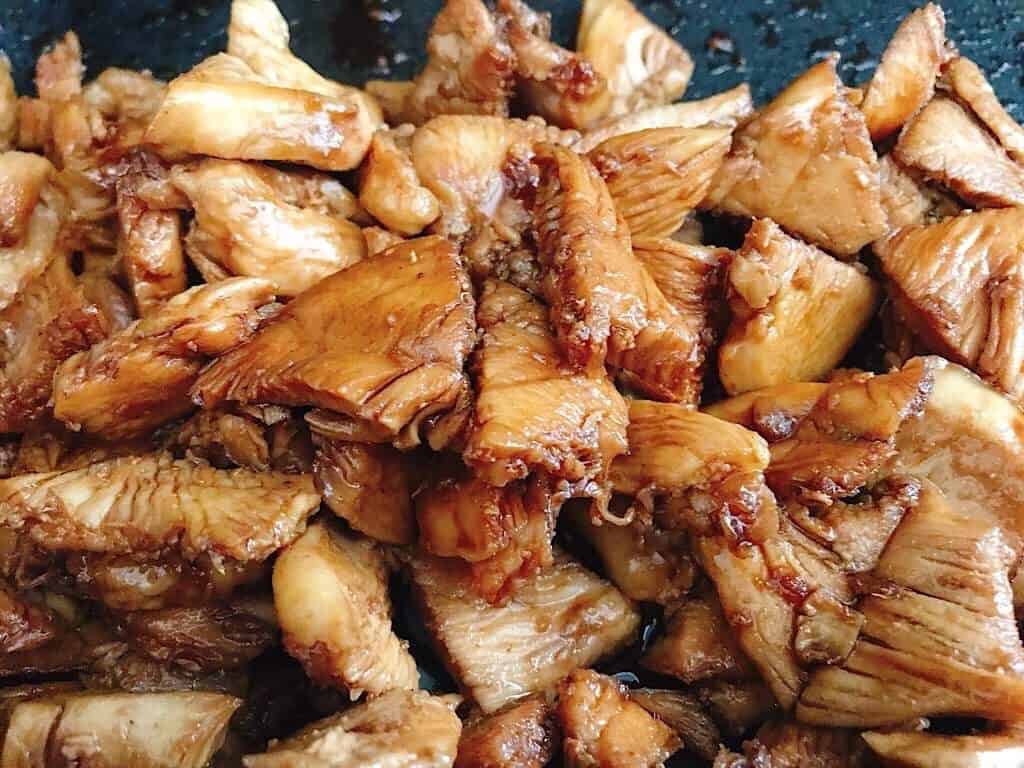 Pour the teriyaki sauce over the chicken and stir to coat. Set aside.

In a saucepan over medium heat, add the vegetable oil and sesame oil.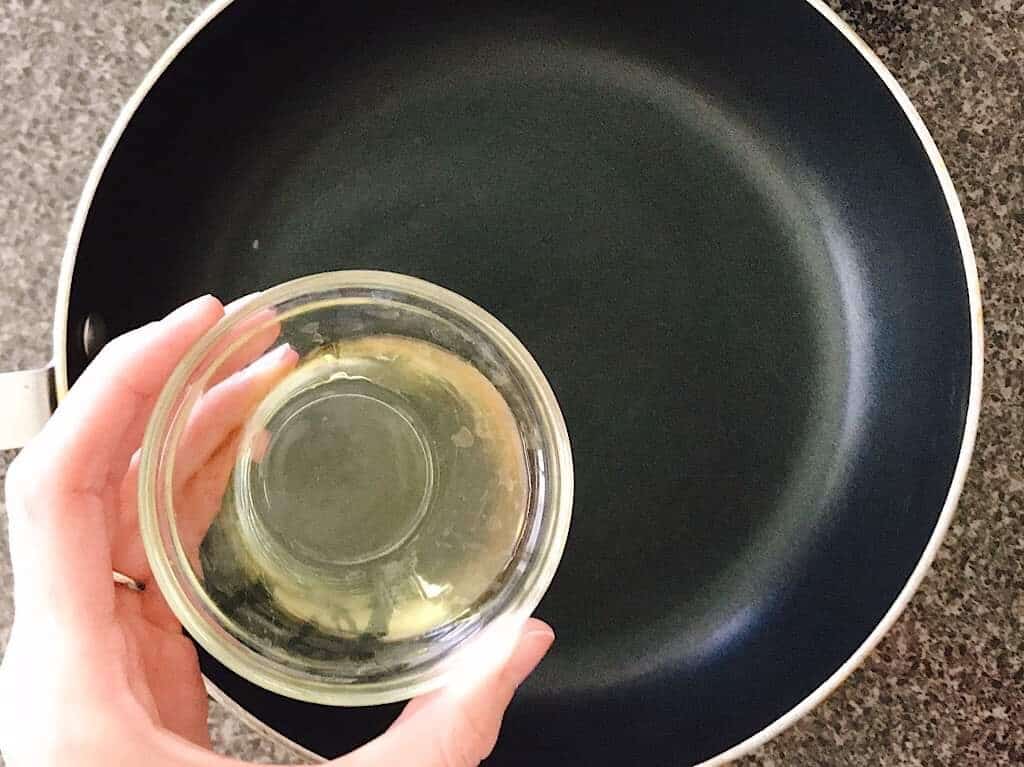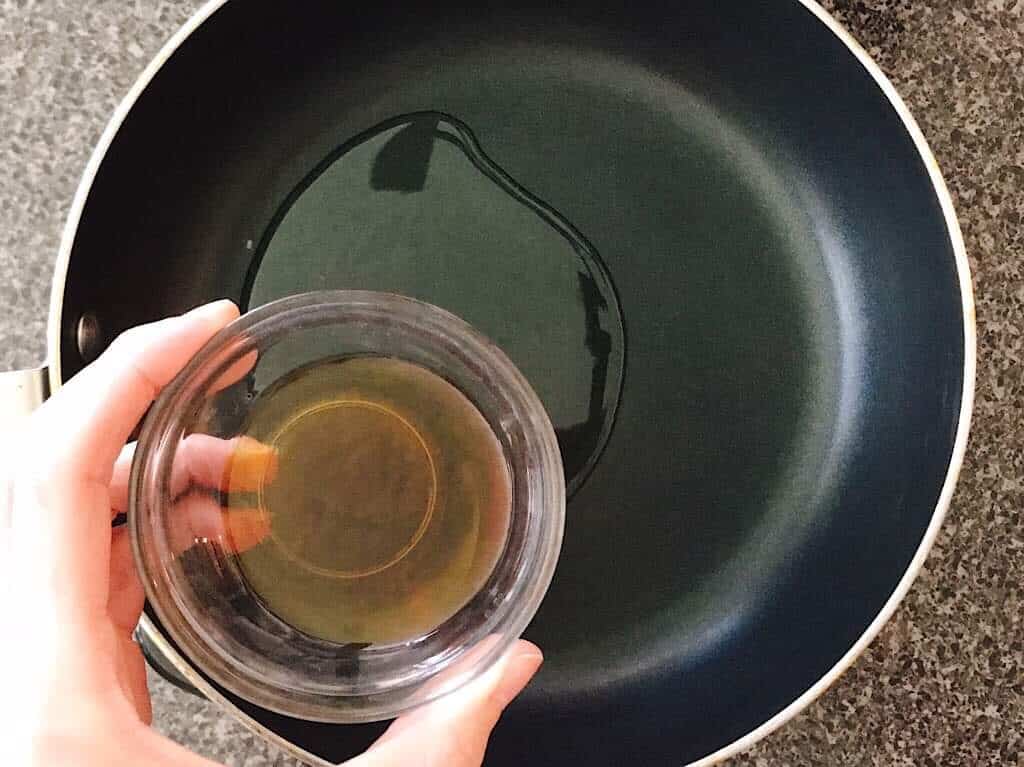 Stir in the honey, soy sauce, ginger and garlic.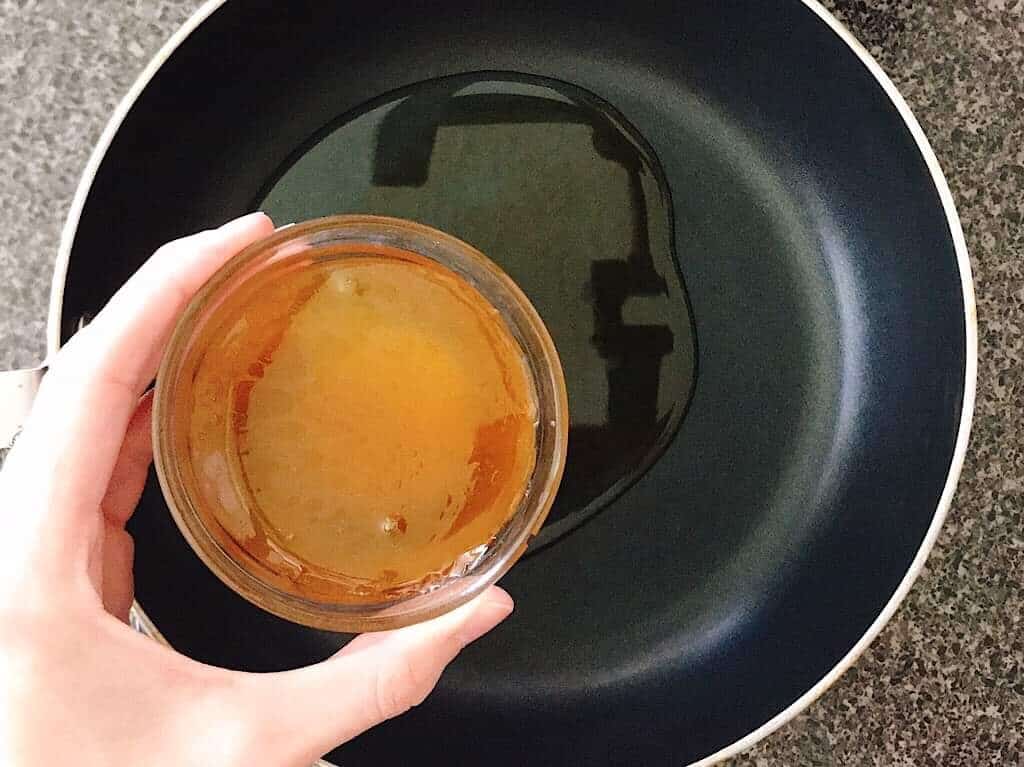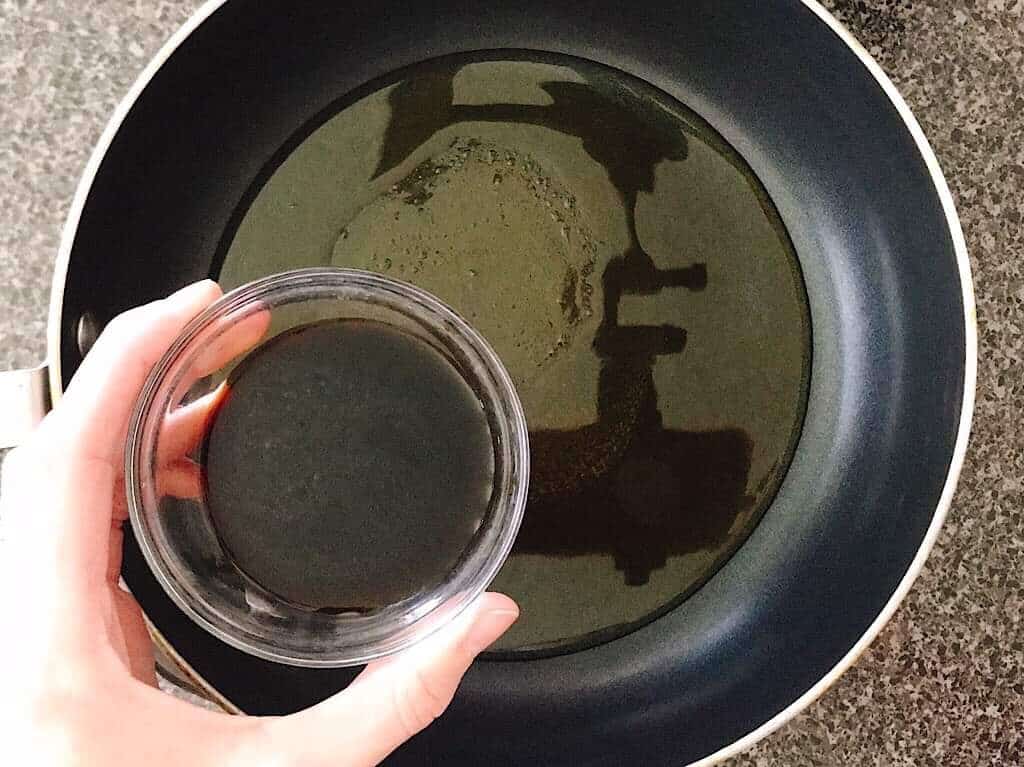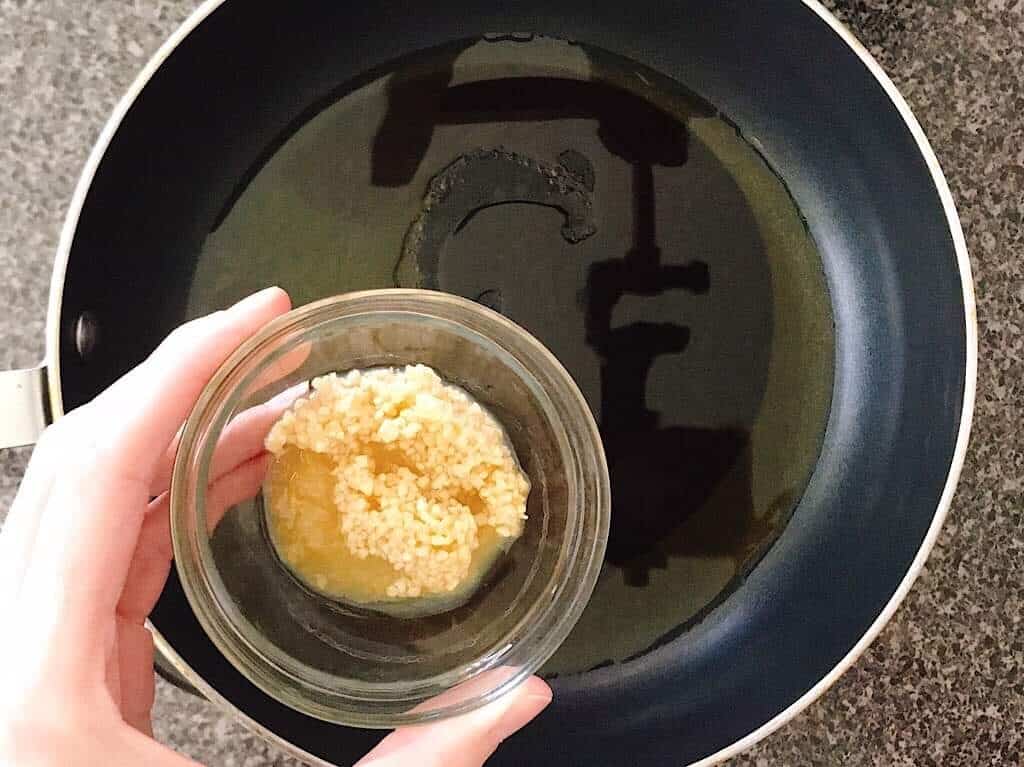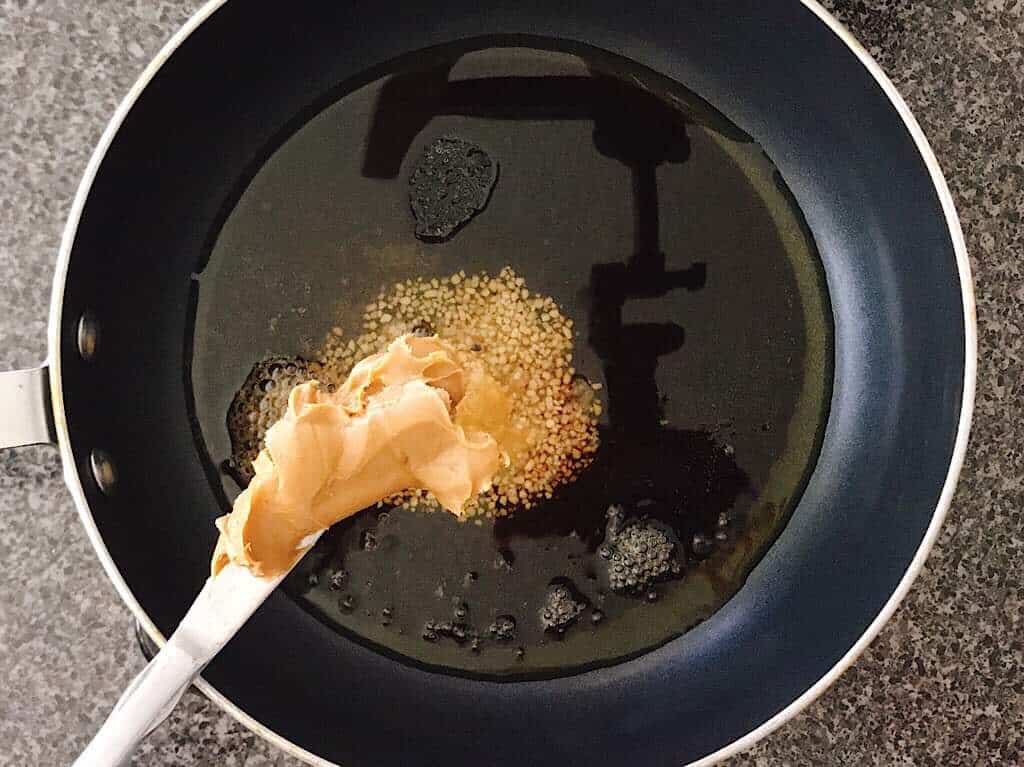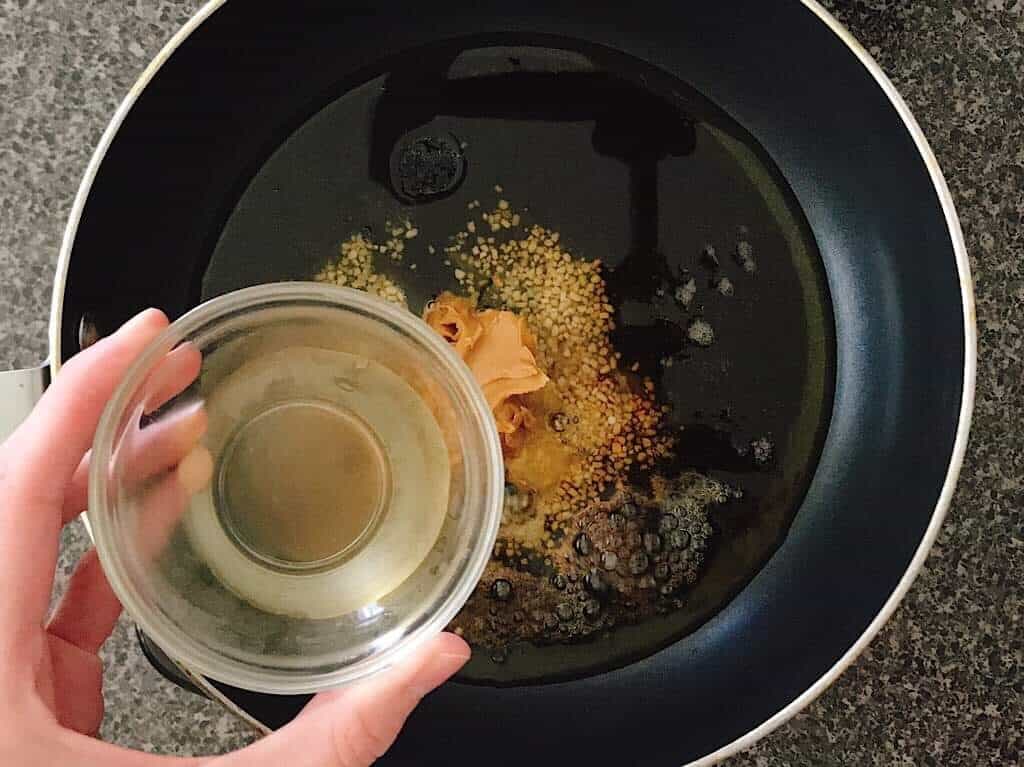 Stir until all ingredients are combined.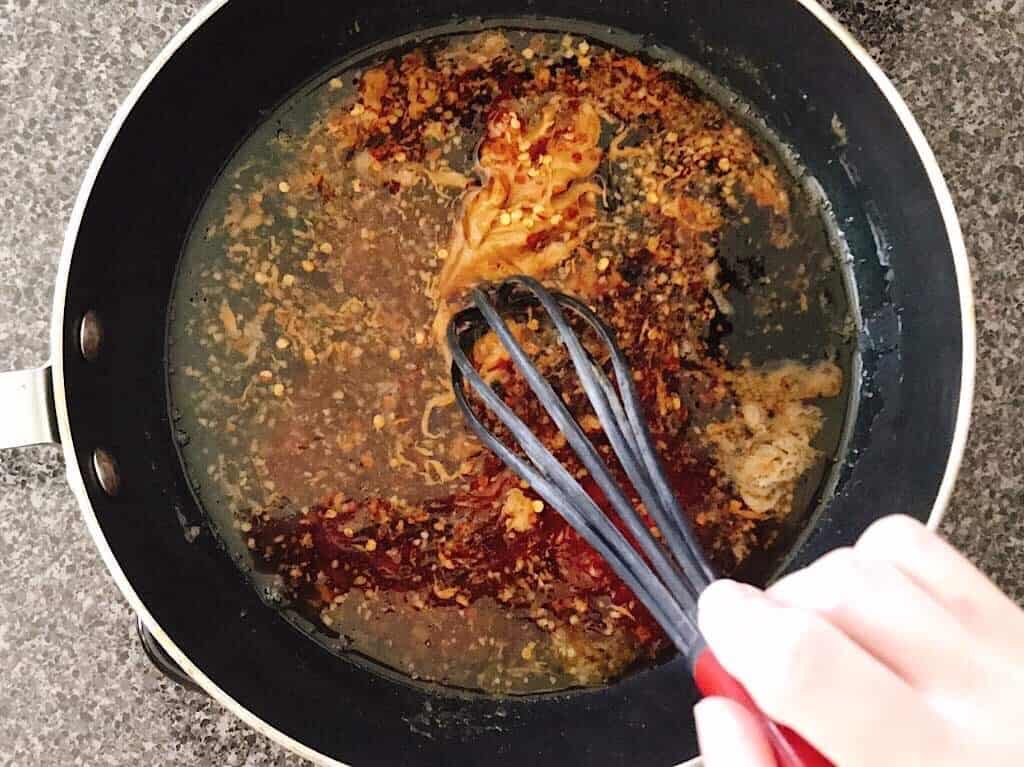 Add the drained noodles to the sauce.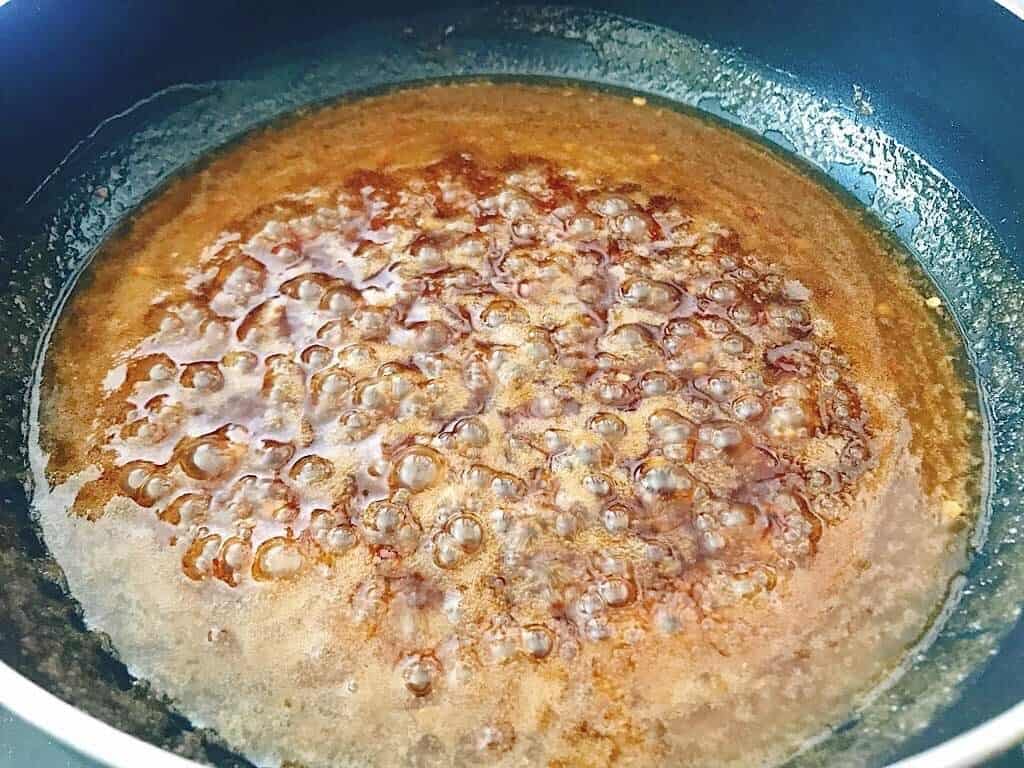 Reduce the heat to low.

Allow the noodles and sauce to cook until the sauce has reached your desired consistency, up to 10 minutes.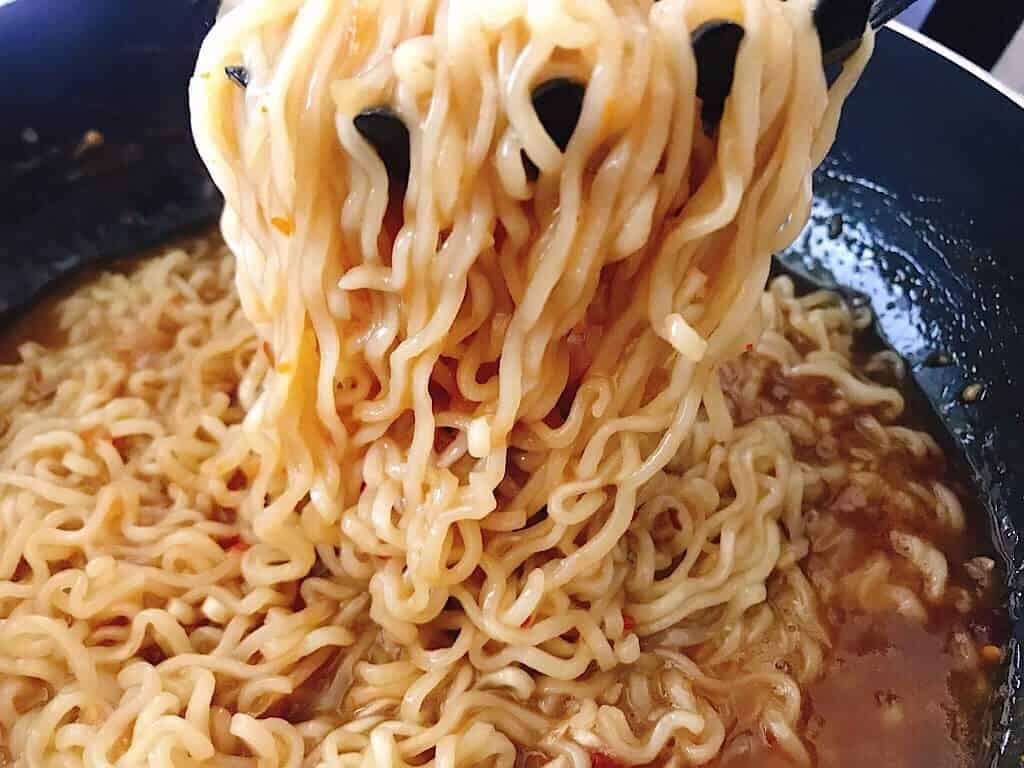 Add the noodles to a bowl, top with chicken, and garnish with green onions.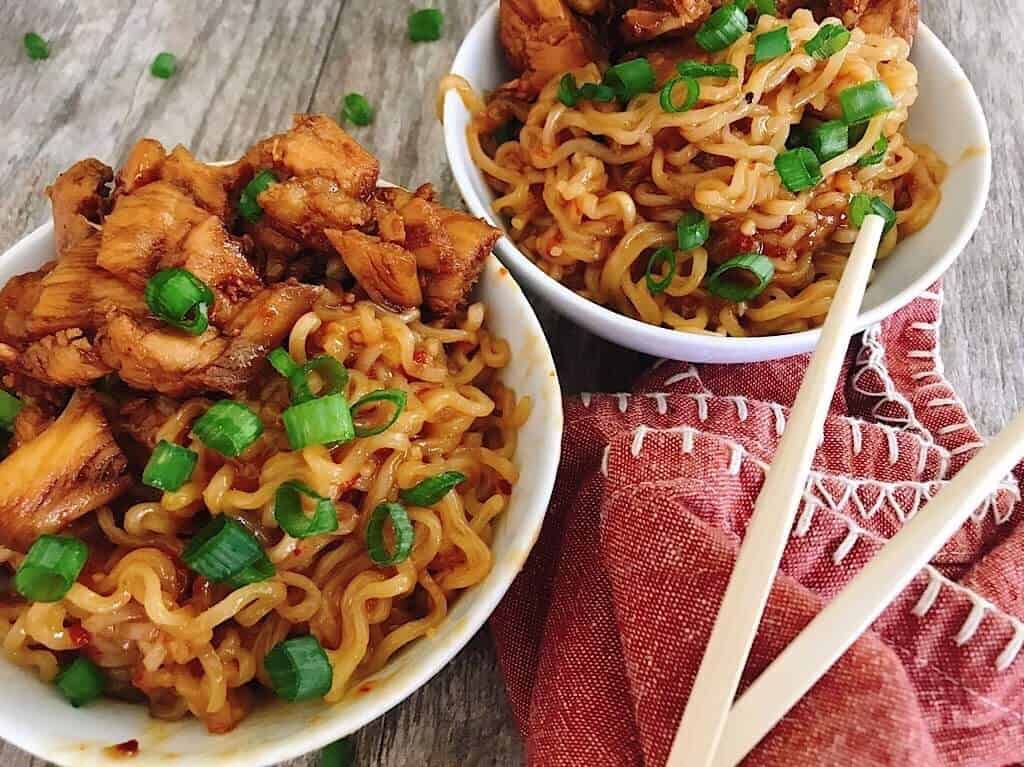 Dessert Ideas:
Let me know in the comments if you like this recipe and tag @mommymouseclubhouse on Instagram. I want to see your creation!
Pin for later: