Lasagna is a classic Italian dish that typically consists of layers of pasta, meat, and cheese. While there are many variations of lasagna, one of the most popular is lasagna with ricotta cheese. This recipe pairs the rich flavor of ricotta with the savory taste of Italian sausage. The result is a dish that is both flavorful and filling.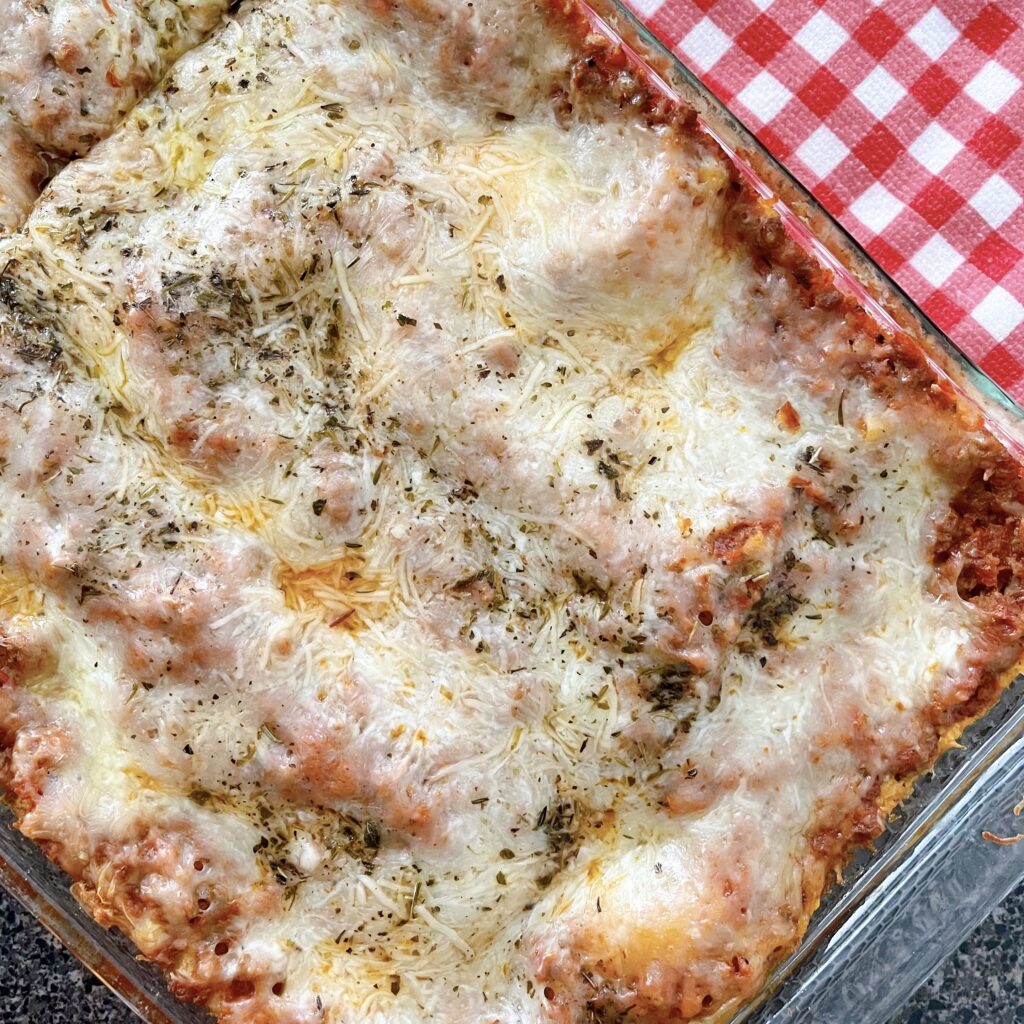 This post may contain affiliate links. When you click on these links, I get a small percentage back at no cost to you! For more information see my disclosure policy.
Below you will find tips, tricks and helpful hints for making this recipe including step by step instructions with pictures. If you would like to go directly to the recipe, scroll down to the recipe card or tap "Jump to Recipe" at the top of the page.
Why I Love Lasagna Made with Ricotta Cheese
Making lasagna from scratch can be a lot of work, and it's not always easy to find all the ingredients.
If you love lasagna but don't want to spend hours in the kitchen, this recipe is for you. Our easy lasagna with ricotta cheese only takes about 30 minutes to make and uses ingredients that are probably already in your pantry.
This simple lasagna recipe is perfect for busy weeknights or when you need a dish that can be made ahead of time. The ricotta cheese gives the lasagna a creamy texture and delicious flavor.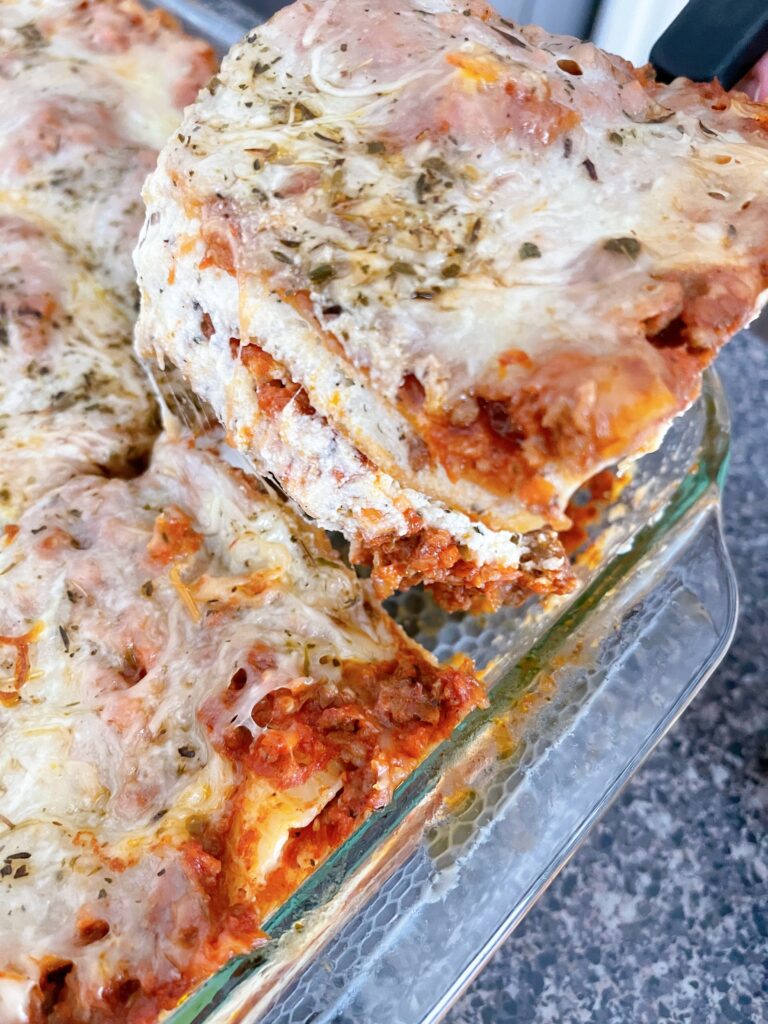 Why Use Ricotta Cheese in Lasagna
Ricotta cheese is a type of cheese that is made from whey, which is the liquid that remains after milk has been curdled and strained.
It has a slightly sweet taste and a creamy texture. Ricotta cheese is often used in lasagnas and other Italian dishes because it pairs well with other ingredients and gives the dish a rich flavor.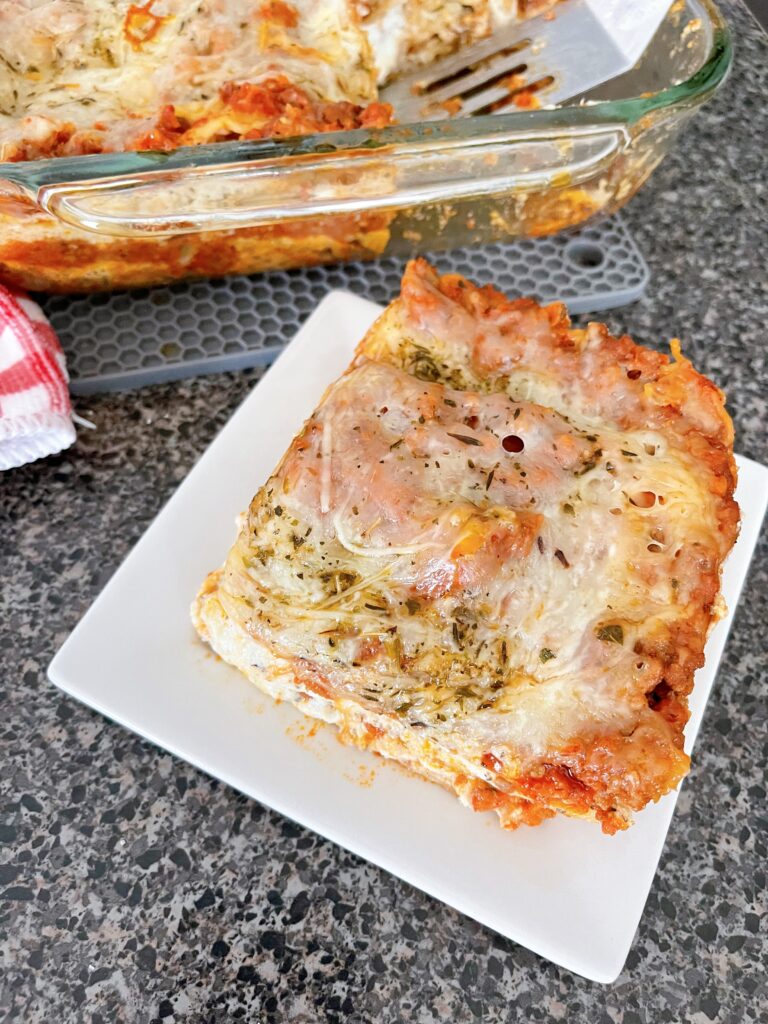 Does Real Italian Lasagna Have Ricotta Cheese
There are many different types of lasagna, and ricotta cheese is not always used in traditional lasagna recipes.
However, ricotta cheese is a popular ingredient in lasagnas because it gives the dish a creamy texture and delicious flavor.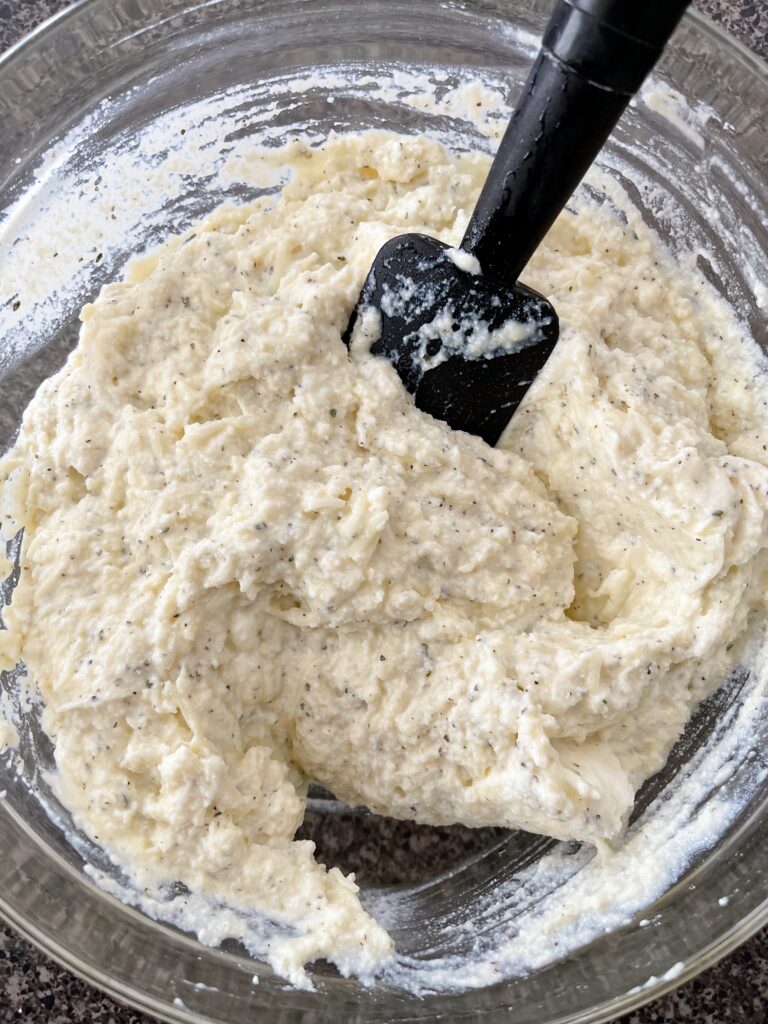 Ricotta Cheese Substitutes in Lasagna
If you don't have ricotta cheese, you can use cottage cheese, Greek yogurt, or even cream cheese in your lasagna.
Cottage cheese has a similar texture to ricotta but is not as sweet. Greek yogurt is also a good substitute because it is thick and creamy. Cream cheese will also work but will make the lasagna richer.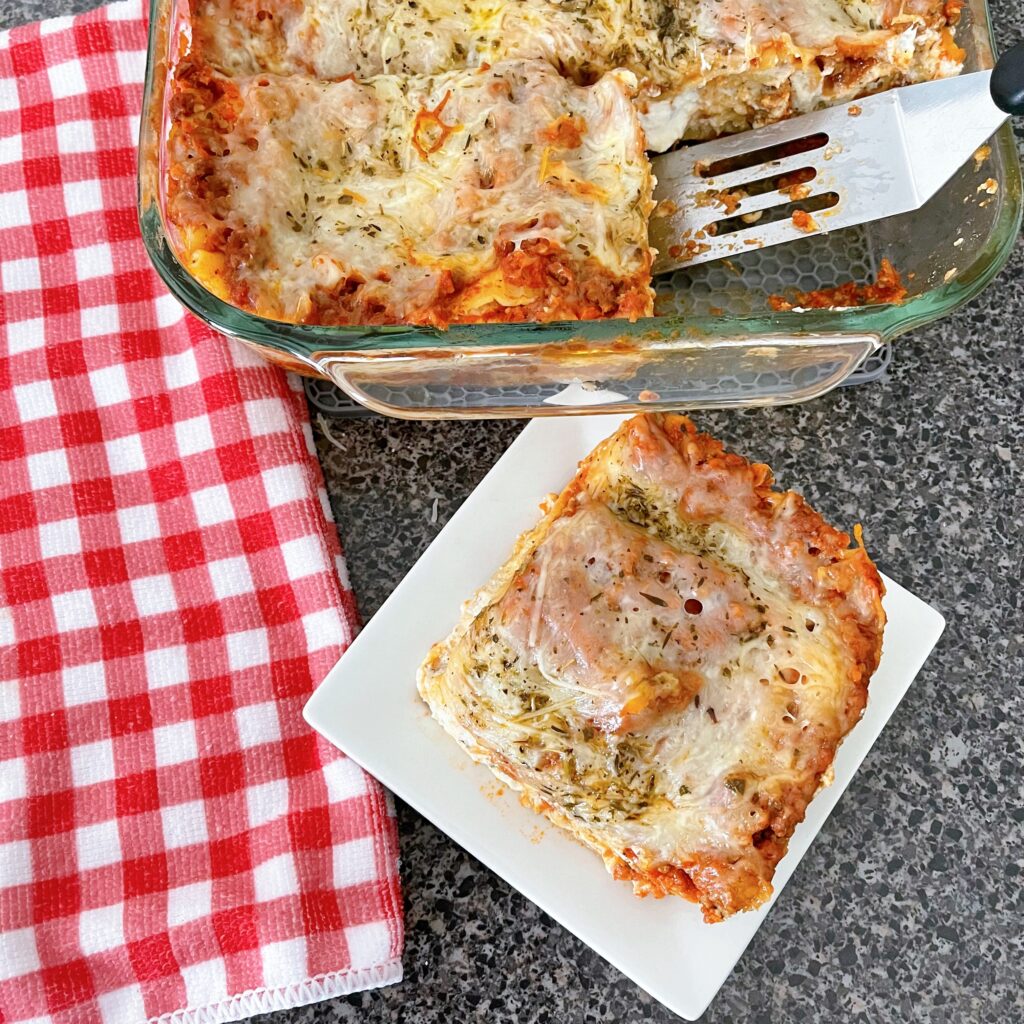 Can I Use Homemade Sauce?
Of course! That is actually what I did when I made this lasagna. I doubled my Spaghetti Bolognese sauce and used what was left over in this dish. I have also made it with my Easy Homemade Spaghetti Sauce passed down from my Grandma.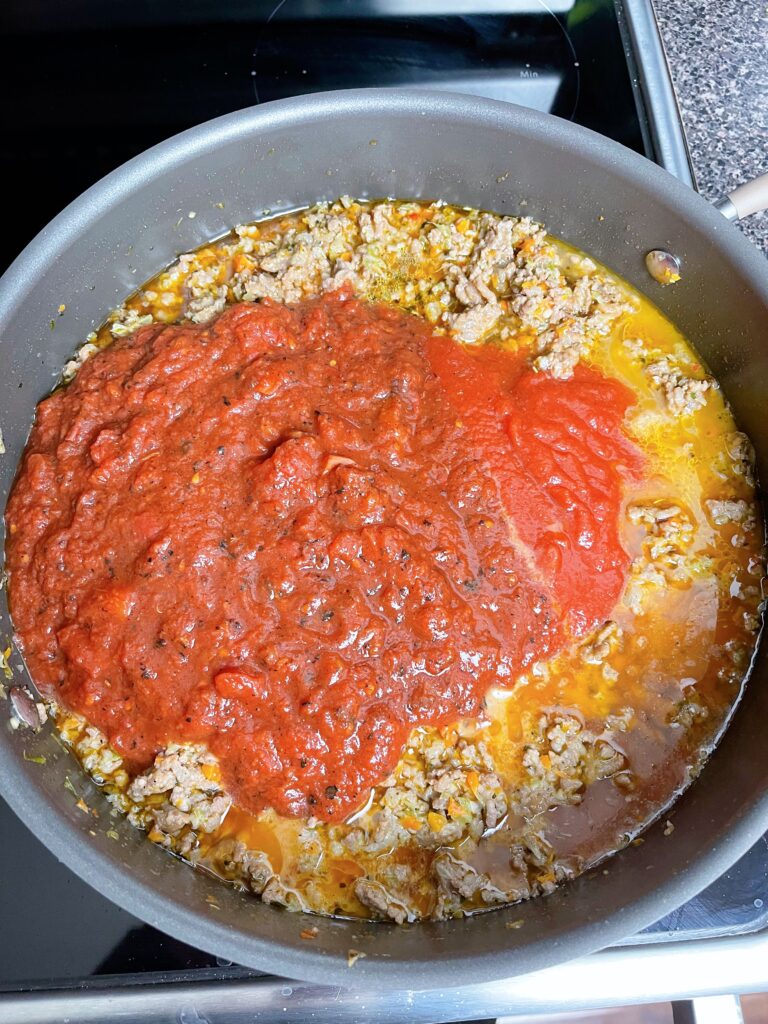 Homemade Ricotta Lasagna Ingredients
*Ingredient amounts are located in the recipe card at the end of this post.
Oven Ready Lasagna Noodles- These noodles are designed to cook and soften with the sauce and cheese as the lasagna bakes. You can also use regular lasagna noodles, just make sure to cook them according to the package directions.
Italian Sausage- Using Italian sausage instead of ground beef adds a depth of flavor to the sauce.
Ricotta Cheese- This is the key ingredient in this lasagna recipe. It gives the dish a creamy texture and delicious flavor.
Mozzarella Cheese- This cheese is used in the filling and on top of the lasagna.
Eggs- The eggs help to bind everything together and make the filling nice and creamy.
Basil, Garlic Powder, Salt, and Pepper- These seasonings give the sauce a delicious flavor.
Parmesan Cheese- This cheese is used in the filling and on top of the lasagna.
Italian Seasoning- This is optional but gives the lasagna a nice flavor.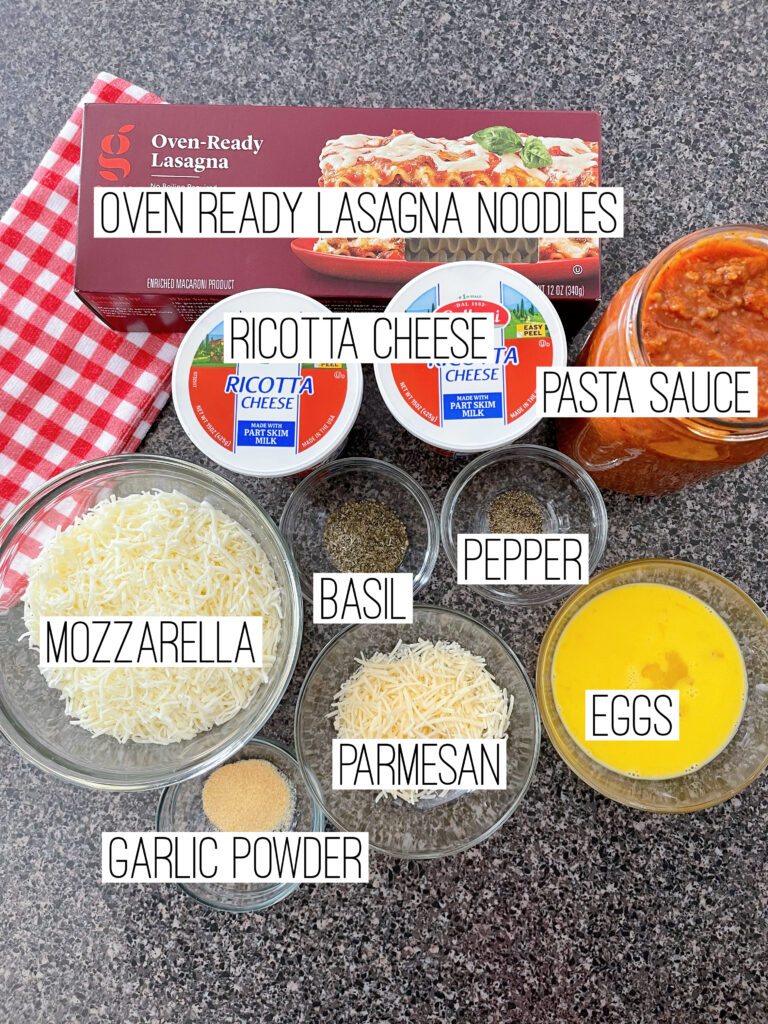 How to Make Lasagna
[1] Sauce: Cook the sausage over medium heat until no longer pink. Add the jar of spaghetti sauce and mix together -OR- use this recipe for Bolognese Sauce or this recipe for homemade spaghetti sauce.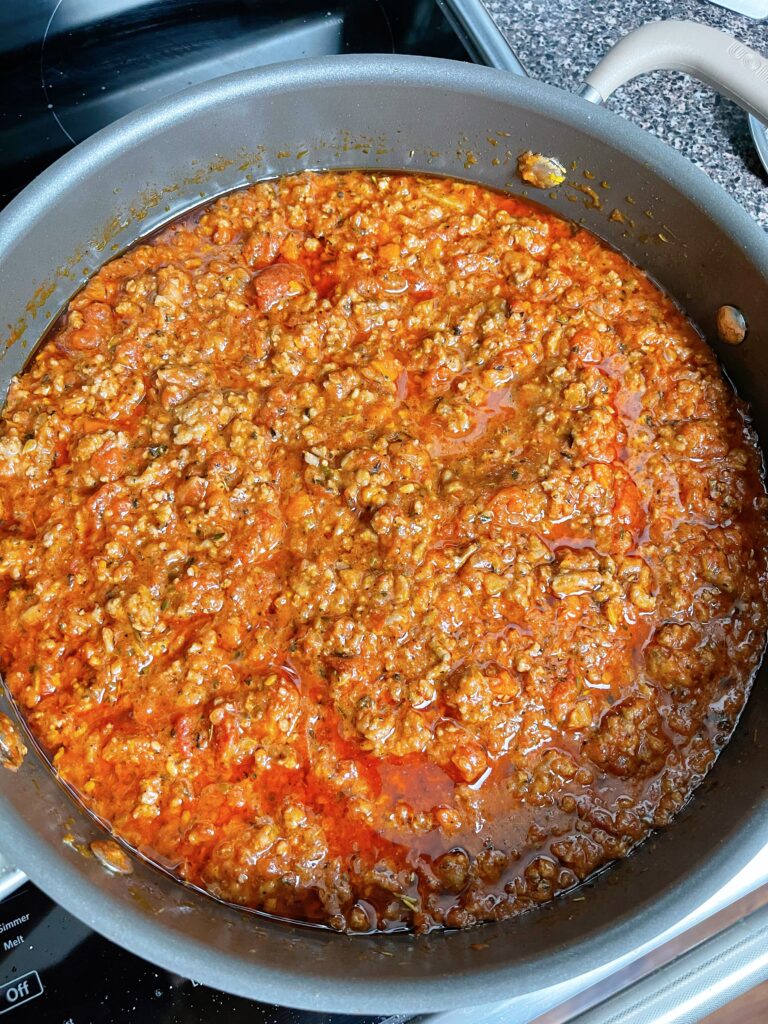 [2] Ricotta Cheese Mixture: In a mixing bowl, combine the ricotta cheese, 2 cups of mozzarella cheese, beaten eggs, basil, garlic powder, salt, and black pepper.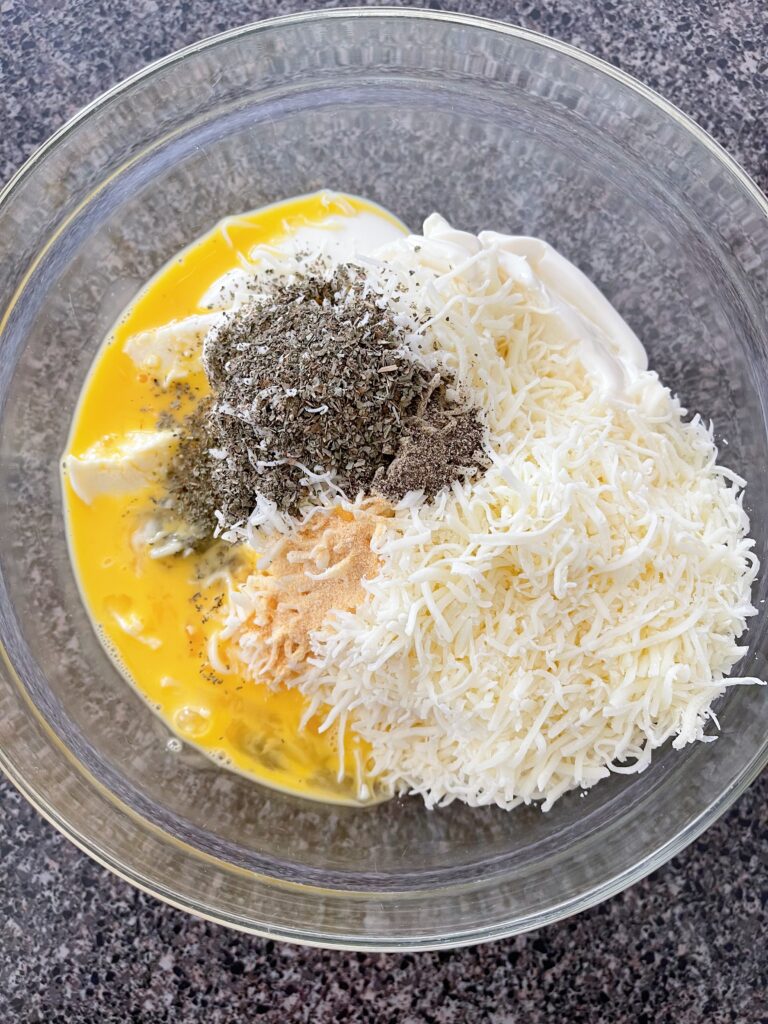 [3] Preheat oven to 350 degrees then cover the bottom of a 9×13 baking dish with about 1/2 cup of sauce.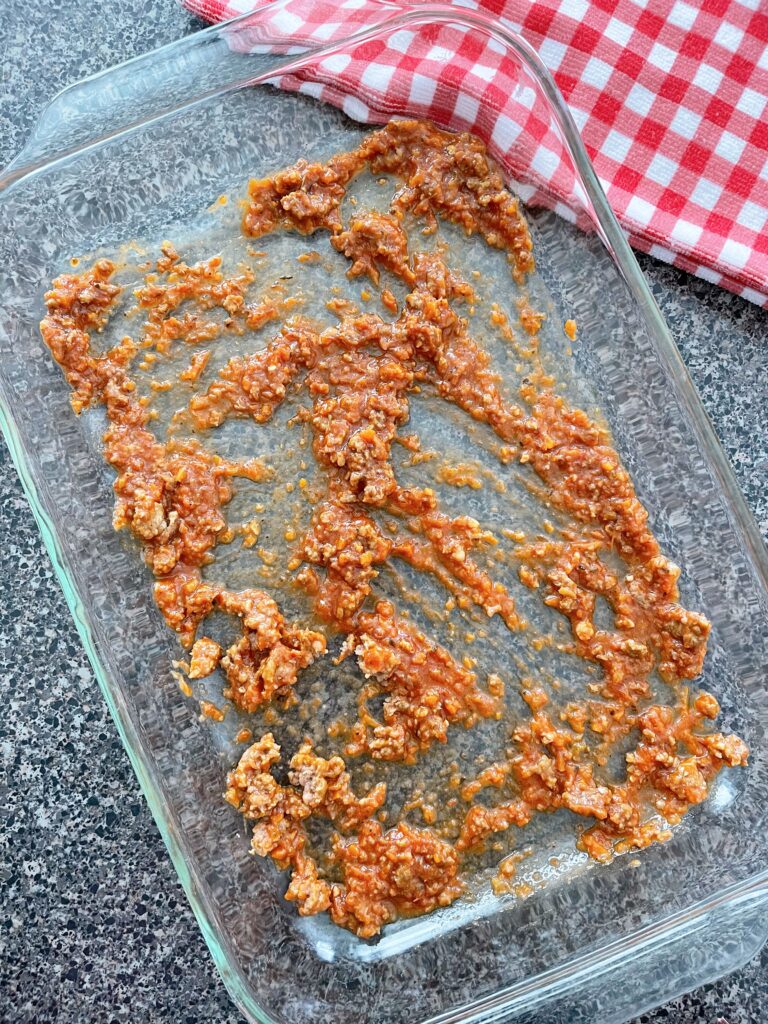 [3] How to Layer Lasagna: Add one layer of uncooked lasagna noodles and top with 1/2 of the ricotta cheese mixture.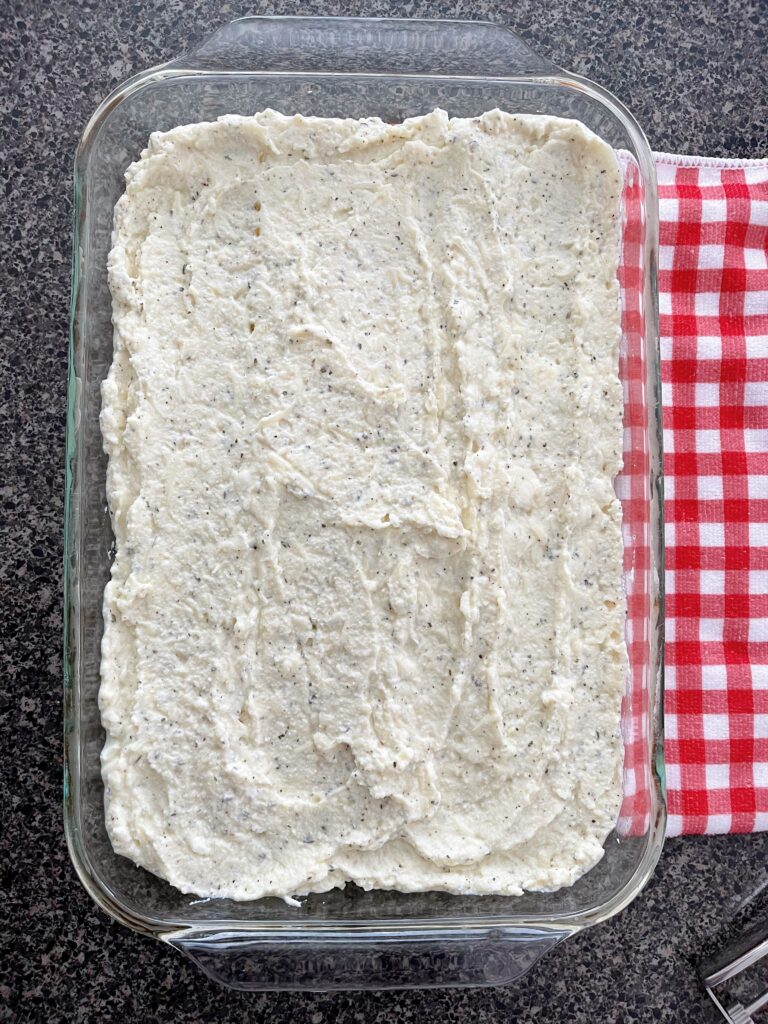 [4] Then spread with about 1 cup of sauce.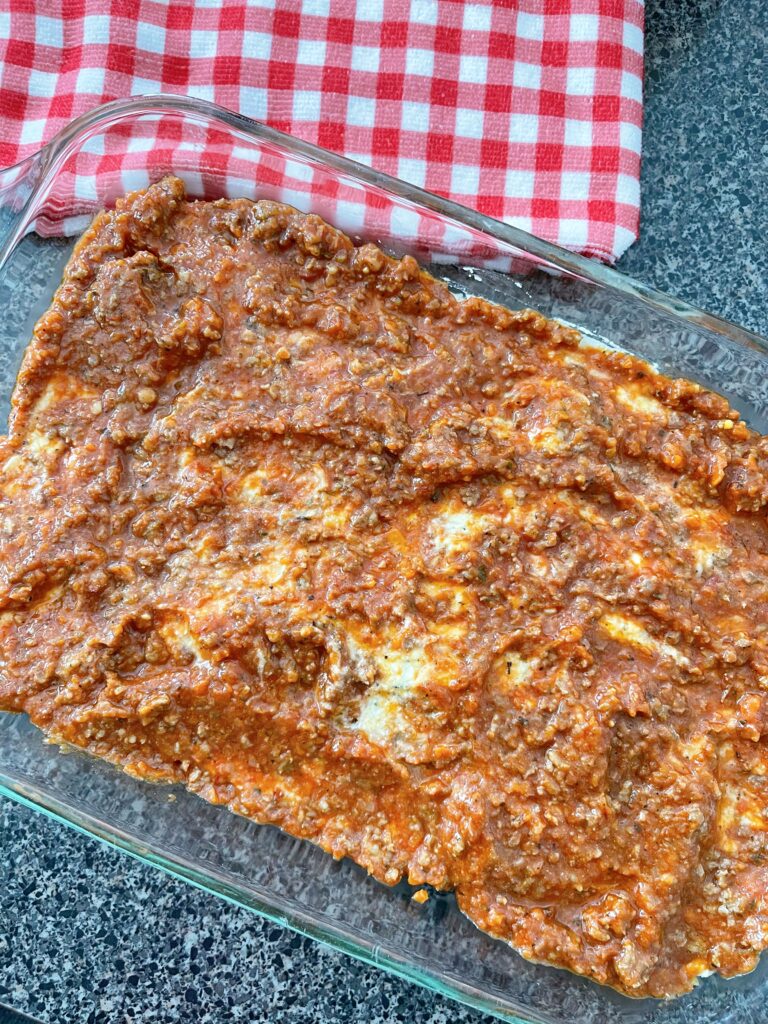 [5] Add a second layer of lasagna noodles, followed by the other half of the cheese mixture and another cup of sauce.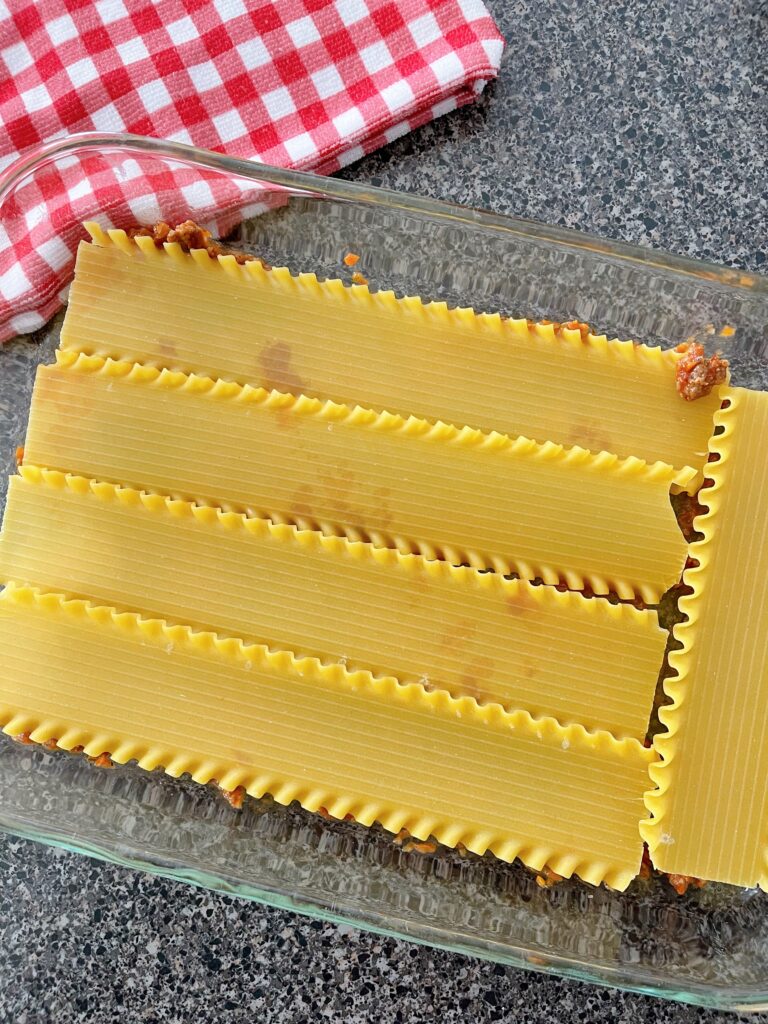 [6] Top with a third layer of lasagna noodles, the remaining sauce and sprinkle with 2 cups of mozzarella and 1/2 cup of parmesan.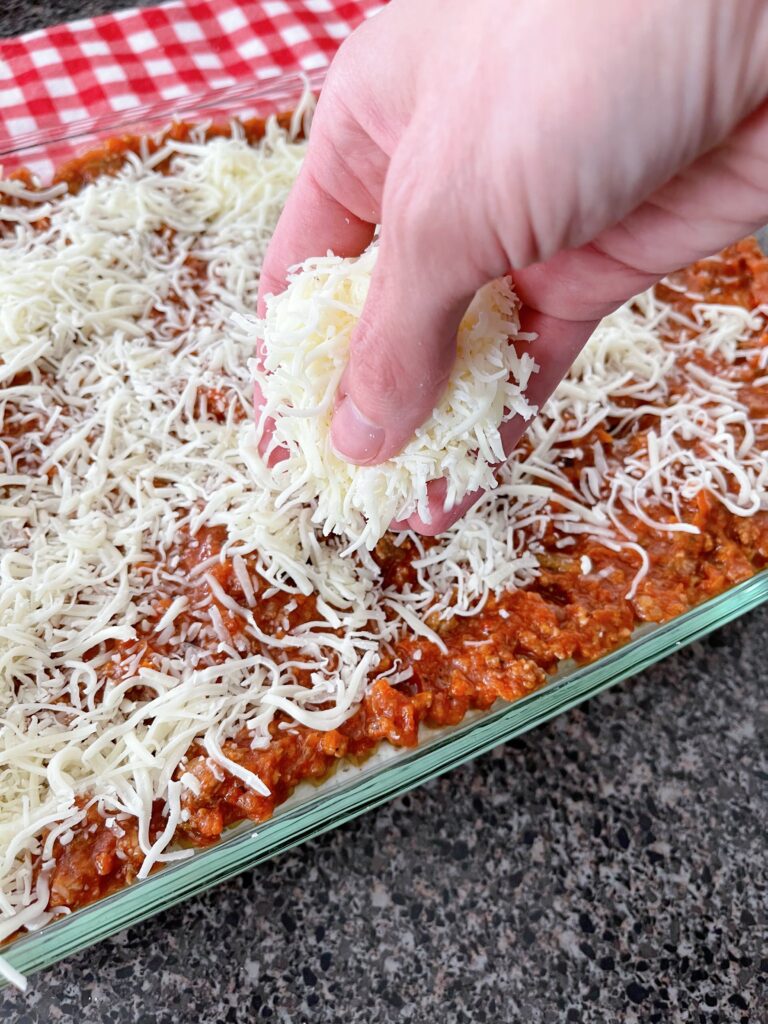 [7] Cover with foil sprayed with cooking spray and bake for 50 minutes.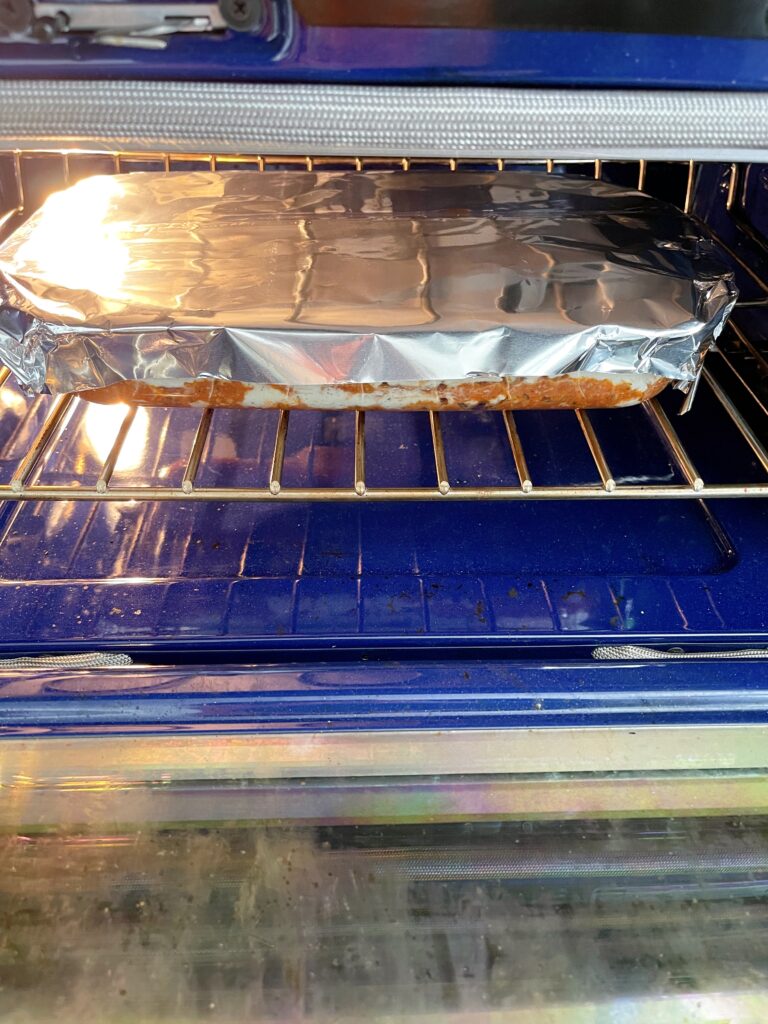 [8] Allow the lasagna to rest for 15 minutes before cutting and serving.
Helpful Kitchen Tools
What to Serve with Lasagna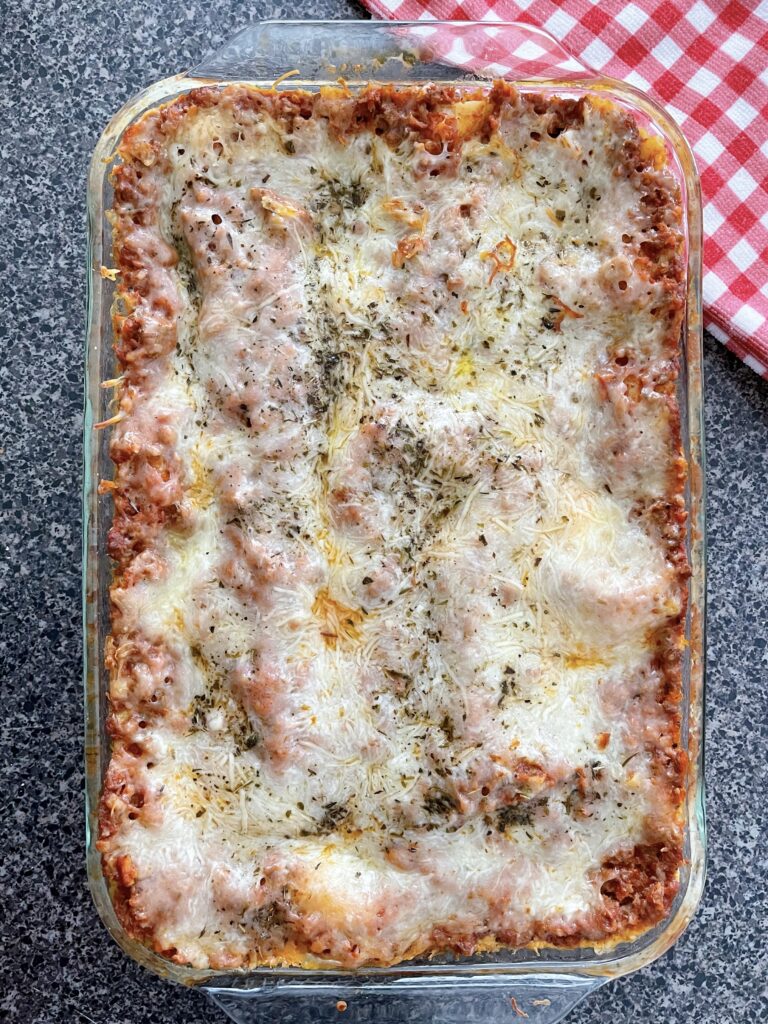 Make Ahead Instructions
This lasagna can be assembled ahead of time and refrigerated for up to 24 hours.
When you're ready to bake it, allow the lasagna to come to room temperature then bake as directed.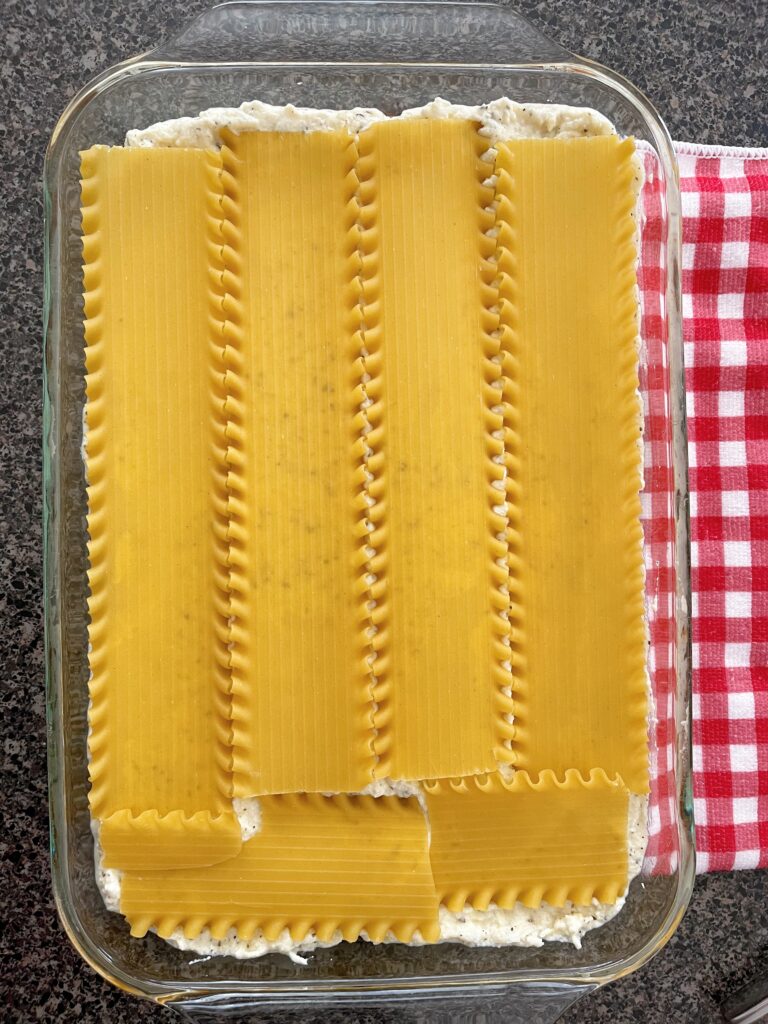 How To Freeze Lasagna
To freeze this lasagna, assemble it as directed then cover tightly with foil. Place in the freezer for up to 3 months.
To bake, allow the lasagna to thaw overnight in the refrigerator then bake as directed.
You may need to add a few minutes to the baking time if the lasagna is still cold in the center.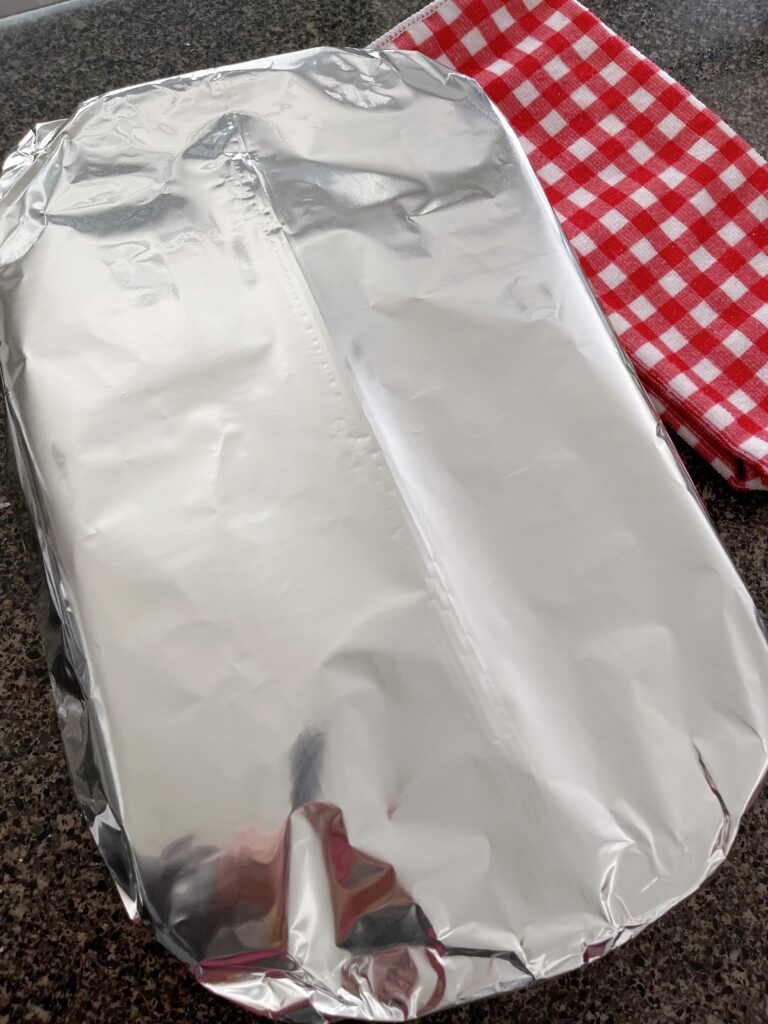 How to Store and Reheat Lasagna
Store leftover lasagna in an airtight container in the refrigerator for up to 5 days.
To reheat, place a single serving of lasagna on a plate and microwave for 2-3 minutes or until heated through.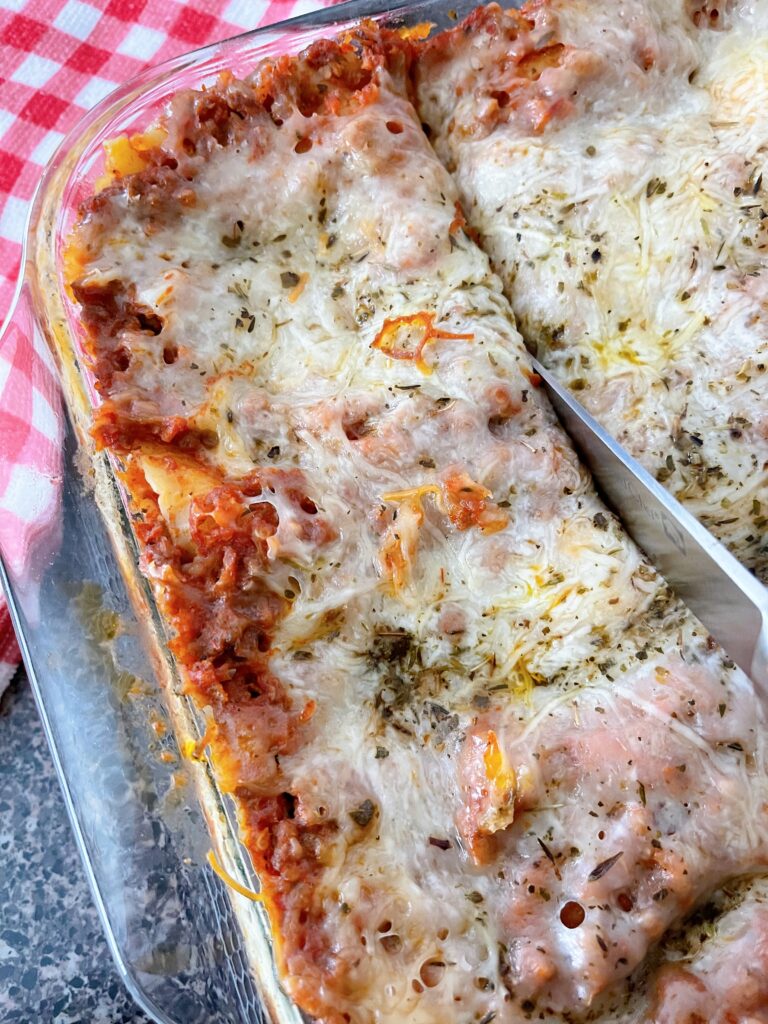 You can also reheat lasagna in the oven. Preheat the oven to 350 degrees then place the lasagna on a baking sheet and bake for 10-15 minutes or until heated through.
If you have a large amount of lasagna to reheat, you can place the entire pan in the oven and bake at 350 degrees for 30-45 minutes or until heated through.