Looking for a quick and easy spaghetti bolognese recipe? This easy spaghetti bolognese is perfect for a busy weeknight meal. Made with ground beef, sausage, crushed tomatoes, and a simple sauce, this bologna spaghetti is a family favorite. Plus, it only takes about 30 minutes to make!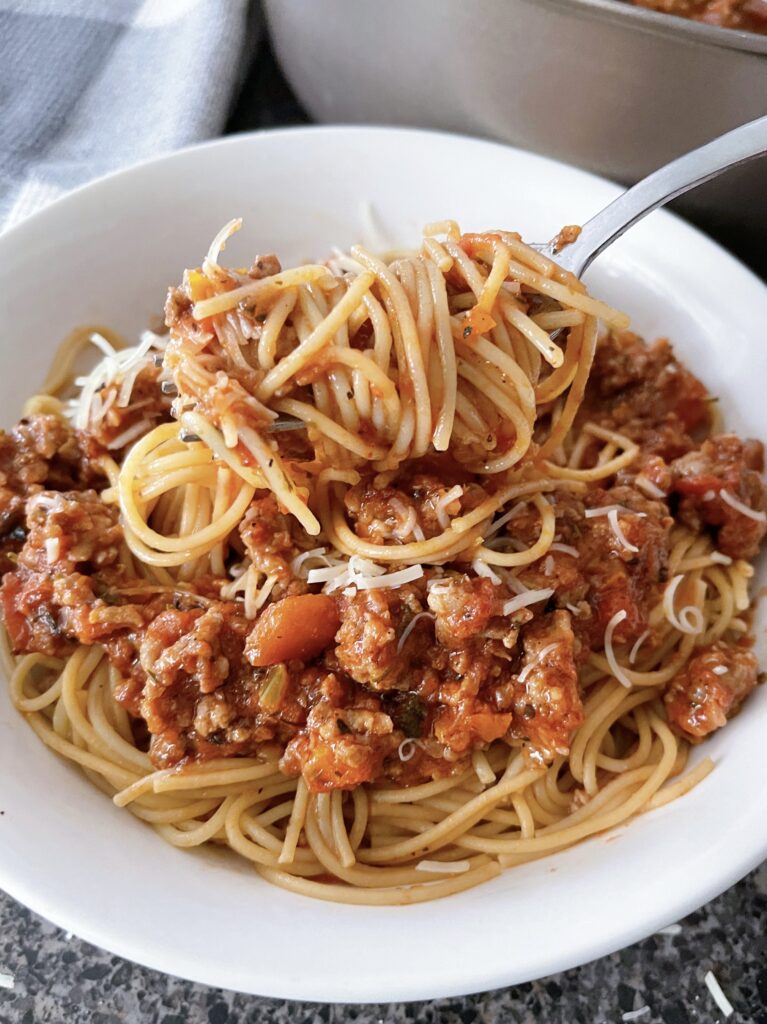 This post may contain affiliate links. When you click on these links, I get a small percentage back at no cost to you! For more information see my disclosure policy.
Below you will find tips, tricks and helpful hints for making this recipe including step by step instructions with pictures. If you would like to go directly to the recipe, scroll down to the recipe card or tap "Jump to Recipe" at the top of the page.
Why This Recipe is Amazing
Spaghetti Bolognese is a popular dish in my family. I have made spaghetti Bologna recipes in the past that take hours to make because they have to simmer on the stove.
I don't always have a ton of time to spend making dinner for my family and have been trying to create a recipe for Spaghetti Bolognese that can be on the table in as little time as possible and this Easy Spaghetti Bolognese recipe is the perfect solution!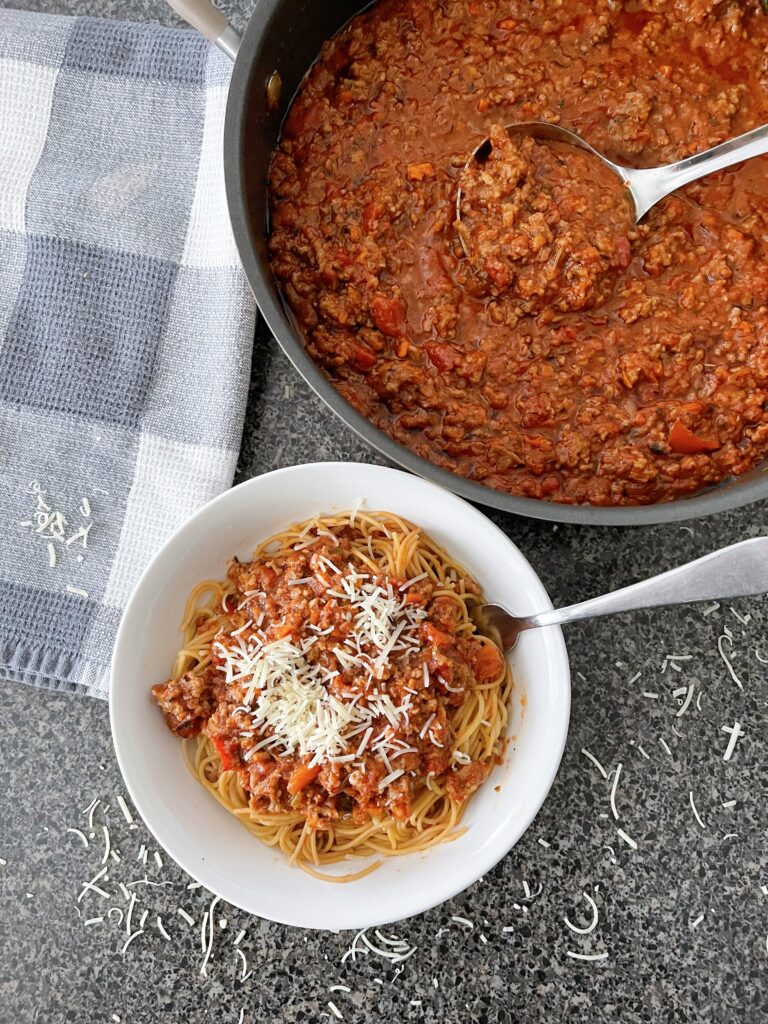 With only 30 minutes of cook time, this recipe is fast and easy. Plus, it's made with simple ingredients that you probably already have in your pantry. I like to double this recipe and use the extra sauce in my Lasagna recipe!
What is Bolognese?
Bolognese is a thick Italian meat sauce that is typically made with ground beef, pork, tomatoes, milk, and a variety of herbs and spices.
This Easy Spaghetti Bolognese recipe takes a shortcut by using canned crushed tomatoes and tomato sauce. This helps to speed up the cooking time without sacrificing flavor.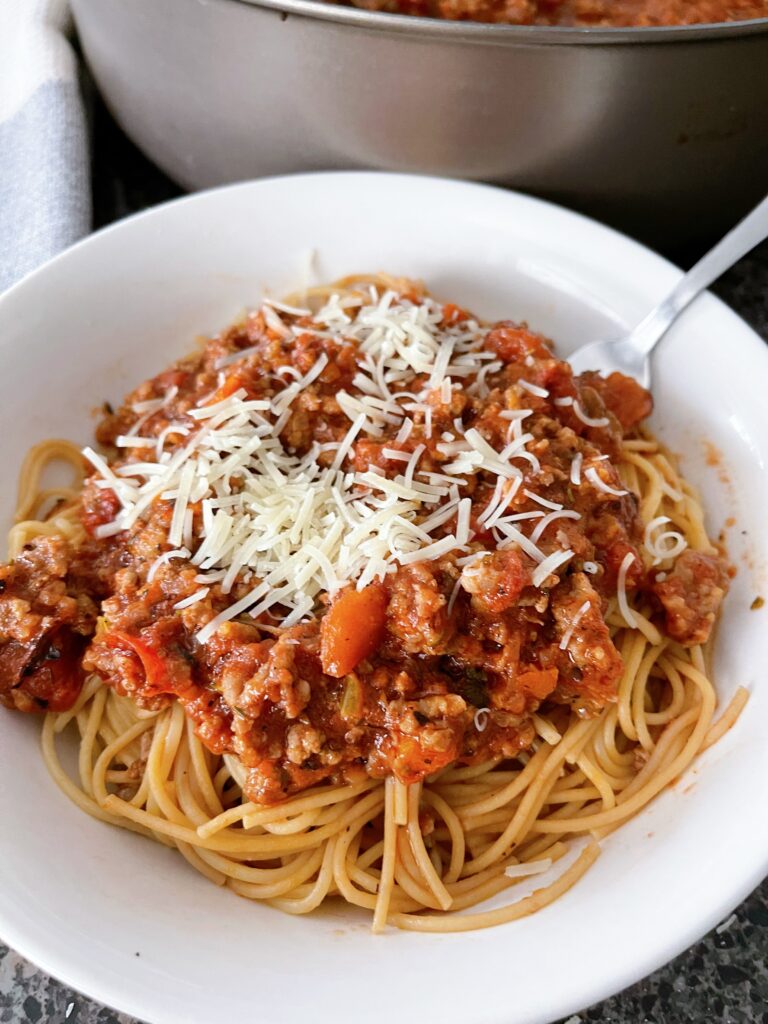 What Spices Can Be Added to Bolognese Sauce?
This recipe for Bolognese spaghetti includes many of the same spices that are used in my classic spaghetti sauce. I have simplified this recipe for quickness by using Italian Seasoning as it includes many of the same spices as well as other traditional Italian herbs.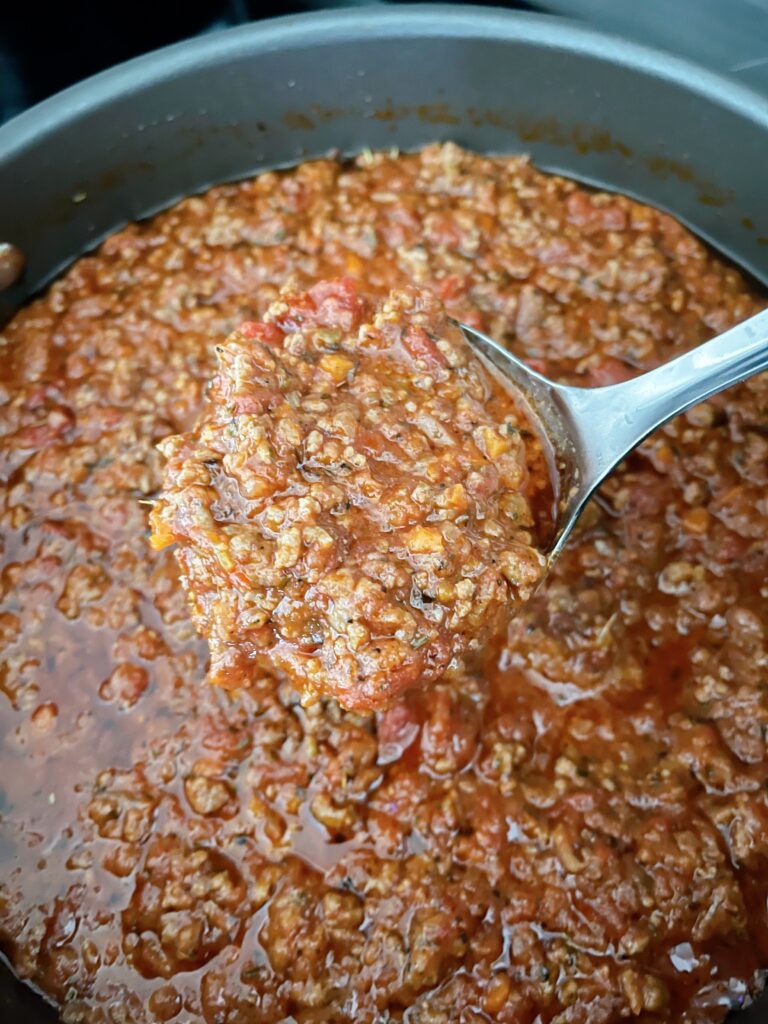 What to Serve with Spaghetti Bolognese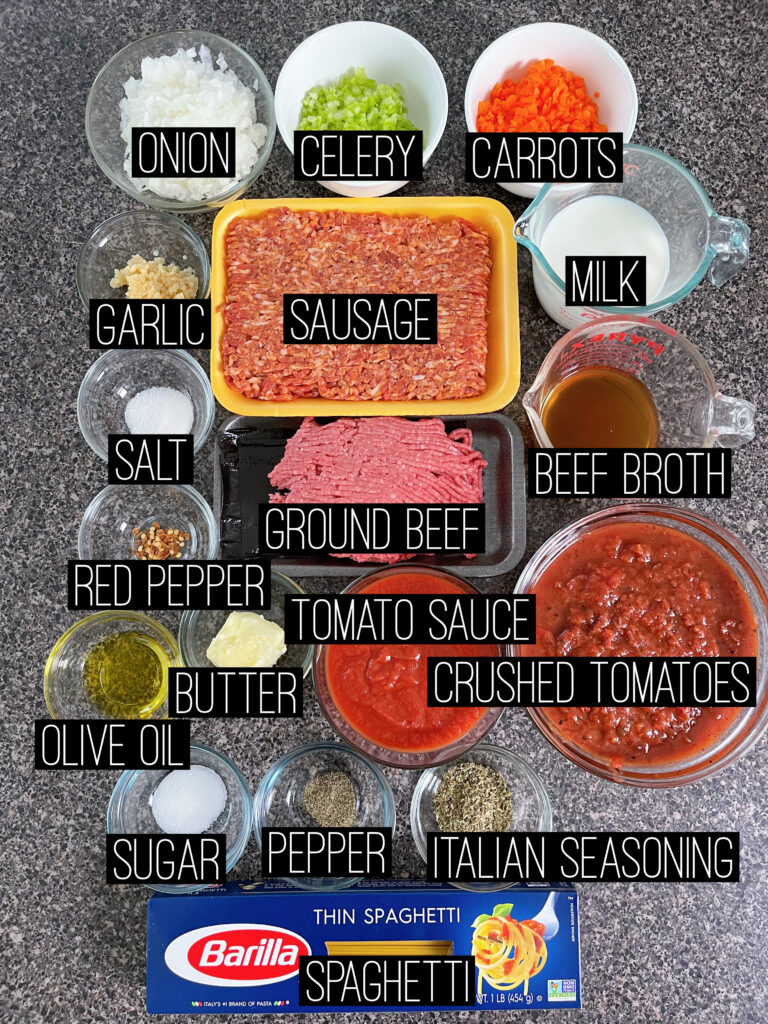 Ingredients
*Ingredient amounts are located in the recipe card at the end of this post.
Butter and Olive Oil- Both are used in this recipe to help sauté the onions, celery, and carrots.
Ground Beef and Ground Italian Pork Sausage- Both of these meats are the anchor of this spaghetti sauce and taste amazing in the finished product. I use 80/20 ground beef and hot Italian sausage for a spicy kick.
Chopped Onion, Celery, and Carrots- All three vegetables add flavor to this Bolognese sauce. I used a food processor to speed up the process of chopping these vegetables.
Minced Garlic- Minced garlic is a classic ingredient in many Italian recipes.
Italian Seasoning- Combines many herbs together including rosemary, oregano, basil, sage, and thyme all in one convenient bottle.
Salt and Pepper- Two seasonings that make just about everything taste better!
Red Pepper Flakes- To add a little kick to the sauce.
Milk- I used 2% Milk in this sauce recipe.
Crushed Tomatoes- My favorite type of crushed tomatoes is Fire Roasted.
Tomato Sauce and Tomato Paste- These are added to the sauce for tomato flavor and thickness.
Beef Broth- Using beef broth enhances the flavors of the meat in the pasta sauce.
Sugar-Just a little bit of sugar is needed to reduce the acidity of the canned tomatoes.
Spaghetti Noodles- One box of Spaghetti noodles is the perfect amount of pasta for this Bolognese Sauce.
Helpful Kitchen Tools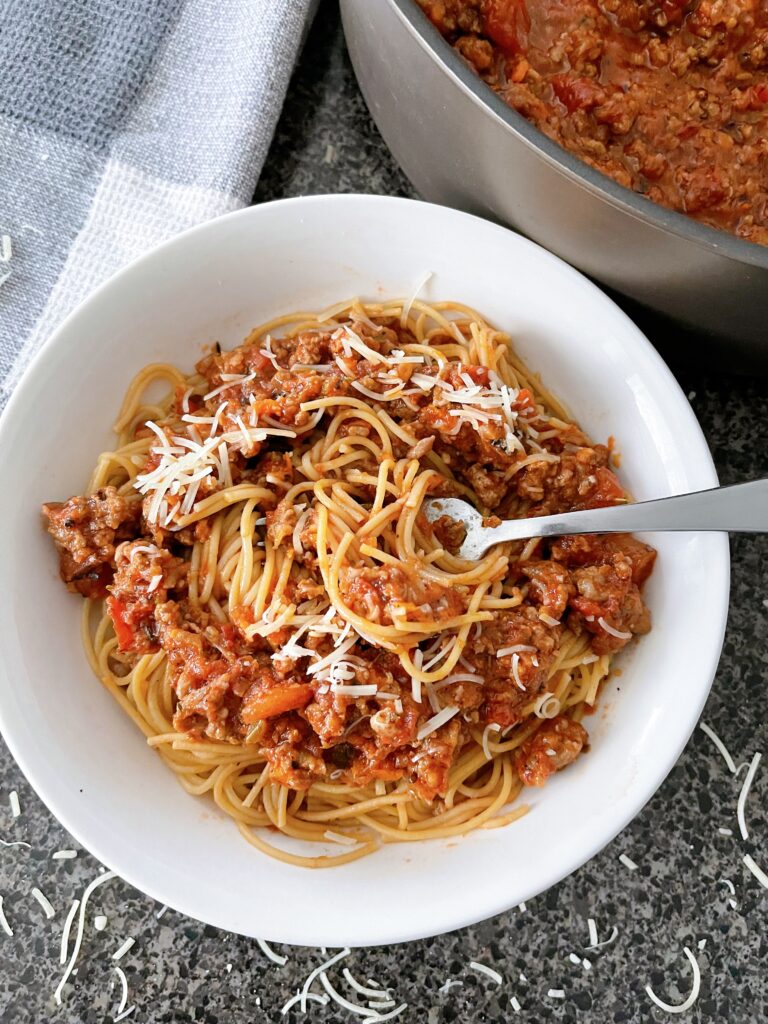 Step-By-Step Instructions
[1] Add the butter and olive oil to a large saucepan and melt over medium-high heat.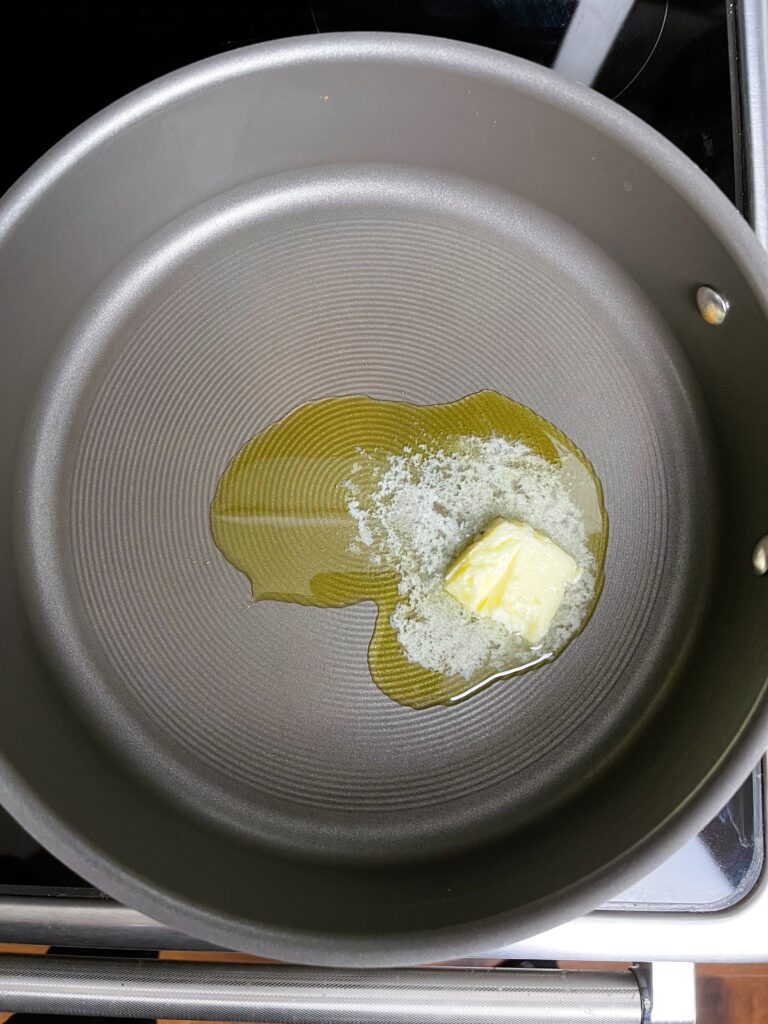 [2] Place the chopped onions, celery, and carrots. Sauté for 2 minutes.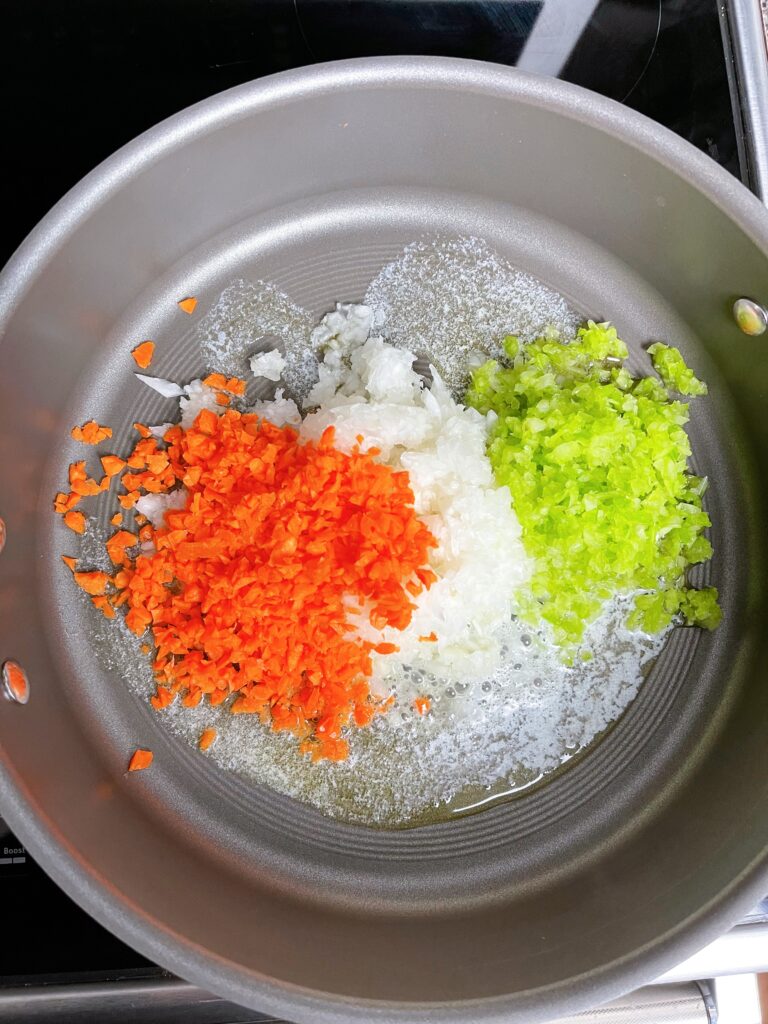 [3] Add the minced garlic, ground beef, and Italian sausage to the vegetables and cook until the meat is no longer pink, about 5 minutes.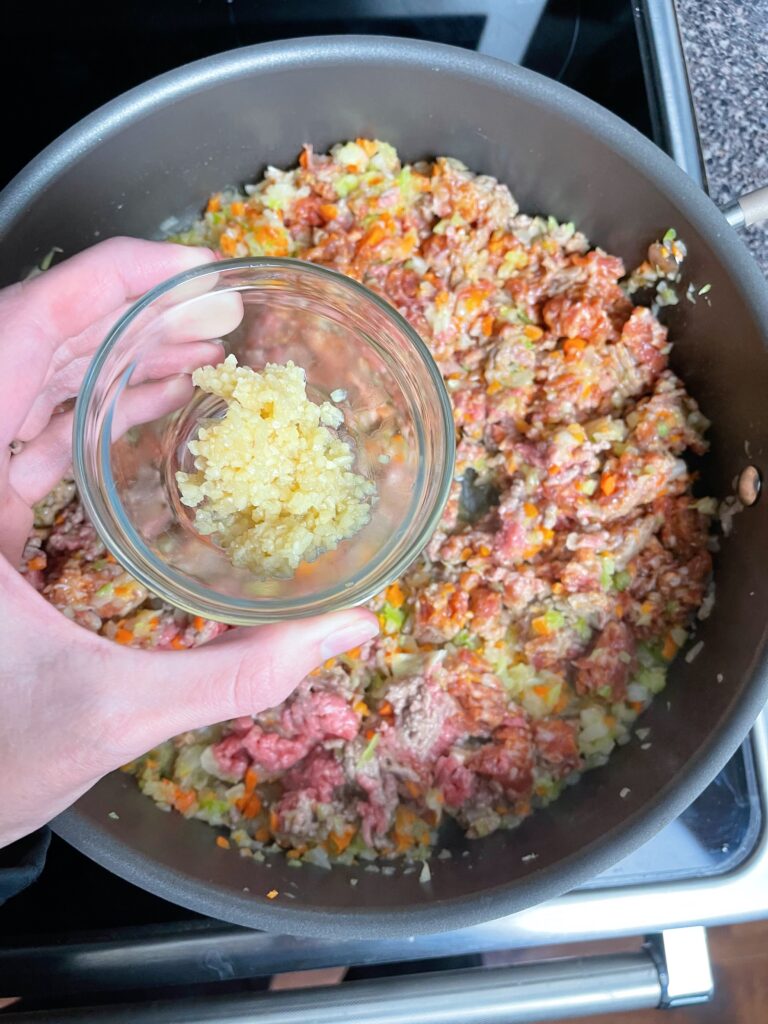 [4] Add the salt, pepper, Italian seasoning, and red pepper flakes to the meat and stir to combine.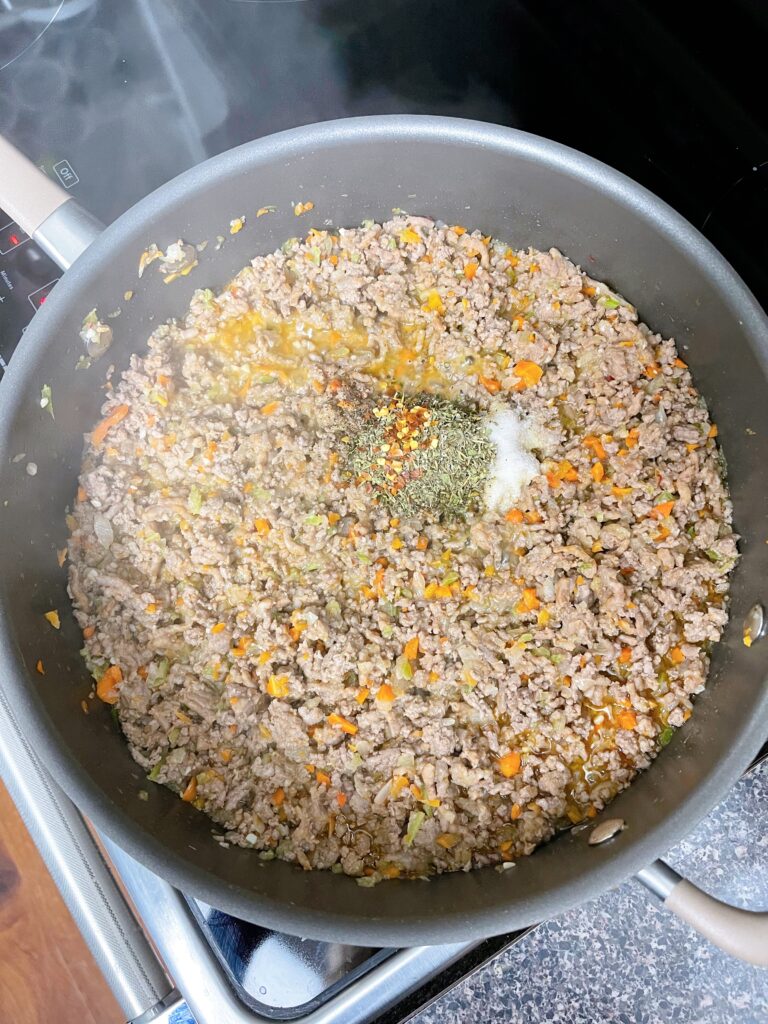 [5] Then stir in the milk and allow the mixture to simmer for about 5 minutes.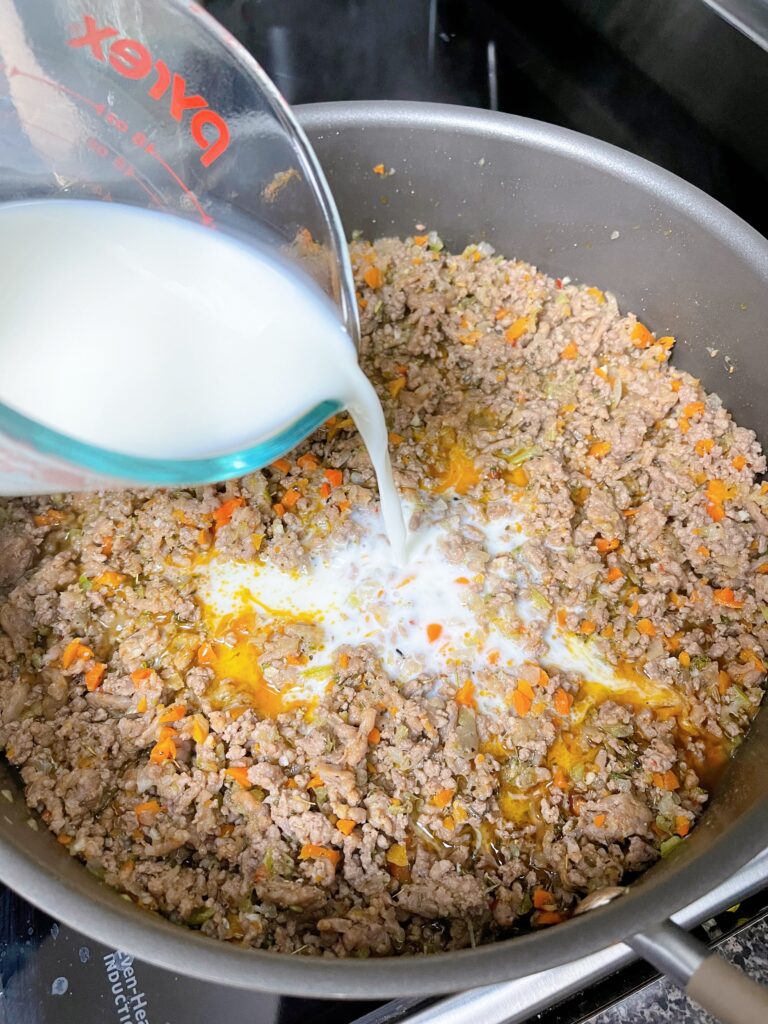 [6] Add the crushed tomatoes, tomato sauce, tomato paste, and beef broth. Bring the mixture to a boil, then lower the heat and simmer for 15 minutes.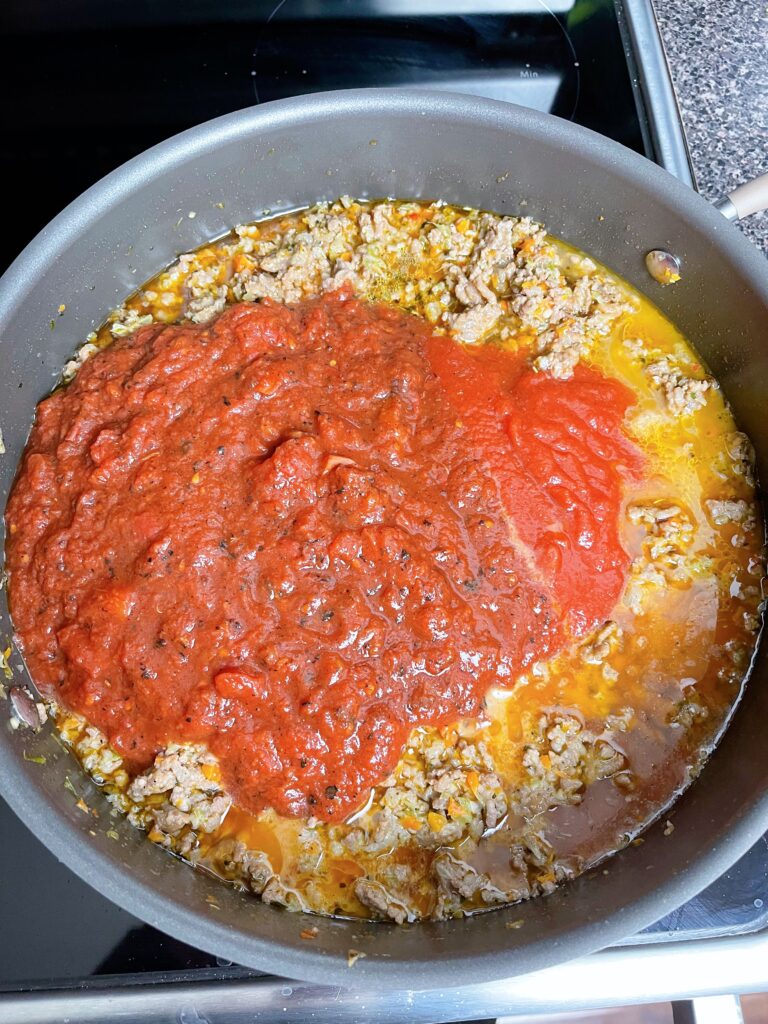 [7] While the Bolognese sauce is simmering, prepare the spaghetti noodles according to the package directions.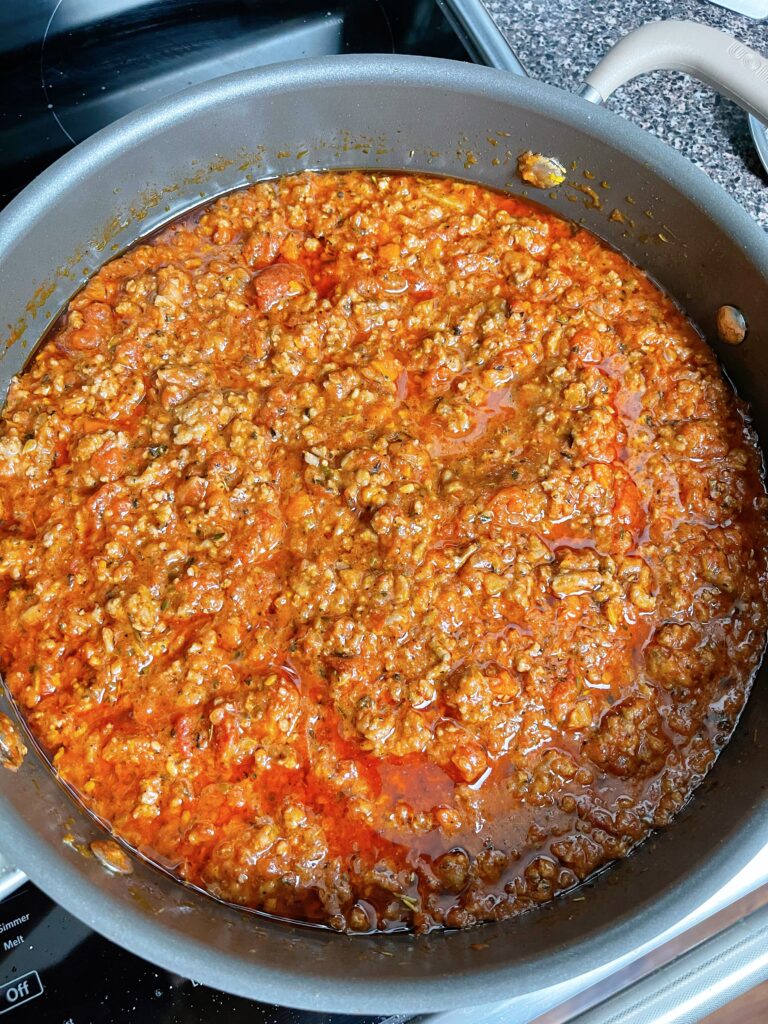 [8] Serve! I like to mix some of the sauce with the spaghetti to keep the noodles from drying out, then serve more sauce on top.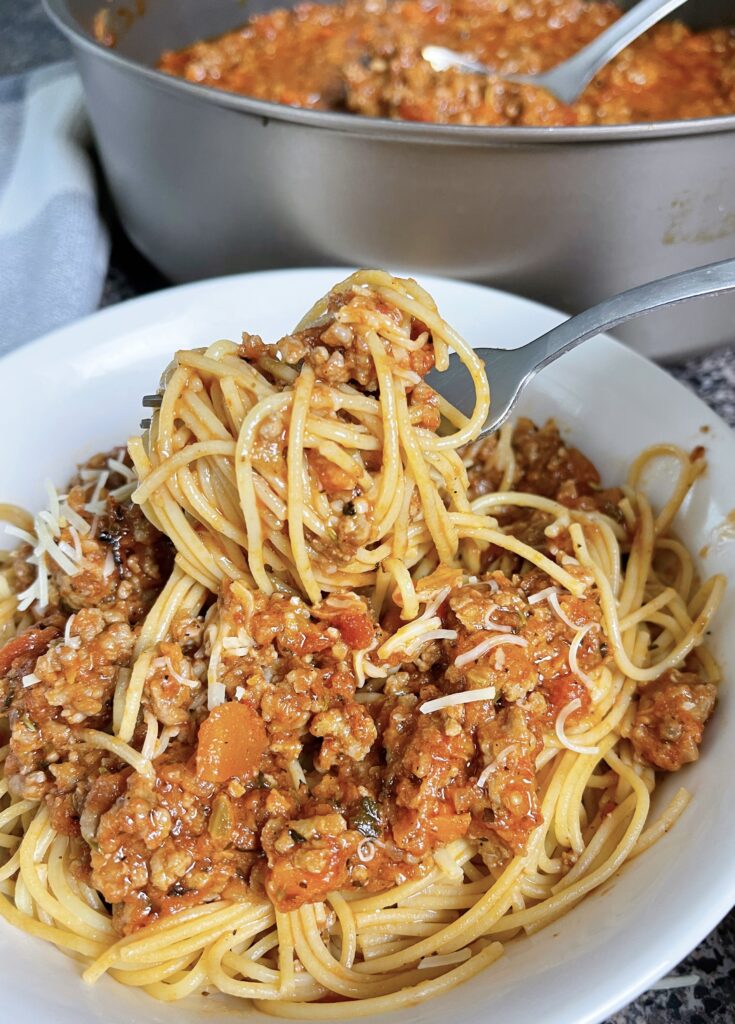 More Pasta Recipes: