Looking for a simple and delicious dessert? Look no further than this easy apple crisp recipe! With just three ingredients – apple pie filling, melted butter, and a cake mix – you can whip up a cozy and comforting treat in no time. The sweet and tart apple pie filling provides a luscious base, while the melted butter adds a rich and buttery flavor. And the cake mix forms a crispy and golden topping that will have everyone asking for seconds. It's a no-fuss classic fall dessert that delivers maximum taste with minimal effort. Perfect for satisfying your sweet tooth on a chilly autumn evening!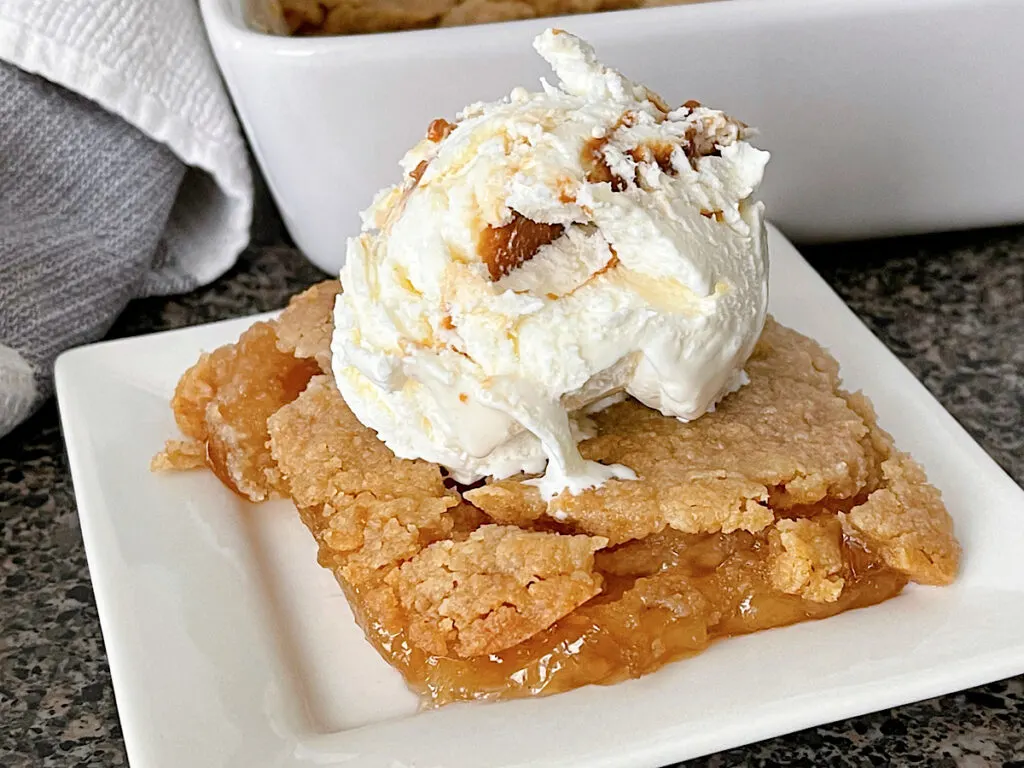 This post may contain affiliate links. When you click on these links, I get a small percentage back at no cost to you! For more information see my disclosure policy.
Below you will find tips, tricks and helpful hints for making this recipe including step by step instructions with pictures. If you would like to go directly to the recipe, scroll down to the recipe card or tap "Jump to Recipe" at the top of the page.
Why This is the Best Apple Crisp Recipe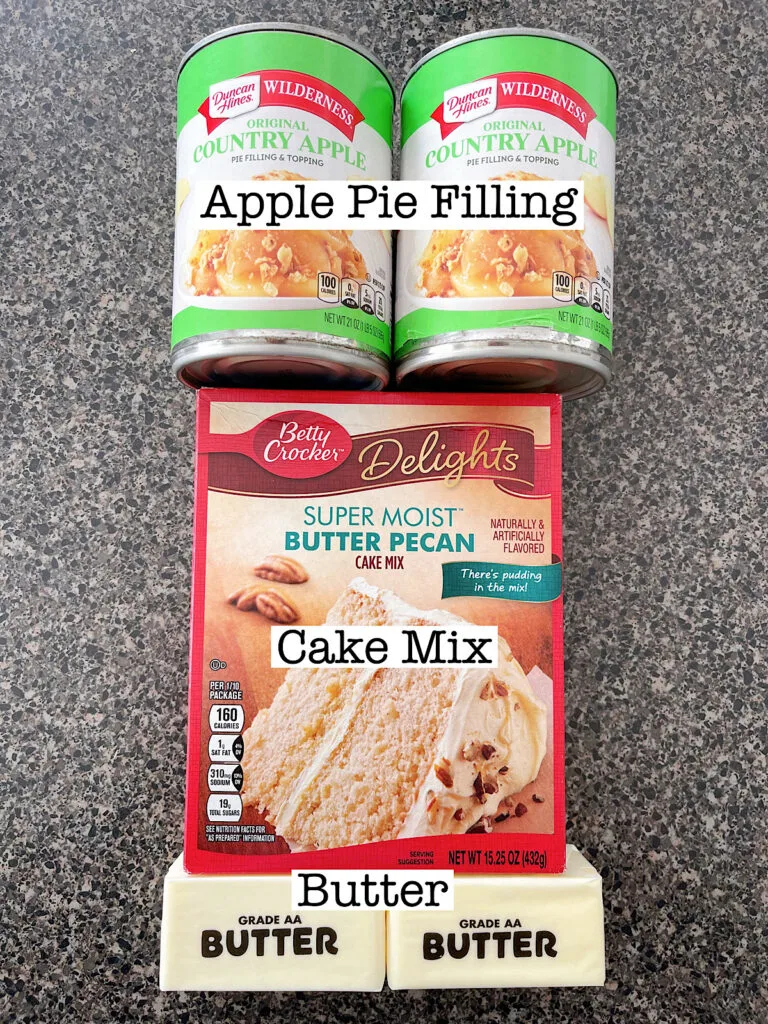 Easy Apple Crisp Ingredients
*Ingredient amounts are located in the recipe card at the end of this post.
Apple Pie Filling: To make a 9×13 size dessert, you will need to use two cans (21 ounces each) of your favorite brand of canned apple pie filling. I used Duncan Hines, but any brand will work. You can even used reduced sugar pie filling to cut down on calories and sugar.
Butter: You will need one cup (2 sticks) of melted butter for this recipe. I recommend using unsalted butter to control the saltiness of the final product.
Cake Mix: For this apple crisp topping, you can use any flavor of cake mix that you prefer. I have used yellow or white cake mix, for a classic and simple taste, but you can experiment with different flavors like spice or butter pecan to enhance the flavor.
How to Make Cake Mix Apple Crisp Dessert
[Step 1] Spray a 9×13 baking dish with cooking spray and spread the cans of apple pie filling evenly across the bottom.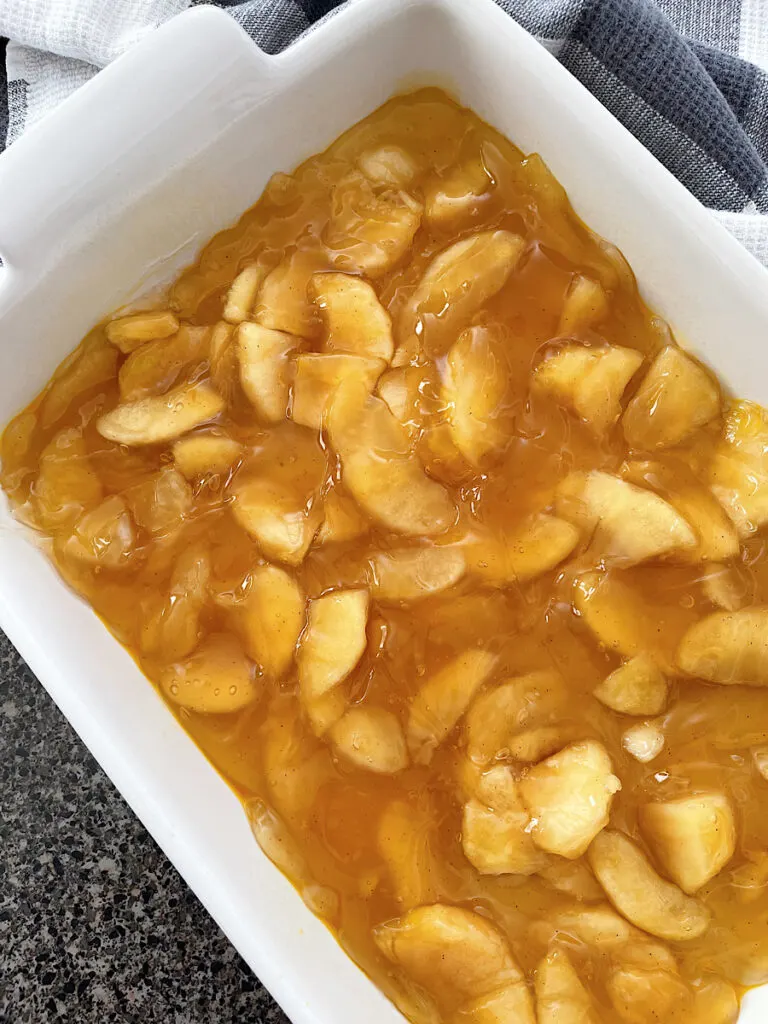 [Step 2] In a large bowl, stir together the melted butter and the cake mix.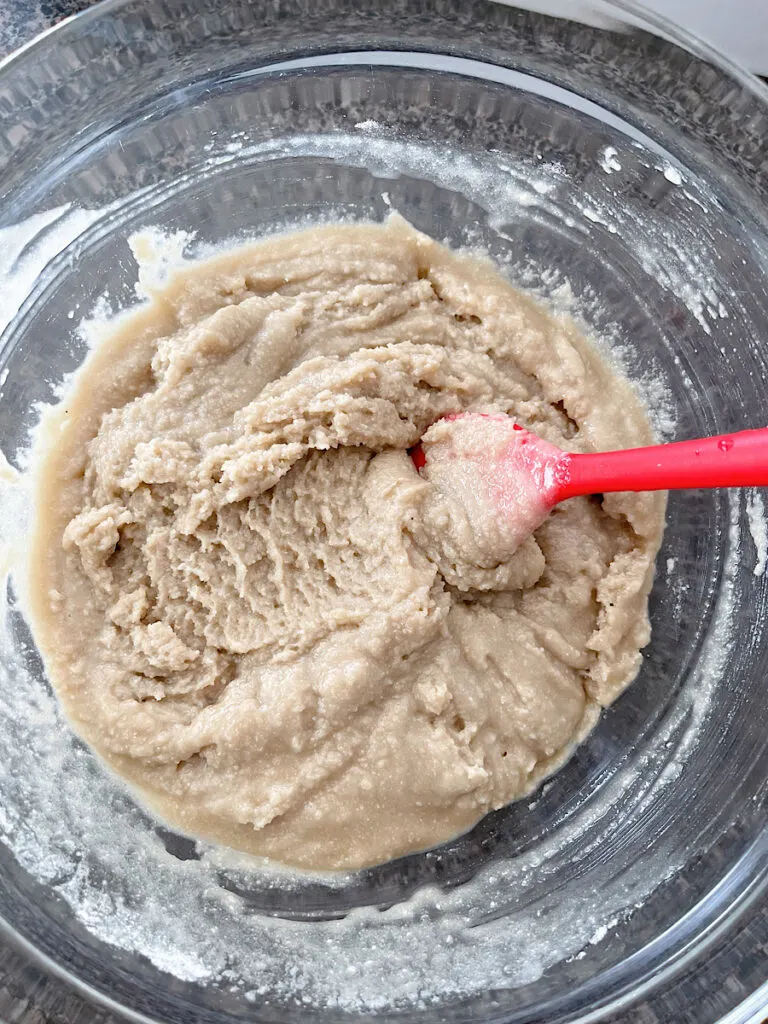 [Step 3] Crumble topping mixture over the top of the pie filling (using a spoon or clean hands) and bake at 350 degrees for 40-45 minutes until the topping begins to turn golden brown.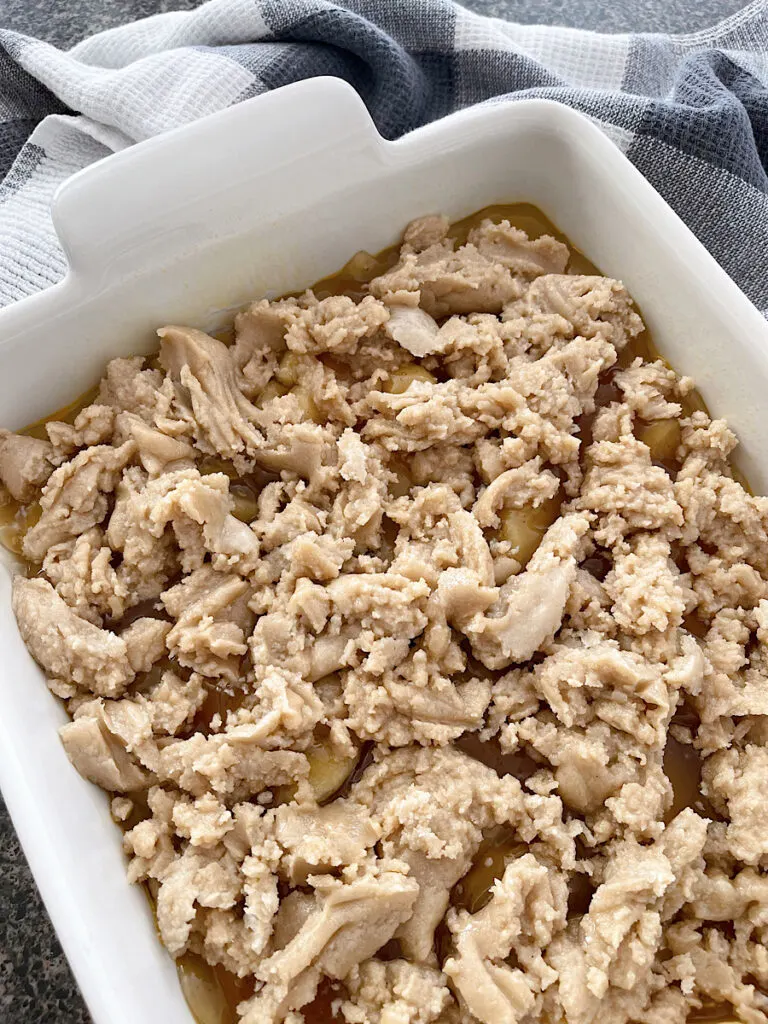 [Step 4] Remove from the oven and allow the cobbler to rest for 10 minutes before serving with a big scoop of vanilla ice cream or a dollop of whipped cream.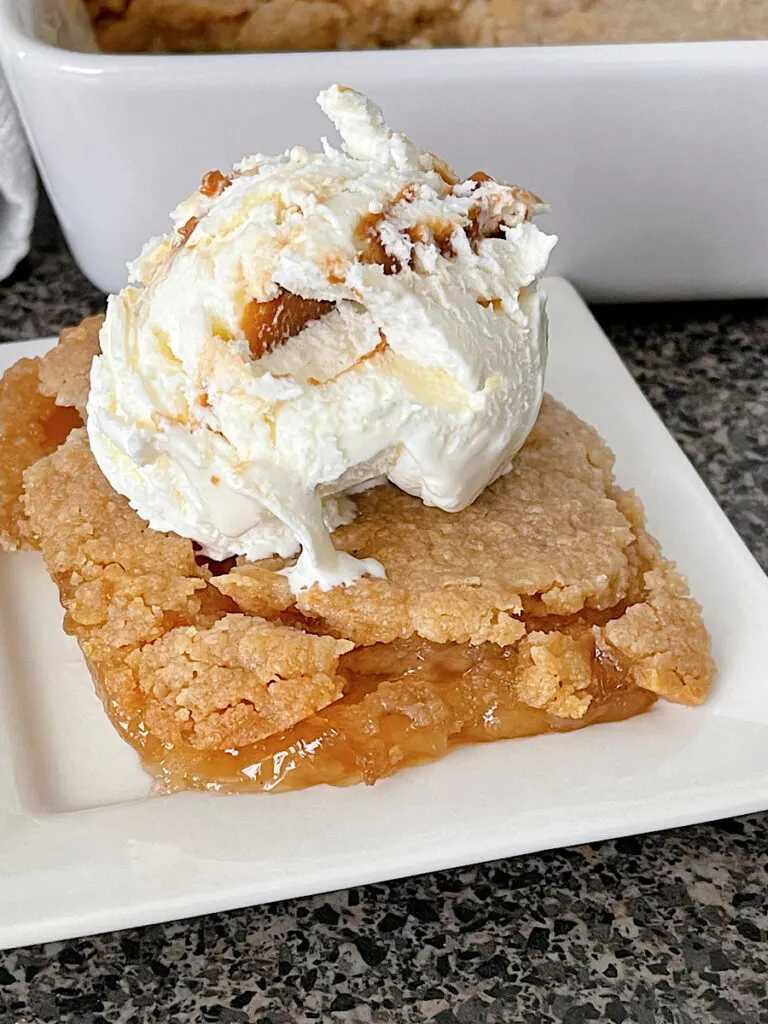 Helpful Kitchen Tools
How to Store Leftovers
If you have any leftovers (which is highly unlikely!) of this delicious apple crisp, you can store them in an airtight container, or covered with plastic wrap or aluminum foil, in the refrigerator for up to 3 days. You can also freeze the apple crisp before baking for an easy make-ahead dessert option. Just thaw and bake when ready to serve.
Apple Cobbler Recipe Variations
Love easy recipes like this apple crisp? Try this 3 Ingredient Pineapple Dump Cake!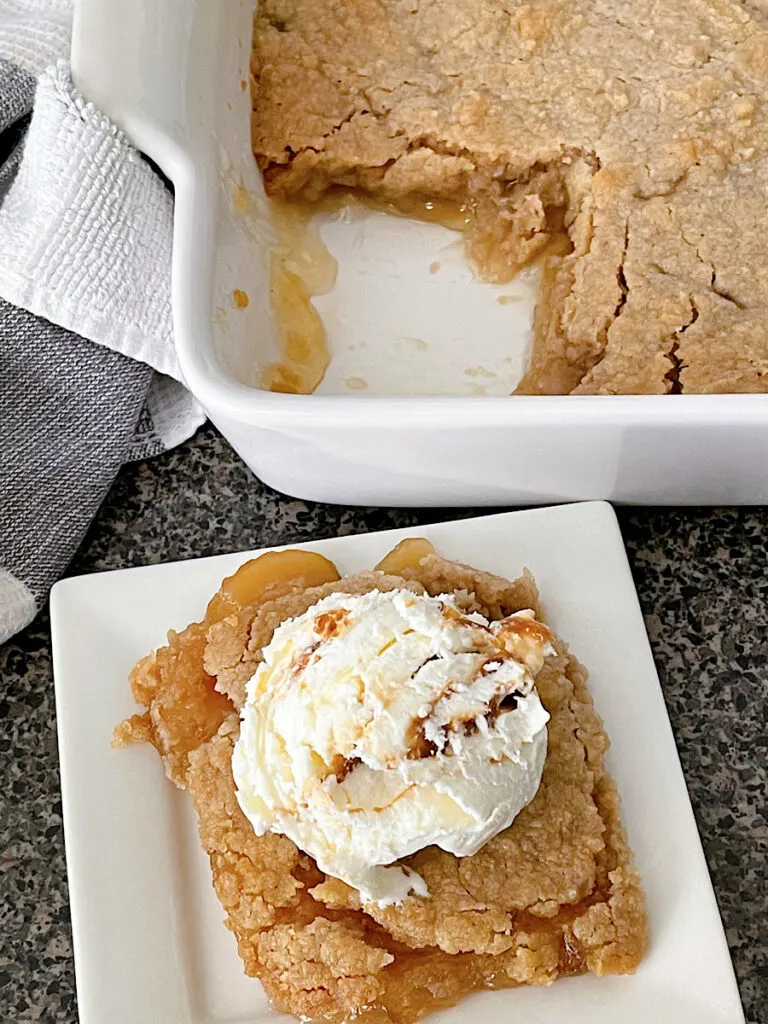 Frequently Asked Questions
Can I use fresh apples instead of canned pie filling?
Yes, you can use fresh apples if you prefer. Simply slice them and toss them in a mixture of sugar, cinnamon, and cornstarch before using as the base for your apple crisp.
Can I make this recipe gluten-free?
Yes, you can make this recipe a gluten free apple crisp by using a gluten-free cake mix and ensuring that all other ingredients used are also gluten-free.
Is this recipe vegan?
No, this recipe contains butter which is not suitable for a vegan diet. However, you can substitute the butter with a vegan-friendly alternative, such as coconut oil.
Can I cut this recipe in half?
Yes! An easy way to do this is to use one can of apple pie filling in a 9 inch pie dish, use 1/2 cup of butter, and 1/2 of the cake mix. You will want to keep an eye on it and adjust the bake time if necessary.
Final Thoughts
This simple apple crisp is the perfect dessert for any occasion during the fall season and will quickly become a favorite dessert recipe. Whether you're looking for a quick and easy treat or a delicious twist on a classic dessert, this recipe has got you covered. With its simple ingredients and customizable options, it's sure to become a family favorite in no time. Give it a try today and see for yourself!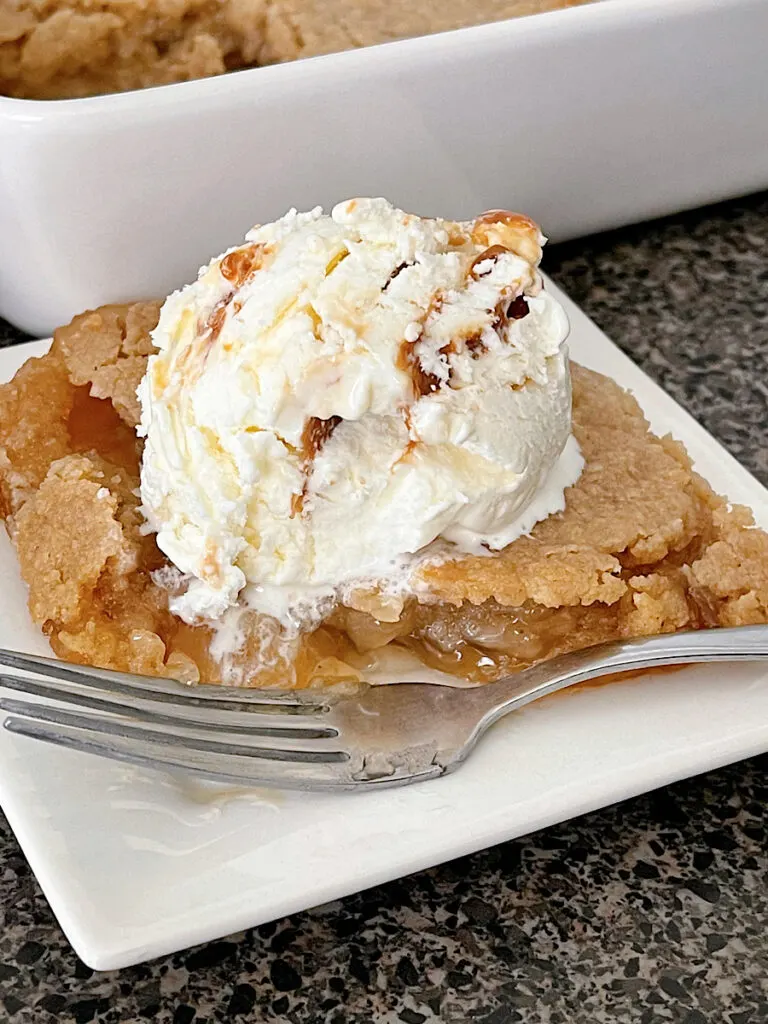 More Apple Dessert Recipes: