This Apple Crumb Pie is a Dutch classic that is perfect for autumn. The flaky crust is filled with sweet apples and topped with a crumbly streusel. It's an award-winning recipe for a reason – it's delicious!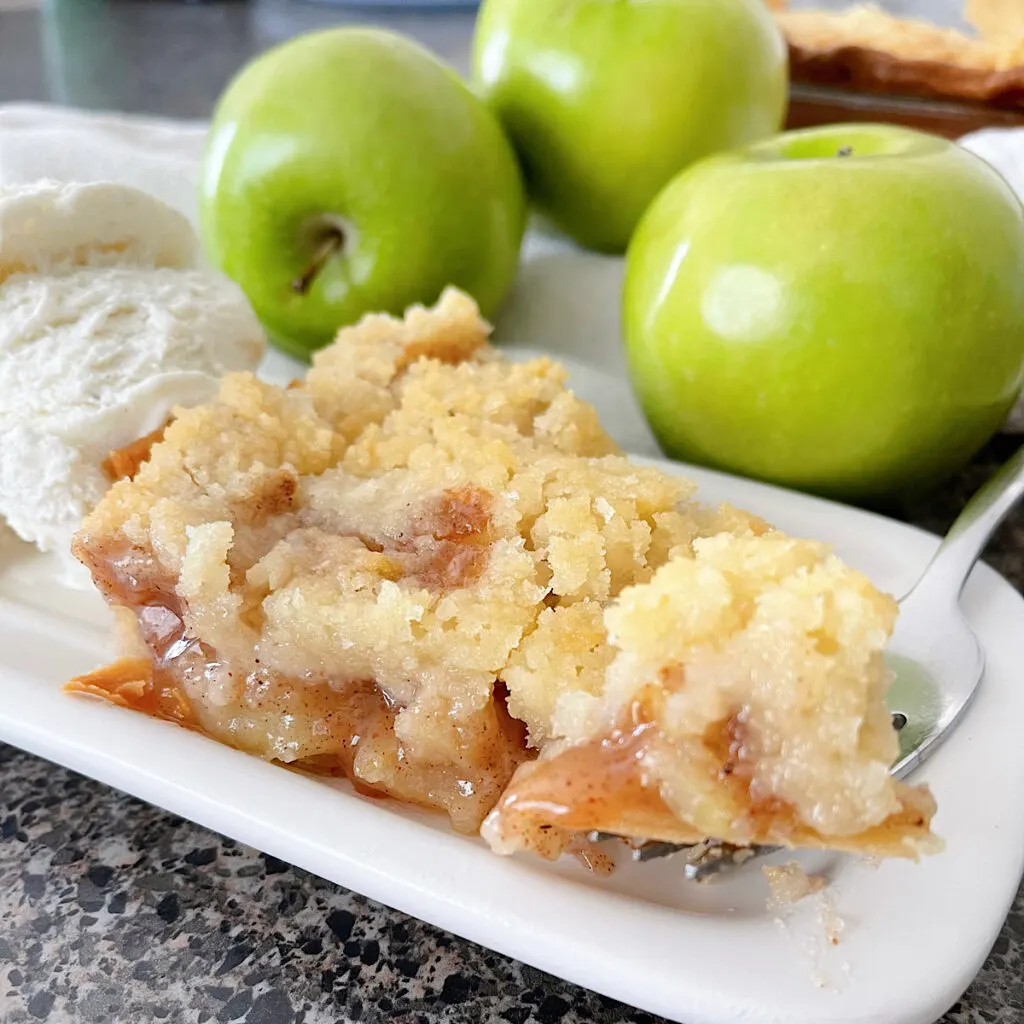 This post may contain affiliate links. When you click on these links, I get a small percentage back at no cost to you! For more information see my disclosure policy.
Below you will find tips, tricks and helpful hints for making this recipe including step by step instructions with pictures. If you would like to go directly to the recipe, scroll down to the recipe card or tap "Jump to Recipe" at the top of the page.
Why You'll Love this Recipe
Whenever a cooking competition presents itself to me, I get really competitive and make it a point to win.
I have won chili competitions, soup competitions, cupcake competitions, and cookie competitions.
So when I found out about our neighborhood pie contest, I knew that I wanted to enter my classic Dutch apple pie.
This recipe is easy to make and will give you delicious results. One bite, and you will understand why it is an award-winning apple pie!
What is a Dutch Apple Pie?
A Dutch apple pie is a type of pie that has a streusel topping. The streusel is made of flour, sugar, and butter and it is crumbly.
The filling is usually made of apples, sugar, cinnamon, nutmeg, and flour.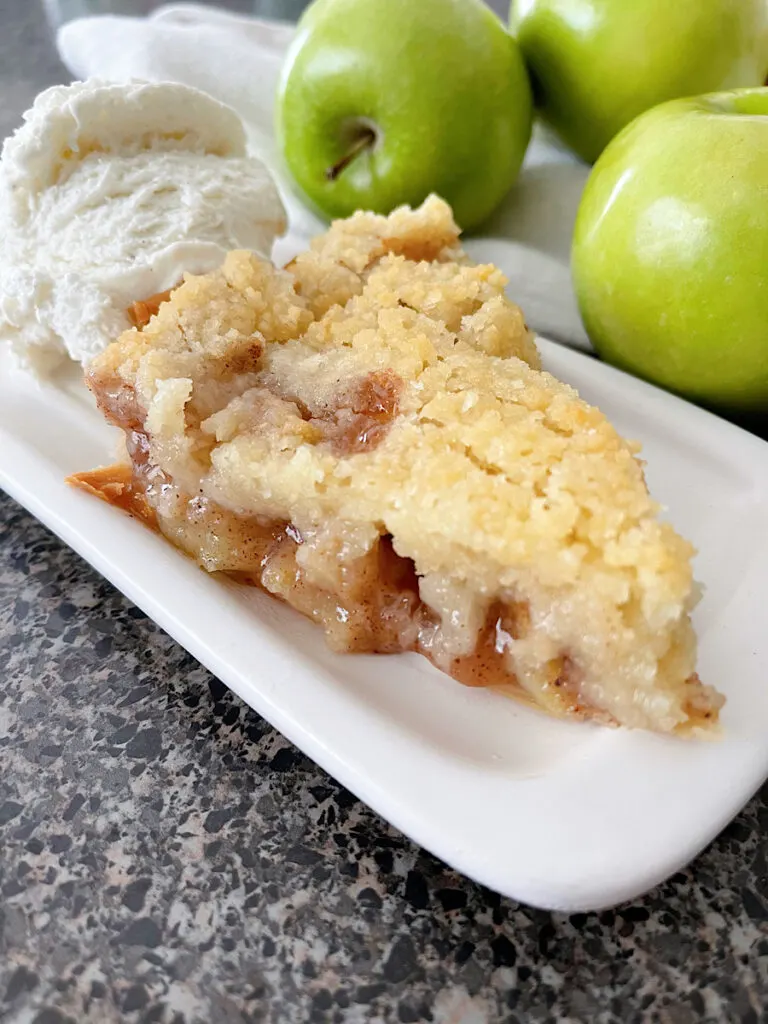 How Many Apples are Needed for this Pie?
For this 9 inch pie, you will need about 6 cups of chopped or sliced apples. This equates to about 6 medium apples.
You may need more or fewer apples depending on their size.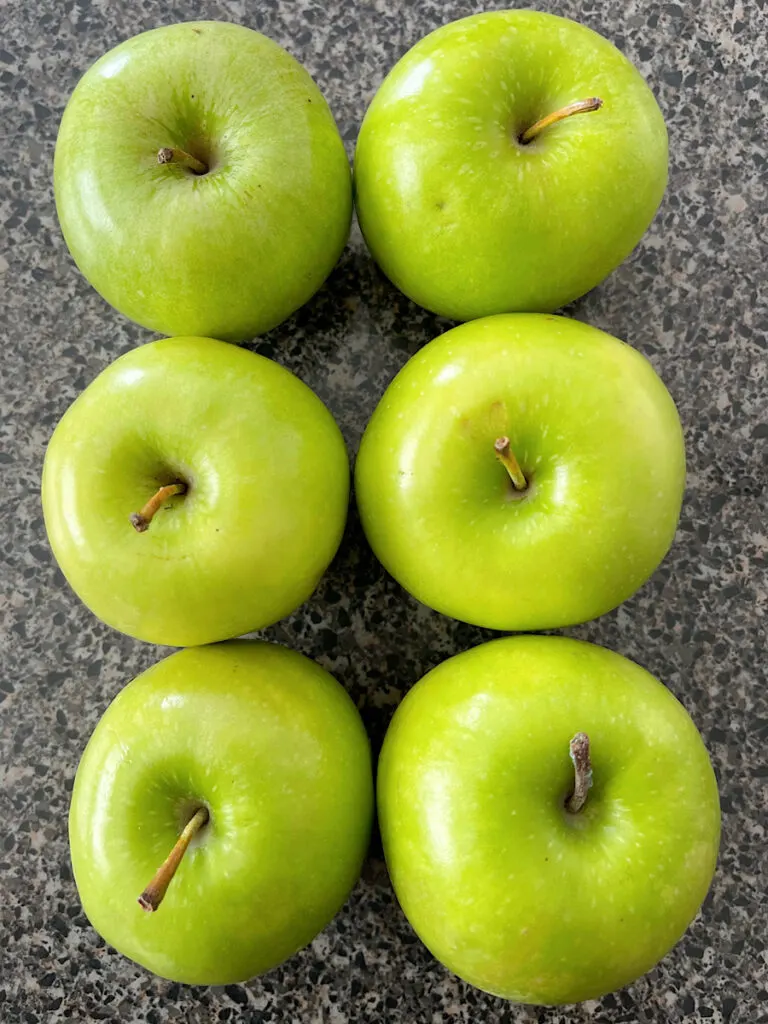 Ingredients for Dutch Apple Pie
*Ingredient amounts are located in the recipe card at the end of this post.
Crust: You can use a store-bought crust or make this delicious flaky homemade pie crust. You will only need one 9 inch pie crust, as a top crust is not used in Dutch apple pie.
Sugar: Granulated white sugar is used to sweeten the apple pie filling as well as the crumb topping. Brown sugar can be substituted in the crumb topping.
All-Purpose Flour: This is used to help thicken the apple pie filling and is used in the crumb topping.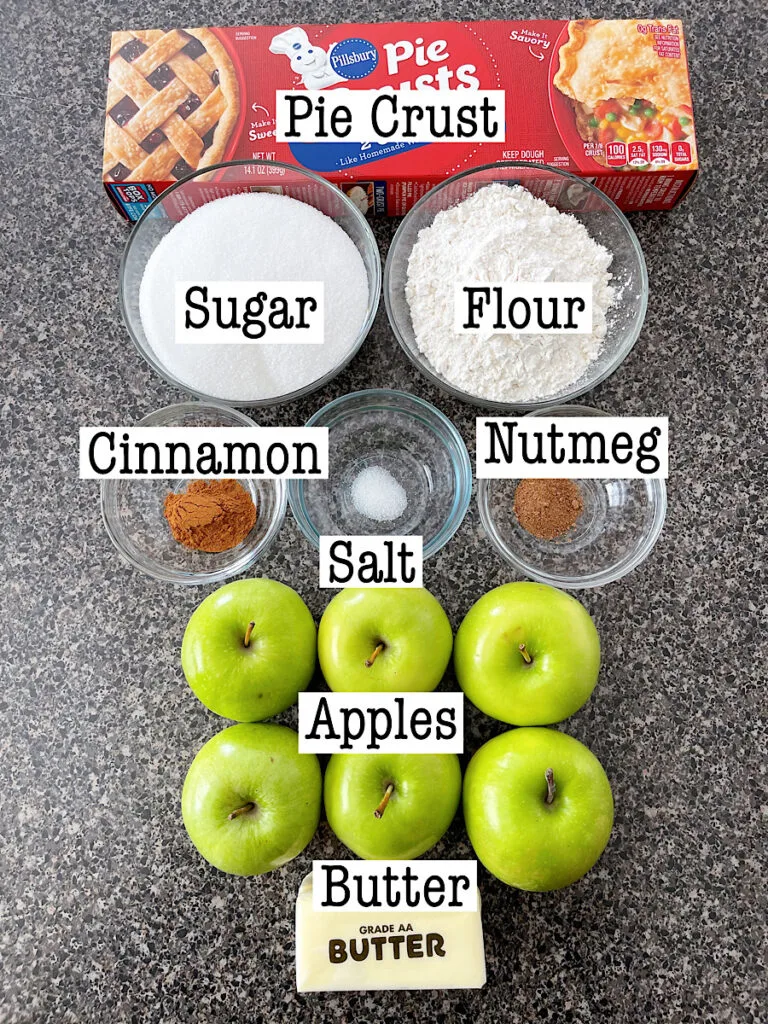 Spices: Cinnamon, Nutmeg, and Salt are used to flavor the apple pie filling.
Apples: You will need 6 cups of apples for this recipe. I like to use a mix of Granny Smith apples and Honeycrisp apples because they are tart and sweet. However, you can use any type of apples that you like. You can toss the apple slices with a little lemon juice to prevent browning.
Butter: Unsalted butter is used in the apple pie filling as well as the crumb topping.
How to Make Dutch Apple Pie:
[Step 1] Lightly grease a 9-inch pie plate with vegetable oil. Place the bottom crust (store-bought or homemade crust) in the pan.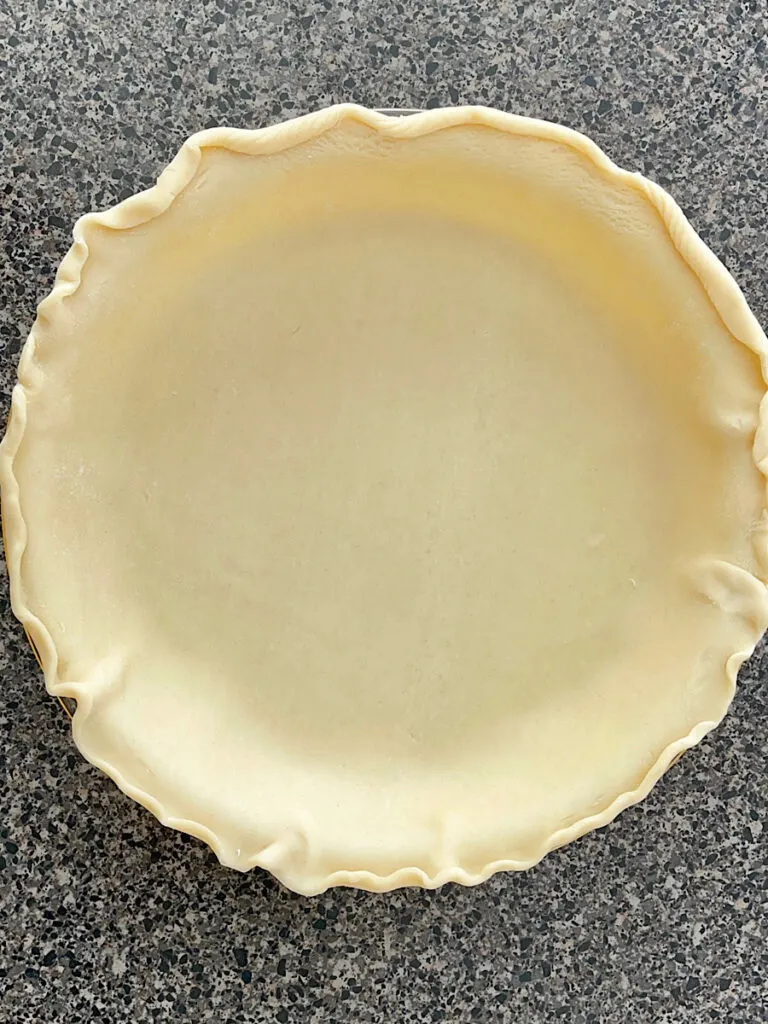 [Step 2] Prepare the apples by peeling and slicing them into bite-size pieces. Place the apples in a large mixing bowl.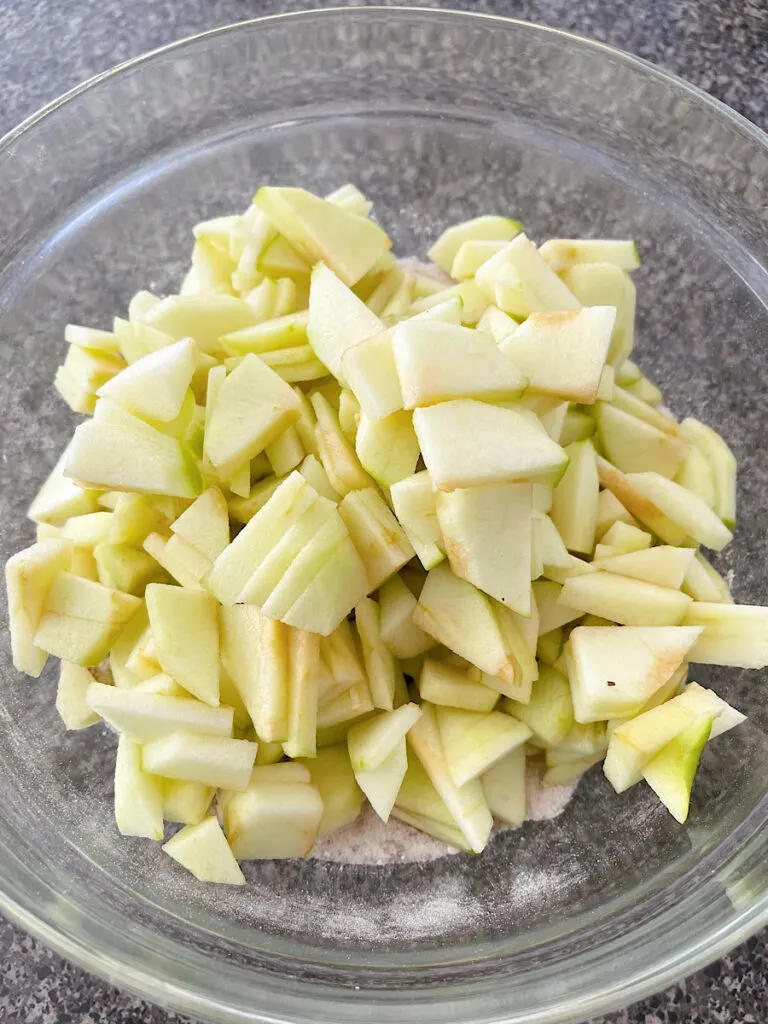 [Step 3] In a medium bowl, whisk together 1 cup of sugar, 2 tablespoons of flour, cinnamon, nutmeg, and salt. Sprinkle over the apples and stir until the apples are coated in the flour mixture.
[Step 4] Pour the apple filling into the pie crust. Cut 2 tablespoons of butter into little pieces and place on the pie filling.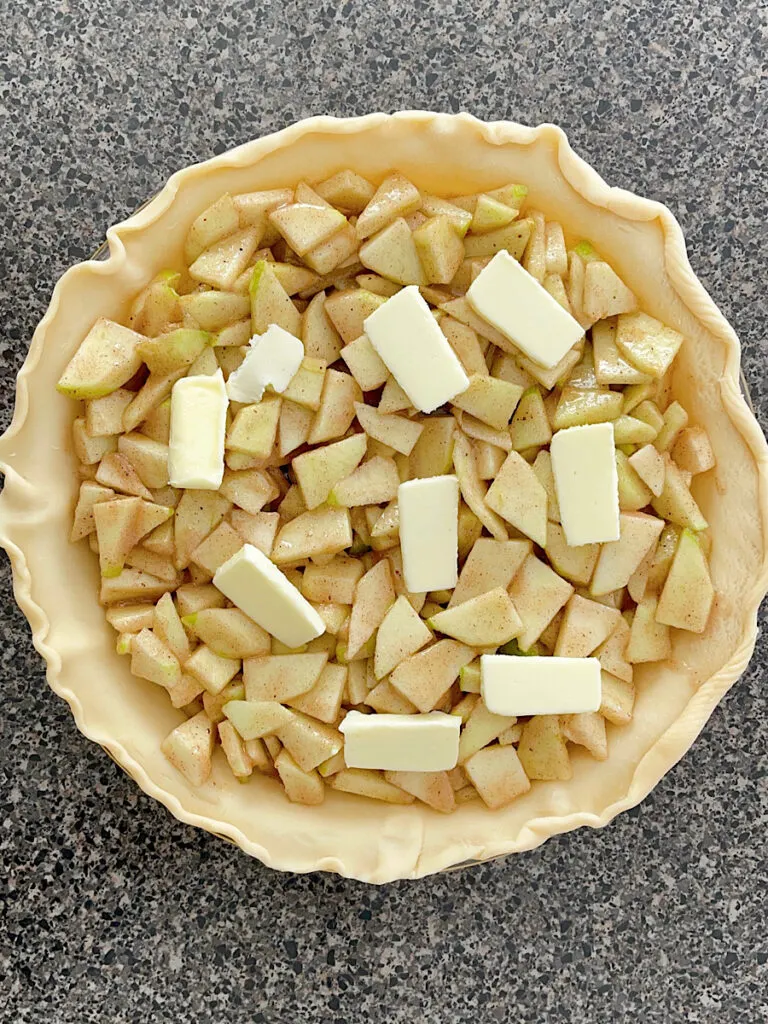 [Step 5] In another bowl, add the 3/4 cup flour, 1/2 cup sugar, and 1/3 cup butter cut into pieces. Use a fork, pastry blender or food processor to mix and form small crumbs.
[Step 6] Sprinkle the crumbs over the pie and place the pie dish on a foil-lined cookie sheet.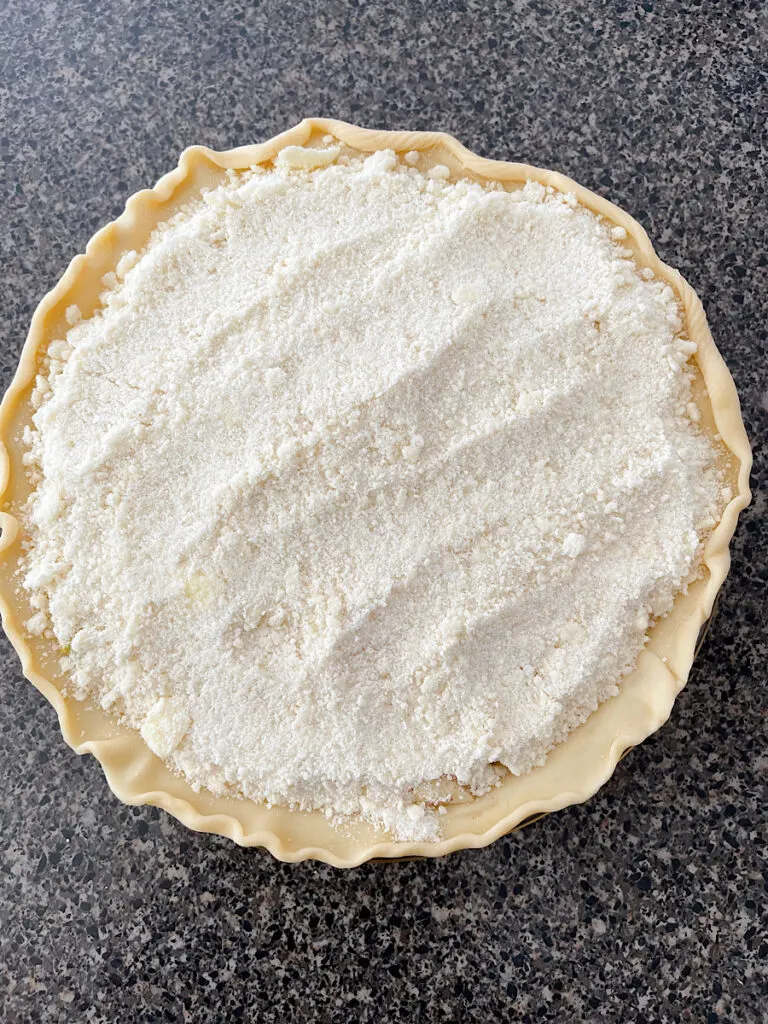 [Step 7] Place pie on the middle oven rack and bake at 425 degrees for 20 minutes, then place a piece of foil (or a pie shield) to cover the top of the pie. Continue baking for an additional 30-40 minutes.
[Step 8] Remove the pie and let it rest on a wire rack for 15 minutes before serving warm with whipped cream or a scoop of vanilla ice cream.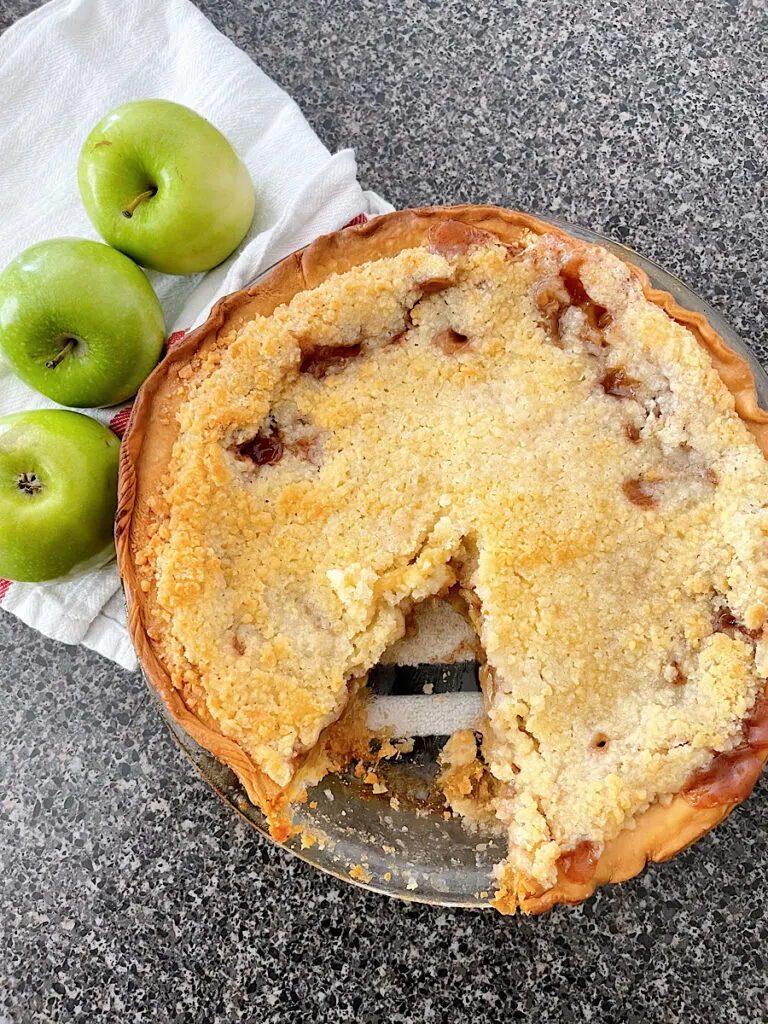 Helpful Kitchen Tools
How to Store Dutch Apple Pie
This pie is best served on the day that it is made. However, if you have leftovers, store the pie in the refrigerator covered with aluminum foil or plastic wrap. The pie will last for 3-4 days in the fridge.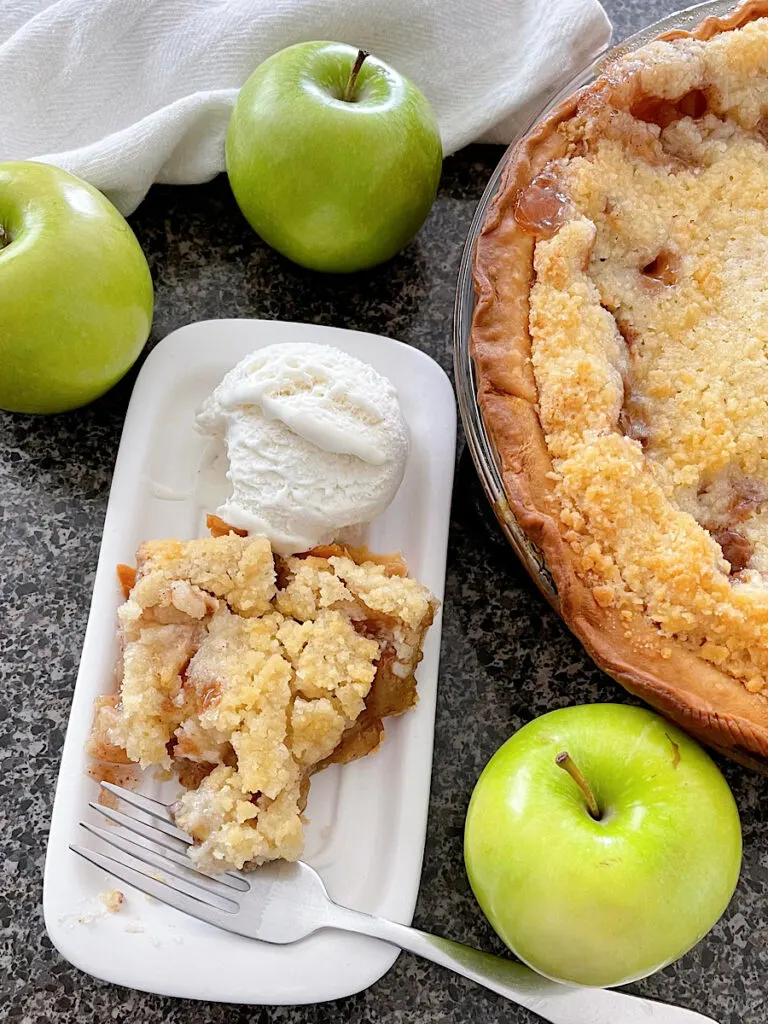 Reheating Dutch Apple Pie
If you need to reheat this pie, place it in a 350 degree oven for 10-15 minutes to warm it up. Alternatively, you can heat individual slices in the microwave for 30 seconds to 1 minute.
Frequently Asked Questions
Can Dutch apple pie be made in advance?
This pie can be made a day or two in advance, but for best results, I recommend baking it the day you plan to serve it.
What type of apples are best for pie?
The best apples for pie are apples that are tart and sweet. I like to use a mix of Granny Smith and Honeycrisp apples. However, you can use any type of apples that you like.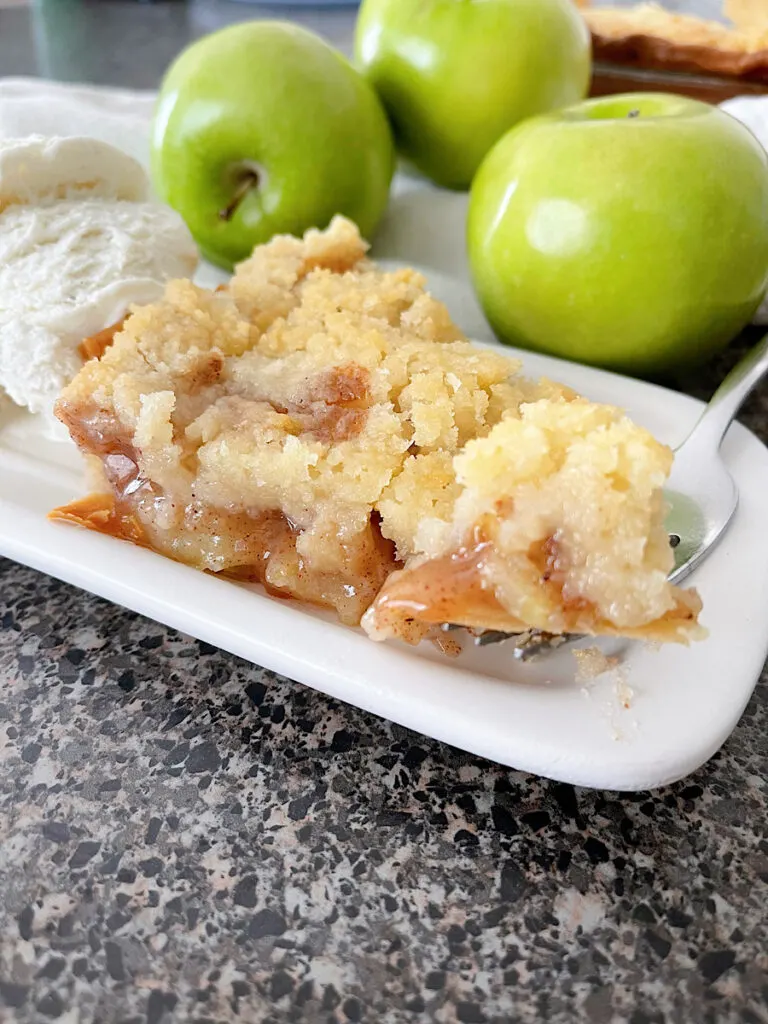 More Delicious Pie Recipes You'll Love:
Enjoy this delicious Dutch apple pie! And enter your own pie into cooking competitions – you never know when you might win!
Watch the Video: