A delicious and fresh salad incorporating the tastes of Fall. Made with Honeycrisp Apples and a sweet and tangy Apple Cider Vinaigrette.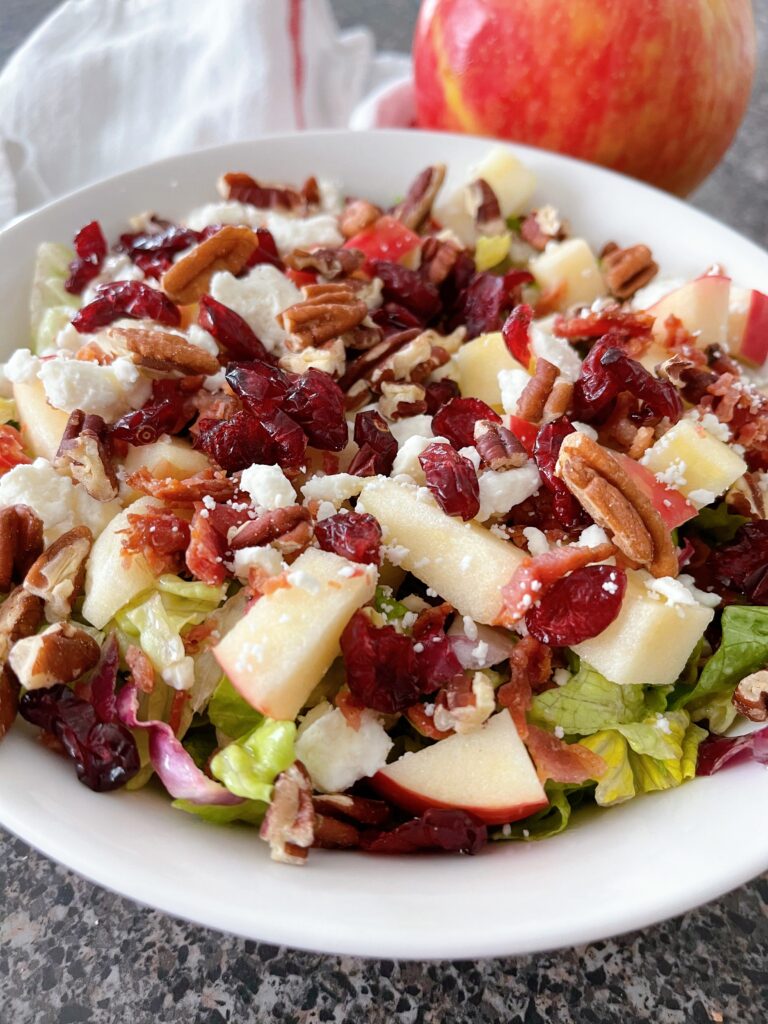 This post may contain affiliate links. When you click on these links, I get a small percentage back at no cost to you! For more information see my disclosure policy.
I am so in love with this salad. I've been in love with Honeycrisp Apples for awhile now, but adding them to this salad, has taken my love to the next level!
Honeycrisp Autumn Harvest Salad is filled with delicious crisp lettuce, topped with a few ingredients, and tossed together with a sweet and tangy Apple Cider Vinaigrette.
It's everything I love about Autumn, wrapped up in a delicious salad. I'm hooked.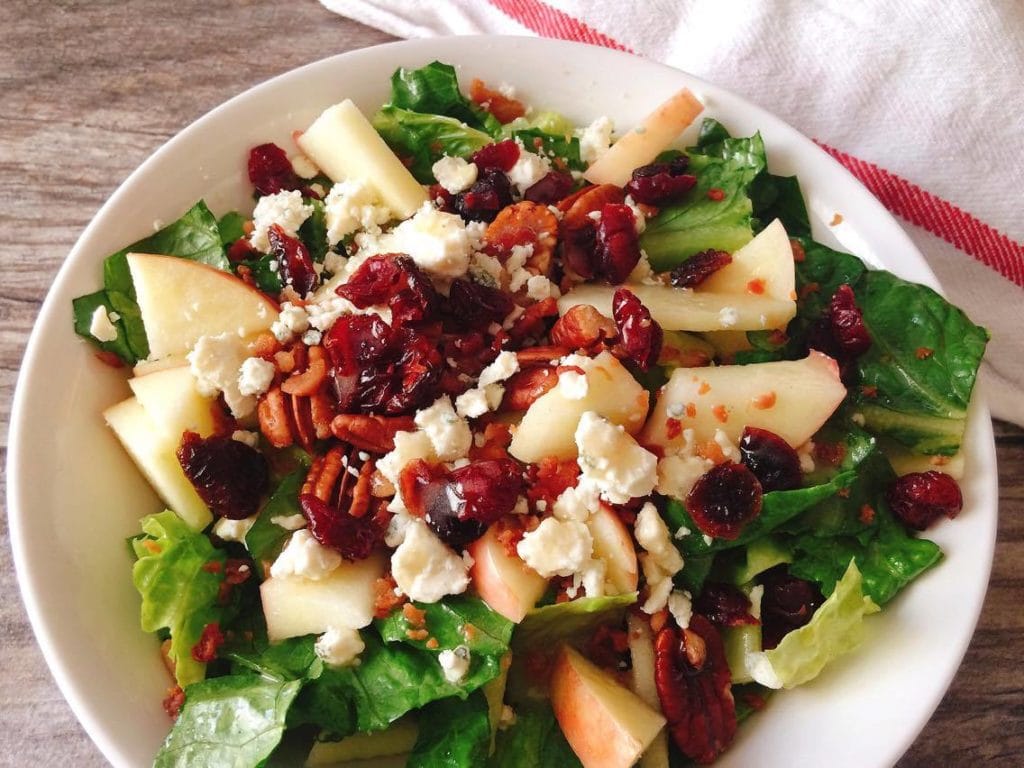 Honeycrisp Apples can cost almost as much as a pot of gold, if you buy them out of season. But, if you wait until just the right time, they will usually go on sale for a reasonable price.
Even on sale, they are still pretty expensive, but boy are they sweet and juicy!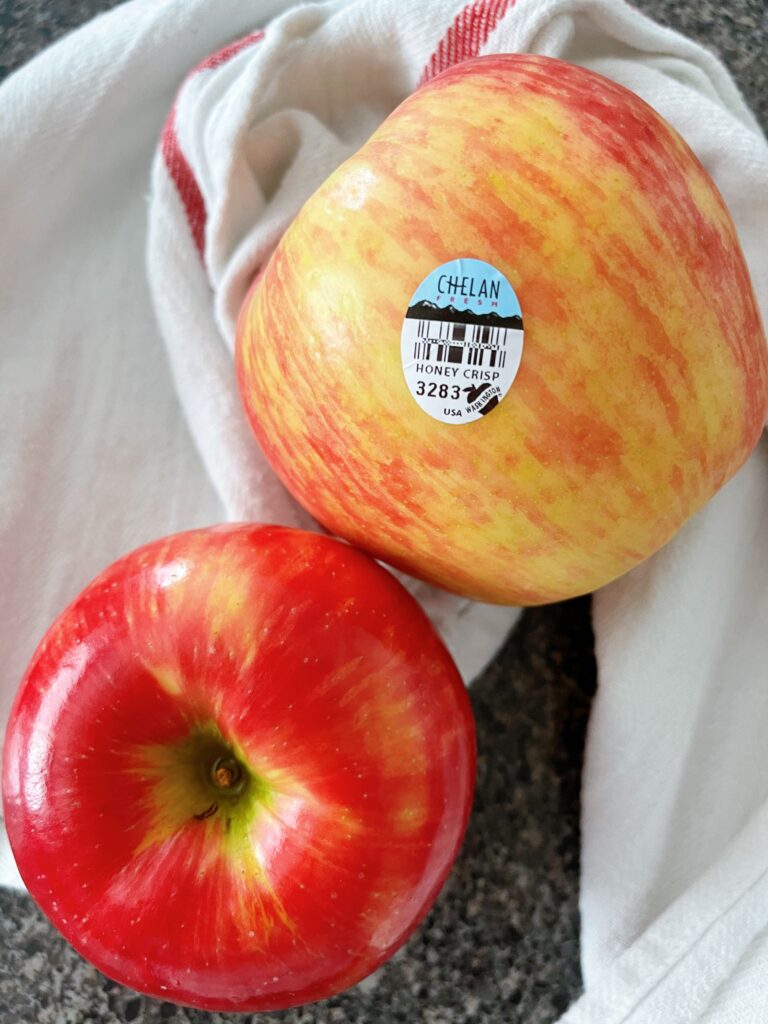 Honeycrisp is actually a cultivated variety of apple that originated in Minnesota. I am sure glad that those geniuses in Minnesota created this delicious apple variety.
I love to use apples in recipes this time of year, and I was excited to experiment with adding them to a salad. That way you could still enjoy the tastes of fall, but without all of the guilt.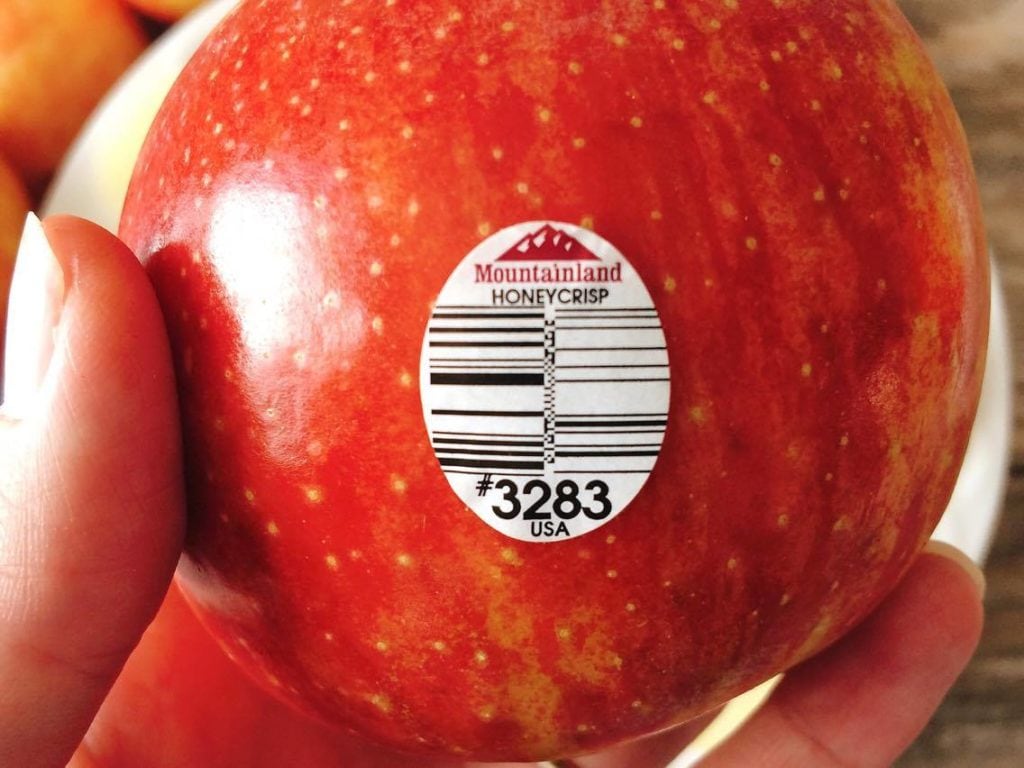 The dressing with this Honeycrisp Harvest Salad is amazing too. It's just the right combination of tangy and sweet, but it takes the taste of this salad over the top!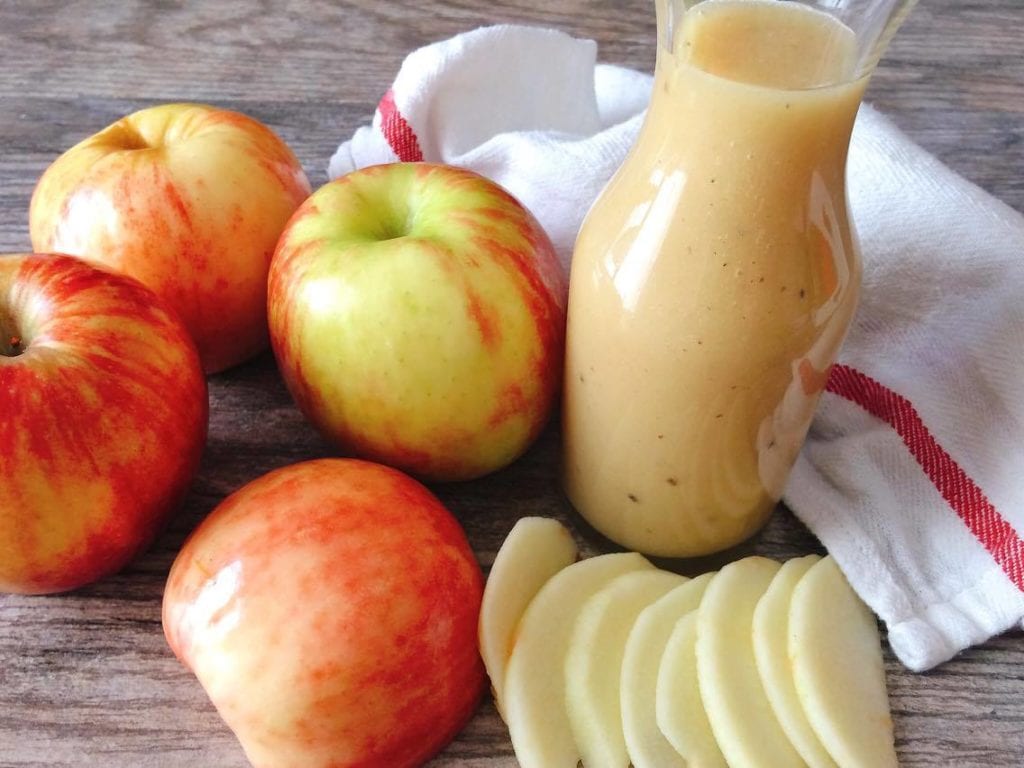 To make the dressing, simply add all of the ingredients to a blender or food processor. Mix until combined.
Honeycrisp Harvest Salad Ingredients:
*Ingredient amounts are located in the recipe card at the end of this post.
Apple Cider Vinaigrette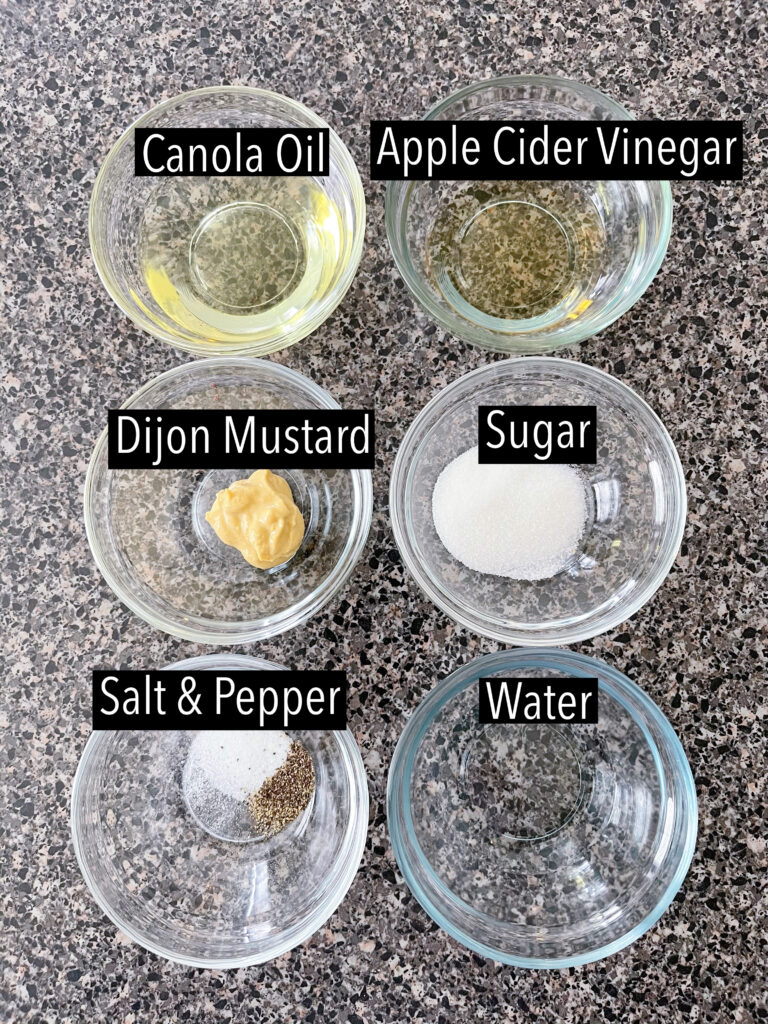 Salad
Romaine Lettuce, chopped
Honeycrisp Apple
Bacon Pieces
Dried Cranberries
Bleu Cheese Crumbles
Pecan Halves
How to Make Honeycrisp Harvest Salad
[1] Begin by chopping and rinsing the lettuce. In this recipe, I used Romaine lettuce because of it's crunchiness.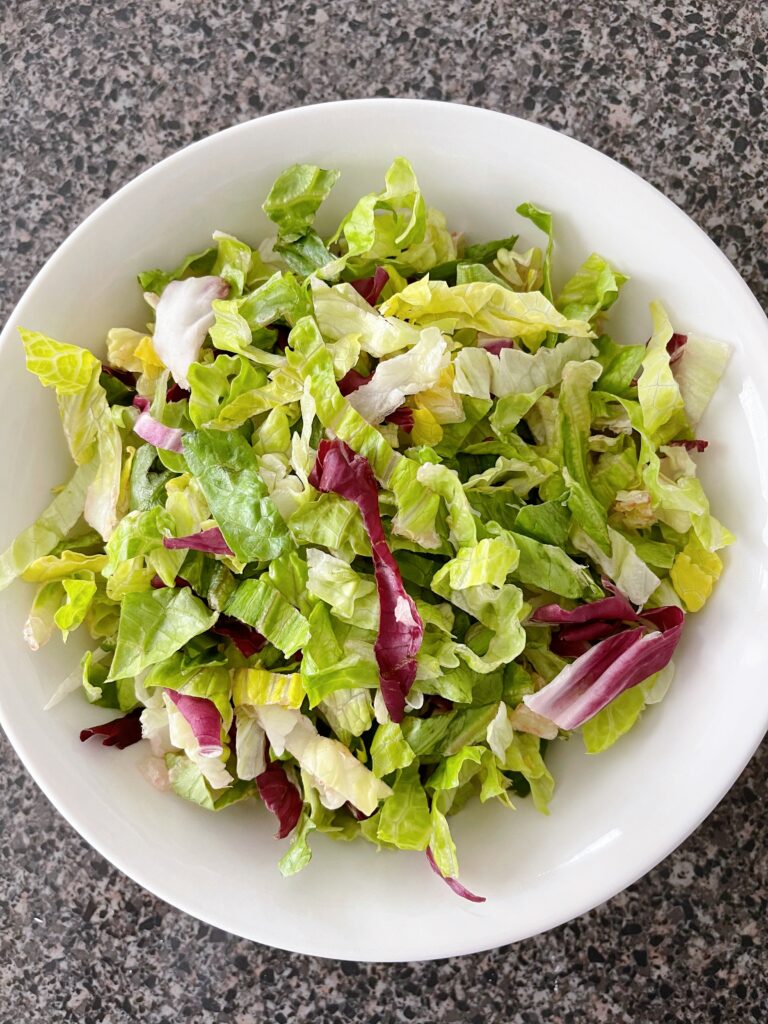 [2] When I make a salad, I like to chop my lettuce small, almost like a chopped salad. I don't like eating a salad with giant pieces of lettuce.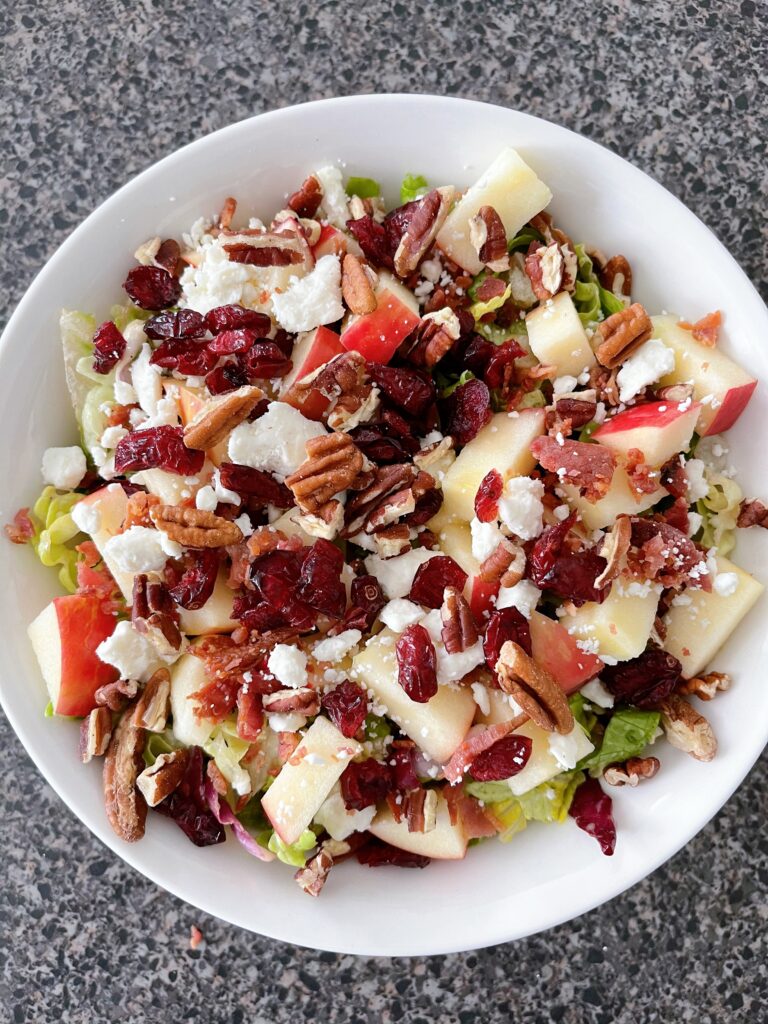 [3] Let's face it, there is no way to look civilized while stuffing a giant lettuce leaf in your mouth! I also don't like to have to cut up my salad while I'm eating it. I'm lazy that way. But, that is just a personal preference.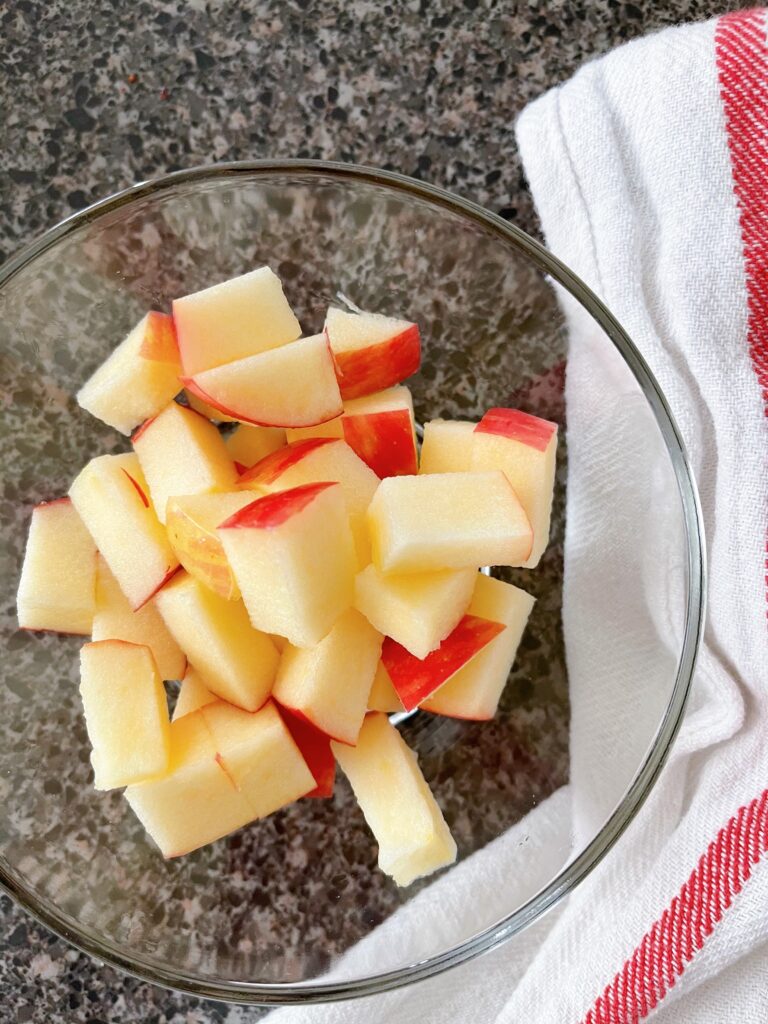 [4] When adding the apples, you can peel them or not. I usually don't because it gives that much more beautiful color to the salad.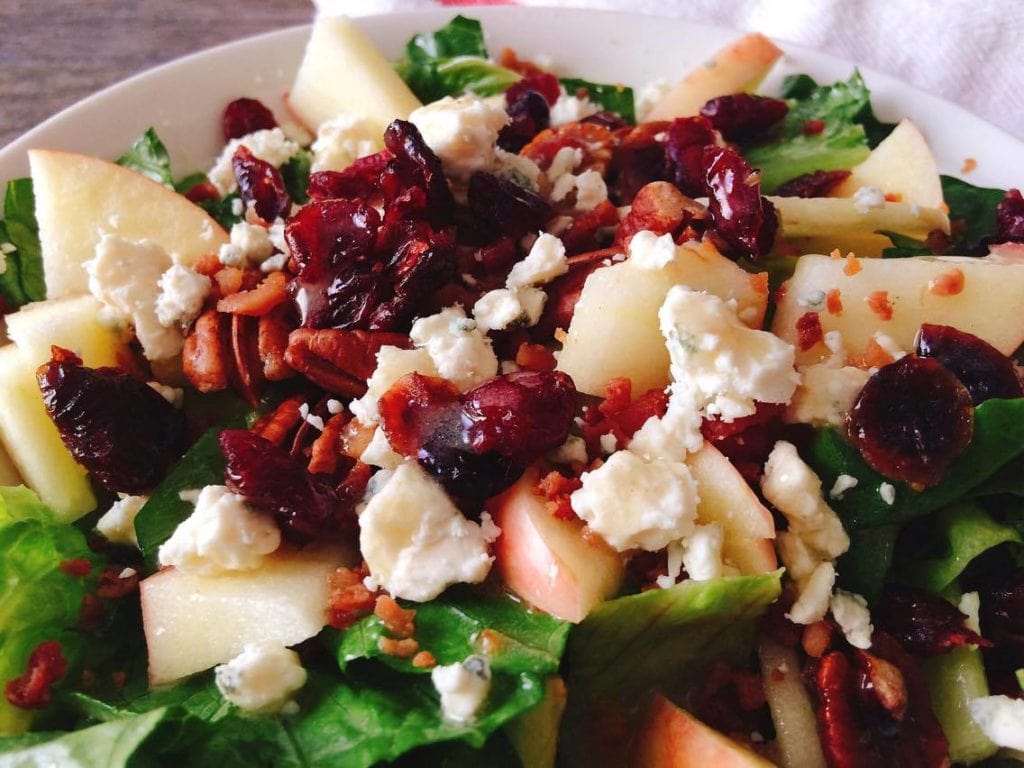 [5] I've also heard that most of the fruit's nutrients are in the peel? Is that right? I don't know, but it gives me another reason to take one less step in preparing this salad.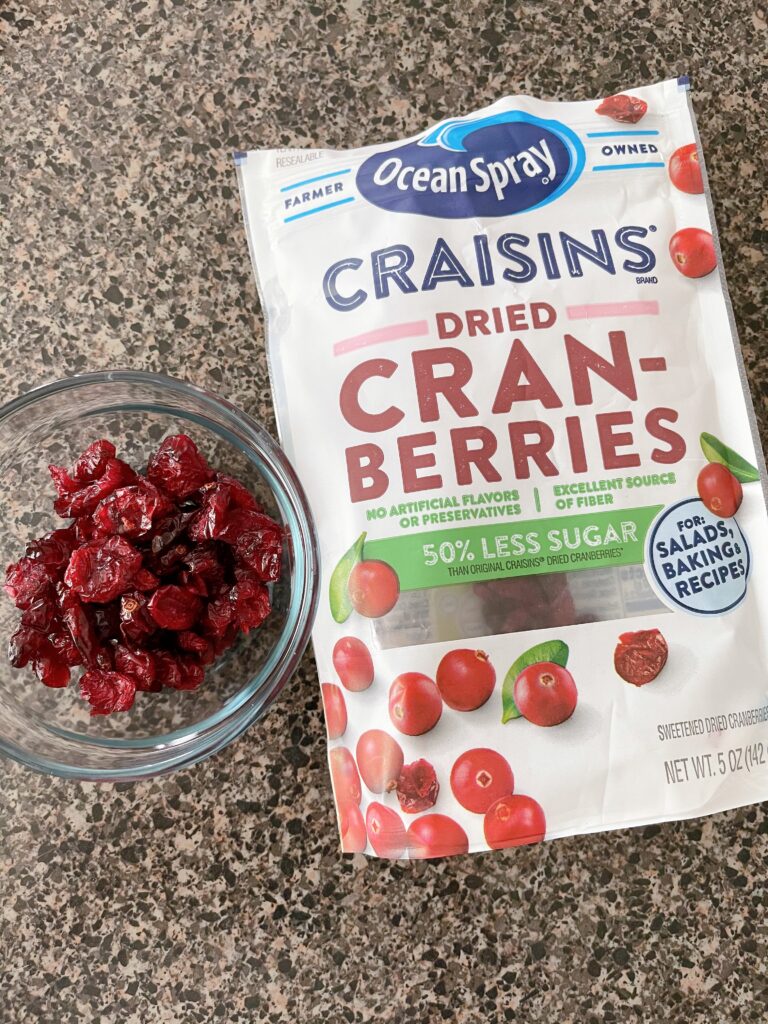 [6] The other ingredients are pretty self explanatory. With the bacon, you can totally make your own and chop it up, or you can just buy a bag of precooked bacon pieces from the salad dressing aisle at the grocery store. That is what I like to do when I'm short on time.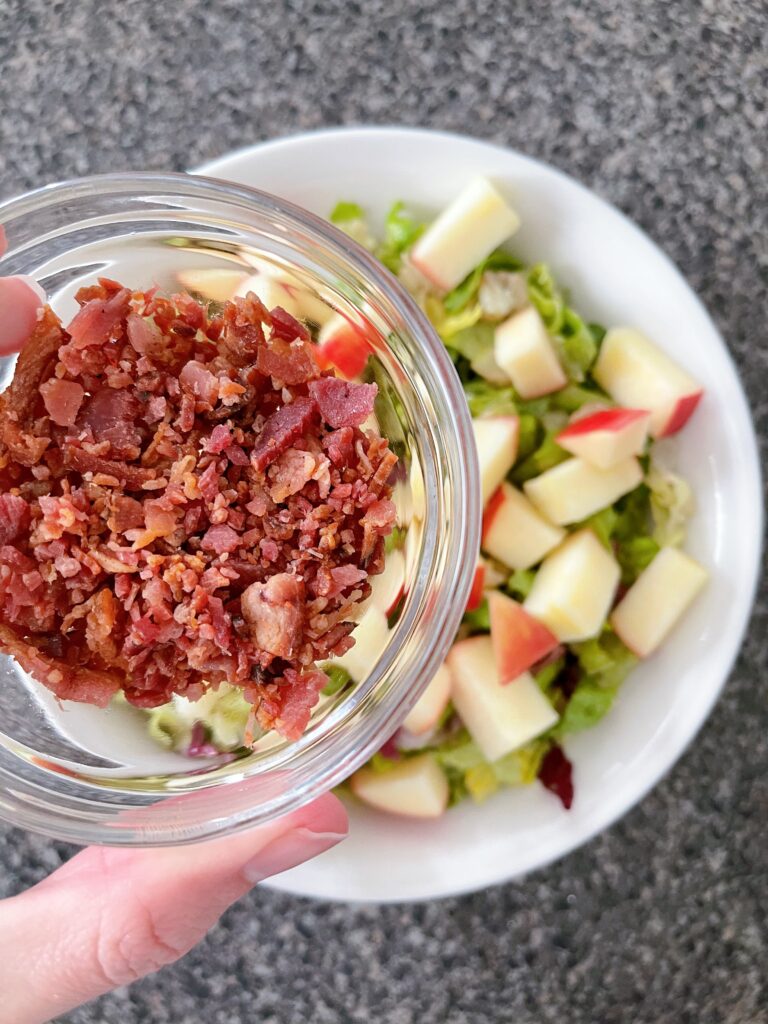 [7] To assemble the salad, put the lettuce into a large bowl with a lid. Pour about two tablespoons of dressing per serving, place the lid on, and shake to toss.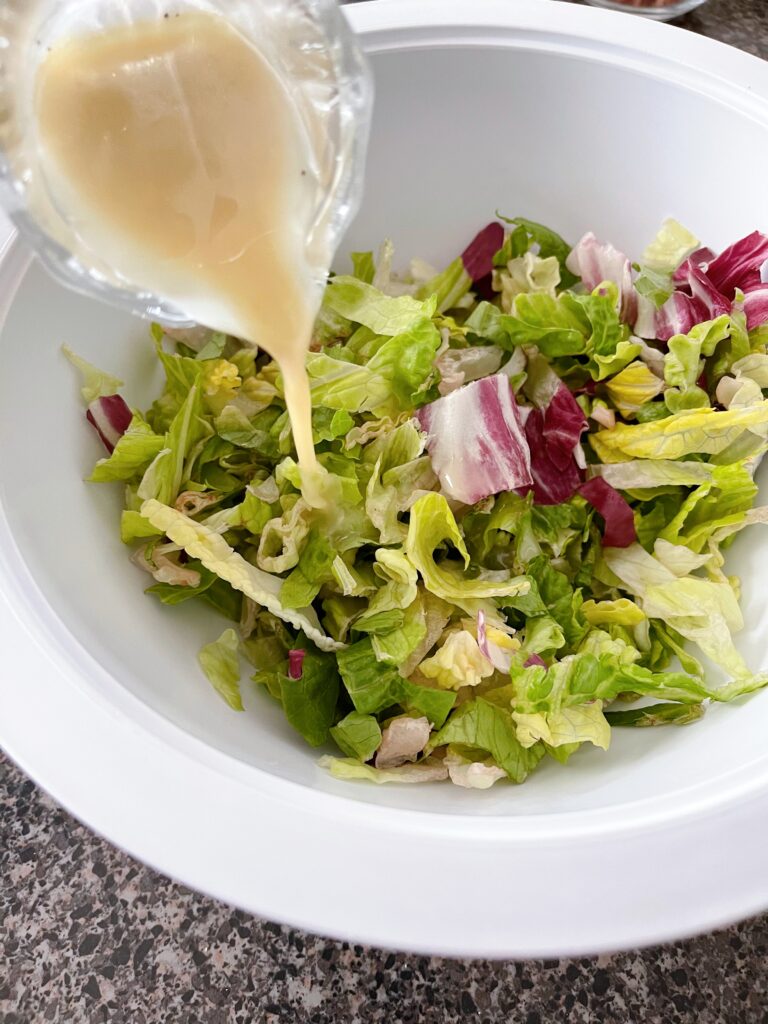 [8] Divide the lettuce into individual bowls or plates. Place the remaining ingredients on the salad and drizzle a little more dressing on the top. Easy as pie.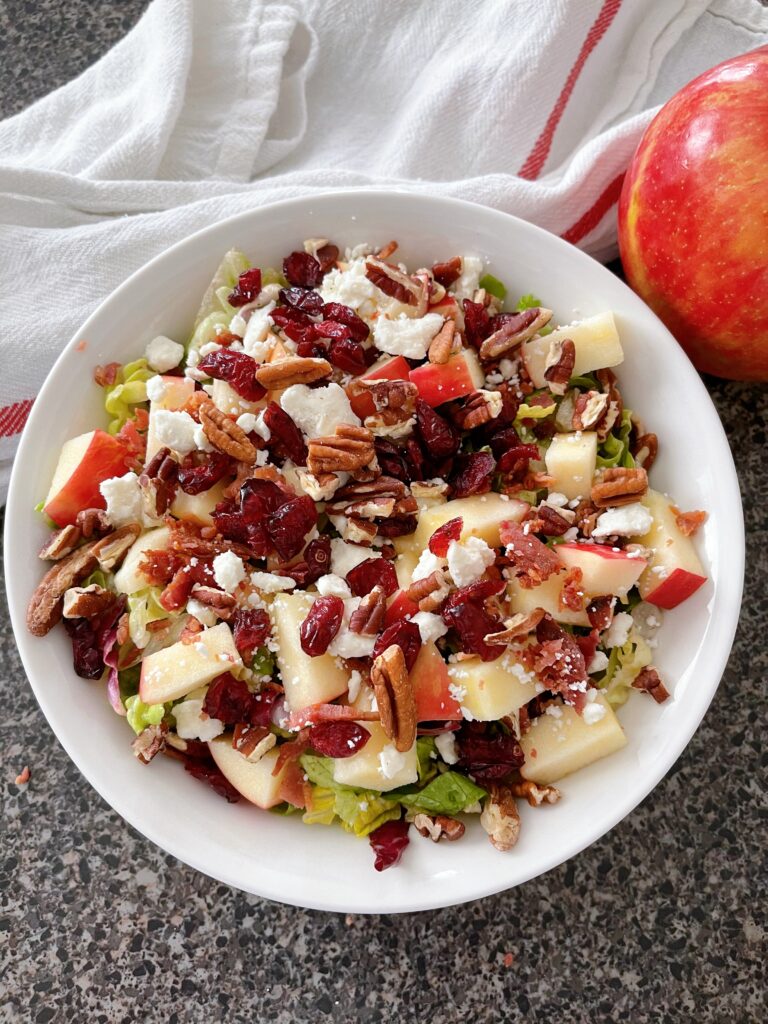 I hope you enjoy this Honeycrisp Harvest Salad as much as I do! Make sure you pin the recipe so you'll have it when you need it.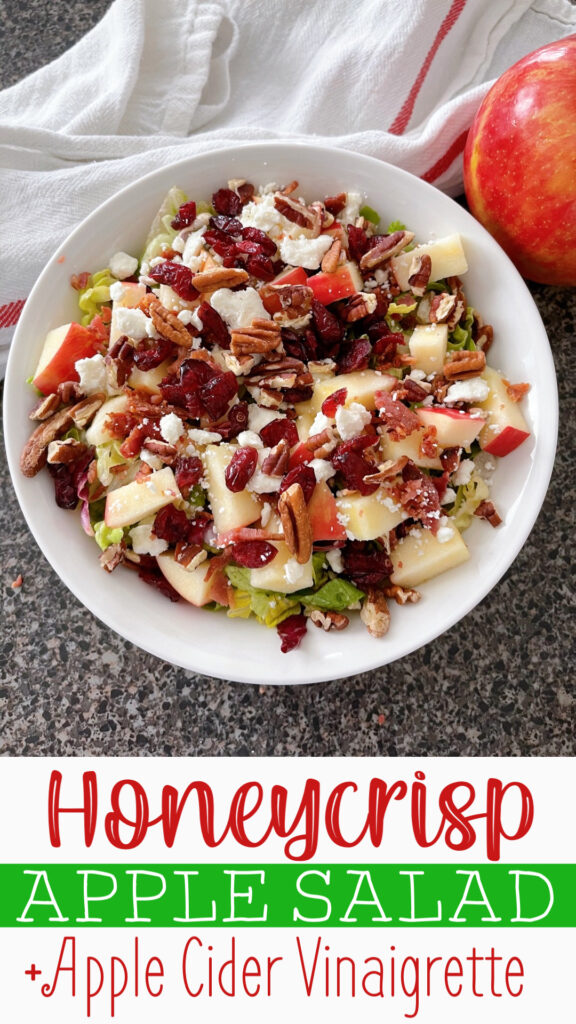 Here are some great Fall desserts to go with this salad:
Watch the video: