This flaky all-butter pie crust is a no fail recipe that is quick, easy, and will make you look like a pie rockstar! This flaky pie crust is the perfect texture, is packed with buttery flavor and is a must have for all of your holiday gatherings. You can impress your guests with your pie crust making skills that will be the perfect base to any pie you make!
This post may contain affiliate links. When you click on these links, I get a small percentage back at no cost to you! For more information see my disclosure policy.
Below you will find tips, tricks and helpful hints for making this recipe including step by step instructions with pictures. If you would like to go directly to the recipe, scroll down to the recipe card or tap "Jump to Recipe" at the top of the page.
I have a confession to make. Pie crust used to scare me. Well, not the pie crust exactly, but making a homemade pie crust used to scare me.
When someone would explain how to make pie crust, and how you have to keep everything super cold or it will be a disaster, I would just shut down and think, "I'll just go buy a pre-made pie crust from the grocery store".
There is nothing wrong with that, but there is nothing like a flaky, buttery, perfectly homemade pie crust.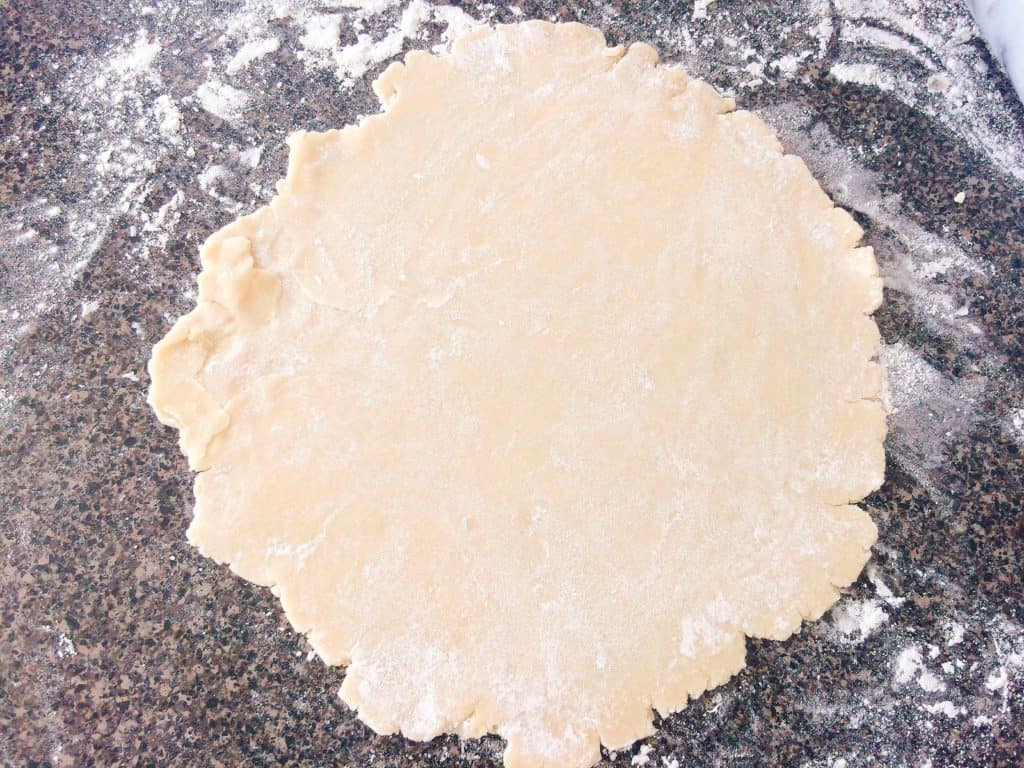 I took a pie making class last fall at my local Sur La Table store, and it changed the way I looked at pie crust.
Besides keeping everything cold, a secret to making amazing butter pie crust is using a food processor.
You can also use a pastry blender, but using a food processor speeds things up which helps keep the butter from softening.
I've used this Flaky All-Butter Pie Crust recipe in my Dark Chocolate Pecan Pie, Copycat Costco Pumpkin Pie, Salted Caramel Apple Pie, and this Rustic Apple Pie and it really was fool proof. Trust me, if I can make amazing pie crust, so can you!
Is Pie Crust Better with Butter or Shortening?
The answer to that question is, it depends.
The reason I say that is because a butter pie crust can taste very good, but it has a higher melting point and subsequently, tends to be harder to work with.
On the other hand, shortening (or lard) based crusts tend to be more pliable and easier to work with since they have a lower melting point. This is great for rolling out, but the flavor is more bland than a butter crust. It's really up to you which you prefer, and it all depends on your baking style!
Here's how I choose: If I'm making small pies or tartlets (i.e., hand held pie) then I will use shortening. However if I'm making a large pie (or something that will sit in one piece), butter is usually my choice due to the flavor and texture.
I've found I tend to use both interchangeably on occasion, but for the majority of my pies, I prefer one over the other depending on what I'm making!
What Kind of Butter Should You Use for Butter Pie Crust?
The butter I choose is always unsalted, super cold and cubed. Also known as "sweet" butter. This way, you can control how much salt you add to your crust mixture.
What Do You Do if Your Pie Crust Gets Too Warm?
There are a couple things you can do if your pie dough gets too warm. Try to chill/refrigerate it for about 5-10 minutes. This will allow you more time to make sure you're working with cold dough.
If the dough is too soft to work with, try chilling it in the freezer for about 5 minutes. This will give it time to firm up a little so you can begin working with it again.
Flaky All-Butter Pie Crust Ingredients
All-Purpose Flour
Sugar
Salt
Unsalted Butter
Ice Cold Water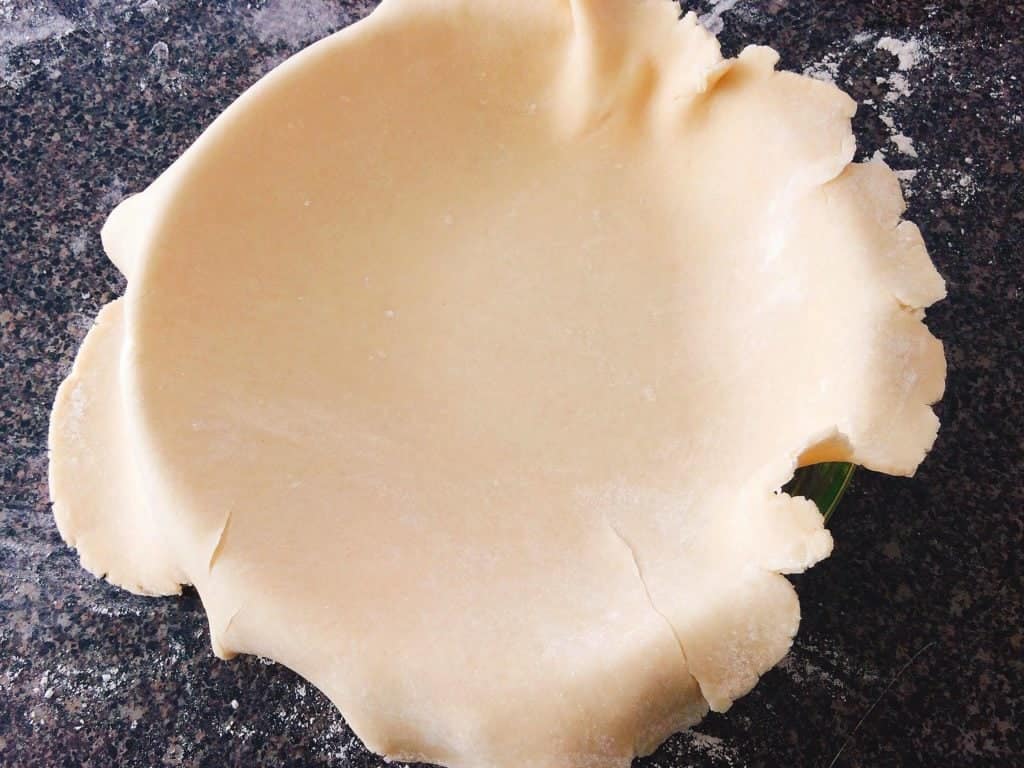 Helpful

Kitchen Tools
How to Make All-Butter Pie Crust
The trick to a delicious, flaky, homemade pie crust is to keep the ingredients cold. Especially the butter. Place ALL of the ingredients in the freezer for 5-10 minutes before beginning to prep.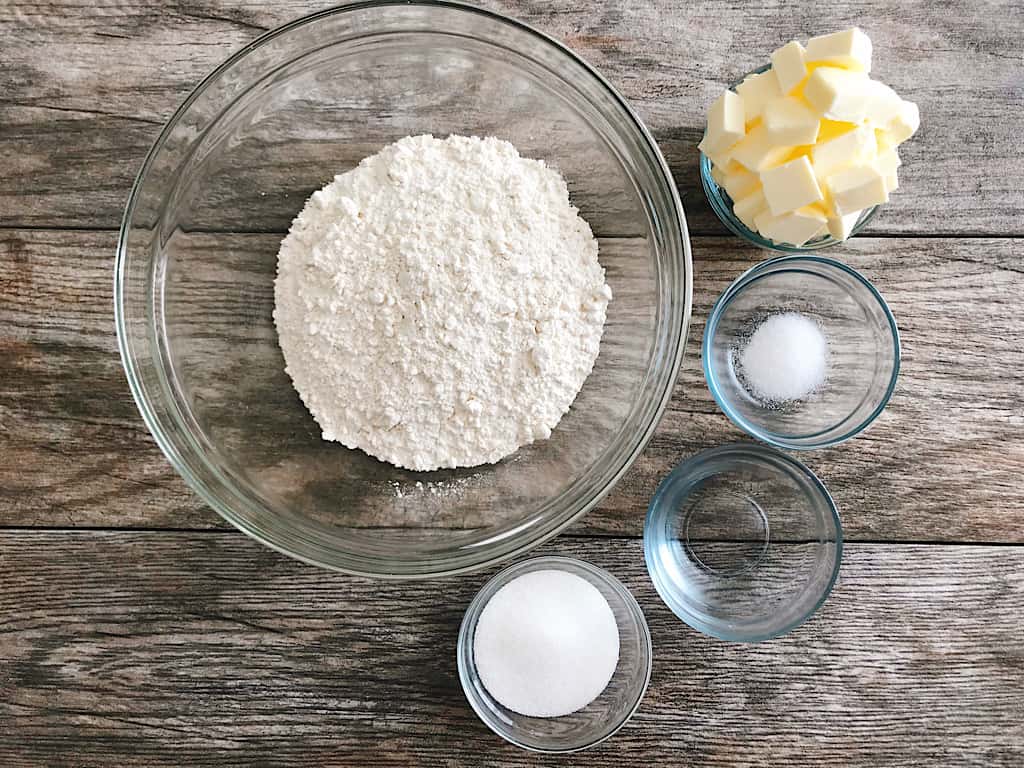 Once chilled, sift all of the dry ingredients together, and cut in the butter with a pastry blender or a food processor. Either one will get the job done, just make sure you work quickly to keep the butter from softening.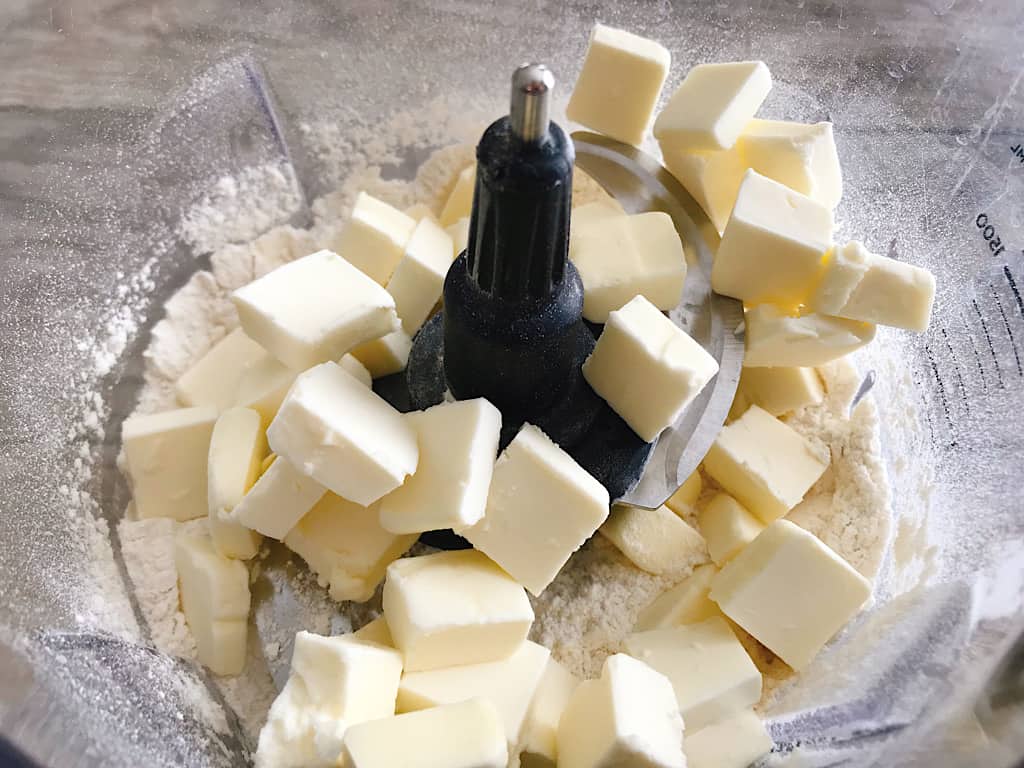 When the butter is the size of peas, slowly add 3 tablespoons of ice water.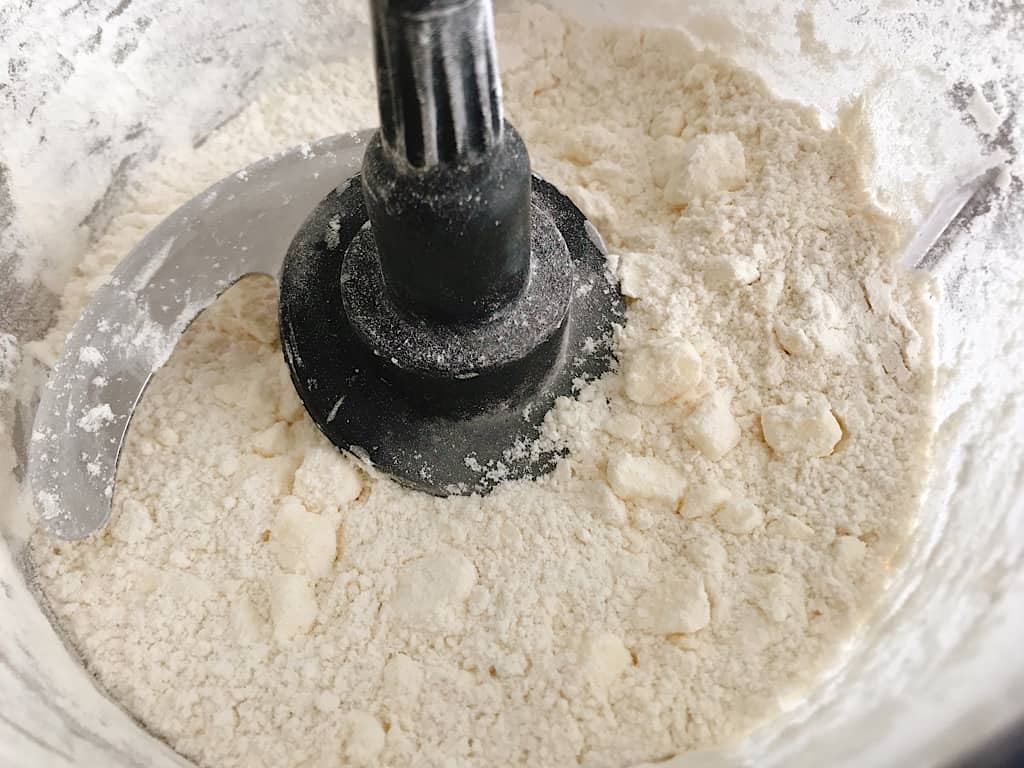 If the dough is too dry, add up to one more tablespoon of water, a teaspoon at a time.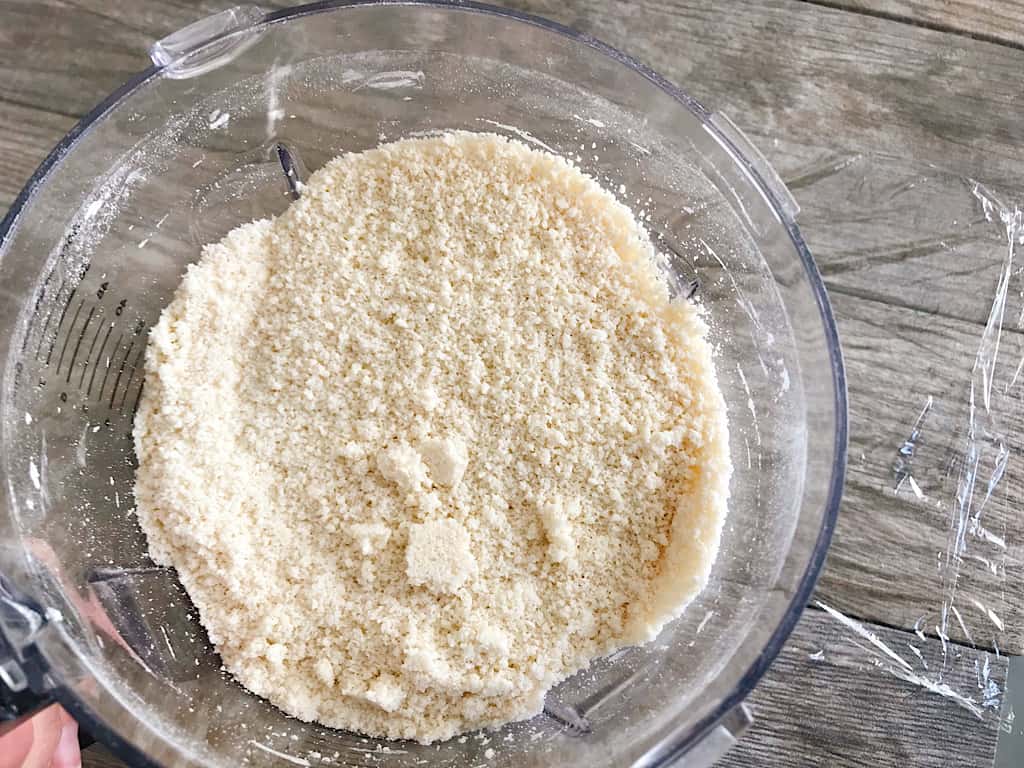 Continue mixing until the dough forms a ball.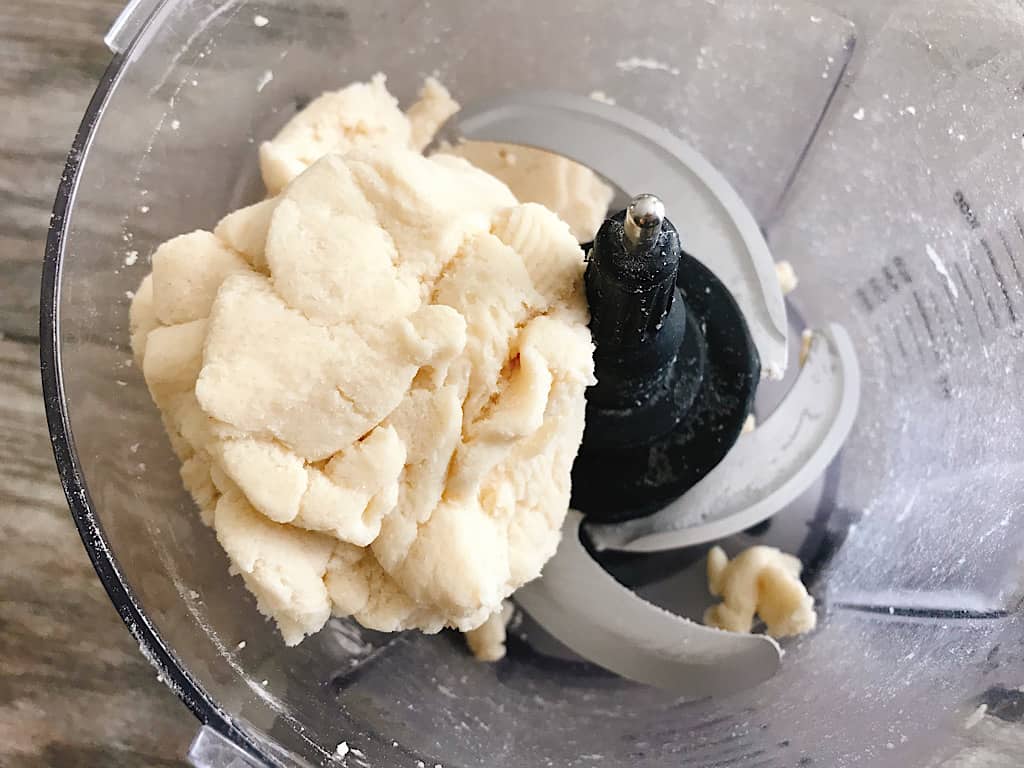 Place the pie dough on a sheet of plastic wrap and press it into a disc shape.
Cover the dough with the plastic wrap and refrigerate for at least 30 minutes.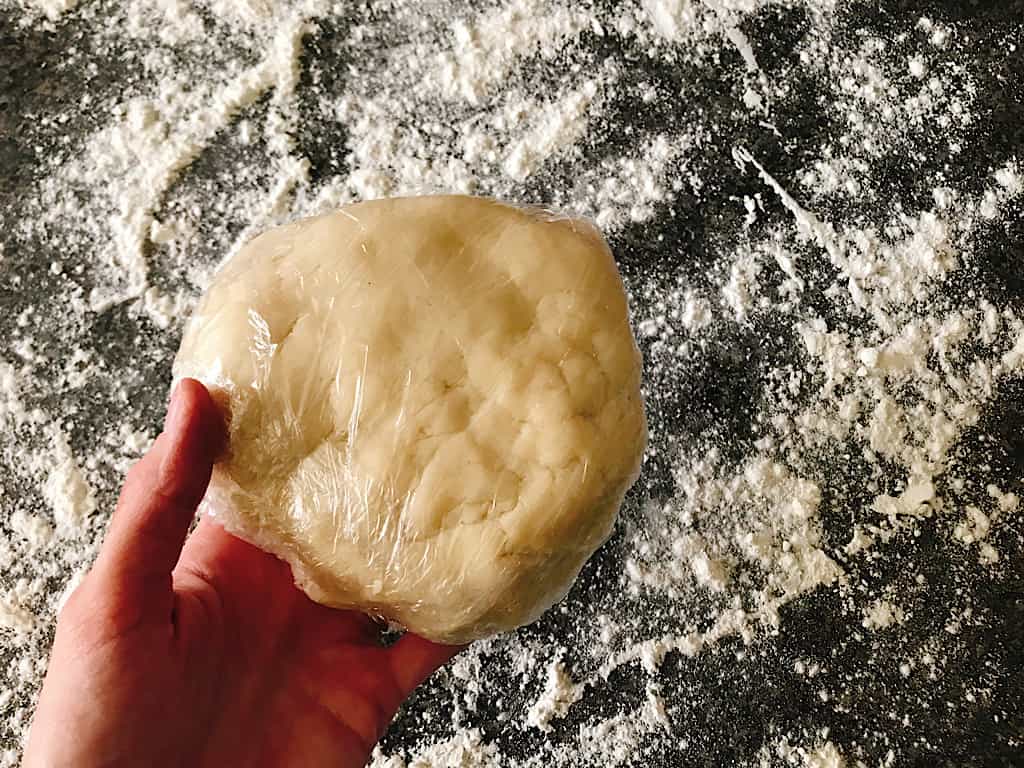 Speaking of favorite pie recipes, you won't want to miss this Caramel Pecan Silk Pie. Seriously, the best pie ever made!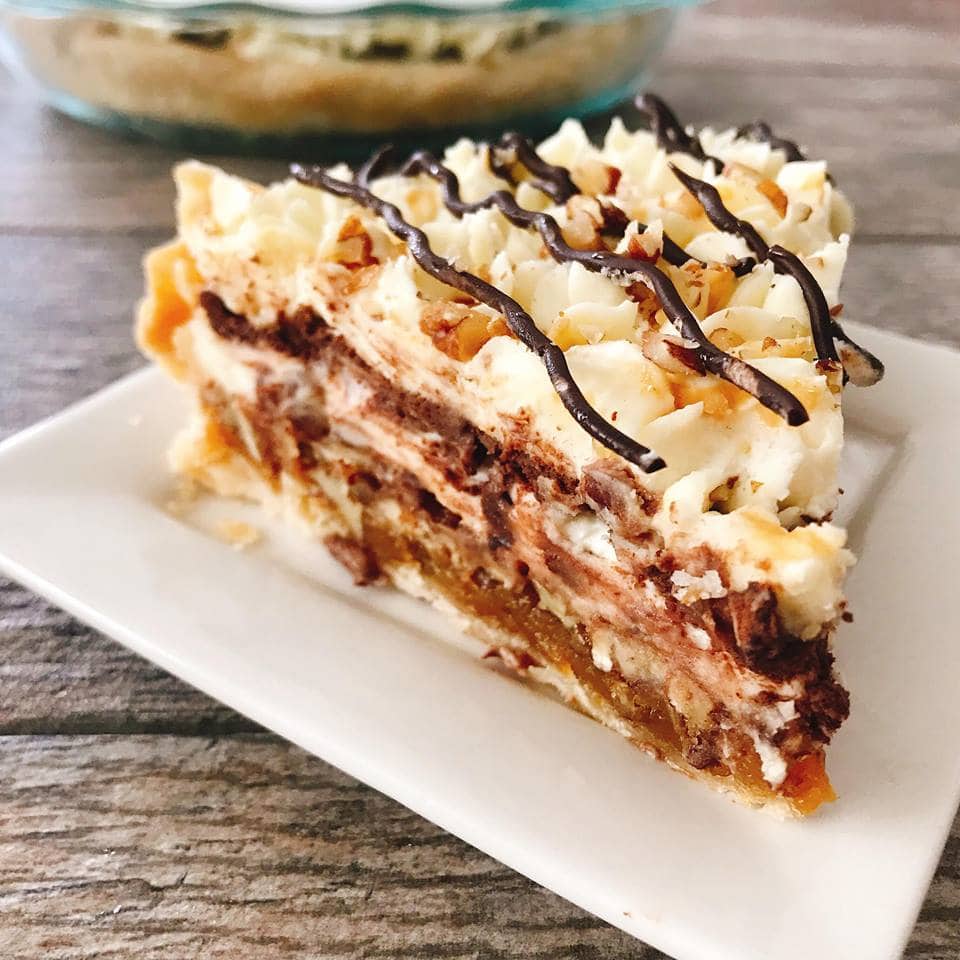 Go ahead and get baking! Your family and friends will thank you. Tag @mommymouseclubhouse on Instagram if you make this crust. I want to see your creations!
And don't forget to stop by my Amazon shop to see all of my favorite baking tools!
More Pie & Cheesecake Recipes: