These sticky caramel pecan buns will come together effortlessly with pre-made cinnamon rolls. These delectable treats boast a luscious topping of sweet caramel and crunchy pecans, making them the perfect way to start your day with a touch of decadence. With minimal effort, you can transform ordinary cinnamon rolls into a mouthwatering breakfast that will have your taste buds dancing. Treat yourself to these heavenly creations and elevate your morning routine to a whole new level of deliciousness.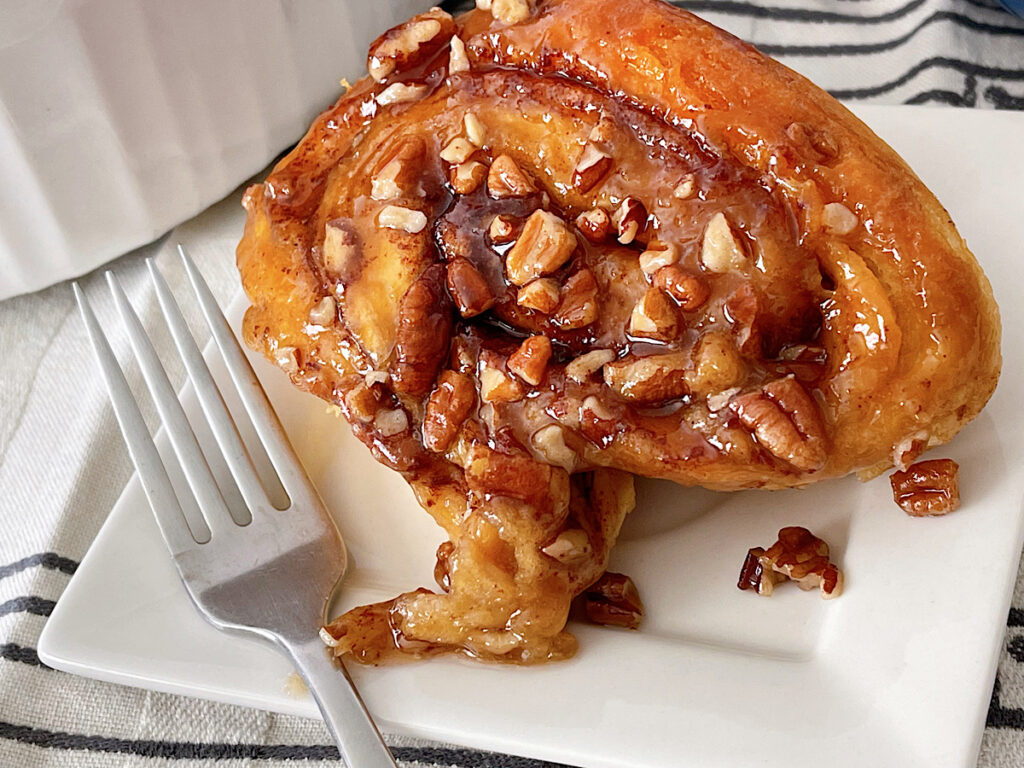 This post may contain affiliate links. When you click on these links, I get a small percentage back at no cost to you! For more information see my disclosure policy.
Below you will find tips, tricks and helpful hints for making this recipe including step by step instructions with pictures. If you would like to go directly to the recipe, scroll down to the recipe card or tap "Jump to Recipe" at the top of the page.
Why You'll Love These Sticky Buns:
This sticky buns recipe is unbelievably delicious! Sweet and crunchy with a soft, fluffy cinnamon roll base.
Quick and easy preparation. No need to worry about making the dough from scratch!
Perfect for breakfast or dessert. These good sticky buns will be a hit any time of day.
Great for sharing. Make a big batch and share with your family or friends.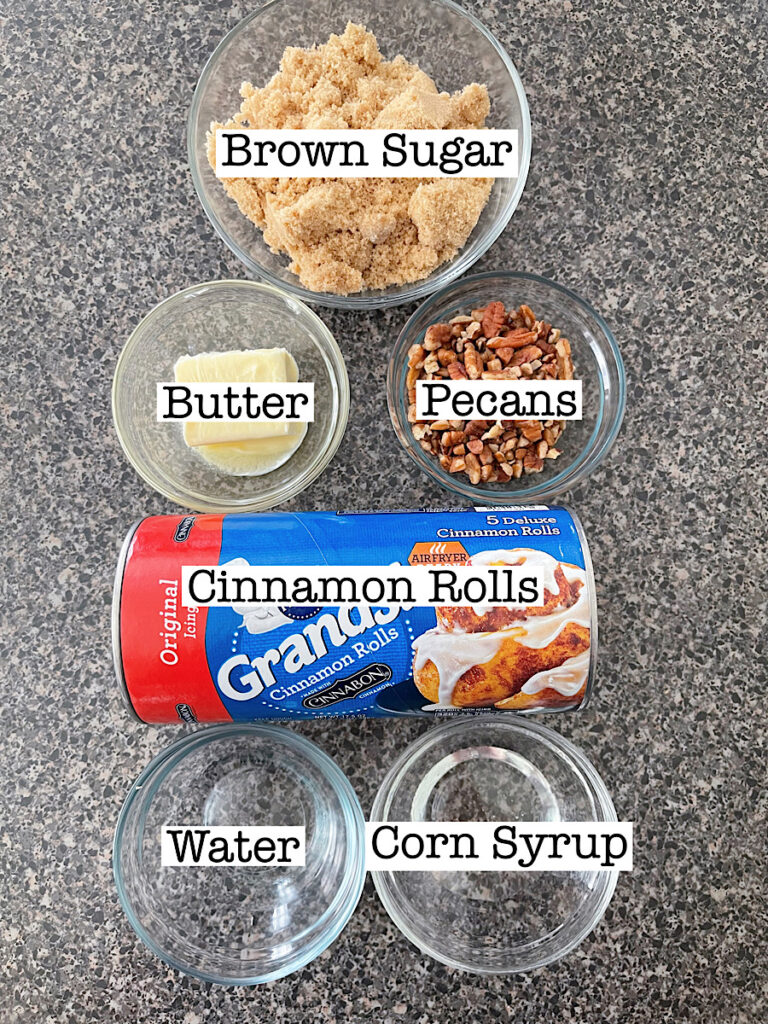 Ingredients for Sticky Caramel Pecan Buns
*Ingredient amounts are located in the recipe card at the end of this post.
Pre-made Cinnamon Rolls: I used Pillsbury Grands Cinnamon Rolls, but any brand will work.
Butter: I used unsalted butter, but you can also use salted butter. Make sure to use softened butter.
Brown Sugar: Light or dark brown sugar will work in this recipe.
Light Corn Syrup: This will help create that sticky caramel texture.
Water: Just a small amount is needed to help dissolve the ingredients and make an even coating for the buns.
Pecans: I used chopped pecans for the topping, but you can use any type of nut you like. Walnuts or almonds would also be delicious!
How to Make Caramel Pecan Sticky Buns
[Step 1] In a medium bowl, mix together the soft butter, brown sugar, corn syrup and water until smooth to make the caramel sauce.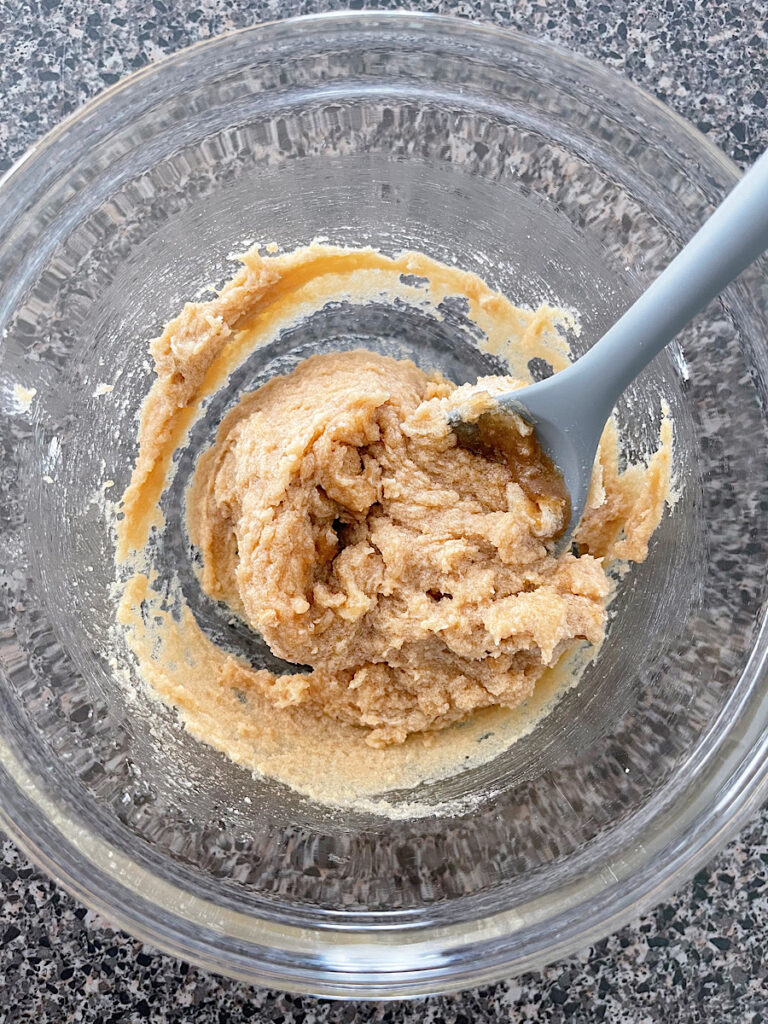 [Step 2] Pour mixture into a baking dish lightly greased with cooking spray or butter, making sure to coat the bottom of the pan evenly. Sprinkle with chopped pecans.
[Step 3] Place rolls on top of the pecan mixture on the bottom of the baking dish, leaving space between each roll.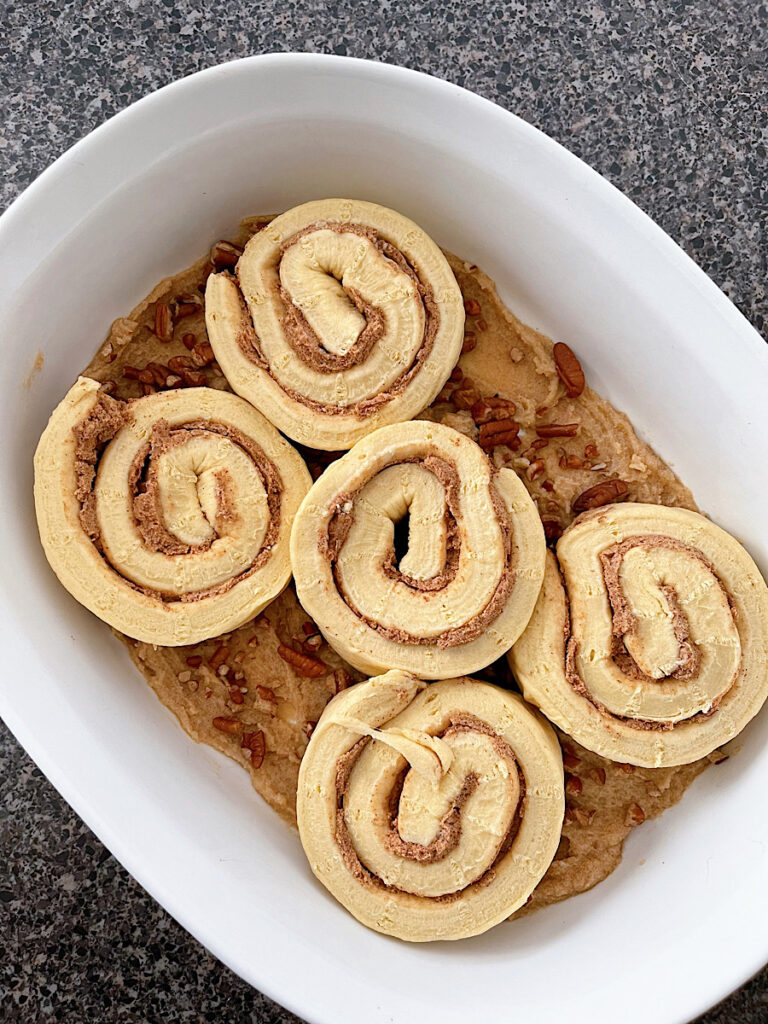 [Step 4] Bake for 20-25 minutes, until golden brown and bubbly. Allow to cool slightly before serving, or invert onto a large serving platter.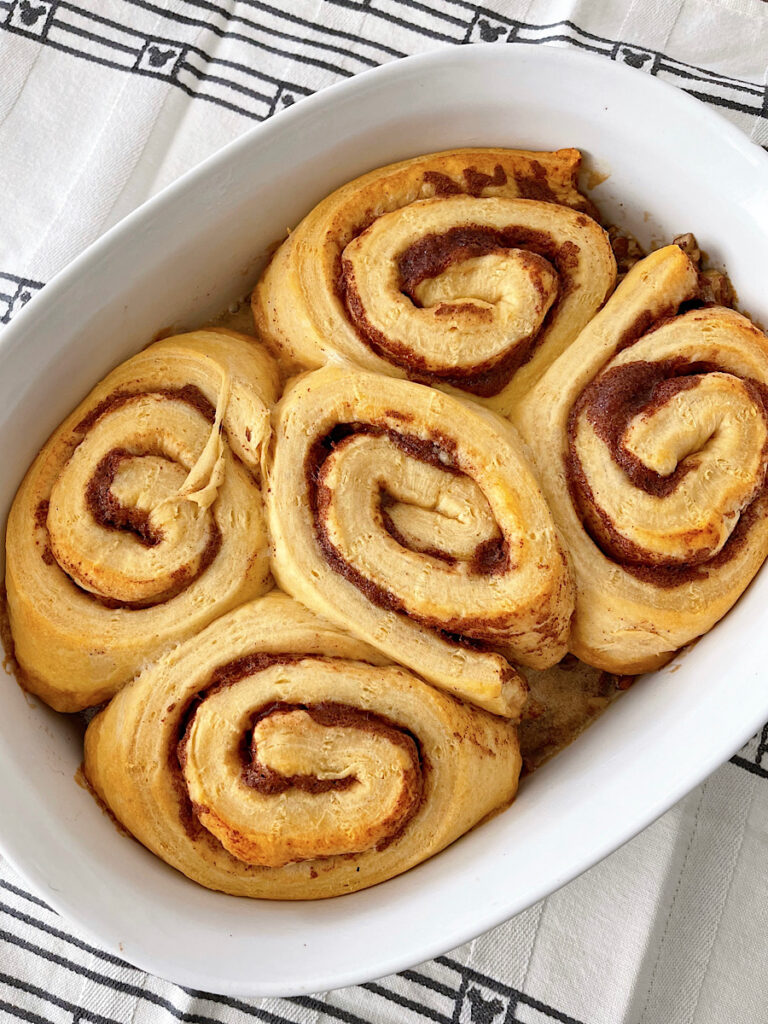 Helpful Kitchen Tools
How to Store Leftovers
Leftover sticky buns will stay fresh in an airtight container for up to 3 days. To reheat, pop them in the microwave for a few seconds or heat them up in the oven at 350°F for 5-10 minutes.
Tips and Tricks for Making Easy Sticky Pecan Rolls
Make sure to preheat your oven before baking the buns. This will ensure that they bake evenly.
For an extra satisfying crunch, use chopped nuts instead of whole ones.
If you don't have corn syrup on hand, you can substitute it with honey or maple syrup.
Feel free to add a sprinkle of cinnamon sugar into the topping mixture for an extra burst of flavor!
These buns are best served warm. Reheat leftovers in the microwave for a few seconds or in the oven at 350°F for 5-10 minutes.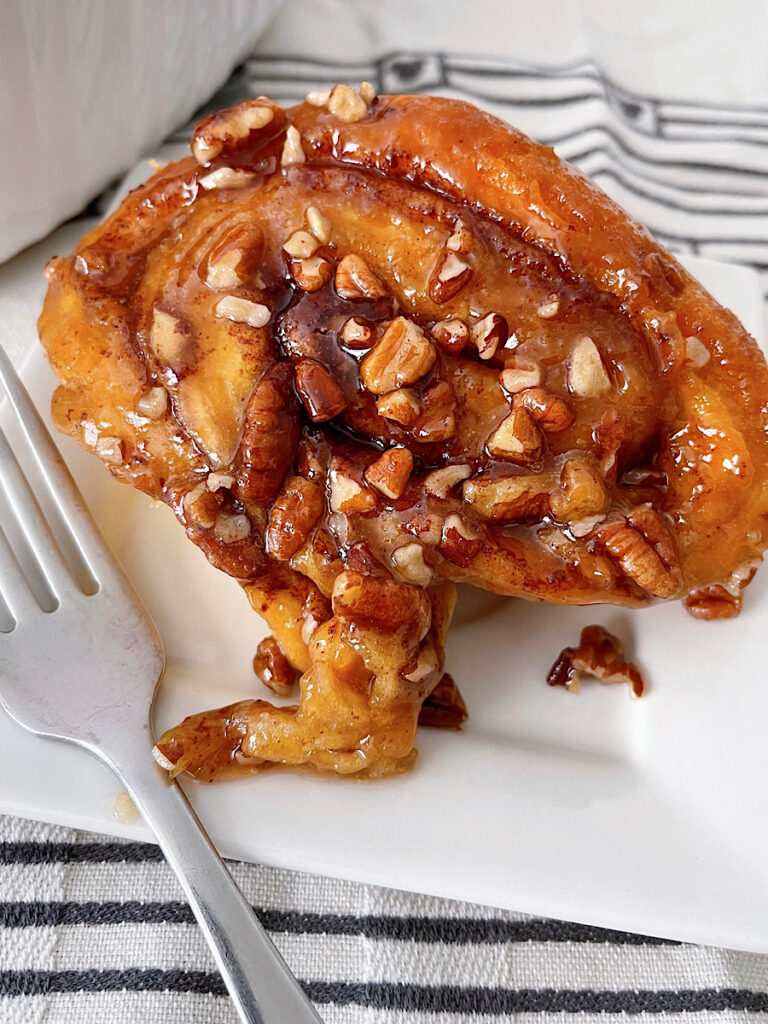 Make Ahead Instructions
You can prepare these almost homemade sticky buns ahead of time. Follow the recipe instructions up to step 3, but instead of baking them right away, cover and refrigerate for up to 24 hours before baking the next day. The cinnamon rolls will need to bake a few minutes longer since they'll be cold from the refrigerator.
Variations
If you want to switch things up, try adding different spices such as nutmeg, ginger or cloves to the topping mixture. You can also use different types of nuts like walnuts or almonds for a different flavor profile. Use maple syrup instead of corn syrup for Sticky Maple Pecan Buns!
Or try adding some dried fruit like raisins or cranberries for extra sweetness! The possibilities are endless – have fun and get creative with these tasty creations!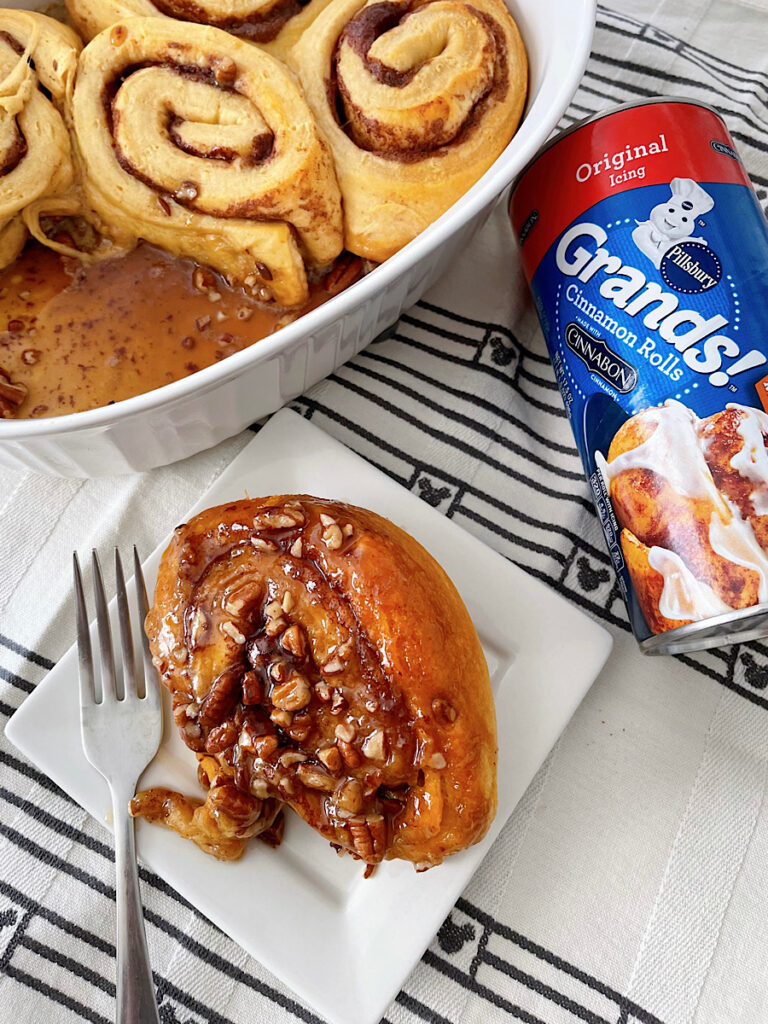 Frequently Asked Questions
Can I make these sticky buns in advance?
Yes, you can prepare the cinnamon rolls up to step 3 and refrigerate for up to 24 hours before baking. Make sure to bake 5-7 minutes extra since they'll be cold from the refrigerator, or allow them to come to room temperature before baking.
What type of pan should I use?
You will need a lightly greased baking dish that is large enough to fit the cinnamon rolls with some space in between each one.
Can I use other types of nuts?
Yes, you can use any type of nut that you like! Walnuts or almonds would be delicious in this recipe.
Can I freeze these sticky buns?
Yes, you can freeze the cooked and cooled buns for 2-3 months. To reheat, thaw in the refrigerator overnight and then bake at 350°F (175°C) for 5-7 minutes. Alternatively, you can wrap them tightly in plastic wrap and freeze before baking. Then just pop them in the oven from frozen!
Final Thoughts
This sticky bun recipe is sure to become favorite for the whole family! The perfect combination of sweet, crunchy and fluffy cinnamon rolls makes these treats an irresistible morning indulgence.
With minimal effort and just a few ingredients, you can whip up a scrumptious breakfast that will have everyone coming back for seconds!
More Cinnamon Roll Recipes: