Want to add something special to your Disney World Vacation? Consider the Hoop-Dee-Doo Musical Revue diner show! The show features an all-star cast of characters and lots of singing and dancing. The jokes are definitely family friendly, so the entire family can enjoy it! It's a fun, upbeat show with plenty of laughs to be had, and delicious food!
This post may contain affiliate links. When you click on these links, I get a small percentage back at no cost to you! For more information see my disclosure policy.
Discount Disney World Tickets & Vacation Packages
Before we get started, I wanted to let you know where and how I get discount tickets to Walt Disney World. My travel partner, Get Away Today, offers amazing Disney World vacation packages as well as discounted tickets.
And, they have the most amazing concierge service that will help you plan, book, and make dining reservations, all at no charge to you! You can check Disney World ticket and package prices here and use coupon code: Clubhouse10, or call 855-GET-AWAY and tell them that Mommy Mouse Clubhouse sent you!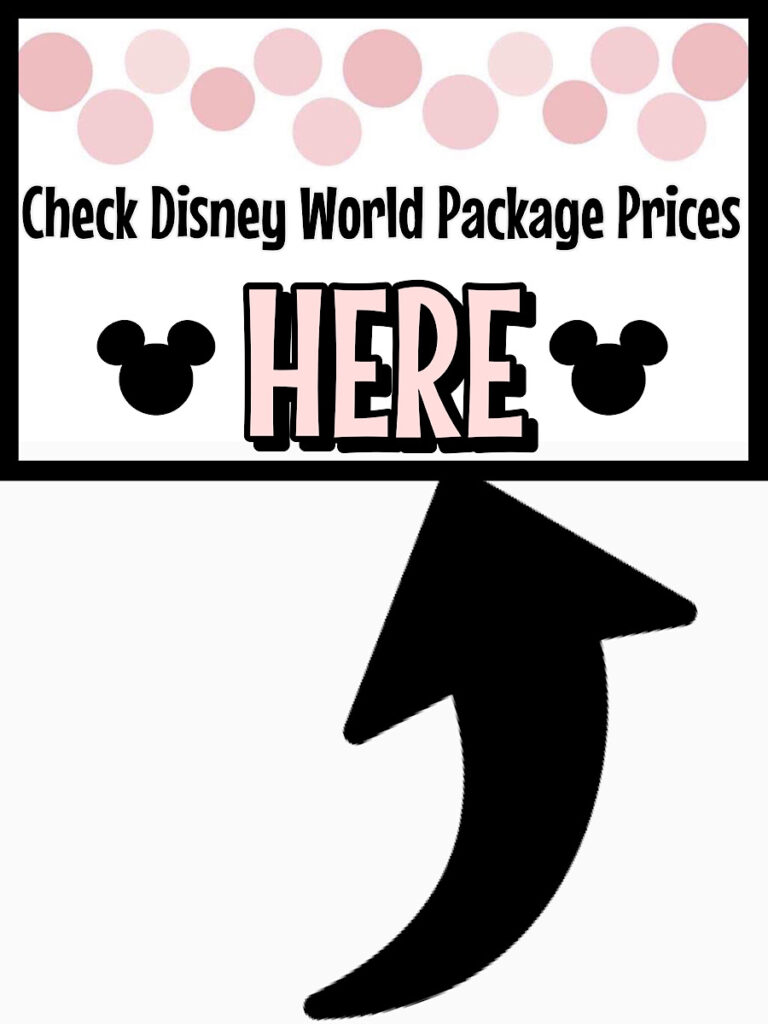 What is Hoop-Dee-Doo Musical Revue?
The Hoop-Dee-Doo Musical a lively dinner show at Disney World's Fort Wilderness Resort. Lasting for two hours, the show features dancing, singing, and zany comedy performed by the Pioneer Hall Players.
Guests can expect an old-fashioned, Wild West-themed experience complete with foot-stompin' music, nostalgic comedy, and an all-you-care-to-eat dinner. The menu includes delicious fare such as famous fried chicken, and the setting takes place in a large barn-like Pioneer Hall.
It's a must-do for those looking to enjoy a fun-filled evening of entertainment and good food at the Most Magical Place on Earth!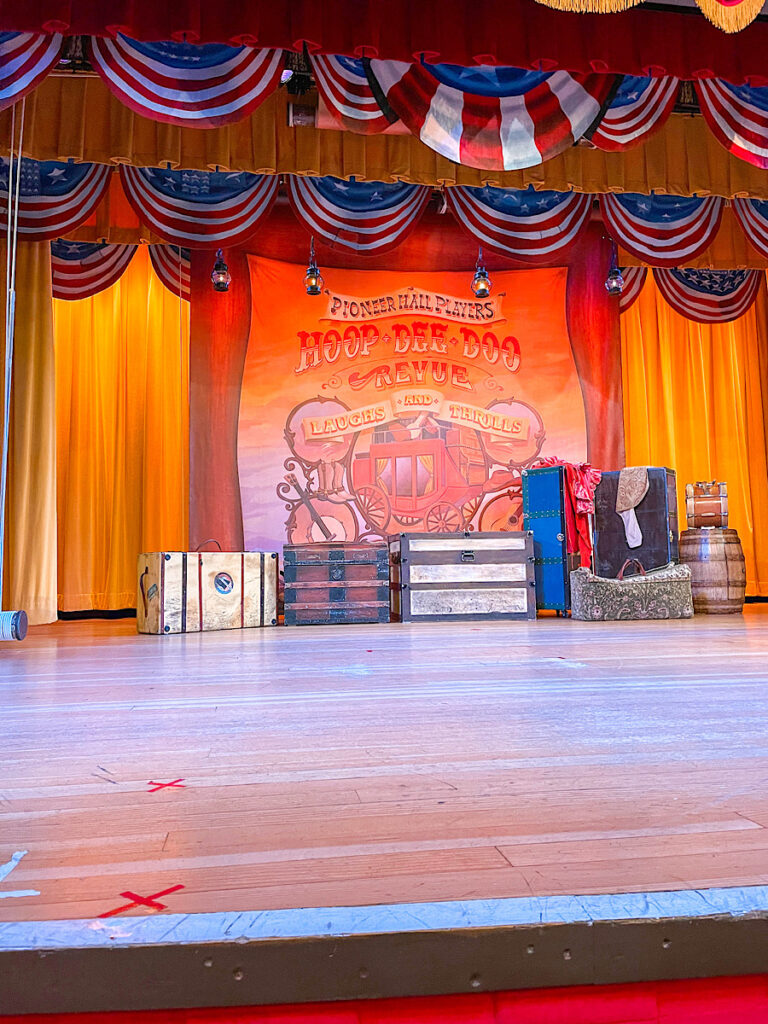 Hoop-Dee-Doo Ticket Prices
Ticket prices for the Hoop-Dee-Doo Musical Revue are broken down into three different categories and vary in price depending on where you want to sit.
Category 1
Category 1 seating encompasses the entire main floor in front of the stage. The price for children ages 3-9 is $44 and for ages 10+ is $74.
Category 2
Category 2 seats are located at the back of the theater on the second level balcony. The price for ages 3-9 is $40 and for ages 10+ is $69.
Category 3
Category 3 seats are located on both sides of the balcony on the second level. The price for ages 3-9 is $39 and for ages 10+ is $66.
Showtimes for Hoop-Dee-Doo Musical Revue
The Hoop-Dee-Doo Musical Revue is open for shows five nights a week, Wednesday through Sunday. The show times are at 4:00 pm, 6:15 pm, and 8:30 pm.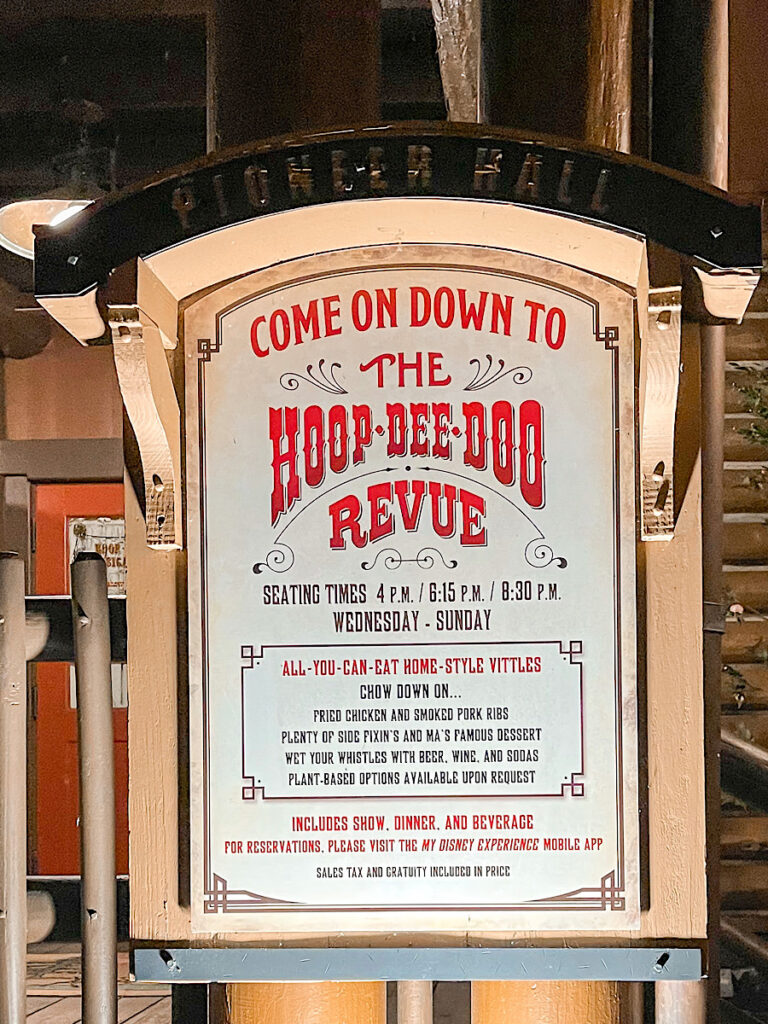 How to Reserve Tickets for Hoop Dee Doo Musical Revue
Tickets for the Hoop-Dee-Doo Musical Revue can be purchased online on the Walt Disney World website up to 60 days before your arrival date. You can also make a same-day reservation if they are available. When you make reservations, your credit card will be charged at that time, unlike standard dining reservations.
I used my favorite travel agency, Get Away Today, to help me make all of our dining reservations. This service from their concierge team is included when you book a Disney World vacation package through them. Check out prices here and use the coupon code: Clubhouse10 to save even more!
Where is Hoop-Dee-Doo Musical Revue Located?
The Hoop-Dee-Doo Musical Revue is located at Disney's Fort Wilderness Resort & Campground in the Pioneer Hall theater.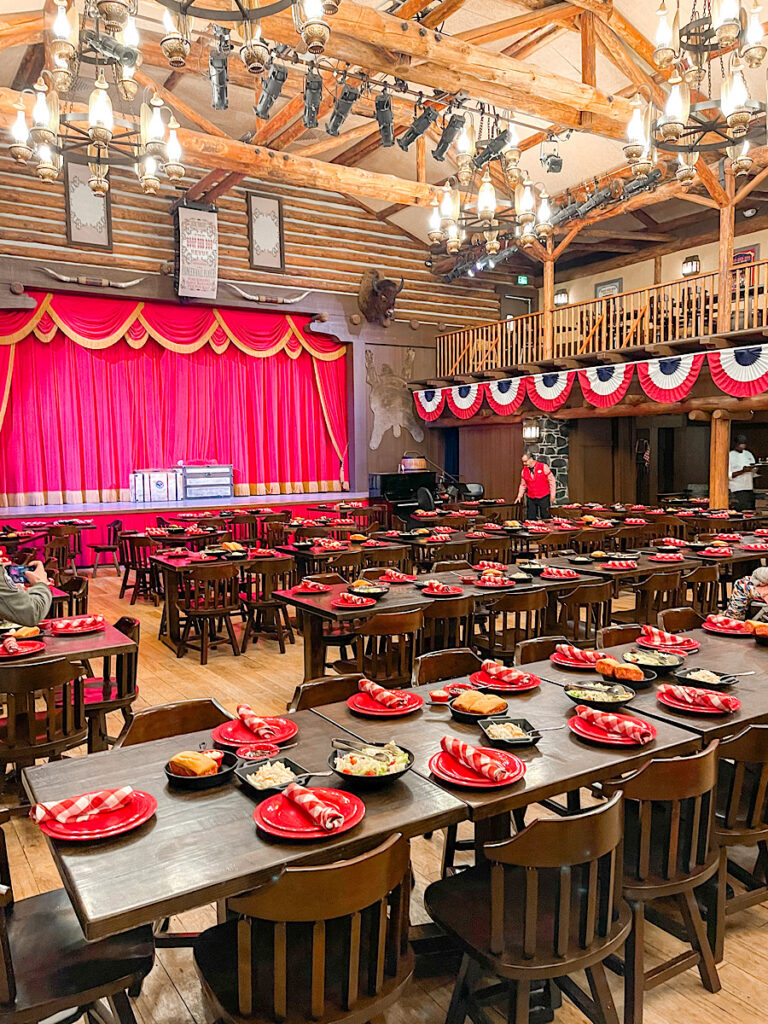 How to Get to the Show
There are a few different ways to get to the Hoop-Dee-Doo show,
Disney Resort Transportation
If you are staying at a Disney Resort hotel, you can use free Disney Resort Transportation to get to Disneys Ft. Wilderness. Buses will not take you from resort to resort, so you'll have to take the bus to a theme park or Disney Springs, then get on the Ft. Wilderness bus. Be sure to give yourself enough time to do this.
Use Your Own Car
If you have your own car, you are asked to park at the entrance to Disney's Fort Wilderness & Campground. You'll want to make sure you allow yourself enough time to get to the show.
Taking a Ferry from Magic Kingdom Park
If you take a ferry from Magic Kingdom Park, Disney recommends that you allow up to one hour and 30 minutes travel time.
Uber, Lyft, or Taxi
Taking a ride share or taxi is also a viable option. When you are dropped off, you will need to catch an internal bus to Pioneer Hall.
Minnie Vans Service
A Minnie Van is a Disney-run ride share that can get you closer to the show at Pioneer Hall than other forms of transportation. You can book a Minnie Van through the Lyft app.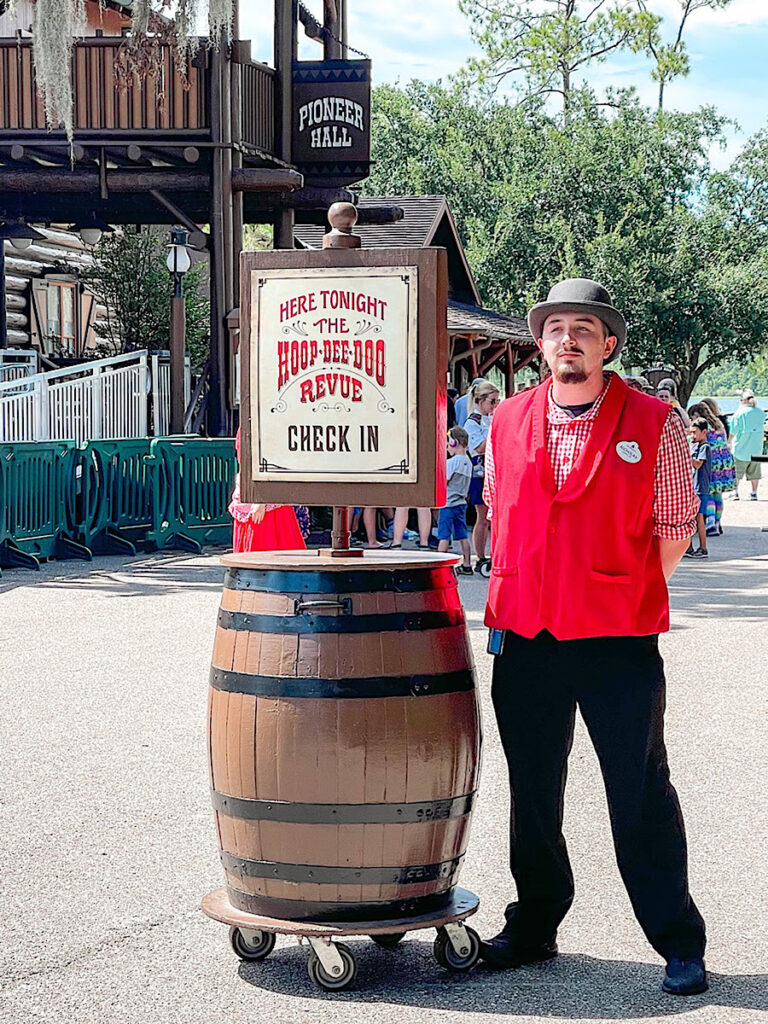 How to Check-In for Hoop Dee Doo Revue
Plan to arrive 15-20 minutes before your reservation time. When you get to Pioneer Hall, make your way to the check-in booth and cast members will help you get checked in.
You will get a receipt with a table number that you will give to the cast members at the door. Your table is already assigned, so there is no need to wait in the long line. We took advantage of the shade until the show doors opened.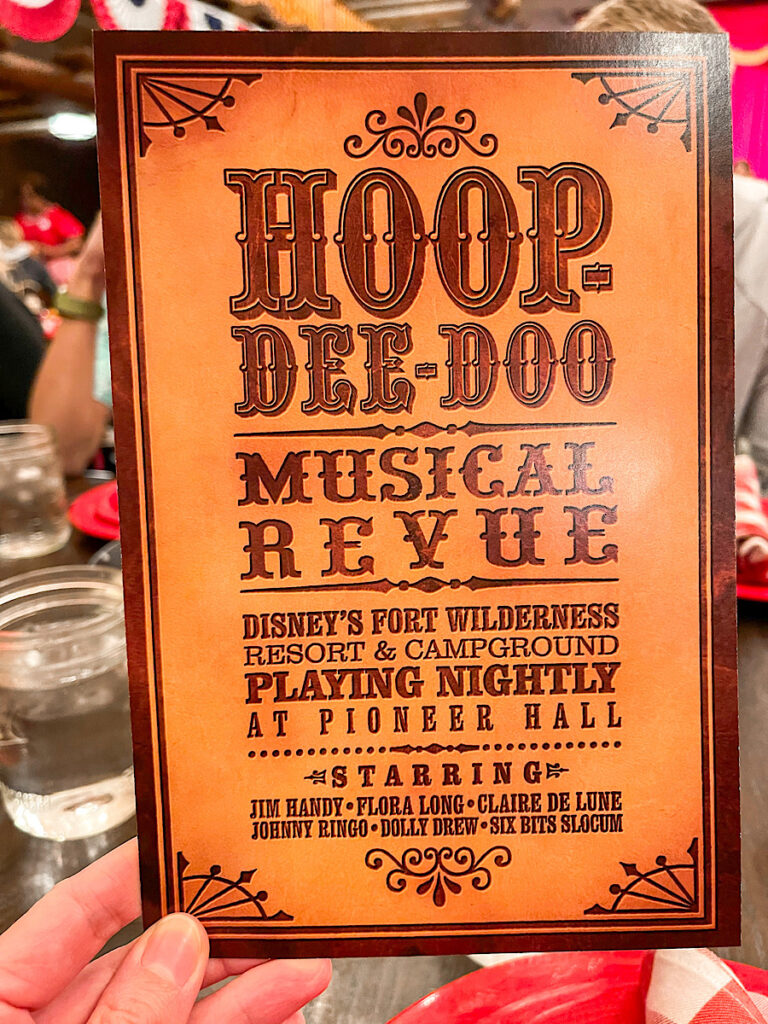 Hoop-Dee-Doo Revue Menu
The menu at Hoop-Dee-Doo is standard Southern comfort food. It is served family style, and is all you care to enjoy.
Drinks – Included With Your Meal
Alcoholic Selection: Chardonnay or Merlot, Bud Light Lager or Yuengling Lager Draft Beer, Red Sangria or White Sangria
Non-Alcoholic Selection: Coca-Cola, Diet Coke, Sprite, Fanta Orange, Barq's Root Beer, Minute Maid Zero Sugar Lemonade, Sweetened or Unsweetened Iced Tea, Minute Maid Apple Juice, Milk, Chocolate Milk, Twinings Hot Tea, or Joffrey's Coffee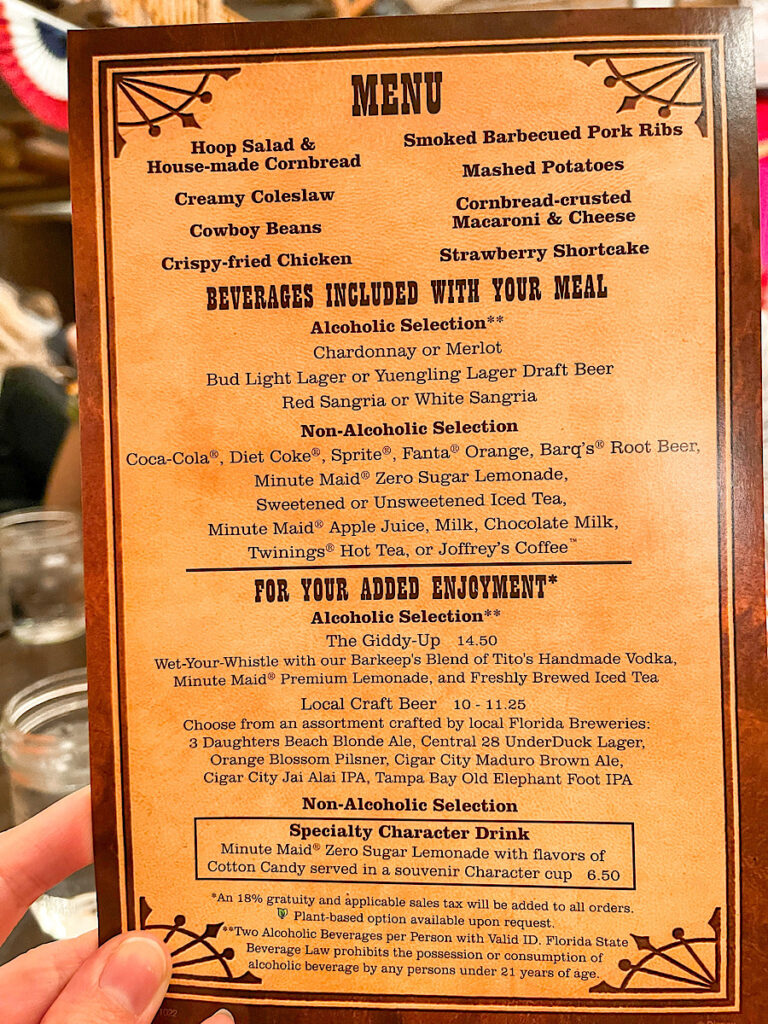 Drinks For Purchase at an Additional Cost
Alcoholic Selection: The Giddy-Up $14.50 (Tito's Handmade Vodka, Minute Maid Premium Lemonade, and Freshly Brewed Iced Tea), Local Craft Beer $10 – $11.25 (3 Daughters Beach Blonde Ale, Central 28 UnderDuck Lager, Orange Blossom Pilsner, Cigar City Maduro Brown Ale, Cigar City Jai Alai IPA, Tampa Bay Old Elephant Foot IPA
Non Alcoholic Selection: Specialty Character Drink $6.50 (Minute Maid Zero Sugar Lemonade with flavors of Cotton Candy served in a souvenir Character Cup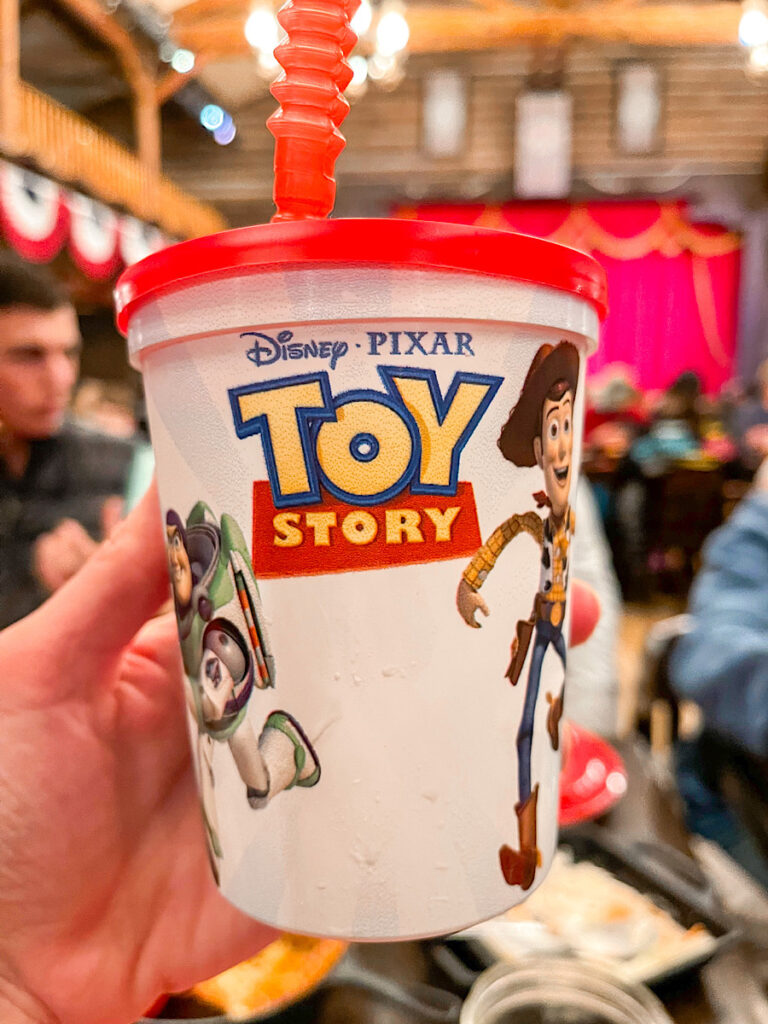 Menu Items
Hoop Salad & House-Made Cornbread, Creamy Coleslaw, Cowboy Beans, Crispy-Fried Chicken, Smoked Barbecued Pork Ribs, Mashed Potatoes, Cornbread-Crusted Macaroni & Cheese, and Strawberry Shortcake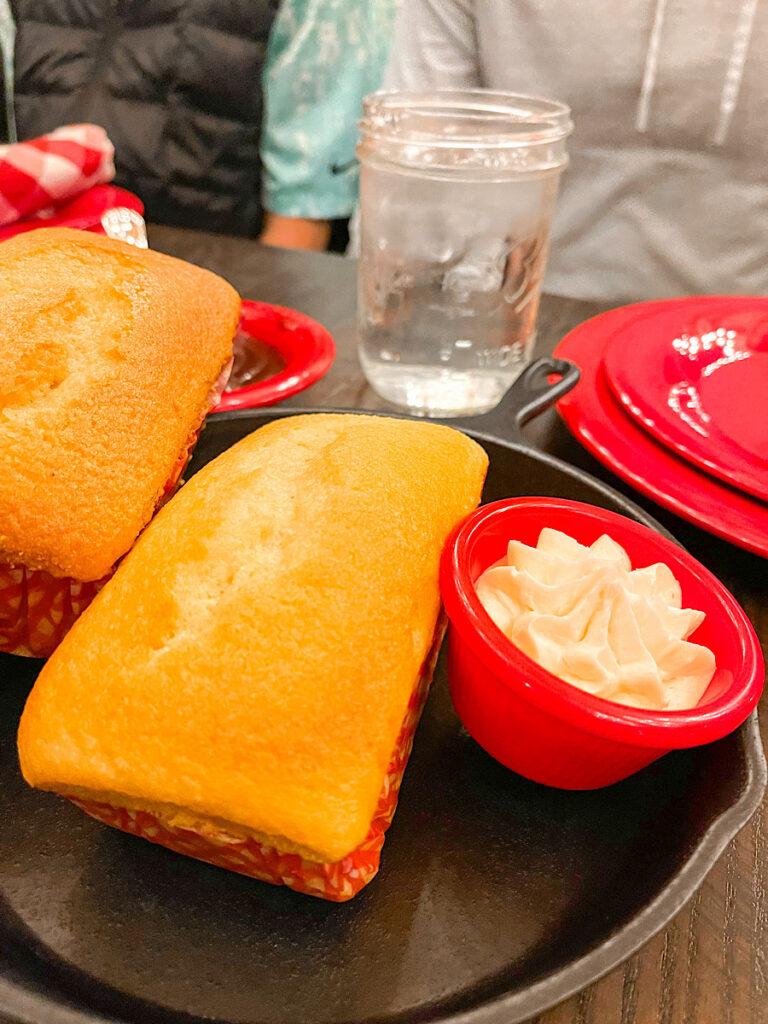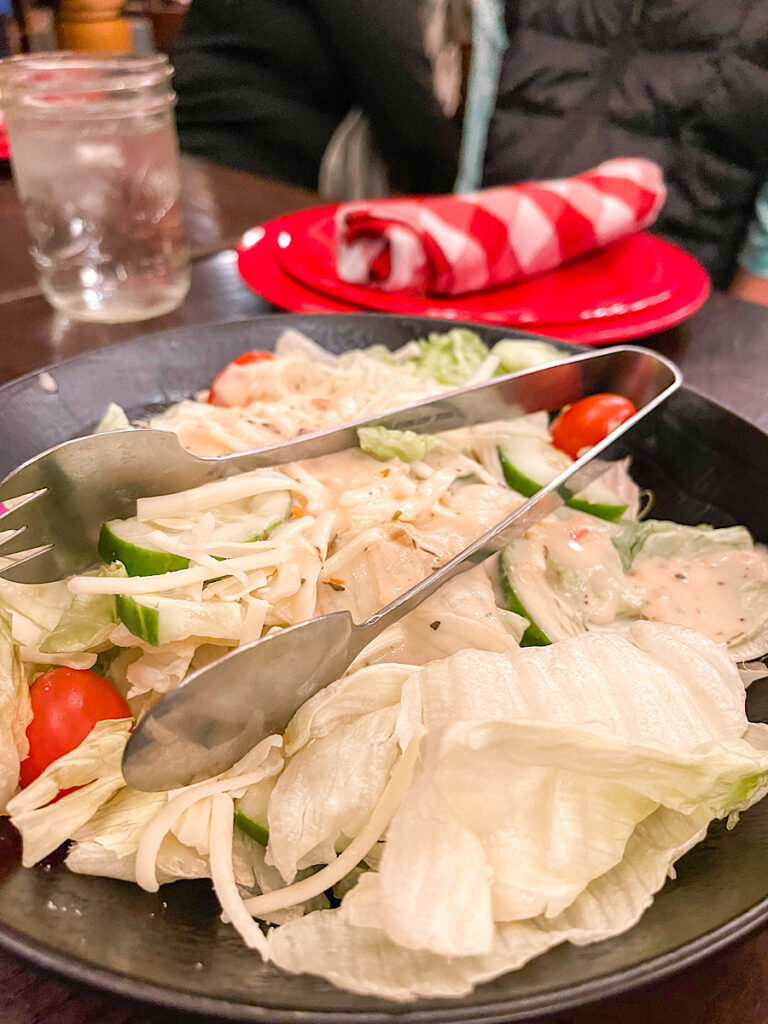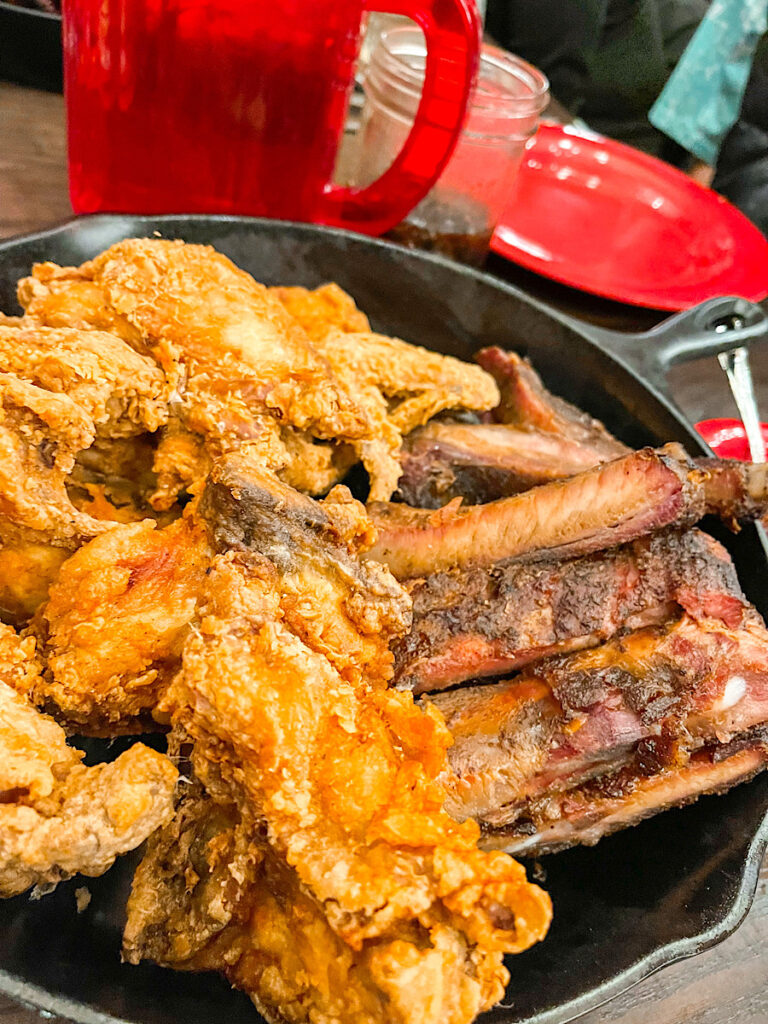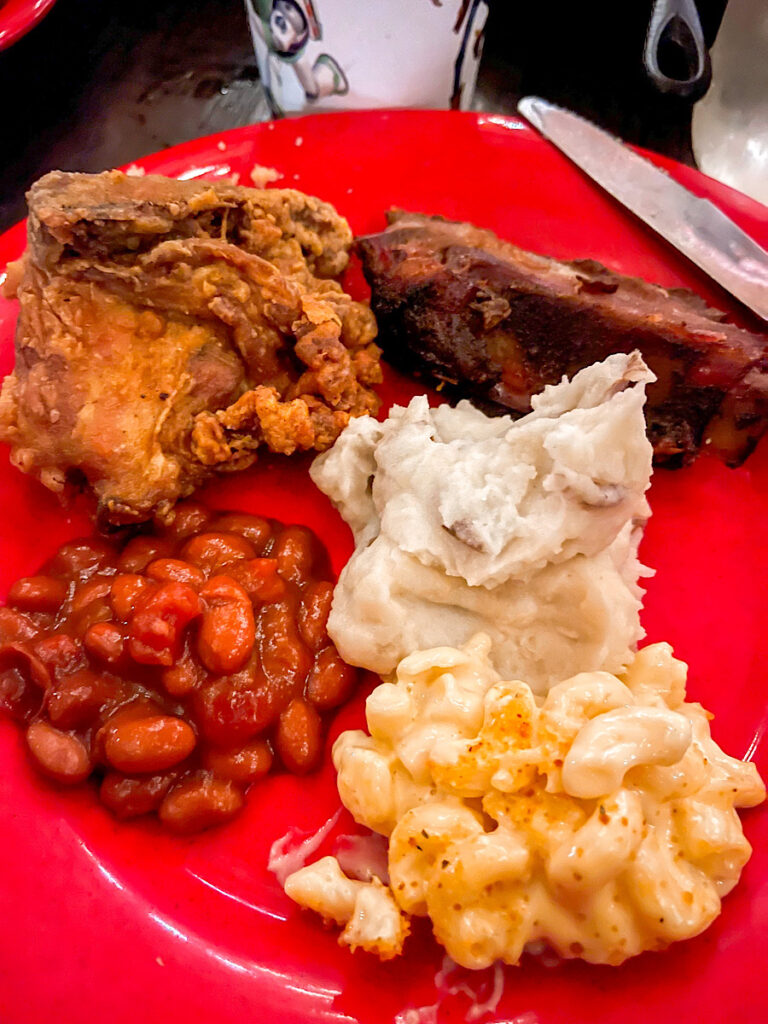 About The Show
During the show, you can expect a lot of upbeat musical numbers, lots of laughs, and audience participation. The show character's names are Jim Handy, Flora Long, Johnny Ringo, Claire de Lune, Six Bits Slocum, and Dolly Drew. There are a couple of times when kids are involved with the cast as well.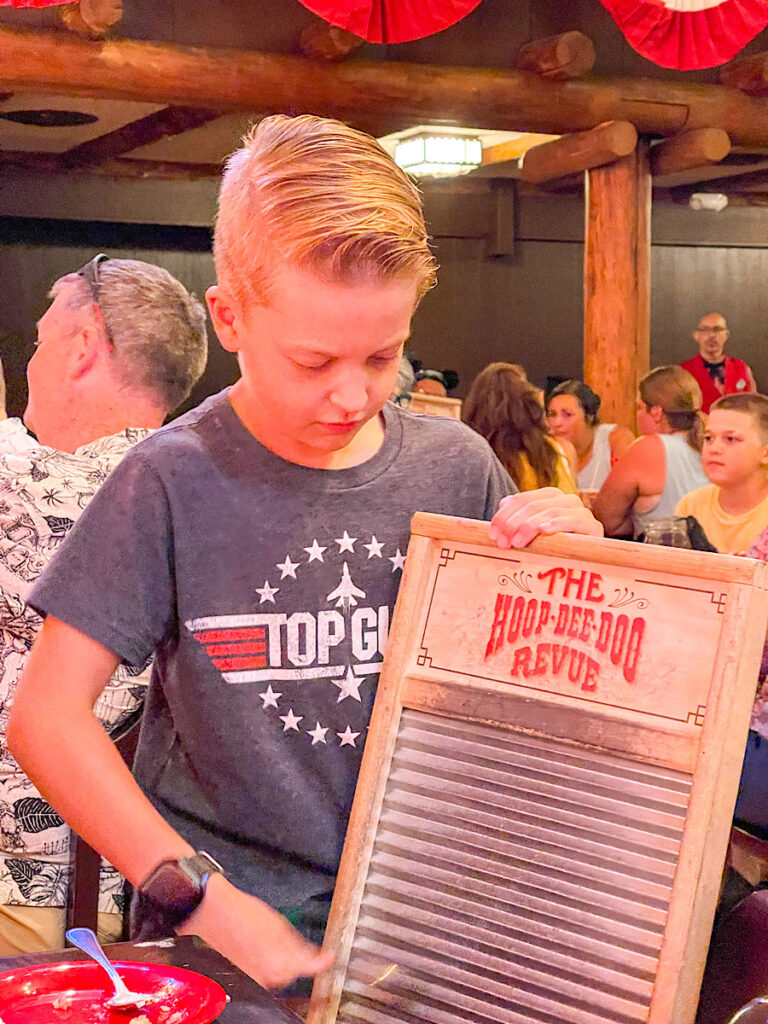 Is it Worth the Price? My Experience
I have enjoyed this show two times, once with my friends at Get Away Today, and the second time with my family. Both shows were great!
When I went with my family, I purchased Category 1 seats for the show and we were sat right in front of the stage, which meant even more involvement in the show!
We loved all of the food, especially the cornbread, macaroni & cheese, and the strawberry shortcake!
My kids thought the jokes were hilarious and loved playing the washboard during the grand finale of the show.
To me, the price of this show was totally worth it and we will definitely be doing this again! I highly recommend it to anyone who is looking for a fun dining experience that adds some pizazz to your Disney World vacation.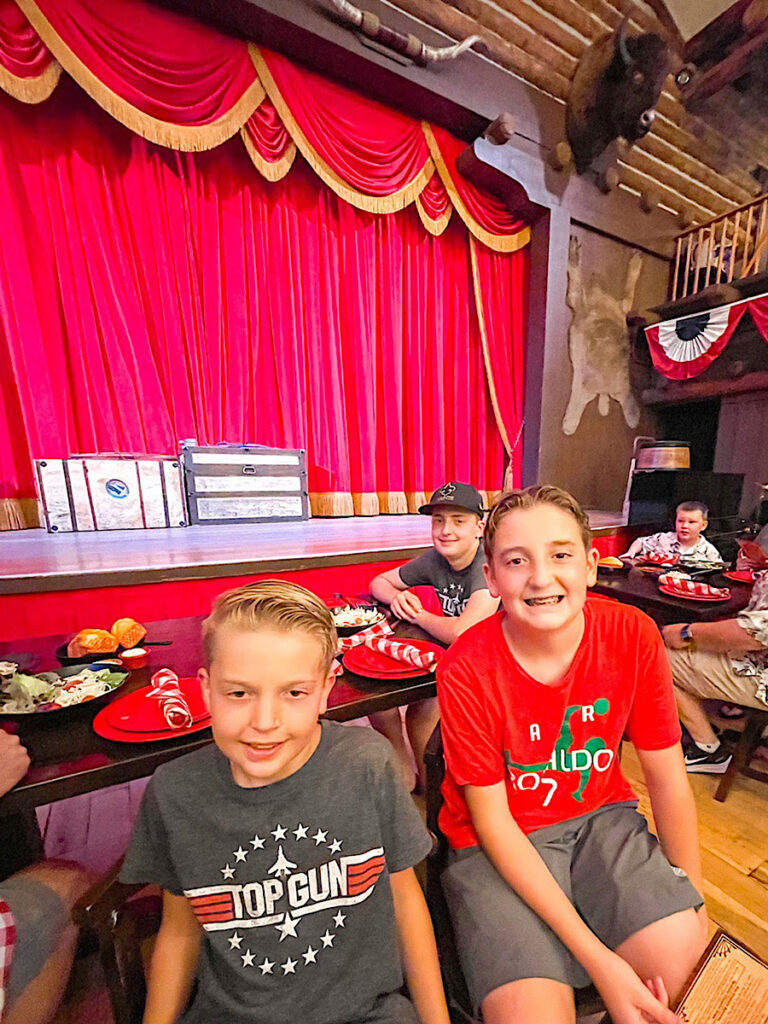 Final Thoughts
The Hoop-Dee-Doo Musical Revue is an energetic, entertaining show that the whole family will love. Whether you are looking for a fun dining experience or some great entertainment, this show has it all! With delicious food and exciting music, you and your family will have a night to remember. So grab your tickets today and get ready for a Hoop-Dee-Doo of a good time!