Wondering what hotel to stay at near Disney World? This review of Homewood Suites Orlando Theme Parks will help you decide if this hotel is right for you!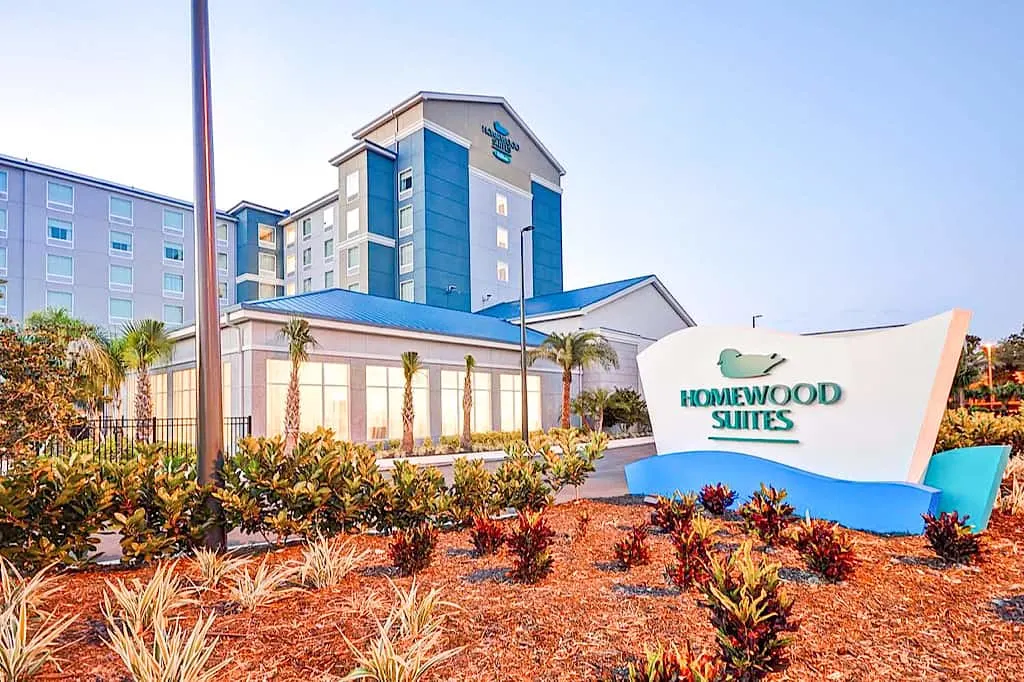 This post may contain affiliate links. When you click on these links, I get a small percentage back at no cost to you! For more information see my disclosure policy.
Homewood Suites by Hilton is one of my favorite hotel brands and I love their location in Orlando near Disney World.
There are definitely pros and cons to staying at an off-site hotel when visiting Disney Parks, and the Homewood Suites Orlando Theme Parks definitely has a lot of pros.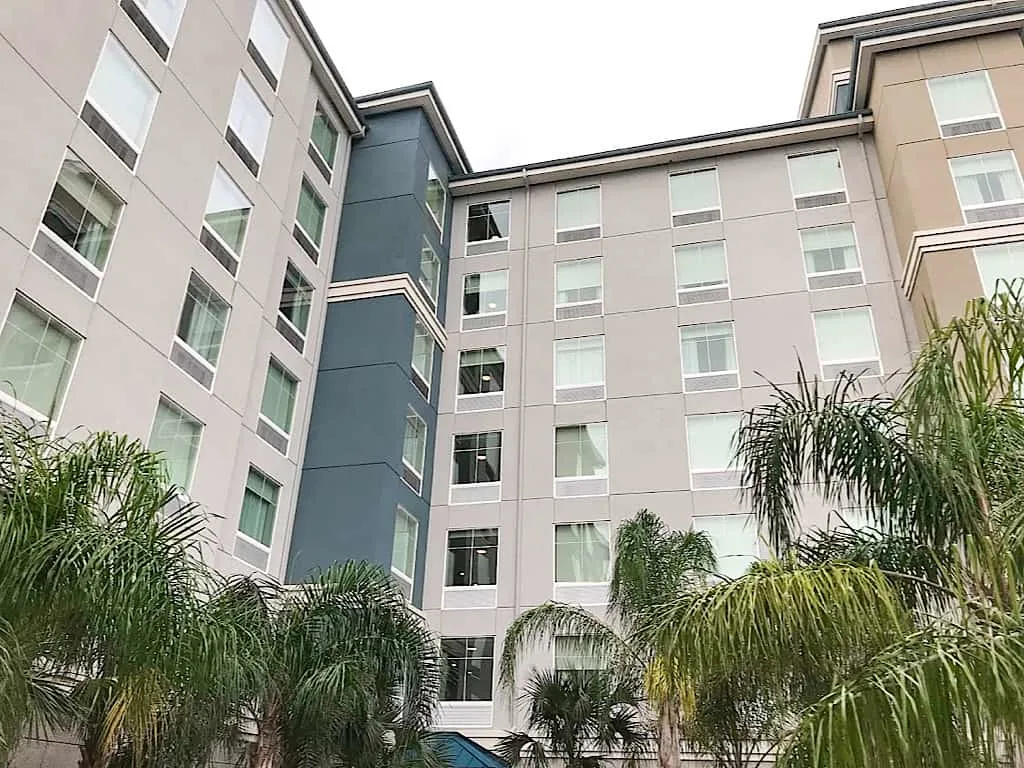 Homewood Suites by Hilton Orlando Theme Parks Review
Below you will find my review of this hotel that I hope will help you decide if you want to stay here with your family!
Homewood Suites Lobby
Upon arriving at the hotel, you walk into the amazing lobby and are greeted by friendly front desk staff.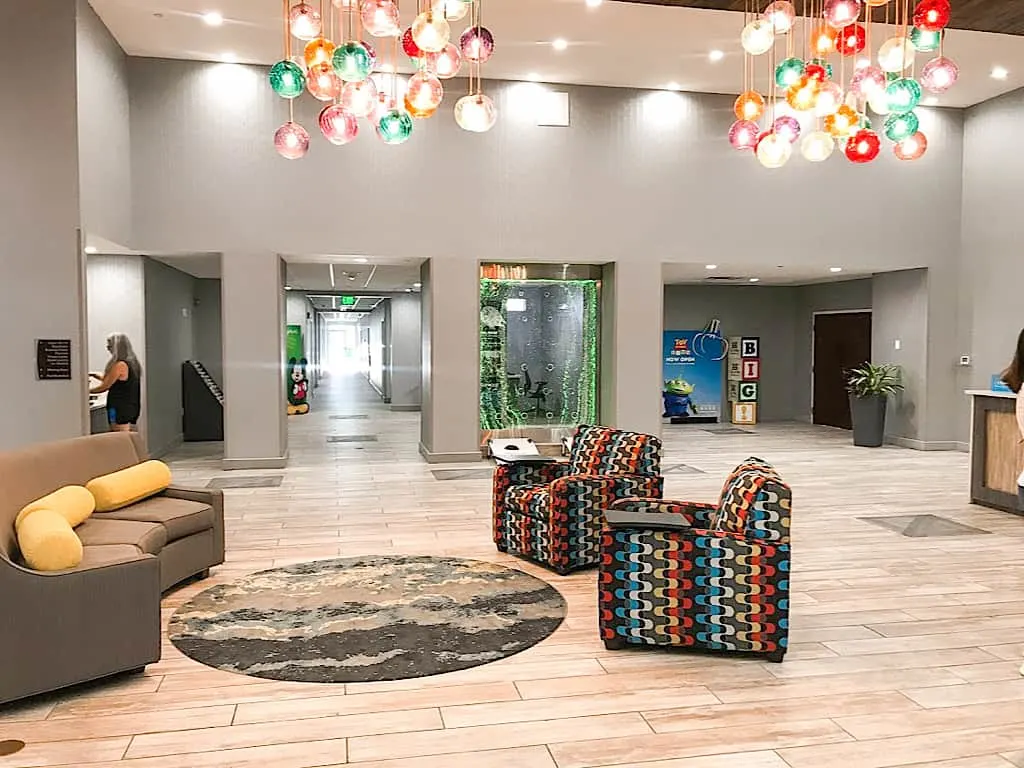 The decor in the lobby is modern, bright, and colorful. You will definitely feel at home right as you come through the doors.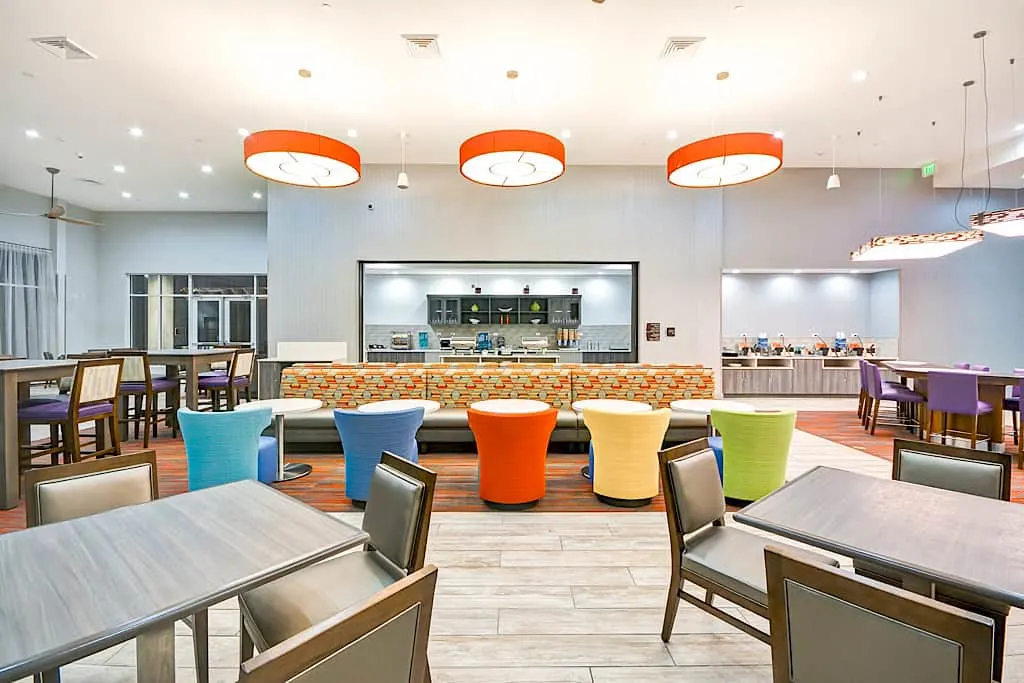 As you look to the left, you will see the dining area that is used for both the free hot breakfast in the morning and the complimentary evening social.
To the right is a small gift shop with snacks and souvenirs because you never know when you might need a little something.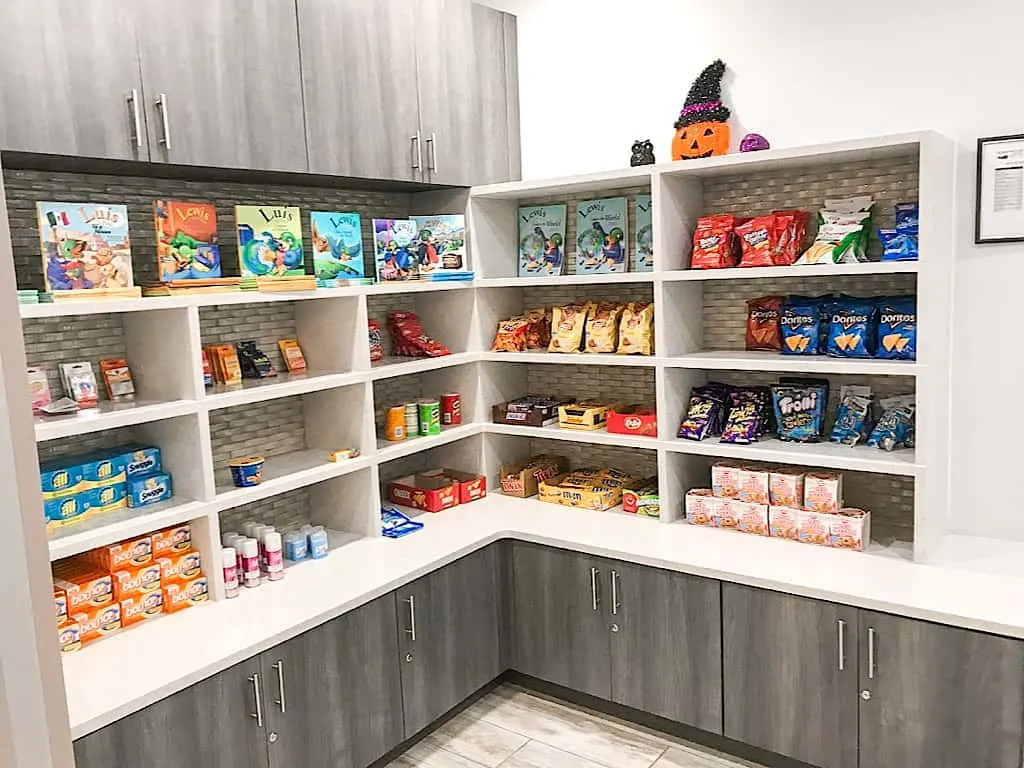 The lobby also has a couple of things that your kids will love.
There is a Disney-themed photo spot as well as an area to play the game Cornhole.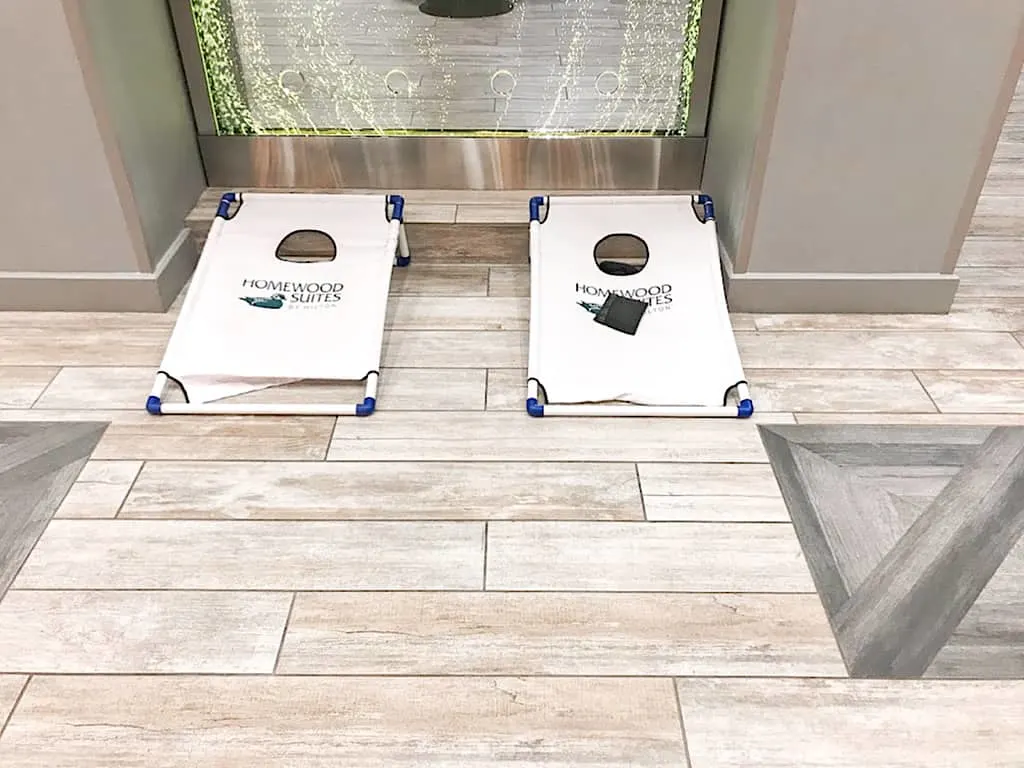 Business Center
Just off of the lobby, there is a complimentary business center. From here you can do basically anything you could do from your own office.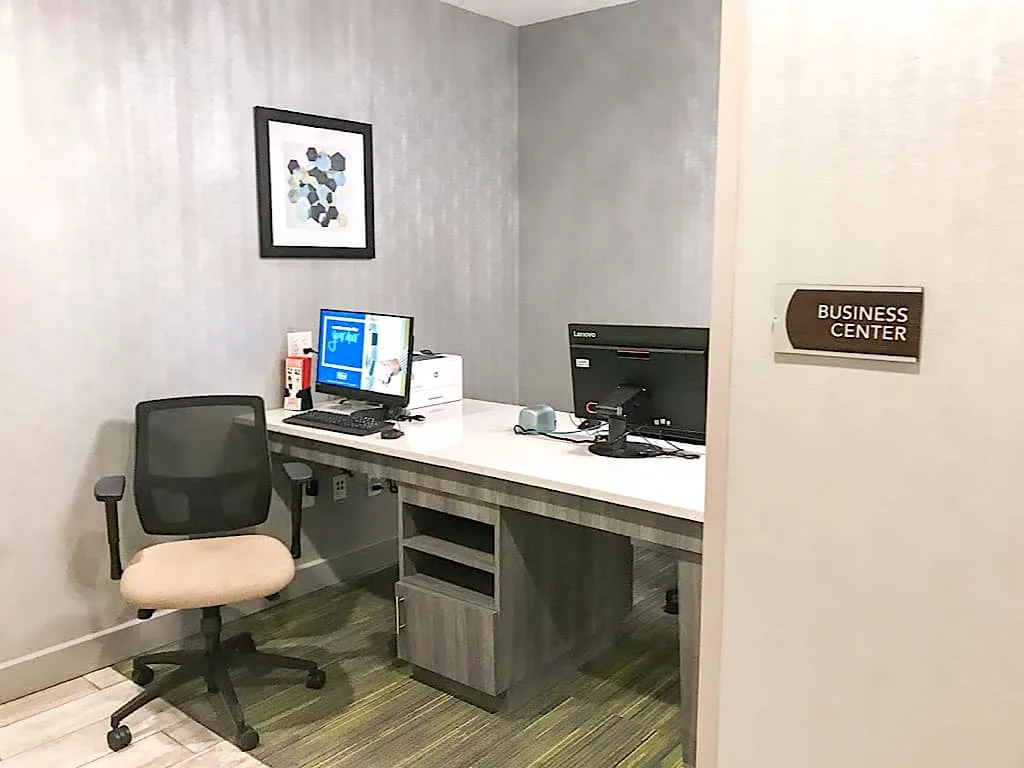 Everything from printing to faxing is available here. Homewood Suites also offers free wi-fi for all guests which is a major perk.
Homewood Suites Orlando Outdoor Area and Pool
When visiting Orlando, being able to spend time outside is a must!
Fortunately at Homewood Suites, they provide plenty of spots to relax outdoors during your stay.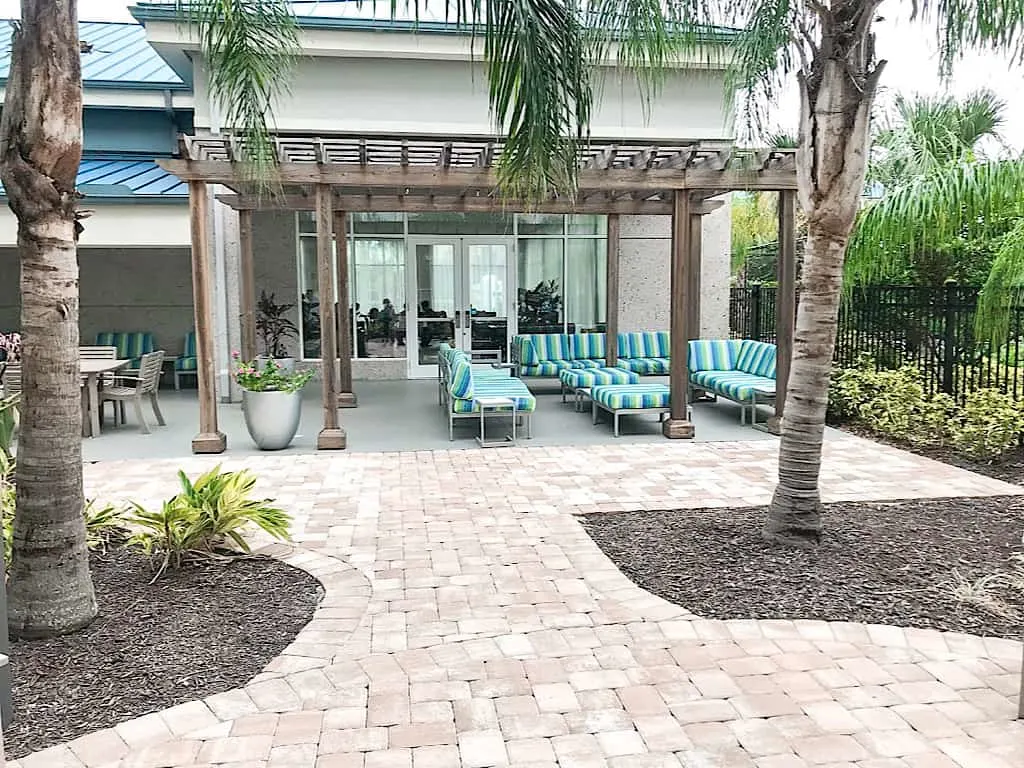 There are barbecue grills that are available for guests to use as well as an amazing fire pit to sit around at night.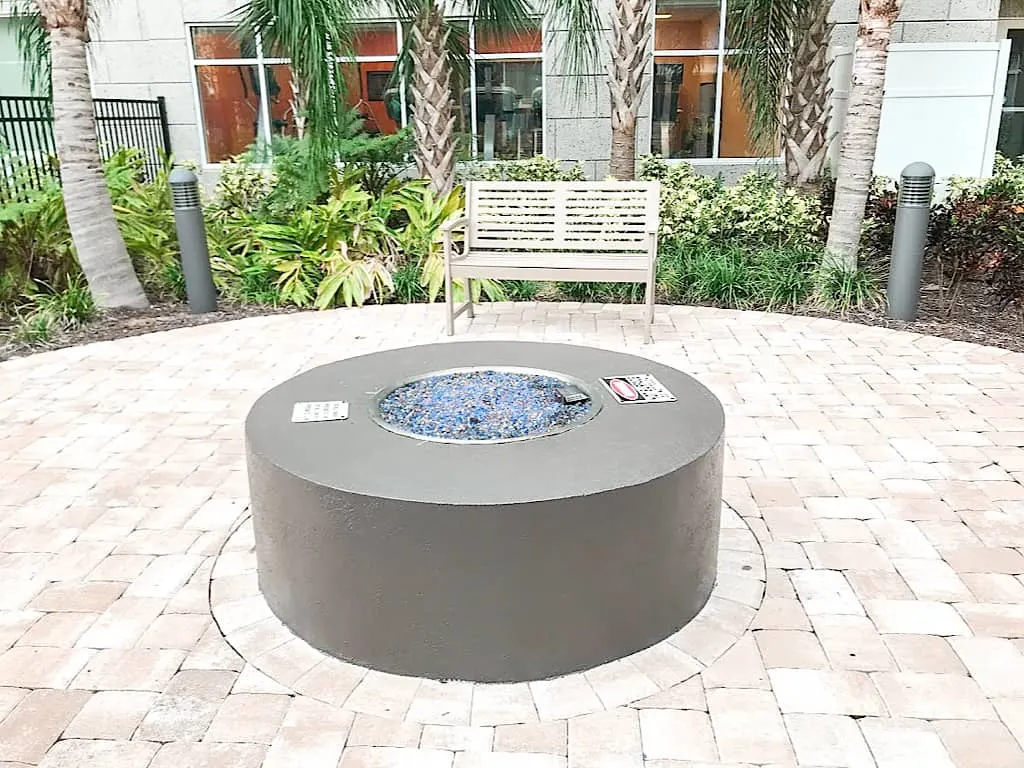 My boy's favorite part is the basketball court. It's pretty much a dream come true for them to be able to play basketball while on vacation!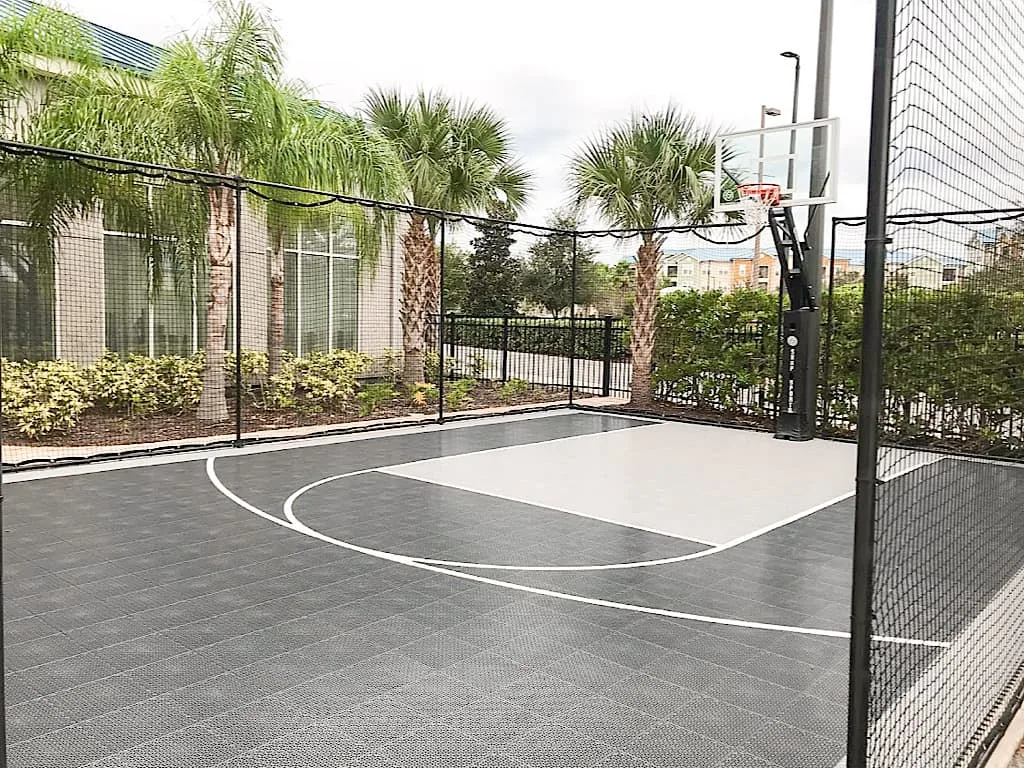 The outdoor pool has a shallow end that little ones will appreciate. The sea lion in the pool is definitely a plus.
There is also plenty of seating around the pool for families to relax outside.
Meeting Rooms
If you are looking for a place to hold an event, there is plenty of space at Homewood Suites Orlando.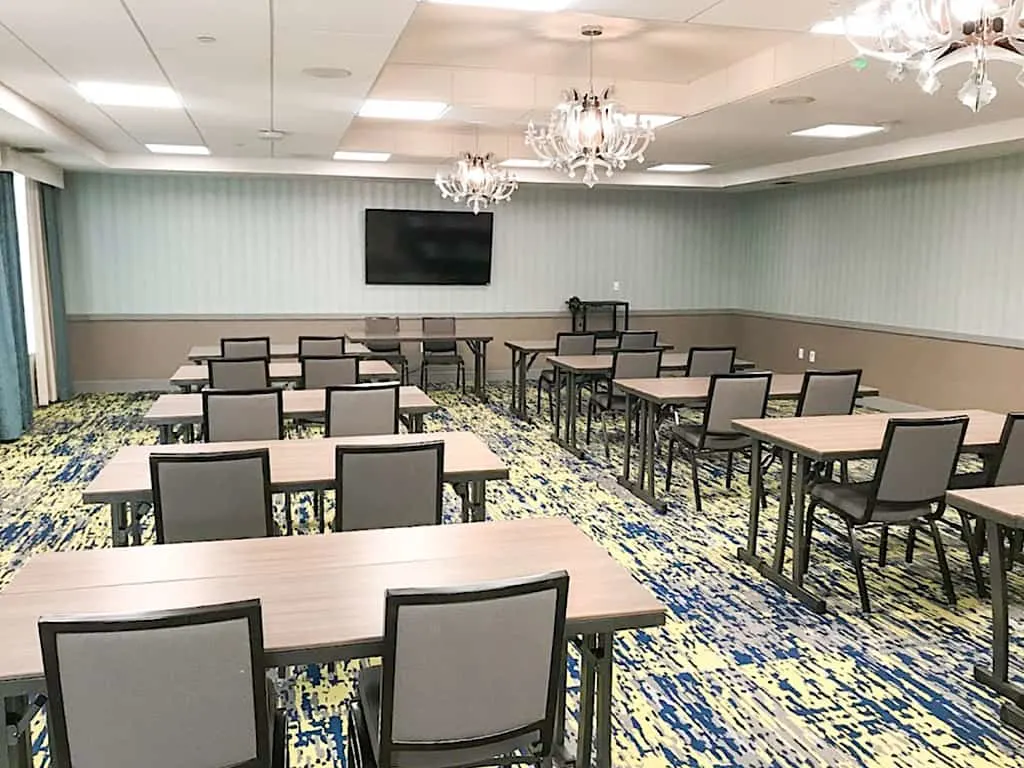 The total event space at Homewood Suites in Orlando is 1386 square feet. There are two meeting rooms, the largest being 1064 square feet.
Guest Rooms
All of the guest rooms at Homewood Suites Orlando Theme Parks, are suites.
Each is equipped with a kitchen, living room with a sofa bed, and a separate bedroom.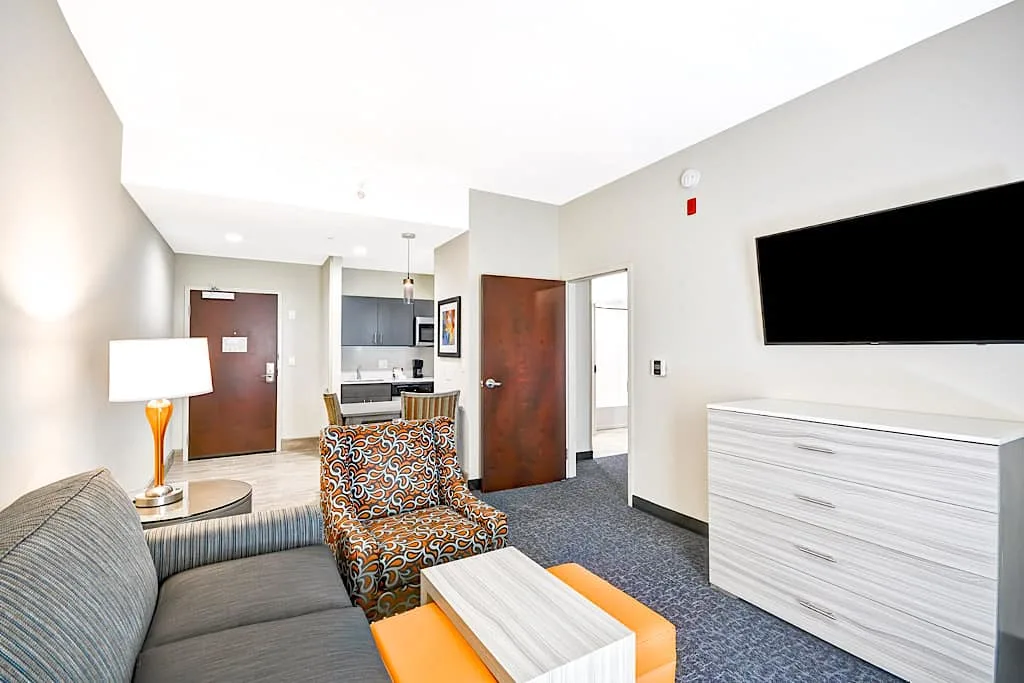 Bedrooms
The bedrooms either have one King sized bed or Two Queens.
There are also rooms that are wheelchair accessible to accommodate guests who may have this need.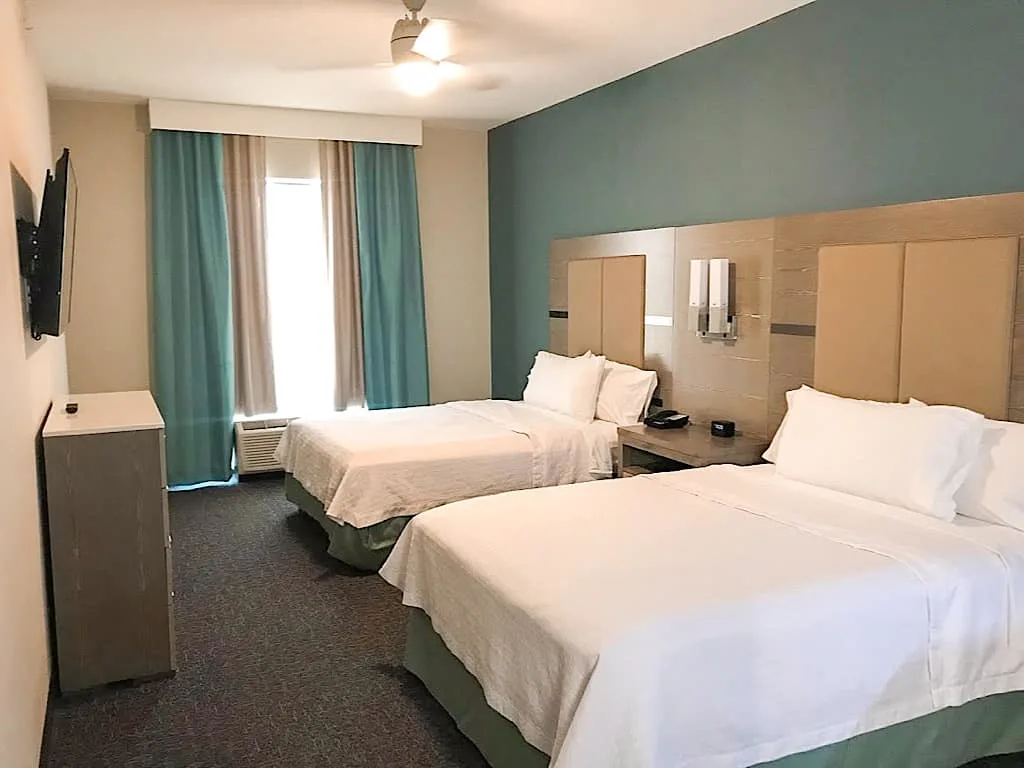 I absolutely love that the guest rooms have separate bedrooms.
It makes it so much easier to give little ones (or dad's) a nap when you can close the door.
Kitchenette
Although Homewood Suites offers free breakfast for all guests, it is nice to have a kitchen to prepare other snacks and meals in your own room.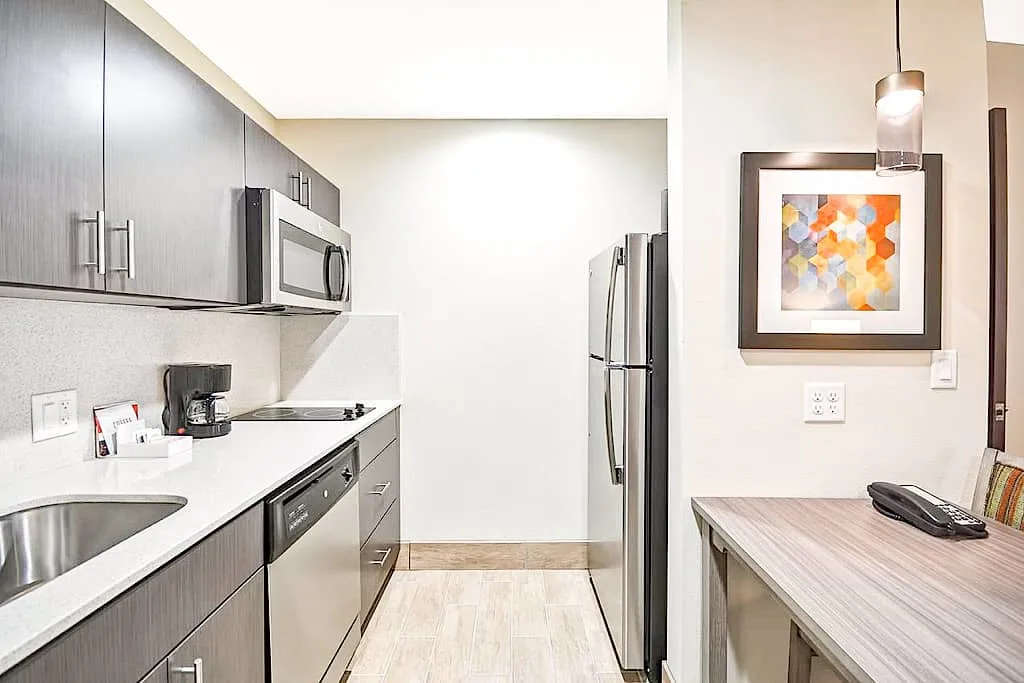 This perk has definitely come in handy having three growing boys!
The kitchenette has a full-sized refrigerator, microwave, and cook top.
There are also pots, pans, and other cooking items already in the rooms!
Bathroom
Each guest room had a large bathroom. I love that the sink and vanity are separate from the toilet and tub/shower.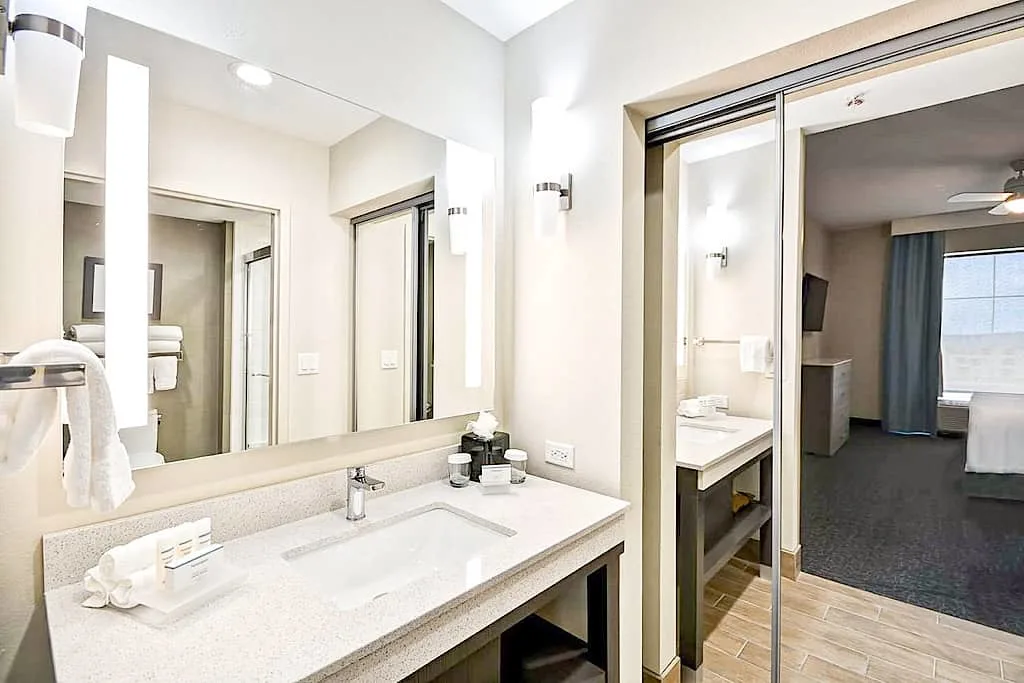 This definitely helps save time in the morning when everyone is trying to get ready for the day at the same time.
Complimentary Breakfast and Evening Social
One of the benefits of staying at Homewood Suites in Orlando is the complimentary breakfast and Evening Social.
Breakfast
The breakfast offerings at Homewood Suites range from hot meals to grab-and-go snacks.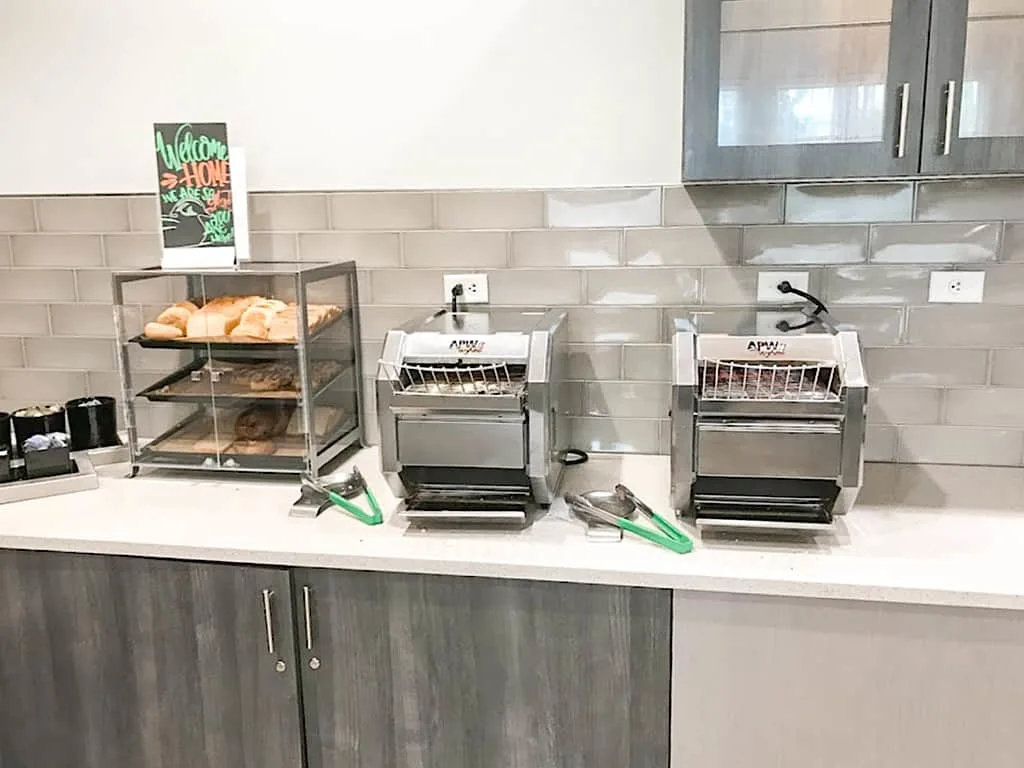 During my stay there was scrambled eggs, sausage, bacon, pastries, and oatmeal with assorted toppings.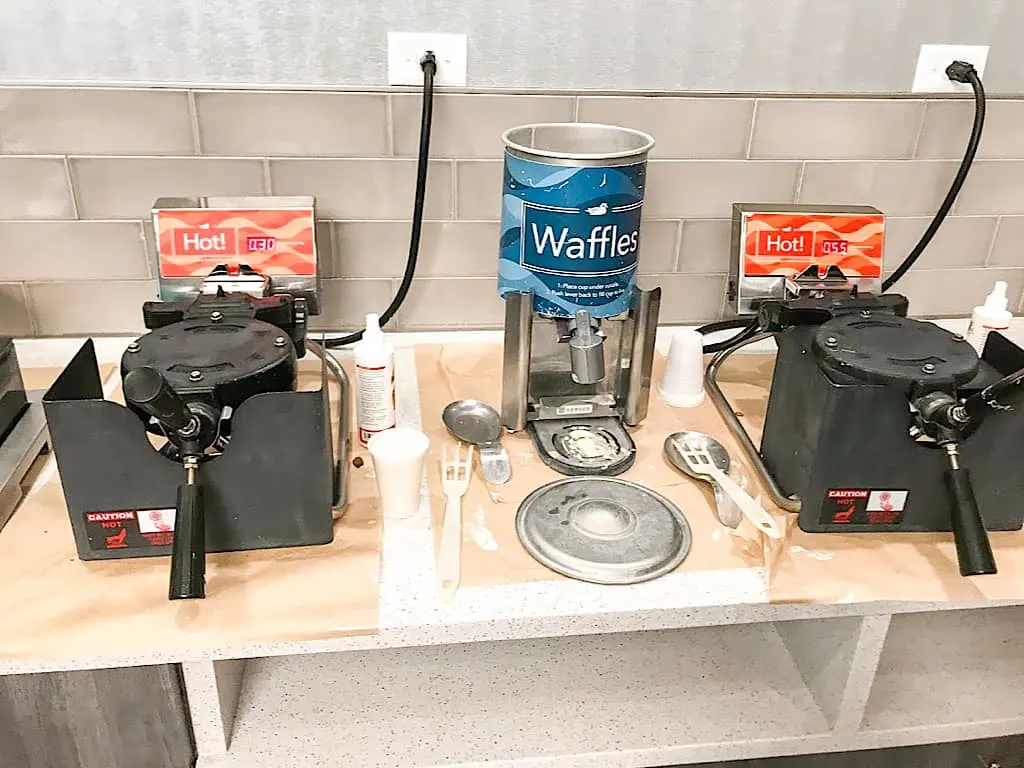 But the best part about breakfast at Homewood Suites is the Mickey Waffles! They have not one, but two Mickey Mouse Waffle Irons.
One iron makes a large waffle and the other makes several smaller waffles.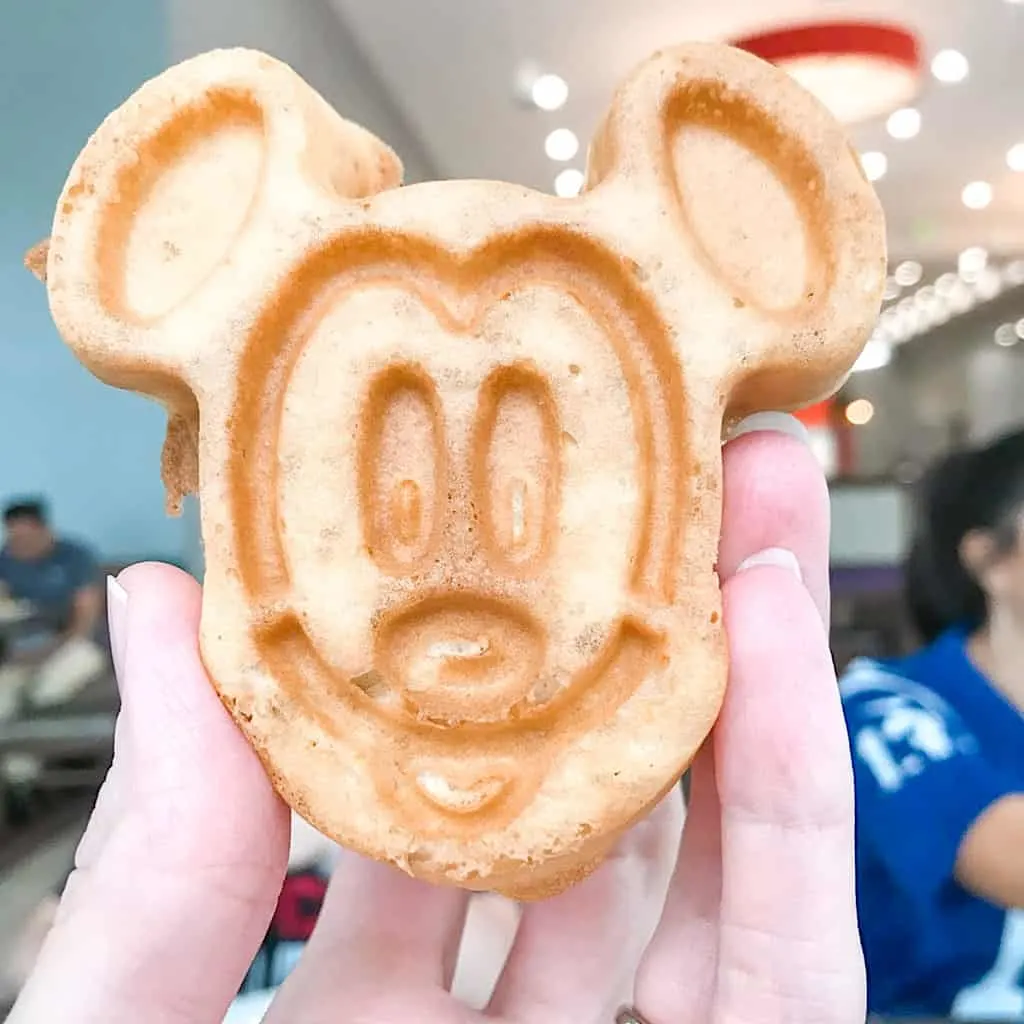 By the way, if you want to make Mickey Waffles at home, check out my copycat recipe here and you can get your own Mickey Waffle iron here!
Evening Social
On select nights at Homewood Suites, guests are treated to an evening reception with complimentary snacks and drinks.
Guest Laundry
Homewood Suites also has a large laundry facility that is available to guests.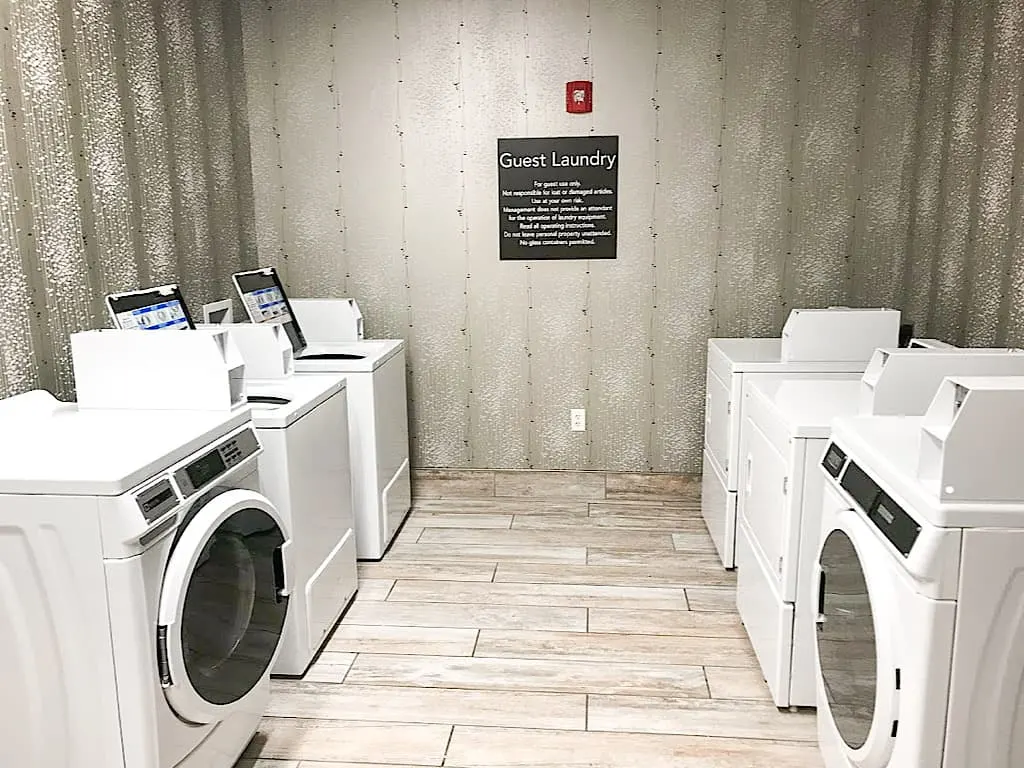 I don't usually plan to do laundry on vacation, but I always like to pack a couple of laundry pods or travel size laundry soap packets and dryer sheets just in case!
Fitness Center
If you want to get a work out during your stay at Homewood Suits, they have you covered!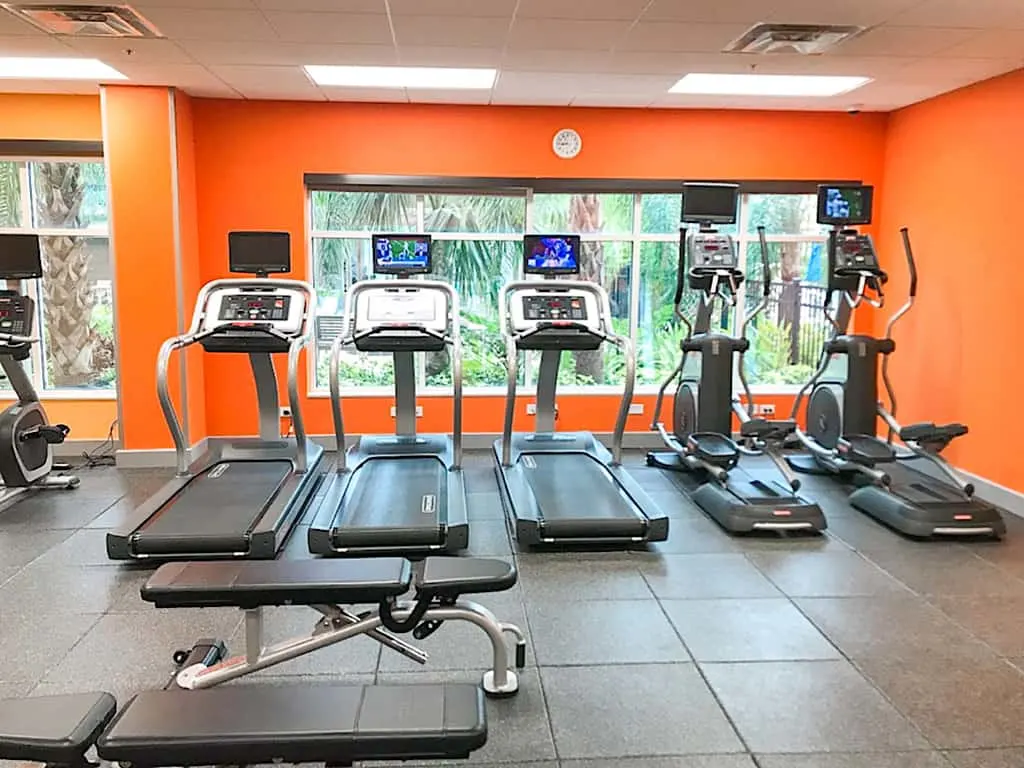 There are plenty of cardio machines as well as a few weight machines and an assortment of free weights.
How Far is Homewood Suites to Orlando Theme Parks?
Homewood Suites Orlando Theme Parks is pretty close to most of the major theme parks in Orlando.
Disney World (Magic Kingdom)
Disney's Magic Kingdom is 9.8 miles from Homewood Suites Orlando.
During times with low traffic, it will take about 15 minutes to get to Disney World by car.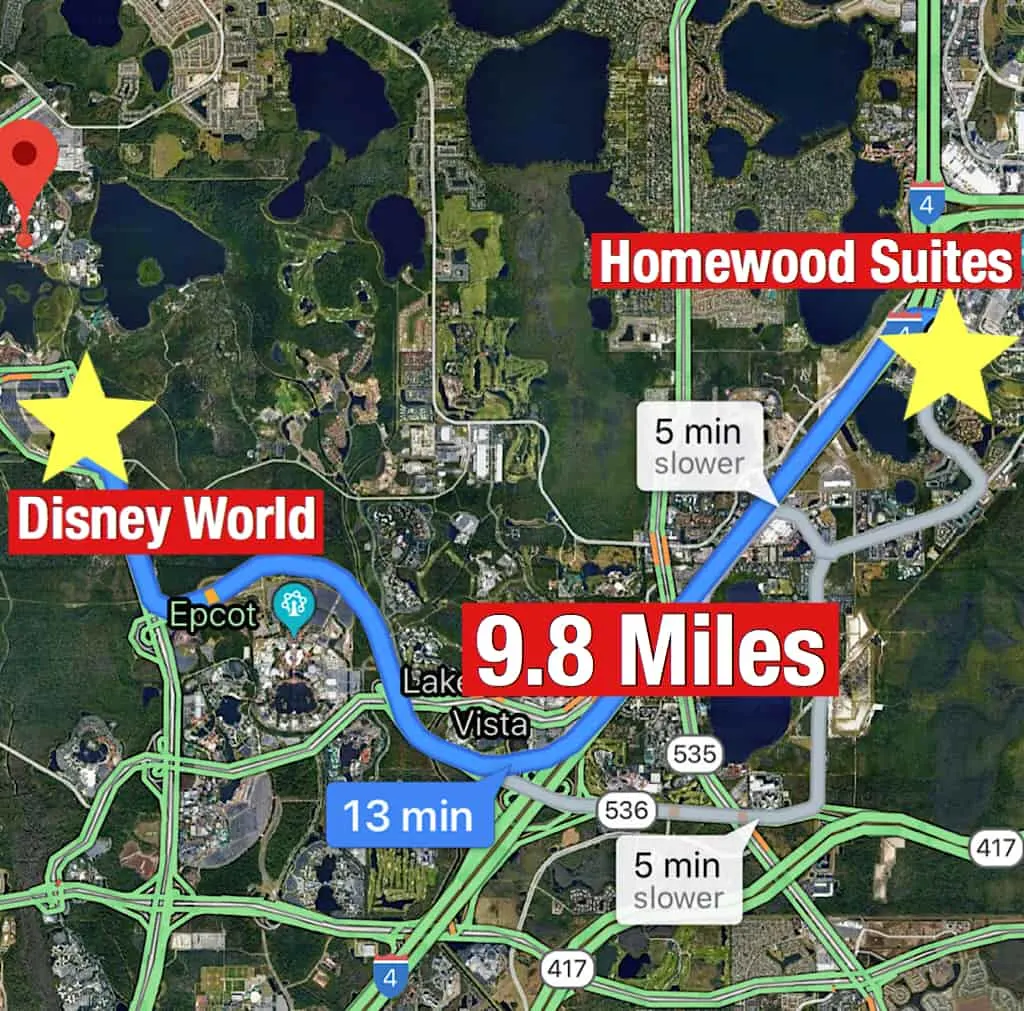 Sea World Orlando
Homewood Suites is actually within walking distance of Sea World Orlando.
It is only 1 mile and will take about 5 minutes if you drive.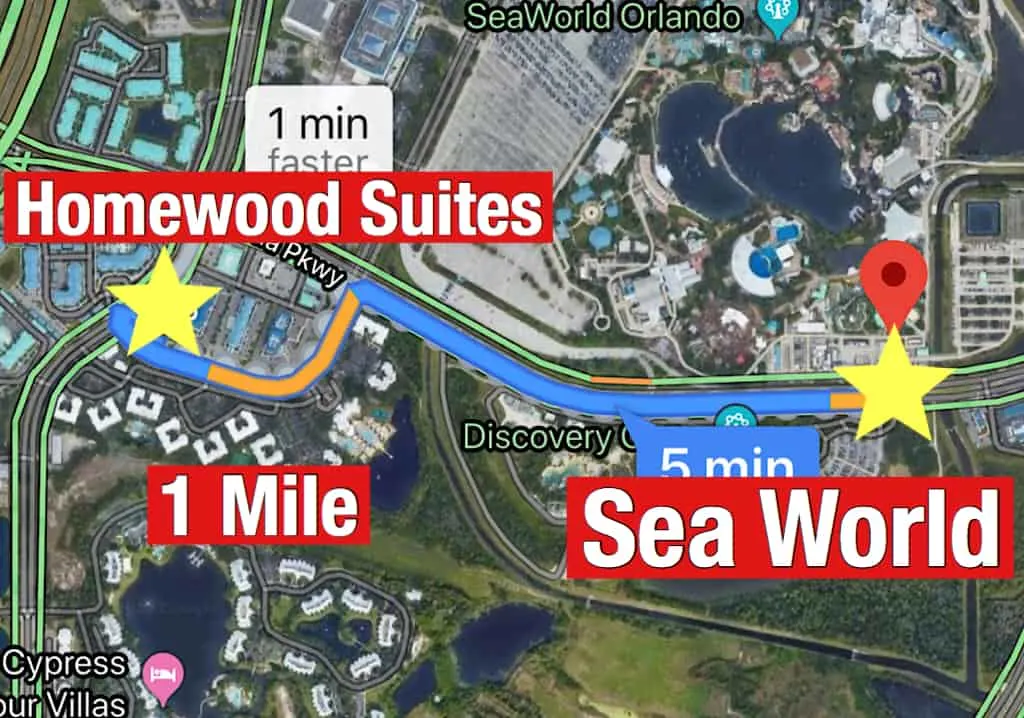 Universal Orlando
If you want to visit The Wizarding World of Harry Potter at Universal Orlando, it is 5.7 miles from Homewood Suites and will take you about 15 minutes to drive there during light traffic conditions.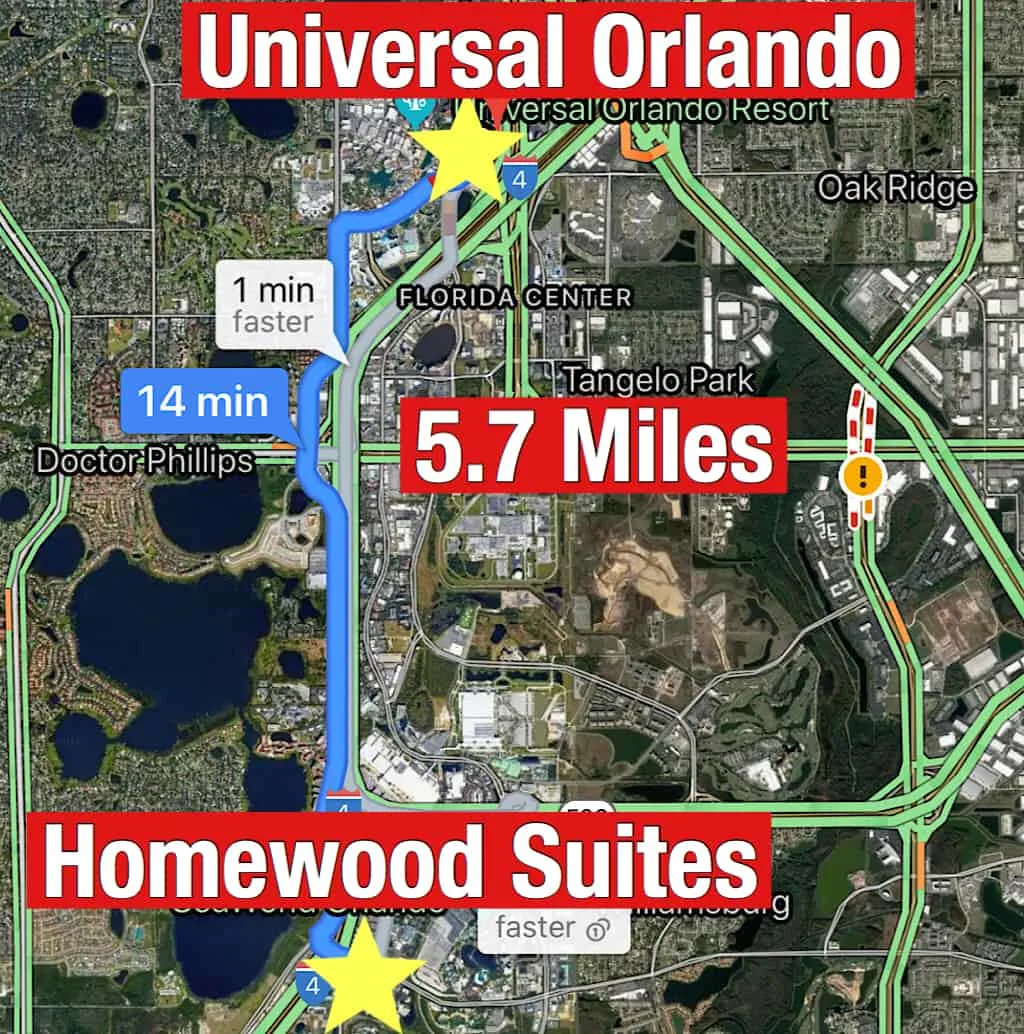 Homewood Suites Orlando Review
In my opinion, Homewood Suites by Hilton Orlando Theme Parks is a great place to stay on your visit to Walt Disney World!
From the fresh clean decor, the all-suite rooms, to the free breakfast, you can't go wrong with this hotel.
Make sure to check out my Disney World tips and tricks here and my Sports Fan's Guide to Orlando here.
Also, keep reading to find out how to save money and book this hotel through my travel partner Get Away Today!

How to Save Money on Disney World Tickets & Hotels
When booking your next Disney World vacation, make sure to check out Get Away Today! Their customer service is THE BEST!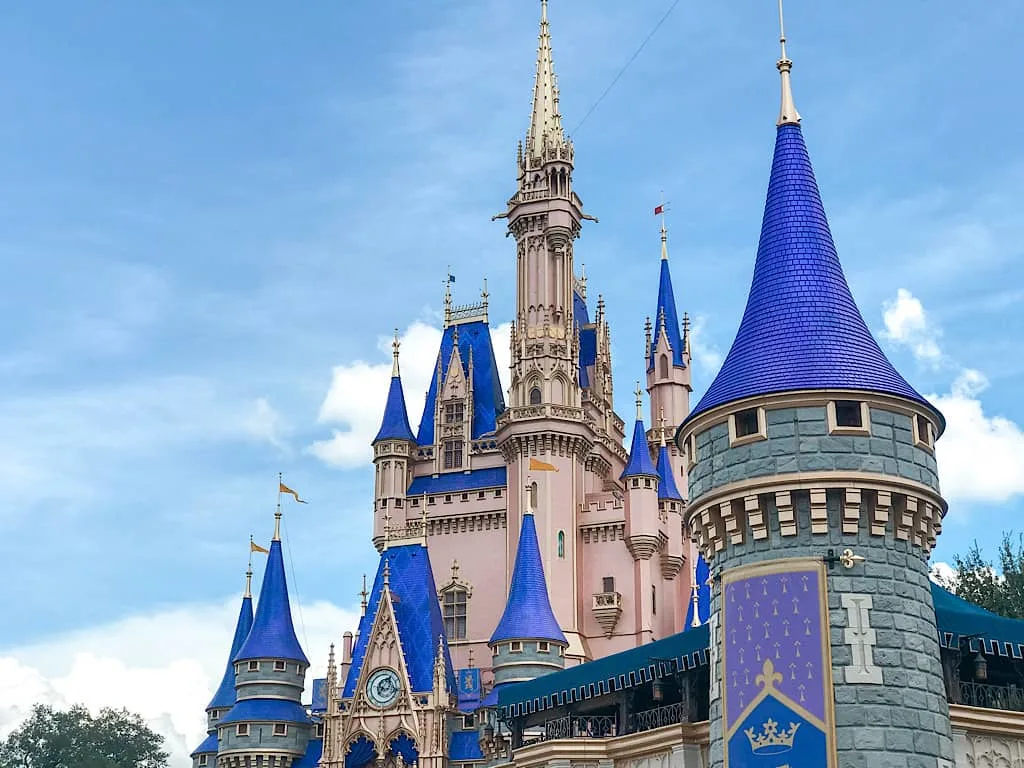 They are an authorized Disney partner that offers DISCOUNT DISNEY WORLD TICKETS and they often offer deals like discounts on rooms, free dining, and more when you book a vacation package!
Get a free customized quote here or give them a call at 855-GET-AWAY for current deals at Walt Disney World and tell them the Mommy Mouse Clubhouse sent you!