Tips and Tricks on how to score a reservation at Be Our Guest Restaurant for breakfast, lunch or dinner. Located inside Disney's Magic Kingdom at Walt Disney World in Florida.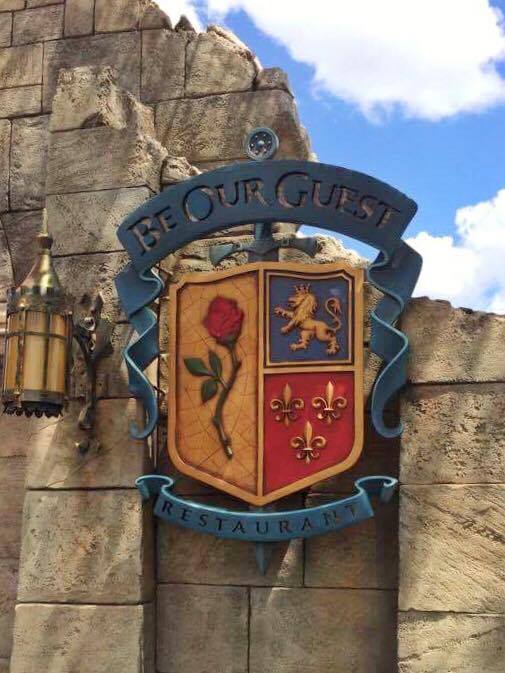 This post may contain affiliate links. When you click on these links, I get a small percentage back at no cost to you! For more information see my disclosure policy.
I got a reservation at Be Our Guest Restaurant at Disney's Magic Kingdom! I didn't book it six months in advance and I didn't pay a service to get me a reservation.
The Back Story:
A couple of years ago I was planning our first trip to Walt Disney World with our kids. Our room was booked and I had purchased the Disney Dining Plan.
Next, I began to research what restaurants we wanted to eat at. I knew that Be Our Guest Restaurant was definitely on that list, but I began to panic when I found out how hard it was to get a reservation.
Everything I read told me that you HAD to book exactly six months prior to your vacation, when reservations opened or you would be out of luck.
Here I was, three months out and wondering if dining at Be Our Guest Restaurant was going to happen for my family.
Frantically, I got on the My Disney Experience App and began searching for a reservation for each day we would be in sunny Florida. I searched times for breakfast, lunch and dinner. My nightmare was coming true.
There were absolutely NO RESERVATIONS available for the entire week we would be at Disney World. Feeling down, I remembered my travel agent telling me that she could make dining reservations for me.
Did I mention you should ALWAYS book through a travel agent? They are literally life savers. (Check out the end of my post to see who I recommend.)
I immediately sent her an email asking if there was any way she could get me a reservation to Be Our Guest Restaurant and within two hours, she performed some Disney Magic and BAM. I had a reservation for Breakfast!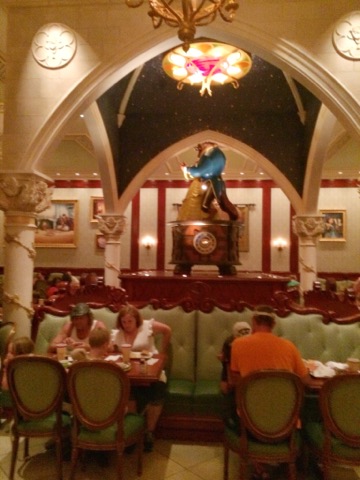 What I Did:
We were going to be at Magic Kingdom for two days on our vacation, one of them being Mother's Day. I really wanted to eat dinner at Be Our Guest on Mother's Day because I had heard that the food was amazing AND you get to meet The Beast! Does it get better than that? So I made it my mission to get that reservation.
Every day, I stalked the My Disney Experience App for dinner reservations. Like multiple times a day. I had a goal and I was going to get it.
One day, it happened. A reservation for dinner at Be Our Guest Restaurant at 6:00 on Mother's Day popped up. It was like the heavens opened up and said, "Happy Mother's Day, Mindy!" I pushed the "book" button as fast as I could and secured that reservation.
I shared this story to point out that there is hope. If everything is booked up, just be persistent and flexible and you might just get your wish.
Tips For Scoring a Reservation:
–Try to go to Disney World during the off-season. You will have a much better chance with all of the tips below if you aren't fighting with peak time crowds for the same reservation.
-If possible, book your reservation 6 months before, when reservations open up. You definitely have a better shot of getting the time you want.
-Be flexible on days and times you want to visit Magic Kingdom. You might have a reservation pop up on a day that you were planning to go to Epcot. If you really want that reservation, you will have to willing to change your plans a little.
-Use a travel agent that specializes in Disney. It doesn't cost you anything and they definitely know how to work some Disney Magic into your vacation, like sometimes getting you impossible reservations.
-Be persistent. I checked the My Disney Experience App multiple times a day, waiting for someone to cancel their reservation so that I could grab it. Persistence worked for me.
-Check reservation times a couple of weeks, one week, 48 hours and 24 hours before you want to dine at Be Our Guest. If someone makes a reservation that they don't keep, Disney will charge their credit card a certain amount of money per guest if the reservation wasn't cancelled 24 hours before. Because of this, many people will cancel reservations close to their scheduled times, so you might get lucky.
-If you absolutely can't get a reservation, some people have been lucky asking the cast members at the door if there are any openings. There is no guarantee and you might have to wait a while, but it is possible to get in to the restaurant that way.
-Have a back up plan. If it just is not in the cards for you to go to Be Our Guest during your stay, you should have a back up plan to lessen the disappointment for everyone one in your party. Maybe its, everyone gets ice cream for dinner or something like that.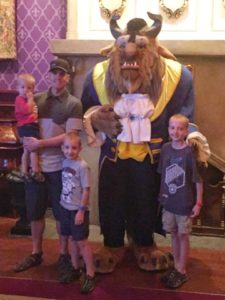 Disney World Ticket & Hotel Savings
When booking your next Disney vacation, make sure you check out Get Away Today. Their customer service is THE BEST!
They offer deals like discounts on rooms, free dining and more! Visit getawaytoday.com or give them a call at 855-GET-AWAY for current deals at Walt Disney World and tell them The Mommy Mouse Clubhouse sent you!