There are so many things to do in Orlando besides theme parks. Find out all of the fun things to see and do as a Sports Fan in Orlando!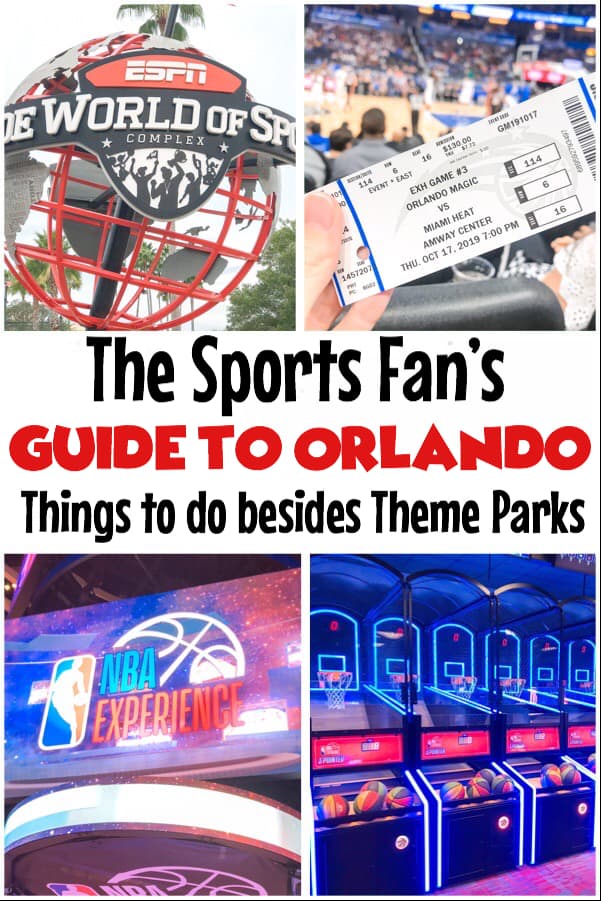 Tickets and accommodations were complimentary. All opinions are my own.
I have a confession to make. Not only am I a "Disney Mom" but I am also a "Sports Mom". When I met my husband, I quickly learned that sports would be a big part of our lives.
One of the first vacations we took together was to see the New York Yankees play the Oakland A's. We didn't go to just one game, we went to all three.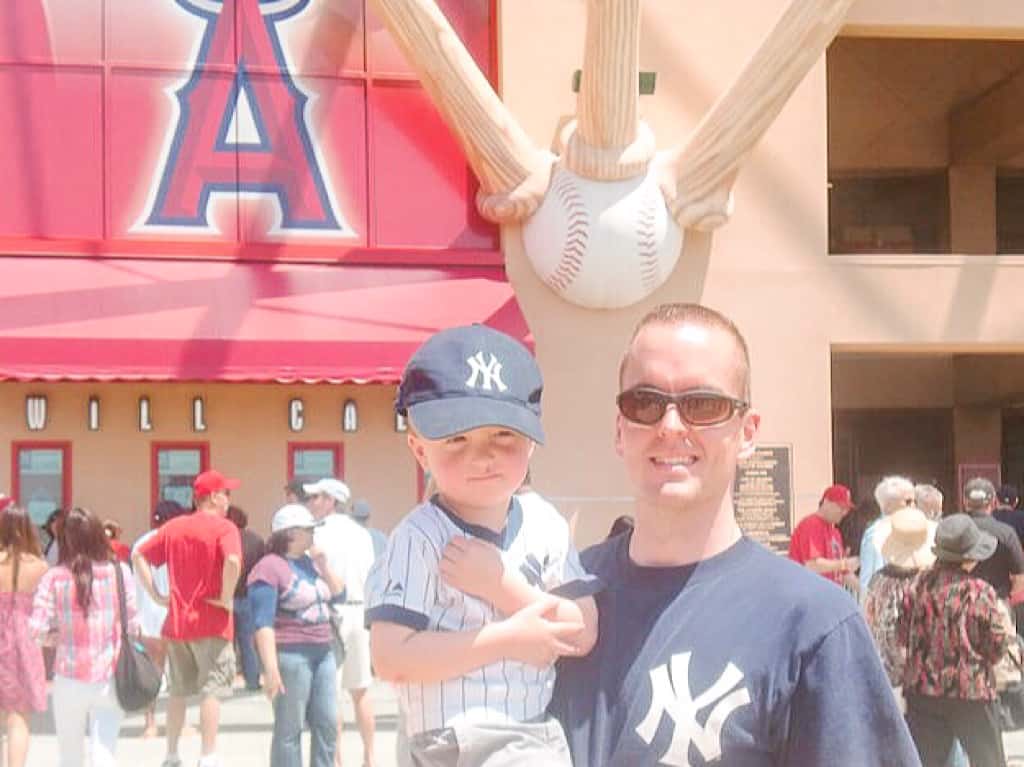 Traveling for Sports
We were hooked on traveling for sports. It was kind of fun to be surrounded by people who loved our team as much as we do.
We decided to take a trip to New York to watch the Yankees play at home. It was amazing.
Fast forward 15 years, and we now are the parents of 3 sports-loving boys!
We have taken them on many adventure to see professional sports and now that they are getting older, we have begun to travel for their sporting events.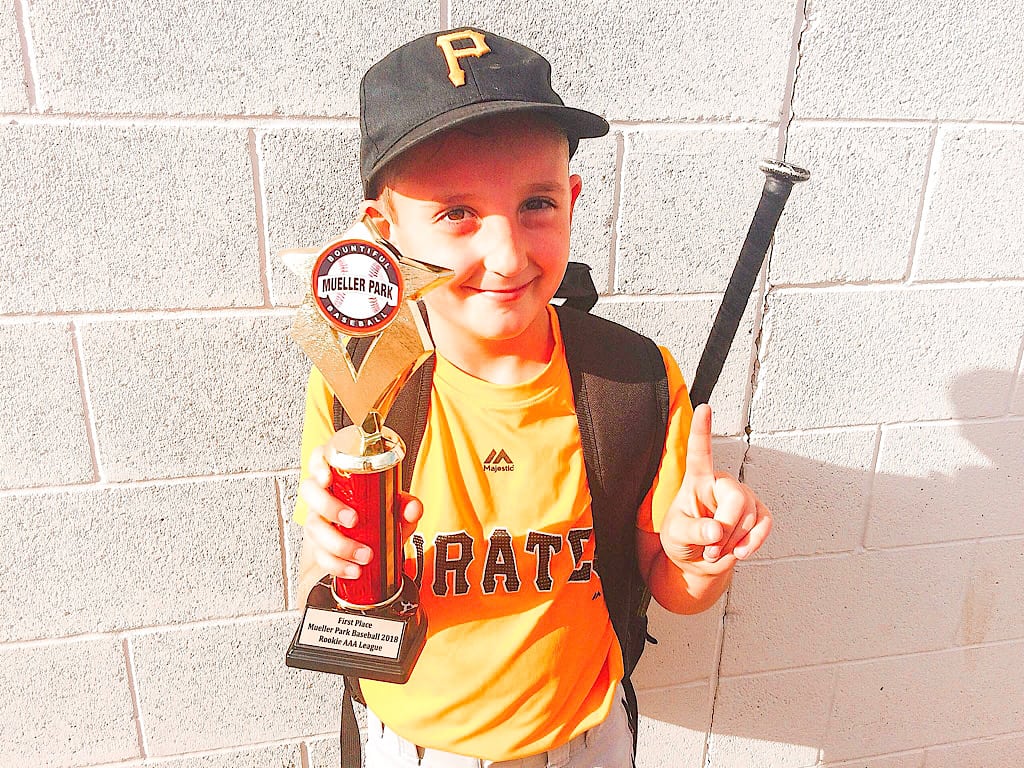 Sports travel is becoming increasingly more popular.
As my kids have begun to participate in competition level baseball and soccer, I have found out that there are many tournaments that require us to travel.
Later in this article, I will let you know about my favorite hotels that will help you feel at home, while you are on the road traveling for sporting events.
A Guide for Sports-Themed Activities in Orlando
As a Disney lover, Orlando is one of our top destination cities when we travel for obvious reasons.
But, I am also learning about all of the things there are to do in Orlando besides theme parks.
On a recent trip, I was able to experience three different sports-themed activities in Orlando, that I will share with you below!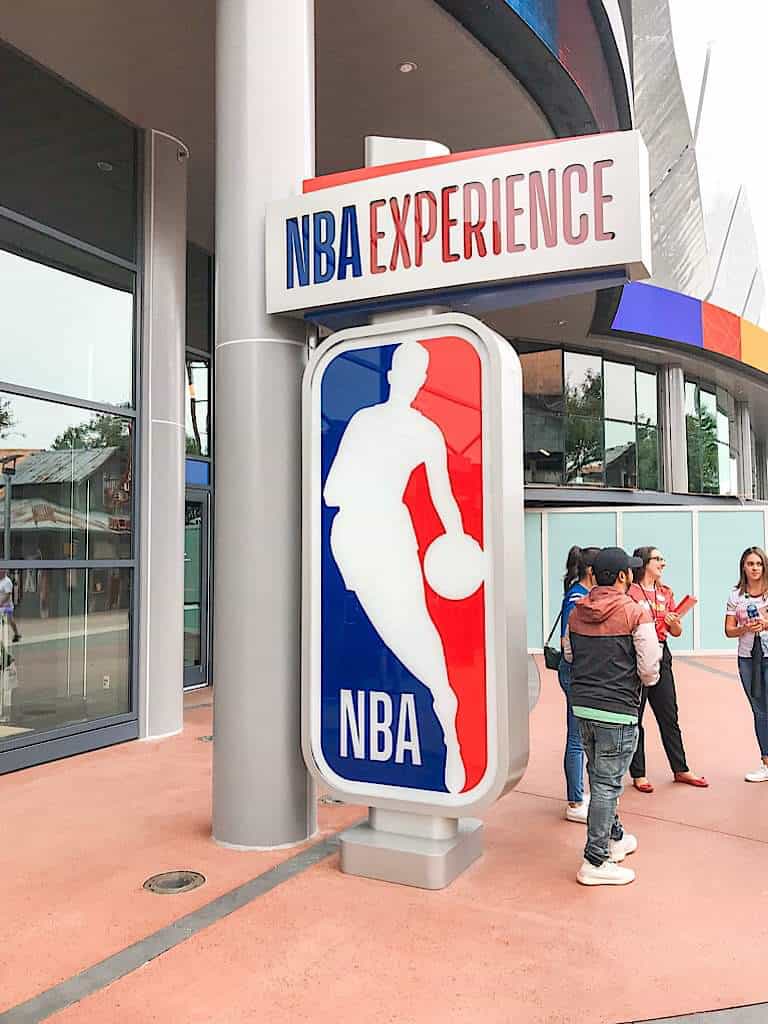 Things to do in Orlando: NBA Experience at Disney Springs
The NBA Experience is a new attraction to Walt Disney World. Located at Disney Springs, guests are able to immerse themselves in what life in the NBA is like!
Downstairs
As you enter The NBA Experience, you step right on to a basketball court complete with a Jumbotron playing NBA games overhead. The lights swirl around just as they would at the beginning of an NBA game.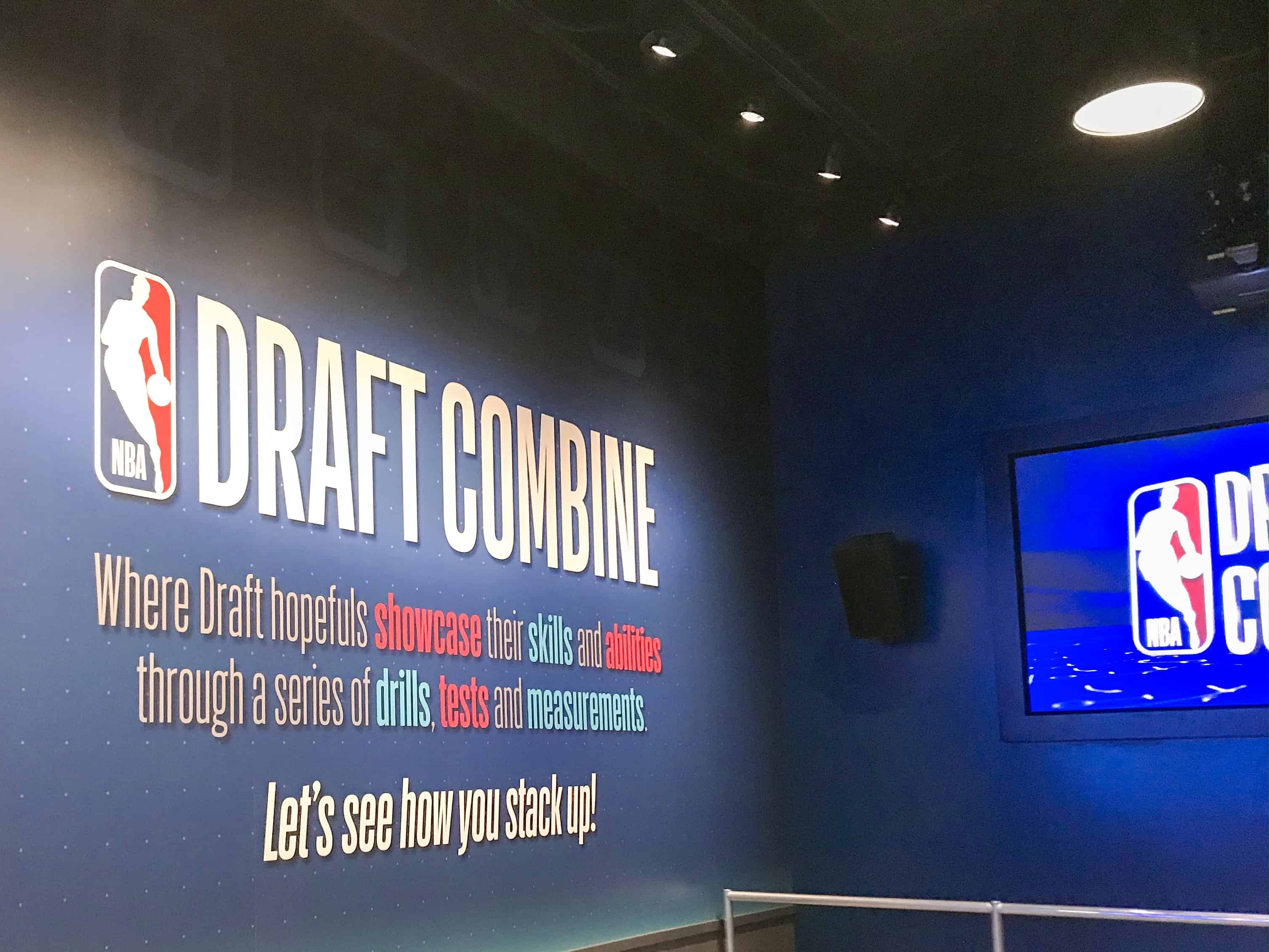 On level one, you have the chance to take a picture holding the NBA Championship trophy, compare your wingspan and vertical leap to NBA players and check.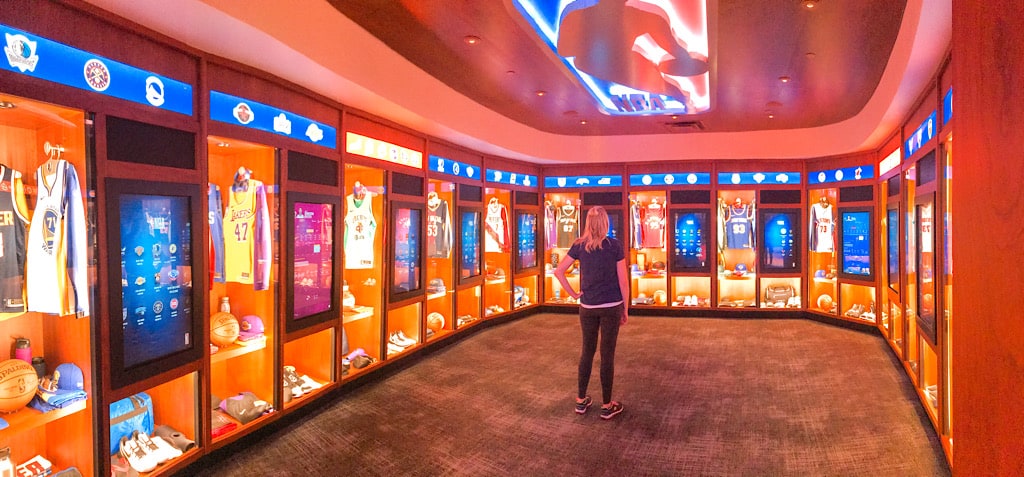 You can also head to the Players area which resembles an NBA locker room where you can check out current team rosters and highlights.
Upstairs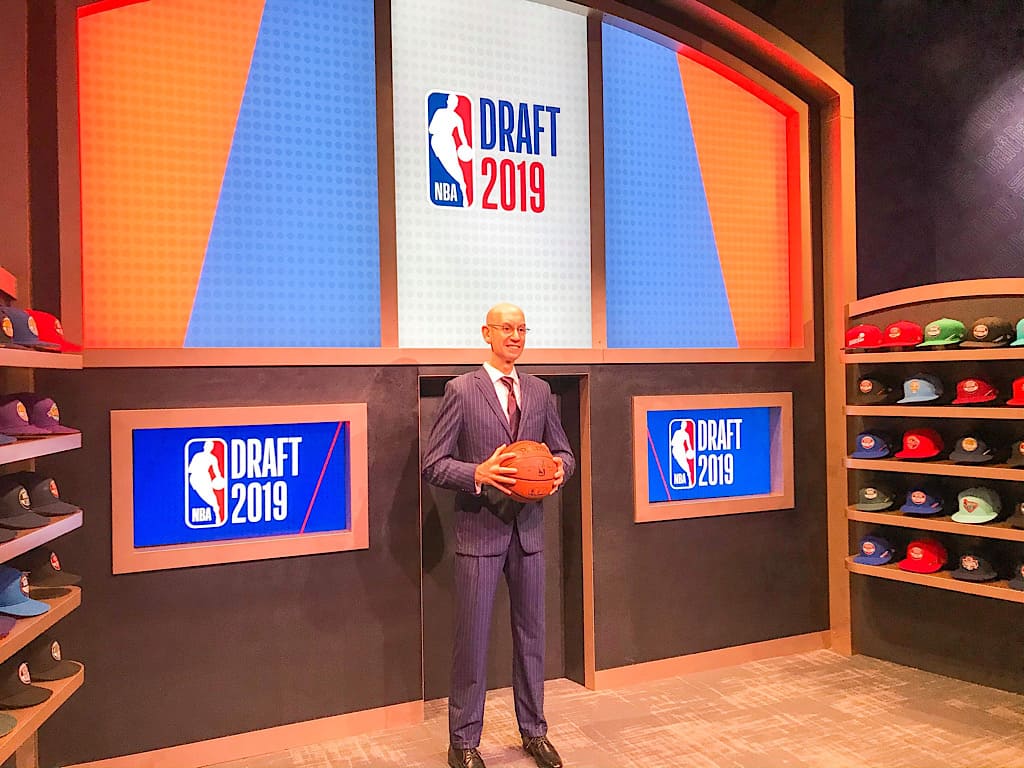 The second level takes the experience up a notch. Upstairs you can check out what it feels like to be drafted into the NBA, learn basketball dribbling techniques, execute the perfect slam dunk, and play a game of slingshot basketball!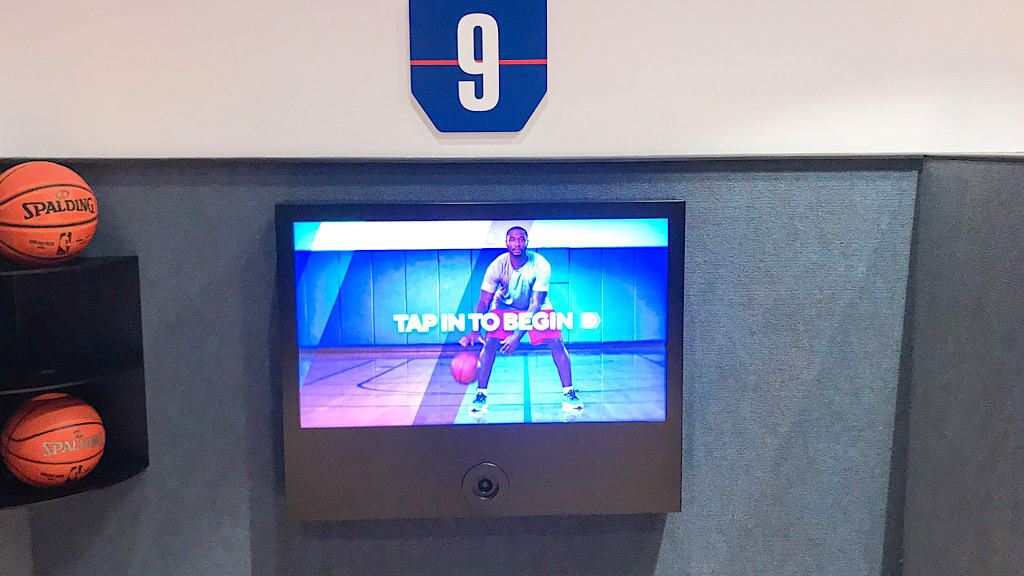 I knew that The NBA Experience would be something that my boys would love, but I was surprised how much fun I had!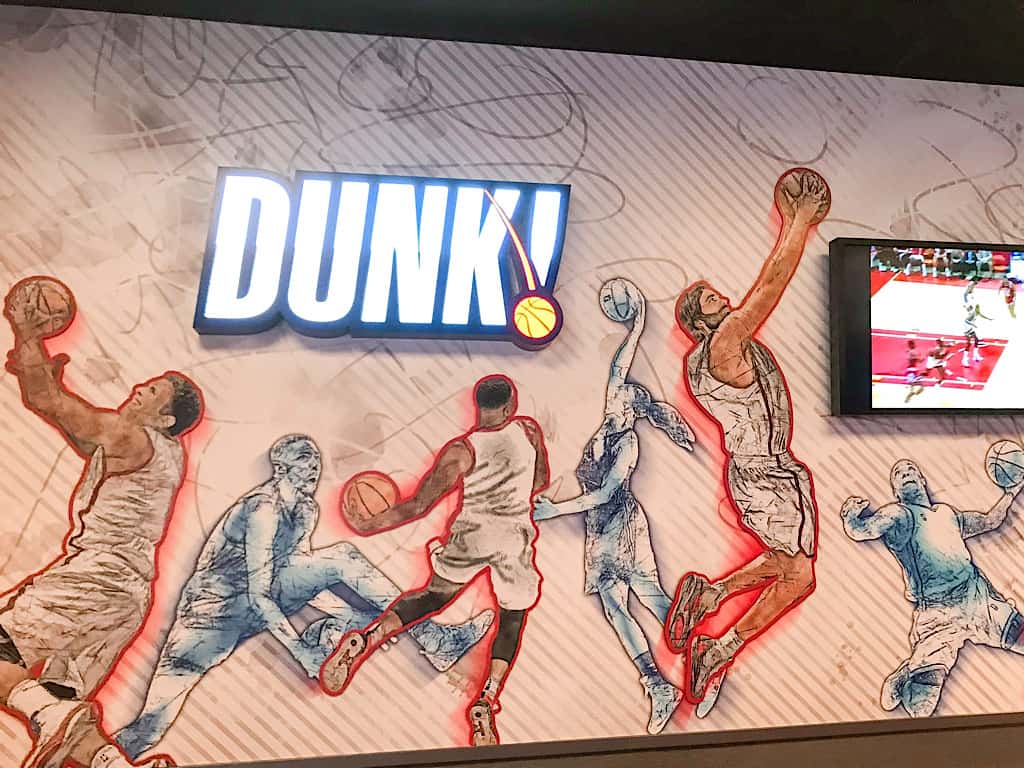 Things to do in Orlando: Orlando Magic Basketball Game
Another great activity for sports lovers visiting Orlando, is to attend an Orlando Magic basketball game.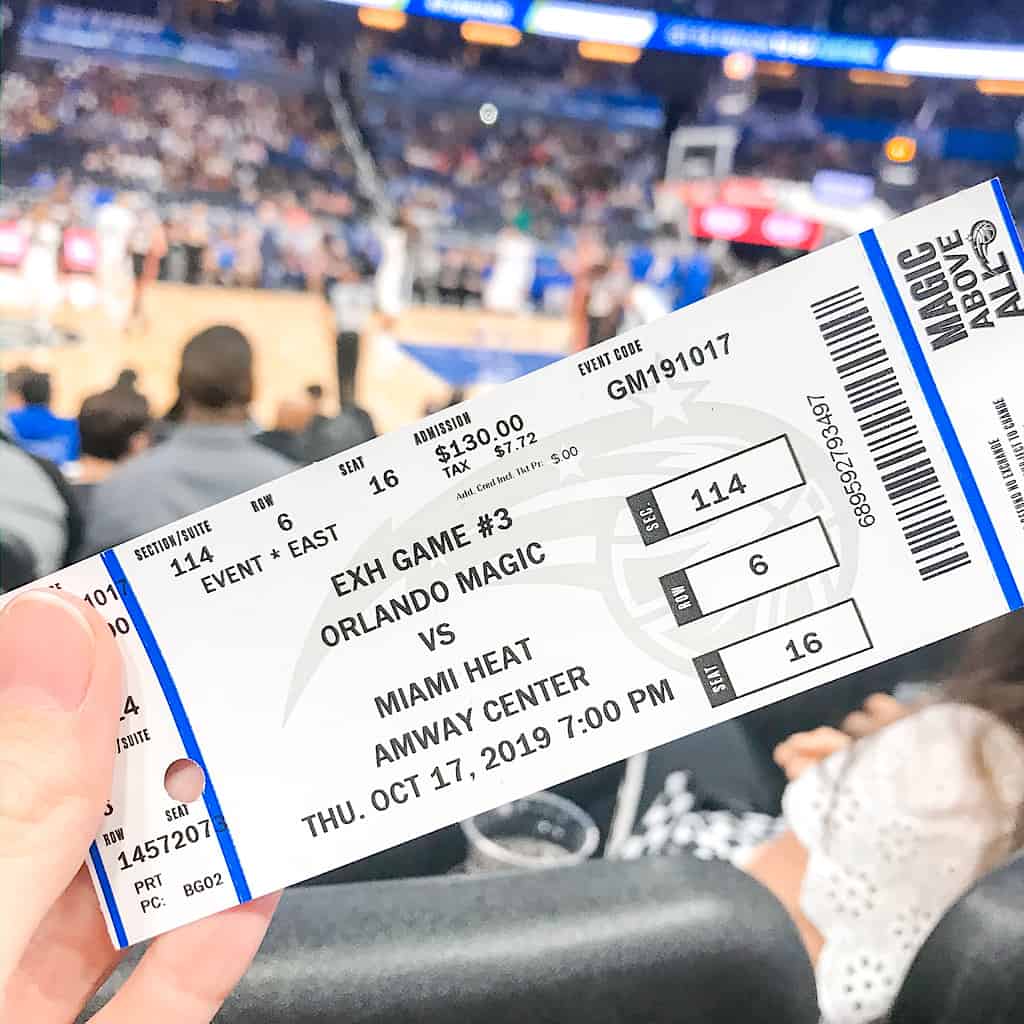 The Orlando Magic are an NBA basketball team that began in 1989 and has been the home of many notable basketball stars including: Shaquille O'Neal, Penny Hardaway, Patrick Ewing, Dwight Howard, Dominique Wilkins and more!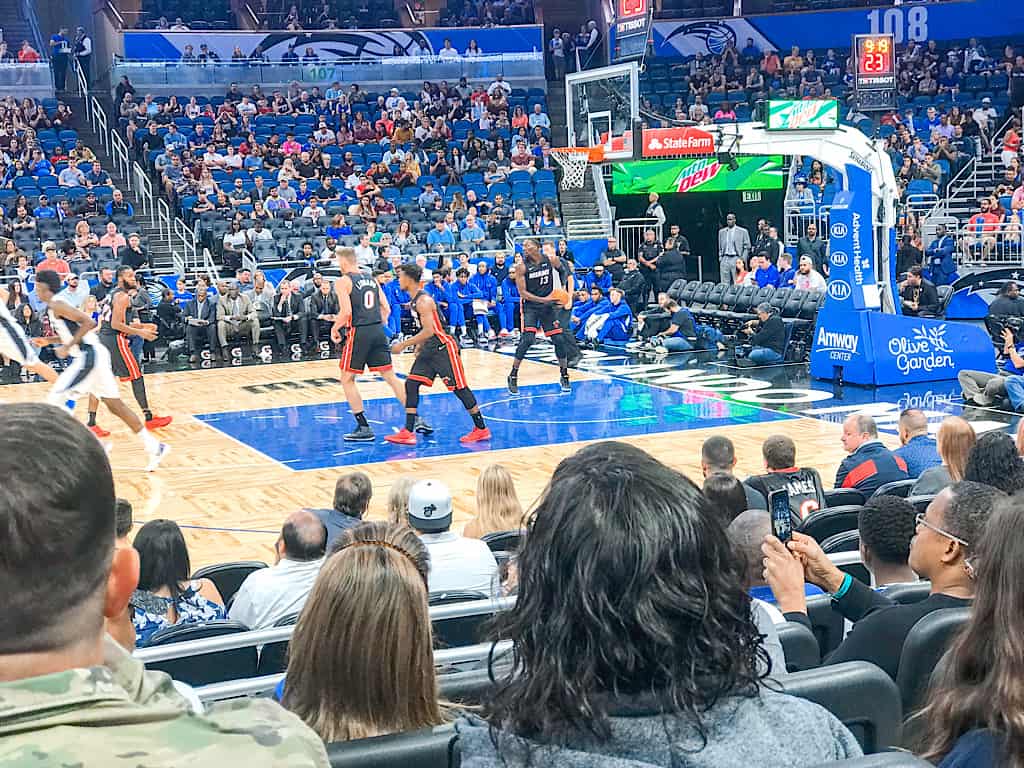 They even made it to the NBA Finals in 1995 and 2009! The Magic play their home games in downtown Orlando at the Amway Center.
What to do with Kids at an Orlando Magic Game
If you bring your kids along to the game, make sure you check out STUFF'S Magic Castle! It is a play area located on the Promenade Level (Level 5) and is designed for kids over 2 years old and under 48″.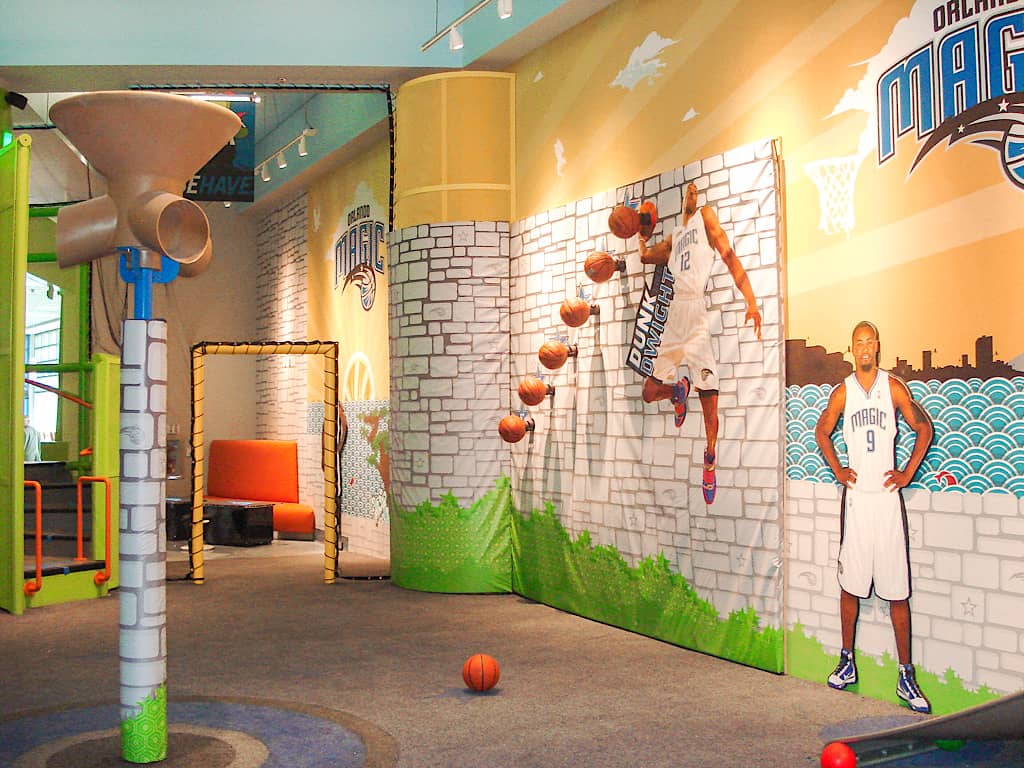 Your kids will be able to take pictures with STUFF (the Magic's mascot) before the game, play in the STUFF'S castle, and shoot baskets! Sounds like fun to me!
Things to do in Orlando: ESPN Wide World of Sports
The ESPN Wide Word of Sports Complex is located right in the middle of Walt Disney World Resort property. This complex is one of the premier sites for amateur sports in the nation!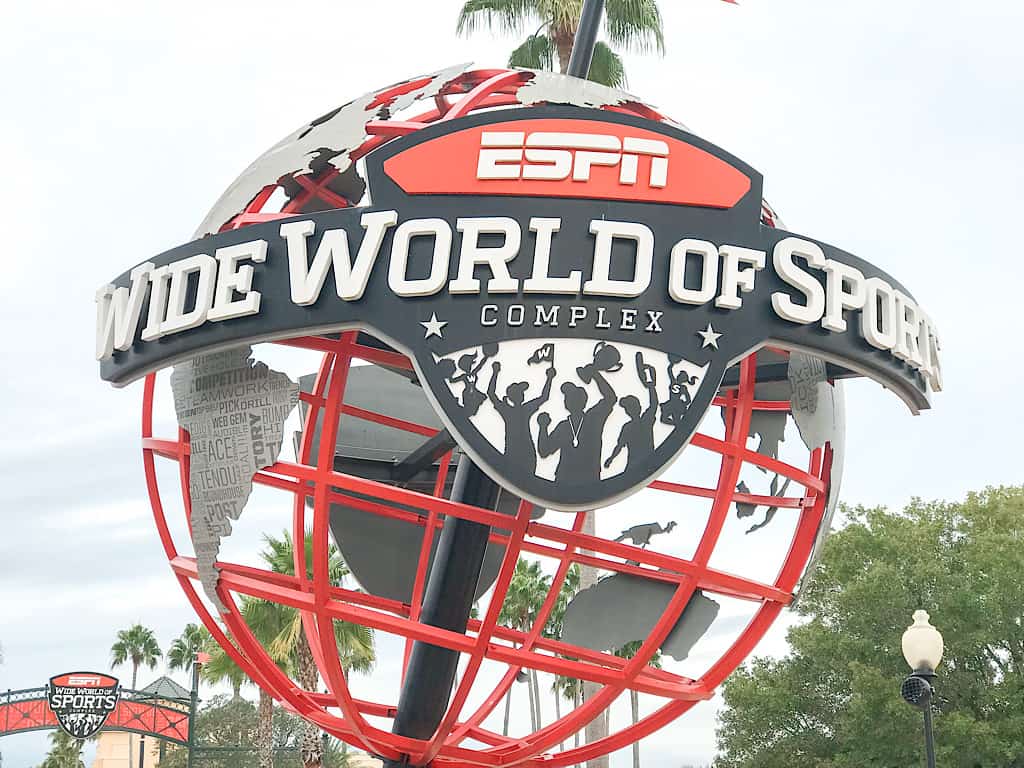 ESPN Wide World of Sports has accommodated 70 different sports with athletes form 70 different countries and is definitely a destination to consider if you are a sports fan visiting Orlando.
Disney Sports Solutions
The complex opened in 1997 and has become the premier site for amateur sports in the nation!
Because of the many athletes and their families who visit, ESPN Wide World of Sports Complex also offers a few sport solutions that make traveling and competing easy for teams and families.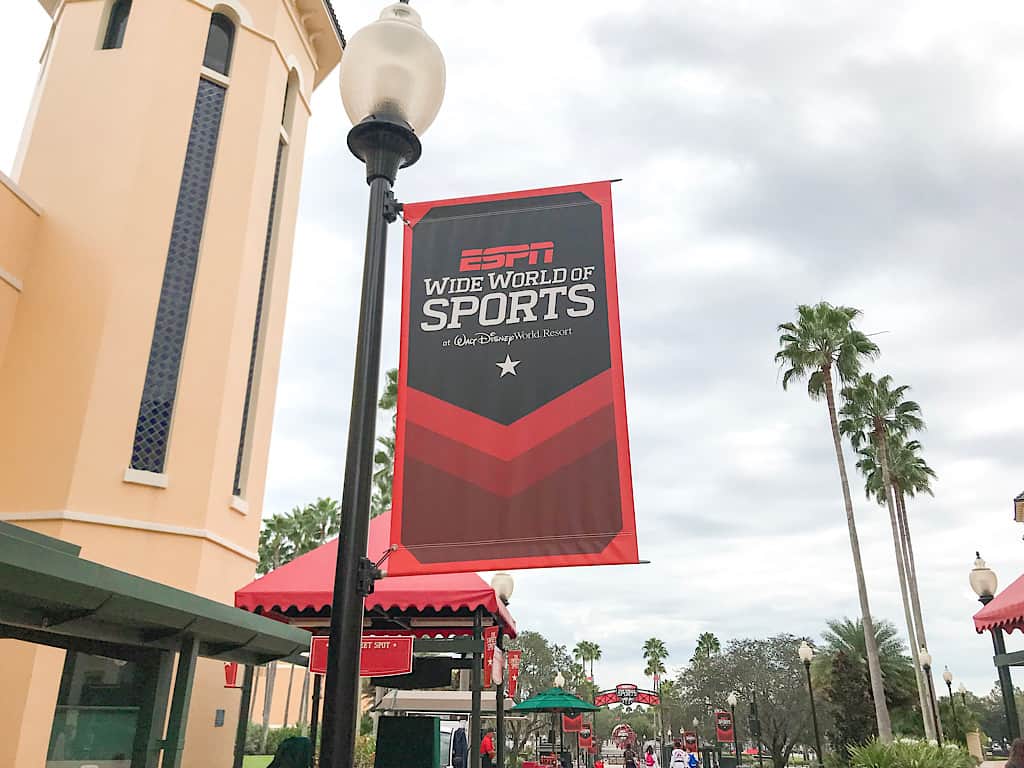 Team Meals

Teams and coaches have the option to order quick and well-balanced meals, beverages, and snacks ahead of an event to save time and ease stress.
Equipment Drop For select events, teams are able to drop off their equipment in a specific area and will be transported by the complex to the field the team will play on.
Gameday Photography Services For families who want to relax and enjoy watching their child compete without worrying about taking pictures, Disney Gameday Photography will provide professional images of the athlete competing at the complex.
Print-on-Demand Custom Tees After purchasing an event t-shirt at ESPN Wide World of Sports, guests can take the shirt to the Custom Tee Center by Champion to add a personalized design.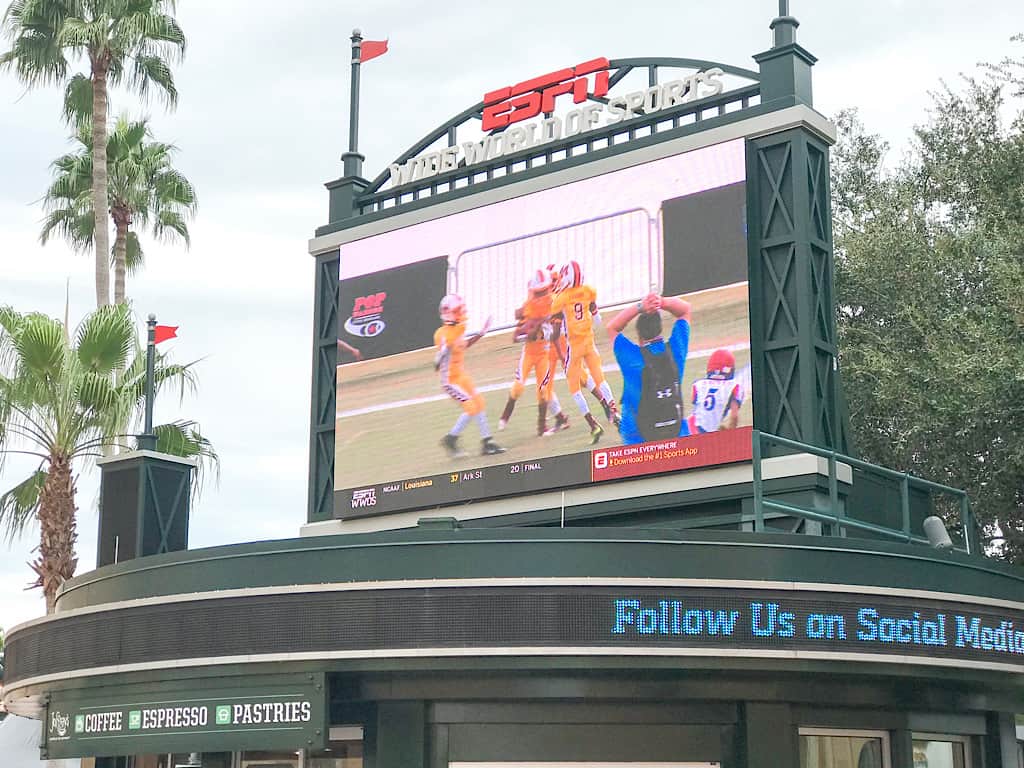 ESPN Wide World of Sports Calendar of Events
Here is a run down of some of the most popular events that happen annually that might interest you:
January
Walt Disney World Marathon Weekend presented by Cigna (January 8 – 12, 2020) This event takes the more than 55,000 runners on a 26.2-mile journey through all four Disney theme parks! Besides the marathon, there are many activities for participants families including runDisney Kids Races, a 5K, a 10K, a half marathon, a marathon and a health and fitness expo.
Disney Girls Soccer Showcase (January 17 – 20, 2020) This competition is an amazing opportunity for the nation's top girls' soccer clubs to be seen by college scouts!
February
Disney Princess Half Marathon Weekend (February 20 – 23, 2020) This race has quickly become one of the largest women-specific races in the country! Aside from the race, there are other activities that the whole family can participate in. These activities include the Princess 5K, the Enchanted 10K and runDisney kid's races.
Disney Field Hockey Showcase (January 31 – February 2, 2020) One of the most competitive field hockey events in the country, this showcase gives young athletes the chance to show off their sills to college scouts!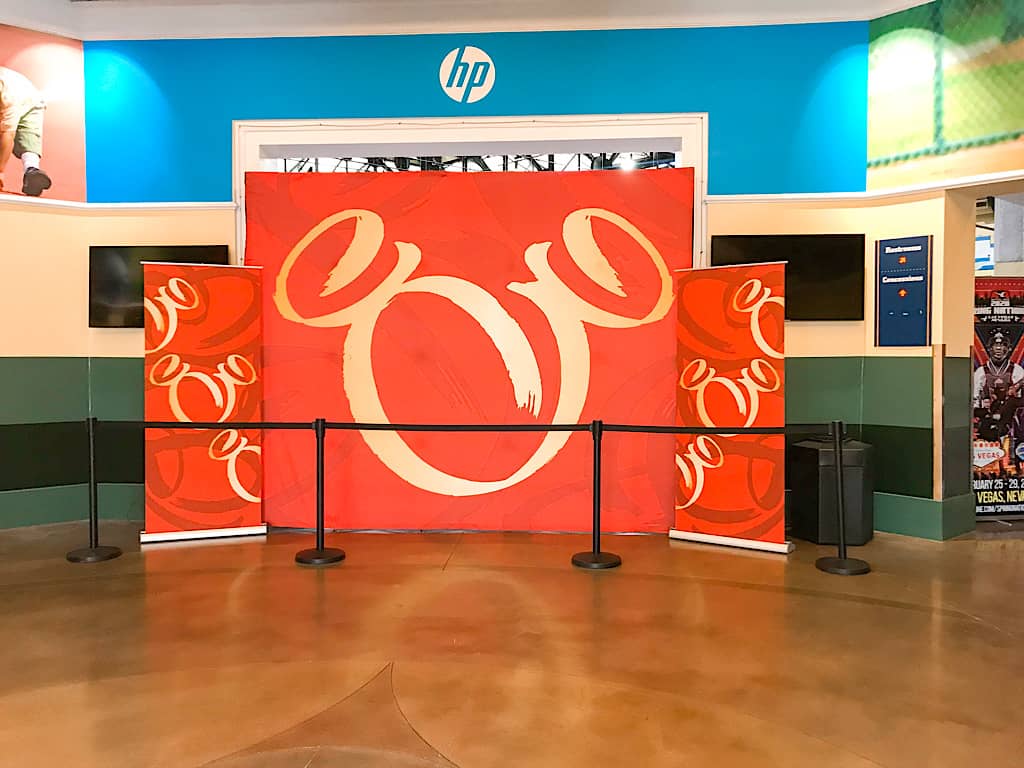 April
Star Wars Rival Run Weekend presented by Otterbox (April 16 – 19, 2020) If you are a Star Wars fan, this is the race for you! The marathon takes runners through multiple theme parks and ends at Epcot. This race also includes a 5K, a 10K, and a half marathon.
June
AAU Junior National Volleyball Championships (June 15 – 27 2020) According to the Guinness Book of World Records, the AAU Junior National Volleyball Championship event is the largest tournament with 40,00 athletes from more than 40 states and 10 different countries!
AAU National Basketball Championships (June 22 – July 27. 2020) More than 7,000 athletes compete on more than 700 teams compete in this basketball competition which has been the starting point for many NBA and WNBA stars, such as Yao Ming!
IdeaSport Soccer Academy at ESPN Wide World of Sports Complex (June 1 – July 29, 2020) This is a youth soccer training program that provides training and development for athletes, coaches, and officials. There are also tournaments and summer camps!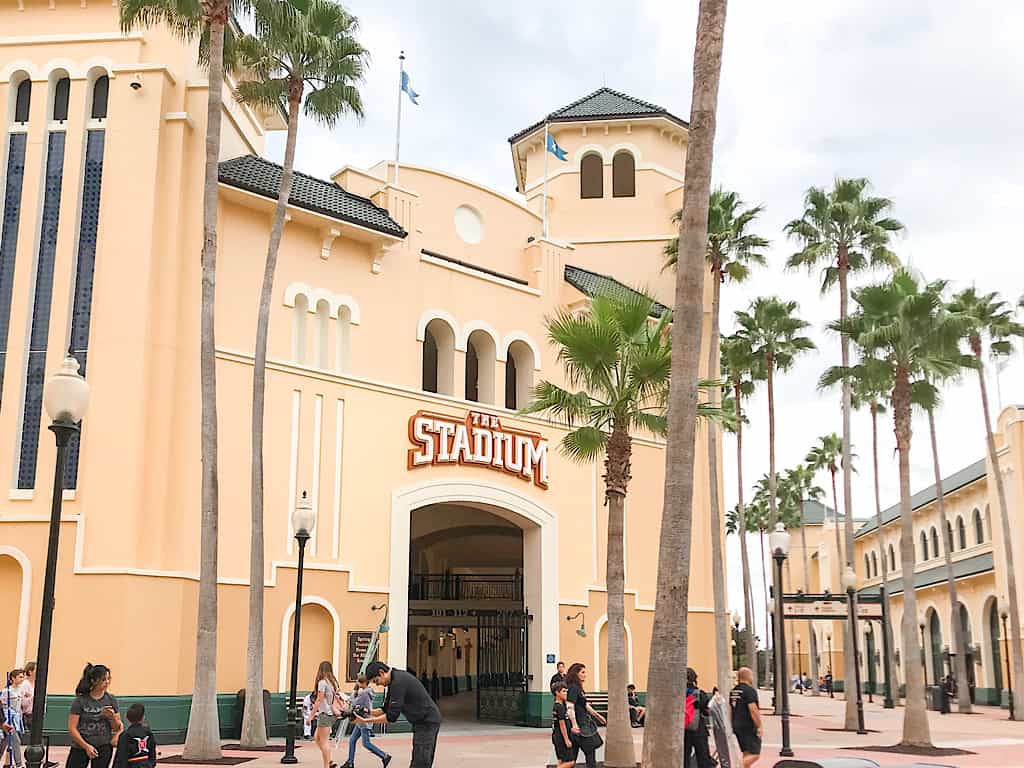 July
Disney Cup International Almost 3,000 athletes between the age of nine and 19 complete in this international youth soccer tournament.
August
Jr. NBA Global Championship

In this basketball tournament, the top U14 basketball teams from around the world compete against each other. NBA star Dwayne Wade and WNBA star Candace Parker serve as global ambassadors for the event.
October/November
Disney Wine & Dine Half Marathon Weekend This runDisney event coincides with the Epcot International Food & Wine Festival and also includes runDisney Kids Races, a 5K, a 10K and a half marathon.
The Orlando Invitational at ESPN Wide World of Sports Complex

This is event is an eight-team, 12-game men's basketball tournament that takes place over Thanksgiving weekend.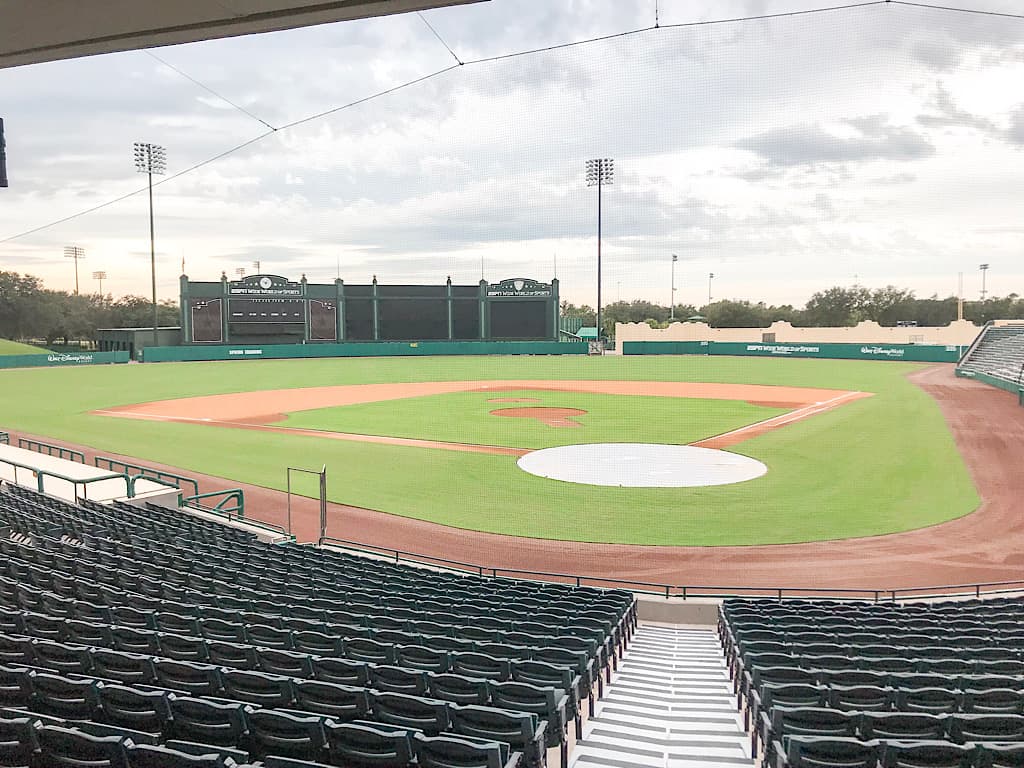 December
Pop Warner Super Bowl

Sixty-four of the top youth football teams compete in this tournament. Winners will be crowned in four divisions based on size and age.
Disney Boys Soccer Showcase

This event attracts the top high school-aged boys' soccer players from across the country and hosts more than 20,000 coaches and fans.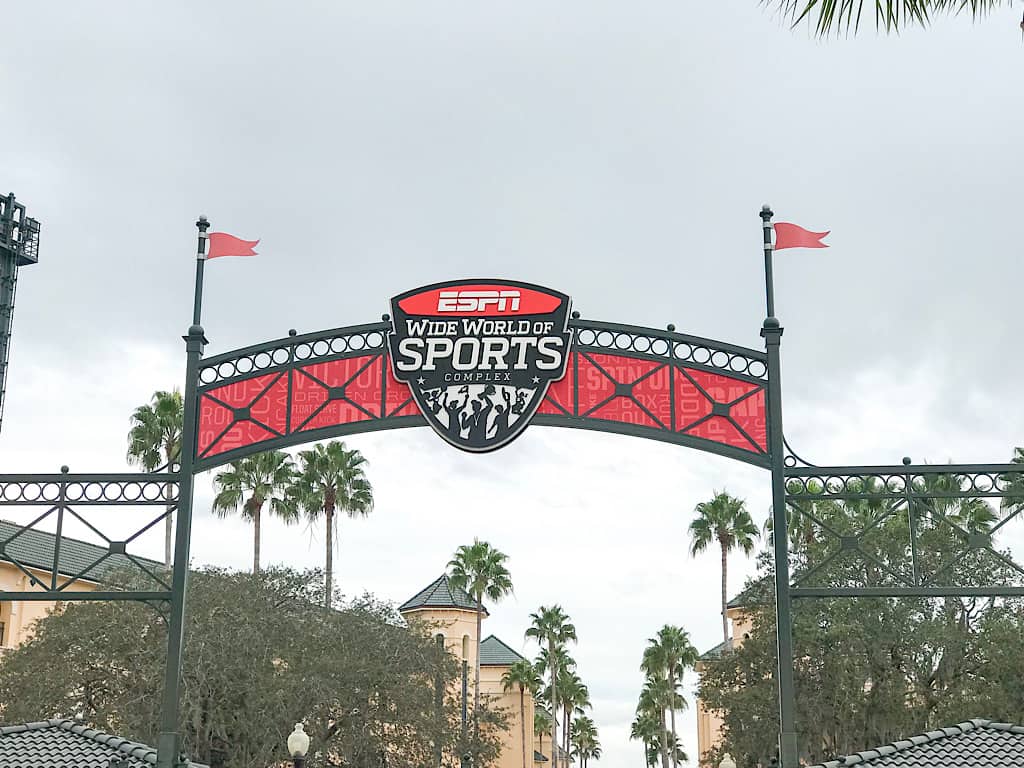 Where to Stay on a Sports-Themed Vacation in Orlando
The All Suites Brands by Hilton have locations all around Orlando that are amazing for sports-loving families!
Not only do they offer spacious suites that help you get the most bang for your buck, but they also offer the convenience of free breakfast and proximity to popular venues.
I am going to highlight three of my favorites below:
Embassy Suites by Hilton Orlando International Drive Convention Center
I spent an amazing three nights at the Embassy Suites Orlando International Drive Convention Center and I loved every minute of it!
The entire hotel has recently undergone a multi-million dollar renovation and everything it looks amazing!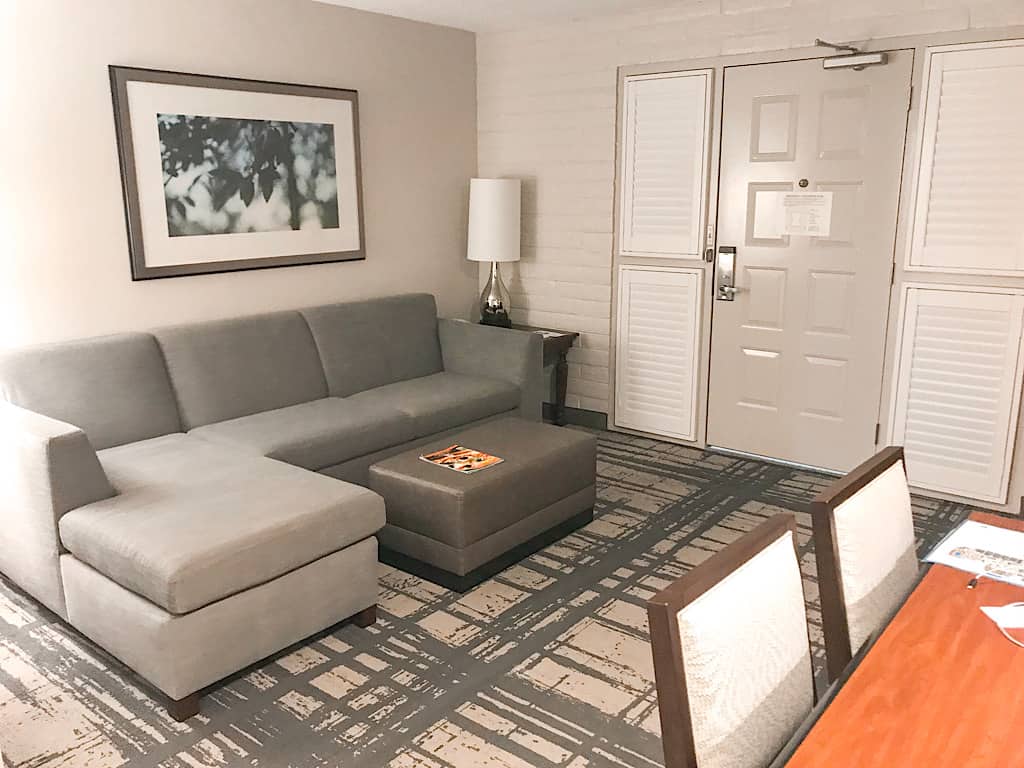 Each room is a two-room suite with two TVs, a microwave, coffee maker, and mini-fridge, as well as tons of space for families traveling to experience sporting activities in Orlando.
One of my favorite things about Embassy Suites is the complimentary cook-to-order breakfast. I have never stayed at a hotel that had a breakfast as amazing as Embassy Suites.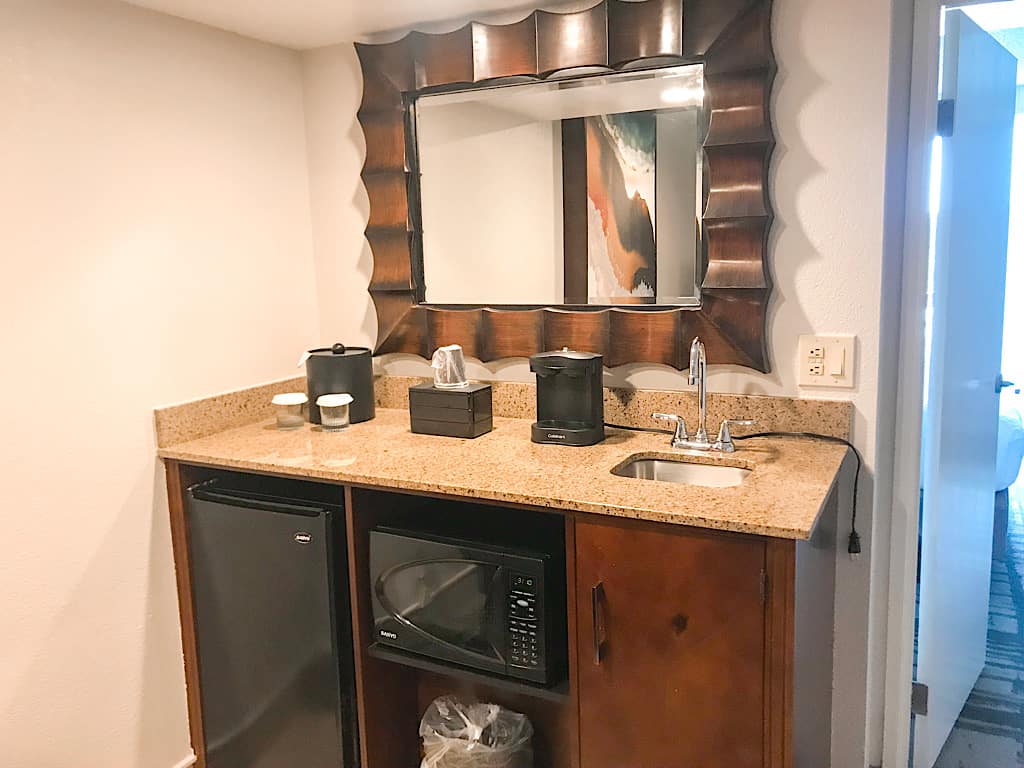 I love that you can get a completely customized omelette, French Toast, etc. that is all included with the price of your room. There really is something for the whole family!
After competing or viewing a sports event in Orlando, you can bring your family back to the Embassy Suites and enjoy and indoor and and outdoor pool. What a great way to relax!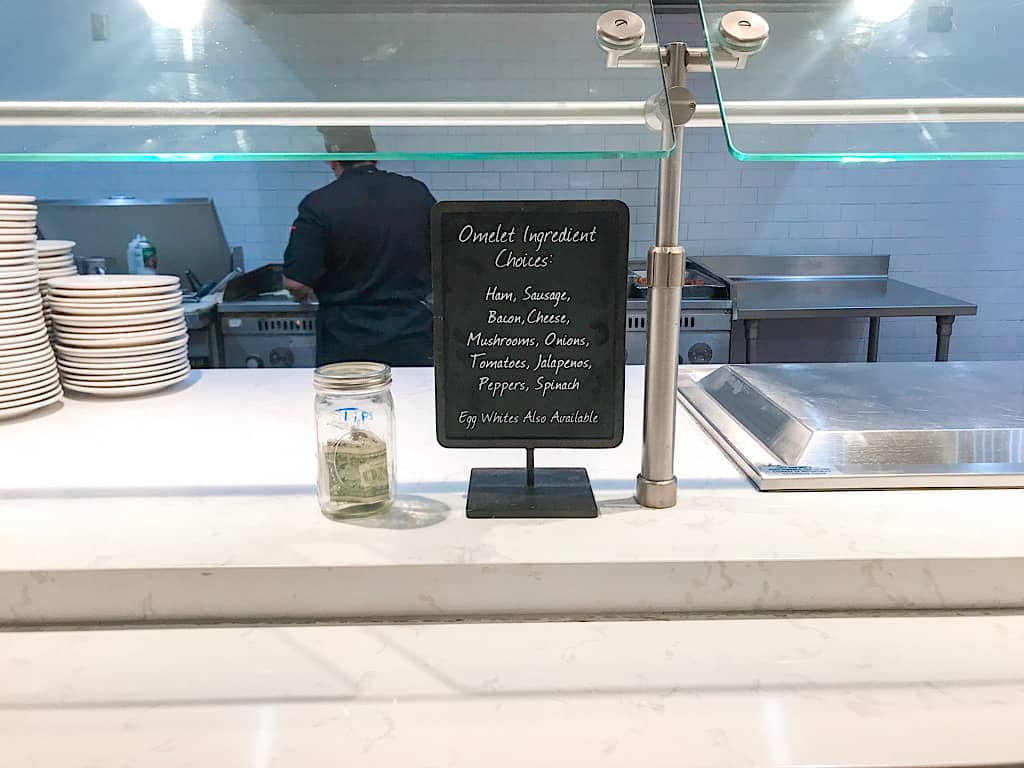 Check out my full review of Embassy Suites in Orlando HERE
Homewood Suites by Hilton Orlando Theme Parks
As you enter the lobby of this Homewood Suites location, you are greeted with bright, colorful, modern decor and immediately feel welcomed.
Homewood Suites offers studio, one- and two-bedroom suites with fully-equipped kitchens. Imagine finishing up a busy day at ESPN Wide World of Sports and being able to head back to your room and fixing a quick meal before relaxing for the night. Sounds great to me!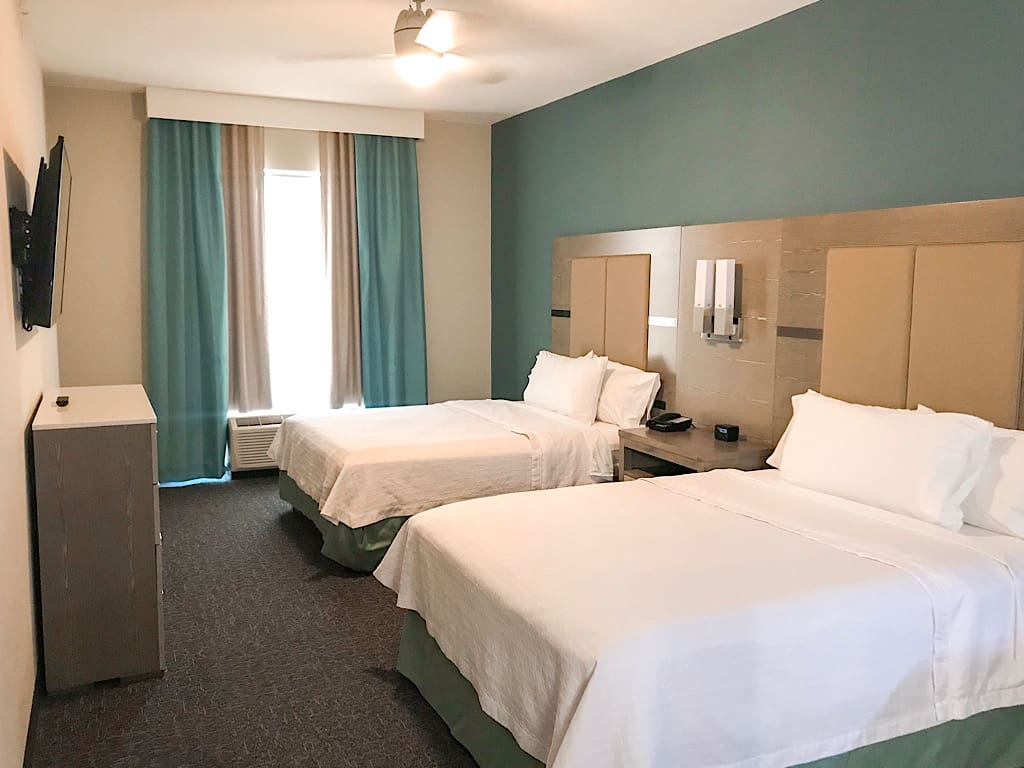 A few perks of staying at the Homewood Suites is that you are provided with a daily complimentary full-hot breakfast (with make-your-own Mickey waffles), an evening social (Monday – Thursday), Wi-Fi, and grocery shopping service!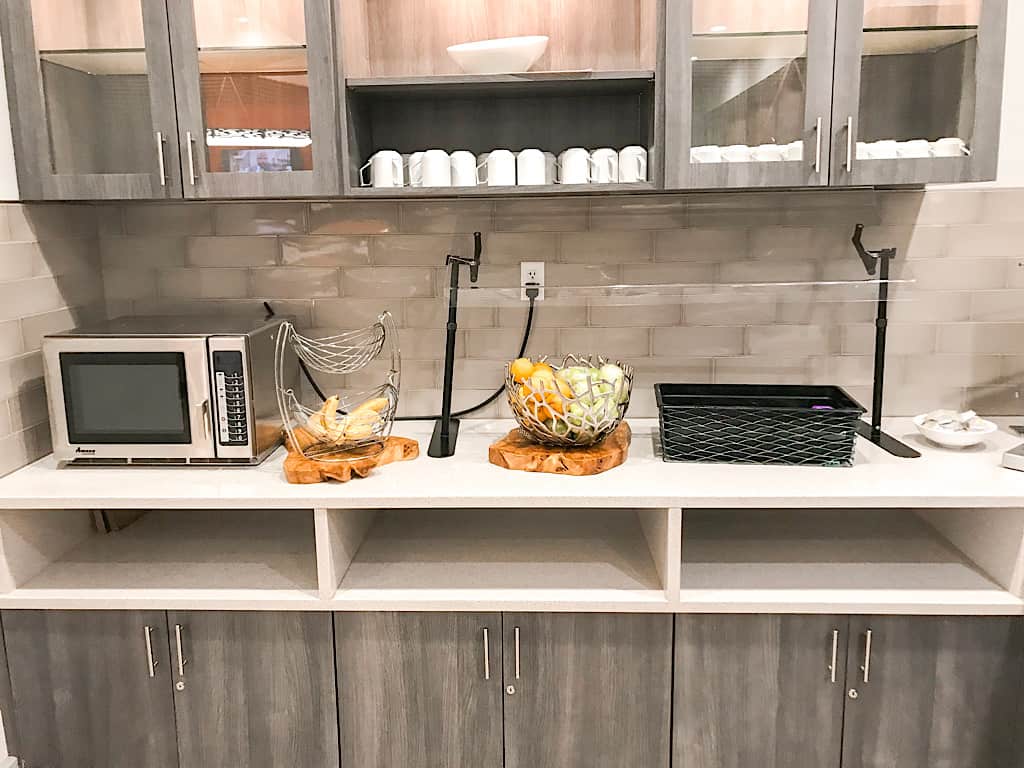 Check out my full review of Homewood Suites by Hilton HERE
Home2Suites by Hilton Near Universal
The third hotel that I would recommend for sports-loving families traveling to Orlando is the Home2Suites by Hilton Orlando Near Universal.
Like the two hotels I mentioned above, Home2Suites offers all-suite accommodations with fully-accessorized kitchens.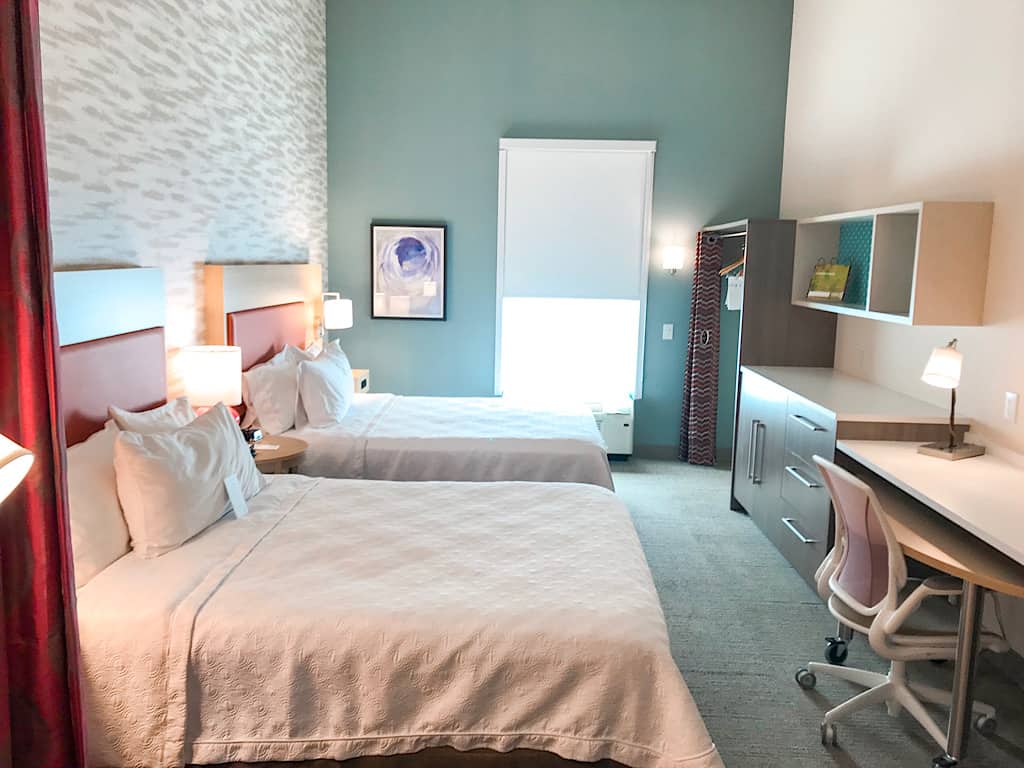 A great thing about the rooms here is that they have modular furniture that provides hotel guests the flexibility to customize their suite to meet their needs.
With almost an entire wall of shelves, desk, and counter-top storage, you will be able to keep all of your travel items and sports equipment organized and out of your way!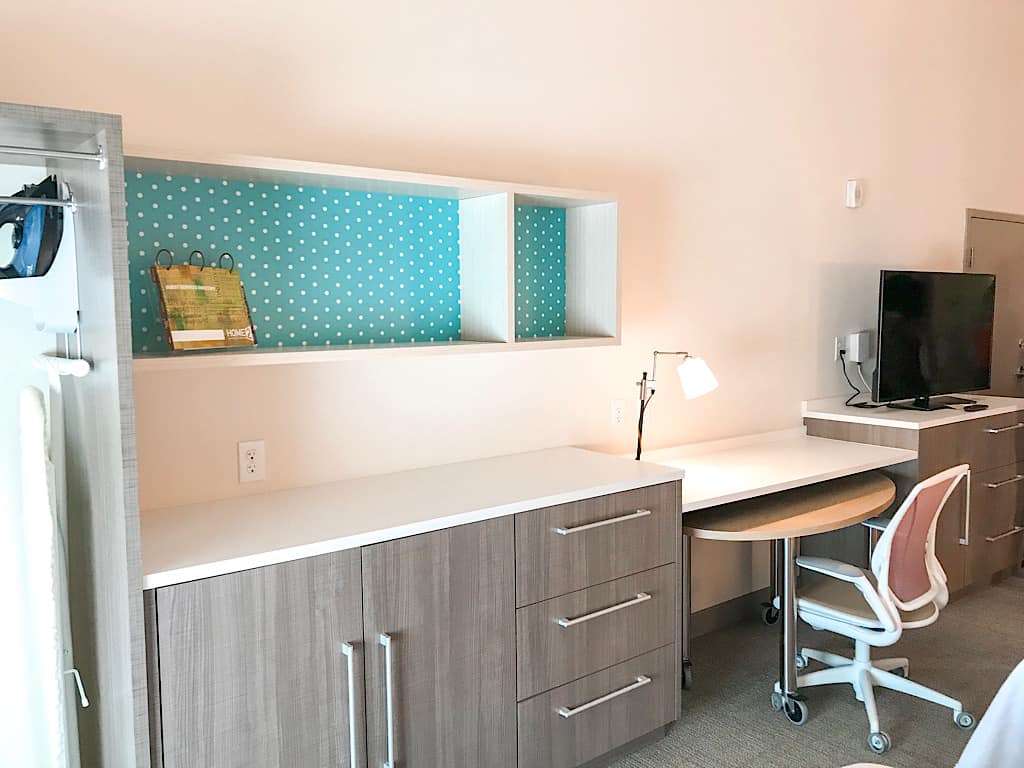 Another great amenity is the Spin2Cycle room, which is a combination laundry and fitness area. This is a great space to wash a sports uniform while getting in a quick workout!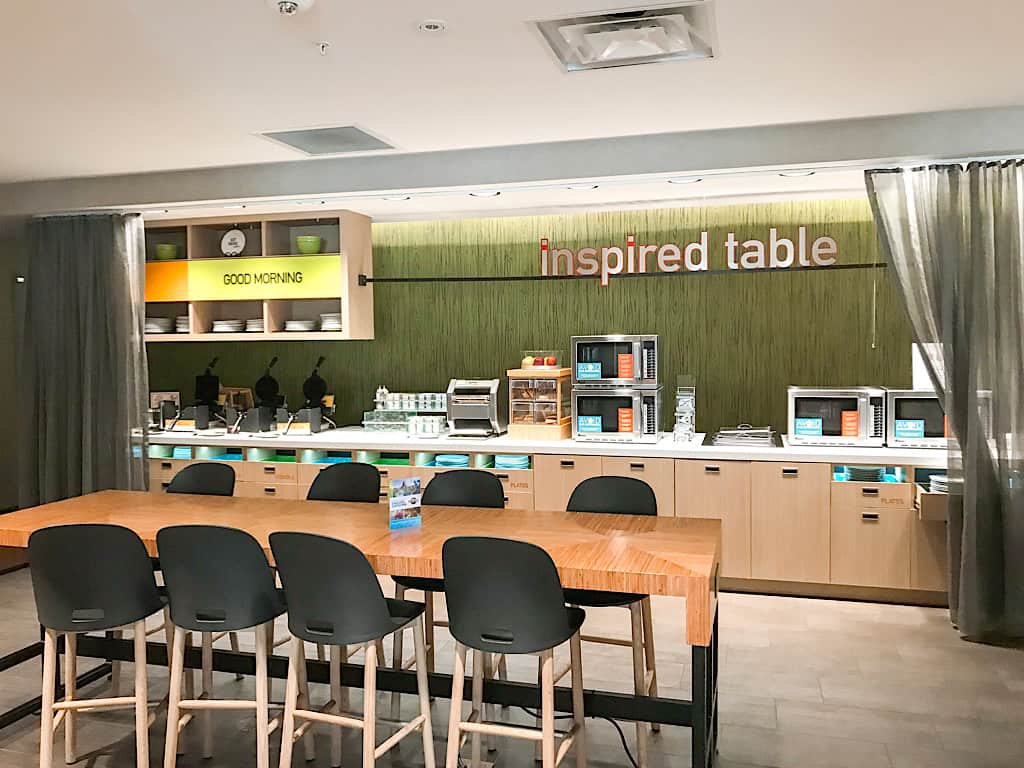 I hope that I have given you plenty of options when planning your visit to Orlando as a sports fan! There is so many sporting events and venues you will definitely have a great time!