Are you looking for a great hotel for your family in Orlando? If you want an all-suite hotel, an indoor and outdoor pool, and complimentary cook-to-order breakfast? Embassy Suites Orlando is the right place!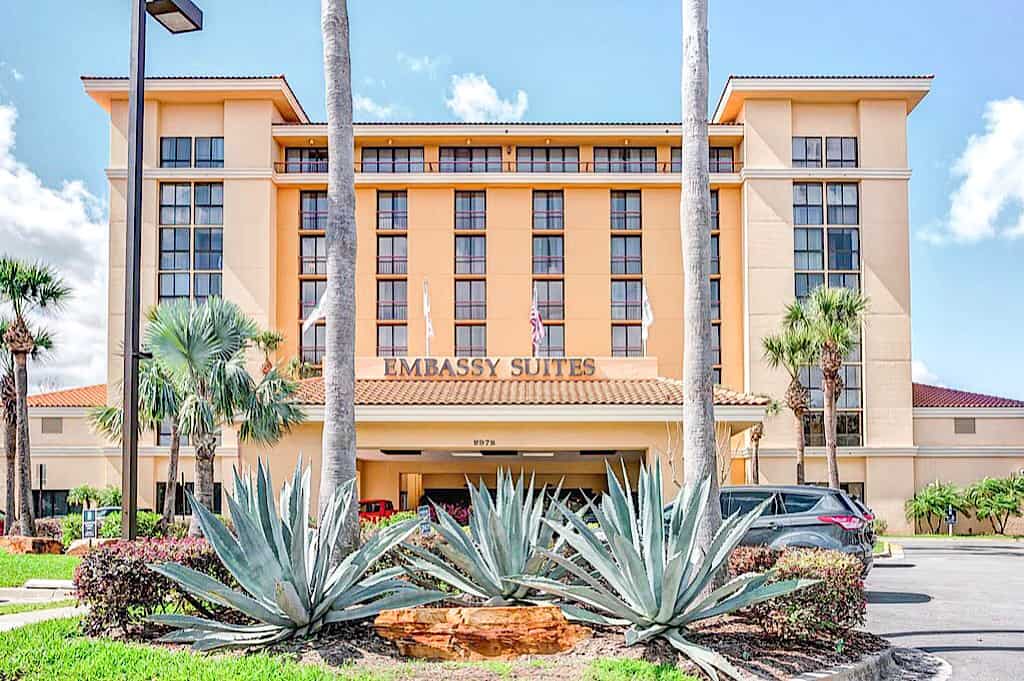 My family has been staying at Embassy Suites hotels for years and we love this brand for many reasons.
When I was given the chance to stay at the Embassy Suites by Hilton Orlando International Drive, I couldn't turn it down.
Embassy Suites Orlando International Drive
When arriving at the hotel, you are immediately welcomed by friendly front desk staff who are eager to help you check in and get settled in your room.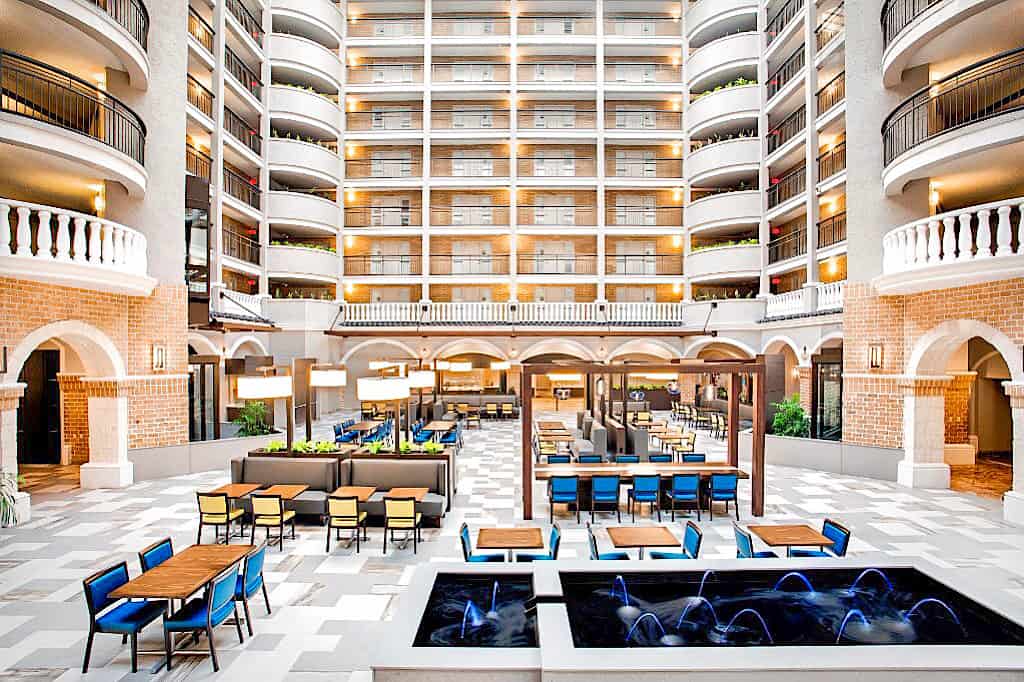 Here's a little tip: Make sure to sign up for the Hilton Honors rewards program. Its completely free, you can earn points to pay for future stays, and you get perks like free wi-fi!
If you are a Disney lover like me, you will appreciate the magical little details throughout the common areas, like backdrops for photos with your little ones.
Hotel Overview
Below, I will give you a quick overview of what amenities Embassy Suites Orlando International Drive offers.
This hotel has just completed a multi-million dollar renovation, including all 244 suits! I love all of the modern decor that is clean and fresh and also inviting!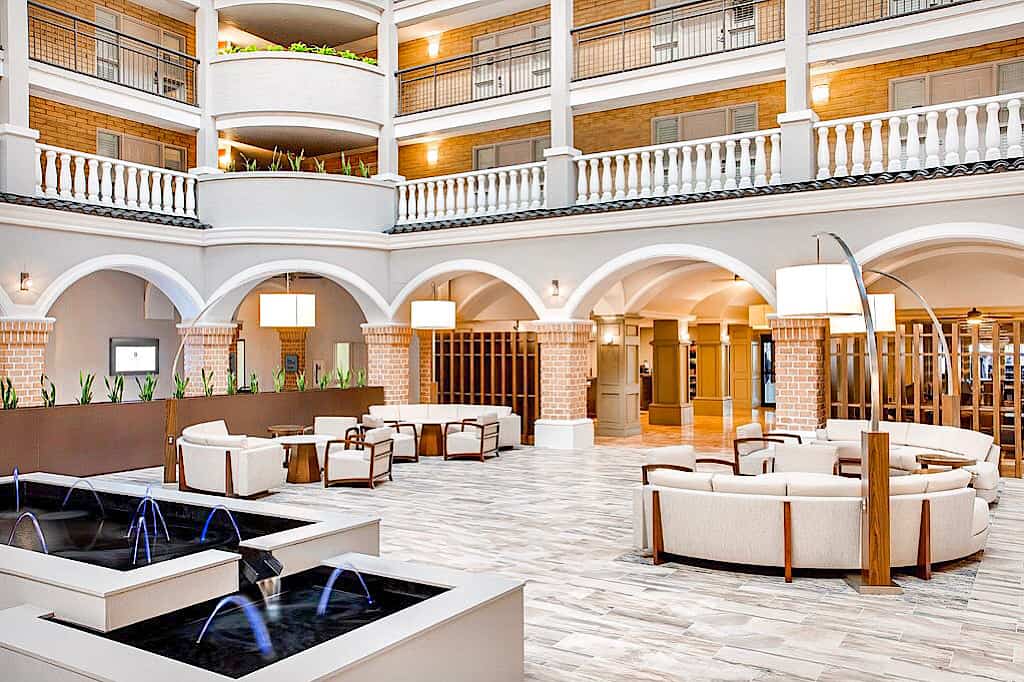 Embassy Suite Orlando Rooms
Each guest room at Embassy Suites Orlando International Drive is a two-room suite, which is one of the reasons this is the perfect property for families visiting Disney World!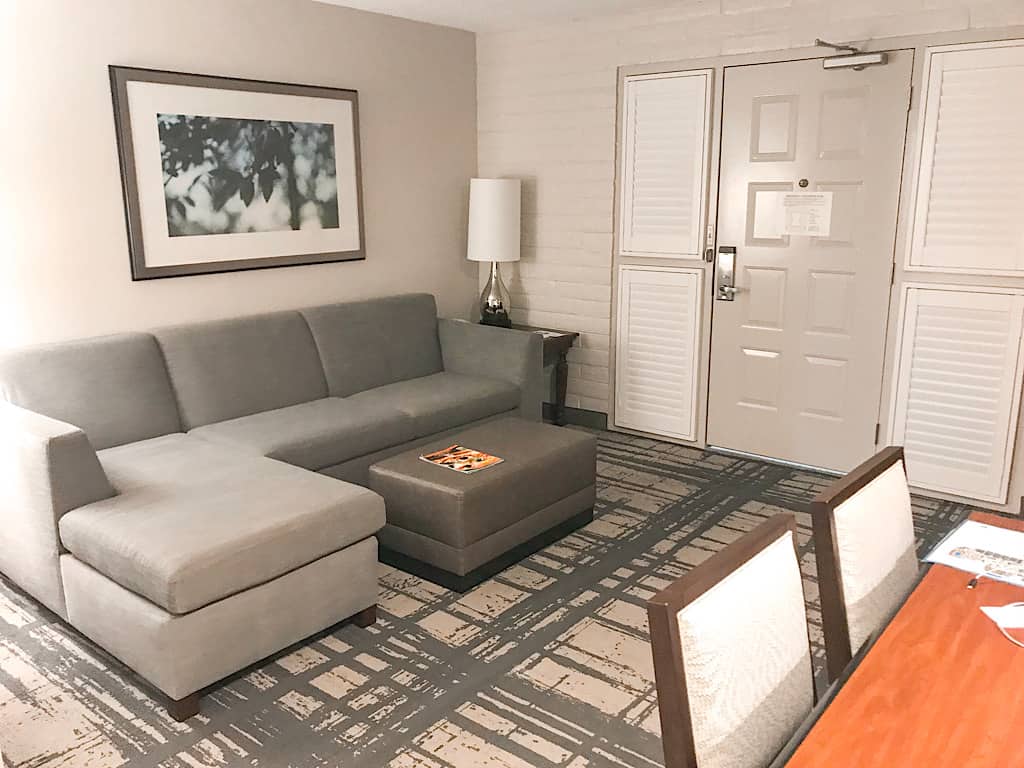 I love that there is a living area with seating, a television, a desk, and a small kitchenette that includes a mini fridge, coffee maker, sink, and microwave.
The sofa transforms into a bed, which is great because the room can accommodate up to 6 people!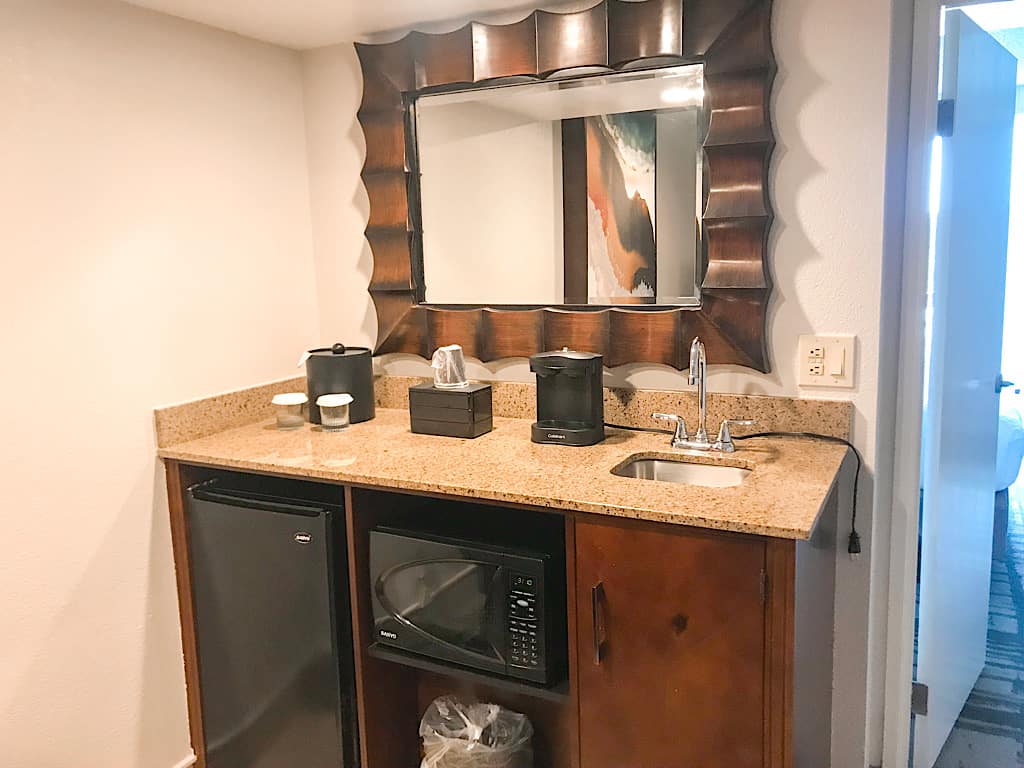 The bathroom is equipped with a tub/shower combo which is great for relaxing or bathing little ones.
There is also the most amazing lighting in the bathroom which is perfect for getting ready for the day!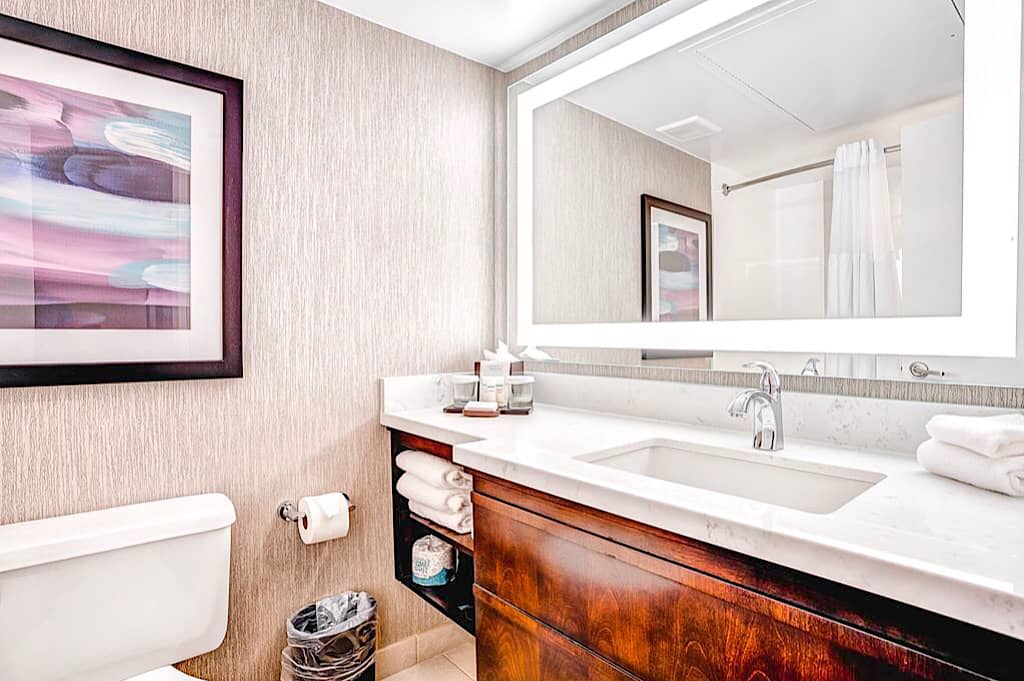 The bedroom includes two queen beds or one king. There is a closet, chest of drawers and two nightstands. Plenty of storage for a family.
There also happens to be a sink with a mirror, which I loved! If the bathroom happens to be occupied, there is another space to freshen up.
There is also a second TV in the bedroom. It's nice to be able to put on a show for my kids in the living room, while my husband and I watch something different in the other room.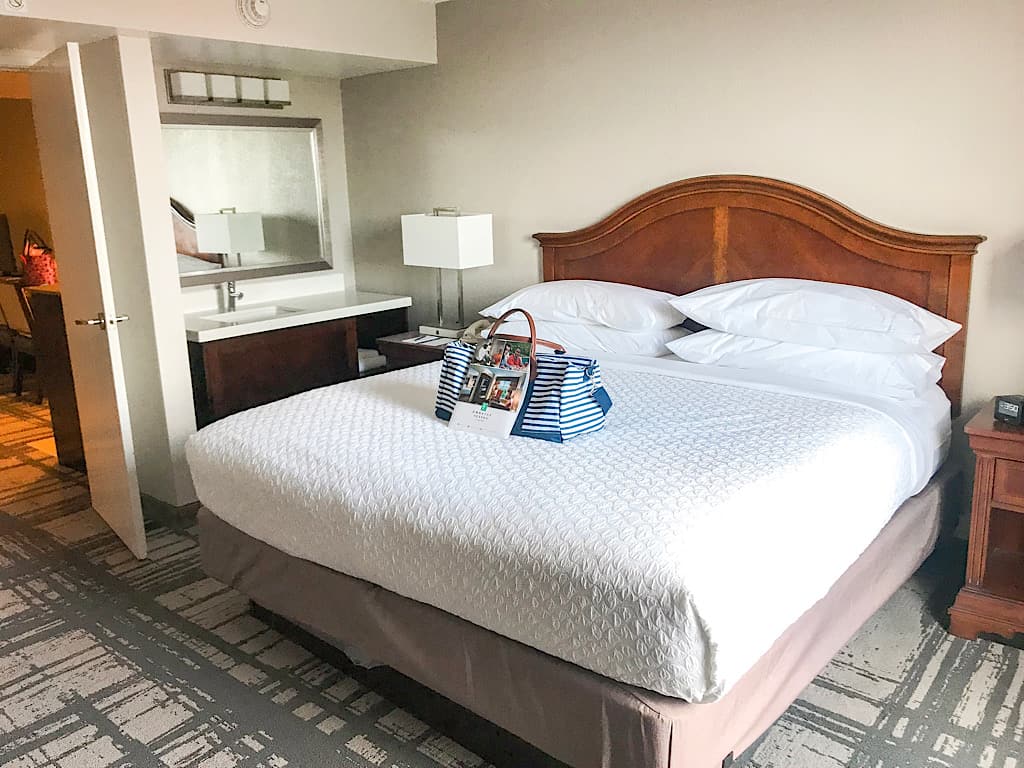 Guest Room Highlights:
Private Bedroom

Separate Living Room with Sleeper Sofa

Dining workspace with ergonomic chair

Two 42-inch, flat-panel TV's in each room

Microwave, coffeemaker, and mini fridge

In-room coffee and teas
Hotel Dining
Complimentary Cook-to-Order Breakfast
Aside from the two-room suites, the second major reason my family loves staying at Embassy Suites is the complimentary made-to-order breakfast.
The Embassy Suites Orlando breakfast spread includes customizable omelette's, bacon, breakfast potatoes, oatmeal, fruit, and more!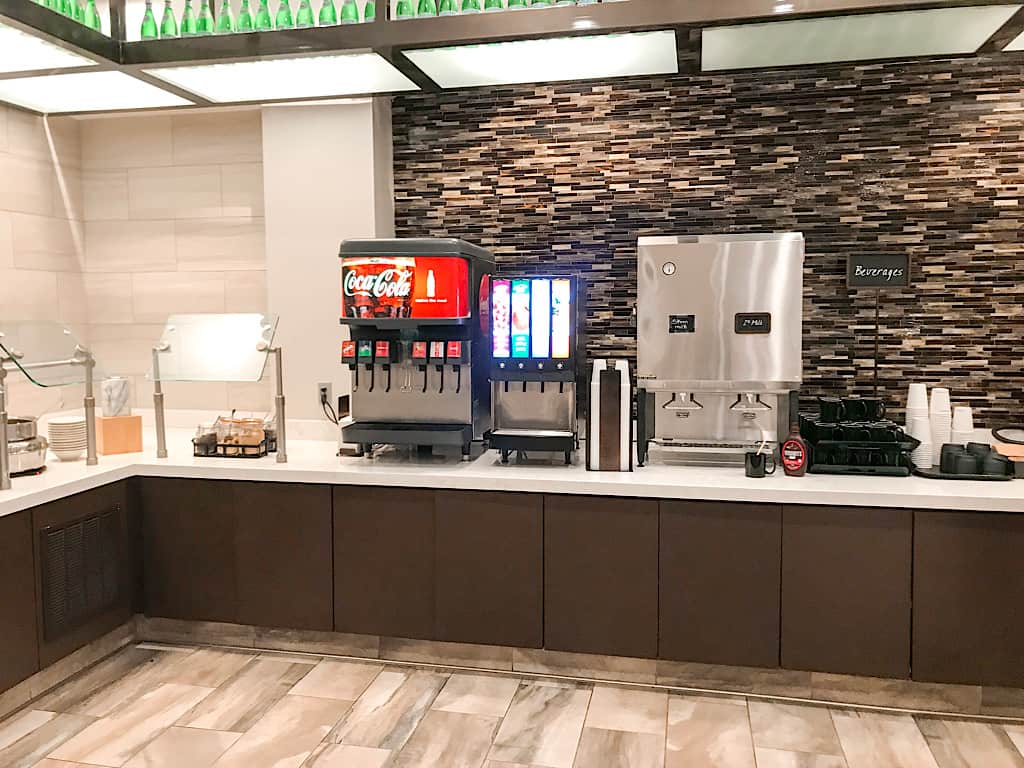 There was also a great selection of beverages including, juices, milk, and coffee.
There is definitely something for everyone!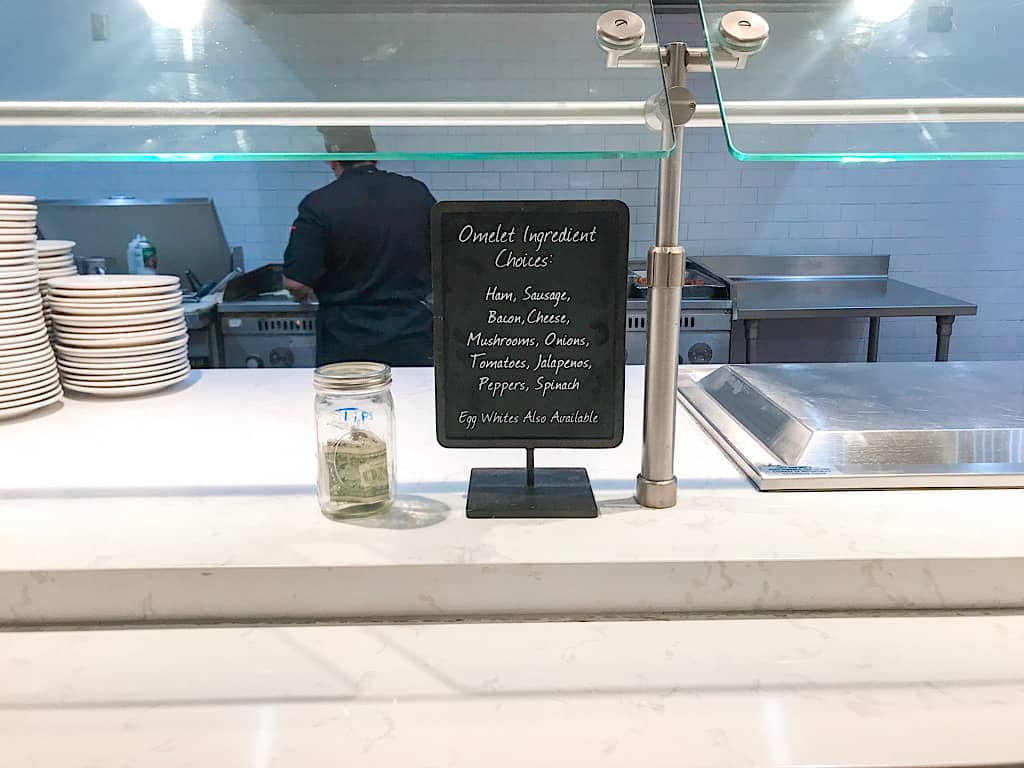 Complimentary Evening Reception
Not only is there a complimentary breakfast, but there is also a complimentary evening reception with drinks and snacks.
One of my favorite Disney tips is to take a break in the middle of the day and come back to your hotel and relax before heading back to the parks.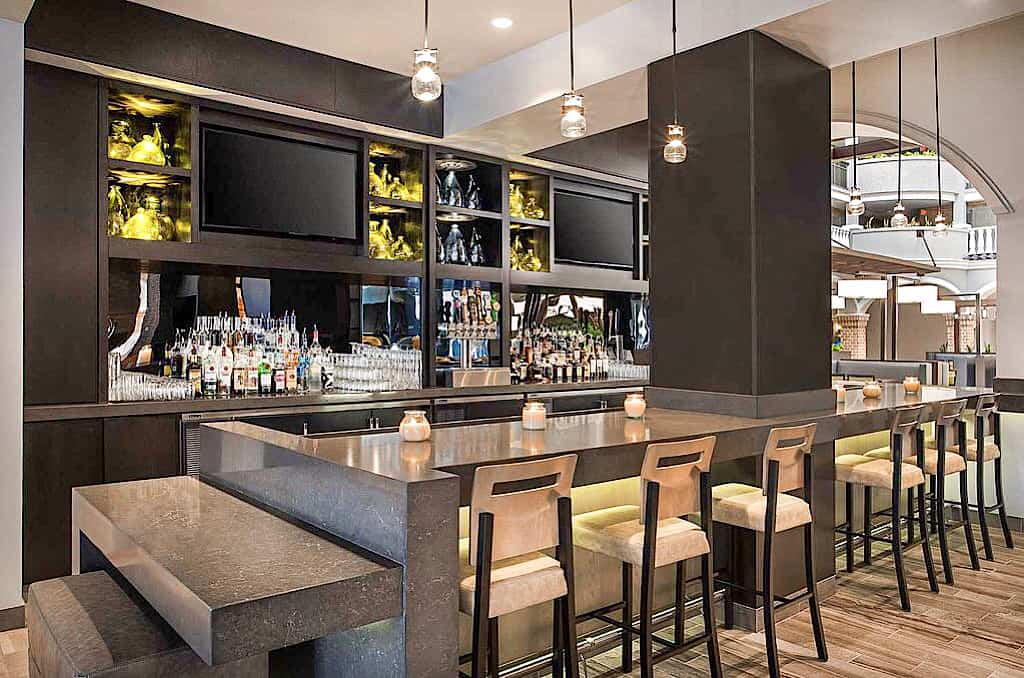 At Embassy Suites, during the evening reception, you will be able to get a drink and grab a quick snack before heading back for the evening.
There is a variety of grab and go snacks available, like cheese and crackers, that are perfect to tide you over until dinner time.
Complimentary drinks can be either alcoholic or non-alcoholic.
In-House Restaurant at Embassy Suites Orlando
I love when hotels have a restaurant onsite. It is so convenient to grab lunch or dinner without leaving the property!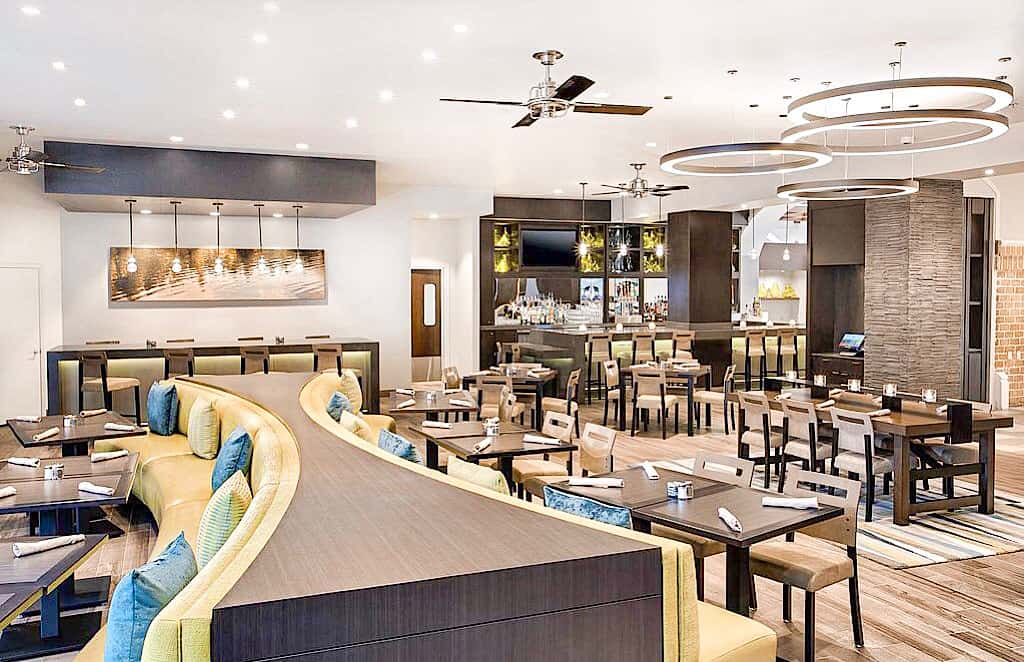 At Embassy Suites Orlando International Drive there is an amazing restaurant called Bar Meets Grill that offers casual full-service dining and an extensive selection of alcoholic beverages from the bar.
Dining Highlights:
Complimentary made-to-order breakfast

Complimentary evening reception with drinks and snacks

On-site Restaurant
Embassy Suites Orlando Amenities
Embassy Suites Orlando doesn't have one pool, they have two! This property has both an indoor and outdoor pool, which is amazing!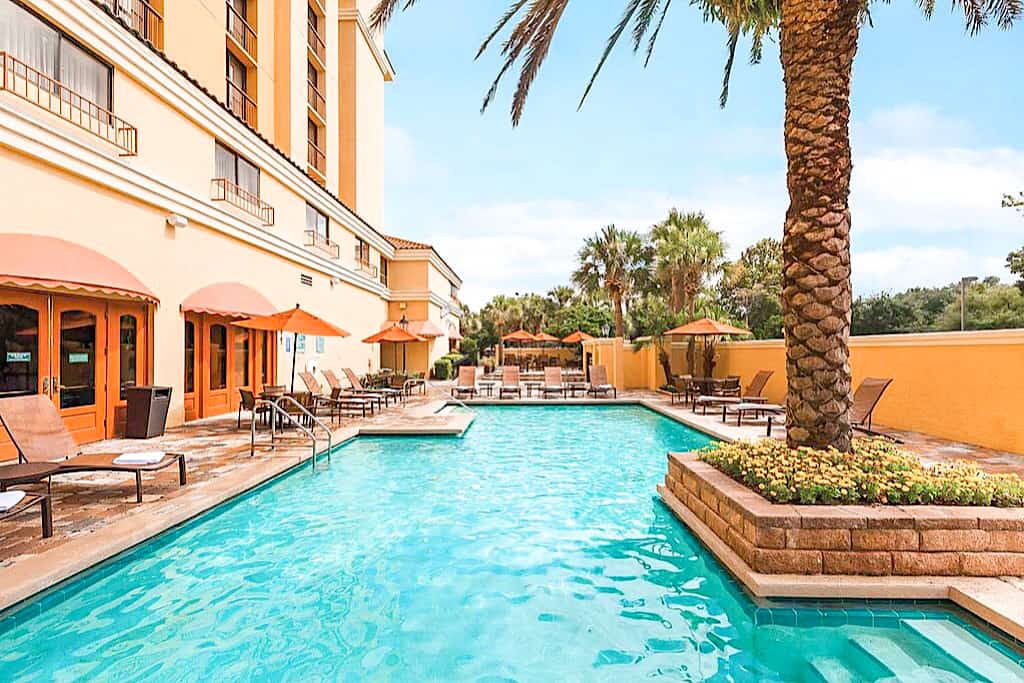 If you have been to the Orlando area before, you know how quickly rain storms can appear.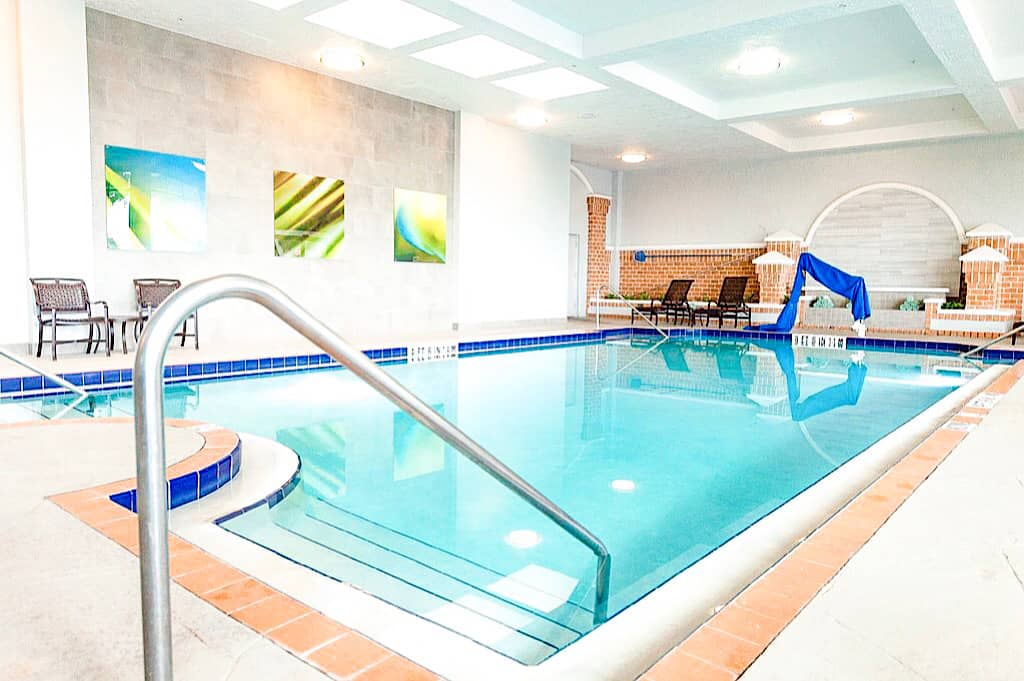 If you have been planning a day at the pool with your family, which I highly recommend when vacationing in Orlando, you won't have to worry about the rain while staying at Embassy Suites.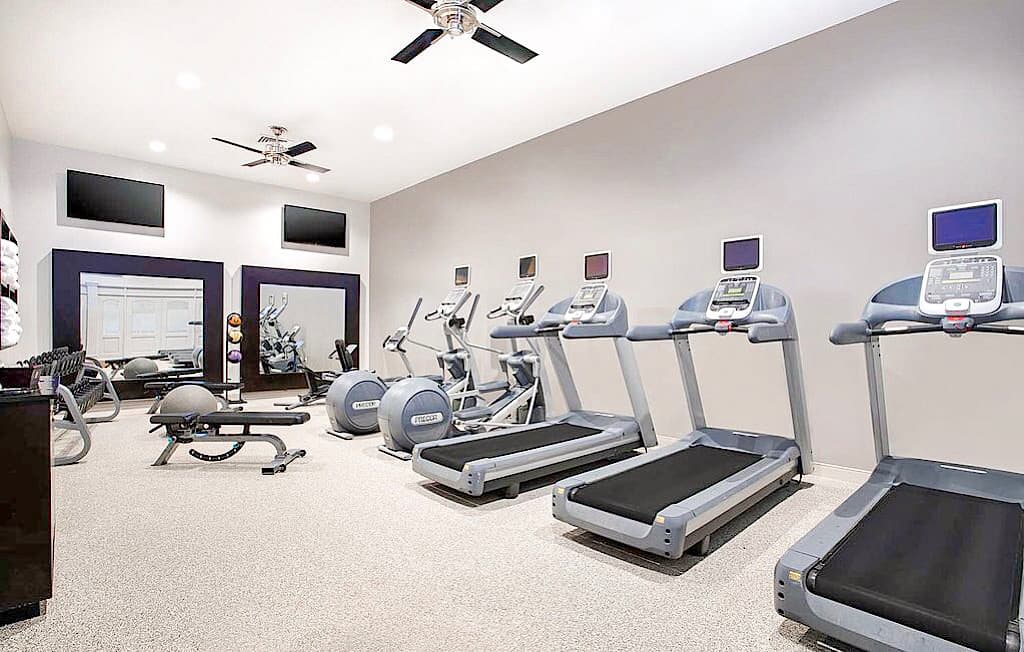 Other amenities include a 24/7 fitness center, Embassy BuisinessLink Business Center with high-speed internet access, an on-site refreshment and sundries pantry, and laundry/valet service.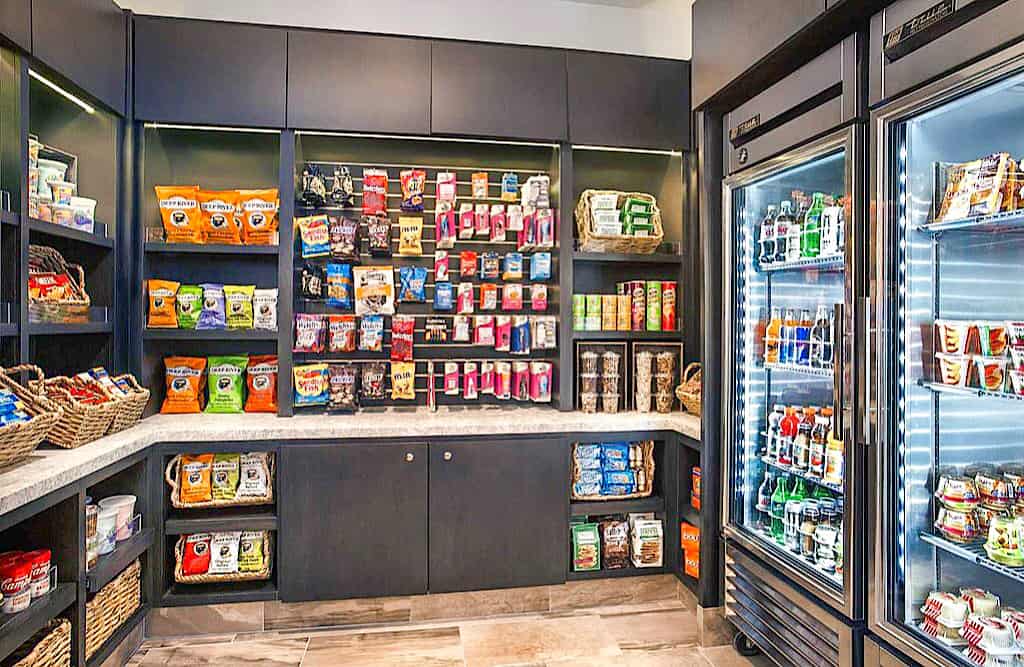 Amenities Highlights:
Indoor and Outdoor pools

24/7 fitness center

Business Center with high-speed internet access, fax machine, printer, and photocopier

On-site refreshment and sundries pantry

Laundry/valet service
Meeting Space
If you're planning a board meeting or social event, there are meeting spaces available at the hotel that includes over 11,000 spare feet of flexible function space, a 4256 square foot ballroom, on-site catering, and audiovisual capabilities.
Hotel Review
After experiencing Embassy Suites Orlando International Drive for myself, I would definitely recommend this property during a stay in Orlando!
It is perfect for families, couples, and business travelers! And the fact that it is close proximity to all of the major theme parks and sports venues in the area, makes it that much better!