If you're planning a visit to Great Wolf Lodge, you'll definitely want to find out all about the Wolf Pass and what is included when you purchase it. You can determine if it is worth the money and decide if it is right for you!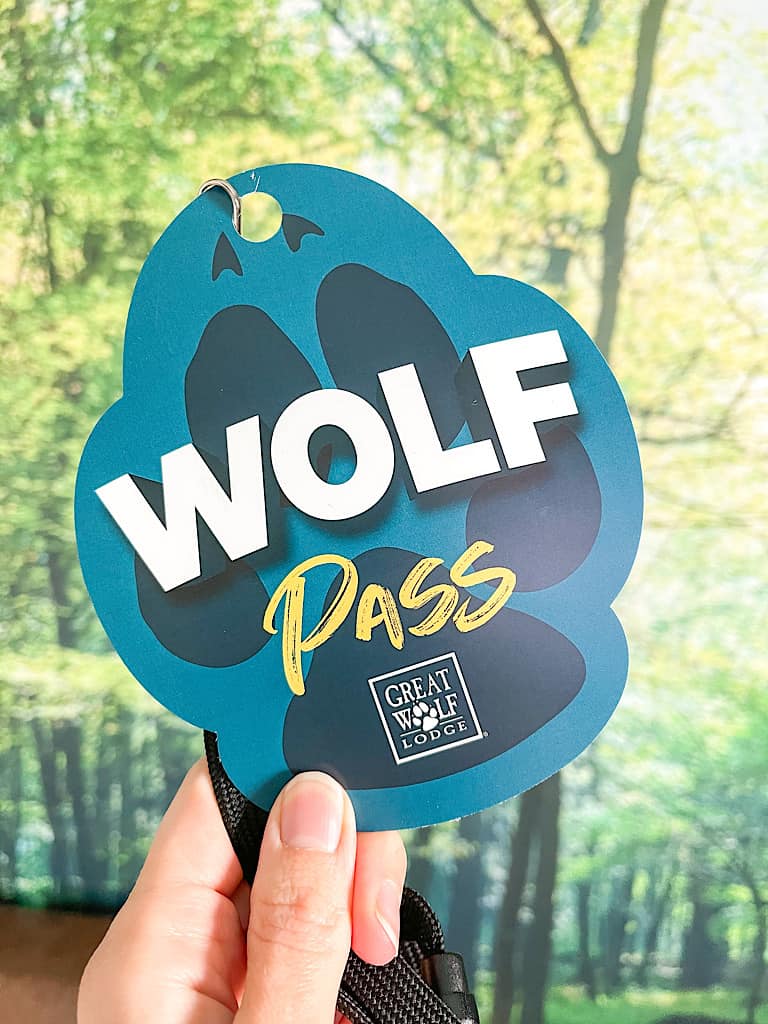 Wolf Passes were given complimentary to my family. All opinions are my own.
My family and I recently made a trip down to Arizona to visit Great Wolf Lodge. This was our second visit to this location.
We had the opportunity to experience all that Great Wolf Lodge's Wolf Pass has to offer and I want to show you everything that is included if you decide to purchase this for your family.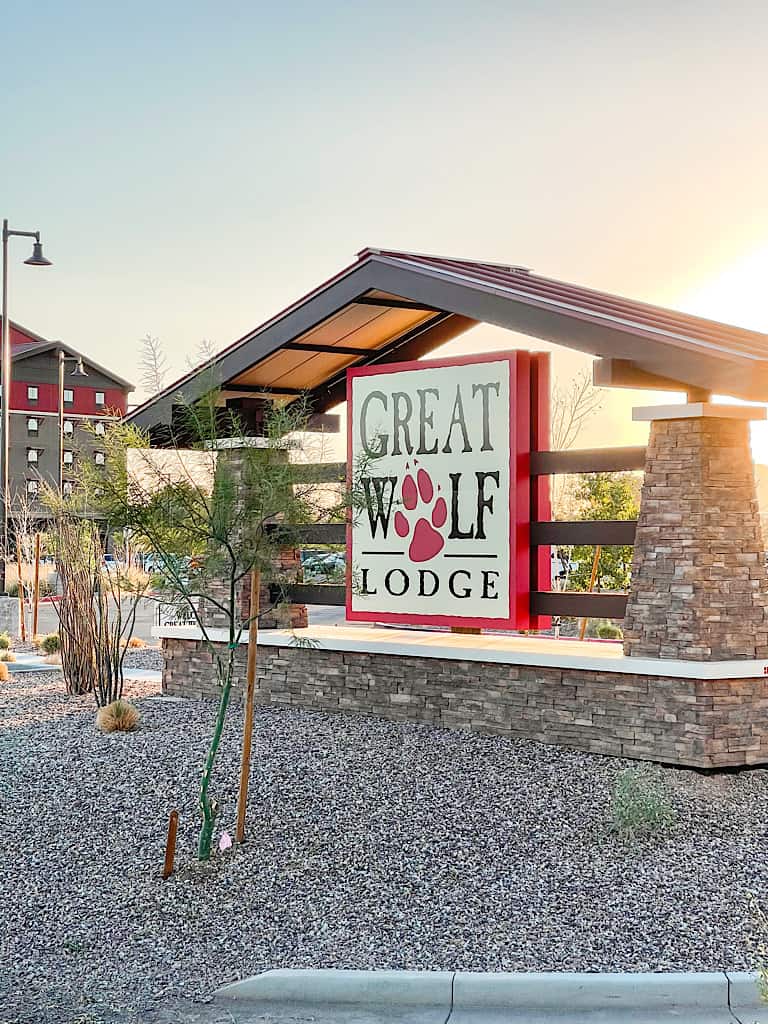 If you are planning to visit this location, I highly recommend you check out my water park review and Kids Cabin Suite tour here and view the video on YouTube here.

Don't forget to read my review of Great Wolf Lodge in Grand Mound Washington and Anaheim California.
Before we get started, make sure you have subscribed on YouTube and turned on notifications, if you haven't already.
Also go follow @MommyMouseClubhouse over on Instagram. Now, let's have fun at Great Wolf Lodge!
Watch on YouTube: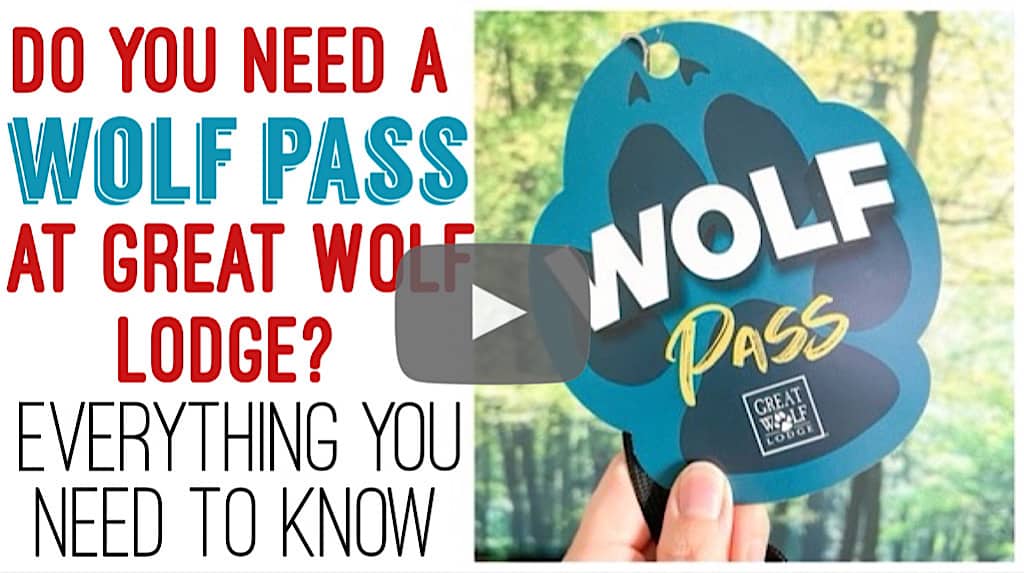 Grizzly Bear Suite Tour
Before we get to the wolf pass, I want to give you a quick tour of our amazing Grizzly Bear Suite. We loved this room because it had so much space!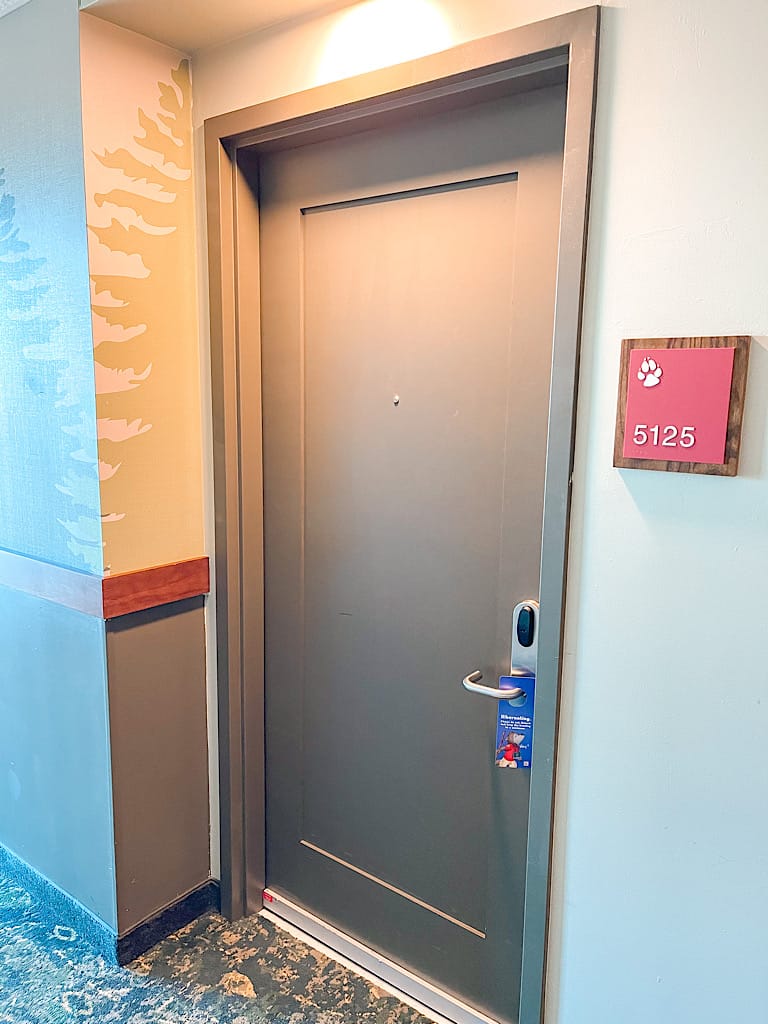 As you enter the Suite, there is plenty of storage space.
We kept all of our shoes and swimming gear in this area so we could grab it quickly as we went out the door.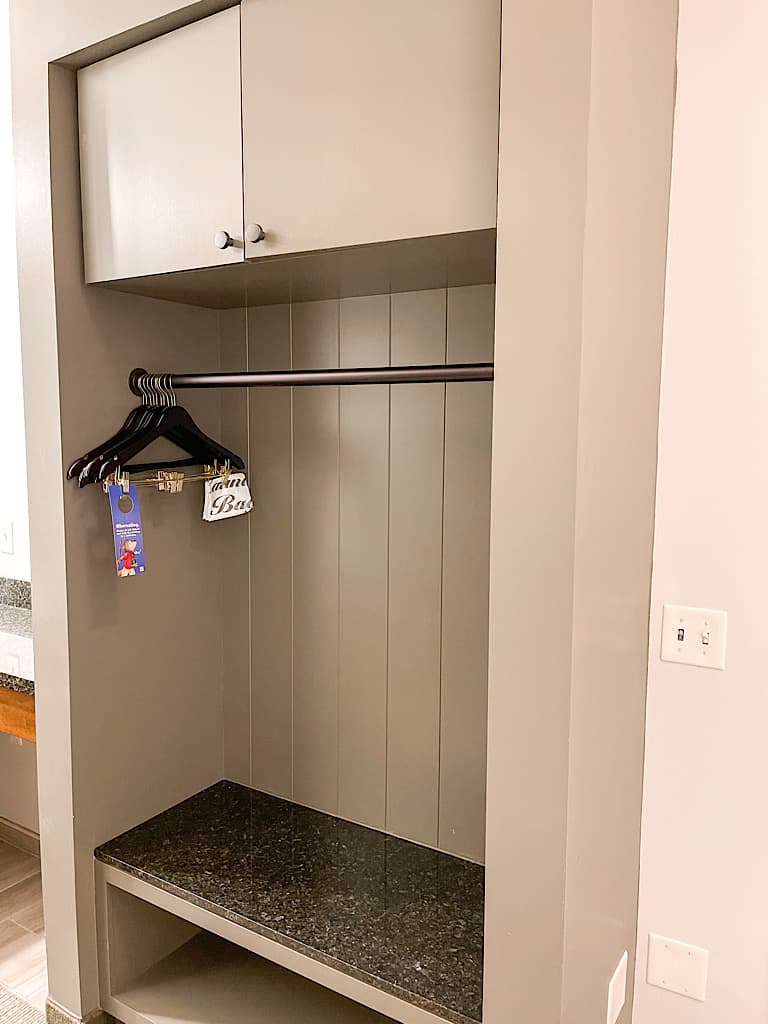 Bathroom 1 is right inside the entrance and has a tub and shower combination.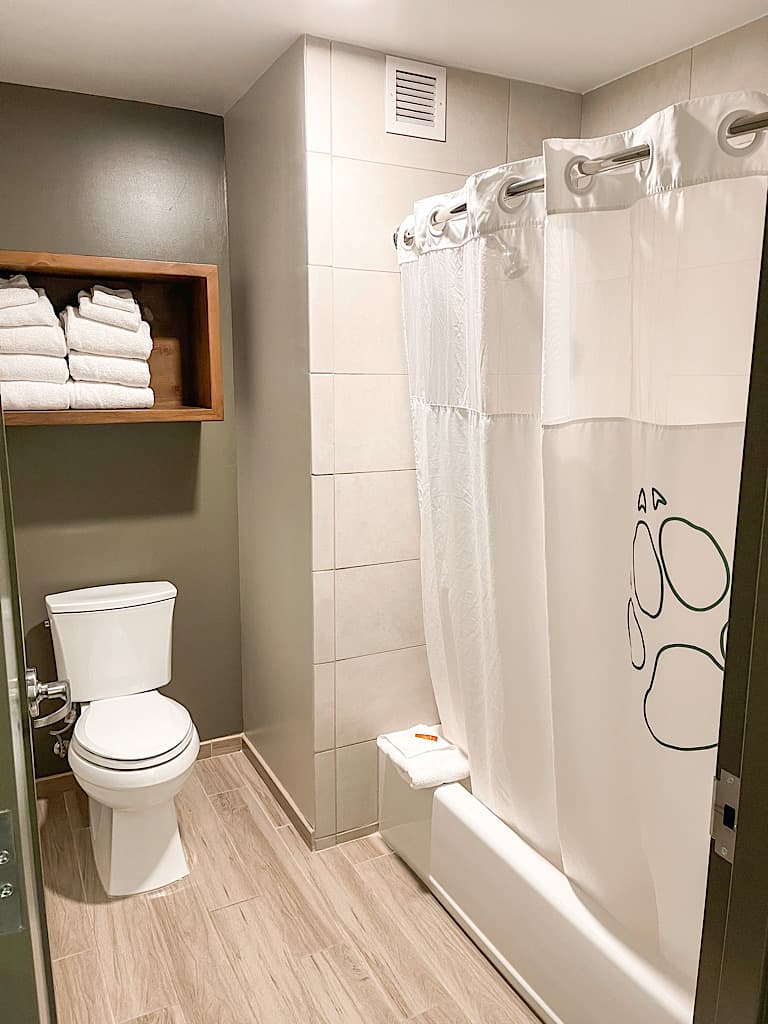 Located just outside the bathroom is a sink. Having the sink outside the bathroom definitely which helps when you have a lot of guests staying in your room.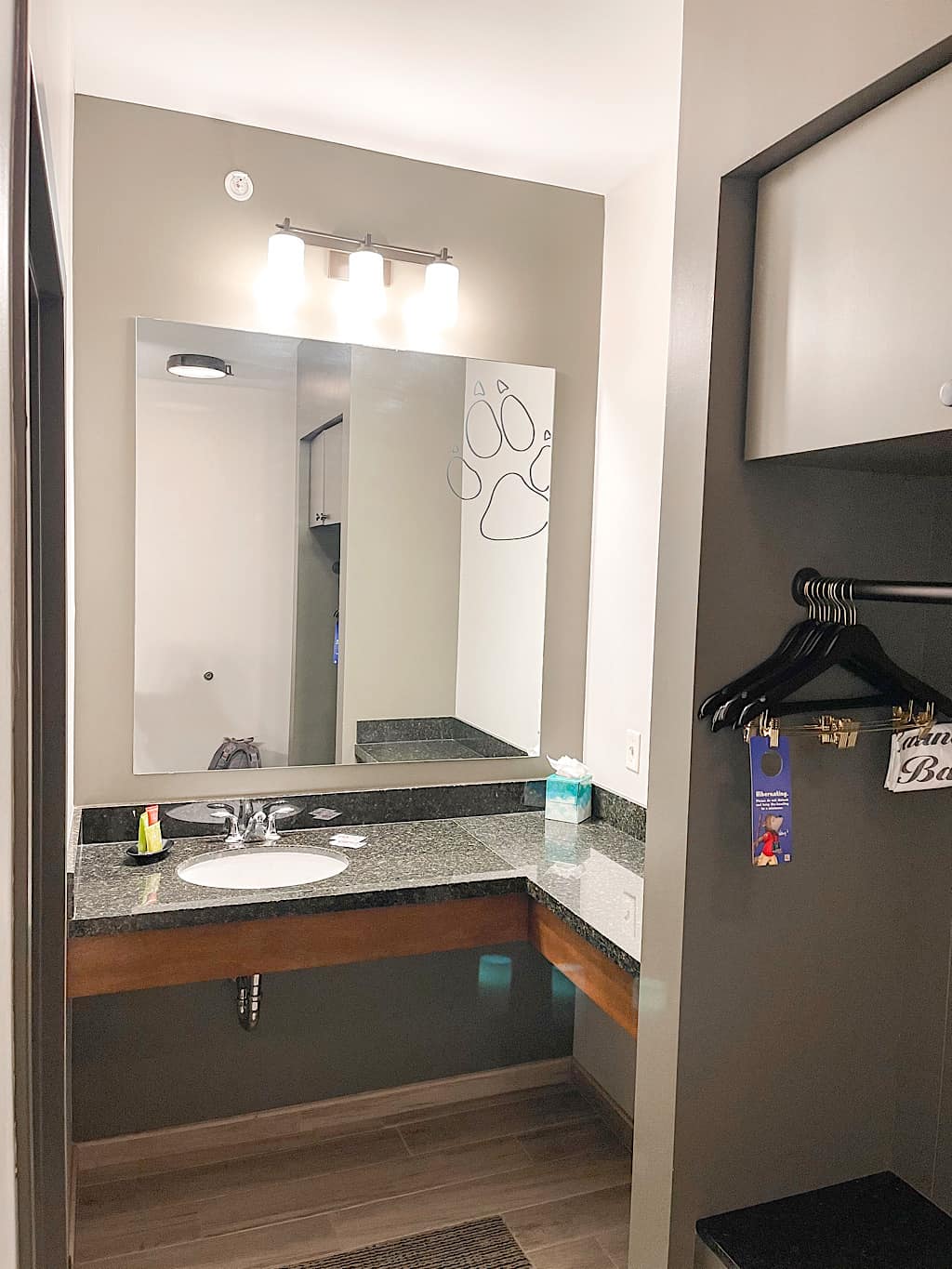 Walking a little bit further into the room, you will see a large countertop with another sink and a mini-fridge.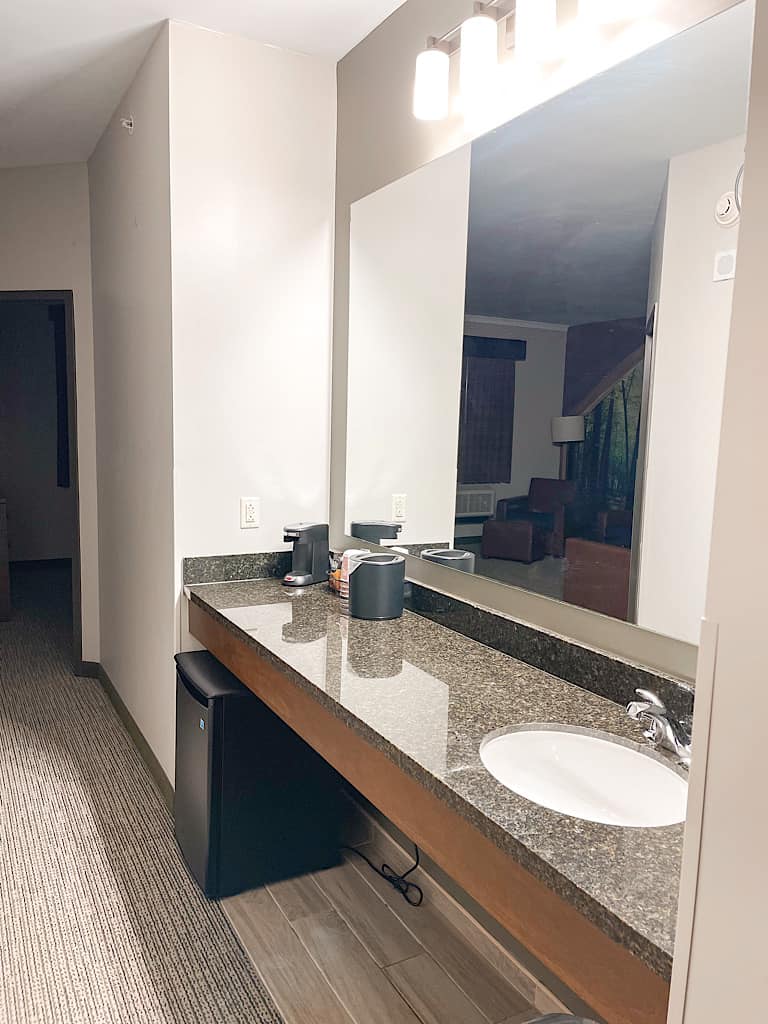 We had groceries delivered to us during our stay so the mini fridge came in handy for my hungry boys.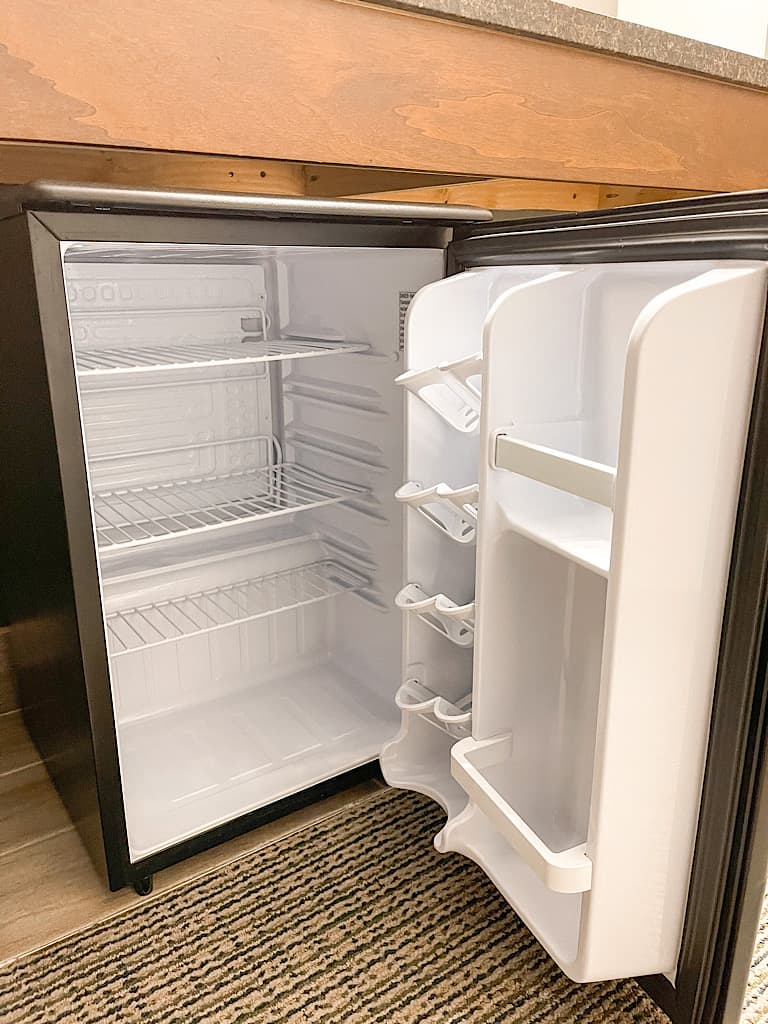 Straight back from the entrance is the living room. This room had a large sectional couch that can pull out into a full size bed.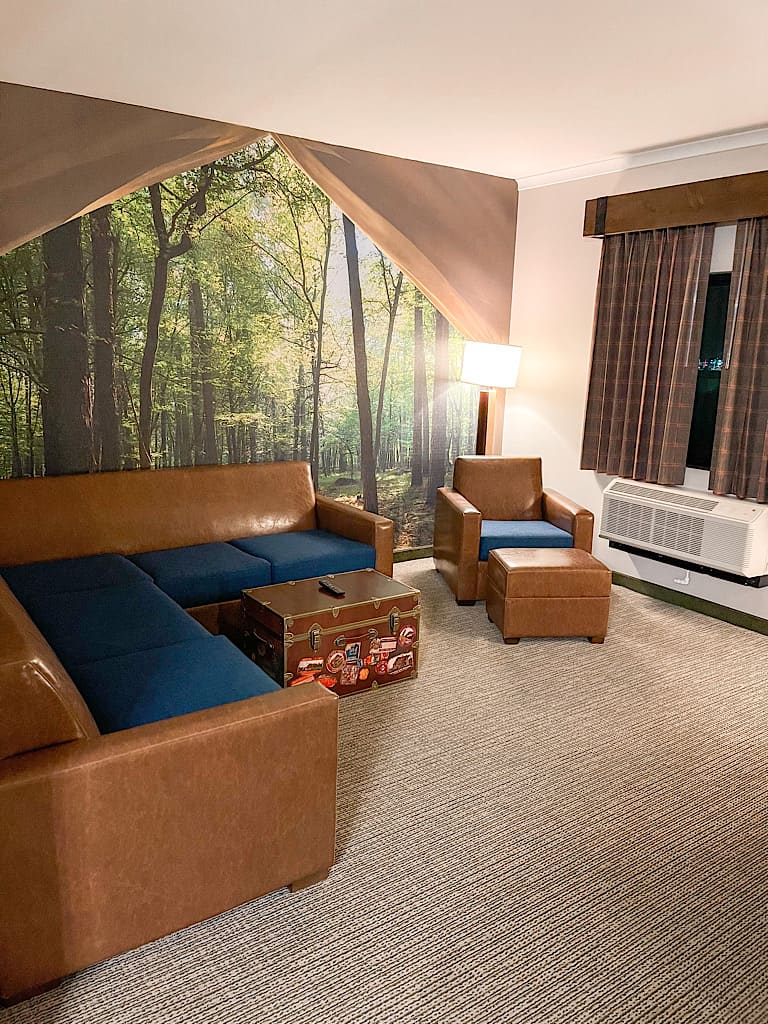 There is also a chair, a desk, and a tv. Out our window, was a beautiful view of the outdoor pool.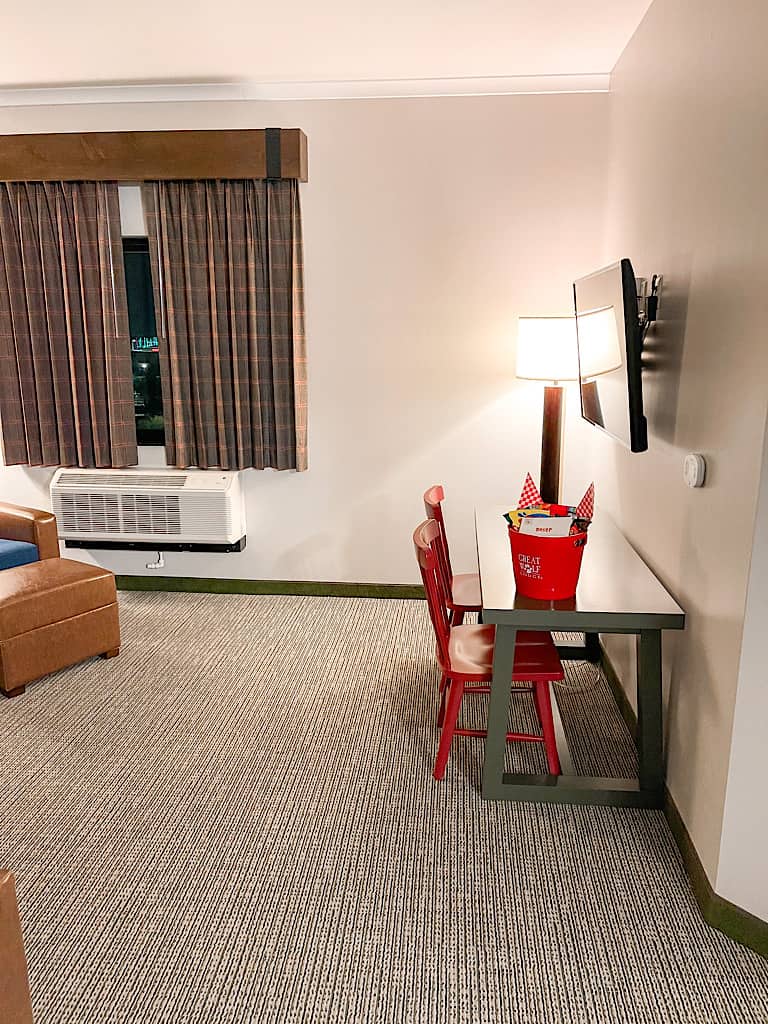 Bedroom number 1 has two queen sized beds with a nightstand in between and can easily sleep 4 guests.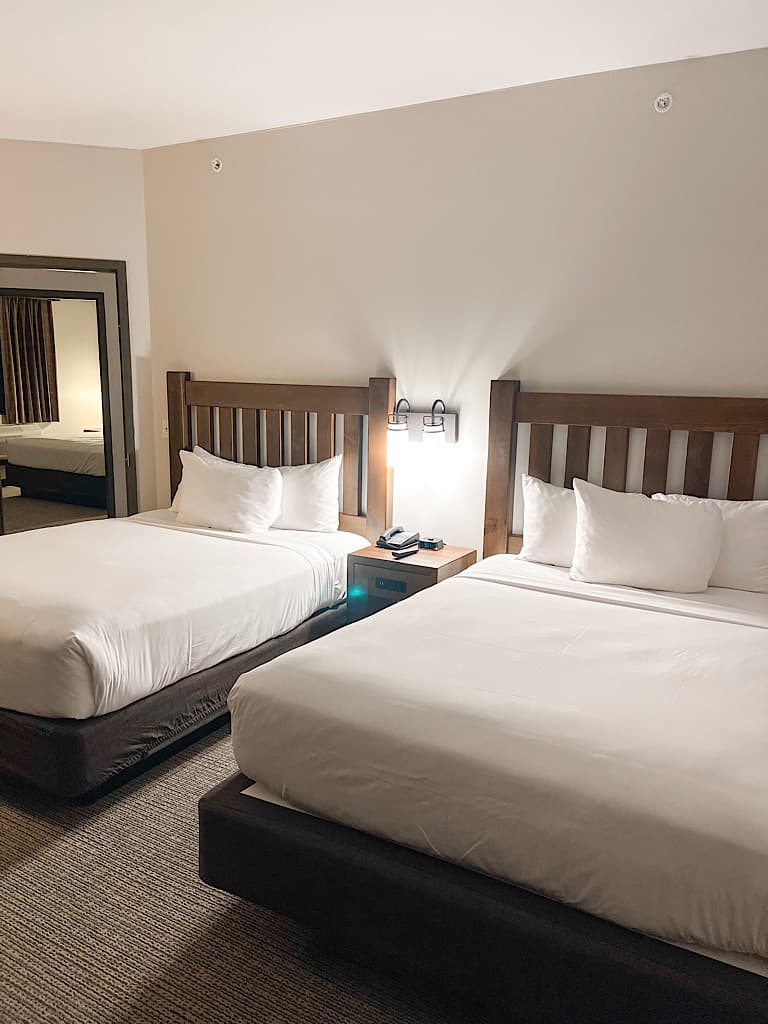 You will also find a dresser, a television, and a storage area with shelves and a bench.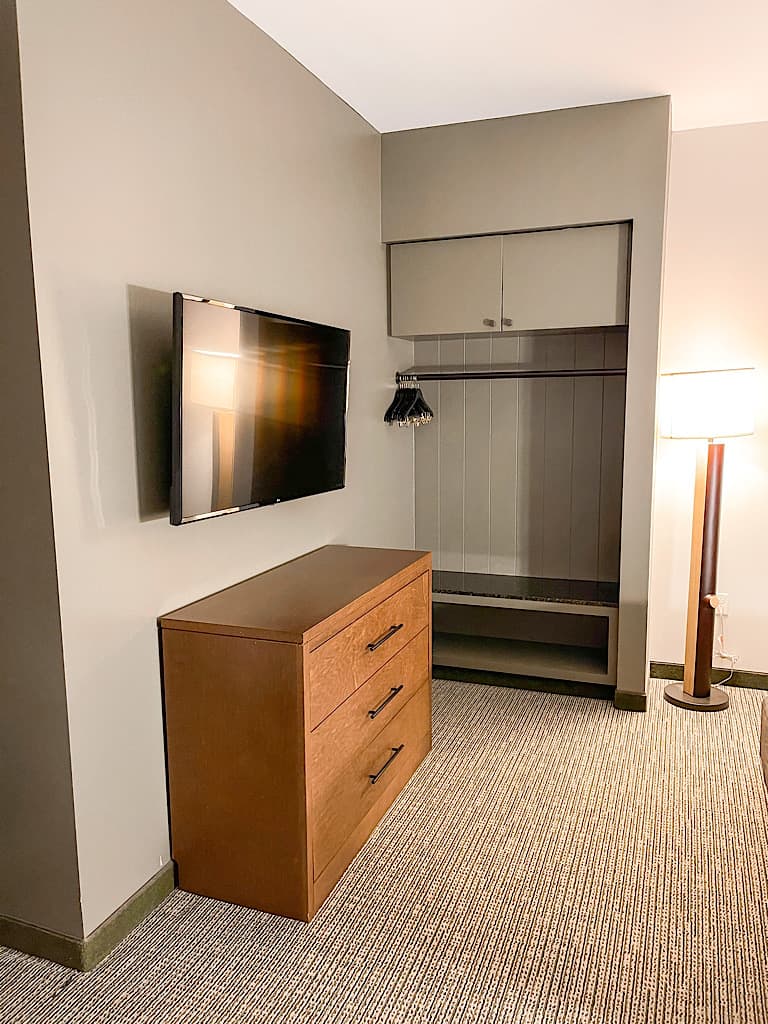 Across the hall is bedroom number two. This separate bedroom has a king size bed.
Bedroom 2 includes two nightstands, a large dresser with three drawers, and it's own television.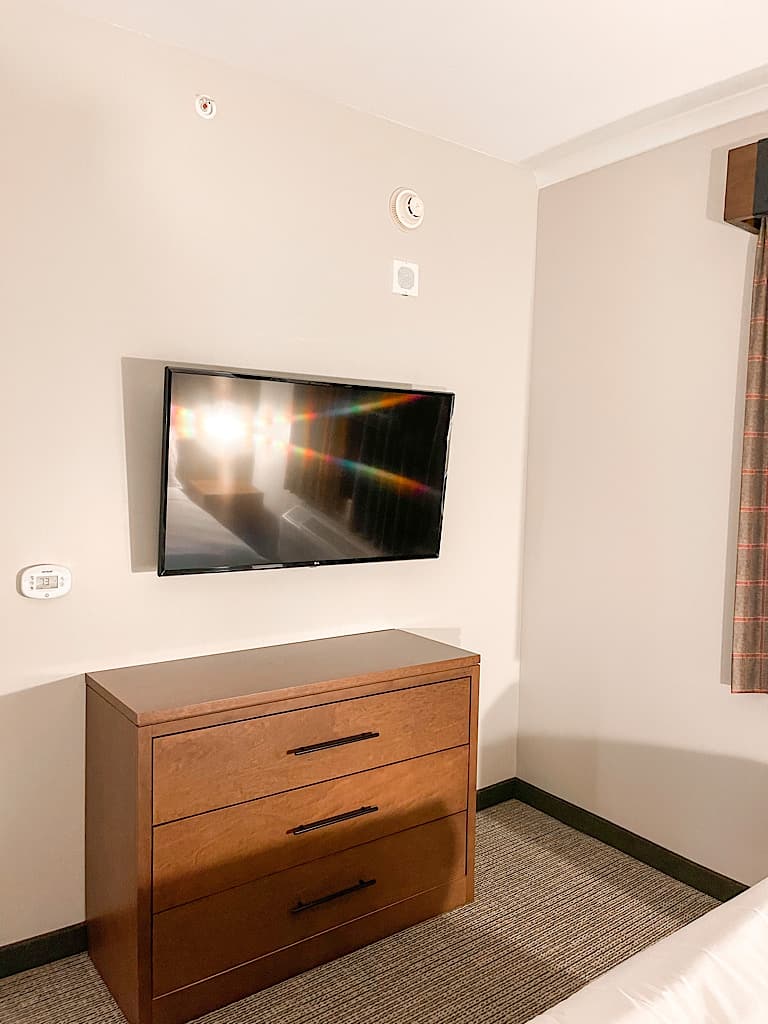 Another great feature of the Grizzly Bear Suite is the private bathroom attached to the second bedroom. This bathroom has a stand up shower.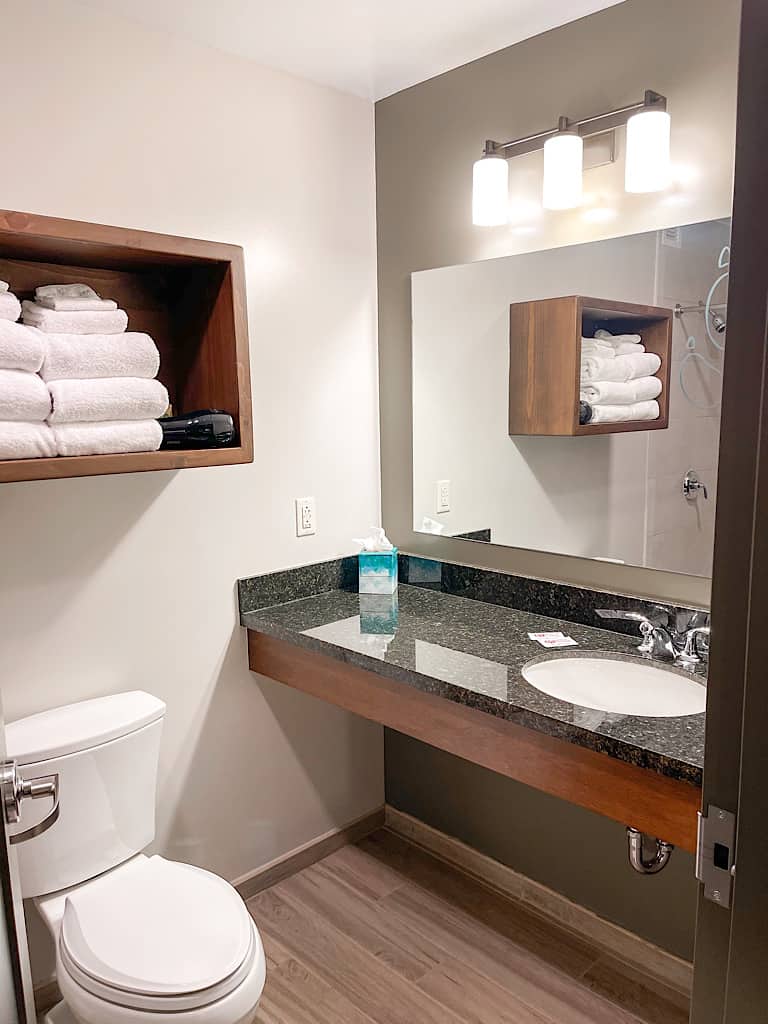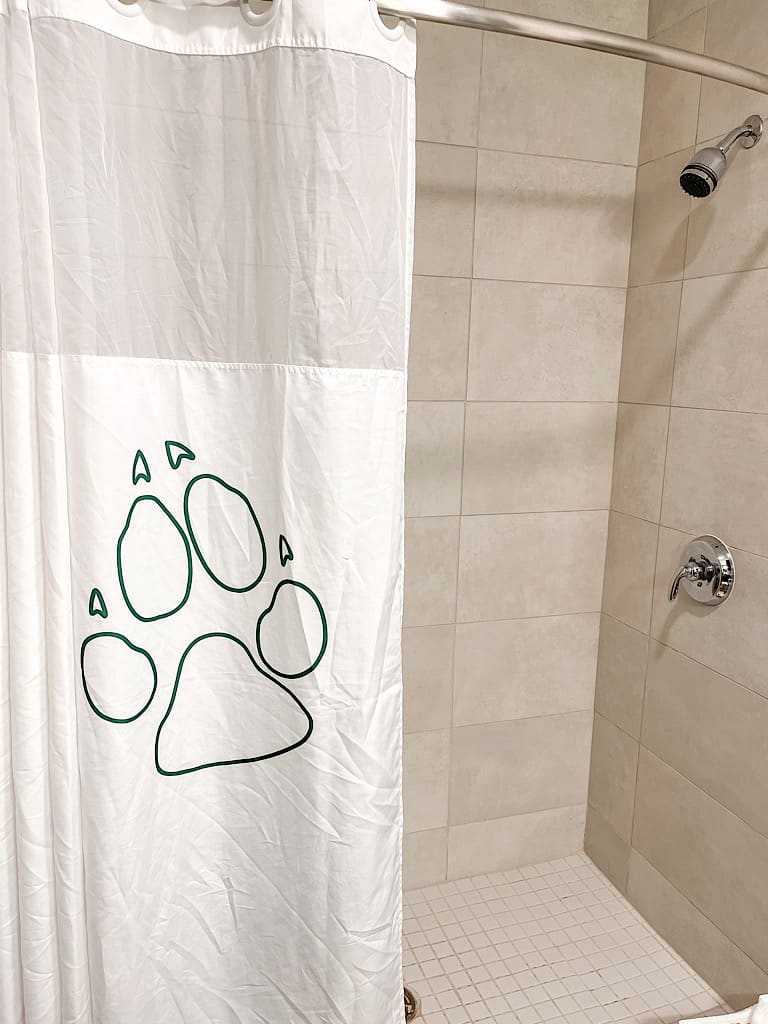 Great Wolf Lodge Wolf Pass
Now let's get to the fun stuff. Great Wolf Lodge has three types of passes that you can purchase. The Pup Pass, Paw Pass, and the Wolf Pass.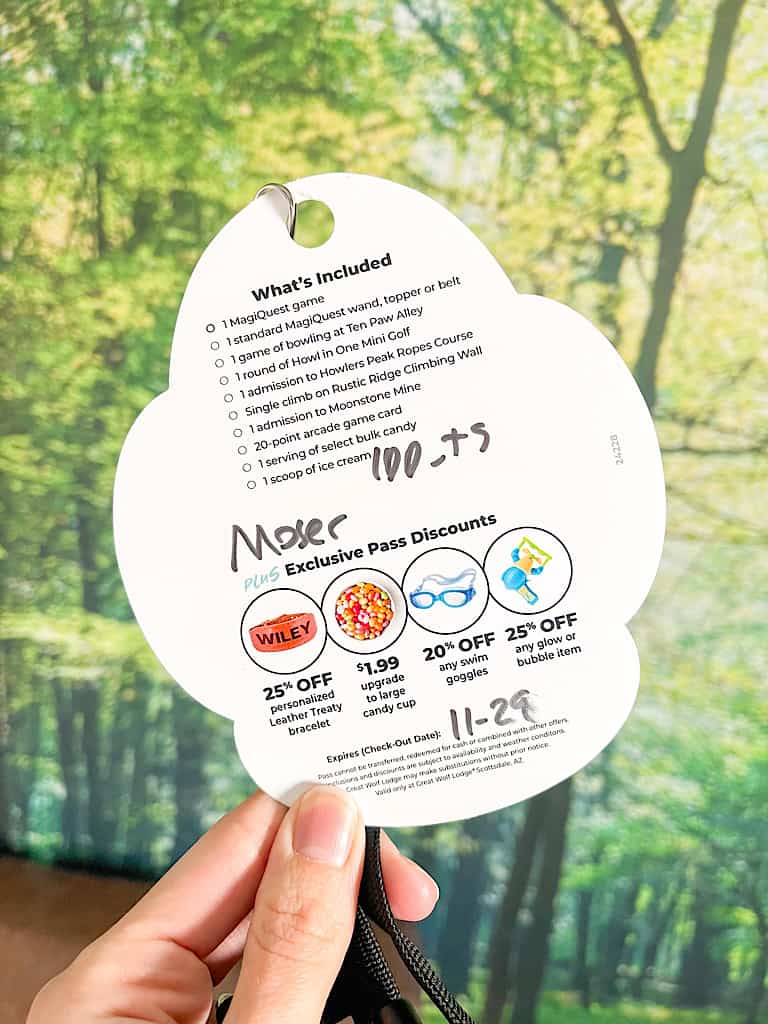 Each of these passes vary by location, so make sure you do your research to get the pass that is right for you and your family.
We have found that for us, the Wolf pass gives us the best bang for our buck. Our stay lasted four nights and the Wolf Pass gave us plenty of things to do.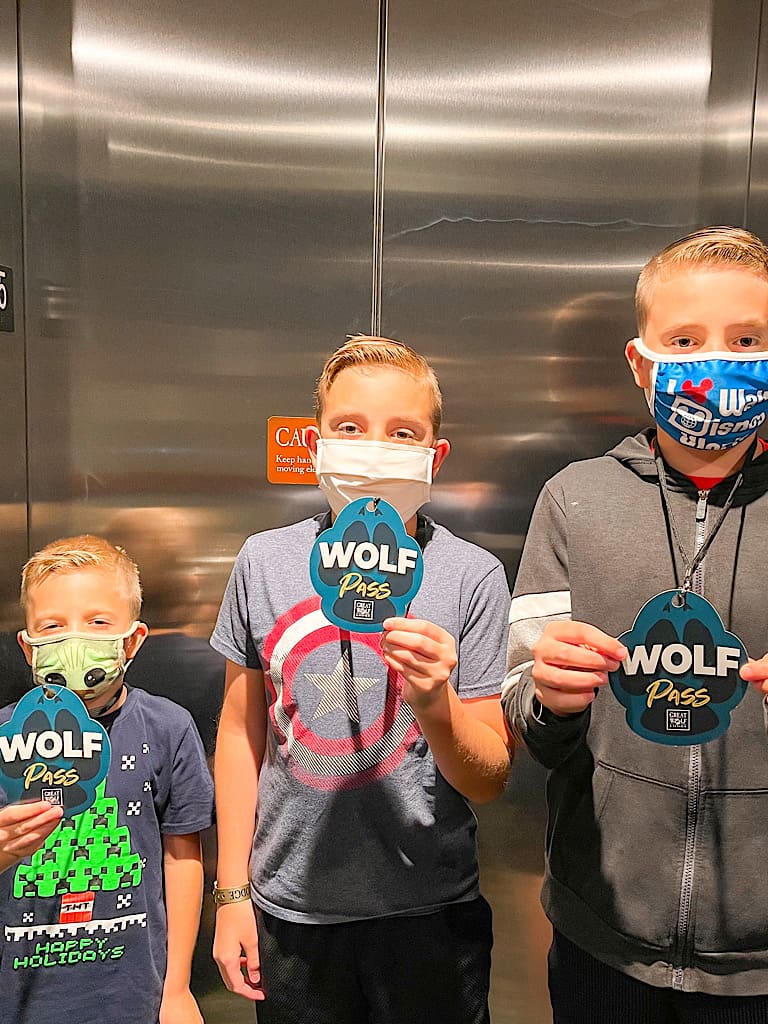 What is included with a Wolf Pass
Now that you know the difference between the three passes available for purchase, let's go in depth with what is included with a Wolf Pass at Great Wolf Lodge.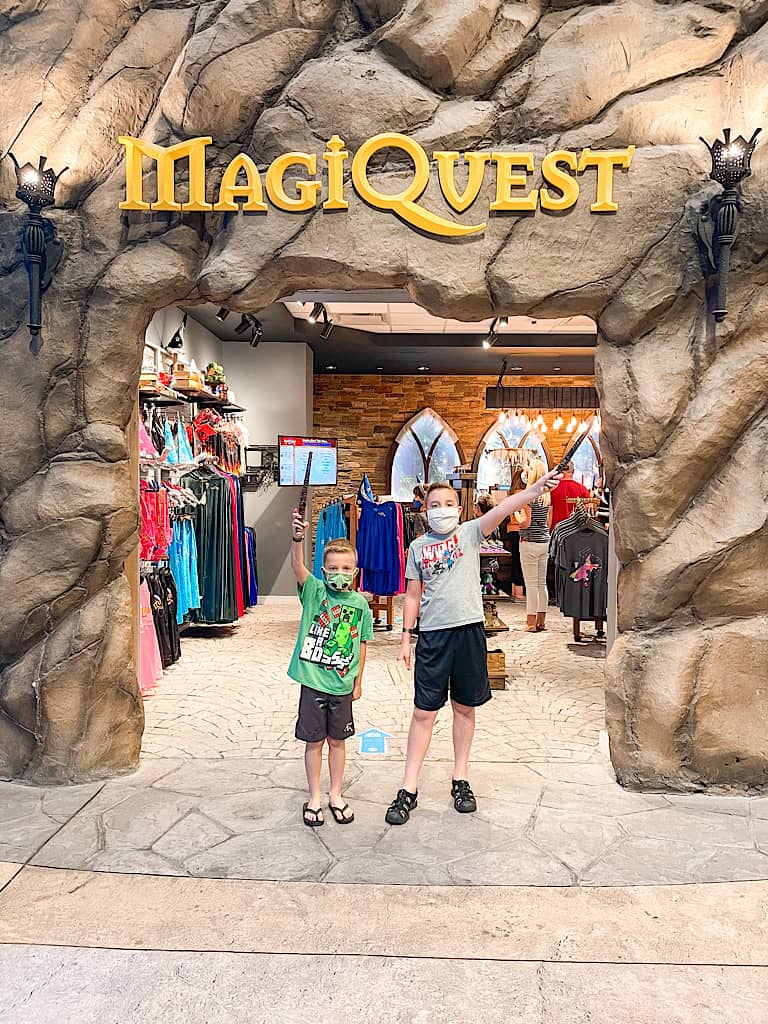 MagiQuest
The first activity included with a Wolf Pass is MagiQuest. With the Wolf Pass, you get to choose a magic wand as well as a wand topper.
You will also get a booklet with instructions on how to complete different quests throughout the lodge.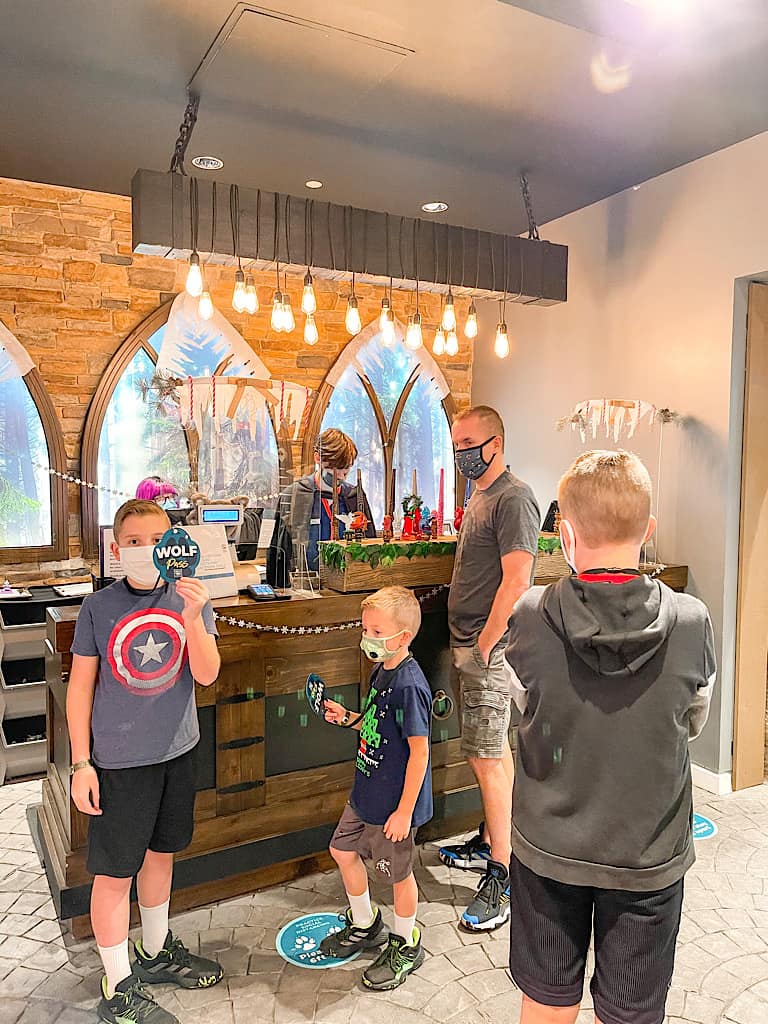 This was one of My 11 year old and 6 year old's favorite things we did on our visit.
They worked on the challenges for a few minutes each day and were able to complete it by the time our stay was over. Individual Price: Game $13.99 + Wand $17.99.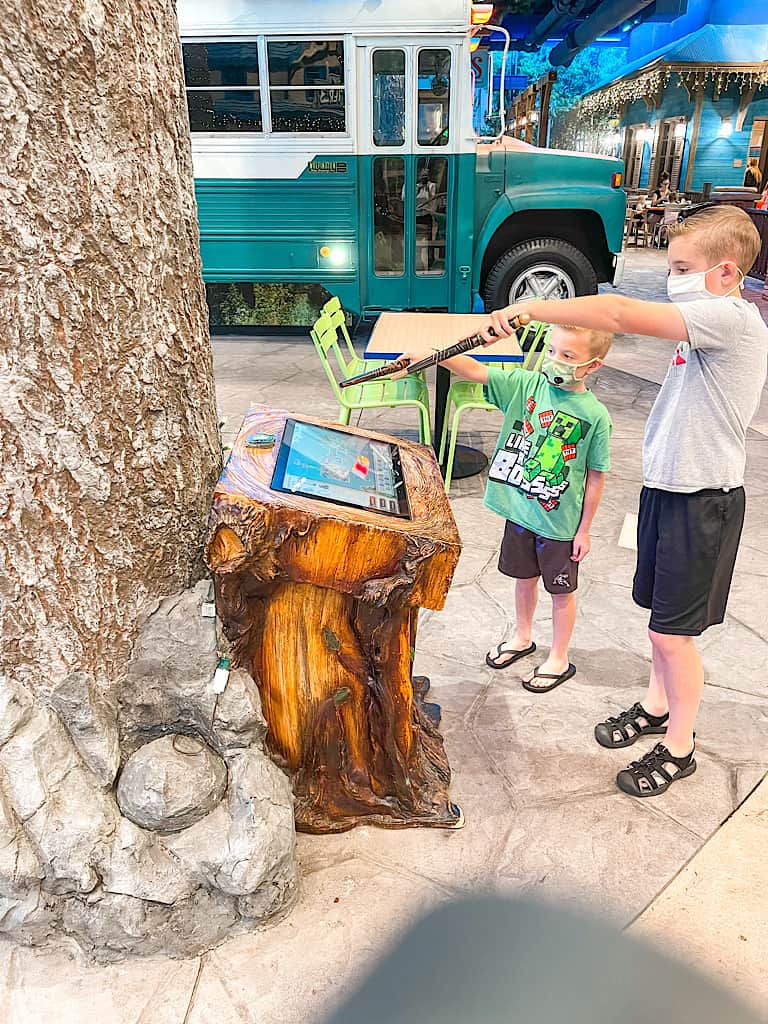 Ropes Course
Included with the Wolf Pass, is one climb on Howler's Peak Ropes Course.
You will be secured to ropes that hang from overhead and will go through two levels of challenges.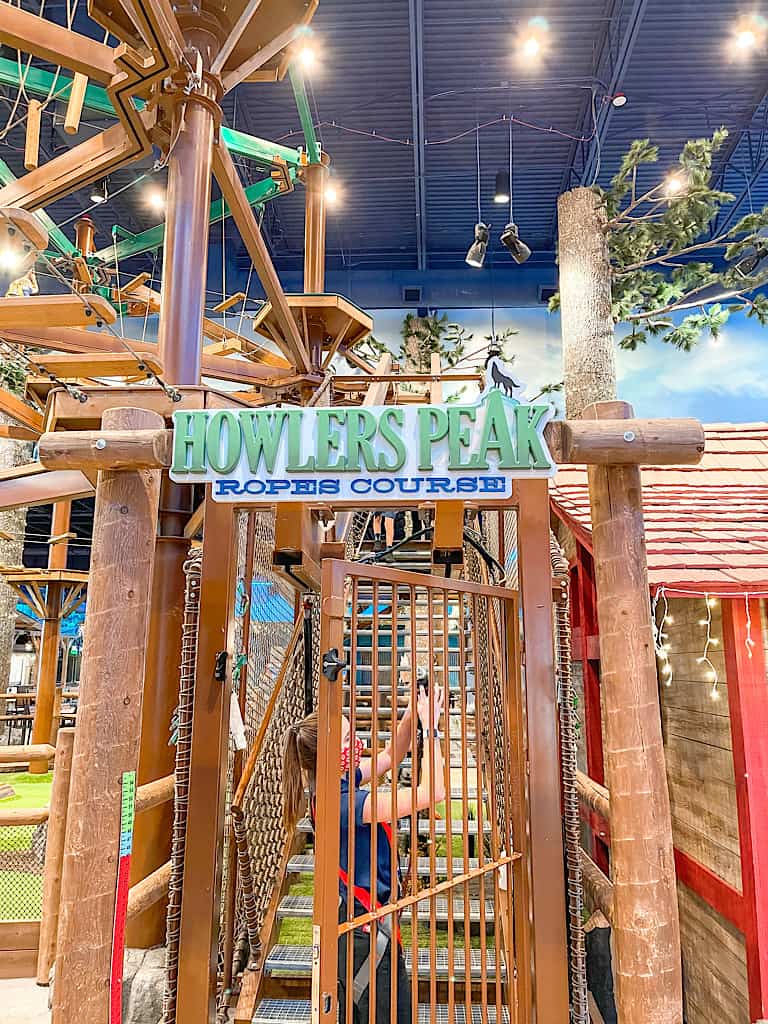 Kids between 45″ – 47″ are allowed to climb, but must be accompanied by an adult.
My youngest was just under 48" so he fit into those parameters and was required to have an adult with him on the course.
Although his Dad and I probably needed more assistance than he did.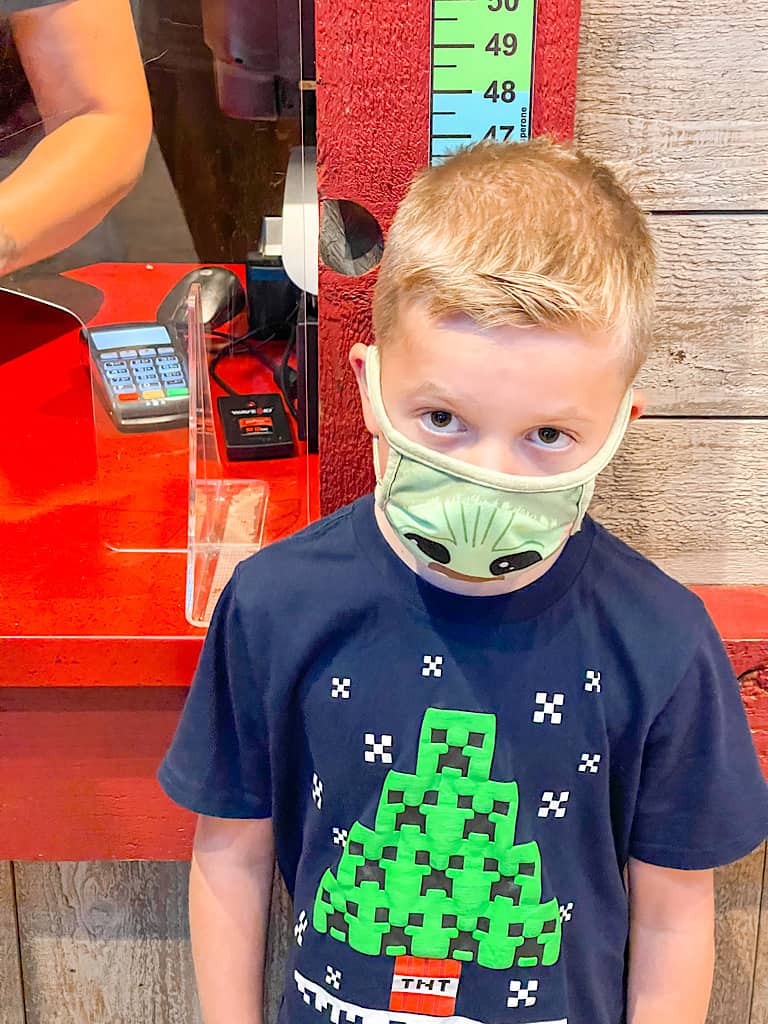 We ended up having so much fun on the ropes course, that we purchased the unlimited pass for $19.99 per person.
This allowed my boys to climb as many times as they wanted for the entire duration of our stay, and boy did they take advantage of that. Individual Price:$14.99.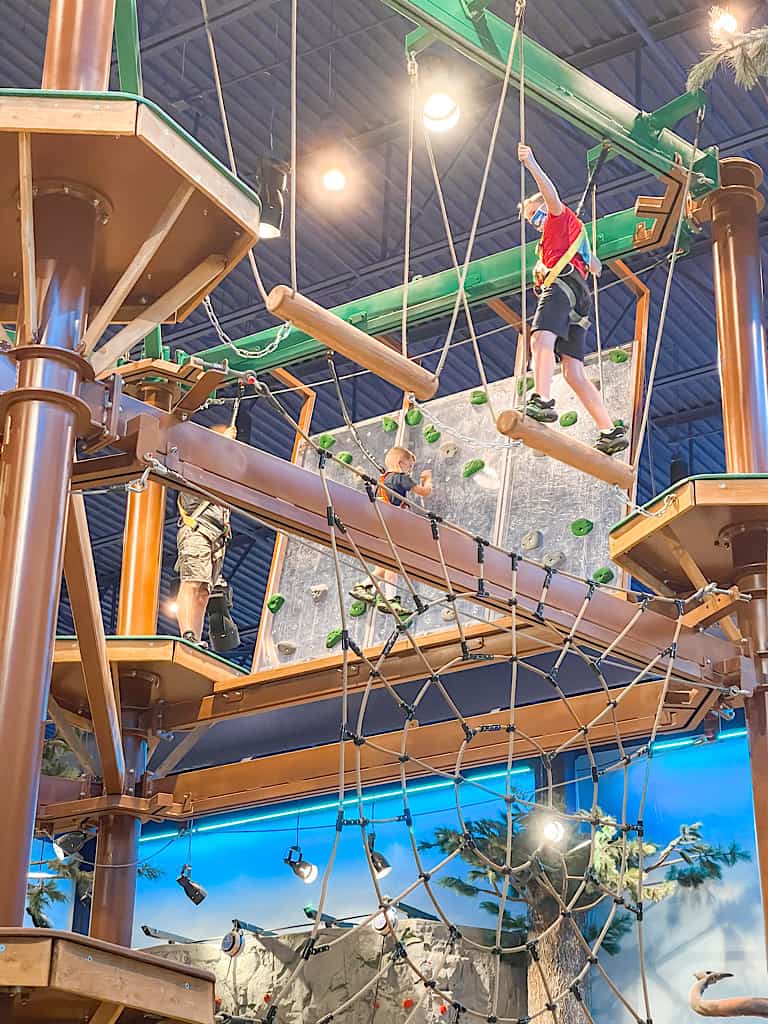 Moonstone Mine
I was pretty excited to take a trip through Moonstone Mine at Great Wolf Lodge in Arizona.
When we visited the location in Washington, I wanted to experience, but we didn't get the chance.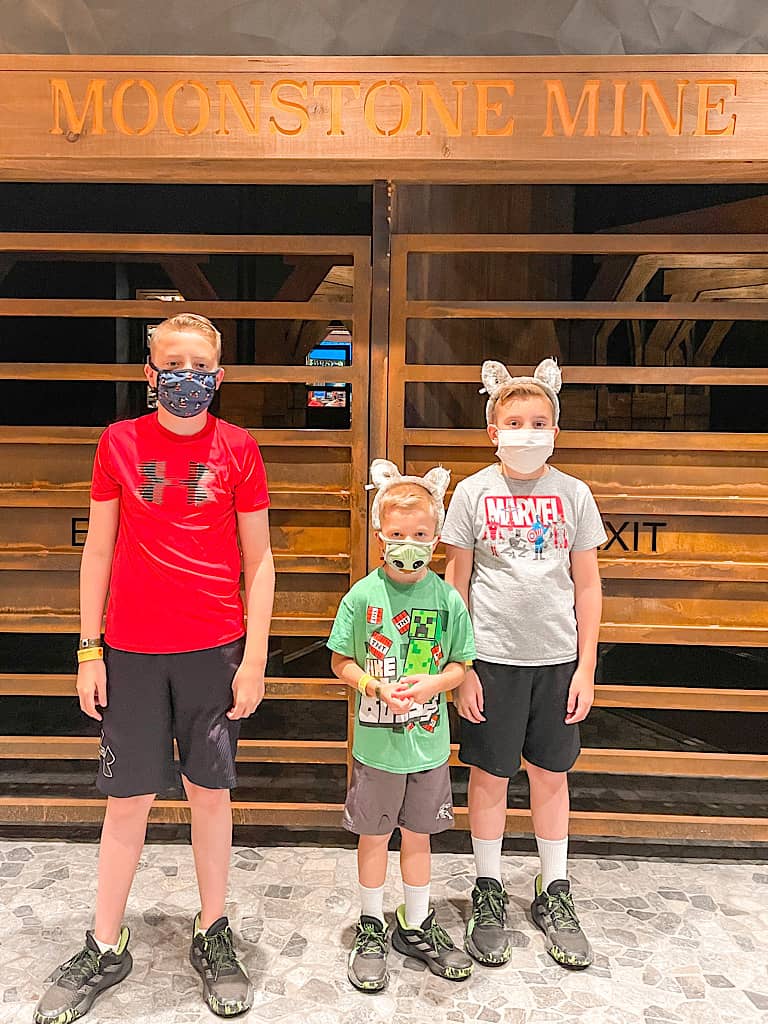 With our Wolf Passes, we were to go make our way through the maze.
This is a maze of mirrors with clues throughout to help you complete it.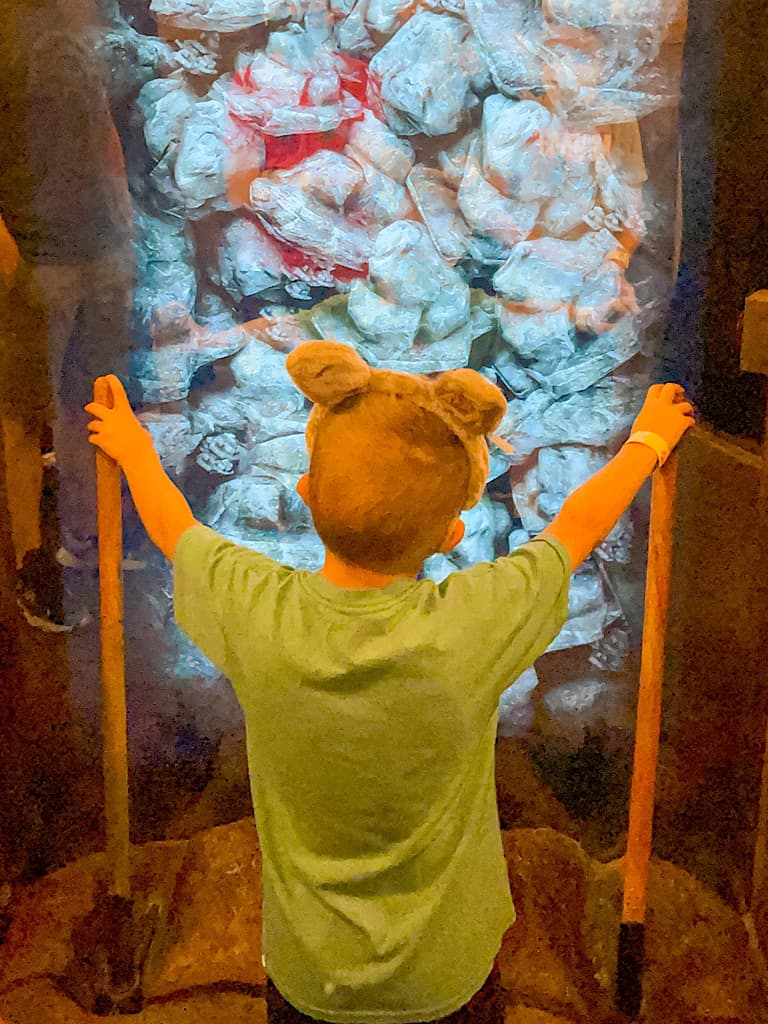 I have to admit that it could be a little disorienting inside the maze, but it was fun to work as a family to find a way out! Individual Price: $19.99.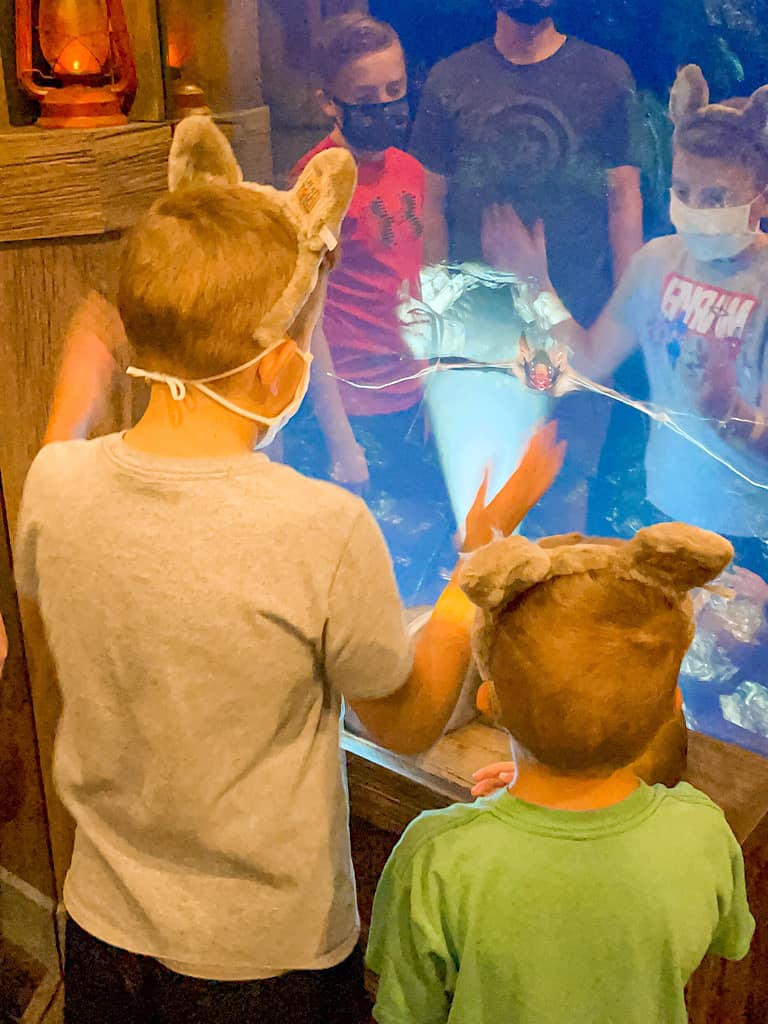 Great Wolf Lodge Candy Company
When you purchase a Wolf Pass, you also get to make a trip to the Great Wolf Candy Company.
You will be able to fill a 12 ounce cup with your choice of candy.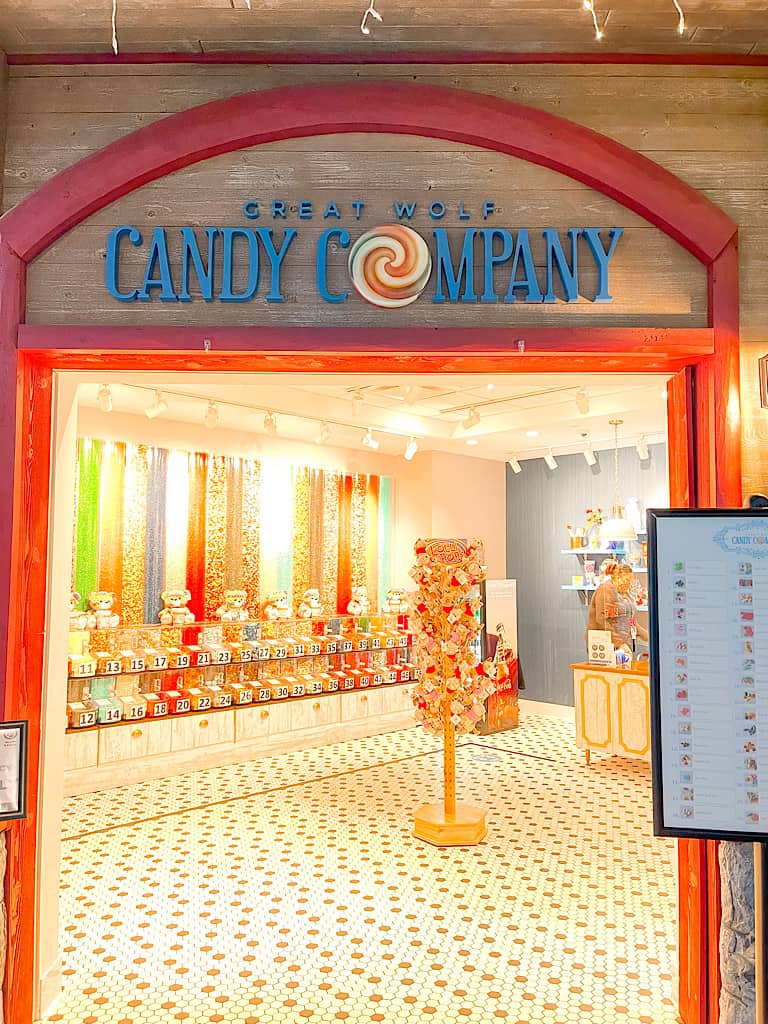 With restrictions right now, only one family is allowed in the store at a time, and a Great Wolf Lodge employee will fill the candy cup for you.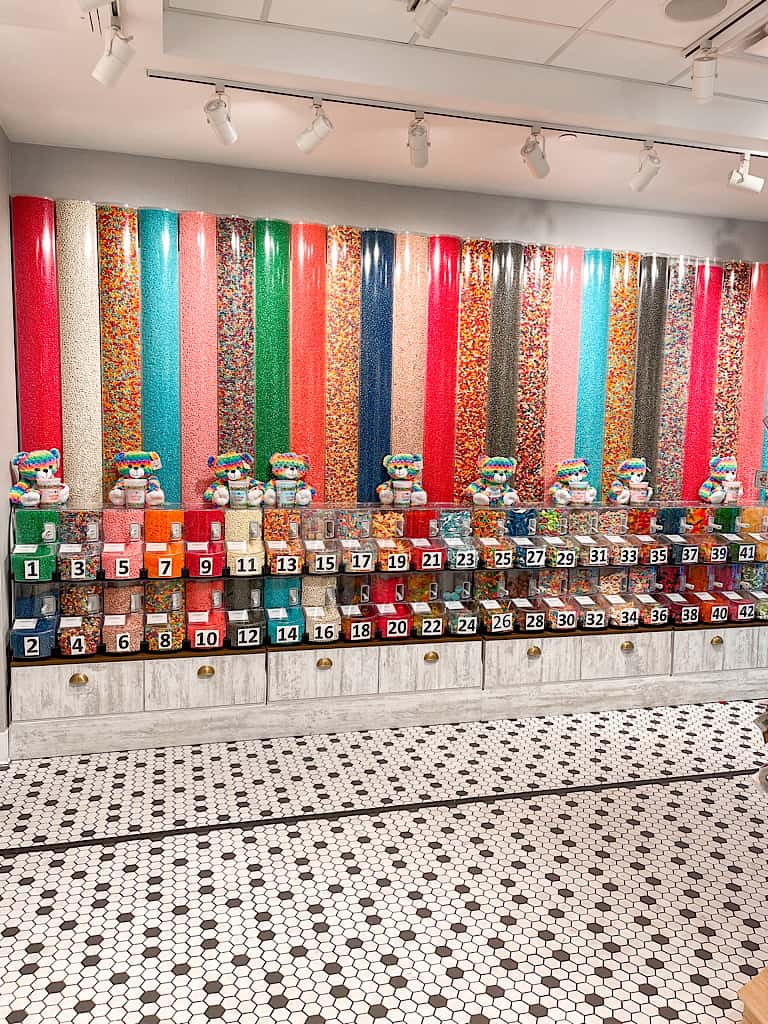 This was definitely a dream come true for my kids. Individual Price: Unknown (I estimate around $5).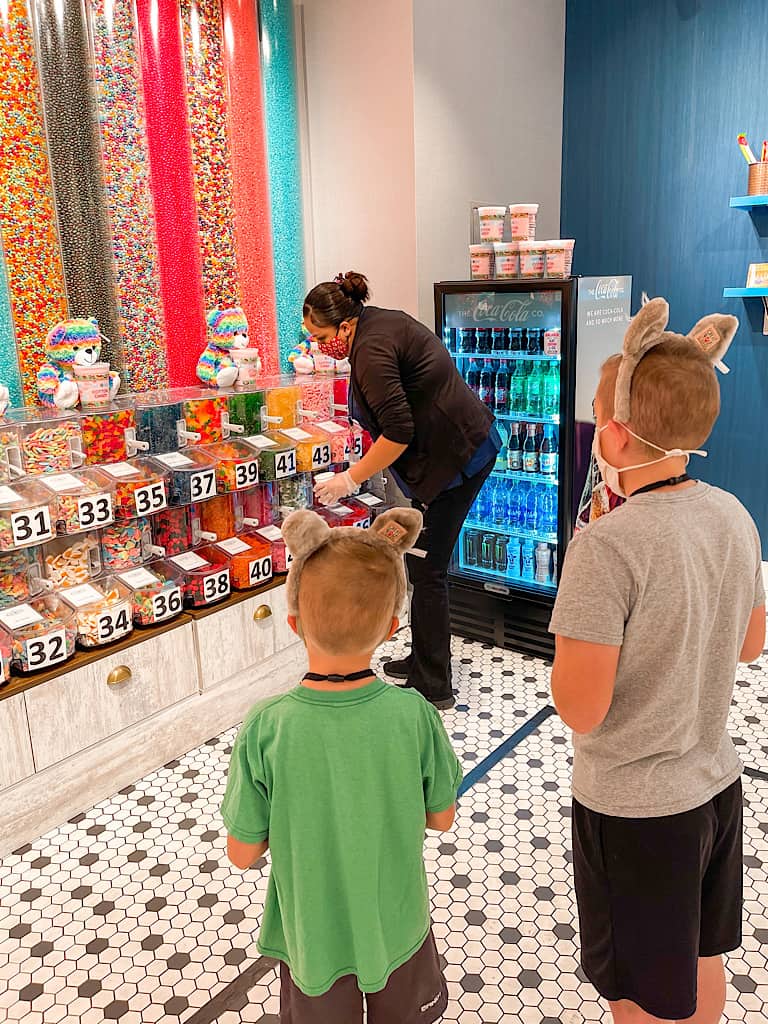 Climbing Wall
The Rustic Ridge Climbing Wall is another activity included when you purchase a Wolf Pass.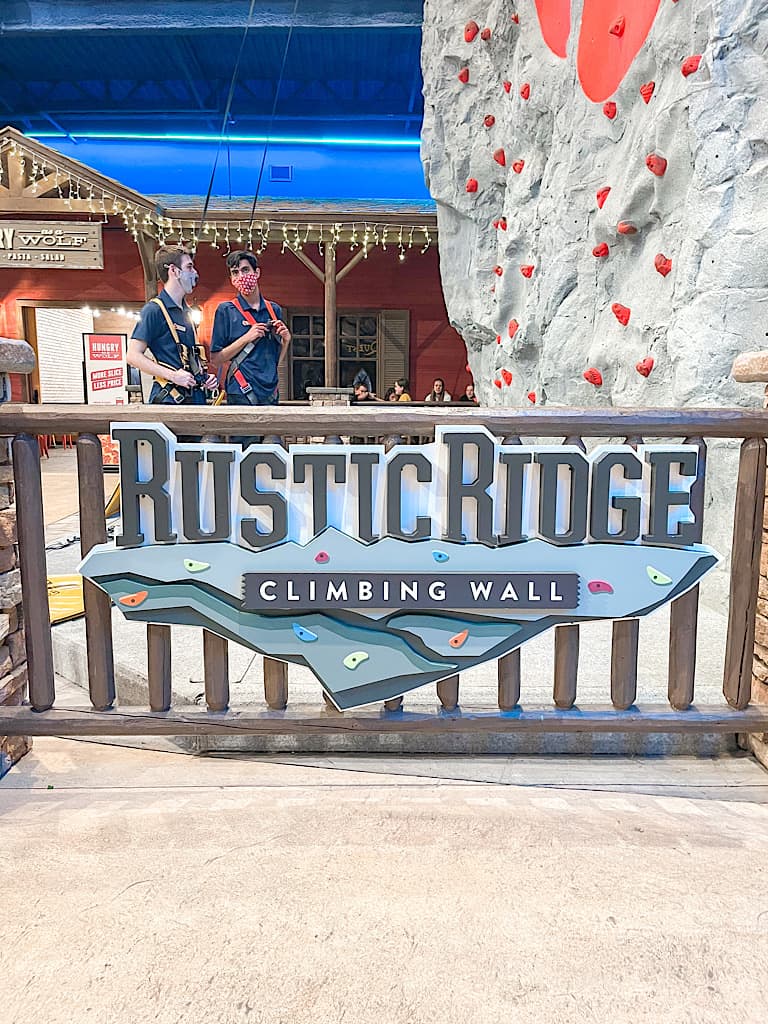 You will wear the same harnesses used for the ropes course, but you get to see how high you can climb on the wall with a giant paw print.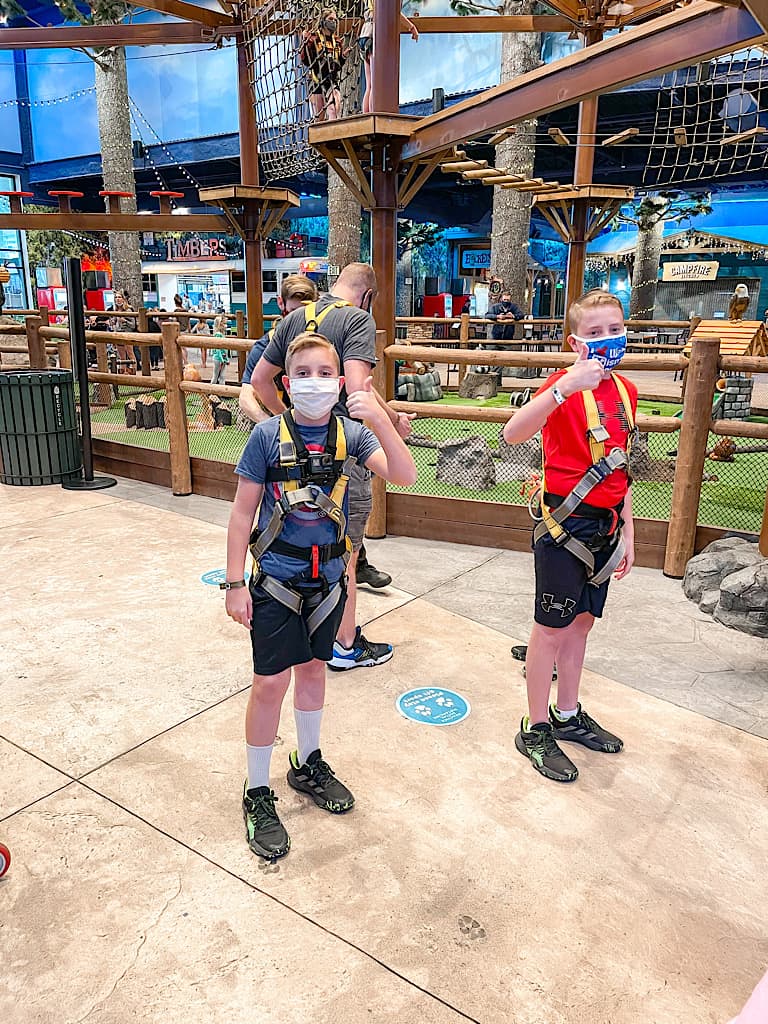 Rustic Ridge is a 33 foot climbing challenge and was fun for everyone. My 6-year old and my husband ( I won't mention his age 😉) both made it to the top! Individual Price: $7.99 per climb.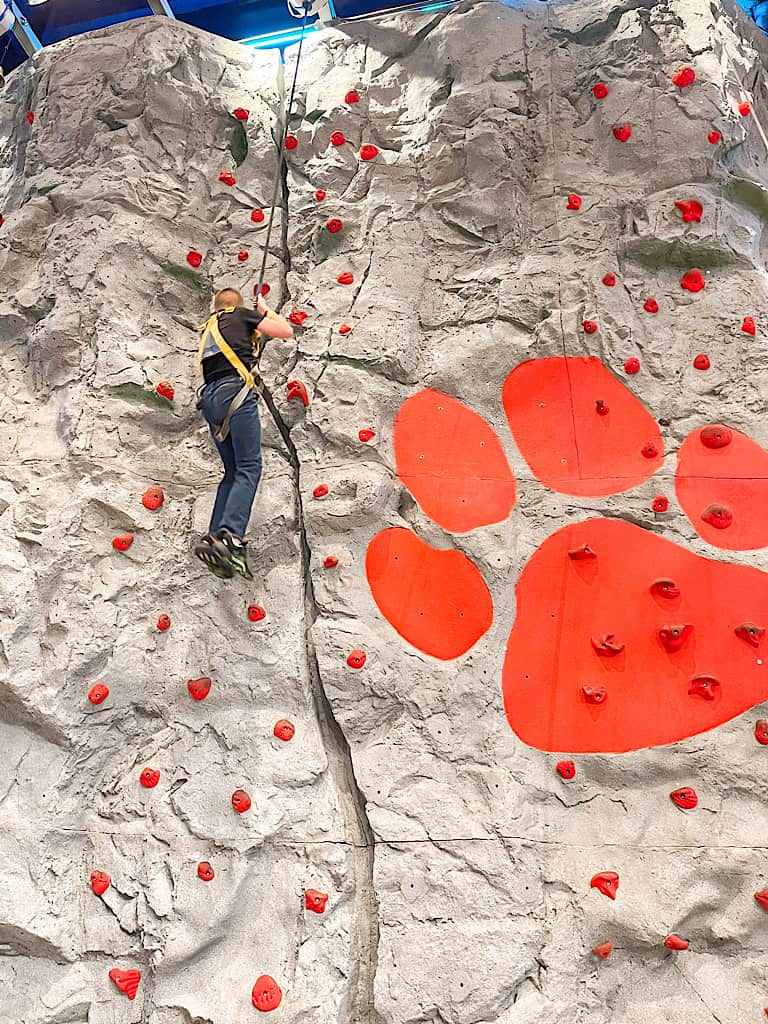 Northern Lights Arcade
When you buy a Wolf Pass, you will get a game card (worth $5) that will allow you to play games in the Northern Lights Arcade.
When you pick up your card, you have the option to add more points to it, but we decided not to.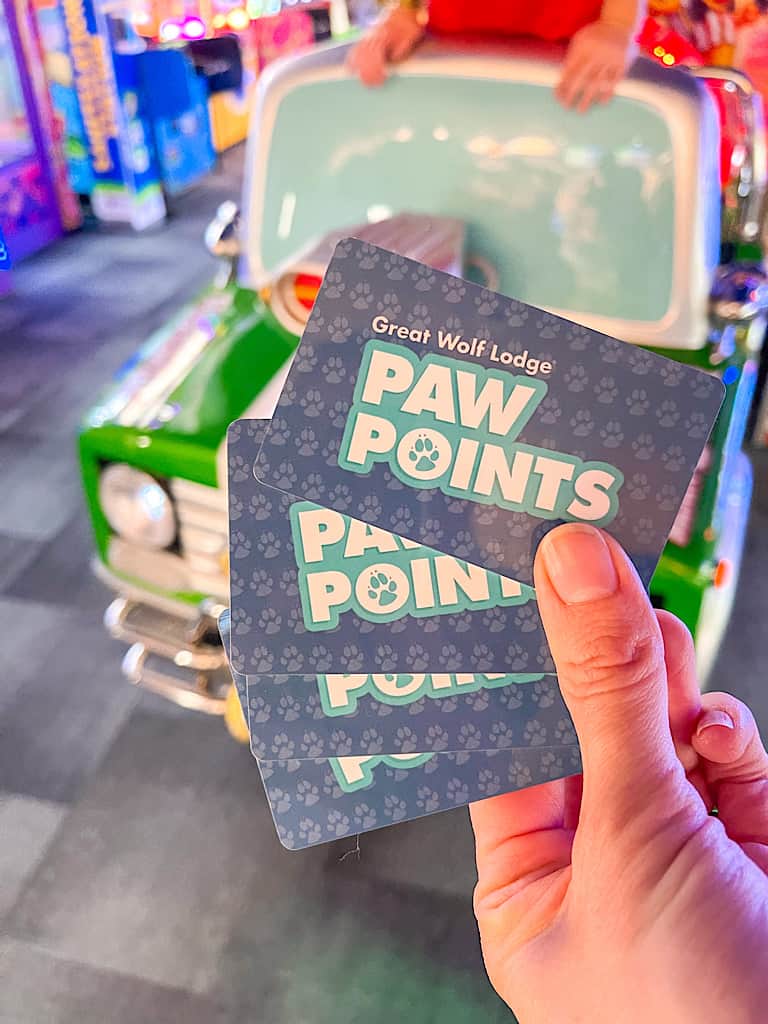 After playing you can trade your tickets in for prizes like small toys and candy. Individual Price: $5.00.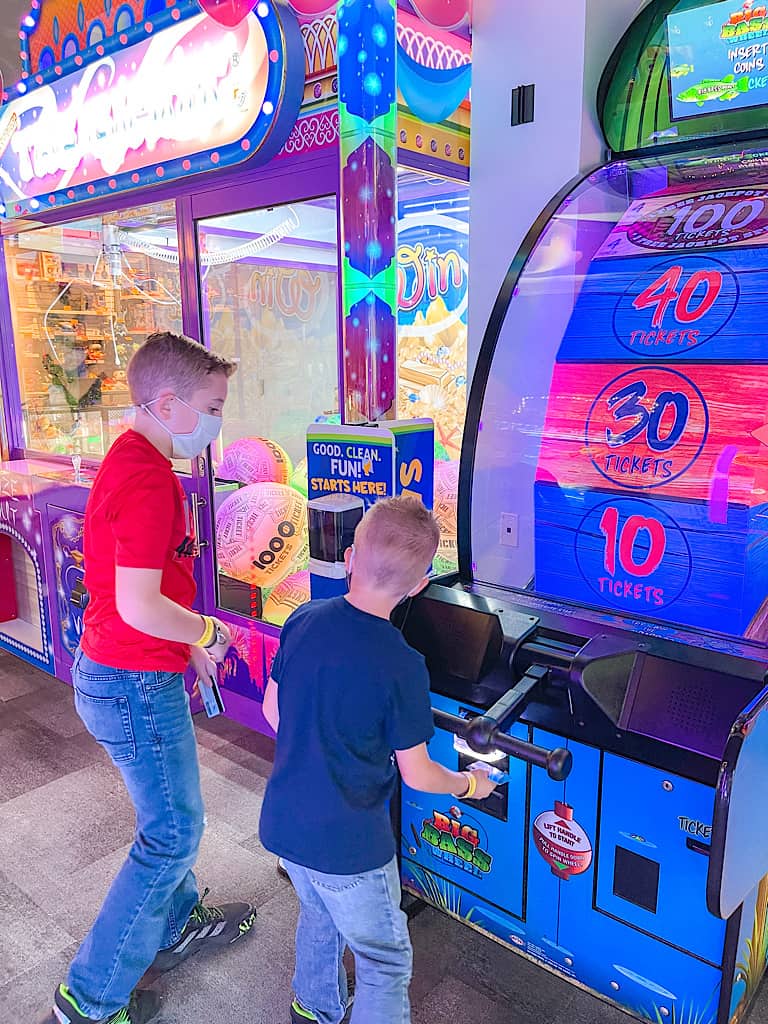 Ben & Jerry's Ice Cream
There is a Ben & Jerry's Ice Cream Shop located inside Great Wolf Lodge in Arizona and with a Wolf Pass, one scoop of ice cream is included.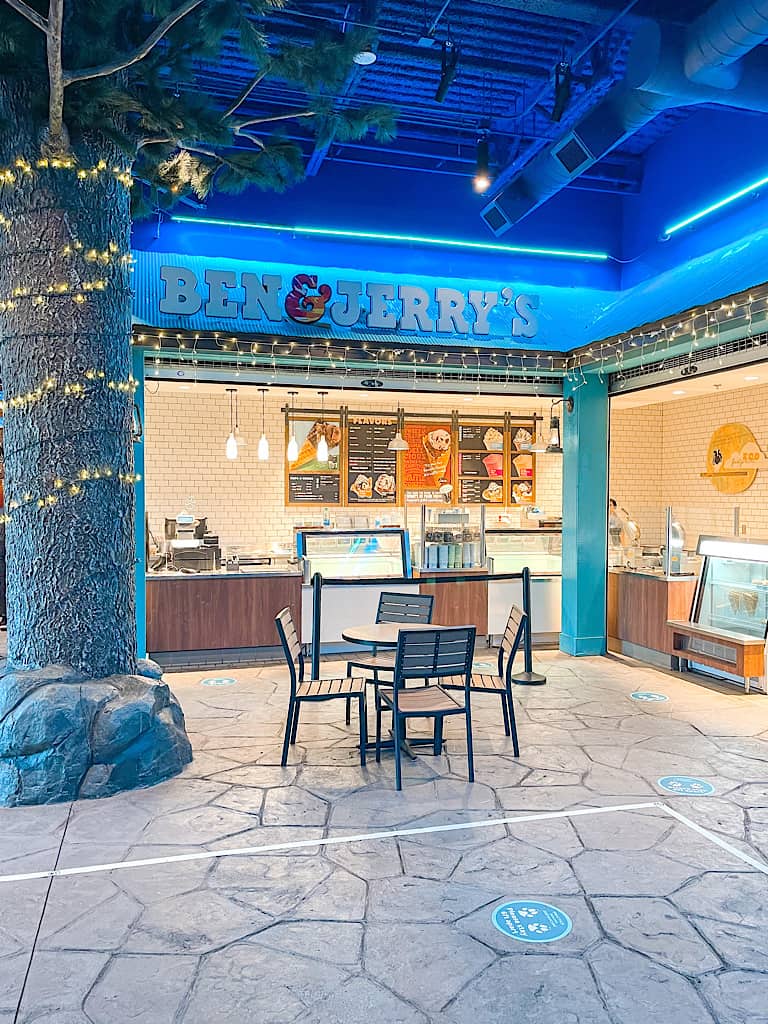 You will get to choose your favorite flavor of ice cream and then choose a topping.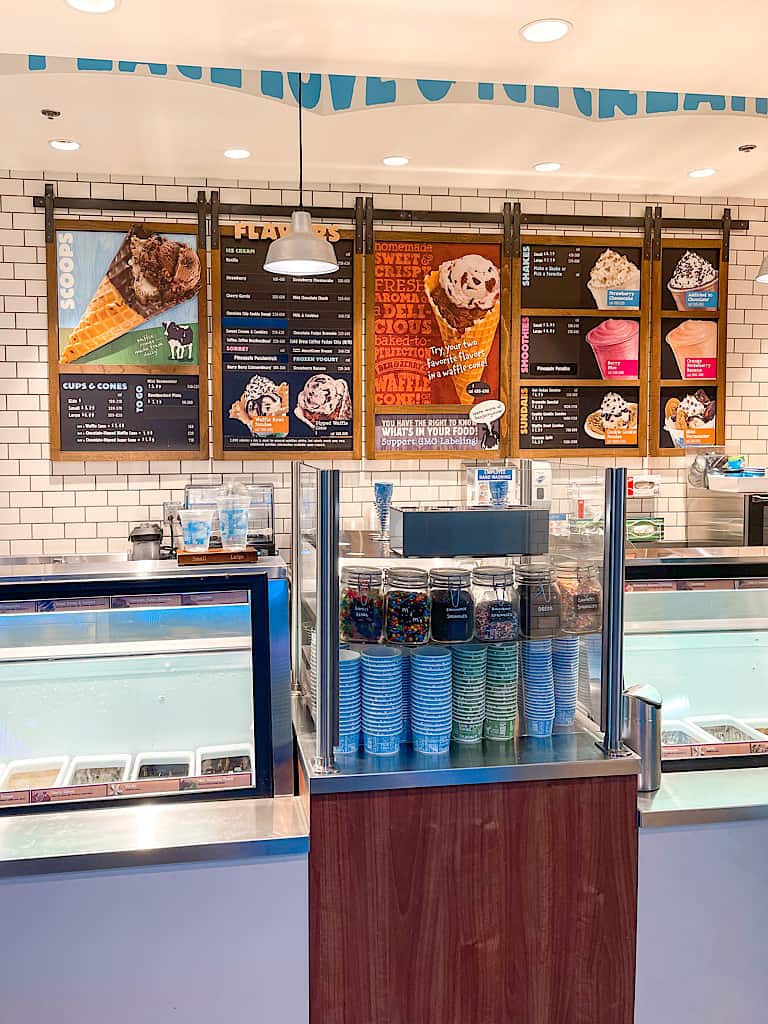 My kids loved this because, not only do they love ice cream, but they had full ability to be creative with their flavor combinations.
My 10-year-old chose Pineapple Mango ice cream topped with Gummy Bears.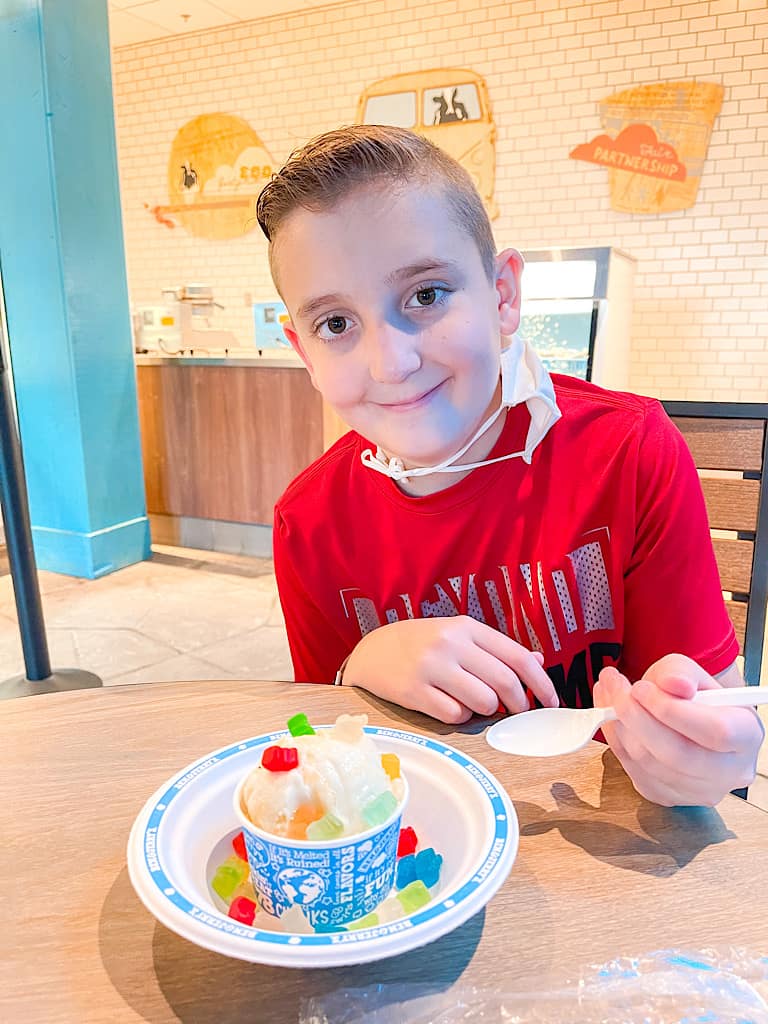 And my 13-year-old ordered Strawberry Cheesecake ice cream with caramel sauce on top. I don't get it, but they liked it. Individual Price: $5.29.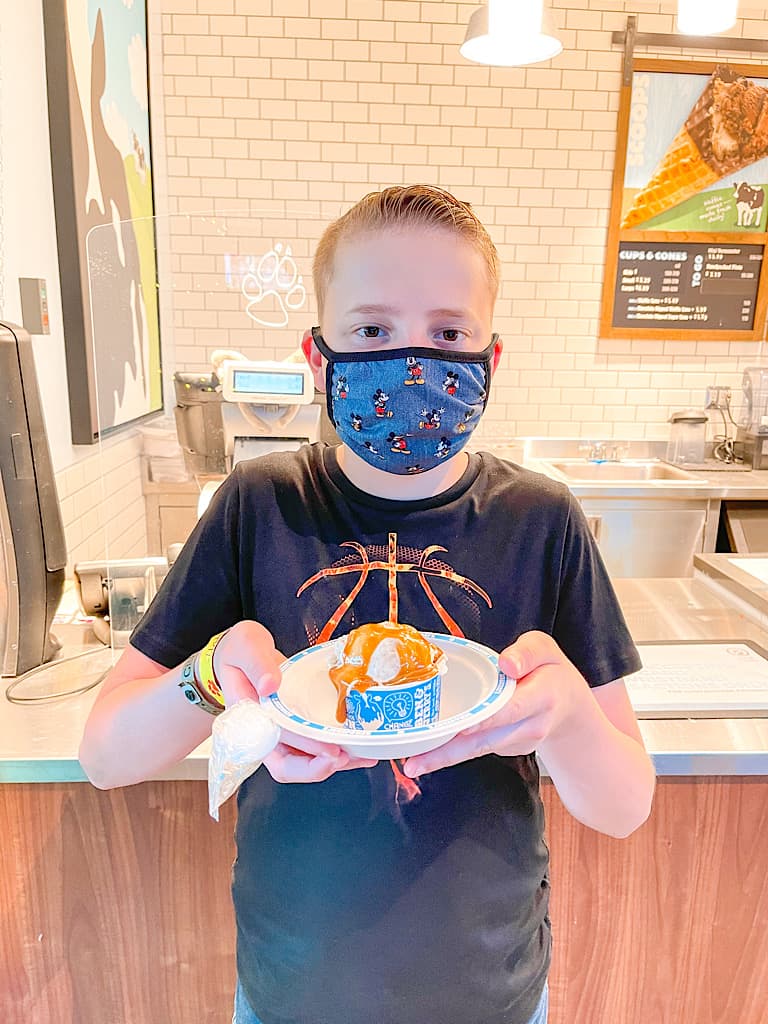 Ten Paw Alley
One game of bowling at Ten Paw Alley is included with a Wolf Pass.
We actually had a lot of fun doing this and no special shoes are required, which was an added bonus.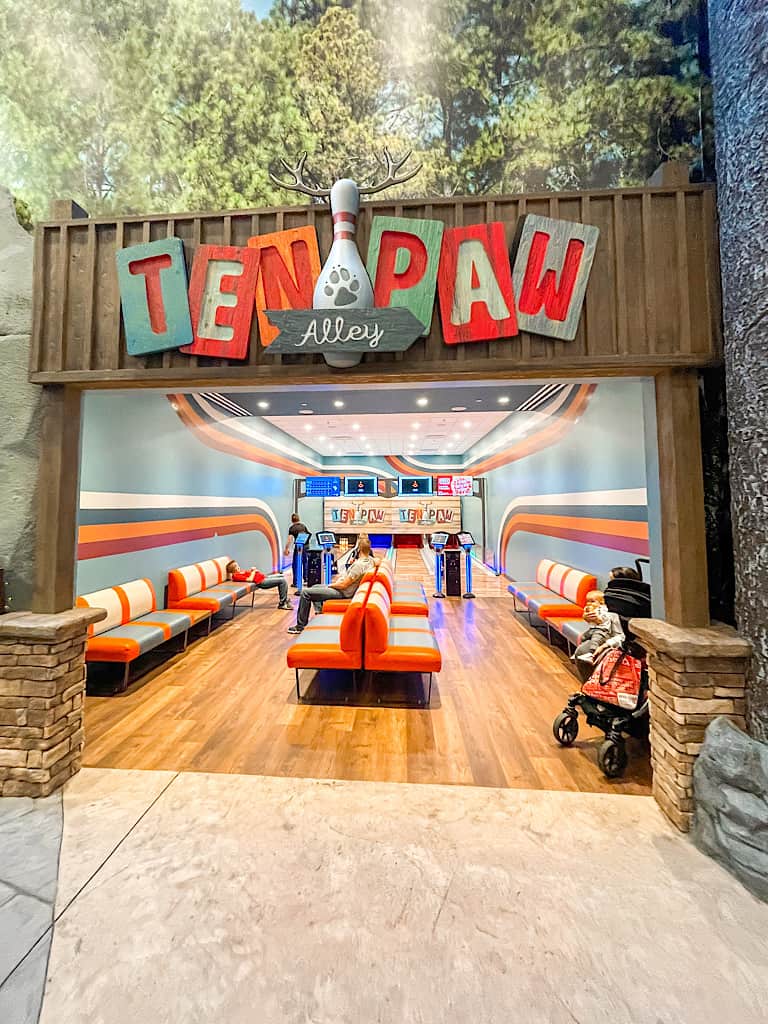 I also loved that you have the option to have bumpers set up for little ones so that everyone has the opportunity to join in the fun. Individual price: $7 per player.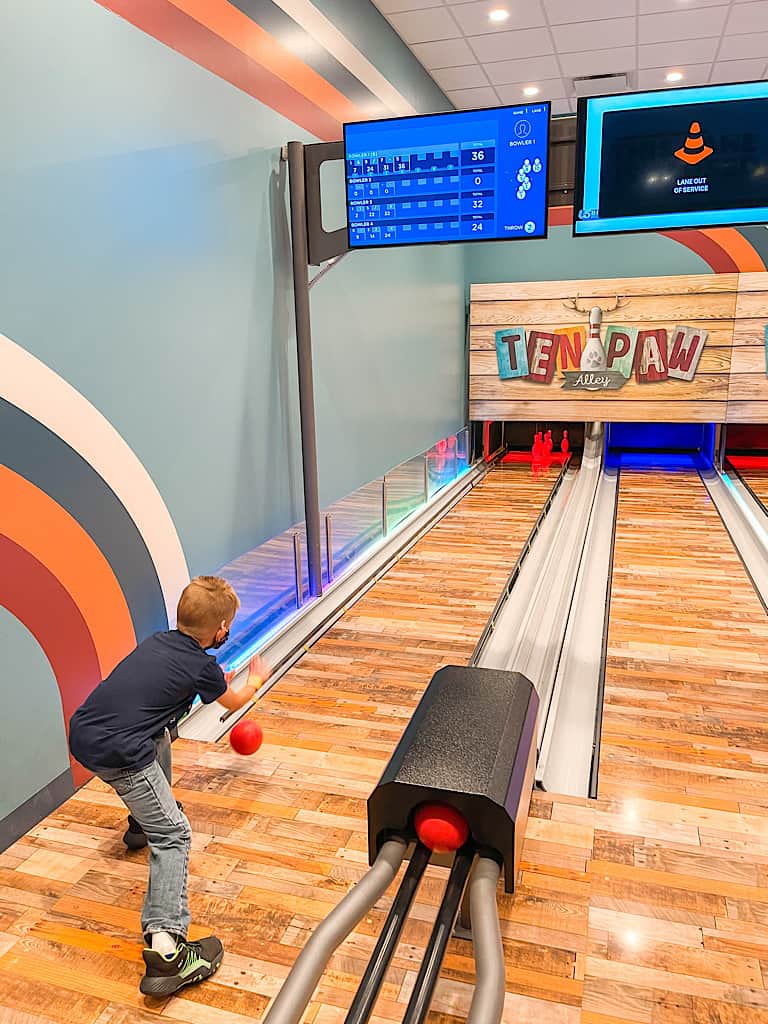 Mini Golf
If you're a fan of mini golf, you're in luck! You can use your Wolf Pass to redeem one round of mini golf during at Howl in One Mini Golf.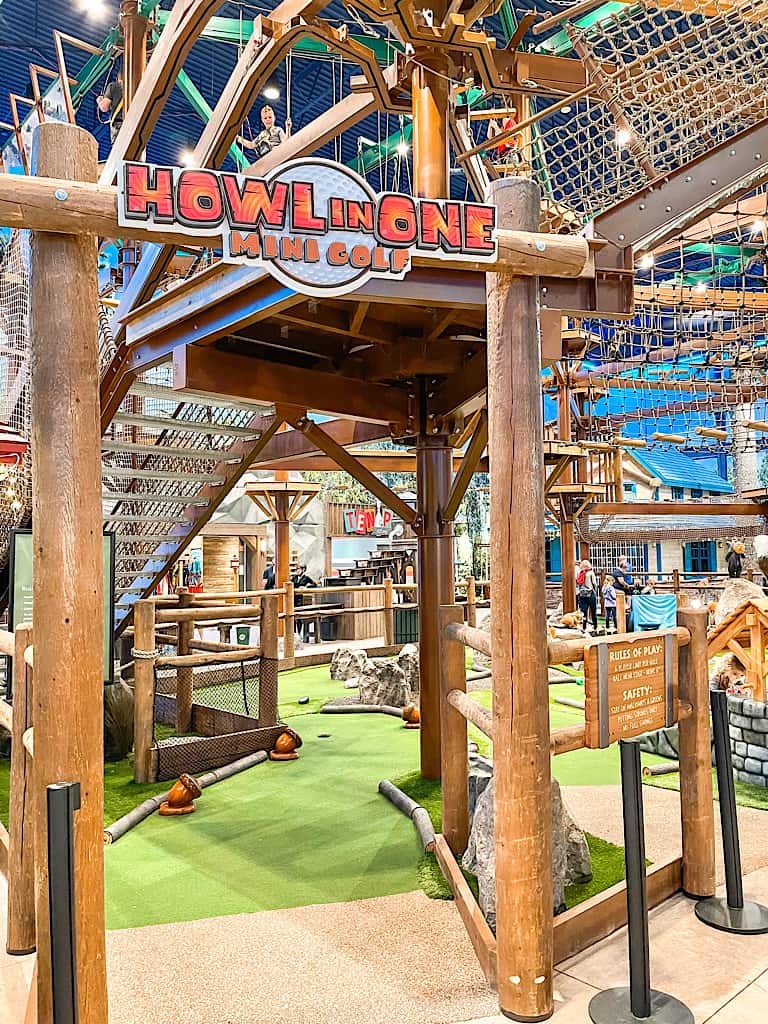 I would say that this golf course is suited more for younger kids, but my older boys still had a great time! Individual price: $7.99 + tax.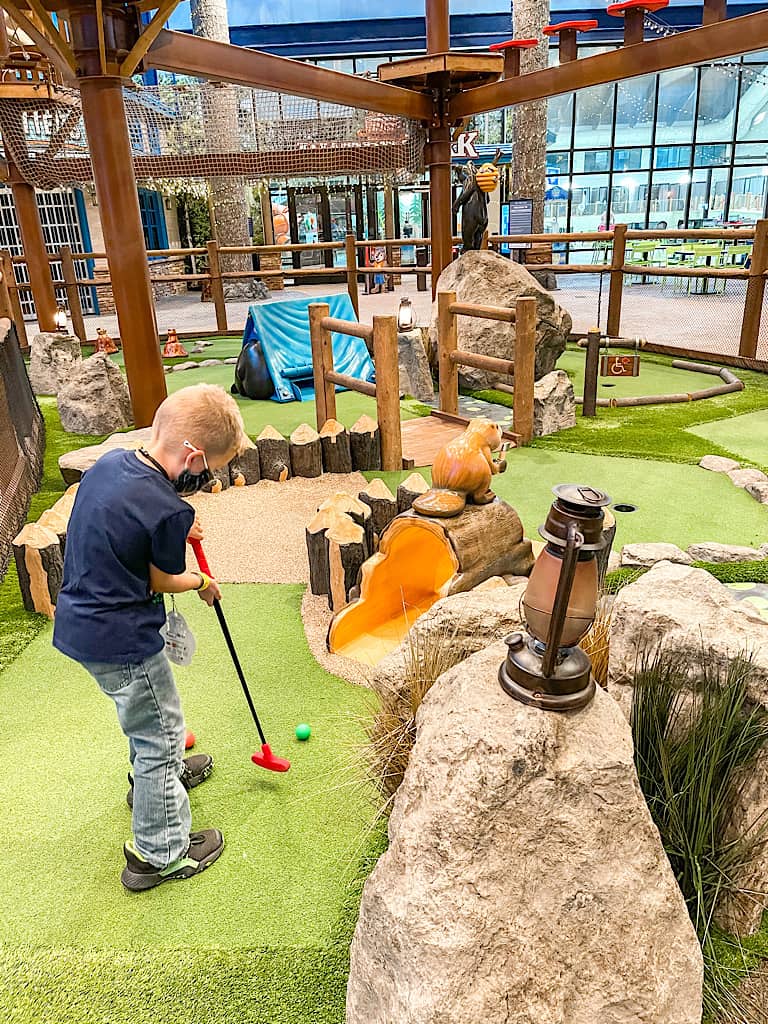 Is a Wolf Pass worth it?
To determine if a Wolf Pass is worth it for you, you need to decide if your kids will enjoy each activity.
Below I will show you the cost break down. For my family, the Wolf Pass has been worth it every time.
Individual Attraction Prices
MagiQuest Game $13.99 + tax

MagiQuest Wand & Standard Topper $17.99 + tax

Ropes Course $14.99 per person

Moonstone Mine $19.99

Ben & Jerry's Ice Cream Scoop $5.29

Great Wolf Candy Company $5 (my estimate, actual price unknown)

Climbing Wall $7.99 per climb

Arcade $5
Total Individual Cost = $90.24 + tax
If you consider the cost of a Wolf Pass ($69.99) compared to the cost of these attractions individually, it is a savings of over $20.00. To me, it is totally worth it!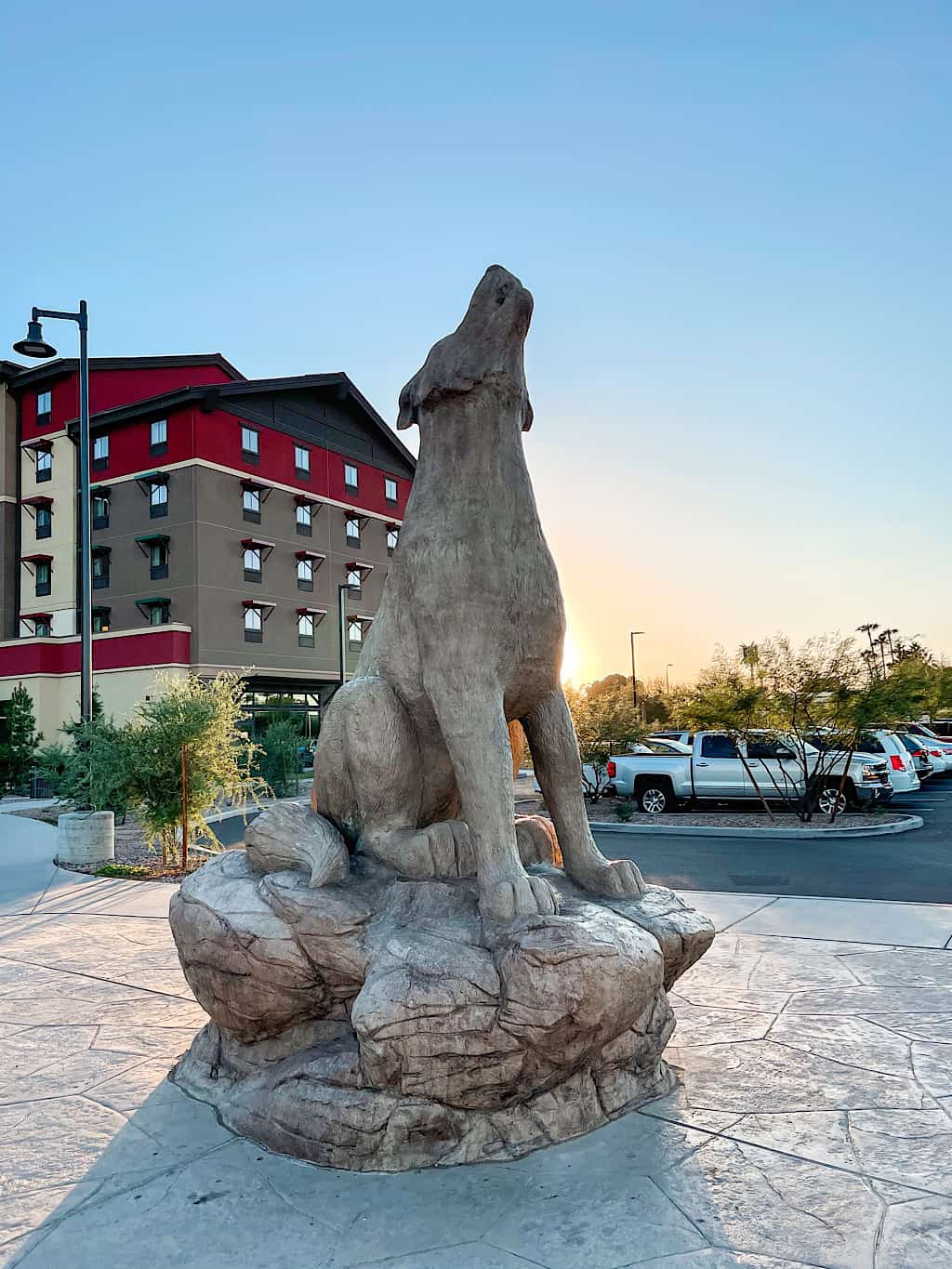 Great Wolf Lodge Extras
I wanted to show you around a couple of the amenities that are included for all guests of Great Wolf Lodge, regardless of whether you purchase a Wolf Pass or not. The first is the Water Park.
Water Park
Most hotels and resorts have a pool or two, but Great Wolf Lodge takes this to the next level. There are tons of pools, water slides, a wave pool, a toddler area, and more!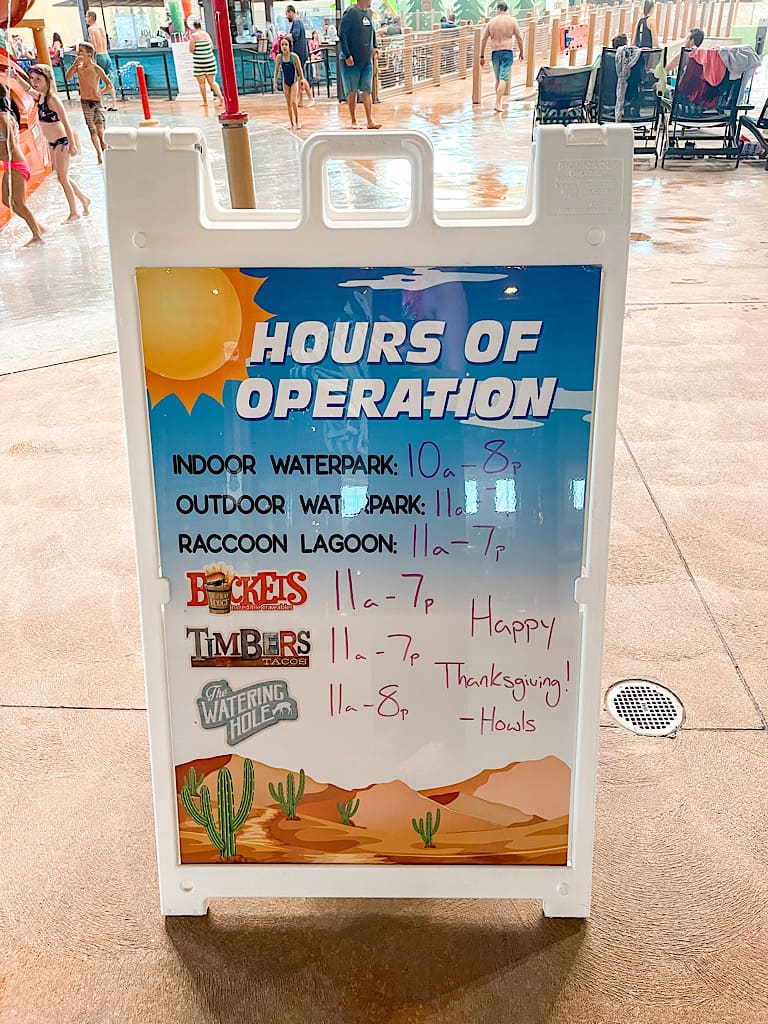 For a complete review of the water park, check out my Great Wolf Lodge Arizona Review here.
Story Time
Another activity included with your stay at Great Wolf Lodge is nightly story time.
My 6-year-old and I went down to participate in Story Time each night.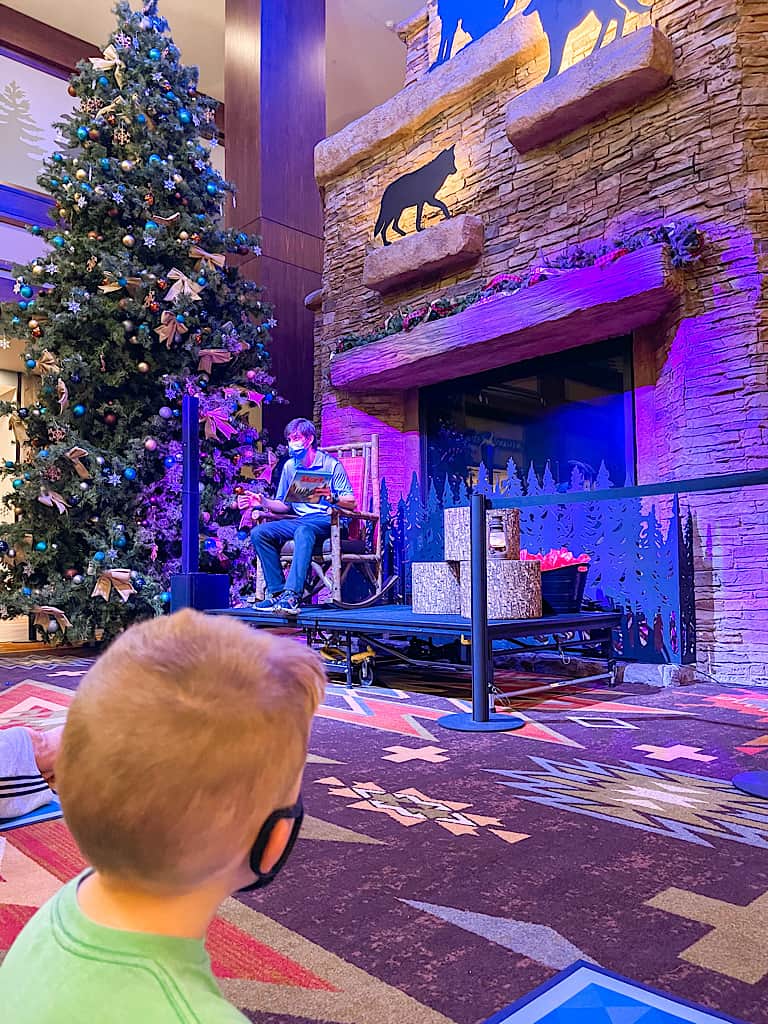 During the story, Wiley Wolf will come out to visit and say hello. Your child will receive a coloring page and crayons to complete after the story.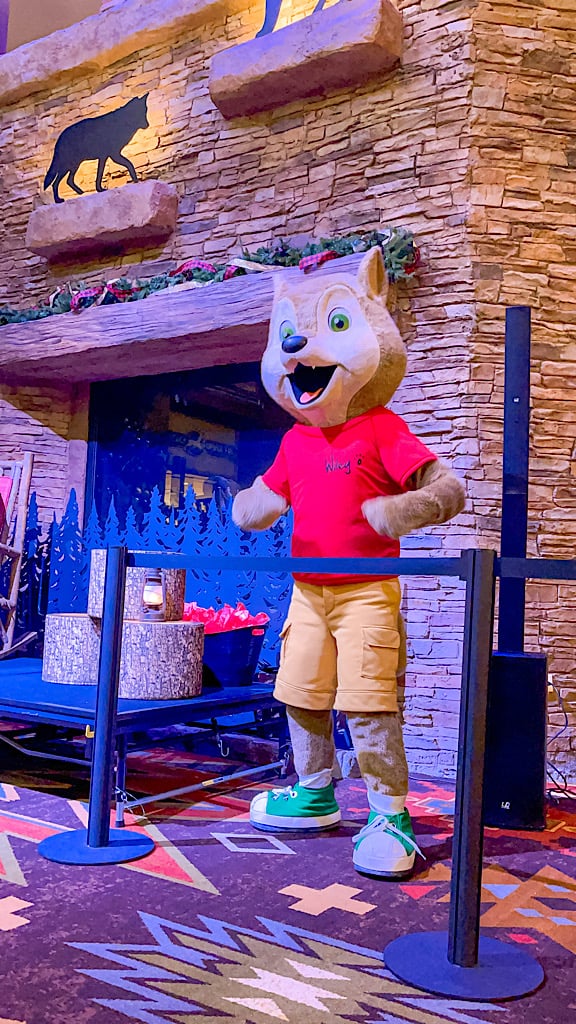 I hope you enjoyed our tour of Great Wolf Lodge in Arizona and have an idea of what purchasing the Wolf Pass is like.
Make sure to check out my Great Wolf Lodge Arizona Videos here and here, and you can see what is included with a Wolf Pass at Great Wolf Lodge's Washington location here.
More Great Wolf Lodge Reviews: