Are you thinking about heading to Great Wolf Lodge Washington? You're in the right place! I've got a review of the resort and what you need to know before you go!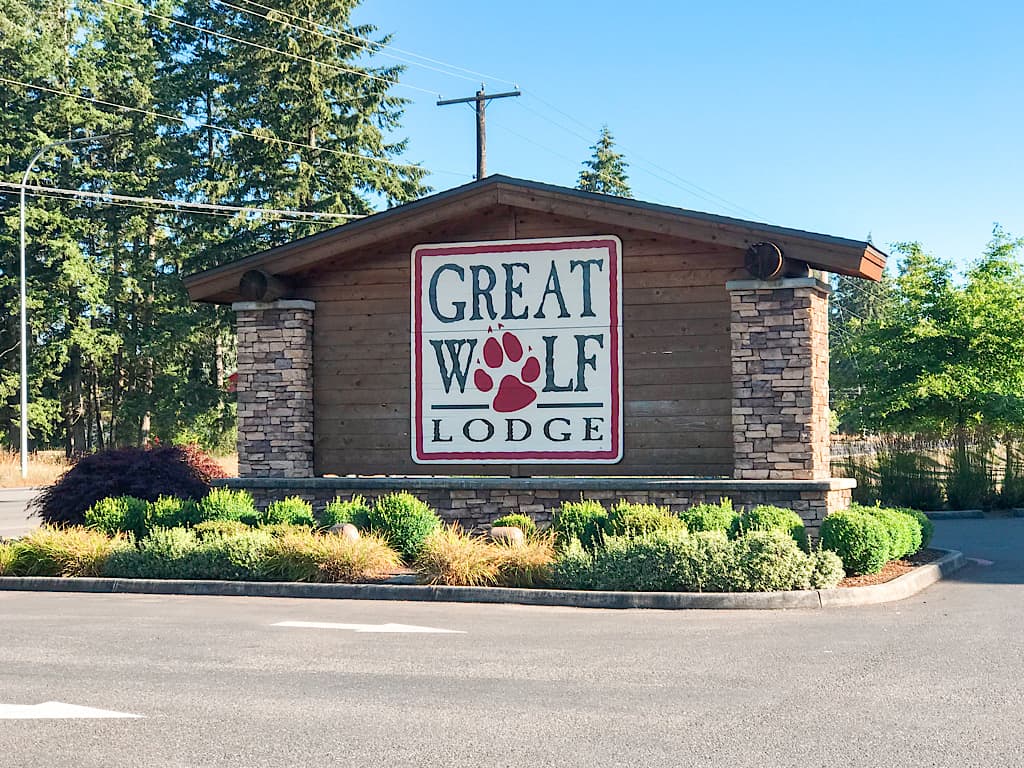 This post may contain affiliate links. When you click on these links, I get a small percentage back at no cost to you! For more information see my disclosure policy.
Wolf Passes were provided complimentary to my family. All opinions are my own.
My family and I are big Great Wolf Lodge fans. In fact, we have been to three different locations in the last 6 months!
Our latest visit was to Great Wolf Lodge in Grand Mound Washington.
We have been on a National Parks tour this summer and decided that the state of Washington would be our next stop.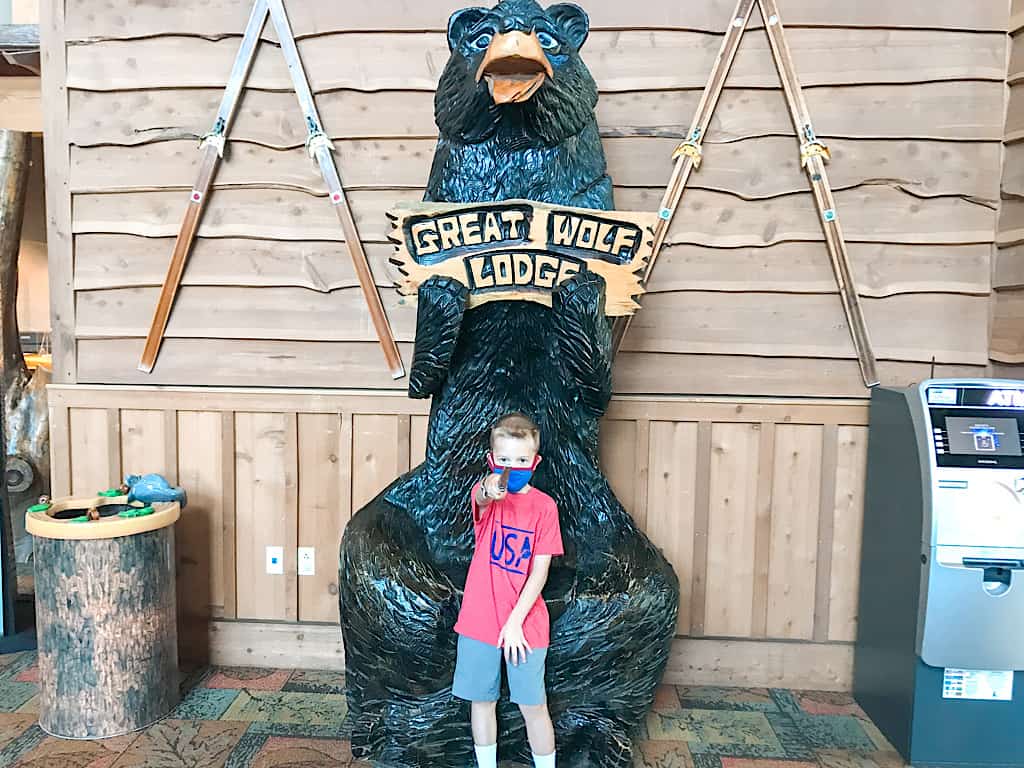 Our plan was to visit both Mount Rainier National Park and Olympic National Park.
After looking at the map, Great Wolf Lodge Washington happened to be a great central location for our stay.
About Great Wolf Lodge Washington
My kids like to describe Great Wolf Lodge as a cruise ship on the land.
It is seriously like a little city that has everything you need and so many things to do!
Here is a little about our experience at Great Wolf Lodge Washington.
Find out about health and safety precautions at Great Wolf Lodge here.
Grand Bear Suite
There are tons of different room types to choose from.
Everything from standard hotel rooms, themed rooms with little cabins and bunk beds, and premium rooms.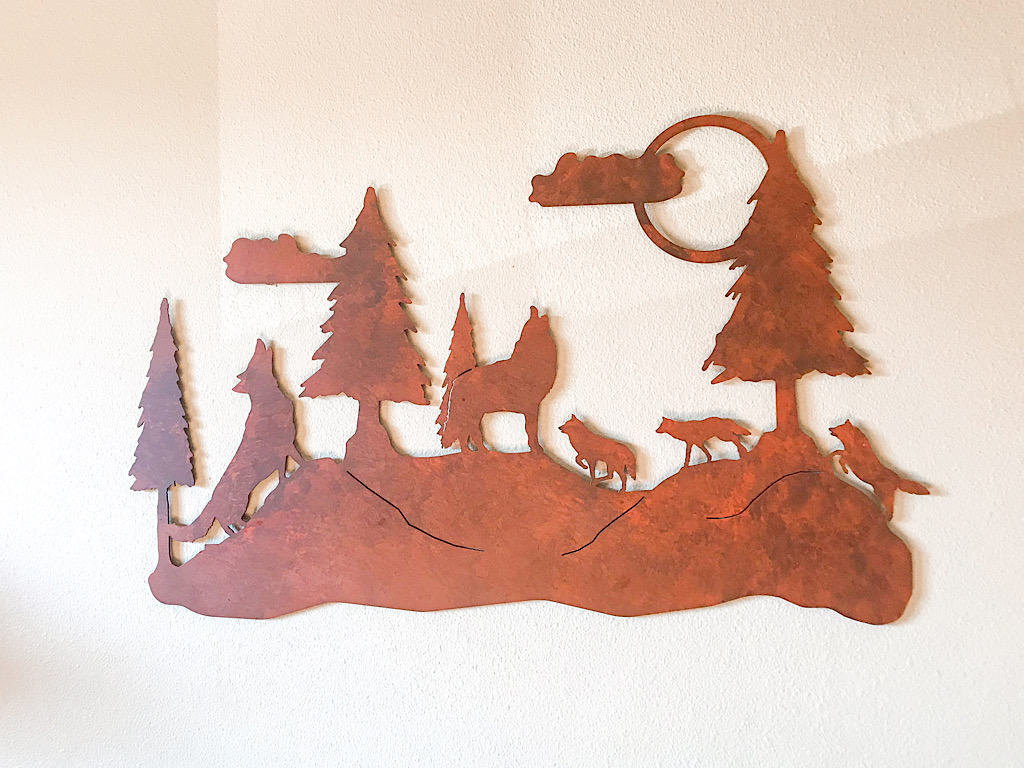 We wanted to have a little more room to spread out on this vacation, so we opted for the Grand Bear Suite.
As you enter the room, you will find an open closet with an ironing board, iron, and safe.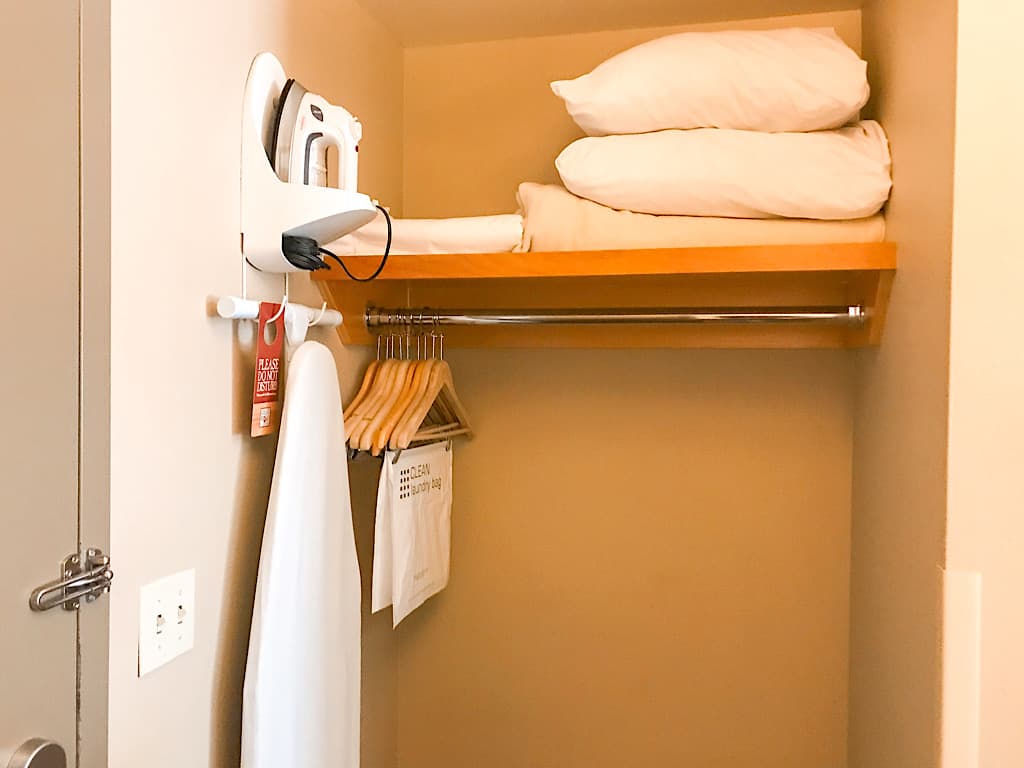 Across from the closet is the first bathroom. This bathroom is a full bath with a tub/shower combination.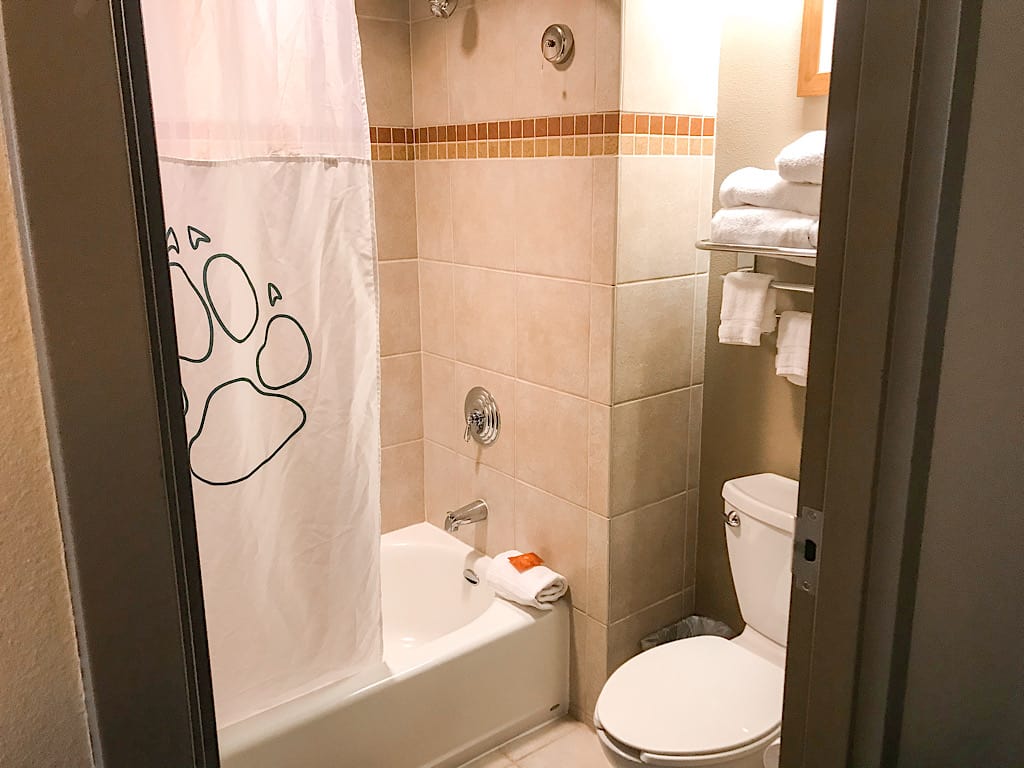 A little further into the room next to the closet is the vanity for the bathroom. There is a large sink and mirror.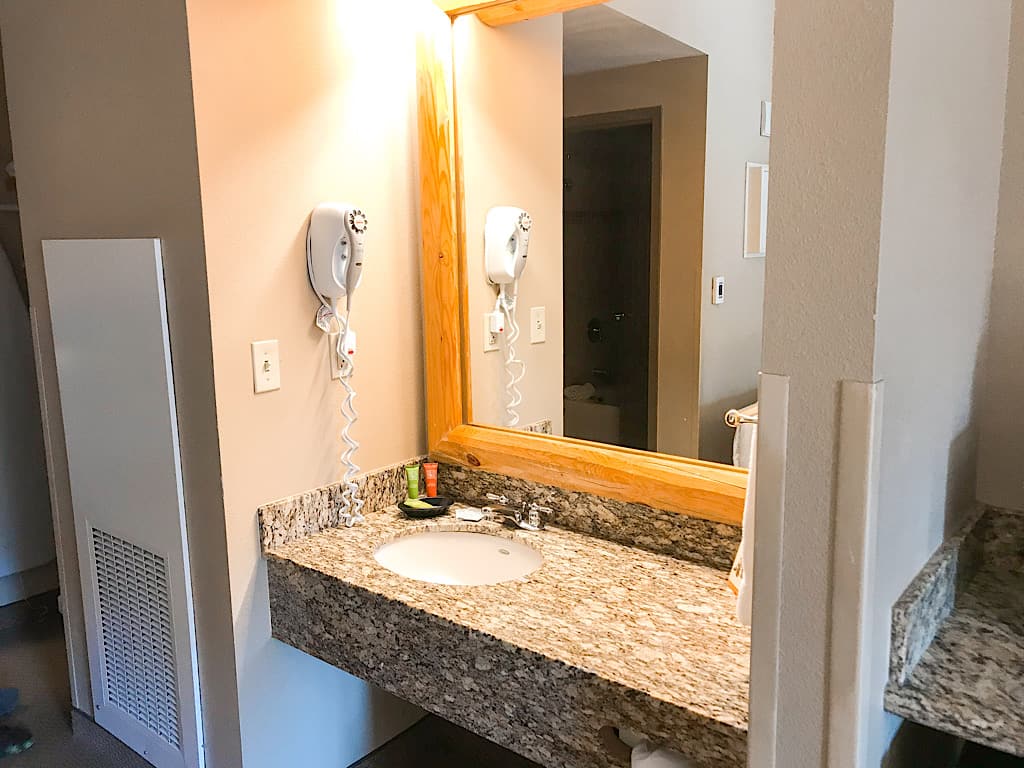 The Grand Bear Suite has two Queen sized beds with one nightstand in between.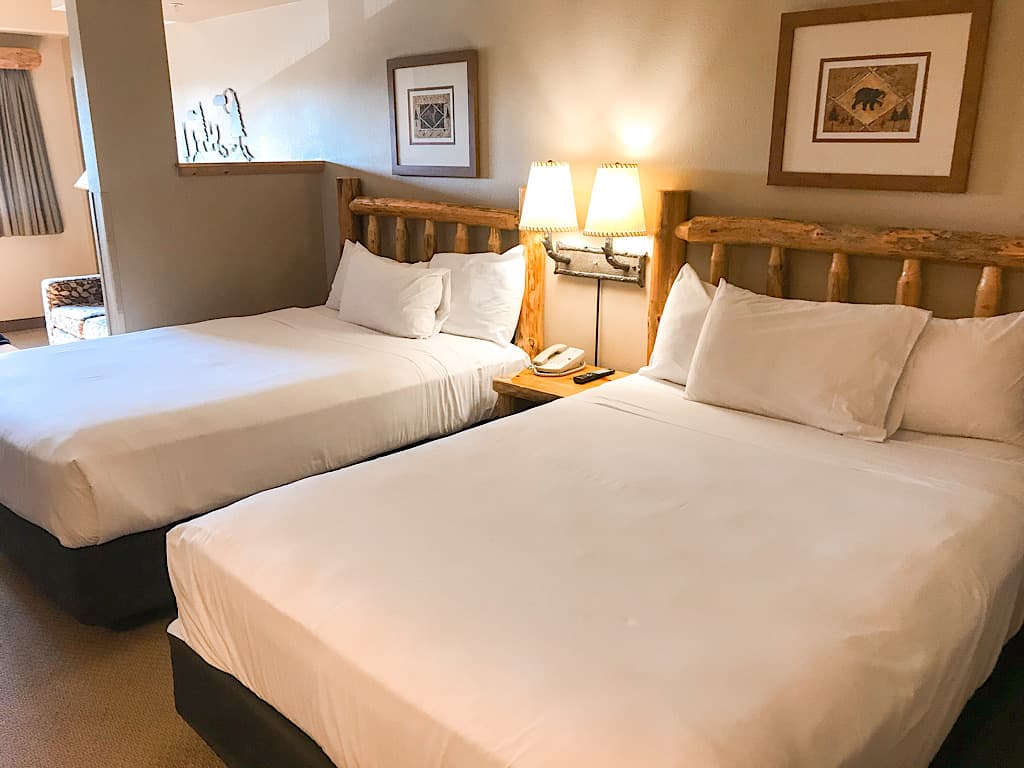 There is a large counter top with a microwave and a large television.
Under the microwave is a mini fridge, which was larger than what you find in most hotel rooms and really came in handy.
There were also 3 drawers available for storage.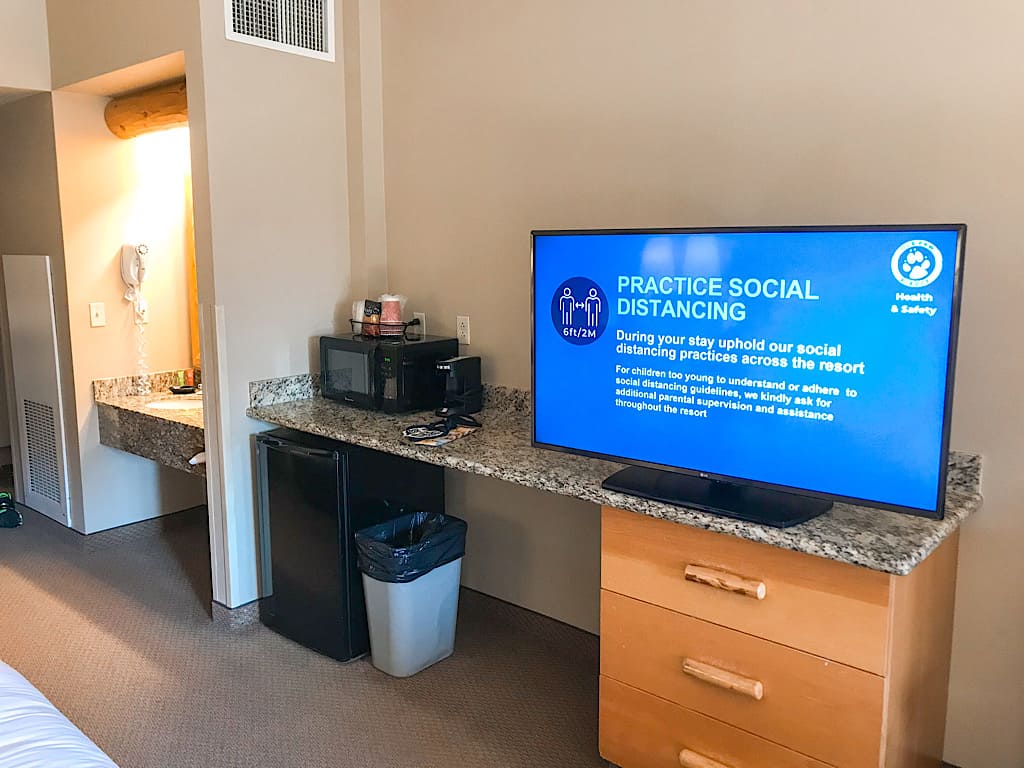 Next to the Queen beds is a half-wall that separates the beds from the living room/sitting area.
This are had a table with 3 chairs, a coffee table, a sleeper sofa, and a fireplace.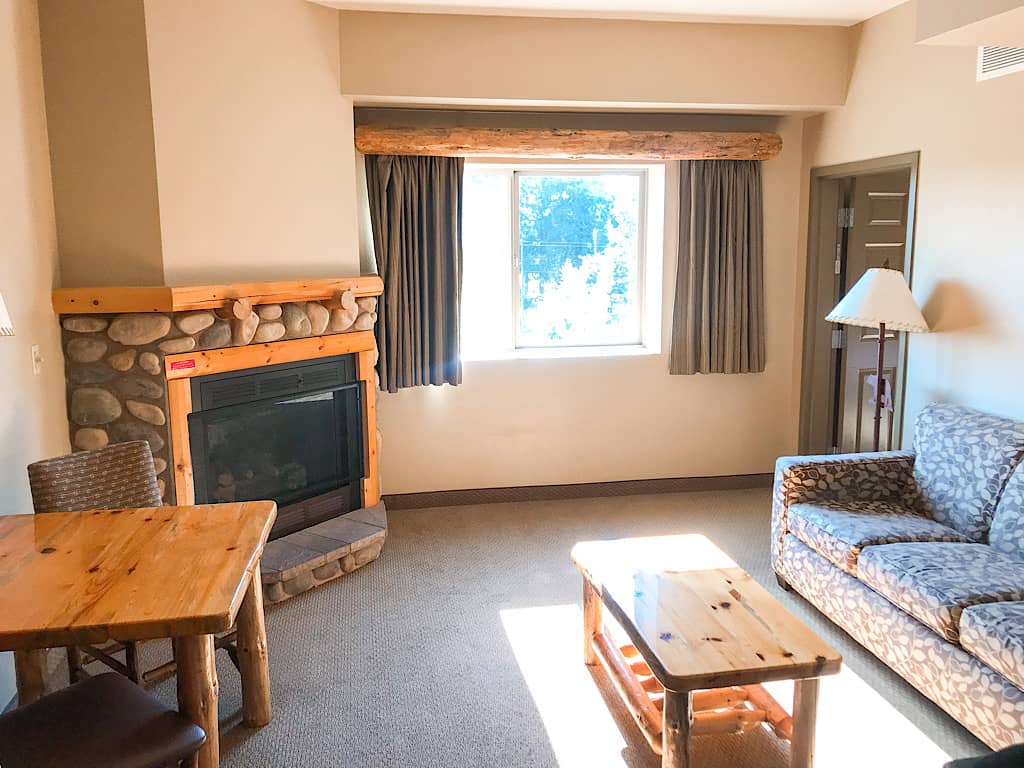 As you walk through the doorway into the master bedroom, you will find a King size bed with two night stands.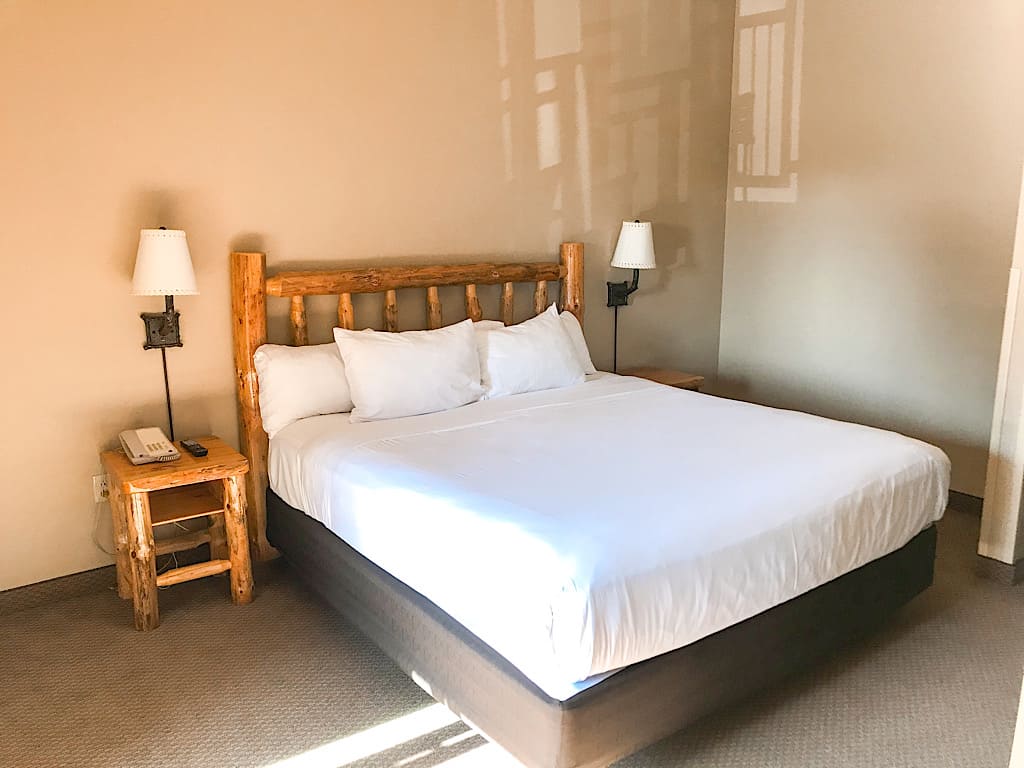 There is also a smaller vanity for the half bathroom which has a toilet and a stand up shower.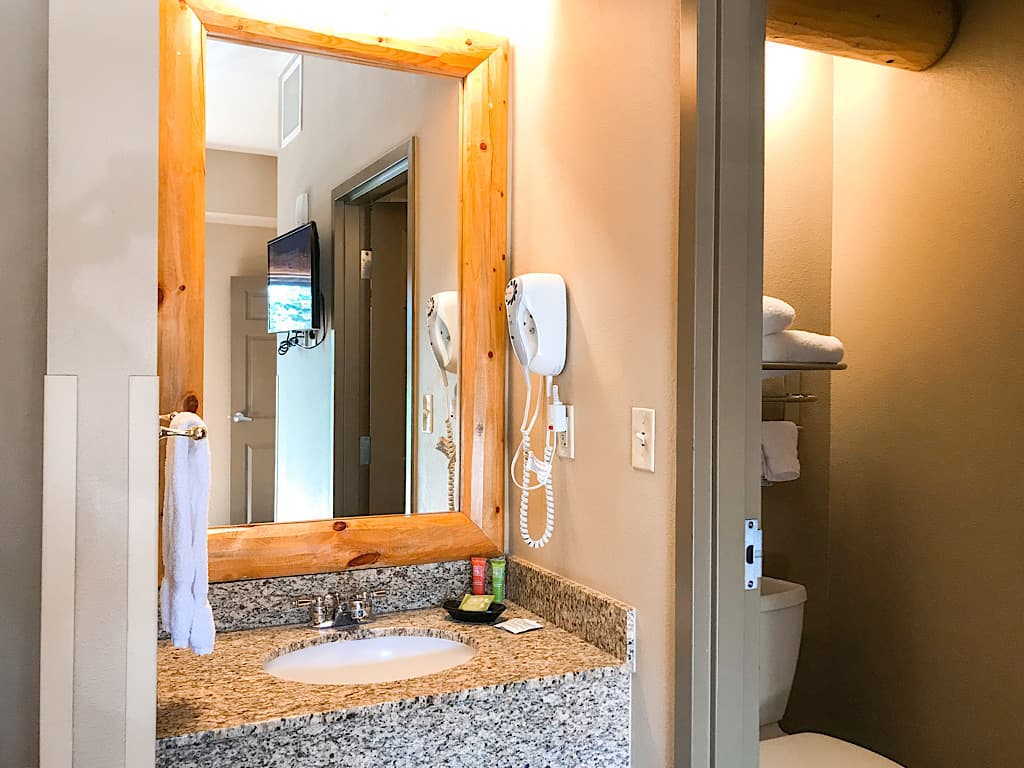 The room that we booked happened to have a sliding glass door that led out onto a balcony with two chairs and a table.
I really liked this room and don't have any complaints except that I wish there had been some USB charging ports for all of our electronics, but we were able to manage 😉
Water Park
One of the many perks of staying at Great Wolf Lodge is the water park. It is not just a hotel pool with a slide, it is a legit water park!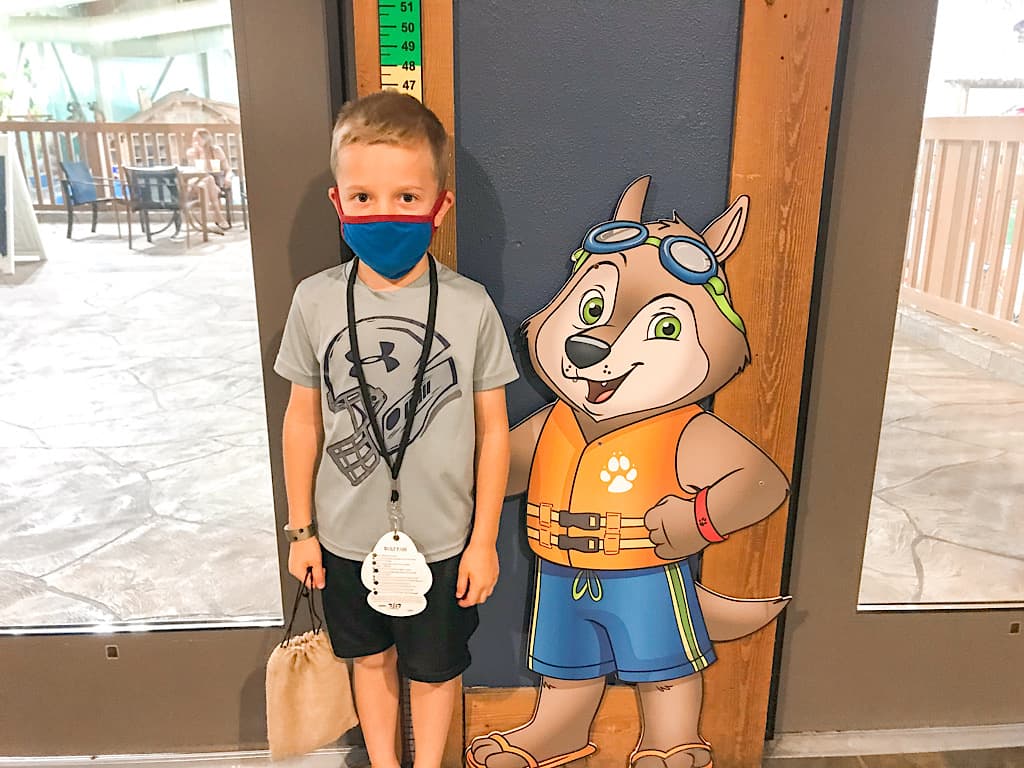 And it is indoors so no need for sunscreen or to worry about the climate.
The water park is always a pleasant 84 degrees.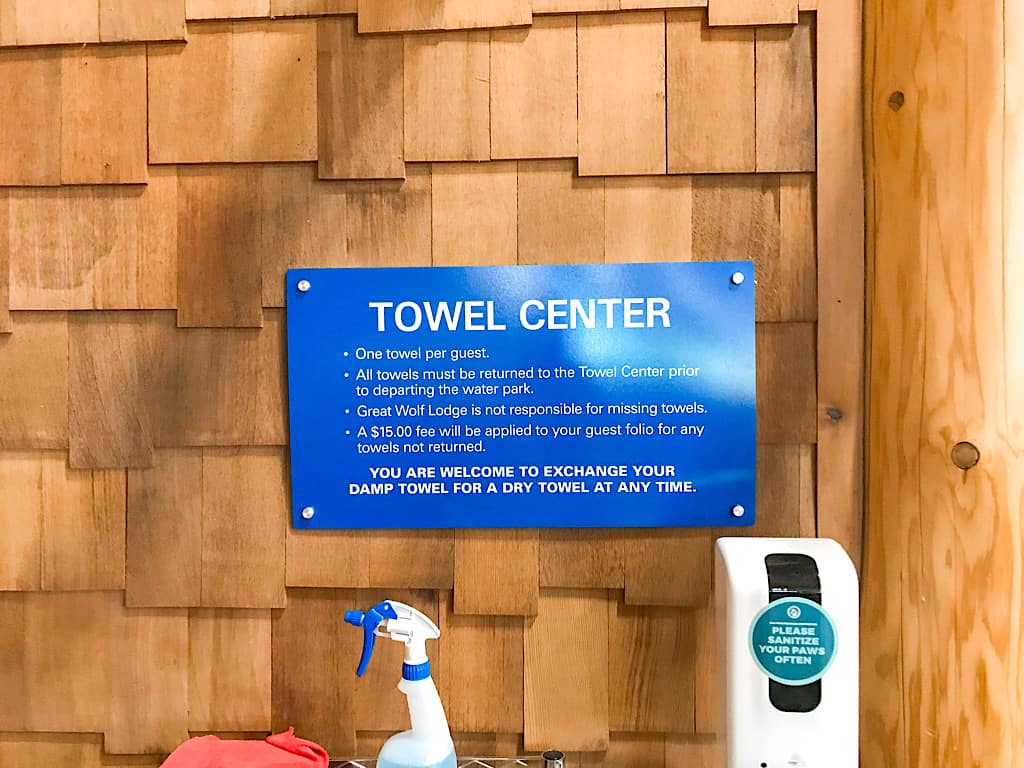 There is something for everyone in this water park, no matter what age and swimming ability.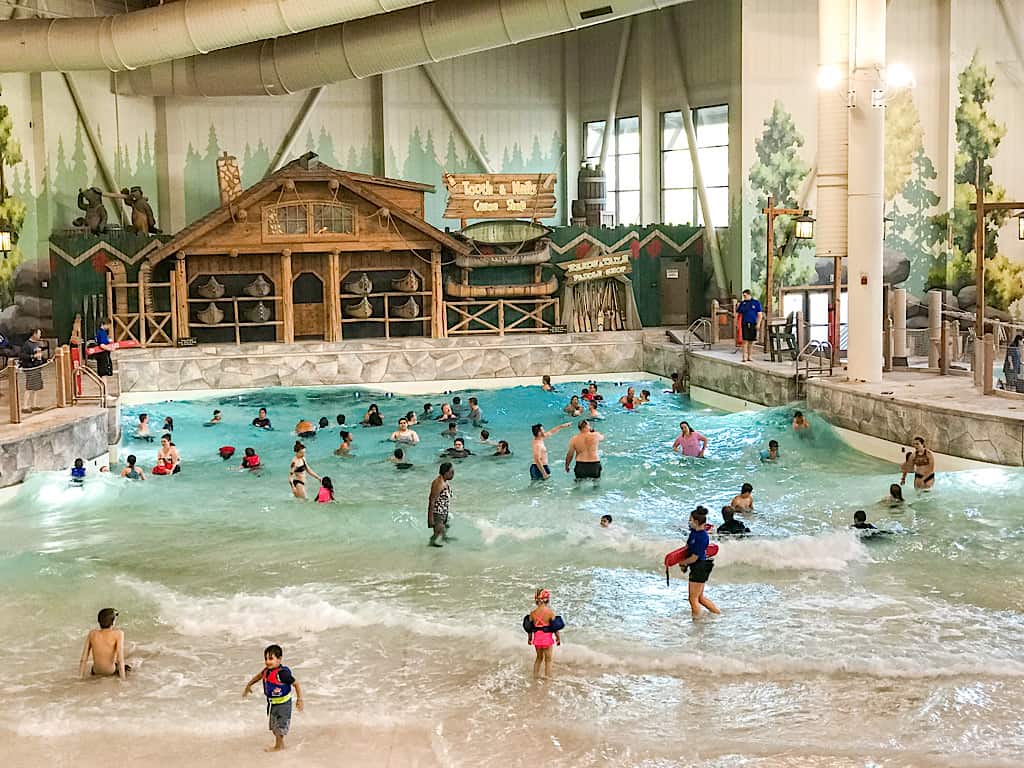 My boys loved the large wave pool. It doesn't get too deep, but with the waves, I felt more comfortable having my 6-year-old wear a life jacket.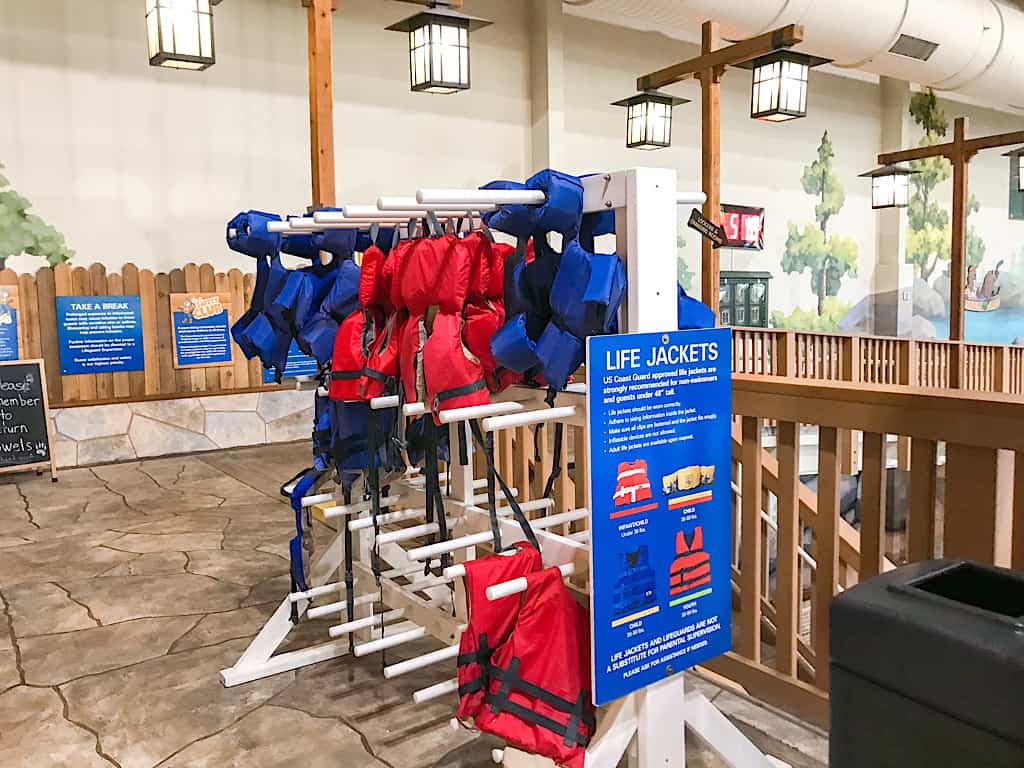 There is an area for little ones as well as a playground for smaller kids.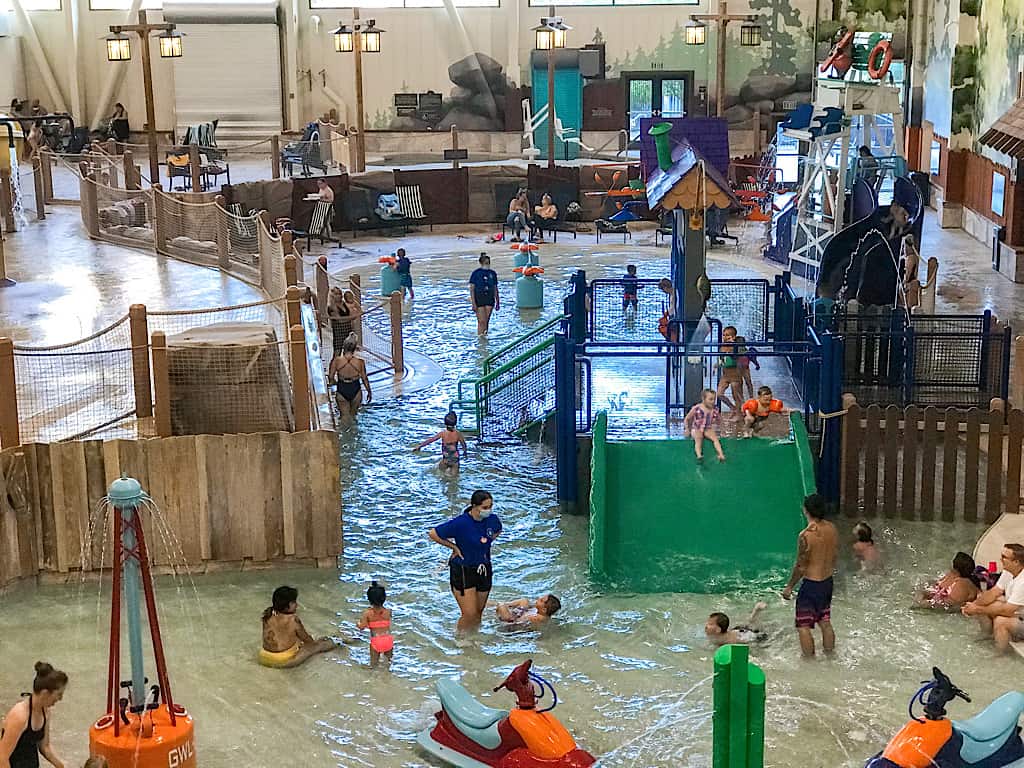 My 6-year-old loved Fort Mackenzie which is a 4-story interactive treehouse complete with waterslides and a bucket that dumps water every few minutes!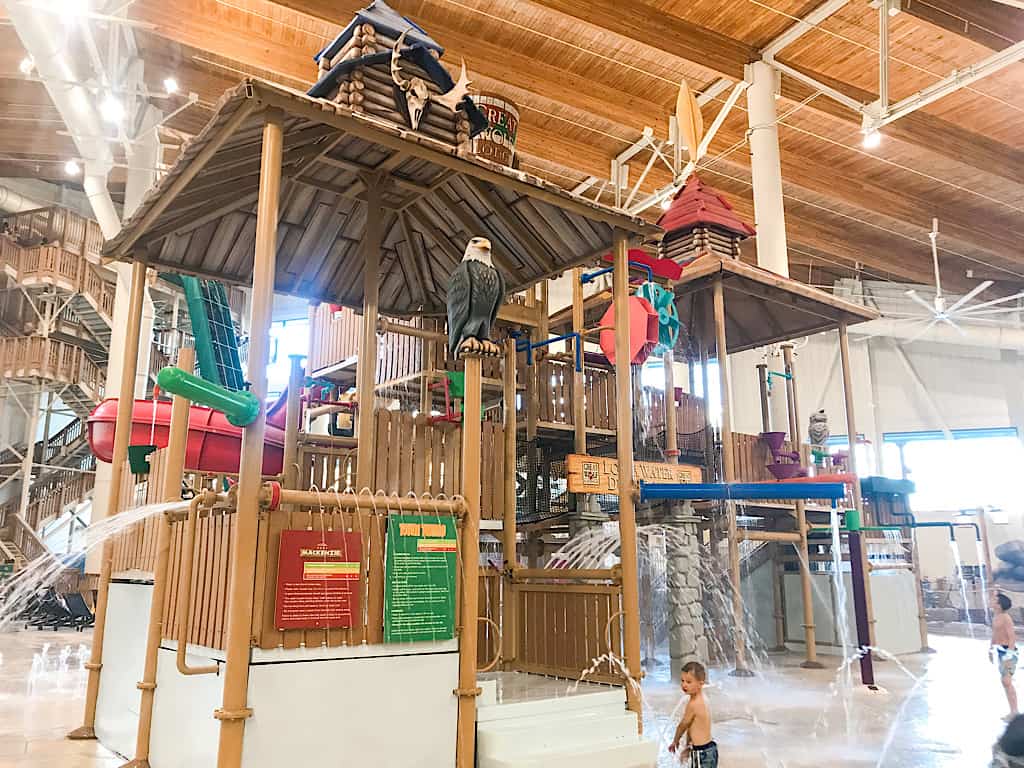 My older boys couldn't get enough of the larger water slides, Alberta Falls, River Canyon Run, and Howlin' Tornado!
Wolf Pass
There are many different attractions that will appeal to kids of all ages at Great Wolf Lodge.
Picking and choosing these activities can get expensive so a great way to save a little money and have all of the fun is to purchase them as a bundle.
These packages have different levels that include more attractions as you move up. They are called a Pup Pass, a Paw Pass, and a Wolf Pass.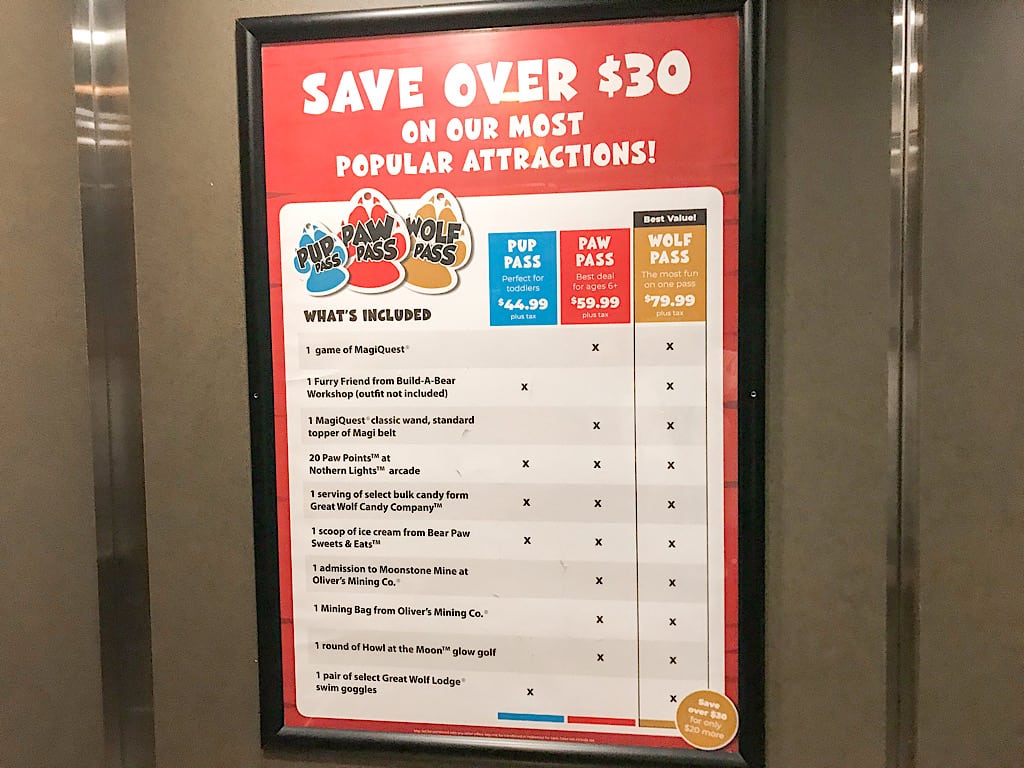 My boys were given Wolf Passes to try out all of the fun at Great Wolf Lodge. Here is what was included with a Wolf Pass.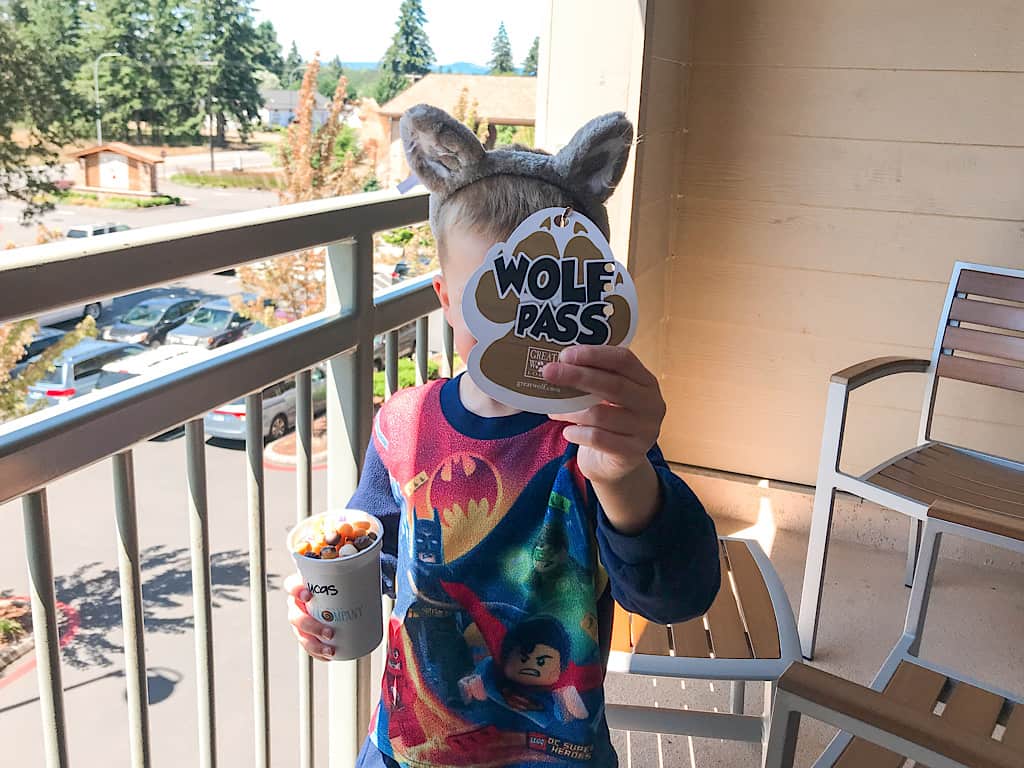 ✔️ MagiQuest
Each Wolf Pass entitles you to one game of MagiQuest and one MagiQuest standard wand.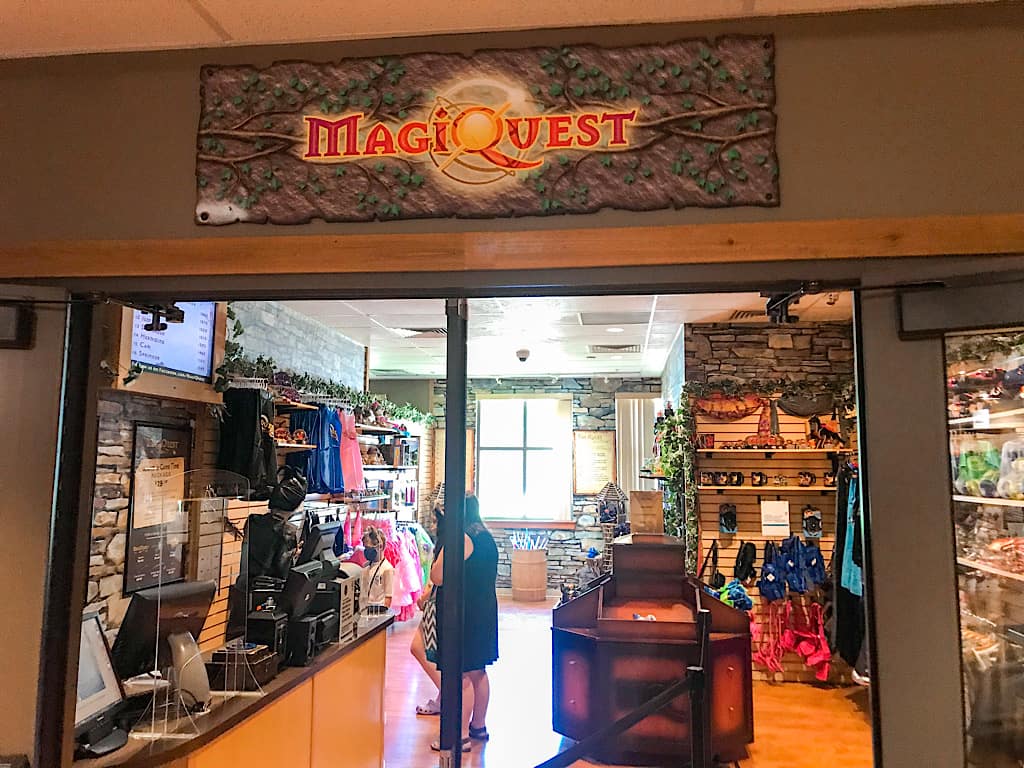 This attraction/game was my 10-year-old's favorite part about Great Wolf Lodge. He was definitely in his element.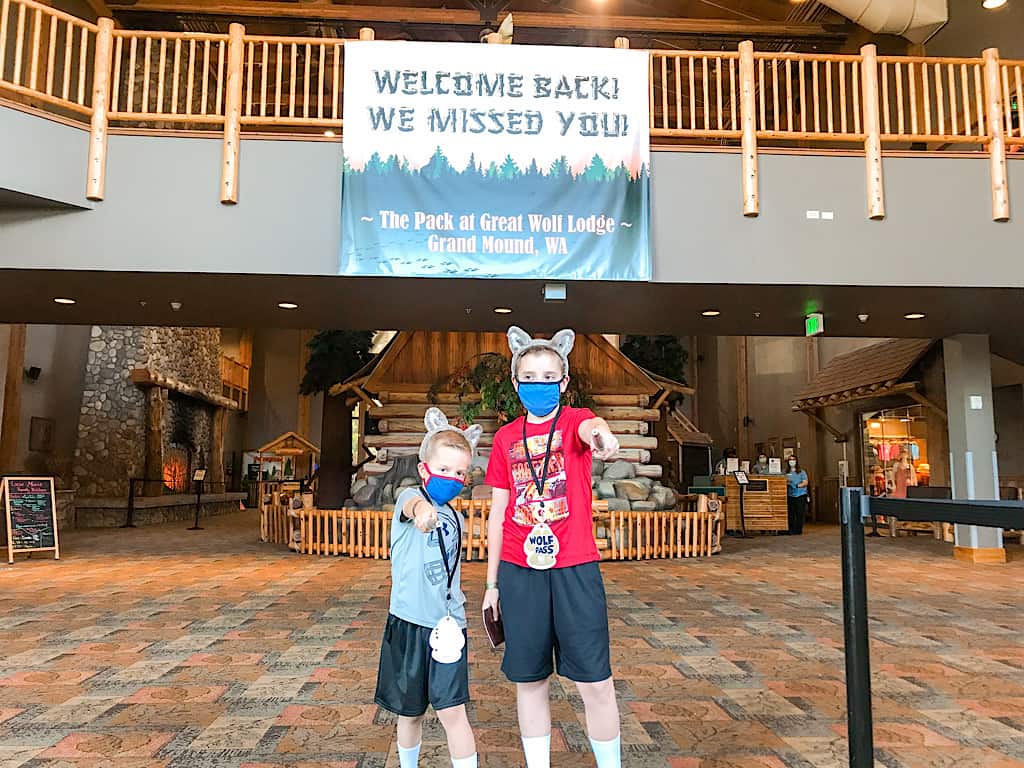 When you pick up your wand, your name is then linked. You are also given a booklet, which you will definitely want to hang on to, that will help you on your quests.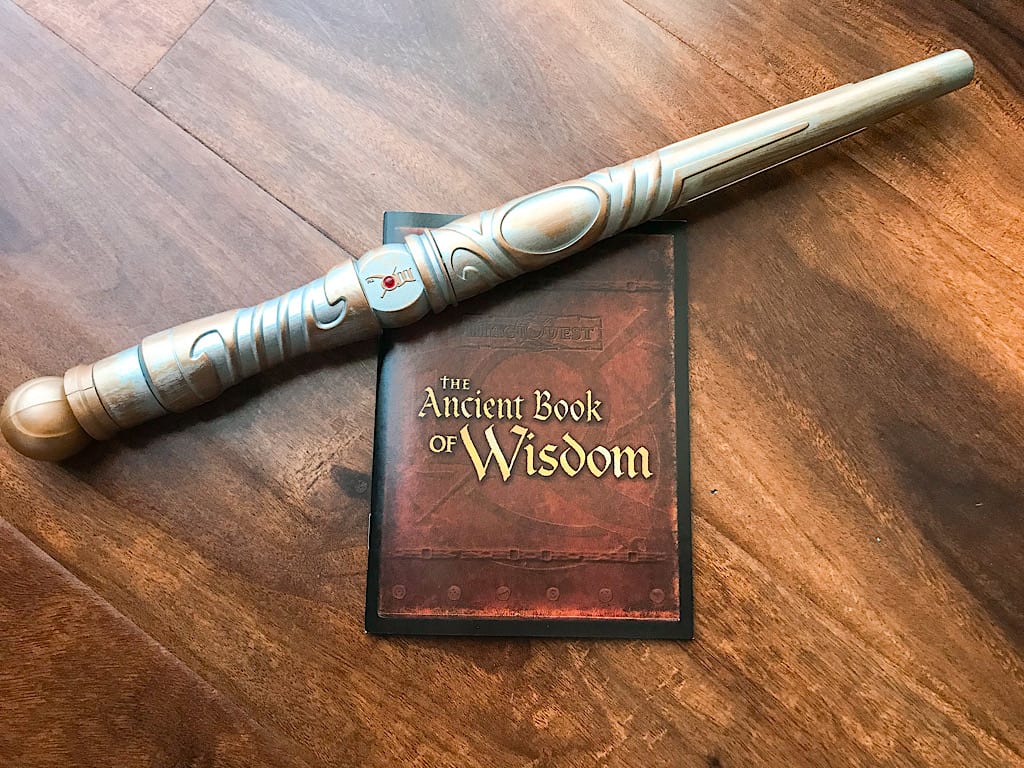 My boys were able to complete quite a few of the challenges and had a great time doing it.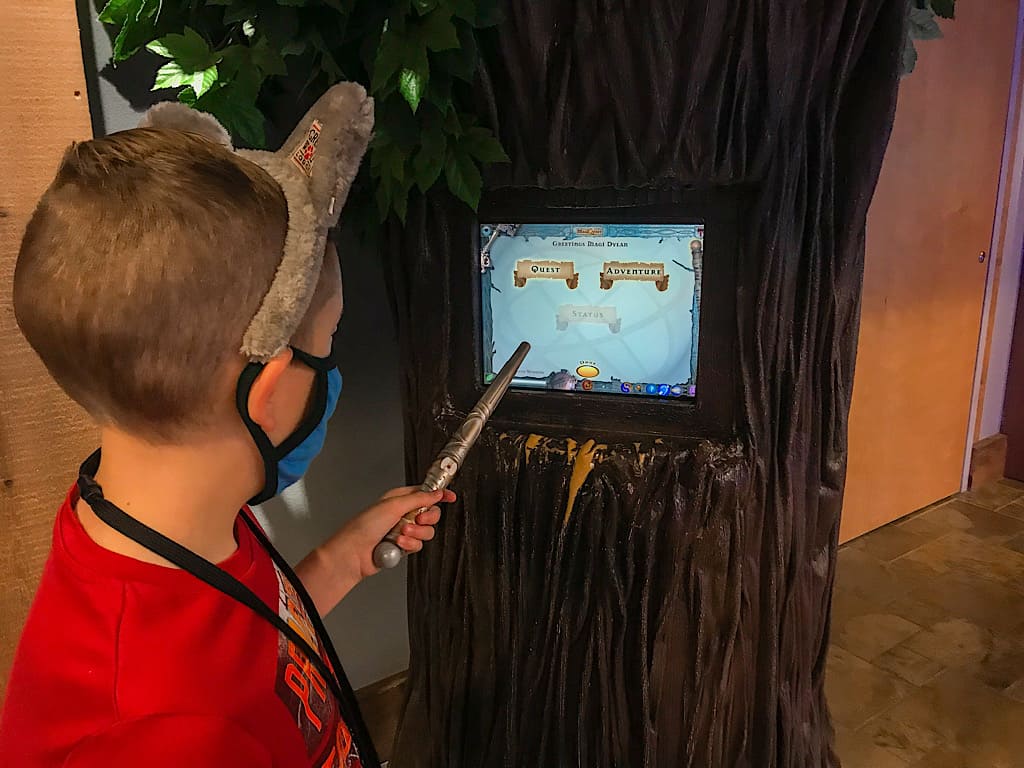 They were given clues that sent them on a scavenger hunt throughout the resort.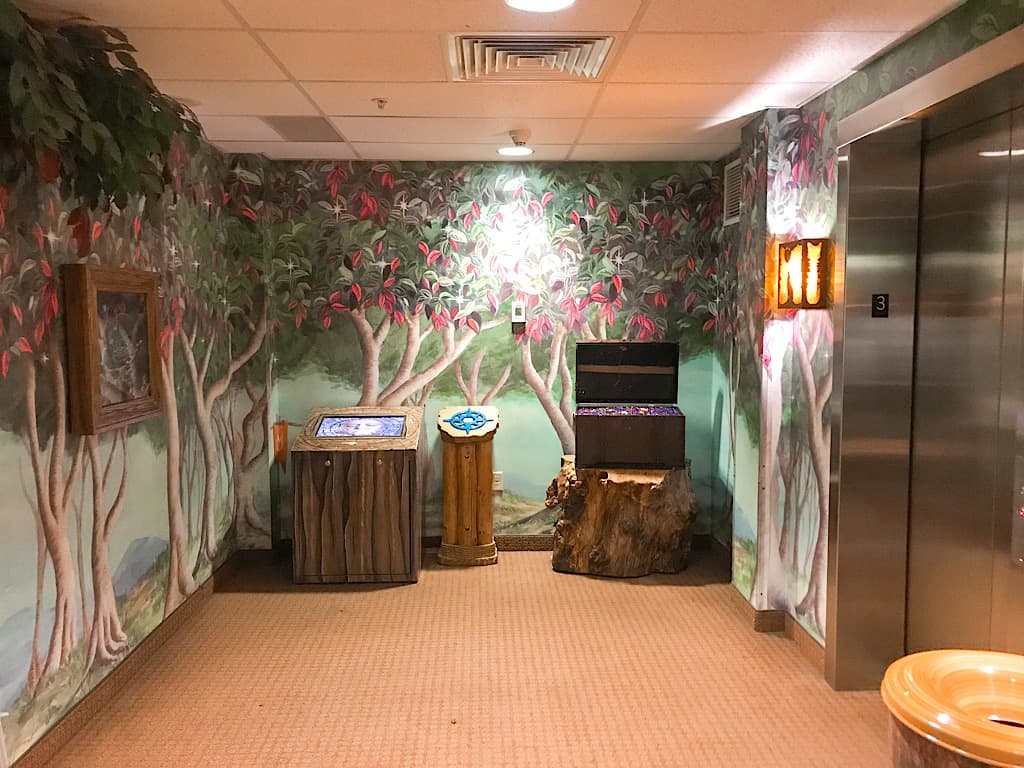 Each level has a name, which is helpful to know. A little cheat sheet is located at the front of the booklet to help you remember these things.
✔️ Build-A-Bear Workshop
Another favorite activity that is included with the Wolf Pass was making a new friend at Build-A-Bear Workshop, located on level 2 next to the pizzeria.
The kids are given a choice of which furry friend they want to create, then a helpful employee will put a heart in the animal.
Your child will then push a pedal with their foot that will help push the stuffing in.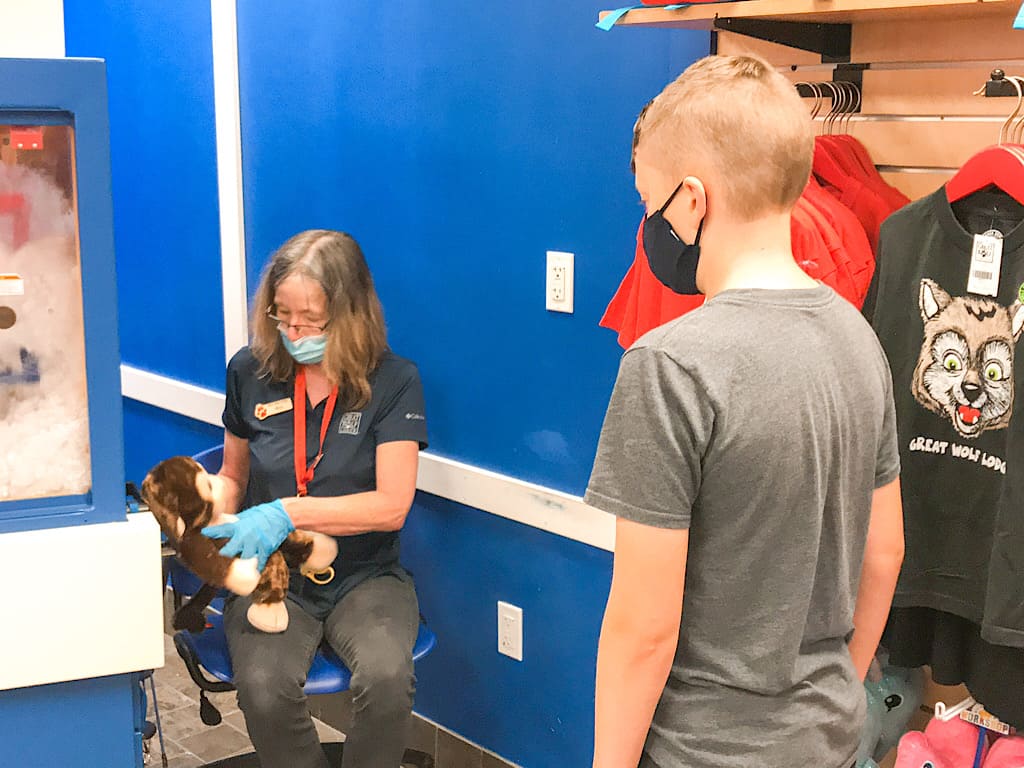 My boys loved it! There are also many different clothing options and accessories that you can purchase and the prices were actually pretty reasonable.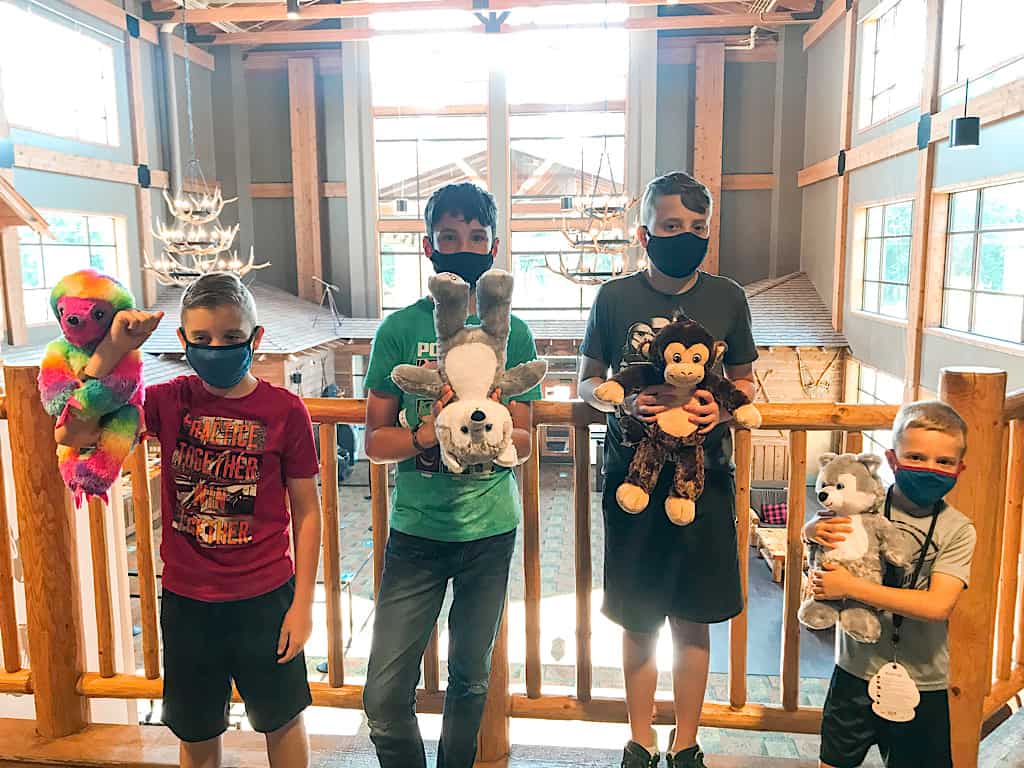 ✔️ Northern Lights Arcade
Each Wolf Pass also includes 20 Paw Points at Northern Lights Arcade.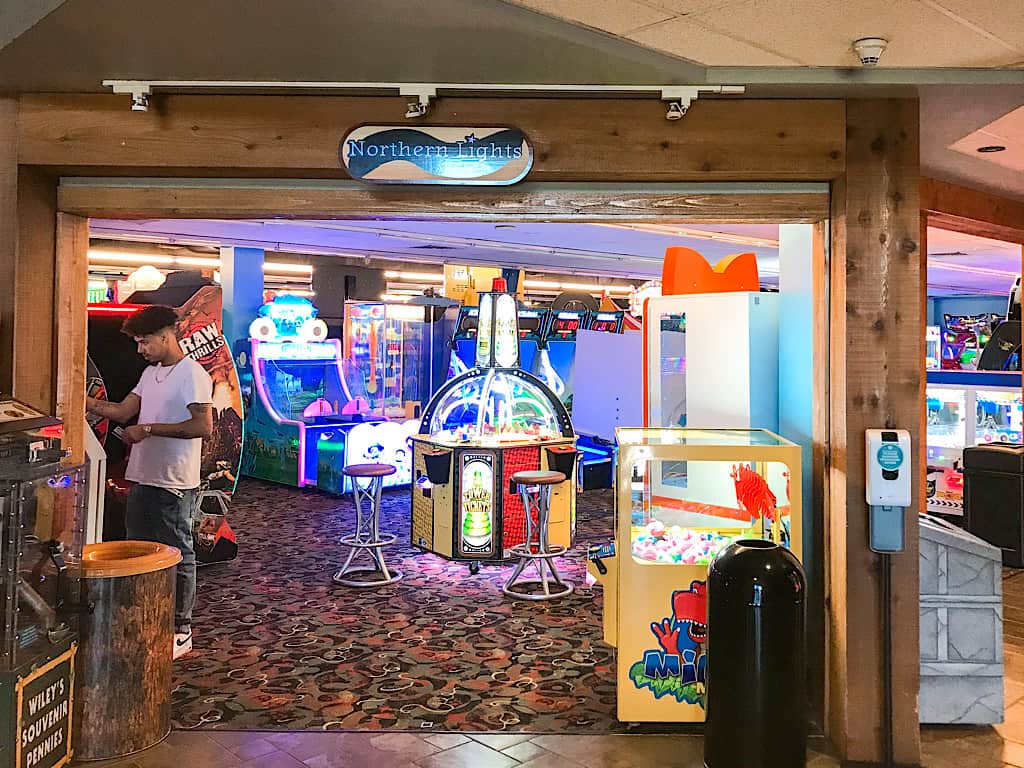 There are plenty of game choices and games that can help you earn prizes as well!
✔️ Great Wolf Candy Company
Your Wolf Pass will also allow you a trip to the Great Wolf Candy Company.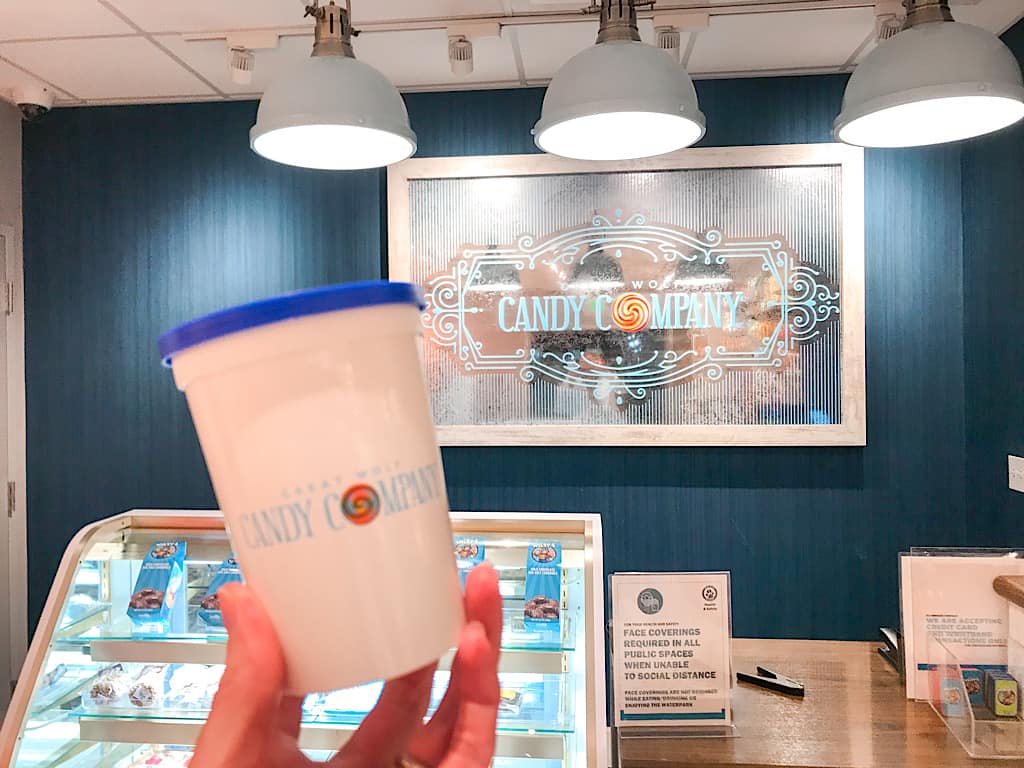 You will get a 12 ounce cup that you can fill with an assortment of bulk candies. There are so many options!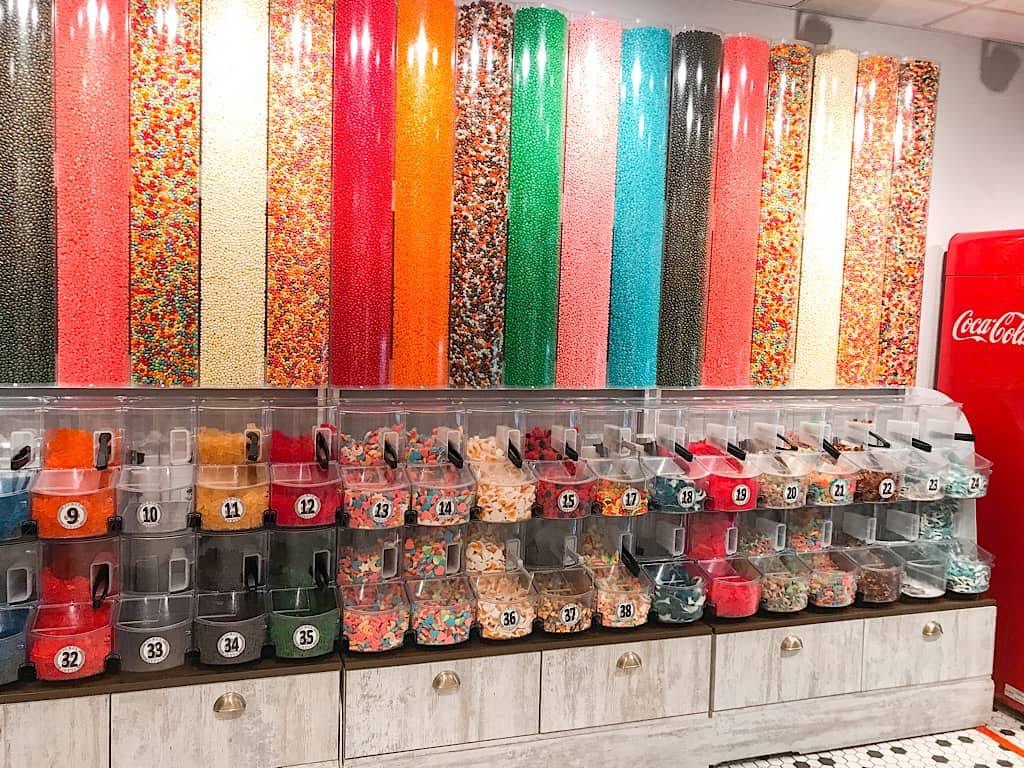 It was also fun to look around at all of the different candy options that are available for purchase.
We were really impressed by the giant Dum-Dums lollipops!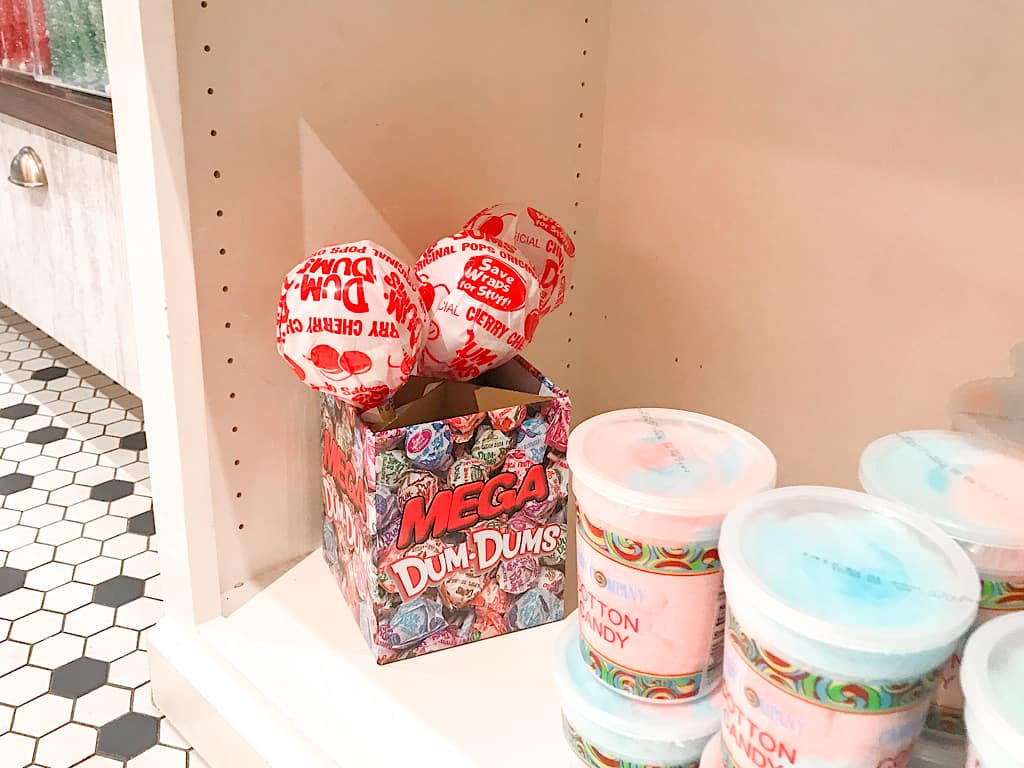 ✔️ Oliver's Mining Co
Oliver's Mining Co was a hit with my kids! With your Wolf Pass, you get to experience panning for jewels and minerals.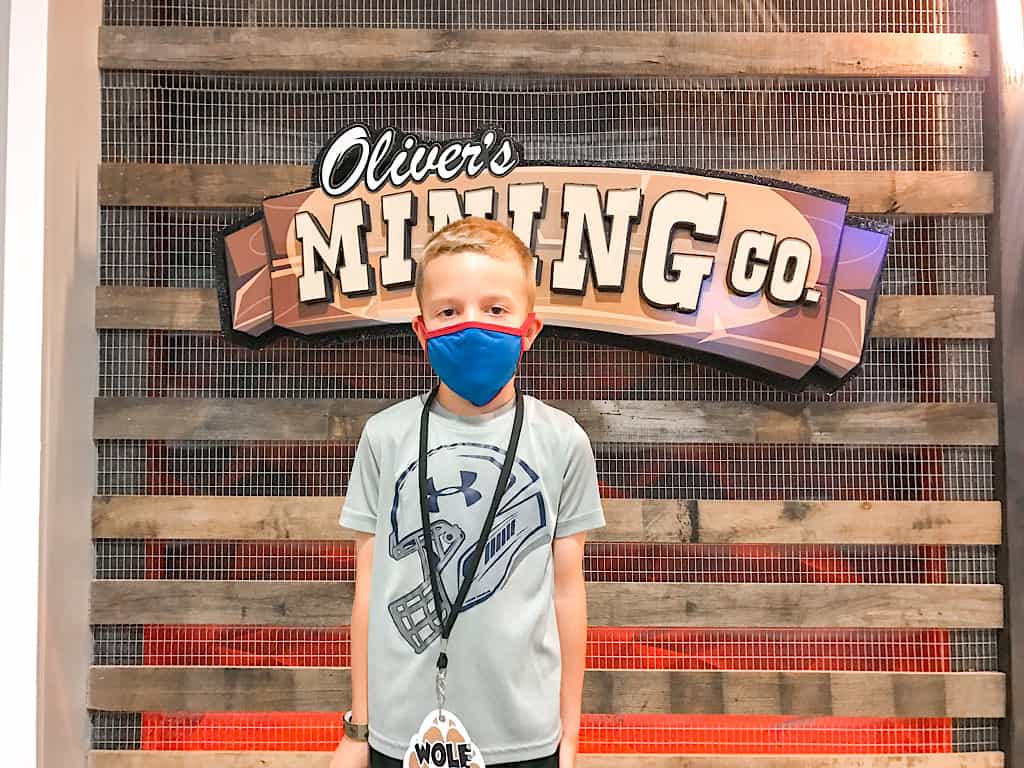 Your child will be given a tray with a bag full of dirt. Hidden in the dirt are rocks, gems, and minerals.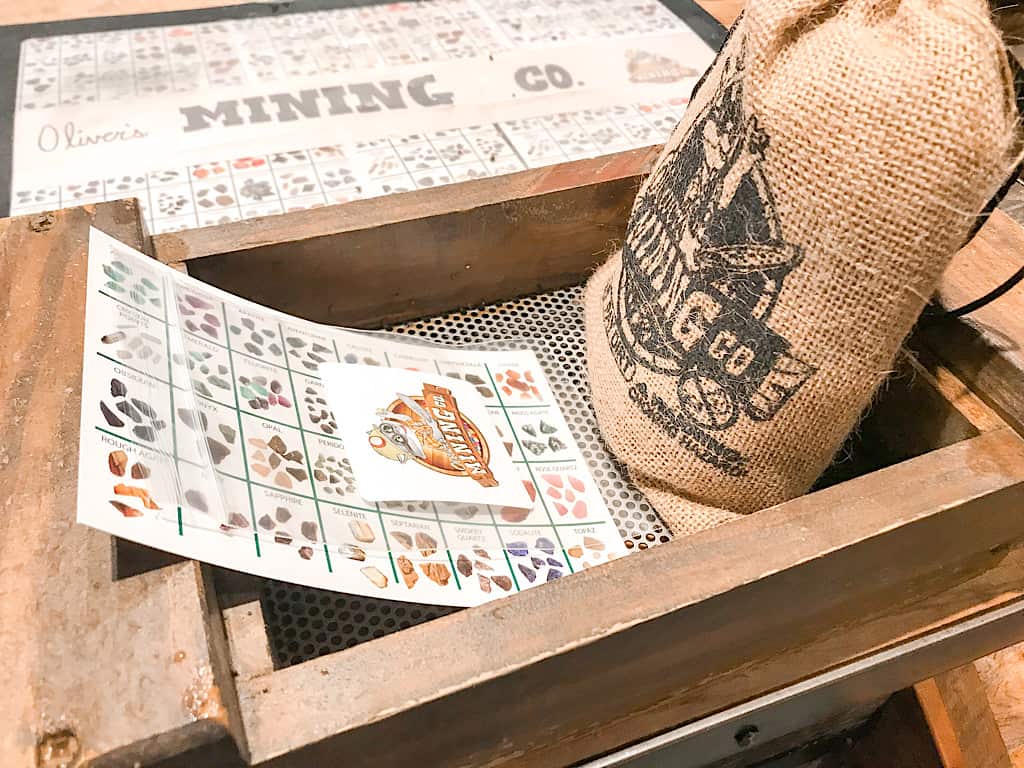 After emptying the bag into the tray, your child can place the tray in the running water and allow the water to wash the dirt away, leaving all of the beautiful treasures!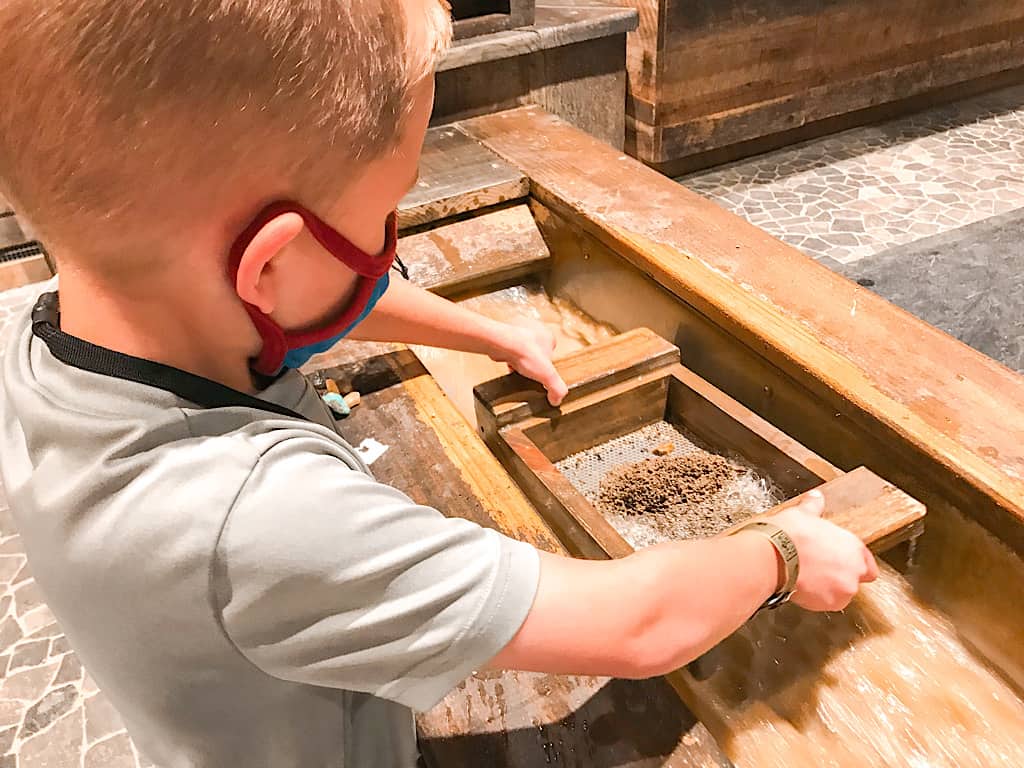 The best part is that your child can keep all of the goodies they find!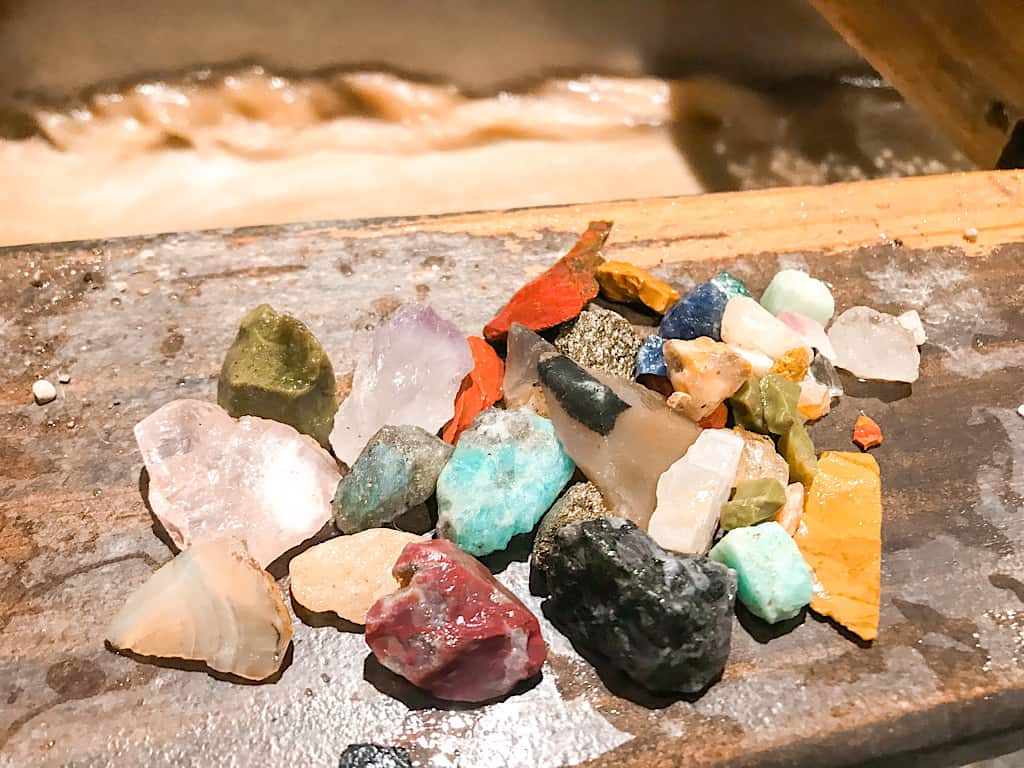 I also loved that they received an identification card where they could sort and find out the names of each of the rocks they found.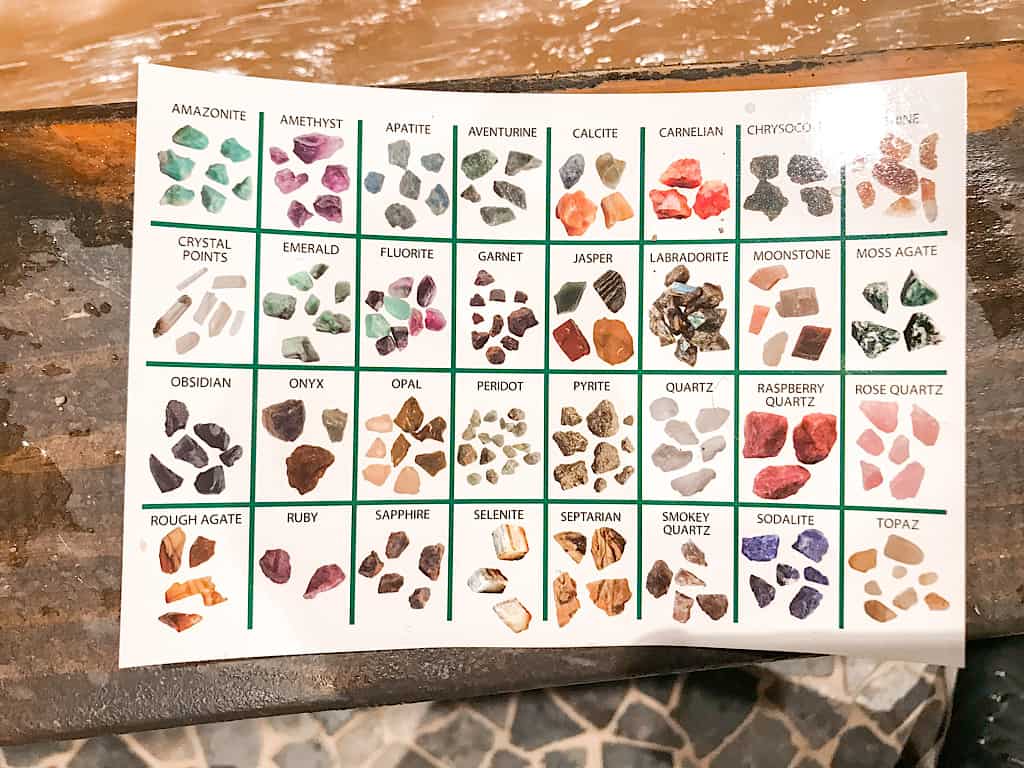 ✔️ Howl at the Moon Glow Golf
Mini golf is always fun for everyone! Howl at the Moon Glow Golf takes this up a notch by letting you golf in the dark!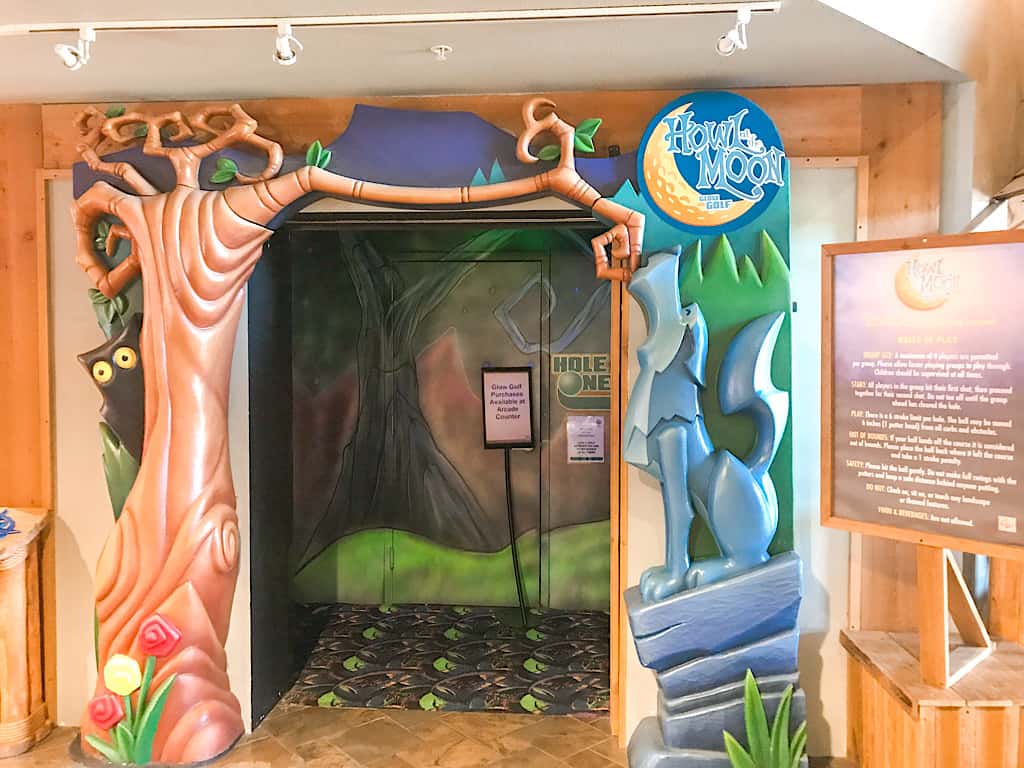 ✔️ Great Wolf Lodge Swim Goggles
Your child will also get a set of Great Wolf Lodge Swim Goggles which are perfect to use at the water park!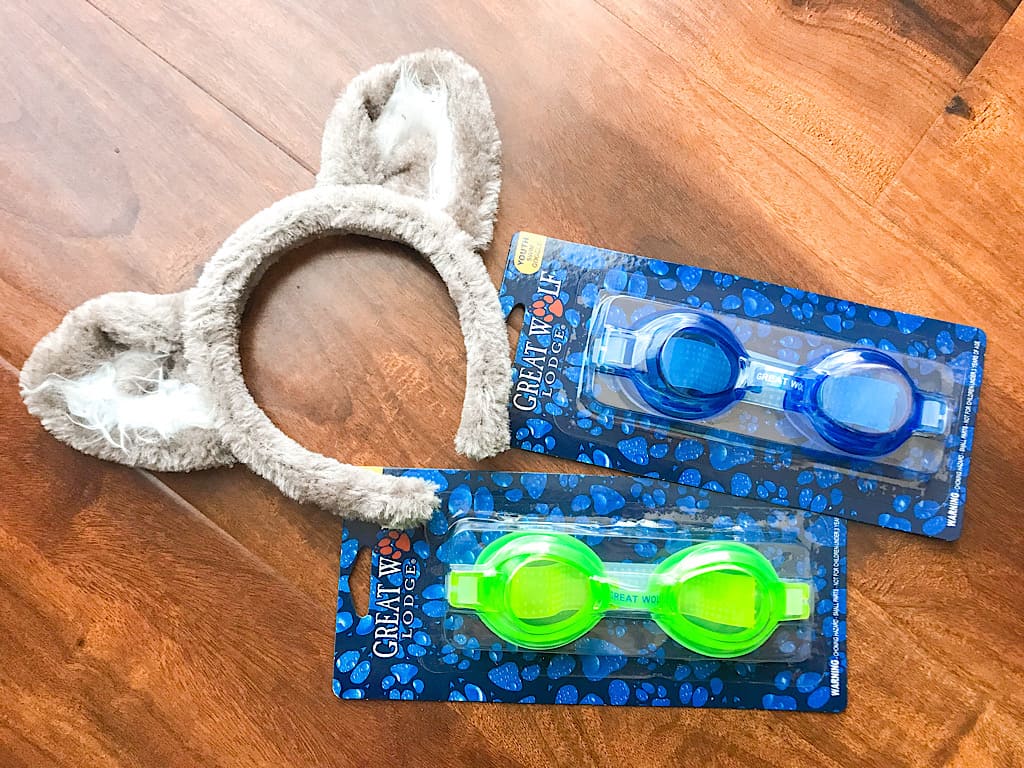 To claim your goggles, head to the Buckhorn Exchange Gift Shop by the lobby and present your Wolf Pass.
This is also where you can pick up your set of wolf ears that are included for each child on your reservation.
✔️ Bear Paw Sweets & Eats
With each Wolf Pass, you get one scoop of ice cream at Bear Paw Sweets & Eats.
My boys choose Rainbow Sherbet, Vanilla Bean, and Cookies & Cream.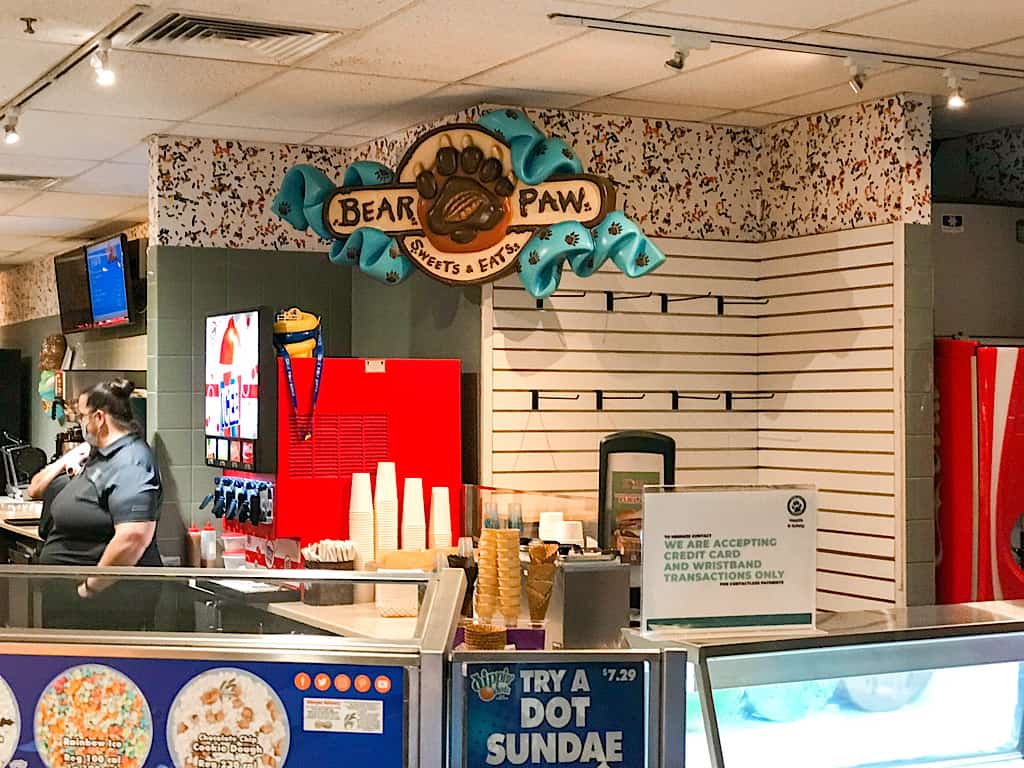 My husband and I opted to get a Double-Scoop Sundae with chocolate ice cream, cookie dough ice cream, chocolate syrup, brownie pieces, waffle cone pieces, chocolate chip cookie pieces, whipped cream, and a cherry on top!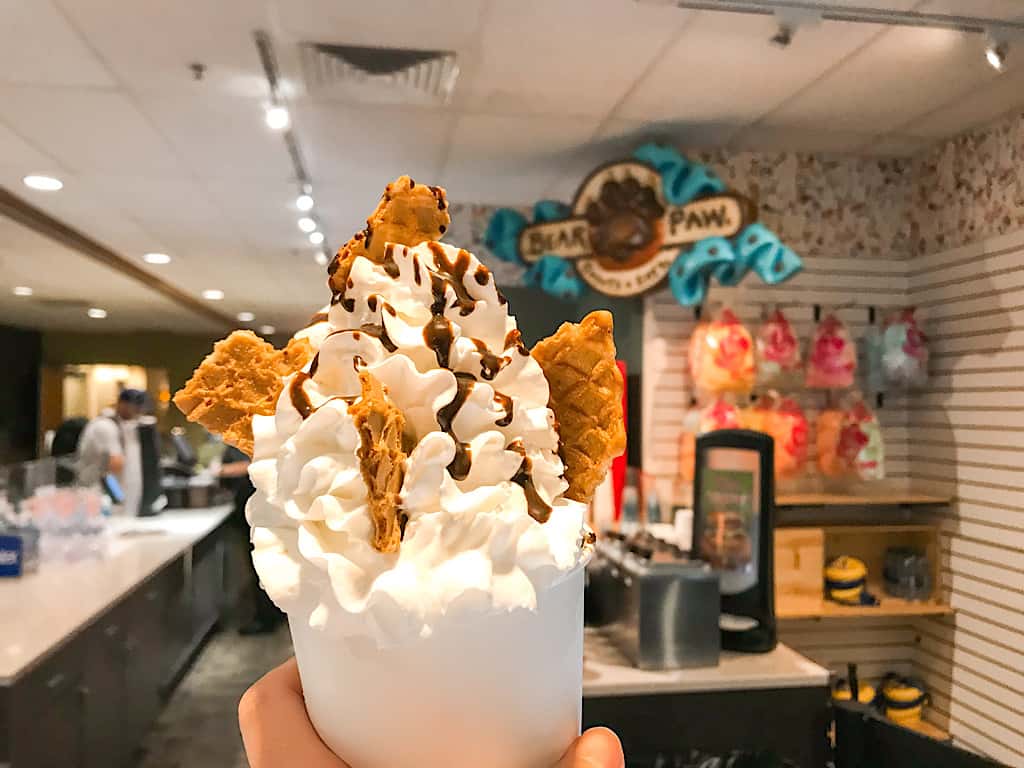 Dining Options
Like I mentioned before, Great Wolf Lodge reminds me of a cruise ship. This is definitely true when it comes to dining.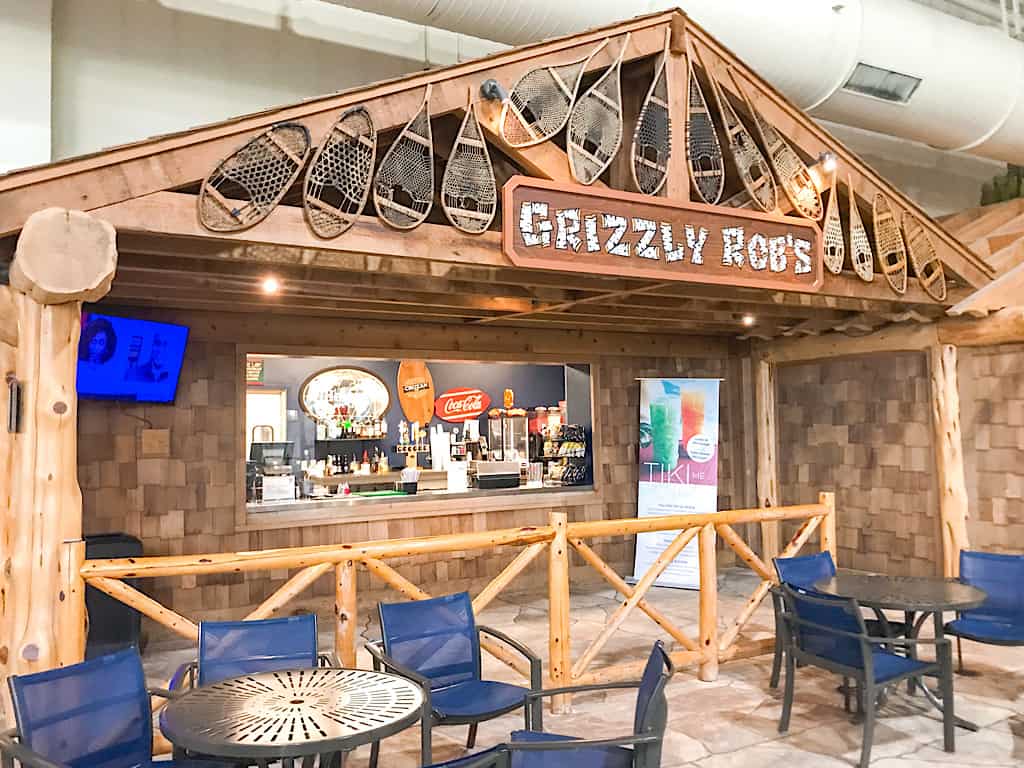 There are many choices, you don't every have to leave the resort! Here are some of the dining options we experienced.
Hungry as a Wolf
On the night we arrived, my boys immediately picked out where they wanted to get dinner. Hungry as a Wolf pizzeria!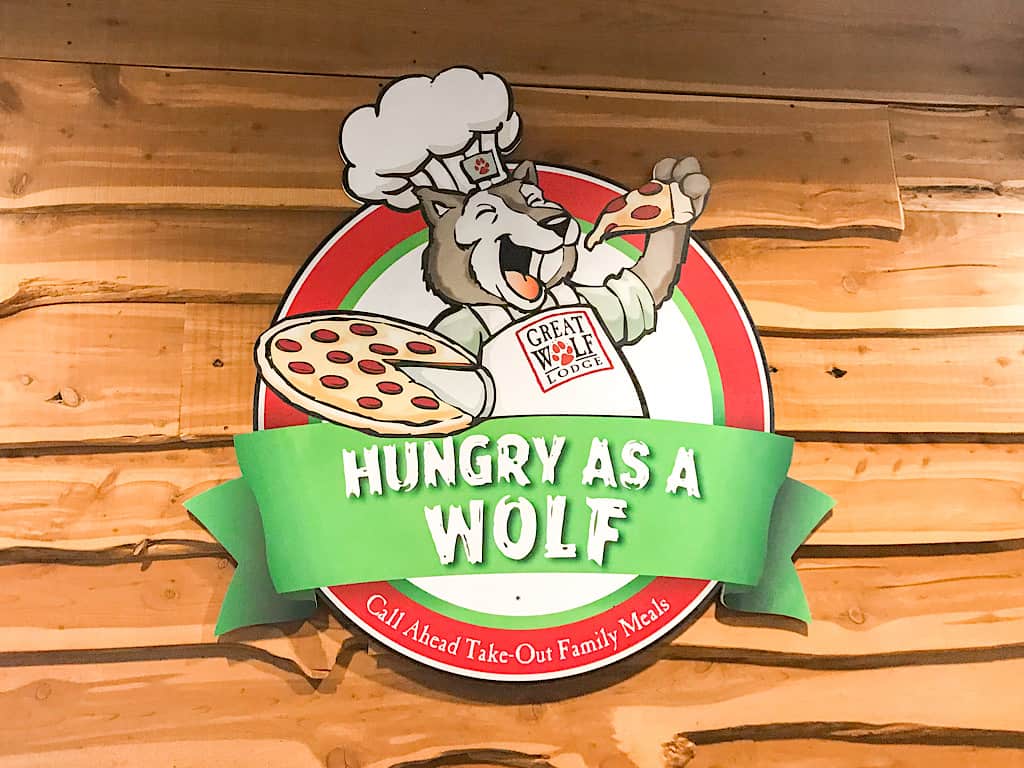 While they were busy playing in the water park, I used the Great Wolf Lodge app to order pizza for us.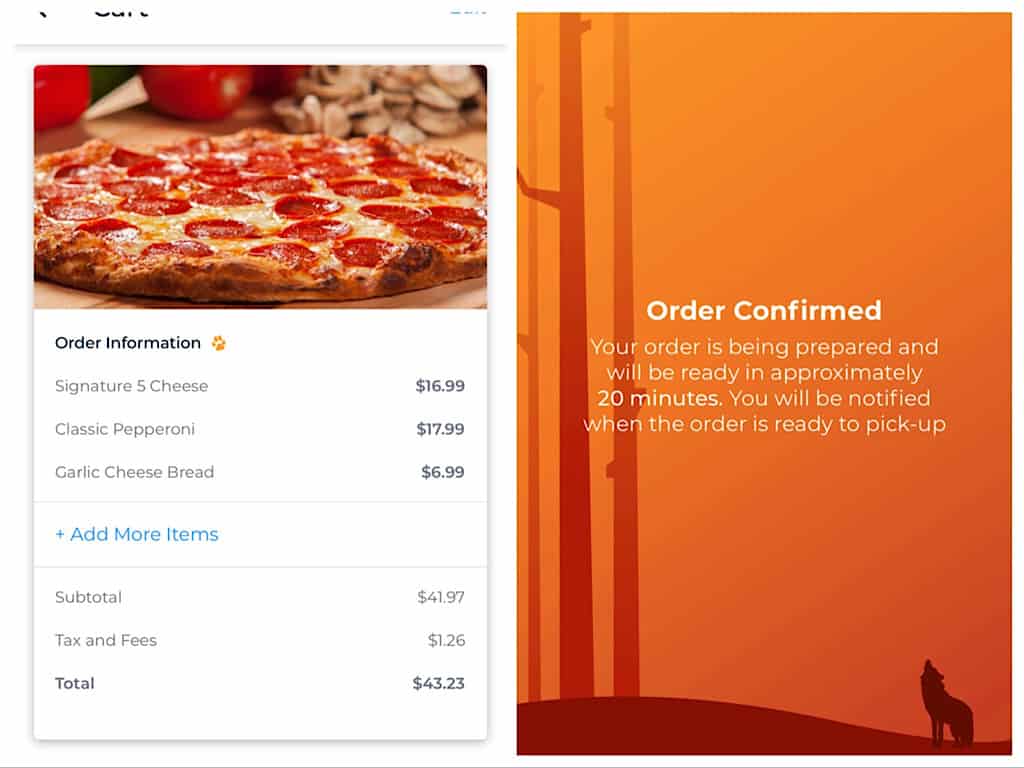 The app informed me that our order would be ready in about 20 minutes.
Just enough time to round up the kids, and pick up the pizza to enjoy in our hotel room.
We ordered a pepperoni pizza, Signature 5-Cheese Pizza, and garlic cheese bread. Everything was delicious!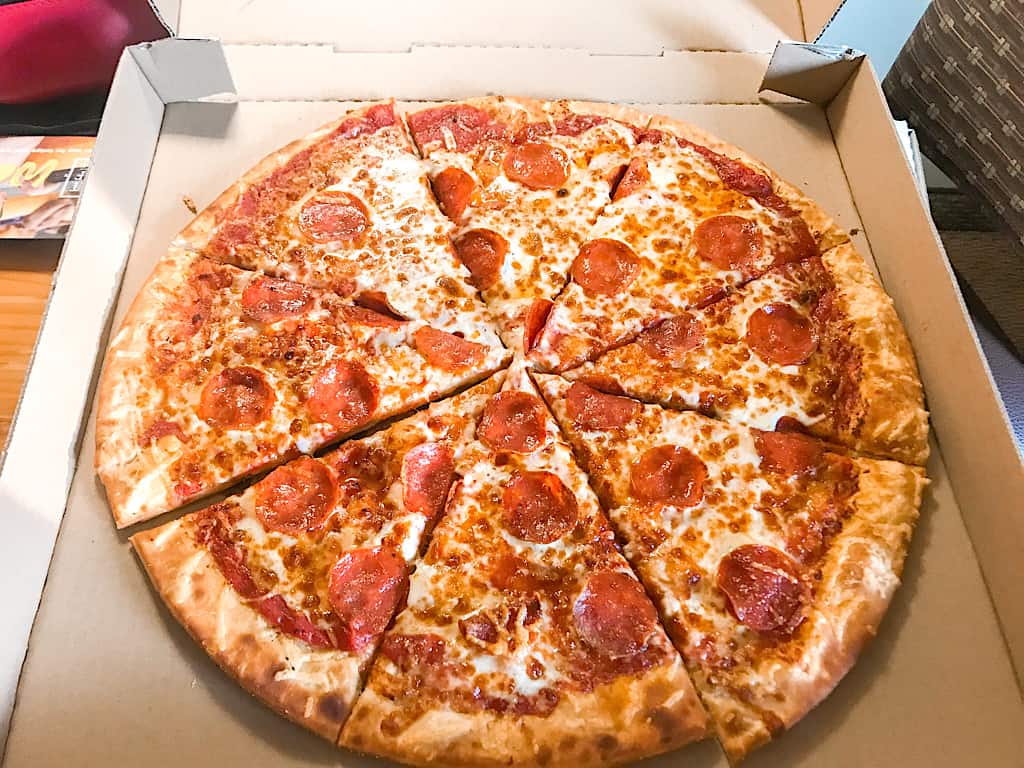 Lodge Wood Fired Grill
We also opted to order take out from Lodge Wood Fired Grill. The menu offers everything from seafood to steak and is a great place to grab dinner.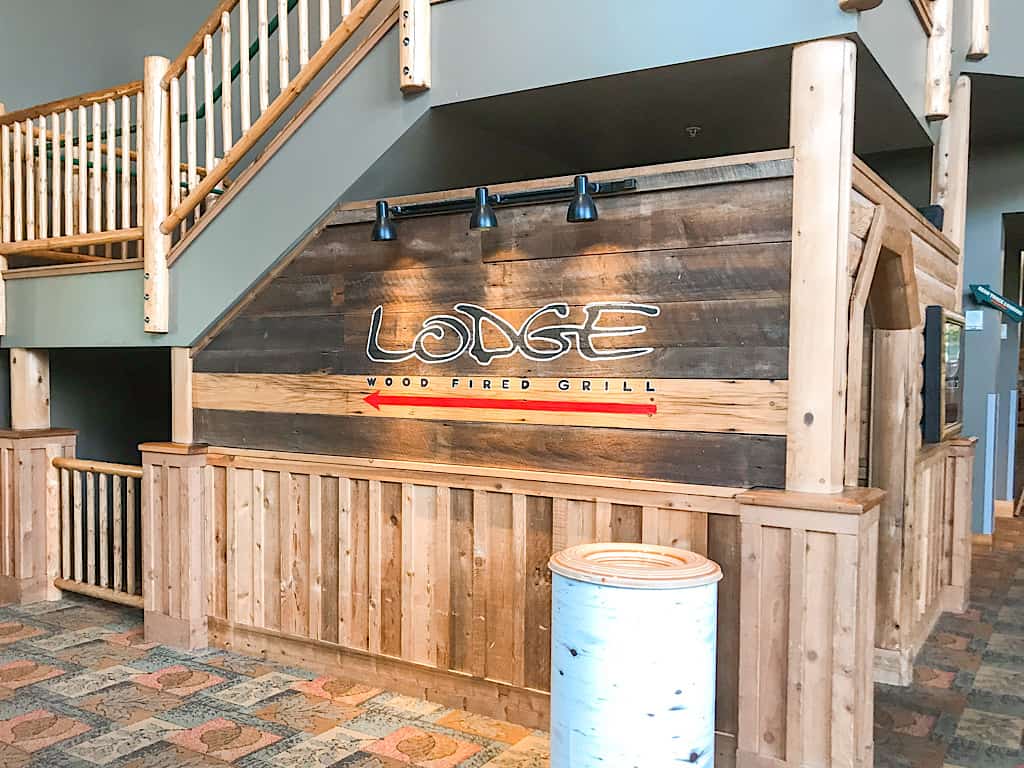 My husband and I ordered the Spinach Artichoke Dip with tortilla chips, and the Spicy Shrimp Pasta. Check out the menu offerings here.
Buckets Incredible Craveables
We wanted to grab a bite to eat in the water park and Buckets Incredible Craveables fit the bill.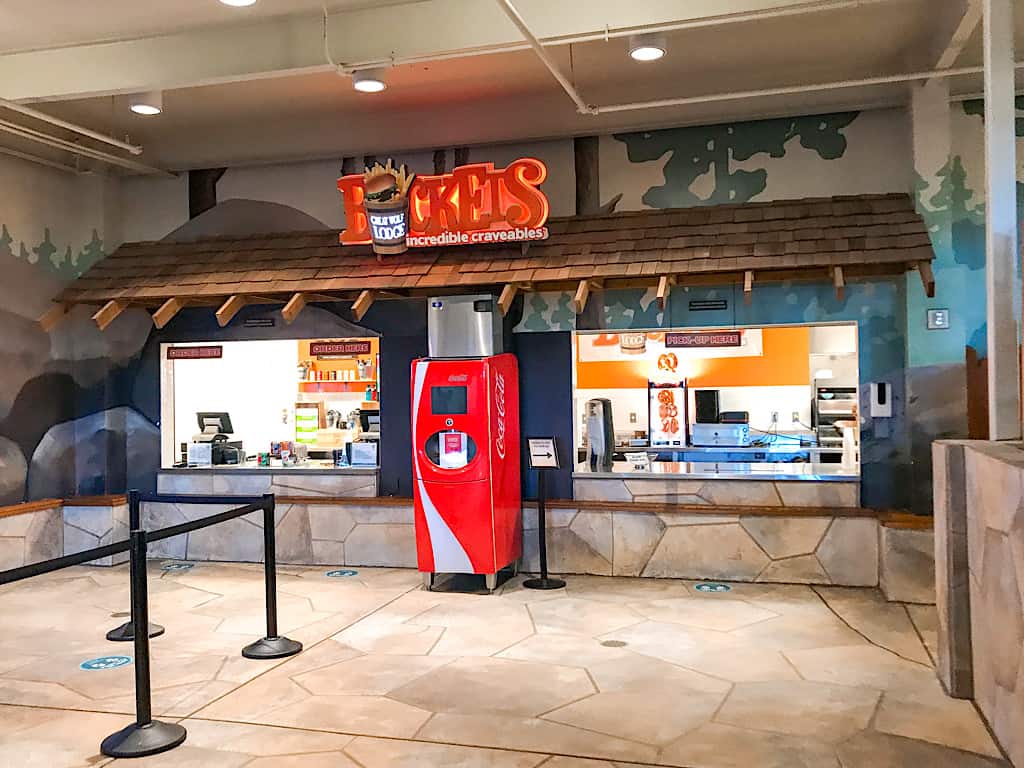 We ordered the cheeseburgers, one with bacon 😉 as well as chicken tenders with a side of fries.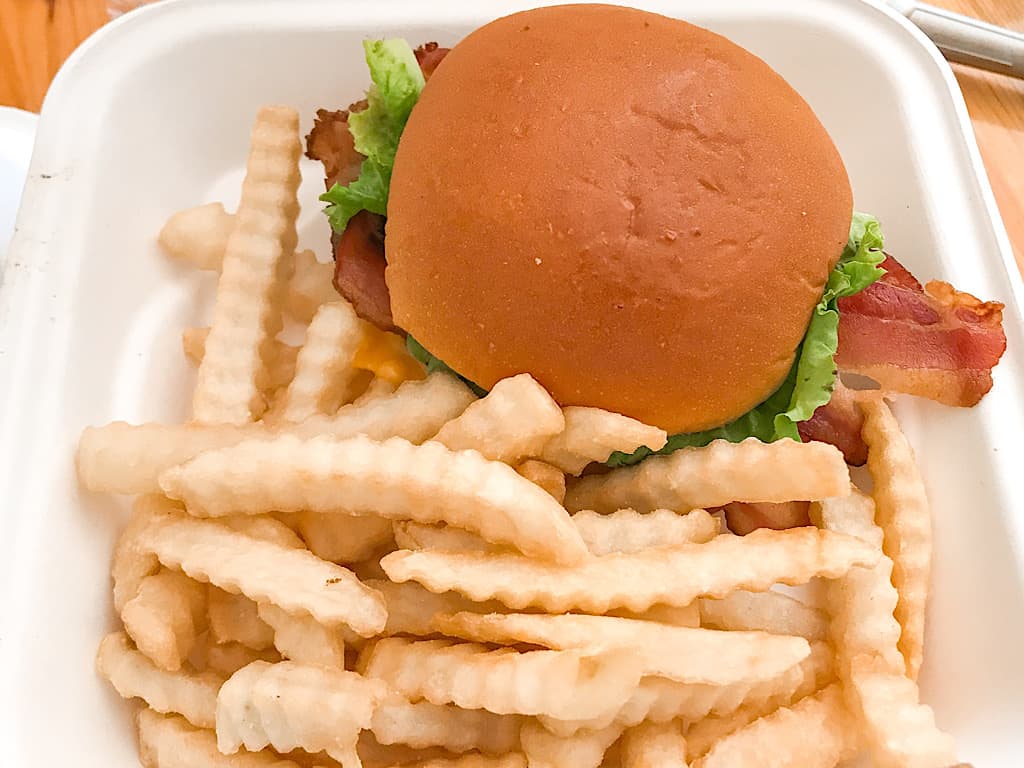 All were a hit with my boys!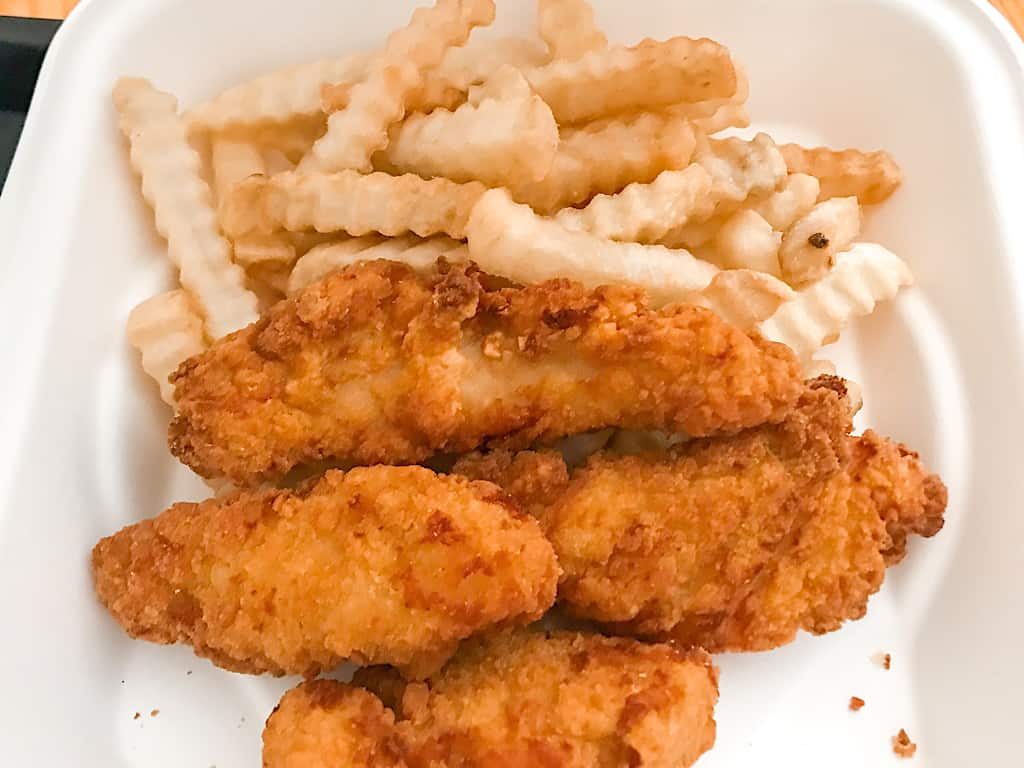 The Loose Moose Cottage
The Loose Moose Cottage offers a daily breakfast buffet with some character interactions.
Its definitely a location you will want to visit at least once during your stay.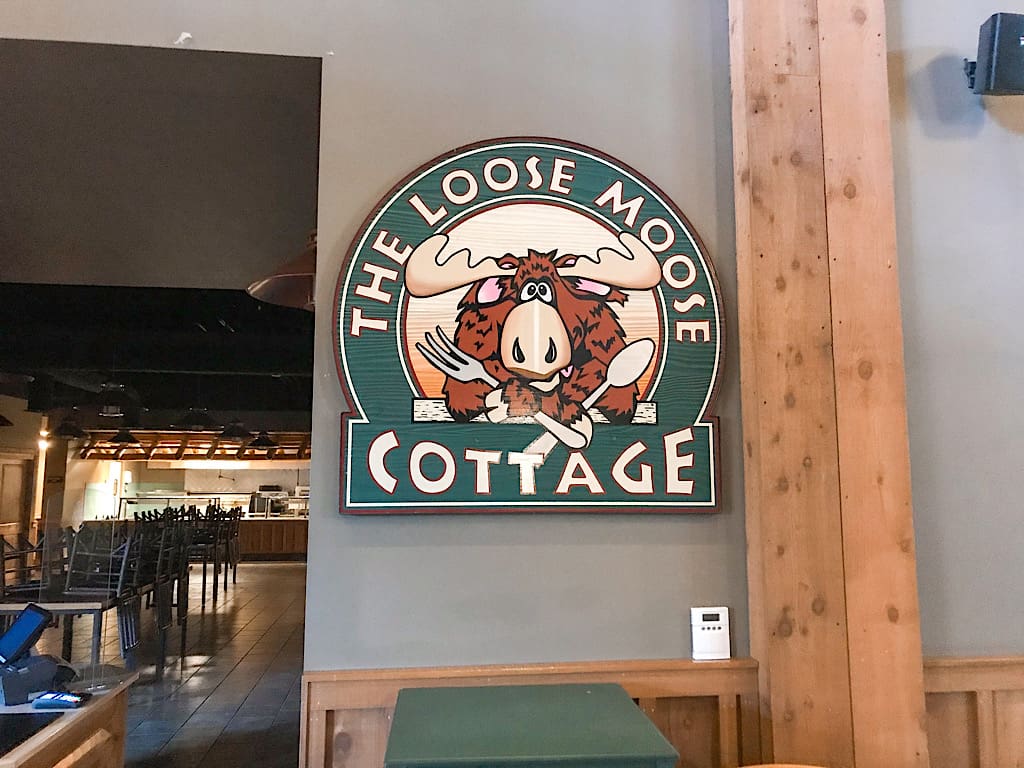 The breakfast choices range from eggs, bacon, and waffles, to fruit, yogurt, and granola. There really is something for everyone's tastes.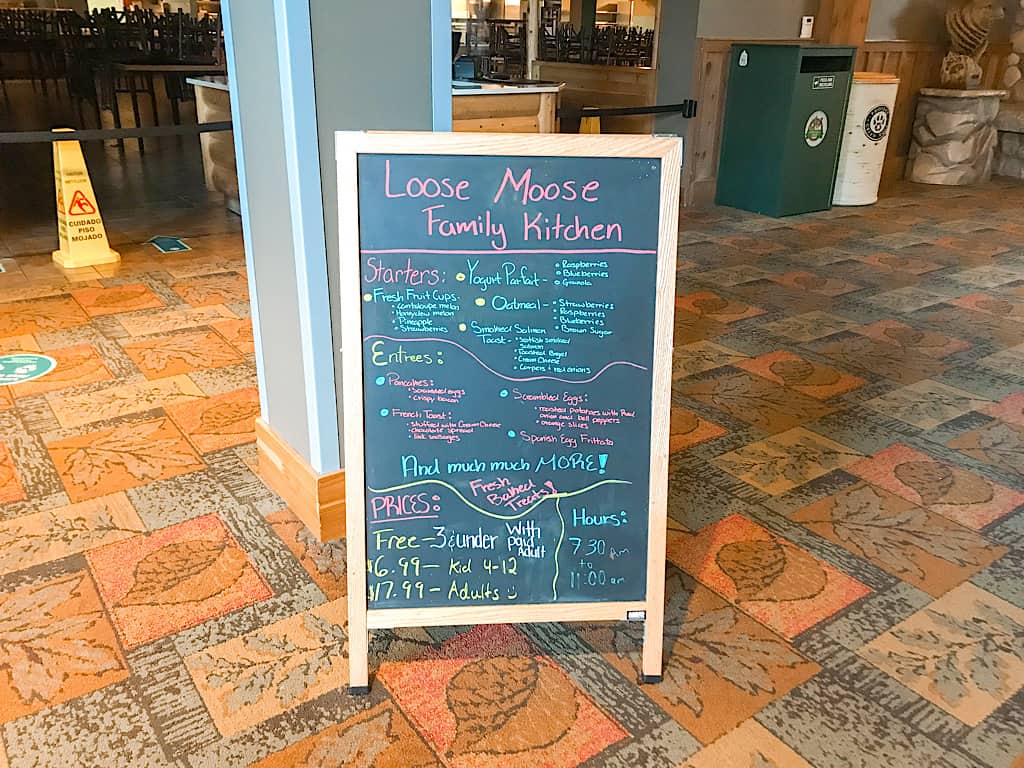 Great Wolf Lodge, Grand Mound Review
After experiencing all that Great Wolf Lodge had to offer, I will definitely be visiting again.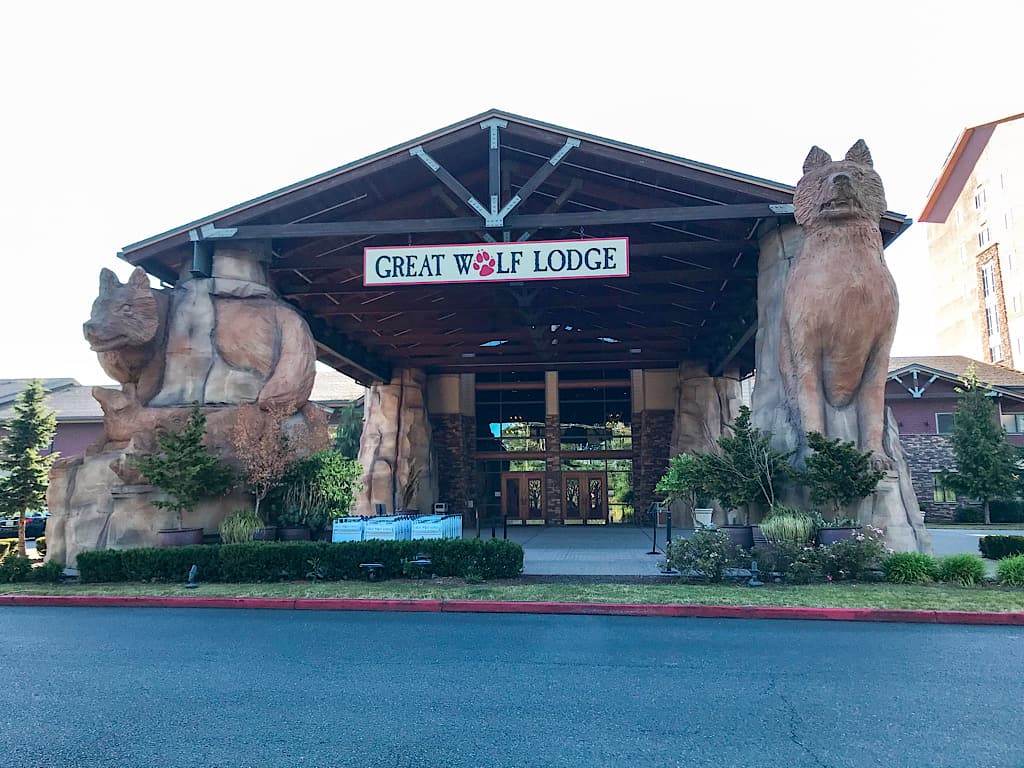 The room, food, and entertainment were all great and provided a fun vacation for myself and my family!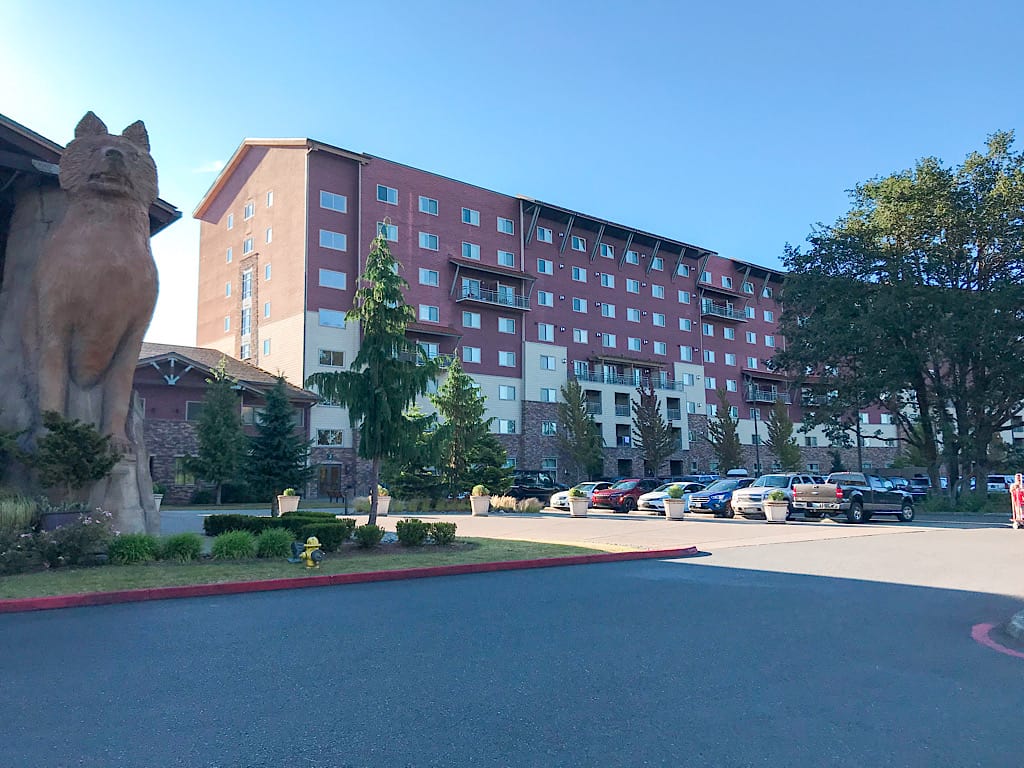 Let me know if you have any questions about our stay in the comments below.
More Great Wolf Lodge Reviews:
Check out the video below to see Great Wolf Lodge Washington!
National Parks with Kids: